Becky in Novia d'Art for her Sunny & Colourful Spring Wedding in The Cotswolds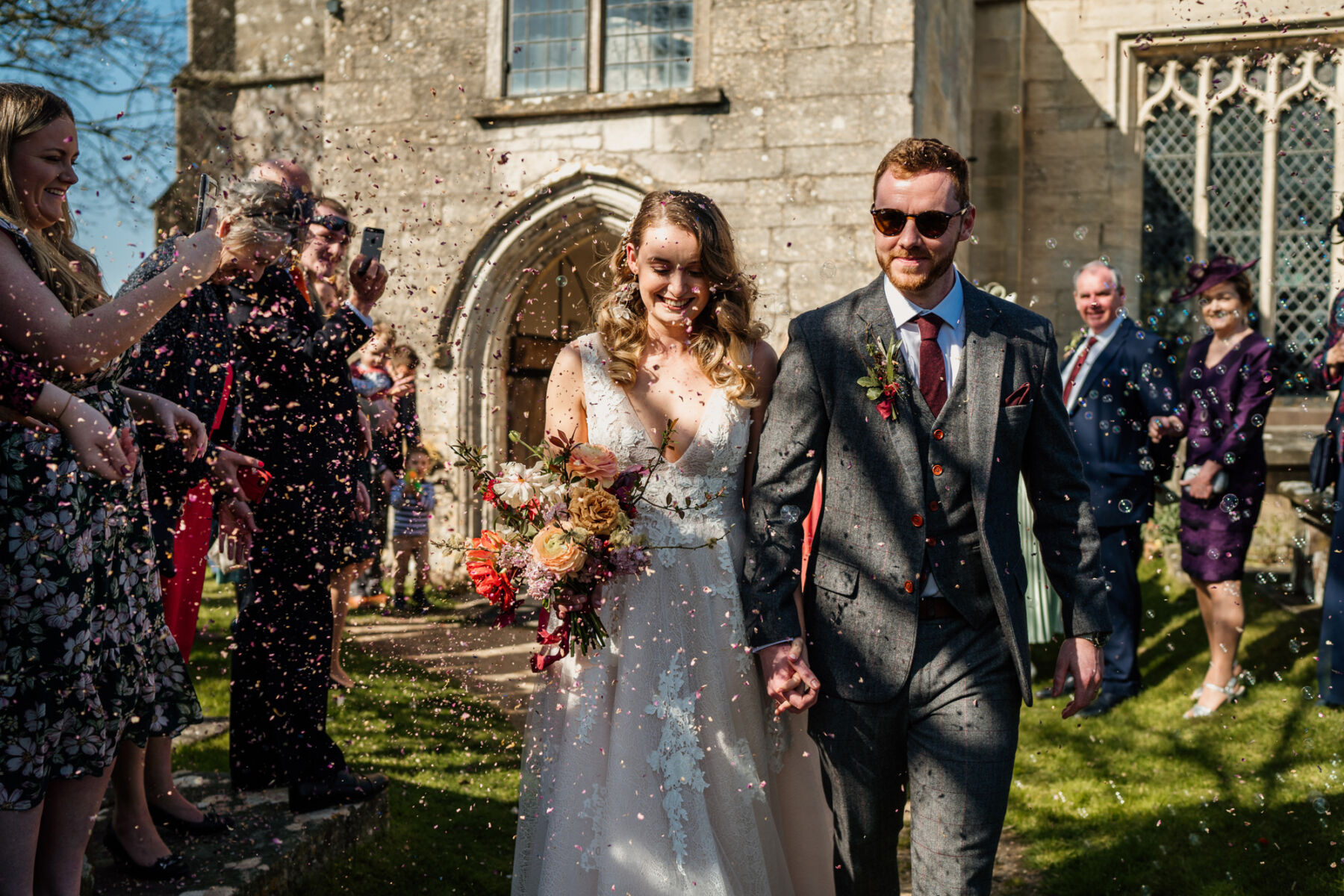 Becky and Ian's beautiful Spring barn wedding took place in March this year at Frampton on Severn Church, followed by a celebration with loved ones at the idyllic country wedding venue, Milton End Farm in The Cotswolds.
This couple wanted the day to authentically represent who they are so in terms of styling choices, followed their gut and chose elements they enjoyed and made them smile, from the mix and match bridesmaids dresses to the Fiat 500 car. We are also super delighted to discover that the bride found her bridesmaids dress supplier, the wonderful Rewritten, through Love My Dress – and that our recommended supplier Morgan Davies Bridal was where she discovered her gown.
These colourful, joyful images are by Magda K. Enjoy!
Location & Venue
We wanted a barn wedding which we could have for the weekend and was as perfectly manicured as the other Cotswold barns that have been made specifically for weddings.
We liked that the venue was still a working farm and that the contact was the farmer's wife.
Rebecca Price, a wedding planner, came with the venue.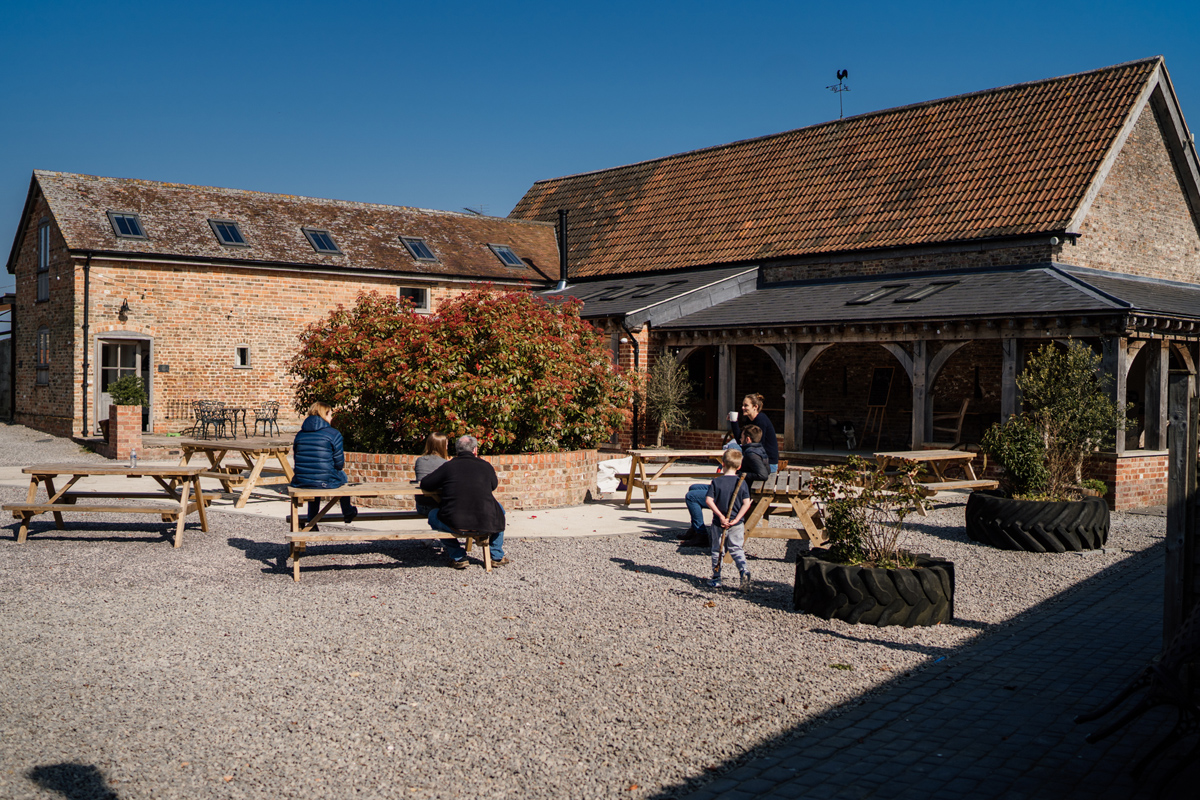 How They Met
We met in a nightclub in Nottingham when we were at University on Halloween. Ben was dressed as a devil in red body paint and shorts and I was dressed as a witch in 2012.
We got engaged in December 2020. After numerous failed attempts to get away due to Covid, Ben decided to propose on our favourite walk in the Cotswolds, just us with our border collie.
Ben wore a hire suit from the Vintage Suit Hire Company.
Bridesmaids
I let the bridesmaids choose dresses from Rewritten, who I discovered through Love My Dress, as everyone bridesmaid liked a different style.
I originally wanted a burnt orange dress but not all bridesmaids felt comfortable in the silk that they did that colour in and so we settled on a mix of coral and chianti.
Flowers
We chose Thistle By Nature as our florists – they are based in the nearest town to the venue in Stroud. Florist Emma's style was wild and natural which was exactly what I wanted.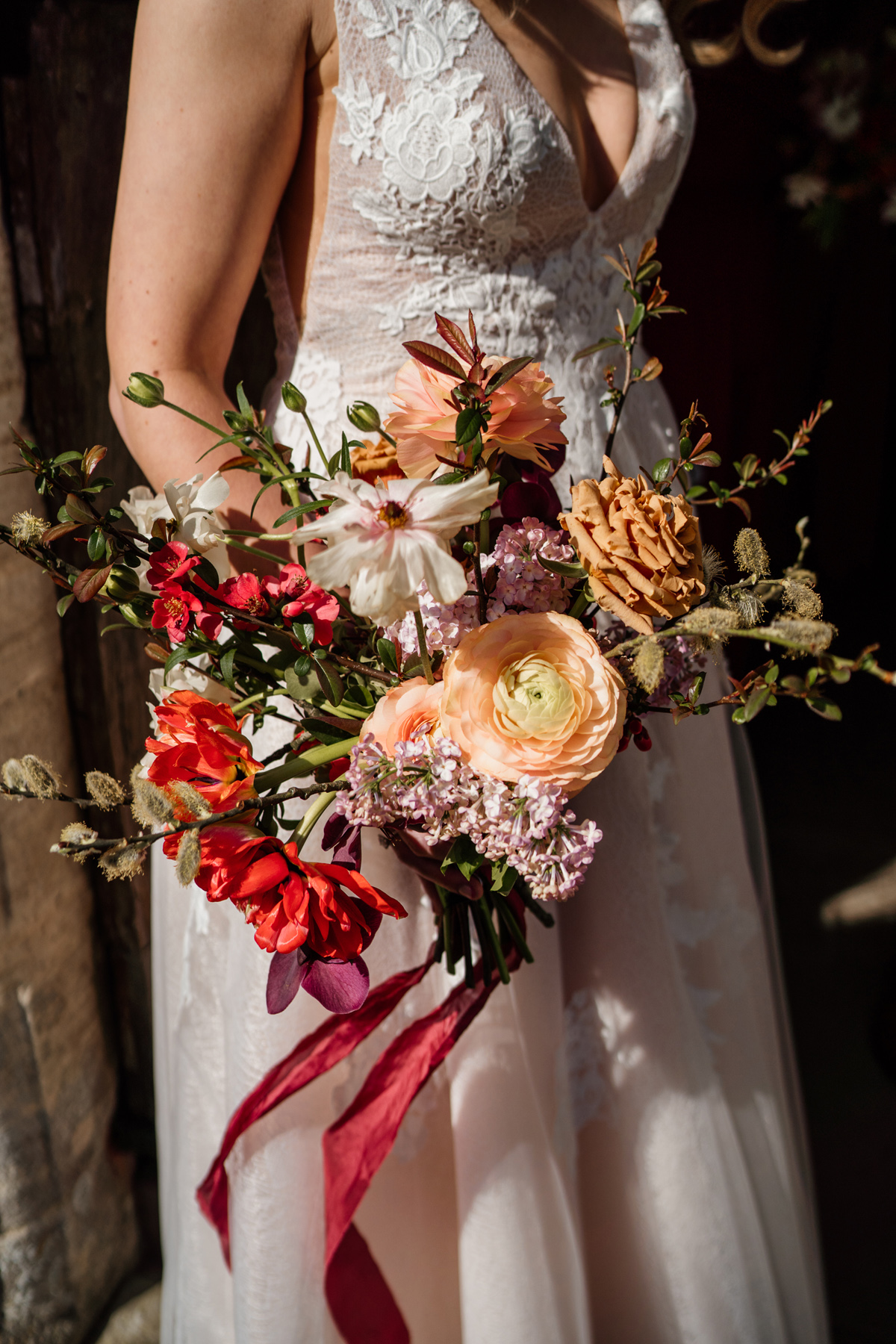 Ceremony
My Dad walked me down the aisle to Godspeed covered by James Blake – it was beautiful and set everyone off crying as they weren't expecting a different song in a church.
Reverend Liz at Frampton on Severn church was brilliant!
We went to the jewellery quarter to buy our wedding rings. Ben wanted a standard gold ring and Becky wanted a more vintage style platinum ring to compliment the engagement ring. My ring was from Hockley Jewellers.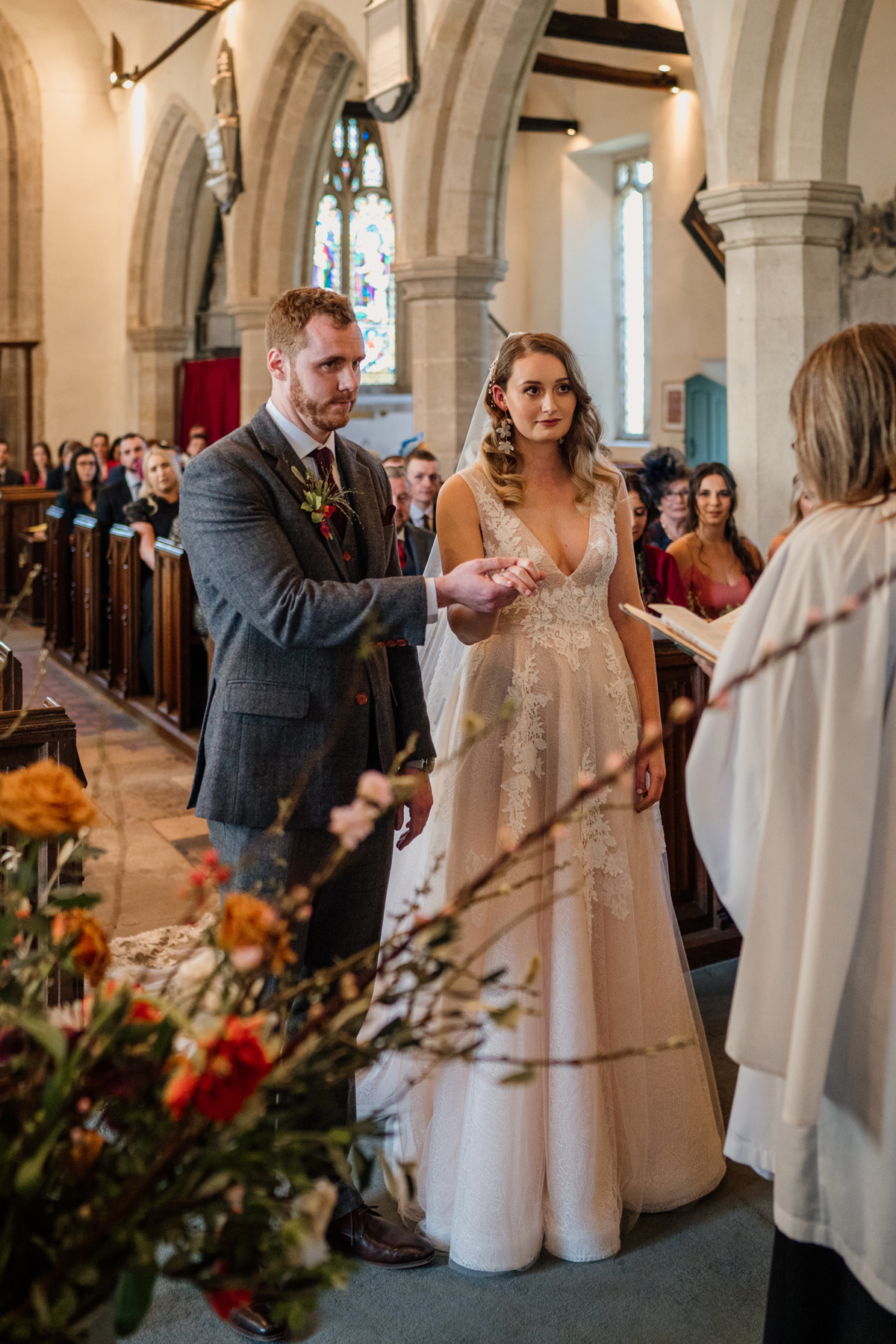 For our readings, we used an extract from the book by Dolly Alderton, 'Everything I Know About Love'. It represented us as a couple so well and made me well up!
Our favourite wedding moment was our ceremony – it was the most unplanned part of the day and therefore I had no expectations. I was also so nervous about walking down the aisle and therefore I hadn't thought about what would happen further than that.
When we were at the front of the church it just felt like Ben and I – it was the part of the day that meant the most and I was so proud to be stood there with Ben in front of our loved ones. I also loved that we had our dog running around playing with all our friends and family during the drinks reception.
Photography
I found the photographer one of the tricker suppliers to choose as it was so important to me. I wanted a good mixture of candid documentary style photos, more natural looking portraits and dance floor photos and I am so happy with how the pictures turned up.
In the directory Rewritten
Listed in
In the directory Morgan Davies Bridal
Listed in
Our photographer, Magda K, hadn't visited the venue before, but scoped out the best places to take pictures first thing on the day and did an amazing job. I didn't want 'pretty' backdrops and she hit the nail on the head, some of my favourite pictures are of us walking through the farm yard and posing in front of bales of hay.
She was the perfect photographer, blending into the background and also having conviction to get people to pose for the perfect picture! I would highly recommend Magda!
The Dress
I wore the Katia dress by Novia Dart, bought from Morgan Davies Bridal boutique in London. Morgan Davies Bridal were very lovely to deal with on the day.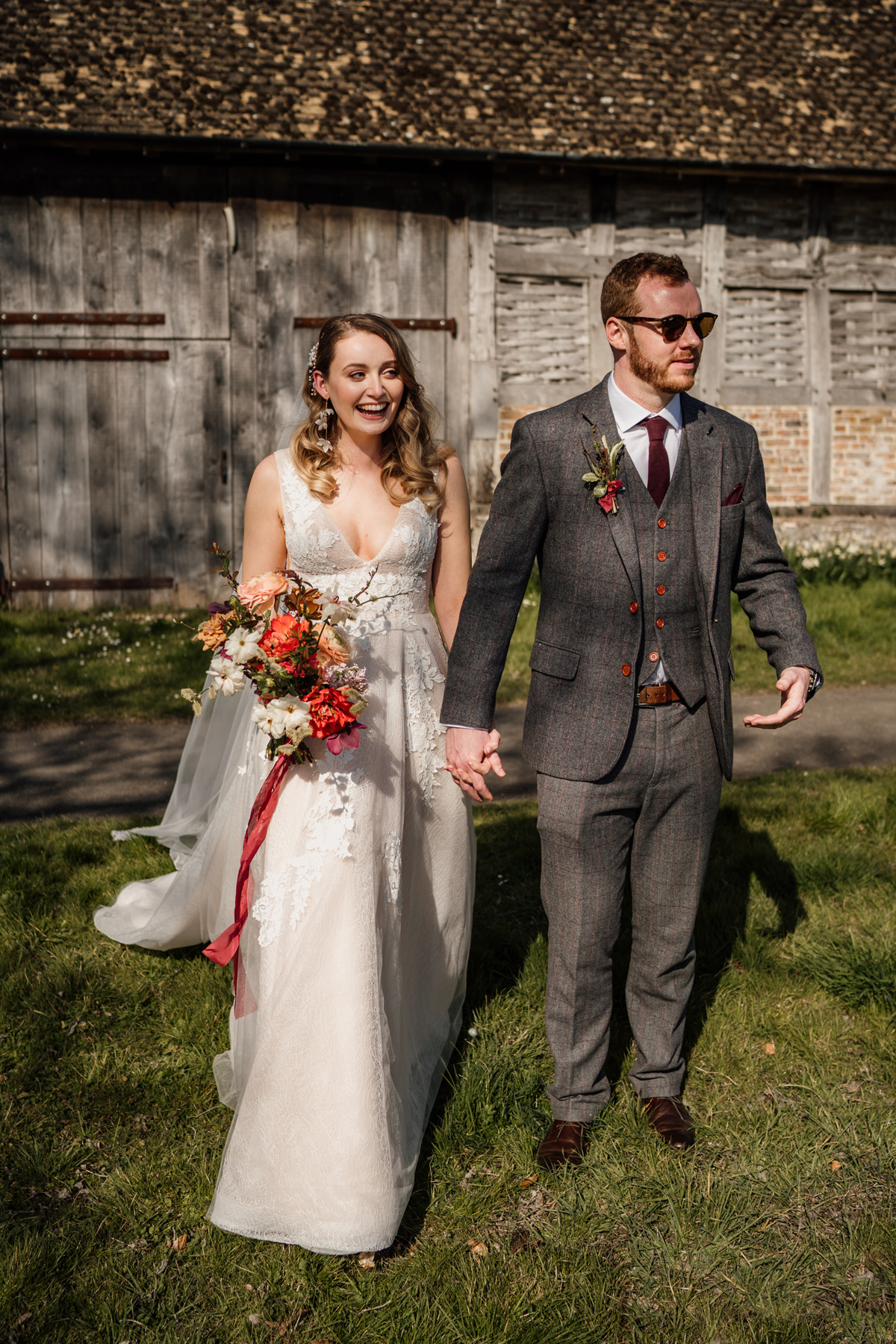 I had Laura as a consultant who made me try lots of different styles in my appointment and couldn't have tried to help more. The range of dresses was immense and every dress was picked perfectly.
I had seen pictures of the dress on Instagram and fell in love instantly. As we got married in March the weather could have been anything. I ordered a cheap v neck wrap jumper with lace to wear over the top in the evening which really fit perfectly with the dress.
Veil, Shoes & Accessories
I wore a veil from Pre-Loved Bridal Boutique in Evesham. I had contacted the seamstress that works at this store so that I didn't have to travel down to London for dress fittings. Adele the seamstress was amazing! Instagram @belles.bridal.alterations and helped me find a veil through the shop.
I wanted statement shoes but not the price tag of a pair of Manolo Blahniks. I found some deep red satin slingback shoes from Amazon that were perfect.
I bought some beautiful silk earrings from Amarnam on Etsy– they were perfect and really set off the dress.
I wanted my hair down in a Hollywood curl and so decided on a hair slide. I found a gold pearl slide on Etsy.
Reception, Decor & Detail
We designed our stationery ourselves – my brother sketched a picture of my dog and we added her into the church order of service and menus.
I really got into gardening throughout lockdowns, and I loved the idea of giving out tomato seeds as wedding favours. I bought little plant pots and wrote everyone's name on them and then added a packet of seeds.
We decided to go for a smaller, single tier cake with lots of doughnuts and brownies which seemed to be a big hit. The cake was orange and poppyseed with white chocolate which was divine and was from Cake Box.
Evening & Dancing
We chose 'You're my Best Friend', by Queen, to dance to. We both love Queen and we thought a more upbeat song reflected us – we also wanted to get everyone on the dance floor singing.
Words of Wedded Wisdom
I think I would have got married earlier in the day! The day went quite slow when we were getting ready and so much faster the rest of the day. I liked the informality of the day and so, the more time socialising and drinking outside in the sun, the better!
I also wish I had taken a walk with Ben and my dog first thing in the morning…to hell with traditions.
Don't listen to others, go with your gut and make it unique to you. However if your style is traditional, go with it! Just don't try and keep up with the wedding trends or what others have done – you won't care on the day. It's all about the two of you.
Also, bring your dog!