One of the very first features I published for Love My Dress back on 1st December 2009, was about a fabulous little business called A Most Curious Party, who hire out items for vintage tea parties, weddings and other events, like Valentines.
Well, there's a very interesting story behind the conception of this fabulous little business and it all began with a wedding. A Most Curious Party creator Rebecca married her beau John in July 2008 at a ceremony in Hedingham Castle in Essex, followed by a reception in Belchamp St Paul Community Hall in Suffolk.
Photography by Ian Johnston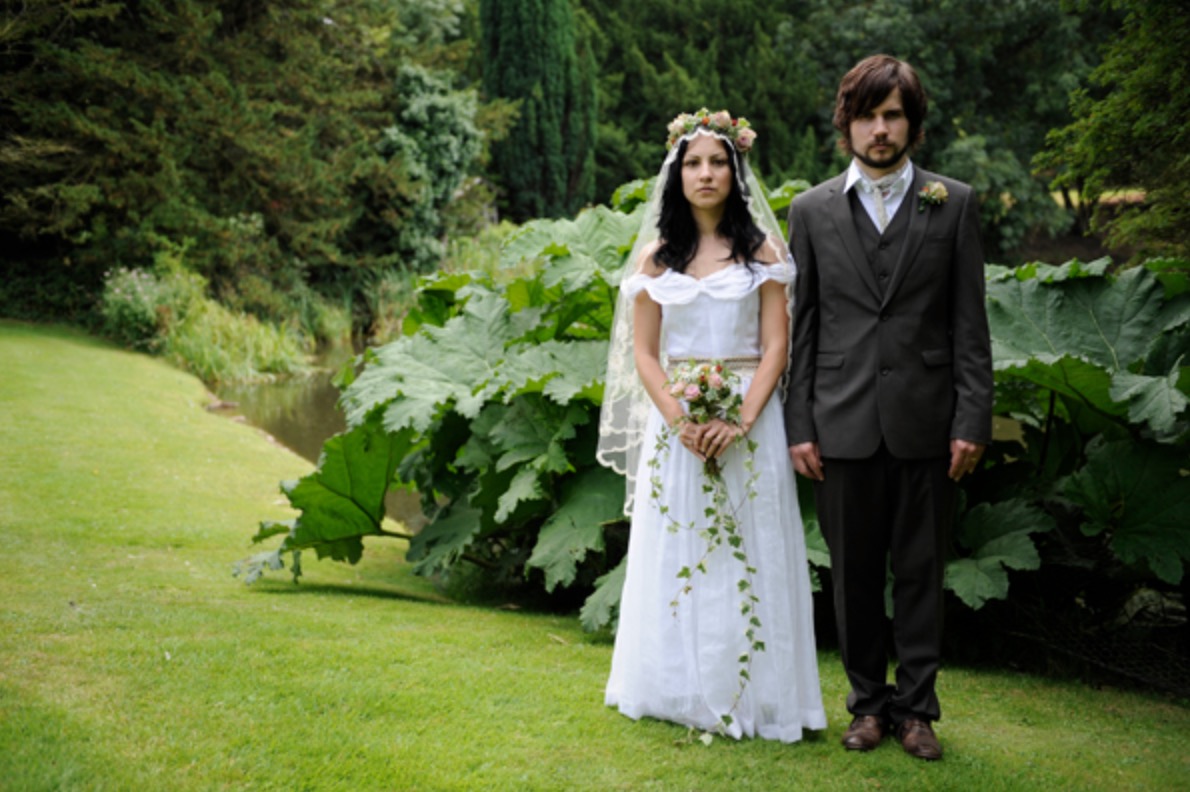 "I spent two years planning and organising the wedding; I collected all the little (and big!) trinkets from auctions, car boot sales, charity shops and many vintage outlets all over London and the country, and after our wedding, I just didn't have the heart to part with them. I also found it quite hard to fight against the norm to create a day that reflected our personalities; many suppliers and people in general have one set idea of what a wedding should be and look like and sometimes it is a real slog to remember it's is about you and your partner, and what you want.""It was with these two reasons in mind I set up A Most Curious Party to help other brides and couple who wanted a quirky, vintage event but may not have the time to source things, or are stuck for ideas and inspiration with an affordable, friendly team who have a passion for vintage too! And of course, it means I am still immersed in the wonderful world of weddings, with personality."
Rebecca had two dresses (more on the second later!).
"My dress for the day was from a Frock Me Vintage fair – a floaty woodland maiden type number to appease my childhood love of flower fairies! This had a trail of flowers as a bustle at the back made by mum with fake flowers from VV Rouleux. I had a clear idea in my mind of what I wanted, but it did not exist in any shops bridal or otherwise as it was such a whimsical look, and it was extra special as my mum created it for me."
Rebecca wore pretty satin ballet shoes with ankle ribbon during the day.
There are no photos with those IDs or post 683976 does not have any attached images!
"My veil was my something old as well as something borrowed – a Edwardian veil, a family heirloom, from a family friend from John's side called Linda."
"All hair flowers were created by Abora Florists in Colchester, to the woodland maiden theme, with corn and ivy and little red berries."
"My sister was a bridesmaid and had a bespoke dress made with Mexican sacred hearts on – from a vintage 50s fabric design by Alexander Henry – and carried red roses, as she was meant to be like a walking embodiment of love! A 50s style cupid!"
"John sore a brown skinny-fit suit from Topman, a vintage neckscarf from Hurwundeki in Spitalfields and shoes from Sniff, also at Spitalfields!"
There are no photos with those IDs or post 683976 does not have any attached images!
"I desperately wanted a horse and cart, to be like Tess and the D'urbevilles arriving to a May pole dance! But i searched all of Essex and Suffolk and weirdly could not find one anywhere 🙁 But in the end we had a lovely old 30s car to take us from the castle to the hall…"
"I felt like for our wedding day we must have all the references of all the things that make us who we are are and things we love. As I do love vintage, My inspiration was a 40s-50s British country fete, (vintage crockery, bunting, hay bales to sit on), with touches of woodland magic (a wishing tree with magical mushrooms underneath to leave messages – rather than a guest book, Wood platters with ivy around them to put the salads on with the BBQ), a little bit of Alice in Wonderland which I have always loved, with the flowers in tea pots and deserts in tea cups, and fun polka dot table cloths)."
There are no photos with those IDs or post 683976 does not have any attached images!
"My mum and her friends collected flowers from their gardens for that real English country garden look, picked that day!"
Rebecca and John provided seeds for planting to their wedding guests as favours – what a truly lovely touch.
"In side we also had boards wallpapered with vintage style prints made by my father in law so that we could put pictures of our parent's wedding and grandparent's wedding, as well as us, to show where we fit into the grand scheme of things and to reinforce the idea of family and love, which is we felt a wedding is about."
There are no photos with those IDs or post 683976 does not have any attached images!
"I am half Chinese so there was plenty of red and gold, with Chinese lanterns in the trees which my dad brought back from Malaysia where our Chinese family live, red ribbons in the trees, and a lucky gold cat bringing in the money!"
"We had a posh BBQ supplied by Bentleys in Sudbury, and then strawberries in tea cups, with little union jacks to keep with the English fete theme…"
"A family friend made it to our specification – inspired by Klimt paintings and tattoo art!"
"The dress in the evening was for partying! A white satin prom style one from Vivien of Holloway with a heart with John's name sewn onto the bum! Two red underskirts and red high heel shoes and red gloves! With a vintage head piece from a vintage shop on Brick Lane…"
There are no photos with those IDs or post 683976 does not have any attached images!
This has to be one of my absolute favourite real wedding features so far, I just LOVE it! It's so beautifully original and these photographs demonstrate just how very hard Rebecca worked to ensure her and John's special day truly reflected their personalities.
Rebecca, thank you SO much for sharing your fabulously curious and beautiful wedding day details with Love My Dress. Thank you also to Ian Johnson for providing the photographs.
I can't wait to keep featuring more from Rebecca and A Most Curious Party, as her wonderful little business grows in popularity.
Love Annabel x