**You can view my original wedding feature here**
Today is my very first wedding anniversary.  I still can't quite believe it's been a whole year!
I'm not usually one to flaunt photos of myself all over Love My Dress, however, in celebration of our first year of marriage, and as a reminder of the beautiful day that we shared with family and friends this time last year, on the very first day of Spring, on a beautiful warm and sunny day in Whitby, I thought I'd share just a small selection of some of my favourite photographs from the day.
We tied the knot at the lovely Dunsley Hall Country House Hotel, about a mile or so out of the heart of Whitby.  We chose Whitby because it is so special to us on so many levels.  Our Daughters name was even inspired by the river that runs through this pretty North Eastern coastal town and breathtakingly beautiful surrounding countryside.  My Husband also grew up near Whitby and proposed to me there on Christmas Eve in 2007.
Our Photographer was the fabulous Karen McGowran – watch out for an AMAZY competition coming up soon from Karen! 🙂

Happy Anniversary to the one that makes my heart sing 🙂
Love My Dress Wedding Blog – Photography Copyright (c) 2010, Karen McGowran
My beautiful 'Shearer' cuff (left) and comb (right), created by the immensely talented Kirstie Taylor, of Flo and Percy (I shall treasure these pieces for life and hand them down to my Daughter one day…)
I had simple Spring Narcissi and cream roses for my Bouquet.  My shoes were 'Crystal Pearl' by Emmy. I utterly adored them, all sparkly down the T-Bar – divine…
My Bridesmaids were my beautiful Sister (left), dear friend Amanda and the little girls in front are my neices, bar the second from left with the flower clips in her hair, who is our Daughter 🙂
Our Groomsmen did not wear matching suits – this is something that just didn't float our boat…
My Husband never wanted a ring, so I got for him instead a few personal gifts, one of which was this beautiful pair of vintage cufflinks from Magpie Vintage, complete with fly-tie inside (him being a total fly-tieing fishing fanatic).  I broke with tradition and didn't have a wedding band, but a dress ring; an original antique art-deco 18kt white gold band with a rectangular shaped aquamarine stone in the centre (the birth stone for March, the month we married) that was flanked by tiny little diamonds…
A calming word with the littley…
I was not nervous at all.  Not one iota.  I hear many a Bride say their nerves abandon them on the day, and mine most certainly did.  My Husband however was pretty tearful during our ceremony!
Karen, our Photographer, could not position herself at the front of the ceremony room (it was too small), but did an amazing job capturing the emotions of the room from her location at the very back.  Our harpist played 'Moon River' from Breakfast at Tiffanys, as I entered the ceremony room. It was incredible…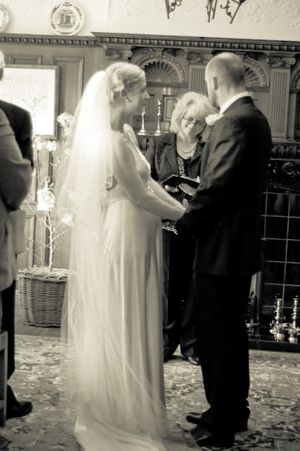 These Helebores had been growing in our garden the day before…they sat on the Registrar's table during the ceremony.
Our Daughter clutched on to her Daddy's left for the very first part of the Ceremony!
With this ring…
I thee wed…
My Husband made his own cravat…
We wanted our wedding day to be a real family day – kids running round enjoying themselves and everything…
Sisters…
Hen's reunited! 🙂
A close friend…
The Table Plan, that Phil and I made 2 nights prior, it was all glittery sparkly close up too – lovely! Our table was called Whitby and the rest were named after pretty picturesque villages in the surrounding area.  We didn't have a top table, it's just not our style. We sat on a round table like everyone else…
Hi-Five! 🙂
My darling Husband grew and prepared all the flowers used on the day bar the bouquets and button-holes/corsages.  These spring Narcissi were growing in our garden the day prior.  Phil's Mum made the wedding cake and these cupcakes.  We chose pink purely to appease our Daughter 🙂
The hand over the mouth was because she wouldn't stop chattering during my Dad's speech! hehehe 🙂
Friendship, love and laughter was all over the place on our wedding day….
I remember I laughed.  Rather a lot! 🙂
We supplied Masquerade masks for the evening.
Gorgeous vintage style tea light holders lit up the reception room in the evening…
One of my favourites captured in the evening as everyone else was boogying away inside….I was pretty tired by then! 🙂
Happy Anniversary to my amazing Husband 🙂
♥