What do you do when you can't find your ideal Bridesmaids dresses? You make your own, of course! Which is exactly what Bride Aimee did when it came to her July 2009 wedding to Husband James.   Infact, Aimee liked her dresses so much, she decided to make some more and launch her own business!  And there will be a whole new feature dedicated to this brand new line in Bridesmaids dresses coming very soon on Love My Dress.  For now, let's enjoy some classic, colourful and quintessentially English Wedding prettiness, on this otherwise grey and gloomy Monday…
Thank you so much to one of our resident Love My Dress Blog Photographers – Katy Melling – for the fabulous photographs.
Aimee and James tied the knot in July 2009 at Hebron Village in Northumberland, with a beautiful marquee reception in a field behind the Church.
"I always loved the idea of a vintage summer country wedding like the film Emma.   My wedding dress was 'day and night' by Stuart Parvin and I made the Bridesmaids dresses myself. I have since set up my own label which will be launching soon (Love My Dress Readers, watch this space!), this particular dress is from the first range, and is called 'Florence'."
All Photography Copyright (c) 2010, Katy Melling
The gorgeous flowers pictured above were by Claire at Heighley Gate of Morpeth, Northumberland.
Aimee's gorgeous shoes were by Emmy (our favourites!)…
James' suit was by Moss Bros…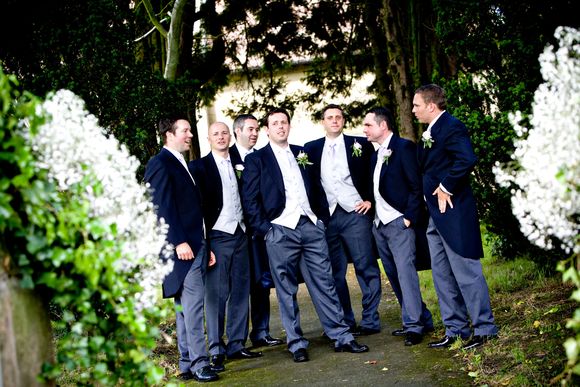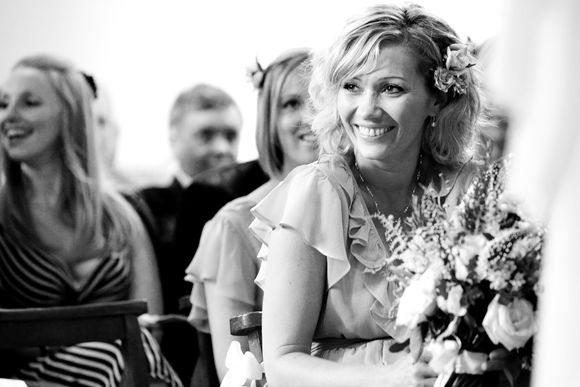 Professional Hair and Makeup Artist Jane Bolam of Newcastle Upon Tyne helped the ladies look so pretty on the day…
"We tied wooden hearts from the back of the chair with lilac and white ribbons. The father of the groom painted pictures to sit on the tables of Italian towns (table names) near and around where the groom proposed in Florence, Italy.  Place names were set with a silver bird clip and a sprig of rosemary."
I spy pretty table decoration from Cox and Cox…
What a beautiful and yet chic and unfussy wedding cake!  Made by Julie of Celebration Cakes, Ponteland, Northumberland…
"Our table plan was an mixture of vintage and modern picture farmes, which we hung from an old fashioned dressing screen which we re-covered.  I made floral bunting, petal shaped floral tablecloths and had cushions made to sit on wicker sofa's which all co-ordinated which 'prettied up' the bar area and tables."
Aimee's vintage headband, ball necklace and drop pearl earrings were all by Gillian Million Design, of London.
Thank you Aimee for sharing all you pretty style details and thanks again to Newcastle Upon Tyne and North East Wedding and Lifestyle Photographer, Katy Melling for suppling these beautiful photographs.
Much love,
Annabel
♥