Ever since seeing Lisa Redman's gorgeous wedding dresses courtesy of the fabulous Luella's Boudoir, I've wanted to feature an interview with this brilliant British Bridal Wear Designer, and last week, I finally got my chance to chat to Lisa.  London based Lisa Redman heads up a team of designers who create bespoke womens wear, making pieces from luxurious occasion wear to dream wedding dresses…
"The experience at our studio is a very personal one ~ we work directly with the client, listening and taking into consideration their requirements, also looking at their ideas and inspiration, to deign exclusively for them.  They are very much involved in the creative process, selecting from swatches of cloth, seeing embroideries develop, fitting the garment in calico to ensure a perfect fit.  Its a very exciting journey as you see their sketch of the dress morph into the real thing, which is very special in its self."
Love My Dress Wedding Blog ~ All Photography kindly supplied by Lisa Redman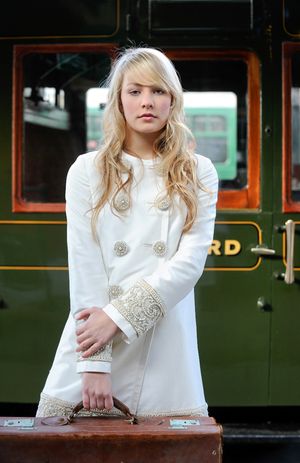 Lisa's signature style is a soft palette of colours and bridal ivories…"I love to play with oyster, champagne, nude, dove grey to create a subtle hint of tones.  We love embellishment, and design our own embroideries, which hint at vintage, but have a modern edge.  And we always use the highest quality clothes to ensure a luxurious look.  A look of contemporary feminine pieces that you could pass through the generations."
How long have you been designing for and what got you into design in the first place?…"I have been working in fashion for 13 years now.  After graduating from Chelsea College of Art and Design where I studied textiles, I worked for Betty Jackson, before working for designers Antony Symonds and Ann Louise Roswald, then became the right hand to Elspeth Gibson, before setting up Lisa Redman.
I have always loved design since a child ~ being the creative, and never the academic! It felt a natural progression and a very clear path…"
Why Bridal Wear?…"Bridal wear is not all we do, we also create luxurious occasion wear.  Quite often we do lots of guests for the same wedding including bridesmaids and mother of the bride etc.  But I do love working with the brides as it the time to create the most beautiful gown, you can really let your creativity run riot.  We are just completing one of the most dreamiest wedding dresses I have ever worked on…. it really is beautiful with luxurious embellishment ~ a fairytale dress that still retains a rich elegance.  I cannot wait to see the bride enjoying her day, as the glowing bride, which is another reason why bridal gowns are such a joy to work on.  You know it is for such an important event, and I love that challenge.  Literally creating the dress of a life time!"
Do you have a particular favourite style of Bridal gown?…"I do not have a favourite style of wedding dress as I like to work on different styles, dependant on whom we are designing for.  I believe that is the benefit of a having a bespoke piece made for you. We are really able to offer the client a tailor made service, working closely with them we therefore create different silhouettes to ensure a look that will suit them as well as their day."
Where do you seek your design inspiration?…"Inspiration comes from all around me ~ I never stop thinking about dresses!   I can be inspired by someones look, their unique style, to a piece of vintage costume jewellery.  Or the colours of flowers against a brightly painted wall.  The other day I saw some child's paper windmills, and now I am obsessed with the idea of making them in organza!  Watch this space!, So it really can be anything!"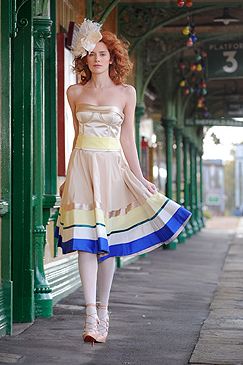 Do you have a muse?..."I do not have a muse as such, although we are lucky enough to work with some incredible women, who are totally inspiring and I quite often find myself thinking oooh that would look great on "x", or would "x" wear that.  This also applies to my Nanny Marge, who is no longer with us, but was very glamorous, I would like to think she would be very pleased to wear any of our pieces, with her big hair, long gloves and bright red lips!"
What materials do you prefer to work with?…"We work with high end luxurious cloth, all are one hundred percent silk, or cashmere, from tulle to duchess satin.  I love using luxury fabric, they instantly make the garment look special.  I also find my self referring back to pearls and crystal when it comes to embroidery, they always look so rich."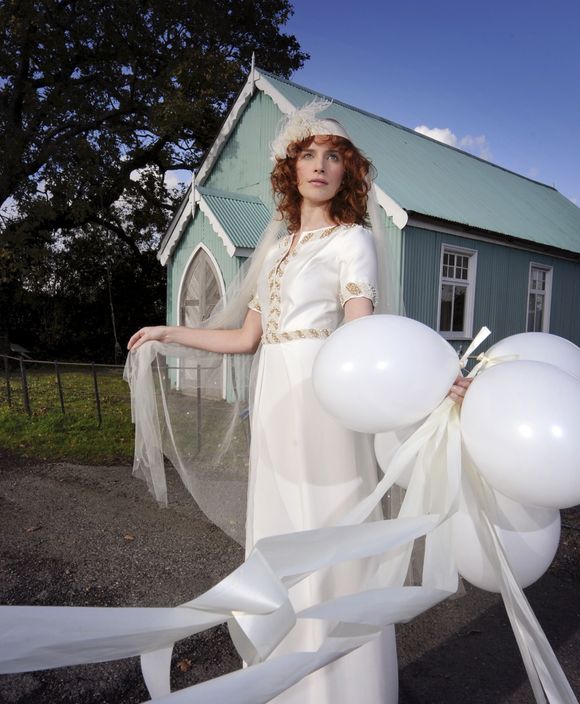 Where do you stock?… "We run a bespoke service from our studio in west London, which is the only place you can get this service.  But we are rather proud of our latest venture with the cool bridal boutique, Luellas Boudoir in Wimbledon.  We have just launched an exclusive range of wedding dresses with them which are exclusively available through them."
Can you provide a price guide?…"The prices do vary greatly depending on what type of cloth, embellishment and style we are working with.  But we would start around £1000, for a simple shift, all the way up to £15,000 plus for a large embellished gown. 
If you could give one piece of advice to the Bride to Be looking for the perfect wedding dress, what would it be?…"My one piece of advice to a bride to be is to go with your heart… you get a million opinions, but don't be swayed. You need to feel confident, and great on the day, wearing a dream wedding dress makes all the difference…. So go with it!"
For further information, visit the Lisa Redman website, email l[email protected] or telephone +44(0)208-9681234.
Lisa Redman
Lisa Redman Ltd
2-4 Exmoor Street
UNIT 28 and 29
London
W10 6BD
Click here to view more exclusive designer interviews on the Love My Dress Wedding Blog.
♥