This is the wedding of Lisa and Scott whose wedding day took place on Sunday 13 June this year, with a ceremony at Old Wardour Castle (English Heritage) in Tisbury, Wiltshire, followed by a reception at The Langton Arms in Tarrant Monkton, Dorset.
This gorgeous wedding comes about being featured on Love My Dress because of a comment Bride Lisa left after having read one of my real wedding posts a few weeks back.  I was intrigued by the web address Lisa left, so looked her up, only to find she is a hugely talented Wedding Photographer herself (Lisa and Scott commissioned American Photographer Erica Turner to capture their wedding day on camera). We got chatting and I was delighted to hear Lisa speak of her recent wedding and tell me how much she was inspired by Love My Dress in planning her big day 🙂 Of course, I had to ask if I could feature Lisa's gorgeous wedding on this little Wedding Blog!  
I absolutely ADORE this wedding, for its exquisite styling and the way Lisa has managed to blend her theme of blue so beautifully throughout every aspect of her special day…
"My favourite colour is Blue, we love all things vintage and we love the country. So we wanted a relaxed country wedding and we do like the idea of fairy-tales…"
Love My Dress Wedding Blog – Photography Copyright (c) 2010, Erica Turner
How does a Wedding Photographer choose a Wedding Photographer?
"Many people were curious who we would chose to photograph our wedding… and this was a tricky decision. After resorting to Twitter, an Erica Turner from Turner Creative Photography jumped at the chance. How refreshing!
Erica has become a true online friend & we have been keeping up to date with each others work for many months! I am fascinated by all the outdoor weddings and gorgeous styling many of the weddings Erica shoots in Mid West America & Erica was equally interested in English Weddings and the different architecture & style our weddings at home have.
We finally met with Erica & Chad in Blandford Forum days before our wedding to talk through our plans and thoroughly enjoyed their company. We were sad to see them leave and missed them a great deal!
Erica is very unobtrusive and was exactly what we were looking for!"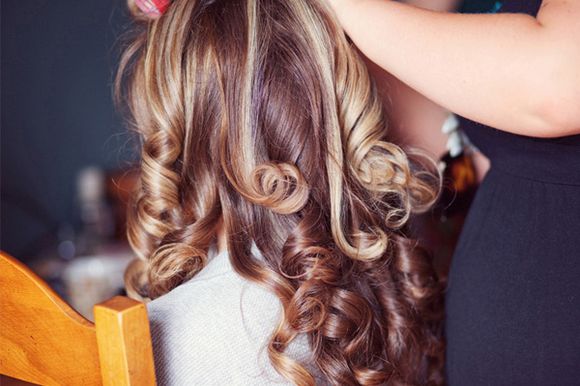 Wedding Day Inspiration?
"Ruffled Blog, Love My Dress and Country Living – We are both creative so had a lot of ideas (maybe too many) and narrowed them down. We tried not to get too caught up in the planning and to focus on things that would make our day special. We designed our invitations, Table settings, Place names chose all the music made our own champagne & flowers, bought all the suits and accessories for the guys etc… thankfully we left the photography to Erica!"
Hair and makeup was styled by Emily Jirat…
Lisa's beautiful blue fairytale like wedding dress is called 'Eleanor' (my little girls middle name!) and was designed by Sassi Holford – who I've had the pleasure of meeting a couple of times now, and who I interviewed for Love My Dress back in March this year.  I adore Sassi's designs and this particular number looks like it's been made especially for Lisa, so perfectly does it suit this pretty Bride…
" …it was an ex-catwalk dress and at the time I hadn't heard of Sassi Holford! Very lucky girl! Would love to find out more about the dress as have only seen one other pic of it online… It was the first dress I tried on and I had to find a venue to match the dress.  I loved the colour, it is pale blue but shines a yellow/gold I believe it is raw silk. It has hand stitched beading on the bodice and a ruffled bodice, it is big without being OTT. It has an inner corset and is comfortable to wear!
The back is ruffled with beading where it gathers. It is really well made and flattering….It has a contemporary and vintage style at the same time! I fell in love with it at first site (on my way to catch a bus home it was standing in the window and I asked to try it on the very next day-with no wedding date set!)"
Lisa's pretty low-heeled strappy sandals were from River Island…
D.I.Y. Flowers…
"I made the bouquets, floral arrangements and buttonholes myself with help from my mum and sister! We bought from Global Flora, a local wholesaler,  as we wanted to spend money on the flowers rather than florists and wanted a country look! The flower stand, urn and birdcage was hired from Poundbury Floirist…"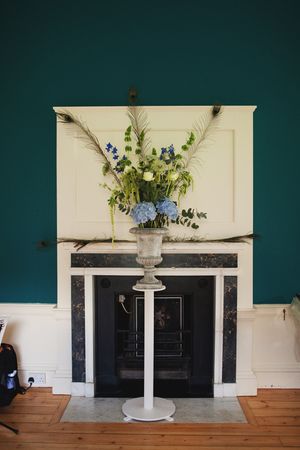 Scott wore a Marks and Spencer's suit and a waist coat that was a charity shop find…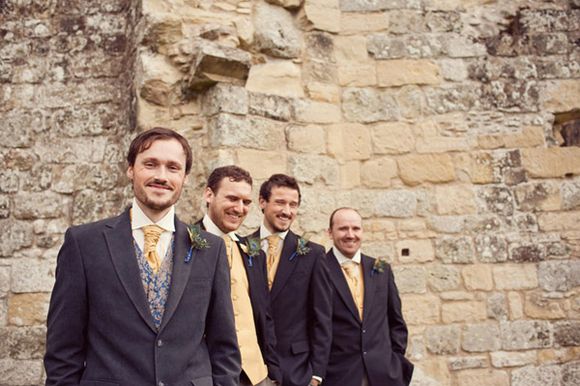 A Fairytale Castle Setting…
The beautiful ceremony venue at Old Wardour Castle (English Heritage) in Tisbury, Wiltshire…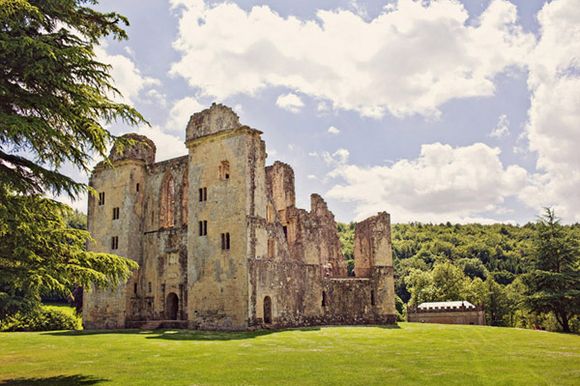 Transport was provided by way of a Vintage Jaguar and a Modern Jaguar…
Captain Corelli's Mandolin…
Lisa walked down the aisle to Debussy's Clair de Lune, played by Harpist Amanda Whiting, which she said was very moving.  I can certainly vouch for this – this is one of my favourite pieces of classical music ever…
"The music was really important to us, Scott is a musician and I love music so we arranged that pretty early.  My best friend's reading, during our ceremony, of 'Love is a temporary madness' by Louis  Bernieres also made everyone cry…"
'Captain Corelli's Mandolin
Louis de Bernieres
Love is a temporary madness,
it erupts like volcanoes and then subsides.
And when it subsides you have to make a decision.
You have to work out whether your roots have so entwined together
that it is inconceivable that you should ever part.
Because this is what love is.
Love is not breathlessness,
it is not excitement,
it is not the promulgation of eternal passion.
That is just being "in love" which any fool can do.
Love itself is what is left over when being in love has burned away,
and this is both an art and a fortunate accident.
Those that truly love, have roots that grow towards each other underground,
and when all the pretty blossom have fallen from their branches,
they find that they are one tree and not two.'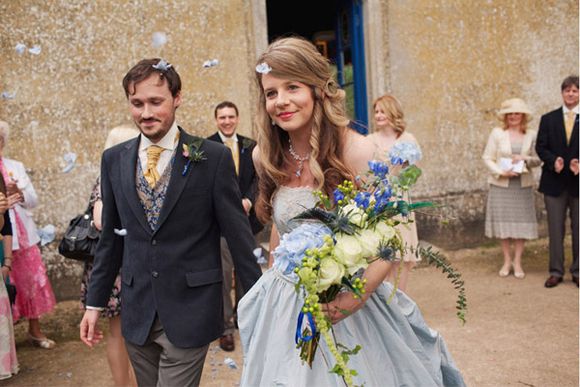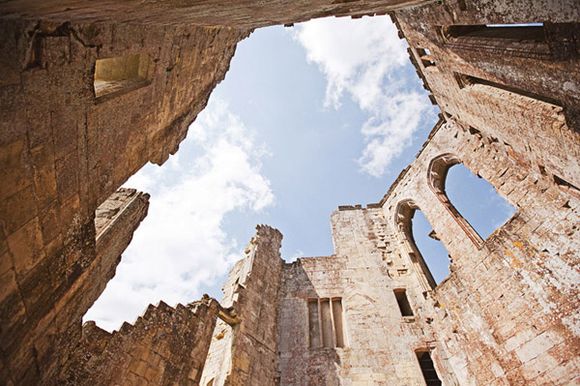 Lisa's Bridesmaids wore dresses from TK Maxx, shoes from Next and Clarks and Vintage Gloves from eBay...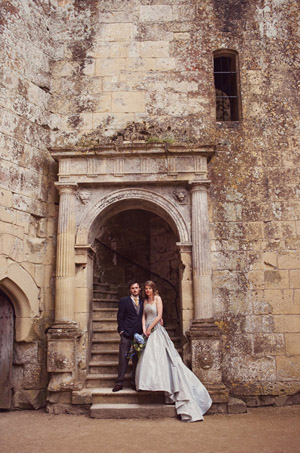 Pat-a-Cake…
"We got our cake from Pat-a-Cake of Wimborne.  We chose a 4 tier iced cake with sugarcraft hydrangea flowers to match the bridesmaids dresses and my bouquet. We had a hummingbird recipe, South American recipe with banana pineapple cinnamon and pecan it looked stunning and tasted divine! Pats sugarcraft is beautiful and delicate."
D.I.Y. Decor…
The bunting was homemade by Lisa's Mum and Sister.  Lisa also purchased sweet jars from charity shops, blue glass candle holders from eBay and used Gisela Graham artificial candle flowers and a heart chalk board…
Words of Wisdom?
"Delegate some of your "To Do List' to trusted friends and family, as they are dying to help you!  Don't take on too much yourself; the flowers were a big job, I was thrilled with the results but it was a lot of work. We invited 50 people to our wedding and still didn't get to talk to everyone so I'd say keep numbers to a minimum & invite those you want around you on your day. Make the day your own and one to cherish, don't got too taken in by others, its good to be inspired but it can get overwhelming.
Keep things simple and it helps to be flexible when planning. Enjoy the day, it flies by!"
Beautiful Memories…
♥  Elderflower Champagne drink reception in the castle ruins
♥  Spending time with Scott whilst having our photos taken by Erica
♥  The speeches
♥  Dancing into the night with our friends and family and ending in a dance off between us all to Rappers Delight, by the Sugar Hill Gang!
♥  Staying in a thatched cottage to ourselves on the wedding night (next door to our Reception)
♥  Seeing friends and family so happy for us!
Lisa and Scott danced to 'Lullaby of Birdland' for their first dance – a Jazz classic that they both love…
"Ella Fitzgerald is my favourite singer! An instrumental was played by the Jonny Hepbir Trio (Gypsy Jazz Band)"
I swear to goodness, the weddings on Love My Dress get more and more scrumptious by the day!
Thank you so very much Lisa for allowing me to feature your incredibly beautiful wedding day on Love My Dress – thank you also to Erica Turner for so kindly supplying the photographs 🙂
*sweet contented sighs*  🙂
Love Annabel x