I've been really super-excited about introducing you to this latest designer.  Some of you may already be familiar with Joanne Fleming of Joanne Fleming Design – but if not, let me tell you, that Joanne Fleming Design does bespoke gorgeousness at it's very best.
Specialising in the creation of evening and bridal wear, Joanne Fleming Design offers both a made-to-order and fully bespoke service. Clients can choose an existing design from the current collection or back catalogue, and have it made to their measurements and in their choice of colour, with the option of individualising details, or they can have a design created specifically for them.
I caught up with Joanne to chat about her beautiful creations, and to learn a little about the designer…
"I've always loved dressing up, and so was drawn to the more fantastical and extravagant shores of fashion design from the start.  Specialising in bridal and evening wear has allowed me to indulge this predilection to the full, and I love enabling clients to realise their own fantasy dresses, be that an art-deco slither of silk satin, or a full on baroque Liaison Dangereuse of a gown!

There's a quote from Oscar Wilde that I always keep in mind when designing…..''She looked like the edition de luxe of a wicked French novel''. It's this mixture of luxurious sophistication cut with a little Fin de siècle naughtiness that I try to capture…"
Love My Dress Wedding Blog – Photography kindly provided courtesy of Joanne Fleming Design

"I work pretty much exclusively in silk of various weights and textures together with fine laces, and embellish with freshwater pearls and crystals. I often use vintage trims and features, such as 1920s silver lame lace edging or 1930s paste dress clips, as accents. 

My work is informed by period styles, such as 1930s bias-cuts, or Regency Spenser jackets, but I like to combine these influences with more contemporary techniques to ensure that the finished design is not merely costume…"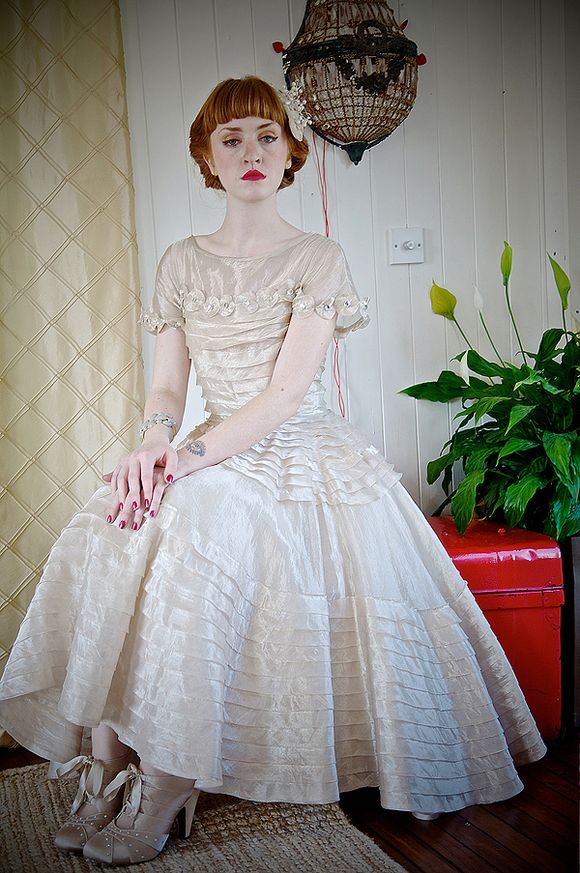 I adore the styling in the image below…
"My studio/showroom is in Brighton's quirky North Laine – an area which is full of unusual little specialist shops and funky independent boutiques. My clients come from all over the South East and beyond (70% are from outside of Sussex) and I currently have clients from Mallorca, Sweden, Italy, and Amsterdam who fly in for fittings.
My made-to-order designs start at around £400, and the bespoke service starts at around £800.  I ask for a minimum of 4 months from confirmation of order to collection, but it is always best to start the process earlier to allow plenty of time to make those all important decisions about the details of the design, and to accommodate the 4-6 fittings that are generally required."
Brides to Be – Listen here…

I asked Joanne what the best advice she could give a Bride to be searching for that perfect gown would be…

"Don't be too fixed on the style of dress you think will suit you right from the start. Try on lots of different styles, even if just to eliminate the ones that really won't do! Don't be scared of considering colour;  ivory dresses are always beautiful, but silks come in a gorgeous range of subtle pale tones that deserve a second look, and you may find that a buttery cream or a shimmering oyster shade enhances your skin tones better.

Remember that white/ivory only became popular after Queen Victoria married Albert wearing white lace, so it's a relatively recent tradition in western culture!"
Wow!
I am in LOVE with these designs!   Expect to see much more from Joanne Fleming Design on the Love My Dress Wedding Blog in the future – starting from tomorrow afternoon, when we'll be featuring an absolutely fantastic photoshoot of Joanne's latest dreamy collection.
And if you haven't seen it already, be sure you take a peek at this wonderful vintage style wedding that featured on Love My Dress back in May – the incredibly beautiful emerald green Bridesmaids dresses were designed by Joanne Fleming – gorgeous isn't the word!
Love My Dress Wedding Blog – Photography below Copyright (c) 2010, Devlin Photos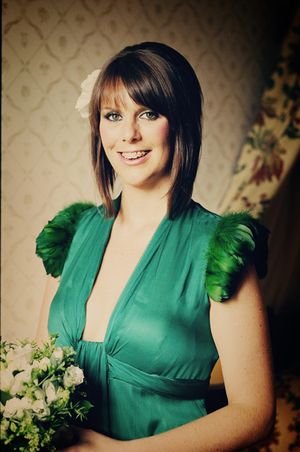 To learn more, visit the Joanne Fleming Design Website, email [email protected] or telephone 01273 – 602371.
Oh yes, one more thing, I would REALLY like to own the first dress that features in this post.
That is all.
🙂

Much love,
Annabel xXx
♥