Hi Everyone,
It's about time a real wedding graced these here pages.  I have a folder bursting with selections to choose from, but today feels like a day for pure elegance and all-round gorgeousness, which is why I've selected the stylish Scottish wedding of Jennifer and John to be today's feature 🙂
Jennifer and John's wedding took place on 9 July 2010, commencing with a ceremony at St Simon"s Church in Glasgow''s West End, followed by a reception at Harburn house, West Lothian, Scotland.
I love the way Jenny pulls of such an elegant look.  Jenny's gorgeous headpiece is the 'Acacia II' by Jenny Packham, and her beautiful grecian style wedding dress is a Pronovias…
'I had seen it while flicking in a wedding magazine just after we got engaged and remember remarking how I though it was beautiful but i think sub consciously i thought it wouldn't be possible because it was being featured and presumed  it was a bit of a dream.  Then, I came across it on a shop in Edinburgh on the first day of wedding dress shopping. 

I loved it for it's apparent simplicity yet detail – I loved the way it felt and floated, and ultimately, it seemed to suit my shape…"
Love My Dress Wedding Blog – Photography Copyright (c) 2010 Elemental Weddings
I'd recognise these exquisite feathered heels anywhere! They are Emmy's of course! This particular design is called 'Elizabeth' and is from the Decadent Collection…
Jenny wore a collection of vintage pieces of jewellery…"the most significant of which was  a cuff which my Grandma, who is no longer alive, had bought me from a shop in Glasgow called Glory Hole for my Graduation Ball 7 years ago – I was delighted to be able to wear it again…"
A simple rose bouquet can have such an impact…
"I knew I fancied the idea of the plum amnesia rose as i feel it has a vintage look, and felt it could be combined with some peonies, greenery and a selection of flowers along similar lines to create flowers which perhaps could have come from the garden – i am not so kken on flowers being too perfectly arranged…"
Flowers were arranged by a family friend… "who is in the middle of her training to be a Florist and is particularly artistic,  together with both our Mums (who had attended a 4 week flower arranging class the month before!!)…"
Jennifer walked down the aisle to live version of a tune called 'Miss Rowan Davies' – "…a very beautiful tune by Phil Cunningham and played by a favourite folk group of mine called 'Boys of the Lough'..."

The rings exchanged during the ceremony were by Diamonds International of Glasgow…
John wore a kilt made in the family tartan and a grey tweed jacket, both by McGregor McDuff of Glasgow…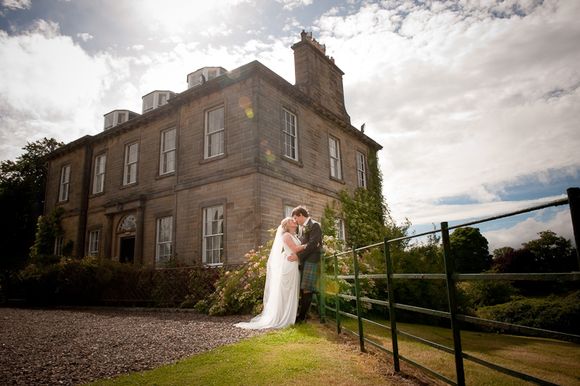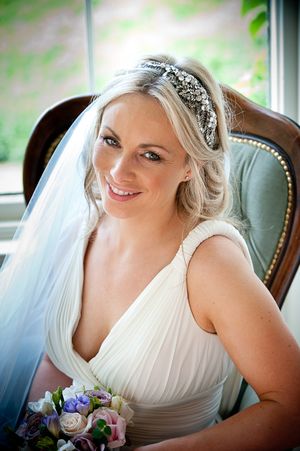 Decor…
"We had some help from Carnival Chaos with lighting and 2 huge flower balls coming from the ceiling, which I think were truly amazing.We spent the 2 days leading up to the wedding preparing the marquee, from putting on the linen, to covering the bases of the bay trees with (coffee) sack cloths from the salvation army store in Glasgow, to delivering Chesterfield sofas belonging to a friend, erecting smaller gazebos outside for the smokers sand whisky drinkers, to all the place / table names and individual stamping of, to the laying out of the 180 tea cups which started being collected by my sister laura and my aunt Rita approx 6 months before the wedding, from all the second hand and charity shops around Glasgow!
My younger Sister Laura is particularly innovative / artistic and came  up with lots of the ideas, adding in things like baskets of flip flops and midge repellent and labelling them accordingly with her favourite vintage stamps.  Both families spent all day both days during those couple of days and it was the most wonderful experience – there was no stress, just pure excitement as we could slowly see everything starting to come together…"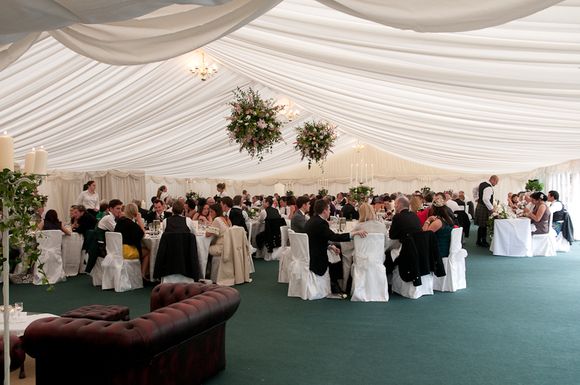 Entertainment was provided by the Norman Mackay Ceilidh Experience…
"…a very talented accordion player along with his band.  Surprise entertainment was organised by friends of my parents, who are very involved with Irish dancing and whose sons dance with Lord of the Dance – four of their dancers who had just flown in from Bahrain the night before, came along and danced for us as a surprise, along with a group of talented younger dances from an Irish dance school in Glasgow…"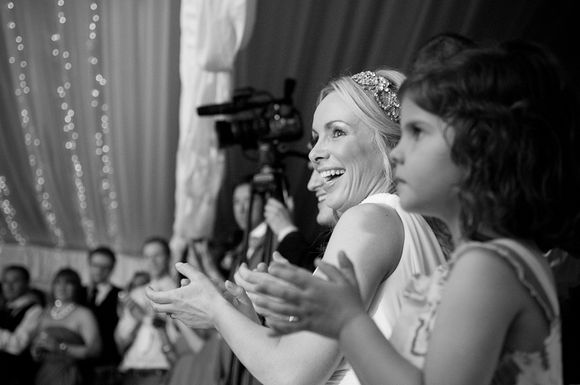 Don't Worry Baby…
"Our first dance was 'Don't Worry Baby' by the Beach Boys…just an amazing song loved by both of us with very happy memories!!"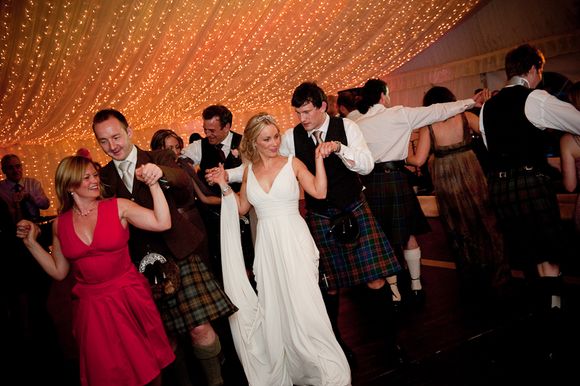 Words of Wisdom…

"I have an overriding feeling of extreme happiness when i think of our wedding and i think managing to avoid tress / arguments or tension in the run up probably helped that – it is very important to see the wedding for what it is rather than how you are construed or trying to have everything to perfection because it doesn't happen!!for us, it was the weather but after an initial feeling of disappointment on the morning, I didn't give it a second thought – no point!!  …and I don't think anyone else did either. 

Try and savour the time leading up to the wedding, particularly the last few months, when things are fairly constant / intense.  These times were some of the happiest times of my life  so far and are very much extensions of the wedding and the memories you come out the other side with. Don't get too bogged down if minor detail is not going to plan!  Try and remember the bigger picture and what you and your guests will remember forever…
There is so much to be said simply for the company – fun and laughter that just cannot be planned! Having said that, if there are things you want to be detailed about then do it  if it's possible – I can assure you it will be worth it on the day and in all the looking back.
Make sure you leave time to savour the getting ready if you can – and to have plenty of photos with parents / those getting ready with you because it's a crucial part of the day, but an easy part to let slip by so quickly in the bustle of the moment!
Lastly, try and relax / smile and enjoy your day, remembering that people are there for you – when looking back, it dawns on you even more how much you will never pass that way again – so absorb as much as you can!"
A beautiful Bride if ever there was one!
Thank you Jennifer for sharing your details with our readers and thanks to to the lovely Christina from Elemental Weddings for submitting this beautiful wedding 🙂
And to see you out, a little video of the day! Enjoy … 🙂
"I would seriously consider a videographer – it definitely fills you in on subtleties of the day which you otherwise miss and just to sit down a month after everything ad watch people's expressions etc captured – invaluable we would say…"
Much love all,
Annabel xXx
♥