Yesterday I received the most delightful email from a Love My Dress Reader. She is marrying next year and has taken much inspiration from Love My Dress in producing a mood-board for her dress designer – it's full of images of fabulous fifties style frocks. And I realised how much I LOVE that fifties style for weddings. And so I decided to open up this Thursday with a 50's style real wedding 🙂
Emma and Nick tied the knot on 11 July 2001 with a ceremony at Ness Gardens, Ness, Cheshire, followed by a reception at Birkenhead Town Hall, Wirral.
This 1950's Bride opted for a cute as pie full-circle skirt wedding dress design, which she commissioned Joanne Fleming to create, having taken inspiration from one of the most iconic style icons of the century, Audrey Hepburn…
"The dress is a similar style to the one Audrey Hepburn wore in the film, 'Funny Face'. I love the 50s styles but didn't want a strapless dress as they just didn't suit me, so I thought I'd try something different. Jo made a toile with a stand-up boat neckline and I liked that, but it was quite bold, so she cut and pinned to make a slash neck with little cap sleeves and I fell in love with it. 
I knew I would need my dress to be above the floor as we planned to have a ceilidh and full length wouldn't have been practical." 
Love My Dress Wedding Blog – Photography Copyright (c) 2010, Elegant & Wild Photography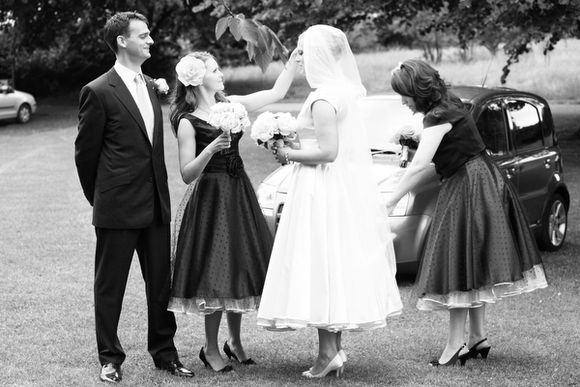 "My shoes were 'Santi' by Rainbow Couture and I got them from a shop called Elegant Steps in Oxton, Wirral.

James at William & Benjamin, Heswall did the flowers. He was recommended by a friend who married the year before and he was great, he has loads of ideas and is really funny. I wanted peonies as they are really pretty, but then when I went to make final decisions a couple of weeks before the wedding, James had some really beautiful lilac-y pink roses called Sweet Akito so I added some of those and he also used them for the bridesmaids' bouquets, along with the peonies."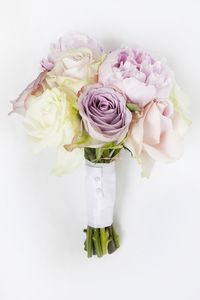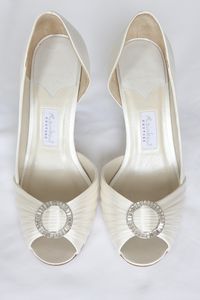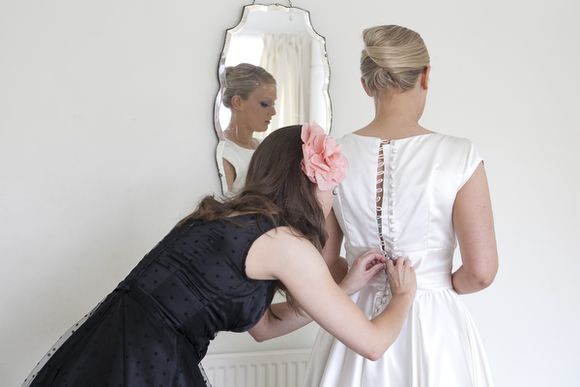 "The bridesmaids' dresses were from Unique Vintage and so were the petticoats. The dresses are called 'Grace' by Stop Staring.  My dressmaker Joanne Fleming made the bridesmaids' hair flowers using silk flowers from one of her suppliers. I wanted really oversized hair flowers but they were very hard to find so it was great that Jo made them.  Each of the bridesmaids wore a vintage crystal bead necklace that I bought on ebay. I had to search for a while to find two of them in pink and in good condition but I managed it – they were only about £6 each."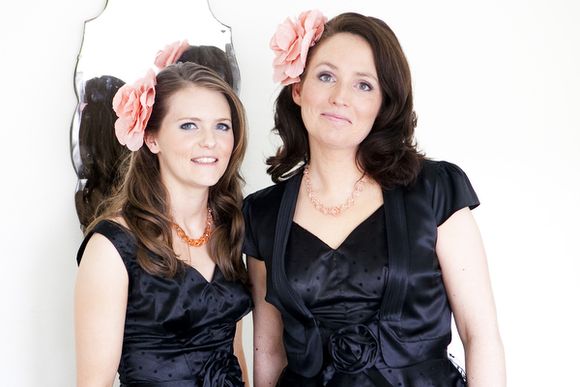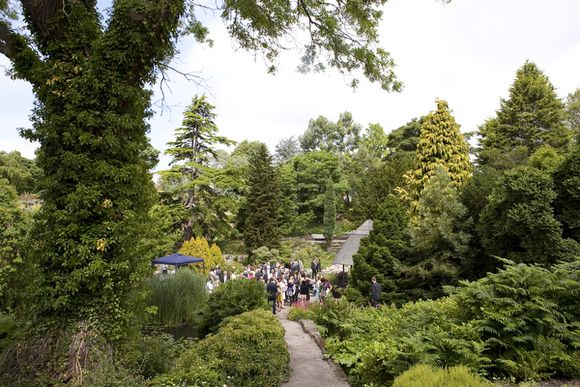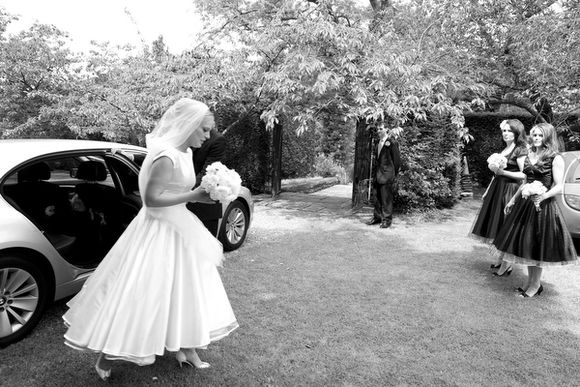 "We didn't want to marry in church so we chose Ness Gardens partly because it is a lovely backdrop for photographs, and partly because it was a bit different from a hotel. It was quite stressful in the run-up to the wedding though as the weather was predicted to be heavy rain. As it turned out, the rain hit at about 7pm when the reception was in full swing and nobody even noticed…"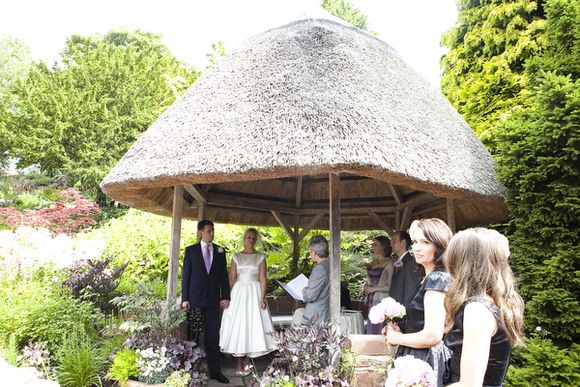 "I wore a vintage rhinestone bracelet that I bought for £10 on ebay.
The rings are plain heavyweight platinum bands and they were made by a guy called Ken Munn who is the tutor on the jewellery making course at Greenwich Community College. I took the course back in 2008 and Ken made the rings for us for a really reasonable price as he has a workshop at home. He also replaced the shank on my antique engagement ring as it had worn quite thin after 100 years of wear!"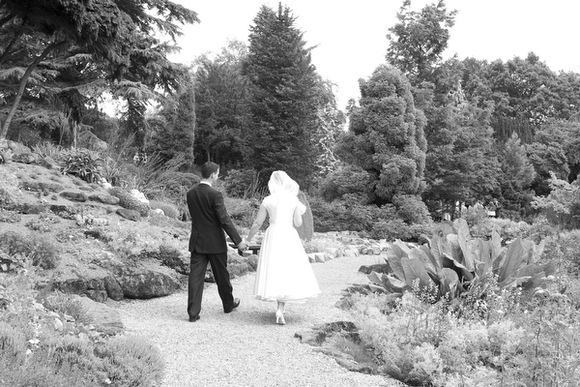 "My veil was silk tulle and made for me by Kelly Spence. After choosing my dress, I wanted to try out the veil style that went with the dress in 'Funny Face', which was a very unusual style that gathered at the nape of the neck and fixed onto the dress itself. I was not sure whether it might be too 'out there' so I went to visit Kelly at her studio in Hertford and she made a mock-up from synthetic tulle to see how it looked and I decided to go for it, but chose a silk tulle for the real thing to go with the silk of my dress."
The Groom wore a bespoke casmere suit by English Tailoring at Canary Wharf…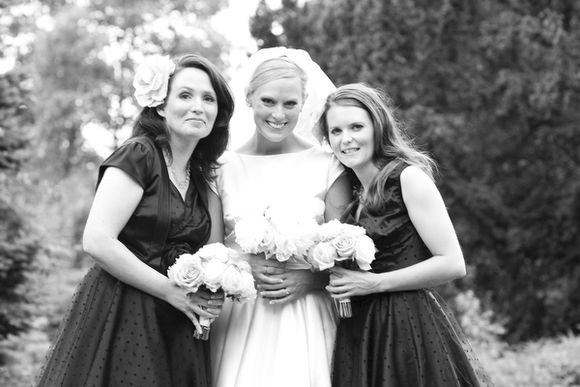 "We hired a vintage Routemaster bus to transport guests to the ceremony and then on to the reception as the ceremony venue is quite remote and was a good distance from the reception…"
"We hired Birkenhead Town Hall for the reception as it is a beautiful civic building that is currently under threat. It needs a lot of maintenance work doing to it and as it is no longer used by the Council as a town hall, they are trying to sell it. We love it, it's amazing inside with beautiful stained glass windows and wood panelling – it is very sad that such a historic and lovely building will probably fall to ruin in the near future.  Also, the Town Hall is just a 'hire the shell' venue, so we were able to bring in our own caterers and do whatever we wanted. We had to use their bar service but the guy who runs it was brilliant and couldn't have done more for us – he even picked up our wine from our house the day before the wedding and dropped off what we didn't use the day after!"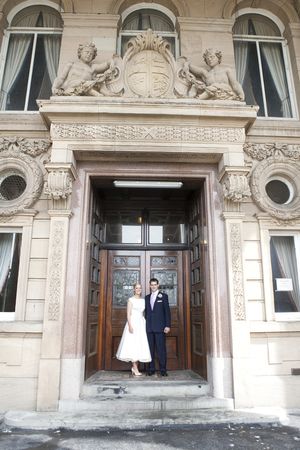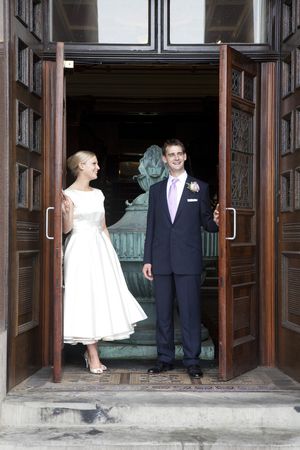 "My bridesmaid made the cake as a wedding gift and it had a bottom layer of fruit, middle layer of chocolate sponge and a top layer of vanilla sponge. I wanted a vintage style with sugar roses as my bridesmaid Anna is very talented at making sugar flowers…"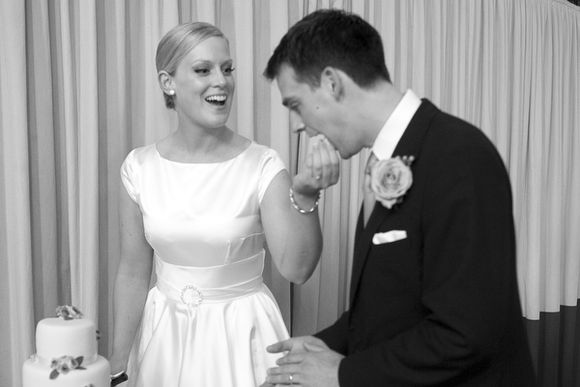 "Ceilidh Minogue travelled all the way from Scotland to provide the music. They played fiddle and accordion as background music during the wedding breakfast and then played ceilidh music and called the dances for the evening reception.  We asked the band to play an easy ceilidh dance as our first dance, and to request that all guests joined in. They did the Circassian Circle and I think everyone did actually get up and join in!…"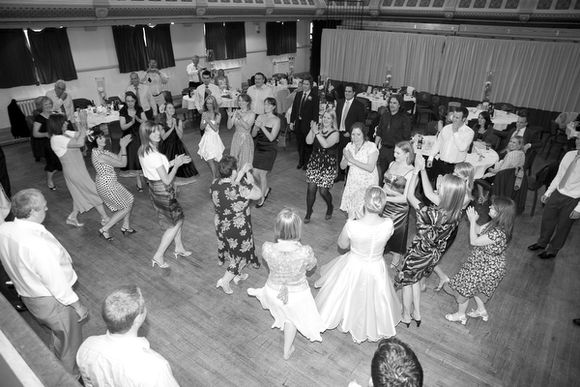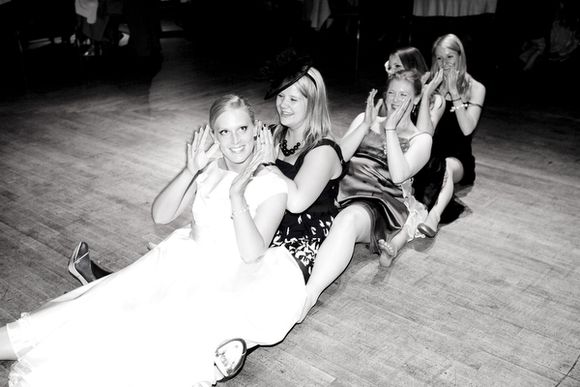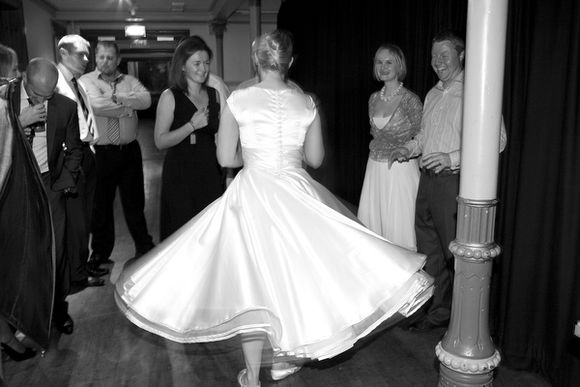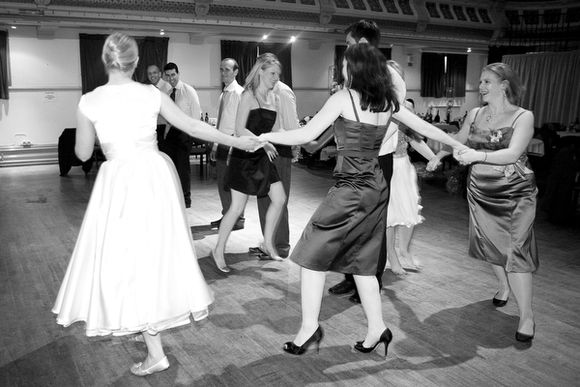 Words of Wedded Wisdom…
"Try to make the day fun for your guests – think of their comfort where possible. If your guests are having a great time, so will you.   We didn't really set out to style it a particular way – we just chose things that we loved as we went along and didn't worry about things like themes or colour schemes. If it didn't match, it didn't matter.
I would say to brides that they should really focus on enjoying the day. It is over so quickly. Also, spend your time and budget on the things that really matter to you, and forget everything else. We didn't have a table plan or an order of service as they were so expensive and I couldn't be bothered organising them, so a friend printed a table plan onto a little leaflet, along with details of where to catch the bus to the reception and handed them out as guests arrived."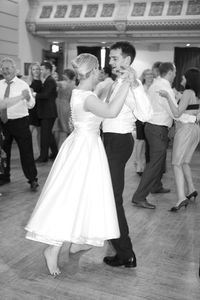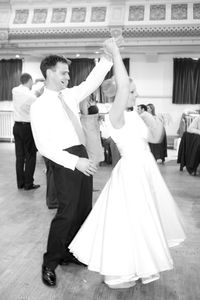 Style Guide…
Wedding Dress, Joanna Fleming  |  Silk Tulle Wedding Veil, Kelly Spence  |  Shoes, Rainbow Couture at Elegant Steps  |  Bridesmaids Dresses, Unique Vintage  |  Photographer, Elegant & Wild | Flowers, William & Benjamin  |  Grooms Suit – Bespoke Cashmere, by English Tailoring at Canary Wharf19
♥  ♥  ♥
Thanks so much to Emma for sharing her style details with us today, huge thanks too to Photographer Vicky Dawe of Elegant & Wild Photography, for allowing reproduction of these lovely wedding photographers on the Love My Dress Wedding Blog.
Much love,
Annabel xXx
♥