I received an email last week from Belle & Bunty, an independent fashion label based in London, who have created an absolutely exquisite, glamour-drenched collection of seven floaty and feminine classic maxi dresses, which they are rather fabulously offering as a beautiful alternative to bridal wear; think elegant, sophisticated, timeless designs, reminiscent of the floor sweeping gowns of the 30's in the most sumptuous silks and with delicate hand crafted detail, and you get the idea.
I got chatting with Hannah Coniam, one half of the duo of designers behind the Belle and Bunty label, and the Magnificent 7, and asked her how the collection came about…
"The collection has stemmed from myself and my business partner Alice both getting married within a few months of each other;  her, last December and myself in July this year. Both being lovers of all things vintage, romantic and old-school glamour, and having had our own fashion label for 7 years, we obviously wanted to design our own wedding dresses ( no pressure there then!). 
So after months of researching and umming and ahhing we had our two styles ready; The Belle and The Bunty. The Belle being a 1930s style maxi dress in Red Claret Silk Satin with Cape and hand made corsages, perfect for a Winter Wedding and The Bunty, a romantic Summery style in Soft Gold Satin and Champagne Chiffon. Both personal to each of us aswell as having our Belle & Bunty signature style from the collaboration of each others ideas…"
 Love My Dress Wedding Blog – Imagery Copyright (c) 2010, Belle & Bunty

"So, with both of us feeling pleased as punch with our own styles and having been making a few one-off dresses for our lovely boutique customers who seemed to also want something a bit different from the traditional white dress by a big name bridal designer, we decided to expand on what we had to create The Magnificent 7; a capsule collection of 7 styles of alternative Bridal wear at price's that wouldn't break the bank! Dresses for the modern woman who wants to feel fantastic and unique on their big day."
And what a truly wonderful job they have done!

The collection has been carefully constructed with a shape to suit every figure and all styles are available in bridal colours. Alice's wedding dress, The Belle (£875, and pictured above there), exudes 1940s glamour with its open back, draped cape font, fitted at the waist and over the hips with handmade silk corsage and finished with a full flowing skirt.
And below, 'The Bunty', the gown worn by Hannah on her wedding day – a beautiful dusty peach silk chiffon number with a trio of silk corsages, £845…

The Magnificent 7 brings together the efforts of years spent polishing these shapes to perfection with an intensely personal touch.  And I think that's why I love the collection so much.  This isn't 'just' a suite of 7 beautiful, head-turning dresses – it's the fact that each dress has come about because of love and romance and a passion to create something that stands out and truly celebrates the female form. 
Each individual design has it's own personality too; I love 'The Estella' below, an enchanting nude silk crepe and georgette gown with silk lining and handmade silk roses.  The waterfall effect of the fabric as it drops to the floor is divine!
This exquisite dress costs £975 – which still beats most designer dress price tags…
I actually can't pick a favourite in amidst these 7 lovely designs, but 'The Willow' below, certainly comes very close. The Willow Maxi Dress is the seminal force behind the collection. Following the Willow's repeated sell-out success, Alice and Hannah have made dresses for a stream of brides looking for an alternative to the traditional wedding dress.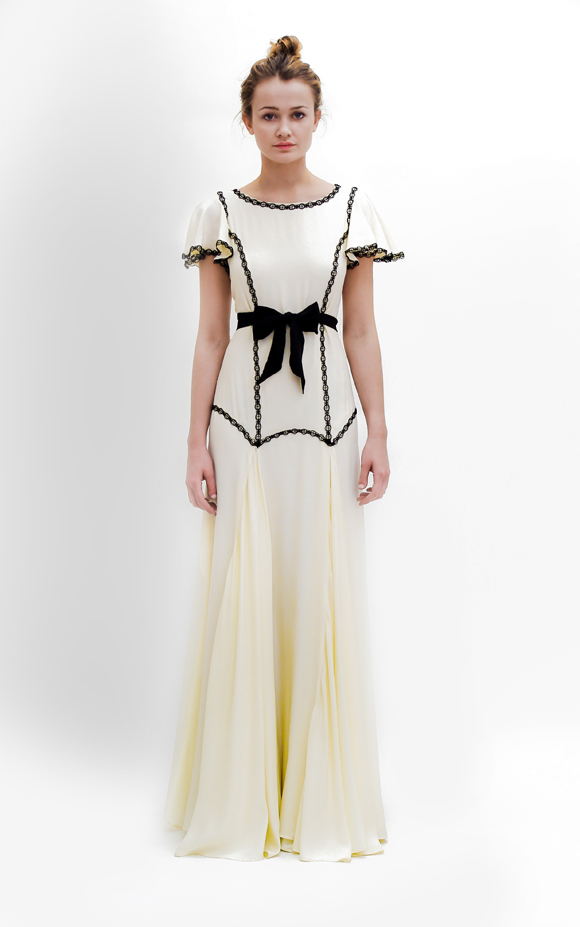 The beautiful 'Primrose' design below (£1095) celebrates a figure with curves; low cut at the front with flattering sheer flutter sleeve and beaded shoulder detailing, the style is fitted over the waist and hips flowing to a flared skirt.  I am utterly in love with the dark teal colour of this dress! The dress screams 'screen siren goddess' to me – and those sleeves are so pretty!  I'm already visualising teaming this dress up with a beautiful little vintage clutch bag and pair of vintage drop earrings and Emmy heels – perfect!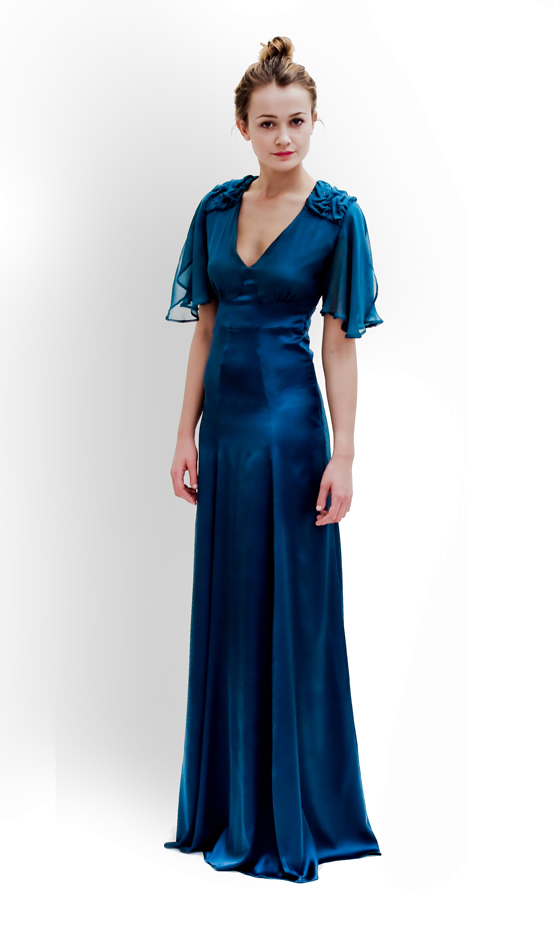 The minimal elegance of The Bay (£745) is perfect for a more boy-ish figure with a keyhole back and crystal button detail adding a subtle feminine touch…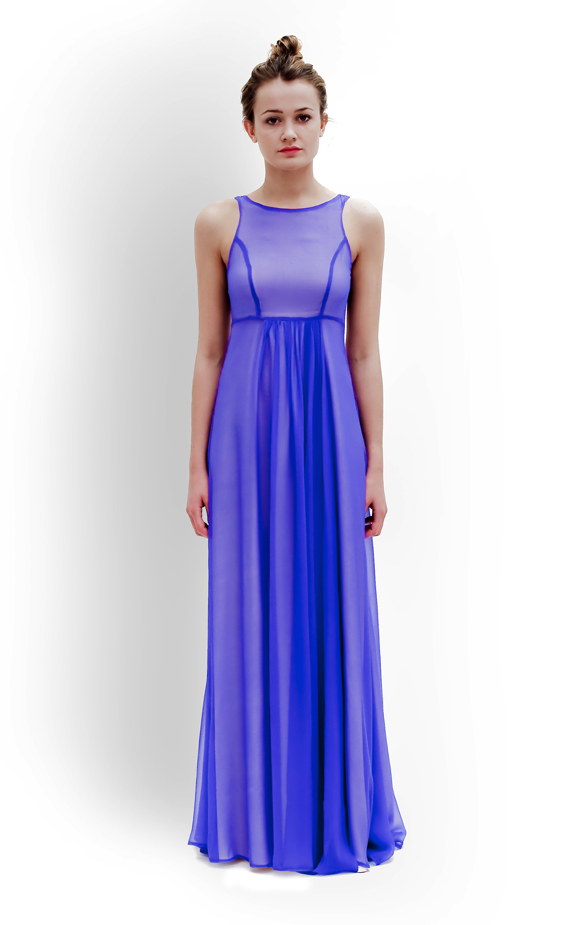 The strapless Wisteria (£745) has a line of covered buttons at the bust, a sheer bow at the back and a tiered skirt, gradually becoming sheer towards the floor as the layers fall away…
The Magnificent 7 exhibits Hannah and Alice's expertise at its finest, distilling their meticulous attention to detail and refined eye for colour, creating a collection of pieces to be treasured and enjoyed well beyond the wedding day.
The collection is available to order throughout the year at the Belle & Bunty Boutique in London:-
Belle & Bunty Studio: 45a Brecknock Rd, London, N7 0BT
For further information, visit the Belle & Bunty website and do let me know, which is your favourite? 🙂
You can view more Bridal Wear on the Love My Dress Wedding Blog here.
Much love,
Annabel xXx
♥