Join me today as we enter the enchanting world of The Reverie Collection of meticulously crafted, exquisite bridal accessories, from visionary British couture accessories designer, Hermione Harbutt.
This collection is a tribute to Hermione's meticulous dedication and craftsmanship and is imbued with the sense of joy and anticipation that Hermione felt whilst awaiting the arrival of her sweet baby daughter, during her time creating these pieces.
Hermione's remarkable talent has been inspiring both myself and countless Love My Dress brides for over a decade now. Her genuine kindness and passion for what she does, makes supporting her and her business a truly rewarding experience. For me personally, witnessing the creator's warmth and love manifest into the most exquisite, beautiful and wearable designs – and creation of heirloom quality pieces, is an absolute joy to behold.
This collection carries Hermione's nature inspired design hallmarks and includes headpieces, necklaces, cuffs and earrings. Words below are from the designer herself and you can find out more on her website.
"I am so delighted to present The Reverie Collection, accessory designs that showcase a blend of contemporary and modern, alongside timeless, classic charm."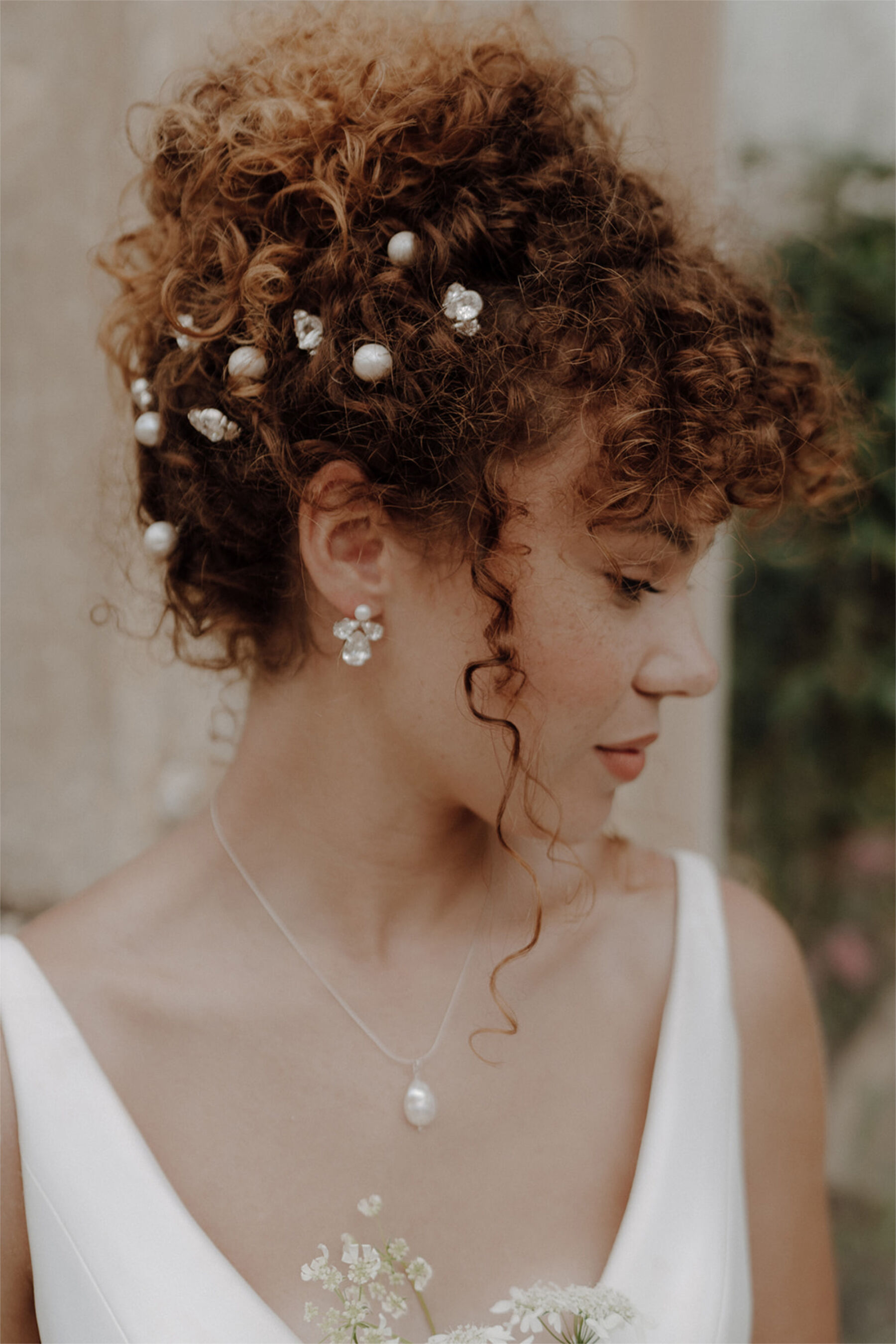 Hermione Harbutt
The Reverie Collection combines my passion for modern and unusual design and my appreciation for, and inspiration from, the beauty of the natural world.
I wanted this collection to feel like wearable poetry, like something from a daydream, each piece capturing the essence of a dream with a tangible beauty to be worn and treasured – hence the name!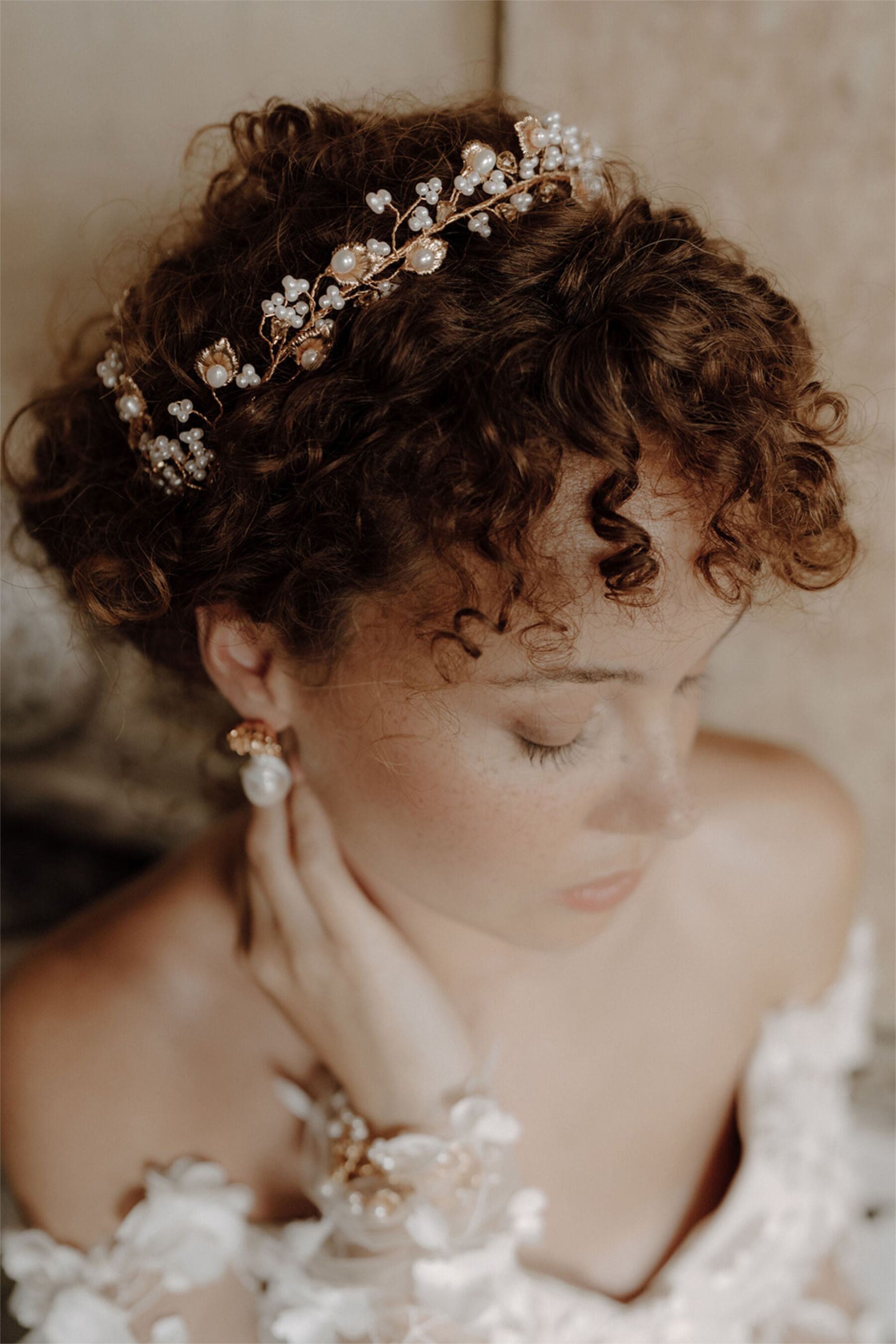 Nature, a perennial muse in my creations, continued to inspire me in this new Collection, showcased within sleek architectural lines, bold crowns and ethereal halos alongside timeless and classic styles.
Encompassing florals alongside celestial motifs, suspended stars, statement baroque pearls, statement crowns, sleek pearl jewellery and angelic halos formed from gracefully curved wires.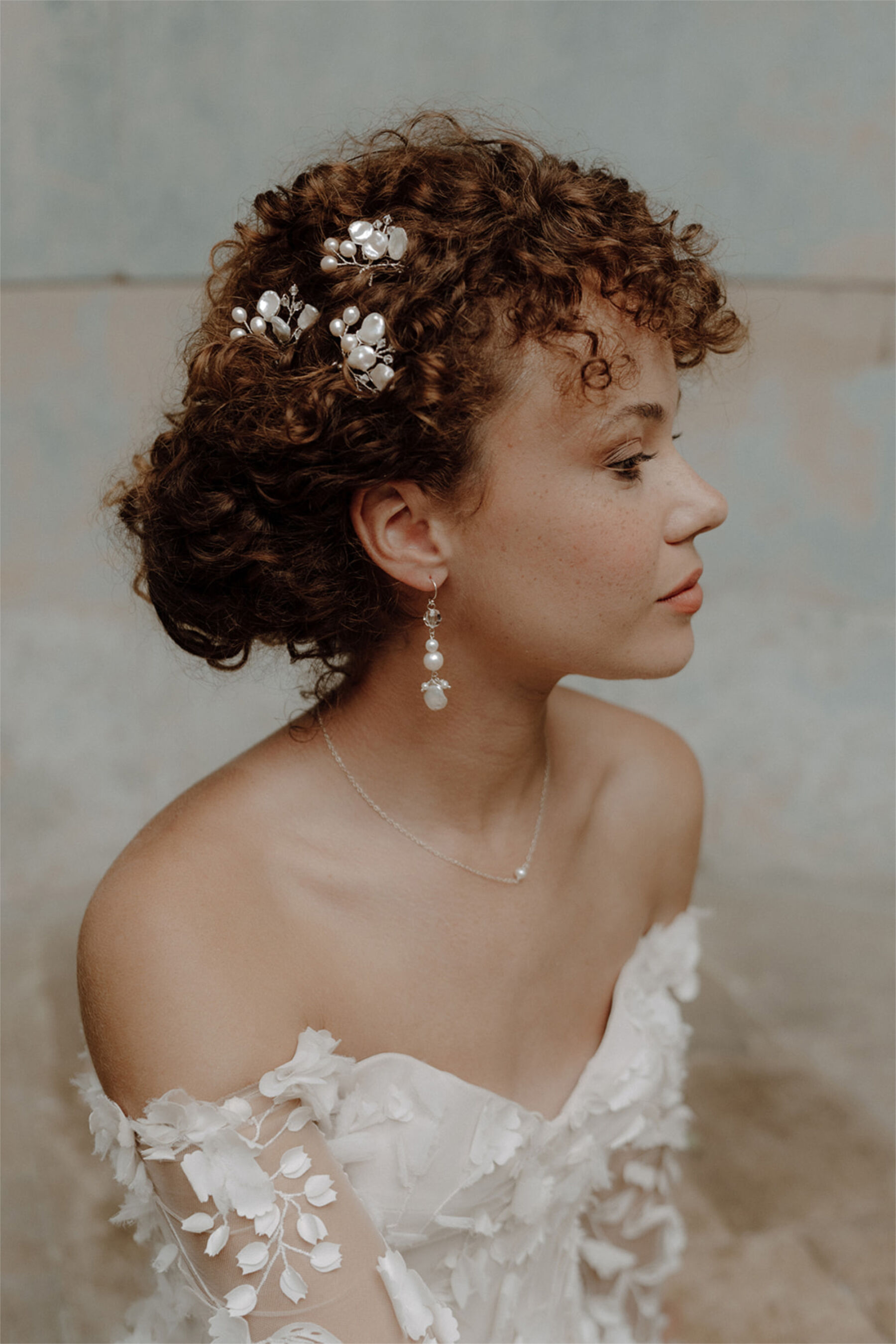 Each design bears my signature Hermione Harbutt style and detailing, joining this new collection with my existing ranges and creating an array of options that hopefully will resonate with brides seeking both modern innovation, and traditional elegance.
Created with the stylish and modern bride in mind, designing this collection has been such a delightful process, resulting in pieces that I absolutely adore and I am so excited to showcase here on Love My Dress.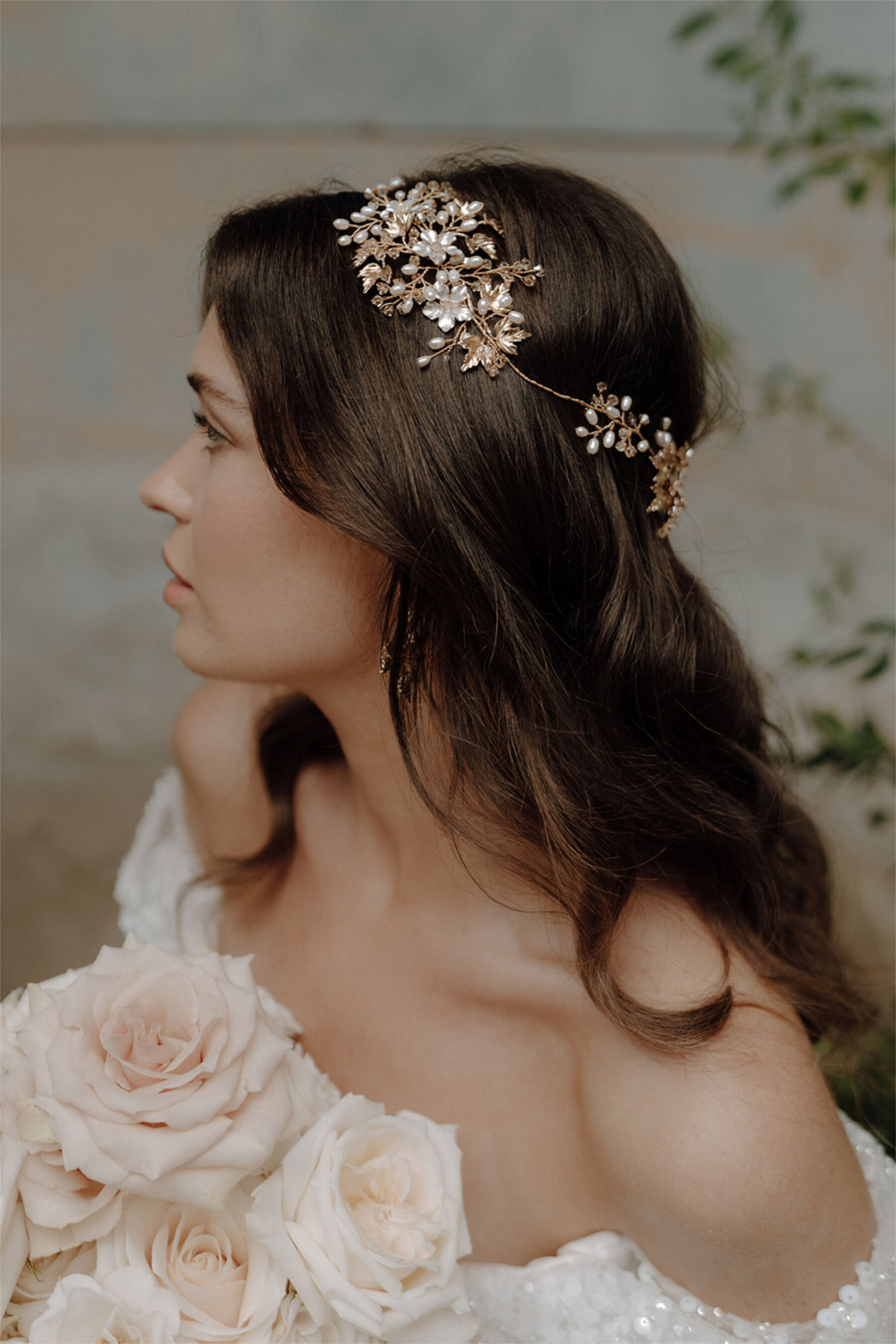 "Designing this Collection was a real labour of love for me, mostly imagined and created whilst expecting my baby daughter, so this collection feels very special and will always make me think of her."
I've always cherished the art of crafting diverse and varied designs. I really believed in allowing my imagination to roam freely when crafting my collections, which can really take so many different routes during the process.
The beauty of having a range of styles and embracing the diversity within each of my collections, hopefully results in pieces that surprise, delight and allow each individual bride to find a piece that feels like a perfect reflection of their personality and vision.
It's such an honour to share these designs, each to be a small part of a larger journey for my brides and clients, and I hope they resonate with, and will be cherished by, all those who wear them.
Behind the Scenes
Curating a photoshoot for a Collection always calls for a unique and beautiful setting, and the enchanting backdrop of Westonbirt – a firm favourite of mine – once again proved to be the perfect stage.
Situated in the Cotswolds, Westonbirt features heavenly Italian gardens with glorious stone arches and details, alongside the stunning facade of the main house. It's the perfect place for a Cotswold wedding and was such a beautiful location for our shoot.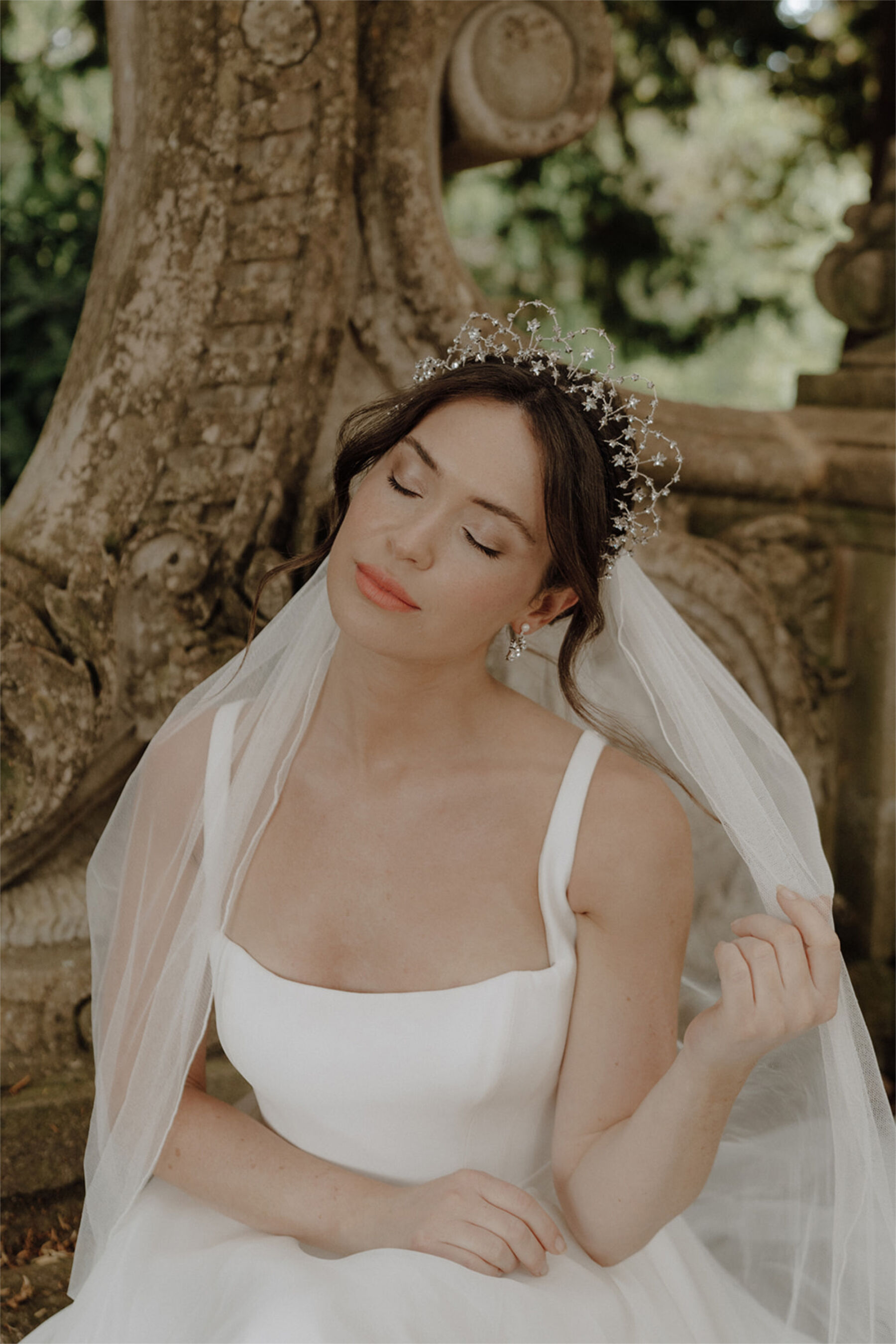 Such a talented team came together to breathe life into capturing this new collection and I am so grateful for their involvement and talents. Emily Jayne worked her magic behind the camera, capturing each piece with such radiant and luminous imagery. Russell Kent-Nichols once again beautifully captured the design with stunning videography.
The beautiful gowns by Suzanne Neville, paired with exquisite footwear from Freya Rose, effortlessly completed the looks.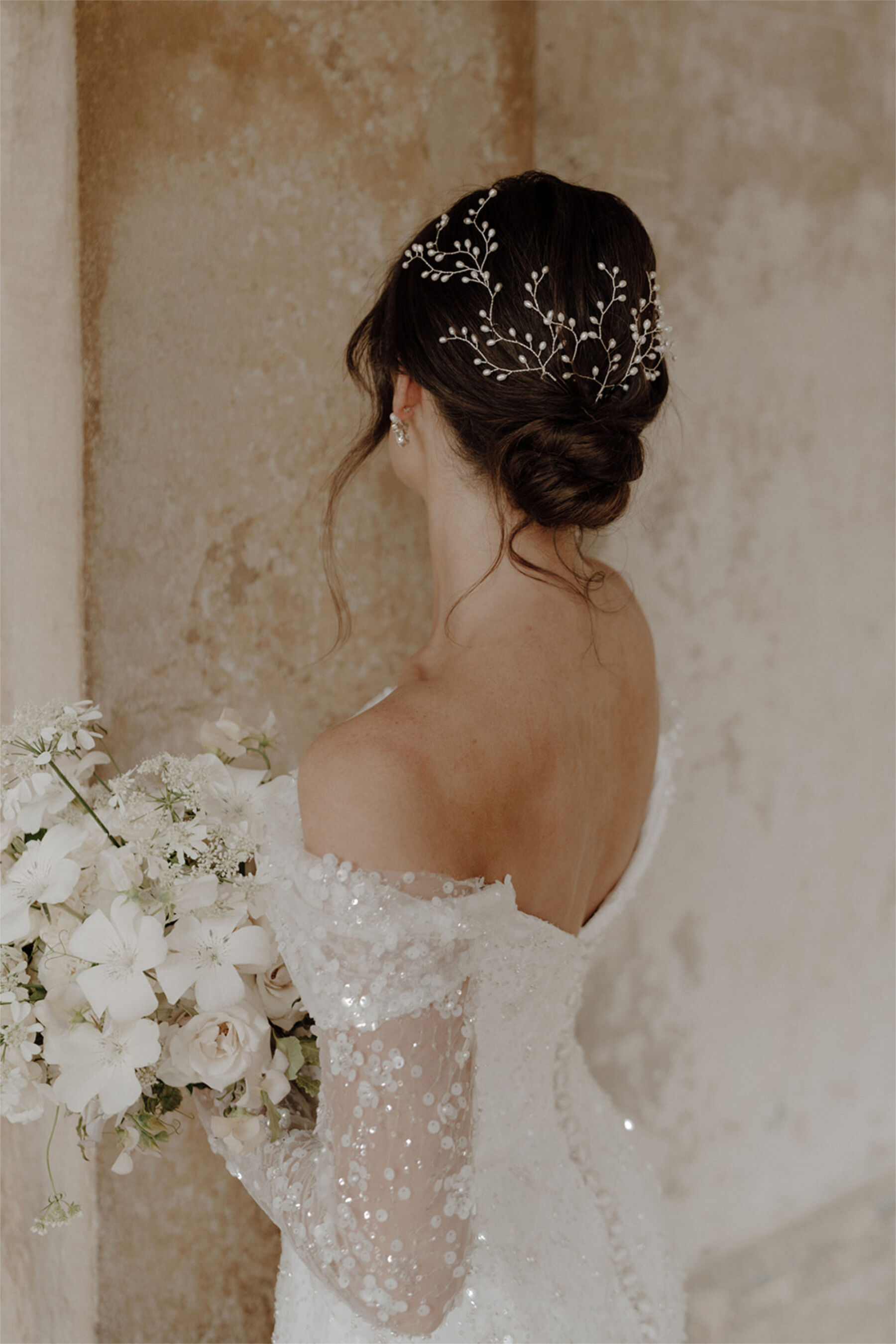 Talented Make Up artists, Annabella of By Annabella Make Up assisted by Make Up By Cecilia created the exquisite beauty looks to harmonise flawlessly with overall style and Melissa Wood of Storme Hair & Make up created the most perfect hairstyles to showcase each of the accessory designs.
The stunning florals were created by Sarah of The Petal Emporium. Sarah created a breathtaking meadow backdrop to really capture the dream-like aesthetic and I could not have loved the blooms more.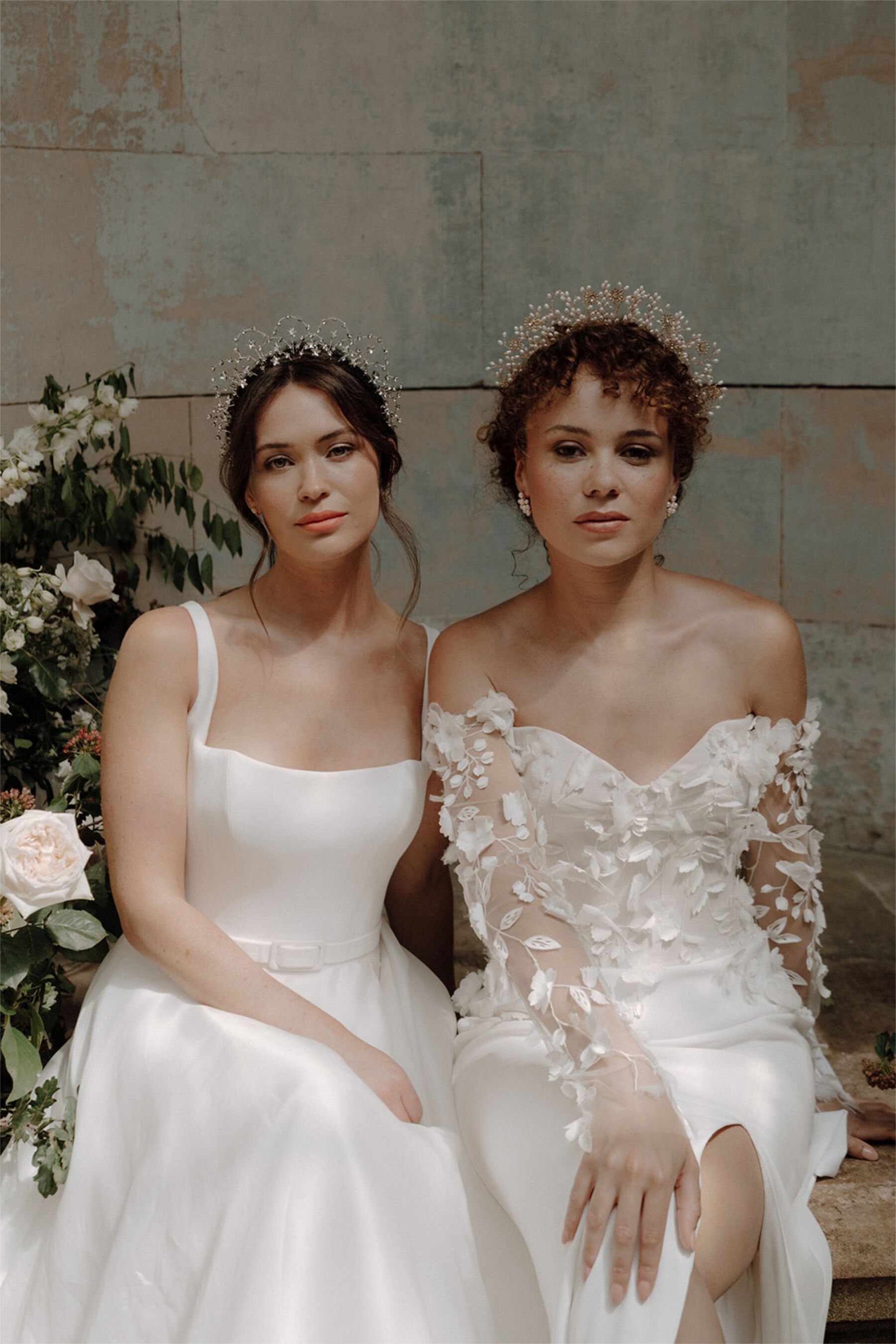 Couture by Hermione/Bespoke
It's such a privilege to work with brides and beautiful things and I feel so lucky to do what I do. It is such a pleasure to handcraft exquisite and special accessories and it's an honour to be part of the wedding industry.
There's a certain sentimentality and nostalgia in having something lovingly handcrafted, especially in today's fast-paced world. Each of my designs is meticulously assembled by hand, weaving intricate details to form a truly special heirloom.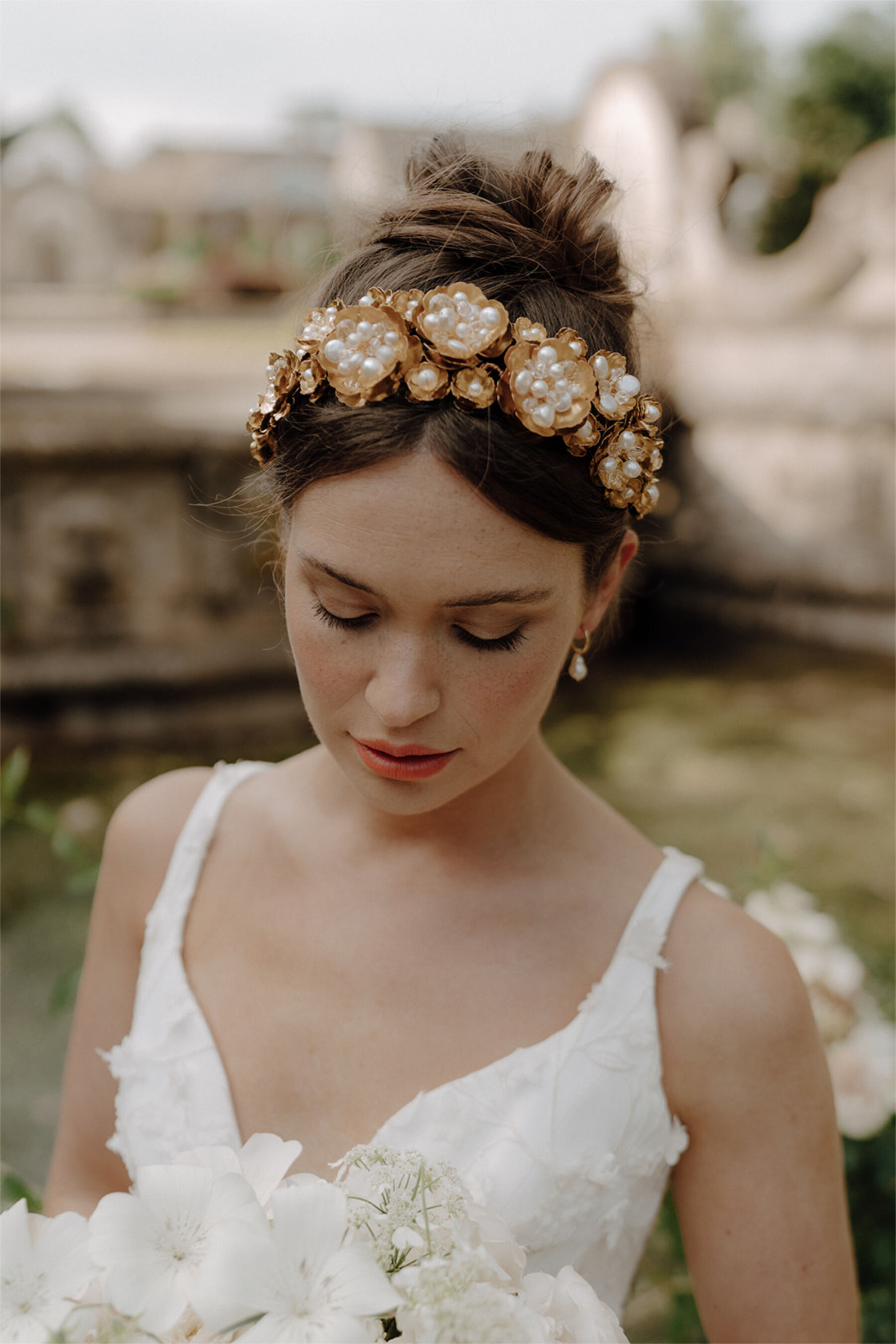 I love that every Hermione Harbutt piece is handmade individually, which gives all of the possibility for creating bespoke designs. Brides can choose pieces from my collections exactly as they are or can opt for a bespoke version of a design, or something entirely new. My brides can embrace a personalised journey of creation with my bespoke service, to craft a one-of-a-kind piece. I feel so lucky to be ably to pursue my passion, translating designs from people's imaginations into tangible and wearable heirlooms.
Hermione Harbutt has two boutiques located in London and Bristol – you will find full address details and more at hermioneharbutt.com. The full collection can also be ordered online.
For enquiries and to book appointments to try on the full collection, or to develop a unique bespoke piece please contact us [email protected].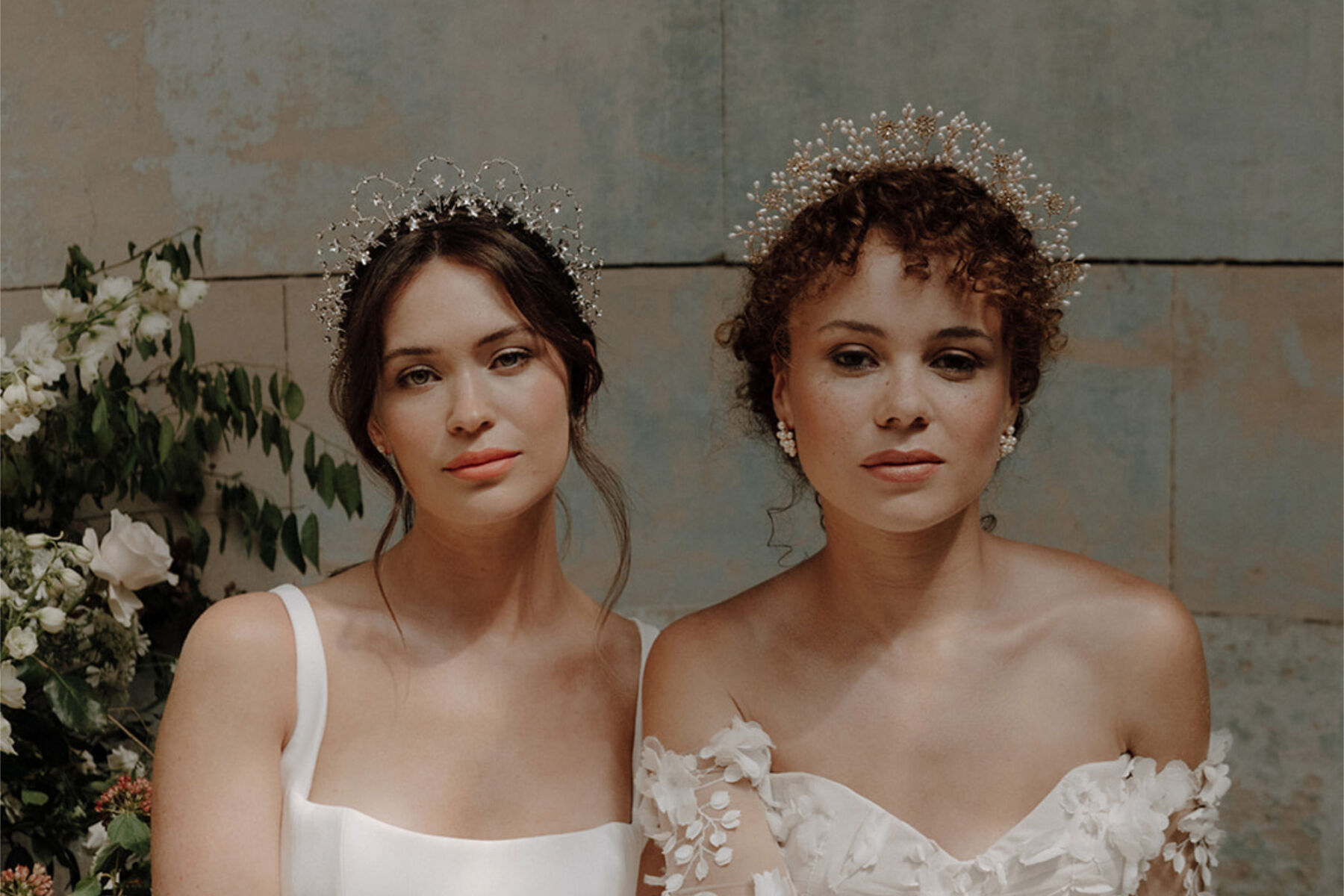 hermioneharbutt.com
Love My Dress Wedding Directory Members
The below suppliers and venues featured in this article are part of the Love My Dress Wedding Directory.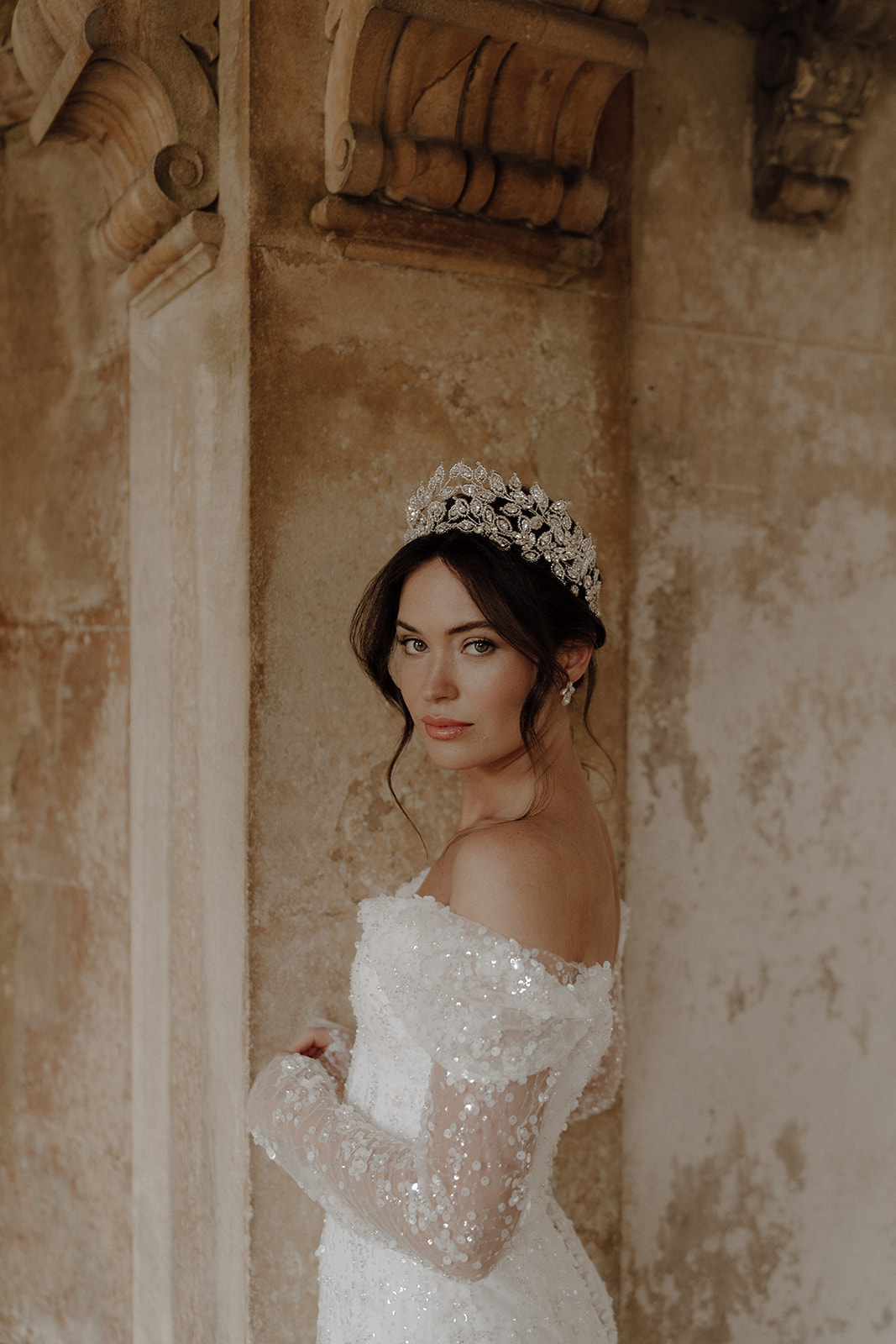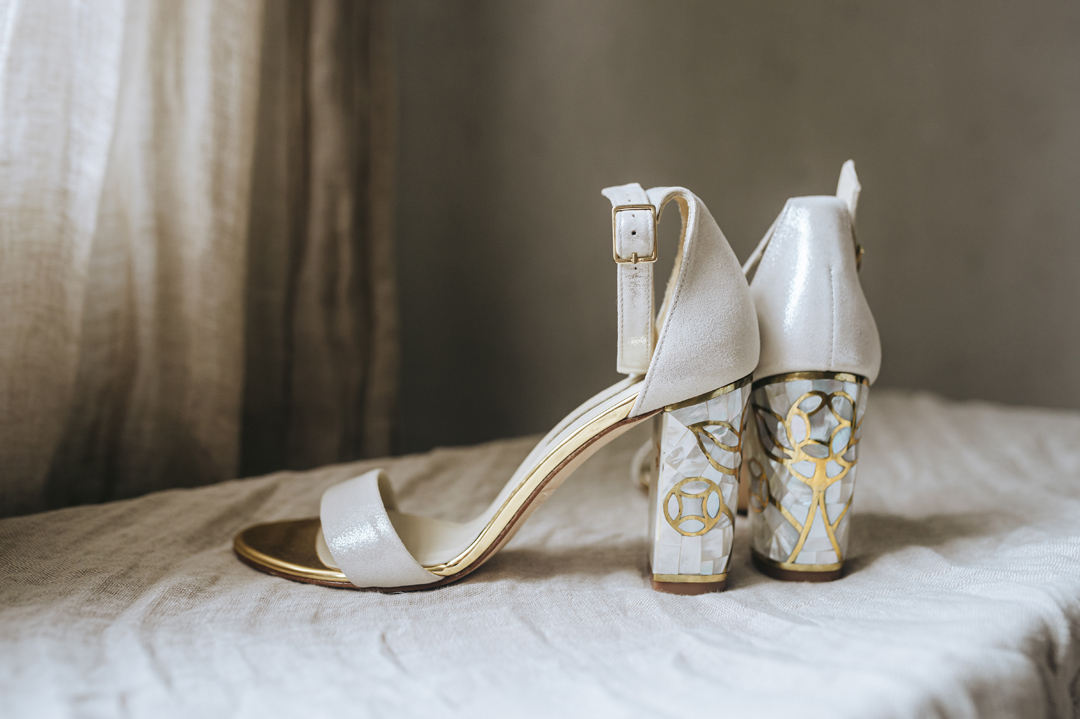 Additional Credits
The below suppliers and venues are featured in this article, but are not part of the Love My Dress Wedding Directory.