Georgia-Rose married her love Mike on 23rd July 2022 at the beautiful Gileston Manor, a historic Georgian manor house situated in the breathtakingly beautiful Vale of Glamorgan whose 9 acres of countryside estate overlook the Bristol Channel and Somerset coastline.
The couple, led by the interior stylist bride, planned a wedding day full of timeless elegance, whimsical and wild detail and romantic and relaxed intimacy. The bride wore a divine gown by Willowby Watters that was covered in pearls and we are delighted that she discovered her wedding photographer, the talented Jade Osbourne, through Love My Dress. Enjoy!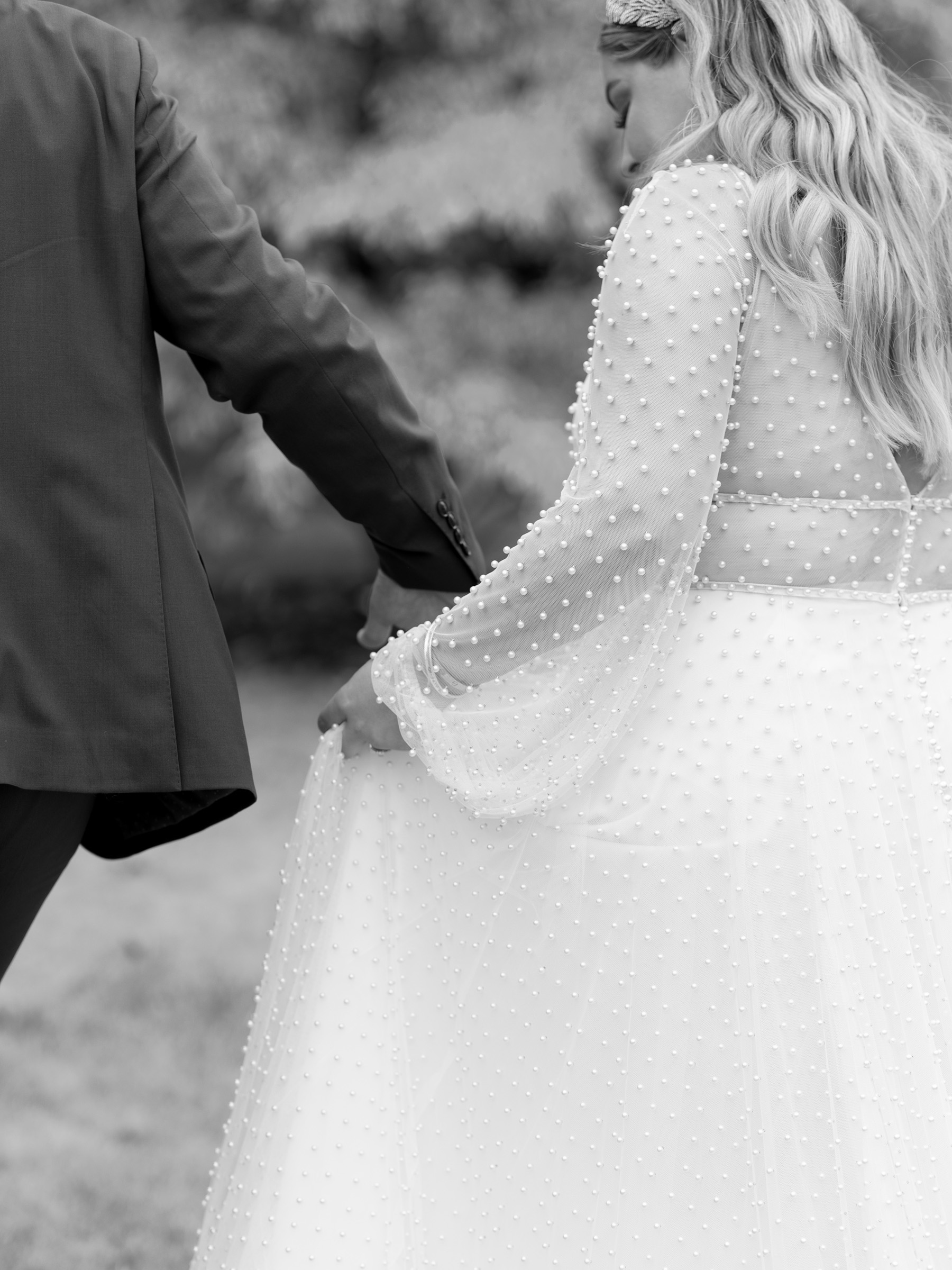 A Gileston Manor Wedding
Our venue was Gileston Manor in GIleston Village in Wales – I personally have always wanted an abroad wedding, however with my partner being the patriotic Welsh rugby man that he is, I've always known deep down that our wedding would be somewhere in the rolling hills of South Wales, However I knew I wanted somewhere that felt different.
I knew from the beginning of the search I wanted the backdrop of the wedding to have a touch of glamour and elegance that I see and create in my job everyday. Our search was quite tricky to begin with as most venues were either too stately and formal or too casual. Whilst wanting that refined and enchanting building, we personally are a very relaxed couple, so I knew I wanted that elegant romance to be paired with a laidback and welcoming intimacy.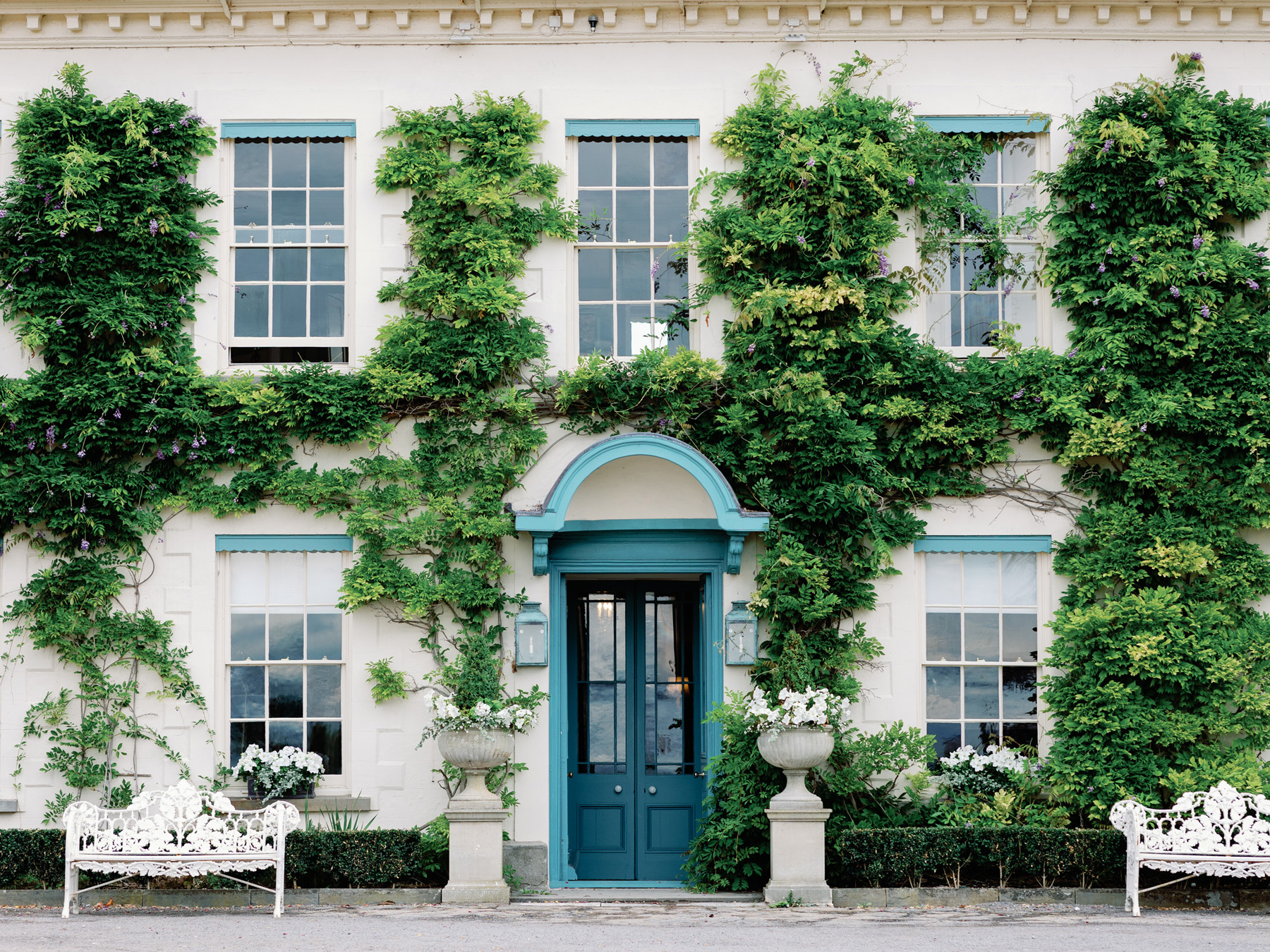 After weeks of searching I happened to stumble upon Gileston Manor, which at the time was still very much a beautiful family home that were starting to do weddings. From our first walk around the Queen Anne Grade II listed Manor House with the owner Lorraine, we knew it was the venue for us. It had the perfect harmony of timeless grandeur whilst also feeling like a bustling humble home.
Every element was more enchanting than the last and we were really excited for our wedding and our guests to experience every part of the venue from the wisteria covered house to the 8th Century Walled Garden bursting with every flower imaginable. Having the chance to meet and feed Bill and Ben the alpacas on the tour was also the element that sealed the deal for us.
Bridal Shoes, Veil & Accessories
My mum gifted me Amouage, Dia Women, which is the perfume she used to wear when I was young and would always get told off for 'borrowing' when I first started going out. That was technically my something old, new and borrowed.
Mike wore Penhaligon Halfetti which is the cologne I buy every year for him. For our wedding I gifted him another bottle with our wedding date etched into the bottle.
I wanted my shoes to connect me to the bridesmaid and wedding palette, but to also bring a touch of playfulness to the outfit, so I went for the peach coloured Loeffler Randal Camellia Sandal. They were super comfy and I intend to wear them all the time.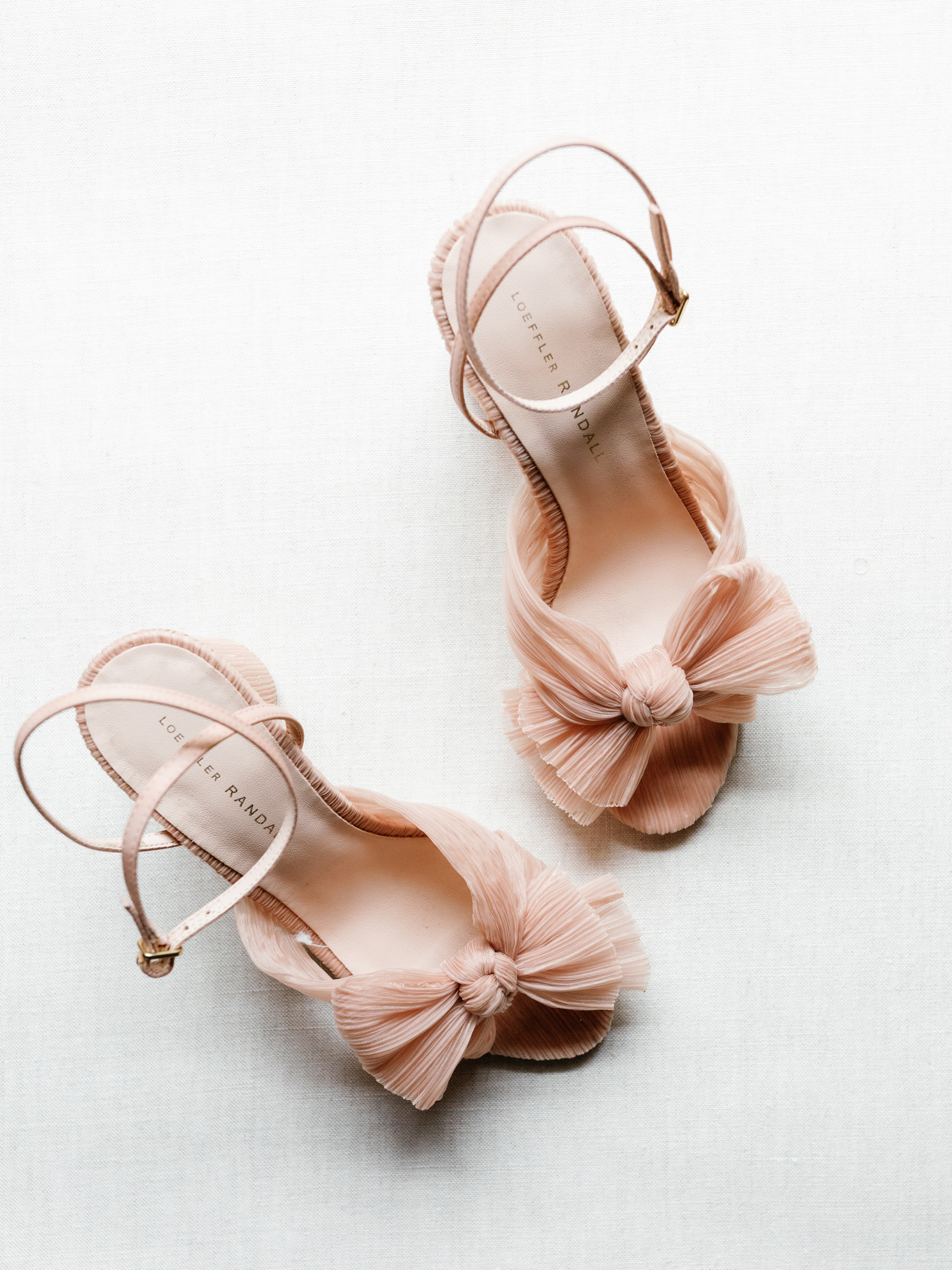 I felt like the search for my hair accessory was harder than the dress itself! I foraged through every website, Instagram and Etsy site for the perfect hair embellishments but as so many were pearls I turned them down. I didn't want to go matchy-matchy with the dress, and wanted something that stood out on it's own. A few months before the wedding I found Botias Accessories and fell in love with the two crystal garland clips.
Mike knew that I was slightly down about our french bulldog not being at the wedding, so on the morning of the wedding he gifted me a bracelet with a french bulldog on it to signify that he would be with us on the day.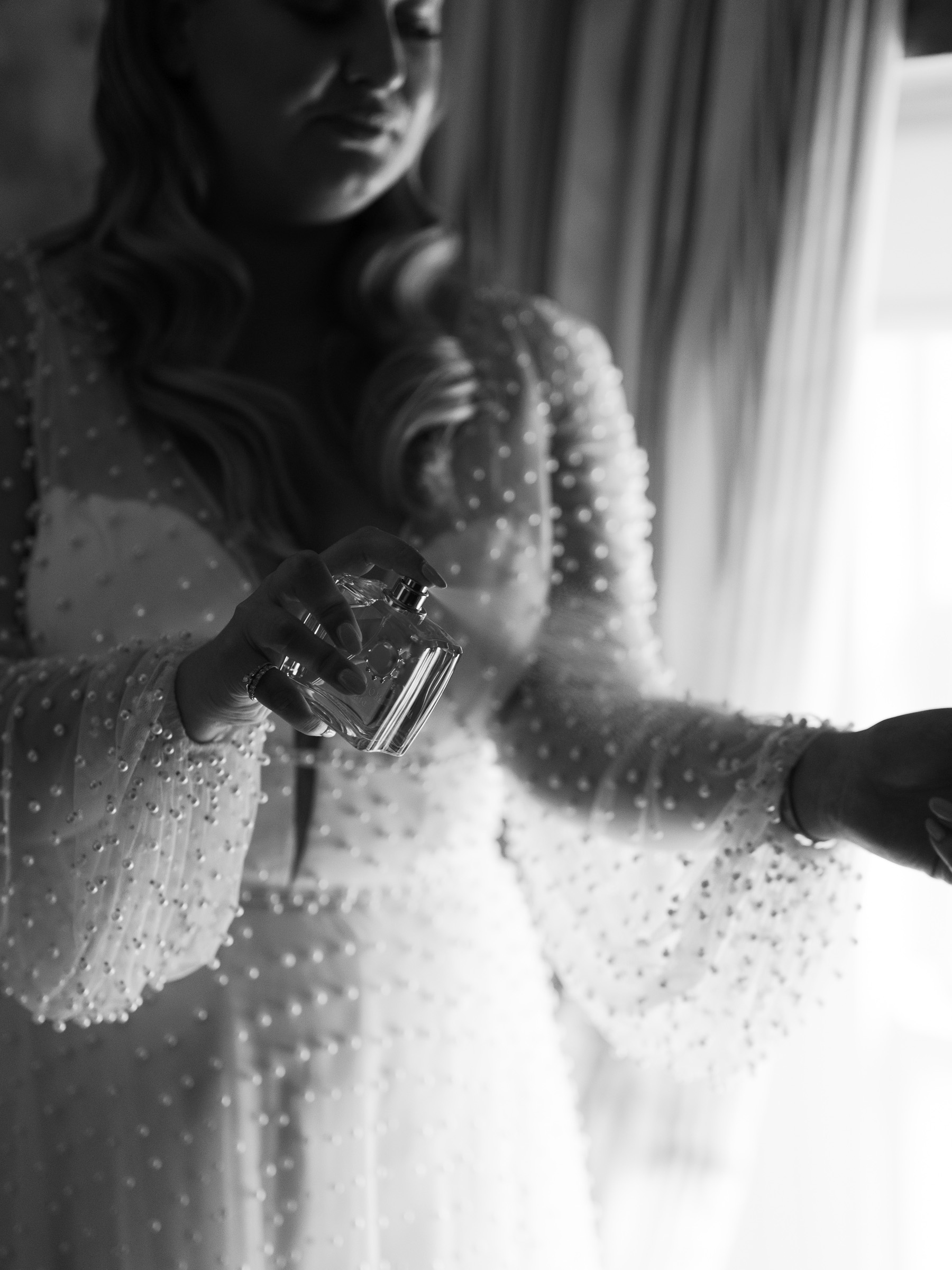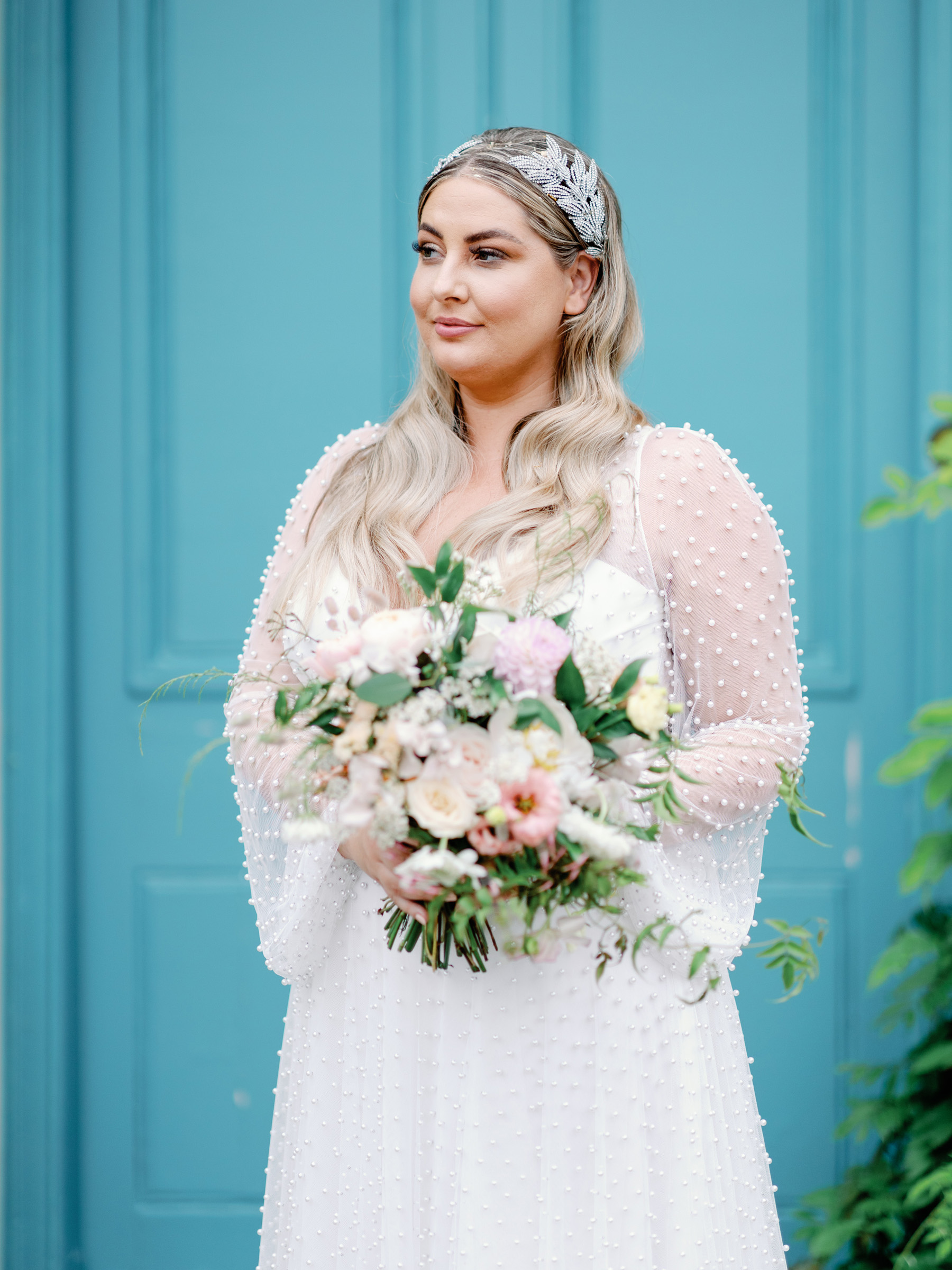 The Dress
Willowy by Watters
---
I wore the Picses Pearl dress by Willowby Watters. About five years ago I went on a day out to Hatfield House to look around the manor house and gardens for creative inspiration. Whilst there I noticed a quaint bridal shop called Heritage Brides up in the converted stables. I decided to have a wander round with a friend who was recently engaged and fell in love with the boutique. It was a wedding dress grotto, with fairy lights draped over every beam and beautiful embellished gowns draped against Jacobean architecture.
I left thinking, if I were to ever get married I would definitely go back there. Fast forward a few years and looking for a dress online I came across the Willowby Watters brand. I was overjoyed when I saw that the closest stockist was Heritage Brides at Hatfield House.
The whole experience was amazing and Sam the owner was an absolute joy. She's so friendly and made me and my guests feel so at ease at every appointment. When trying the dresses that didn't fit she was quick to build my confidence back up and imparted with amazing tips and tricks. The one I remember the most was when I was in front of mirror gleeful that I'd found the one and already feeling beautiful. She said 'just think that this is the worst the dress will ever look' and It got me so excited to then see it at fittings and on the day.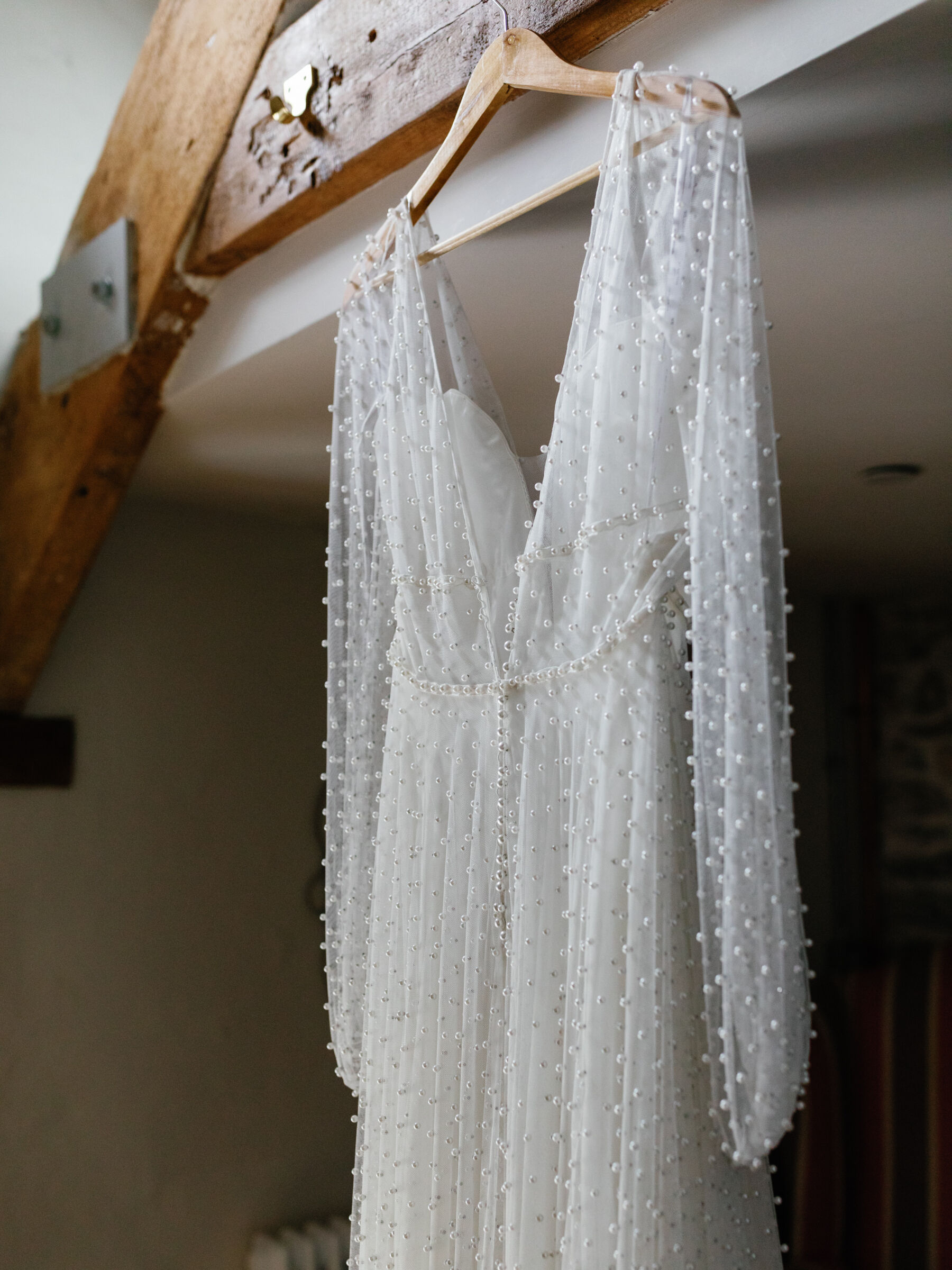 True to my vision I wanted a balance. I wanted a dress with a difference, the wow facter, but that still felt like me. The Willowby Watter dress is covered in hundreds of pearls from the neckline to the hemline and for me tt had the perfect harmony between whimsical spectacle and relaxed informality. I loved that from the minute I tried it on, it felt like me, but an elevated version of me. Pisces was actually the first dress I tried on and even though I went on to different boutiques and dresses across the counrty ( I felt like it couldn't be that easy to have found the dress), I couldn't stop thinking about it, so knew it had to be the one.
With the dress being covered from neckline to hemline in pearls I felt like a veil would cover too much of it, so opted to go without and let the pearls sing.
Jenny Yoo Bridesmaids Dresses
All four bridesmaids wore Jenny Yoo dresses, however I knew from the very beginning I wanted them to be in different styles and tones that they felt comfortable in and matched their different personalities.
The tones ranged from soft champagnes, blush pinks and corals to an earthy brick tone.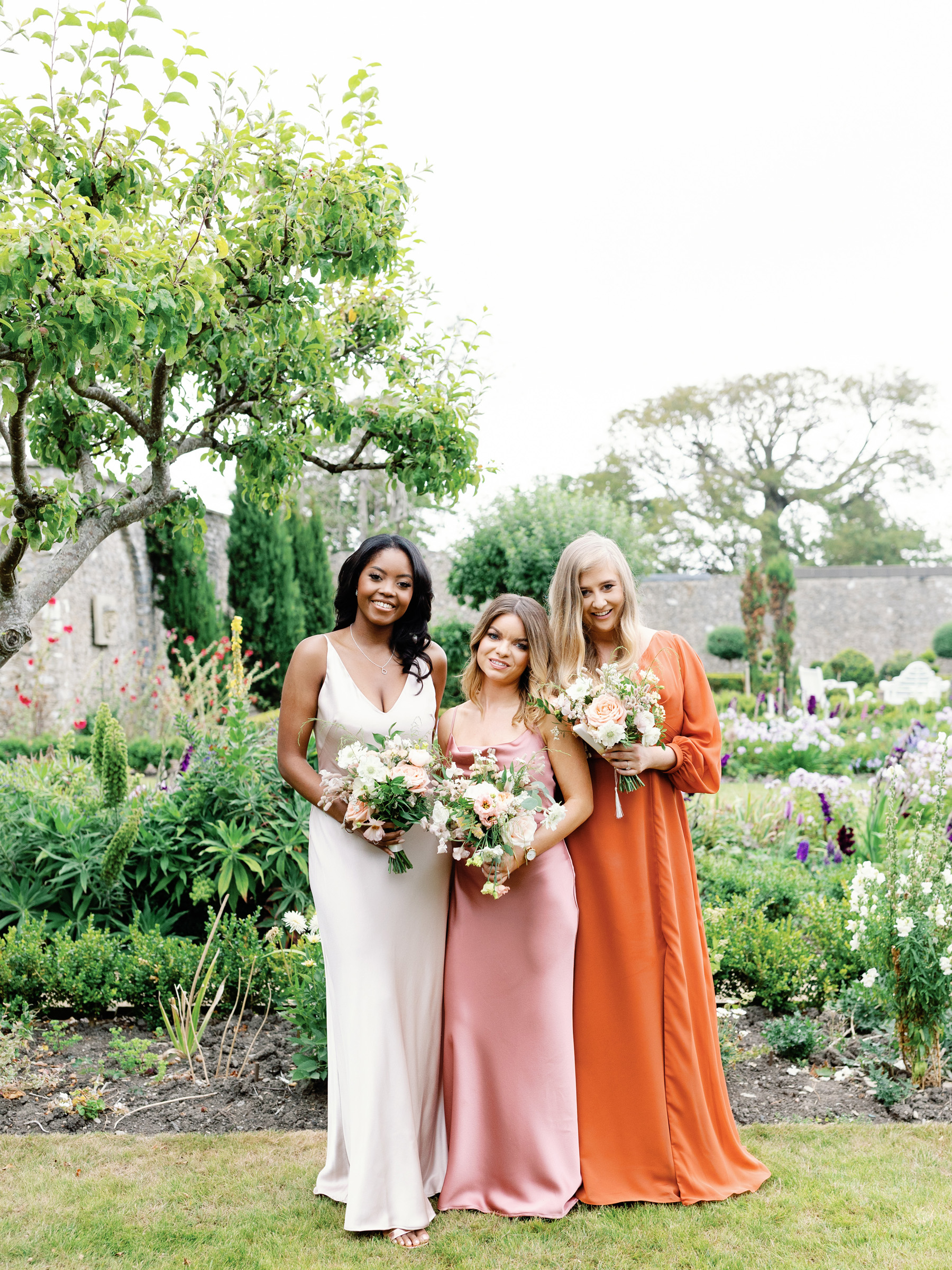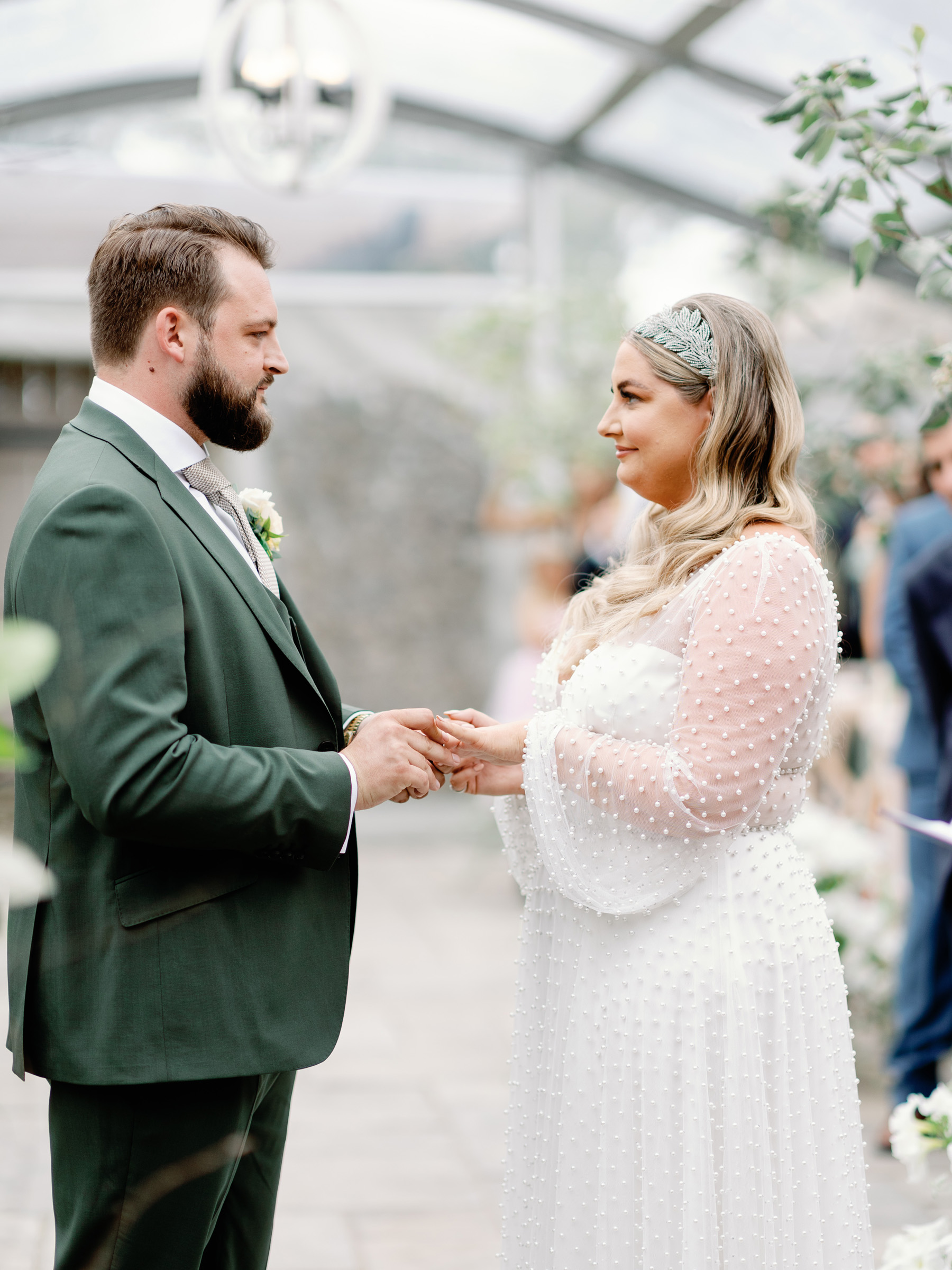 The Ceremony
Upbeat & Romantic
---
We knew from the beginning that we wanted upbeat songs that meant something to us, so I walked down the aisle to Redbone – Come and Get Your Love. We walked out the secret garden into the walled garden to do the confetti throw and drinks to As by George Michael & Mary J. Blige.
We hired a celebrant from Vale of Glamorgan and we wrote our own vows, but rather than using the words I promise to, we said I'm privileged to which I think was a nice more modern personal touch.
We had my aunt Mandy read The Giraffe and the Monkey by Daniel Thompson, but she's amended it to make it more personal and Mike's brother Dan read He's Not Perfect, by Bob Marley. Dan also read out a poem that he had written about his brother when he was twelve.
My engagement ring was Mike's grandmas and I'd had an eternity band made from my grandma's old wedding ring, so Mike and I decided to design our wedding bands so that we had an element of us together. With Mikes we made a simple white gold band with a beveled edge and mine was a random cluster of diamonds. I love looking down at my hand and knowing that it has an element from his family, something from mine, and then something from us two together as a new family.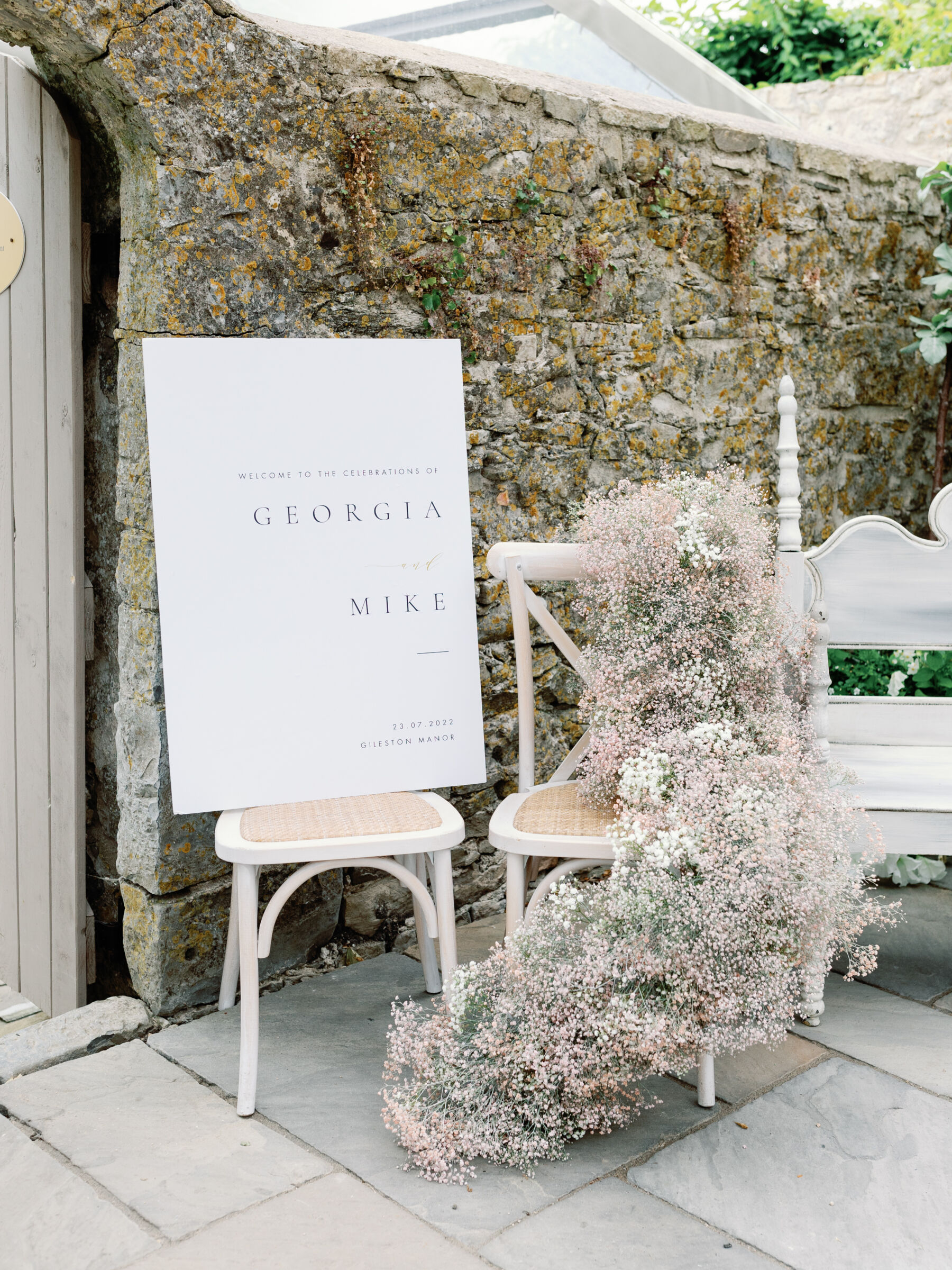 Photography by Jade Osbourne
We found our Photographer, Jade Osbourne through Love my Dress. Photography for me was probably more important than the dress as being a very visual person I knew that had to be just right. I loved Jade's style straight away and knew our aesthetics aligned perfectly. All her images were fresh and clean whilst still feeling rich, colourful and intimate.
All the images that she showcased were exactly how I wanted my wedding to look and feel, whimsical yet refined. I loved all the detail, design related architectural shots that she showed, and the focus on real images rather than staged group shots was a bonus.
On the day, Jade was great, and I would definitely recommend her to anyone. She made us feel at ease, and captured photographs without being noticed at all. We had a few issues with the weather so we were unable to do a lot of group shots, however all the details, moments and smaller elements she captured made up for it.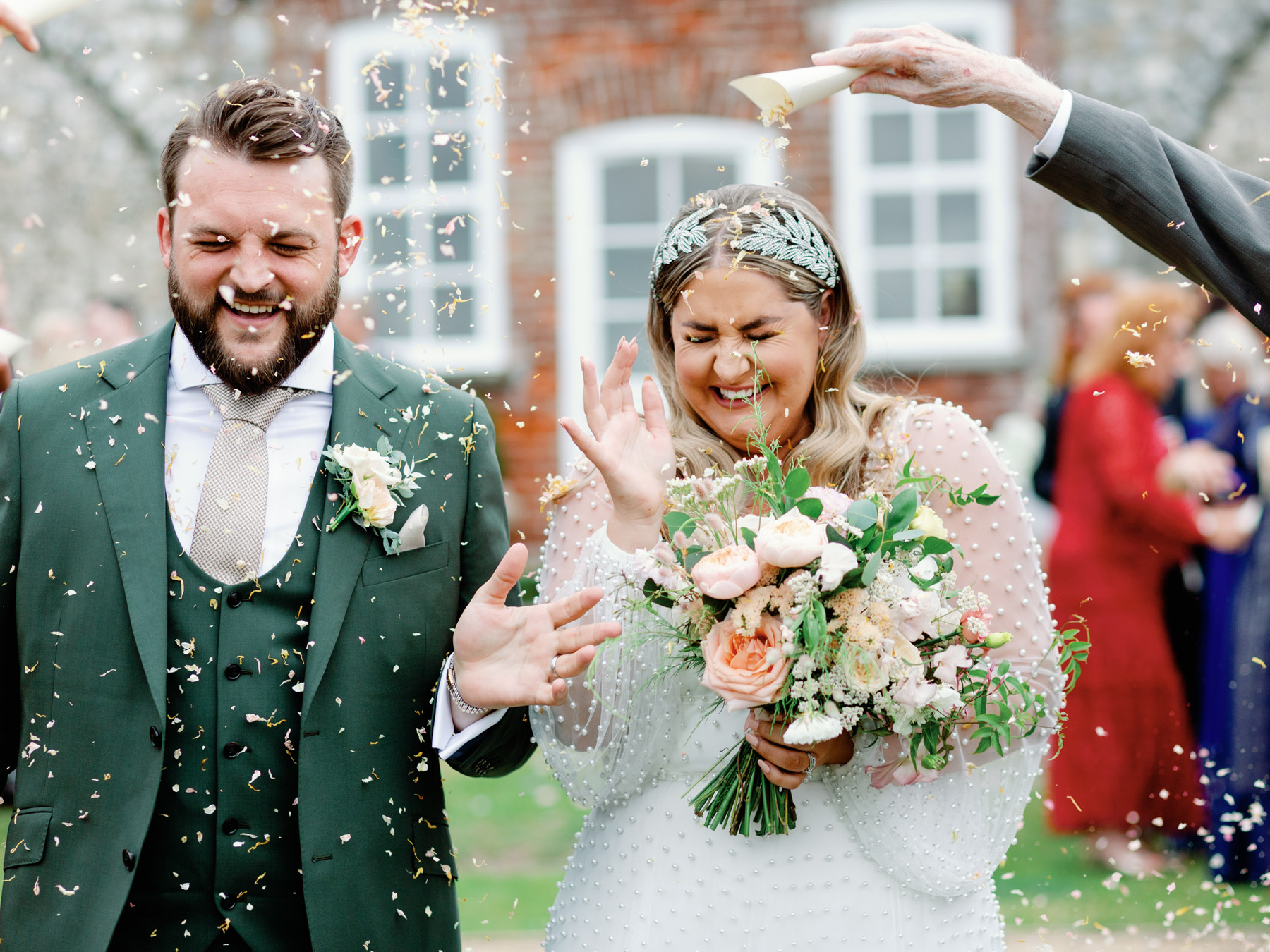 How They Met
Mike and I are known as Gavin and Stacey to all our friends and family, due to the similarities in our stories. We used to speak on the phone once/twice a week as he used to work for a high end furniture company in Wales that I used via a past company. We had never met, but after every phone call I would always comment that his lovely Welsh accent to my team.
After knowing each other professionally for a year or so we met in person at an industry party and that same week we went on our first date. For two years after that we commuted to and from Wales to London every weekend, until Mike decided to make the move up to London where we have lived for the past four years with our french bulldog Biggie Smalls.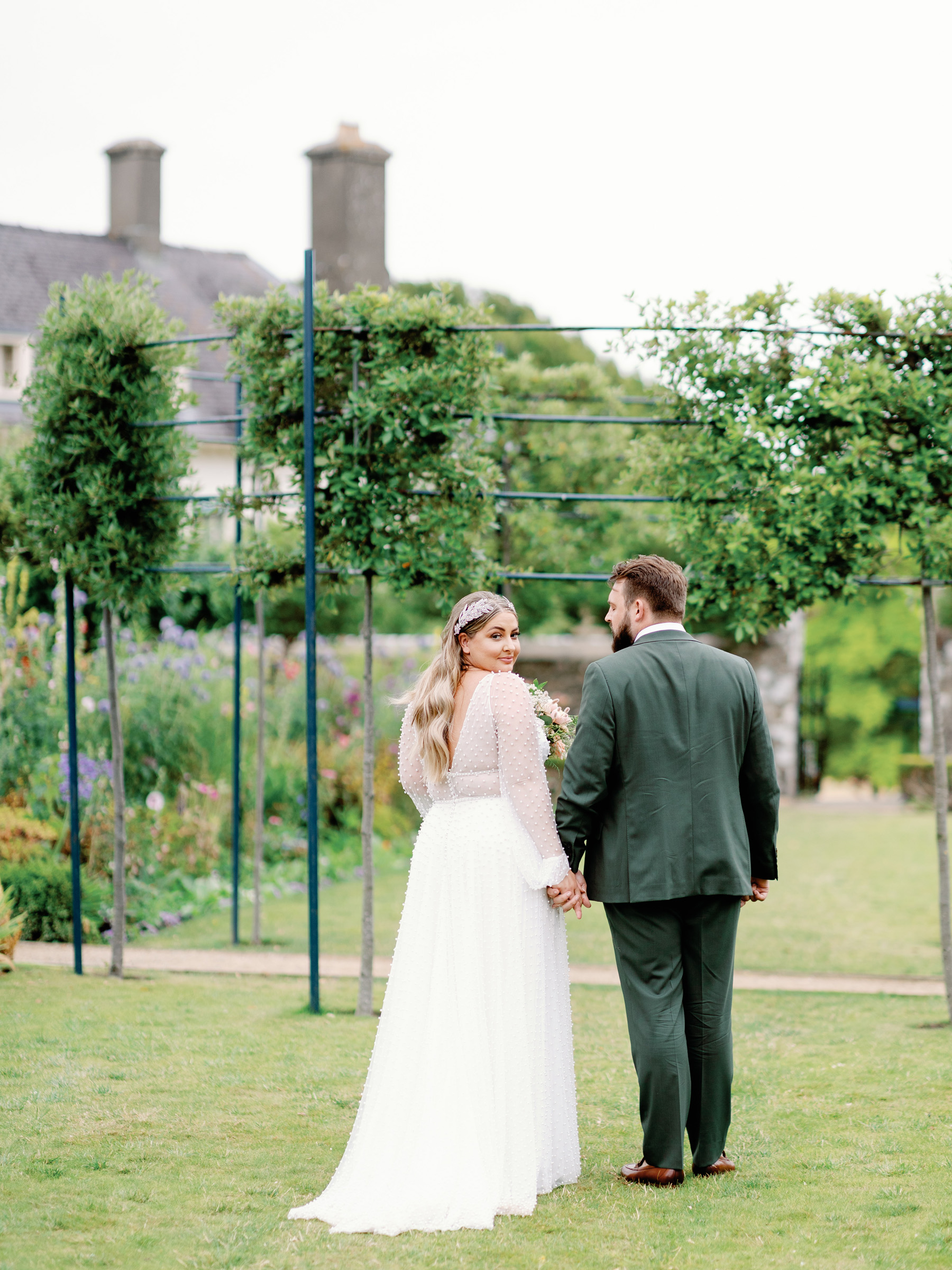 We had been together for four years when he proposed and much like a lot of other people Covid altered the engagement plans quite a bit. It was my 30th birthday and we had these elaborate plans to hire a cottage in the cotswolds with a large group of friends to celebrate and Mike was going to propose on a picnic walk. With those plans scuppered a few days before, Mike quickly changed the proposal to be a very intimate and casual affair after a Hampton Court dog walk and a champagne birthday breakfast in my childhood home.
To me it was perfect and it mirrored us and our relationship perfectly. We were engaged and organising the wedding for just under two years due to restrictions.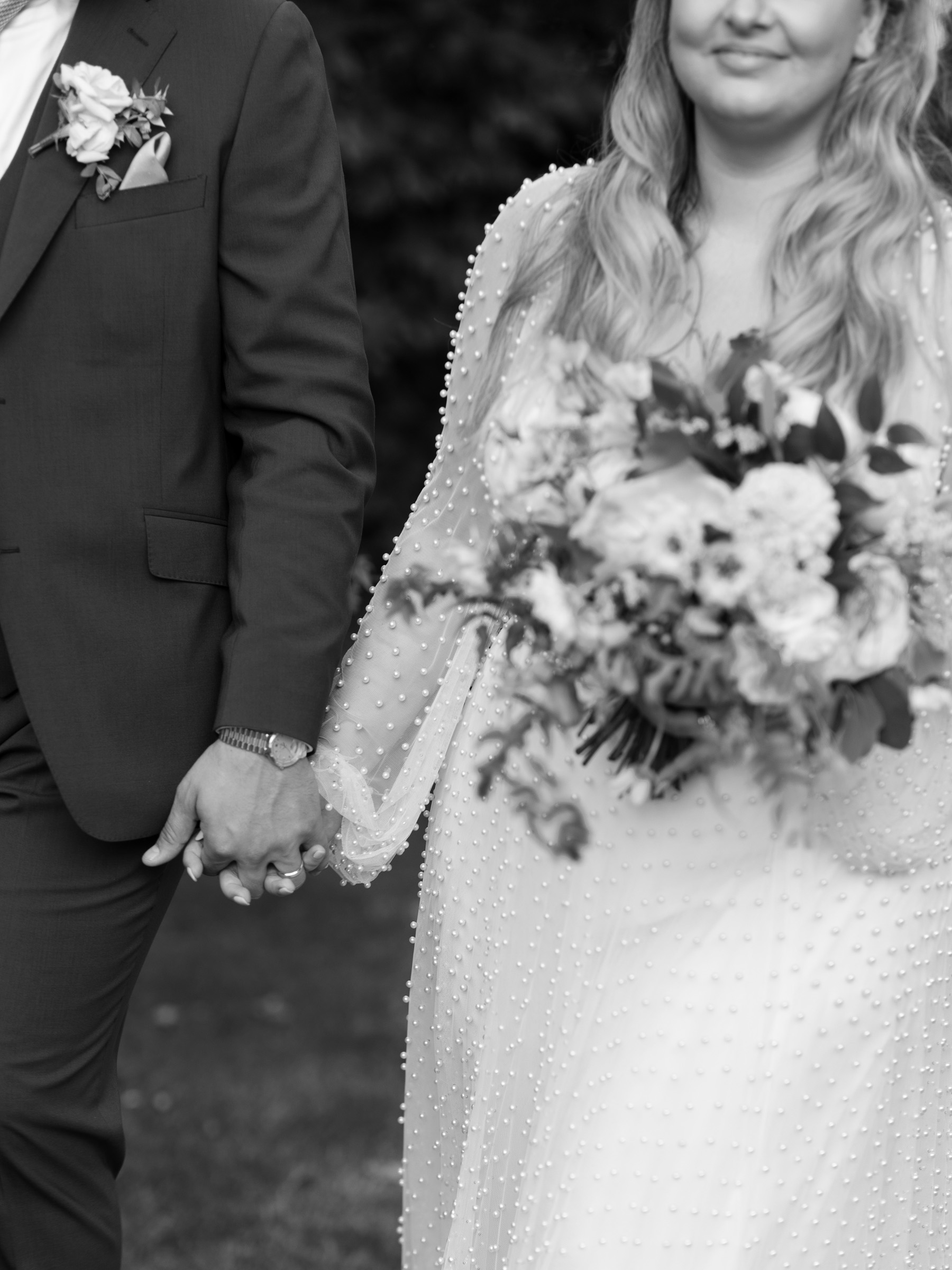 Groom
Mike has his three piece suit made from a Tailor in London, Edit Suits. It was made from a rich deep forest green Holland and Sherry Wool.
Mike had always wanted to wear his Grandad's Wedgewood racing horse cufflinks, however a few months before the wedding he misplaced them. I therefore scoured all the vintage shops and websites for weeks and weeks in order to source a replacement and was over the moon when I found a pair.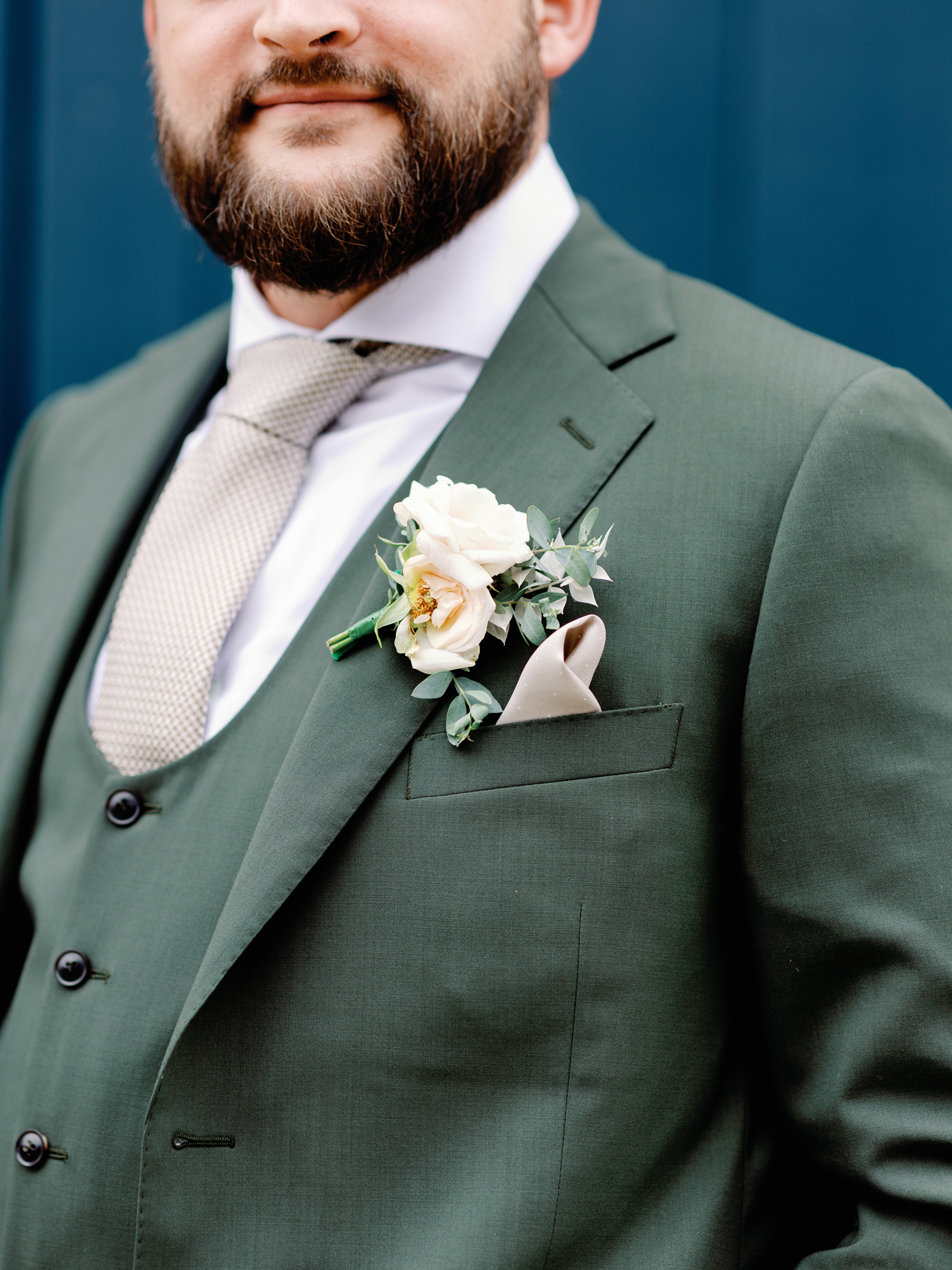 I gifted them to him on the morning of, alongside a new bottle of Penhaligon perfume with our wedding date etched into the bottle.
I wanted to go with flowers that were wild and whimsical, yet still had an air of tailored elegance. I wanted every bridal bouquet and button hole to be slightly different whilst still tying into each other. Lucy at Flowers I Do was amazing and so enthusiastic about all the mood boards and inspiration that I send her. The flower on the day were exactly how i'd imagined them and the colour mirrored all the tones of the bridesmaids dresses, my shoes, the decor in the marquee, whilst not being too matchy matchy.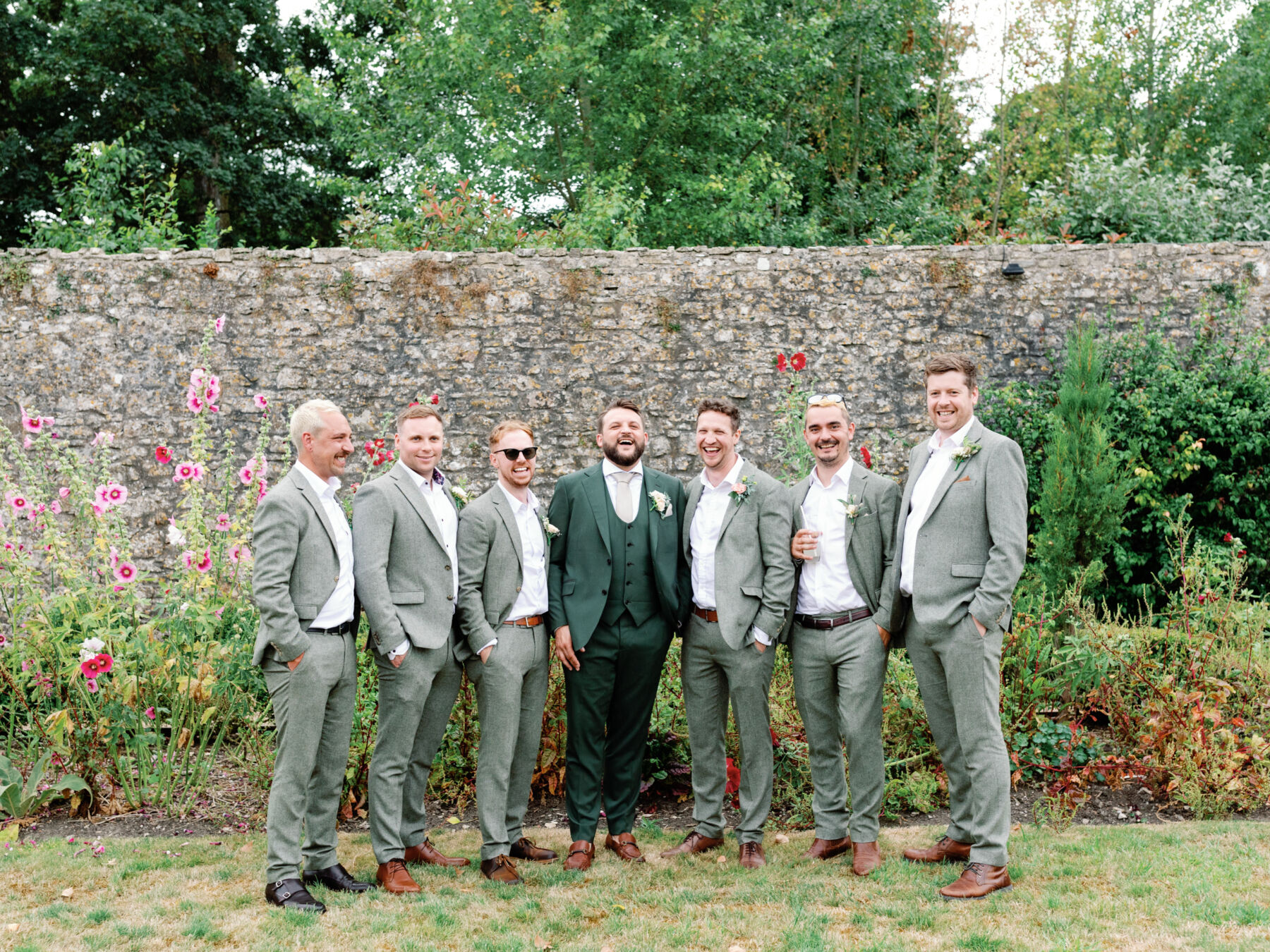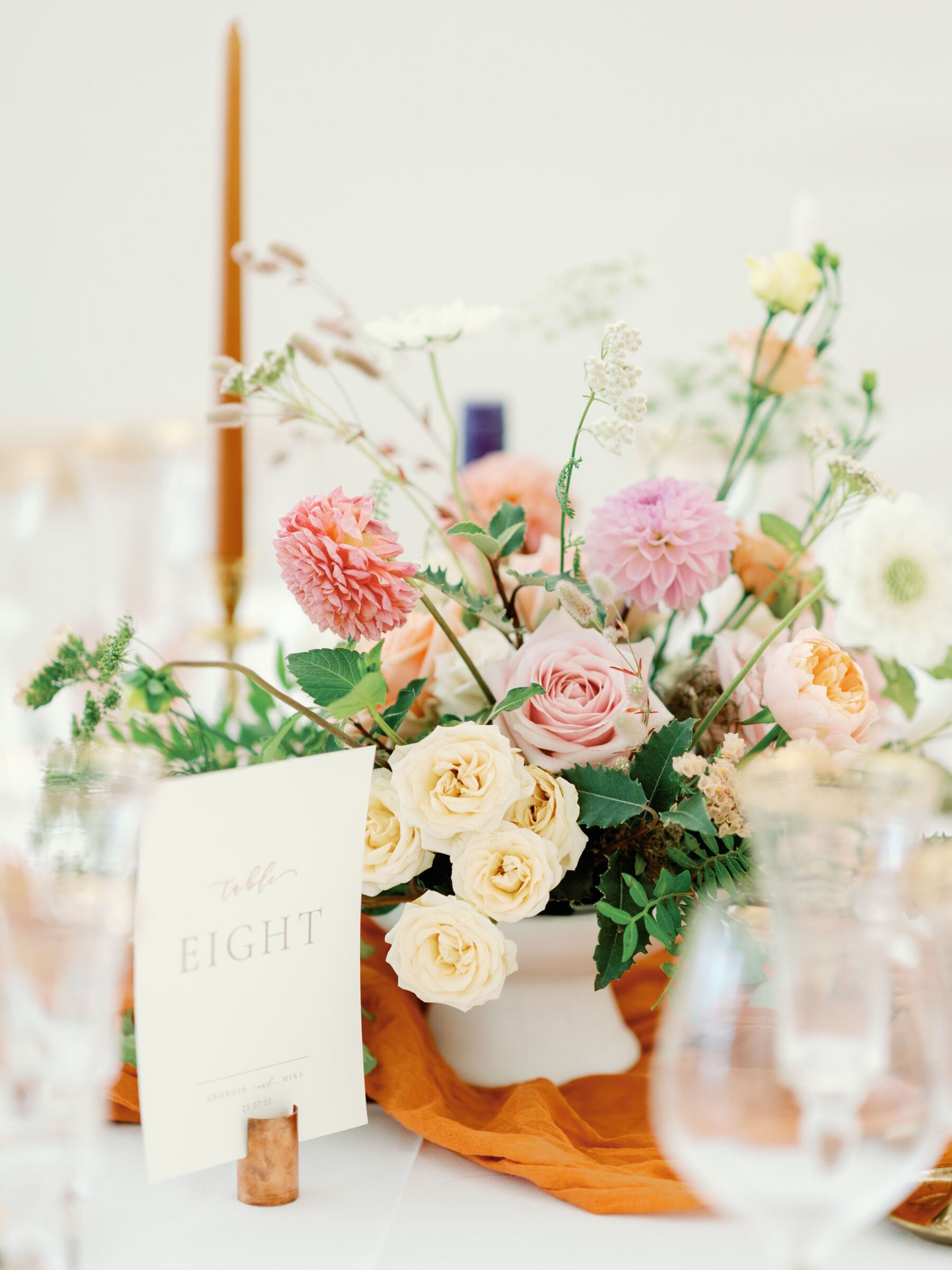 The Reception
Whimsical & Nature Inspired
---
As an interior designer and maybe quite unromantically, I started my inspiration for the wedding day the same way I would start any project. I found three images that portrayed the feel, tones and mood I wanted to achieve.I looked at the similarities and nuances from those images and wrote down three words/phrases that described them; Timeless elegance, whimsical and wild, relaxed intimacy. This words and tones then helped guide and direct the entire vision.  
Just like the venue I wanted a nice synergy between a classic romantic feel, mixed with touches of colour, playfulness. I wanted a refined whimsy, where the wedding felt like it had been curated, but also thrown together, with everyone in different tones and colours, textures rather than one specific style. The other guiding factor was nature. From the backdrop of the sea to the wheat fields and 18th century walled gardens, the beauty of nature was everywhere at Gileston, so I used those tones and shapes to inspire the palette.
The bridesmaids ended up on a sort of ombre of soft serene flower tones whilst the Groom and groomsmen were in grounding earthy greens ranging from Mike in a rich forest green to the grooms in a a stoney sage that mirrored that mottled garden walls.
We steered away from any blue as I wanted the bridal and groom party to stand out against the multiple blue toned doors of the main house and the converted barns.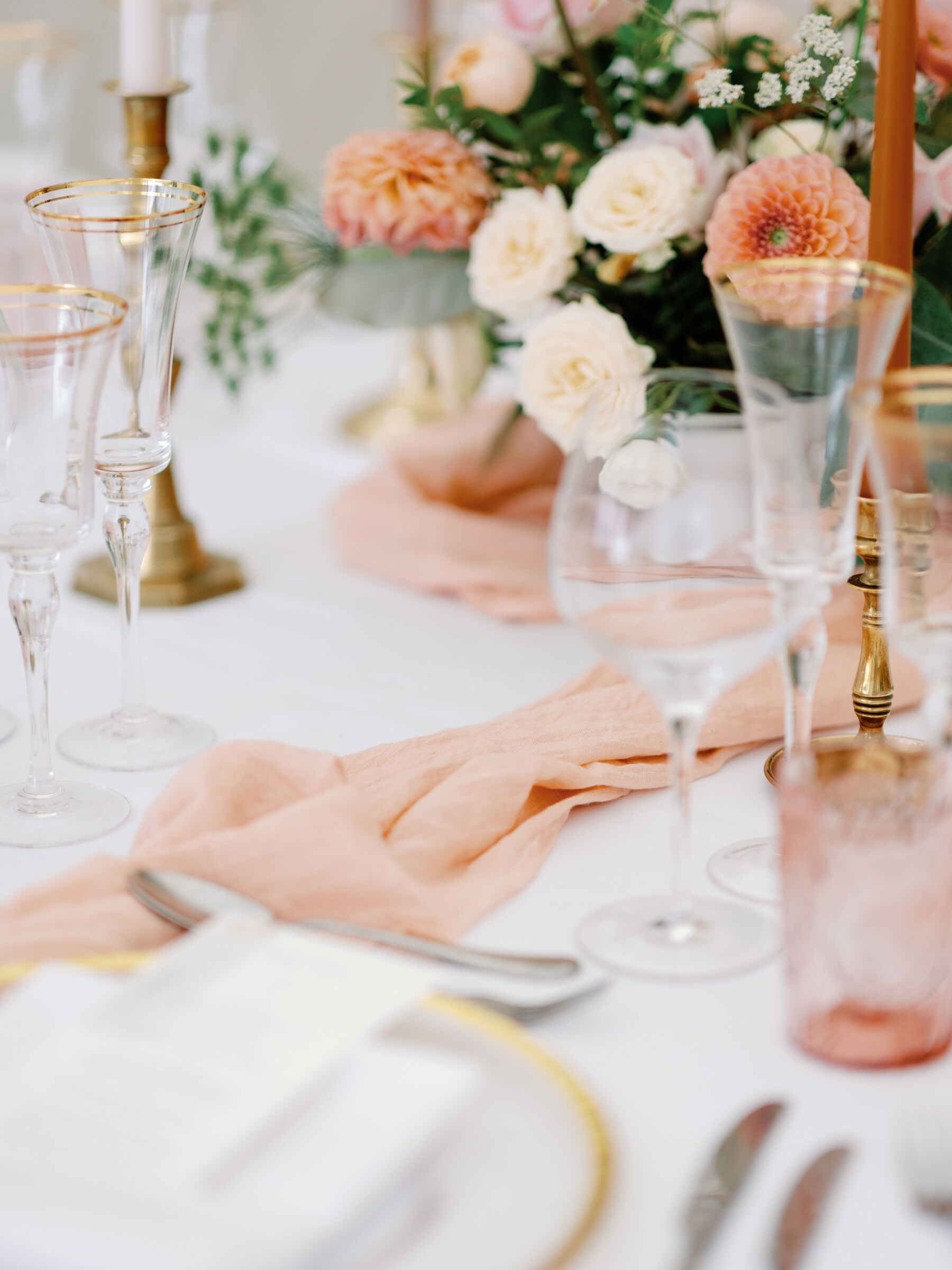 Wedding Reception
The secret garden where we held the ceremony didn't need any styling to emphasis the beauty, we wanted to let that sing, so we simply added a gypsophila garland from Lucy with a homemade wedding sign to the set the tone. For the rest of the decor we had a combination between using suppliers and making things ourselves.
My dad and I designed and made two take a shot and find your spot stands with shelves and we filled 85 bottles with limoncello for our table plan with each label detailing a guest name and table.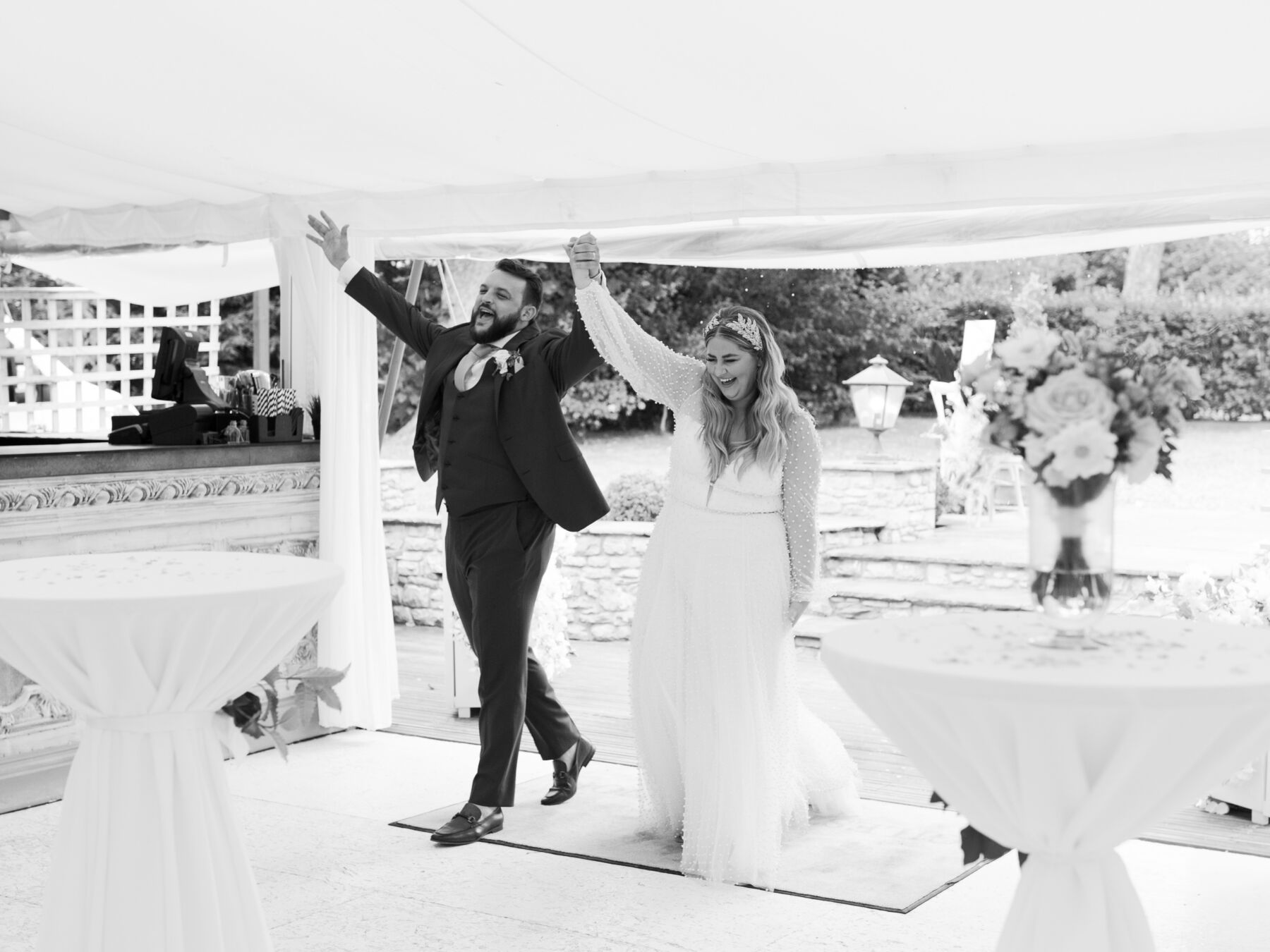 On the day, Mike and I stood next to each stand and handed them their bottle. It was a great way to get to see and talk to everyone again, and share a little toast with them. We also made the plinth for our cake to sit on.
For the dining tables we went to a haberdashery in London to buy metres of coloured muslin cloth that matched the bridesmaid dresses and draped across the dining tables. I hired french vintage glassware and pink tumblers from The Luxe Touch and hired a variety of vintage brass candle sticks from to style the tables with. Mikes step dad made us some table number holders from copper pipes, and I made and printed the table numbers.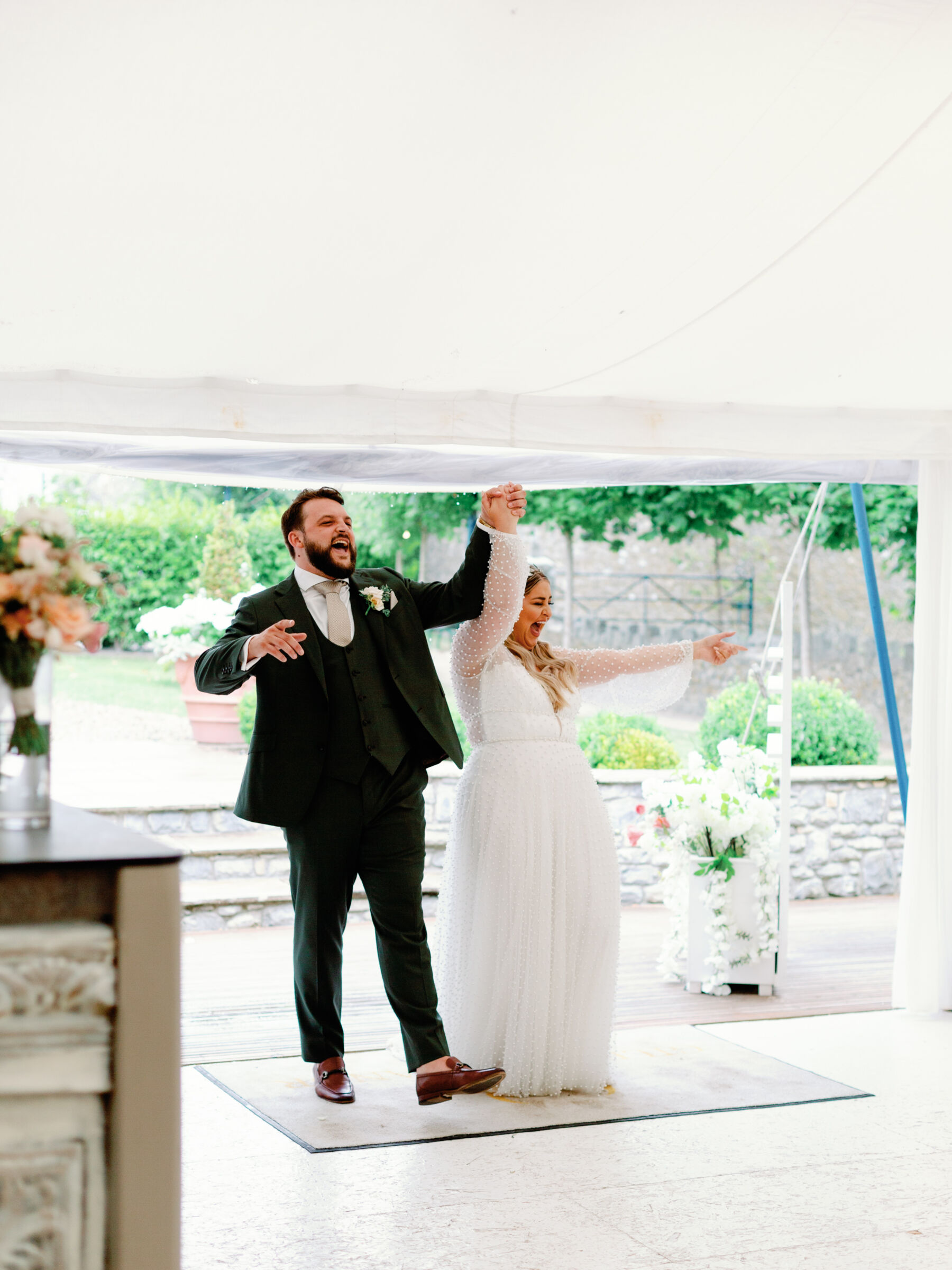 We also got Lucy our florist to make design and make wild flower displays to try and hide the pillars in the marquee and we had a two half arches of wild flowers to surround the wedding cake. I worked with Crum and Co to design the vellum save the dates, invites, menus and name cards.
Our cake was a simple yet beautiful tiered with a slight etched design on it to give it some texture. Lucy from Flowers I Do, then provided an array of flowers used throughout the bouquets to scatter on the cake. We chose three different fillings to cater to everyone and my dad and I made the white plinth it sat on.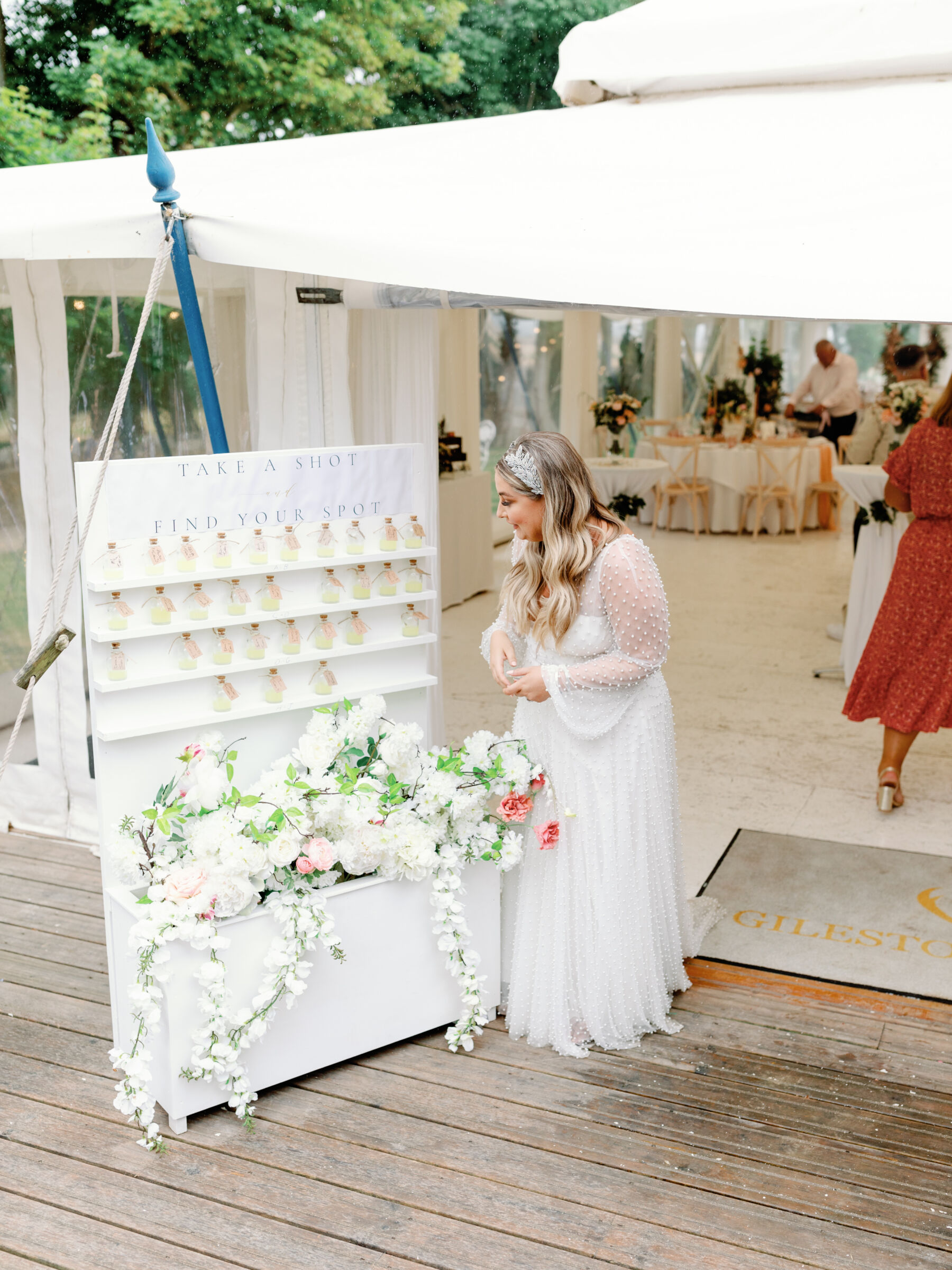 Evening, Dancing & Favourite Moments
Our first dance was to Moloko's 'The Time is Now' – It's our favourite song, we always listen to it, and it always gets us in the party mode.
The whole day was amazing, but actually walking down the aisle to an upbeat song was actually one of my favourite parts. It was so amazing to clock eyes with Mike after all of the planning and preparation and to see how happy he was. Even though we were surrounded by all our friends and family, it felt like it was just us two. My second favourite part was greeting everyone at the doors to the marquee and doing their shot with them before finding their tables.
Mike's favourite part was seeing me in my dress, especially as he was so impressed I'd managed to keep it a secret for a year. He also loved that everyone applauded when I walked in. He second favourite part was the afterparty that lasted until 6am in one of the converted stables that we were staying in.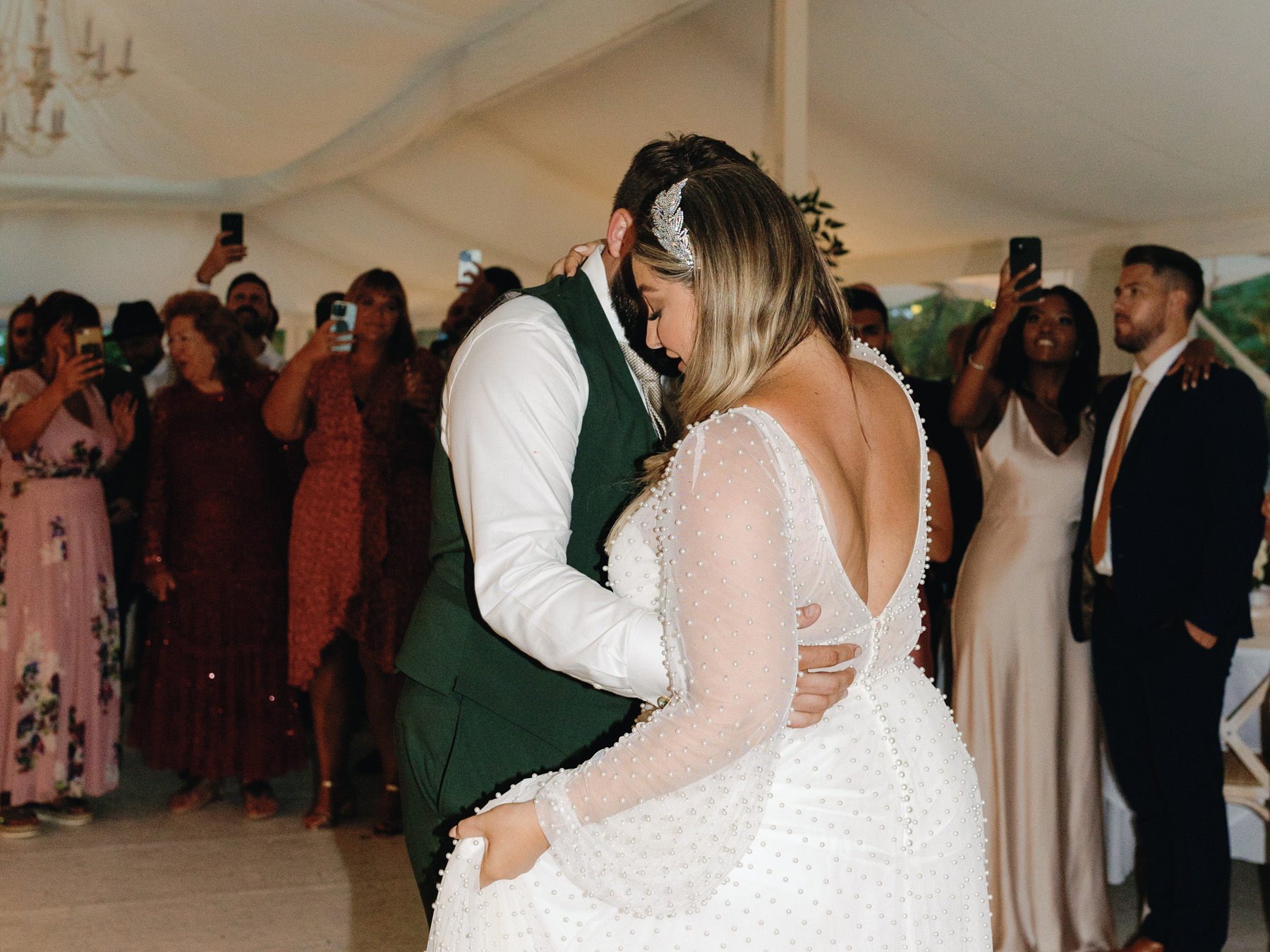 Words of Wedded Wisdom
Not to get too overwhelmed by all the amazing inspiration and choices that's out there. It's really fun to scroll through other peoples weddings and it's easy to get sucked into all the different instagrams, pinterest images, blogs and pages but I think it's best to go with the things that first resonated with you and your partner and hold sentiment, rather than things to purely to wow your guests.
On my personal Pinterest board, I spent weeks and weeks finding concepts and inspiration, but after I while I kept going back to the first few images as I knew they clearly meant something to Mike and I.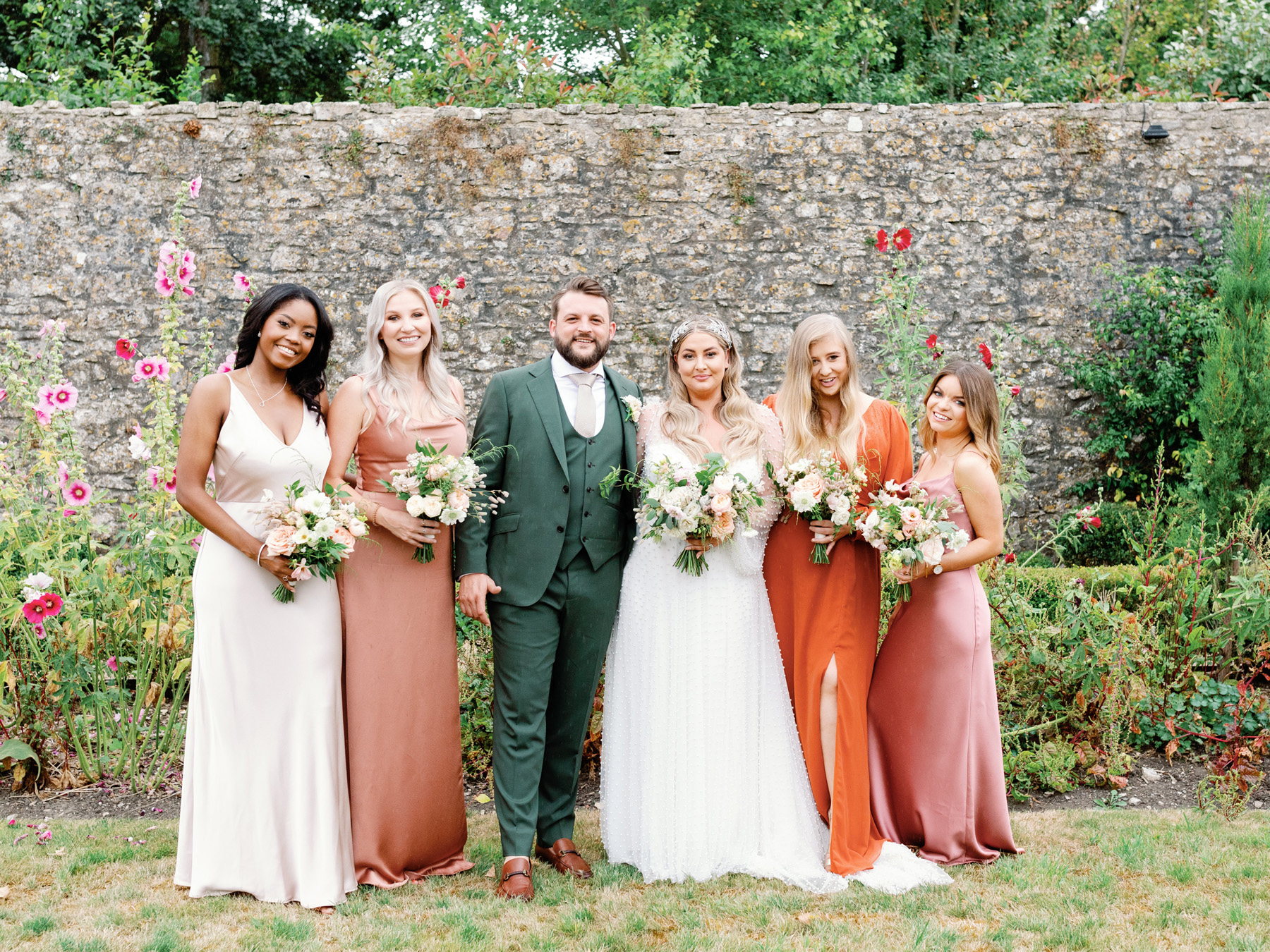 Explore our Wedding Directory