This wedding, good lord, it's a beauty! Ellie and Fred's sublimely glamorous and fun wedding took place at the exquisite Pennard House, in Somerset, on 24th August this year.
The couple, who hard been together nine and a year years when they wed, wanted to incorporate a refined, fun musical vibe into their country house wedding day, with a particular focus on rock n roll, and this was all delivered through the most considered and elegant decor.
But the most show-stopping detail of the day, was Ellie's incredible dress. We're used to seeing gowns featuring oversized bows on the back of the dress – but not usually the front. Ellie, who isn't just Global Head of Digital Marketing and Co-Founder of Kinsman & Co, but also runs her own fashion label, Ellie and Josephine, is one stylish bride who knew exactly the look she wanted to go for. It was a case of finding the right designer who could bring it to life and I'm thrilled that designer was the wonderfully talented, London based Kate Edmondson.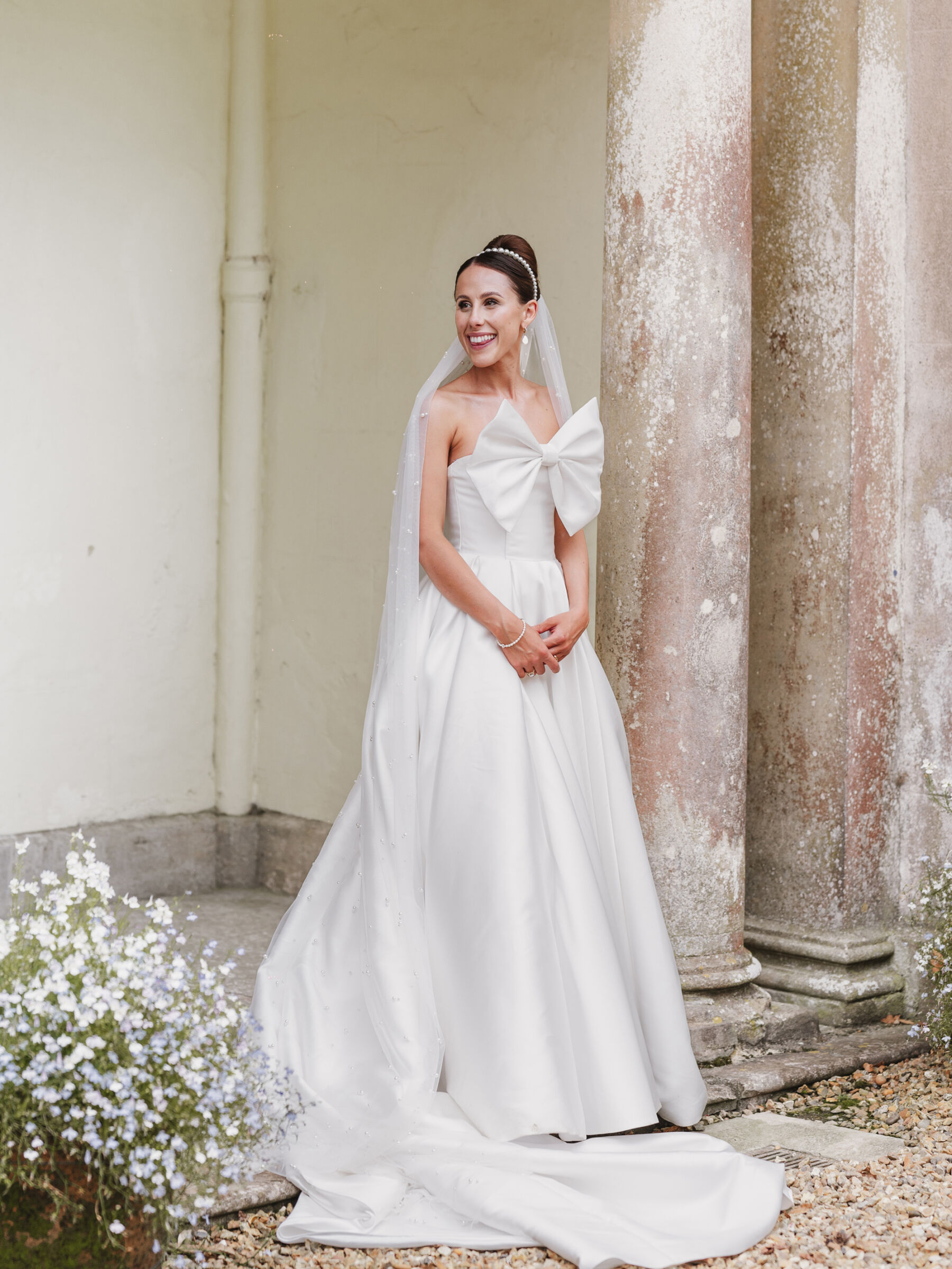 If it wasn't for Charlie from Pennard House I don't know what we would have done. He is a force to be reckoned with and was so invested in our wedding. He was INSTRUMENTAL – the highlight and best decision. Every venue should come with a Wedding Director. Big tip for brides!
We chose Pennard House as the location was significant to us. We spent time in Somerset when we escaped lockdown in March 2020. We moved in February 2020 from Australia and found this place to be our home away from home. Two years later, we were drawn to the area and fell in love with this venue, and most importantly, the staff.
Tents and tipis are available accommodation and a part of the venue. No marquee was needed. The venue usually hosts weddings indoors, however we decided to give it a go and get married outside on the lawn which wasn't traditional. We got lucky with the weather!
We hired Jess Spires from Spires Lonton who was fab and spent more than enough time on our wedding. Best value for money. Jess is a super star.
If it wasn't for Charlie from Pennard House, I don't know what we would have done. He was so invested in our wedding. He was instrumental. He was honestly the highlight and best decision. Every venue should come with a Wedding Director. Big tip for brides!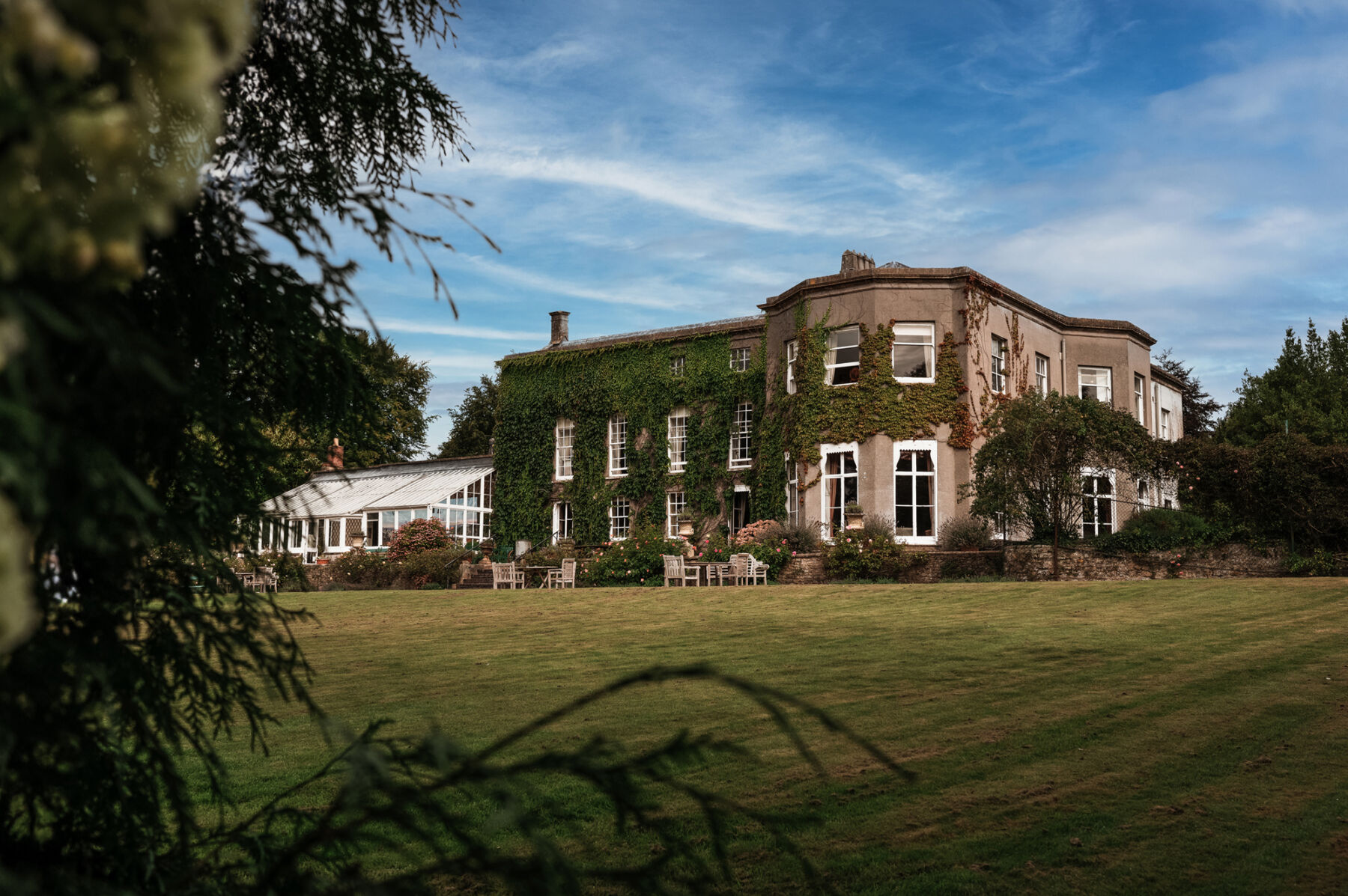 Bridal Beauty & Accessories
Hair styling was booked through Abigail Constanza, however Jodie of Bridal Hair By Jodie was unbelievable. I loved Jodie – she was an angel and I just had so much fun with her. Plus she was so in love with the whole wedding, I felt like she was a part of the team. She did everyone's hair so well and I couldn't be happier with mine!!! Also great value for money and a big fan of her in general.
The plan was to style my hair very Audrey Hepburn – old school to add some drama to my very modern-day dress. The style worked well however I was meant to have a ribbon around my head.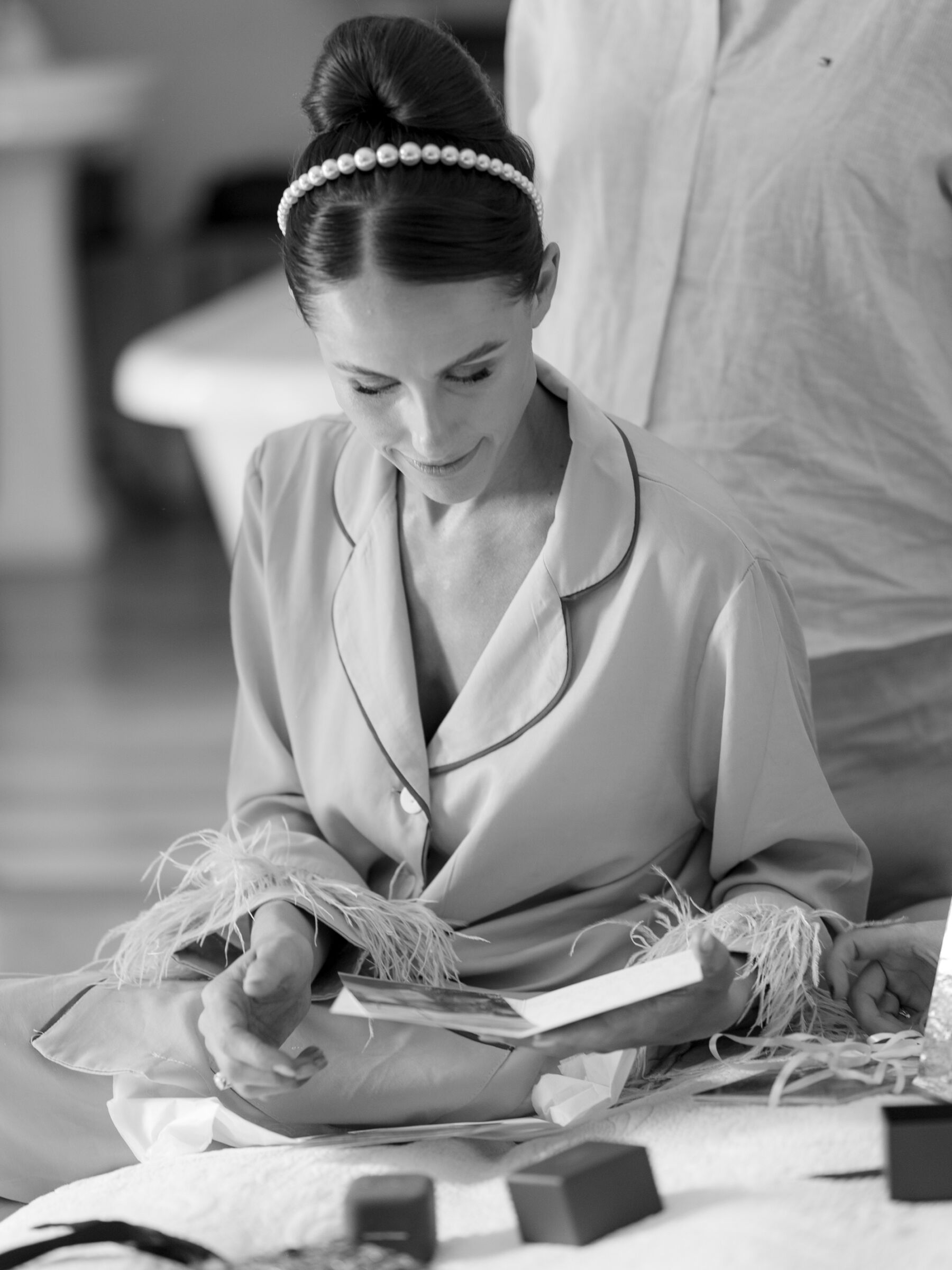 The ribbon wouldn't stay still on my hair so instead my mother luckily brought a pearl headband as a backup. It worked perfectly and saved the day! It was a touch from my mother which was just divine with my dress.
I wore a pair of Gucci Horsebit 135 shoes which were perfect. They just came out and they were in the perfect price range. Also, I know I will wear them with a classic pair of high waisted jeans rather than the Jimmy Choo pearl platforms that would probably be worn only a handful of times.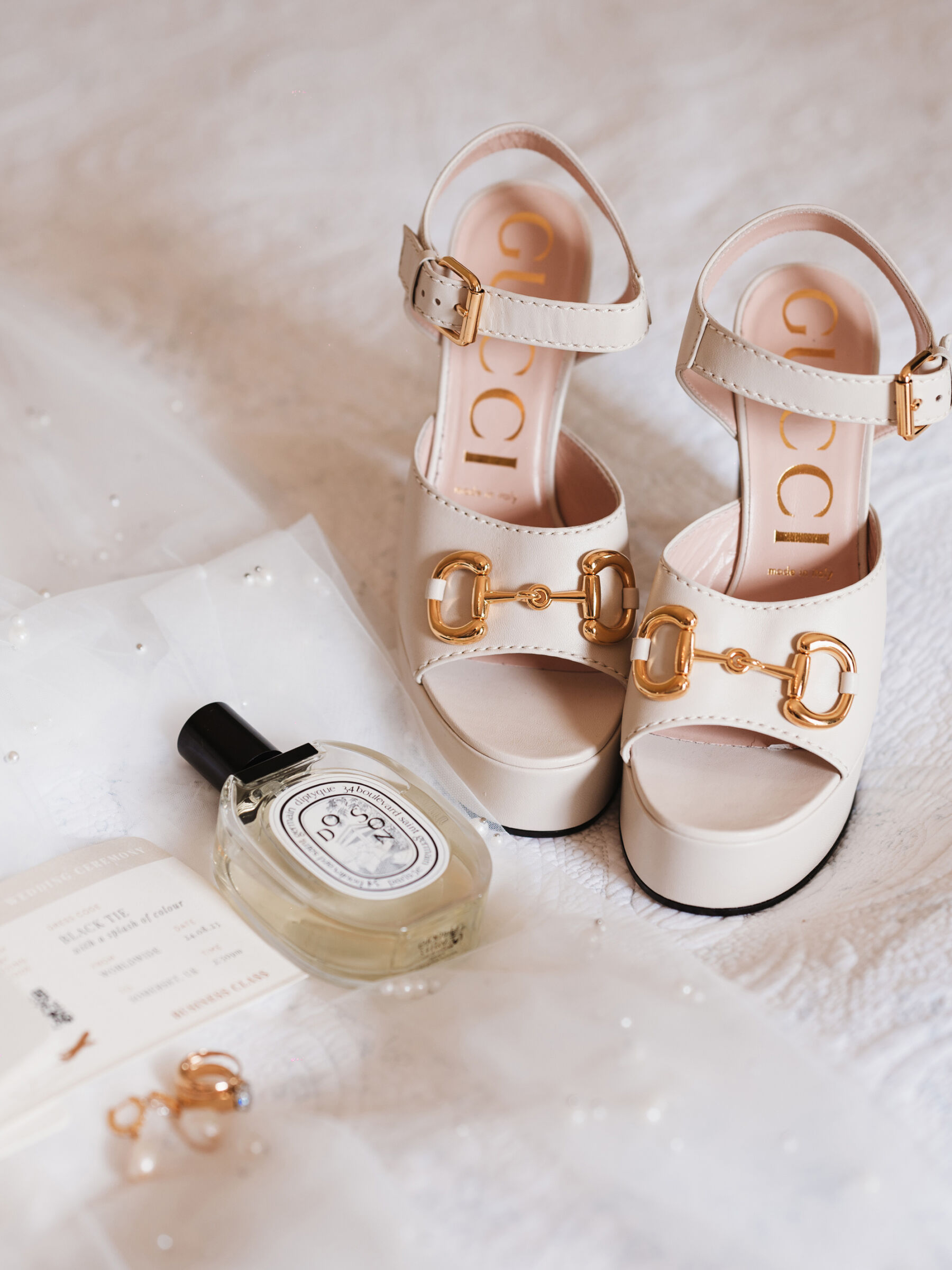 I'm obsessed with Molly O'Connell – she did my hen do make up, my bridesmaids make up, my eyebrow lamination…everything. Molly is a young talent – I changed make up last minute after I got my eyebrows done by Molly. She is so fun, never stops talking like me and we just had the best time. I adore her and think she is just the best. Highly recommend and great value for money.
My favourite accessories were a pearl bracelet and headband I wore on the day. My bracelet was gifted to me by my father who is my best friend and one of the most important people in my life. Where was my mother just happened to have the pearl headband with her which saved the day. These elements both from my parents made it super special and felt like I had them with me every step of the way. Earrings were borrowed from my sister.
My favourite scent is Diptyque's 'Do Son Eau de'. Ever since moving to London, Diptyque was always out of the price range and then after Covid, I started buying it to treat myself. Now I can't get enough, and it was exactly what I wanted to wear on the day. Very me.
In the end, instead of making the veil I decided to buy it second hand. There were areas I wanted to invest in with my wedding and some I could sacrifice. The veil was one of them. So, I knew I wanted 'cathedral length' and I wanted to add pearls to match my hair style. Two weeks before the wedding I looked at secondhand shops i.e. Ebay and found the perfect fit for £50. It's what I wanted, and I loved it.
The Dress
Kate Edmondson
---
My dress was custom made by Kate Edmondson. Kate was brilliant, she sketched the dress in one go and I loved it immediately.
I wanted to bring the bow element which my mother wore on her wedding day.
We recreated the bow, and it was simply perfect and everything I wanted.
I always wanted to have a princess dress – this was important to me as I walked down the aisle (dreaming of this since I was a little girl).
However, my style is usually over the top, so the bow was important to add some flare.
Every dress I found had a bow on the back and I had seen this everywhere. I went to so many dress stores. Instead, I wanted to bring different pieces together with my dress and create my own custom-made design.
Kate built the dress in stages which gave me the confidence that I needed over time. It was just perfect and very me. Elegant but loud.
Bridesmaids
This was where I wanted to show my true self, feathers and all! I gave my bridesmaids the task of finding an outfit that suited with navy blue silk and satin choices. The feathers were the last-minute touch to add more of myself and a little fun too.
Some of bridesmaids chose to do a suit, separates or a dress. I wanted them all to feel comfortable and themselves.
My sister Amy wore a pant suit from Kitri. My maid of honour, Anna, wore tailored pants from Boden and a feather crop from Club L London (not my favourite store, but the best I could find!). Olivia wore a dress that was custom made in Australia and added feathers. Claudia wore a dress from a significant other (Australian brand) and added feathers. Jane wore a pant suit from Sass & Bide and custom added feathers.
I bought a mix of different shoes for my bridesmaids. I wanted to mix gold and navy to make it sophisticated. Some had statement shoes from Steve Madden (gold 'Paysin' platforms), Cherrichella (vespa gold heels) and ASOS Madden Girl (the Charo platform sandals in gold).
I wanted the old-school, pinned hair look so got extra long gold pins/bobby pins to keep their hair slick and wavy.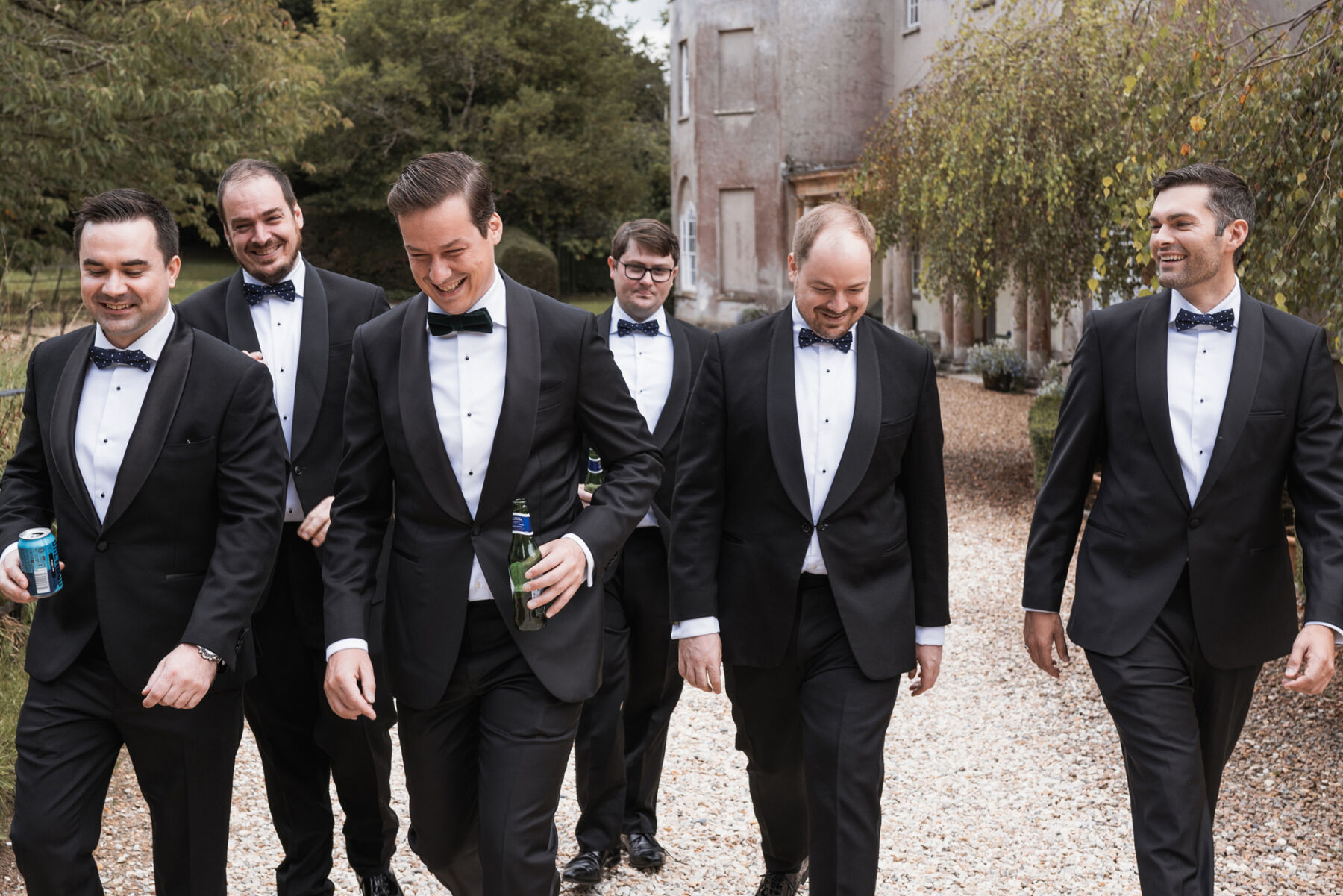 The Groom
Fred has his suit custom made from Suit Supply. It was perfect. He also had his groomsmen hire from the same place and it just worked a treat. Suit Supply did it in several weeks and were also under £1k. It was great value for money and quality.
The groomsmen wore polka dot navy bow ties to mix it up (like the bridemsaids in navy) and Fred had a dark green velvet tie which was divine. The bow ties were the best accessory. Fred had an oversized velvet tie which was super cool and a statement piece. Bow Ties were bought from Australia from a brand called Otaa.
Blogs are excellent and I love Love My Dress. I used your site as inspiration and it allowed me to feel confident about planning a bespoke wedding that wasn't super traditional i.e., invest in areas that matter, choose a dress that suits me and it gave me some shoe inspo. A tough one always to consider.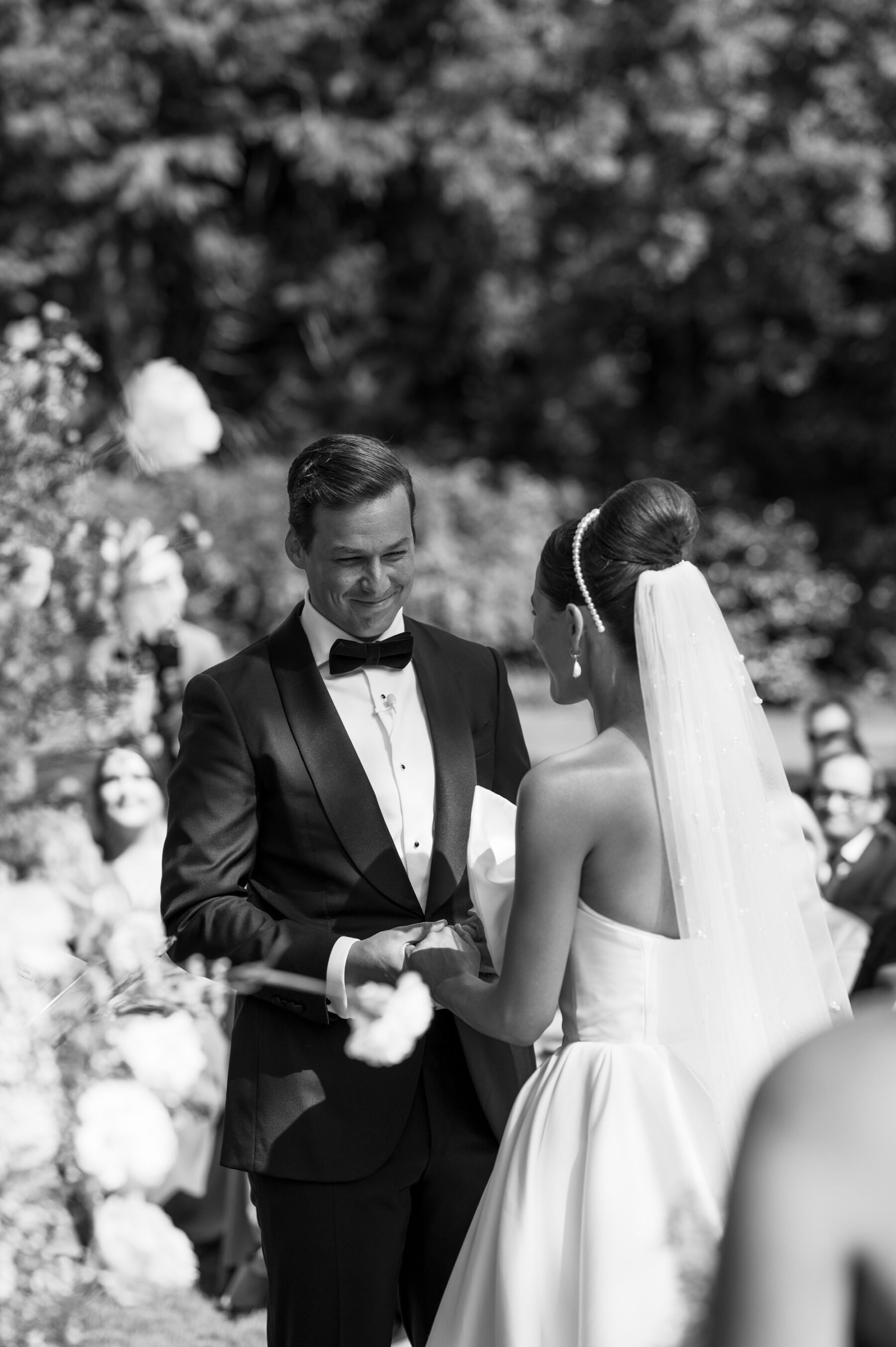 The Ceremony
---
My dad walked me down the aisle. It was perfect, there was no one else I would rather have. He couldn't stop crying but he was over the moon!
We also had a string quartet down the aisle playing our favourite modern day music, like, 'All You Need Is Love', and Oasis.
My favourite moment was coming down the aisle and standing in front of Fred. Seeing my loved ones around me, so thrilled to be there for us. I also loved being with Fred and sharing our love with everyone. It was hard to specify every moment as it was the combination that I fell in love with.
We had a celebrant on the day and we chose her specifically – Sara Cummings. I found her online after searching for weeks. She got to know Fred and I, and we fell in love with her and vice versa. This was important to us that we had someone who knew us well and portray our story on the day.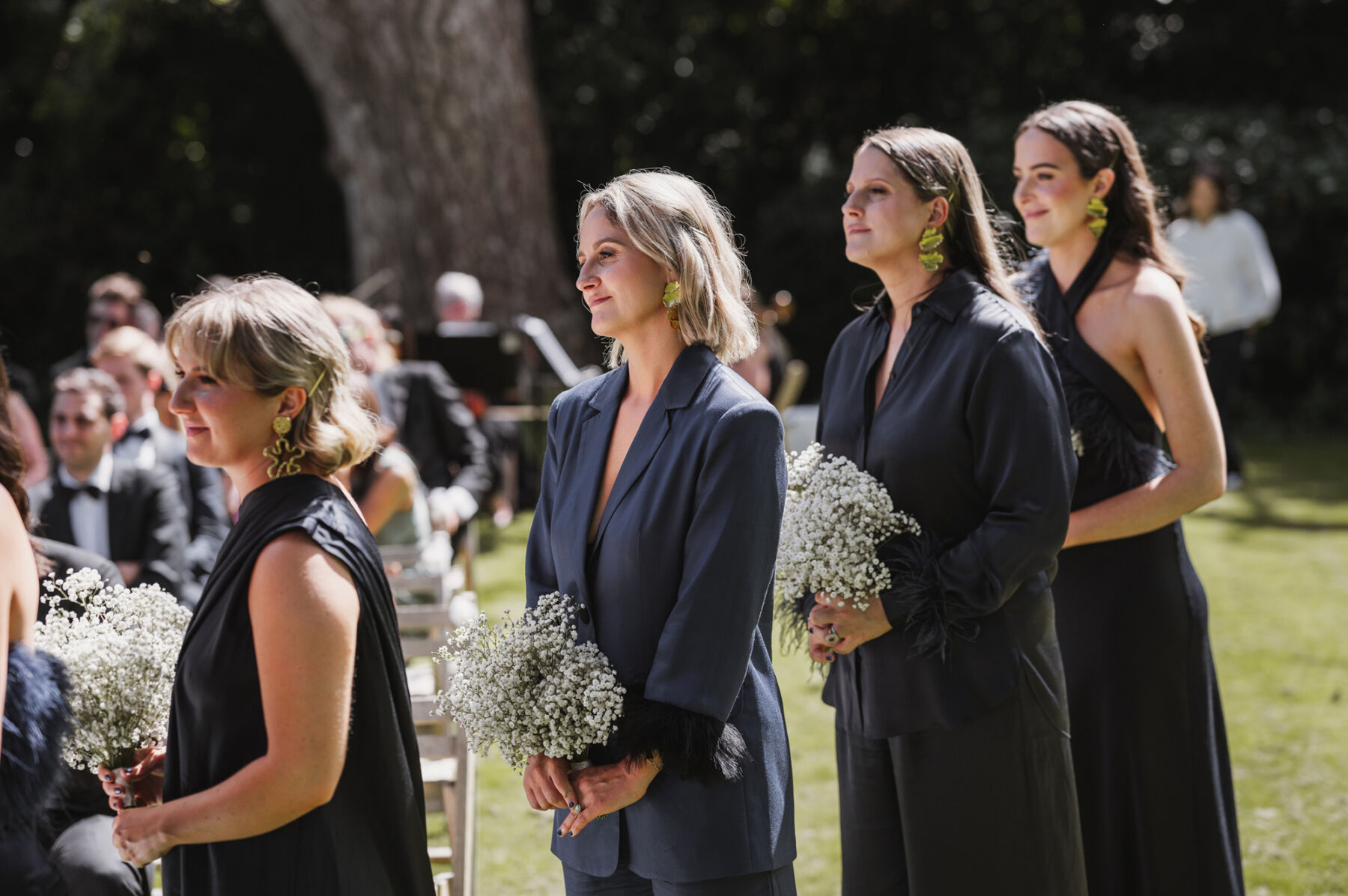 My family is catholic so this was important to share readings from our parents and respect their cultural beliefs. Including mentions regarding our grandparents who had strong religious beliefs. Yes both our mothers had a reading as they were important role models in our life. They chose ones that were significant to them and their family beliefs. This was important to showcase who they were. We wanted everyone to bring their own pieces to the wedding as we didn't want it to be all about us.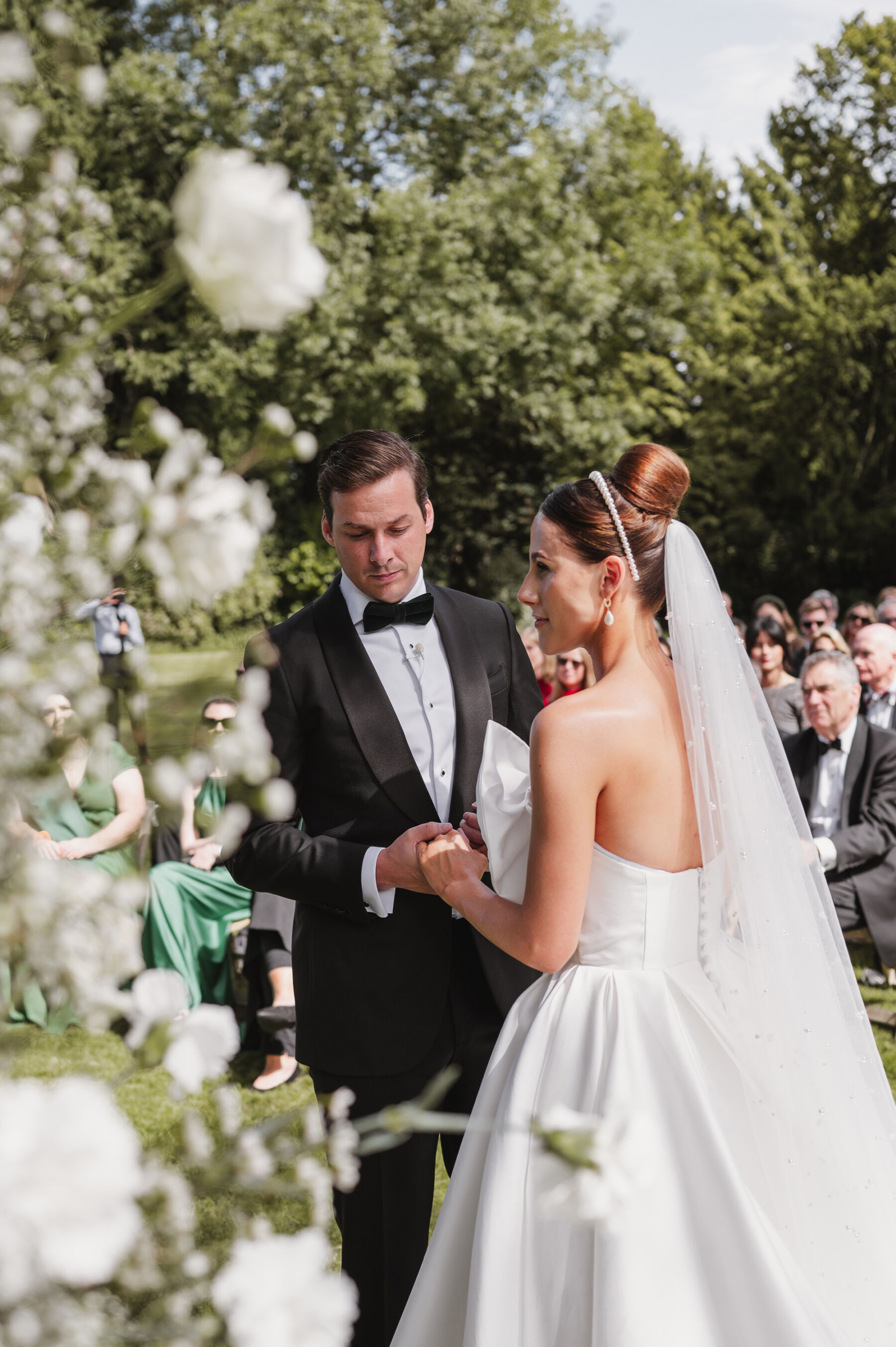 We wrote our vows and wanted to showcase how much we loved each other. We made some jokes at one another, but we showed our true selves. It was perfect. I loved that we both wrote our own vows.
We designed our rings separately. Fred has his gold ring custom made from Diamond Rocks in Hatton Garden. This is where my engagement ring was from. I am in love with my engagement ring. Diamond rocks is outstanding for customer service and quality rings. It took less than a week to make Freds. I love Vineet, the owner from Diamond Rocks.
For my wedding ring, I decided to go for a dome ring to compliment my engagement ring. My main engagement ring sticks out so I wanted to use a dome to compliment the size. Therefore, we purchased my wedding ring from Mejuri – it is absolutely stunning. Mejuri is a great option if you are running out of time and want high quality immediately. Big fan!! The main shop is on Marylebone high street.
Photography
OMG I love our photographer! I looked everywhere for the right photographer. Then I came across the website – Kitebox. Kitebox does both marketing creative and weddings. I fell in love with his style both for natural weddings and social.
More importantly, Felix Grant, the owner of Kitebox, can offer both videography and photography – which is hard to find. Also, this is a win because it means the look and feel of both the video and photography is aligned.
I would 10000% recommend to others – Felix and his team were incredible. He spent a lot of time with us pre wedding, ensuring he nailed the brief and we felt at home on the day. We had so much fun with Felix and his team (Paul & Josette) and we didn't feel pressured or felt like we were missing out. It was timed well, and we had such a great time. We don't love photographs in general but we had so much fun doing it. Plus, we got all the photos back so quickly and he nailed the brief. Value for money and just a great bunch of people.
Another photographer in their team who was excellent was called – Josette Crispin. She deserves a big shout out. Honestly, she came last minute as the photographer with Felix and was excellent. Very talented and a dream to work with also.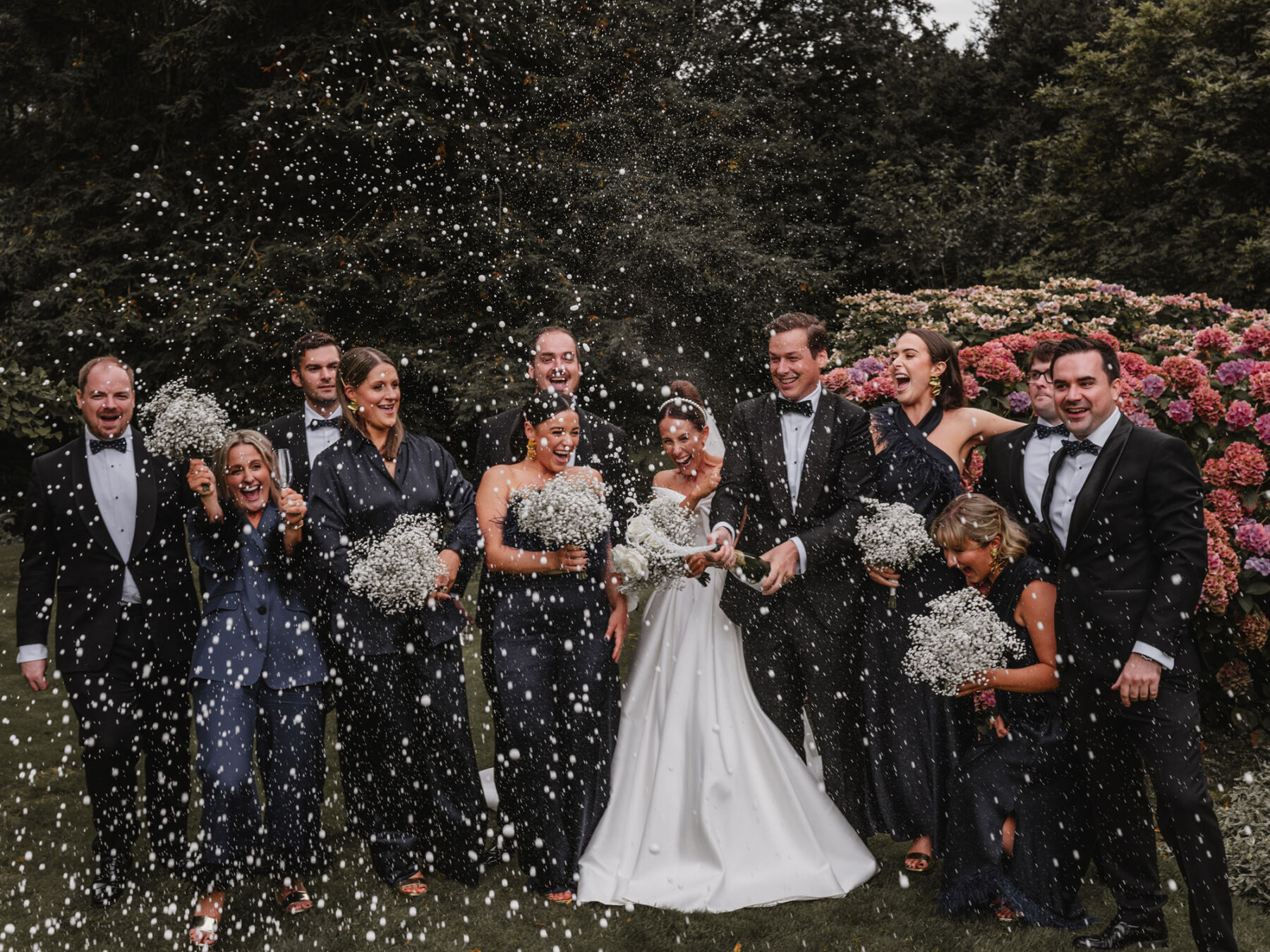 How They Met
We met at a family function (when I was 18) – a 30 year anniversary at the our family friends – (this family was both our neighbours at the time – yes we were neighbours).
We were introduced by my sister Amy who knew Fred and his friends. I thought him and his friend Fraser were both very good looking. However, Fred caught my eye. Very handsome and funny. I didn't say much as I was quite nervous and also terribly hungover.
We went to a pub/brewery where we shared a pizza, cheese platter and more…. To my understanding I ate the whole thing as Fred wasn't a big "eater"! I also had a bottle of wine before he picked me up because I was so nervous!
I was very nervous, intimated and he used big words that I had not heard of before. He dressed very smart and was extremely polite. I can't remember too much as I spent so much time drinking away my nerves. It was fun and romantic at the same time.
Floral Designer
Another person I loved! Our florist nailed the brief and was super flexible. I produced my vision through powerpoint for every stage of the wedding which really helped bring it to life. Sarah Pettigrew from Spring Hill Florals in Somerset was divine.
Sarah knew exactly what I wanted and responded to my brief well. More importantly she was able to fit within my budget and suggest alternatives i.e. moving the flower arch to the dining room after the service was over to use more of the flowers. She was serious value for money and repurposed the flowers from each area.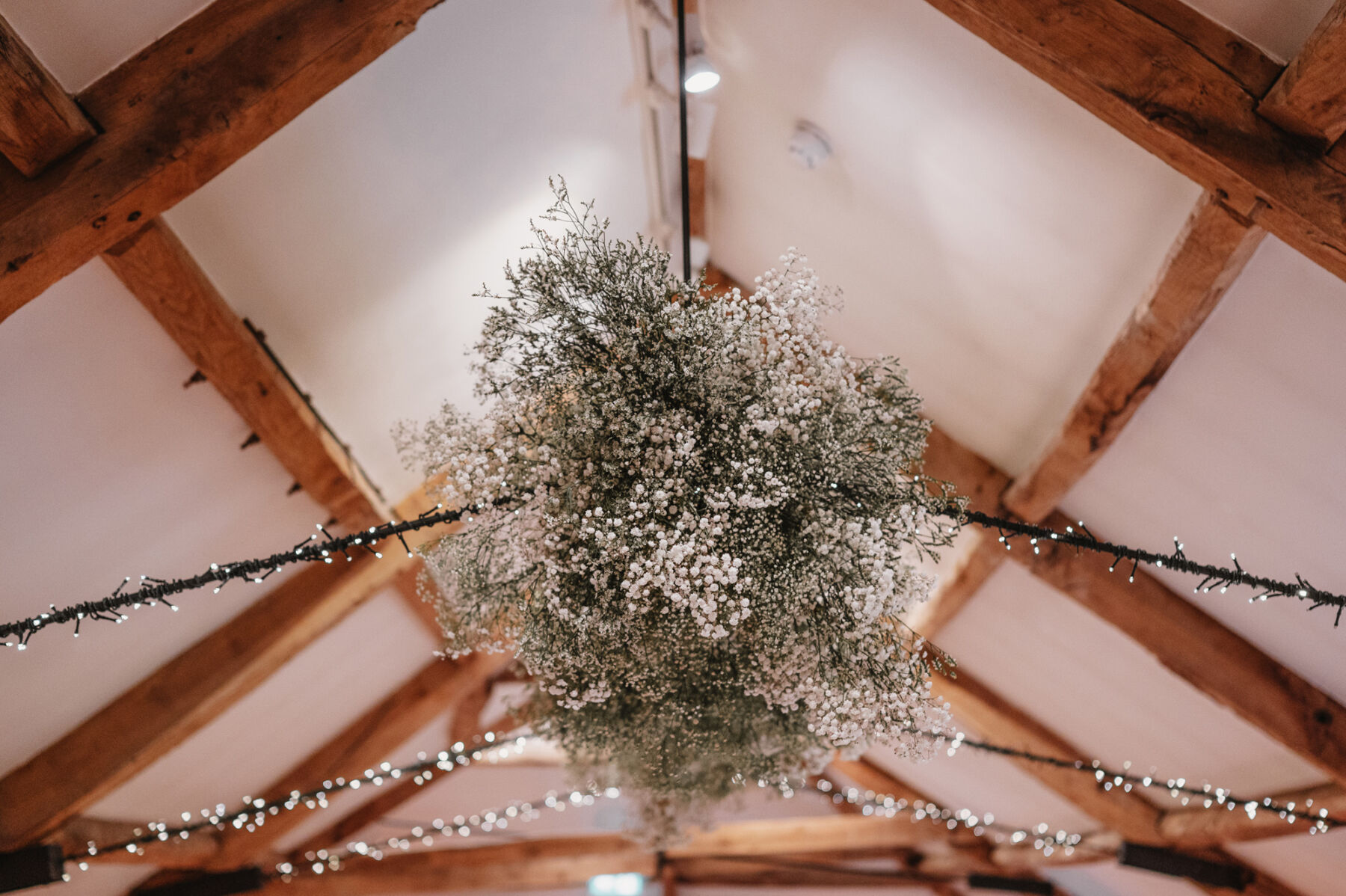 Our flowers reminded us of home – we used were a mix of baby's breath, orchids and roses. I wanted a mix to add volume and also value for money (sorry I use this word a lot!). Baby's breath are subtle and adding orchids and roses can give it volume. This added a touch of elegance and I was in awe of the set up. We had a flower arch, flowers for the aisle that were repurposed for the dinner setting and flowers scattered up and down the staircase of the dinner. It was pure bliss and just enough.
We organised shuttle buses to pick up everyone from three key locations in Somerset; Castle Cary station, Bruton and Shepton Mallet. From there, we picked up guests and dropped them to Pennard House. Then as the night ended at 12am we dropped them home.
Reception
---
Lighting was already provided with the venue in the separate barn downstairs where the dancefloor was. One expense that we had was the candles. We had to purchase 300 candles for our dinner table.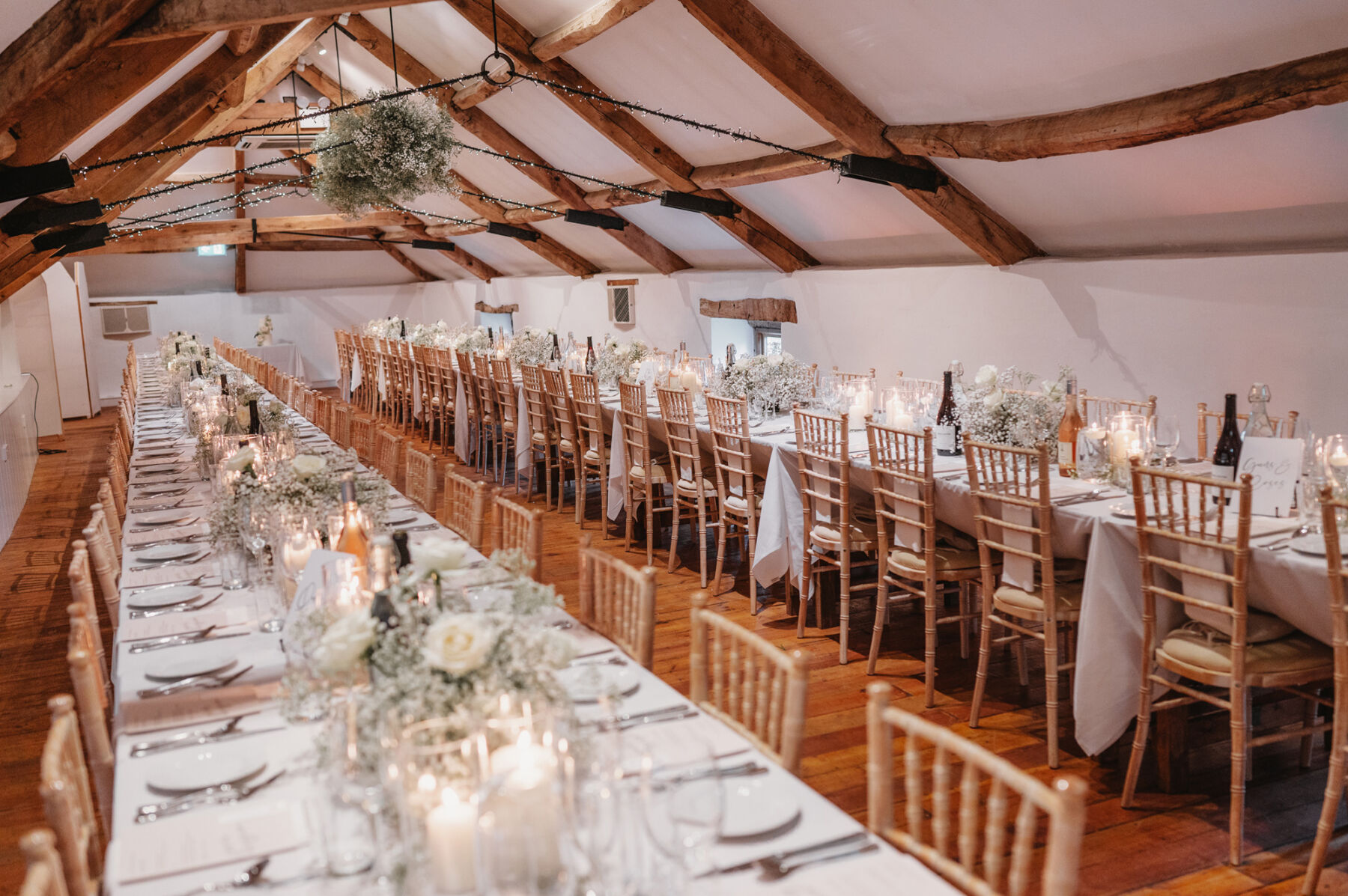 This was the biggest effort and we took them down to Somerset from London. We still have over 150 candles left! The candles were scattered up the stairs and all over the tables to add mood lighting. It was the most affordable option – purchasing rather than renting.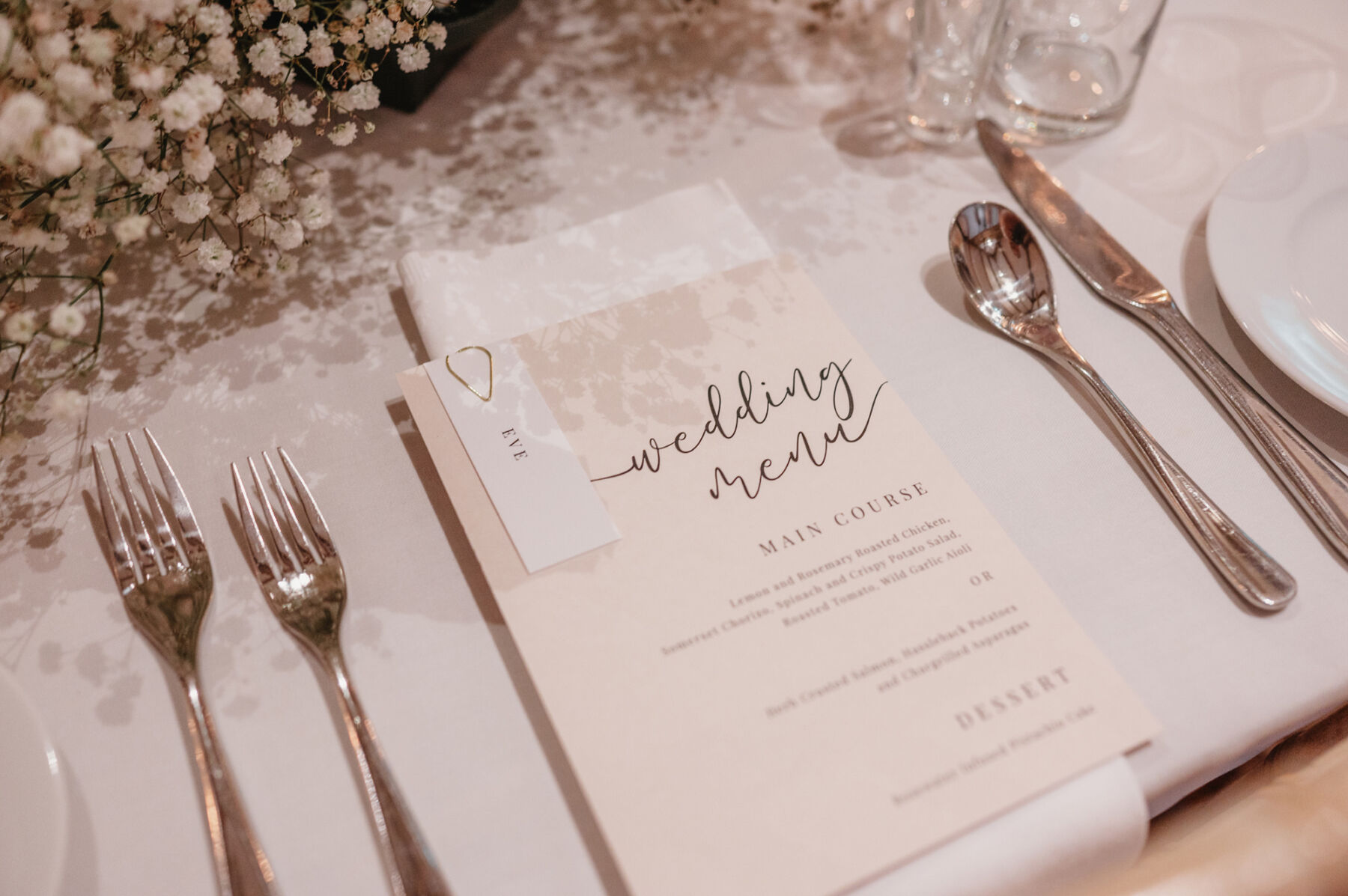 We kept the whole wedding within the music theme and ensured the fonts and colour scheme were consistent. This ensured it was still elegant and allowed for fun.
Since we wanted the wedding to be rock n roll themed, we had our tables grouped into band names i.e. ACDC, The Rolling Stones, The Beatles, Elton John, Bruce Springsteen, Kiss, Abba etc.
This was a surprise for the guests at their table – every guest got a small bag at their table to dress up with according to their table theme.
We designed the menus in-house including place cards, seating chart and more. The menus we designed ourselves along with the signage. We custom made the seating chart using inspiration from Pinterest i.e. we ordered vinyl records and custom made circle stickers to place on the vinyl's in the middle with the guests name and table number.
This was a little hack that we made ourselves. The stand to hang the vinyl's was a clothing rack from Ikea. Guests loved it.
Our guest book was also vinyl's which were scattered on a table on top of an old school record player. We purchased a white vinyl pen to allow guests to write on the vinyl's. We plan to frame the signed vinyl's and hang them around the house and on our staircase.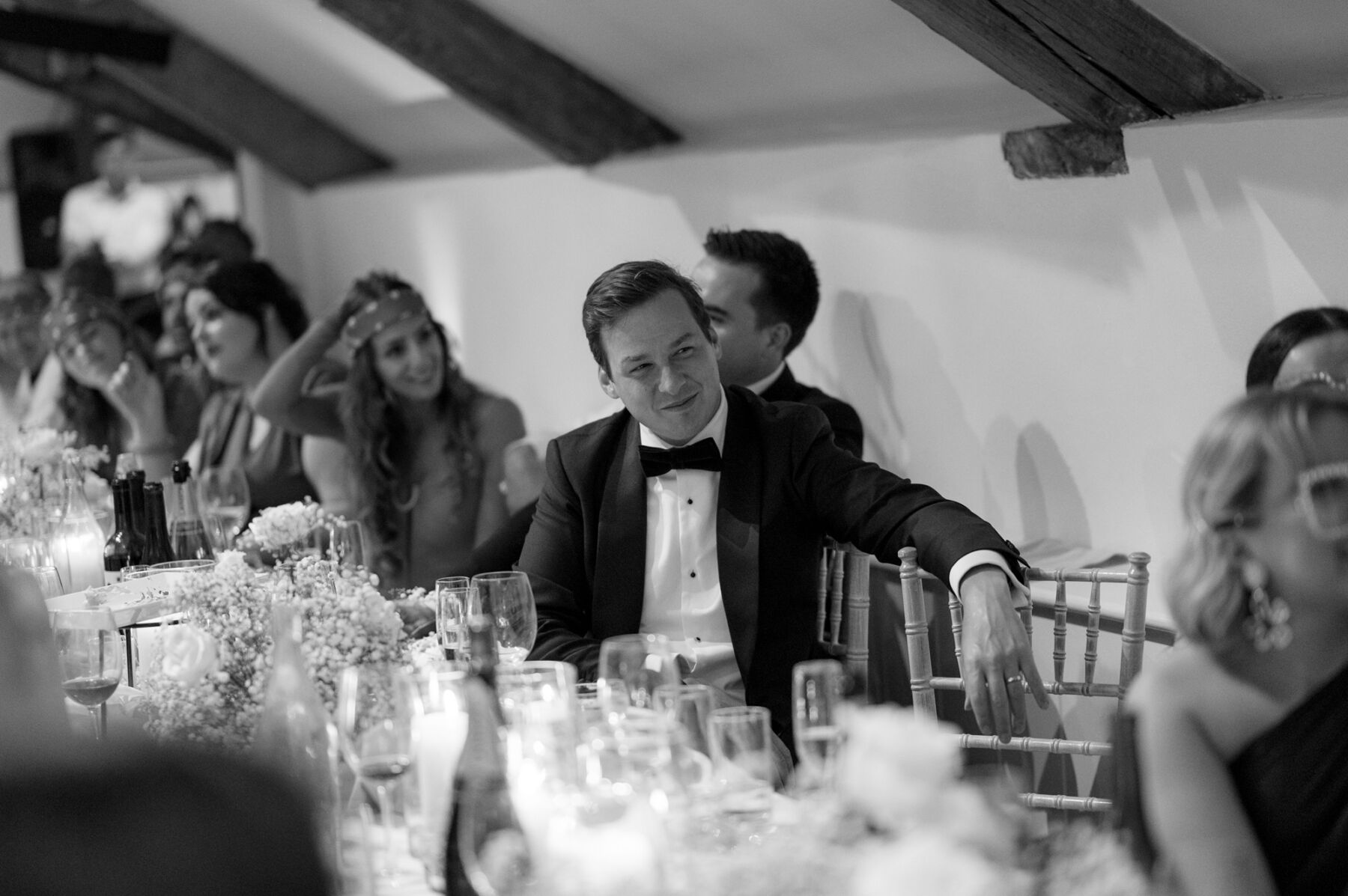 We did purchase the welcome sign from Etsy – a large vinyl record – saying, "Let The Good Times Roll". We wanted it to be a party and that's what it was. The menu titles were also lyrics from songs i..e the bar menu sign – "drunk in love" or the downstairs bar menu – "gin & juice".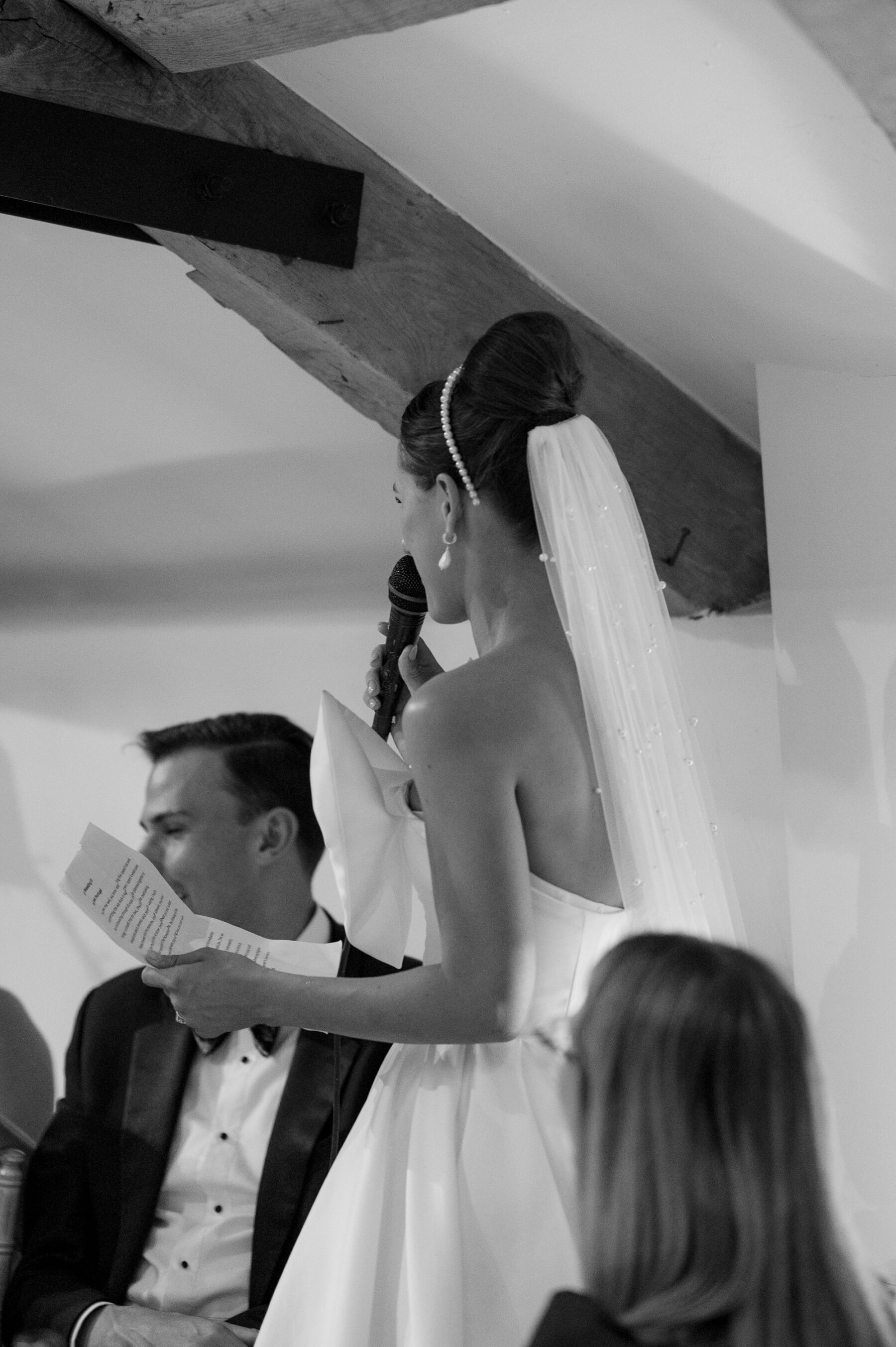 Catering came with Pennard House – Denise Bottrill of 'Taste Somerset' is the lead in the team and wow – were we spoilt! Every guest raved about the food – they went above and beyond.
It was restaurant quality food. We had canapes (delicious), focaccia for the table, chicken and salmon as mains and the cake as dessert. Denise from Pennard House went above and beyond to ensure everyone was well fed and served on time.
I'm not a traditional wedding type of person, so we wanted a cake that was able to be eaten by the guests but also complimented the flowers. Therefore we chose a simple three tier cake and added the flowers – wrapping them around the cake.
The cake was a pistachio and rosewater cake. Absolutely delicious and surprisingly every guest ate it for dessert. We got to cut it and eat it. i.e. have our cake and it eat too ha! It was a hit and worth the value.
We gave guests little bags at the table which had dress ups according to their band name i.e. ACDC had ACDC hats, The Beatles had Beatles glasses, Elton John was sparkly diamond glasses, etc. This looked amazing in the dark i.e. glow in the dark – and people loved them.
After dinner we had evening snacks – Cornish pasties. These were a massive hit! Guests loved them and couldn't get enough. The food was in my top fav things. Highly recommend evening snacks to keep the party going!
To help get the party going, we hired singing waiters that pretended to be waiters during the dinner. After dinner finished their show begun as a surprise. One waiter fell over as part of the act and then broke out into singing i.e. Sweet Caroline.
Everyone was on their tables and chairs singing and they were just having the best time. It got the party going and it was an absolute hit.
Honestly I still have dreams about this part. It's always fun to add a surprise to get the party going – especially like starting the night with limoncello shots at the table. Why not?
The Evening Look
In the evening, I changed into a mini dress from Annie's Ibiza – it was the Silvia Astore Annie Dress. I bought the mini dress and ended up returning it and then renting it! Best decision.
The second dress allowed me to have fun but also brought my flare and glitter to the party. I wanted statement wild shoes that would add drama to my mini dress.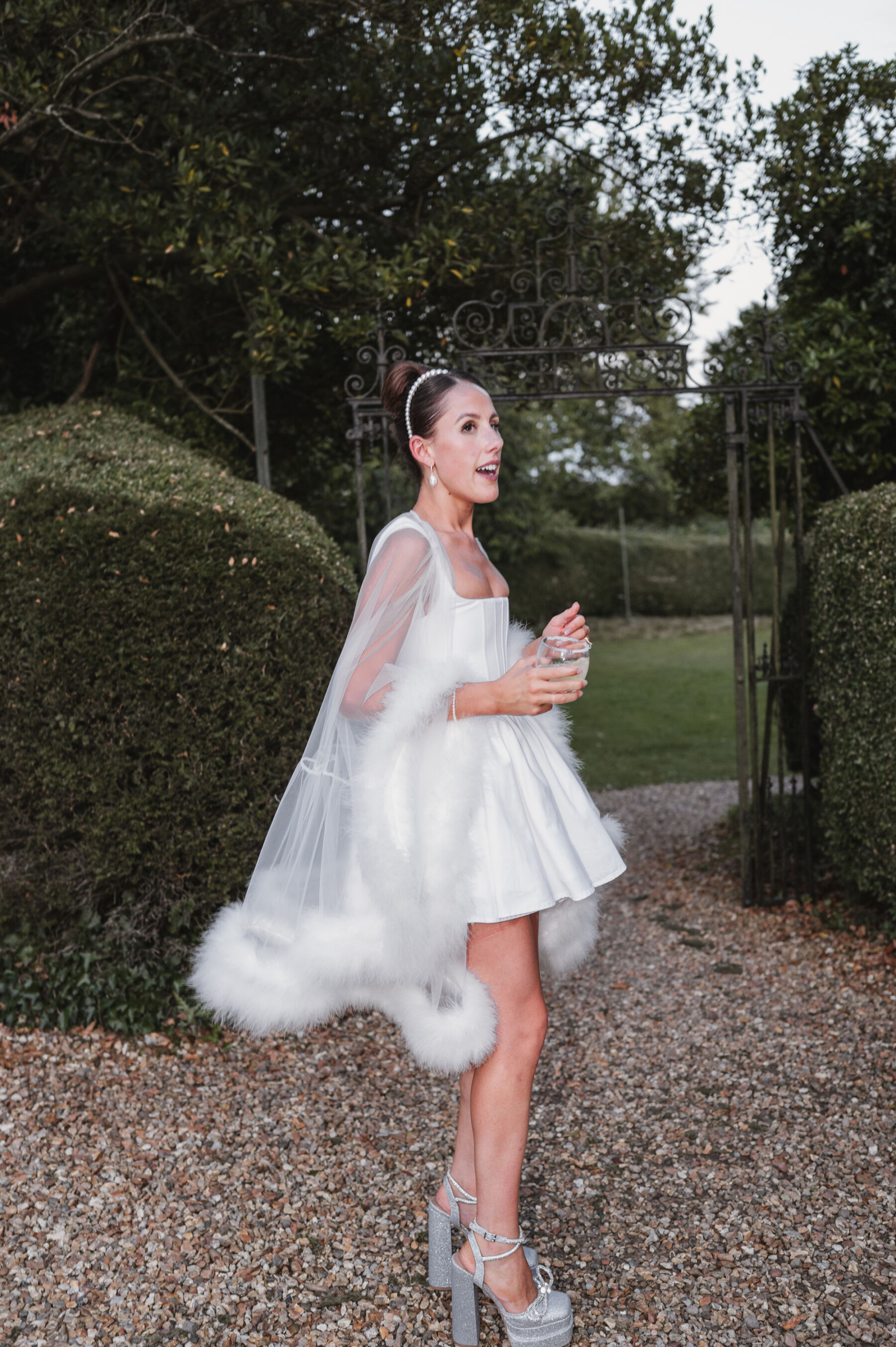 However, I needed a feather cape to make the outfit a statement piece. Adding all the bits together made it such a wild and fun outfit. I felt like myself but still a bride in my second dress. Yes, they were big shoes, but I had fun!
My evening look also included a mesh feather cape which imported from my wholesaler in Beijing. I customised this and it worked well over my dress (I also run a fashion label called Ellie and Josephine). My glitter silver heels were from Novo Shoes – I wanted statement platform glitter heels.
Entertainment & Dancing
We made a mash up of our favourite songs, ie, 'Are You Ready For Love' by Elton John and mixed the end to finish with Old time Rock n Roll. This got the dancefloor going and everyone was jumping.
We had dance lessons at least 3-4 times. Fred didn't want to initially however, the best part was that we got to spend time together doing something different and we both loved it. Dance lessons were a special way to connect and take some time before the wedding. I am so glad we did this, and I highly recommend it to every couple. It's not about perfecting the dance but you want to enjoy it on the day so this gives you confidence and something to enjoy pre wedding.
Our entertainment was a rock band called Permageddon. They were UNREAL. I spent a lot of time trying to find the right blend of rock ballads that everyone knew. I didn't want it to be tacky, I wanted it to represent Fred and I and our passion for music. This kicked off at 9pm in the coach house barn below the dinner. It was really fun having the dance floor separate to the dining room.
Before the dance floor kicked off we also gave our guests crocs with personalised croc charms i.e. rock and roll charms. Guests loved their crocs and are still using them to this day i.e. on their Europe trip or for gardening ha!
Find Your Wedding Photographer
Words of Wedded Wisdom
Enjoy the process, don't rush it
You don't have to care about everything, just ensure you enjoy the ride
If you have a good time so will your guests.
The day is long and overwhelming, doing less is best. You can't perfect it all. Always offload duties where you can.
Don't try and perfect everything i.e. cake it's not a big deal, focus on the things that really matter to you both and compromise on others
Planning a wedding is not easy but as long as you know that, and accept it will be another mini job you will be fine. It's about enjoying the process
Savour the small things
Keep a journal and write down every day what you appreciated i.e. the small things and what you look forward to. I love looking back on it and appreciating even the smallest things that went well.
People are there to just love you on the day so just soak it up and love them back.
We really tried to be in the moment and take time together. Most couples tell you that it goes fast but for us it didn't as we didn't have to change venues. The venue had everything we needed – the wedding outside, the dinner in the coach house and a dancefloor downstairs in the barn. It felt like a long day and we got to enjoy every moment.
I honestly couldn't have done anything differently.
Explore our Wedding Directory
Love My Dress Wedding Directory Members
The below suppliers and venues featured in this article are part of the Love My Dress Wedding Directory.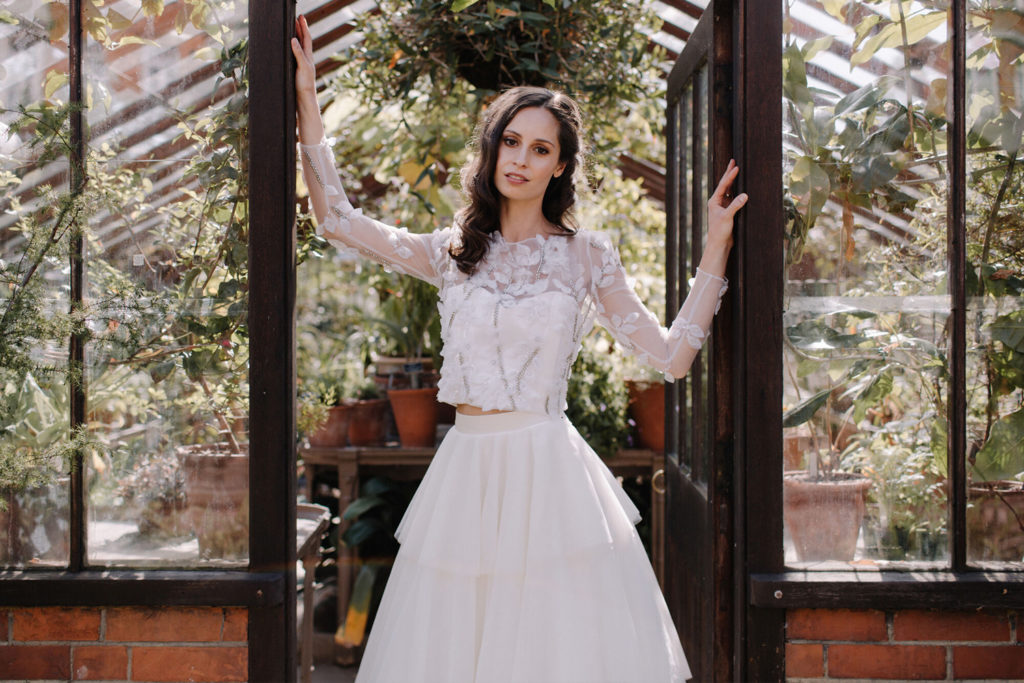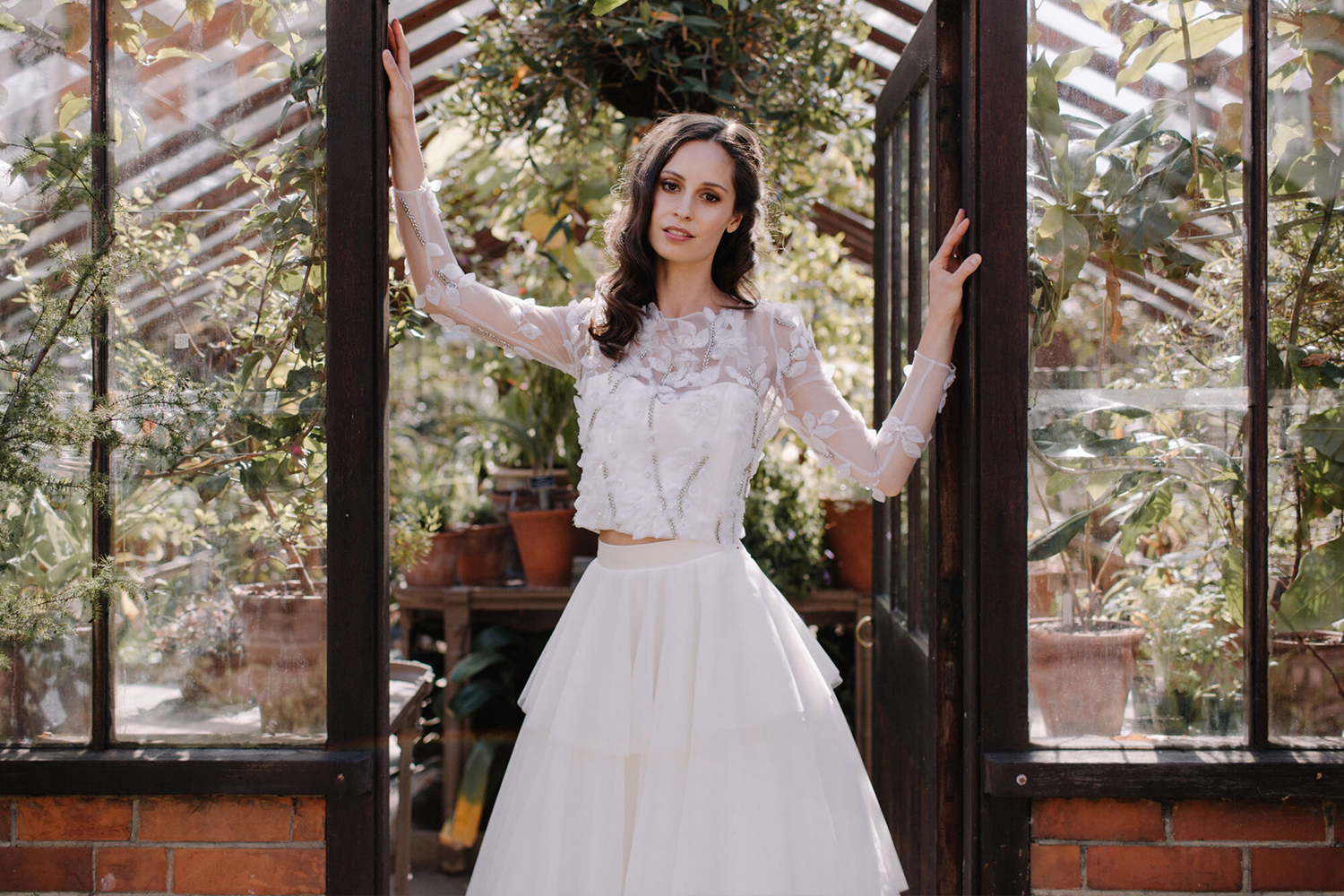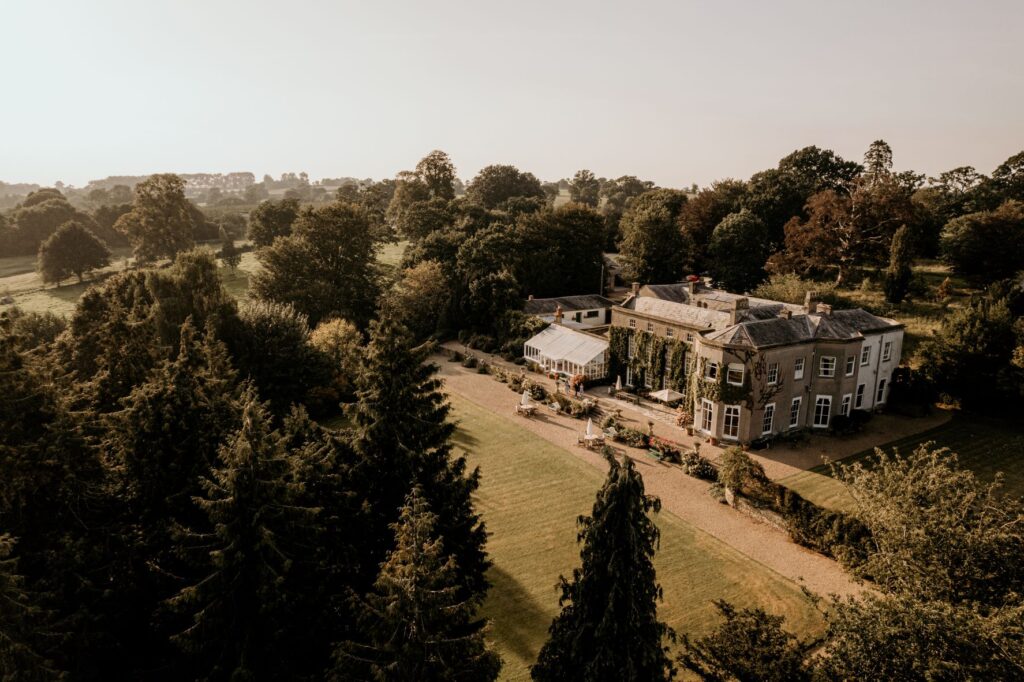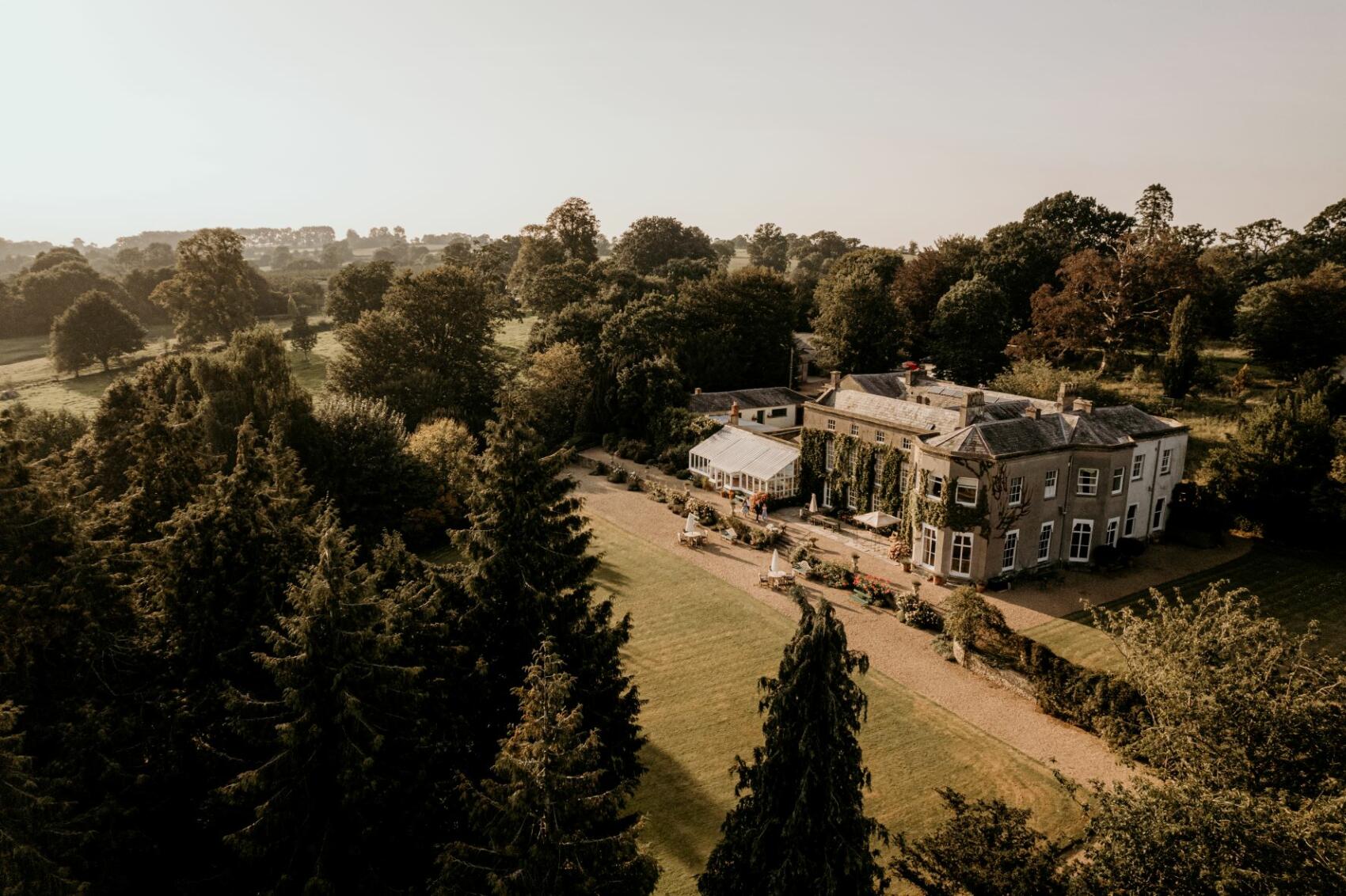 Additional Credits
The below suppliers and venues are featured in this article, but are not part of the Love My Dress Wedding Directory.