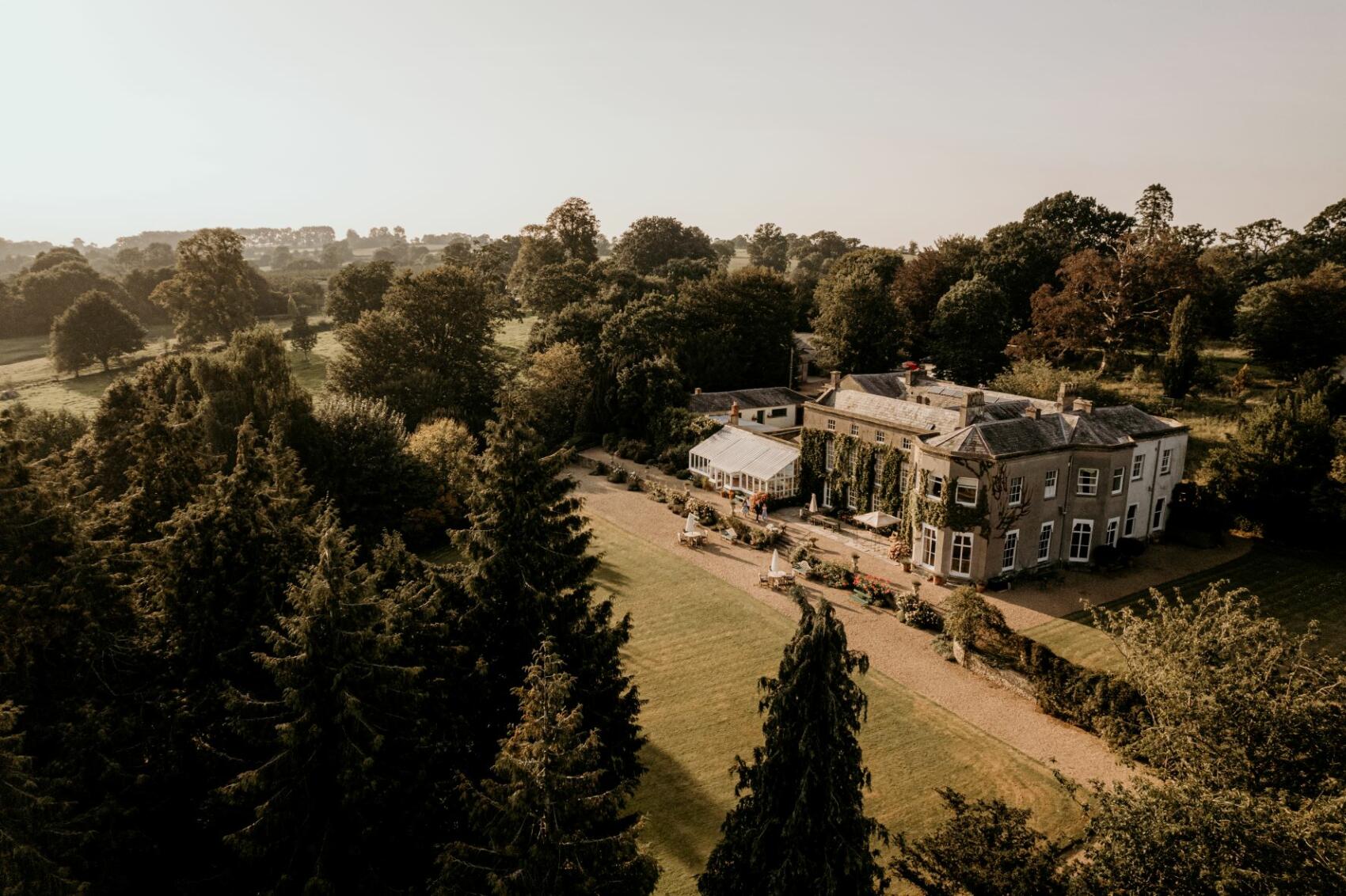 About Pennard House
Pennard House is a country house wedding venue in Somerset and family owned Georgian manor house. Nestled in the rolling hills of Somerset, Pennard House is surrounded by walled gardens, wildflower meadows and cider orchards.
With everything within walking distance, your bespoke wedding takes place in one charming location, with complete exclusivity, whether it's for one day or an entire weekend.
Why not come the night before and enjoy supper with your loved ones, cooked by our in-house chef, and relax knowing everything's ready for your special day. Wake up and get ready in our bridal suite and then tie the knot under blue skies in our stunning outside pavilion or inside in our beautiful Napier room. Alternatively, the picturesque 14th century village church is just a few steps beyond our garden.
After your ceremony, enjoy a glass of champagne and canapés on the south facing lawn with plenty of space for photographs and lawn games – Croquet anyone?
Somerset Wedding Venue
Your celebrations then move to our stunning converted 18th century Coach House. Host your wedding breakfast amongst wooden beams and fairy lights then dance the night away with friends and family in our unique party space with custom made dancefloor, bespoke bar and candlelit cosy seating booths.
When it's time to say goodnight, you have complimentary use of our beautiful Orchard suite and your loved ones can also stay in our beautiful bedrooms or under the stars in our 16ft luxury tipis in the garden.
Whatever you want your day to be Pennard House will make it happen, the epitome of dreamy elegance whilst remaining a warm country home.
If you are looking for somewhere unique to hold your wedding, a beautiful but relaxed setting to celebrate with your friends and family, then look no further.
Key Info
Pennard House, East Pennard, Shepton Mallet, UK
Prices from £2,500
Ceremony capacity

120

Reception capacity

180

Guest rooms

10

Sleeps

24

Suitable for multi-day weddings

LGBTQIA+ Friendly
Facilities
In-house catering
External caterers
Licensed for weddings
In-house bar
External bar
Exclusive use available
Child-friendly
Pet-friendly
Accommodation
Suitable for wedding
Suitable for reception
Outside space
Suitable for Marquee
Disabled Access
Late License
Parking
Honeymoon Suite
Confetti Permitted
Sound System Available
Food & Dietary
Afternoon tea
Barbecue
Canapes
Dairy-free
Fine dining
Gluten-free
Hog roast
Locally sourced
Picnic
Seasonal
Sharing platters
Street food
Vegan
Wood-fired
Virtual Tours
Videos
Reviews
We don't know where to start, which is probably why it has taken us over a month to write this! Your home became our home for the most magical weekend of our lives. Pennard House is the most spectacular place, we are so grateful for everything it is. We never saw any other wedding venues, because, frankly, why bother!? You have created a venue that is a home, that is probably because it has always been a home and with that you have built up an incredible team which all feel like family. Lucy is a superstar! We adore her and are still so grateful she was our wedding director. Her attention to detail and patience was second to none, and of course this came with her smile and warmth. Lucy worked so hard throughout the day and night to make sure our wedding was our dream day, she made everything look effortless and definitely went above and beyond. We cannot thank her enough. To top it off, we also had Ellie on hand to help us. Ellie is the most hardworking and kind individual who only wanted to make sure everything was perfect. I know we tested her at least once, like when Friday night's dinner was pushed back, but she never made it a problem. Ellie was a smile when we were nervous, someone to help with the finishing touches - simply amazing. We hope the rest of your year continues to be filled with amazing weddings and events, and we hope to come visit soon. Lots of love and thanks,
Lucy and Scott 2022
Oh my goodness what a weekend….it was literally incredible we are glowing…our hearts are so full. Thank you so so so much for everything. We felt so looked after, the venue is just so beautiful and all the staff so wonderful. I am so glad we chose Pennard and even though it was raining it just didn't matter. Thank you for being so flexible and accommodating - you all went above and beyond…. We can't stop thinking about all the extraordinary moments All our love
Poppy and Rob - 2022
Honestly we don't have enough words to thank you and the Pennard team for what was a fantastic day. It was stress free for us (I'm sure not for you 😂) and that was down to all your hard work, it looked seamless. We also want to thank you all for working with us numerous times to move our date, I have heard some horror stories from friends of ours from there venues and I can say this was not the case with yourselves. Honestly words can not thank you enough for not turning our day into a nightmare of additional costs, fees and ultimatums! And allowed us to have the day we always wanted. Once again thank you so much for everything you have done, you and Pennard house will forever hold a special place in our heart.
Tommie and Alyssa - 2022
We had the absolute BEST day on Saturday. We wouldn't have changed a thing - it was perfect. Thank you so much to you and Ellie for being with us throughout the day and on the Friday to help us with everything and guide us through. We couldn't have done it without you both!! Also thank you to Sue and Harry for looking after us at the house and for the delicious breakfasts. It really felt like home away from home for a few days and all of our family felt relaxed and really enjoyed their stay. Thank you also to Georgina for showing us round initially and always being on the other end of the email when we were first choosing Pennard for our wedding.
Laura and James 2022
You are all AMAZING and we had a very magical day, our guests and us included loved everything about it and we cannot thank you enough for all of your efforts in making it work seamlessly - The evening before, the breakfasts and being able to enjoy the beautiful house and surroundings was incredible. We didn't want to go and we all want to come back! Thank you for everything, we are so lucky to have had a fantastic day. I'll send some photos!...we have so many lovely ones but will send ones which show of the beautiful Pennard House too!
Tom and Chloe - 2021
My husband and I got married at Pennard House three weeks ago and had the most perfect day. Pennard House itself is stunning and allowed us to have the wedding we had always wanted - we could stay the night before and the night of the wedding with our closest friends and family, the grounds and Coach House are just gorgeous, it's informal and relaxed while being totally organised thanks to the added bonus (and it really is a bonus!) of having a Wedding Coordinator. Pennard were so helpful with all things COVID and have a helpbook with a list of recommended suppliers to get your organising started. Our favourite day ever and all thanks to Pennard House and their truly wonderful staff (especially Lucy!). Can we do it again?
Libby and Andy - 2021
Just wanted to say the biggest possible thank you to you and everyone at Pennard who helped to make our day so incredible. You, Harry, La, Ellie, and everyone else we dealt with were so incredibly helpful and made it a day we will remember forever despite the few hiccups along the way, you kept us so well informed with any changes that needed to be made and made a last minute change of caterers really simple to navigate. I've had friends who found getting married such a stressful process but the whole team at Pennard and your relaxed vibe made sure that nothing was too stressful and I think that really helped us to have just the most fun and relaxed day we could have possibly wanted. Both our families and all of the guests commented on how amazing everyone at Pennard was, as well as how beautiful it is. Just need some more friends to get married now so I can persuade them to use Pennard and we have an excuse to come back. Thank you again, we really did have the happiest day of our lives.
Laura and Dan - Aug 2021
From the minute we arrived on Friday evening Lucy and Ellie were amazing all weekend, to be honest you could think they were part of the two families. They are a credit to Pennard. The very high standards and personal attention they continued to provide all weekend was far above what we expected. Then onto the amazing venue, the house and grounds are just beautiful. Very clean and tidy inside and out. Friday evening dinner and breakfasts were excellent and the weather even decided to meet your high expectations. Thank you for allowing Katy and Joshua's wedding to take place in a truly wonderful setting. We were fully aware how organised your staff were, which enabled the wedding guests to relax and enjoy such a memorable day, so thank you again for making it such a special weekend, but a VERY SPECIAL WEDDING DAY.
Mother of the Groom
Frequently Asked Questions
Do we have exclusive use?
We offer the whole house and grounds, including Coach House, Gardens, and the main house with 10 bedrooms, all exclusively yours for your wedding. And whats more you can come the night before the wedding too, making 2 day stay exclusively yours.
Articles featuring Pennard House