I do so love delivering you lovely readers a bundle of real wedding goodness on a Monday morning, it's just the best way to start the week. Today I'm super privileged to be sharing the gorgeously elegant day of Kim, a Nurse, and Nick, a GP, who wed on 20th August this year at one of our very favourite venues, the stunning Pennard House. This dreamy Somerset country house just so happens, for very good reason, to be one of our treasured Little Book for Brides members, boasting breathtaking rooms, gardens and a 14th century church where today's lovebirds tied the knot.
"We didn't want the day to feel too themed – in either colour or style. We knew we wanted the day to feel relaxed but still elegant and stylish. We basically just picked things we liked using a lot of Pinterest inspiration, and hoped they would come together on the day. I visited Love My Dress for the real weddings; I loved seeing the different styles of weddings, especially the dresses. Even though we are now married, I still can't stop looking at the beautiful photos!"
Photography by Noel Deasington Photography
Kim chose the most divine gown and veil by David Fielden, both purchased at Carina Baverstock Couture. This boutique is an absolute treasure trove of beautiful designs and wonderfully knowledgable staff and we're very proud to support this wonderful combination through our curated wedding supplier directory, Little Book for Brides. The stunningly detailed neckline and soft drape of fabric on Kim's dress is just the epitome of refined elegance."My dress was designed by David Fielden, purchased from Carina Baverstock Couture. It is a truly wonderful boutique, I will be recommending it to anyone I know who gets married in the future. I'd been to five bridal boutiques before visiting Carina Baverstock and although I'd tried some lovely dresses, none of them had seemed quite right. I knew I wanted something traditionally bridal (definitely white), but with a unique edge. I didn't want my dress to be like something that had been seen numerous times before."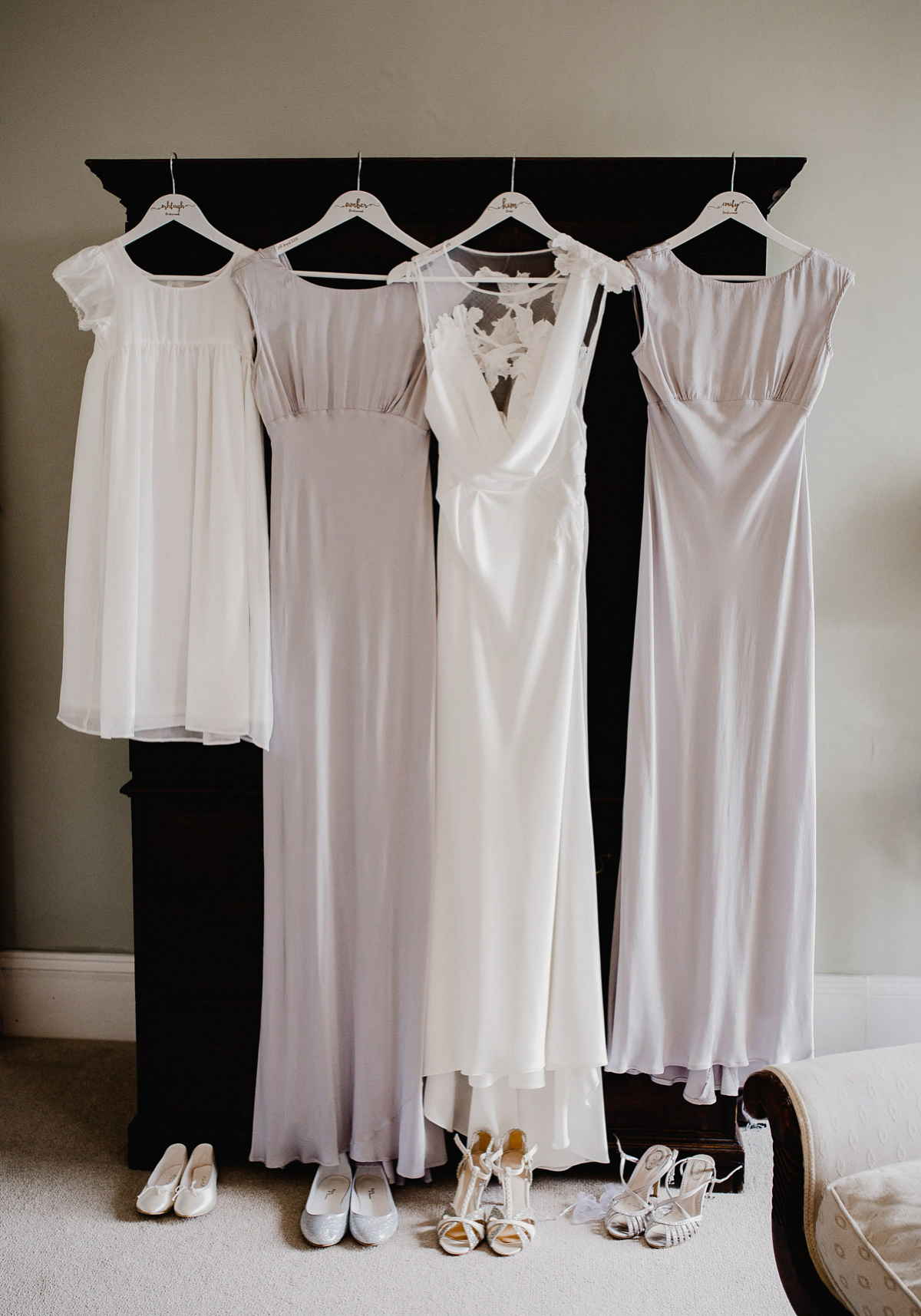 "After trying on several dresses, the wonderful Lucy at Carina Baverstock suggested my David Fielden dress. On the hanger I didn't like it, and almost didn't try it on. I'm so glad I did – I immediately knew it was 'the one', as did my mum and bridesmaids. I loved that it was quite unique with the low illusion neckline, but still managed to remain modest and elegant. The dress had the feel of the 1920s/1930s to it, an era which I love in terms of style."
Our savvy bride snapped up a pair of pretty Love Art Wear Art heels in a sale and commissioned a made to order headpiece by Percy Handmade in Australia; a beautiful keepsake that she'll treasure for years to come. Kim, her bridesmaids and her mum had their make-up applied expertly by Jessica Mills and their hair perfectly coiffed by Sheena of Sheena's Wedding Hairstyles.
"Everyone was pleased with how their makeup turned out – it was natural and really suited everyone. It photographed beautifully and lasted all day. I booked Sheena fairly last-minute after having an unsuccessful trial with a different stylist. I was feeling quite anxious by this time, but Sheena was great – she really listened and came up with the perfect hairstyle I had imagined."
"On the day she was brilliant; super-organised and especially good with my little flower girl, Ashleigh. I would whole-heartedly recommend Sheena to anyone."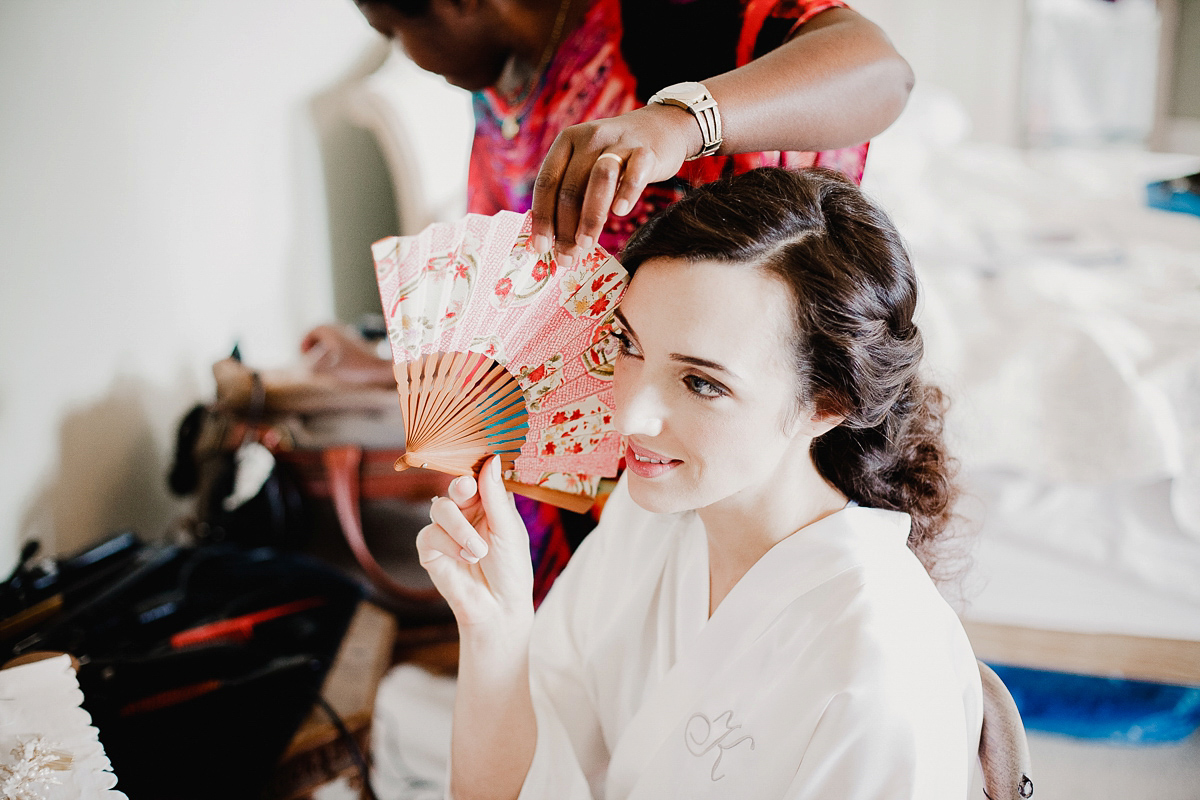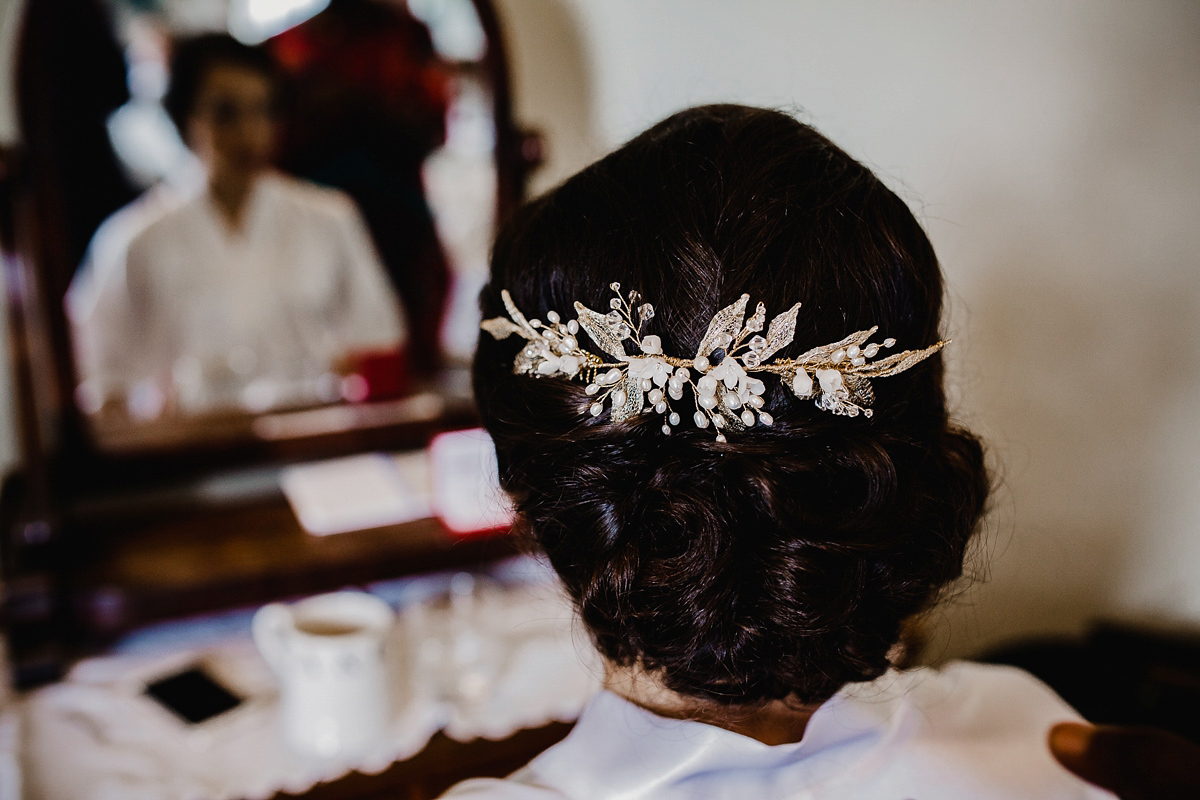 Kim chose a combination of two heavenly Jo Malone scents; Dark Amber & Ginger Lily and English Pear & Freesia, which will forever remind her of her wedding day. Our lovely bride accessorised with pearl and diamond earrings gifted to her by Nick on her 30th birthday, paired with a beautiful pearl Tiffany & Co bracelet, which he sweetly gave her just hours before they said their vows.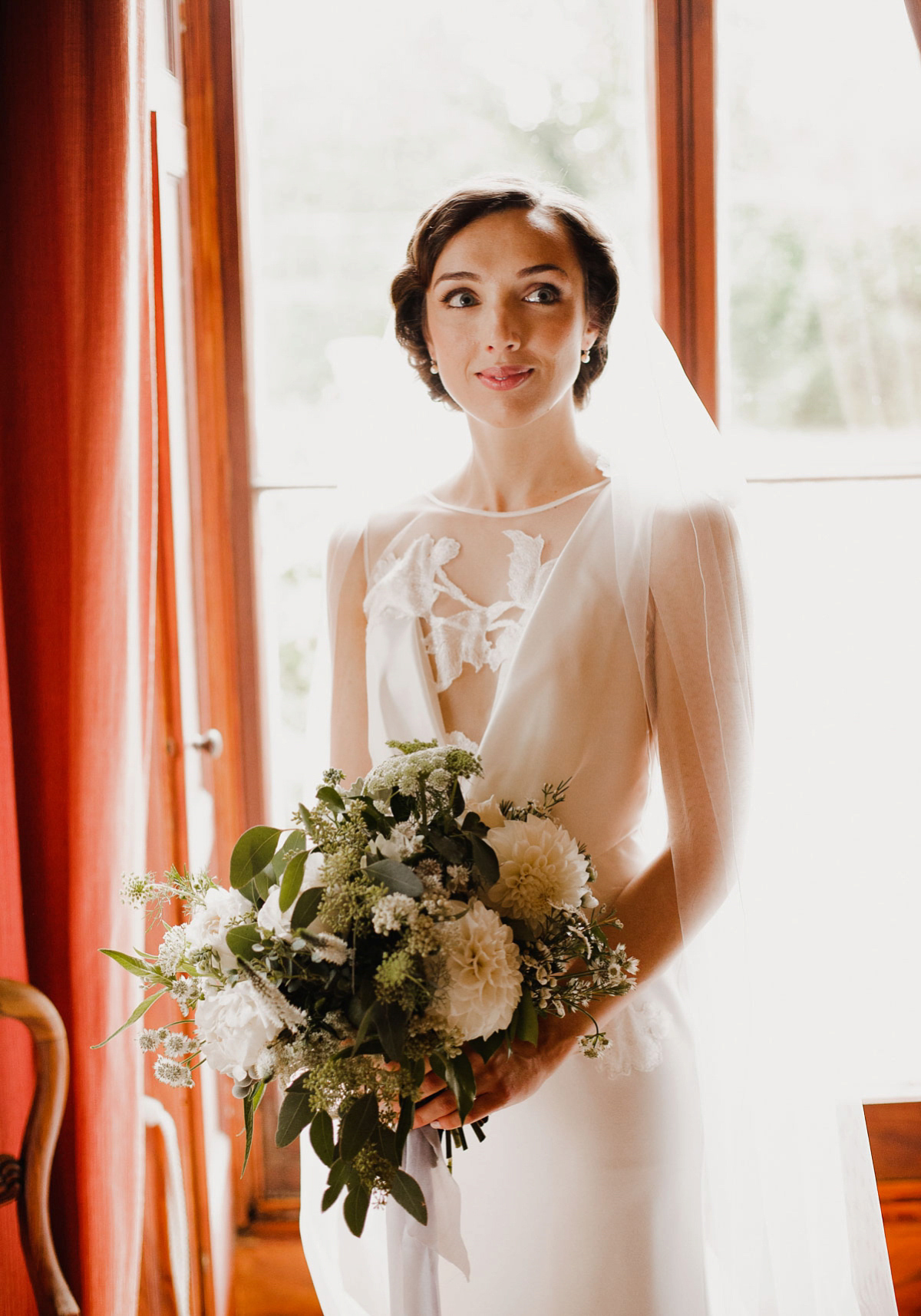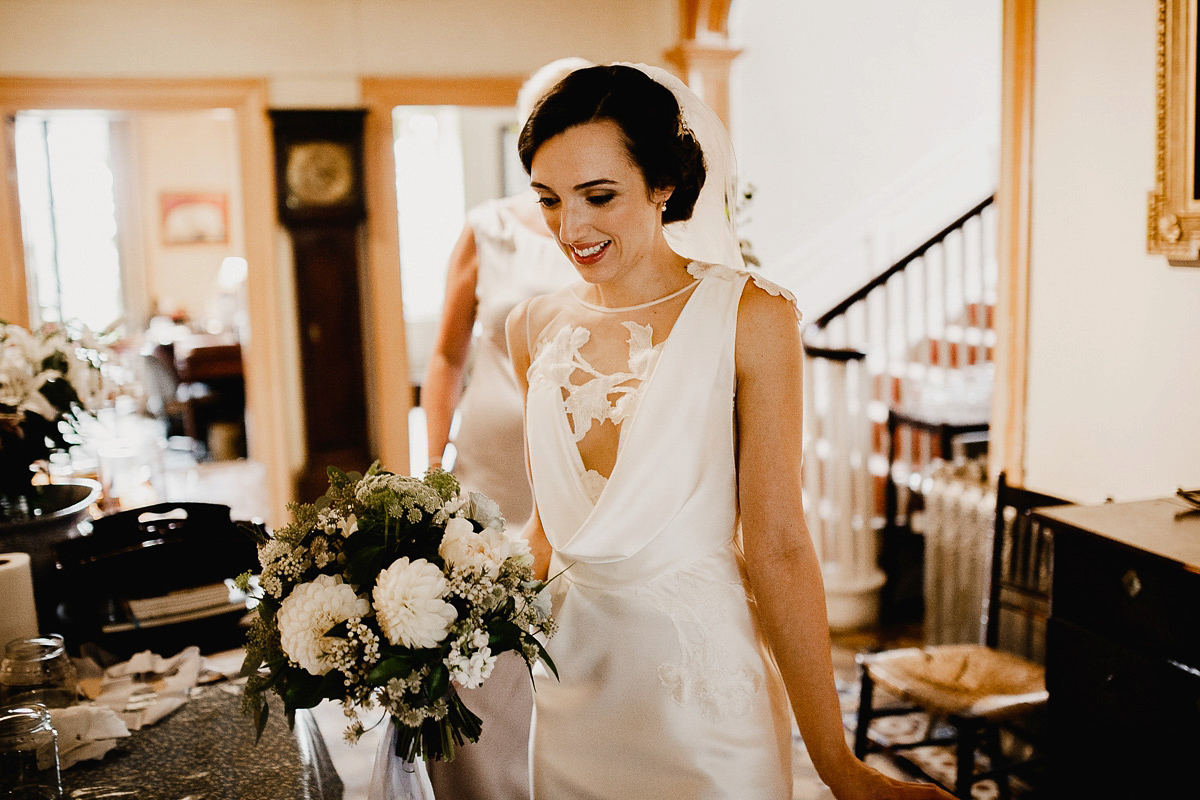 "I loved how my veil changed the shape and feel of the dress – it made it feel much softer and more demure. My veil was my favourite accessory and I wish I could've worn it all day – unfortunately it was a rather wet, windy day so that couldn't happen."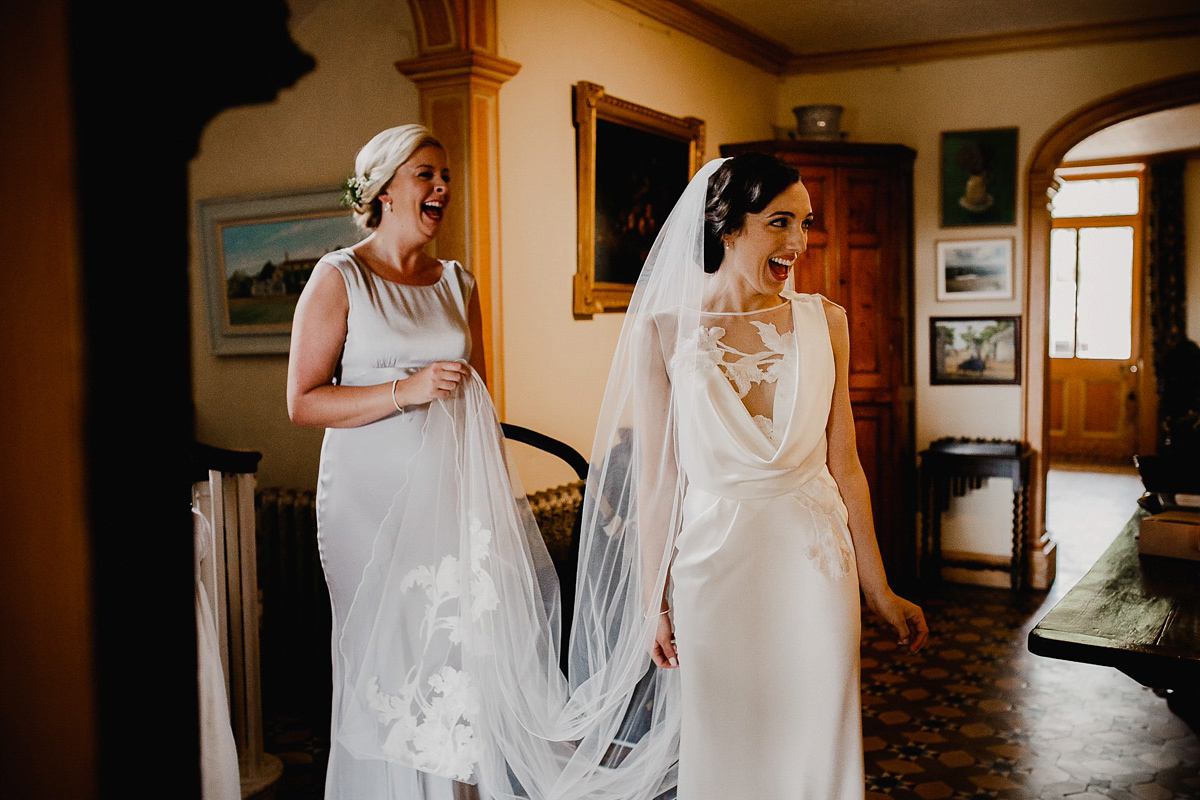 These gorgeous bouquets and boutonnieres were created by Bramble & Wild; I just love the clean white flowers against the abundant green foliage, dripping with creamy ribbons. Kim's talented grandmother also lent her creative flair to arranging all of the blooms for the church and reception.
"My grandmother recruited a band of helpers and they worked so hard over the days before the wedding to produce beautiful displays of flowers for us. They included lots of my favourite roses – Juliet by David Austin, which we purchased from online wholesaler Triangle Nurseries. It made it so personal and special to have loved ones contributing to our day."
"We visited a few venues on our search, and stopped looking as soon as we found Pennard House. As a family home, it has a really relaxed feel – not the conveyor belt of some larger venues. It has an elegant but informal style, which perfectly suited the style of wedding we wanted. We knew we wanted a church wedding and the pretty village church at East Pennard was perfect.
It is situated at the bottom of the garden of Pennard House, meaning that guests walk from the church to the reception. Pennard House has six beautiful bedrooms so it was great for all of my family and bridesmaids to be able to stay the night before the wedding and get ready in the stunning bridal suite."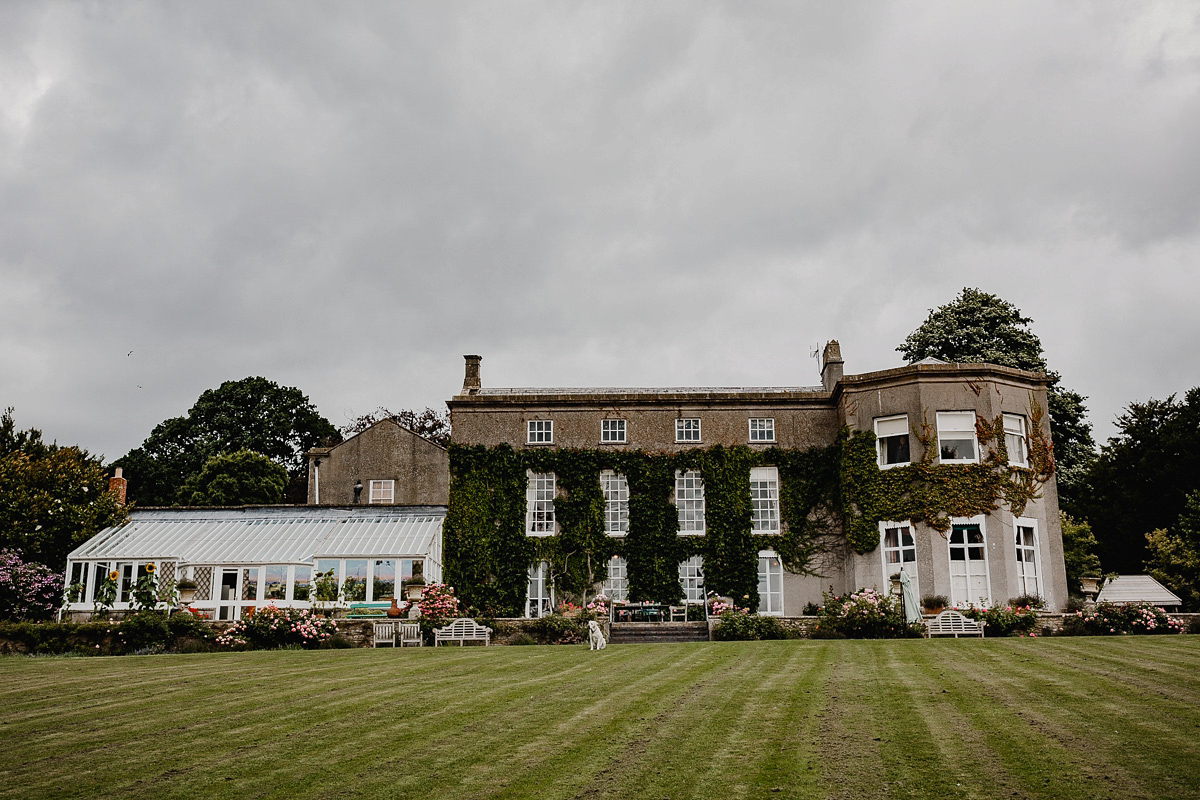 "We met in 2009 whilst working at the same hospital – Nick as a junior doctor and me as a student nurse. Nick asked me to marry him in November 2014 in Central Park in New York."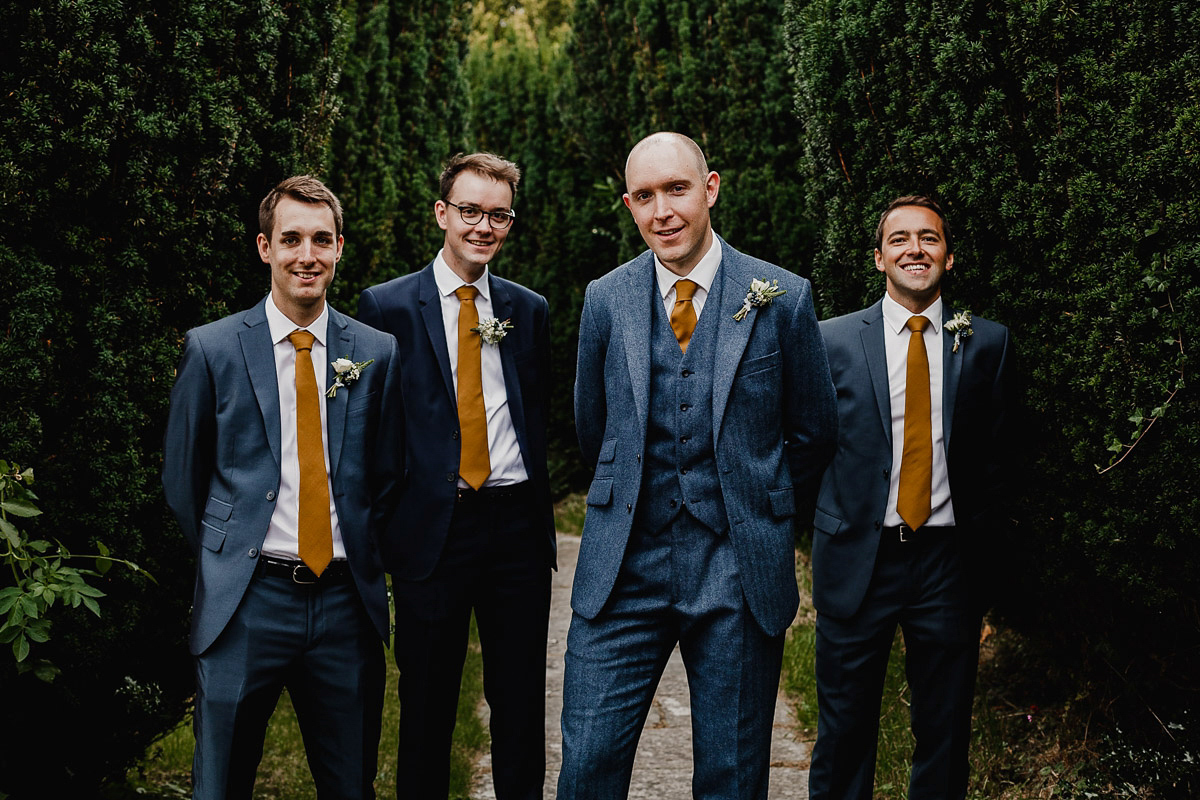 "Nick had his suit tailor-made by David at Brown In Town in Bristol. He loved the bespoke experience (David prides himself on matching colour and cut to the wearer) and it's great that he'll have the suit to wear for years to come. The grooms' party wore their own navy suits with the ties purchased from Brown In Town."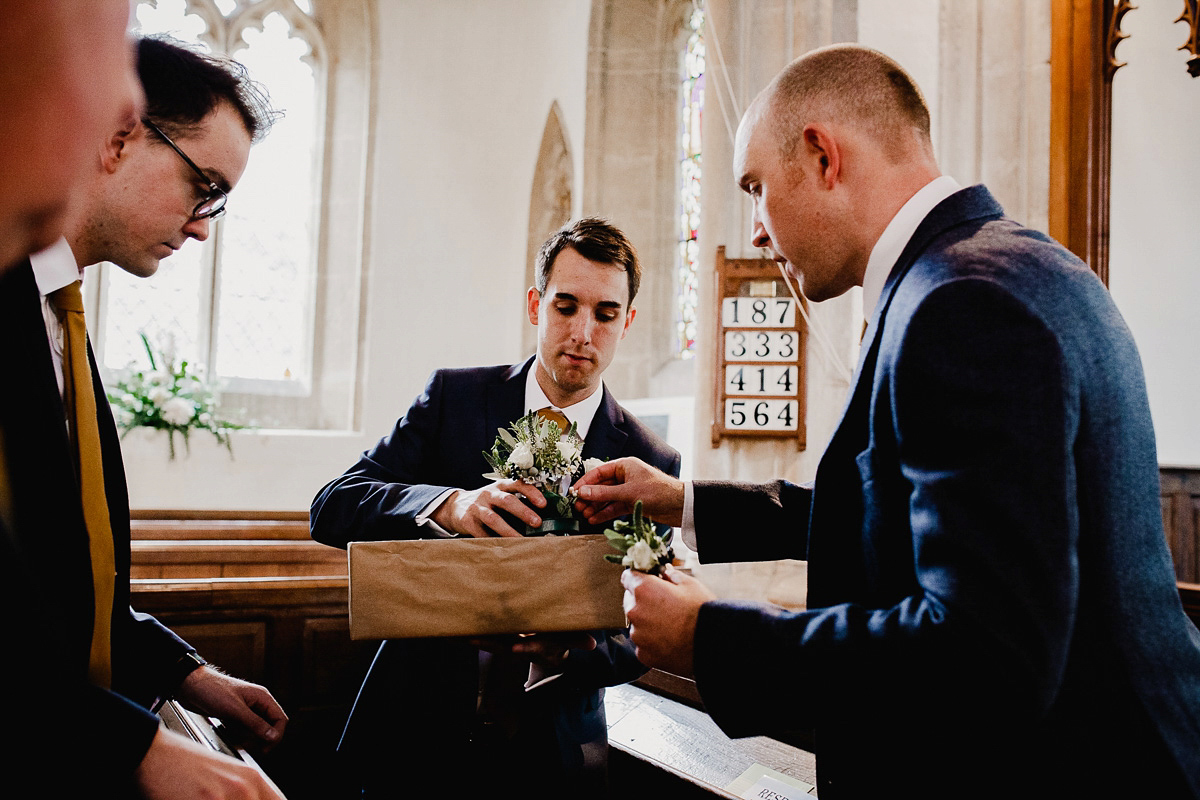 "We designed all the stationery (with help from my mum), and printed everything using Printed.com. I had searched high and low for stationery I liked but hadn't been able to find anything perfect, so decided to have a go myself. It was a real labour of love as graphic design is not something I have ever tackled before, but I was really pleased with the end result."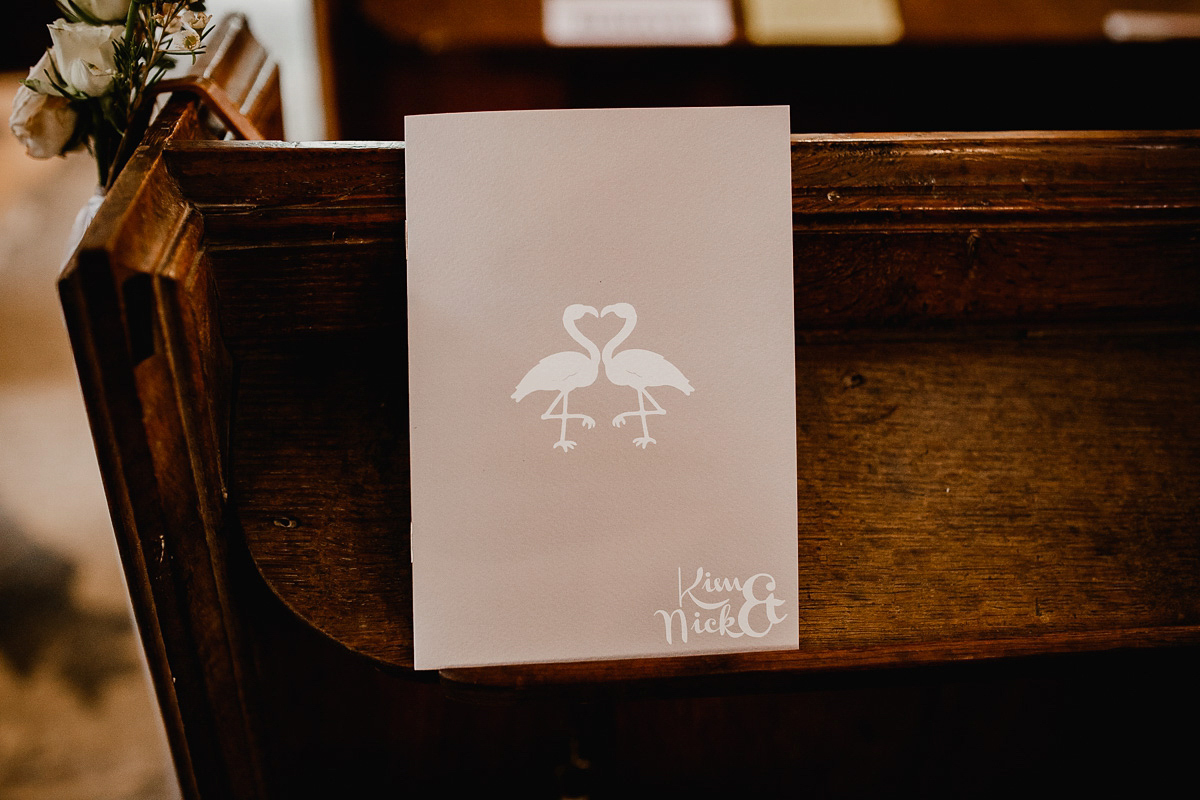 Kim walked down the aisle of Pennard House's beautiful church on the arm of her dad to Jeremiah Clarke's Trumpet Voluntary, which Nick touchingly arranged to be played by a trumpeter and the church organist. At the stunningly detailed altar, the couple exchanged traditional Church of England vows and family and friends contributed readings and musical performances to the ceremony.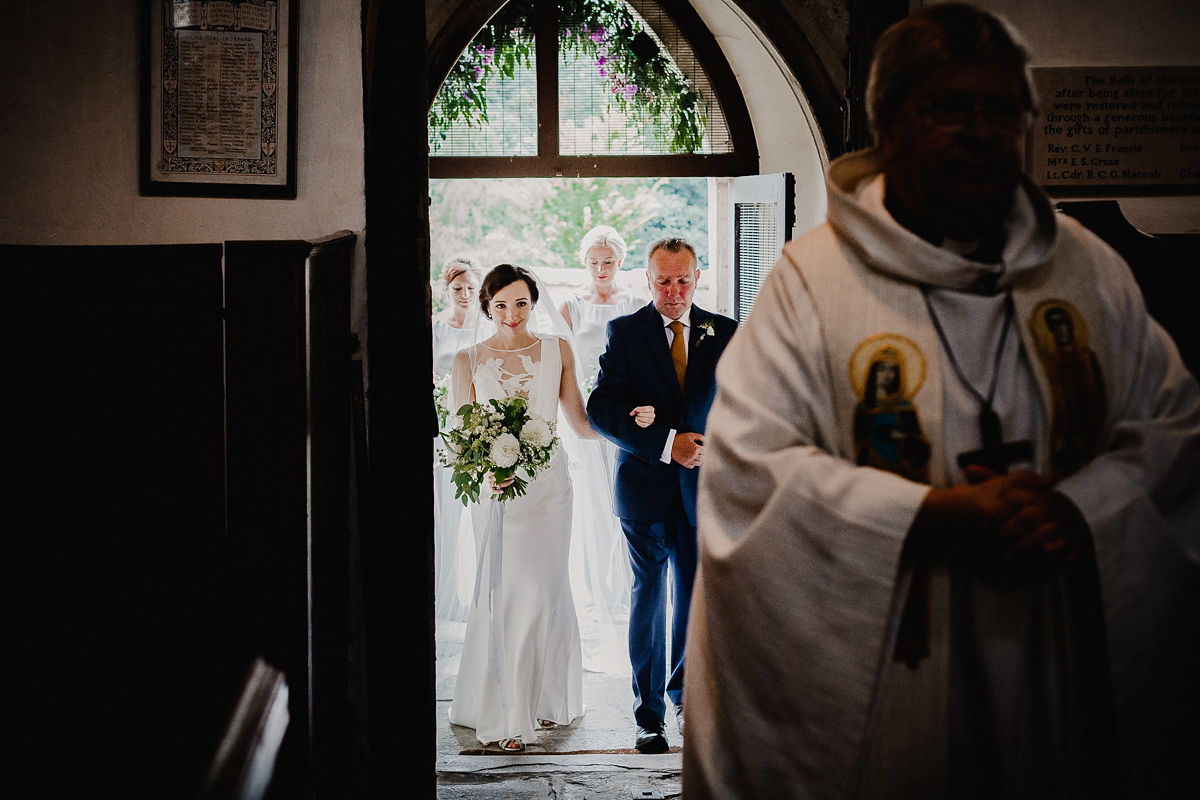 "My dad walked me down the aisle and gave me away. It really was such a special moment for us – I was so proud to able to share it with my dad. During the signing of the register, Nick's mum, brothers, sister and sister-in-law kindly agreed to provide some music for us. They sang two beautiful pieces– 'If You Love Me' by Tallis and 'The Irish Blessing' by Chillcott. Nick grew up singing in a church choir and most of his family still do, so it was special and meaningful to share this during the ceremony."
"The first reading, read by bridesmaid Emily, was The Owl and The Pussycat by Edward Lear. We wanted something light-hearted and fun, and this fit the bill perfectly. It is especially fitting as we have two cats whom we dote on! Our second reading was 1 Corinthians 13, read by Nick's sister Ellie. It is such a powerful reading and read so beautifully by Ellie – it was one of the most emotional parts of the service for us."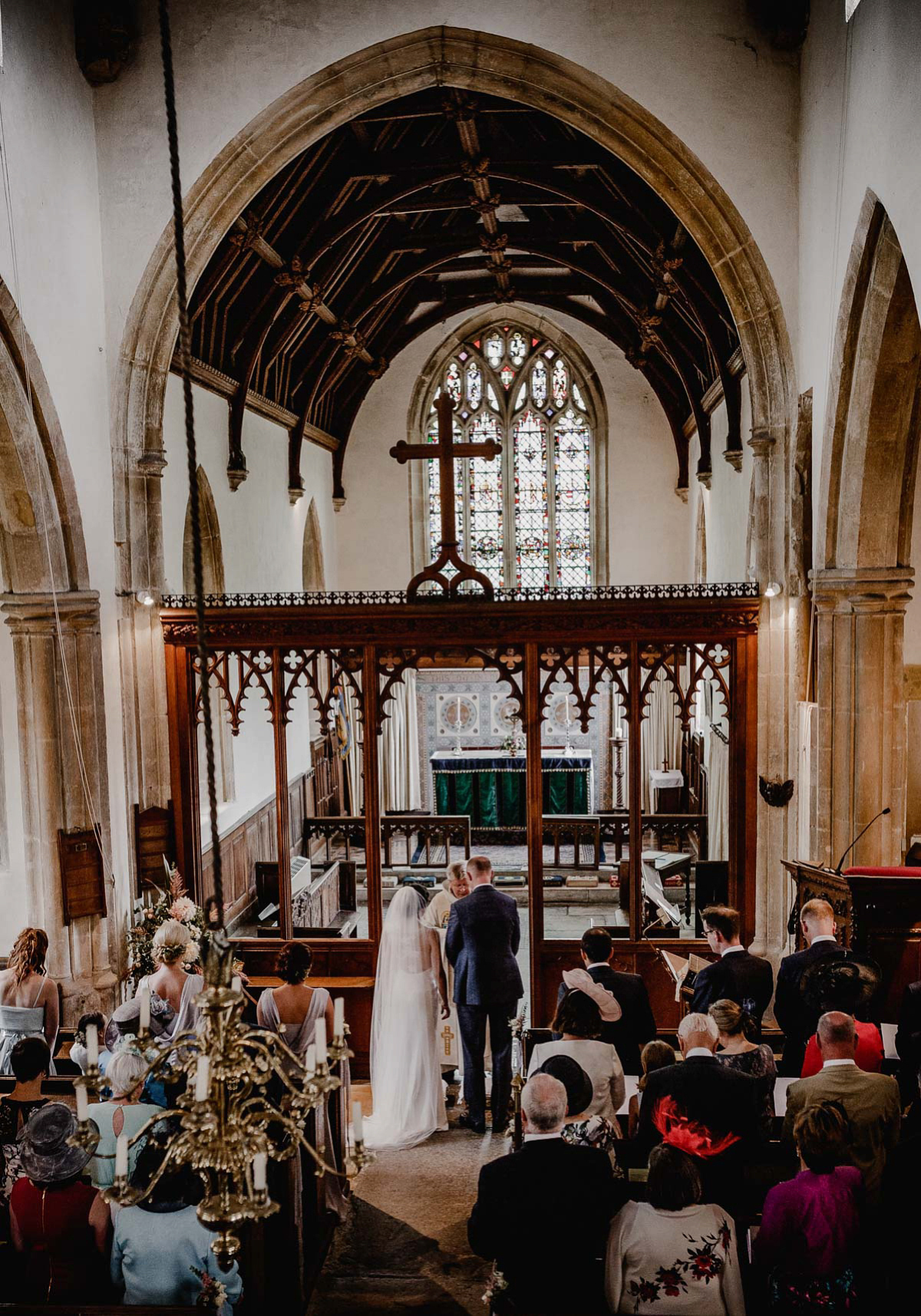 The newlyweds exchanged engraved rings from Regency Jewels; a product of a very enjoyable morning spent in Hatton Garden, Kim's a platinum, diamond-set band and Nick's a plain palladium ring.
"For me, my favourite part of the day was walking back up the aisle and out of the church with my new husband on my arm. Everyone had huge smiles on their faces and I just felt so happy and relaxed."
"Noel was great. He really put everyone at ease – you never really noticed he was there with you taking photos. We love his natural, unobtrusive style of photography. We have some really beautiful shots that we will treasure forever."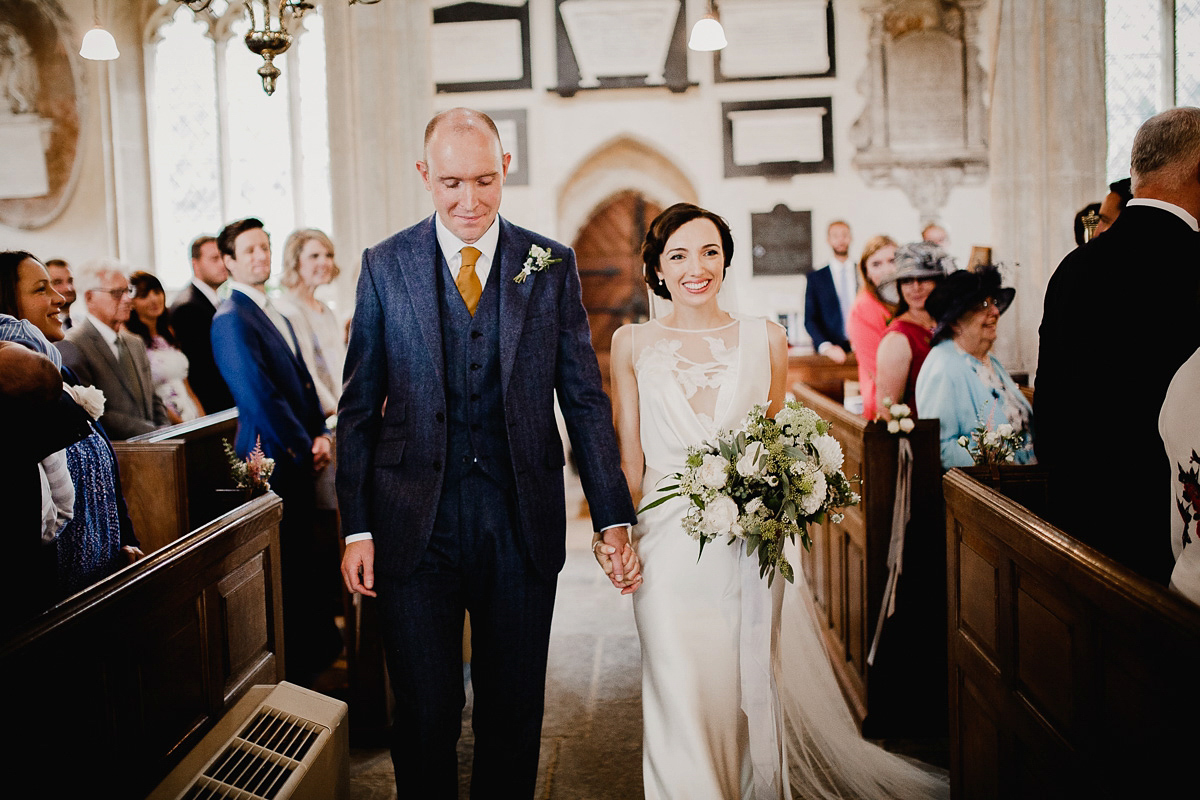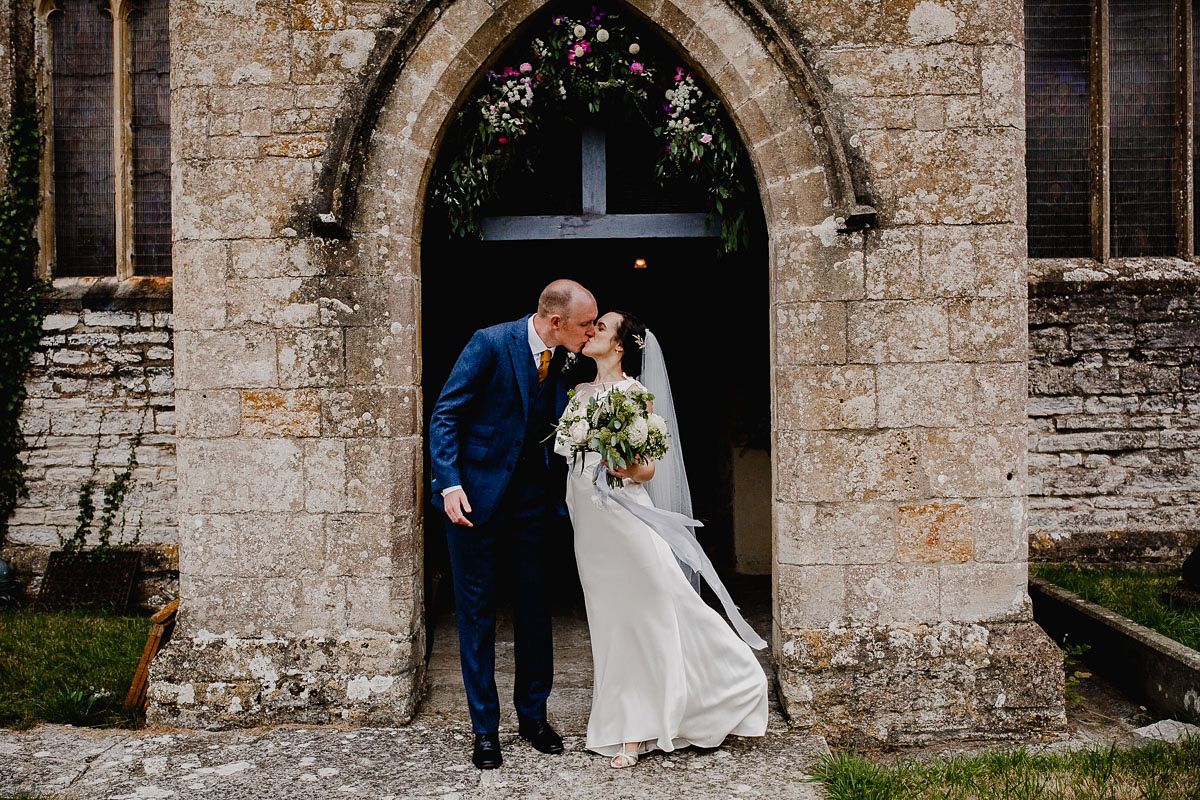 Kim and Nick have some of the sweetest confetti shots I've had seen; being privy to that moment of utter joy and triumph is my very favourite part of sharing our lovely real weddings. Noel Deasington has so wonderfully captured this moment of ecstasy, not to mention some gorgeously atmospheric shots in the grounds of Pennard House.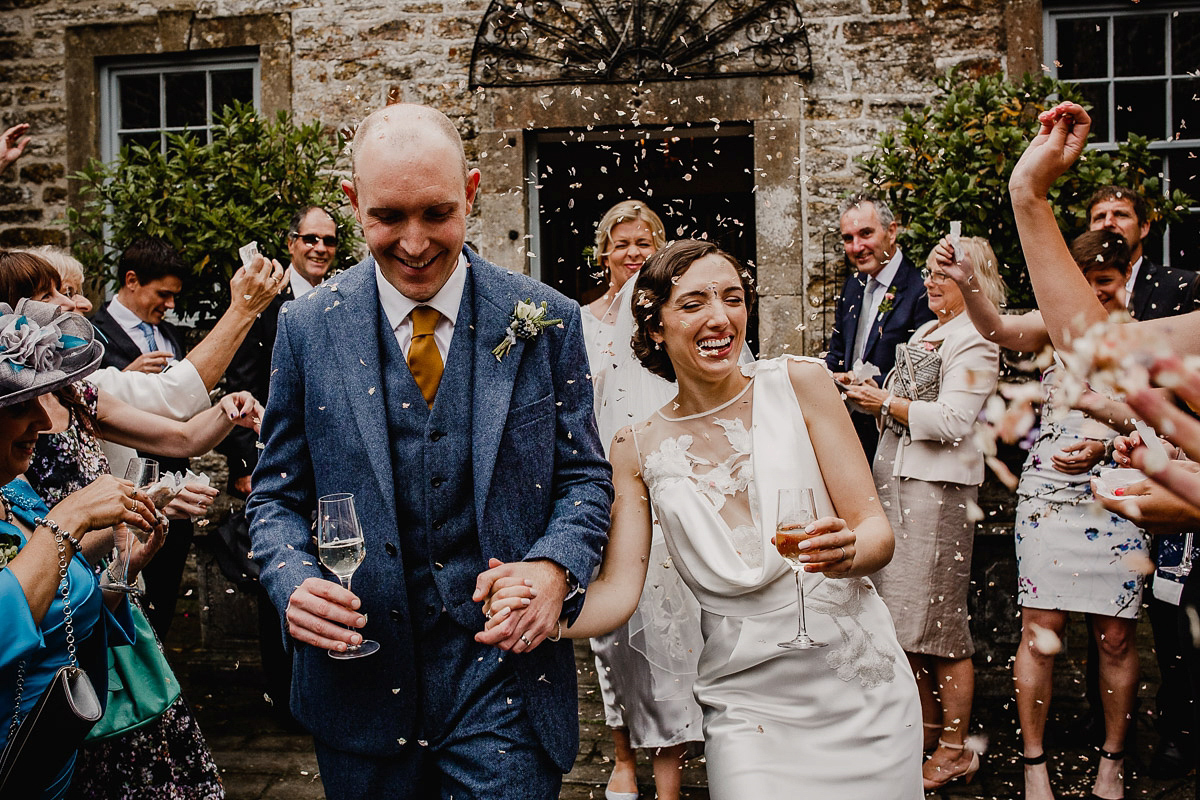 Bridesmaids wore grey gowns by Ghost, purchased from The Mews Clifton. These gowns are works of art; the simple silvery sheath of fabric is so simple and flattering, it's really no wonder they're so popular with our brides. Mini maid, Ashleigh, wore a sweet ivory silk dress from Tulip & Nettle with dainty satin shoes from Pure & Precious.
"Emily and Amber wore their own silver shoes. I hadn't intended for them to have any hair accessories but changed my mind on the morning of the wedding – causing a scramble to find and prepare any spare fresh flowers for their hair. I gave the bridesmaids a gift on the morning of the wedding of a pearl bracelet and earrings each, all purchased from Not On The High Street."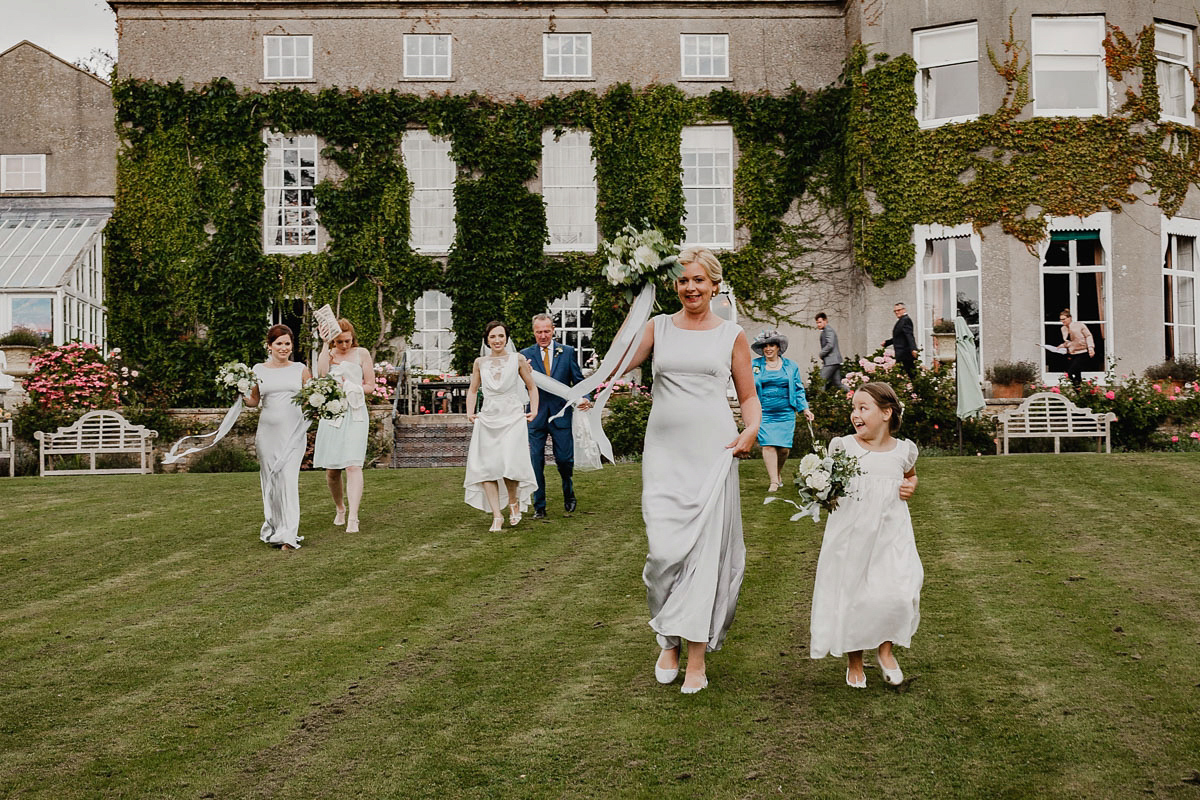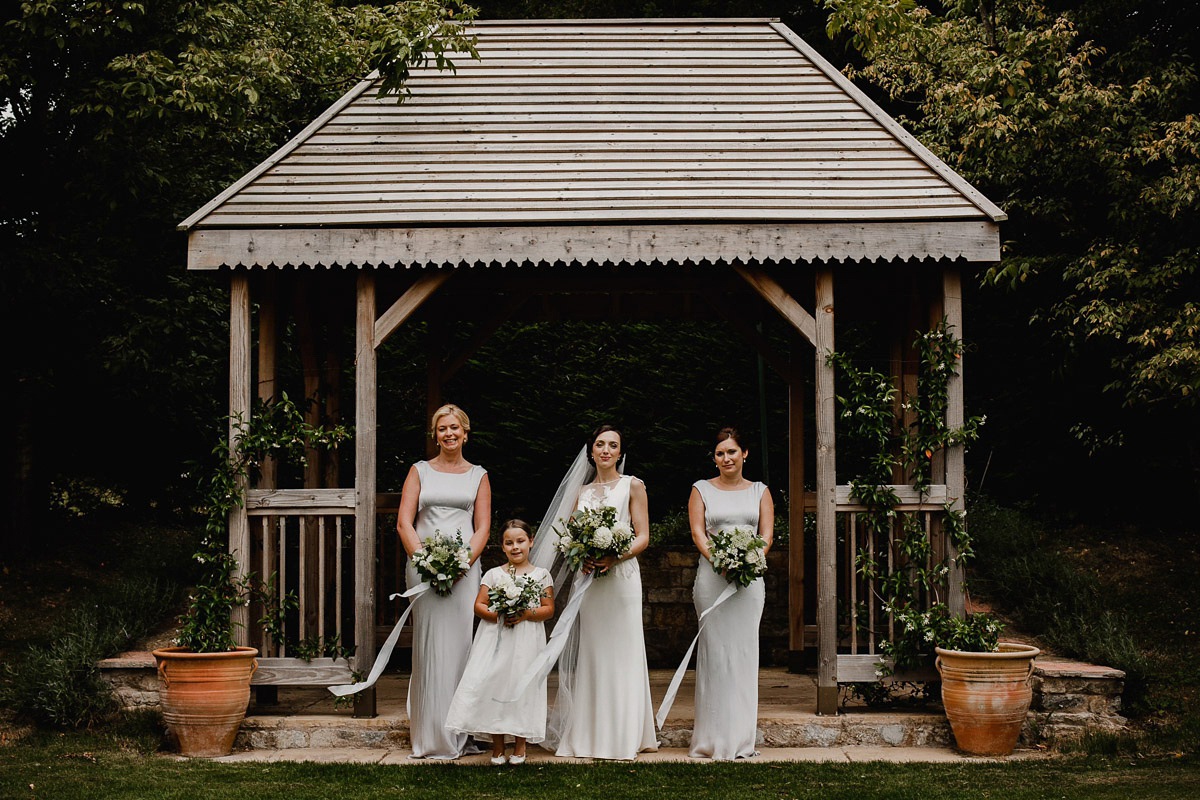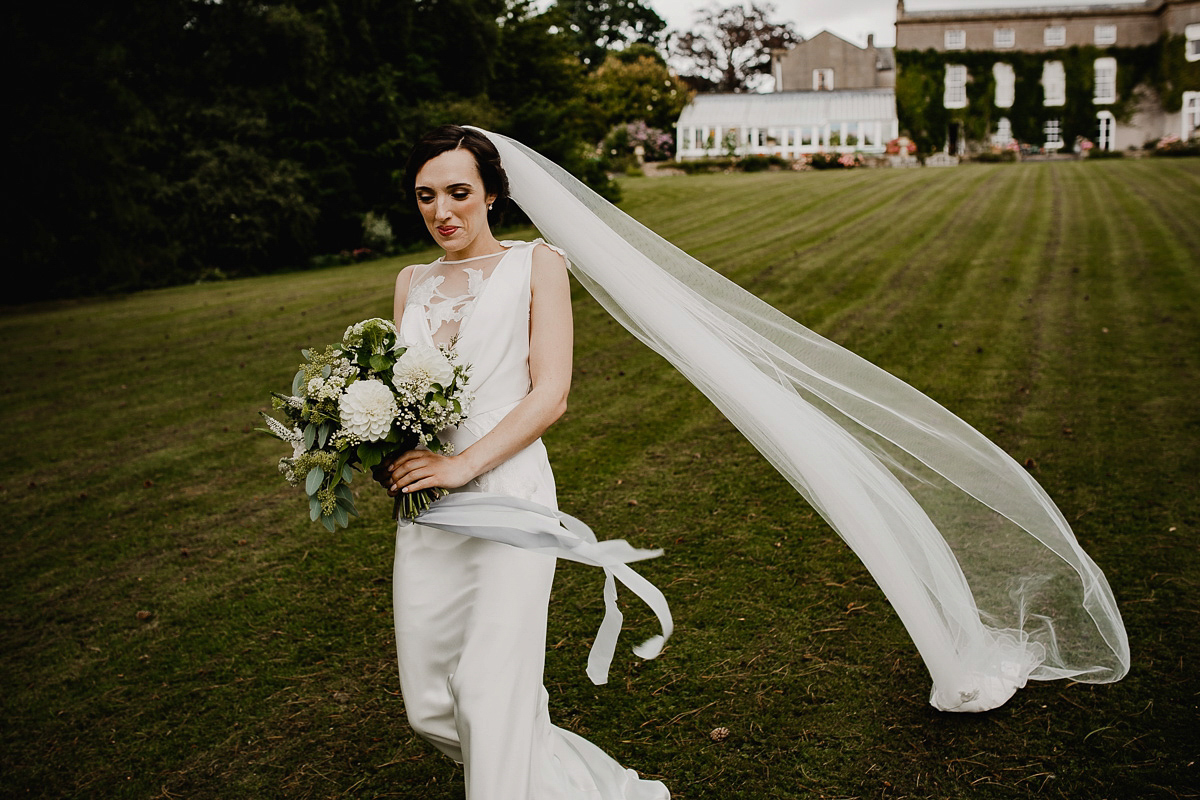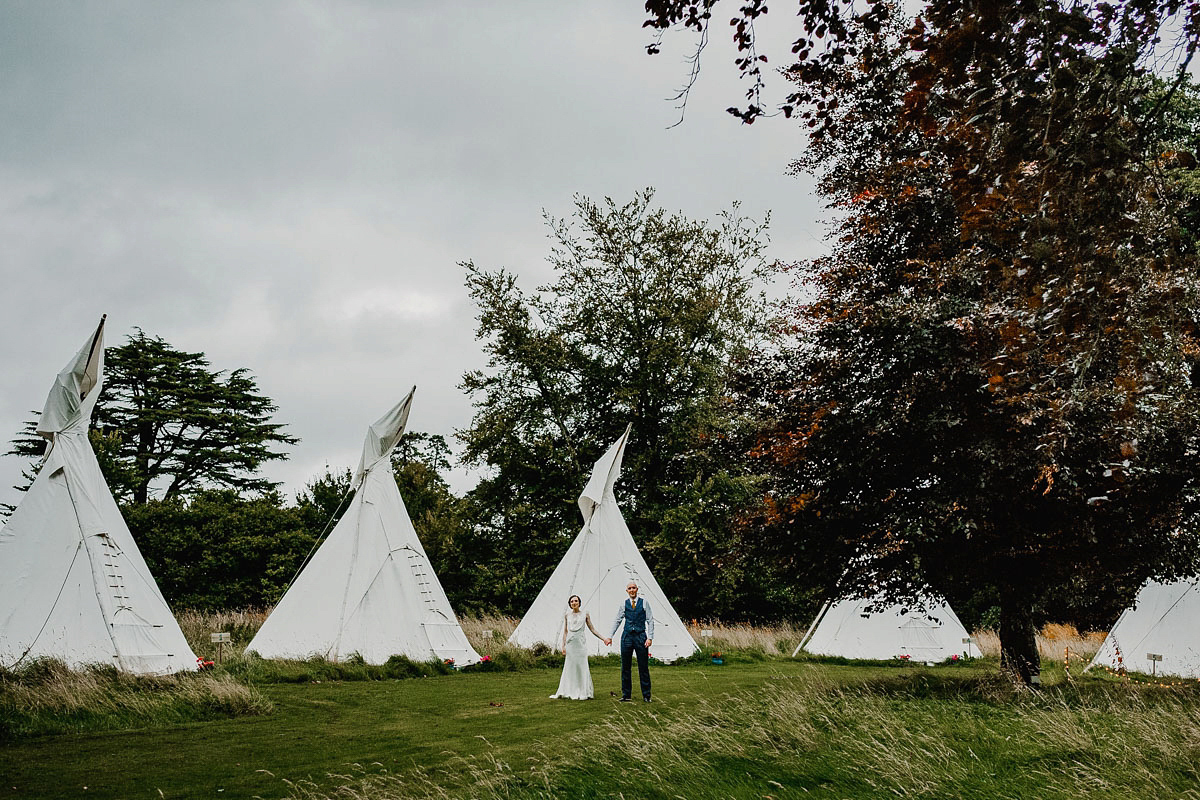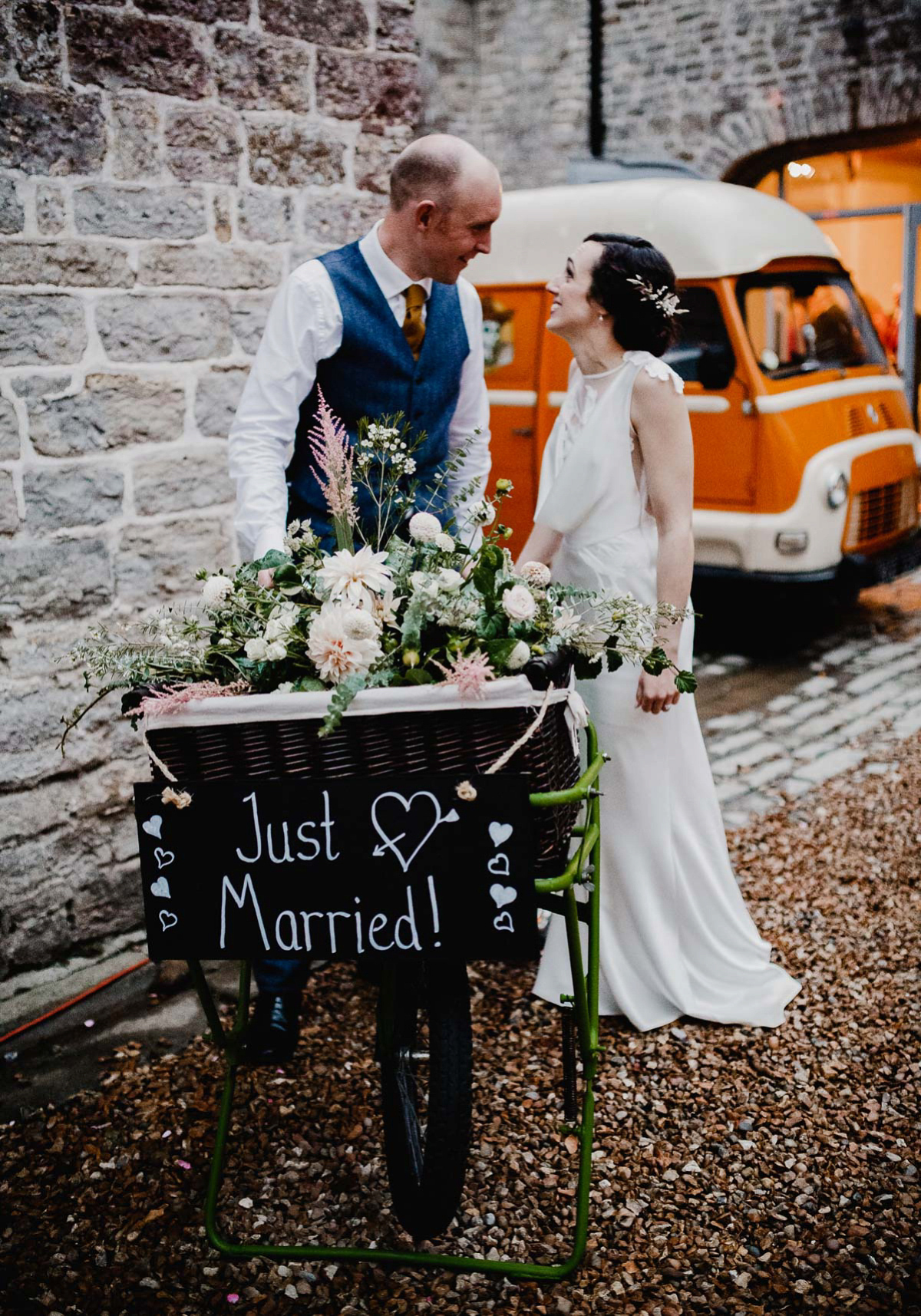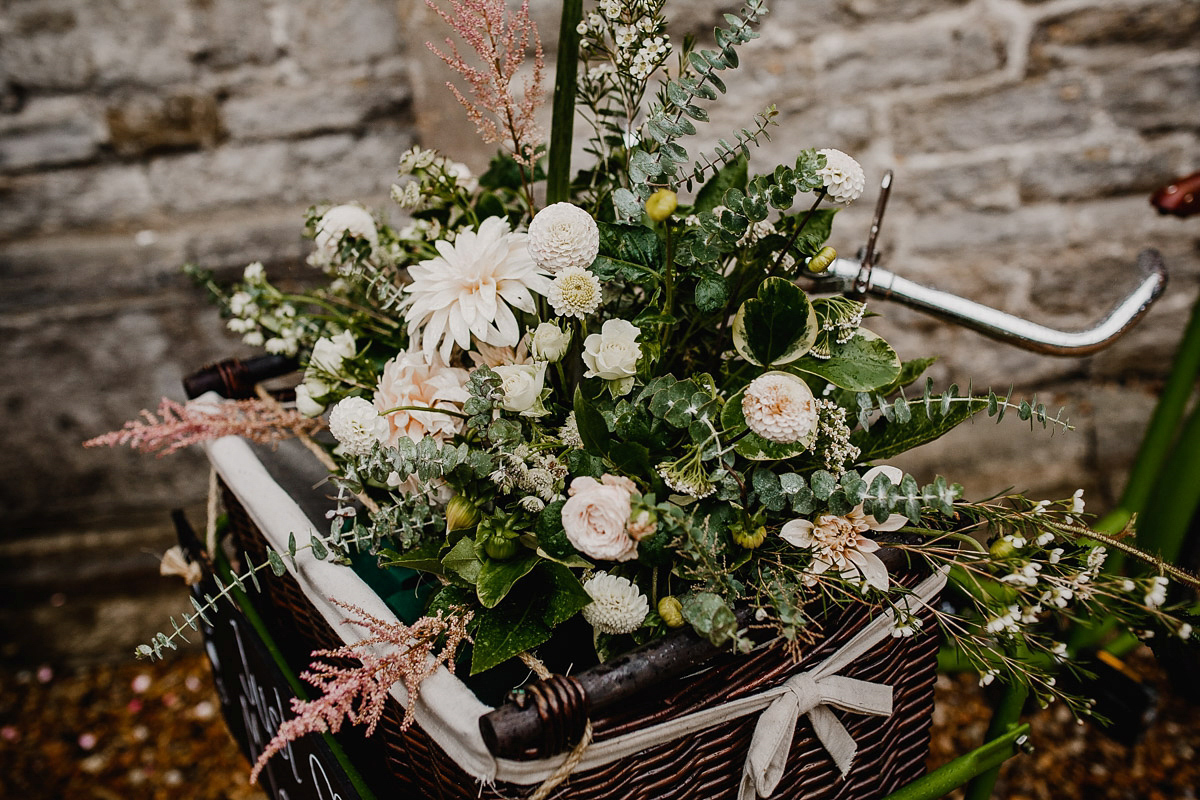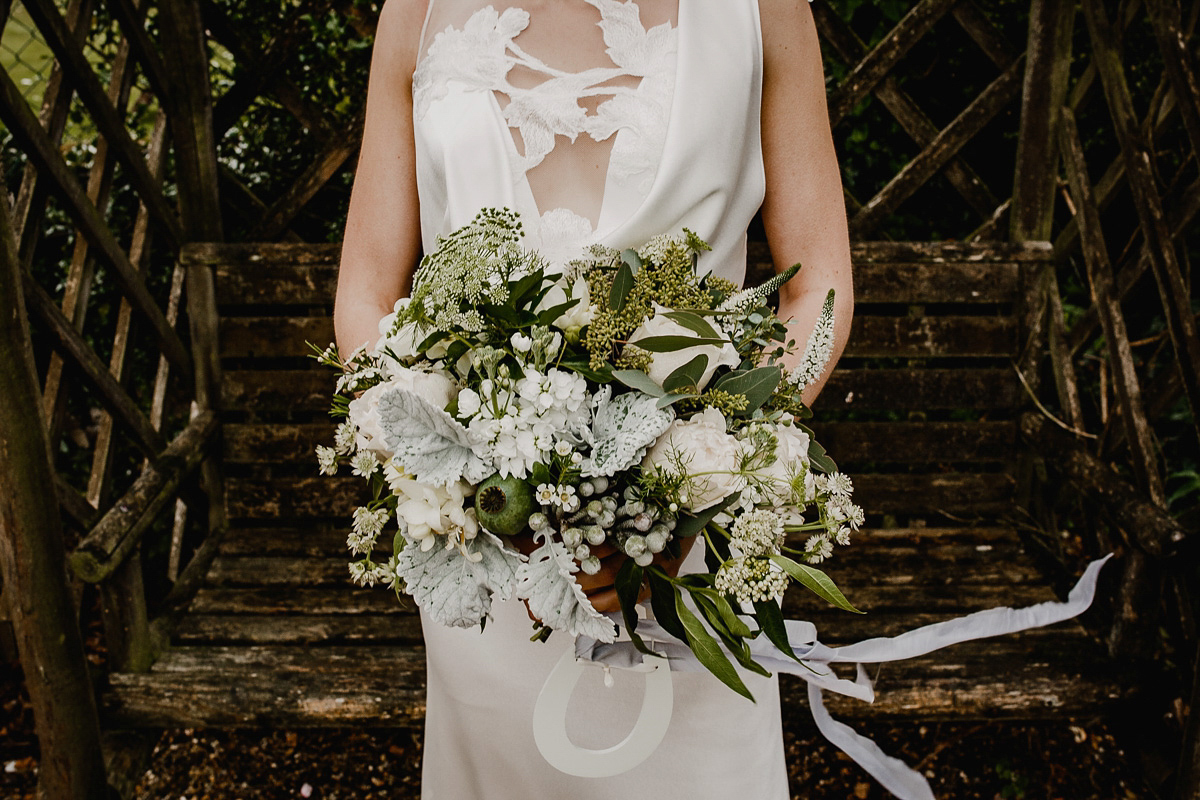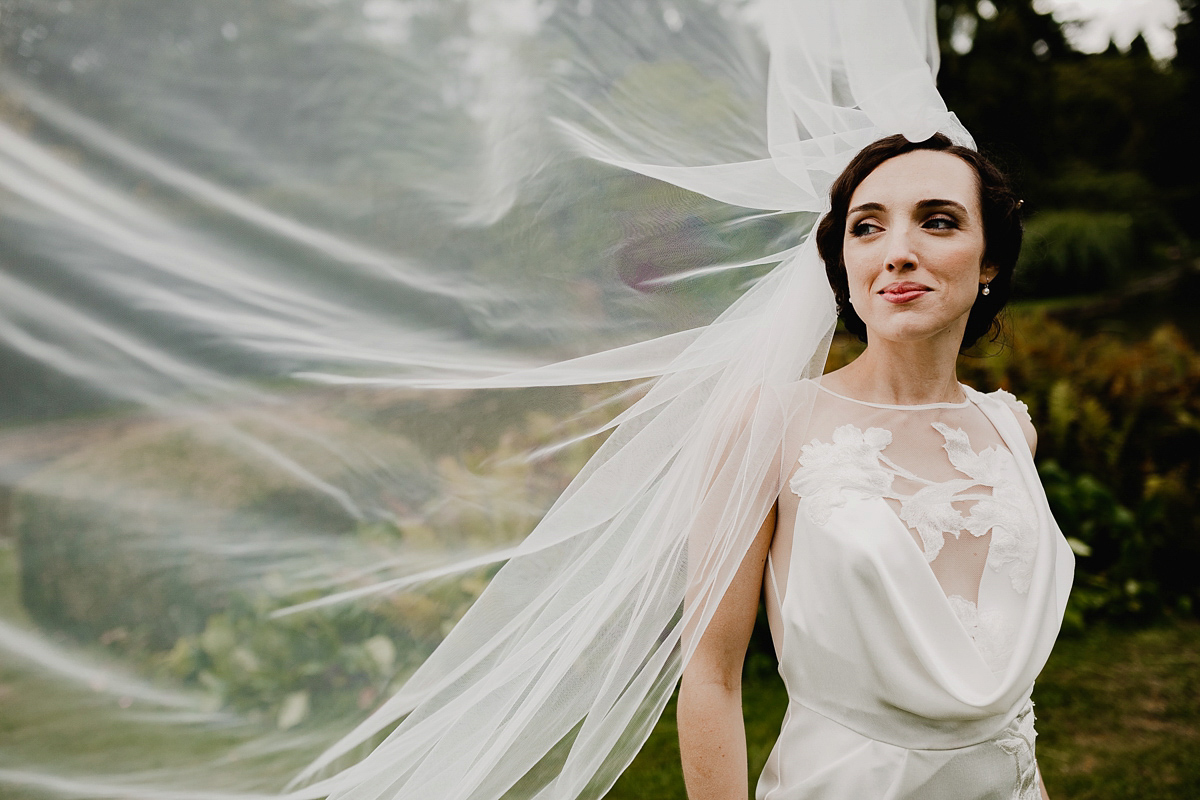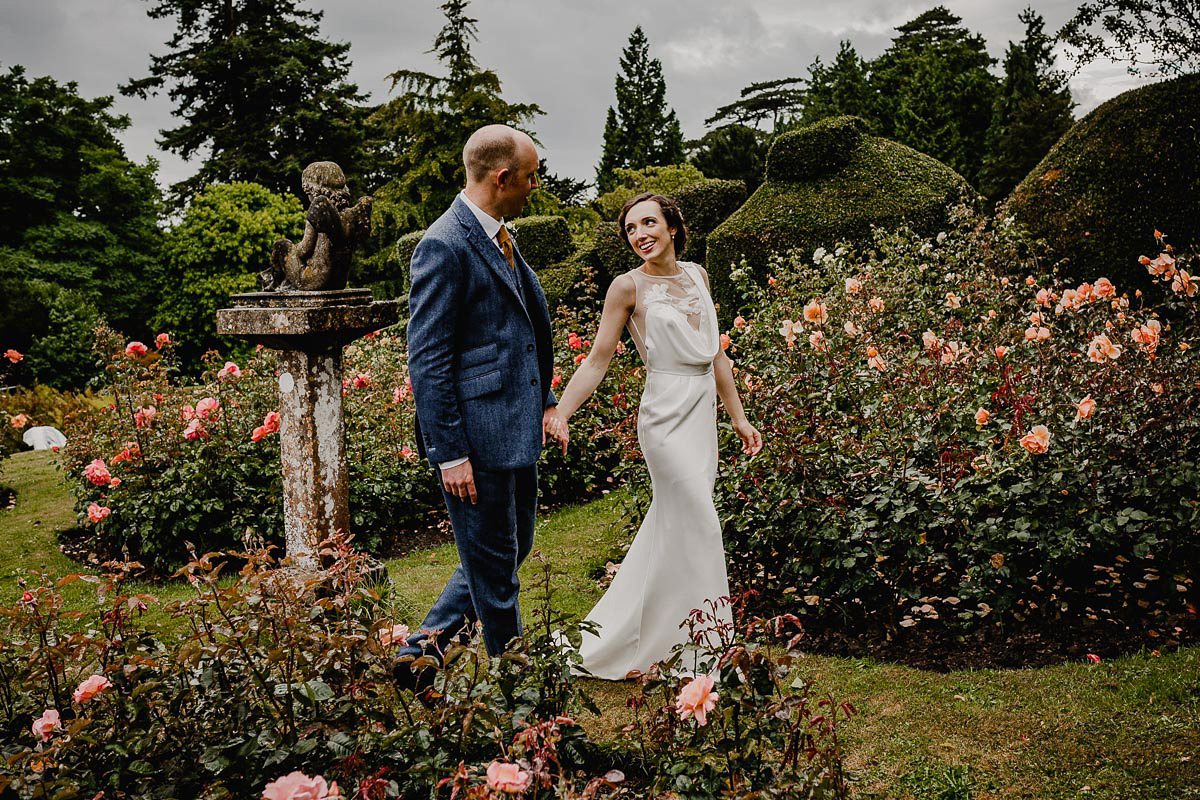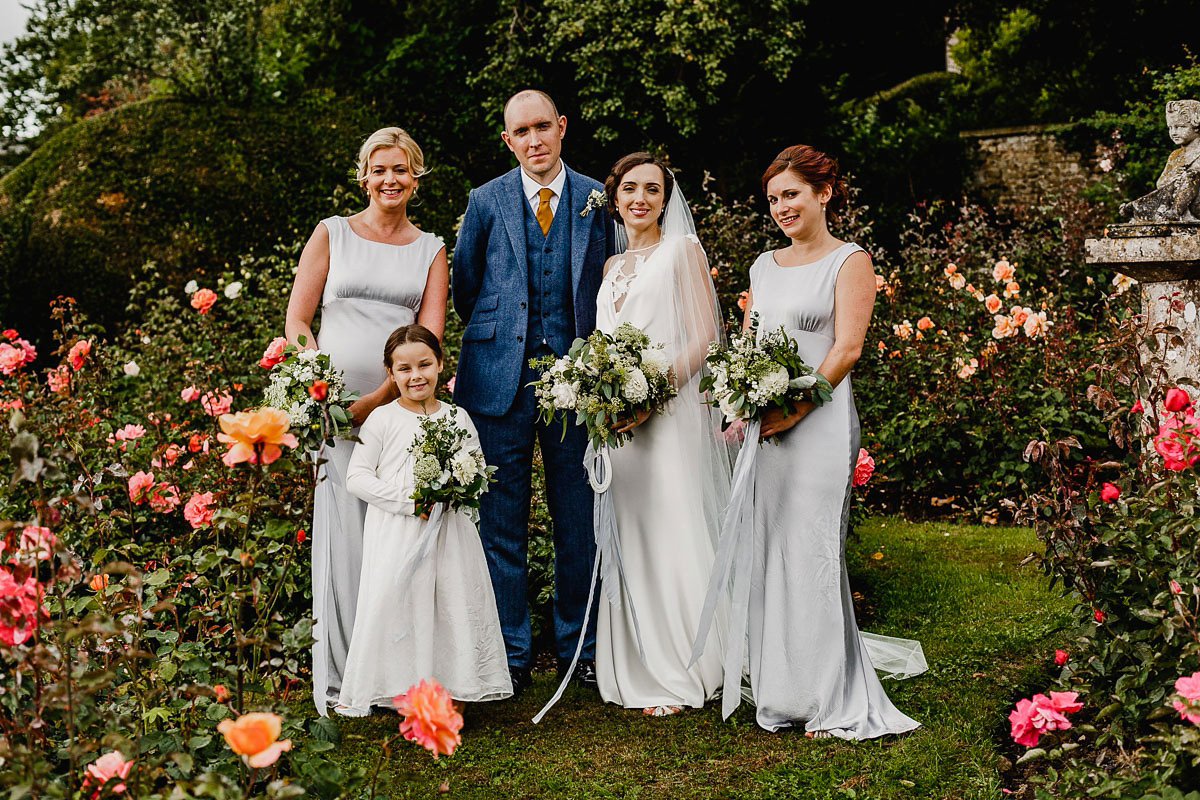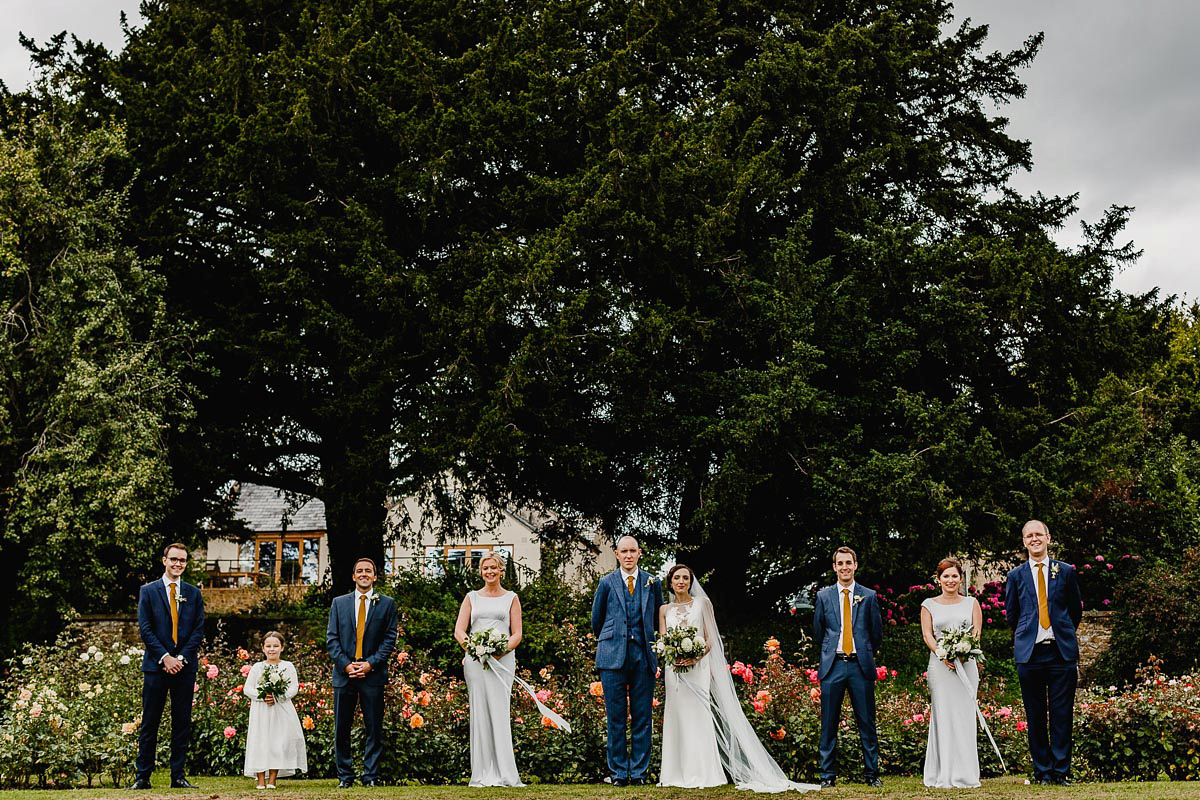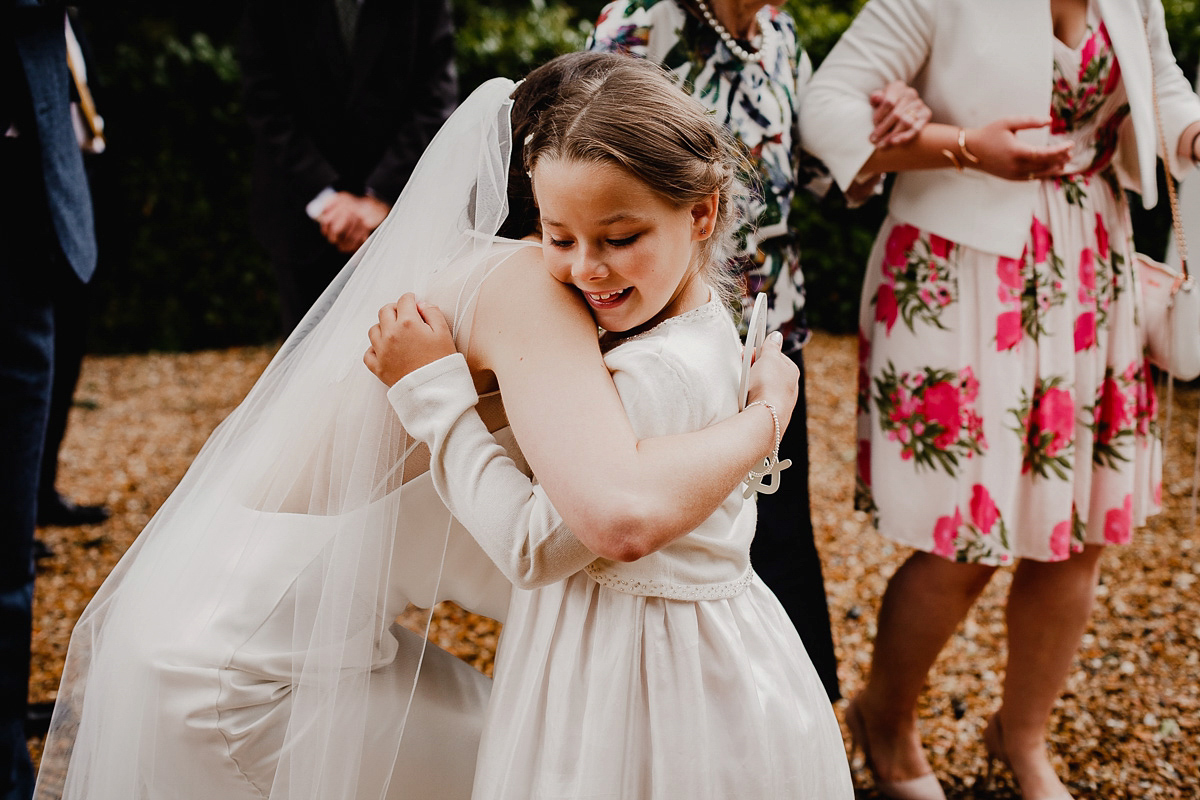 All post-wedded-bliss smiles, the wedding party relocated to Pennard House for scrumptious canapés and a wedding breakfast catered by the venue's recommended company, Caroline Gent Catering. Guests enjoyed the musical jazz stylings of the Jonny Hepbir Quartet in the afternoon, who really lent to the elegant atmosphere. And I just love that in the evening, Kim and Nick opted for a fun Mexican street-food van, The Little Taqueria run by Kerrie and Chris, to serve up deliciously authentic tacos to their eager guests.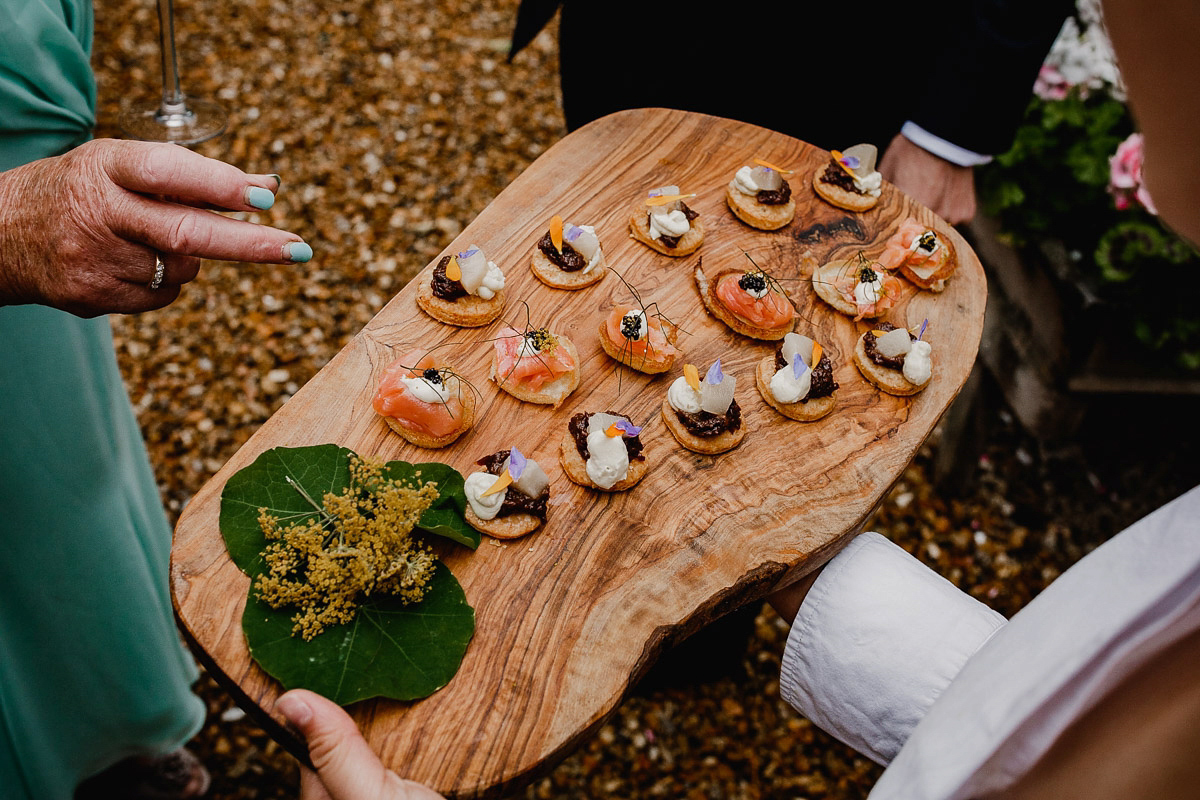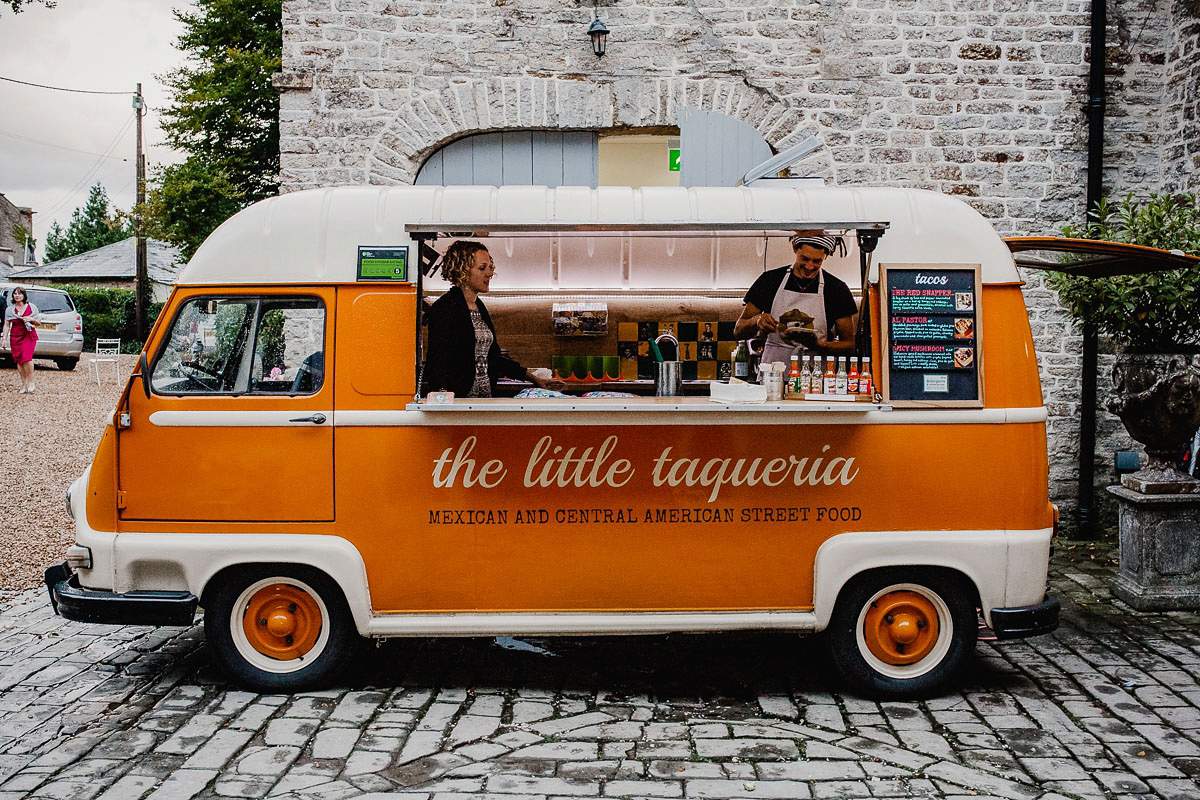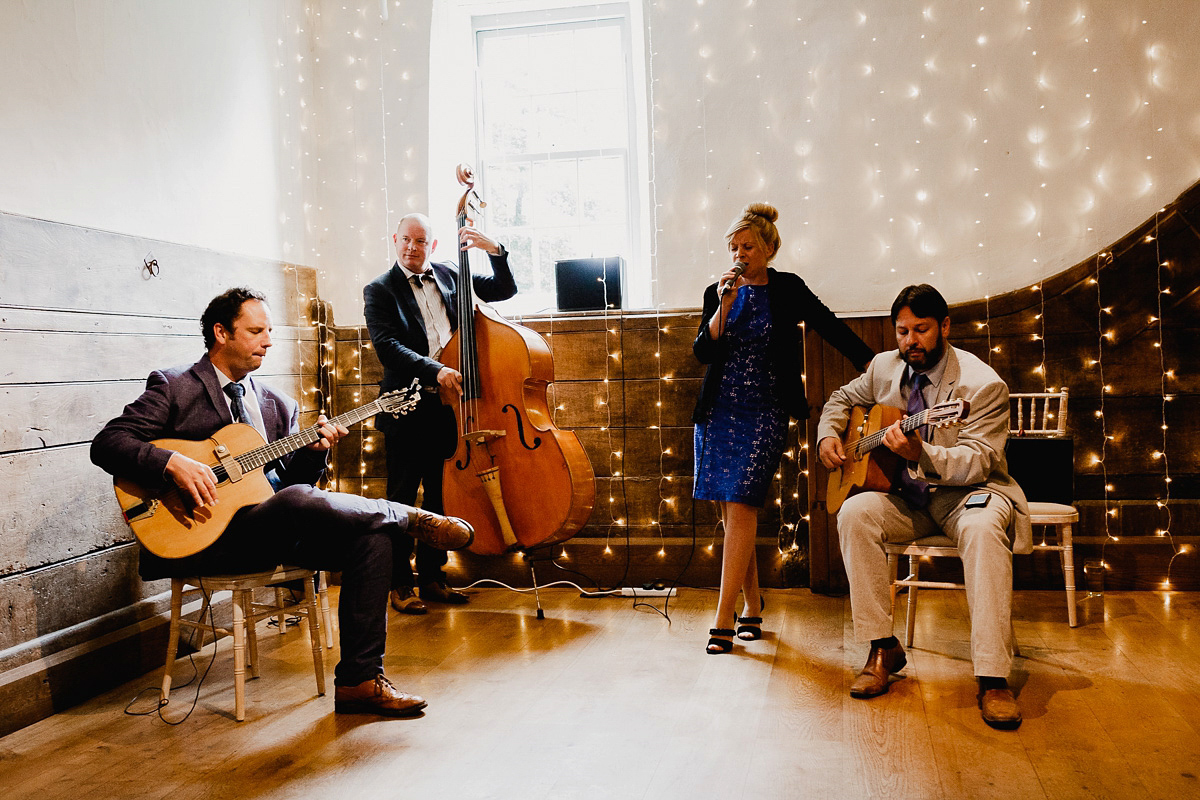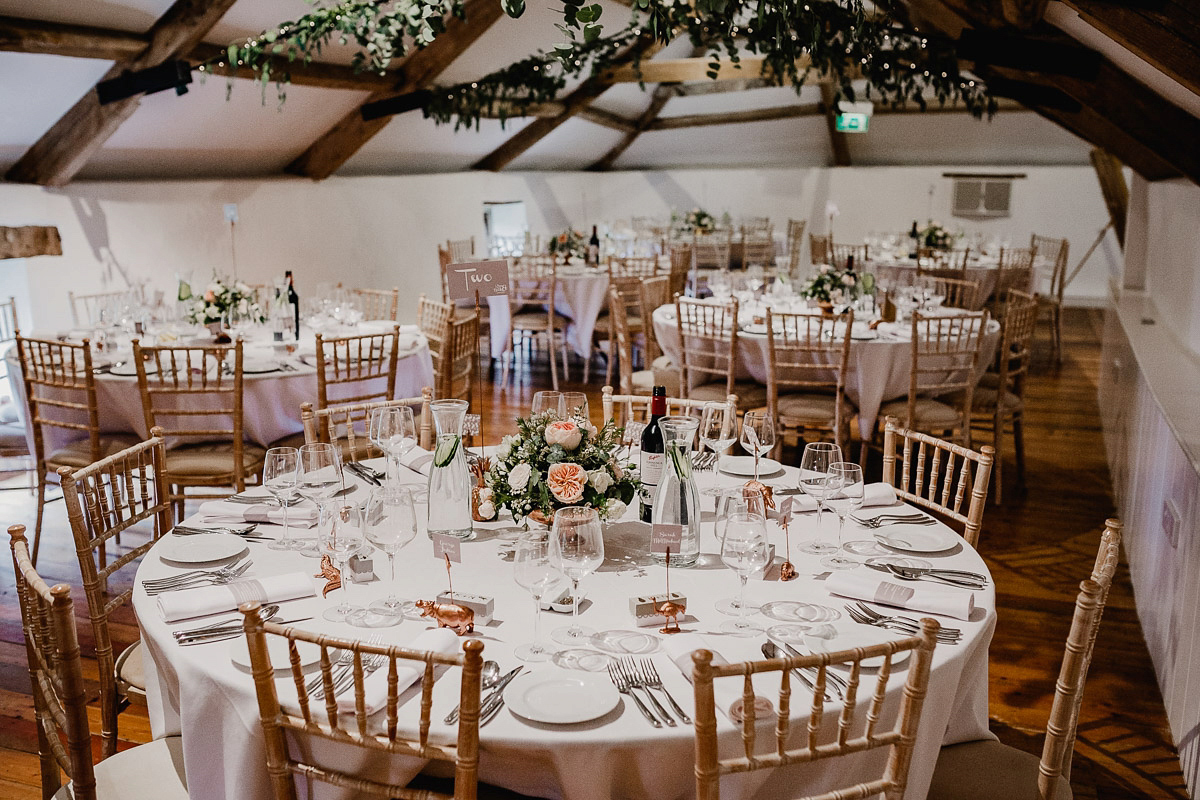 "We made place-name holders for each guest by sourcing plastic zoo animals then inserting a wire clip and spraying them copper. It was fairly time-consuming but we really enjoyed it, and it was great to be doing wedding DIY as a couple. They provided a good talking point, we just hoped our guests weren't too offended by the choice of animal (We had a lot of hippos and camels, it wasn't personal!)."
[ADS-TOP-PREMIUM]
"My clever granddad is rather a whizz with his homemade 3D printer (sounds crazy, I know!), and he made us some amazing copper pineapples to hold the table numbers. We also had flamingos dotted around the gardens, which we had sprayed with copper spray-paint – for no reason other than we like them."

Kim's talented mum created beautiful favour boxes to hold pillowy filled marshmallows made for the couple by Dulcibella – yum! And the newlyweds finished off their beautiful day with a foxtrot routine to Ella Fitzgerald's version of You're The Top, a gorgeous track with a real jazzy 1930's feel.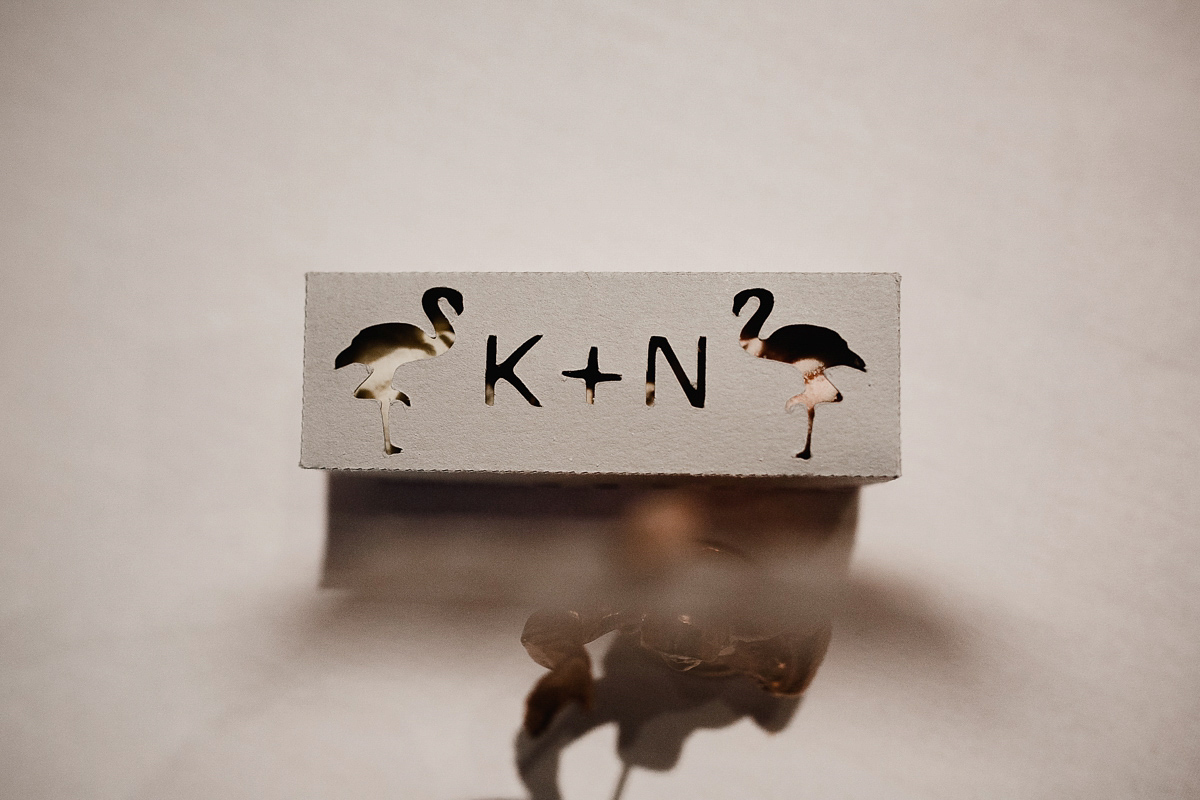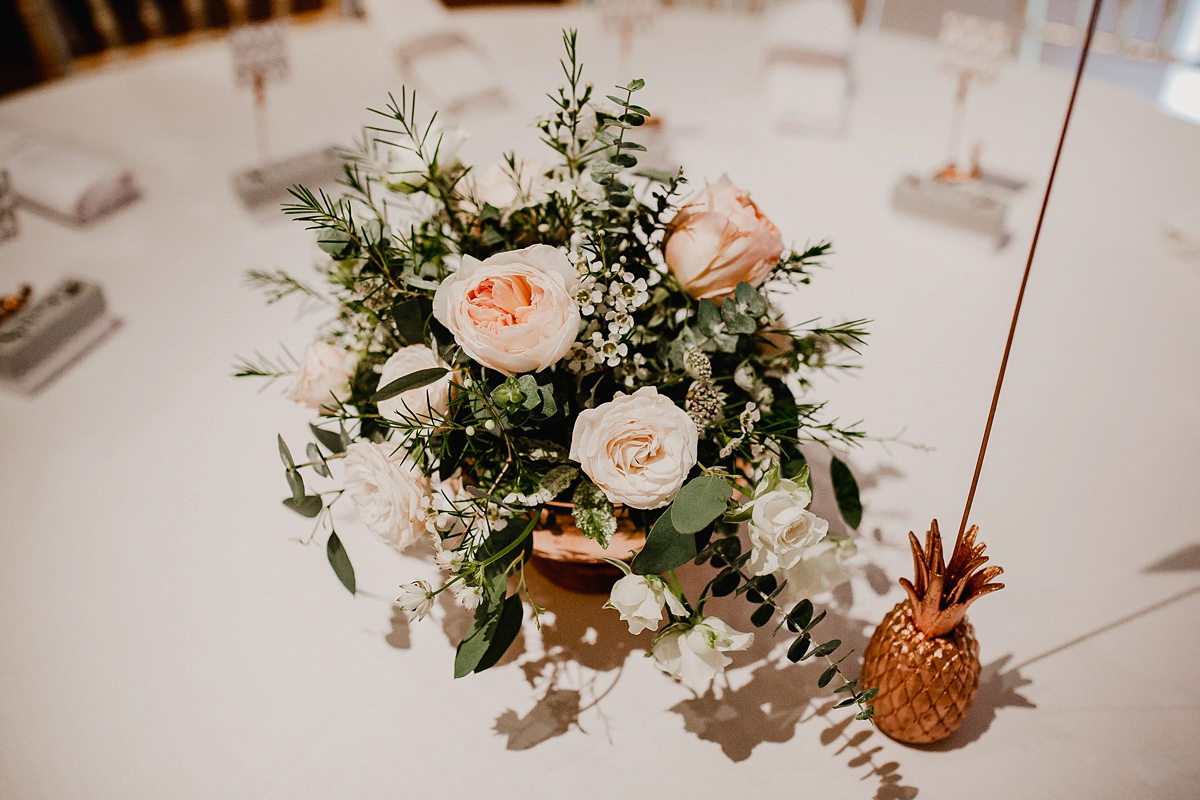 "Our cake was made by Rachel at Sweet Bliss Bakes. We went for a four-tiered design with ombre grey ruffles, and were so pleased with how it turned out. It's elegant simplicity really seemed to fit it with the surrounding of Pennard House, and with our wedding style. The flavours we chose were traditional fruitcake, lemon drizzle cake, and raspberry and vanilla sponge. It was such a delicious cake – honestly probably the best cake I have ever eaten! The flamingo cake topper was a very early wedding purchase not long after we got engaged, and one of our favourites. It was handmade by Ann Wood, and is such a beautiful thing we now plan to frame it and hang as a piece of art."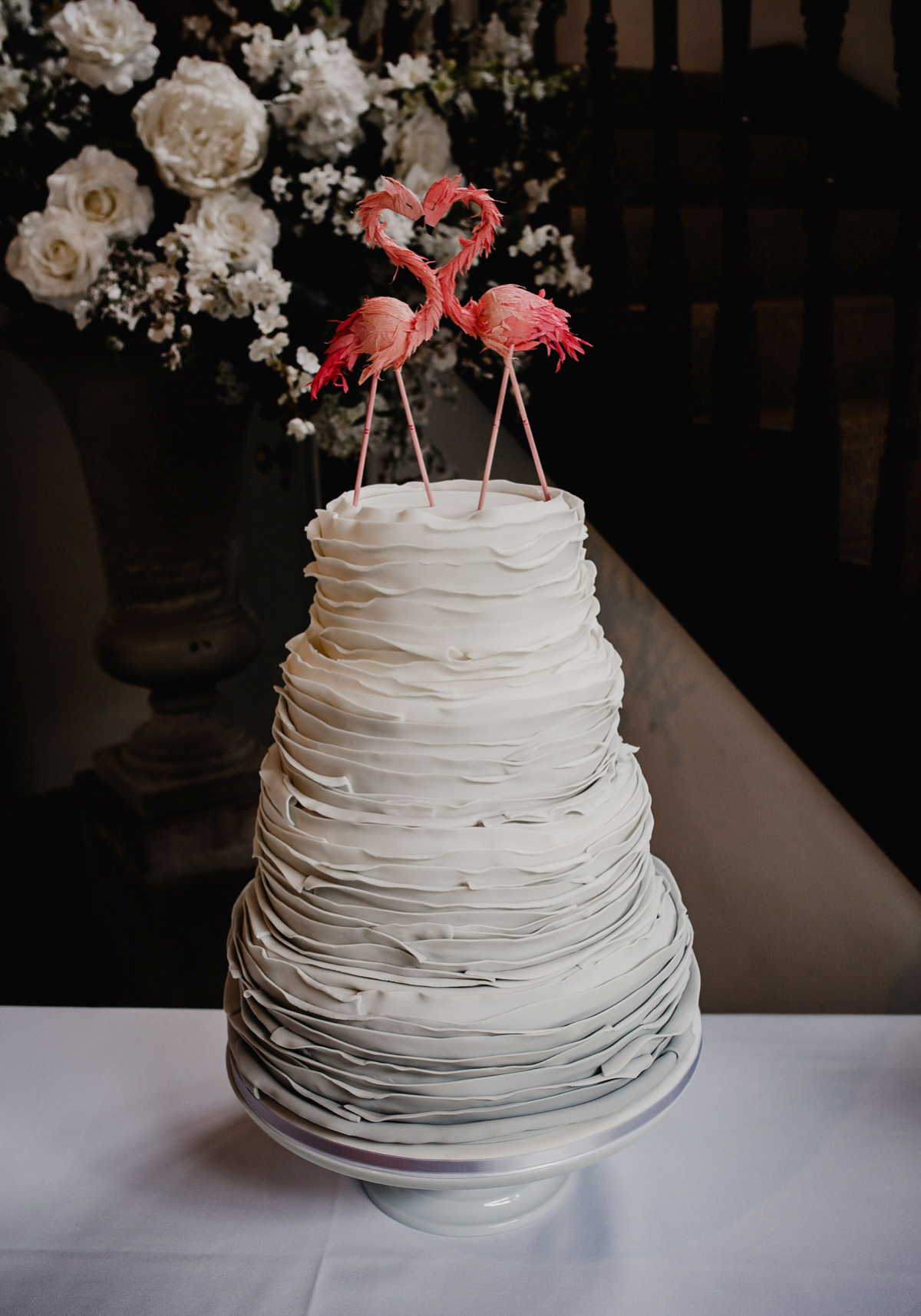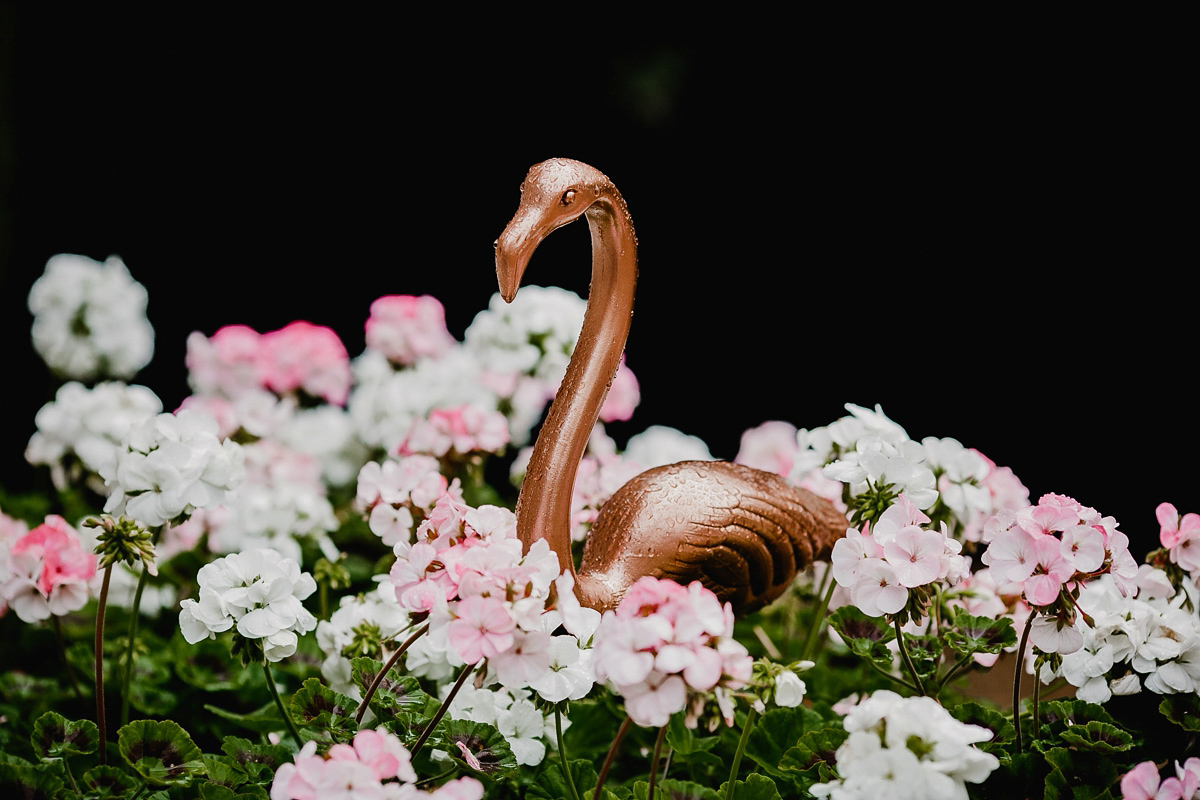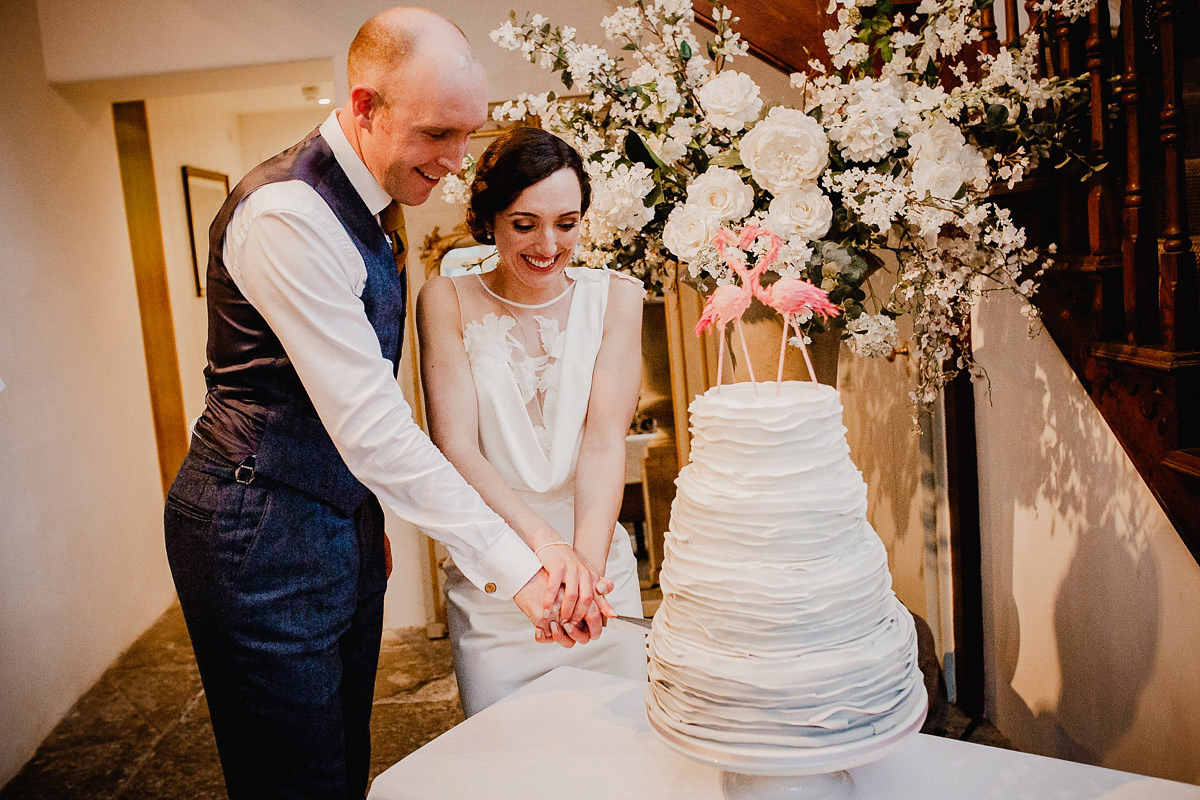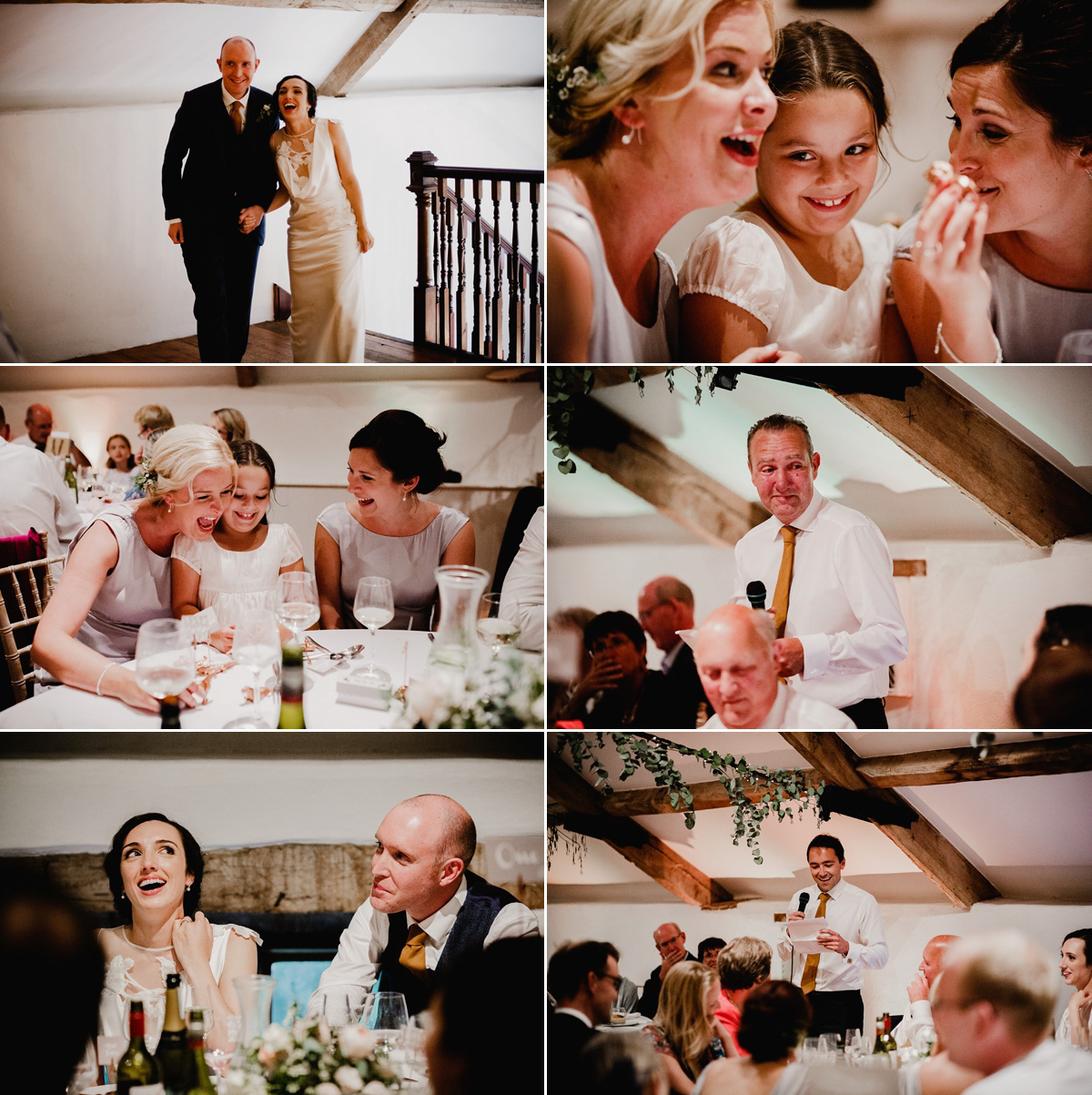 "In the evening, DJ Mathew James from The Wedding Players played all the right tunes to keep our guests dancing all night long. Nick and I share a love of musicals (me more so that Nick, but he's getting there!), a particular favourite being Anything Goes. The playlist was mostly decided by Nick – he did a brilliant job."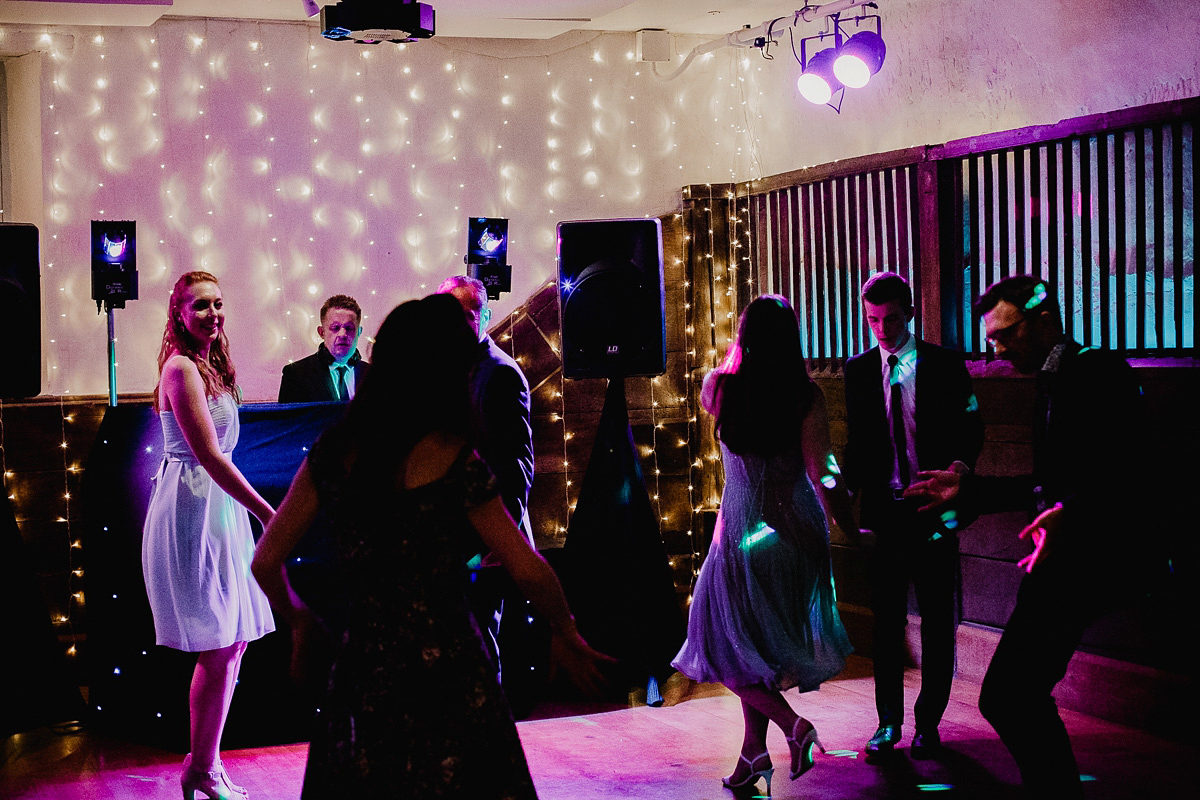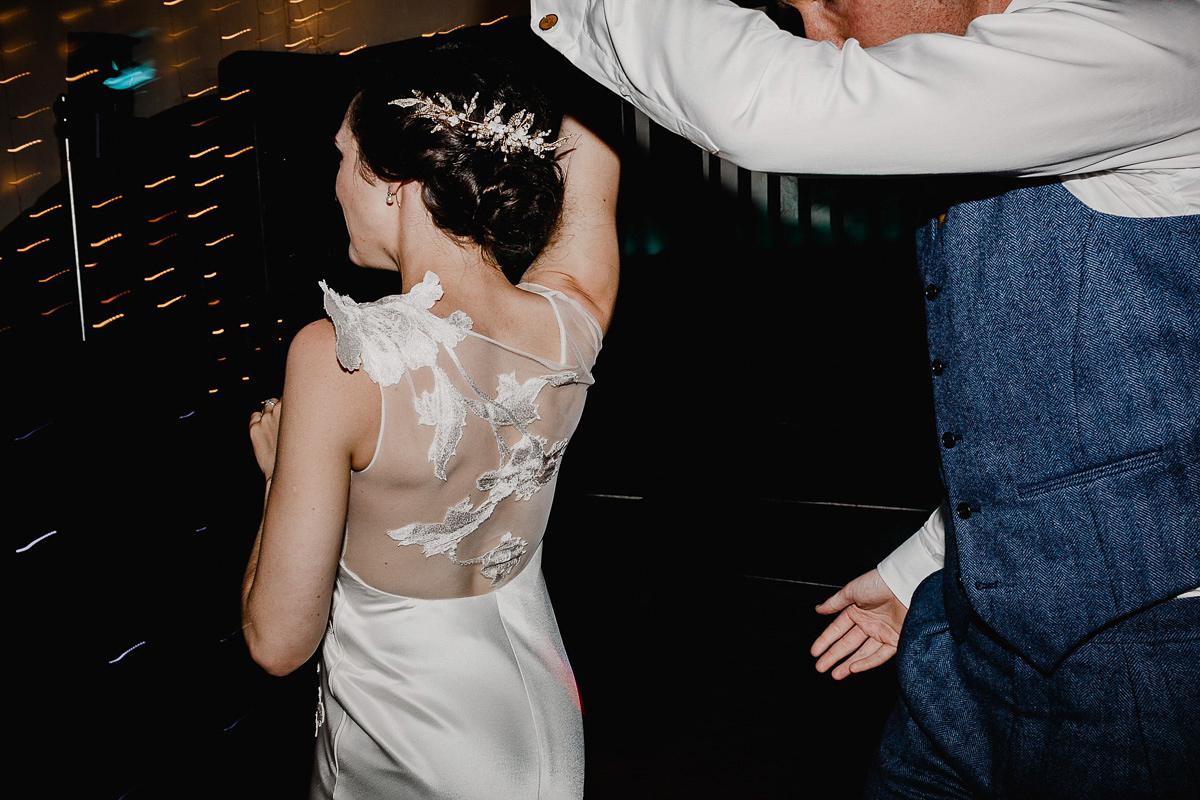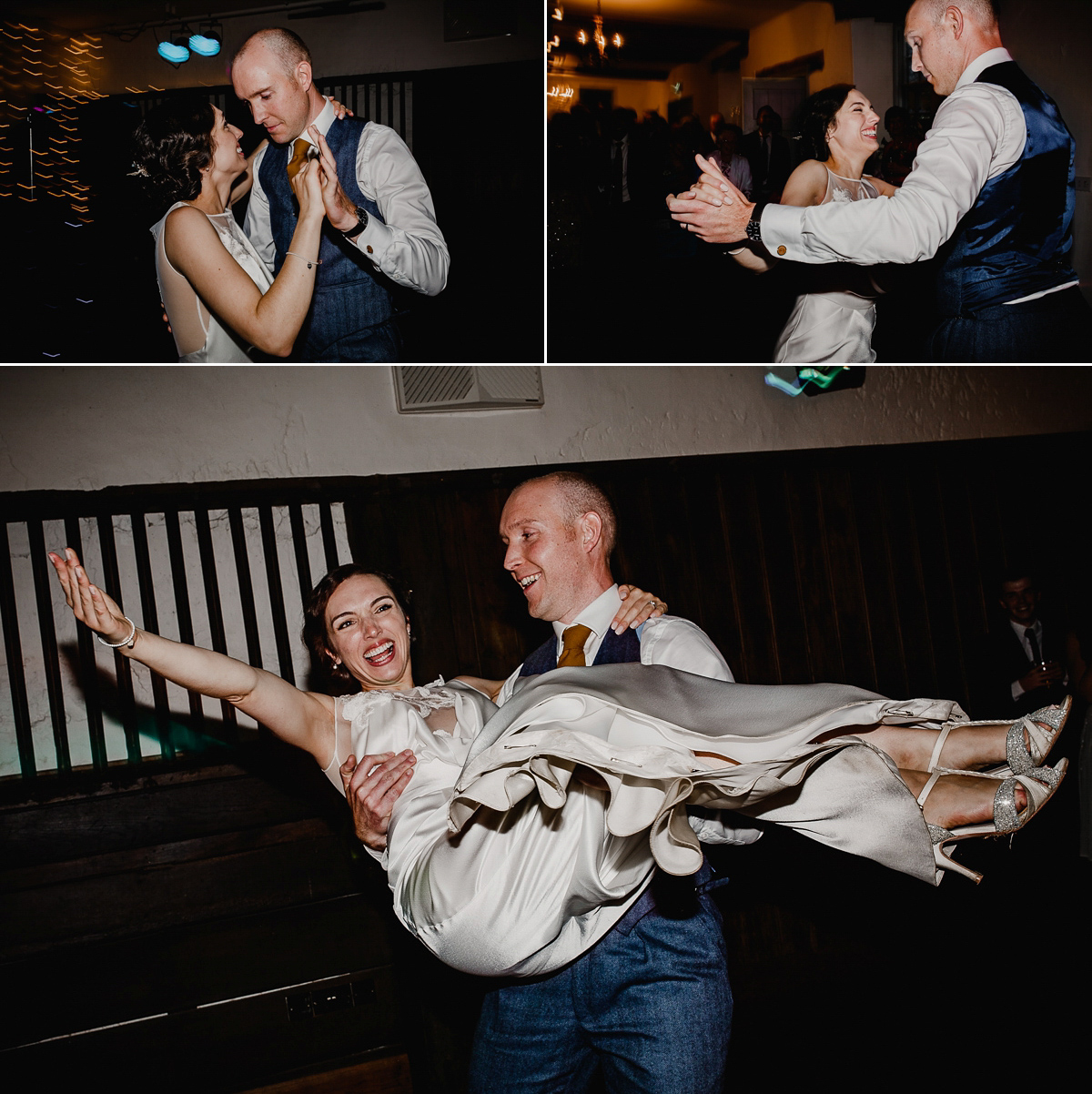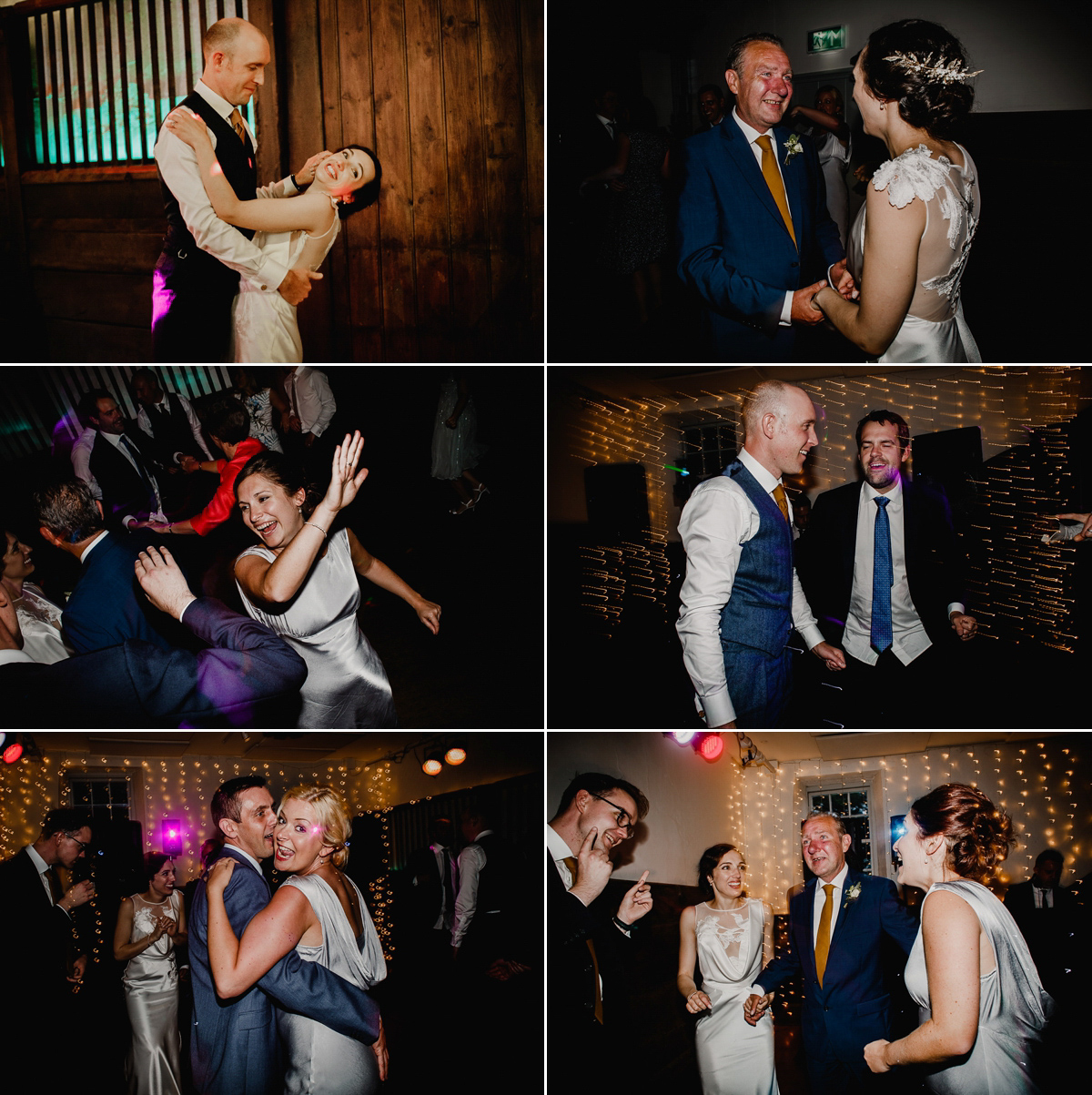 Words of Wedded Wisdom
"In hindsight, I would say we were not realistic in our expectations for the weather. The forecast had been for rain, but I think we subconsciously thought that if we didn't believe it would rain then it wouldn't happen. Of course, it did! I wish we had made a more thorough plan for wet weather as we may have changed where things were positioned  – for instance the band, and the food truck. I would have also ensured someone carried umbrellas at all times as the bridal party found ourselves in the middle of the gardens in a rainstorm with no umbrellas. Thankfully, an usher kindly leant me his jacket to cover my head – and we just ran!"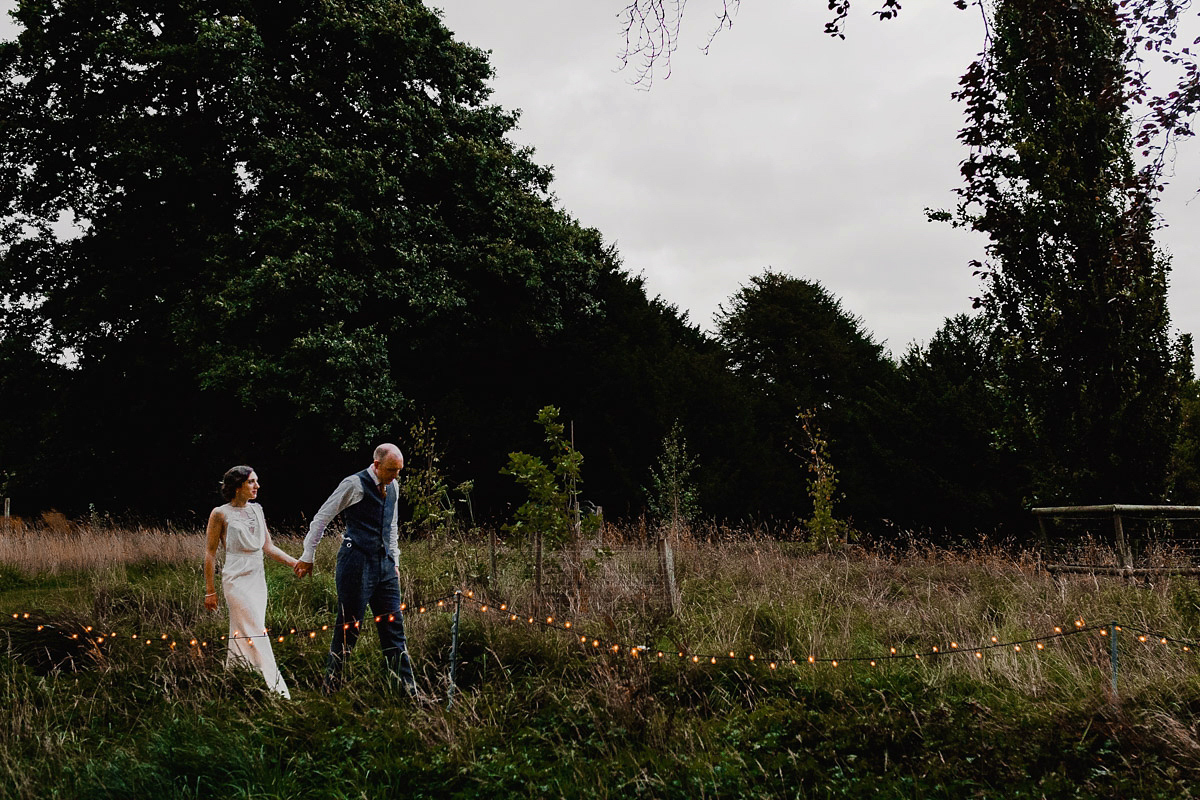 "I found the last few months of wedding planning rather stressful, especially when things didn't always go to plan with suppliers. The piece of advice I would offer is to try to make sure everything is planned and written down, and all DIY projects are finished at least a week before the wedding. We managed to do this, and that week of de-stressing and enjoying the process was invaluable – it meant we were able to go into our wedding day with clear heads and not have to worry."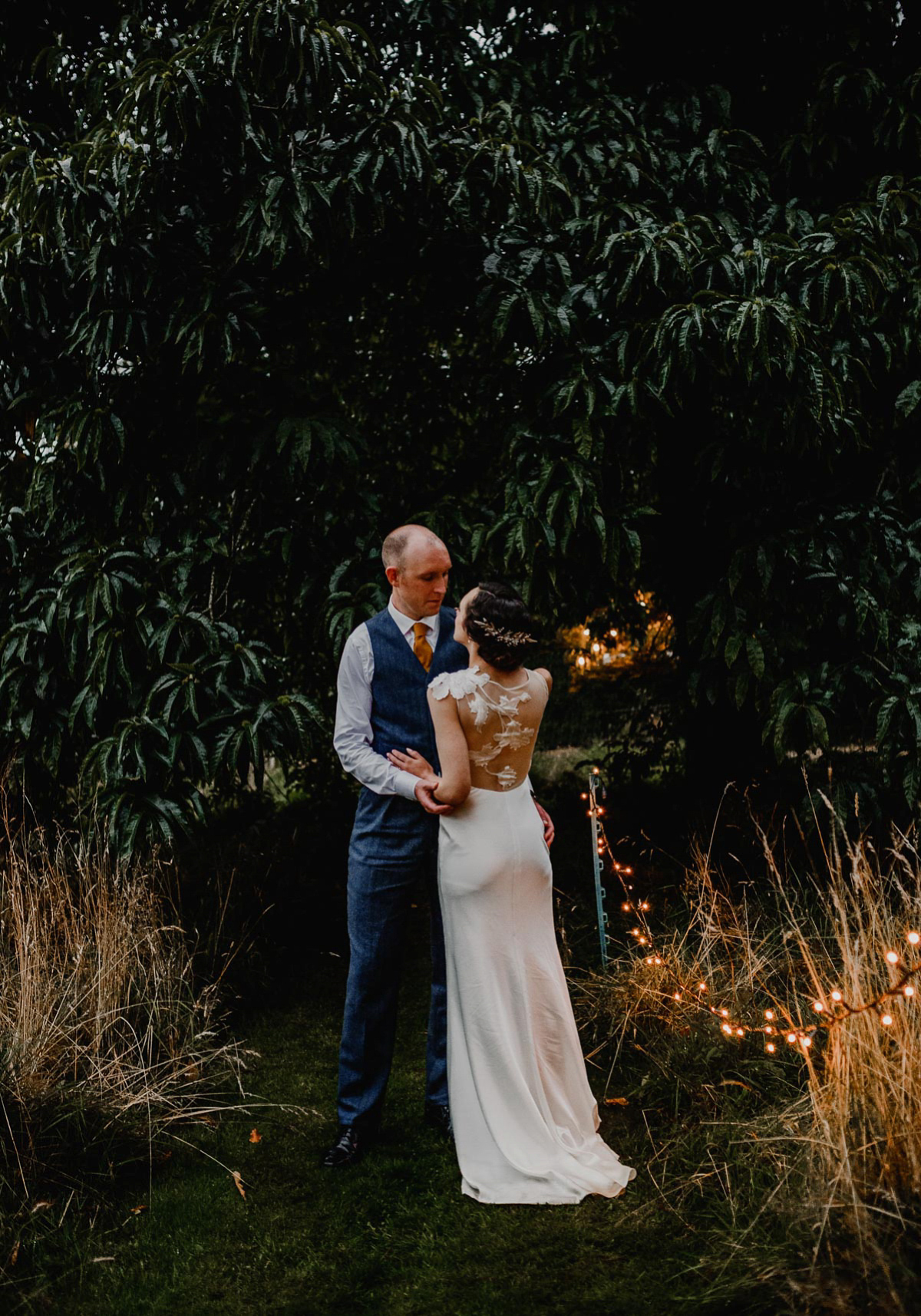 We're ever so grateful to the newlyweds for sharing their incredible day with us – Kim and Nick I'm certain you'll have started a whole avalanche of wonderful wedding inspiration. And of course a very big thank you must be extended to Noel Deasington Photography for these sublimely atmospheric images.
We've got the loveliest collection of beautiful brides wearing David Fielden tucked away in our archives – why not treat yourself to a little more prettiness?
Love, Em x