Prepare your dreamiest sighs Ladies, I have of a whole heap of soft, stately romance for you to revel in. Today, we are sharing in the love of Sarah, who works for a large global charity, and Tom, a lawyer, who tied the knot on 1st July 2016 at the breath-taking Hengrave Hall, Bury St Edmunds. Reminiscent of an editorial shoot, this stylish pair wanted to show their loved ones and exquisitely elegant English celebration, awash with turreted opulence, a showstopper gown and those all-important gold touches. Join me in soaking up the palpable atmosphere from these timeless images by Jackson & Co.
Lucky for those of us not living it up within the estate, Newlywed Films captured all of the tenderness for our viewing pleasure. After falling on the not needed side of the videographer debate, Sarah and Tom happened across Newlywed Films by chance online and completely changed their minds. They now have this collection of precious moving moments and words to watch time and time again.
"We chose to have an English summer wedding so all I knew was that I wanted it to be soft and romantic and have an English garden feel. We also agreed that we would have it black tie so after that, it all just sort of came together."
https://vimeo.com/178739751
"I knew I didn't want things to be too matchy-matchy so just used our venue and gardens as inspiration. I love throwing events with my family so was really excited to get deeply involved from everything to styling the tables to seating plans and all of the logistics. It was a chance to get creative and put my organisational skills to the test."
Photography by Jackson & Co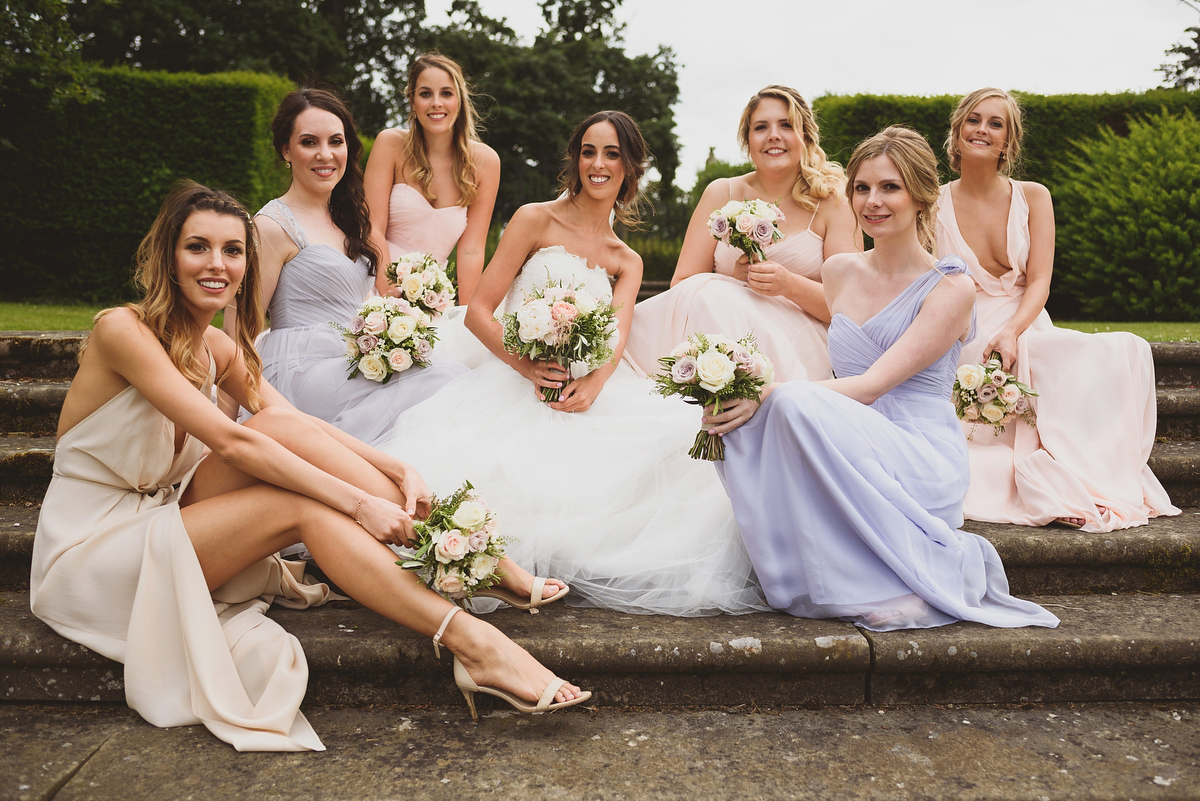 Of course, I'd like to discuss this incredible gown first. I can't imagine how much excitement was present during Sarah's bridal dress purchase, I'm getting giddy just thinking about being in Milan with much-missed sister and a store full of these dreamlike creations by Rose Clara . Totally gasp-inducing and amplifying the romance factor to mind-boggling proportions, a pretty lace bodice slips into a dramatic, sumptuously full skirt to create *the* most perfect silhouette.
"I purchased my dress from a shop in Milan called La Spose di Milano. My sister was working at Milan Fashion Week in February 2015 so I went to visit her and one day we found this shop that I knew sold Rose Clara gowns. Thankfully, even though we rocked up with no appointment, they let us make one later that day and I was there for hours trying on all sorts of dresses! I knew I couldn't pick a dress without my sister and as she lives in New York this was the perfect opportunity to make sure we could do it together.
The next day we had my other sister join in and Skyped my mum to get the final thumbs up."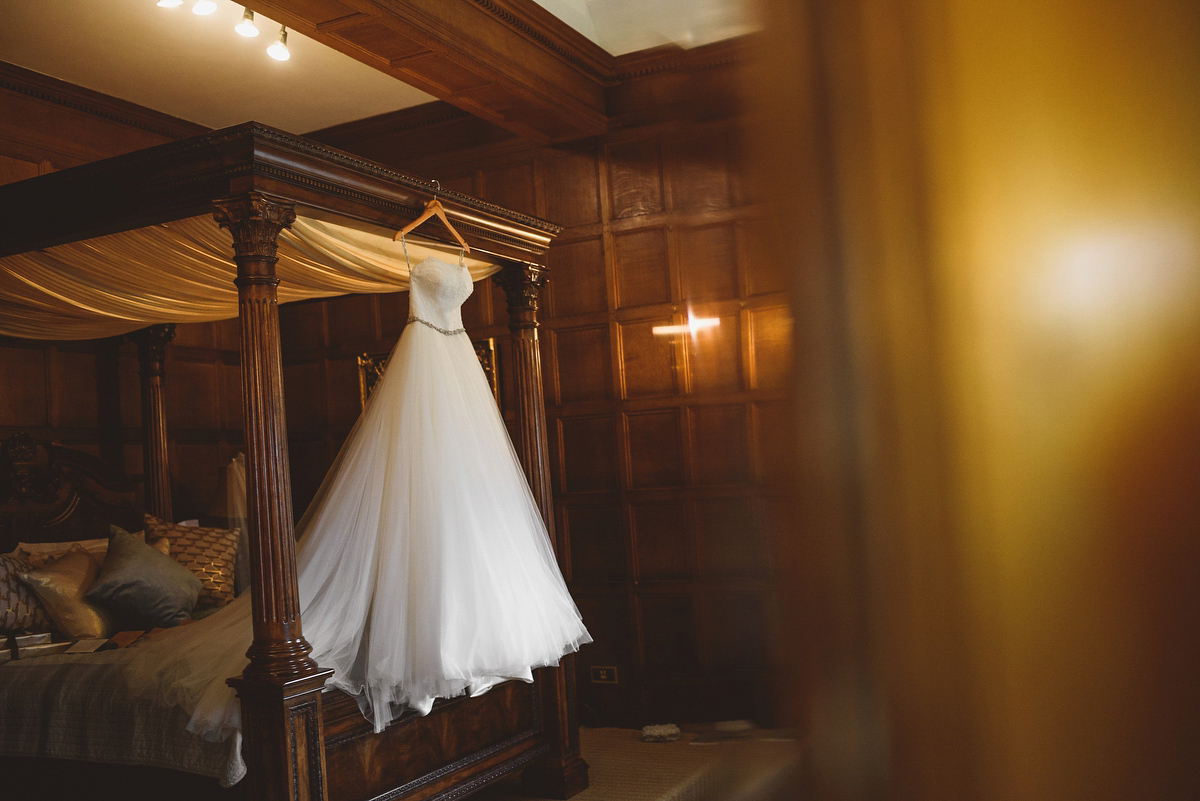 "The dress I chose was not actually the one that I originally pictured myself wearing, but once I put it on I felt like a real bride and it was so soft and romantic. The ladies in the shop made me walk around in it and sit on a chair in front of a mirror to see how I felt in it, I knew right then and there it was the one. Having my sisters seal of approval helped too!"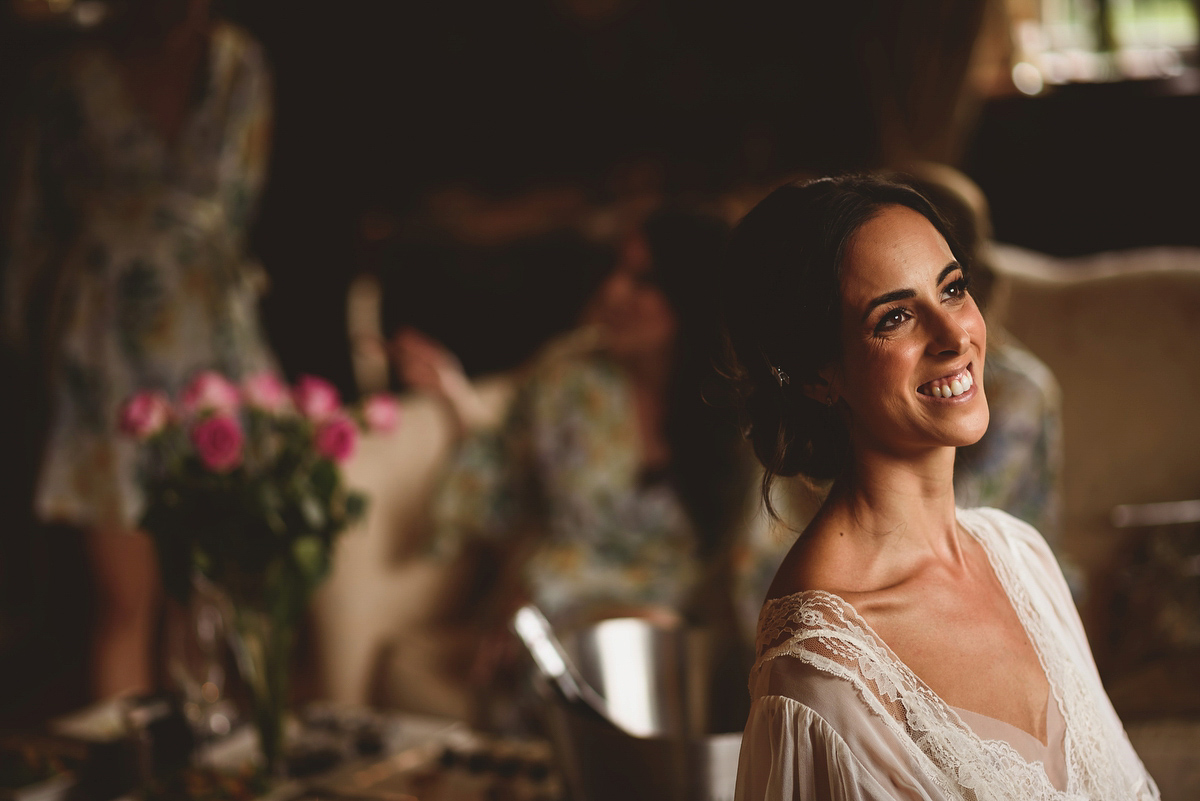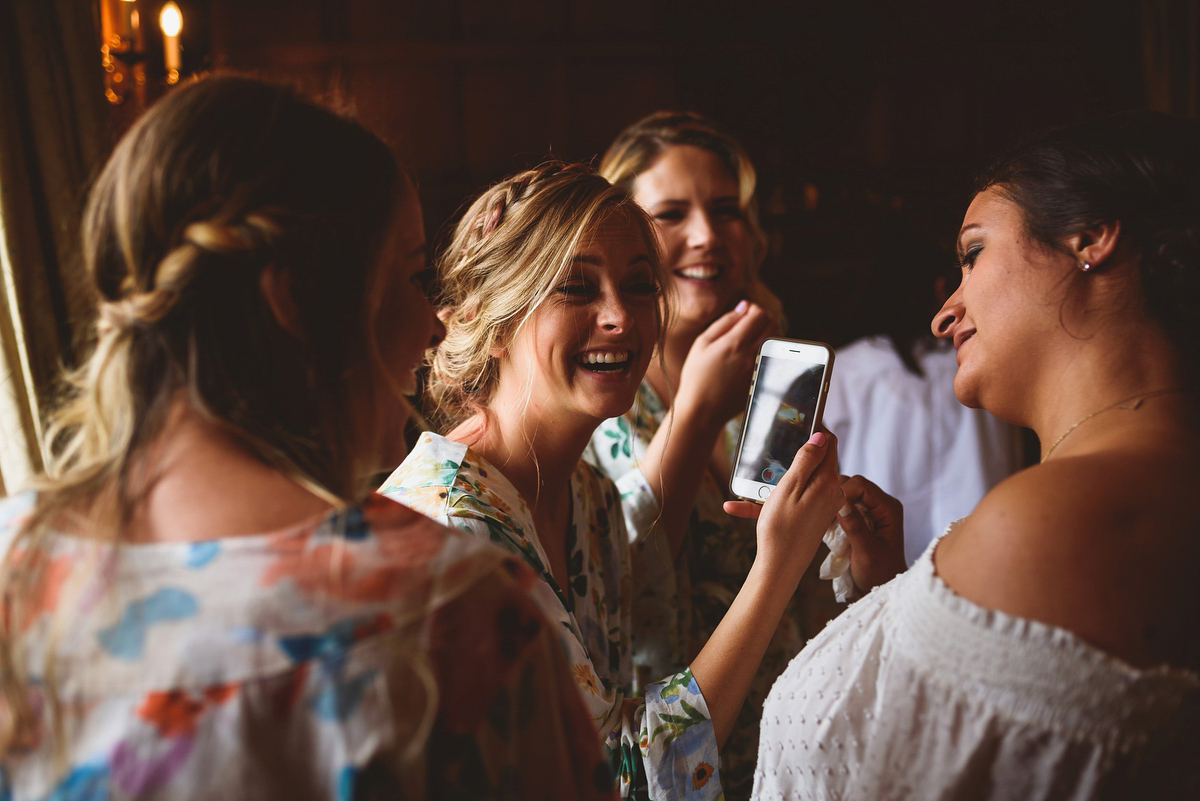 The K Team ensured Sarah was ready to make her grand entrance and went for smoky eyes and bronzed skin to match her beautiful chocolate locks, swept up into a wavy low bun.
Sarah cites laughing, dancing and getting ready with her girl gang and mum as one of her favourite wedding day memories.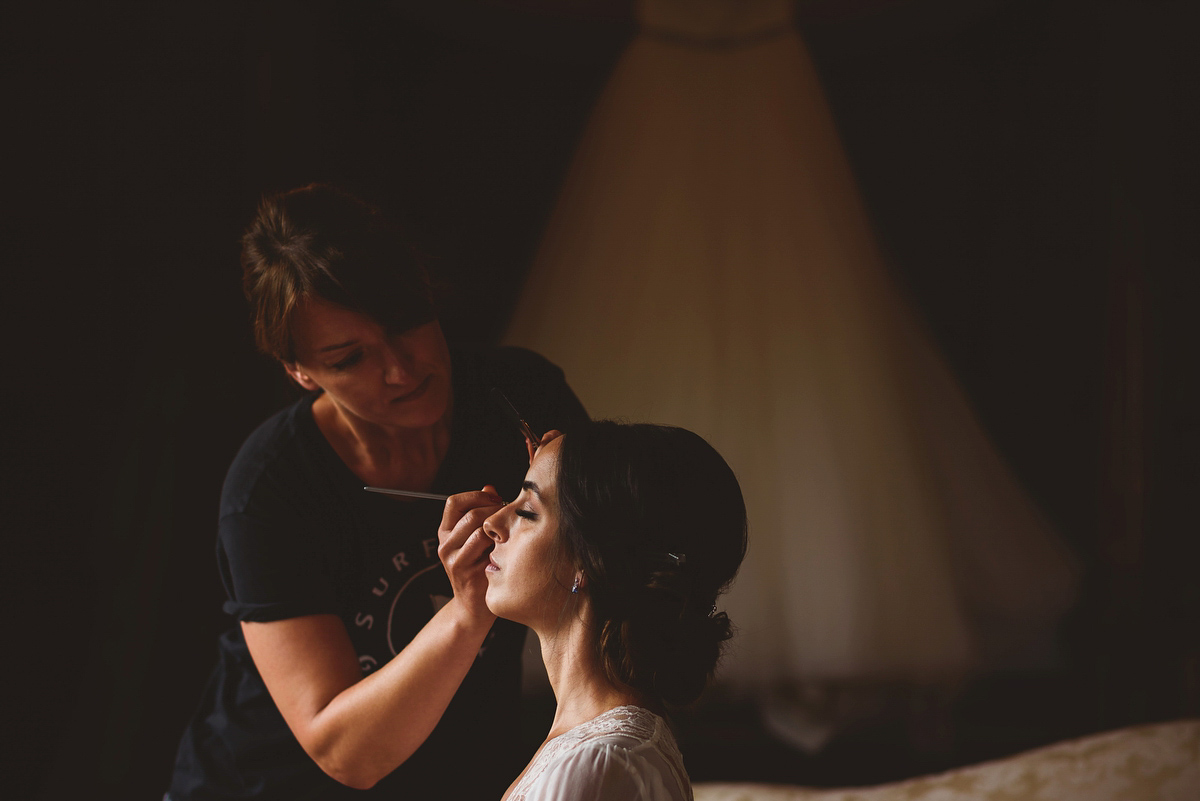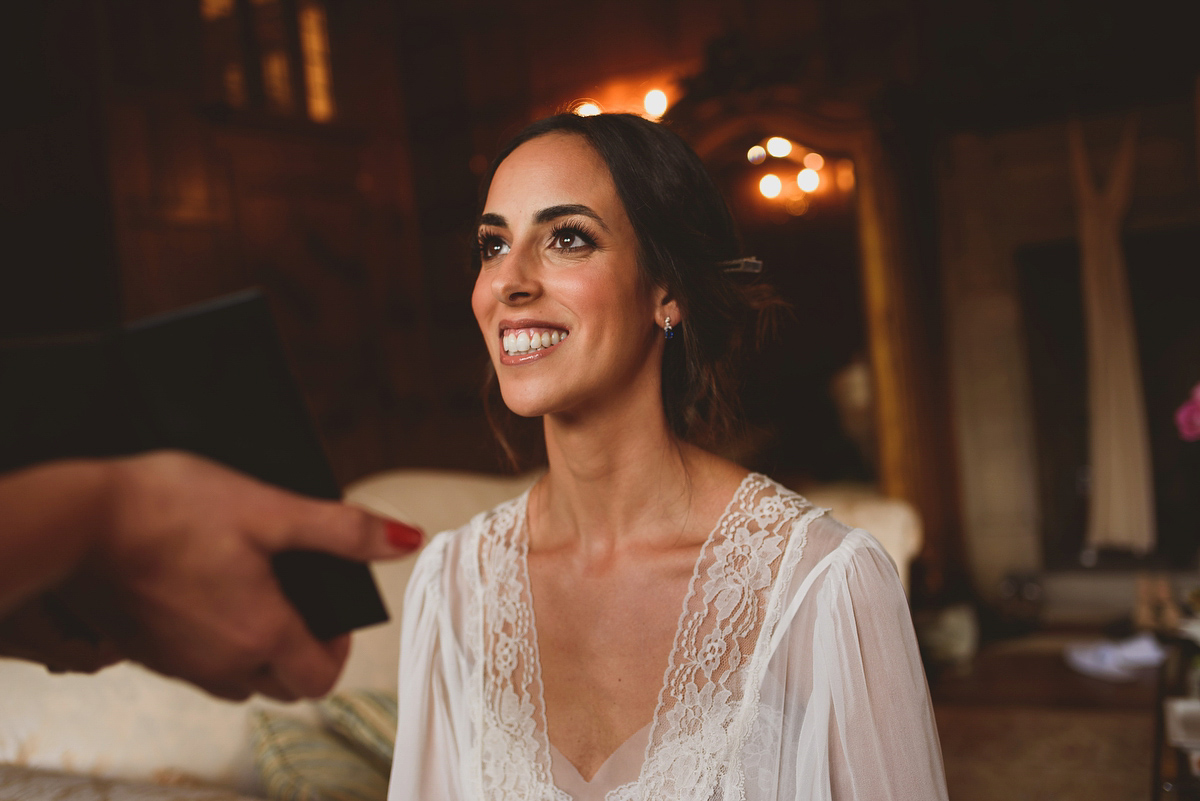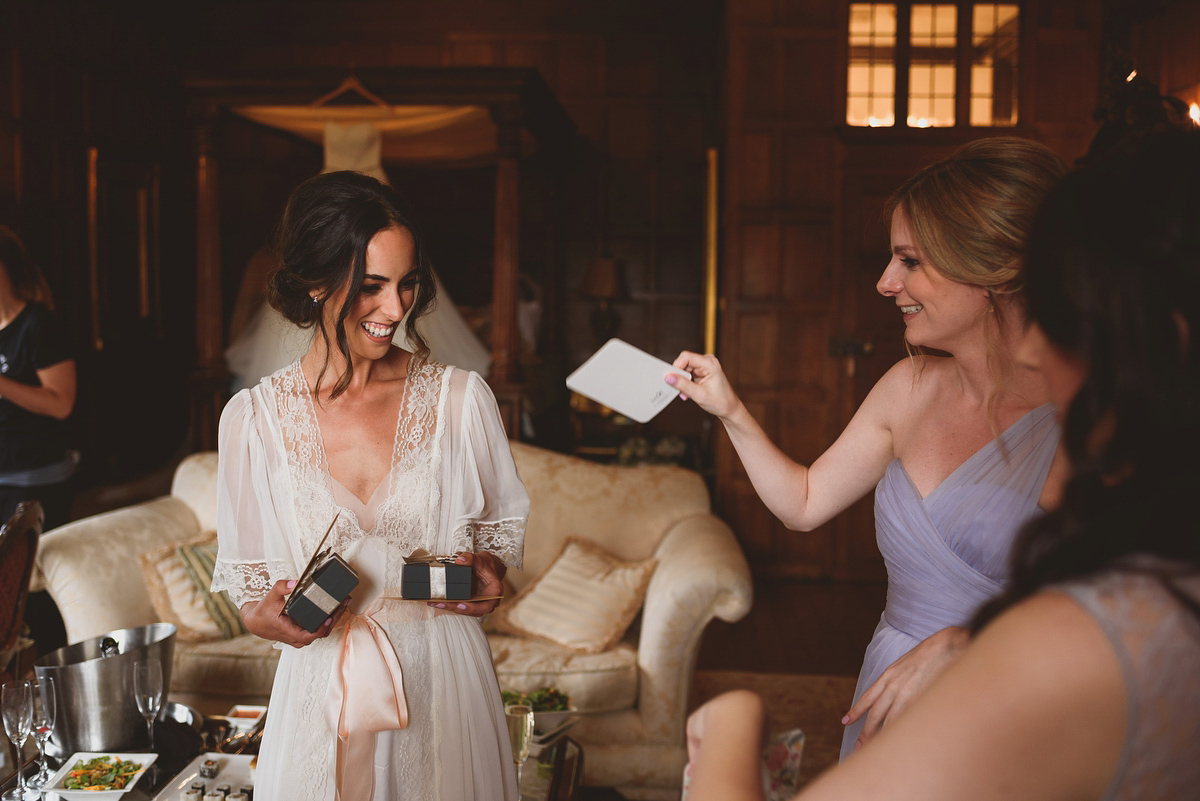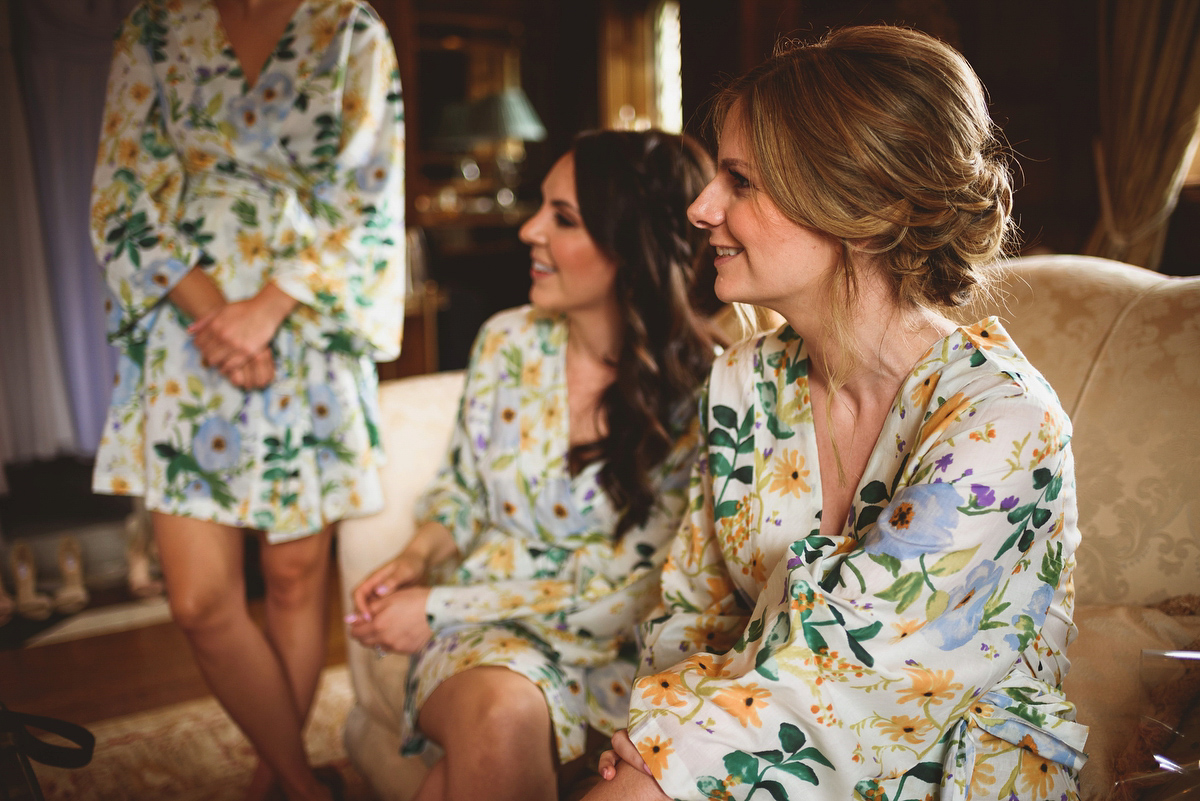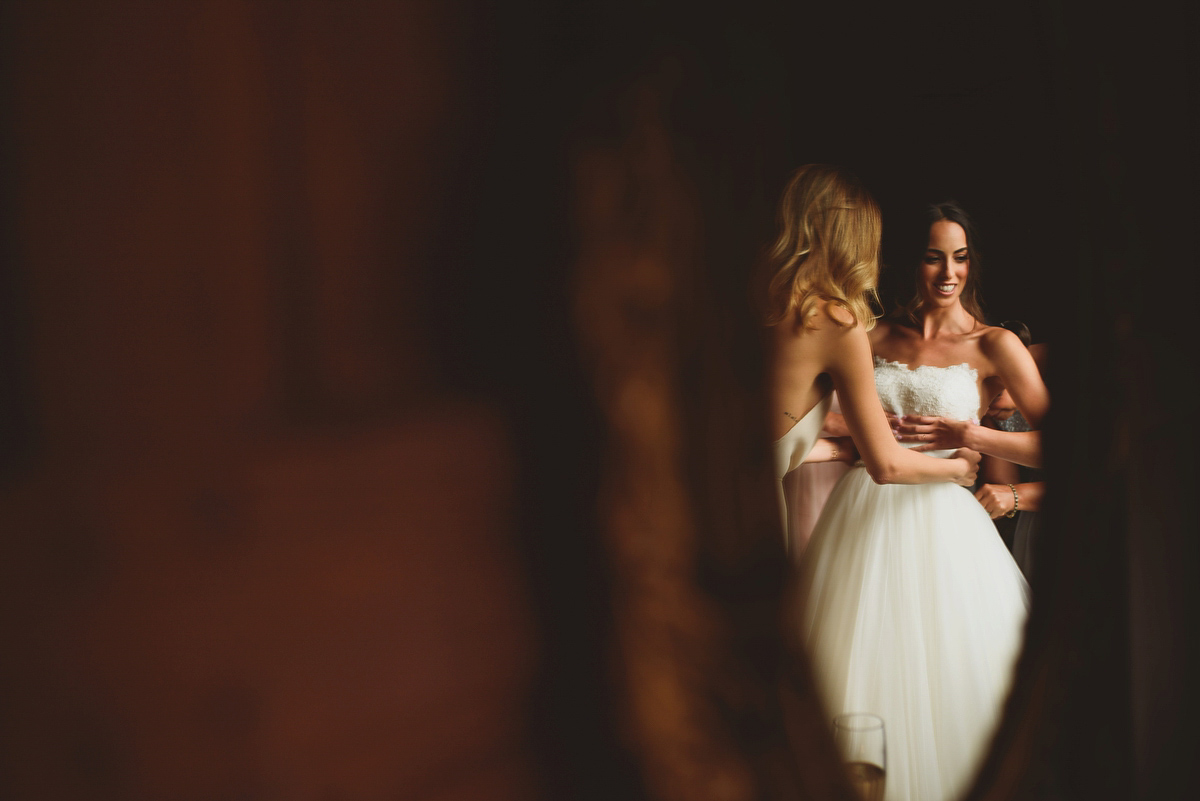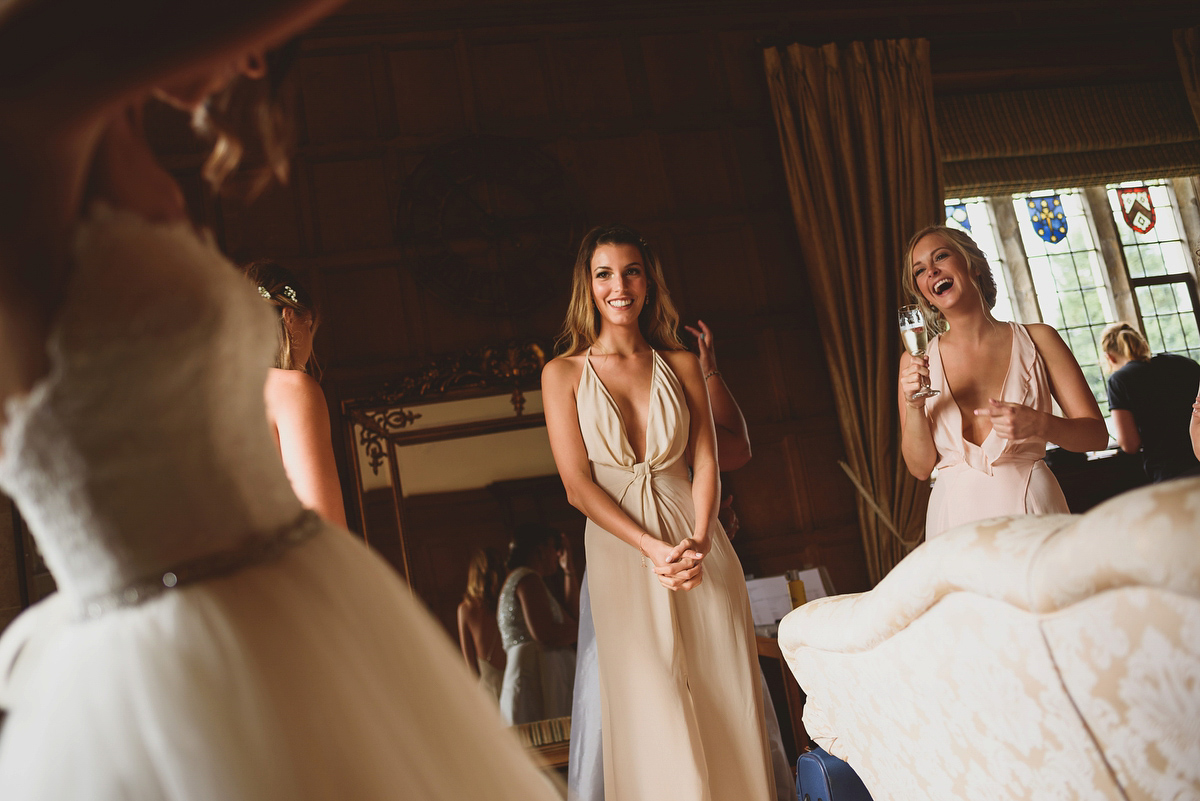 Sparkly gold Louboutin's were an inspired choice, working so well with the opulence of the venue and the twinkle of a small belt purchased in Toronto. A Stephanie Browne Australia hair comb was nestled next to a veil also from La Spose di Milano, finishing off this elegant look with added pizazz.
Coco Chanel – Mademoiselle permeated the air around Sarah as she floated around Hengrave Hall, totally nailing this esteemed English aristocracy vibe.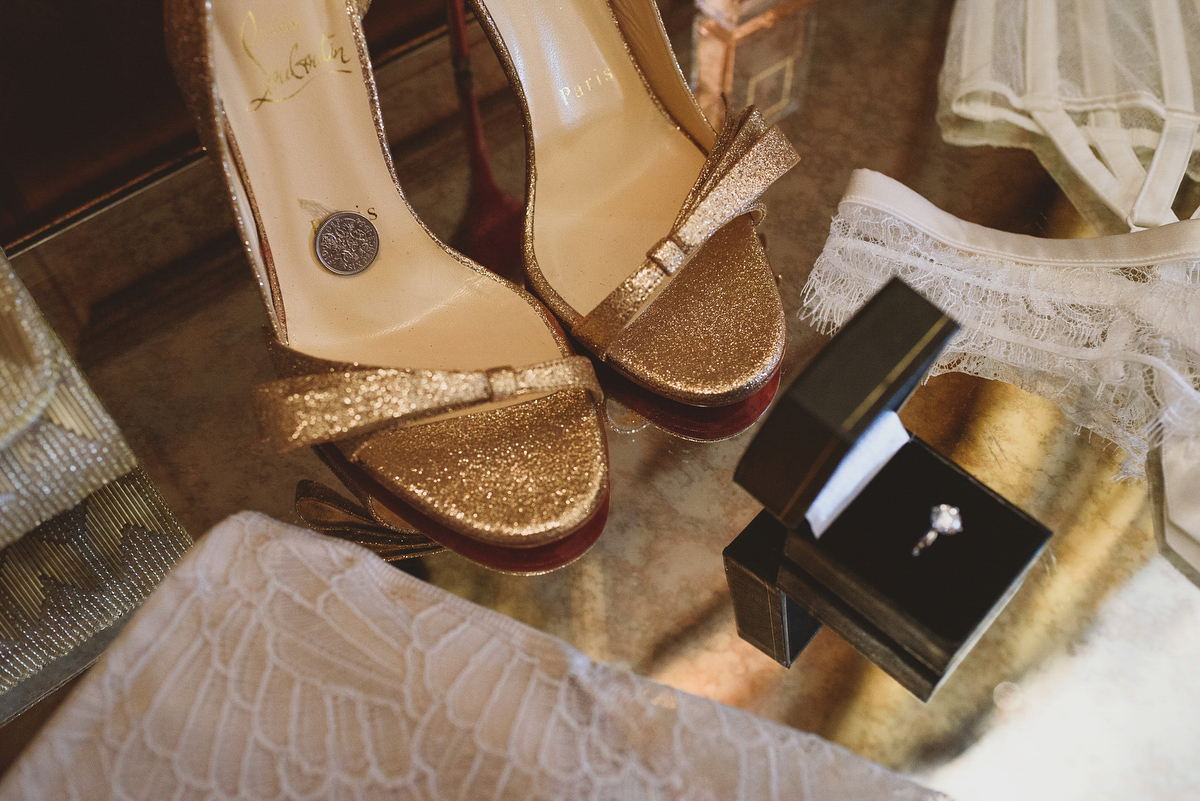 "Tom had purchased some beautiful sapphire and diamond earrings for my 'something blue' and his mum gave me a thin gold band to wear that was my 'something borrowed', both of his sisters had also worn it on their wedding days. It was the first ring that Tom's dad gave his mum so it was special having something from his side as I became part of his family too."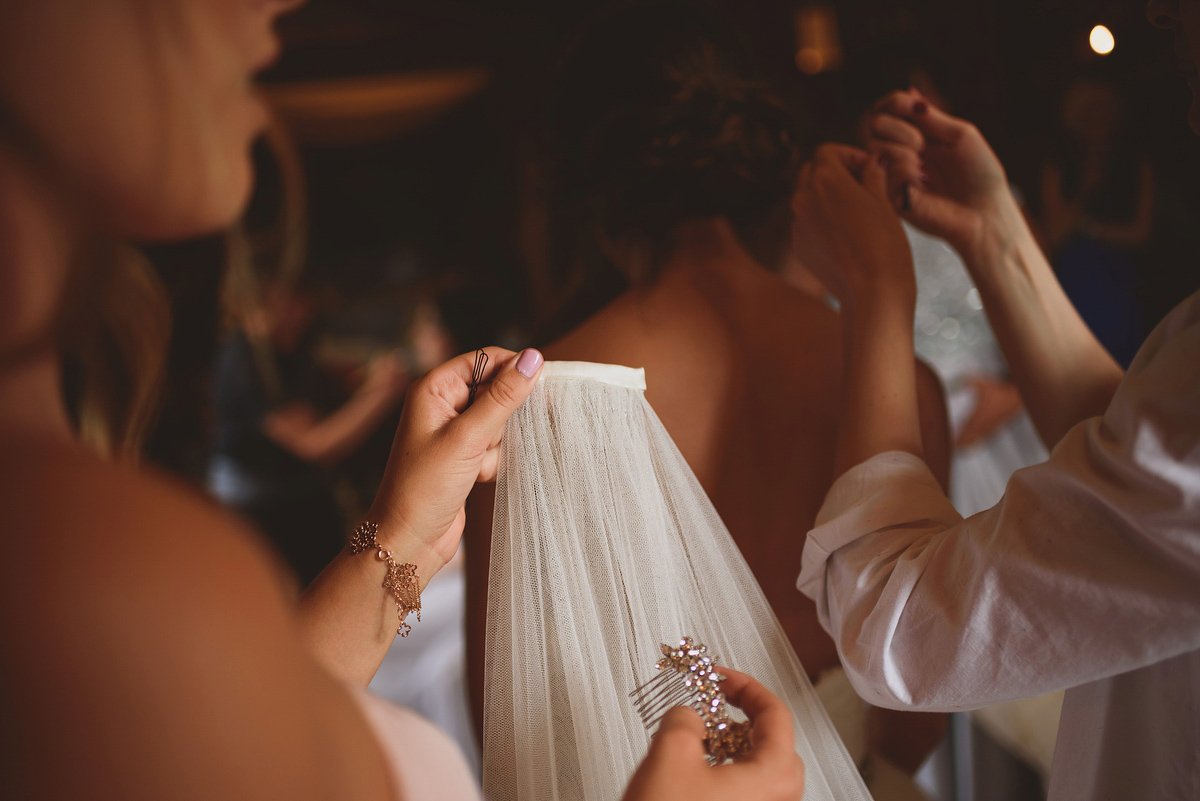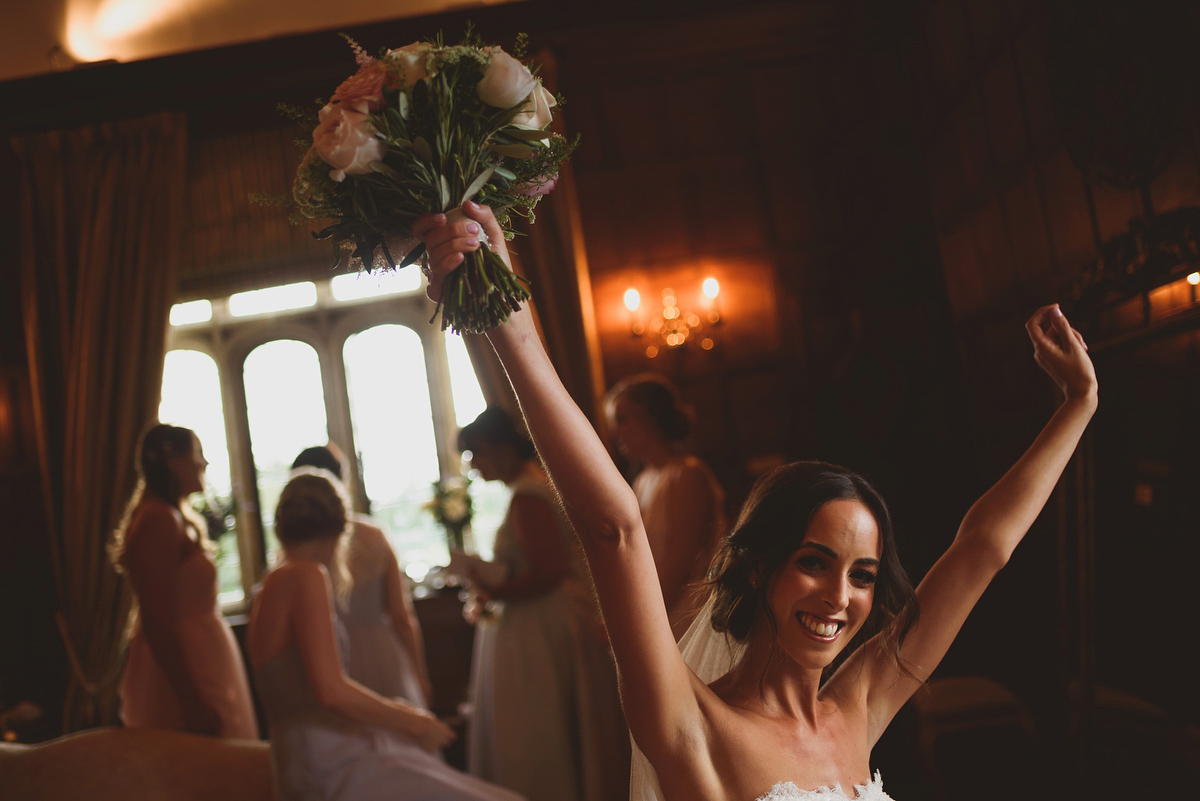 A sweep of pastel-tone-clad bridesmaids surrounded Sarah and matched the femininity of her gown wonderfully. As this squad comes from all over the world, they were allowed to choose their own gowns in soft shades of blush, champagne or lilac. The all wore matching gold earrings from Oliver Bonas and rose-gold bracelets from Dinny Hall that were gifts from the bride.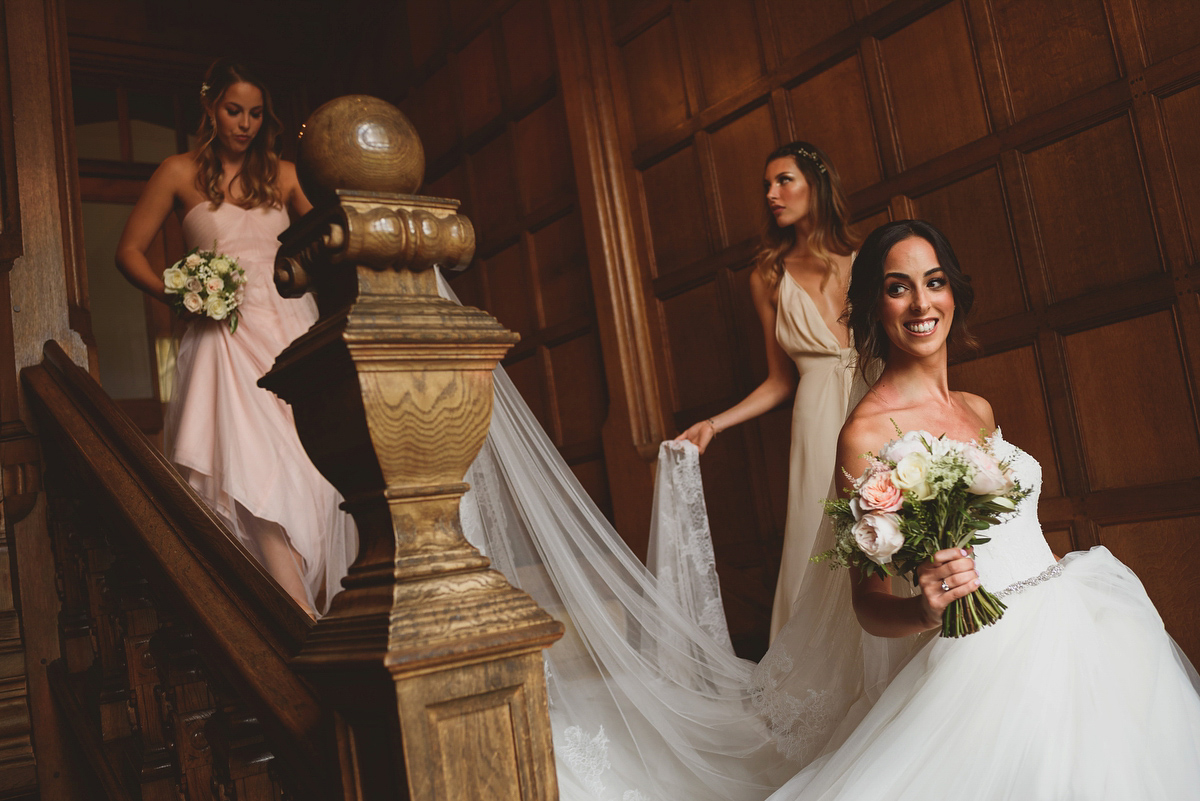 Flowers by Helen Newman had a natural feel, and Sarah wanted them to feel freshly picked from Hengrave's gardens. Superlatives fail me when it comes to appreciating the images our eyes are currently falling in love with, Jackson & Co capture those true moments, the kind that never leave you, in the *most* stylish, ethereal fashion. Showcasing the sheer wonder of this Tudor mansion, each stunning space was appreciated and conquered by the camera.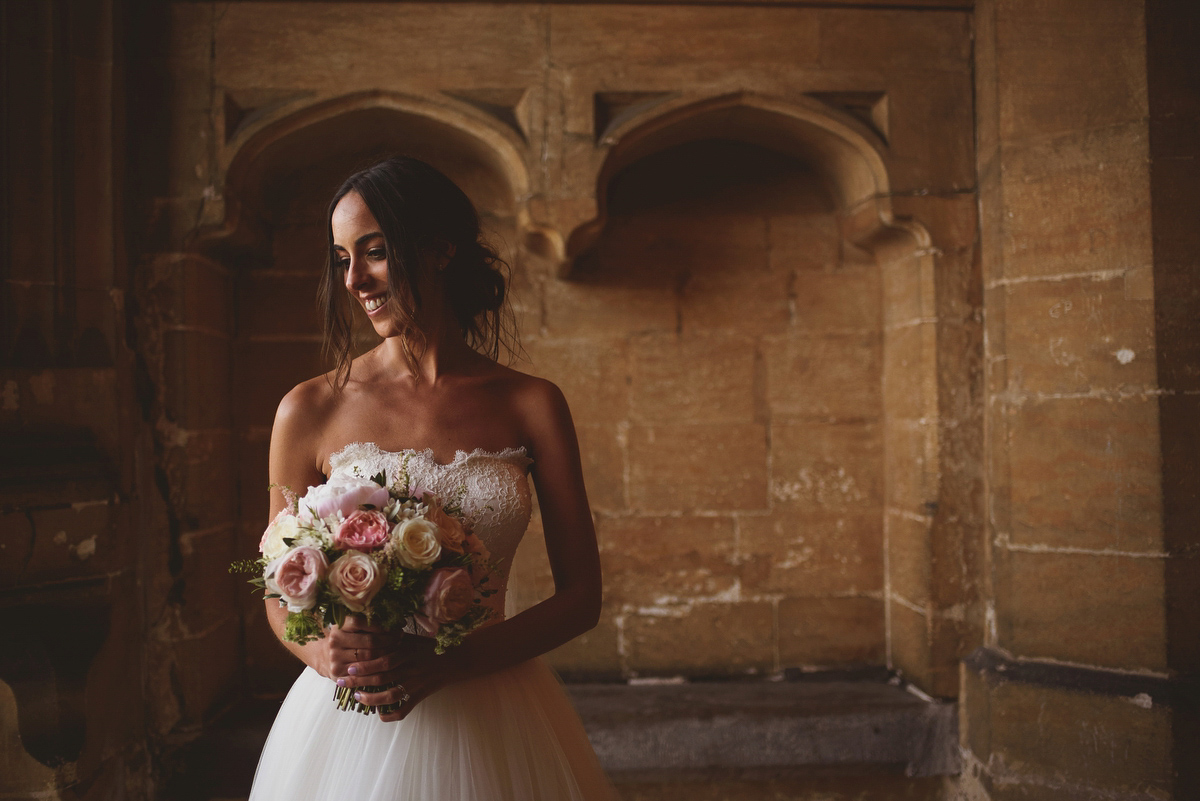 Tom looked dandy in suit from Cad and Dandy and an embroidered pocket square from Selfridges. His best man very kindly gifted the groom and his groomsmen with cufflinks engraved with their initials and wedding date on them.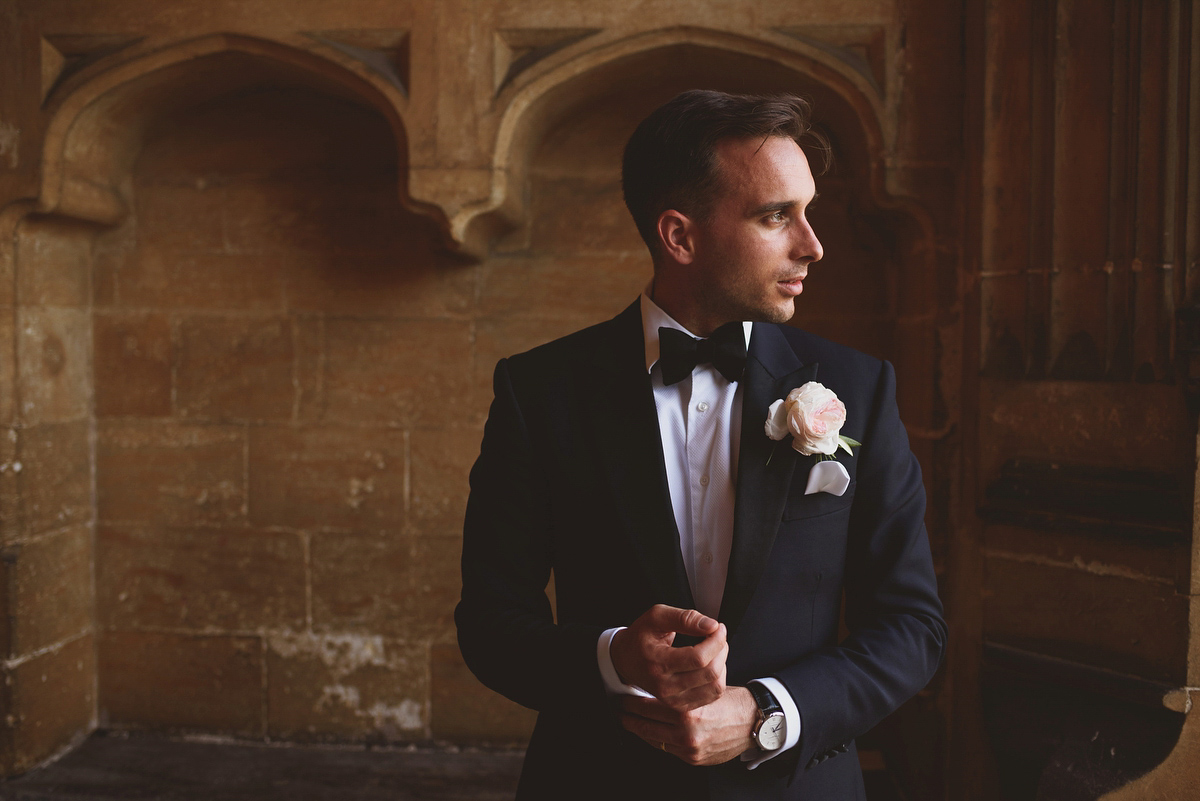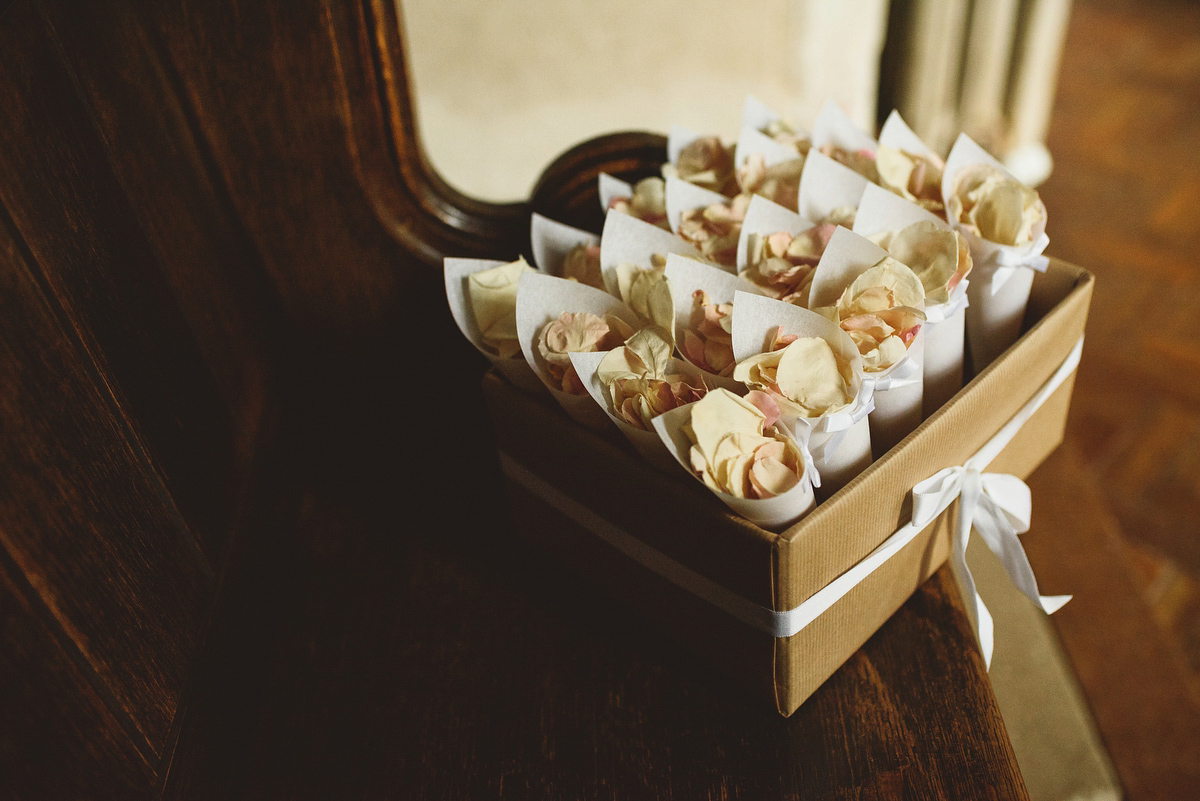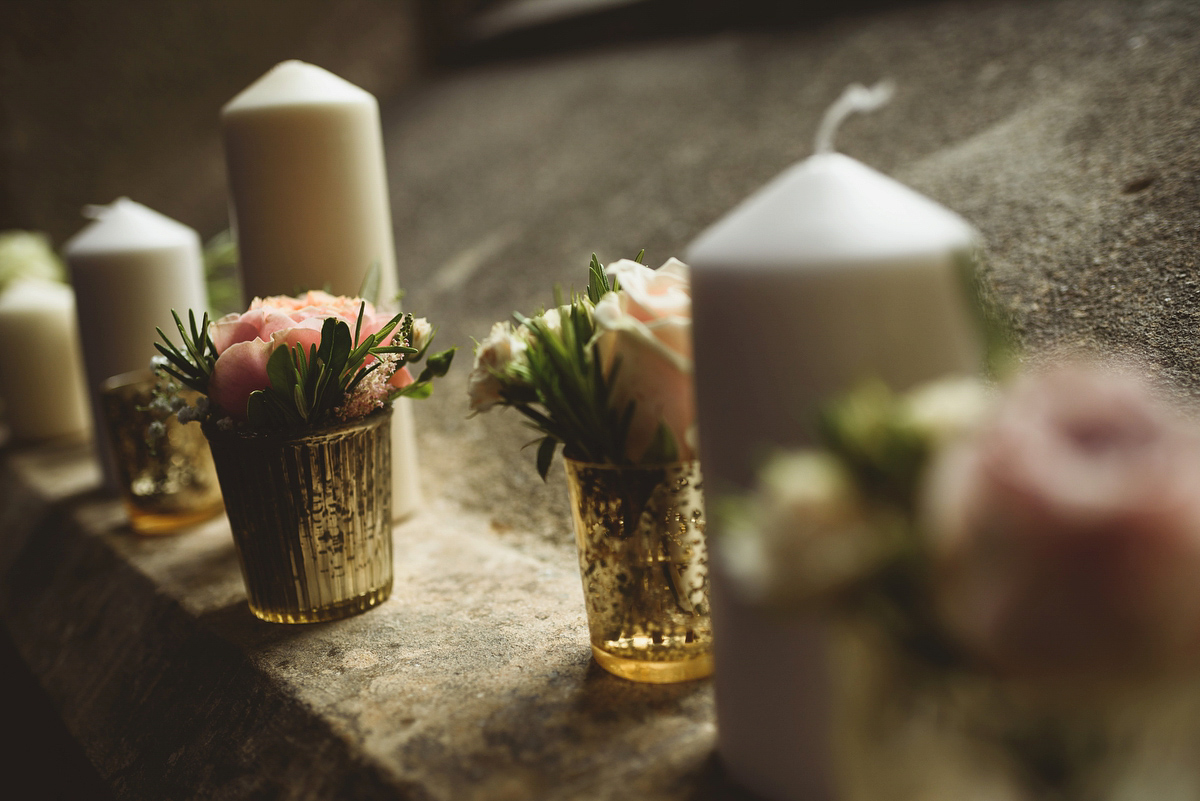 "It took us a bit of time to decide where we should get married as Tom is from Australia and I am Canadian. After much deliberation on whether it should be the States, Canada, Australia or the UK, we decided to find a big house in the UK where all of our friends and family from abroad could stay under one roof and have a quintessentially English wedding."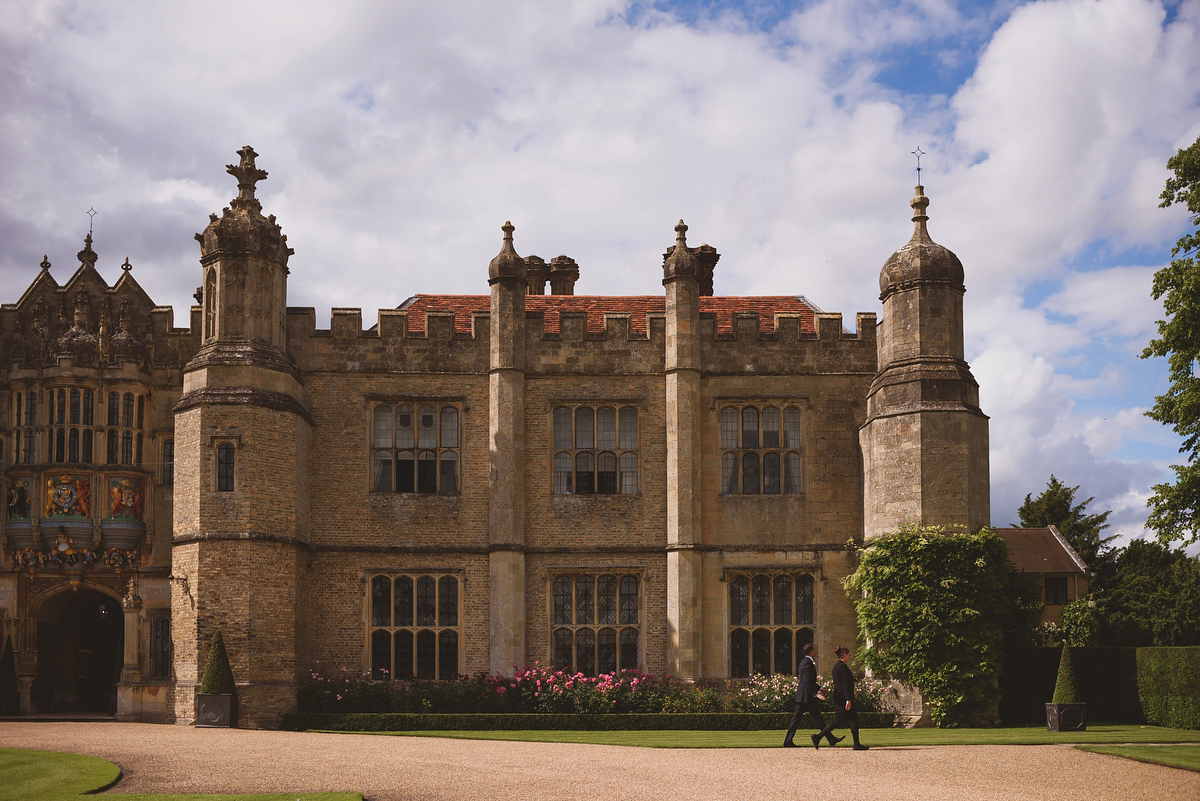 "Tom and I looked at a number of stately homes online and narrowed it down to two, after seeing Hengrave it was an easy choice. Tom was immediately sold on the Boy's Room and the venue was just immaculate, with stunning grounds and room to sleep 70 guests, all only an hour and a half from London."
"We called Hengrave only a few hours after our initial viewing to confirm the date and gleefully began picturing having all of our loved ones there to celebrate. We were lucky enough to get Hengrave for 3 nights so it was like we had our own grand estate for a weekend."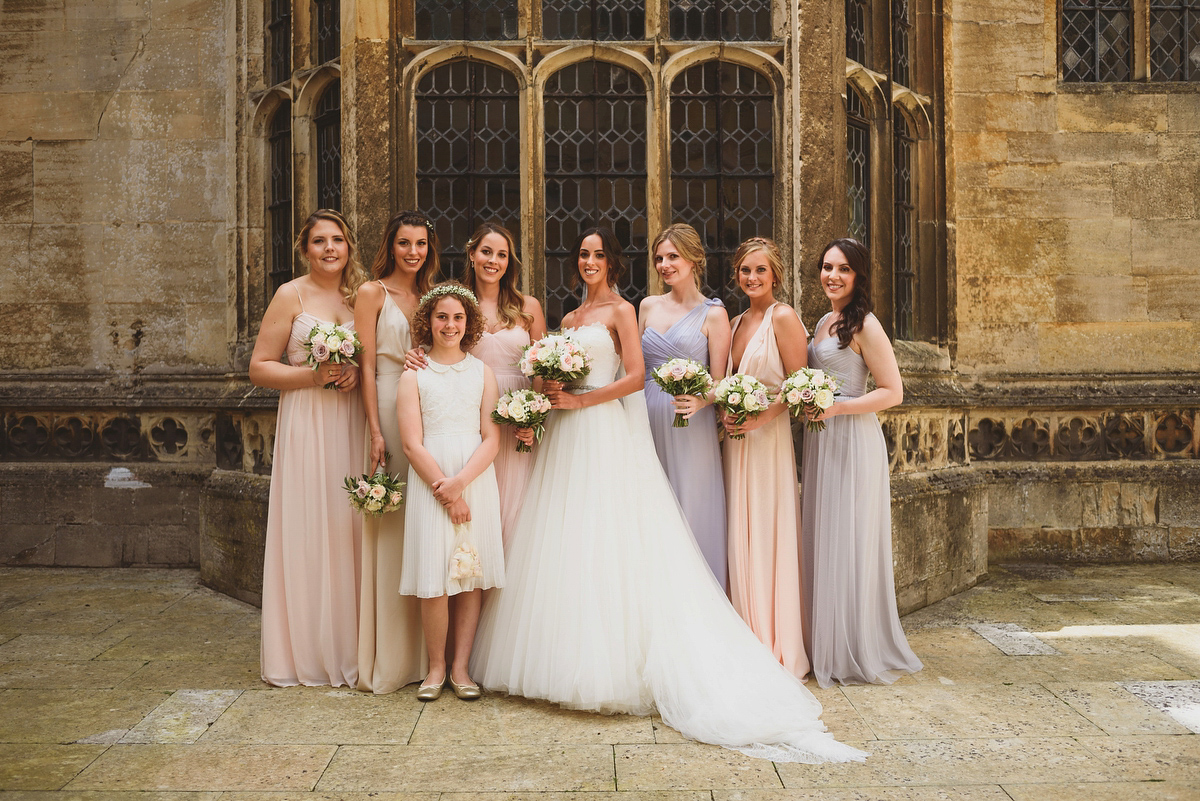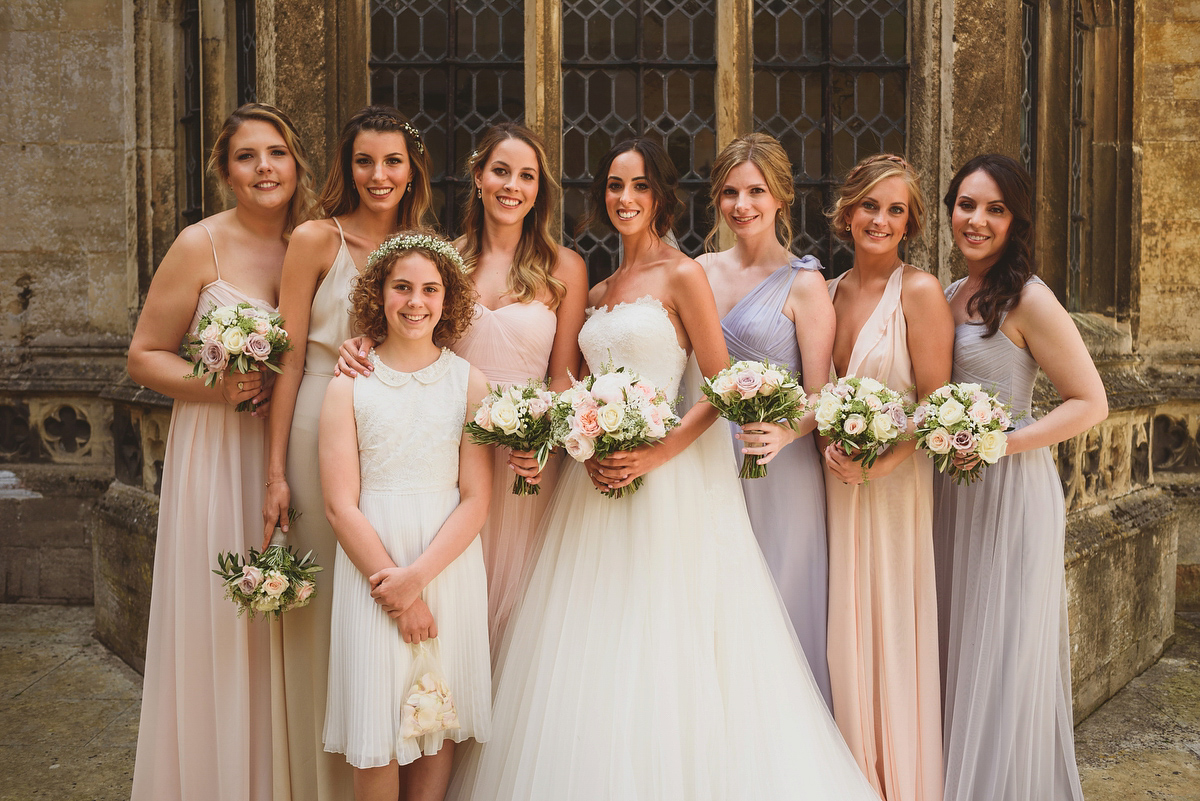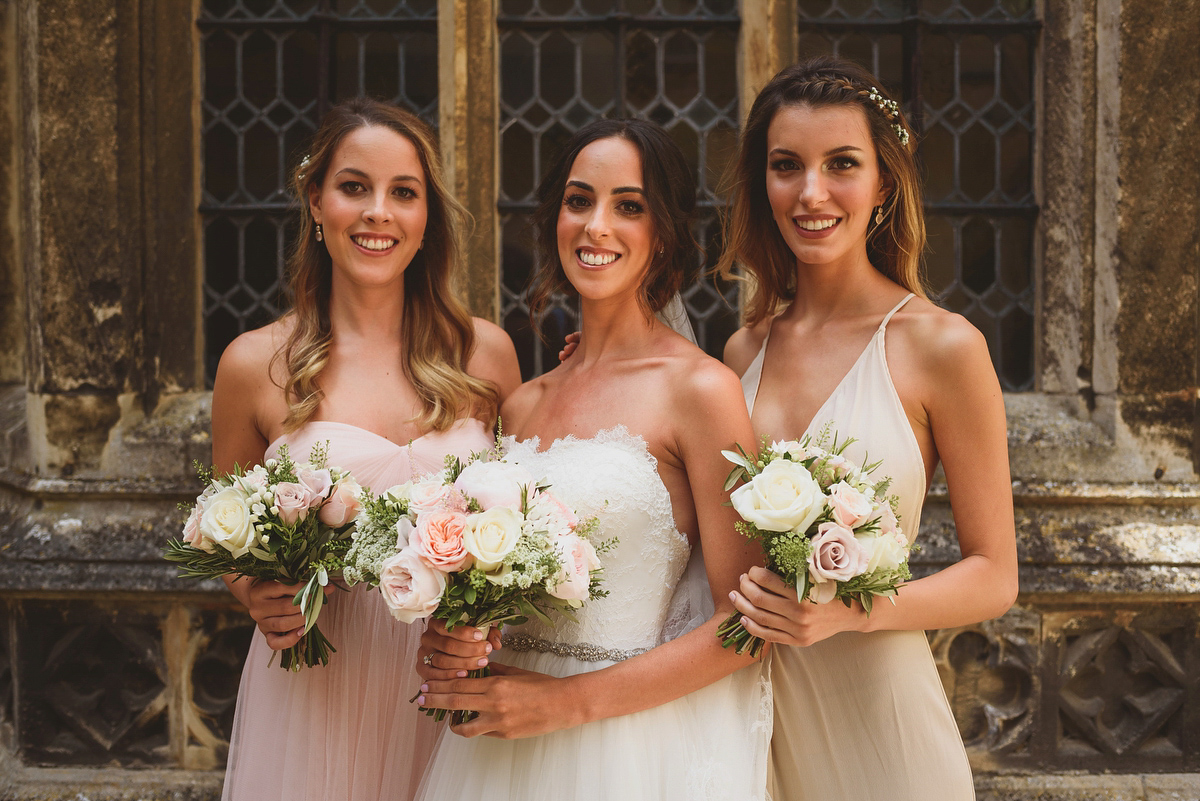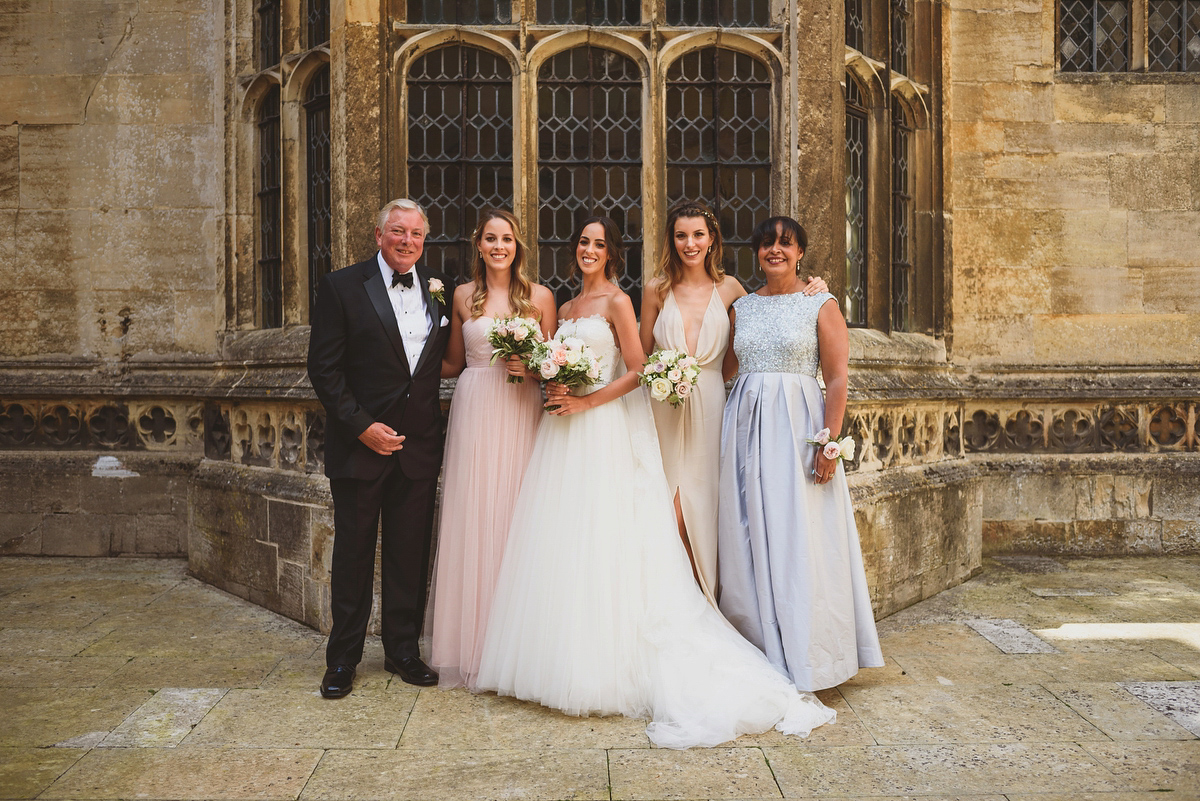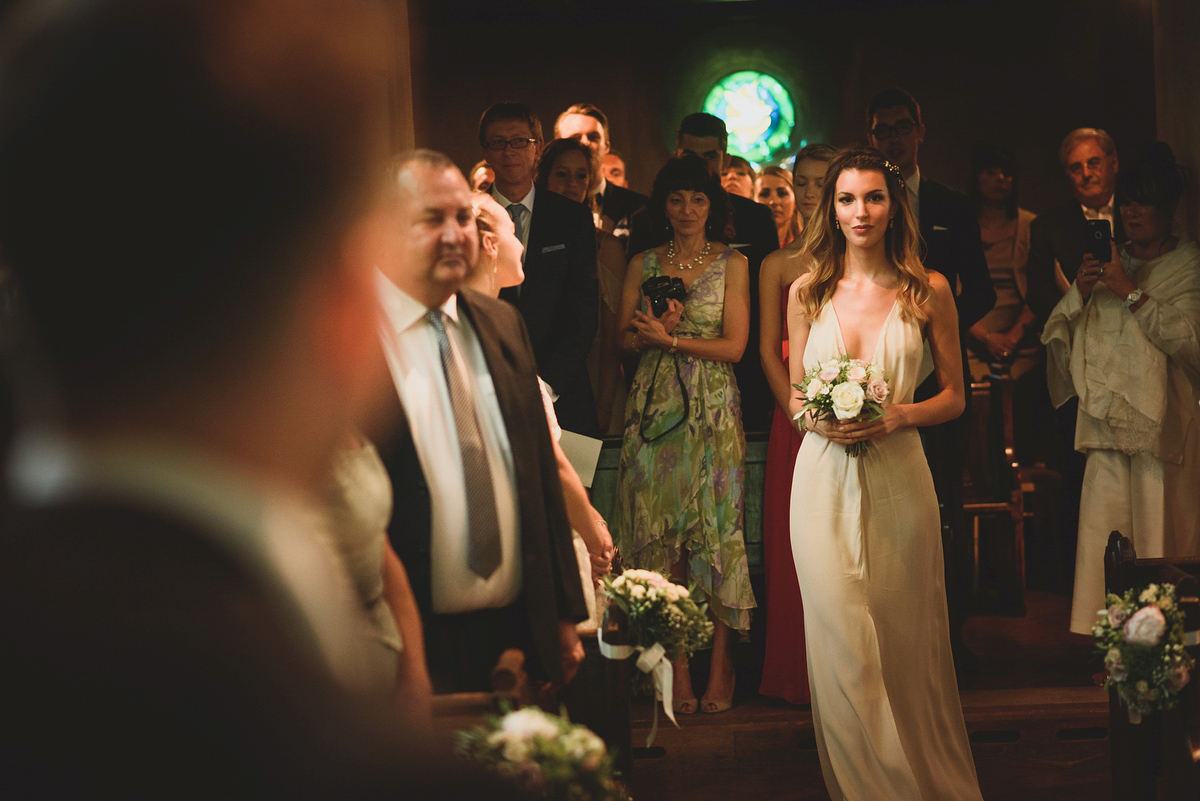 Hearing about father and daughter moments always makes me feel very emotional. I know how much this honour meant to my Dad and hearing that Sarah's father was determined to be without his walking stick makes me well up, your wedding day means so much to those who love you most.
"My dad isn't able to walk very well but he put his walking stick away so that he could walk me down the aisle properly and we held onto each other really tightly!"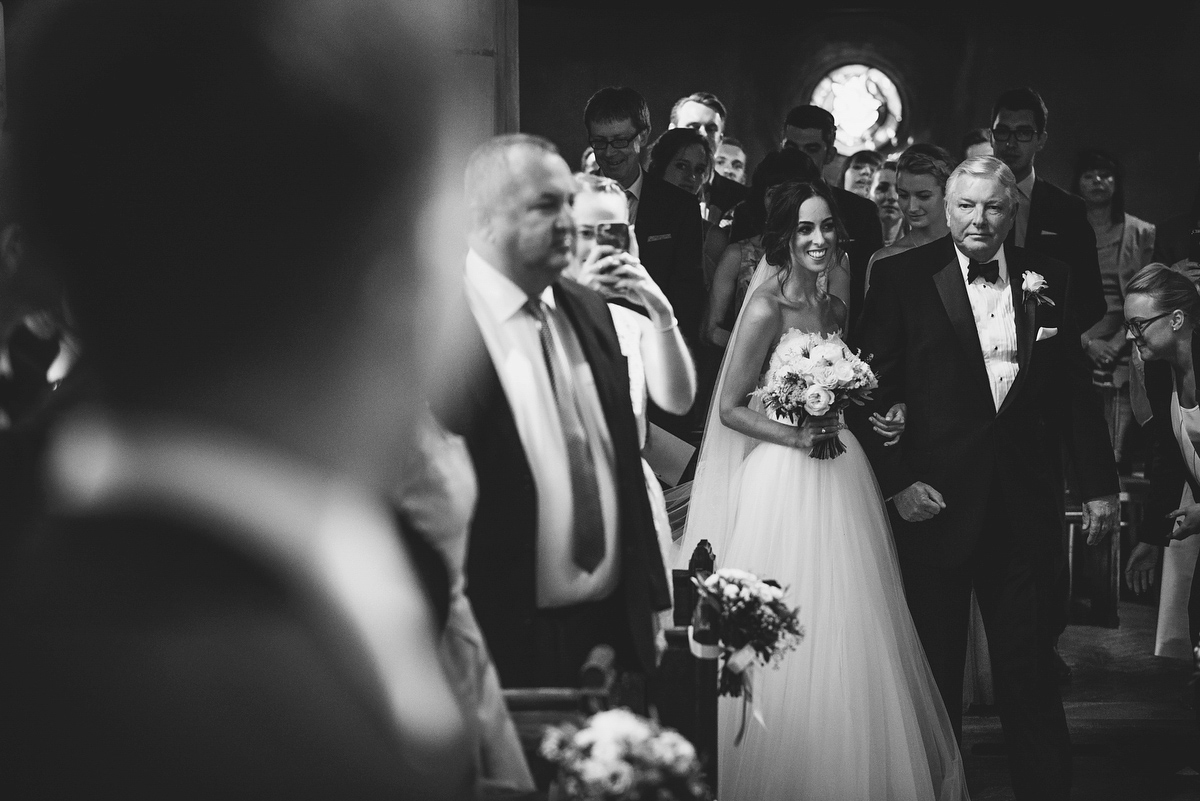 "We had Tom's sister's husband play acoustic guitar for the church. He played Canon in D for the parents and the bridesmaids entrance, and God Blessed the Broken Road by Rascall Flats for my walk down the aisle. He practised for months and it was really special and personal to us."
Traditional vows were embellished with personalised words that you can hear in the beautiful wedding video from Newlywed Films. Two delightful readings were chosen, an extract from Captain Corelli's Mandolin and the following deeply moving words from The Velveteen Rabbit (which made me sob whilst typing, I'm starting to see a theme here).
'What is REAL?' asked the Rabbit one day, when they were lying side by side near the nursery fender, before Nana came to tidy the room. 'Does it mean having things that buzz inside you and a sticky-out handle?'

'Real isn't how you are made said Skin Horse, 'Its a thing that happens to you. When someone loves you for a long, long time, not just to play with, but REALLY loves you, then you become Real.'

'Does it hurt?' asked the Rabbit

'Sometimes' said the Skin Horse, for her was always truthful. 'When you are Real you don't mind being hurt.'

'Does it happen all at once, like being wound up' he asked, 'or bit by bit?'

'It doesn't happen all at once' said the Skin Horse. 'You become. It takes a long time. That's why it doesn't happen often to people who break easily, or have sharp edges, or have to be carefully kept. Generally, by the time you are Real, most of  your hair has been loved off, and your eyes drop out and you loose your joints and are very shabby. But these things don't matter at all, because once you are Real you cant be ugly, except to people who don't understand.'

'I suppose you are Real?' said the Rabbit. And then he wished he had not said it, for he thought the Skin Horse only smiled.

'Someone made me Real' he said, 'That was a great many years ago; but once you are Real you can't become unreal again. It lasts for always.'
"I met our photographers Michael and Hannah of Jackson & Co at a wedding fair in London shortly after getting engaged and immediately knew I wanted them to photograph our wedding. They were so lovely and easy to get along with, I also loved that they were a husband and wife team. They really know how to capture special moments and I feel so lucky to have them as part of our special day."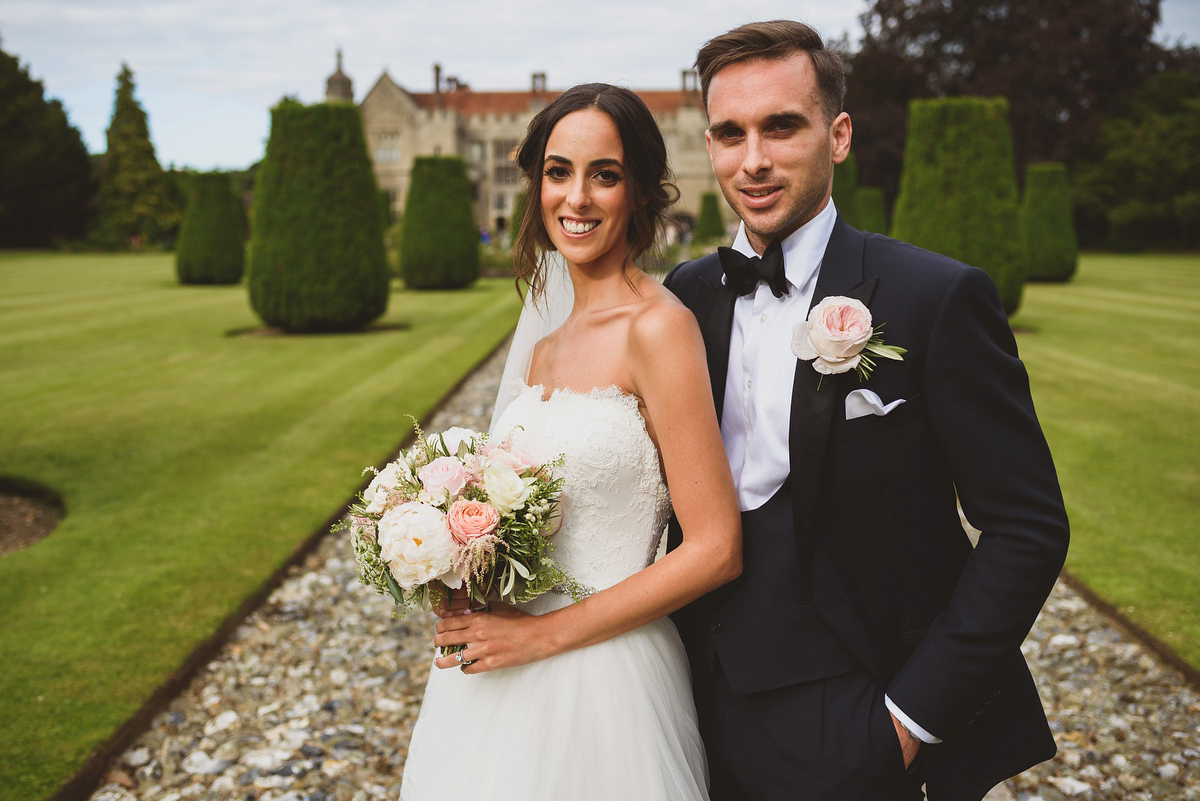 Enjoying a wedding breakfast from Milsom Catering within the sumptuous interior of Hengrave, guests then teared up to not one, but two first dances. Sarah and Tom finally agreed on a cover of Ed Sheeran's 'Photograph' by Boyce Avenue, and Sarah and her dad danced to 'A Father's Love' by George Straight.
This song held special meaning as Sarah and her siblings used to dance to this song with their father growing up, and prompted tears and a special father daughter sing along.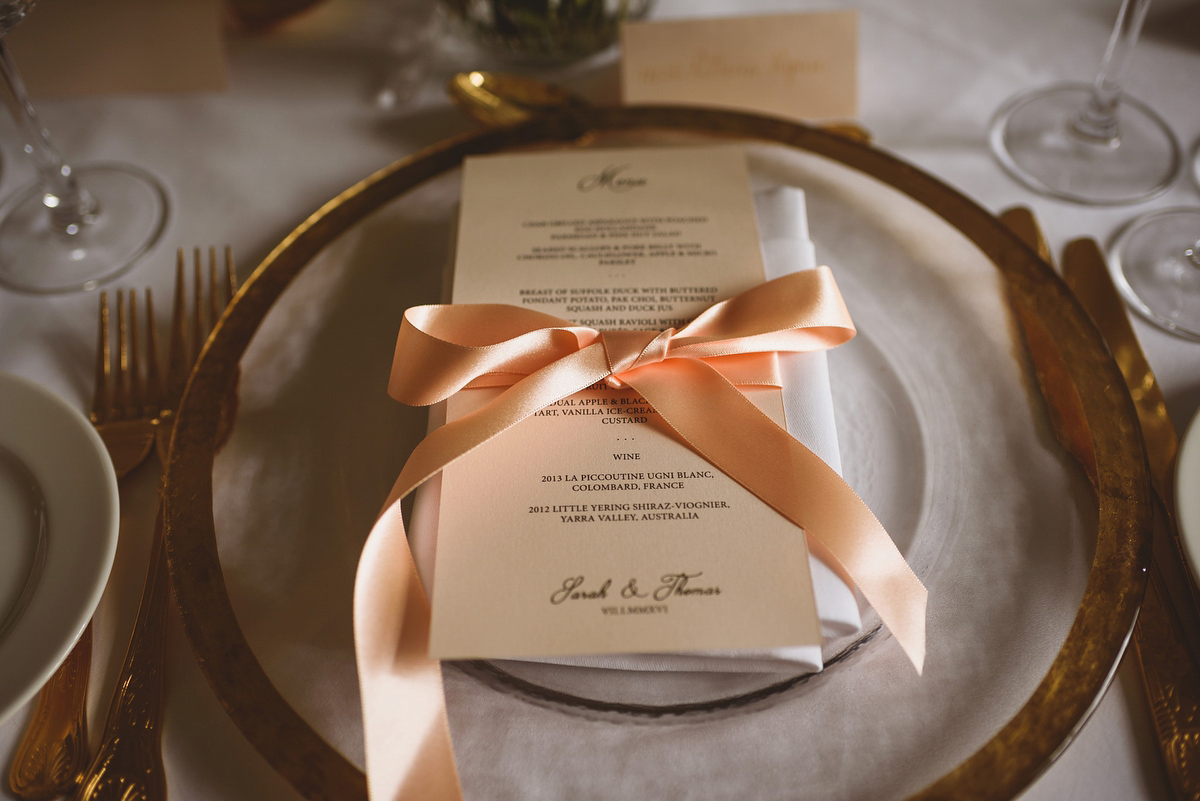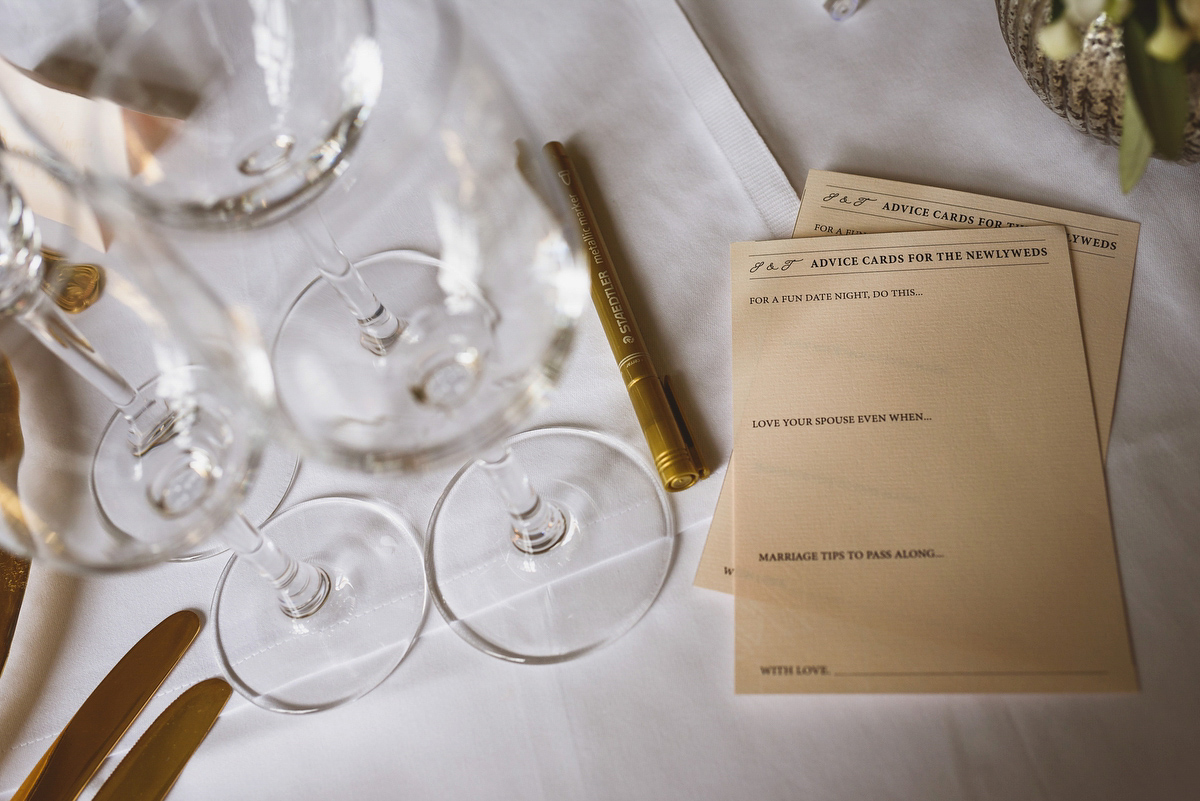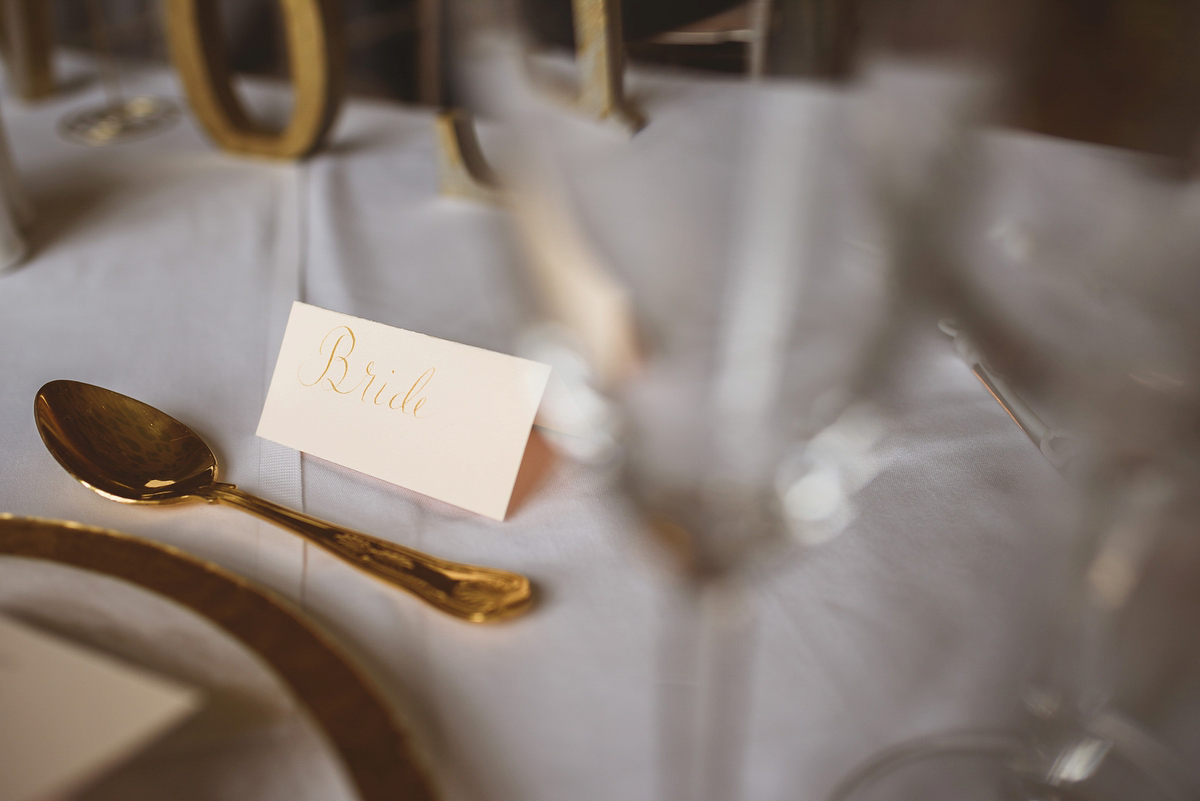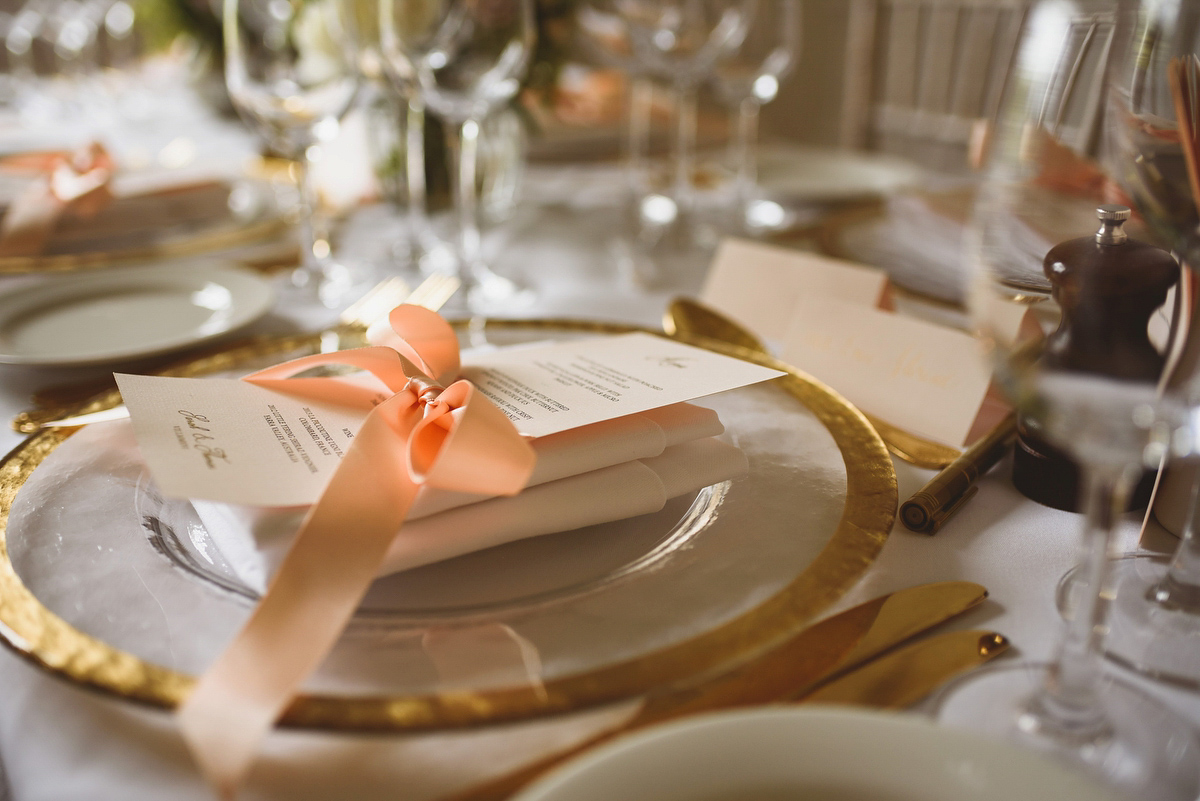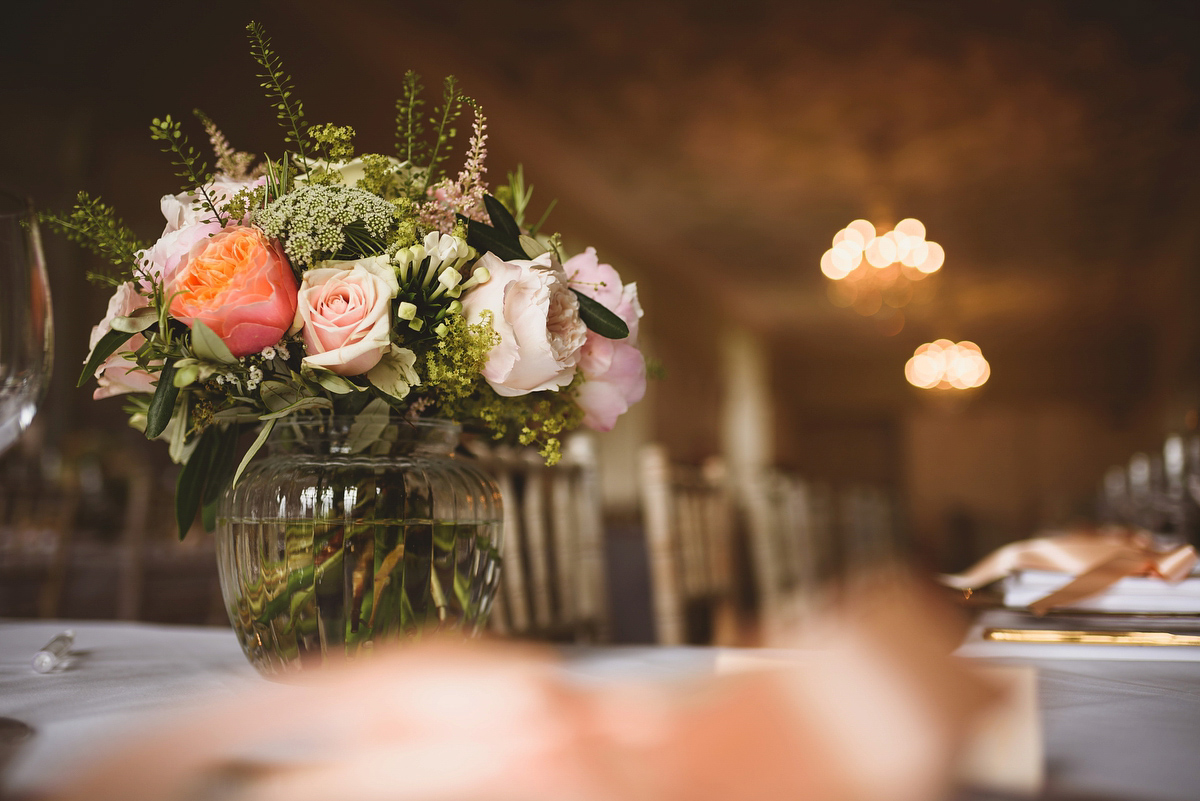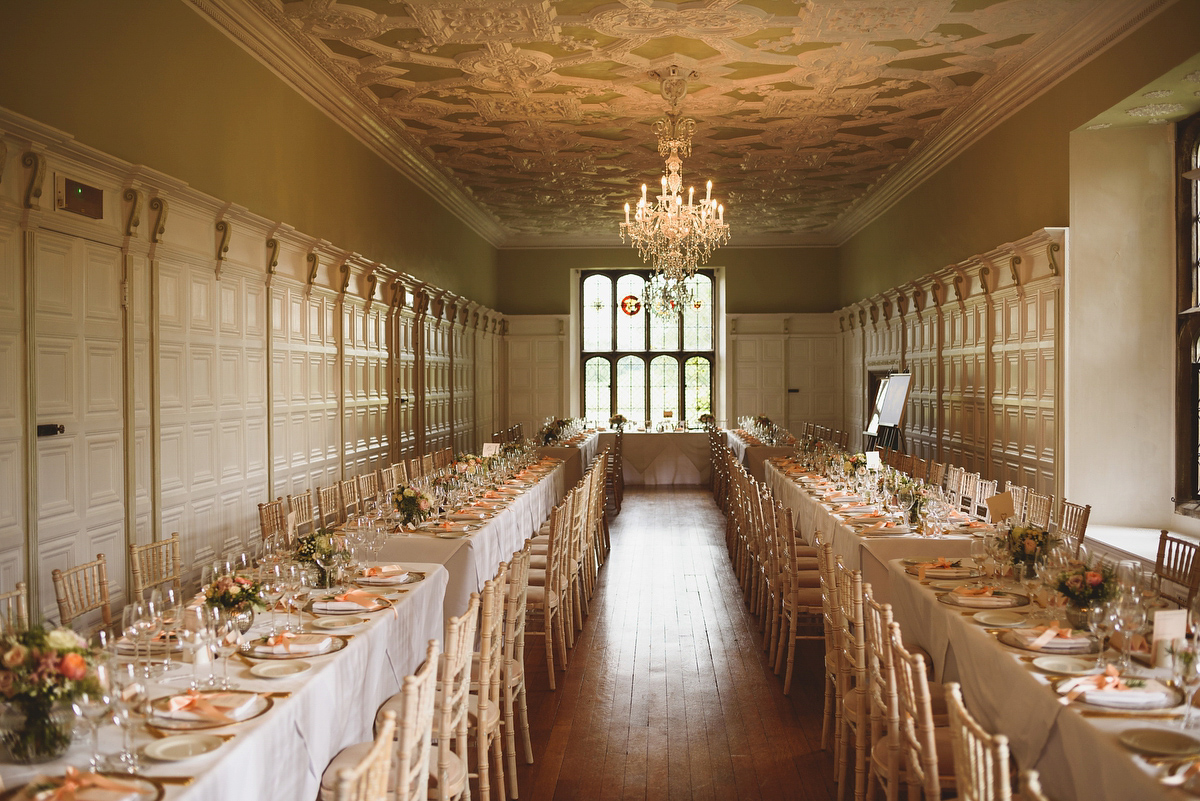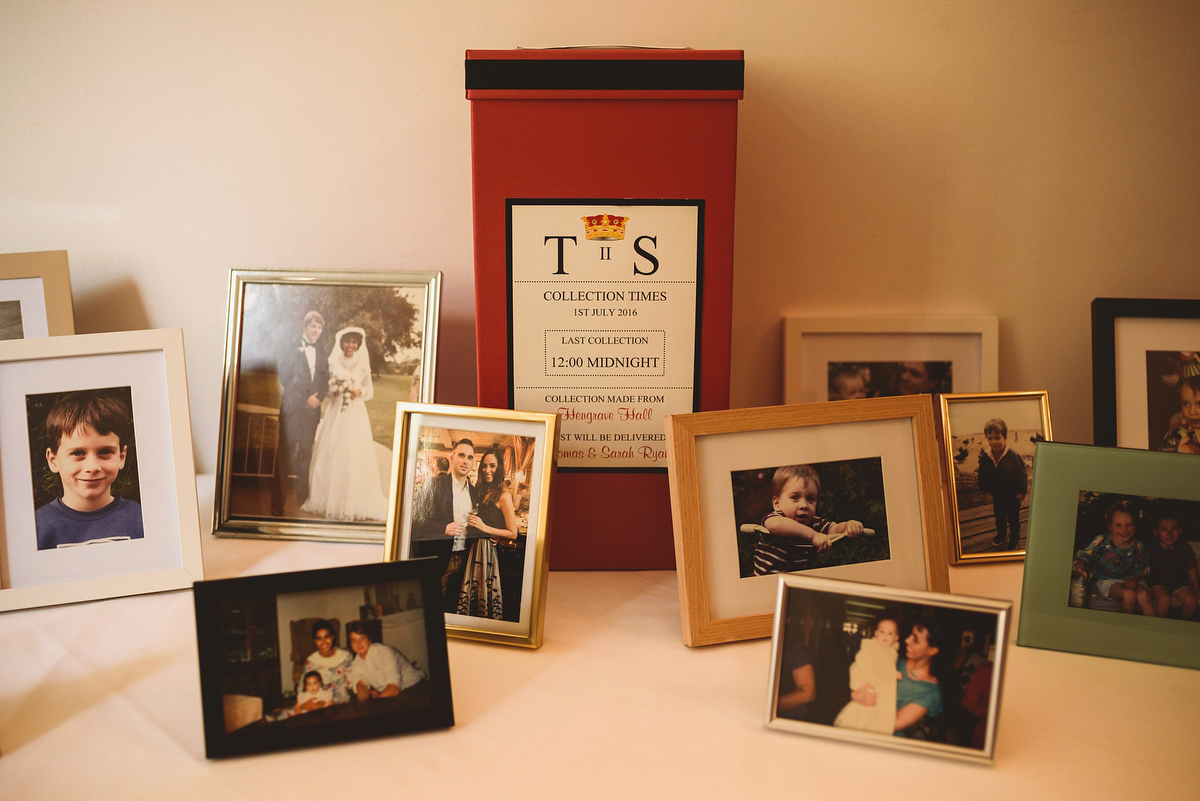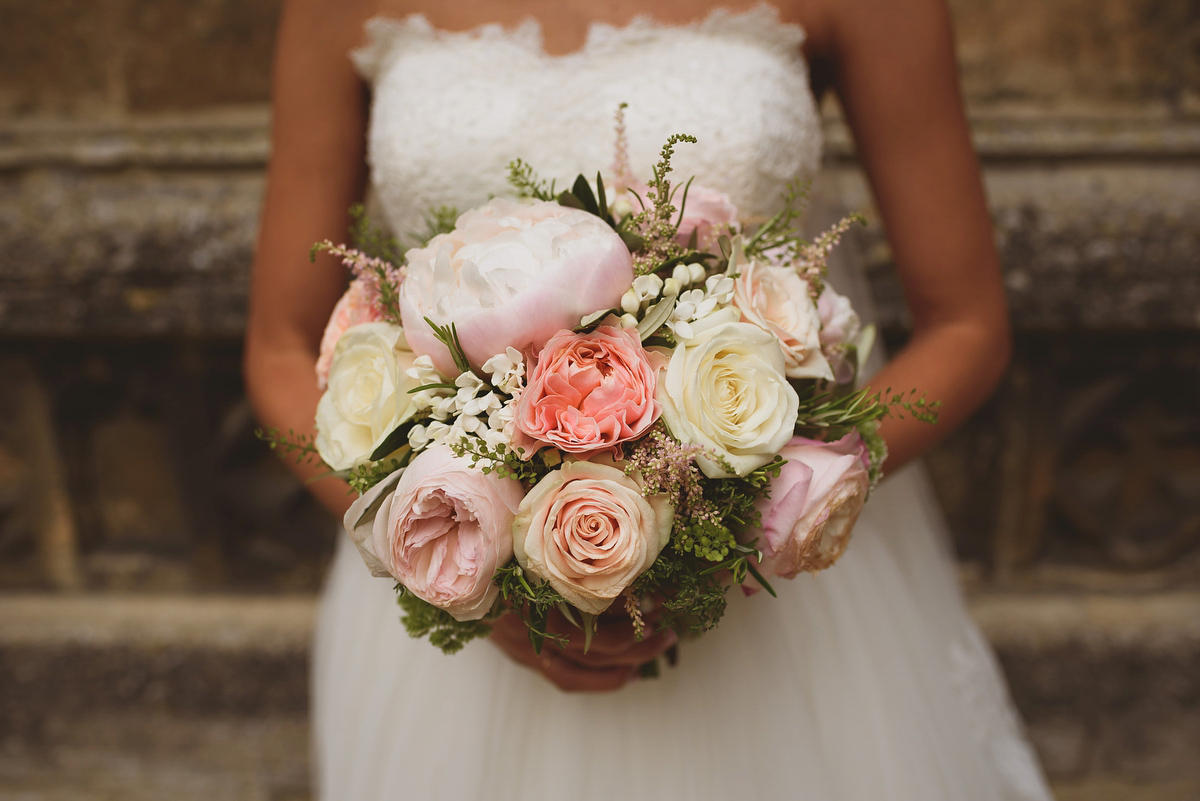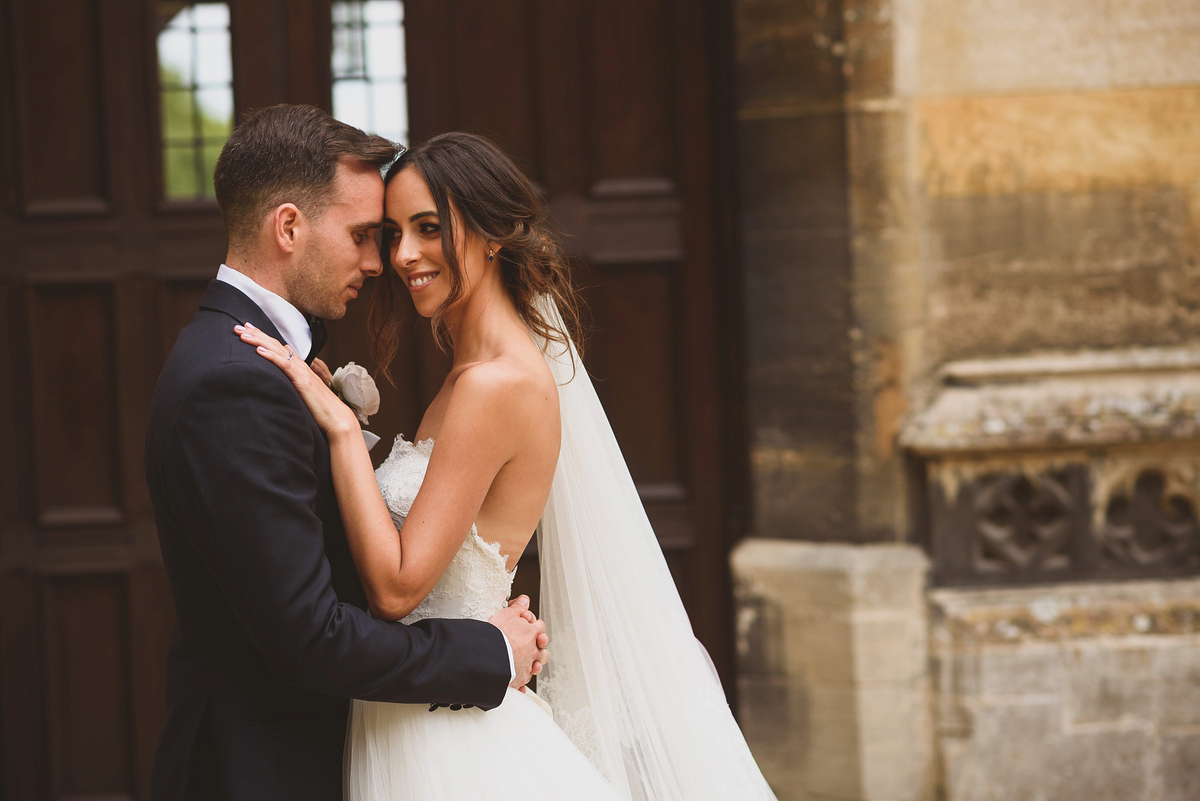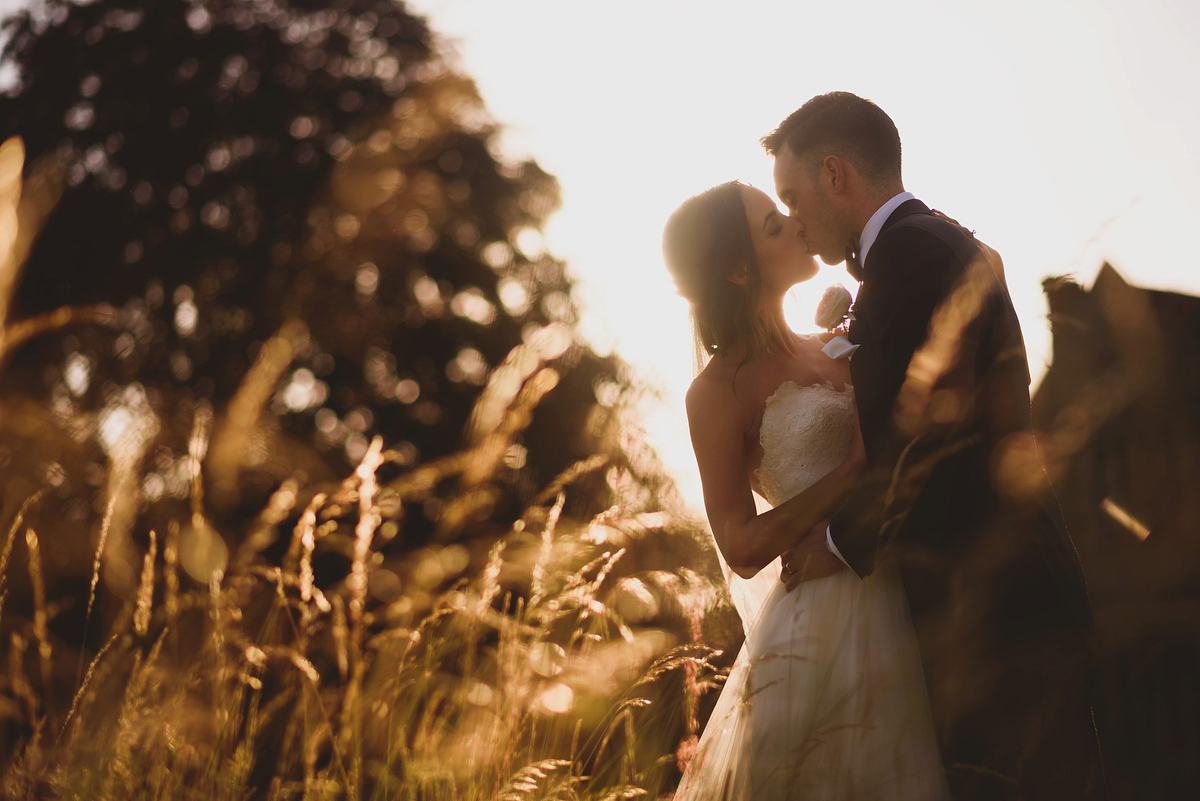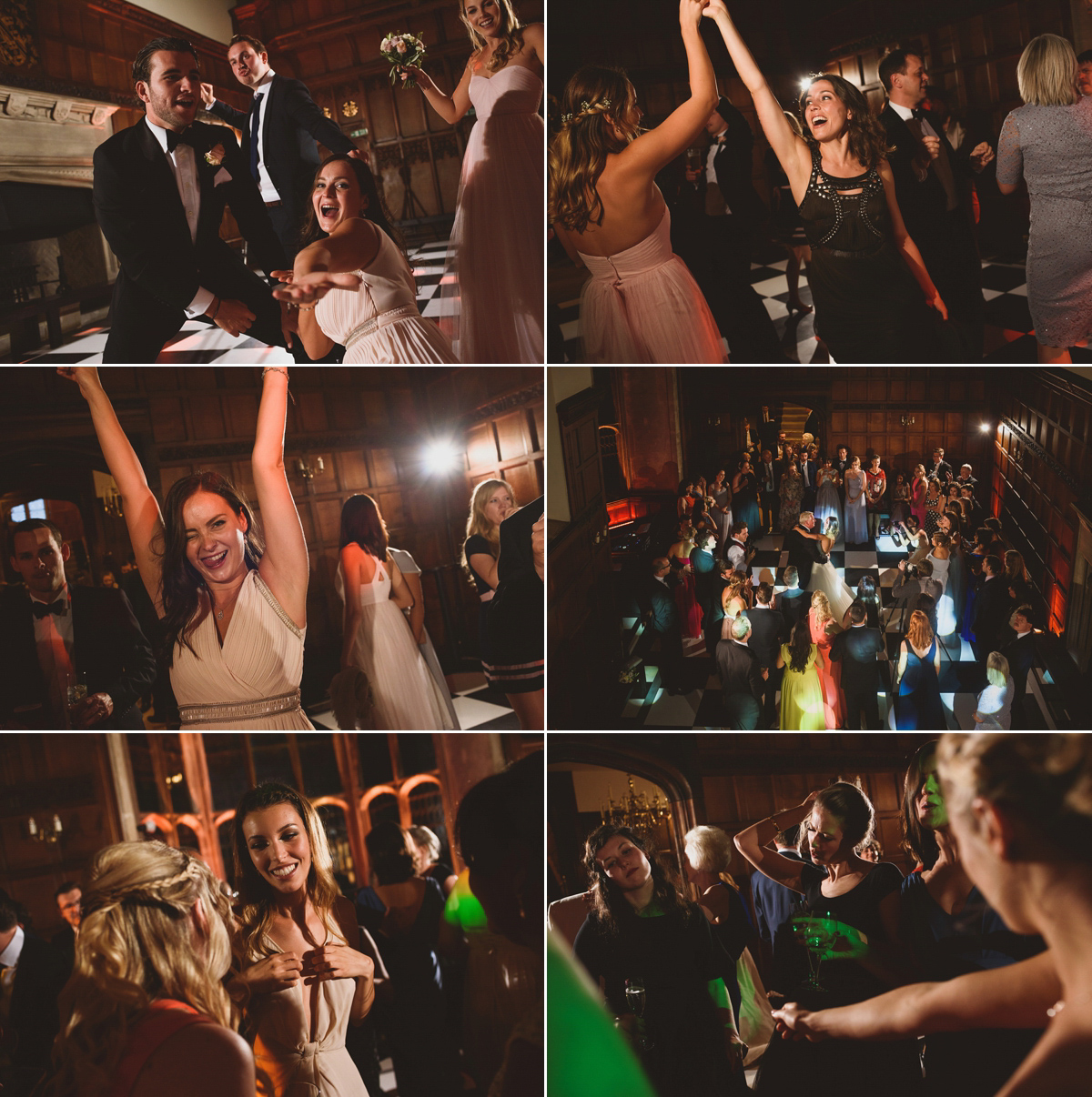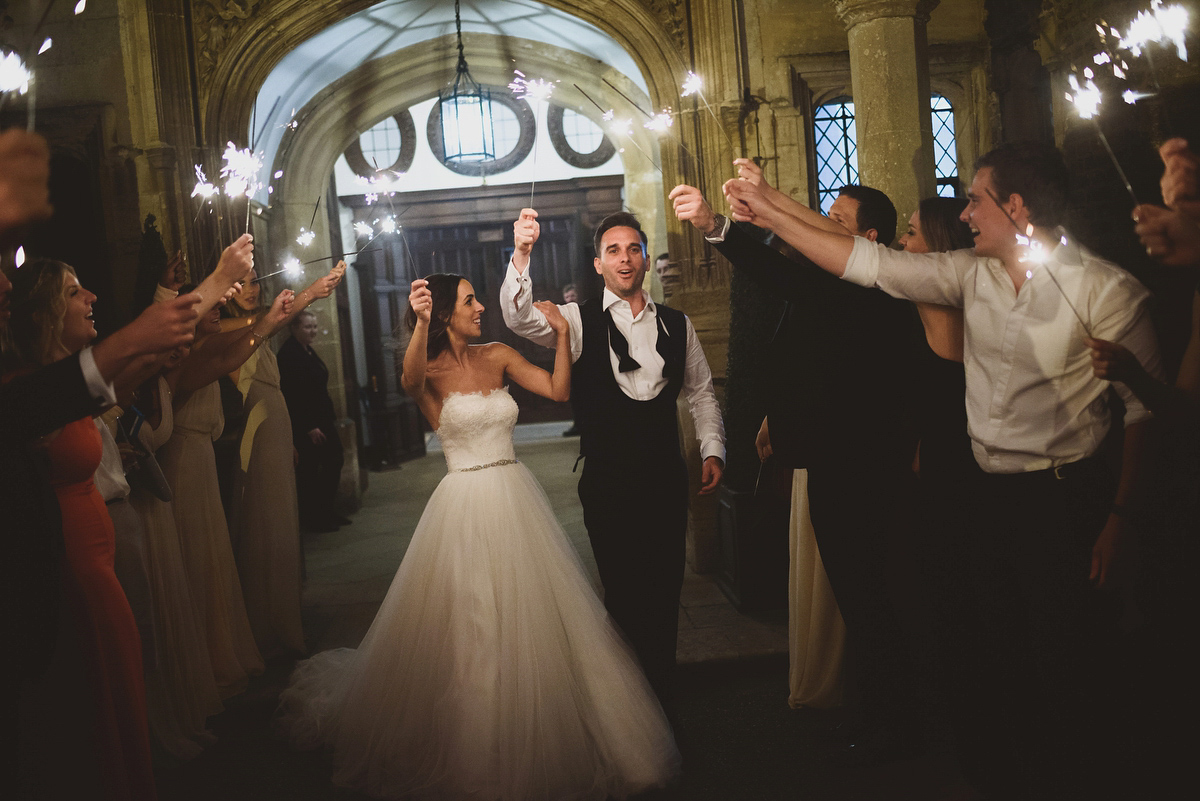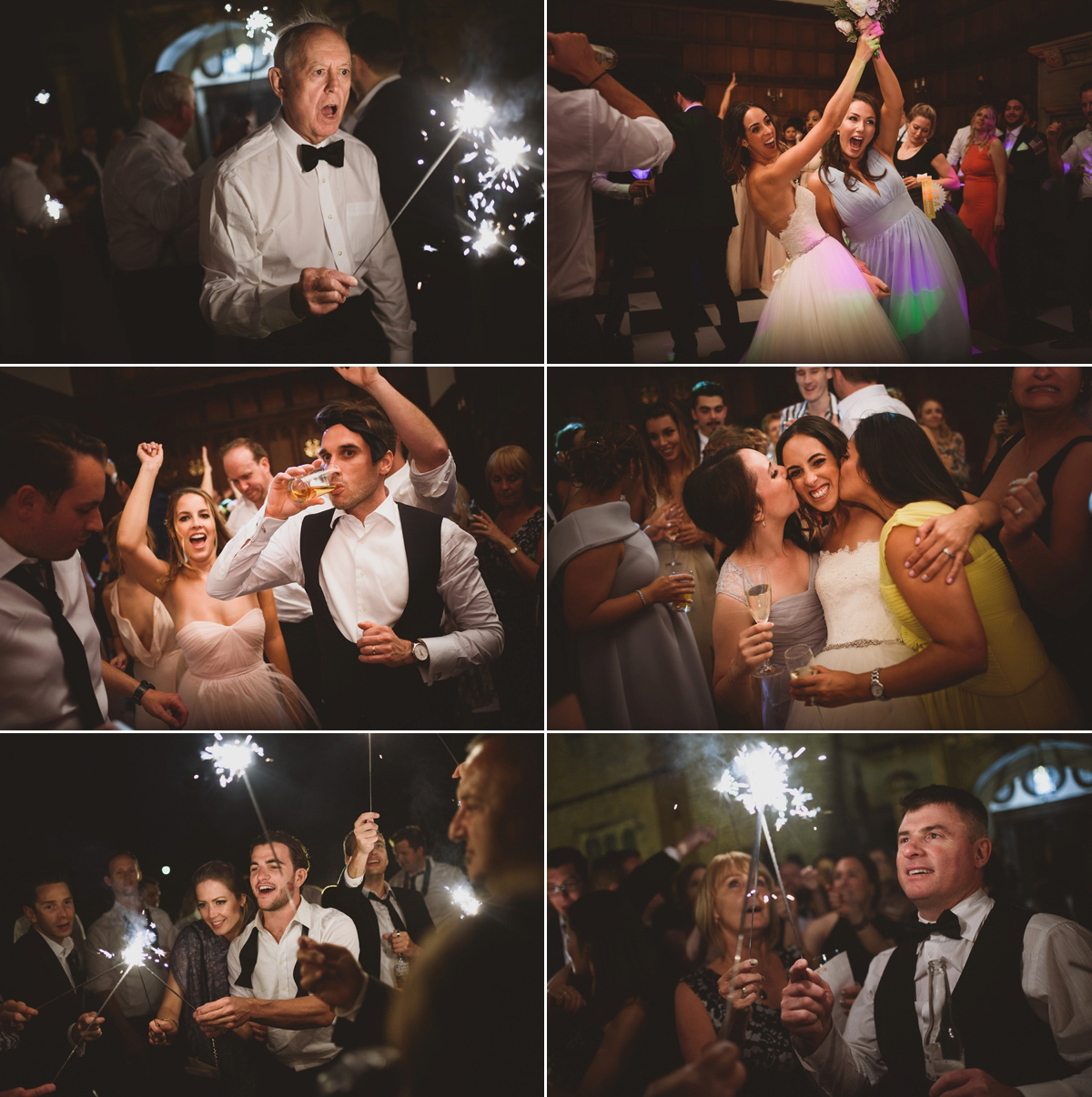 Words Of Wedded Wisdom
"I wish we had started the ceremony an hour earlier because the day ran a bit late and we had less time to dance the night away. Also, I wish I'd have got more pictures with certain people, like with just my mum or Tom and his mum and siblings. We knew we didn't want too many posed photos, but in the end we forgot to get shots with certain important family members.
Everyone says it, but just enjoy the day and take it in because it goes so quickly as you are having so much fun! Also, learn to delegate because on the day you just have to let go and let someone else handle things- sit back, relax and get pampered. Its easy to get caught up in the organisation and stress of it all, but honestly, its worth it in the end; you get a handsome husband, a room full of everyone you love and a new family!"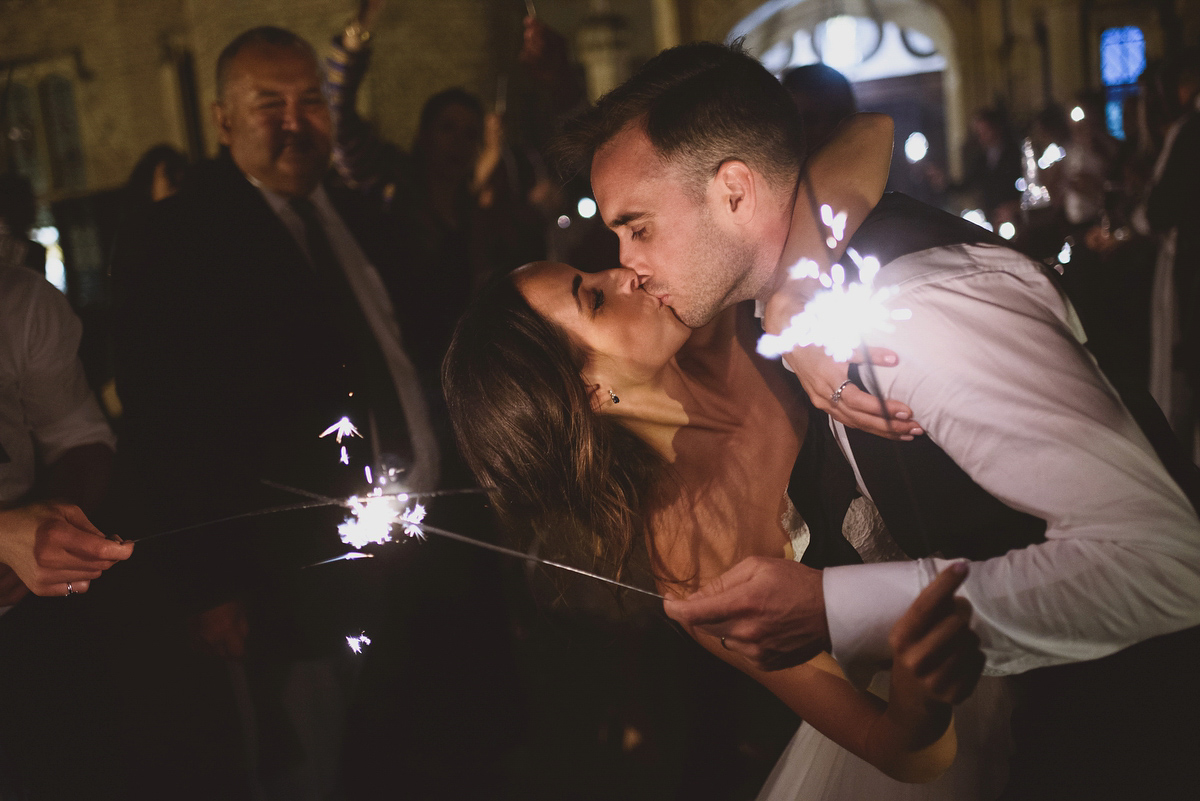 My oh my, what a total pleasure it has been to delight in this truly spectacular wedding today. Tom and Sarah, you should be hugely proud of planning a day that has such a surreal and timeless quality, your globe trotting guests must have been blown away (if you were a guest, please comment so we can live even more of this celebration through you!). Jackson & Co, to put it simply, you rule and I'm diving headfirst into more of your work. If you're not ready to leave the magical kingdom of Hengrave Hall just yet, you can see another showstopping celebration here.
I'd like to add one more word of wisdom from myself: thank you cards take a long time to write, ensure you have enough snacks.
Go forth and enjoy your week bridal beauties,
Emily C xxxx