Rebecca of Rebecca Anne Designs creates beautiful, luxury embroidered wedding veils from her Somerset studio and ships them to stylish modern brides all over the UK and world.
Rebecca's wedding veil designs are feminine and romantic, modern, contemporary and cool. The delicate embroidery they feature is handcrafted with love and can depict almost anything – flora, fauna, symbols, emblems, monograms or dates, poetry, meaningful words – anything you like.
The nature of Rebecca's work means that each veil is created on a bespoke basis, hand made to order, just for you.
We adore Rebecca's work and her commitment to excellent customer service.

Address
1 & 2, The Courtyard, Rumwell Hall, Taunton TA4 1EL, UK
Contact
Designing For Brides Worldwide
Whilst based in Somerset, Rebecca designs for brides all over the globe, shipping her exquisite hand-crafted veils world wide.
Meet The Designer
Rebecca Anne
---
Rebecca studied fashion design at university – her final collection was so well received that it won her a placement with British bridal fashion designer, Sassi Holford.
This was the start of a love affair with bridal fashion and she continued to work in the wedding industry, managing bridal boutiques for several years.
In 2015, she set up her own business and quickly fell into her specialism of embroidering delicate tulle with intricate detail – a creative act she discovered brought her much joy.
Having recently moved to a large studio to accommodate her client's needs, Rebecca now designs and creates her exquisite wedding veils from her delightful Somerset studio, shipping to brides all over the world. A darling within the wedding community, she has amassed a somewhat cult following for her passion, dedication and commitment to her craft.
"I've always believed that your wedding dress should reflect the best version of you – an extension of your personal style. Why should your bridal veil be any different?"
What makes Rebecca Anne Designs veils extra special?
What really sets my veils apart is the level of personalisation that I bring to each one. Every veil that I make is truly one-of-a-kind, custom designed with my own hand drawn artwork that I meticulously digitise for embroidery and hand finished specifically for each individual bride.
Working with a designer to create something so precious and meaningful is the ultimate luxury experience. I involve my brides in every stage of the process, making it a truly collaborative effort. And the result is always a veil that perfectly reflects their unique style and personality, and that they will treasure forever.
Every veil that I make is truly one-of-a-kind. Whether you're unsure what length to order, which design will work well with your dress or stuck on the finer details of the embroidery itself, I've got you.
How do you work with brides when creating bespoke and personalised designs? Can you describe your process?
When it comes to creating bespoke and personalised wedding veils, I love working directly with brides to bring their vision to life. Typically, brides find me through a variety of sources such as Pinterest, Instagram, word of mouth, or through one of my lovely stockists. Once they reach out to me through the contact form on my website, I ask them to provide as much information as possible about their wedding plans and bridal styling ideas.
I absolutely love hearing about their ideas, and it's especially exciting when they let me in on the secret of their choice of wedding dress. This information helps guide me as I work with them to create their perfect veil.
As an international designer, I work virtually with brides from all over the world. Some like to set up a design consultation video call, but many are just as happy to explore and create via email. My process is centred around working closely with my brides, and I'm always excited and challenged by their unique ideas. It brings me so much joy to see each and every veil come to life as a true reflection of their individual style and personality.
How long does it typically take to create a custom embroidered wedding veil?
As a designer of custom embroidered wedding veils, I often get asked about timelines for creating these unique pieces. However, it's not as simple as giving a specific timeframe. The process of creating a bespoke veil involves much more than just the actual making.
From the initial enquiry and design consultations, to drawing and digitising the design, and testing and approving the embroidery, every step of the journey is collaborative and intimate. Depending on the complexity of the design, the embroidery process itself can take up to a week or more.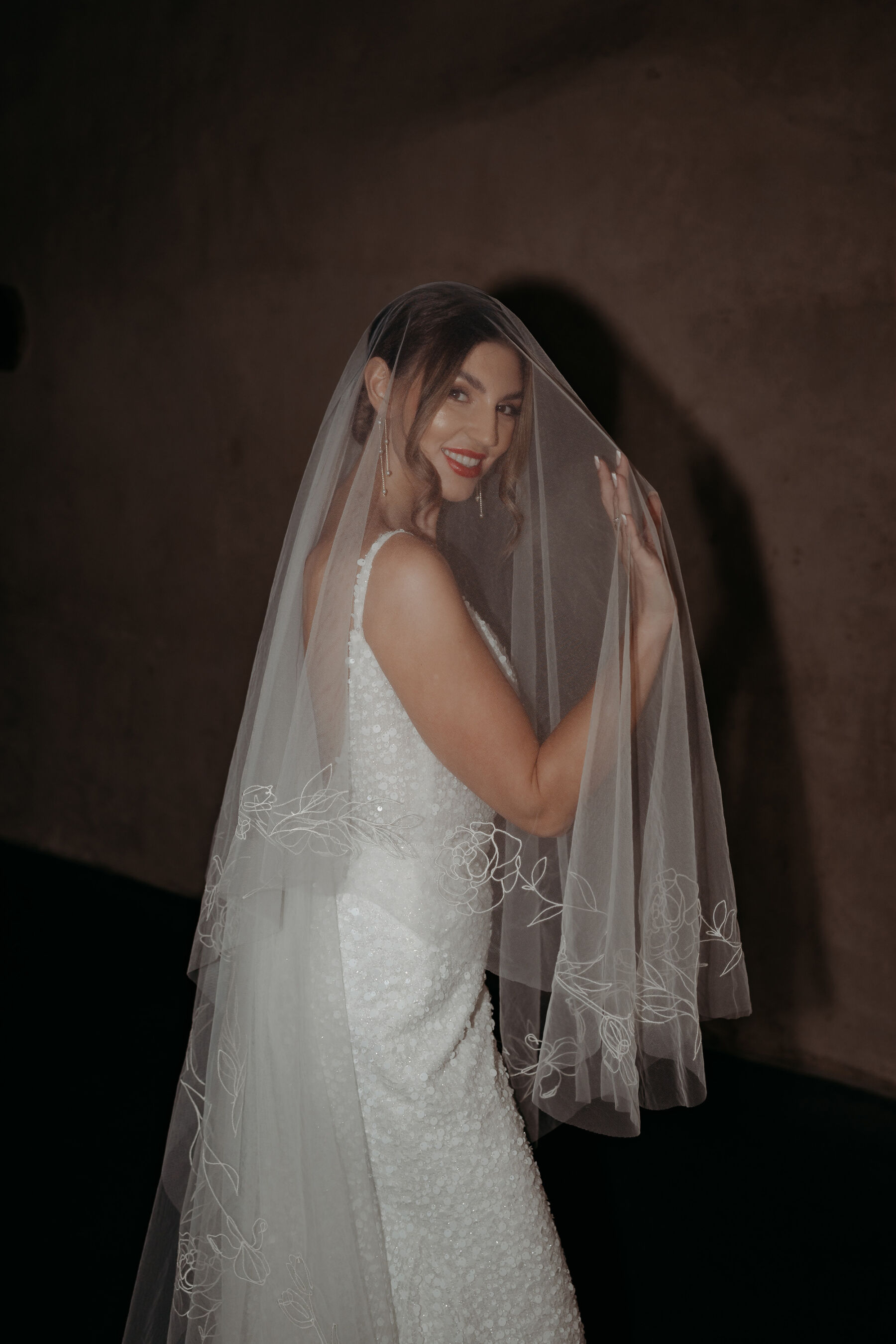 What advice would you give to brides who are considering a custom embroidered wedding veil?
When it comes to designing your wedding veil, it's easy to get carried away with the endless possibilities. However, it's important to stay true to your own style and vision for your special day. As a designer, I love working with brides to incorporate personalised touches that are both meaningful and unique to their love story.
Whether it's a subtle detail or a bold statement piece, I always enjoy discussing the options and helping brides find the perfect veil design that truly represents them.
rebeccaannedesigns.co.uk
Articles featuring Rebecca Anne Designs