Luna Bea is a soulful, ethical and sustainable British bridal fashion brand, specialising in slow, soft, gentle and considered, pure silk pieces made in England. Designer Lou Simmonds creates pure silk gowns, made entirely by hand in her traditional British atelier.
Lou is formerly a successful and sought after accessories designer who transitioned into the world of bridal gown design. With a Masters degree in design, extensive couture experience and an innate understanding and appreciation of the female form, Lou has created an almost cult label for discerning women who value high craftsmanship and are keen to support a small business that is passionate about contributing to the world of fashion on a wholeheartedly ethical and sustainable basis.
Sustainable Bridal Gowns
Based in the South of England but shipping her sublime, hand-sewn creations all over the world, Luna Bea celebrates all that is divine, feminine and ethical.
Luna Bea represents a soulful refresh in a fast-paced, disposable world. Sumptuous silks, sourced from chemical free, ethical peace silk farms, mean every design moves with a pure and effortless elegance.
Lou's gowns and separates are sought after by those who appreciate fine craftsmanship and slow fashion.
Everything has an energy, everything has a soul, things of great beauty are always felt deeply not only seen. The Alma Collection is inspired by the human souls depth , its desire to experience , to feel, love, create, experience, grow and meet our own unique destiny. A collection of deeply sensual, soulful, divinely feminine, and sublimely hand crafted silk gowns.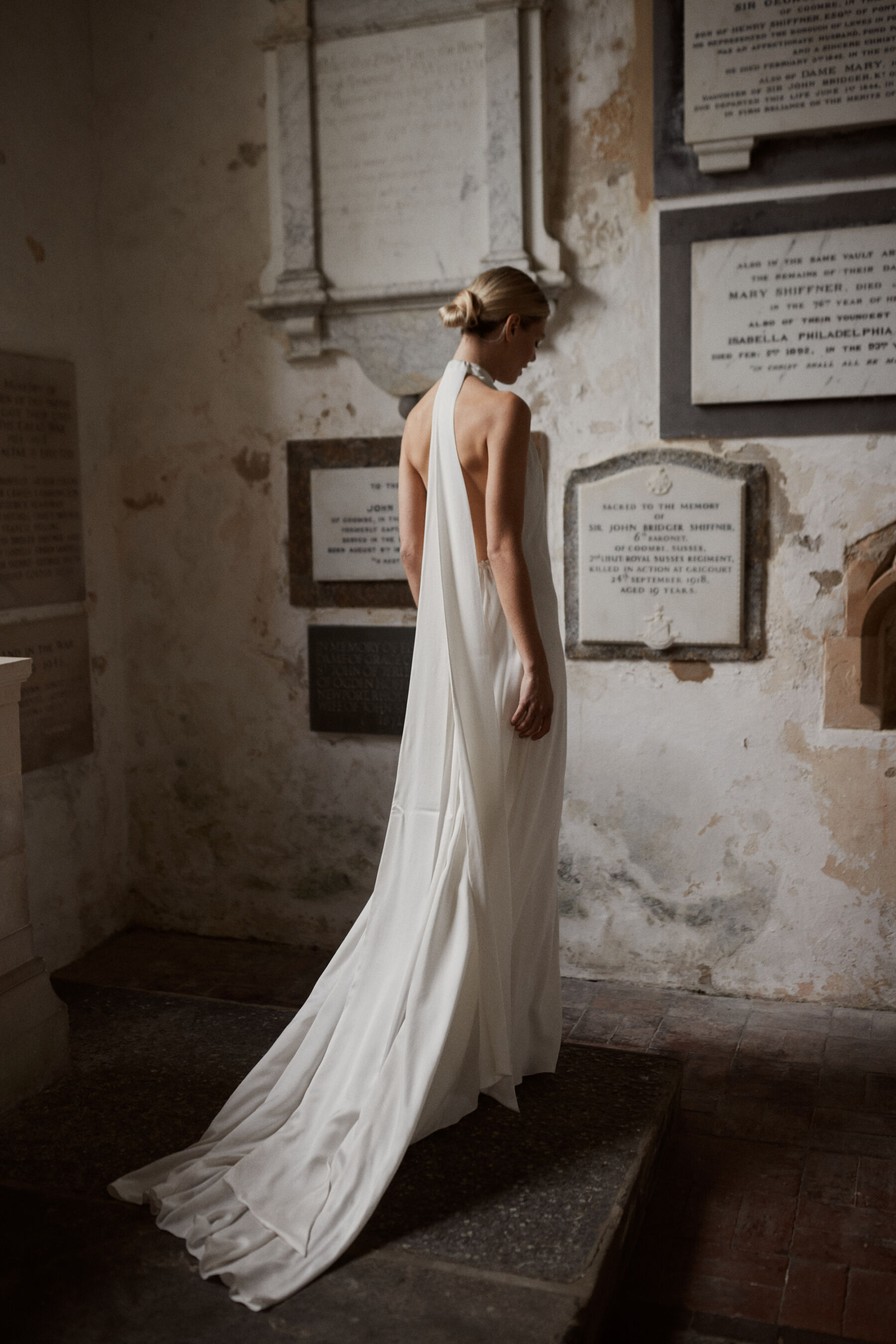 Each gown is made to order, by hand from chemical free silk, the process is gentle and considered, 4 months from start to finish.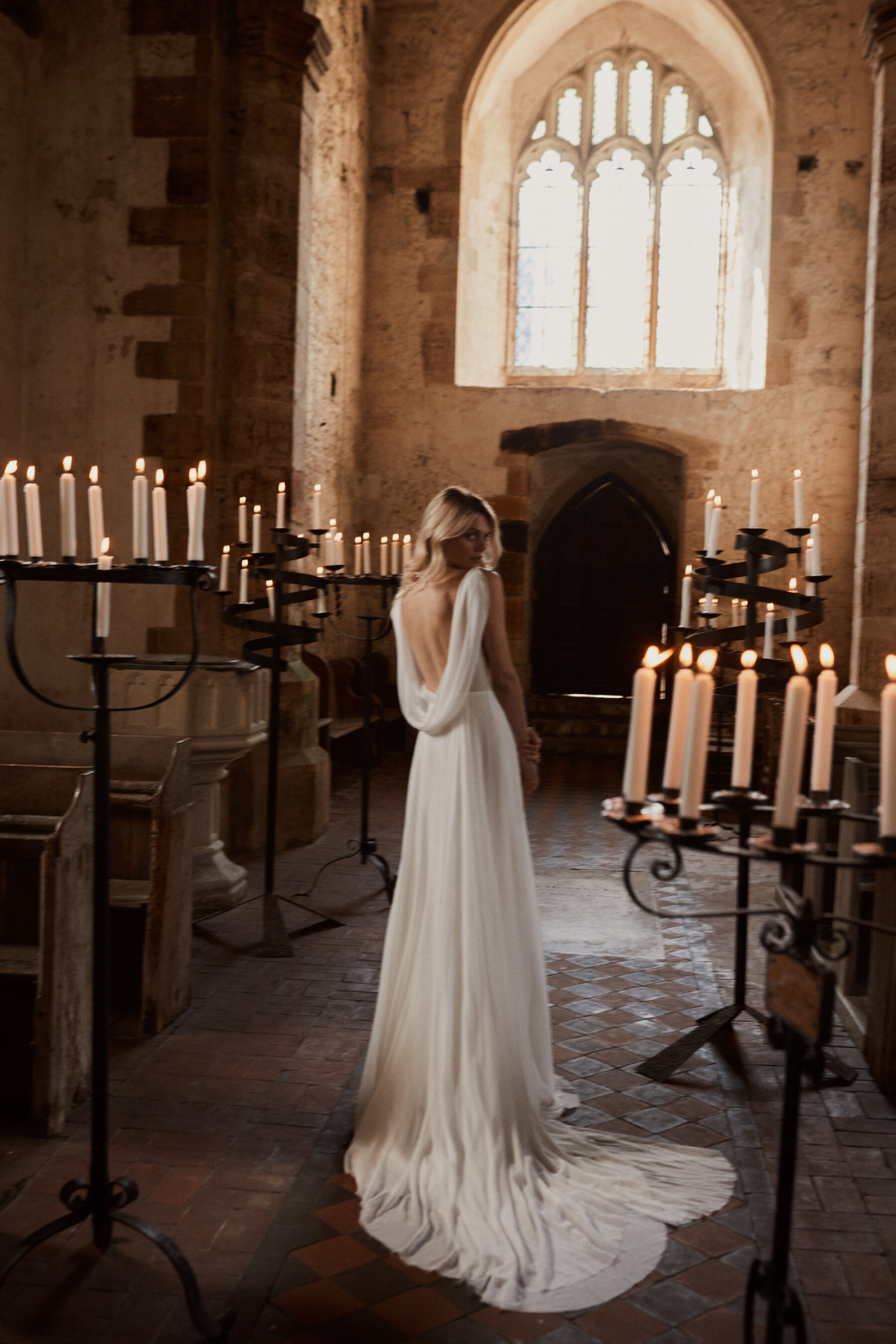 Soft detail, fluid vibrant fabric, intention, care, and diaphanous flow form a sensual feminine alive gown, full of movement life and love. All our gowns are slow, soft, gentle and considered, pure silk pieces made in England.
Veils
---
Luna Bea's beautiful 'Aura' veil comes in two lengths, 'Cathedral' and 'Finger Tip'.
This exquisite veil is also crafted using lovingly discovered, sustainable silk that will add an additional element of ethereal beauty to your look.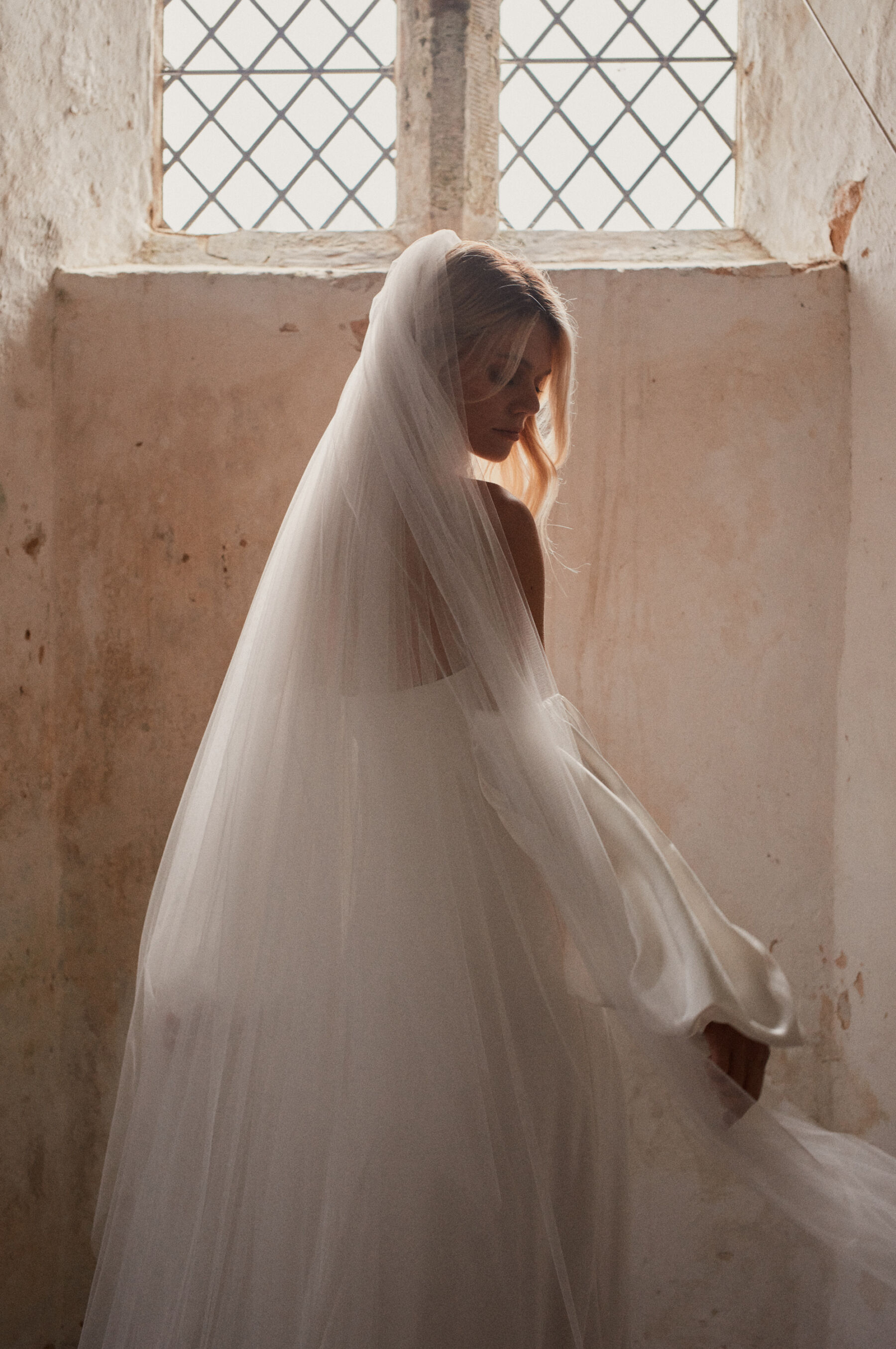 Bridal Shoe Clips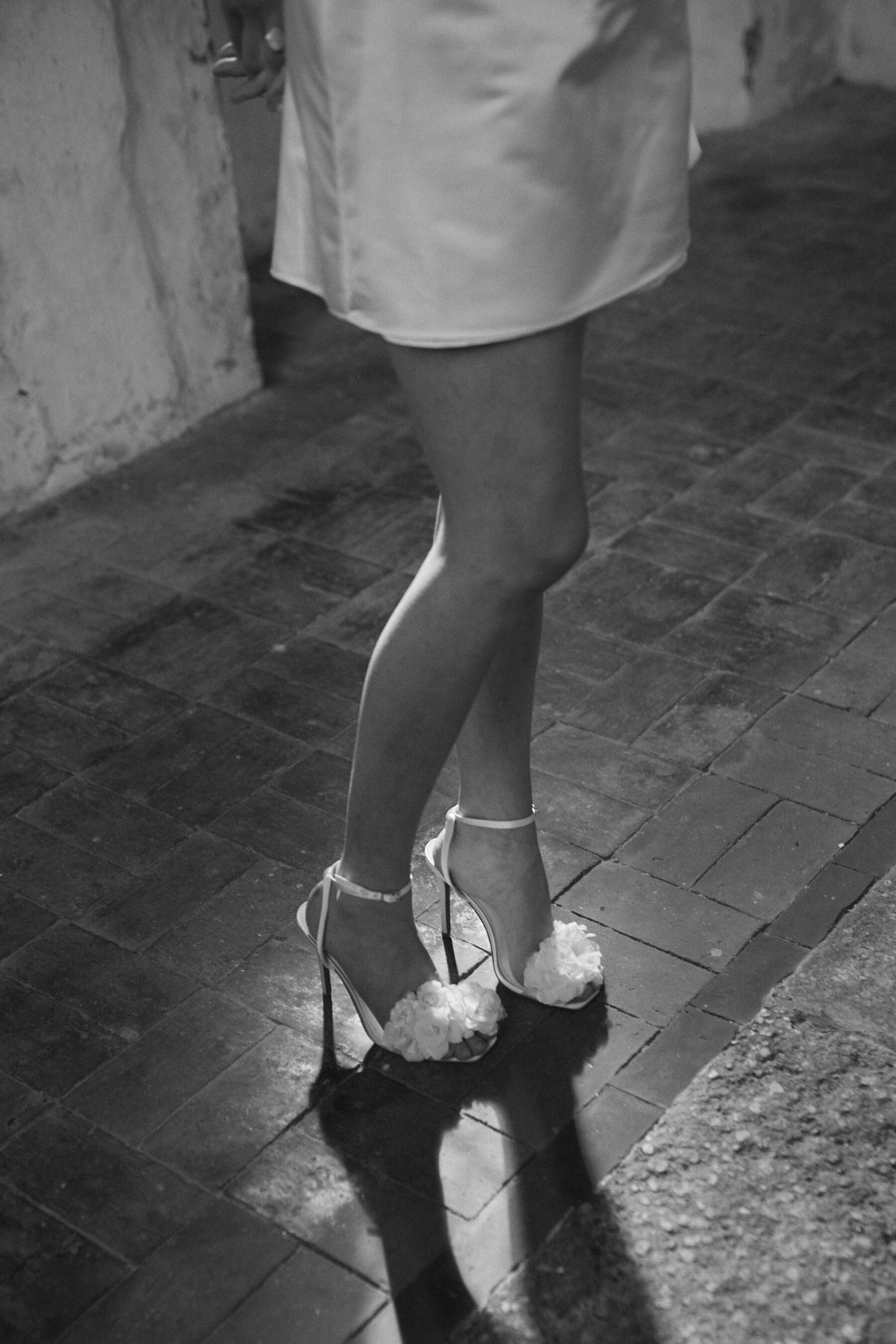 "Still obsessed with this dress, thanks to angel photographer, @alli.studio who showed me the gown in French Vogue and I fell in love. The beautiful Lou from Luna Bea sewed this chemical free silk gown for me and got it sent over in record time, less than 2 weeks, literally delivered Wednesday and we flew for our wedding Friday. Thank you again Lou and Alli you made me feel like the most magical bride"
Kieta van Ewyk, Real Bride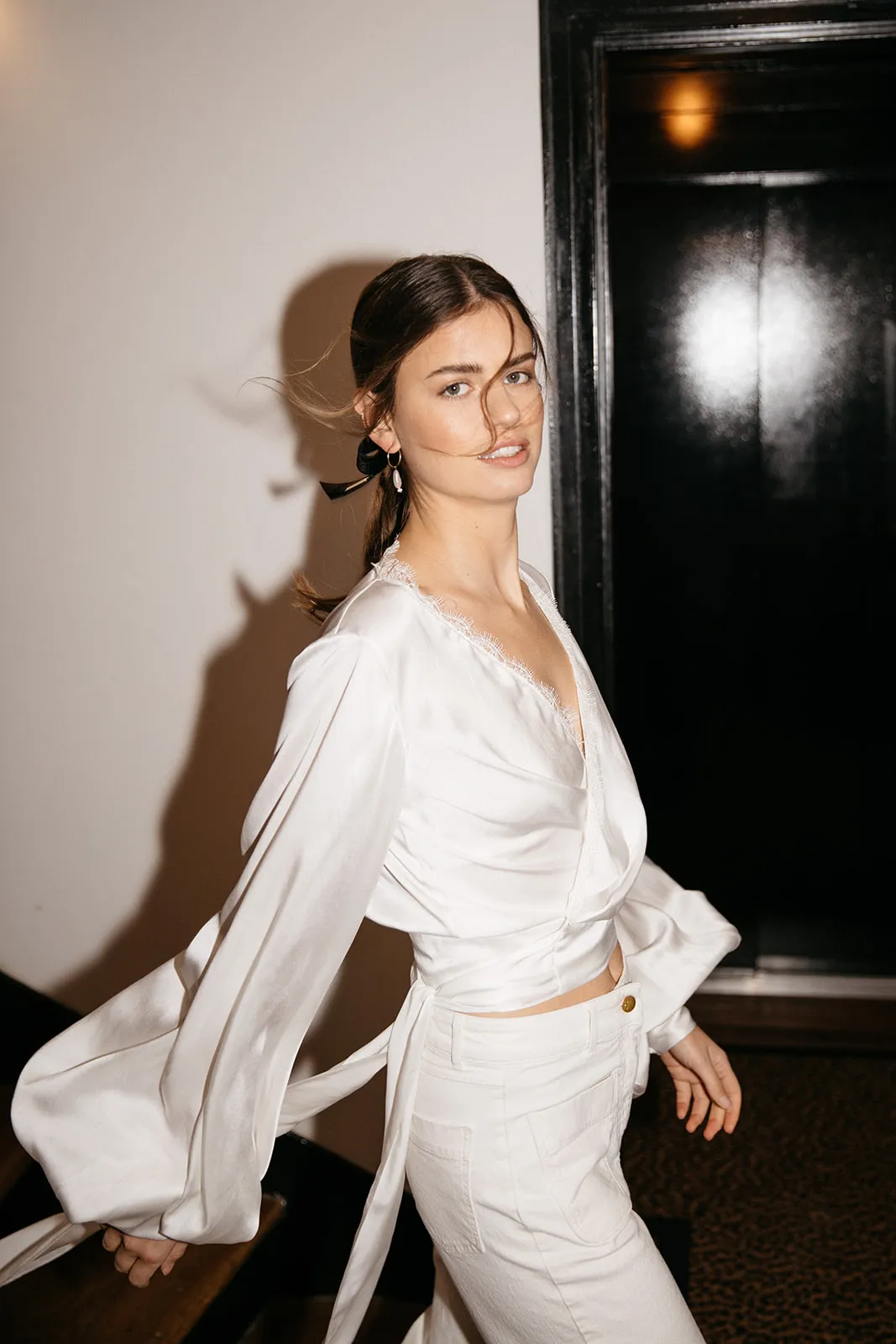 The Vogue France Shoot
---
Luna Bea's debut collection was featured in Vogue France.
"My debut collection was inspired by a trip to Zimbabwe with 27 hours notice to get to the airport. One small rucksack, bare feet and showering in the bush, 5m away from wild elephants, feeling connected to everything and feeling too 'trussed up'. I wore the same silk shirt and long silk dress with rolled back sleeves, that was around 9 years old, that I had made on my masters degree. I washed them, hung them from a tree to dry, wore them again the next day, layered together or alone with Never make up, driving way too fast in a 4×4 through the bush with a billowing silk against my skin, I felt so free, happy, sexy, light and natural…I came home, pulled out roll of old silk and started cutting for this collection!"
"Lou was super-patient and guided my mom throughout the process to ensure that we were taking the measurements perfectly. I would highly recommend Lou – she's so friendly and easy to work with. I could even ask her the smallest details, including which bodysuit to wear under my gown. I love the balloon sleeves which give it a bit of extra character. It's also the one that I felt most confident in. The simplicity, elegance and the way the silk flows… everything is just perfect."
Emily, Real Bride
Frequently Asked Questions
How much does a Luna Bea dress cost?
Our gowns start at £2000 – £3500. Our gowns take 4 months from time of order confirmation to shipment to you, please allow an additional 14 days for shipping time. Once you have chosen your gown and have had measurements taken we will put all of your details into our studio system and send you a personal invoice.
We kindly ask for a 60% deposit to secure your gown with 40% payable on collection or shipment to you. All gowns are made to order and are non refundable, if you change your mind about style or the design details you have 5 working days to confirm these with the studio from time of order.
What happens when I order my gown?
All our gowns are made to order for each of our clients. We will require your personal measurements, which can be taken at your appointment in the studio or via email if you are an international client. We recommend always having your measurements taken by a professional. Our gowns take 4 months from date of your order, if you have a shorter time please email as we may be able to accommodate you.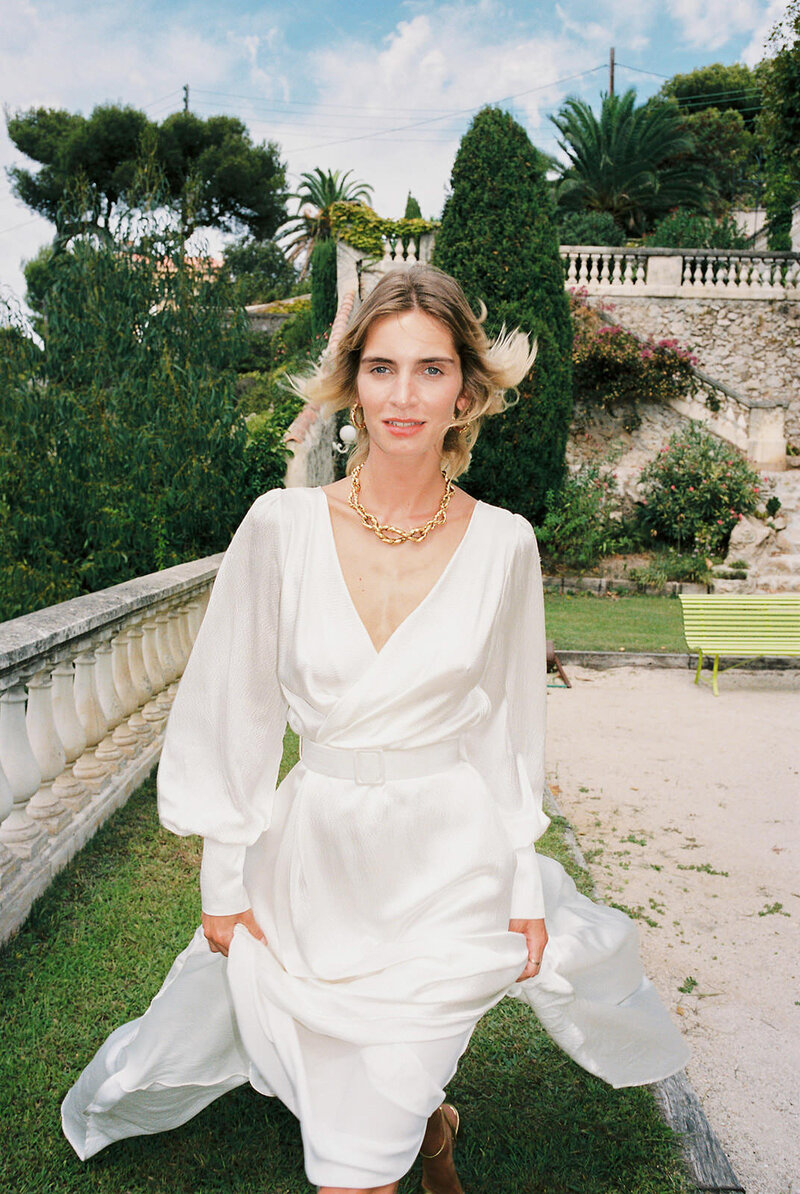 How are your gowns made?
Each gown is made in house by our team of 4 highly skilled artisans, much care, experience and attention is woven into each gown, returning to traditional craft and service with a conscious rejection of factory produced or mass made. Slow fashion, with intent, sensitivity and care. Our gowns are made to order, which is not made to measure.
Made to order means we make each gown to order for you, in the closest size to your measurements, ie Uk size 4-18, your gown may need some alterations once you receive her depending on the fit/ styling you prefer.
If you are requiring a custom made gown these are price on application, and are made with a minimum of 3 fittings in our UK studio.
Do you work with international clients?
We are very happy to work with international and UK based clients. We offer a private and personal service starting with a 45 min zoom consultation from which your gown will be made to your measurements. Our service is still personal and made for you regardless of your location.
Do you provide alterations?
All our gowns are made to order in house by talented women, experts in their craftsmanship. Design changes may be made at no extra charge on ordering such as:
Hem length
Sleeve length
Torso length
Leg split length
Lace / no lace
Changes such as additional train length are charged at £250. Any additional alterations required once your gown is finished will be charged at £150 for 2 hrs and you must attend a fitting at our U.K. studio.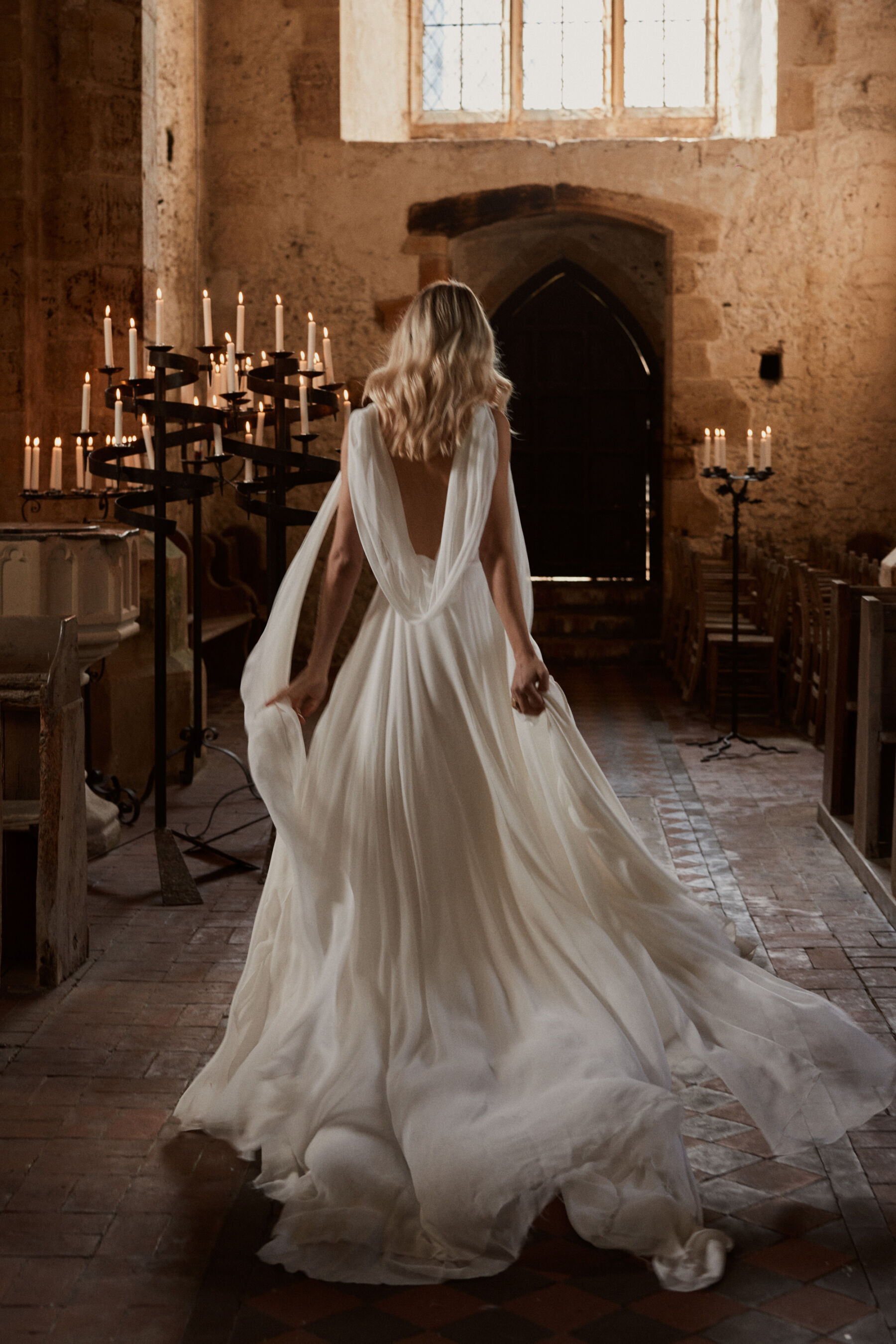 "Lou was super-patient and guided my mom throughout the process to ensure Everything we create is always hand made, with care, love, attention and high vibrational silk which costs over £45 per metre – this means that everyone involved in production is paid a fair and honest wage. Every single cost involved in the production of a gown is ethical and fair, at every step of the way. We produce a killer cut too – and these things can't be imitated. We are really proud to do things the old school way.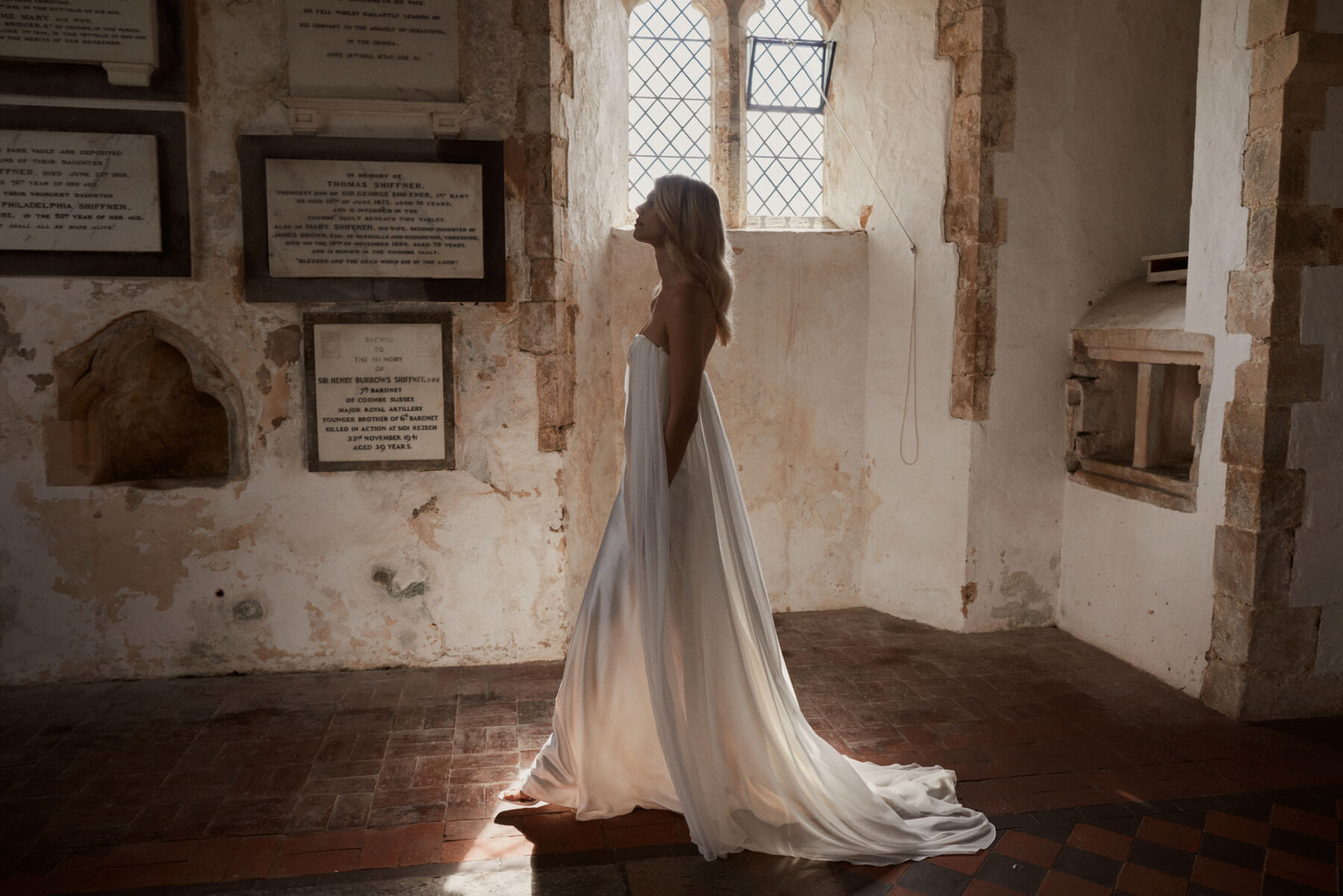 lunabea.com
Articles featuring Luna Bea
All images by Benjamin Wheeler, except Vogue France shoot
Vogue France Images: Photography – Yann Audic at Lifestories Wedding, Boutique – Blanc Creme in Paris, Hair & Makeup – Emilie Green, Model – Alice Van Marcke