This incredibly beautiful, romantic and intimate day combines our deep love and passion for slow, gentle and ethical bridal fashion, alongside utterly breathtaking wedding photography.
Like many others, Emily and Terry were affected by Covid and their original plan to marry overseas in July 2021 were dashed by the pandemic. They subsequently reorganised their wedding date to April 2022 and in the meantime, celebrated their love with a sublime wedding photoshoot, spending time across two locations, The Ned and the Royal Botanic Gardens at Kew – the results of which are gracing this page today.
Photography Taylor-Hughes Photography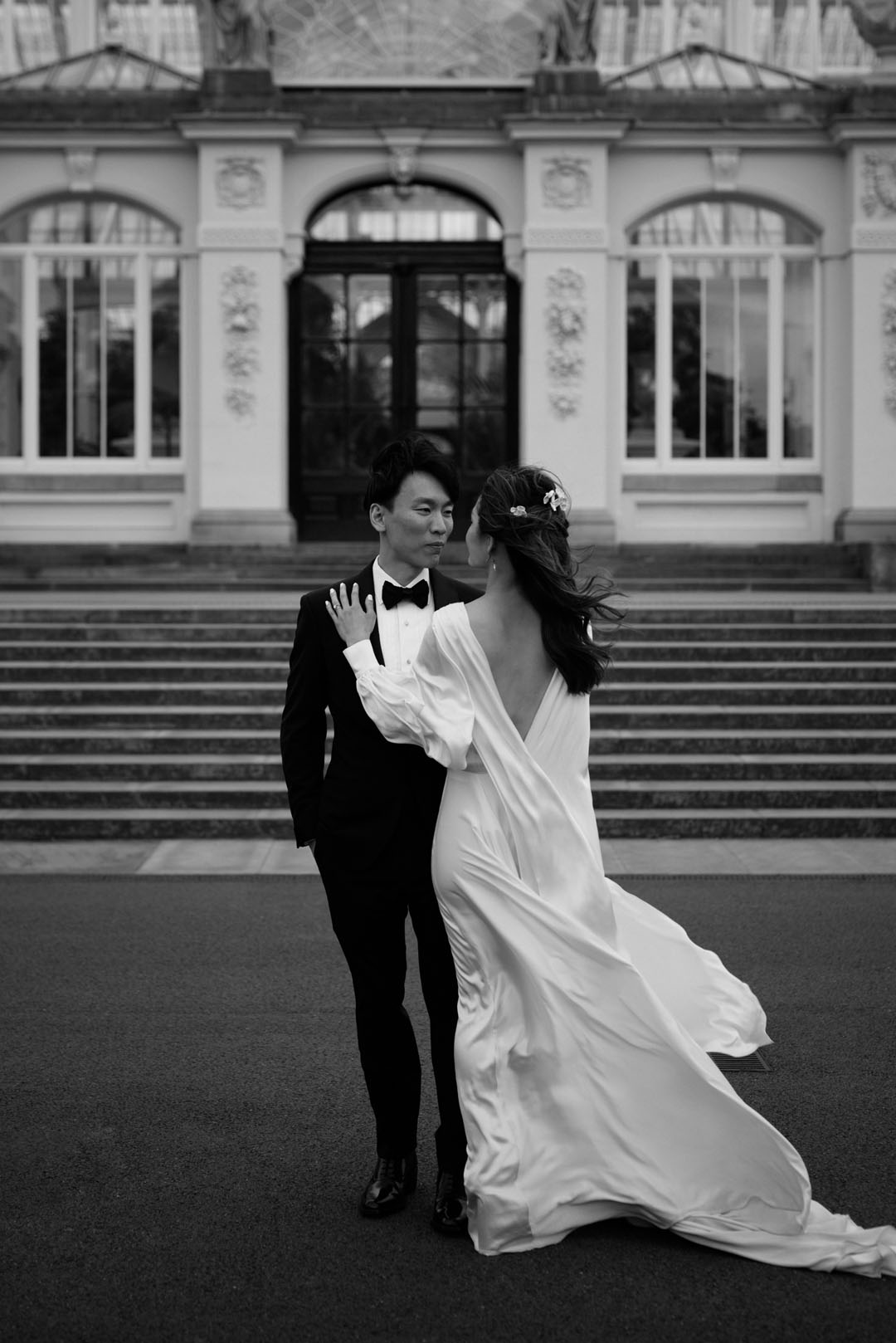 "We had planned our wedding for 4 July 2021 in Taiwan. There had been zero cases in Taiwan for months and very minimal Covid impact throughout the pandemic, so we never thought rescheduling would be necessary."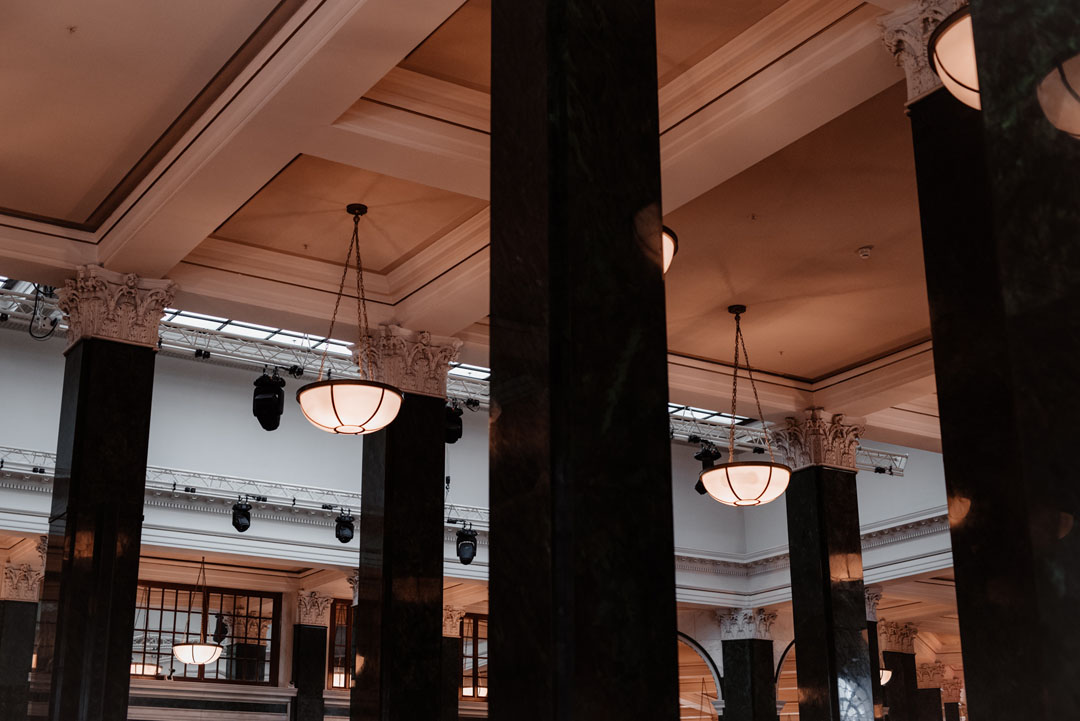 "Unfortunately, as we have learned, nothing is ever 100% certain."
"Starting in May, there were a few cases and the government took early precautions with restrictions on weddings and other indoor gatherings."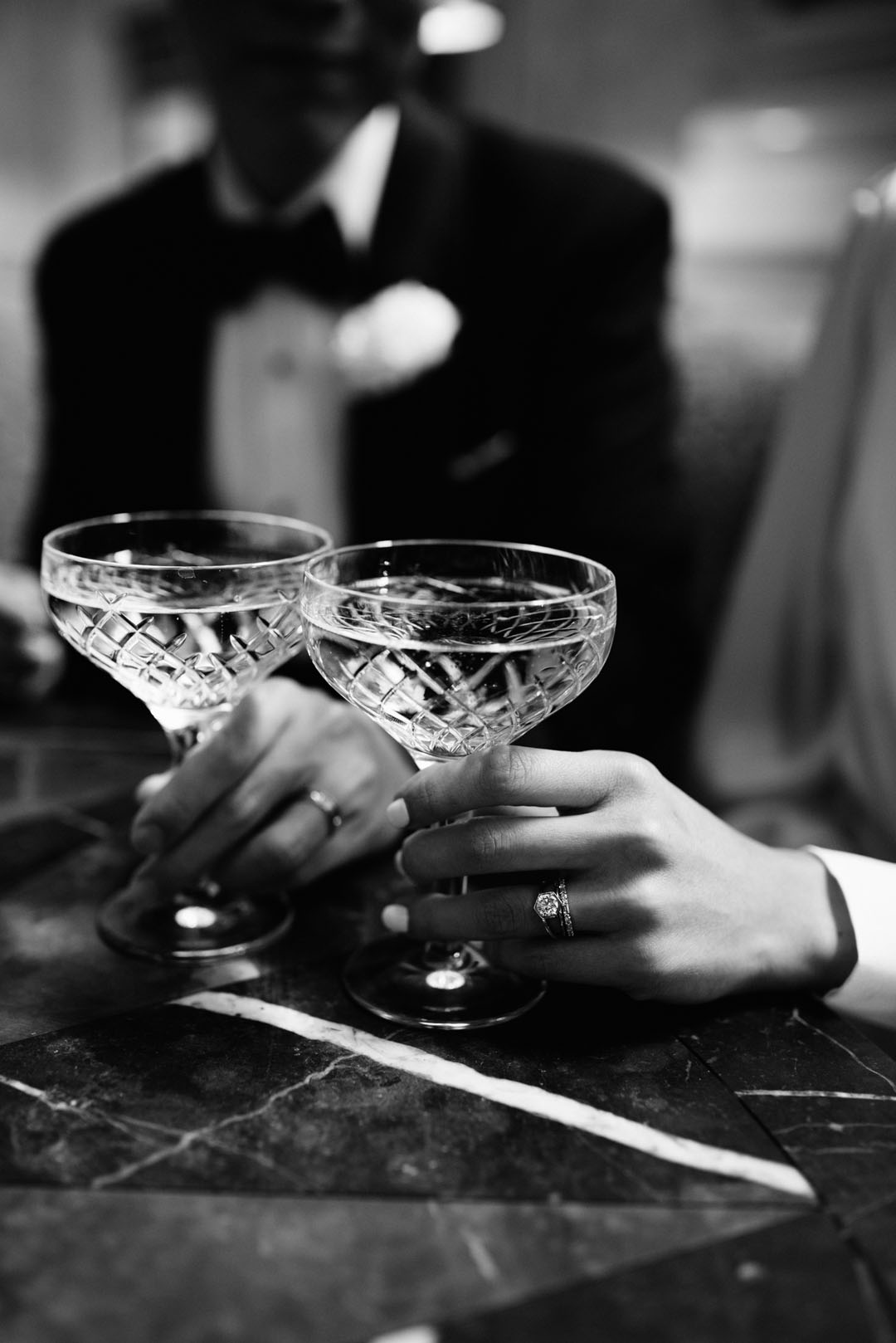 "After careful consideration, we decided to postpone the wedding and re-kick off the preparation as the situation became more stable."
"We have now just re-booked our new wedding date for April 2022."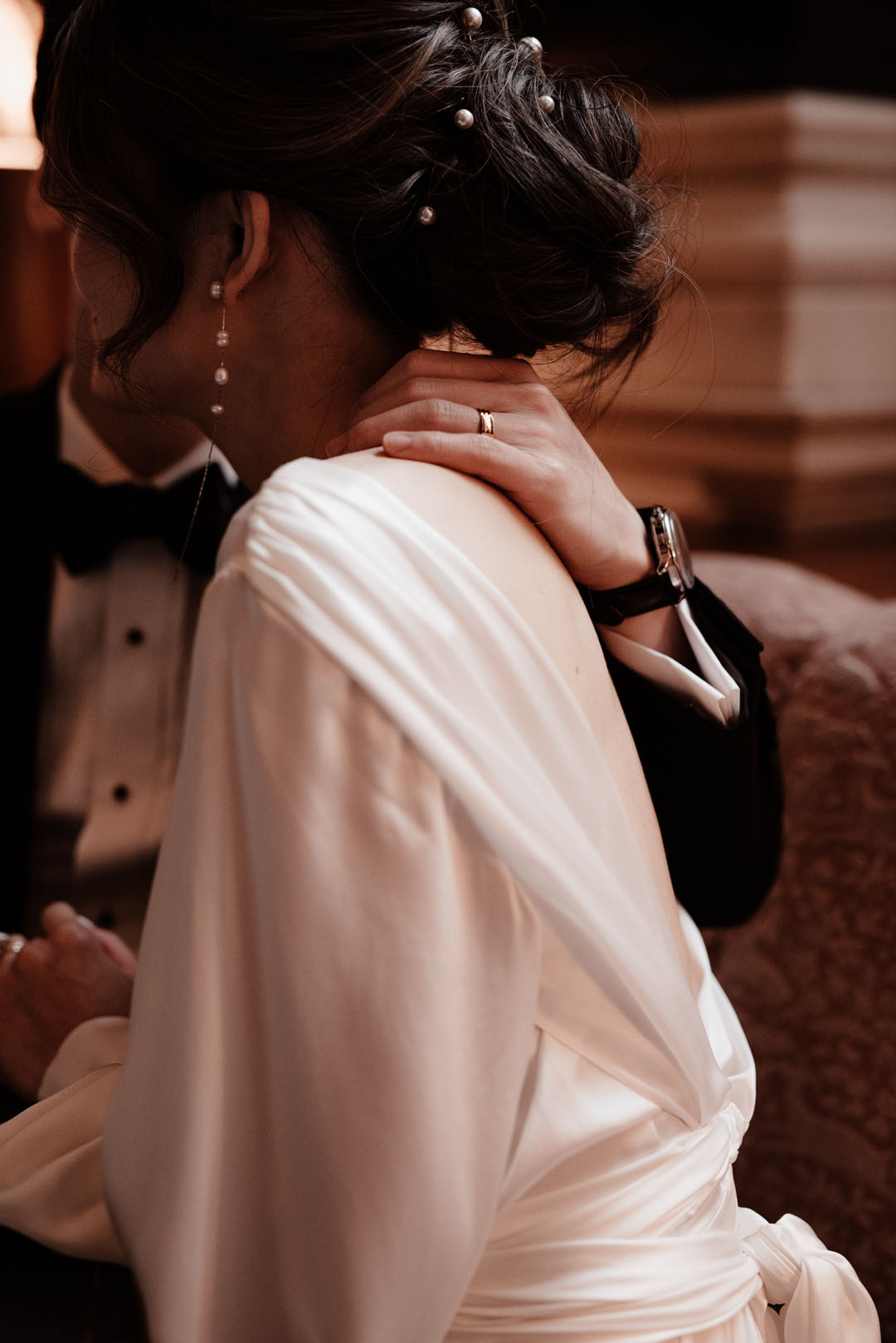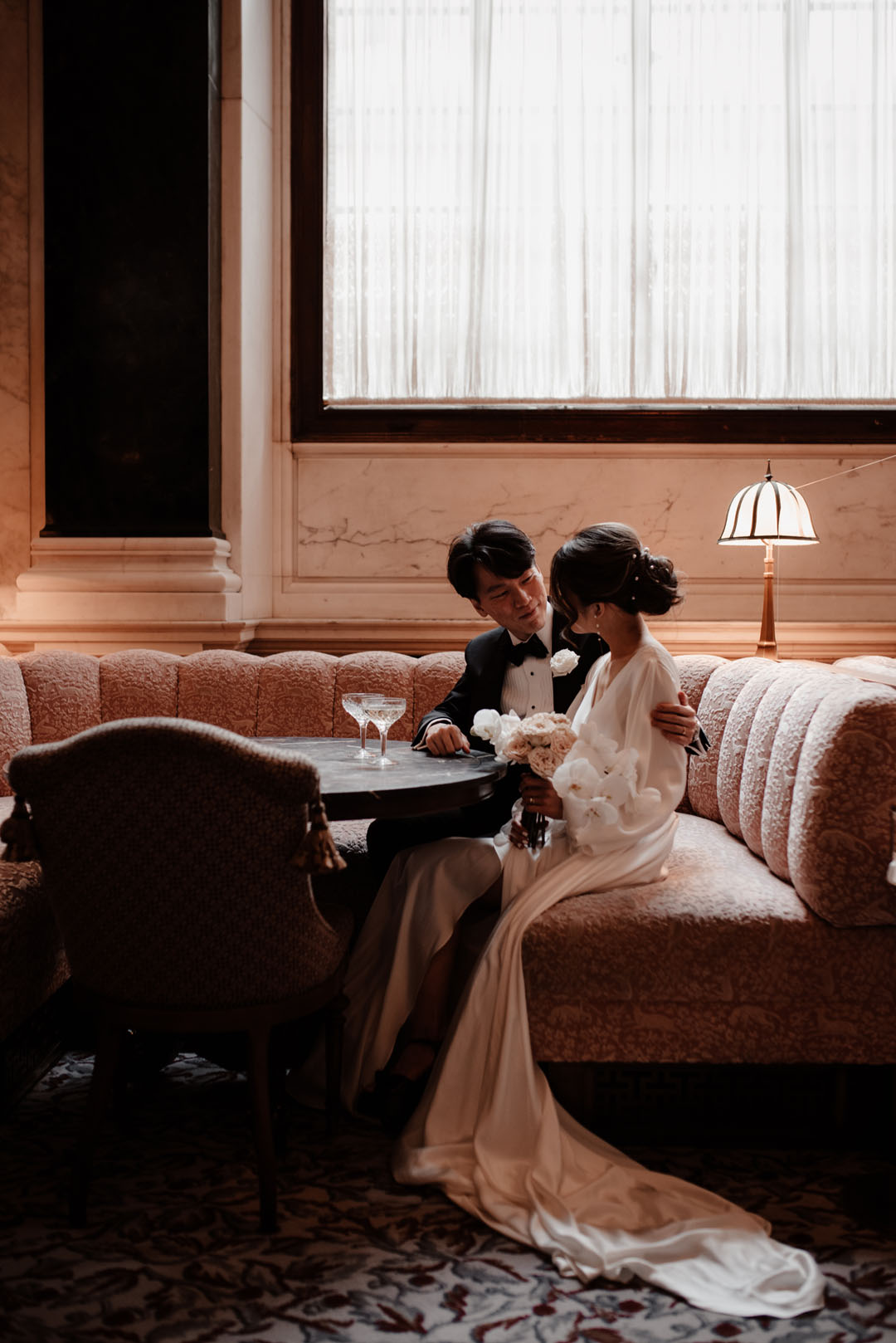 Emily's sublime gown featured balloon sleeves in beautiful, fluid silk, and a sensuous back revealing cut. The dress captures all the glorious signature style of ethical British designer, Lou Simmonds, founder of Luna Bea Bride – a Love My Dress highly recommended supplier.
"Due to Covid, we did everything remotely from start to finish. I'm not going to lie – I was a bit nervous about how it would all turn out. In the end, the dress was absolutely gorgeous."
"We communicated mainly through email, had an initial Zoom consultation and followed up with another call for the measurements."
"Lou was super-patient and guided my mom throughout the process to ensure that we were taking the measurements perfectly."
"After receiving the dress, we also had another Zoom call to go through how to style it in different ways and how to take care of it."
"I love that the dress can be worn in multiple ways to create various looks. Lou even sent me an extra silk belt to give it another unique look."
"I would highly recommend Lou – she's so friendly and easy to work with. I could even ask her the smallest details, including which bodysuit to wear under my gown."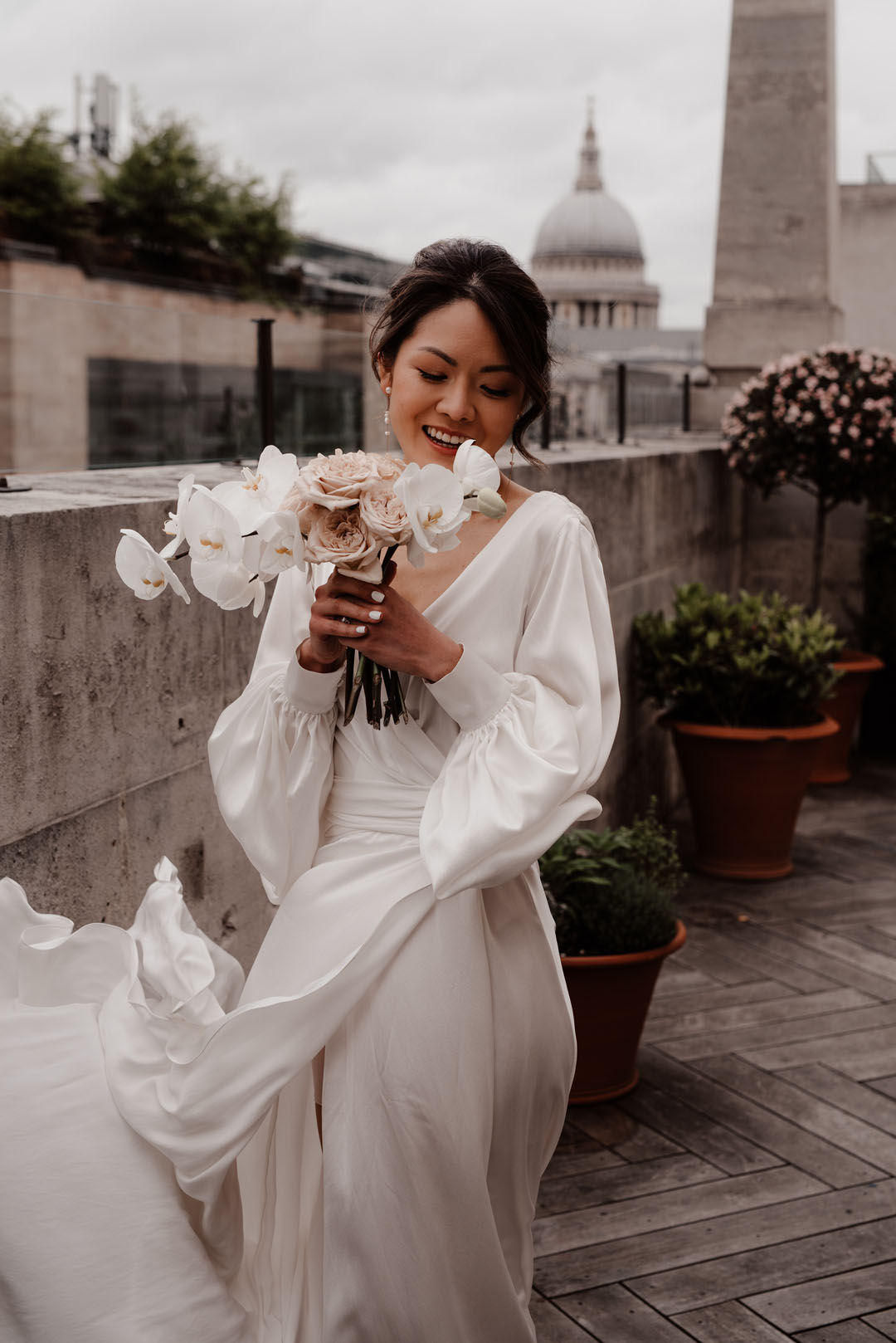 "I'm a very indecisive person so wedding dress shopping was a huge challenge for me. I knew from the start what I didn't like but even then, there are still millions of styles and designers out there.'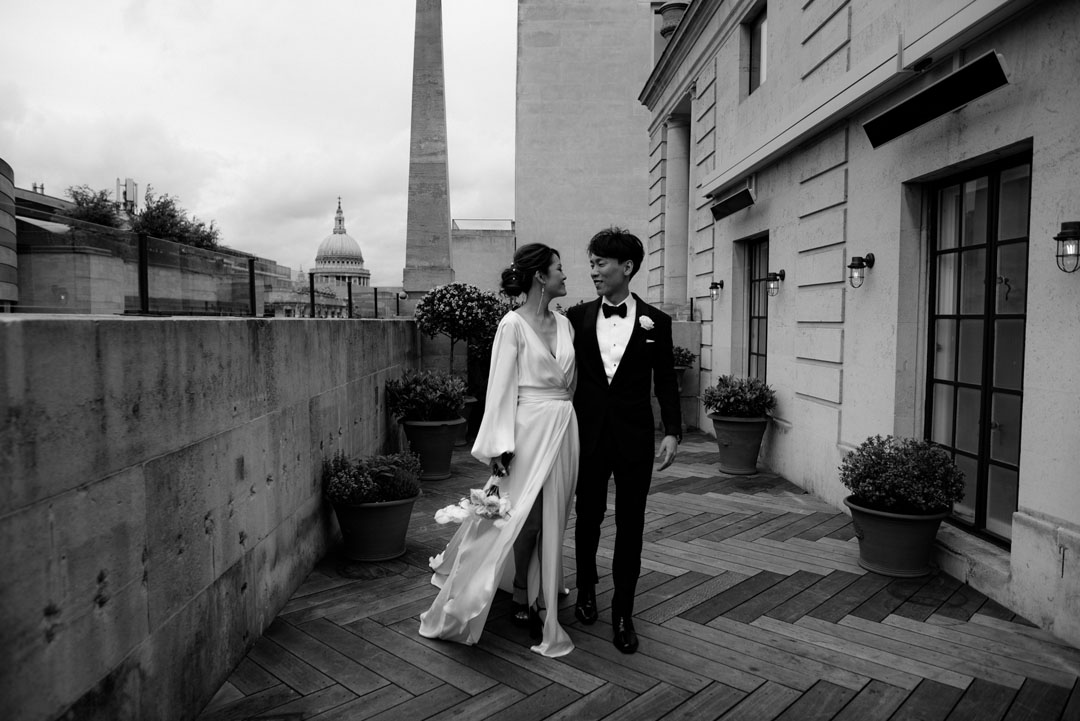 "I tried on more than twenty dresses – everything from lace to sequins and many different silhouettes of dresses. In the end, I went with Luna Bea's 'La Lune' dress because it's unique and unexpected."
"I love the balloon sleeves which give it a bit of extra character. It's also the one that I felt most confident in."
"The simplicity, elegance and the way the silk flows… everything is just perfect."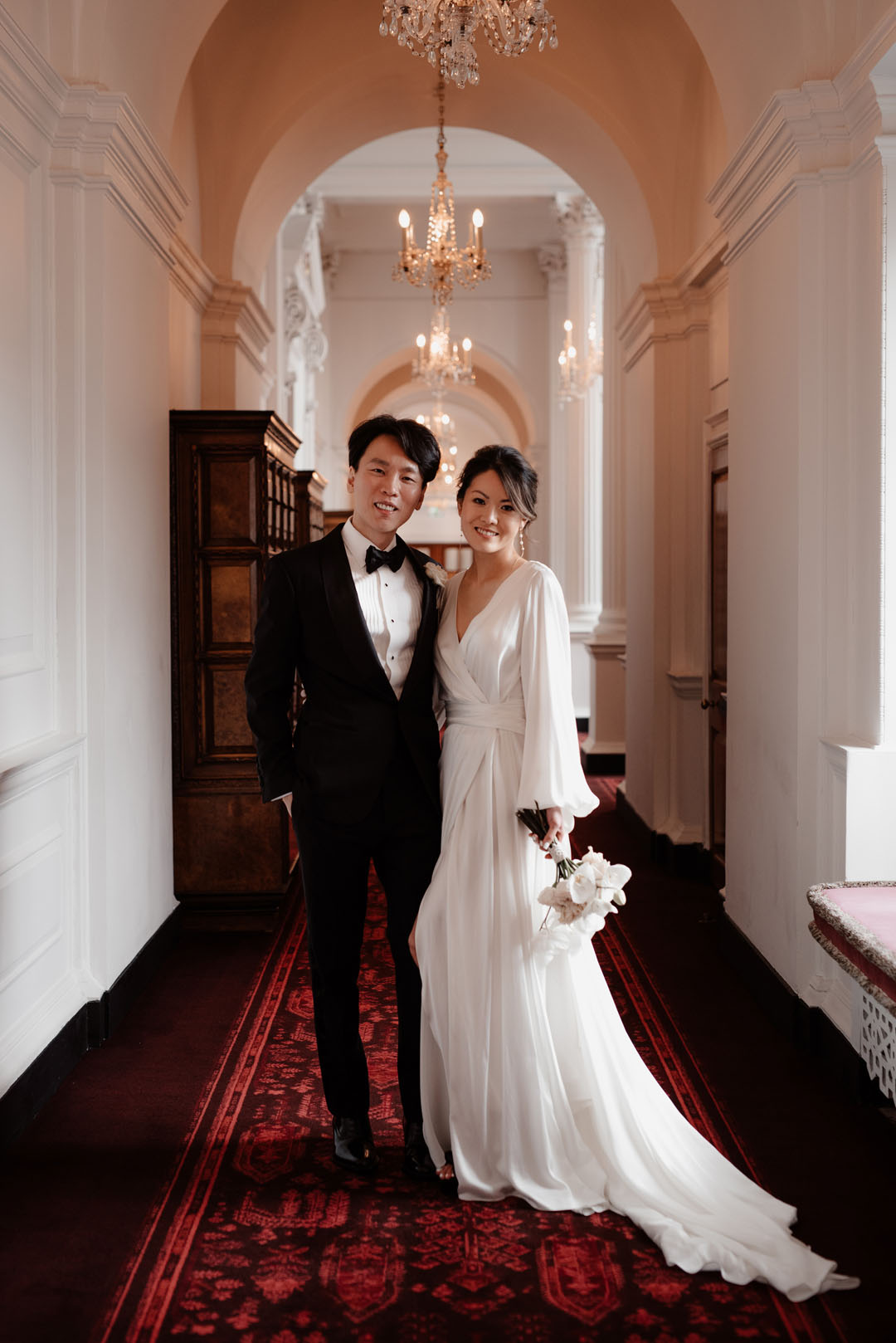 "Terry and I met at work back in 2010 but had only spoken briefly. Four years later, the universe brought us together again in Melbourne and the rest is history."
"We've lived in London for over seven years and now call it home."
"It's a place where we've built our lives together and has a very special meaning for us."
We wanted our wedding to be chic and modern yet timeless, and those two locations would have been our top wedding venues if we were hosting our wedding in London."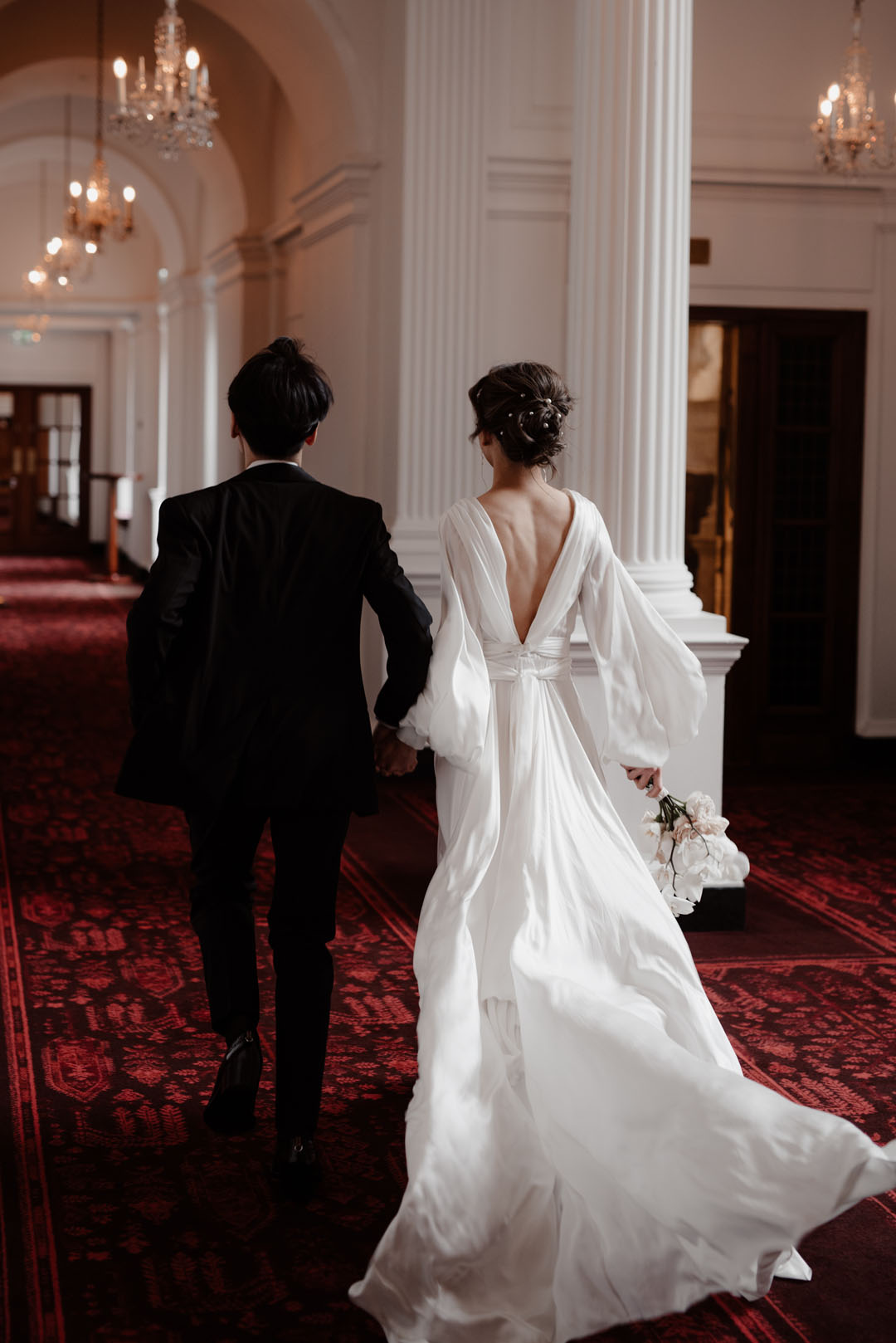 "However, due to Covid we couldn't fly our close family and friends here so we thought, why not take photos there as documentation of our love story?"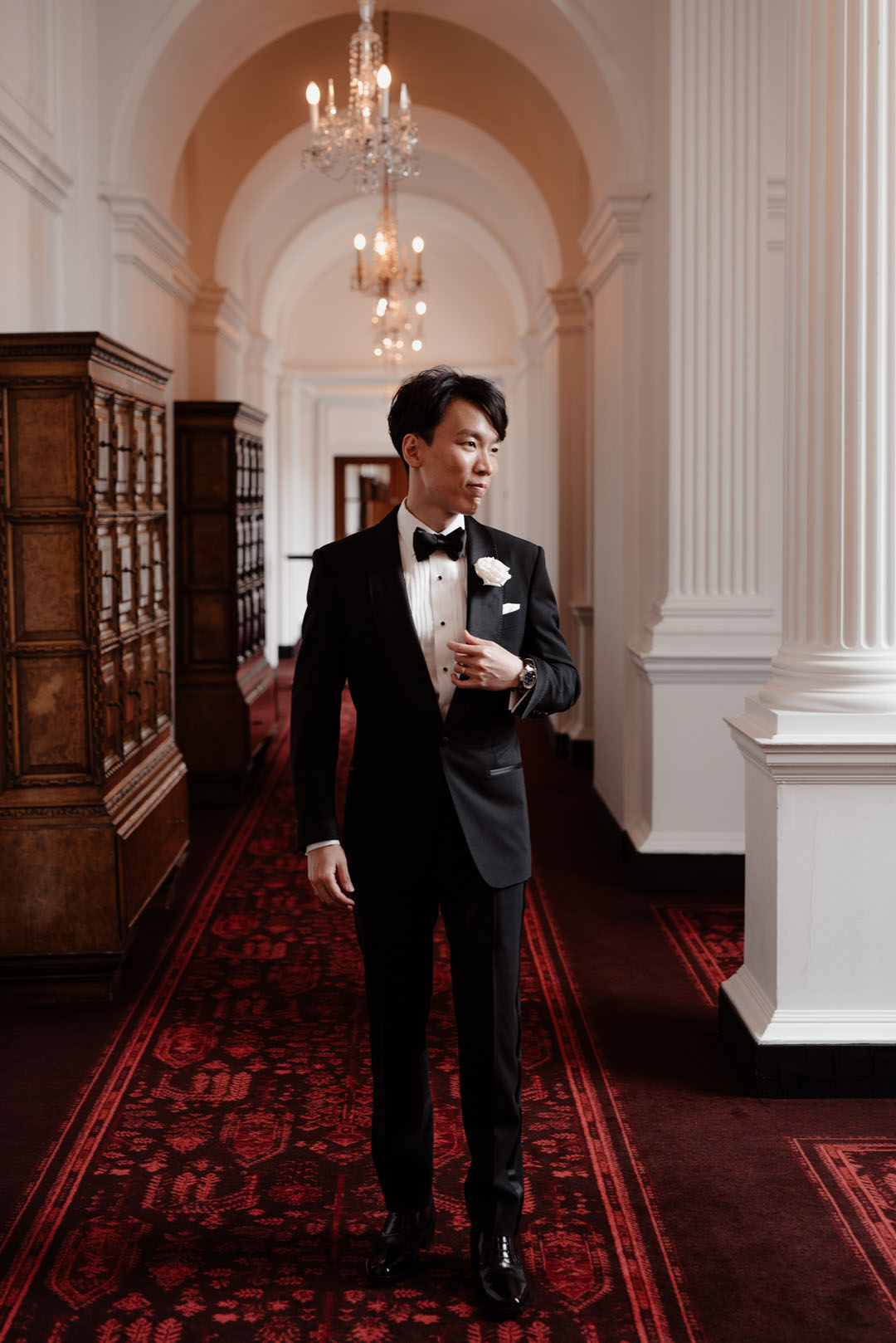 "The two locations offered different vibes, perfect for our full-day photoshoot."
"Given that we both work in the design and creative industry, we truly enjoyed the discovery and ideation process."
"We poured our heart and soul into every single detail."
"We also created our mood boards using Pinterest, from our attire and accessories to florals and table settings."
"Overall, we wanted to make sure that the aesthetics are timeless and when our future generations look back, it doesn't seem outdated or overly trendy."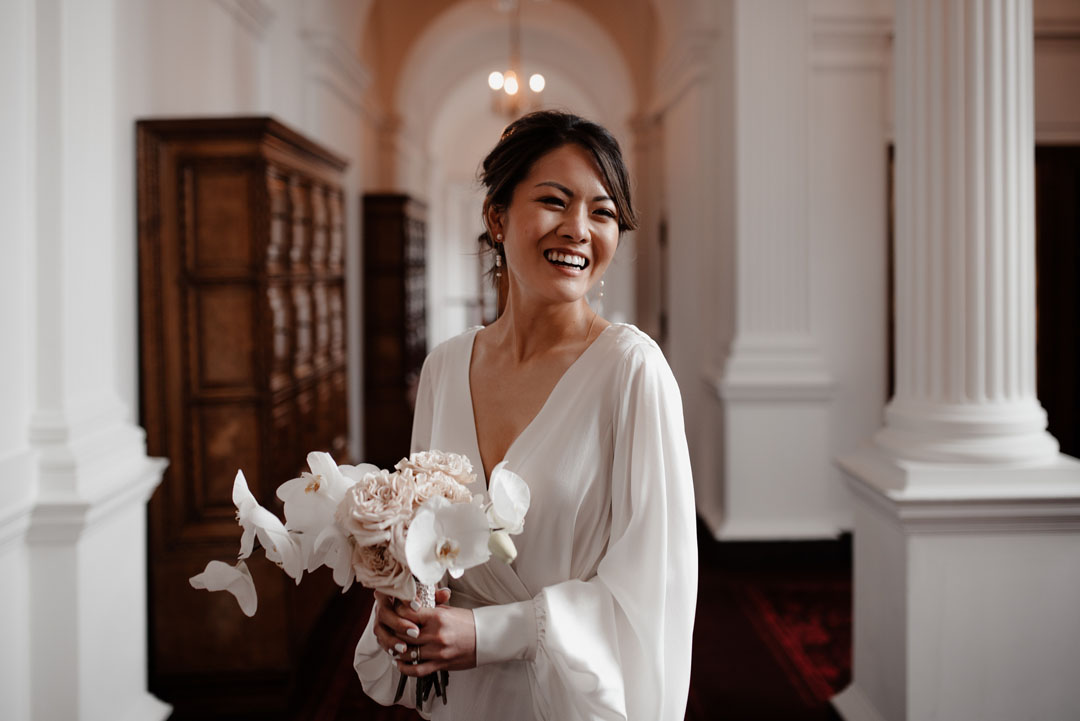 The bride's bouquet was an exquisite selection of pure orchids and Westminster Abbey roses, styled by Dansk Flowers in Islington.
"To go with our overall theme, we went for white and beige colours. Dansk Flowers also paid great attention to the details and added the lace to wrap the bouquet."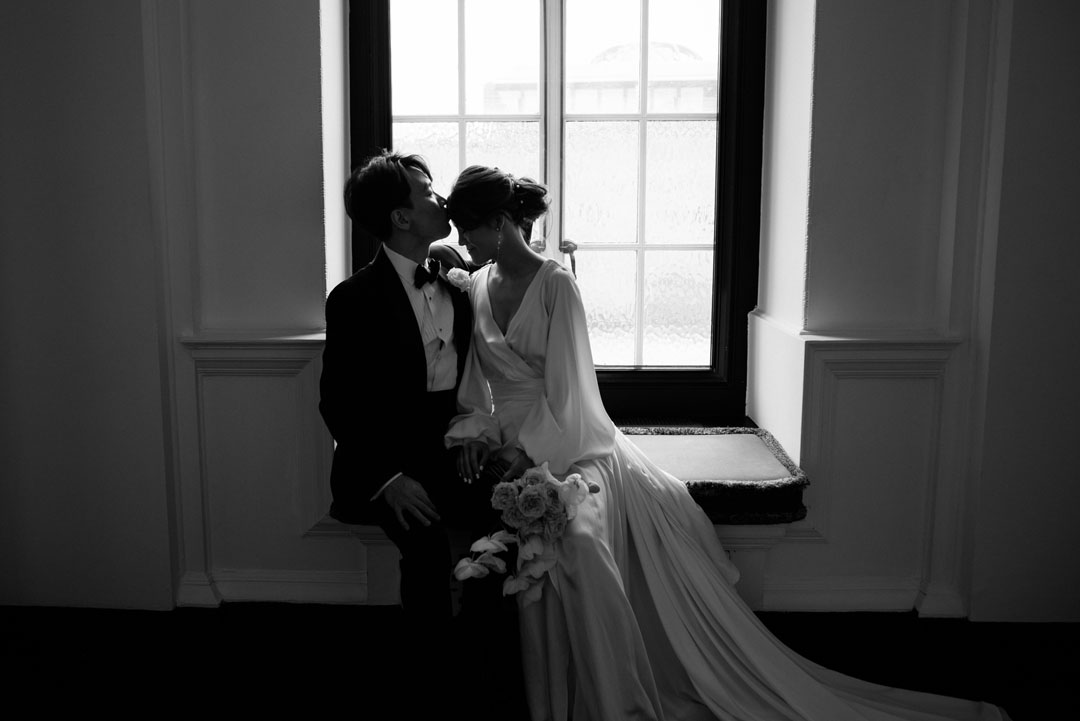 Emily's hair was twisted up into an elegant chignon by Louisa Day Hair & Makeup  Artist (with a pre-shoot cut and colour by Tom Smith at Billi Currie.
She adorned her hair with delicate pearl pins from Vivi Embellish.
"We chatted over Instagram and discussed the hairstyles I was going for and how to best style it. Everything was done efficiently and beautifully!"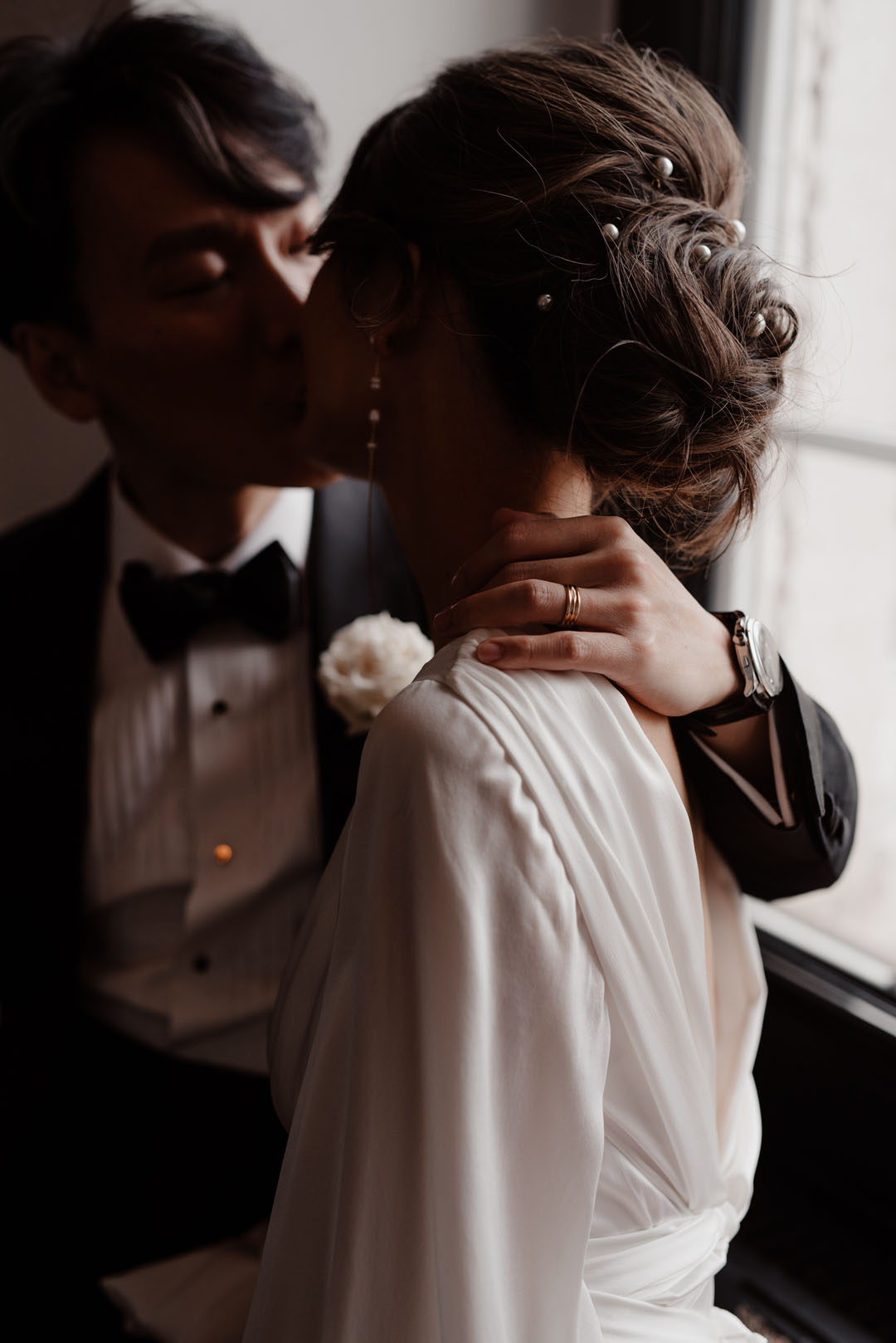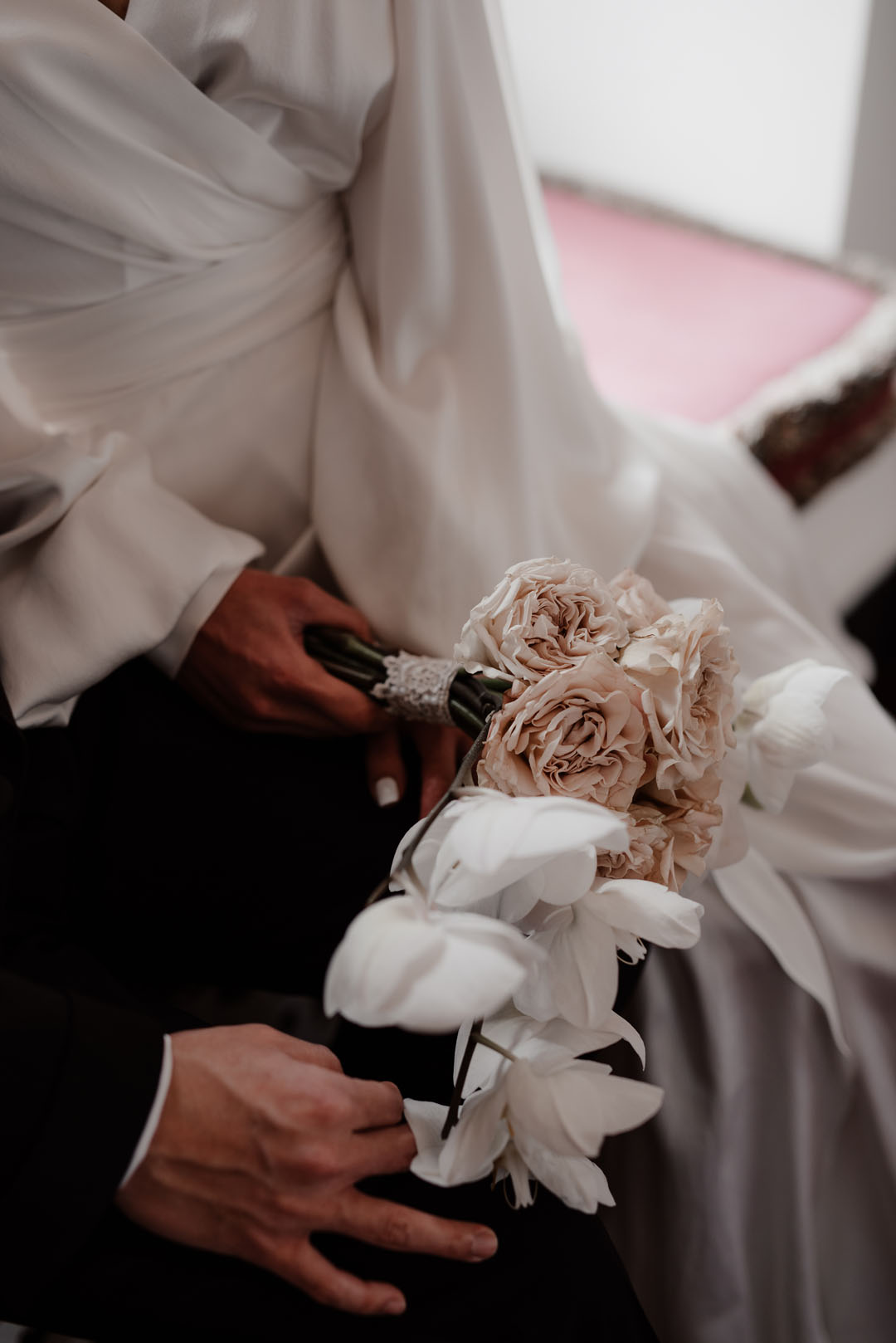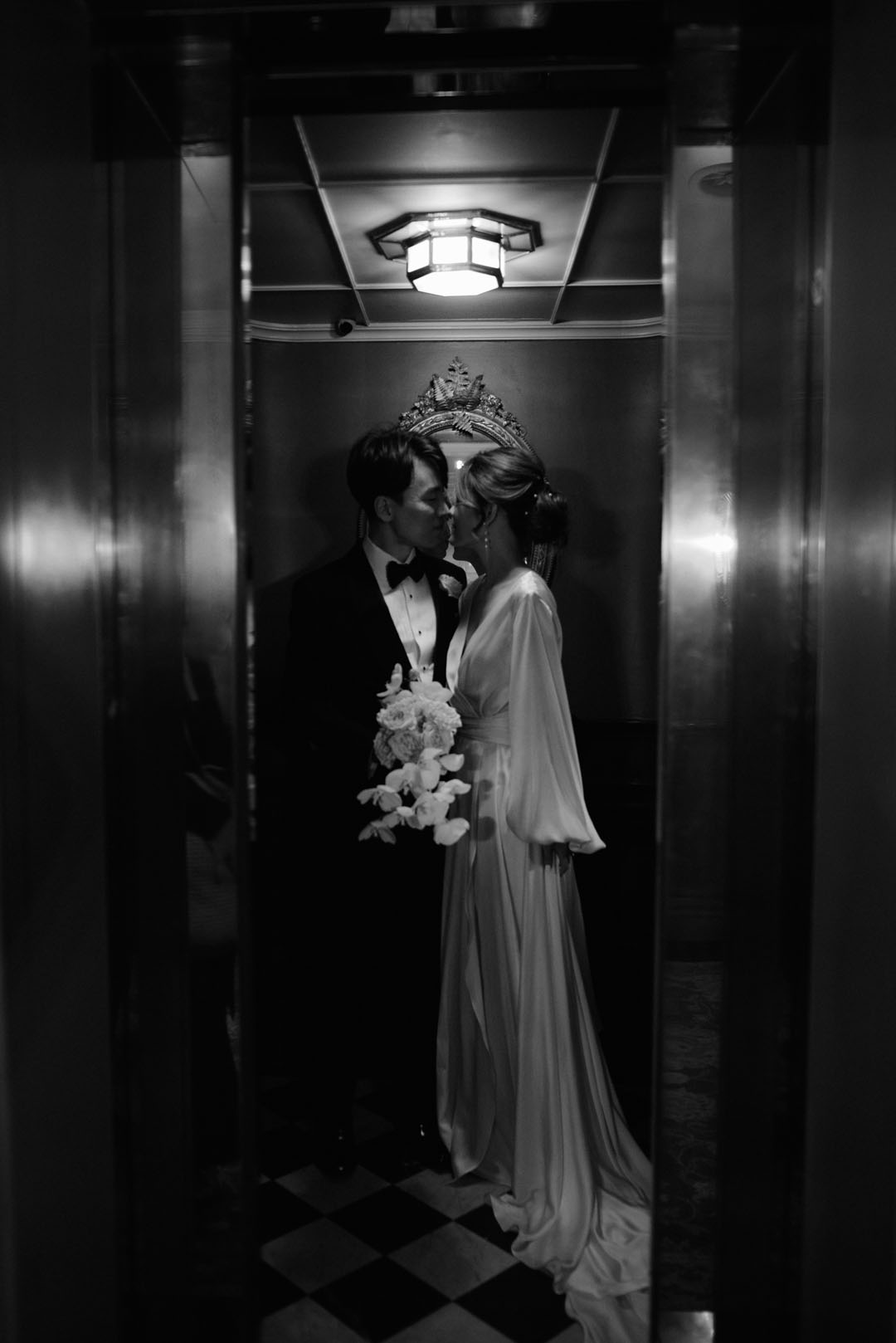 The talent behind these exquisite photographs are Jack and Jade at Taylor-Hughes Photography, a couple whose captivating work we are so in love with and proud to support on our Love My Dress Wedding Directory.
"Jack and Jade from Taylor-Hughes Photography were an absolute dream to work with."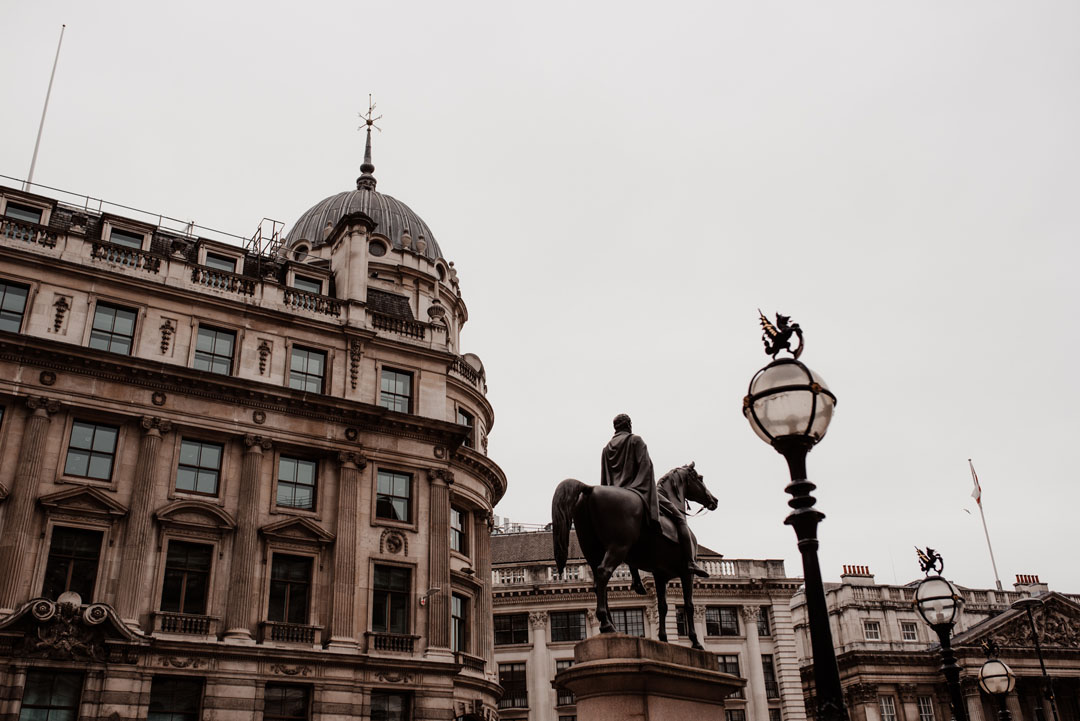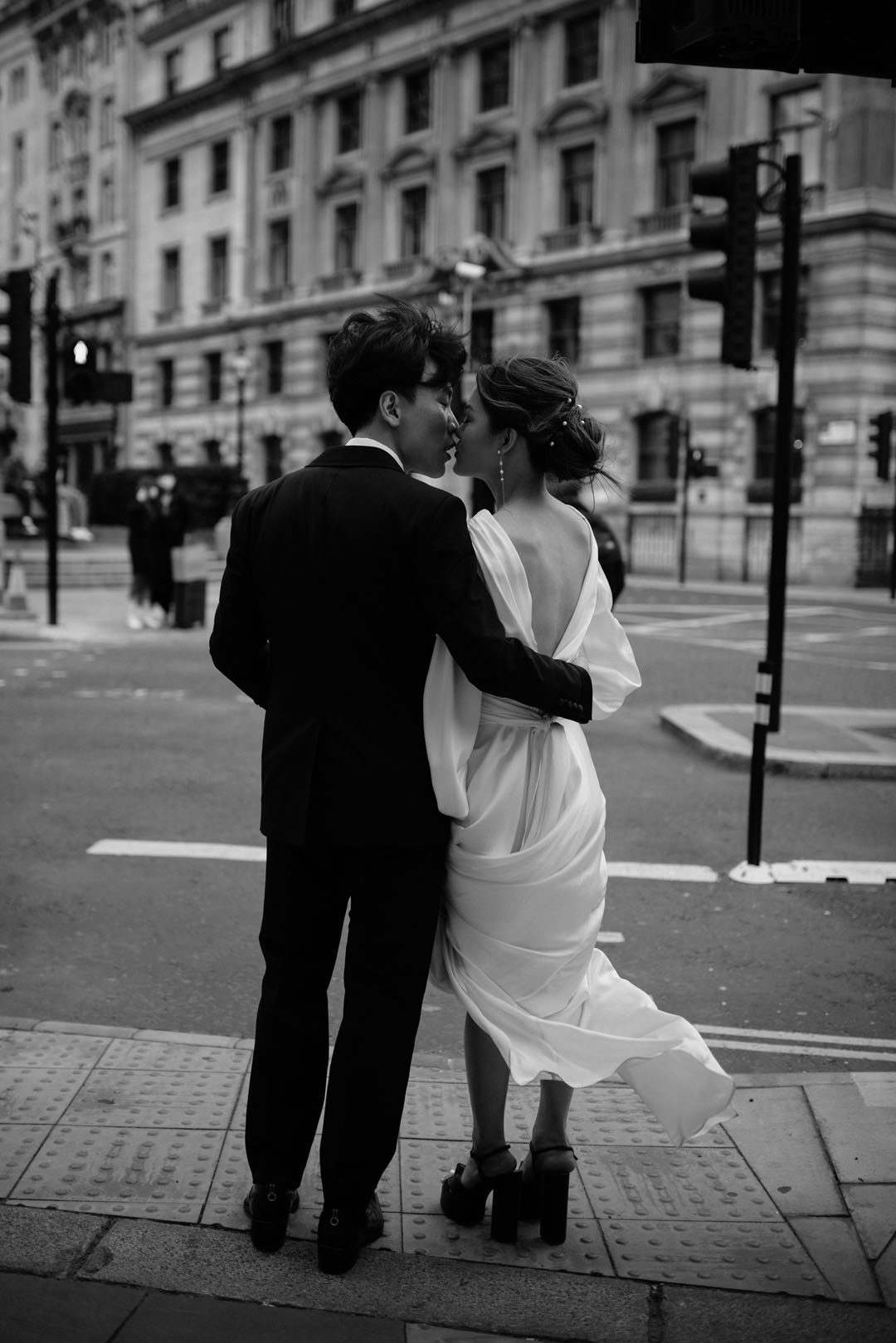 "We instantly fell in love with their photography style when we first discovered them on Instagram."
"After our first chat over the phone, we knew they were the ones! Beyond taking the photos on the day, Jade also took care of the venue booking with The Ned and Kew Gardens."
"Due to lockdown, we had to shift the dates. Jade kept us posted throughout the communication and always sent us positive vibes to keep us sane."
"We met for the first time on the day of the shoot. We had a few drinks and chatted before we began."
Jack and Jade were super-friendly and relaxed, which put us much more at ease."
"Since this wasn't typical wedding documentary, they gave minimal guidance and mostly just kept it natural for us to enjoy the moment while they snapped away."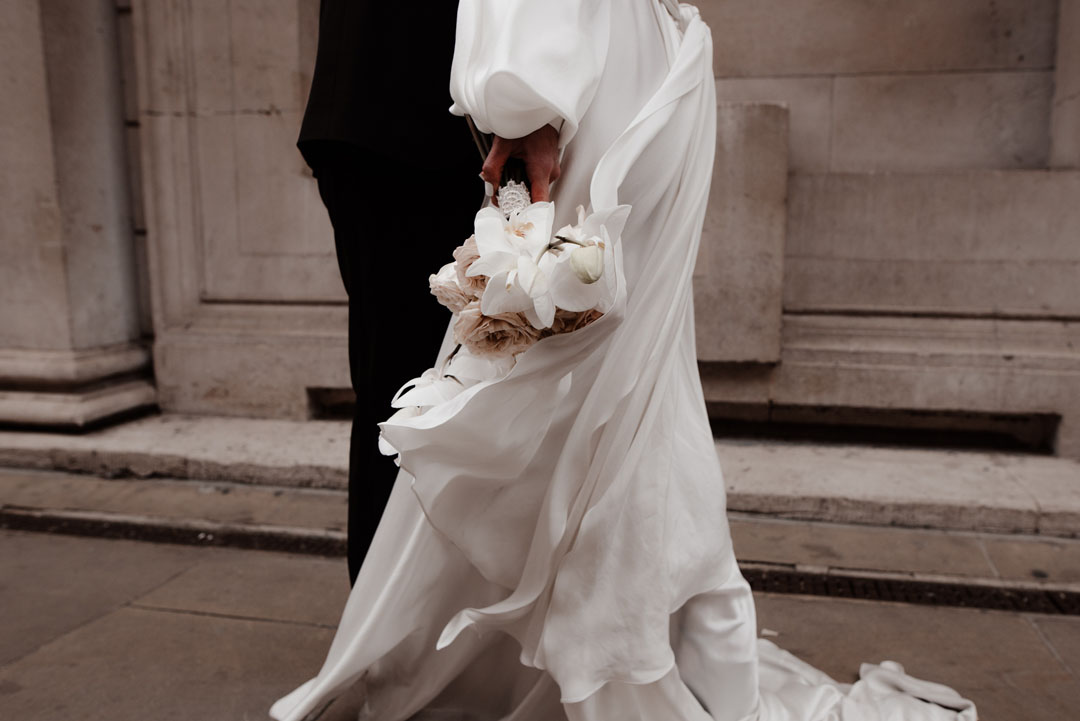 "It didn't feel intrusive and we were just having a good time. We are super-thankful that they made the whole process so easy and smooth."
"We also ordered the printed photo album, which was designed beautifully. For sure, this will be a keepsake for the generations to come."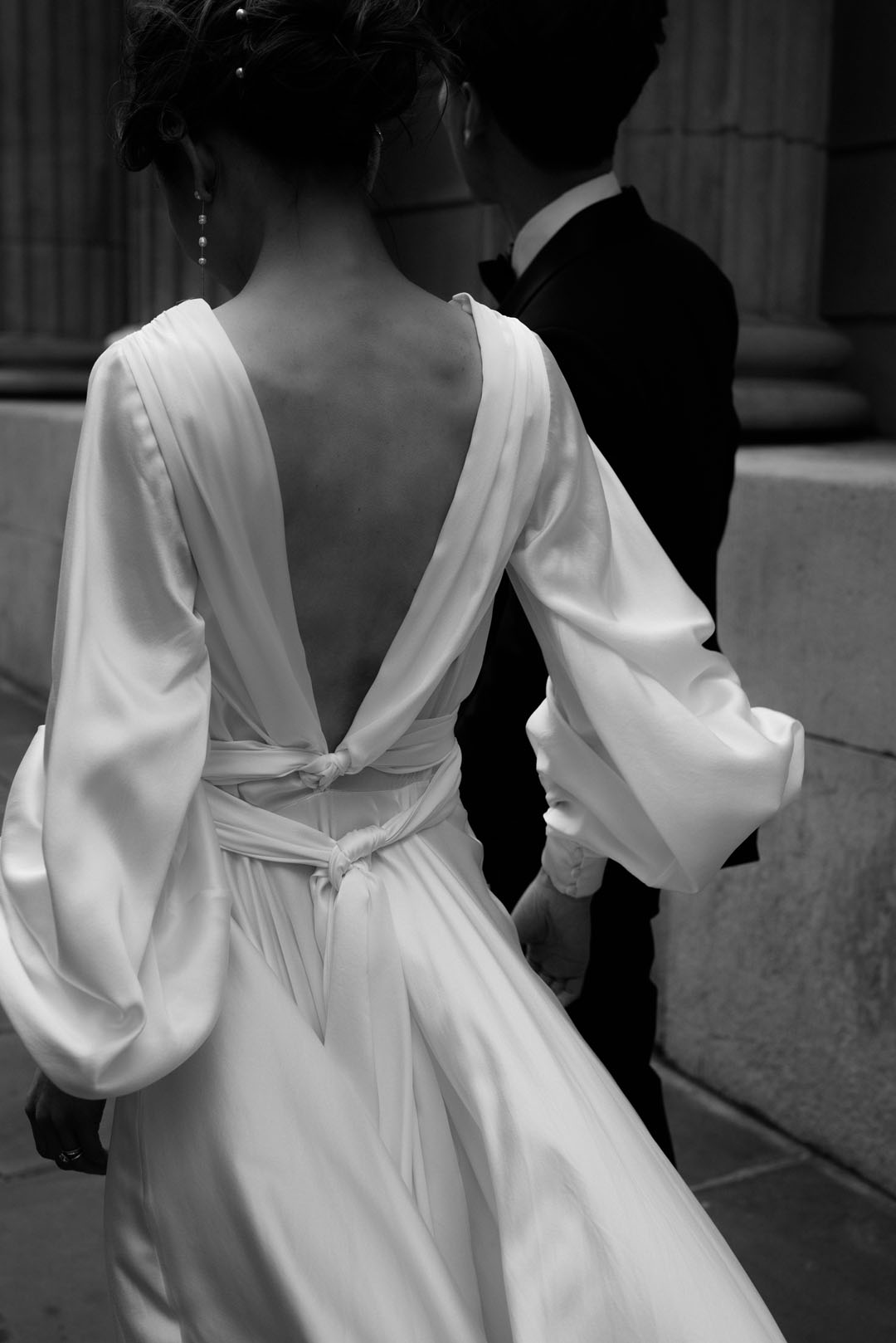 Emily's shoes were Yves Saint Laurent and she wore long, pearl earrings from Maison Sabben. She spritzed on Chanel Gabrielle.
"It was a gift from my husband. I feel absolutely amazing and confident in it."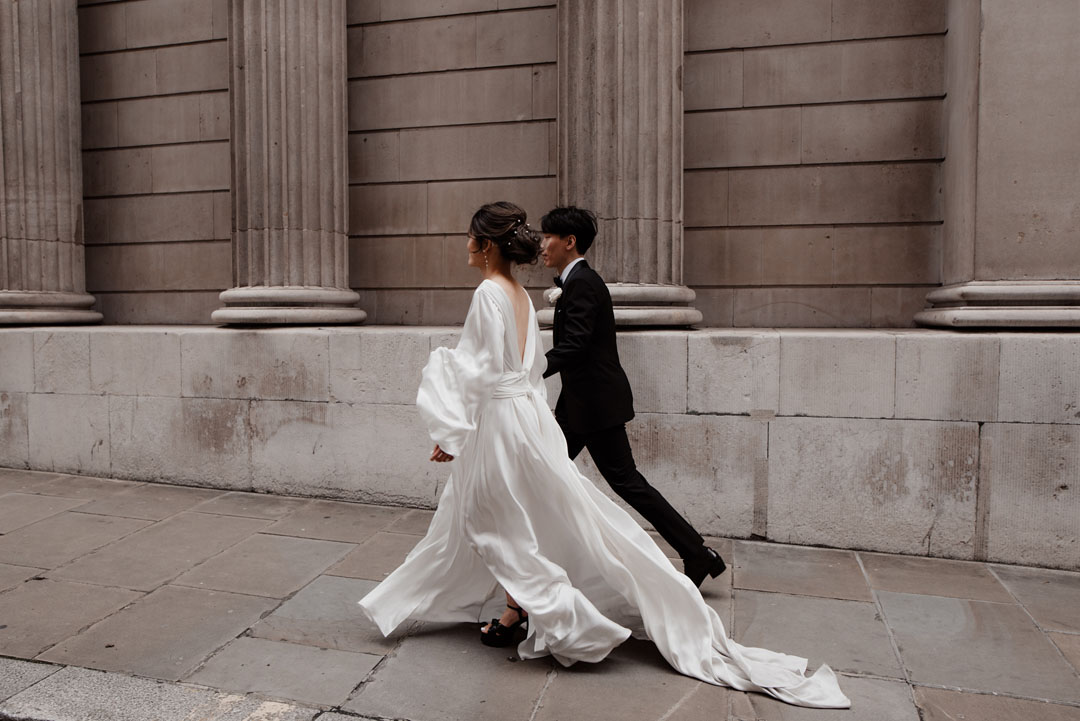 Terry looked handsome in his slick Tom Ford tux, worn with Tom Ford accessories and Burberry shoes. His buttonhole was a Westminster Abbey rose.
The couple's rings were bespoke Rachel Boston designs.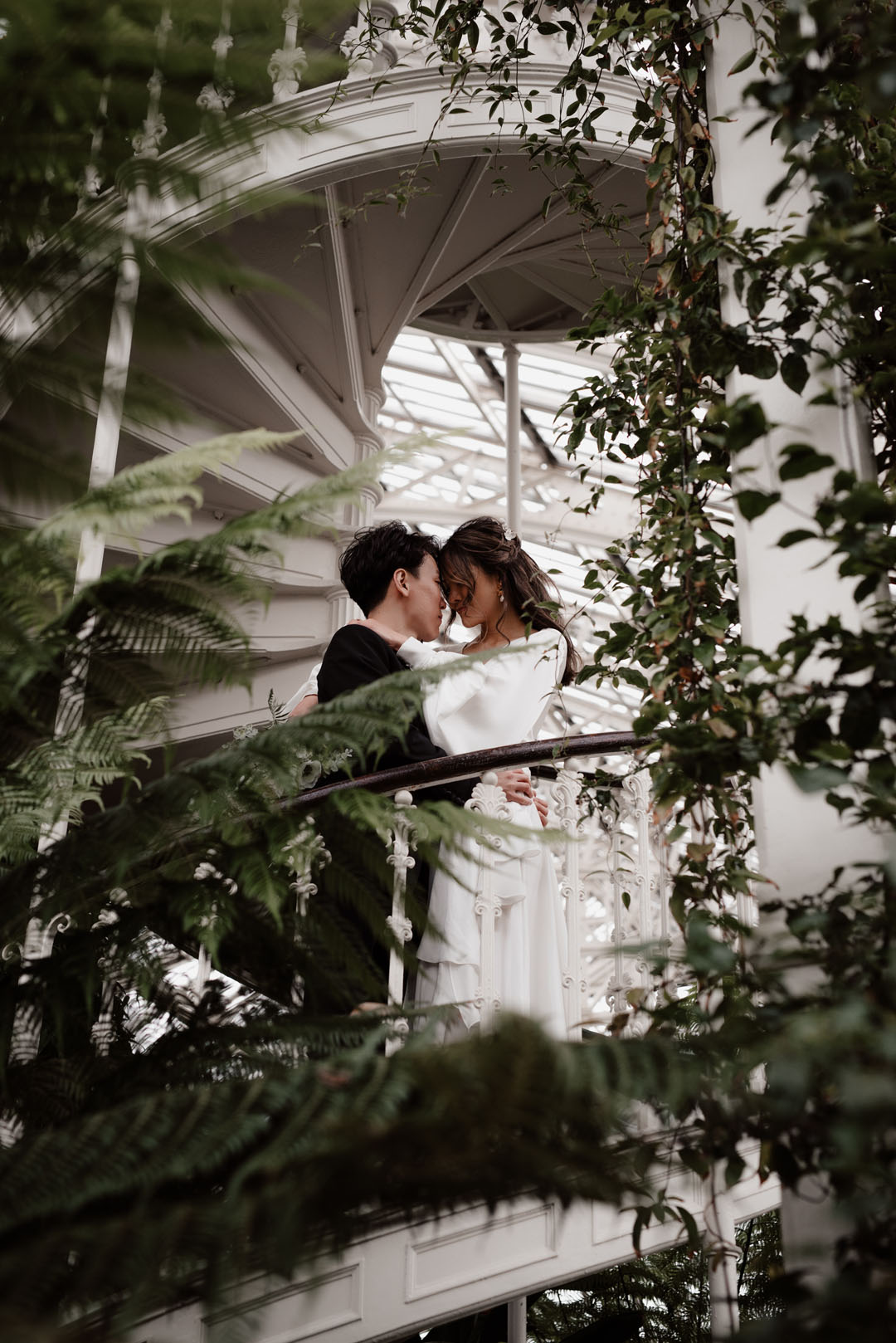 "Terry and I designed our custom rings together. I love statement rings and wanted to have something that I can wear together with my other daily pieces."
"Rachel's work is unique, elegant but also a bit edgy. We couldn't be happier with the rings."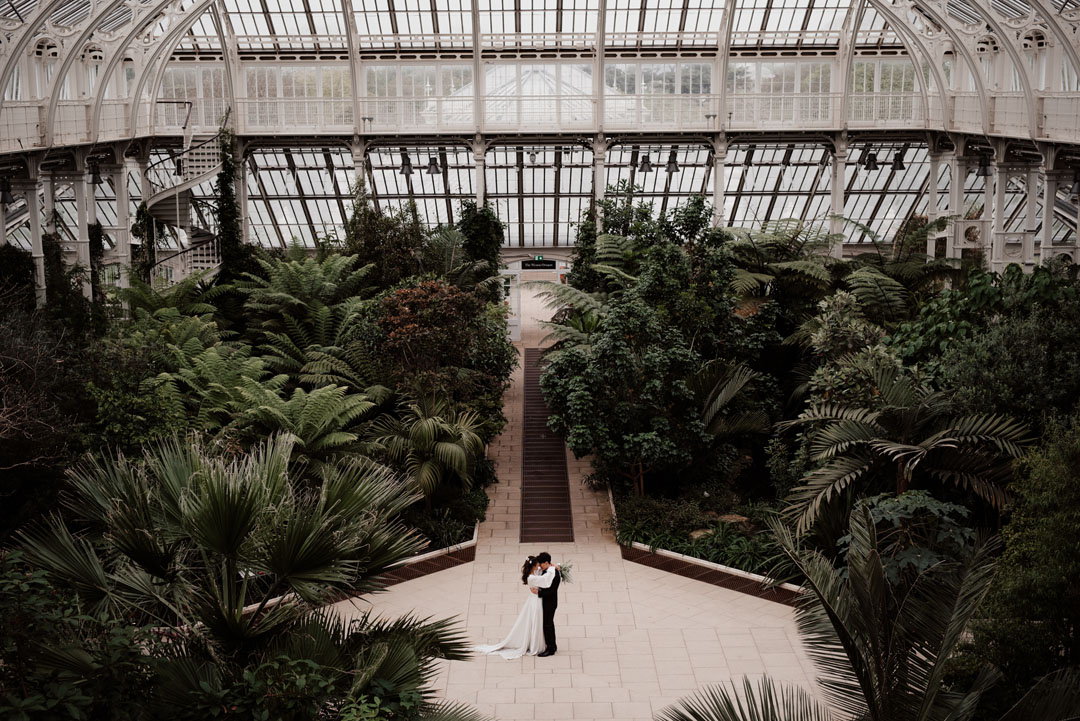 The two shoot locations were so very different yet beautiful in their own ways. I love the natural aesthetic of the Kew Gardens photos, hours which the couple absolutely loved.
"We were there at the beginning of re-opening, so there were very few visitors on the day. We were so lucky to have the entire space to ourselves. It felt so magical and unreal."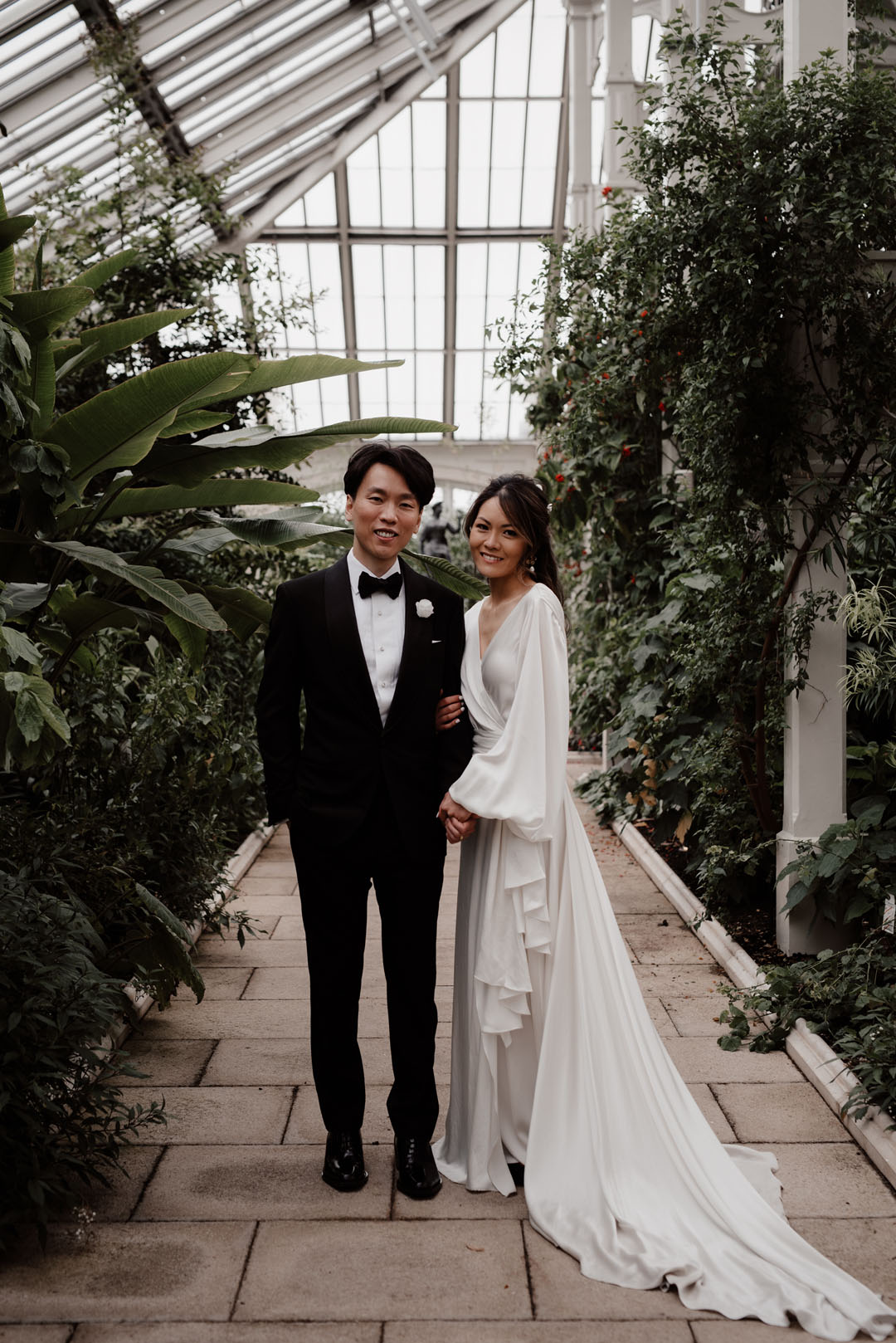 With their wedding ceremony still to come, Emily and Terry have the following words of advice for fellow Covid couples.
"Wedding planning itself is already a super-huge task and the uncertainty around Covid and planning overseas added extra layers of complexity."
"It was definitely not easy, especially since both of us are also quite idealists and perfectionists. Having to reschedule our wedding may actually be the silver lining."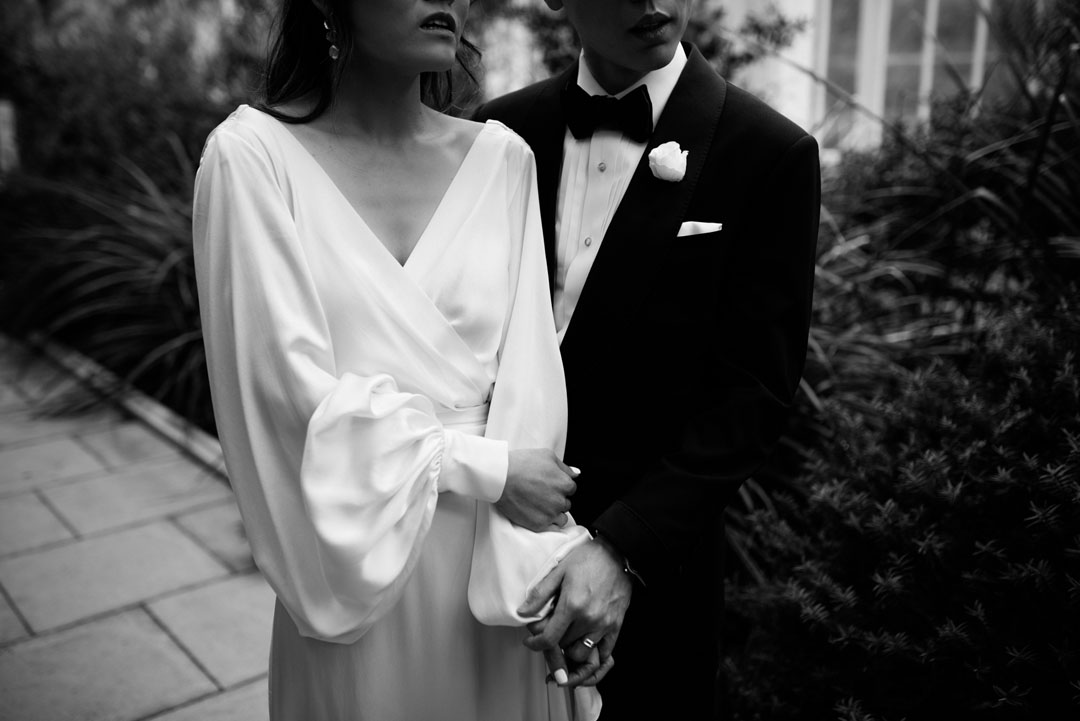 "We had a year of reflection during this pause to re-evaluate and prioritise what truly matters the most to us, knowing that no matter what happens, this day will always be memorable as you start a new chapter with your partner."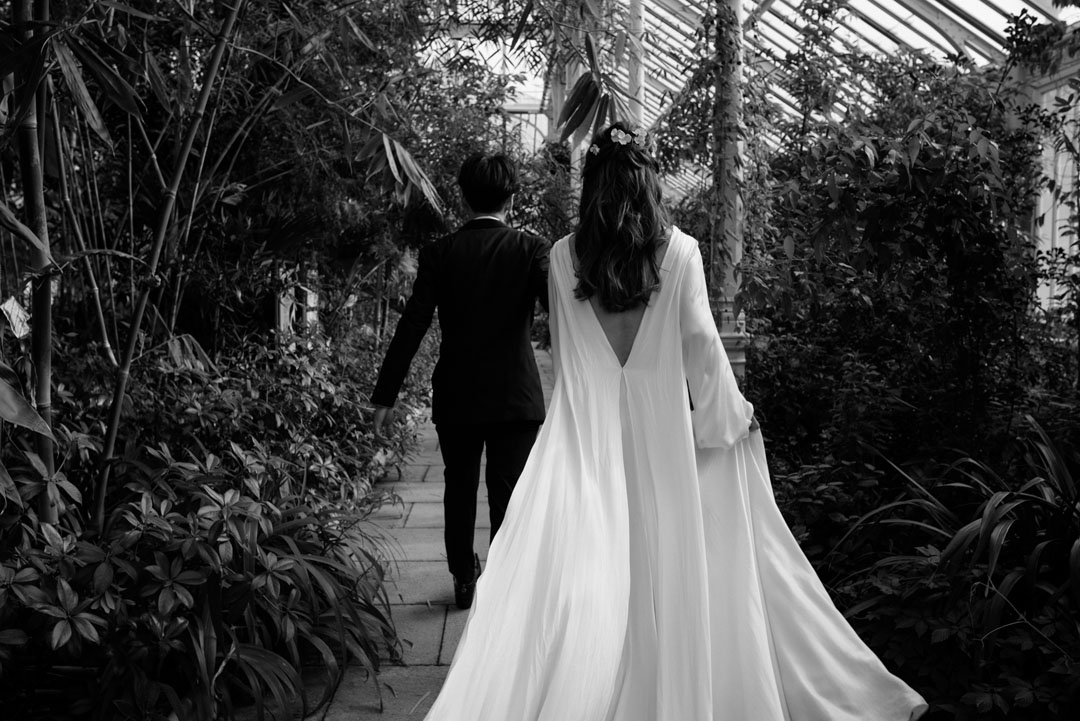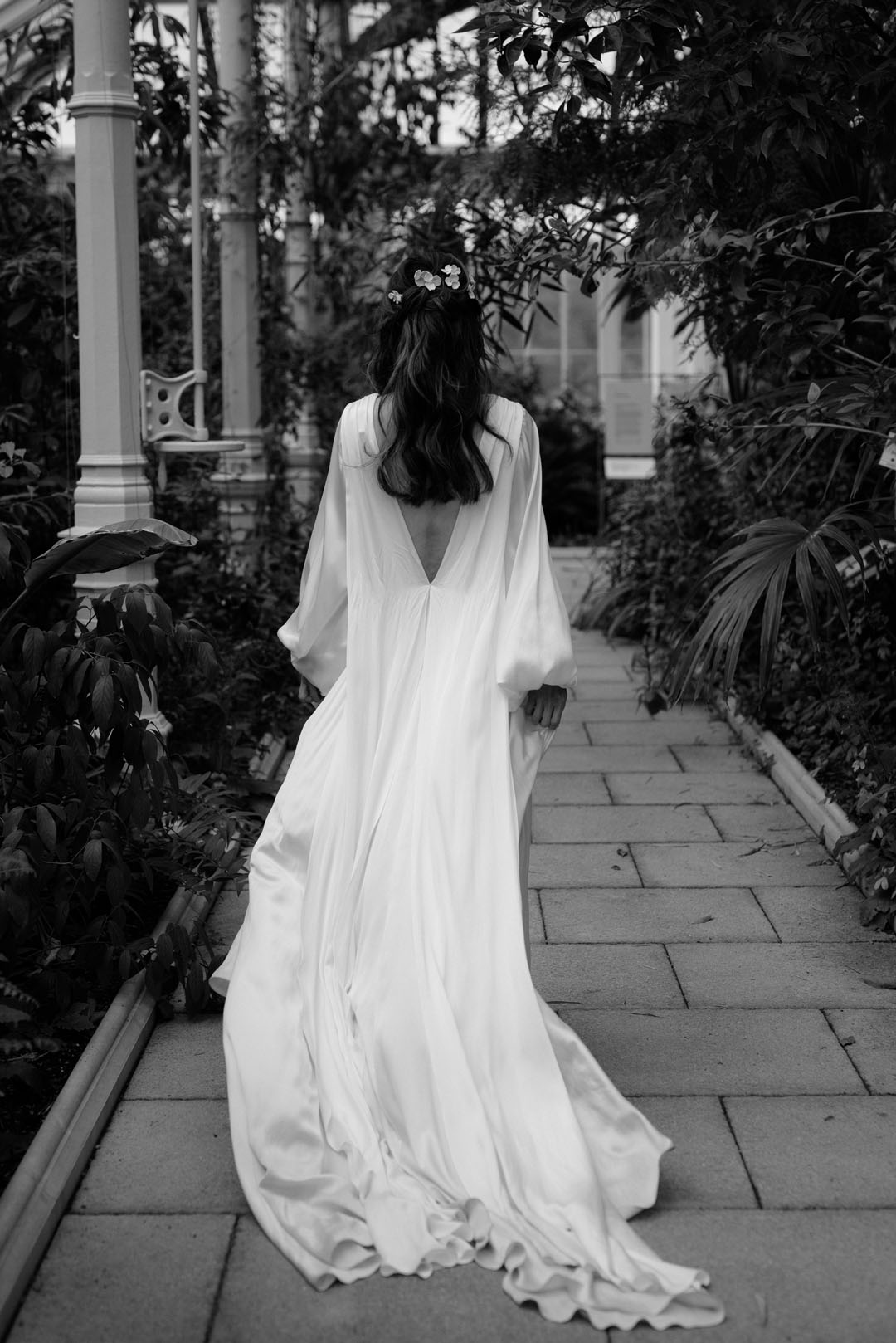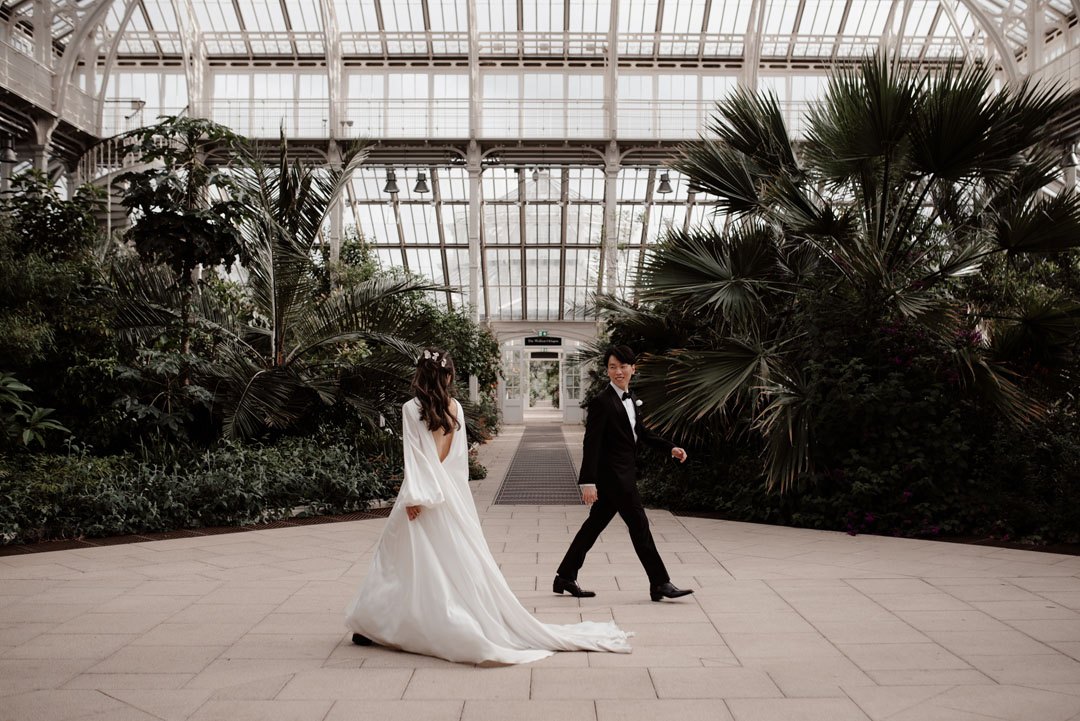 Words of Wedded Wisdom
"Stay true to yourself – don't let anyone else tell you otherwise. Don't do things because 'you need to' or 'to make someone happy'."
"Plan ahead – wedding planning can be a rabbit hole. Now, I finally understand why some people take years to plan their wedding."
"We've never been the type of people who have a 'dream wedding'; all of our vision came through discovery and research (and a year of deep reflection) and slowly piecing it into our dream version. Take the time and enjoy the process!"
"On a practical note, always have a plan B, read through your vendor contracts carefully and raise any additional points to have flexibility."
"Our wedding planner was a tremendous help to save time and reduce stress."
"If you have the budget, I'd highly recommend having professional help navigate this complicated situation. Now, we just can't wait for the big day!"
Simply exquisite. Brides, you can find out more about Luna Bea Bride here, and for those of you in love with this photography, we cannot recommend Taylor-Hughes Photography enough.