We're in Yorkshire today for the rustic and autumnal wedding of Alice and Gareth. With its bespoke, truly-unique gown, breath-taking floral displays and vintage styling, there is so much to inspire you right here.
Fashion buyer Alice wed account manager Gareth on 15 October 2021 at All Hallows' Parish Church in Kirkburton, Huddersfield, their local church.
Photography Shutter Go Click Photography
The newly-weds and their guests travelled to nearby Manor House Lindley for a Coach House reception with rustic, vintage and nature-inspired influences, all against the historic atmosphere of the Manor. Think trees and birds, candles and oh-so many flowers.
The groom wore a heavyweight, dark suit from Moss Bros, with a tie-clip personalised with the wedding date.
"Gareth is a huge fan of fashion and was keen to wear anything dark green and tweed."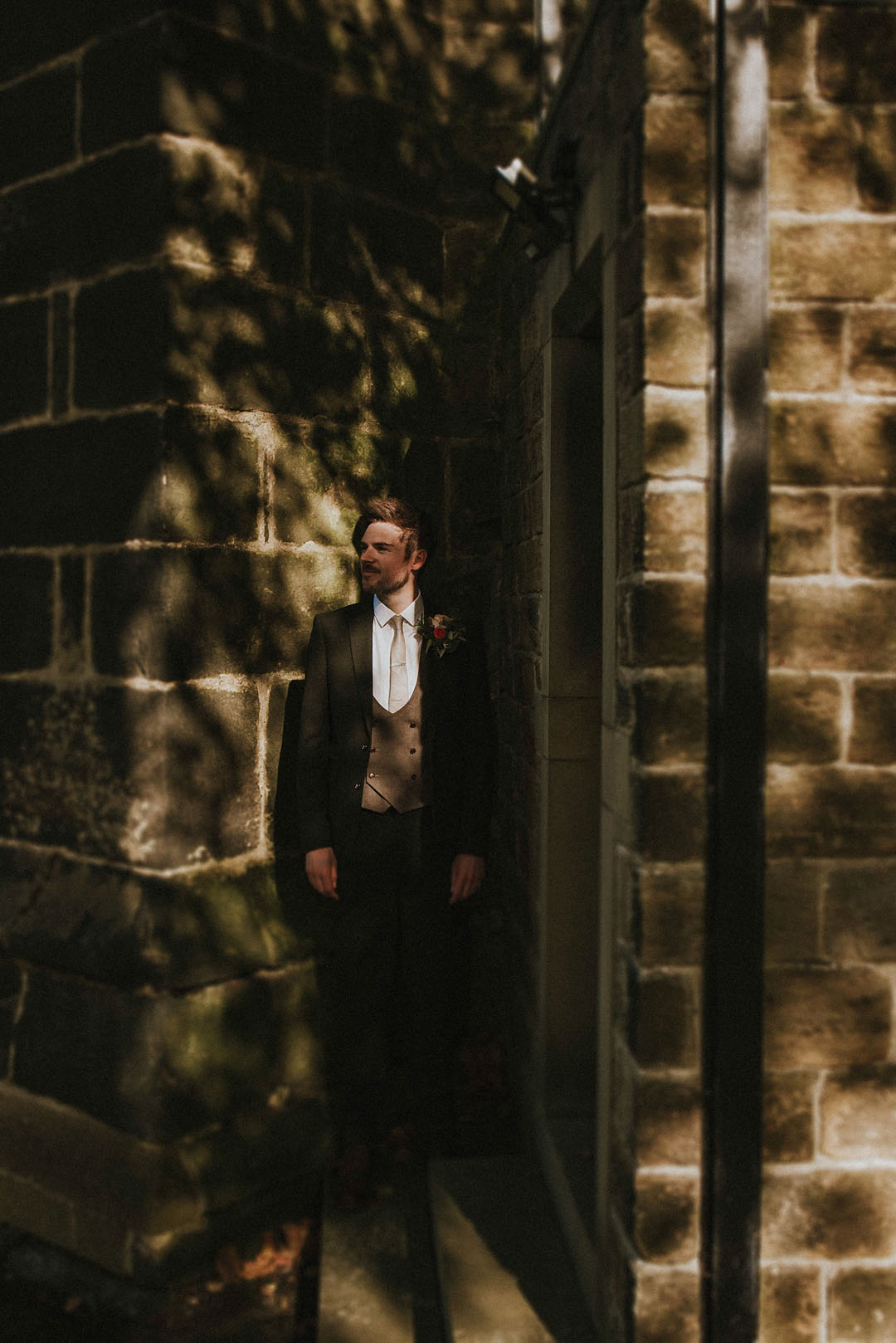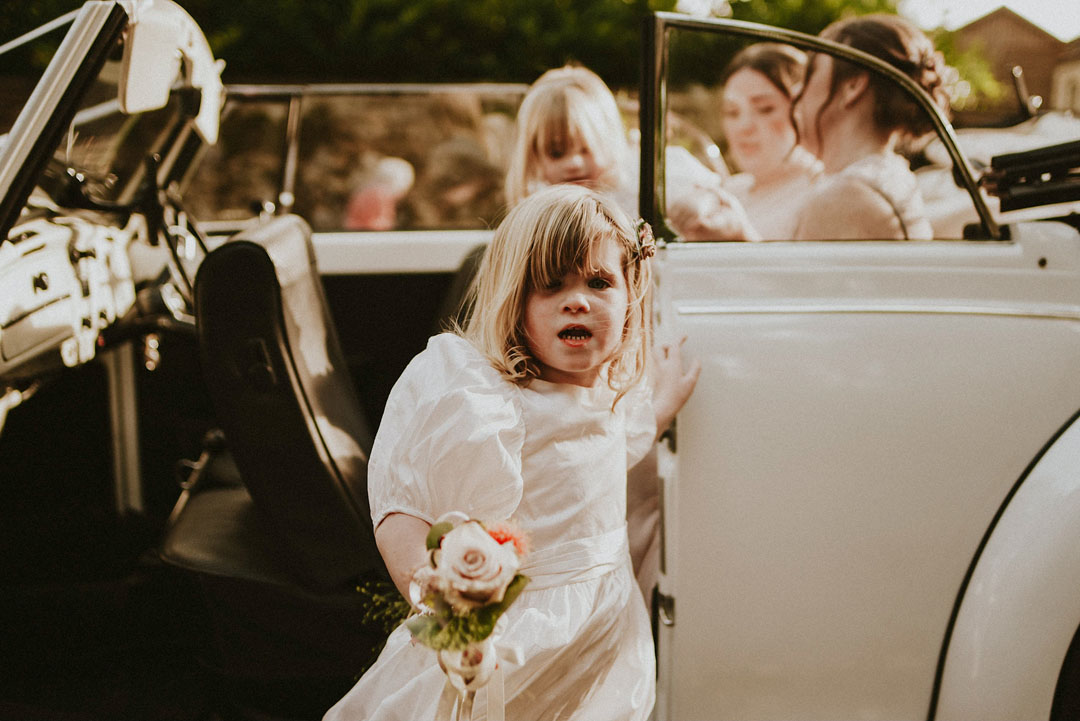 I'm in love with the bridal car, a vintage, cream VW Beetle from All Luv'Dub, in which Alice travelled to the church. As 'Jesu, Joy of Man's Desiring' by Bach was played on the organ, Alice walked down the aisle with her dad.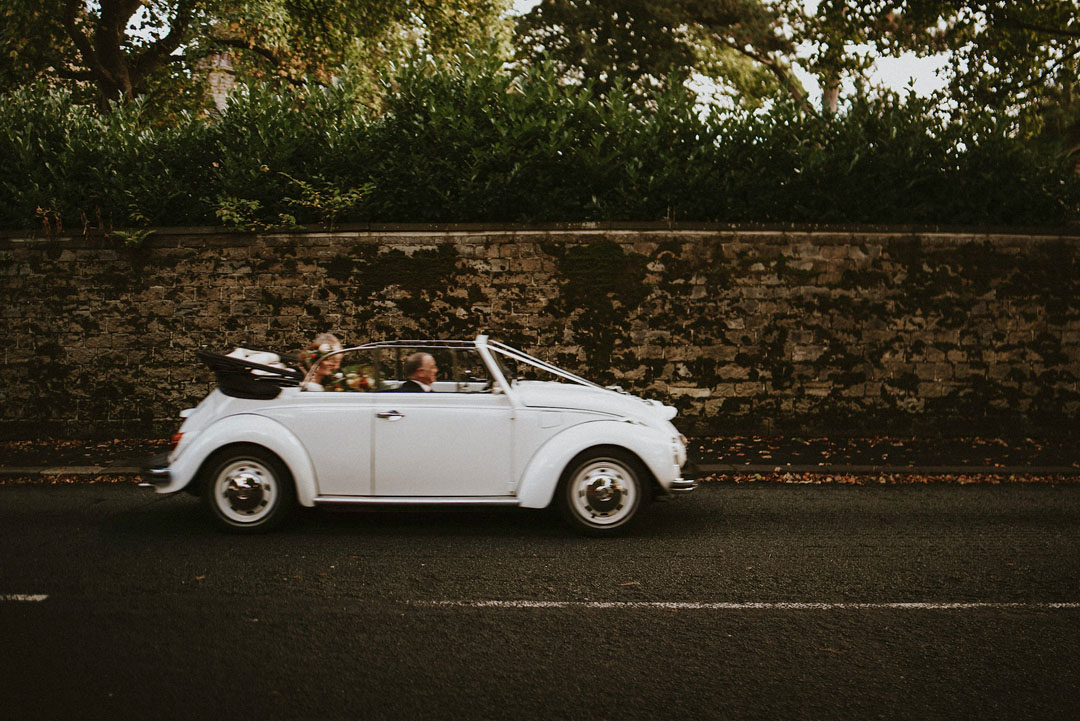 "The church is spectacular with medieval ceilings and large stained-glass windows. With a long aisle, it made the 'walking down the aisle' part really special with an organist playing."
"I love a traditional church wedding. There is nothing quite like that aisle walk in an old church."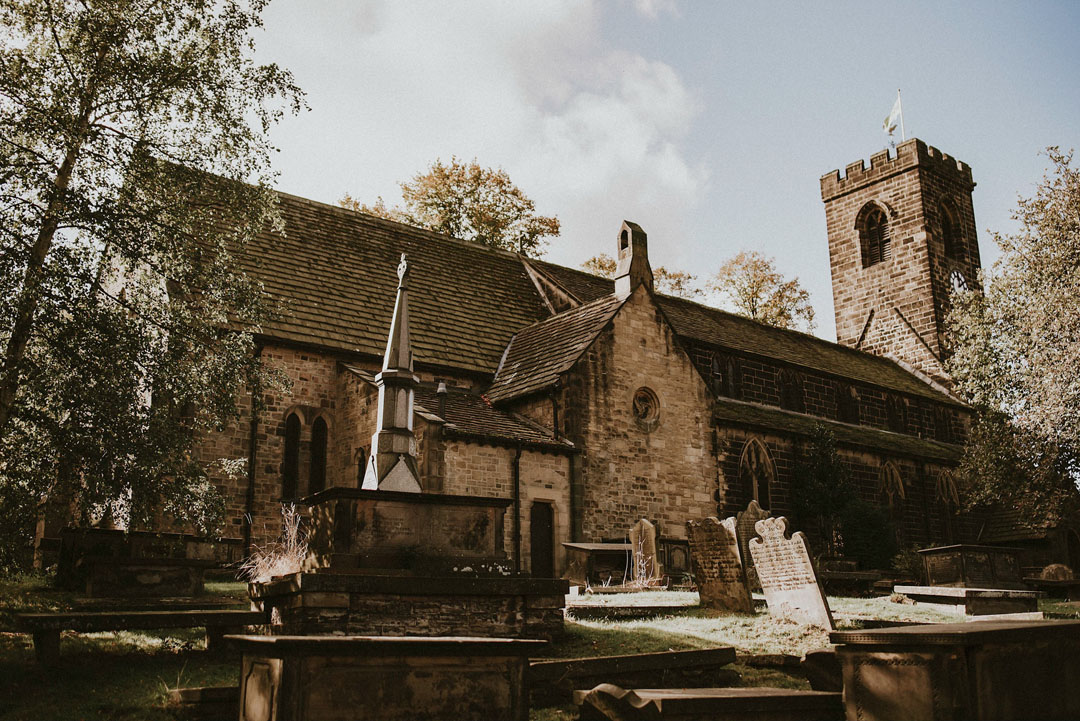 Alice and Gareth met over seven years ago when they both worked as buyers at Tesco Head Office.
"We were on the same team and the rest is history. We got engaged in Portmeirion in Wales with Snowdonia in the background."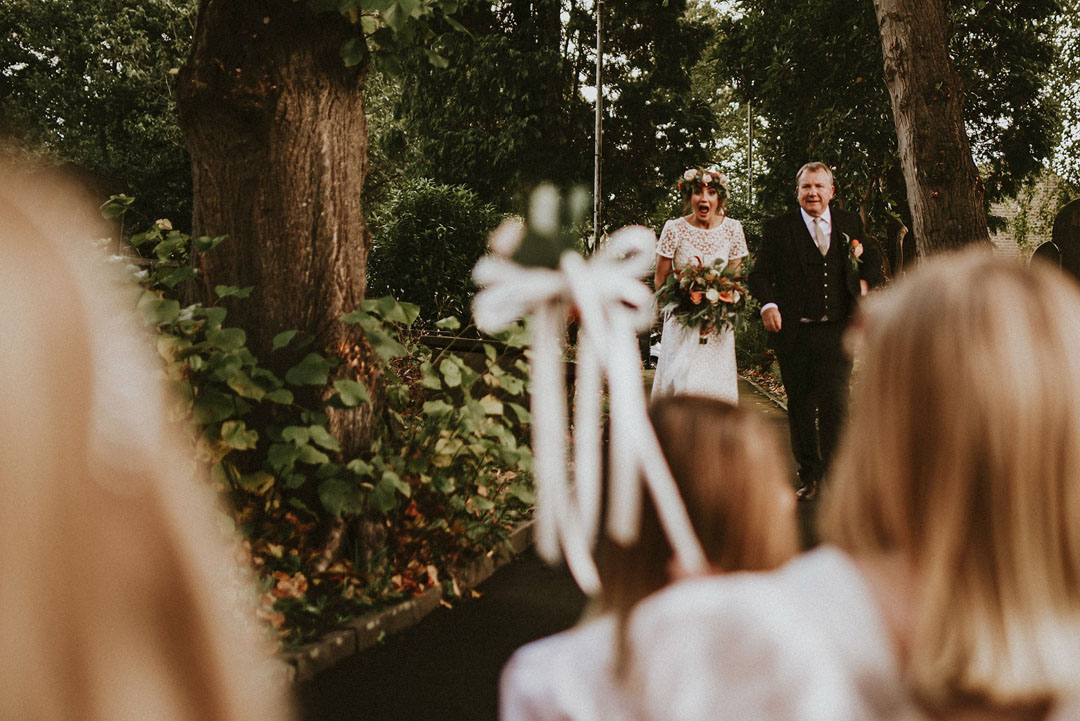 "With Gareth being Welsh, it had to be done in Wales. I always said I wanted the family dog Peggy with me when we got engaged but instead, he brought along a giant photo of her – as soon as I saw that I knew!"
"We got engaged in August 2019 and booked our wedding for August 2020. Due to Covid this finally went ahead in October 2021."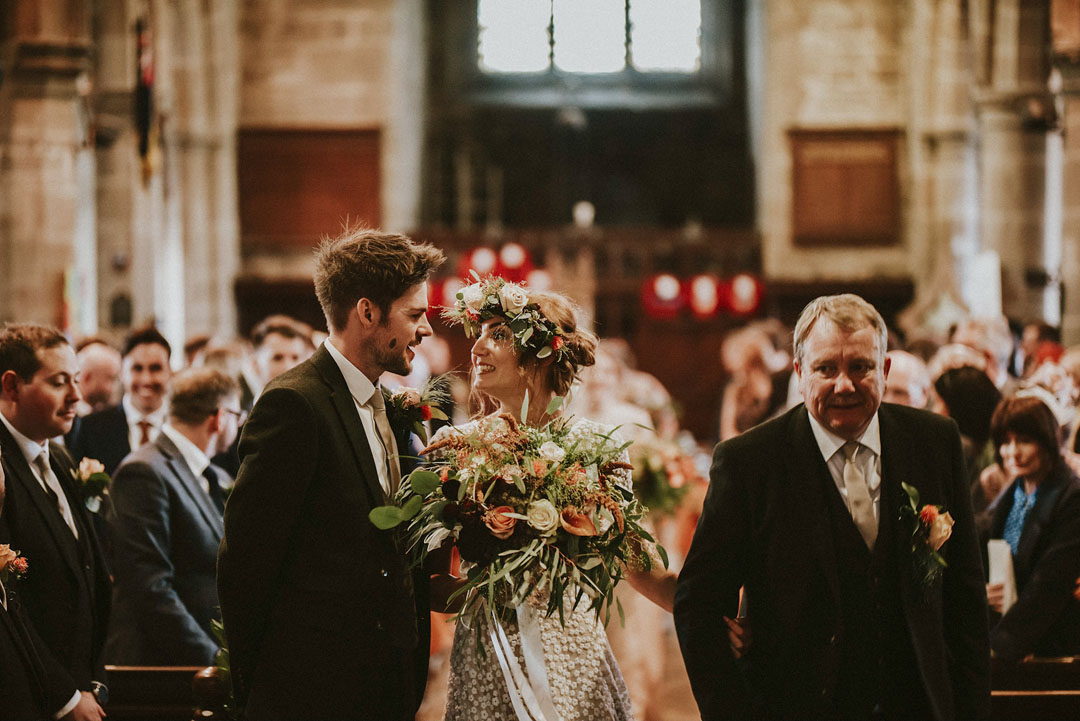 Although the wedding date was changed twice and delayed by over a year in the end, the couple are so glad they waited to have the perfect autumn day.
"It was worth the wait and in the end, having an autumn wedding was perfect for us. The venue was amazing moving it for us and we had very little stress, other than having to keep telling our guests the new date. The biggest stress was not knowing whether it would go ahead."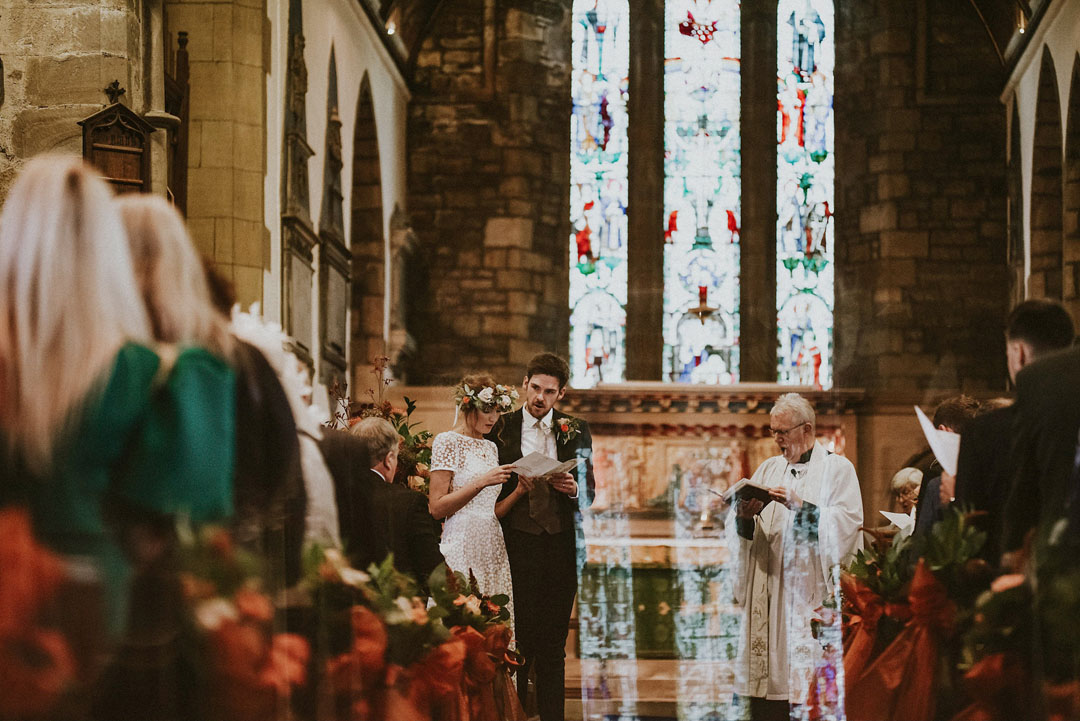 "We asked all our guests to take a lateral flow ahead of the wedding but all in all, we managed a normal wedding with very little Covid impact. We were very lucky."
The Church of England ceremony was led by Reverend Kevin Partington and included the traditional church wedding vows.
"We worked with Kevin from the original wedding date and he became a friend throughout. Our readings were '1 Corinthians, Chapter 13' and a poem, 'What Is A Marriage?' by Joanna Miller. This had some humour in and made the guests laugh."
The wedding rings were very special pieces. Gareth's was Clogau gold and the bride's was her grannie's wedding ring.
"My granny is 99 and came to the wedding so it was really sentimental to me. Gareth is Welsh so his wedding ring was a nod to Wales. It says 'Cariad' on the ring which is 'Love' in Welsh."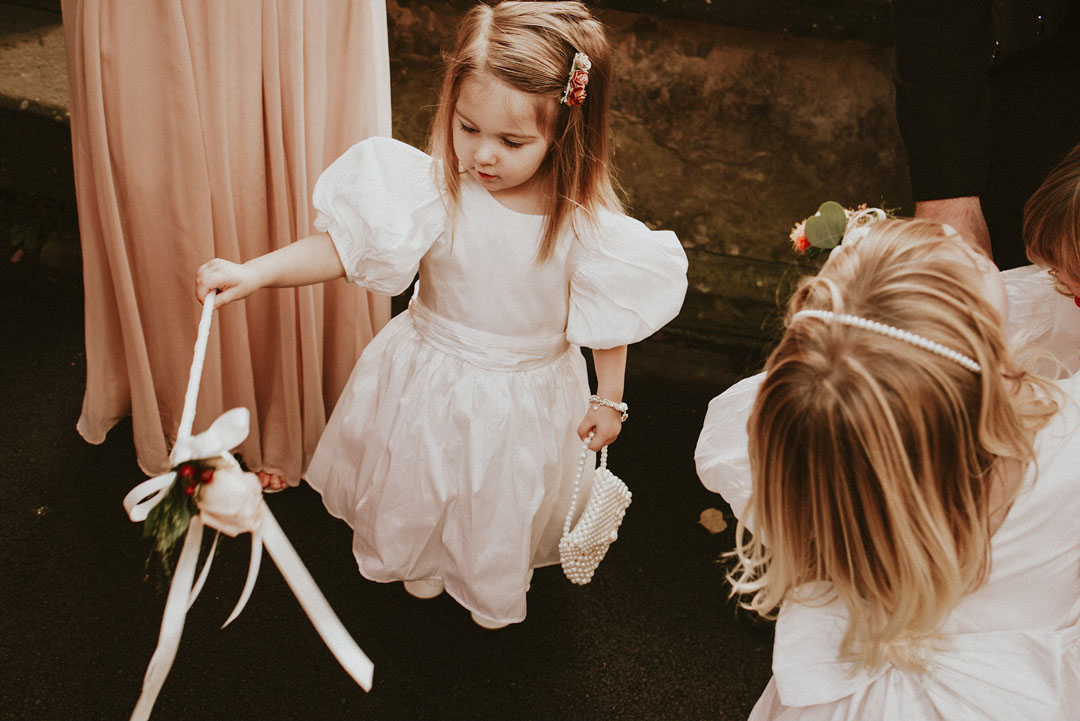 Flowers were central to the beautiful styling of the wedding so it's time to meet the florist, The Butterfly Net, who created the gorgeous floral crown and the wedding bouquets.
"It was all about a large, vintage bouquet with autumn flowers and colours – all the oranges, browns, burgundy and deep reds with eucalyptus greenery."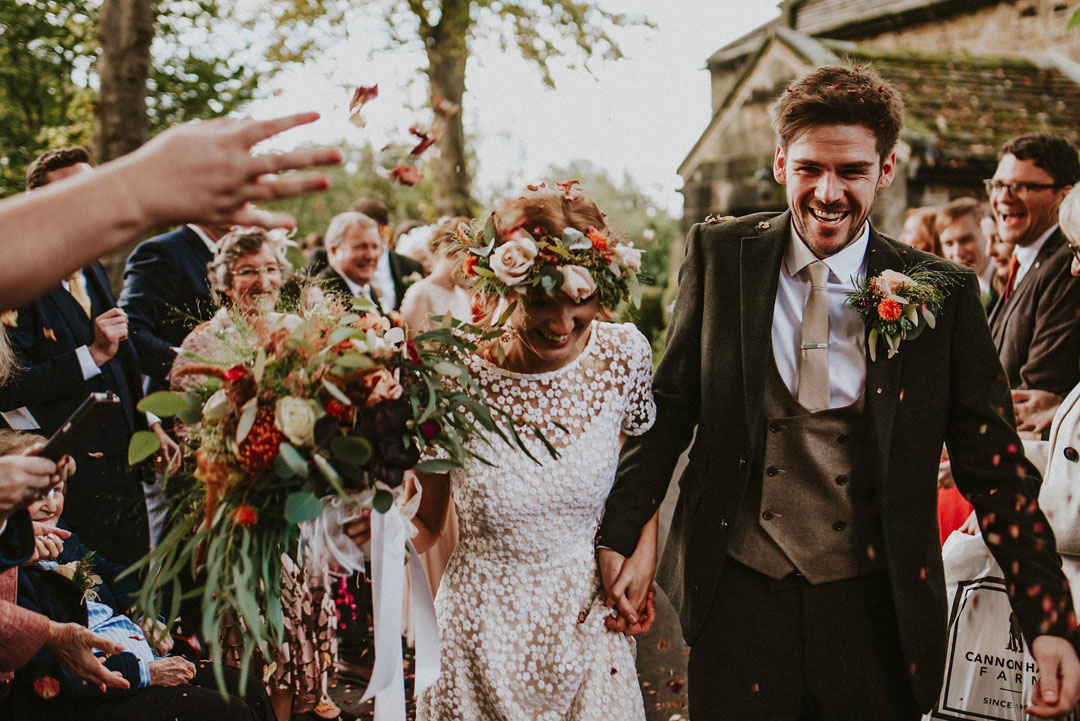 "This also matched my real flower crown. All the bridesmaids had matching bouquets and the family had matching button holes."
"The colours all complemented the bridal party and worked well with my hair colour."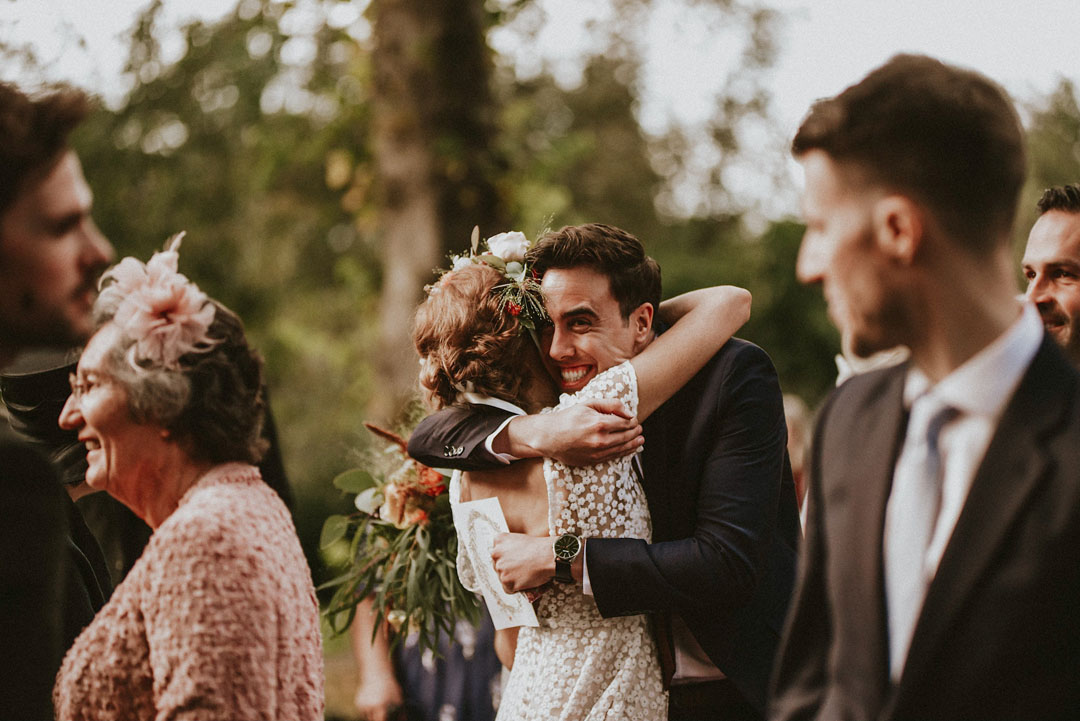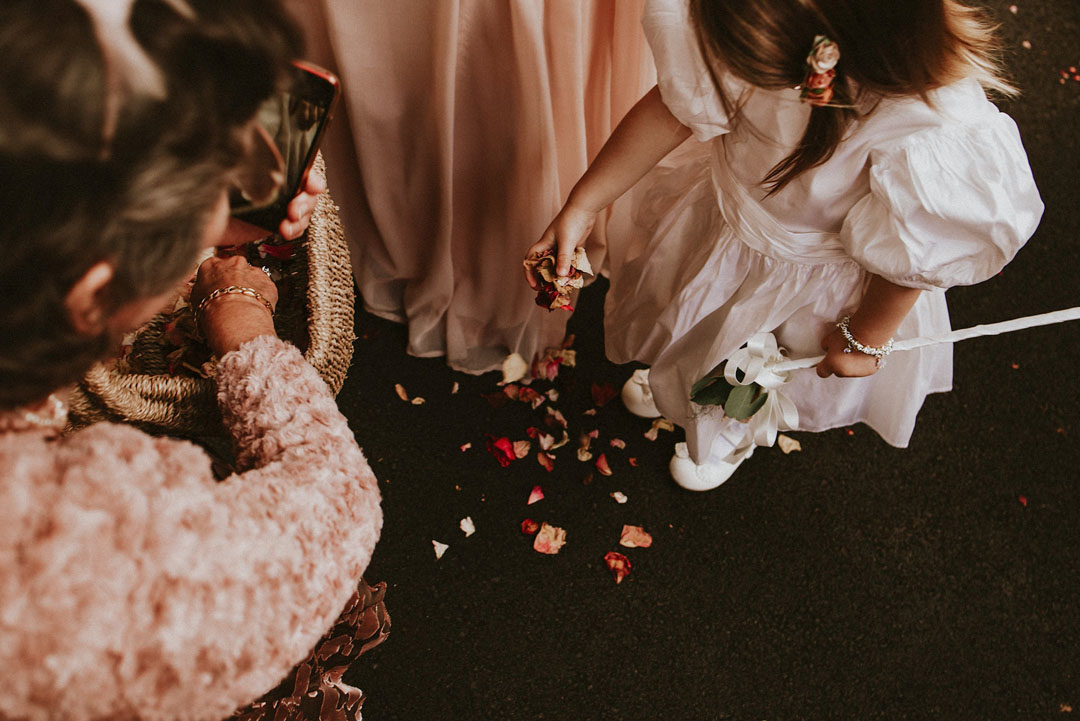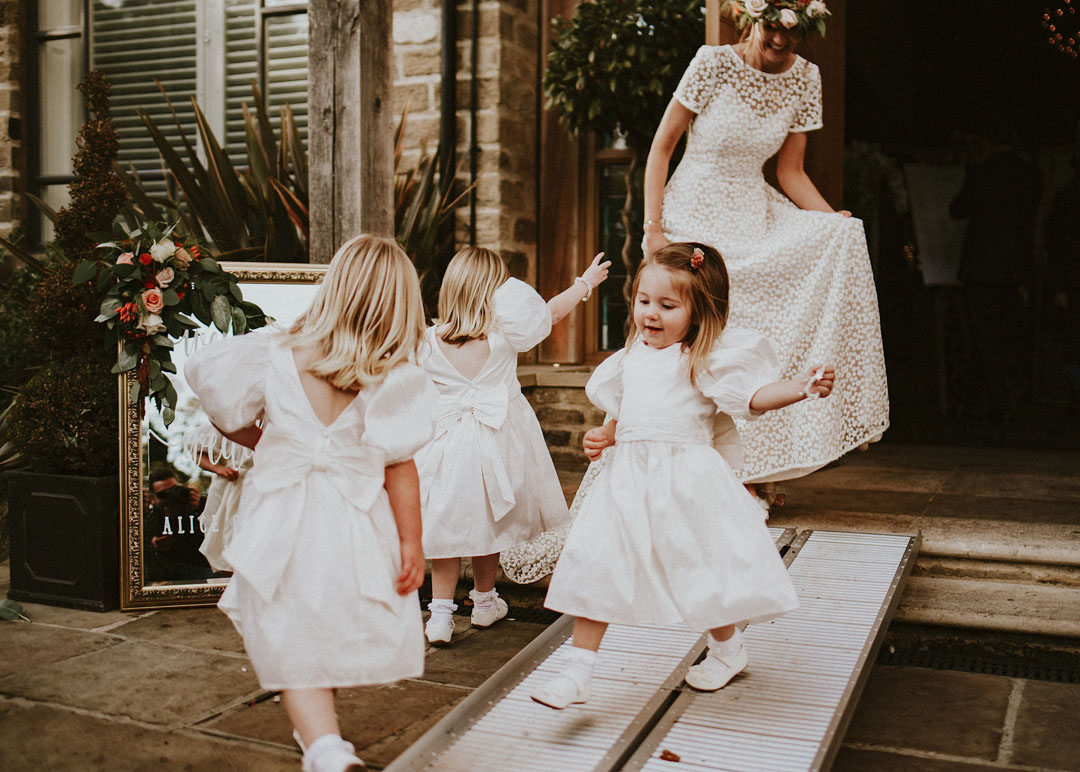 The bride chose her short-sleeved gown, hand-embroidered with daisies, at Along Came Eve Bridal Boutique. It's an E&W Couture design and was ideal for the vintage, floral styling of the day.
"I had one of those wedding dress shopping experiences you see in the films. I managed to take my entire bridal party to Chester and find my dream dress."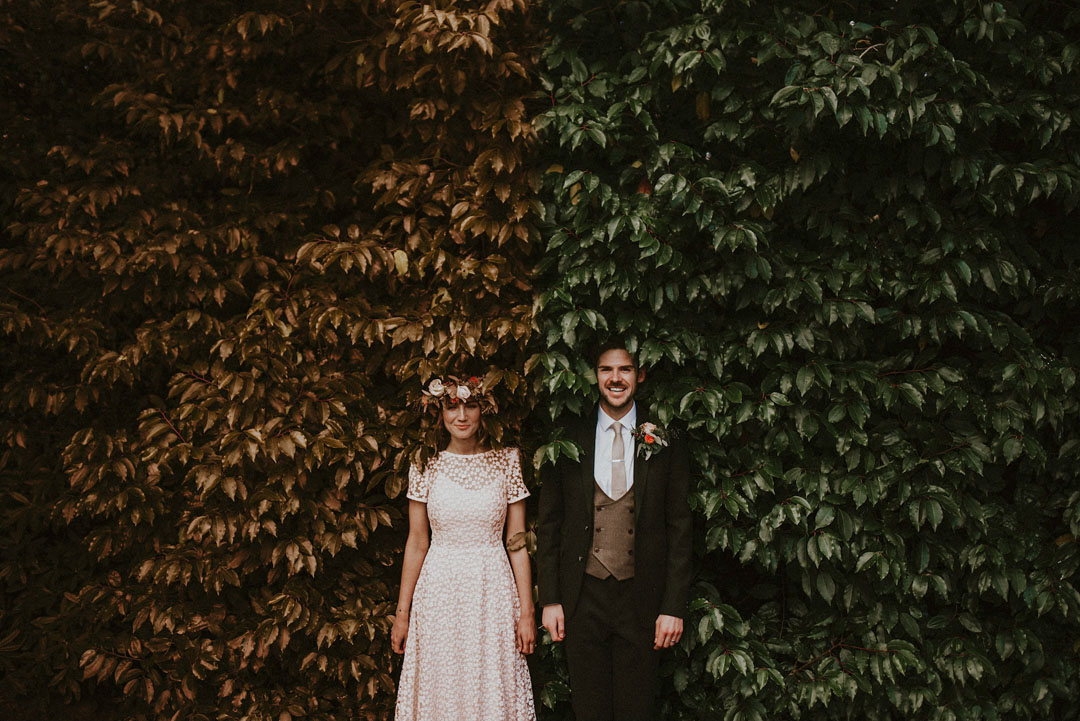 "Along Came Eve were great and we had the whole top floor which allowed me to do a mini catwalk, which was great fun."
When I said 'Yes to the dress', the bubbles were flowing and it was a magical and emotional experience I won't forget!"
Along Came Eve followed me on the journey of moving the wedding dates and was really accommodating moving my dress appointments."
"This dress was like nothing I had seen or tried on before. My mum spotted it hanging up and we knew straight away it was the one."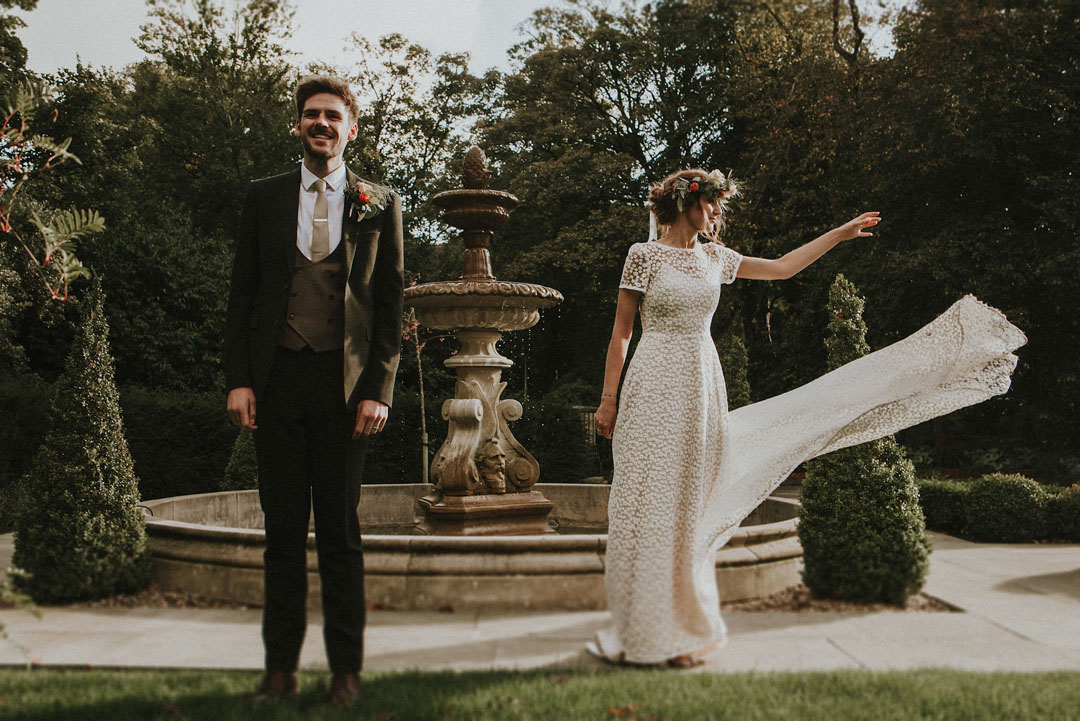 "The detail of the hand-embroidered daisies made it so different and unique. Everything about the wedding was focused around flowers and florals so it was perfect for the rustic vibe and perfect for me."
"I had always planned to wear a real flower crown so when I saw the dress I knew it was the one."
"The bridesmaids had button details all down the back so I had matching buttons added to the back of the dress."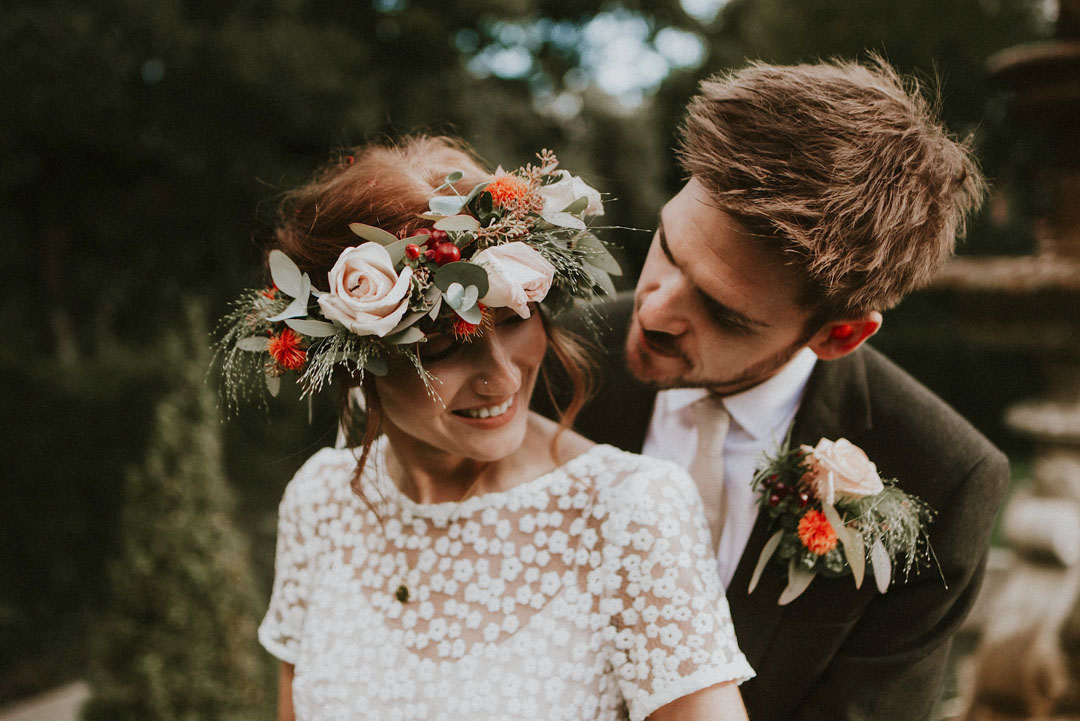 The bride added an opulent crown of real flowers made by florist The Butterfly Net in Kirkburton (no contact details). She also wore a pair of tulle bow 'Ida Pearl' shoes from Charlotte Mills and a vintage-style necklace.
"Gareth got me a personalised, vintage-style, gold pendant to wear on the day and a gold bracelet that said 'Love' on it."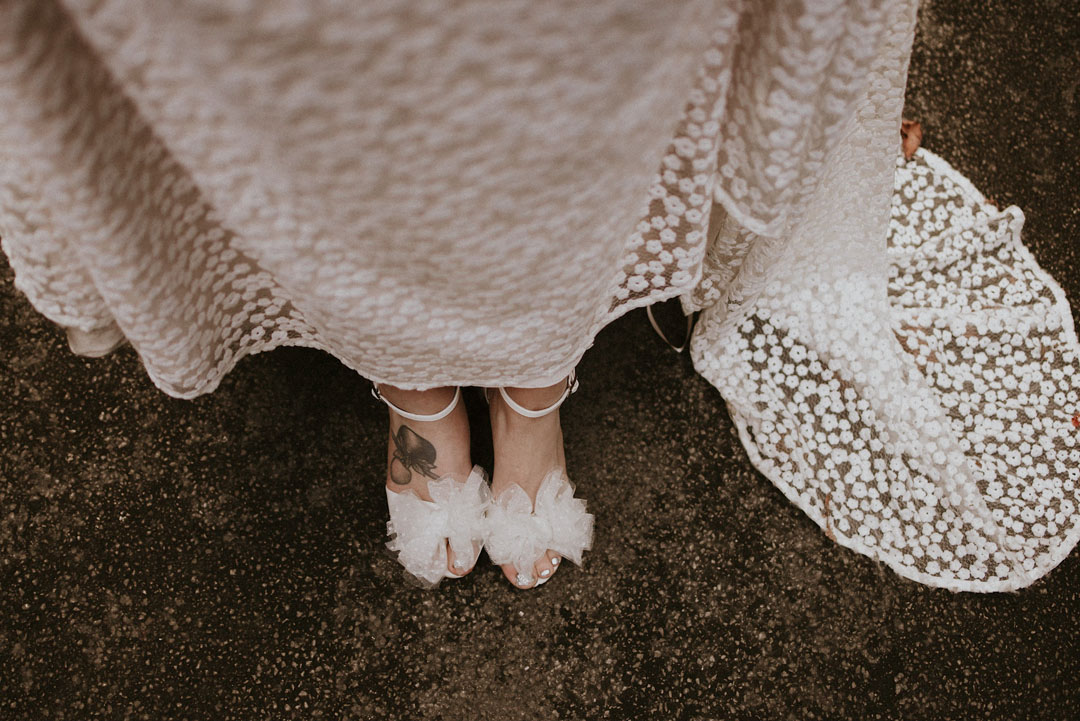 Each detail was captured by Ryan Learoyd at Shutter Go Click Photography, a talent who we've supported for many years on Love My Dress.
"He is a creative and lighting genius! The one thing that we were always set on was Shutter Go Click as our wedding photographer – there was no doubt about it."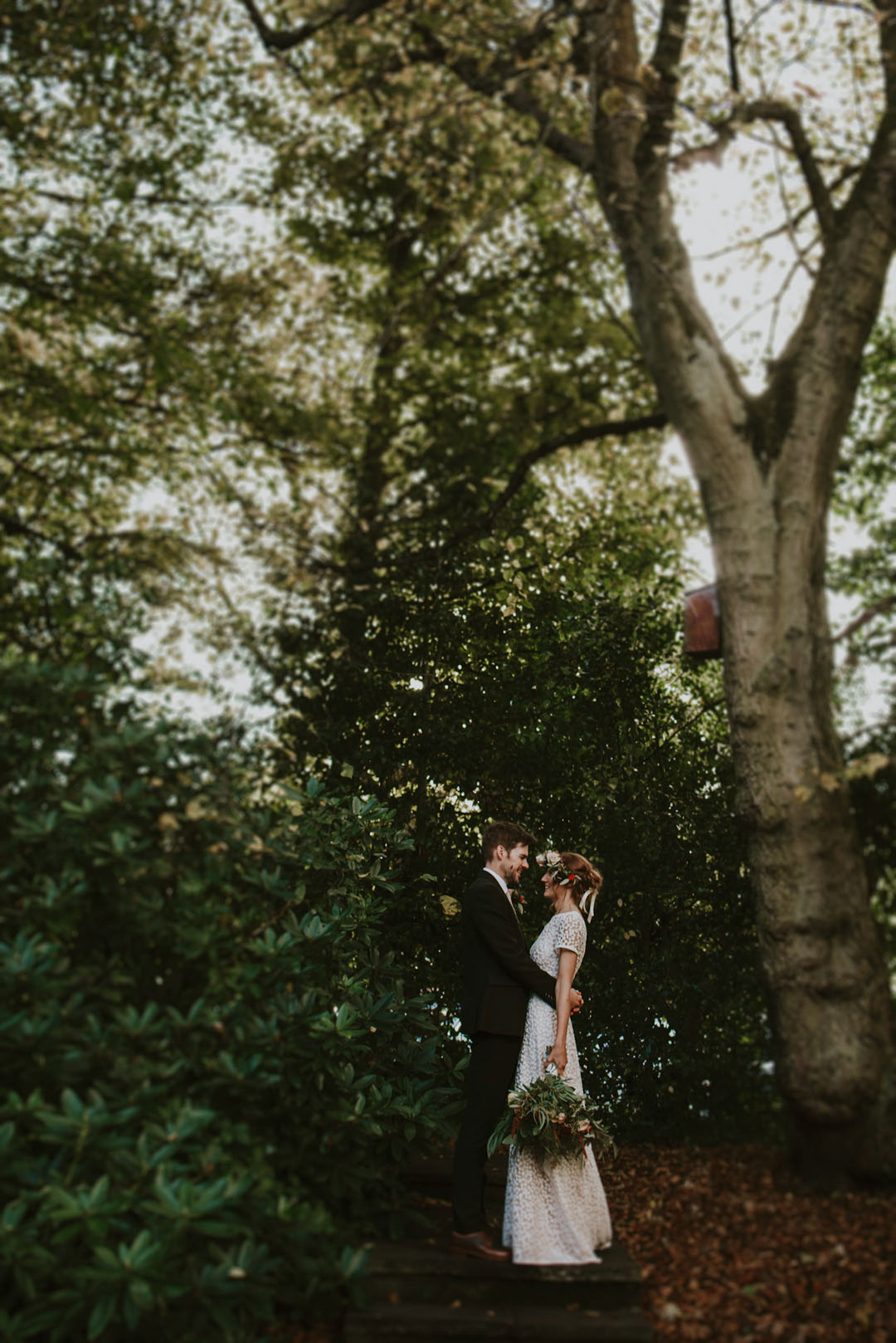 "The arty shots, cool angles and the way he works lighting were out of this world. With our wedding having a vintage and rustic theme, we knew they were going to be insane shots and they were better than we ever expected."
"Ryan took nature to another level and nailed our autumnal vision for the day. He had us in the trees, working with the leaves and all the angles to capture the day."
"On top of that, he captured all the smiles and laughter throughout the day with lots of candid shots of the guests having the best day. We 1,000% recommend."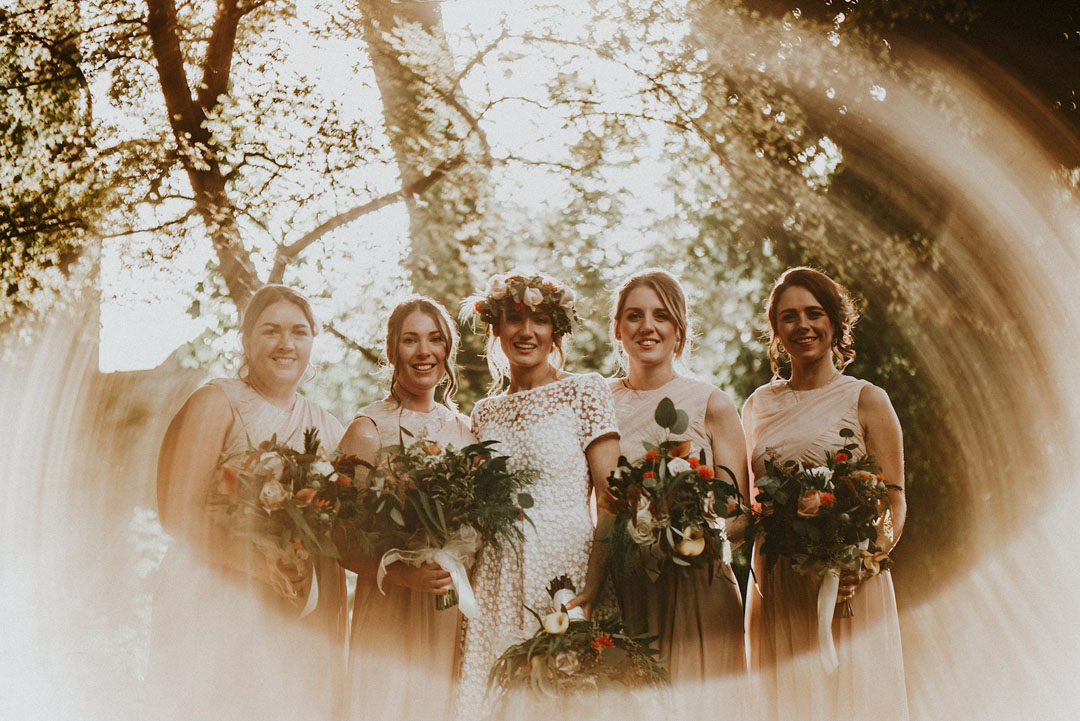 The bridesmaids were in soft pink gowns from ASOS with button-down backs with New Look shoes and faux flower hair slides made by Fleur & Grey.
They also wore personalised gold bar necklaces from Selfridges and carried personalised, gold sequin clutch bags from Monsoon.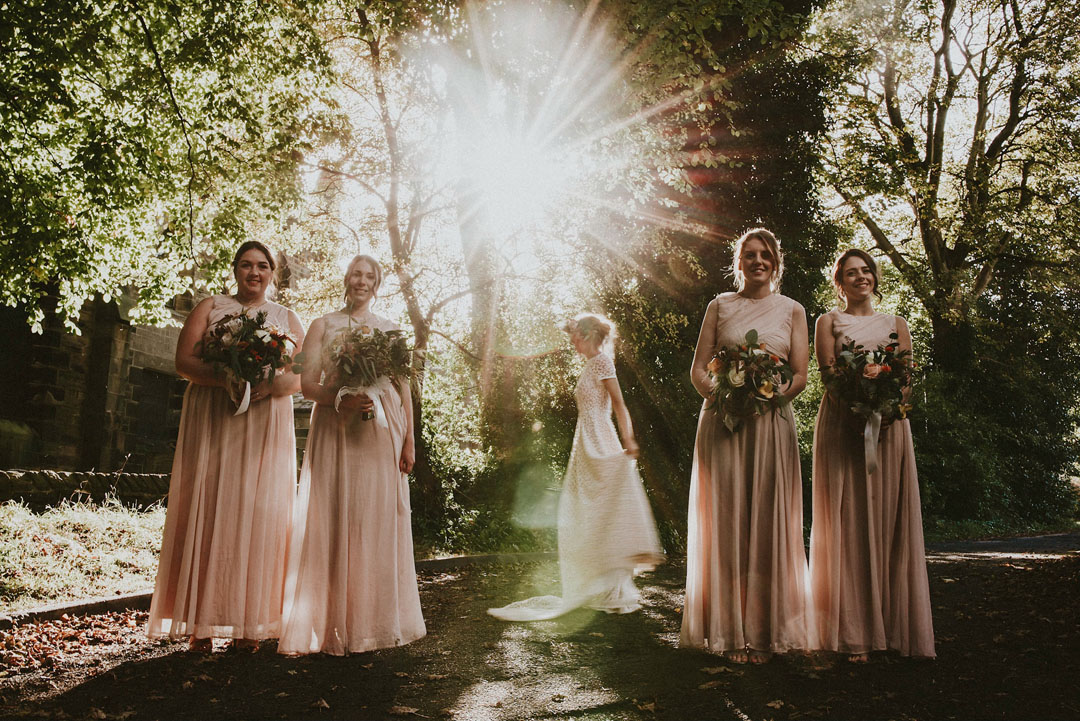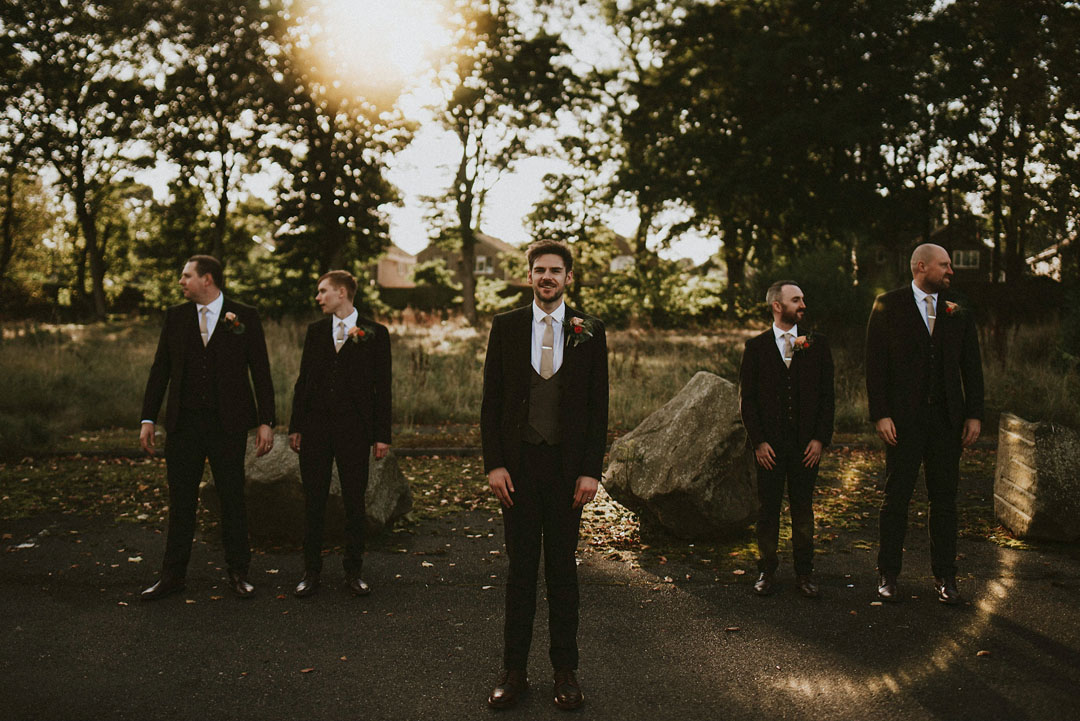 The wedding reception was held in the Manor House's Coach House, and Alice had put so much love and creativity into the decor and styling.
"I collected vintage birdcages as the focal point of decoration for the tables. I worked with Fleur & Grey and she created autumn wreaths to go around the birdcages."
"She used faux flowers, foliage foraged from the local woods and matched the flowers to my vintage boutique."
"I then added lots of candles to create a magical feel to the place. With the woodland artwork on the walls and autumnal mural, it was the perfect autumn wedding venue."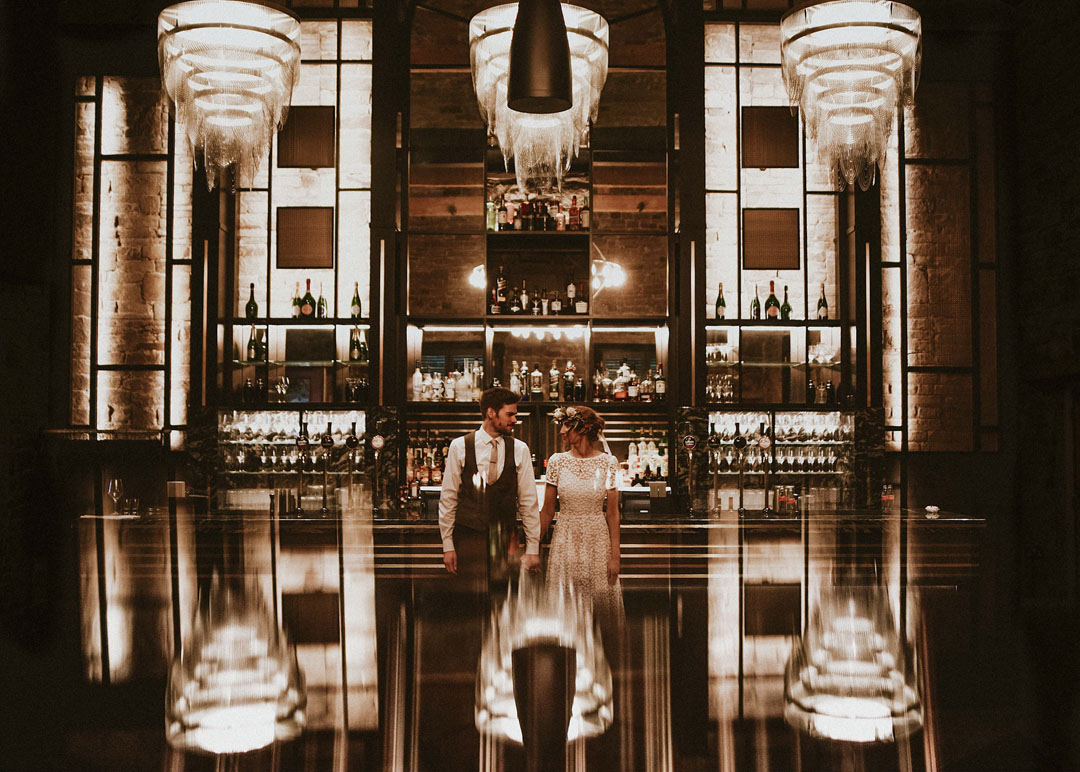 As a super-creative person, Alice was keen to plan and style as much of the day herself as possible, working with the venue's wedding planner and Fleur & Grey to achieve her floral vision.
https://www.lovemydress.net/directory/supplier/claire-do-monte-luxury-wedding-planner-uk/
"I love fashion and art and always wanted a vintage and rustic-style wedding. This goes with my fashion style and is something I've always loved."
"Once the venue was booked, everything else fell into place with the overall vision. The unique dress and flower crown were in keeping with the rustic look and feel of the wedding."
"With my red hair, the autumn colours of the flowers and leaves just worked perfectly."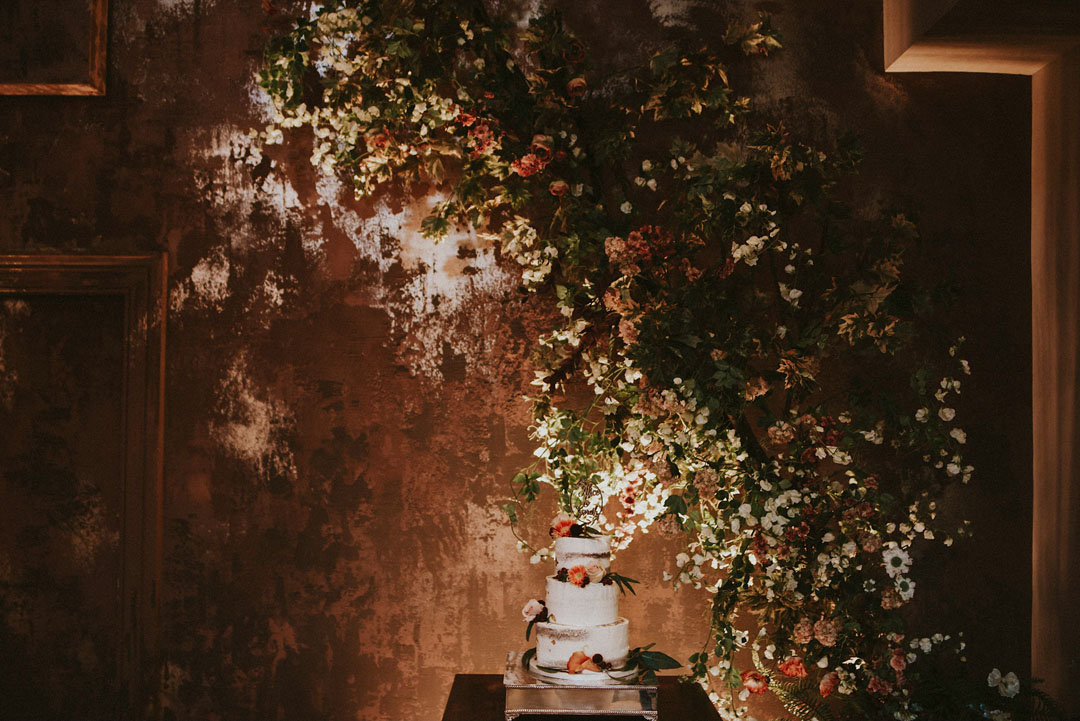 "I love anything creative so planning was my favourite part! We worked closely with our wedding planner from the venue to make sure I could bring my ideas to life."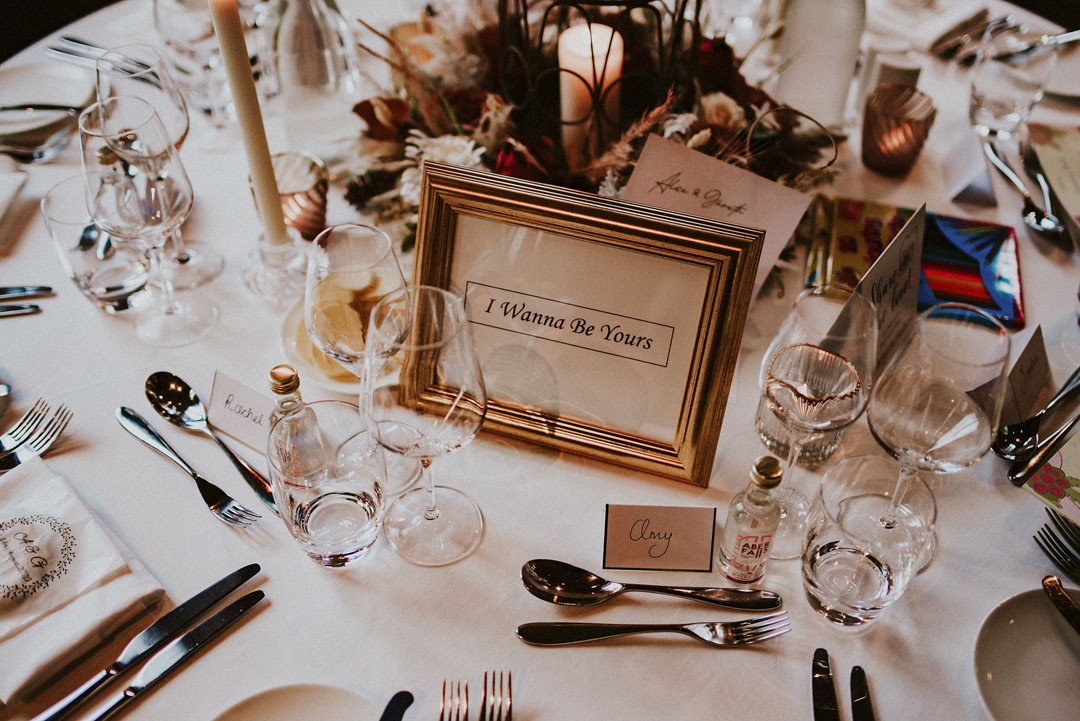 "I also worked with Fleur & Grey (who specialises in floral design) to create autumn wreaths for the table decorations and she helped style up the room with me."
"She was a huge inspiration and helped bring it all together."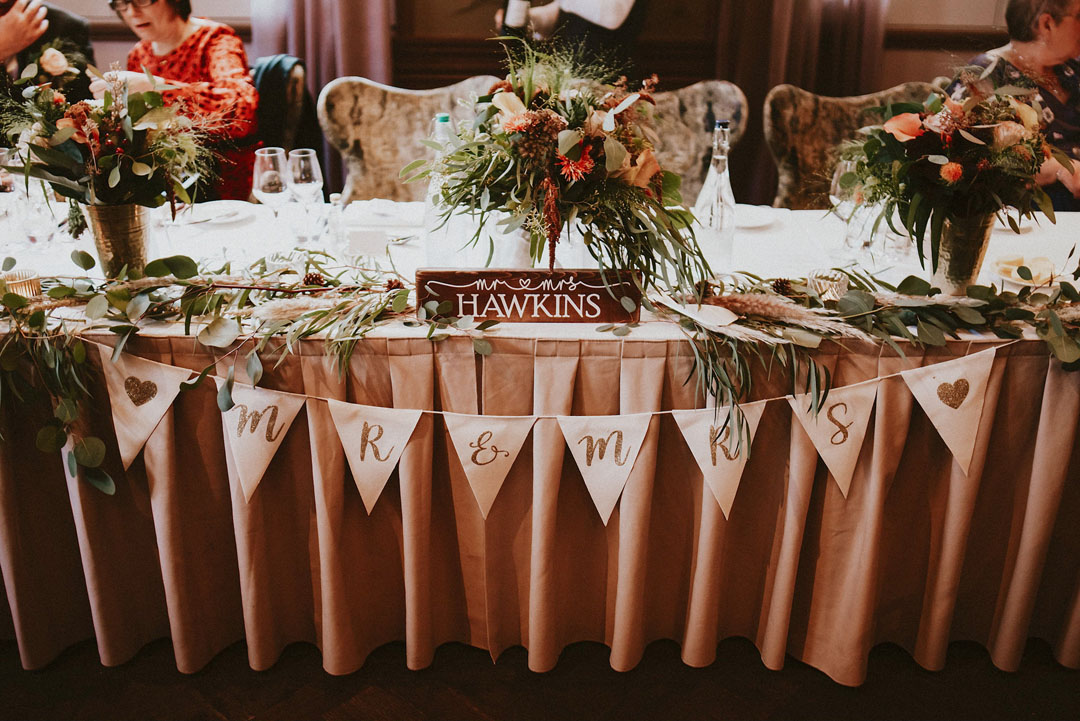 "The Coach House at Manor House was the perfect backdrop with its autumnal colours, painted walls and murals, 'Great Gatsby' style and Art Deco bar area. It brought my vision to life!"
"The wallpaper was covered in trees and birds and that was the inspiration for the table decorations. I knew I wanted birdcages on each table to bring this vision to life and lots of flowers and candles to create a magical feel."
The wedding breakfast was provided by Manor House Lindley and the favours were Welsh cakes in personalised bags and Aber Falls Welsh gin bottles. There was also a spectacular, three-tiered cake from Cakes by Leisa.
"We had a semi-naked cake covered in real flowers provided by the florist. The personalised wooden sign was from Etsy. It was delicious and looked fab against the floral back drop!"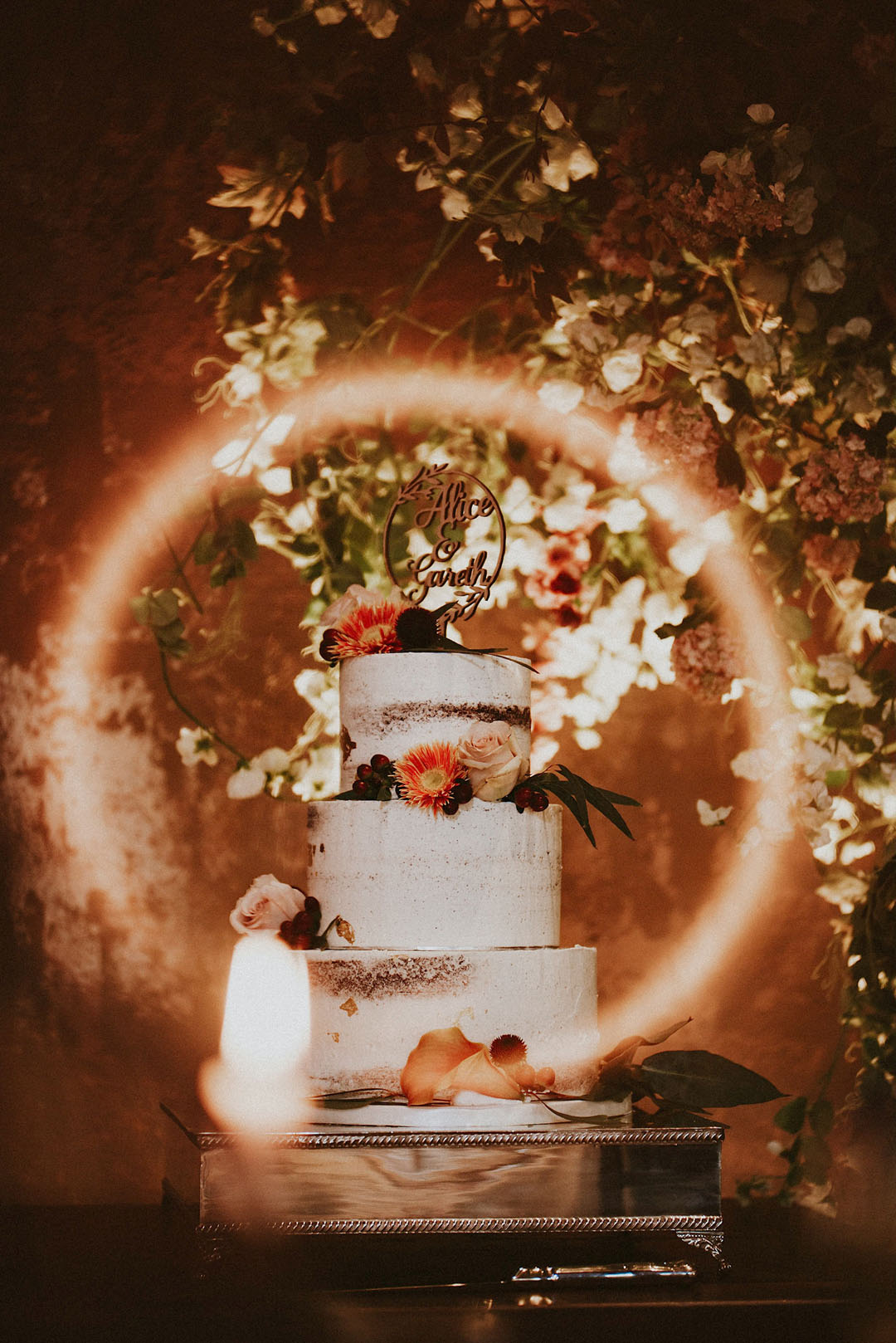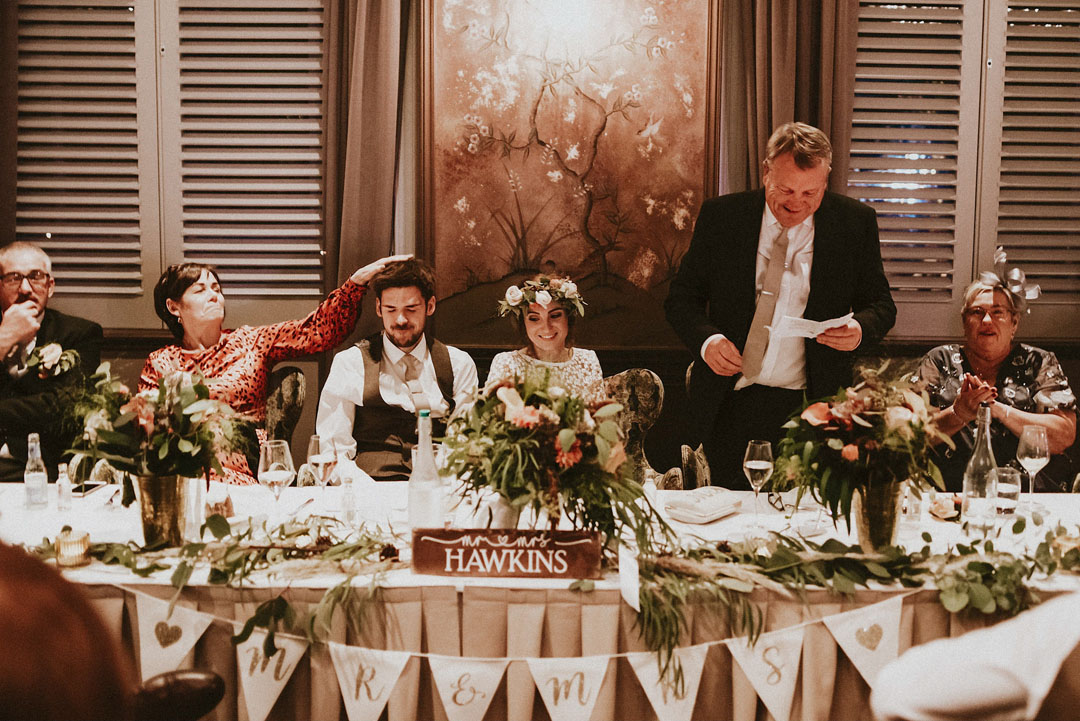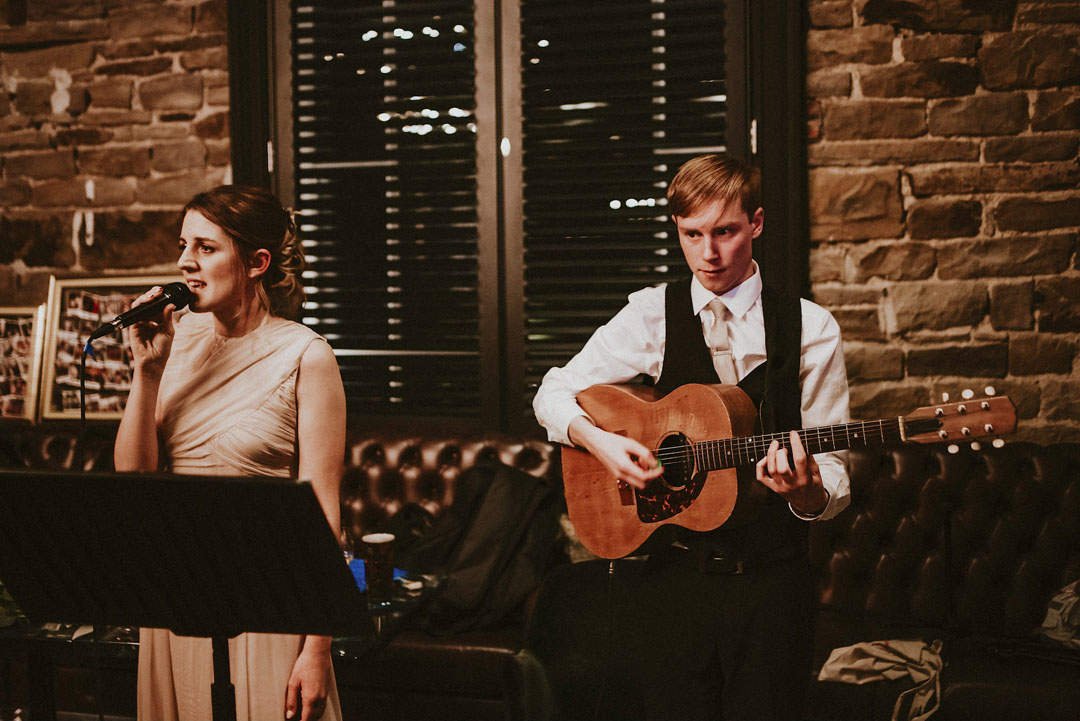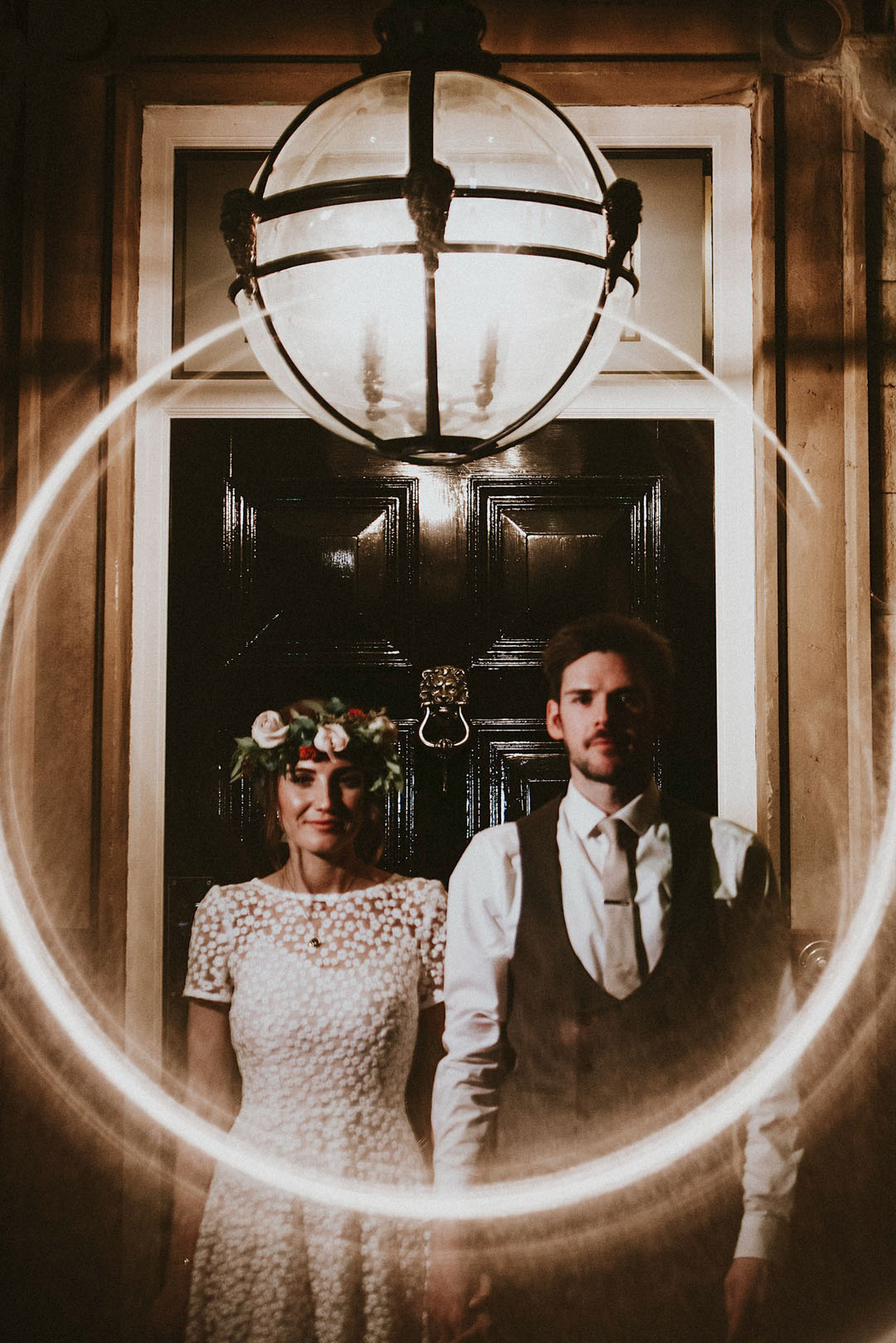 After dinner, the party got started with a magical, fairy-lit atmosphere. It looks so much fun, particularly with the surprise flash-mob dance, choreographed by the bride and bridal party."
"But first, Alice replaced her floral crown with a flower headband from Isabella's Closet and slipped on a personalised leather jacket.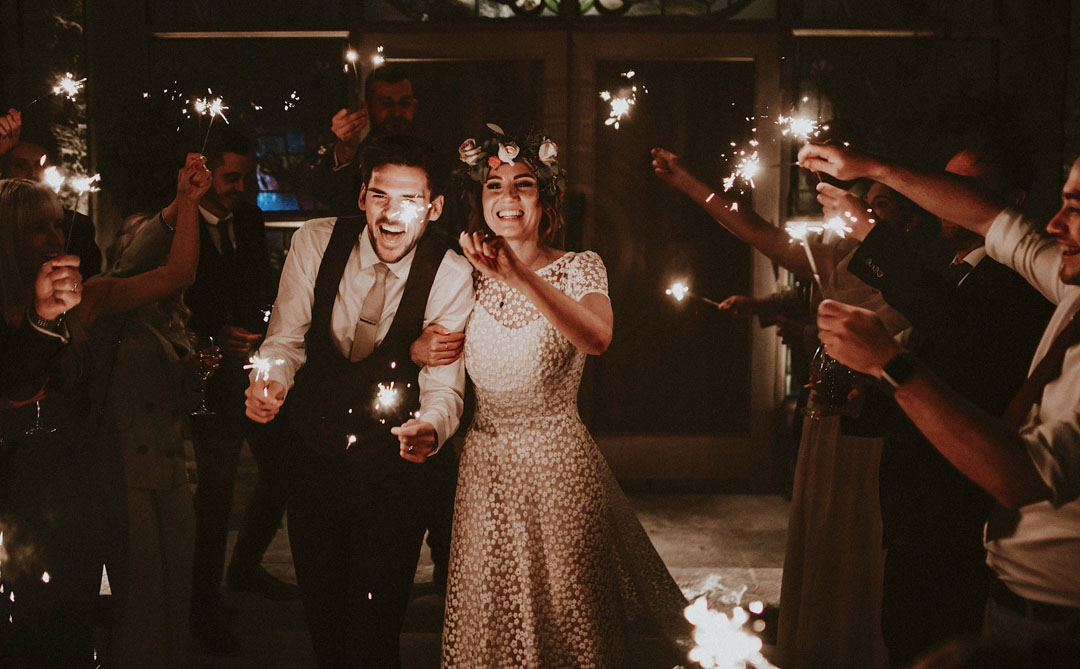 "I absolutely loved changing in the headband once the dancing commenced; it matched my dress perfectly. I painted my own leather jacket with 'Mrs Hawkins' and added a floral design to match my bouquet."
"Our evening band was Rupert Stroud Music. The best band ever! They are an Indie band that covers old classics and R'n'B favourites. Our first dance was 'Baby I'm Yours' by Arctic Monkeys. We are big Arctic Monkeys fans so it had to be this song."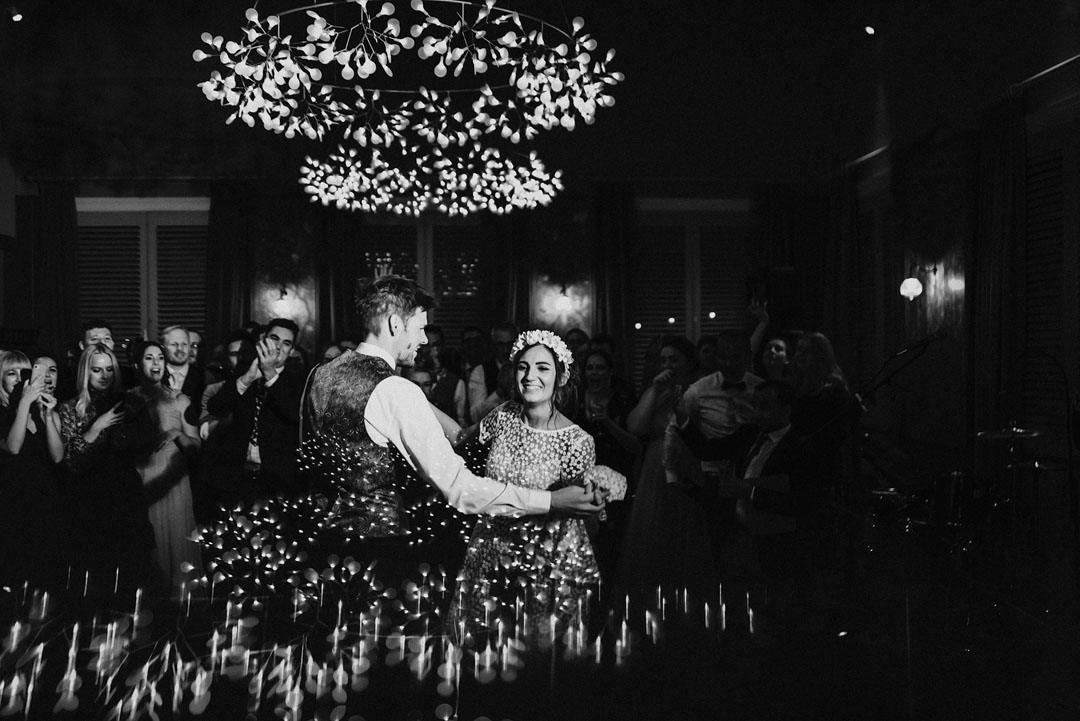 Gareth and Alice have so many beautiful memories from the day.
"We loved the meal and looking out from the top table at all our friends and family in front of us. We also loved the surprise dance we had planned which took everyone by surprise."
"We danced to 'Think About Things' by Daði Freyr (the Icelandicc Eurovsion song). It went down a treat and got the crowd going!"
"We also loved the live band. Went the band started, the doors slid open and they were playing 'Lucky Man' by The Verve. The crowd went wild; this was a moment I won't forget."
For brides affected by Covid, Alice and Gareth have this advice.
"It will all be worth the wait. The celebrations were bigger and better than we had ever expected, mainly because it was the first time seeing a lot of friends and family after so long all in the same room together."
"It was very special. Our biggest advice is to just know that when it does happen it will be the best day ever. Try to make positives about moving the dates. We went bigger on decorations and we had more ideas for the day. We also had lots of signage to signify moving the date and the long wait, and we even kept some of our personalised touches from our original date – our favours had the original date on."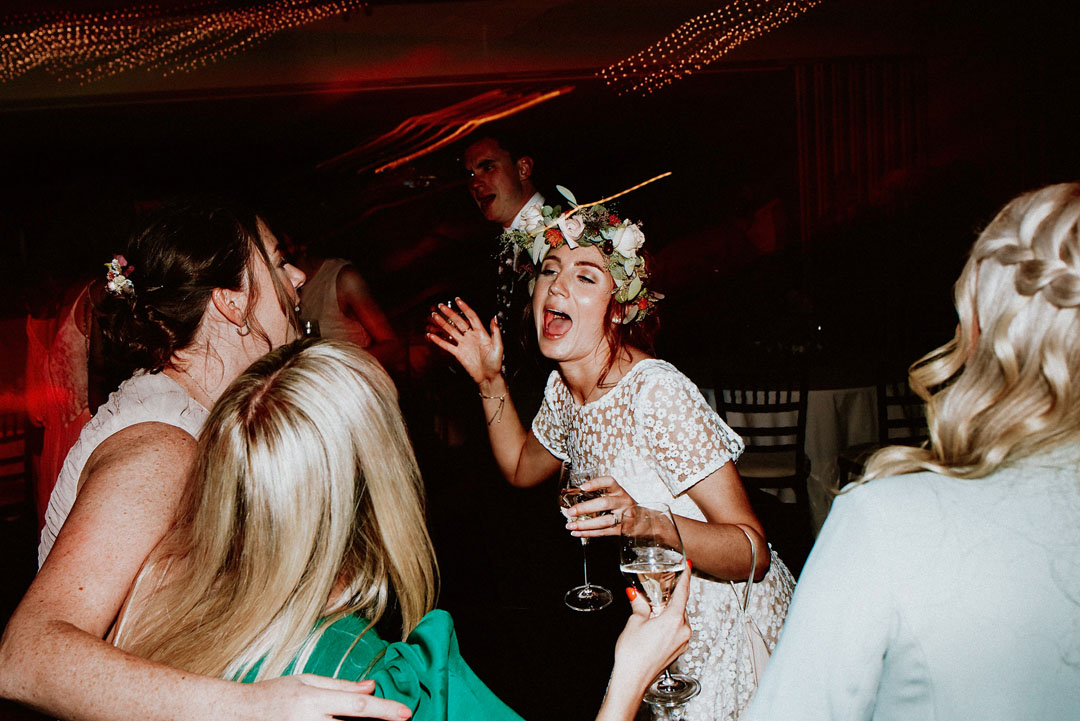 Words of Wedded Wisdom
"Enjoy every minute of it! Whether it's the planning, the build-up, the getting-ready, the speeches… it goes in a heartbeat and all the memories will last a lifetime. I loved every second of it and spent the day wishing it wouldn't go so quick so just enjoy it."
"Don't sweat the small stuff. Once you are there and everyone is together, that's all that matters."
https://www.lovemydress.net/directory/supplier/emma-hewlett-floral-design/
"Everyone is there to celebrate with you. I look back at stressing over seating plans, decorations and all sorts and now it's over, I miss it all."
"Love My Dress had the ultimate wedding goals and inspiration. I used to go on daily to see what weddings had been posted and get ideas."
Gareth and Alice, thank you and congratulations to you both. It's been such a privilege to see how you styled your day, and how wonderful that you got some inspiration from our pages. Thank you, Ryan at Shutter Go Click; it's a joy to share your work again.
Ele xx