The bonnie banks and brooding mountains of Loch Lomond are the atmospheric, majestic location for today's feature.
Come with me to Scotland to enjoy the September featuring a bride in a beauty of a gown by Sassi Holford, whose wedding was styled to head-turning perfection by the team at GLOAM.  On 18 September 2021 Robert, head of digital media for Rangers Football Club wed Stephanie, a freelance journalist and digital manager, at The Loch Lomond Arms in Luss, Scotland.
Photography Ross Alexander Photography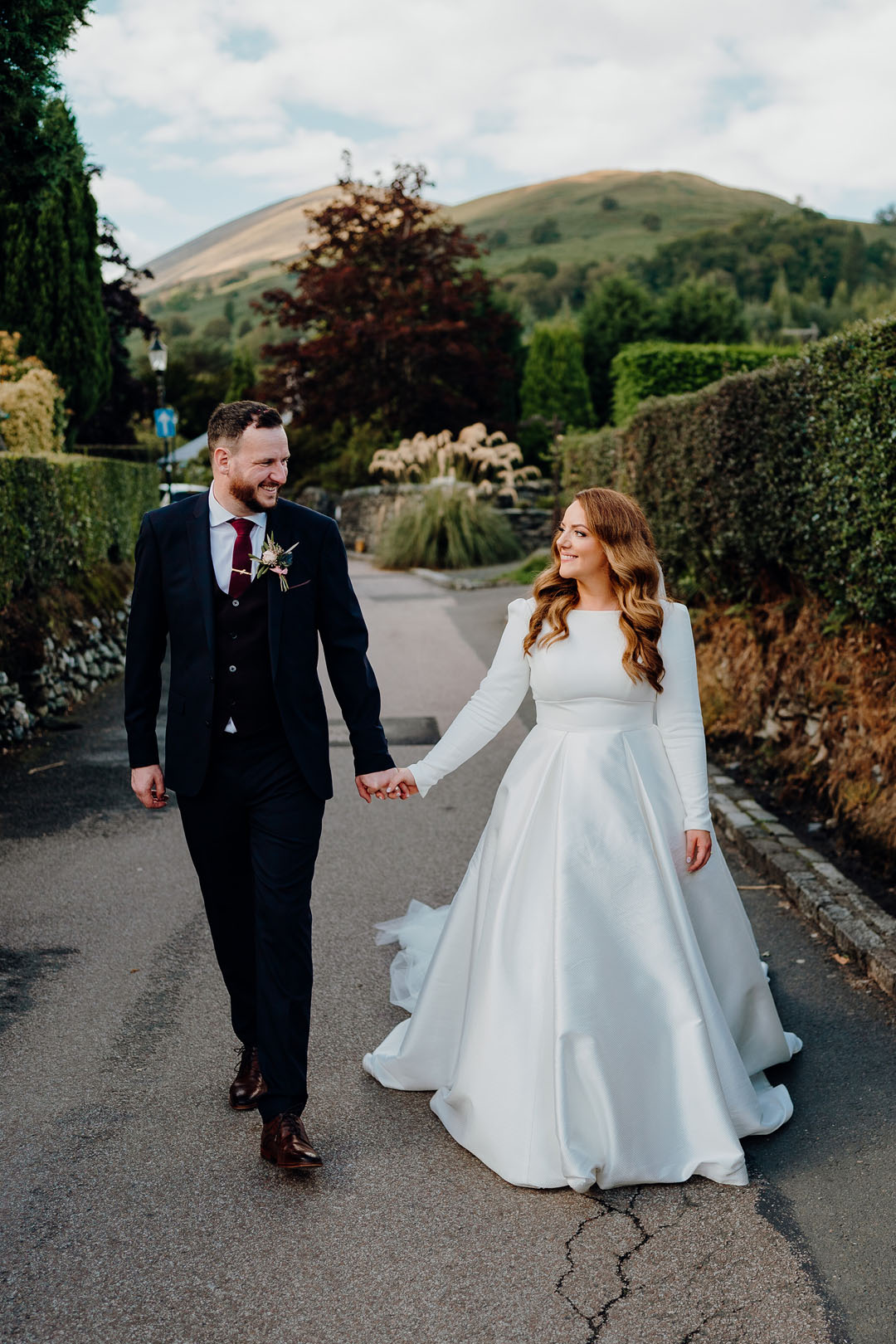 Steph's friend, jeweller Rosalind from Sweet Rosie Jewellery, made three sets of diamond earrings as a gift for her wear on my wedding day.
The bride wore her hair down in perfectly glam waves, styled by Gillian at Pin Up Hair Glasgow. She added a rose gold and crystal, floral hair clip from Ivory & Co via Anne Priscilla Bridal for the day, changing into gold 'Mrs B' hair slides from Six Stories for the evening reception. Stephanie's make-up was flawless and defined, applied by Charlie at Bang Bang Beauty.
"Both Gillian (hair) and Charlie (make-up) made our morning so fun. I really loved having them around. Charlie worked with me to create a bridal look I really loved and felt comfortable with. All of the girls loved their hair and make-up."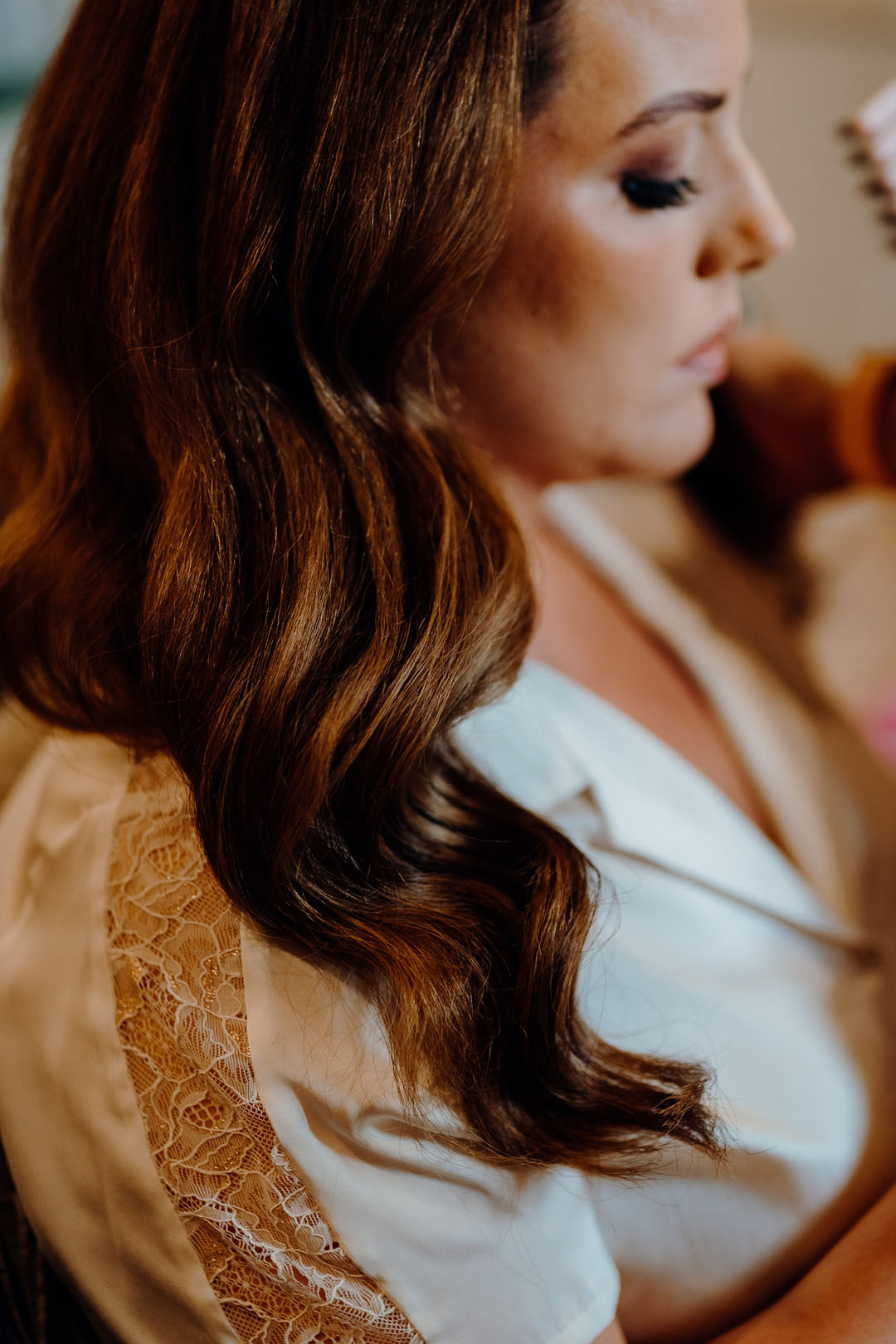 The bride's ball gown was custom Sassi Holford, purchased at Anne Priscilla Bridal in Glasgow. We recommend Sassi on our Wedding Directory so please visit her listing here for more gorgeous designs. The dress featured long, buttoned sleeves, a full, Mikado silk ball gown skirt and a plunging V-back.
https://www.lovemydress.net/directory/supplier/sassi-holford/
"I had such a positive experience with Karen and the girls at Anne Priscilla Bridal. They went above and beyond for me and I couldn't recommend them more."
"The shop itself is gorgeous with such a varied selection of gowns and they make it feel like a special experience too. My mum doesn't have great mobility and they made sure she felt comfortable and had everything she needed when we went for fittings. I really appreciated that because not every boutique would have."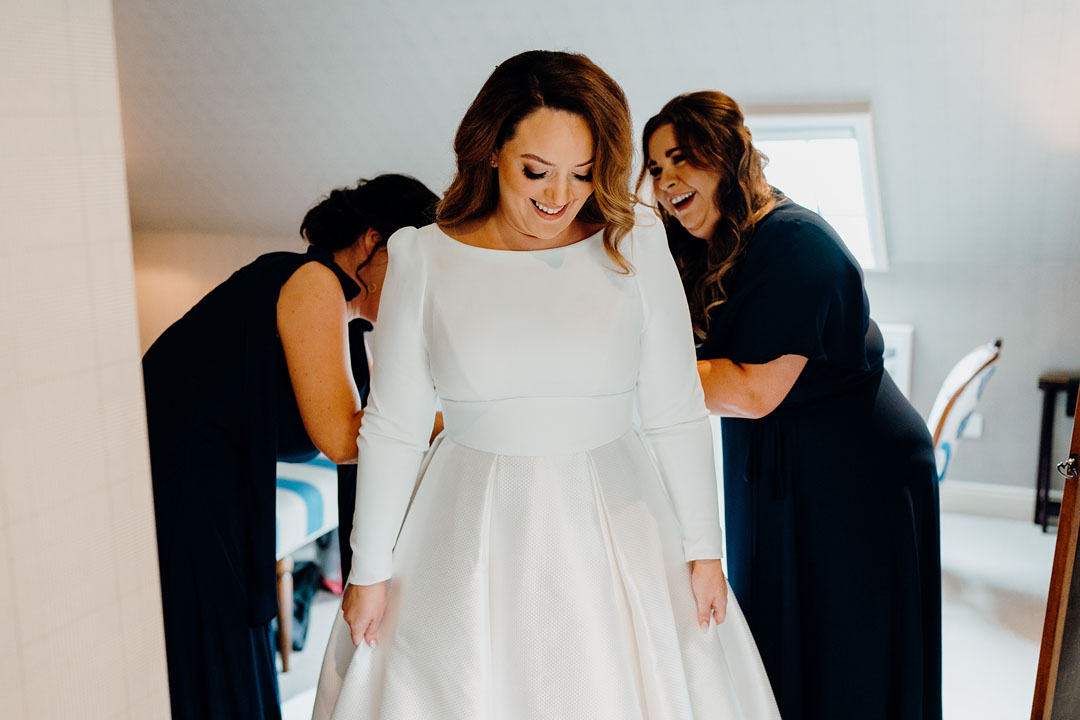 "I always wear long sleeves when I go out and get dressed up, so I knew that I would go for a sleeve. Plus, I love the look of long sleeves on a wedding dress."
"I knew exactly the style of dress I wanted but I couldn't find anything that was quite right. Karen worked with me and introduced me to Sassi Holford at a trunk show at the boutique. Together we came up with the dress of my dreams."
"My dress was a long-sleeve, boat neck gown with a textured Mikado silk, ball gown skirt. The back was a plunging V with silk buttons. I loved everything about my dress."
The fit was perfect, I loved the sleeves and the pockets! I also loved the skirt's texture – tiny little diamond shapes that you couldn't really see unless you were close-up. It was really simple and classic and perfect for me. I only wish I could wear it again."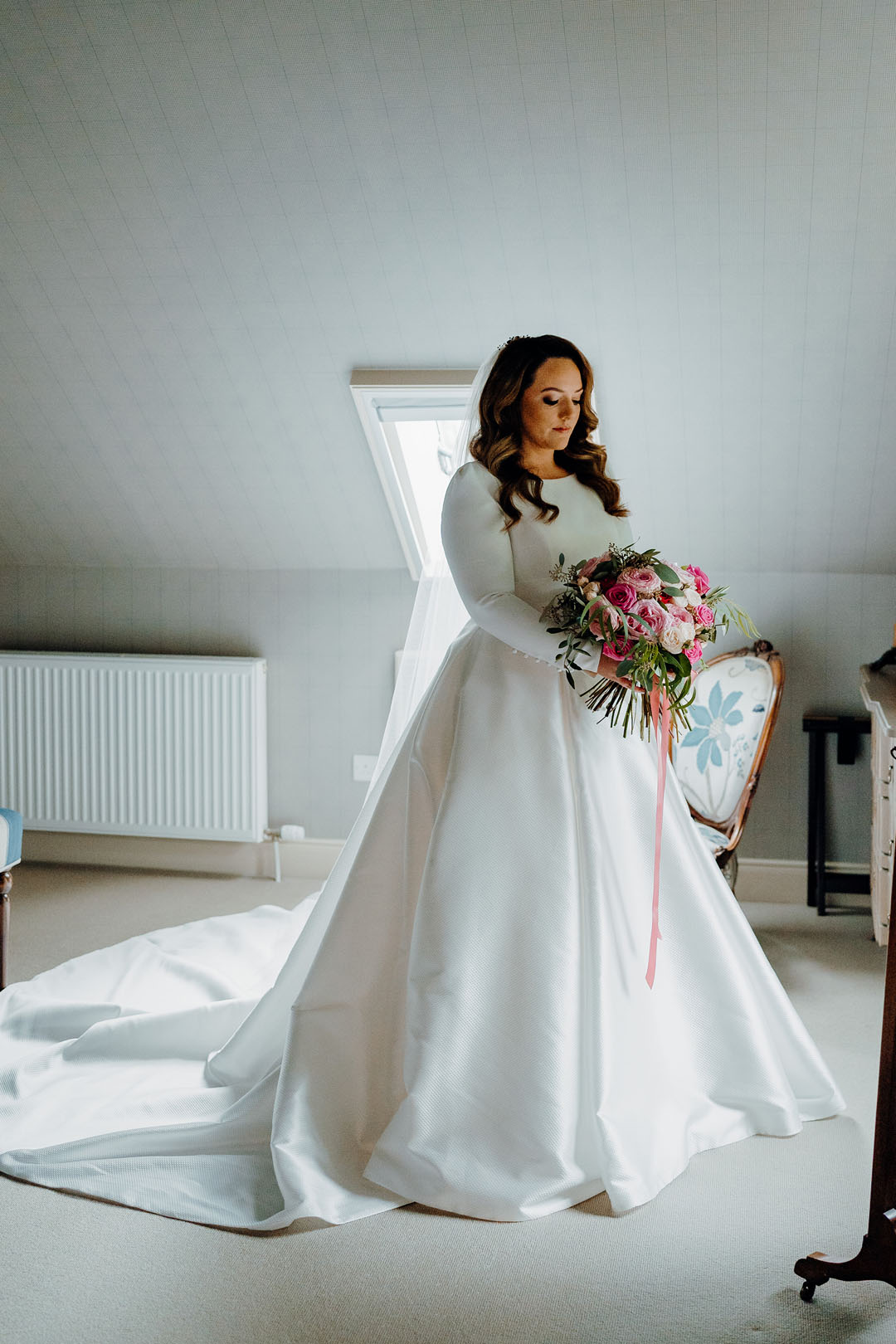 She wore Charlotte Mills Indi Pearl heels, complete with tulle bows on the toes, and she used her usual autumn/winter scent – Dark Amber and Ginger Lily from Jo Malone.
"I layered that on top of Wood Sage and Sea Salt Body Crème because we were getting married near the loch and I felt it was fitting. I love my perfume and I didn't want the stress of trying to find something else."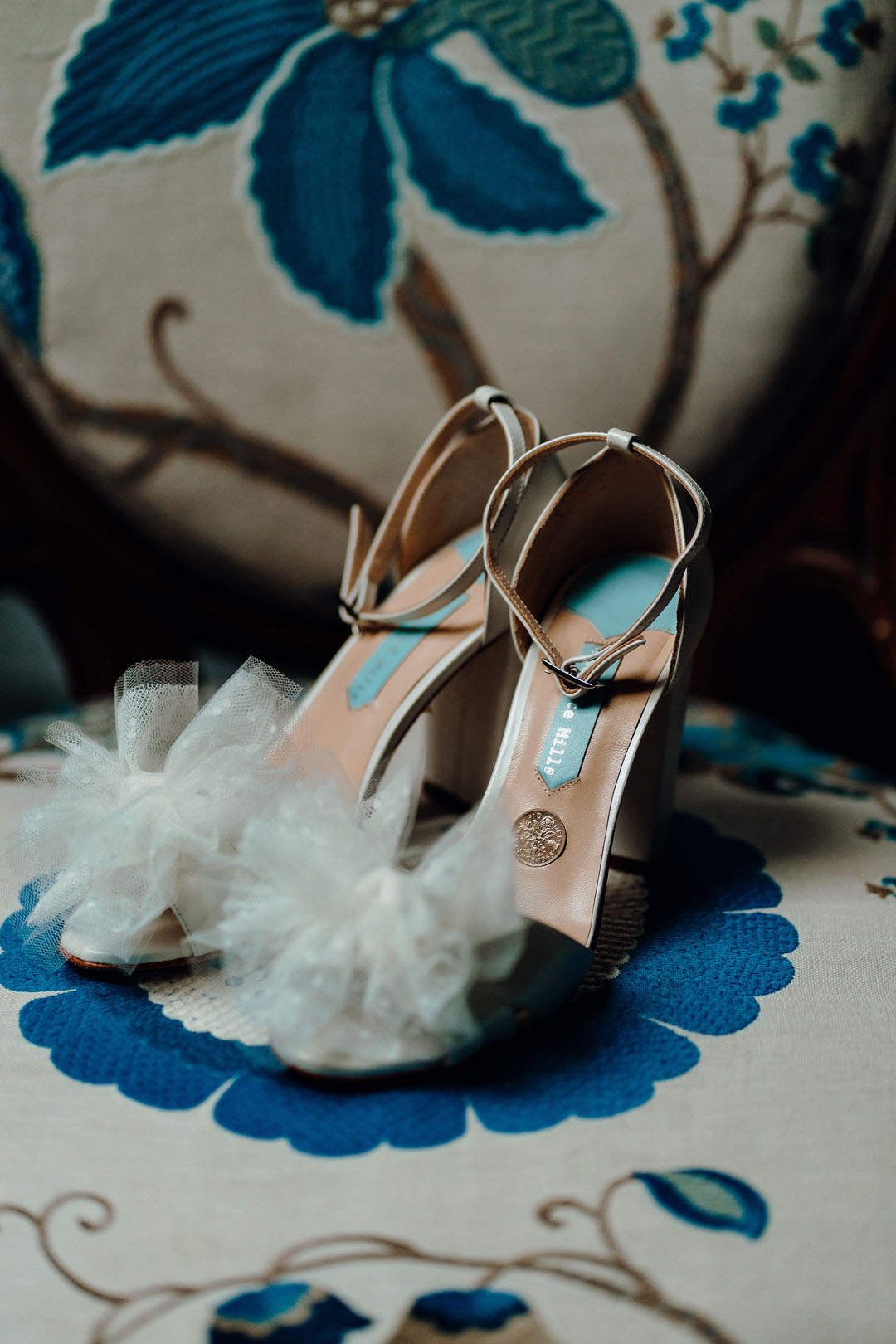 The bridesmaids wore gowns of the deepest blue, all from Rewritten, another of our much-loved Wedding Directory suppliers.
"My chief bridesmaid wore Seville in Ink and the other girls wore Florence in Ink. They were from Melle Cloche in Glasgow, another unbelievable boutique who went above and beyond for us, especially after a major disaster with my chief bridesmaid's gown a week before the wedding."
https://www.lovemydress.net/directory/supplier/rewritten-modern-bridesmaids-dresses-jumpsuits-accessories/
" She was originally meant to be wearing a different designer and a dressmaker completely butchered it so she couldn't wear it."
"They are so professional and nothing was too much to ask. The team at Rewritten were fab too and sent a dress express delivery and saved the day."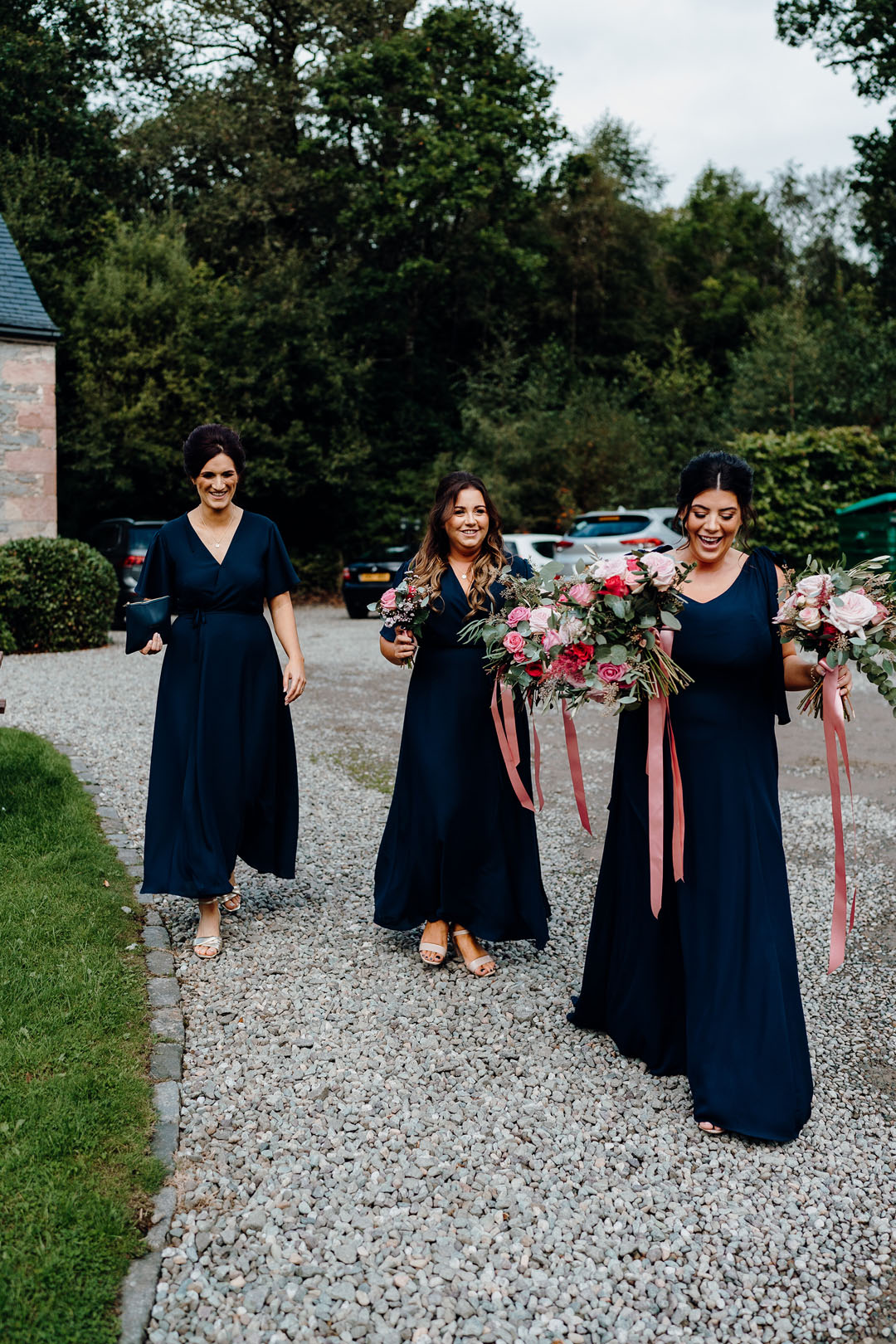 Steph's long, long 'Aphrodite' veil was also from Anne Priscilla Bridal.
"They actually gave it to me as my 'something borrowed'. Just another reason why they are the loveliest bridal shop ever."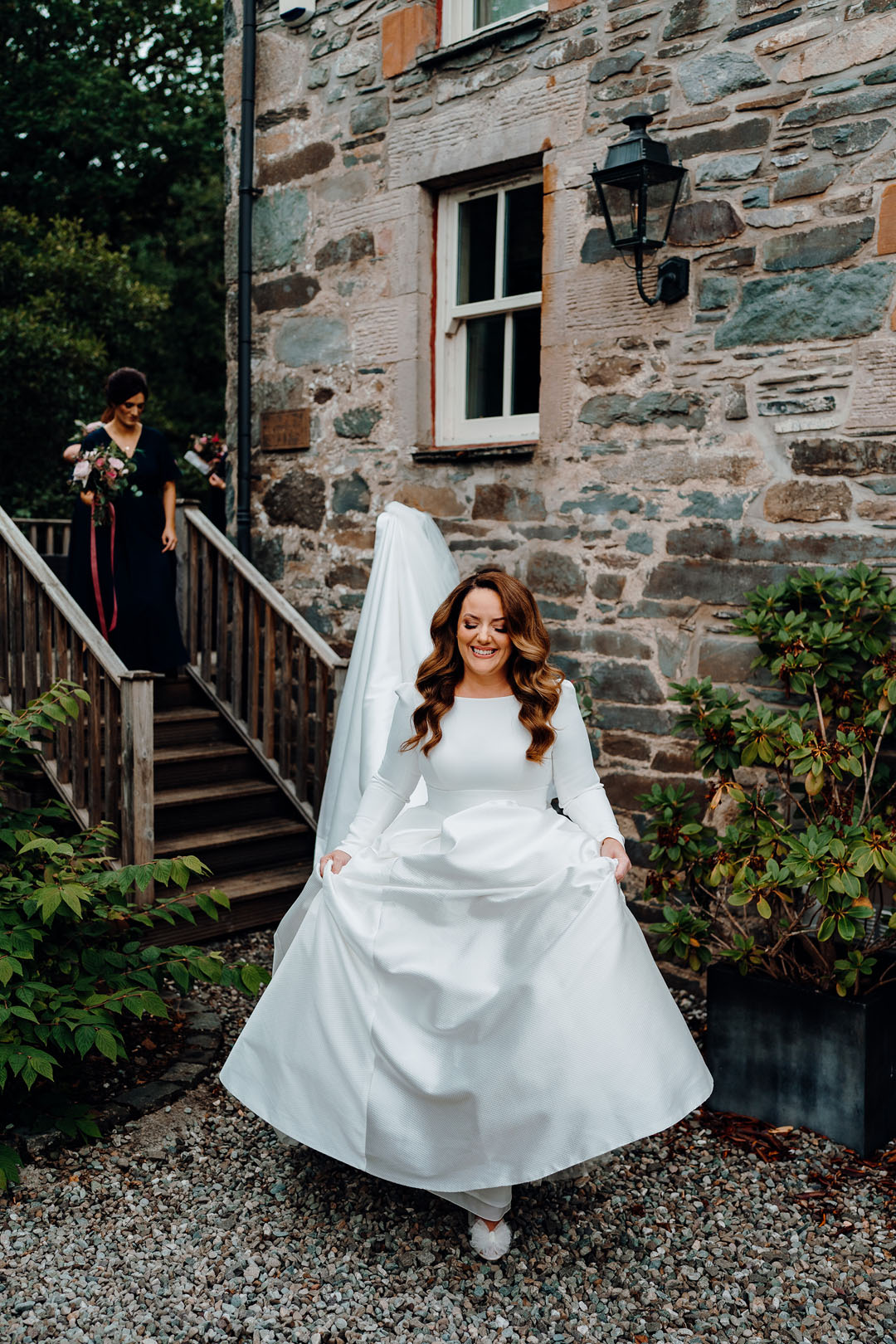 Before the detail of the ceremony, let's talk about the beautiful, natural styling which features lots of foliage, florals and some romantic drapes. The floral arrangements were by Cora Anderson Floristry.
"I wanted soft, romantic flowers in our colour palette of pinks, burgundy, cream and greens: nothing too structured and lush with lots of blooms."
https://www.lovemydress.net/directory/supplier/debbie-carlisle-wedding-hair-accessories-bridal-headpieces/
"Cora is a lovely lady with a real eye for detail. I was so delighted with all of our flowers. She made an unbelievable job of the ceremony archway florals. I was blown away by those."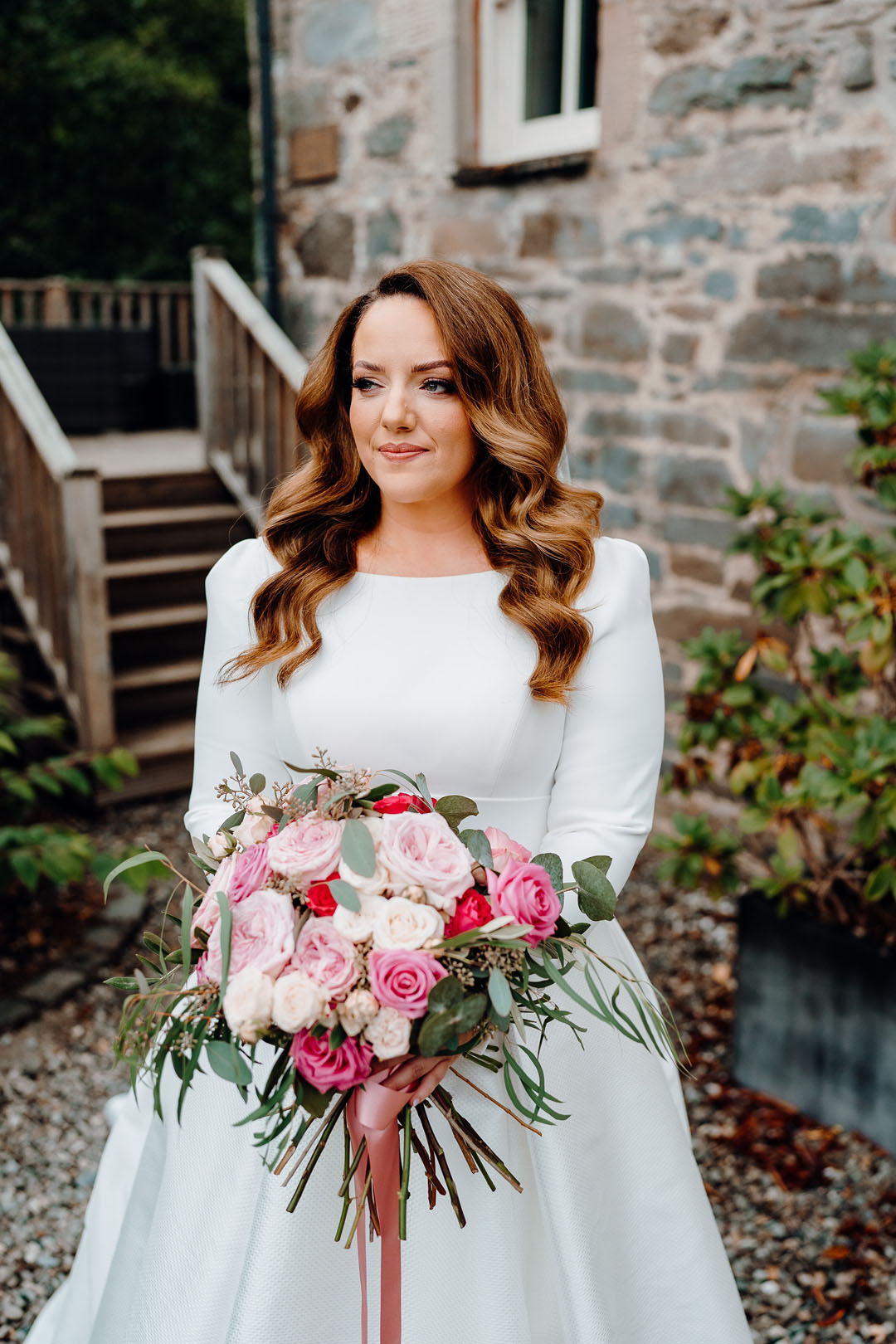 "We wanted to create a space that felt romantic and magical with lots of candles and twinkling lights. I was conscious that it didn't feel twee or fussy."
"I like minimalism but I like it to feel cosy which can be difficult to achieve!"
https://www.lovemydress.net/directory/supplier/days-of-dahlia/
"In the main wedding space, we created softness by using dusky pink material swags on the ceiling with festoon lighting."
"We decided to mix the table shapes to make it feel more informal. We had both round and rectangular tables in varying lengths. The floaty pink material was used throughout the tables with dinner candles in our colour palette."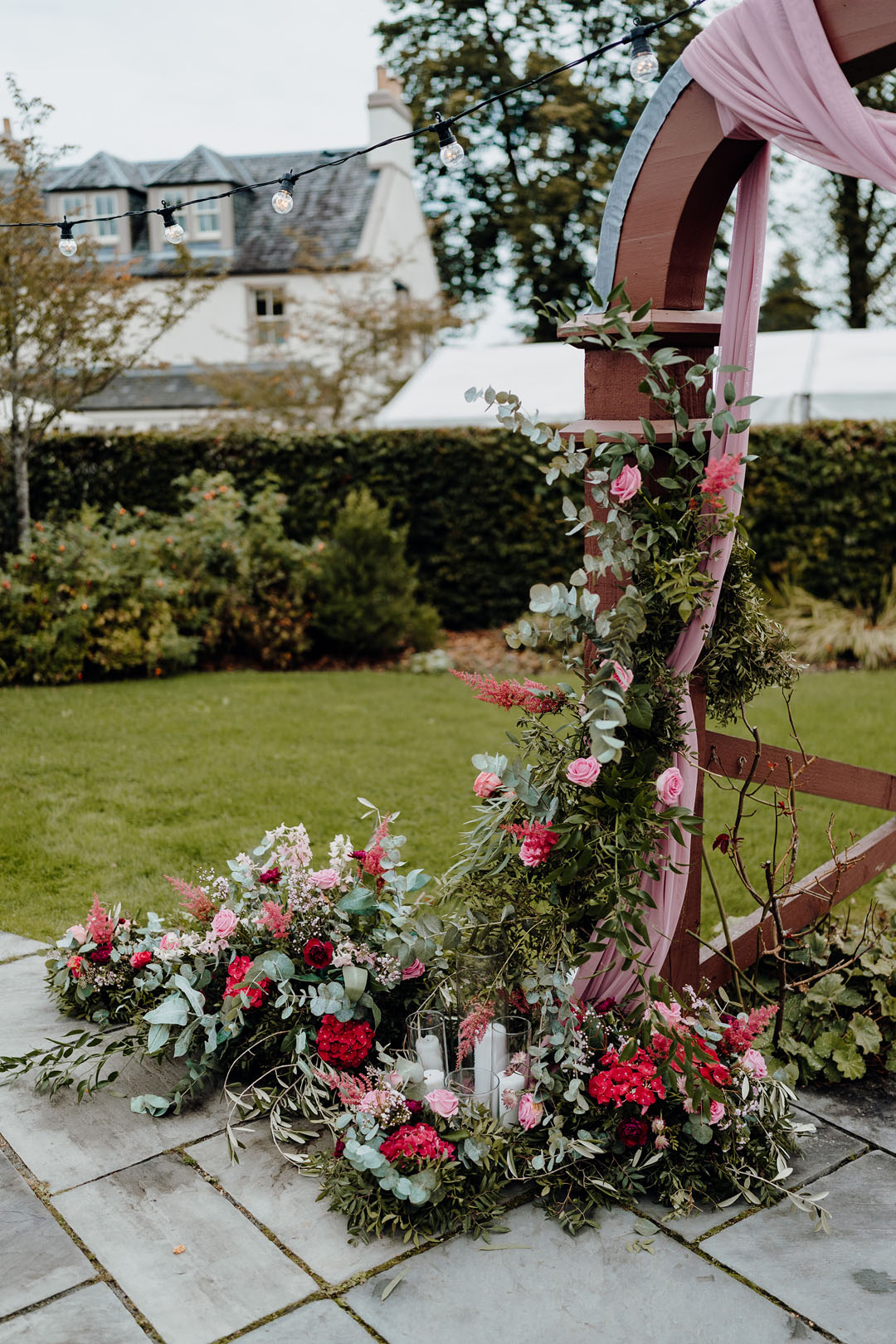 "We wanted to change the chairs to beautiful wooden cross-back chairs with cushions to match the table linen, and we swapped Prosecco flutes for coupe glasses."
"I just love drinking out of a coupe – it feels fancy! The charger plates were glass with a gold rim. The chairs, linen, coupes and charger plates were all from 88 Events."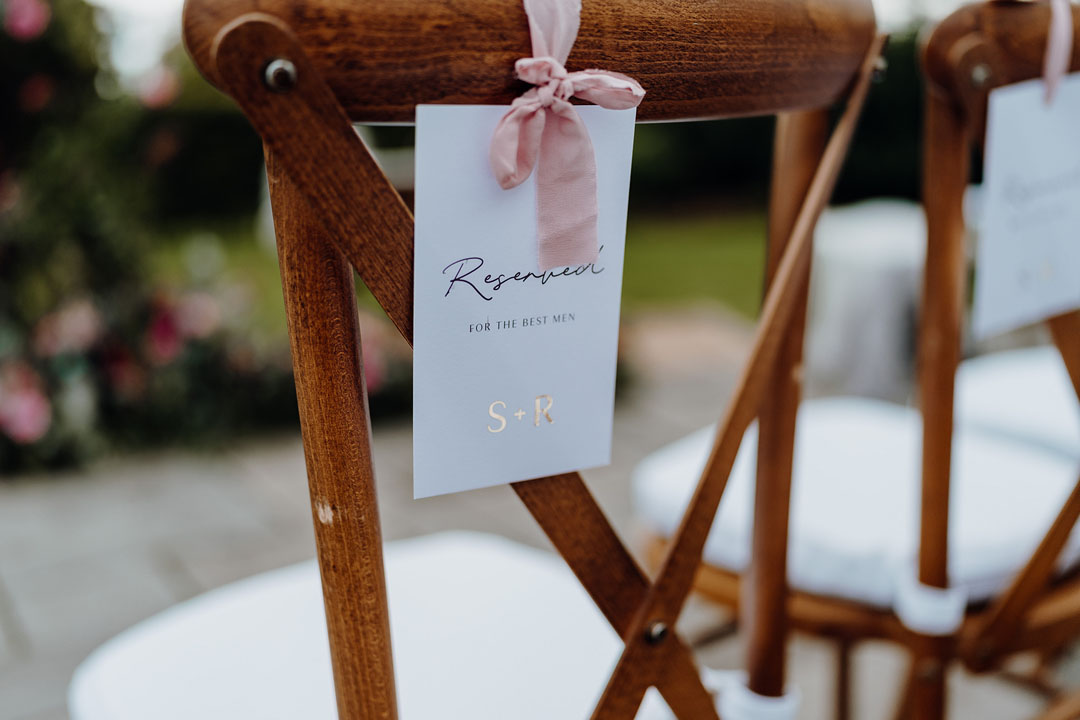 "The florals really elevated the tables too – Cora did an amazing job of centrepieces in varying sizes depending on the tables."
"Gloam also brought in gorgeous couches, chairs and rugs to make the space feel comfortable and charming. It really was a stunning transformation of an already gorgeous space."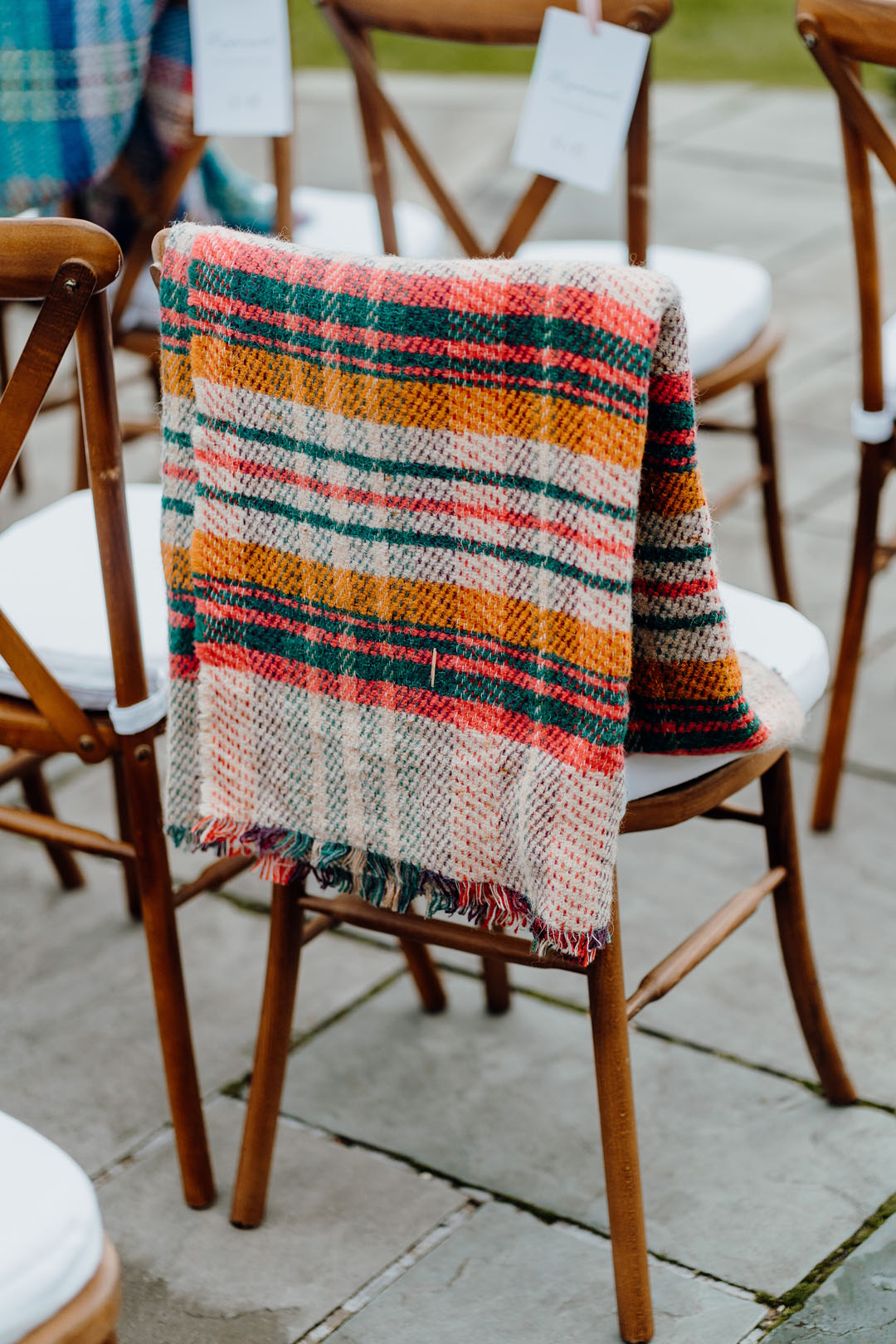 The natural beauty of the location was central to the day, which was simply styled with a neutral colour palette and lots of candles and fairy lights for a cosy and intimate feel.
The fine weather allowed Steph and Robert to wed outside. The bride's father and the bride walked down the outdoor aisle to 'Glasgow Love Theme' by Craig Armstrong and the ceremony music was from Rico Franchi.
"My dad John walked me down the aisle. Before me were my bridesmaids – chief bridesmaid Letitia and my bridesmaids Aspen, Kirsty-Anne and Victoria. I also had three pageboys, Noah, Tommy and Cove and three flowergirls, Erin, Ava and Hana."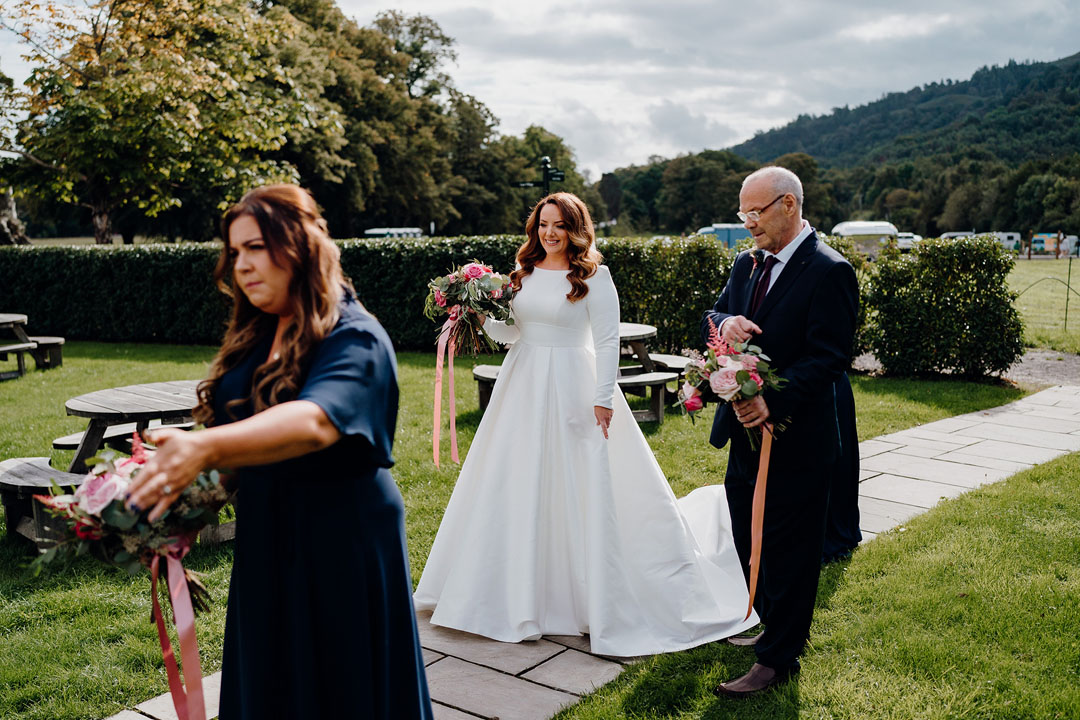 "A humanist ceremony doesn't allow you to do that, so Interfaith seemed like a good choice. We had a reading from the Bible in our ceremony that I like."
"It made the ceremony feel more authentic and true to what I believed."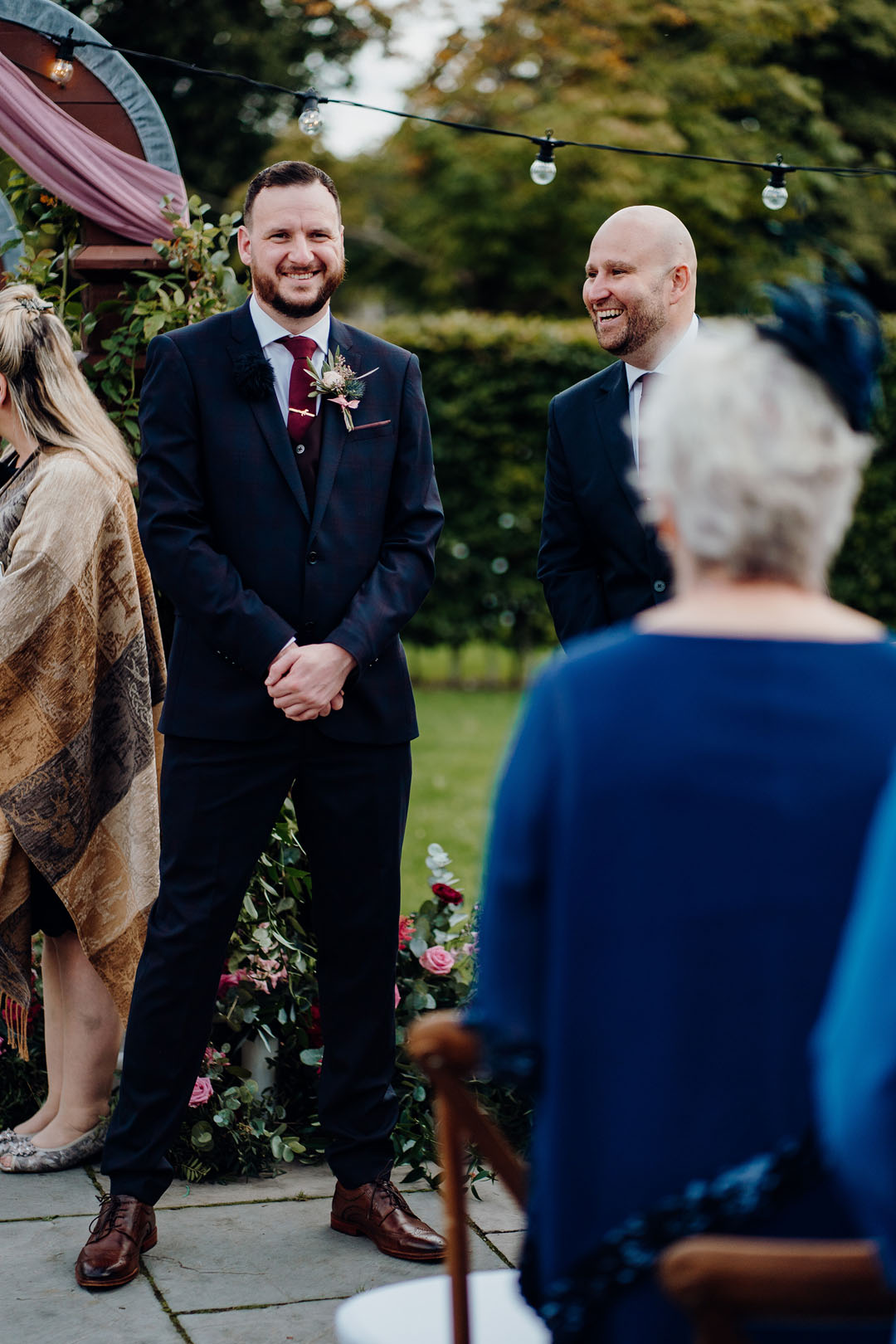 "We worked on our vows together. We were sent a list of possible vows from Barbara and picked elements we liked from a few of them, then tweaked them to suit us better."
https://www.lovemydress.net/directory/supplier/caro-weiss-modern-creative-wedding-photography-scotland/
"Initially, we were going to write our own separate vows but we decided that we'd be too emotional to say them so we came to an agreement on wording that we both liked and said the same vows to each other."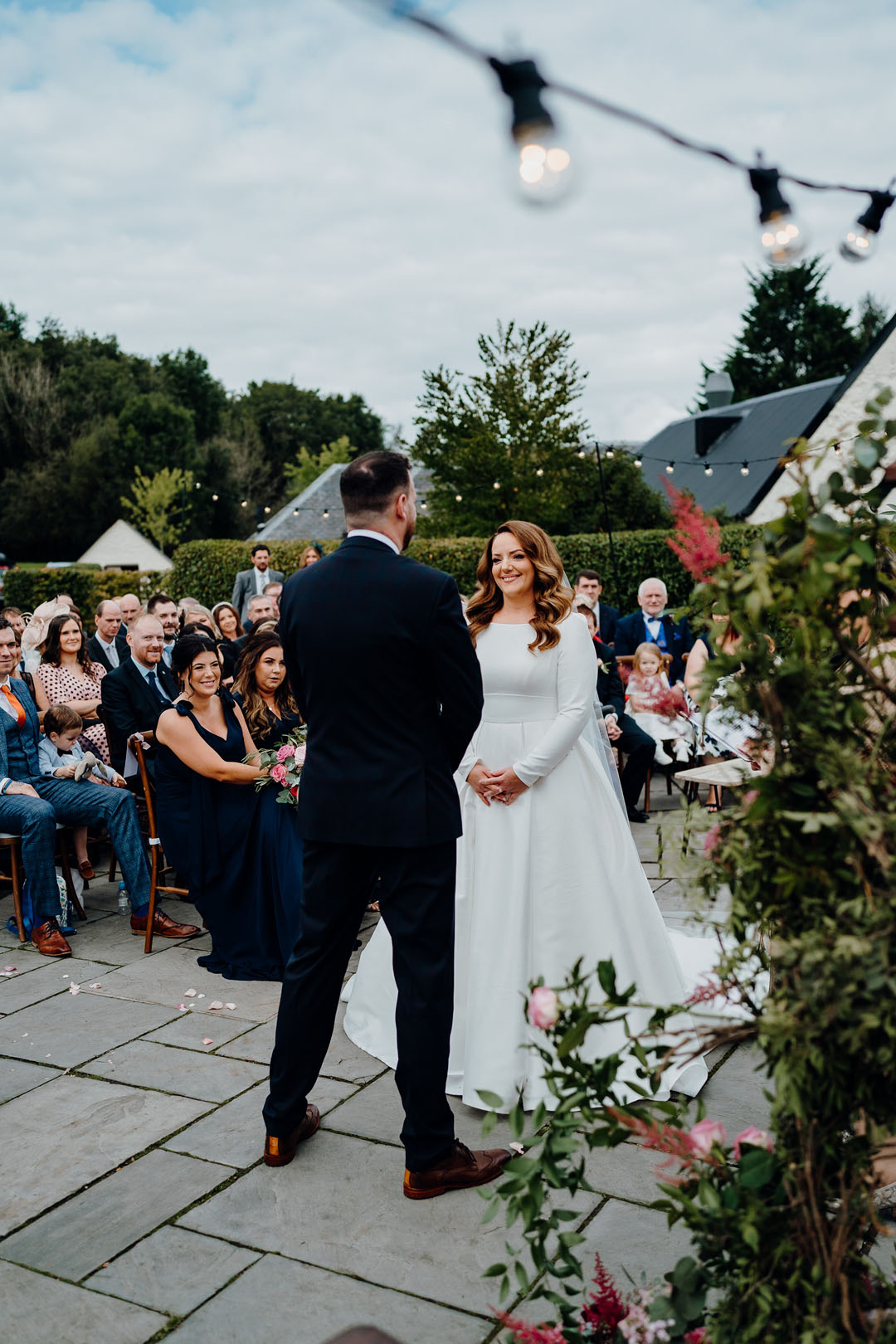 The ceremony was led by Barbara Campbell, an Interfaith celebrant.
"I was brought up Christian and although I don't go to church anymore, I really wanted to include elements of my faith and spirituality in our ceremony."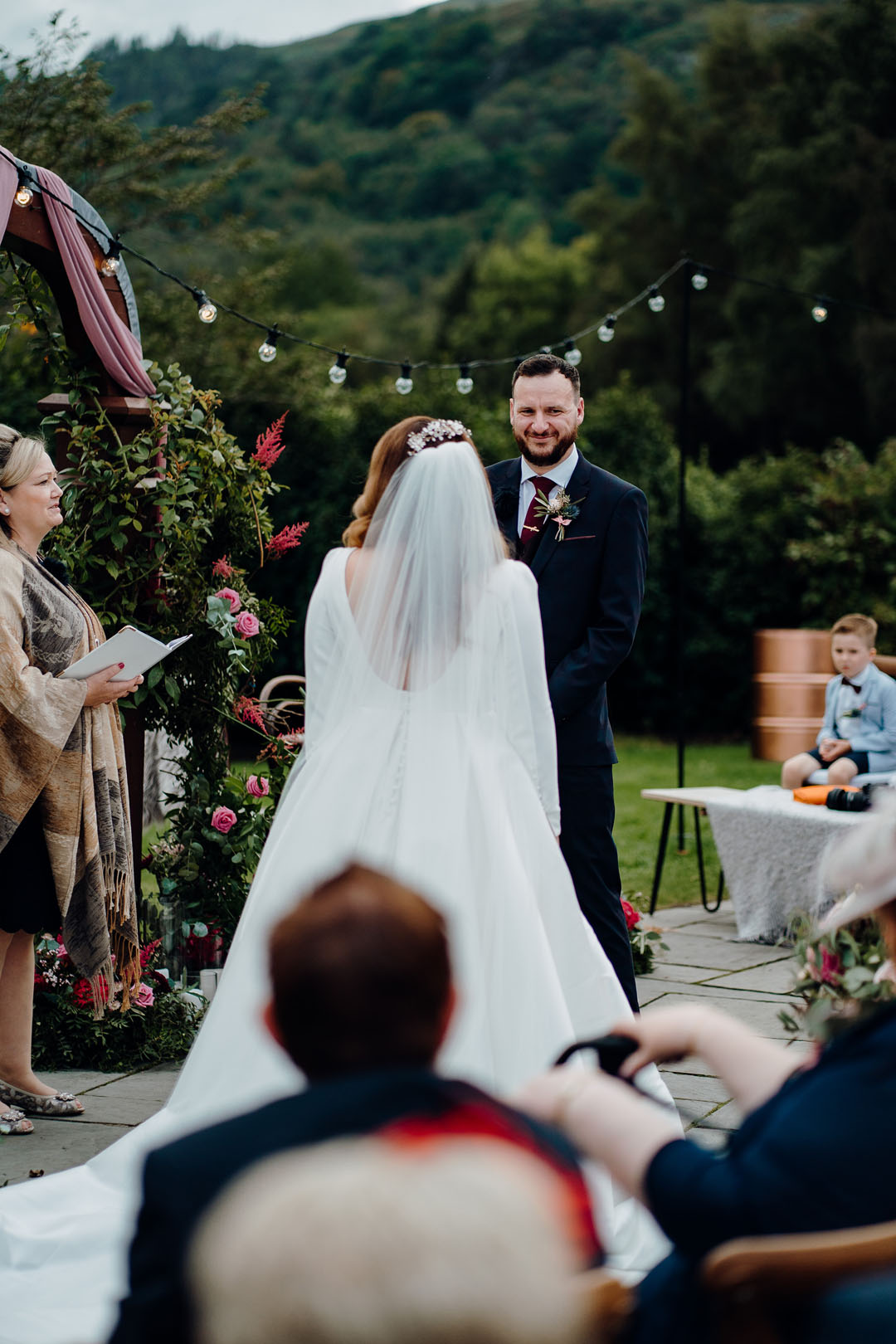 Sweet Rosie Jewellery made both the engagement ring and wedding bands.
"We designed the wedding ring together based on an eternity ring of my nan's that I loved. The gold used was from my mum's wedding ring – she got a new one some years ago and I used her original one for my ring."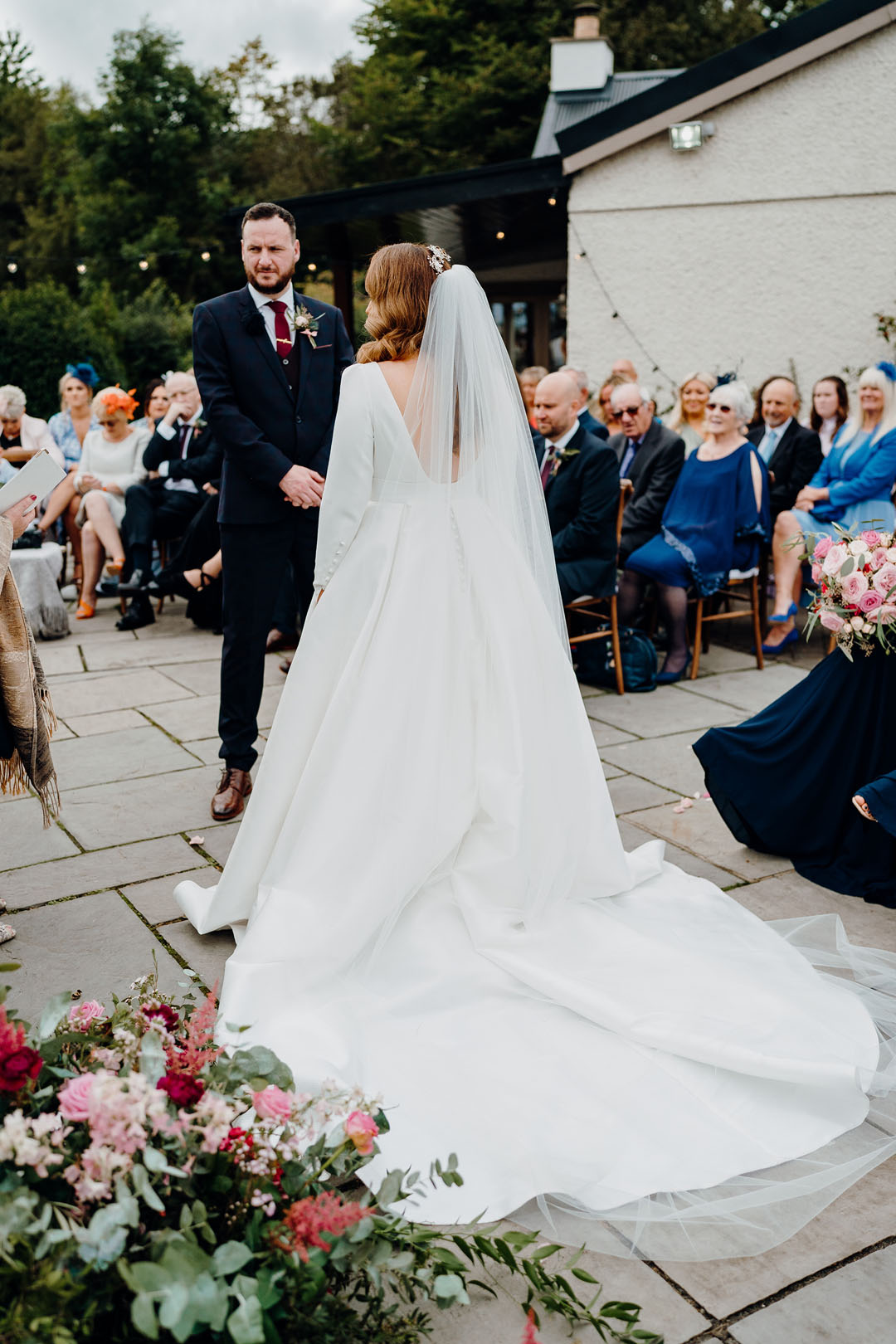 "I like to incorporate sentiment into jewellery and I adore my rings. Wearing them every day is a complete pleasure."
"For readings, we didn't want anything overly soppy or cheesy. Our friend Natasha read 'The Art Of Marriage' by Wilferd A. Peterson. This reading spoke to both of us."
"I think that the ceremony was probably my favourite part. We got married outside, it was sunny and all our friends and family were there."
"It felt complete and perfect to me. We'd waited so long for the day to come around with so much uncertainty surrounding it because of Covid and we were finally there, doing it. I'll never forget it."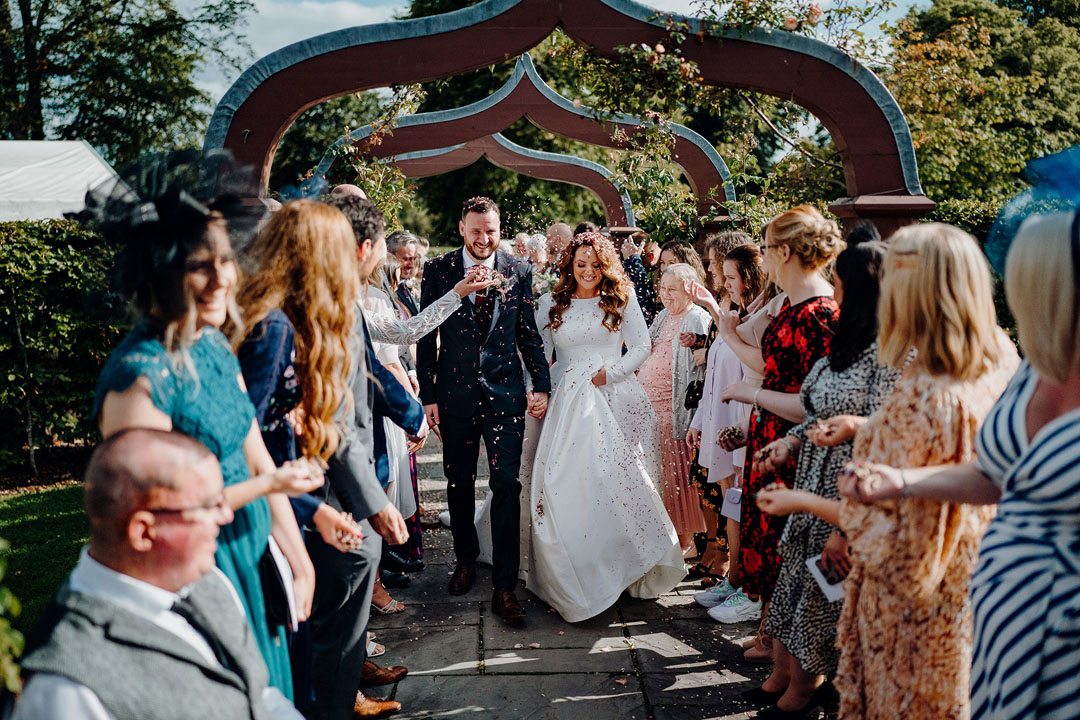 Robert and Steph met online around fourteen years ago when the bride was writing charity articles for a website that Robert was running.
"We chatted on MSN messenger and were friends for a while before meeting months later and hitting it off. We didn't get together straight away but knew we had something special."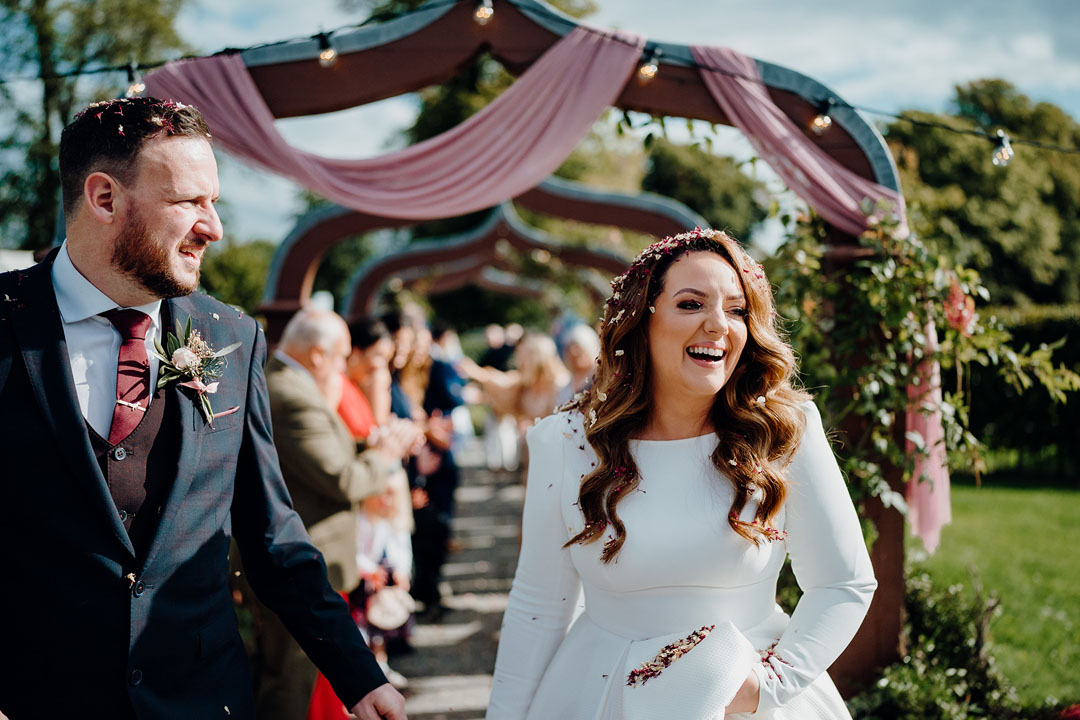 "When Robert moved back to Glasgow from Northern Ireland (he was studying there), we started dating. We got engaged on Christmas Eve 2017 at Bothwell Castle, near where we live. It was the wettest, rainiest day ever but it was such a lovely magical moment at one of our favourite places. Christmas Eve is my favourite day of the year."
https://www.lovemydress.net/directory/wedding-venue/cluny-castle/
"We were supposed to be married in September 2020 but due to the pandemic, we pushed it back to September 2021."
"We're so glad we did because we had the wedding that we'd originally planned for and dreamed of."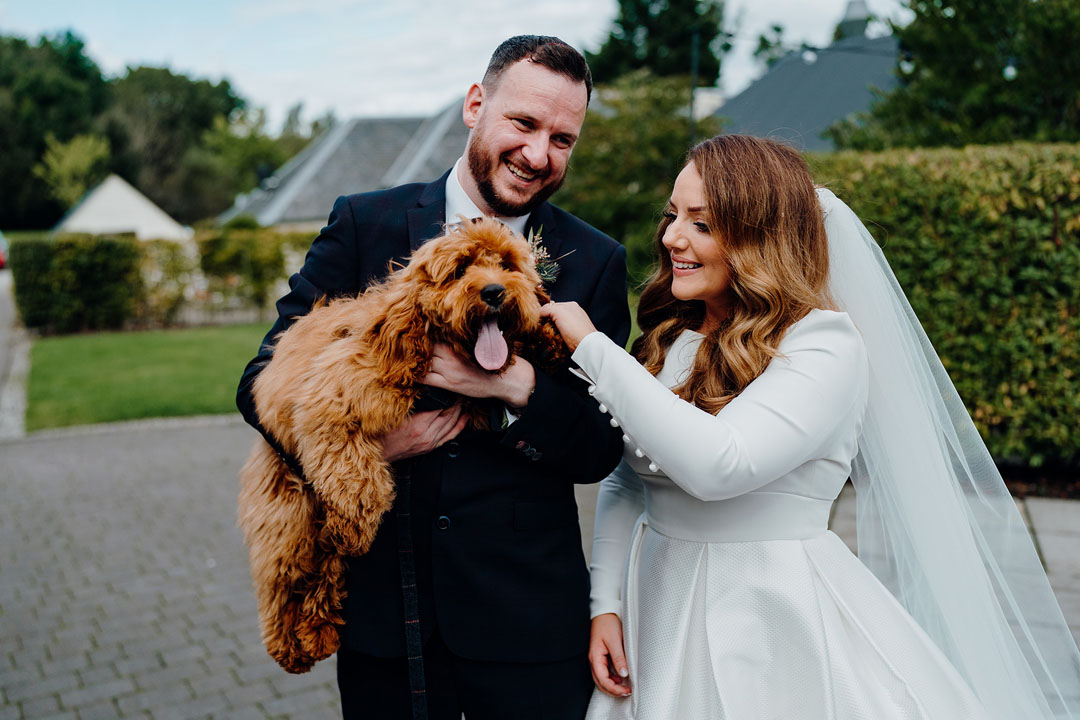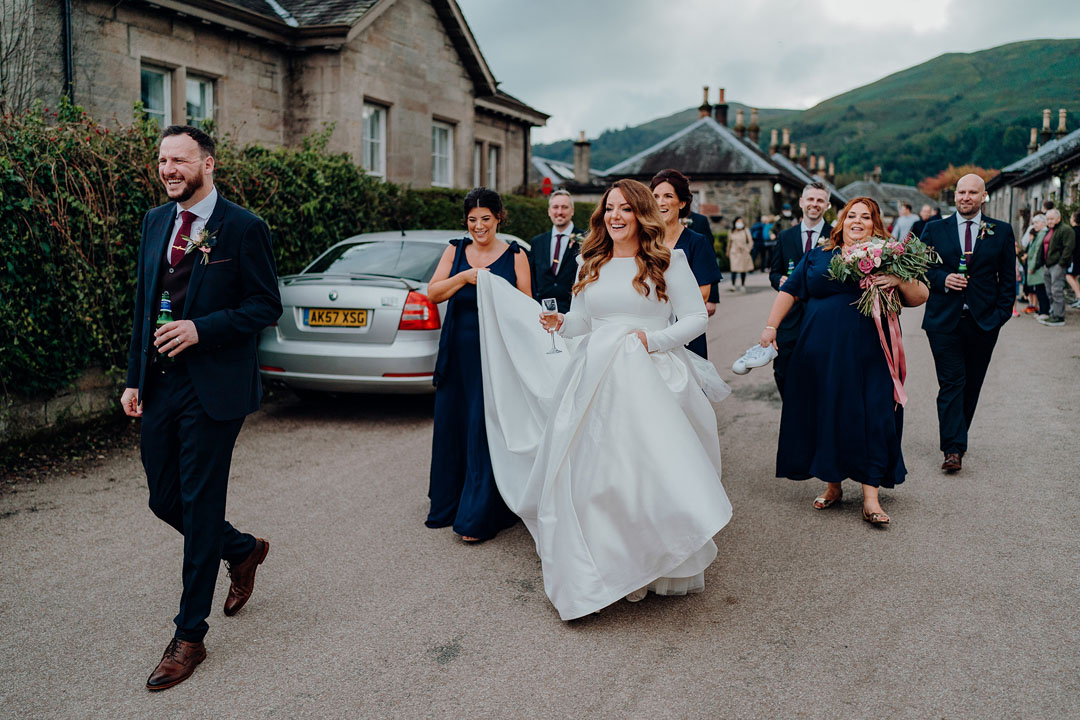 With the ongoing Covid pandemic, the couple had to work around changing restrictions and found the What About Weddings campaign a great source of support.
https://www.lovemydress.net/directory/supplier/rachel-scott-couture-edinburgh-wedding-dress/
"I really appreciated the What About Weddings campaign. As a professional in the wedding industry, it made such a difference to see a big name in weddings taking charge and giving the industry a voice. Love My Dress is an institution. I have always followed what you do since I started working in the industry ten years ago."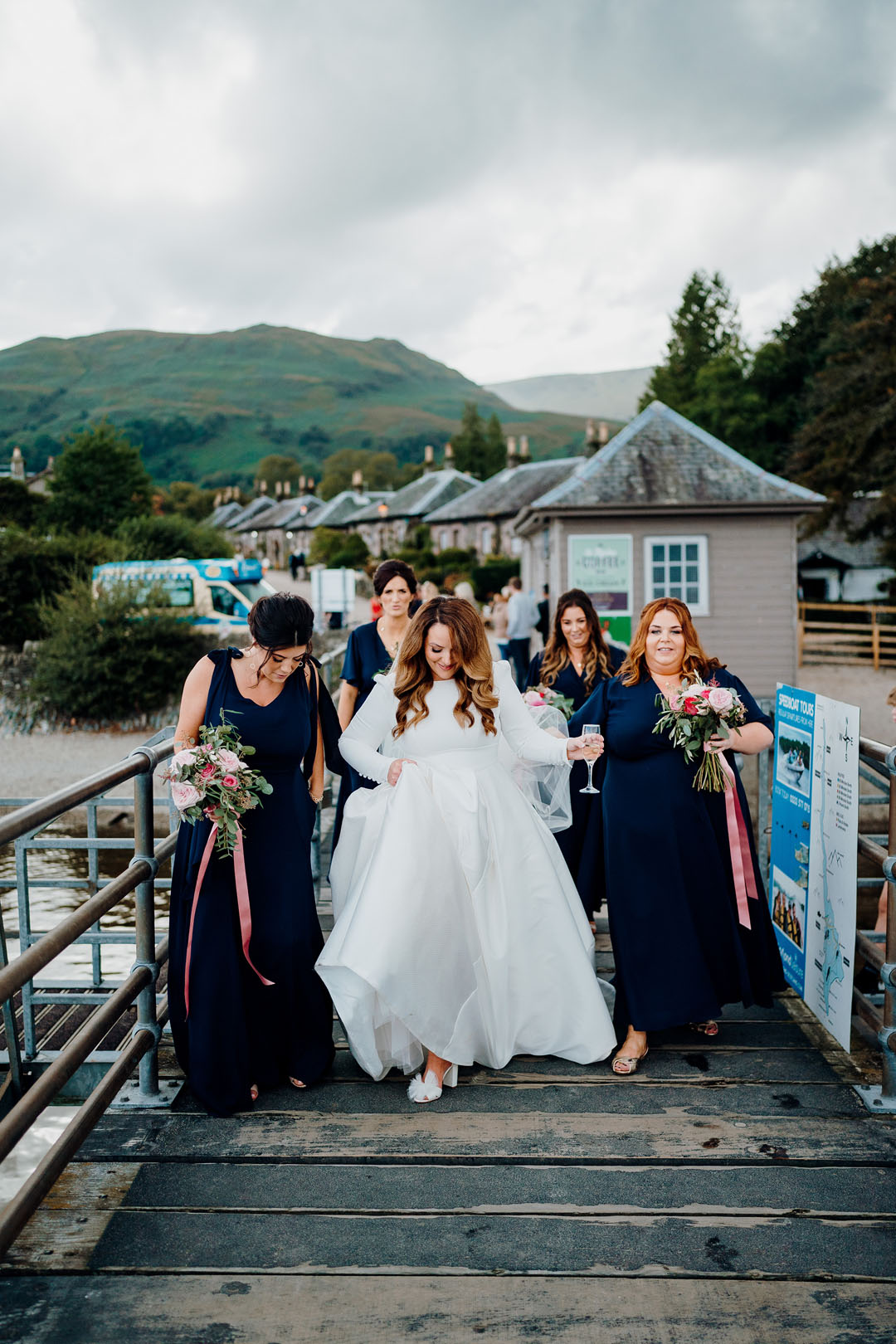 "We always wanted to have as much of the day outdoors as possible anyway as Loch Lomond is the perfect outdoor setting, and we were lucky enough that we had a beautiful sunny day."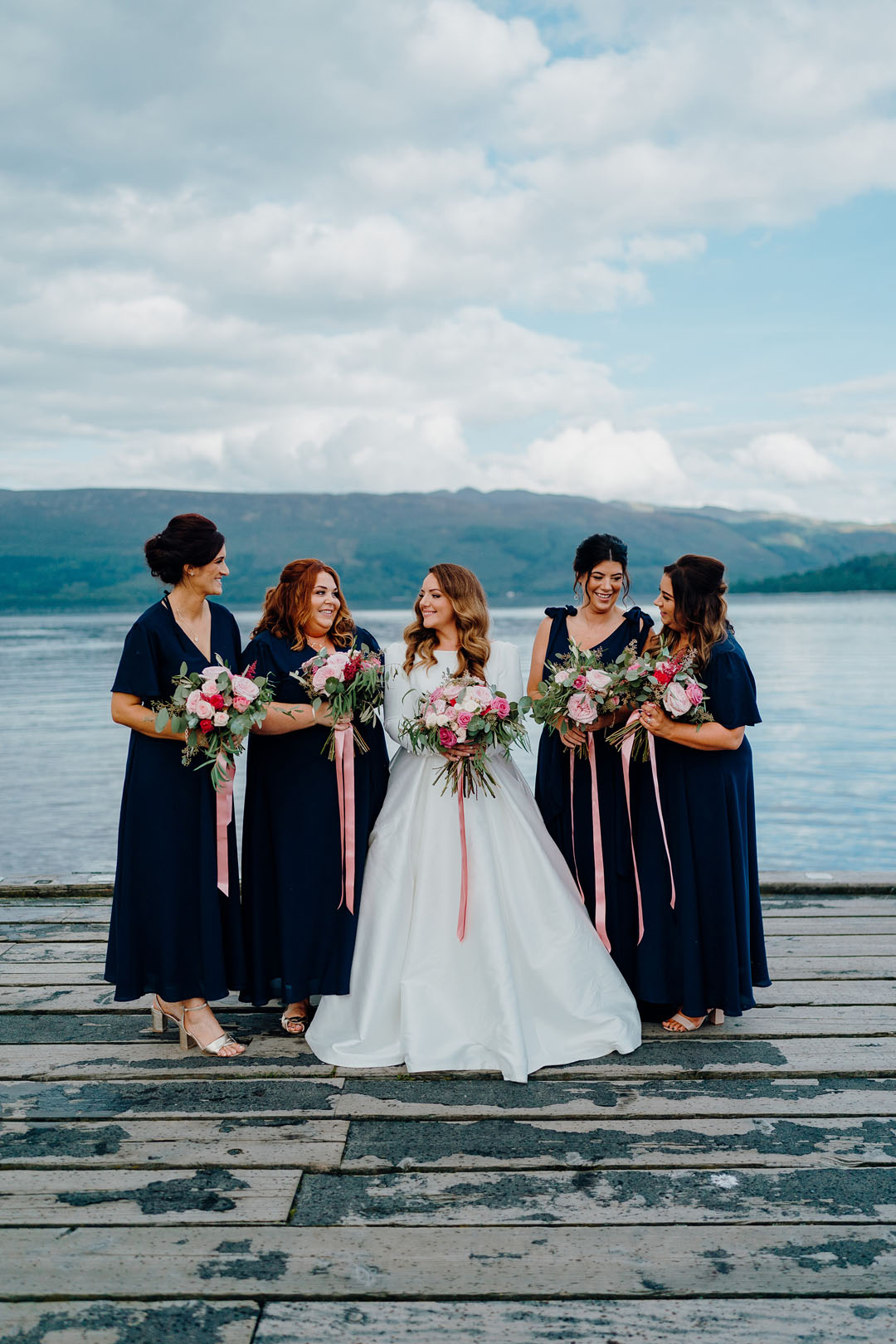 "Our ceremony and drinks reception were both outdoors which was great for Covid restrictions and after the speeches, we opened the bi-fold doors so that the room was well ventilated."
"All windows and doors were open late into the night. Our guests didn't have to wear masks outdoors or when seated but they did when they were going to the toilet and milling around."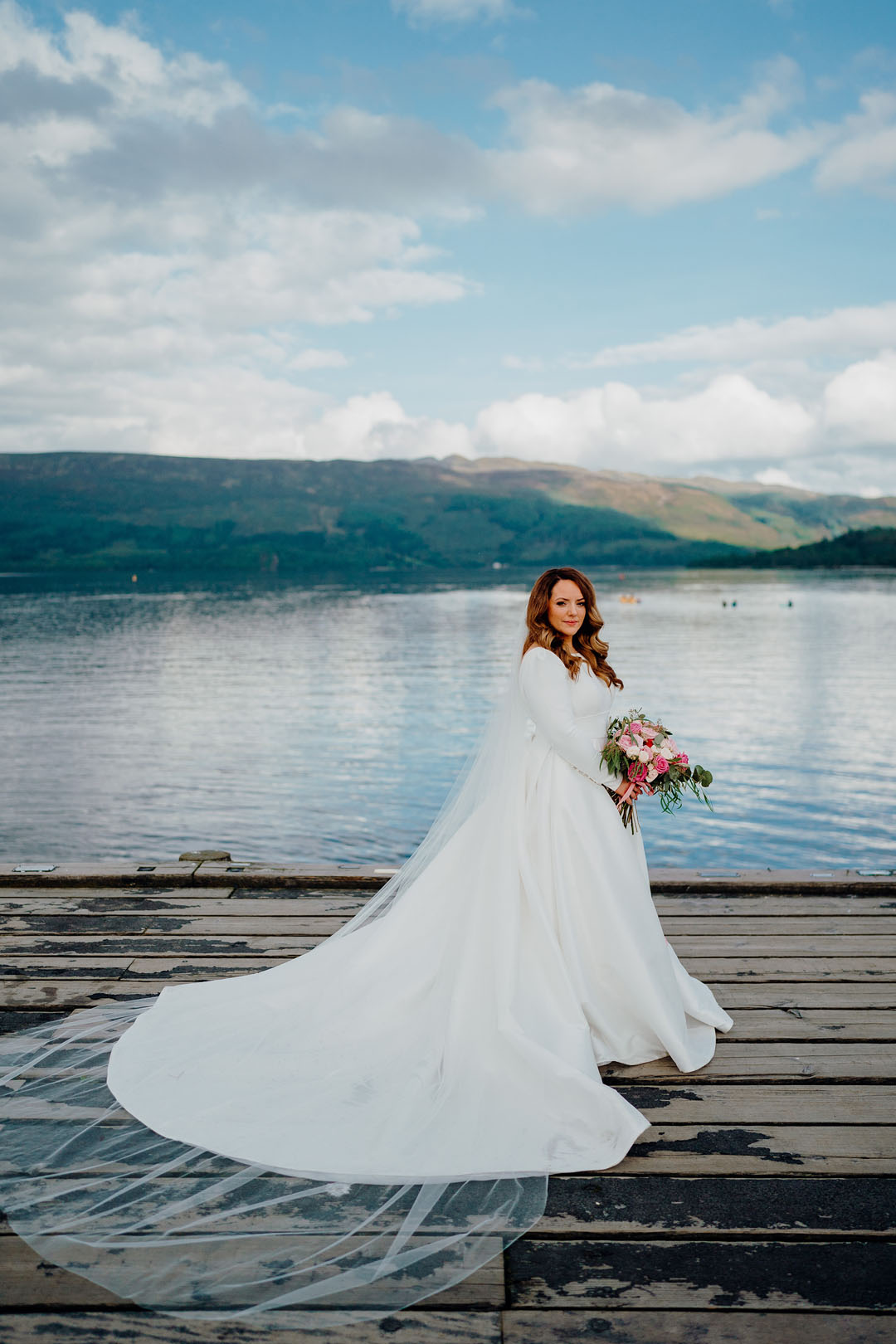 "It wasn't an issue and no-one had any problem with that. We were very lucky with the restrictions as we didn't have to have masks on the dance-floor or anything. It really did feel very normal."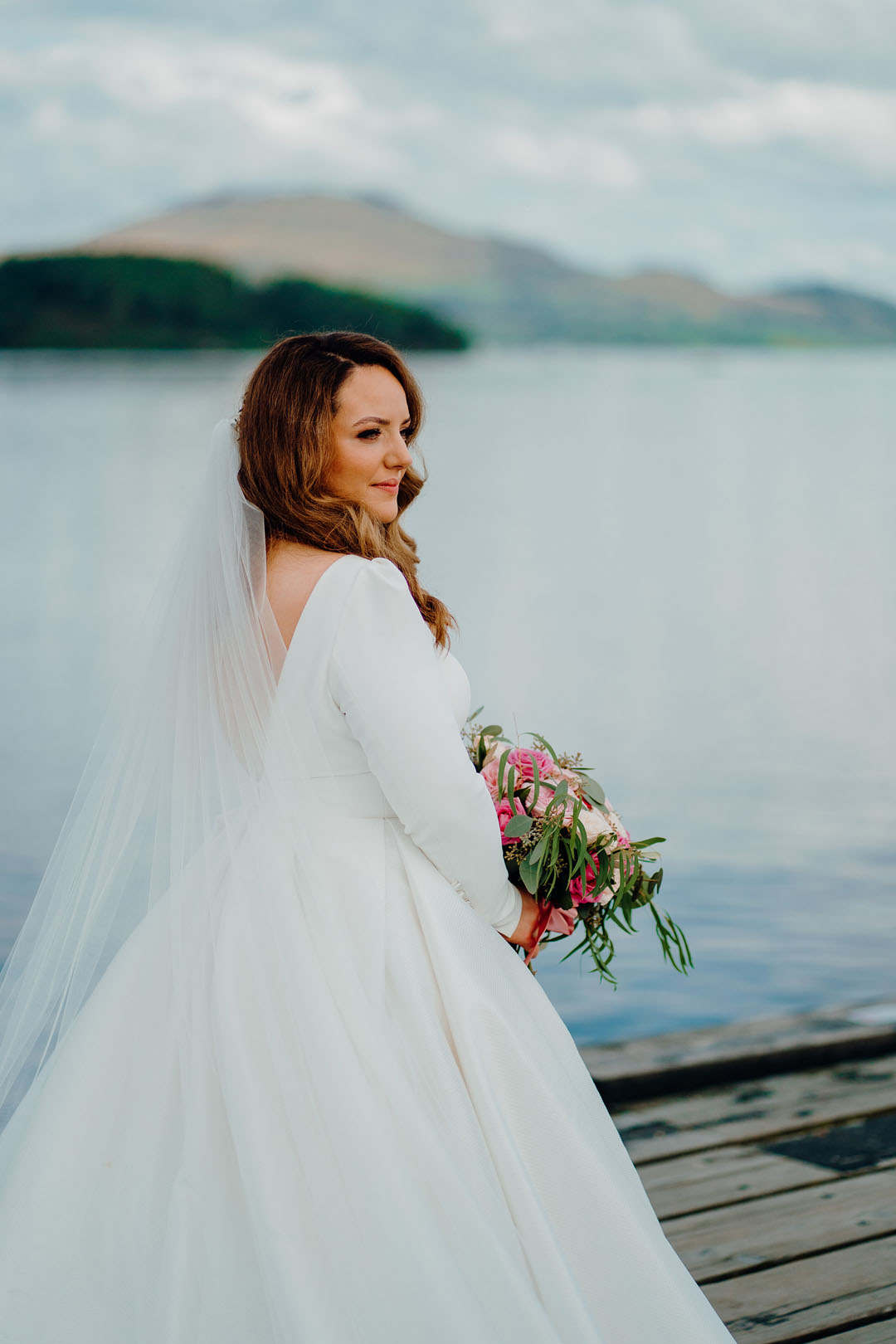 Robert selected a slim-fit navy suit with a burgundy check from Remus Uomo and a Charles Tyrwhitt shirt.
"Rab's tie slide, which he gifted to each of his best men, had a teeny T-Rex on it because his friends dressed him in an inflatable T-Rex costume on his stag."
"Sweet Rosie Jewellery made those for him. My husband wore Baccarat Rouge 540. I am so glad he chose something different from his usual because smelling that takes me back to the wedding day."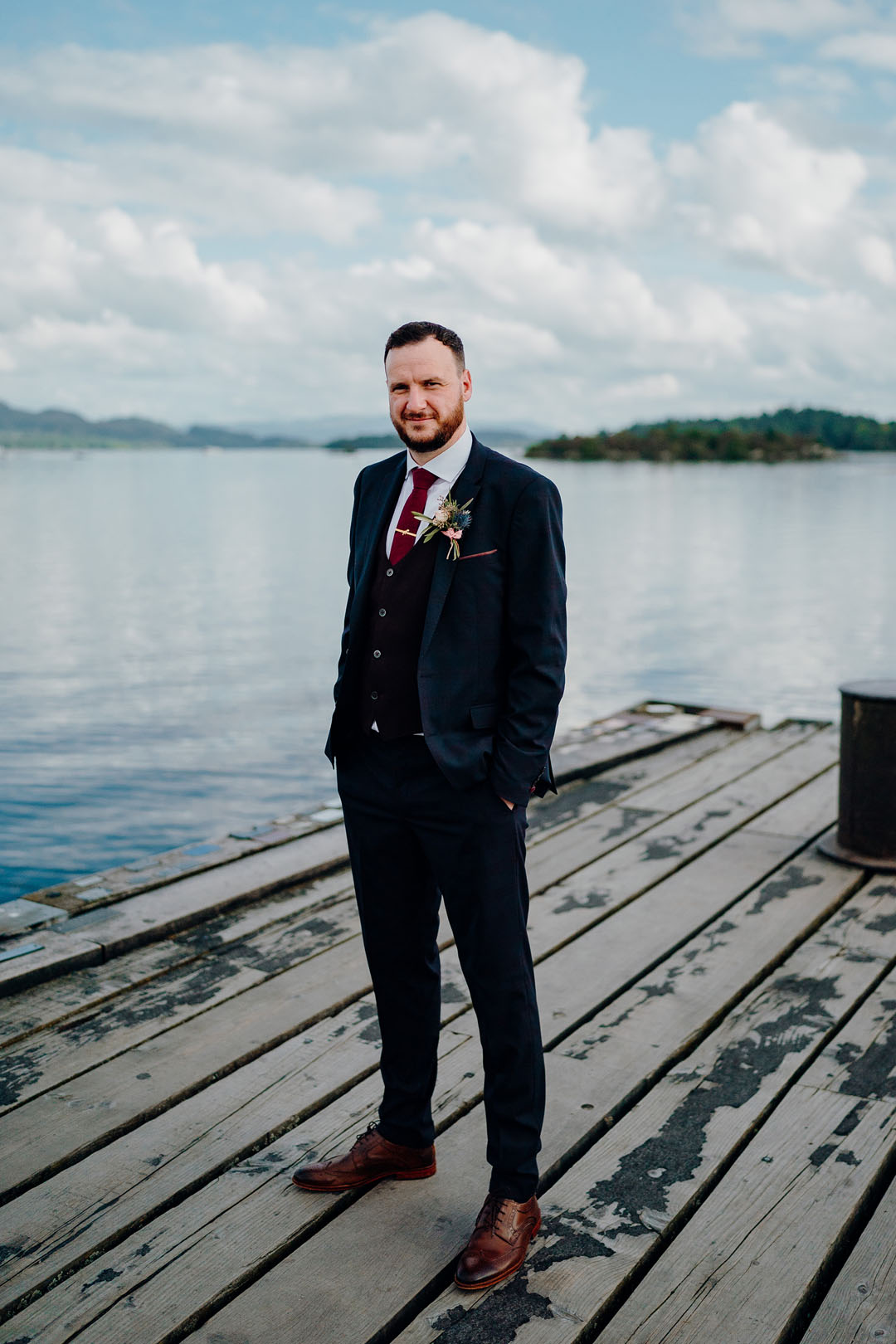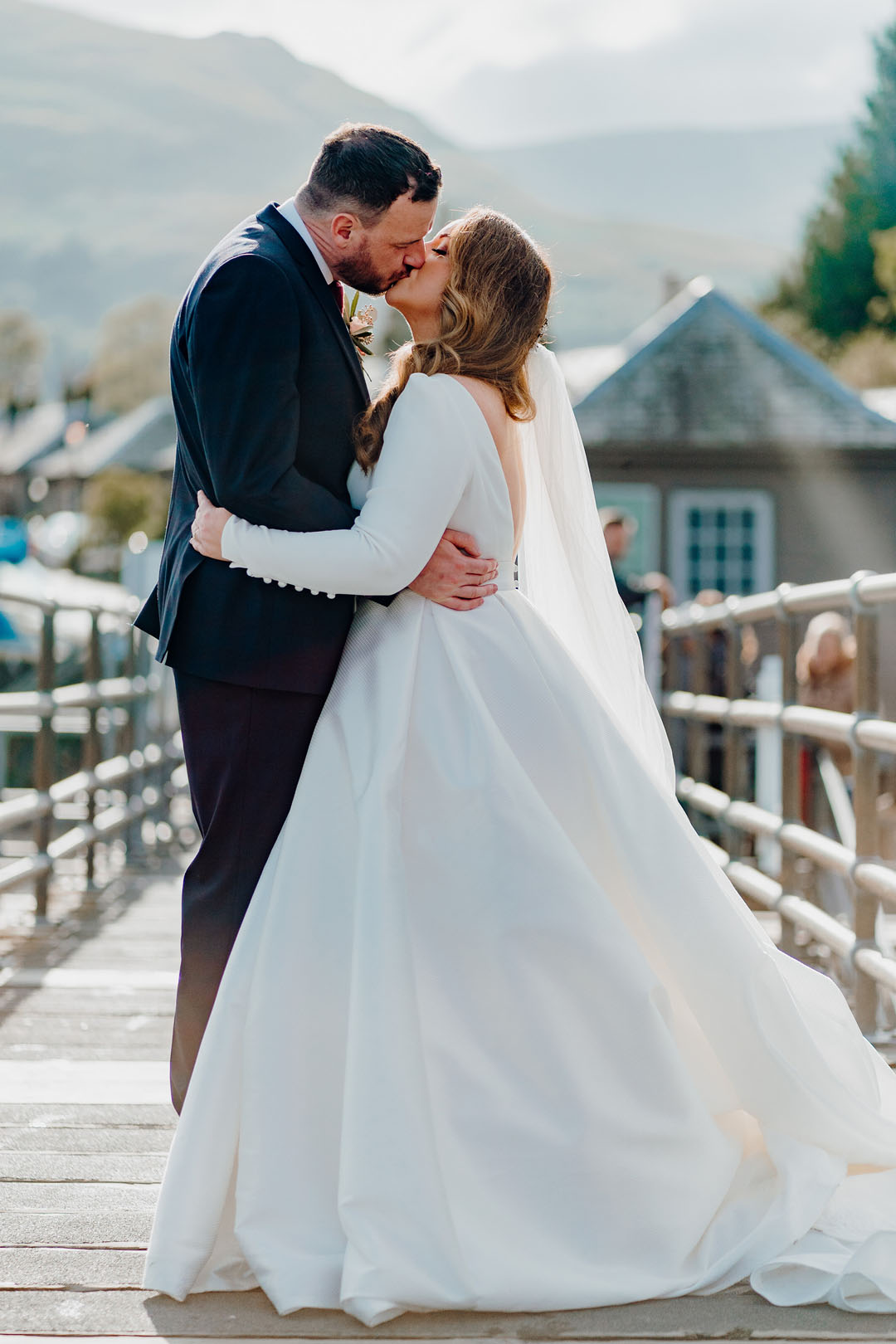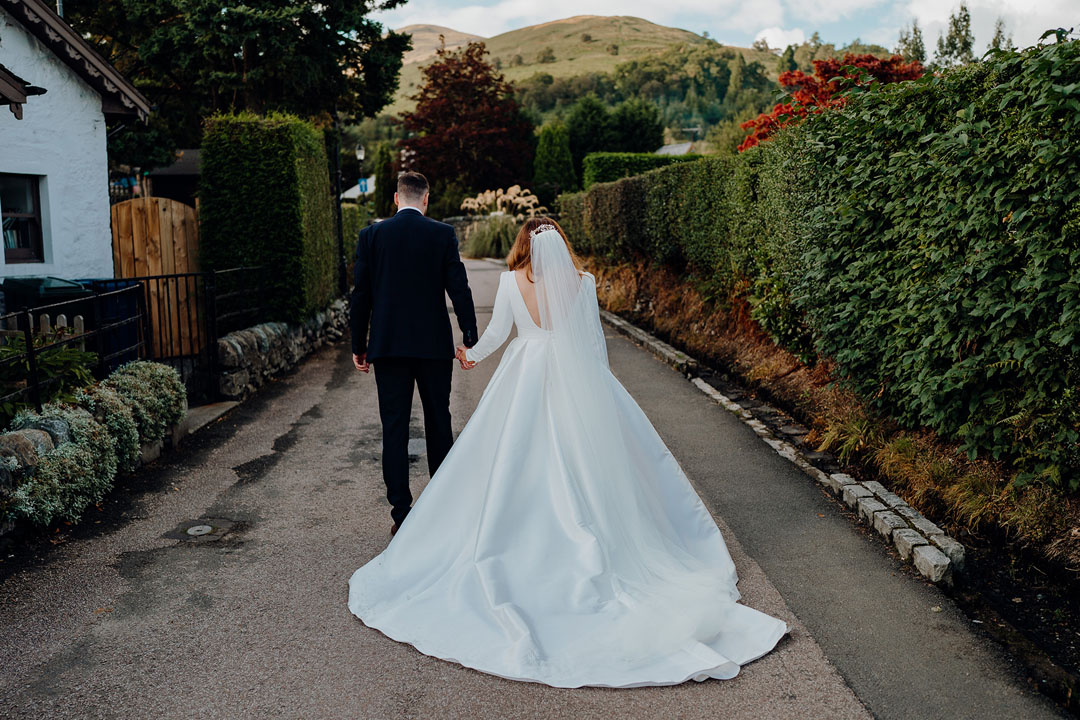 The wedding breakfast was provided by the team at The Loch Lomond Arms.
"We had an Italian-themed drinks reception with antipasti boards, bruschetta arancini and meatball canapés."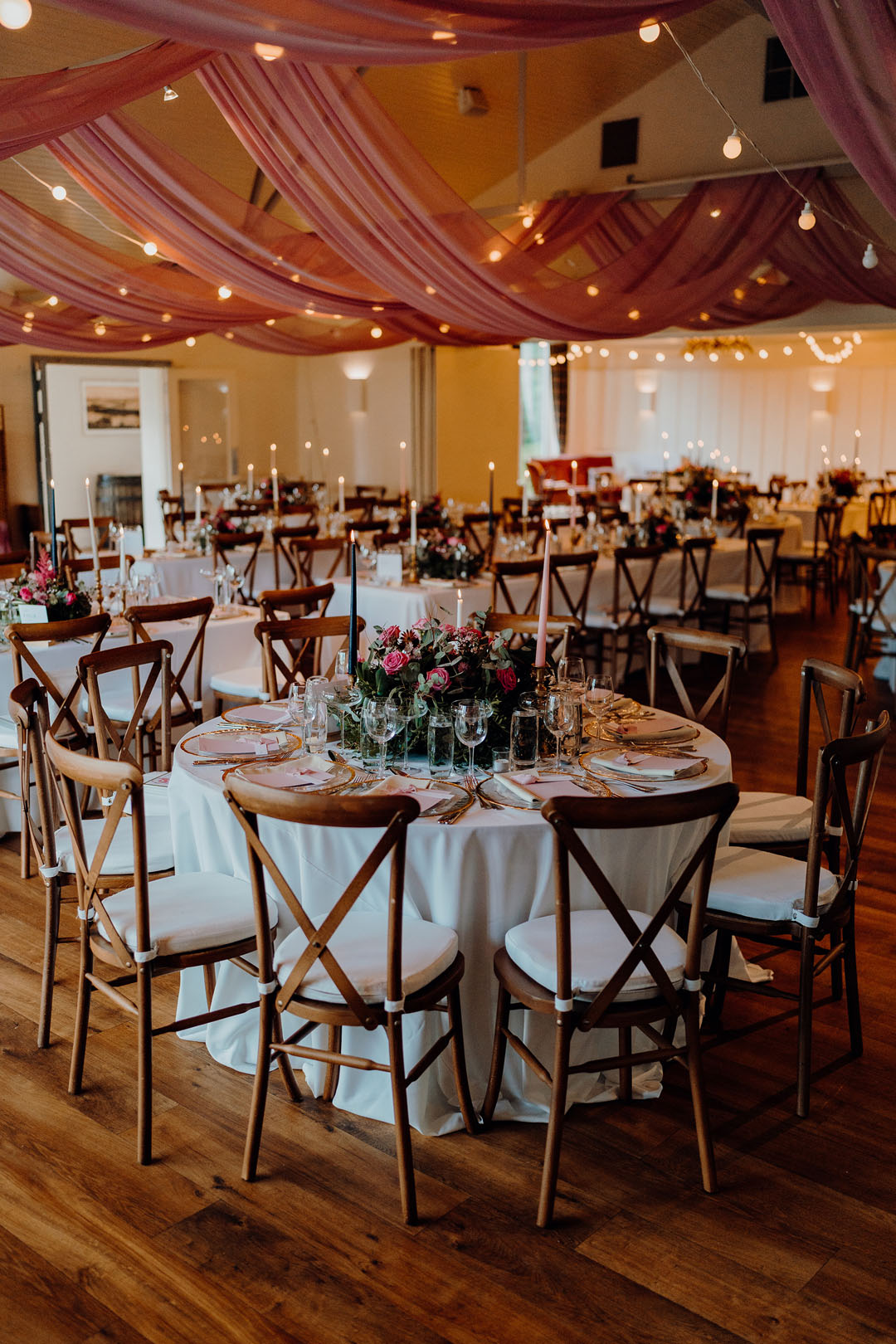 Steph and Robert worked with wedding stylists Gloam, who helped the bride to clarify what she wanted and hone the styling details. I am so delighted to share more about Gloam right her on their Wedding Directory listing.
https://www.lovemydress.net/directory/supplier/gloam/
"Ange and Jean at Gloam styled our wedding and they were fantastic. I didn't want to have to worry about sorting anything out myself or packing anything away and the team at Gloam not only helped elevate my vision for our day but they also sorted all the logistics so I didn't have to worry about anything."
"We were both blown away by how the venue looked on the day. Gloam took care of all stationery including our stunning invites. Their designer Jessica is fantastic. I'm so glad I booked them."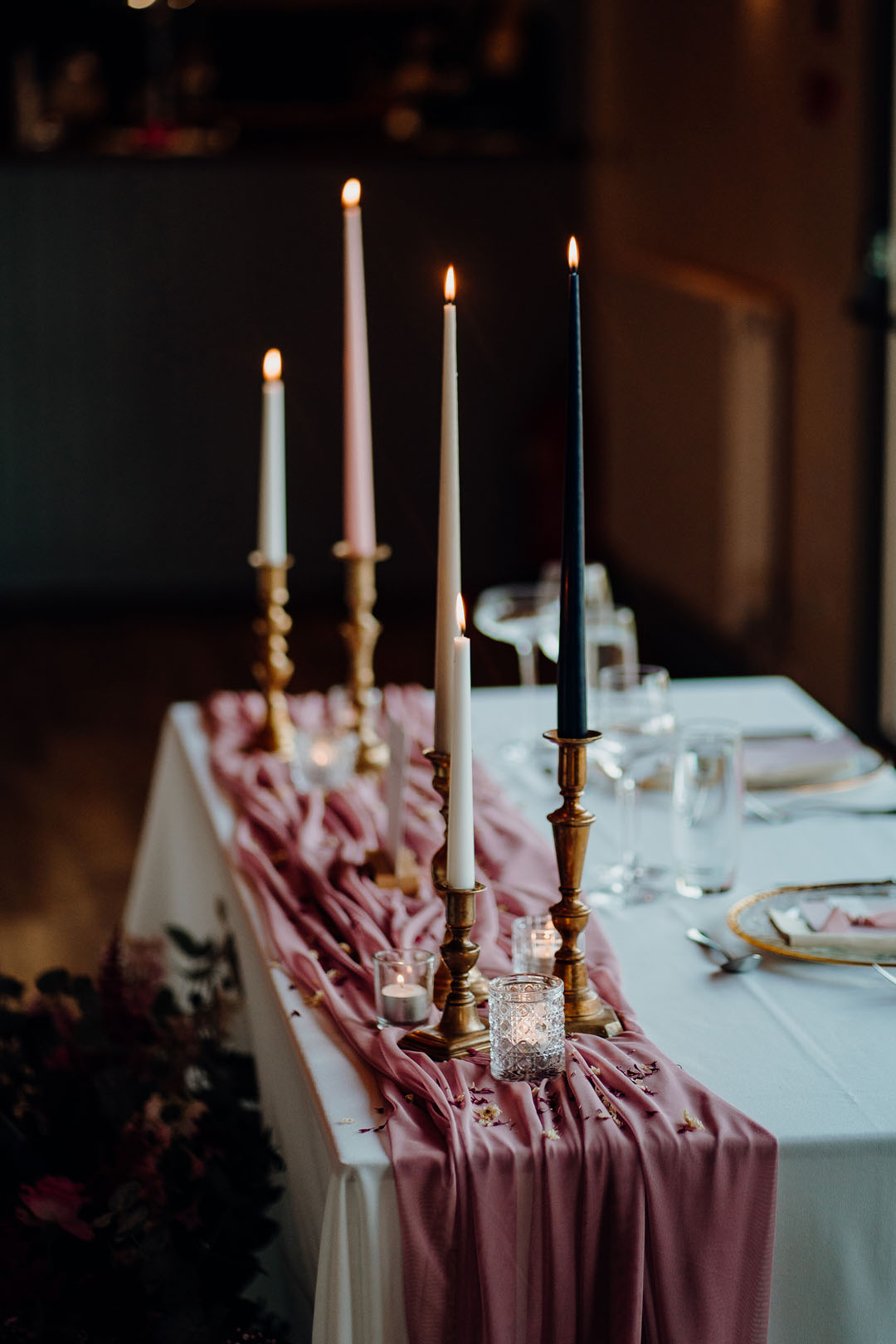 "I really enjoyed the meal because it gave Rab and I a chance to sit together (we had a sweetheart table) and look at all our guests."
We had Christmas dinner, my favourite meal, for main with Christmas songs playing during the main course. I loved it."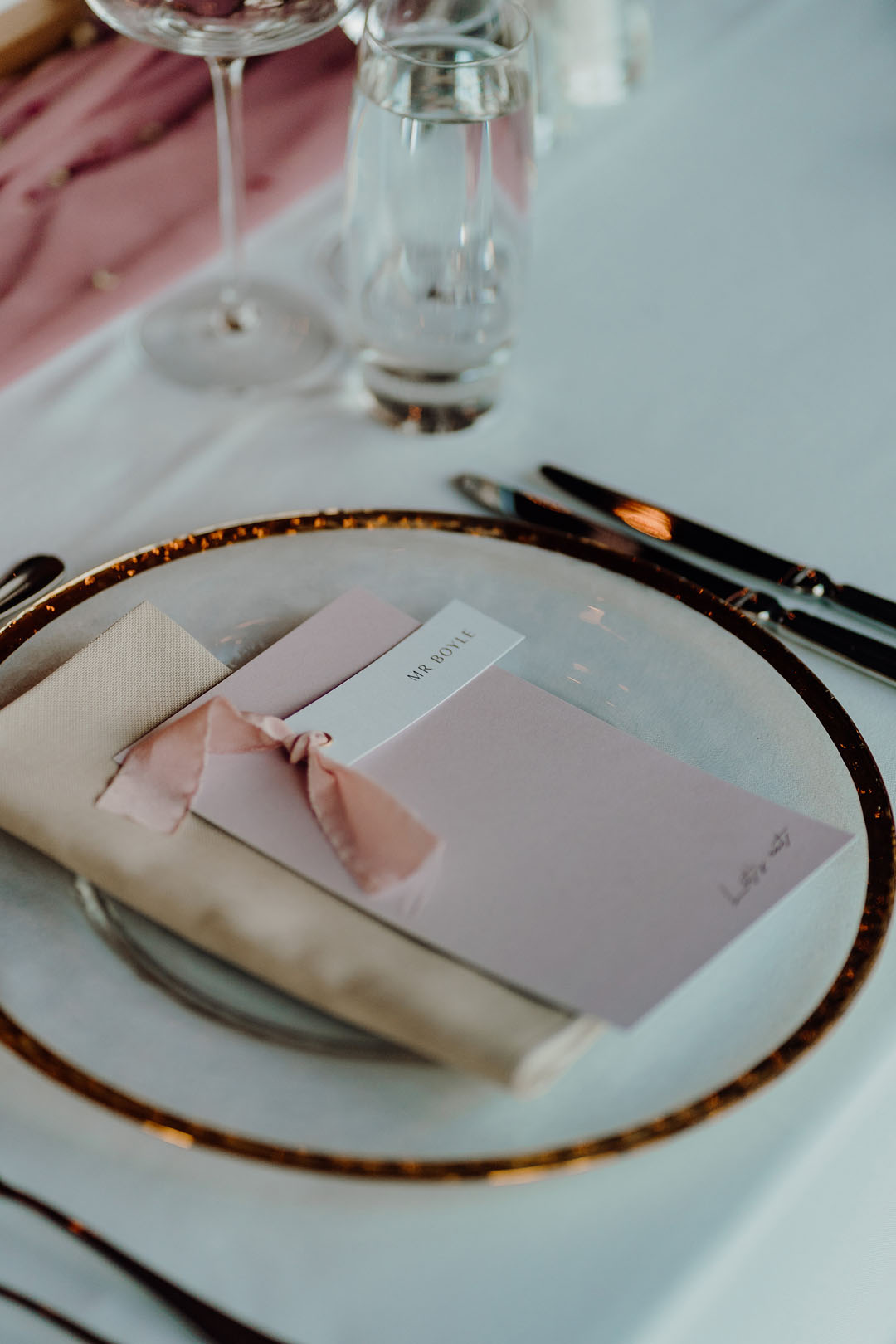 "Chelsea and the band Velvet Noir played my drinks reception, the first half of the reception at night as a band and for the second half, Chelsea DJd."
"It was amazing. She has a world-class voice and they were such a huge hit."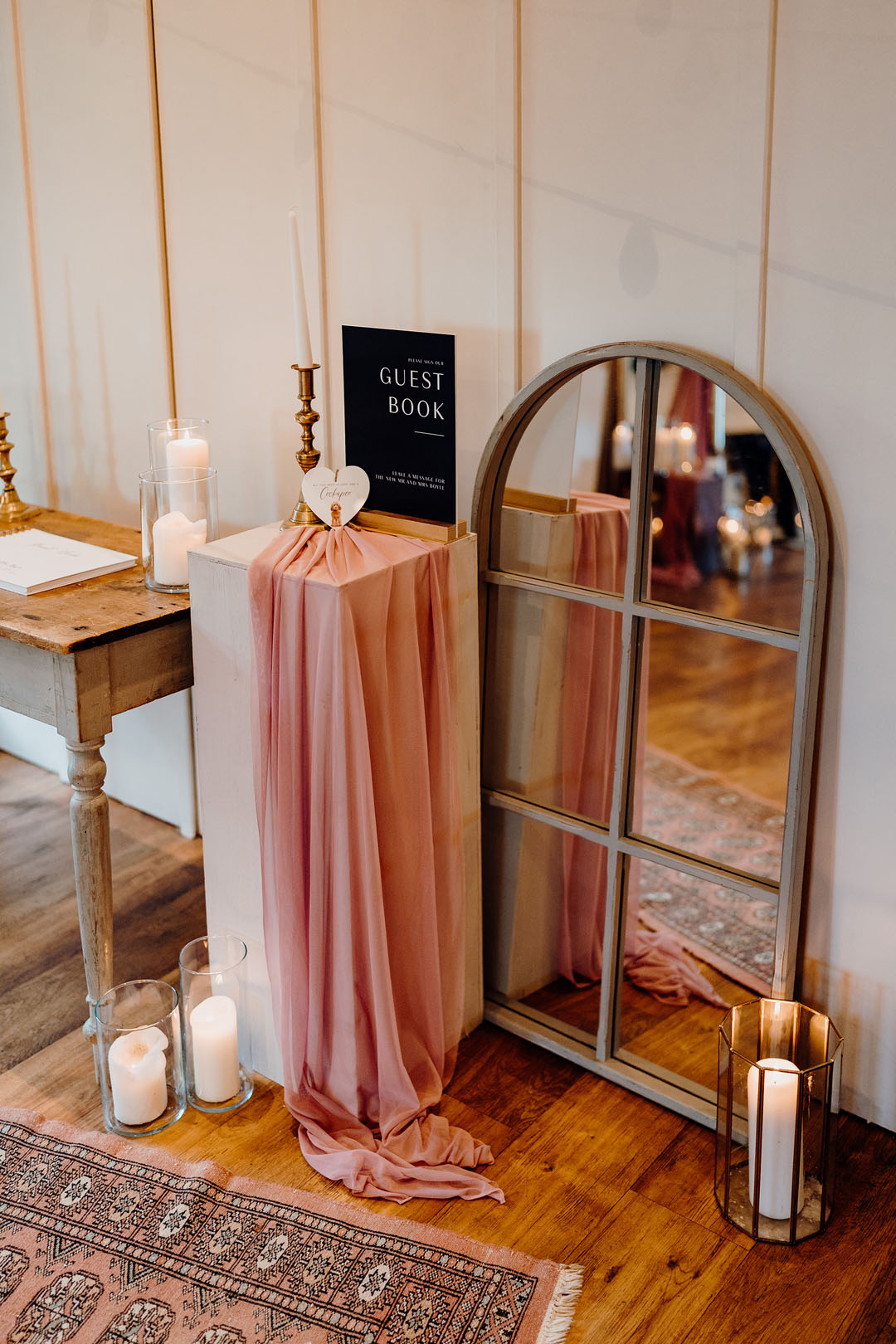 The pure white, Victoria sponge and lemon, two-tier wedding cake was by Elina's Cakes.
"Elina has made a few cakes for our special occasions over the years. They're so reasonably priced and they are delicious! It was simple and effective and exactly what I wanted.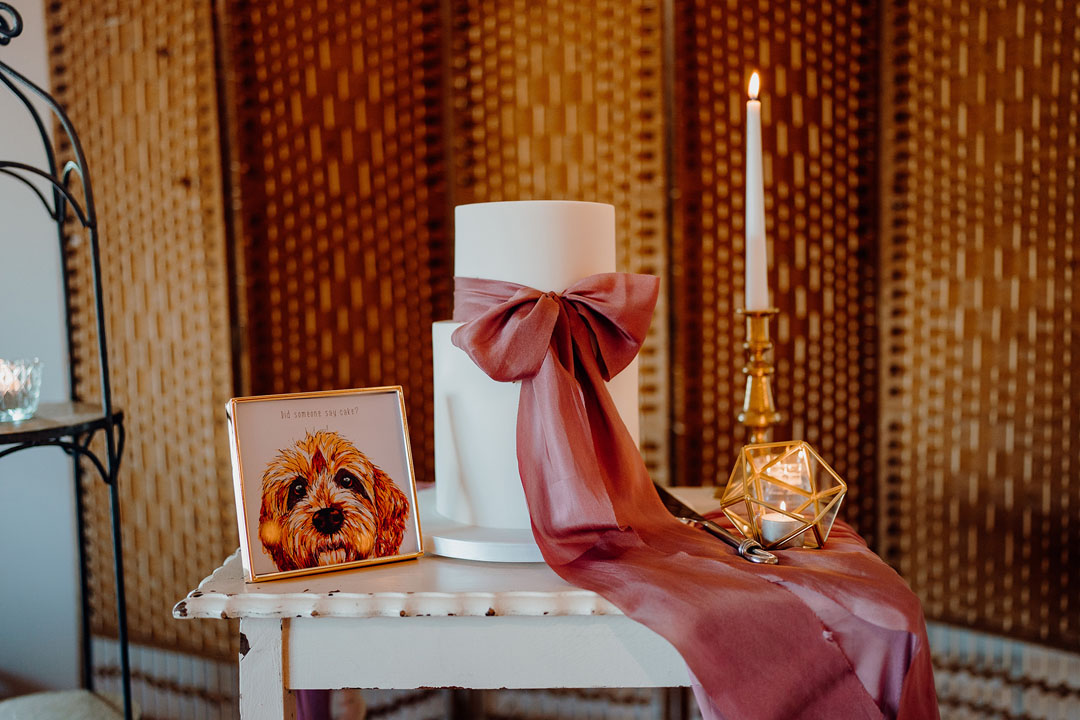 Steph worked at a wedding magazine for almost a decade before being made redundant, so had plenty of inspiration to draw on to style her own day.
"Weddings were pretty much my life. I had seen hundreds of gorgeous weddings and I knew loads of great wedding suppliers."
"However, when it came to my own wedding, all I really knew is what I definitely didn't want. We started off by deciding what was important to us and working from there. I'm not a massively colourful or fussy person so I knew my colour palette would be fairly neutral with some seasonal colours."
"I didn't plan to have so much pink but in the end, that's what I gravitated towards.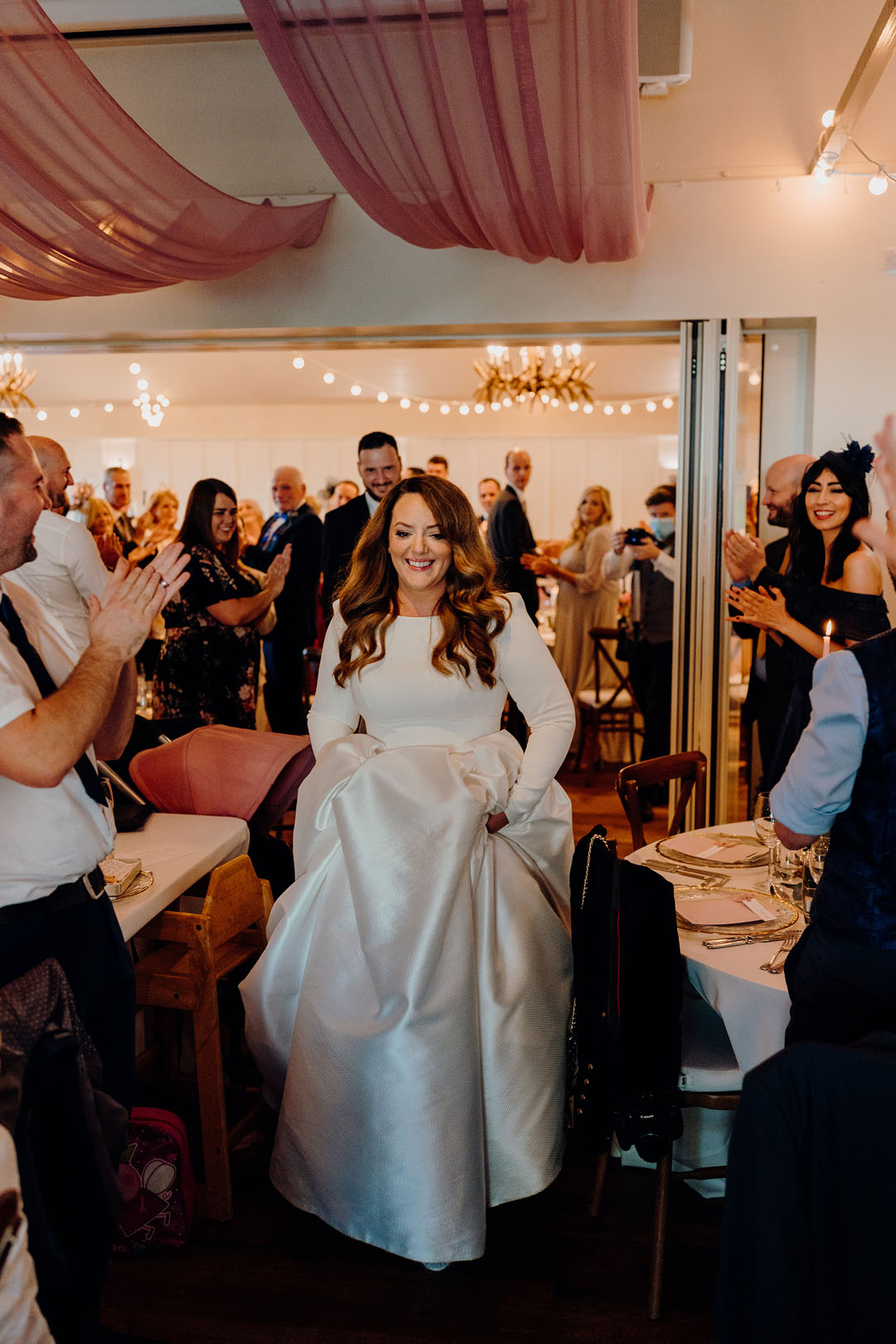 "We've visited the venue a few times in my former life as digital editor of Scottish Wedding magazine. We loved it straight away."
"We liked how you can use the different parts of the venue for different parts of the day and the hotel has cottages that the wedding party could stay in."
"It's a short walk from Luss Pier and beautiful Loch Lomond, surrounded by the most beautiful scenery. The hotel itself is cosy, welcoming, offers a fantastic food and wine selection and the staff are all wonderful."
"They made us feel right at home from the get-go."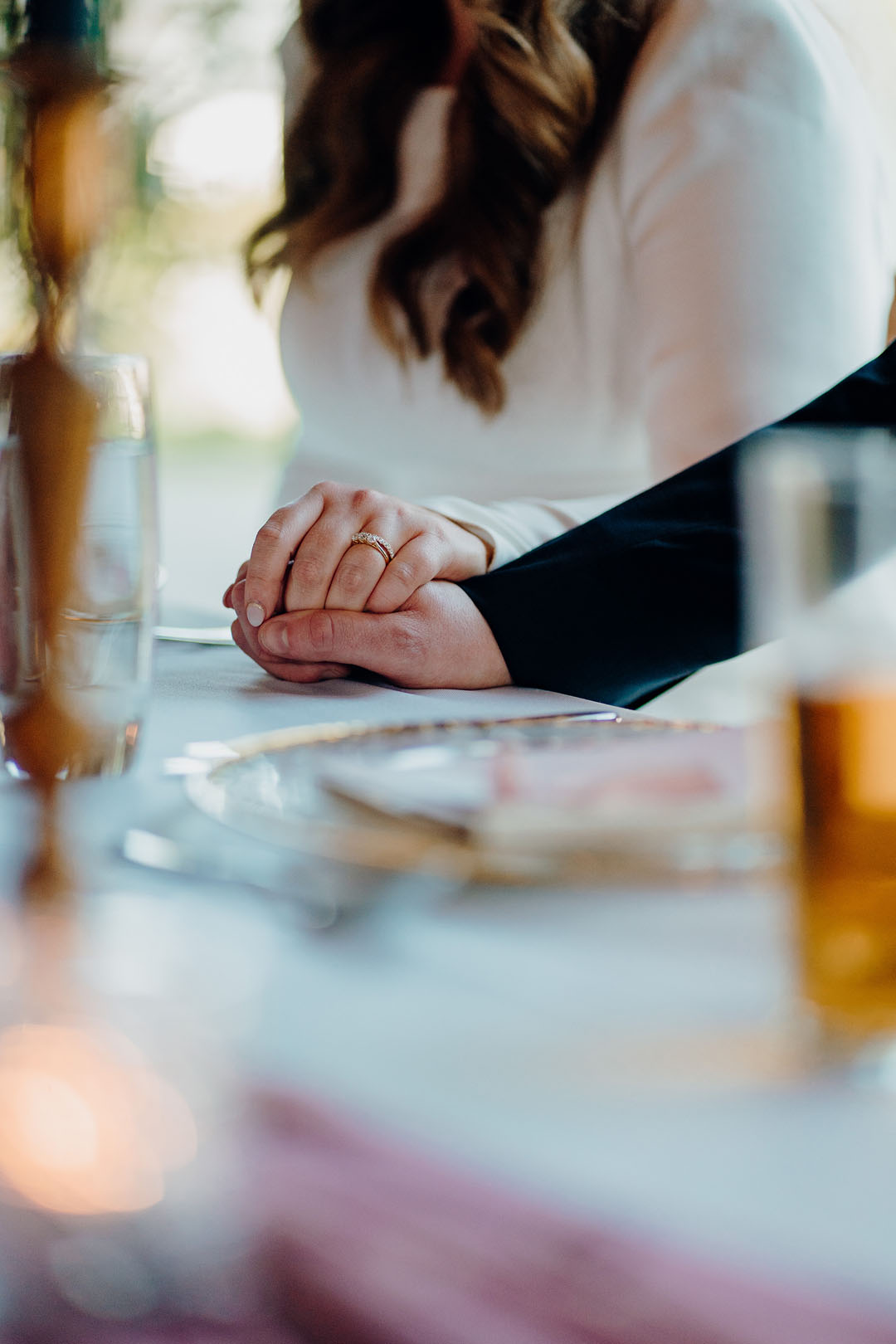 The day's photographer was Ross Alexander Photography, who captured the tiny details and the wonderful location of the wedding.
"We clicked with Ross as soon as we met him. He was photographer for my friend a few years ago and I thought his photos were great."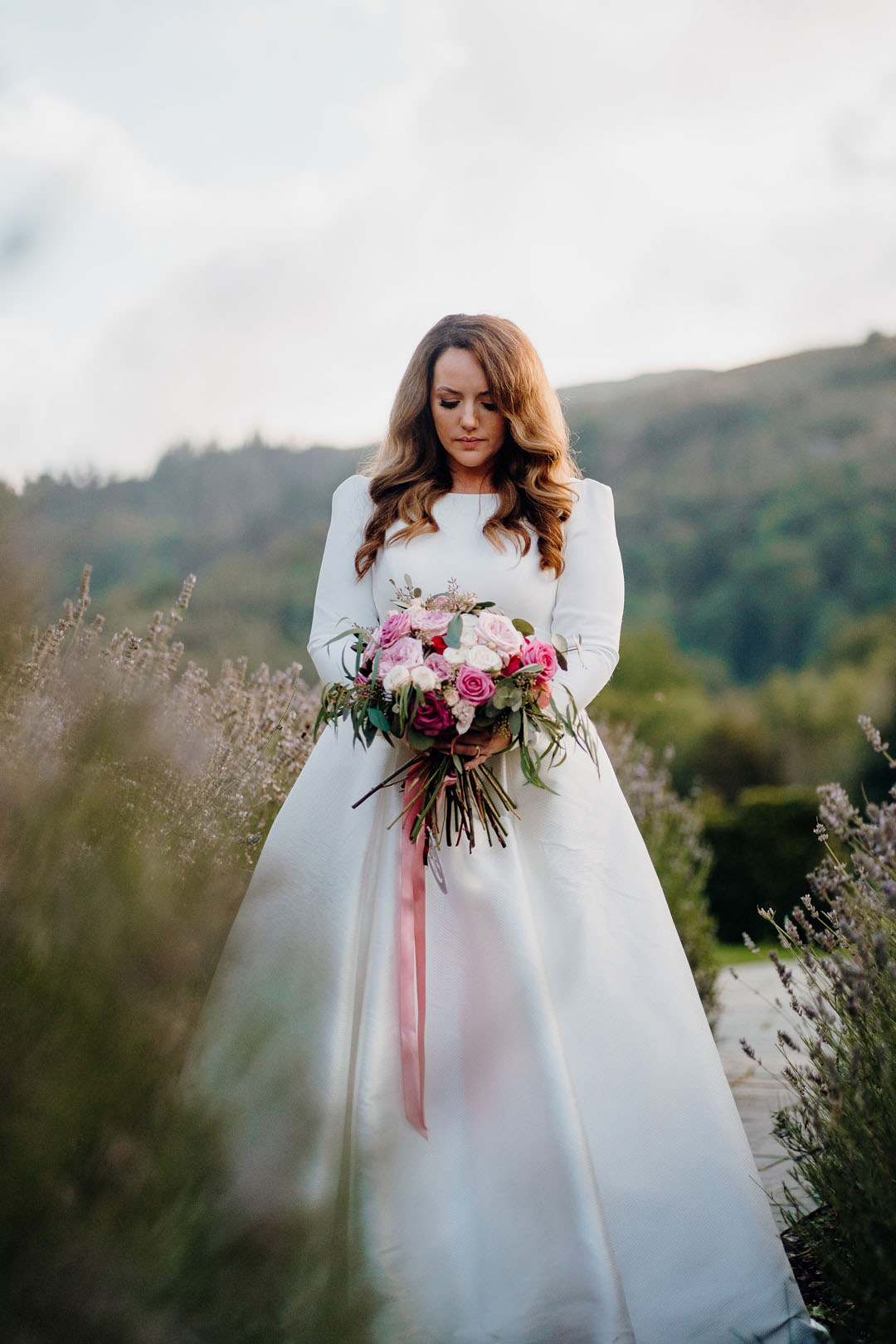 "They got better and better over the years and he was at the top of our shortlist. We were delighted to book him and he was fantastic on the day – everyone said how great he was to work with."
"Our photos are amazing and we couldn't be happier with them. They were exactly the style we hoped for and he captured the joy of the day perfectly. He's got to be one of the best photographers in Scotland, I'm sure of that."
For other couples affected by Covid, Robert and Steph have the following advice.
"It really depends on what you want. If you're desperate to be married to your person then I see why people go ahead with restrictions but we wanted the full weekend with all our close friends and family."
"We knew that we'd never get the chance to do that again in our lives. For us, it was absolutely worth the wait. Do what feels right for you and you'll never regret it."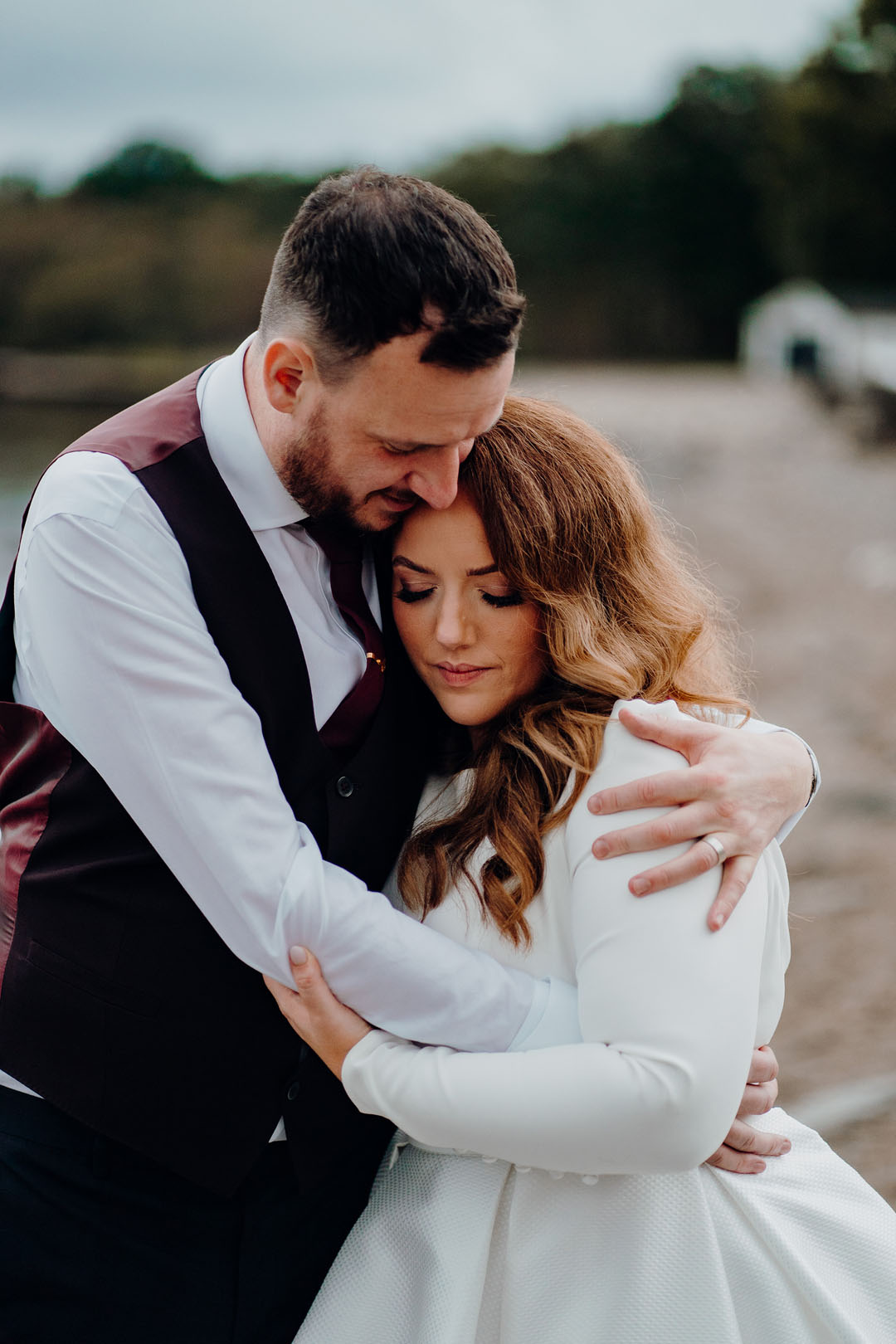 Loch Lomond was a peaceful, utterly beautiful backdrop for the couple's just-wed photographs and film, from Worldly Nomads Films.
"Barry was a pleasure to have around on the day – he really did fly under the radar. He worked so well with Ross and I can't wait to see the film. It's going to be an emotional one to watch."
"We walked through Luss village with our groomsmen and bridesmaids to get some photos taken on Luss Pier. Our piper piped us down the streets and it was such a special moment. Tourists clapped and cheered for us and it was quite a surreal feeling. The pictures on the pier are some of our favourites. Loch Lomond behind us is just stunning."
The evening reception was catered by Bibi's Cantina who provided a 'build your own burrito' bar. 
"We also had their Margarita truck, The Little Margarita Truck, which was such a massive hit with guests."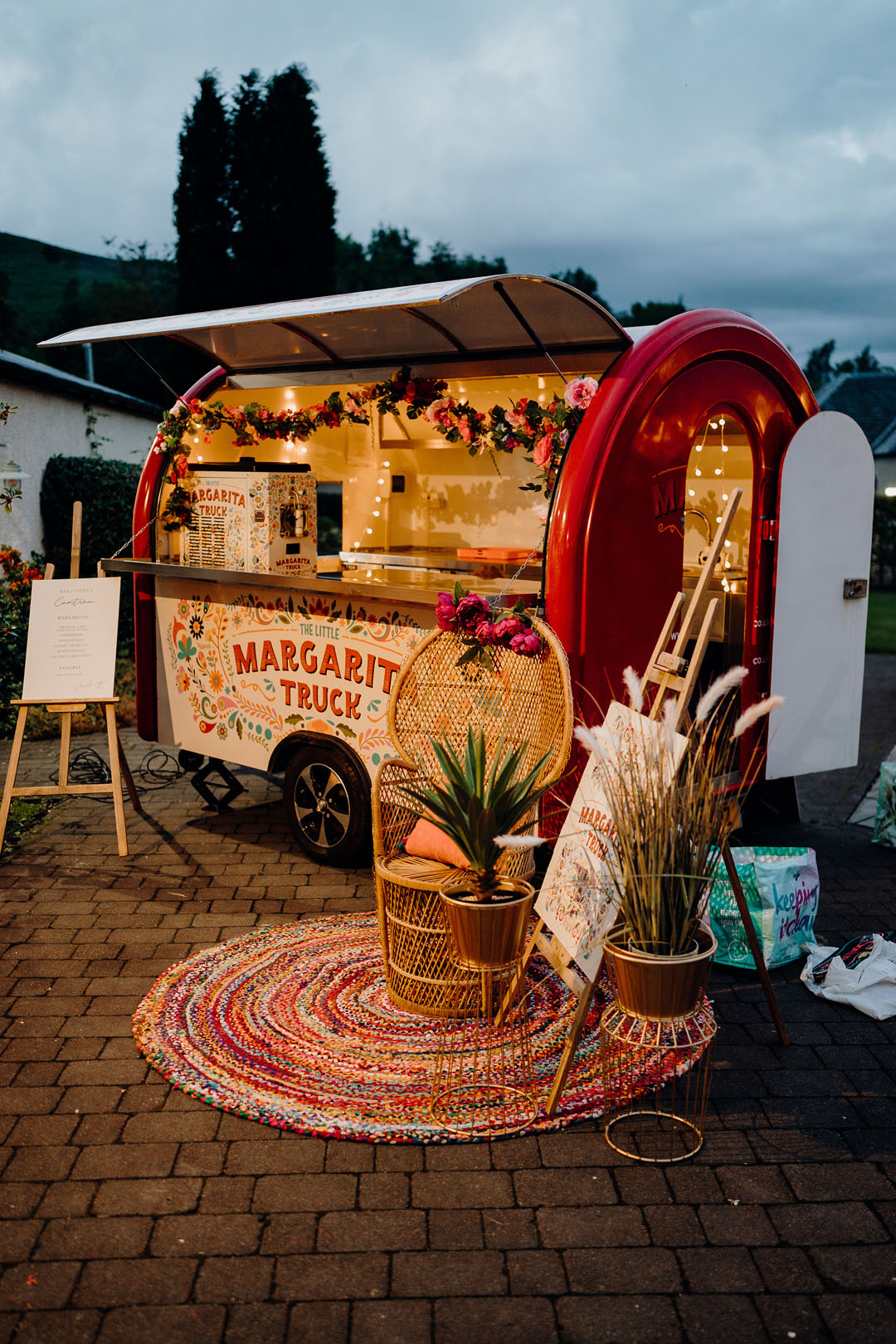 The evening reception was romantic and intimate, thanks to the festoon lighting and cosy atmosphere.
"Our first dance was 'When Something is Wrong With My Baby' by Sam & Dave, a 60s soul ballad that we heard in a movie called 'Baby Driver'."
"We both instantly loved it and the words. Our band Velvet Noir learned it for us and the Chelsea sang it so beautifully."
Words of Wedded Wisdom
"Be present in every single moment of the day. Take time to enjoy it. Don't stress or rush. Do what you want to do."
"If you make the day reflective of you as a couple, your guests will enjoy it."
https://www.lovemydress.net/directory/supplier/sassi-holford/
"Dance! It's easy to get caught up in trying to make your way around every single person in the room."
"You can't have a sit-down conversation with everyone so don't try. Enjoy your reception. Get up and dance, drink and have fun as you would at anyone else's wedding."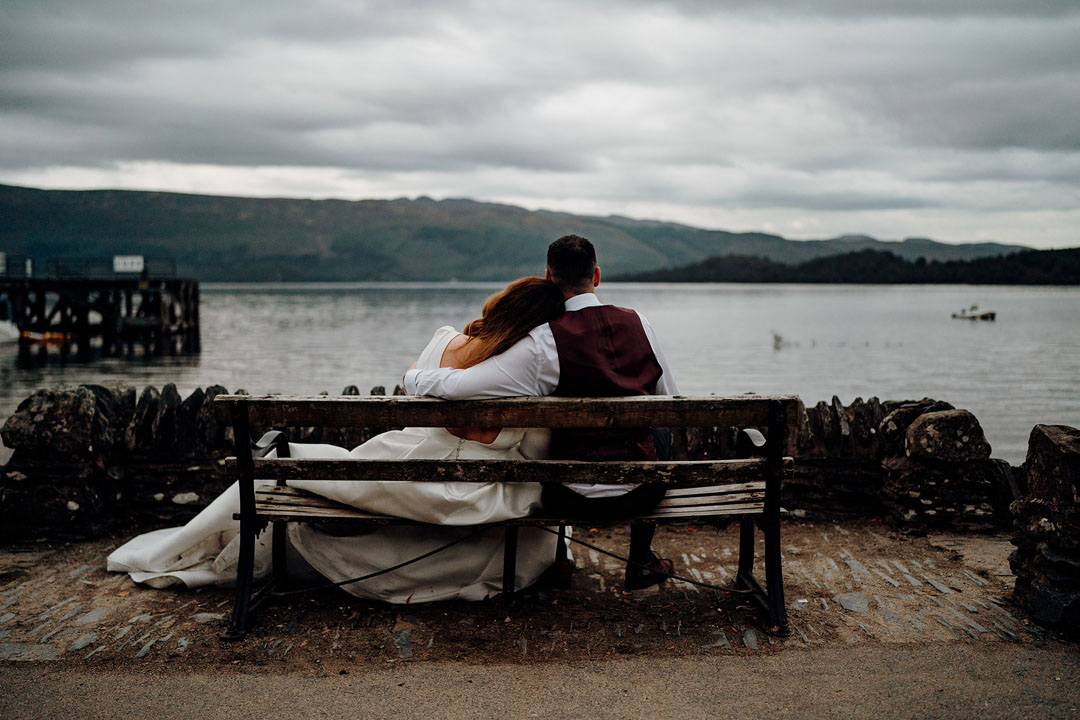 Thank you Steph and Robert and congratulations too. What a majestic setting for your day and wow, what a gown.
If Sassi Holford's style is for you, we have plenty more brides wearing her gowns here. Thank you also Ross Alexander Photography; I hope to see more of your beautiful work again soon.
Ele xx