Suzanne Neville & Rixo Bridesmaids: A Classic English Summer Wedding at Brympton House in Somerset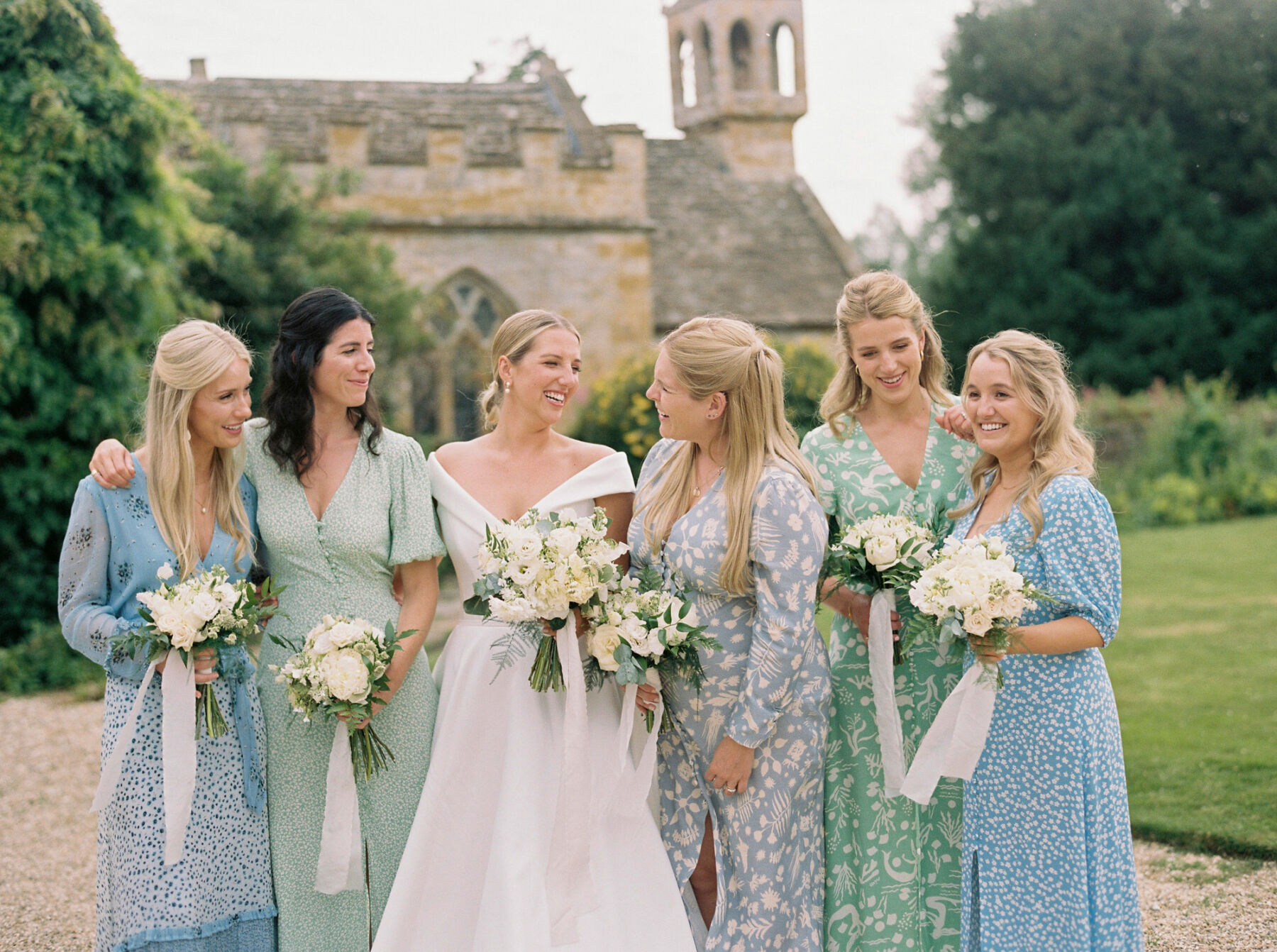 Cornflower blue, pale leaf green and sophisticated cream were the elegant colour palette for today's country garden wedding. Inspired by their venue's classical garden, the day was timeless yet modern, elegant yet relaxed, in the beautiful surroundings of Somerset.
Director Jess, wed Journalist Jamie on 2nd July 2021 at country house venue Brympton House near Yeovil in Somerset.
Wanting a classic English summer wedding, the day featured a relaxed drinks reception in the garden followed by a more formal, candlelit wedding breakfast inside. The bride wore a full, off-the-shoulder ball gown from Suzanne Neville, befitting the historic setting.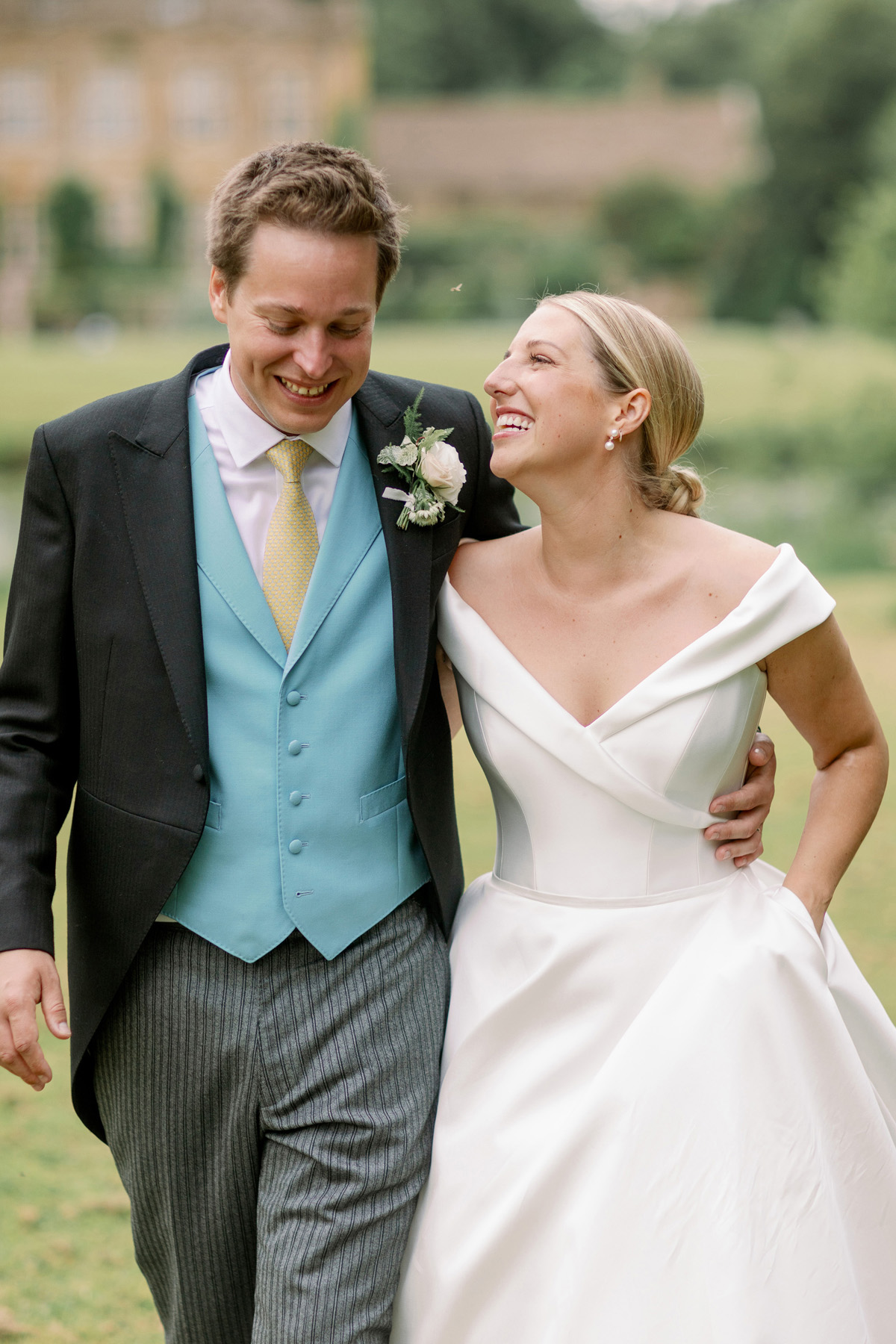 Classic, English, Unfussy
We knew we wanted a classic English summer wedding that involved an outdoors drinks reception in a beautiful garden, but one that wasn't overly stuffy or formal. We wanted the vibe to be relaxed, intimate and happy, and to be a reflection of us as a couple.
Our venue was Brympton House. We love spending time in the countryside and have a particularly soft spot for Somerset.
The day was styled beautifully by Ellie at Style By Design, and featured plenty of fresh flowers, foliage and elegant candles.
My mum created the stationery suite, featuring hand-drawn illustrations. She did some amazing illustrations for the table plan and tables, which were named after sentimental places for us. She also illustrated and designed our order of service.
We had to delay from September 2020 – quite a stressful thing to have to do. Restrictions were eased just in time for our wedding and while some were still in place, it didn't overly impact the feel of the day itself.
The Look
The Suzanne Neville team made each appointment feel very personal. They were so welcoming and very accommodating of our date change. We would 100% recommend them to other brides.
I thought I would go for a much more relaxed, unstructured and 'fashion' look, based on the dresses I'd seen through Instagram research and also working in the fashion industry.
As soon as I started trying dresses on, I realised that Suzanne's style suited me the best and made me feel most confident whilst also feeling entirely like myself.
I wanted a dress that was contemporary and timeless whilst also feeling true to my style, and that I would love just as much in thirty years when I look back at photos as I did on our day. And, of course, a dress that would suit the magnificent venue!
I wore an antique family heirloom necklace for the ceremony which my mother wore for her own wedding that was gifted by her mother.
My veil was also Suzanne Neville and shoes by Manolo Blahnik. My earrings were from Sophie Bille Brahe and diamond hoops from Maria Tash.
My hair was styled into a chic, low bun and make-up applied by Sophie Higginson.
My bridesmaids wore a variety of gowns from Rixo, in soft floral greens and blues.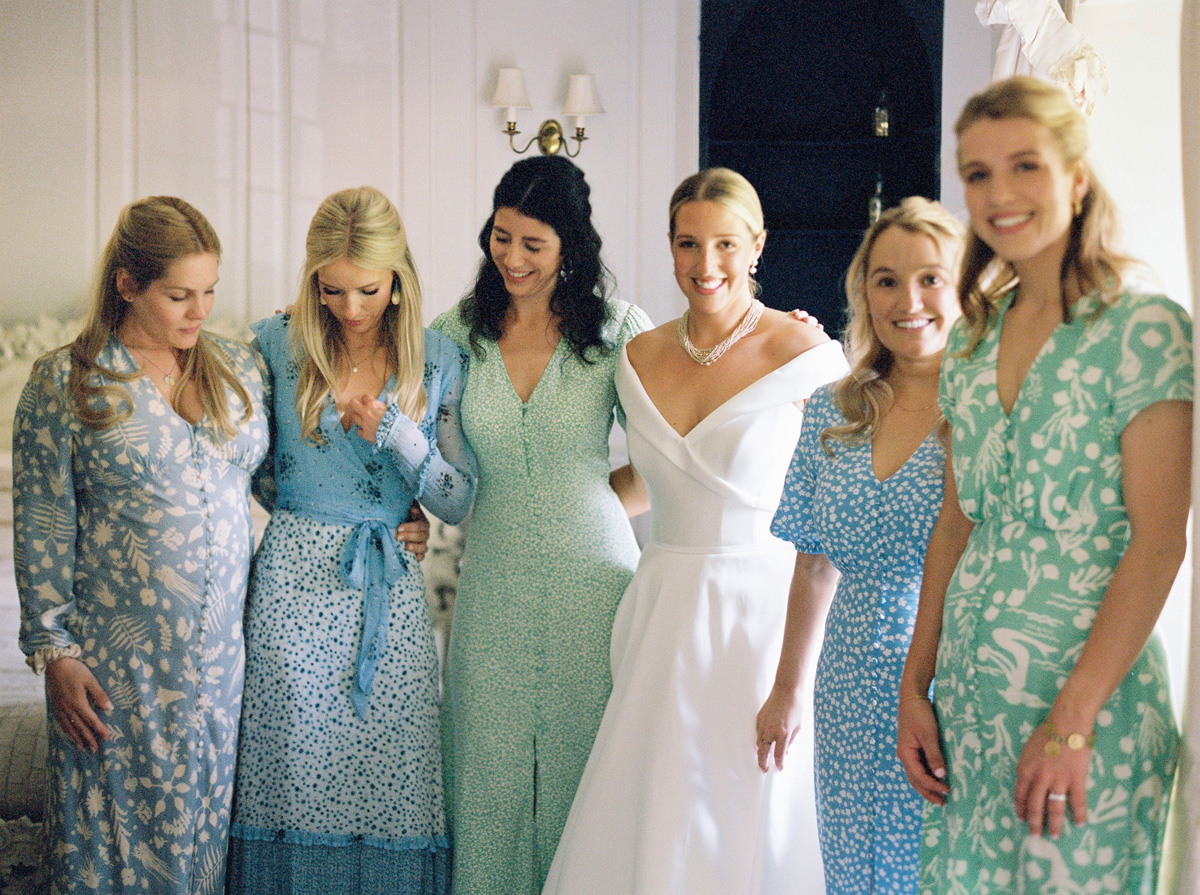 For Jamie, a classic, typically-British morning suit was a must, and his was from Norton & Townsend.
He wore it with Church's shoes, a sky blue waistcoat and a gold tie from Salvatore Ferragamo.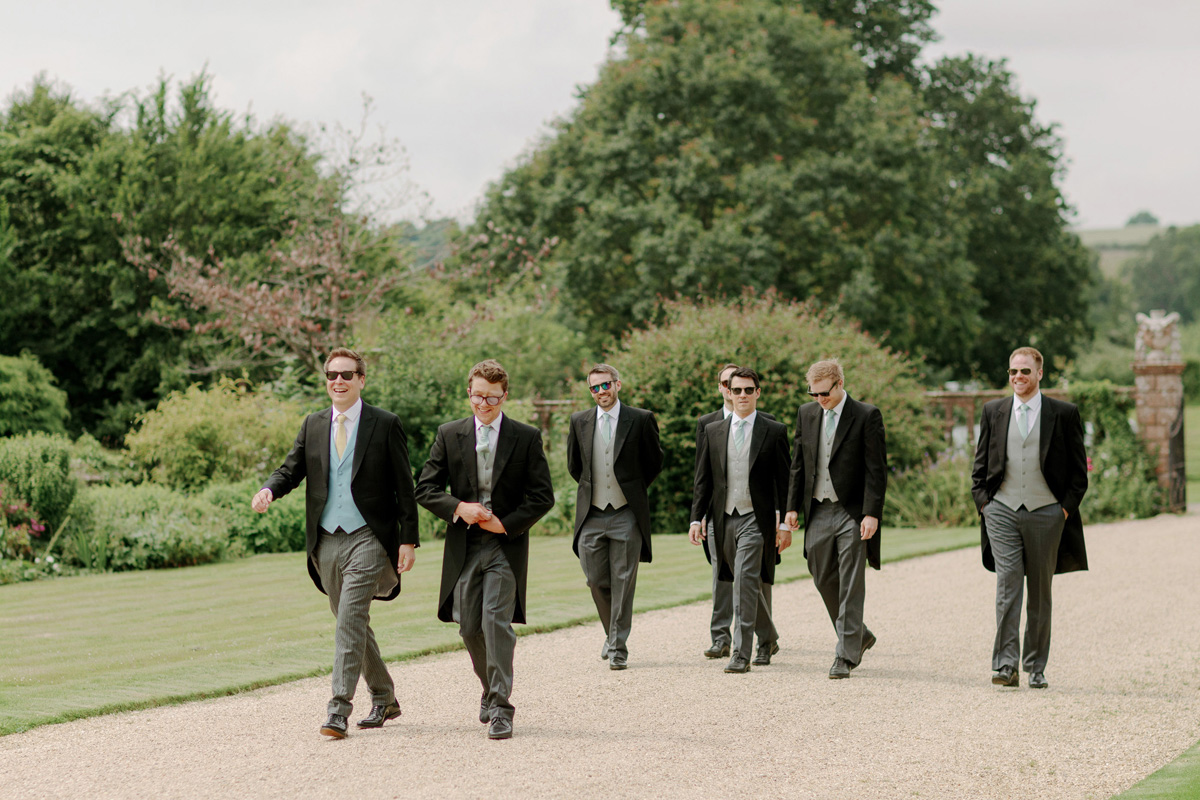 The Ceremony & Rings
We initially were straying away from Pachelbel's 'Canon in D' as we wanted to go for something a little more unusual.
However, we loved this piece of music and thought that after everyone having weddings delayed for such a long time, it would be quite fitting to kick the day off with such a classic.
We had a fantastic vicar who was very supportive in the run-up and extremely funny on the day.
Our ceremony readings included 'Marriage Morning' by Lord Alfred Tennyson, and 'Song of Solomon' from the Bible. Both were beautiful readings and were read by two of our best friends with such emotion and meaning.
My ring was a yellow gold and diamond eternity ring from Sophie Breitmeyer and Jamie's was a plain platinum ring from Blue Nile.
At Jamie's insistence, we walked out to 'The Throne Room' from 'Star Wars'. Our ceremony music was played beautifully by Fleur Quartet.
For us, the ceremony was the best part which came as a surprise. It was full of meaning, with the added weight that it was finally actually happening. A few days beforehand, it was unclear even how many guests we'd be able to have.
The church (St Andrew's at Brympton) was onsite at the venue and is a really small, intimate space. It felt so incredible to have all our guests there finally. It felt so relaxed, happy and brimming with emotion.
The Photographer
We loved David Jenkins' contemporary but timeless style which we felt perfectly reflected the feeling we wanted. We knew he'd capture what we wanted without people being conscious of him photographing them. And, we knew his images would stand the test of time.
David was so great on the day – really warm and friendly – and made us feel really relaxed – no mean feat after the drama of planning the wedding. We know we'll treasure our photos forever and we couldn't be happier with them; they perfectly capture the emotion we felt throughout the day and show so much love from all our family and guests. We're still discovering new photos we love now.
The Film
We knew that Liam of Soby Film would make such a beautiful film, both in shooting and editing – and he did. He was super-chilled and so accommodating and simply blended into the background, while getting all the most important shots.
The Engagement
We met on Tinder and had our first date in a pub in Balham, South London.
We rapidly discovered a mutual love of drinking three bottles of wine on a Tuesday. We got engaged just over four years later, on a very secluded Nanjizal Beach in Cornwall in March 2019 (it was a surprise sunset proposal). Little did we know we'd have to wait until July 2021 to actually tie the knot.
The Reception
The wedding breakfast was catered by Victoria's Food and after, the venue was transformed for the evening party.
The evening music was from Signal, with a first dance to 'You Got The Love' by Florence and the Machine.
Words of Wedded Wisdom
Don't overthink it; focus on the parts that are truly important to you and that you will remember in fifty years' time.
Often, understated simplicity trumps extravagance. With the influence of Instagram, it can be easy to get tied-up in the minuscule details in an effort to make your day as picture-perfect as possible. But, in the end, you don't notice any of these tiny details as you're completely caught up in the emotion and whirlwind of the day. Your guests are there to see people they love get married, not to see an Instagram-worthy table-scape.
Don't sweat the small stuff; a happy marriage is more important than a perfect wedding day. We found an enormous amount of sympathy from our friends helped. Another thing that helped was gin.