Hilly Thorn's race against the clock to find two wedding day looks meant a bespoke gown for her marriage to Chris on 1st July at Tythe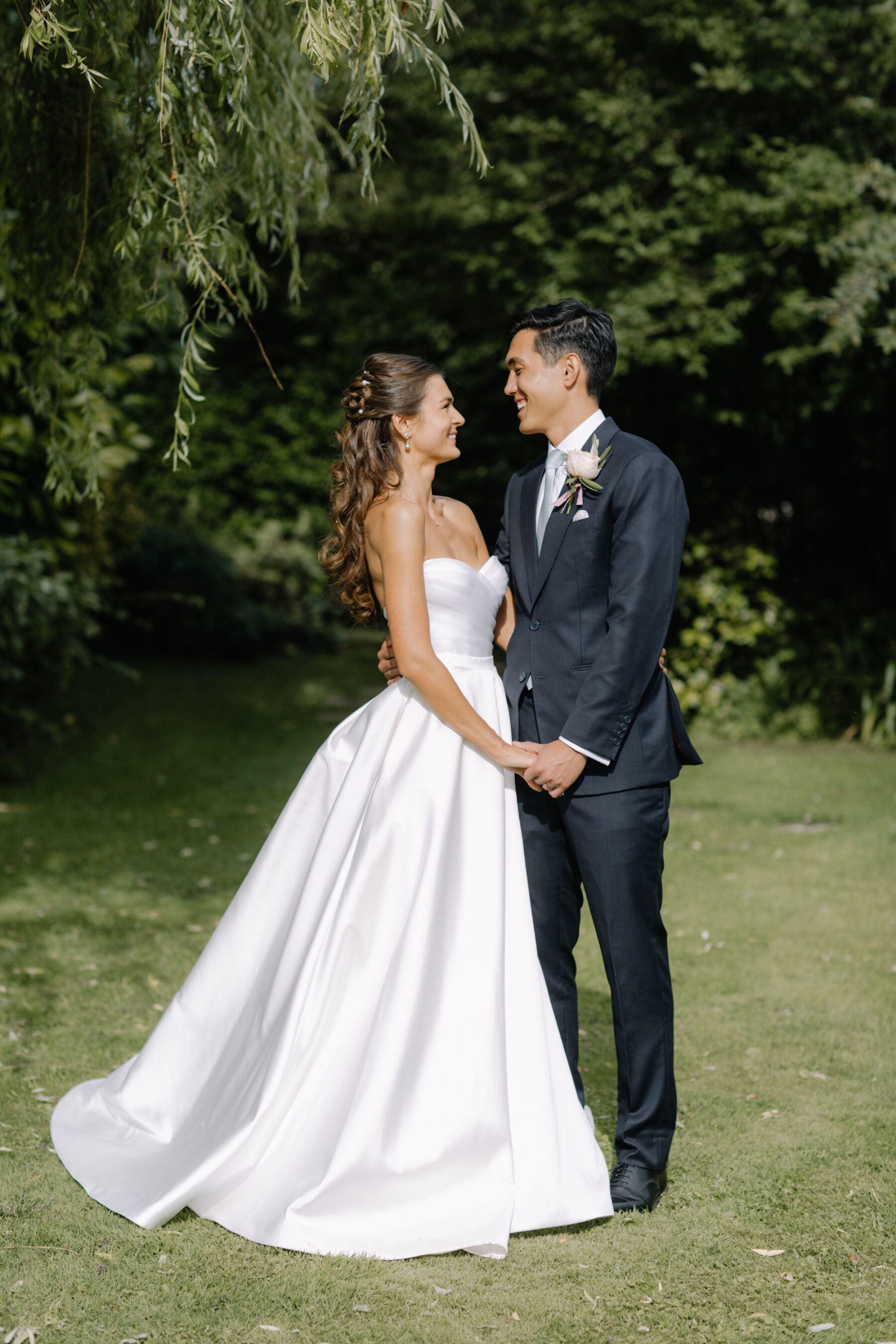 I had 24 hours to find the dress and visited four shops in that time…
I went to Browns Bride for Dana Harel, both of The Wedding Club boutiques in Knightsbridge and South Kensington for Leah da Gloria, Bliss Monique Lhuillier and Berta and then Suzanne Neville was recommended by a very good friend who said the one hour fitting I had there would be the best one I would do. She was right.
All of Suzanne's dresses have an integral corset so they can pull the dresses in tight, they actually feel like they fit. I'm a size 6-8 and typical sample sizes are a 12 so in the other boutiques it often felt like I was wearing fancy dress. I just couldn't buy into this idea that what I was seeing was 30% of the finished look and the remaining 70% was down to my own imagination.
I live in Dubai a lot of the time and I usually come home for the summer.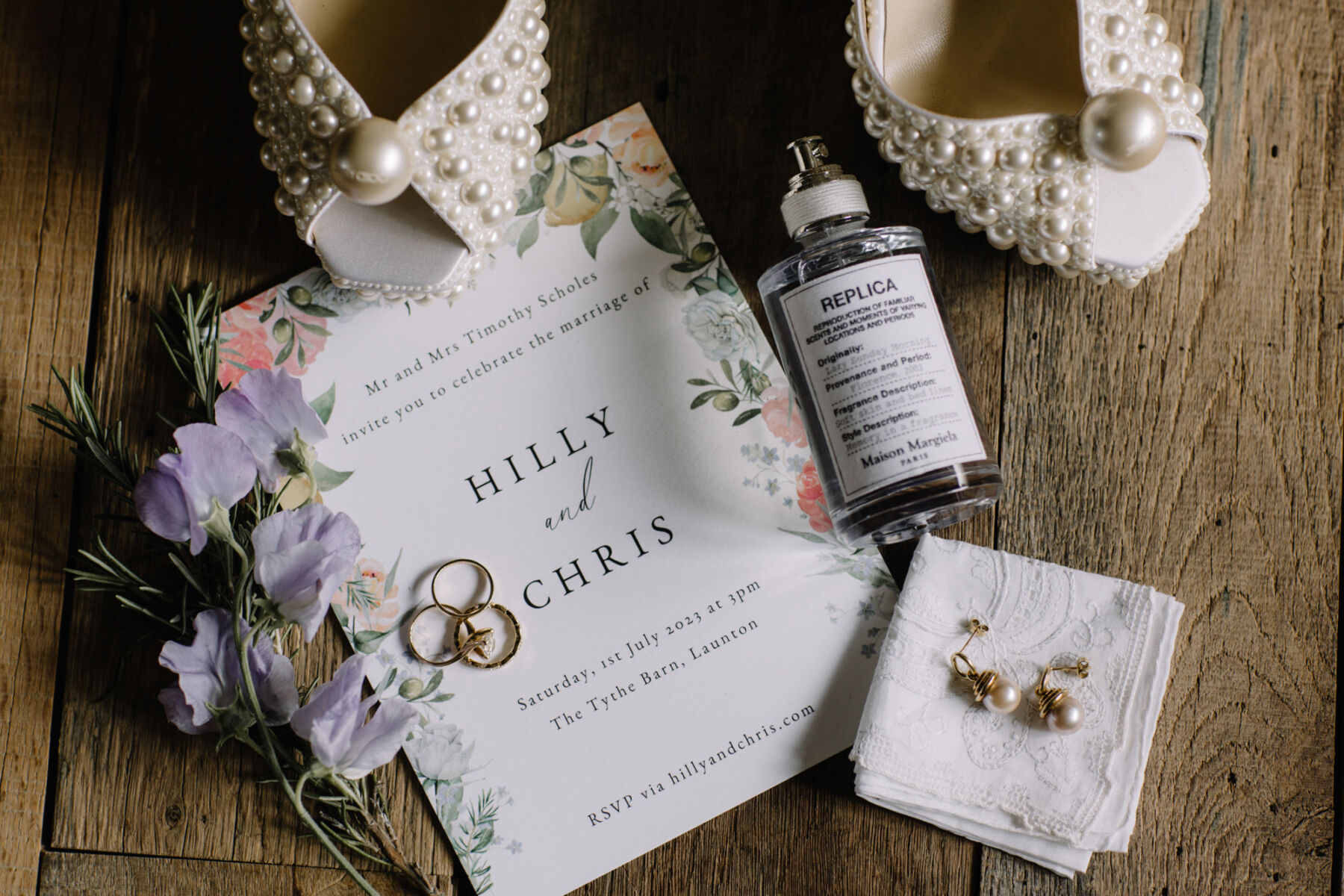 My mum doesn't like London hence the very short shopping timescale. We had a really lovely time and agreed we wouldn't say one way or the other until we had been to all four and tried on everything. In the end it wasn't a difficult negotiation.
But if I'd asked for a very slinky Berta dress – the kind of dress all my friends assumed I would wear – the conversation with mum may have been harder. I tried on one very big dress in Browns and my mum said yes, that's the one, we'll pay for it now. I realised we were on very different wavelengths, but it did open my eyes to trying something more traditional.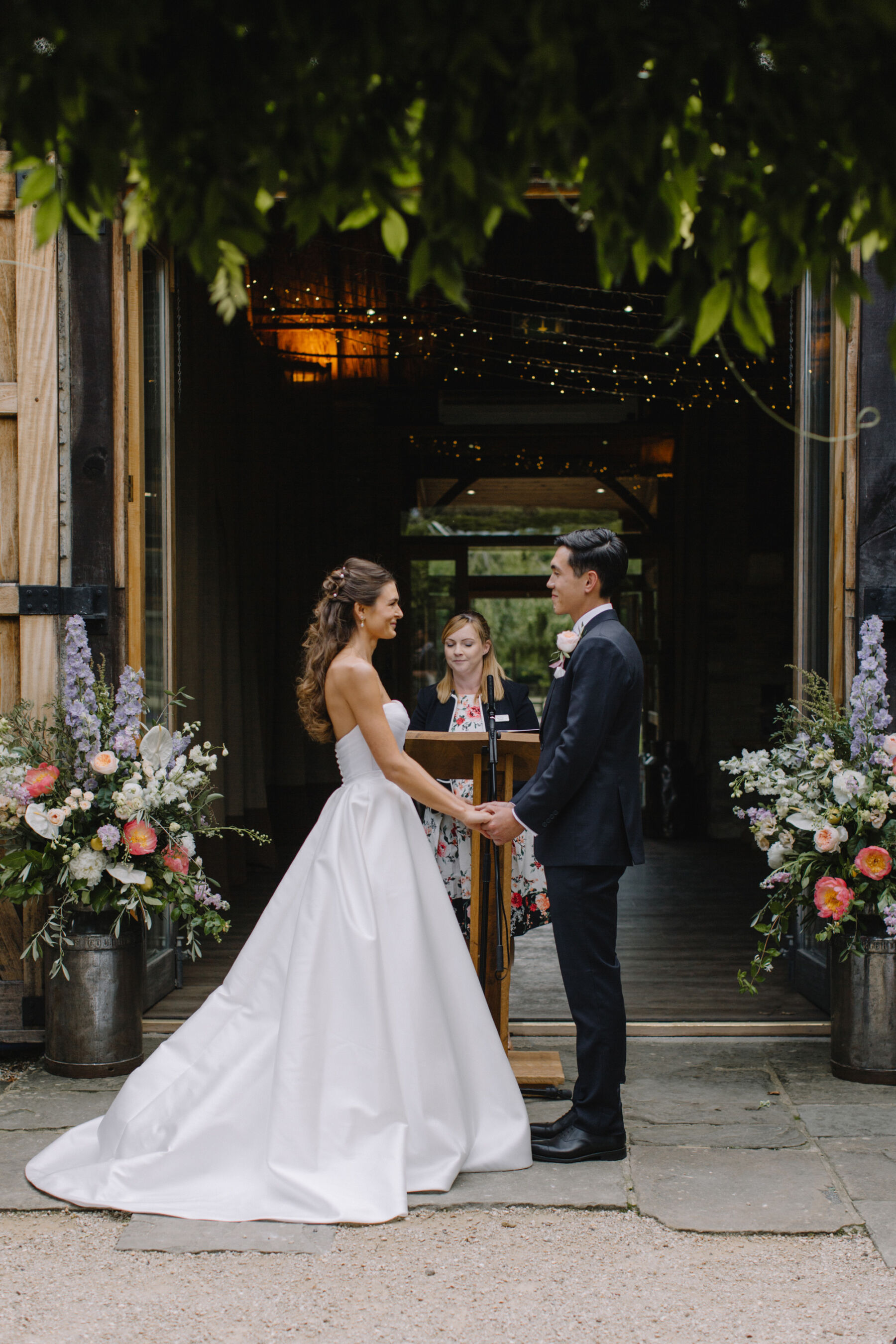 I think she saw how comfortable I was in the Suzanne Neville dress, it's one I could recognise myself in. The full-length version of the Ava dress felt too princess for me, so I kept the Ava tulle bodice with its sweetheart neckline, had a looser tulle mini skirt added and then over that we placed the fuller, multi-layered silk satin Viola skirt. It gave me two looks in one and Suzanne Neville was only too happy to make it work for me.
Her approach is totally bespoke. Her team is extremely good at what they do, very professional and they make you feel very looked after. Like a sister, they are there to support you, they will tell you when one dress looks better than another. They don't just stand back.
The space also feels very private, the dresses are very clean and very good quality. Everything feels very classy there.'
The vision that sold it to me was…
…the idea of being in Tythe's beautiful farmhouse gardens for our couple shots. I'm not the most confident person in front of the camera and I liked that we were able to take ourselves away and do that a little more privately. It felt like being at home because we were staying there. We had some great shots taken on the tennis court and in the walled gardens too.
For me, that's what is so special about Tythe, it feels like a real bubble of love because everything is so brilliantly contained in one place.'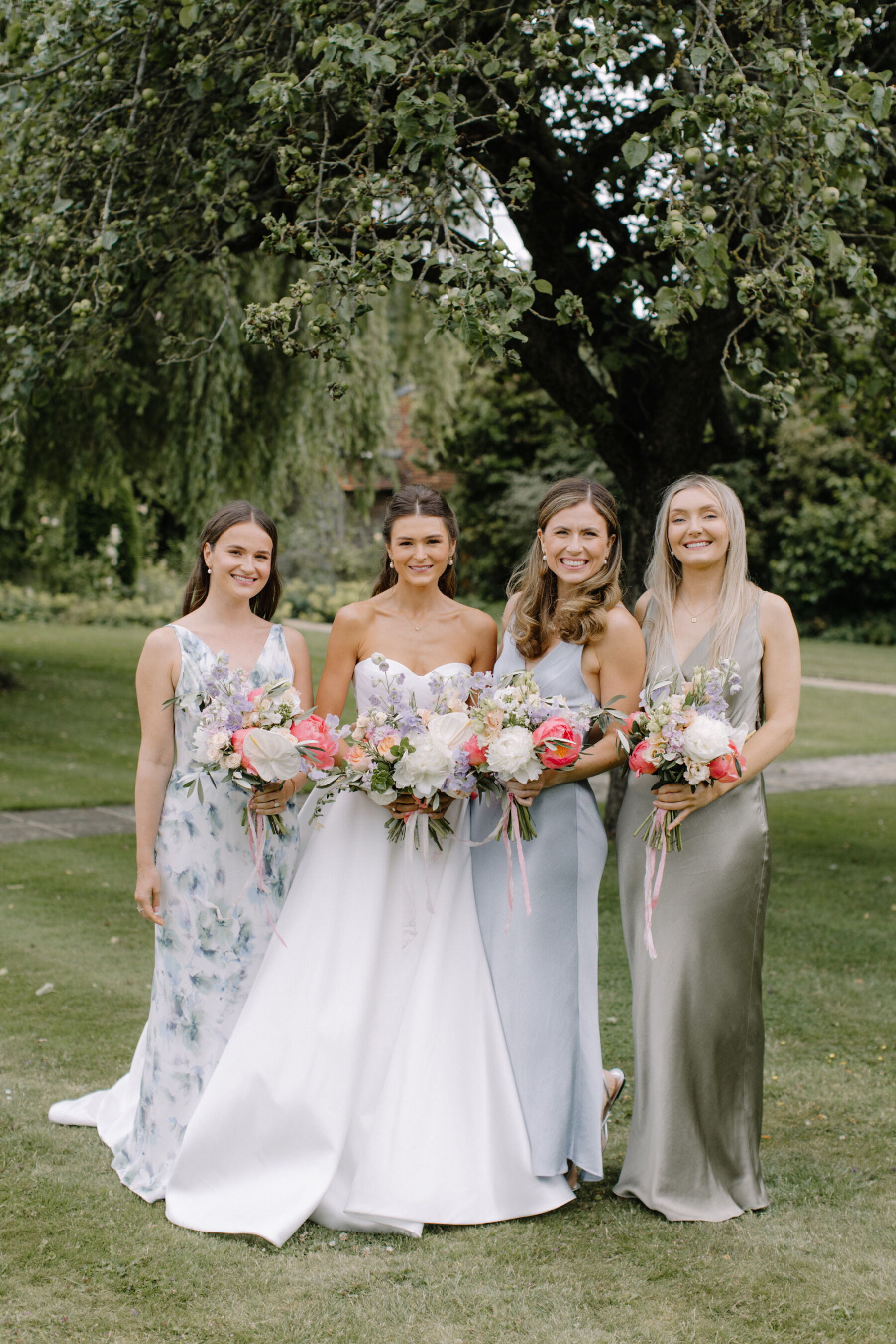 The Designer
Suzanne Neville is a renowned couture British bridal and eveningwear designer with her flagship boutique on Beauchamp Place in London's Knightsbridge.
Known affectionately as 'the corset queen' Suzanne has dressed Kate Winslet, Jennifer Hudson and Elle Macpherson for the red carpet and continues to personally design for brides and their wedding parties. She has stockists across the world including in Europe, the USA and Canada, Asia and Australia.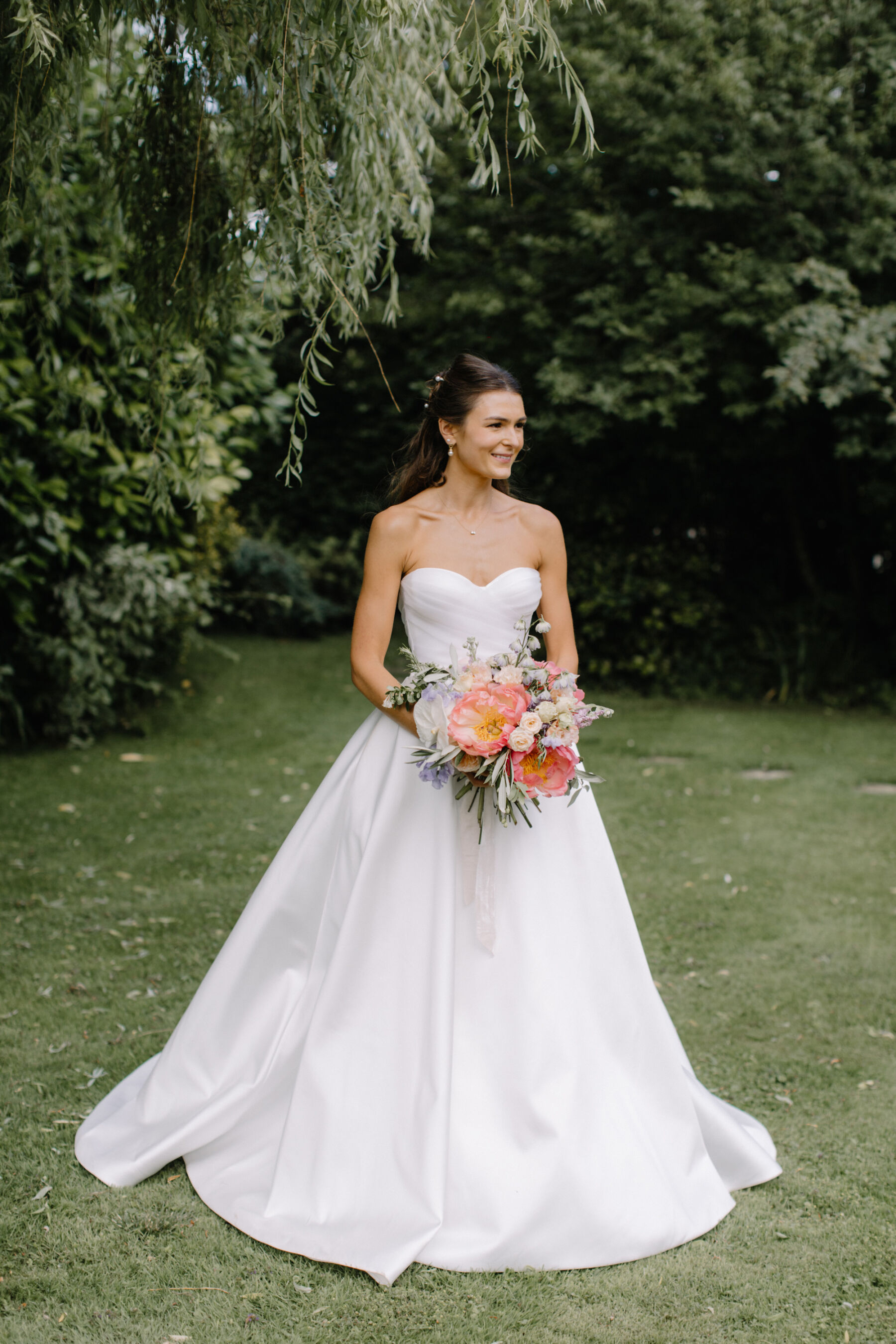 I was trying to be somewhat of a modern bride with some nods to tradition…
I wore one grandmother's Fiji pearl earrings and had another's handkerchief in the pocket of my skirt, then my mum sewed a blue button into my dress, and I added a diamond necklace my husband gave me. It has one solitaire and one tear drop diamond. I finished the look with a few pearl hairgrips from Etsy.
I went all out on the hair. It's a bit of a security blanket for me, I've always had it long, so I was never going to wear it up on my wedding day. I wore the Jimmy Choo Sacaria white satin and pearl embellished platform sandals, another reason I wanted to have the mini dress to really show them off. I paid for them with my first pay cheque from my new job.
I wanted to shock people a little with the volume of the skirt being quite full and having a train. The fact that I didn't have a veil also made people stop and appreciate that the dress was the focal point.
I wasn't having a church wedding so there didn't feel a need for a veil. The plan is to wear the short dress again. I'm going to a wedding in two weeks and the dress code is white, but perhaps it's a bit soon. I plan to have something else made from the Viola skirt, but Suzanne Neville's advice is not to rush that decision. I'll probably have a few different pieces made. I'll be forever wearing my wedding dress!
Dad seeing me in the dress for the first time was the moment I cried the most…
I felt very overwhelmed with emotion. All I had told my bridesmaids was it's not what you're expecting so them seeing it was very special too. I'm sure most husbands would tell their bride they look amazing and Chris did say wow, the dress is big! His mum was so happy I was wearing a proper wedding dress while everyone else was just shocked it wasn't a slip dress.'
My favourite image of the dress…
…captures how happy and relaxed we felt on our wedding day, reflecting our decade of togetherness. My dress turned out perfectly. I love how this photo captures the sweetheart tulle bodice and full satin skirt. I wanted to feel like myself with a touch of timeless elegance and elevated style.'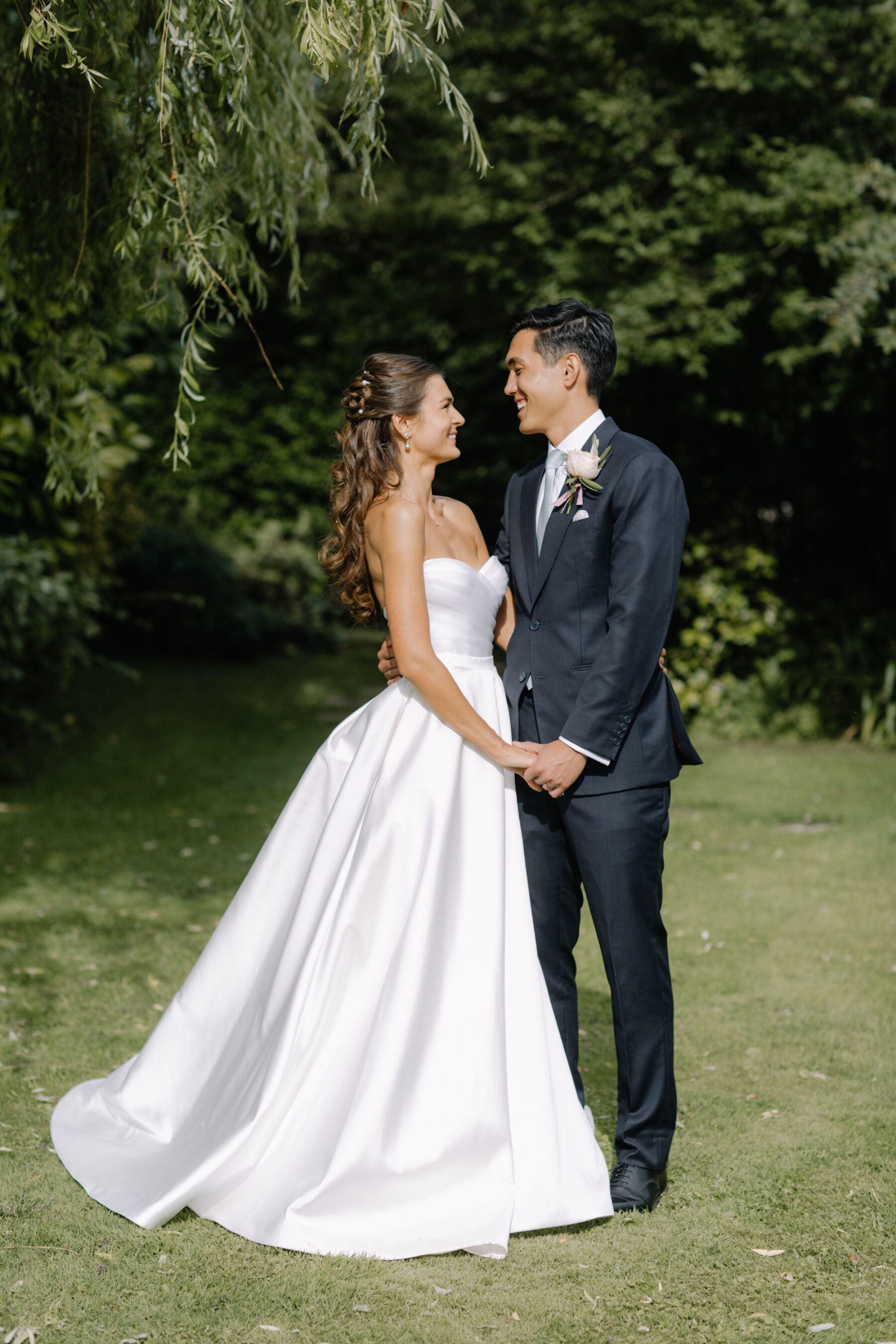 Our wedding day felt very personal…
We wrote our own vows, we had music from Fiji, readings from our friends, it was all very special. But there was one moment in particular when I was standing on the lawn at Tythe for our reception drinks knowing that this was exactly as I wanted it.
The walled garden was beautifully keeping everyone together, the barn during dinner looked so magical with all the flowers, it was the best feeling knowing we had done it all, together.'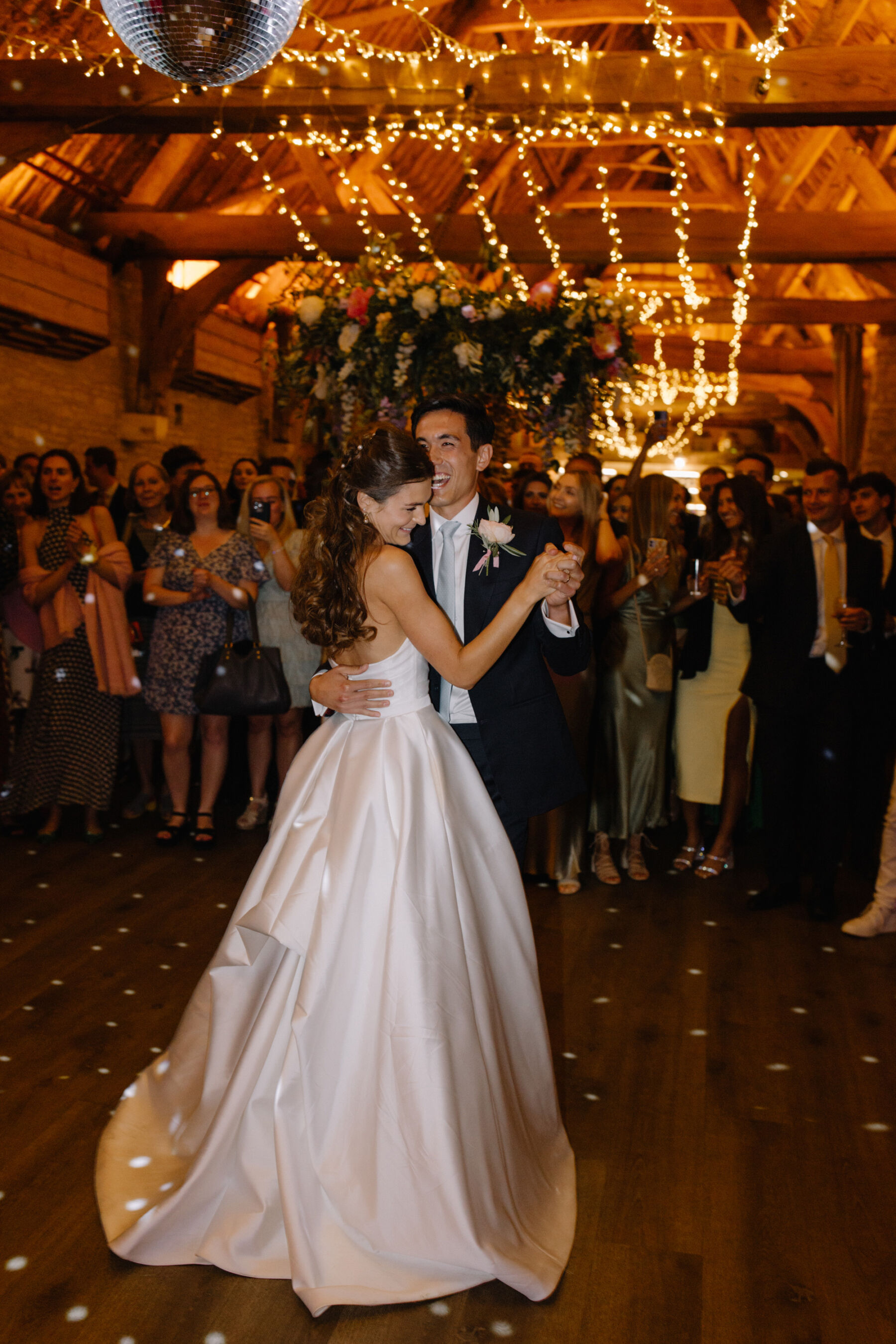 More About Tythe…
Tythe is a collection of beautifully restored Cotswold stone barns and a 17th Century farmhouse set at the heart of Tythe's Manor Farm – the working farm of the Deeley family for over 500 years, all peacefully tucked away from the bustle of the neighbouring market town.
As one of the most established barn venues in the country, Tythe sets a high standard and offers guests expert planning. Its selection of restored barns, farmhouse accommodation and pretty manicured gardens are hired exclusively, for the perfect adult playground. The newly renovated farmhouse is your luxury rural retreat with space for everyone.
Enjoy seven double ensuite bedrooms including a master wedding suite, plus a dedicated pampering space with your own Champagne station. On the ground floor you'll find charming rooms, including a dedicated space for the groom and outside a tennis court, the wood-fuelled hot tub and a Shepherd's Hut for two.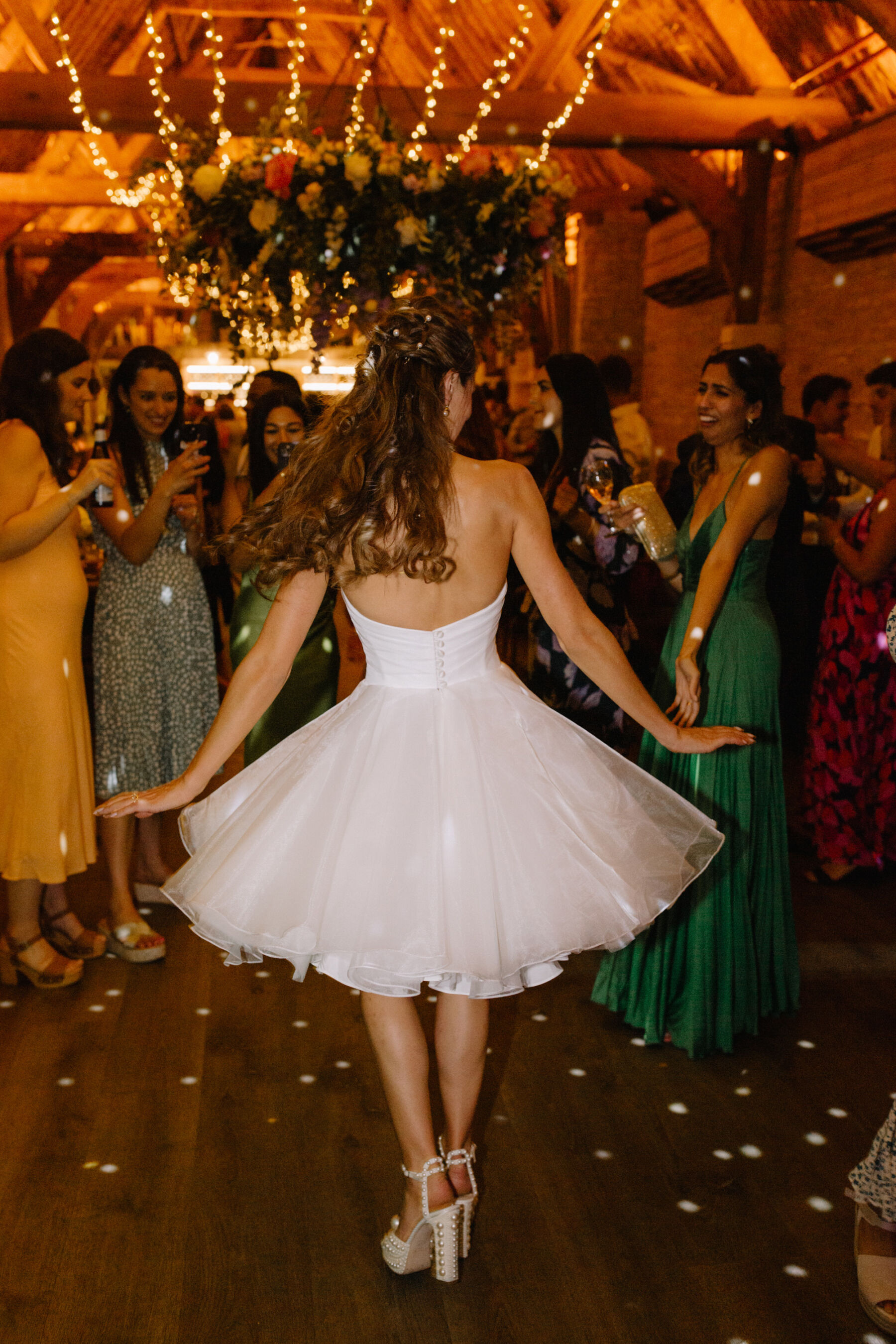 Welcome to the
Love My Dress Shop
Browse the latest handpicked items in the Love My Dress Shop.
Shop by Category
or
Shop by Brand