Throughout August, we are sharing the fashion and wedding day insights of six different brides who have recently married at the magnificent Tythe.
Tythe is a collection of beautifully restored Cotswold stone barns and a 17th Century farmhouse set at the heart of Tythe's Manor Farm – the working farm of the Deeley family for over 500 years, all peacefully tucked away from the bustle of the neighbouring market town.
You can read more about this glorious space and Love My Dress recommended wedding venue here. Today, we are sharing bride Jennifer's fashion story with you…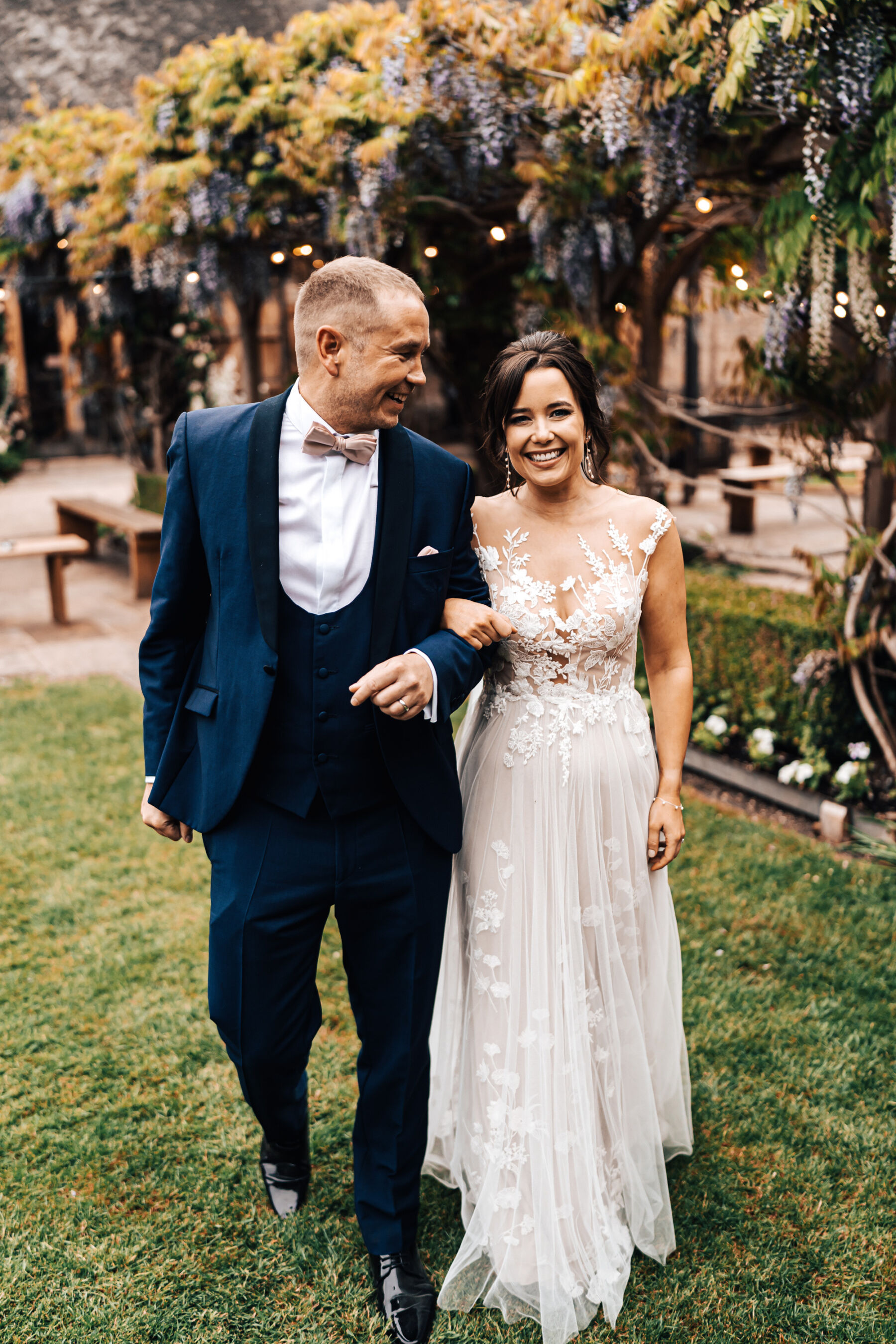 A dress made to mimic a cornflower meadow, beautifully blended into the English countryside at Jennifer Halladey's early summer wedding on 1st June, 2023
"I visited five bridal boutiques with my mum and tried on 20 dresses"
I had this strong feeling I would buy a long-sleeved lace dress and by the third visit I thought I'd found the one. It was bright white with a rounded neckline and very slim fitting, heavily laced before it dropped into a fishtail skirt. I knew I liked it but there was no OMG moment. Then a friend recommended Morgan Davies in Hitchin and my mum was adamant that we needed to try a few more, to be absolutely sure.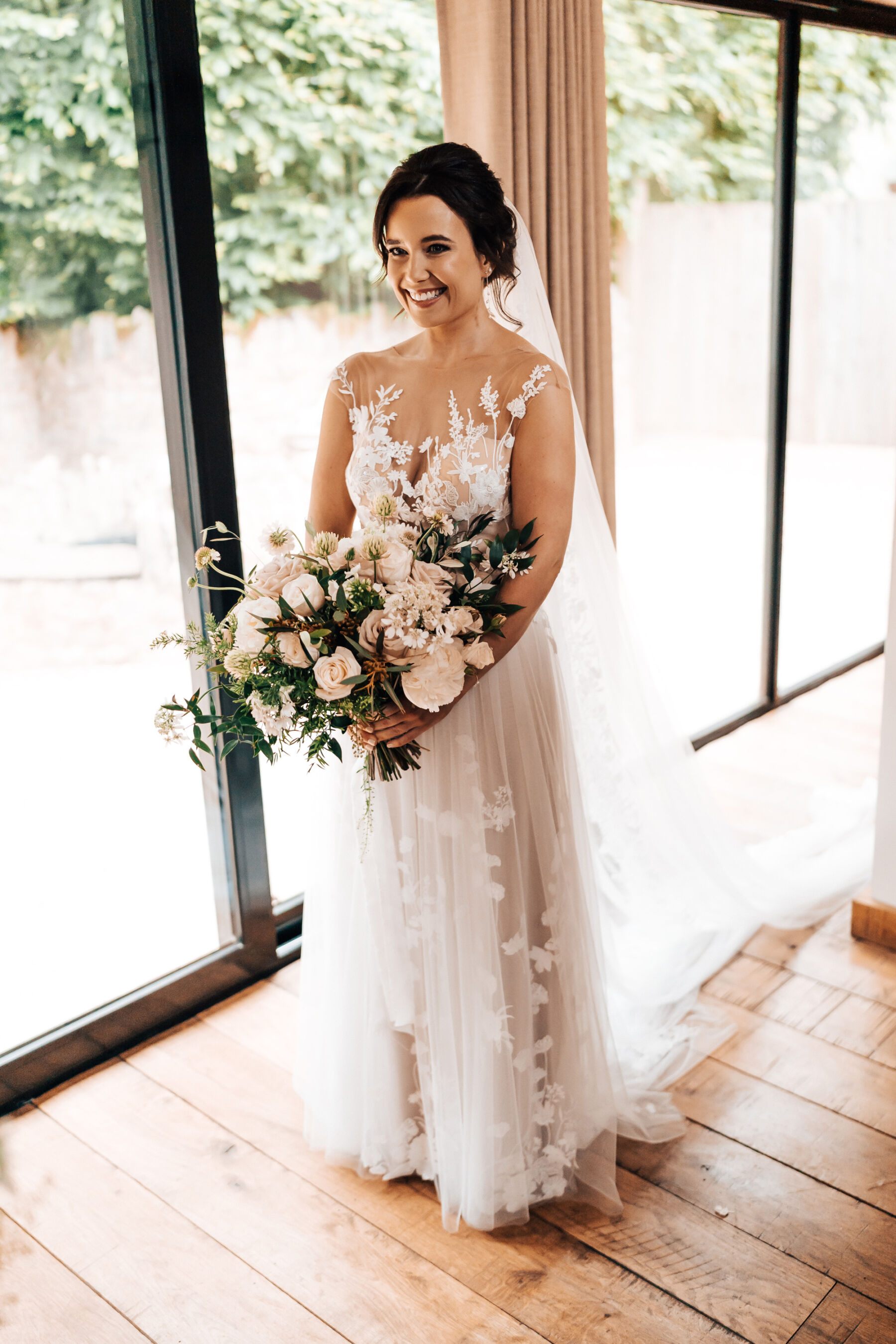 I felt their collections offered something genuinely different to what I'd previously seen. It was such a lovely experience. We were offered a glass of Champagne and we were the only ones in the shop. They had shoes I could try on, accessories I could play with and they put a veil in my hair. The stylist took the time to listen to me talk about Tythe and the kind of day we were planning. Then she pulled some different looks.
The Primrose dress from Anna Kara isn't a dress I would have selected myself. It wasn't what I was looking for but as soon as I tried it on, mum got teary and I knew it was the one. It's effortless, elegant and classic and it changed everything I thought I wanted. From the moment I stepped into this dress, I was in awe, I couldn't stop looking at myself.
The big dress reveal to all my bridesmaids was incredible
. . . they all started crying happy tears. The emotion and the love they were giving me was overwhelming. They were so happy for me and seeing that in the faces of all my best friends was the most amazing experience.
Hearing my dad say I looked beautiful and how proud he was of me is a moment I will remember forever – and my mum too because even though she had been at all the fittings, she hadn't seen the full complete look – it was pure happiness and I will cherish it. I'm not sure how I will ever replicate that emotion in another experience.
There was no discussion, we knew this was it. I love that it's so light, I couldn't stop touching it. It's the most amazing item of clothing I will ever own.
The sheer amount of detail is what sold me this dress. I loved the shoulder streamers, the champagne underlay, the pretty white floral applique and the delicate tulle. It's so romantic and it complimented the barn venue brilliantly. I wanted to embrace my femininity, for this dress to feel magical.
All of Anna Kara's dresses are unashamedly feminine and that's what I wanted, to be a princess for the day, to indulge that side of my personality.
For me, buying a wedding dress was also about creating memories with my mum and sister. The personal experience of a smaller boutique is one I would recommend to anyone. We will remember this forever.
The vision that sold it to me was…
. . . the thought of getting married outside and walking under Tythe's wisteria arch in front of the huge barn doors, my dress blending into the incredible florals that are planted around the estate. It was cold and windy in the morning but at 1pm on the dot, the sunshine came out and that's when we married. I got my dream wedding.
The image I held in my head ten months earlier when I found this dress came true, it all came together.
I am the most awkward person and not comfortable with people looking at me, so this dress had to make me feel confident. I really wanted Spencer to look at me and feel wow, this is going to be my wife.
As I turned the corner to walk down the wisteria aisle, my veil caught on one of the branches and my head got pulled back slightly, I was trying to unhook myself as our harpist was playing. It was genuinely funny, only adding to the uniqueness of the day, it took away all my nerves as I could see Spencer giggling.
Later, walking down the centre of the barn, under our flower chandeliers, the dress catching the light, with all our guests sat on the banqueting tables high fiving us as we passed by to our sweetheart table for two, was just incredible. When I look at that picture it epitomises everything I wanted from the day. You see the barn in its full glory with us central to it all and I know there are plenty of other beautiful dresses out there but none of them would have worked as well on this day in this space as mine did.'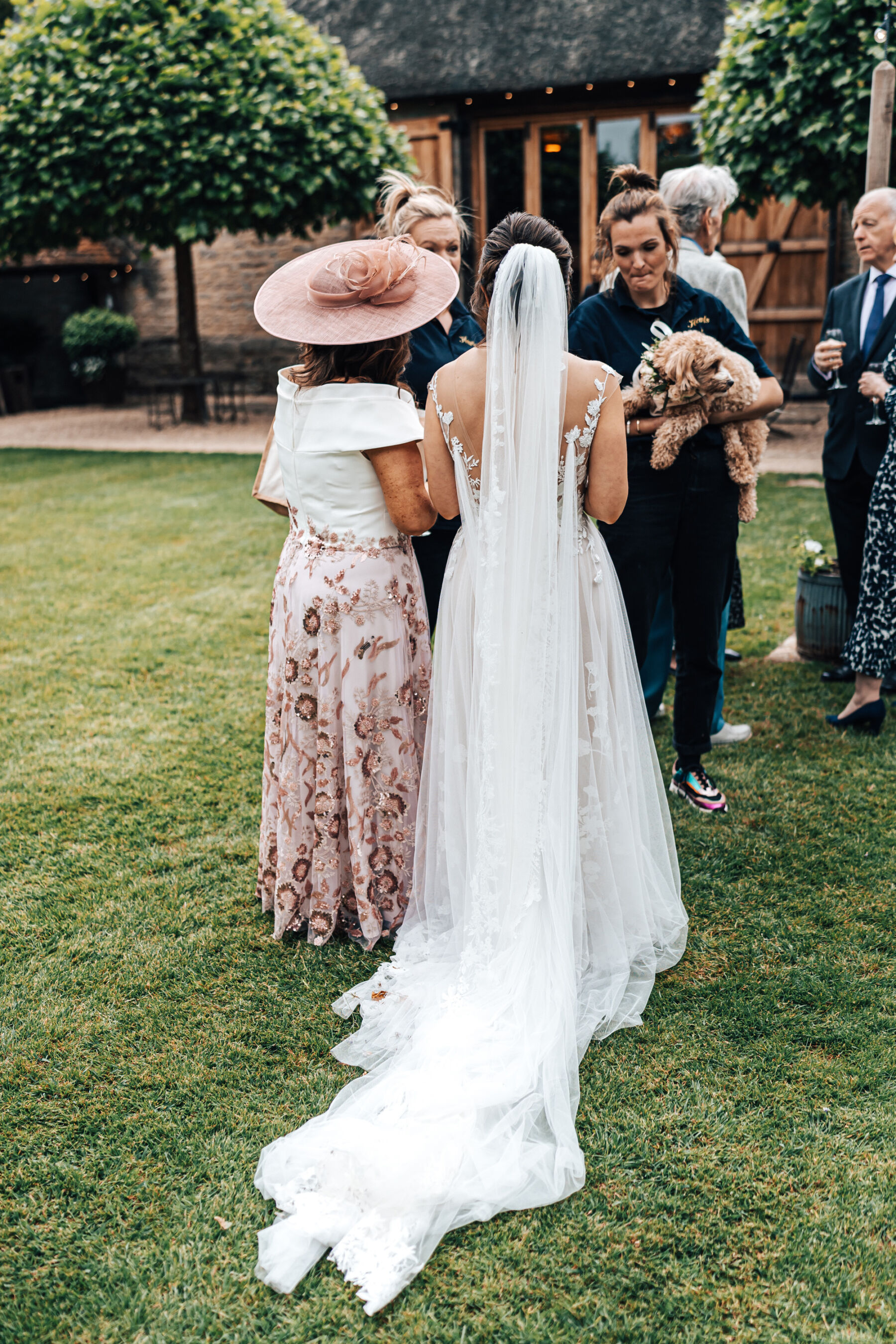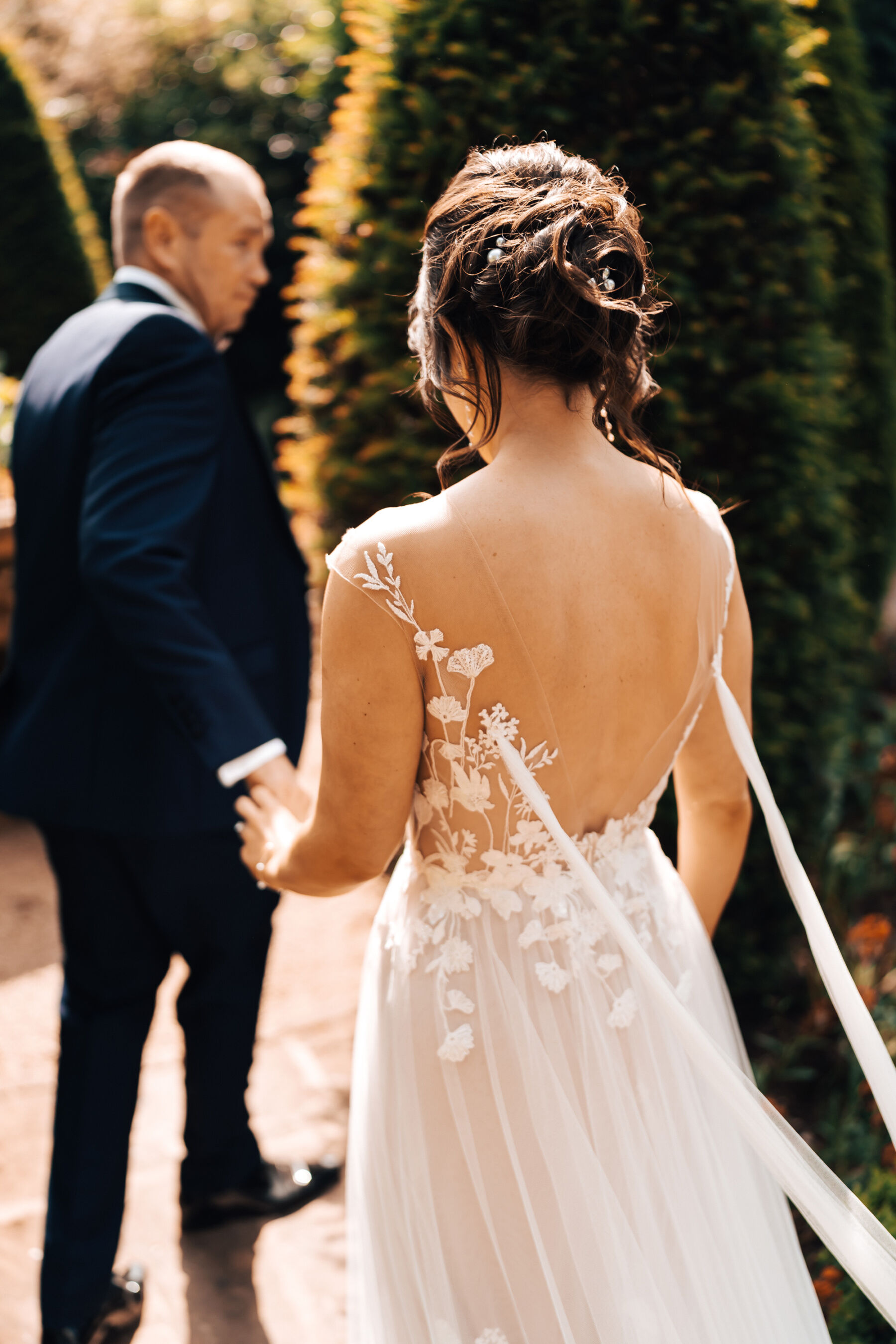 The Designer
Anna Kara
---
Anna Kara is a Polish designer who launched her eponymous collection in 2007.
Her designs take inspiration from her passion for art, culture and nature with many pieces in the current Wanderlust 23 collection named after flora and fauna.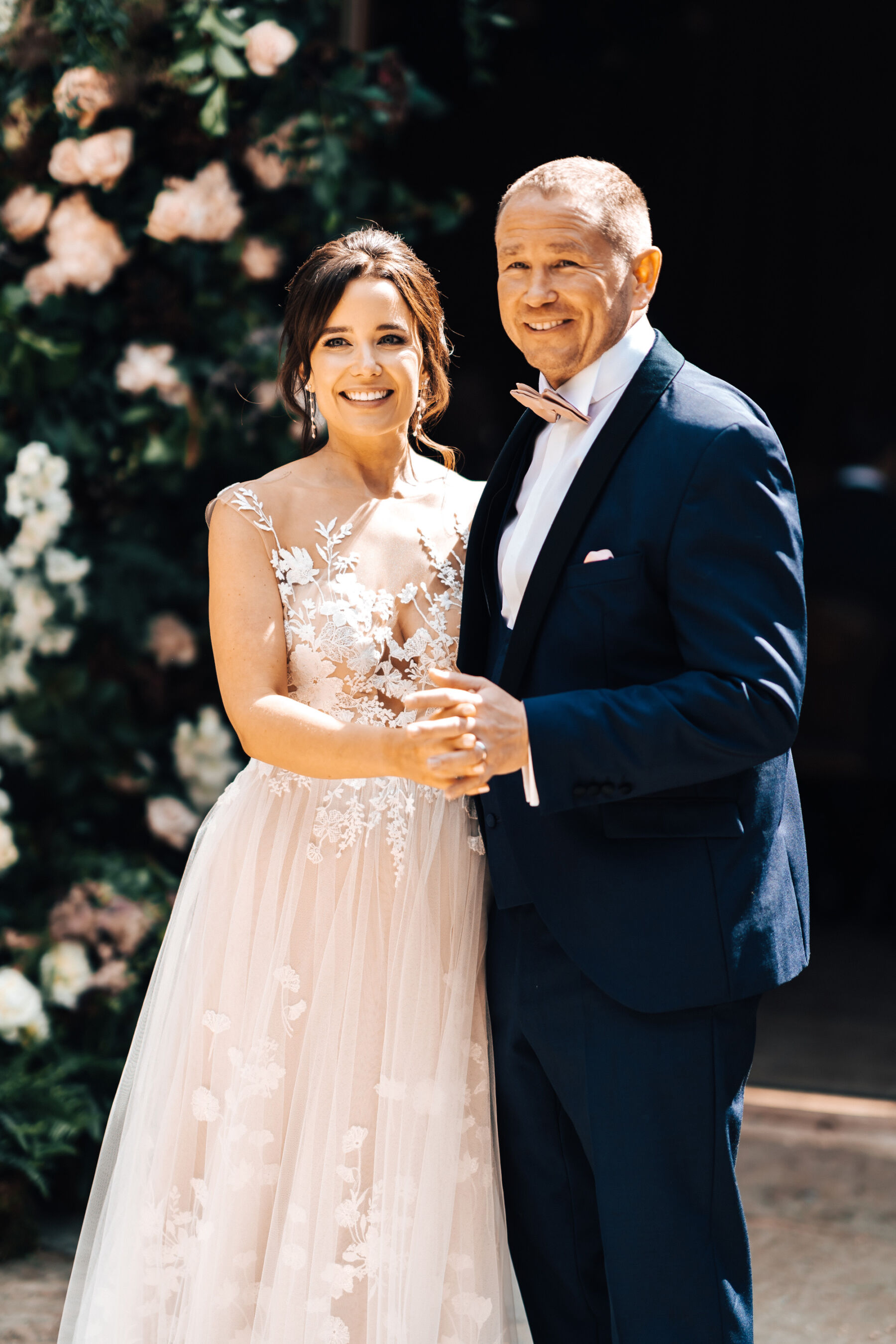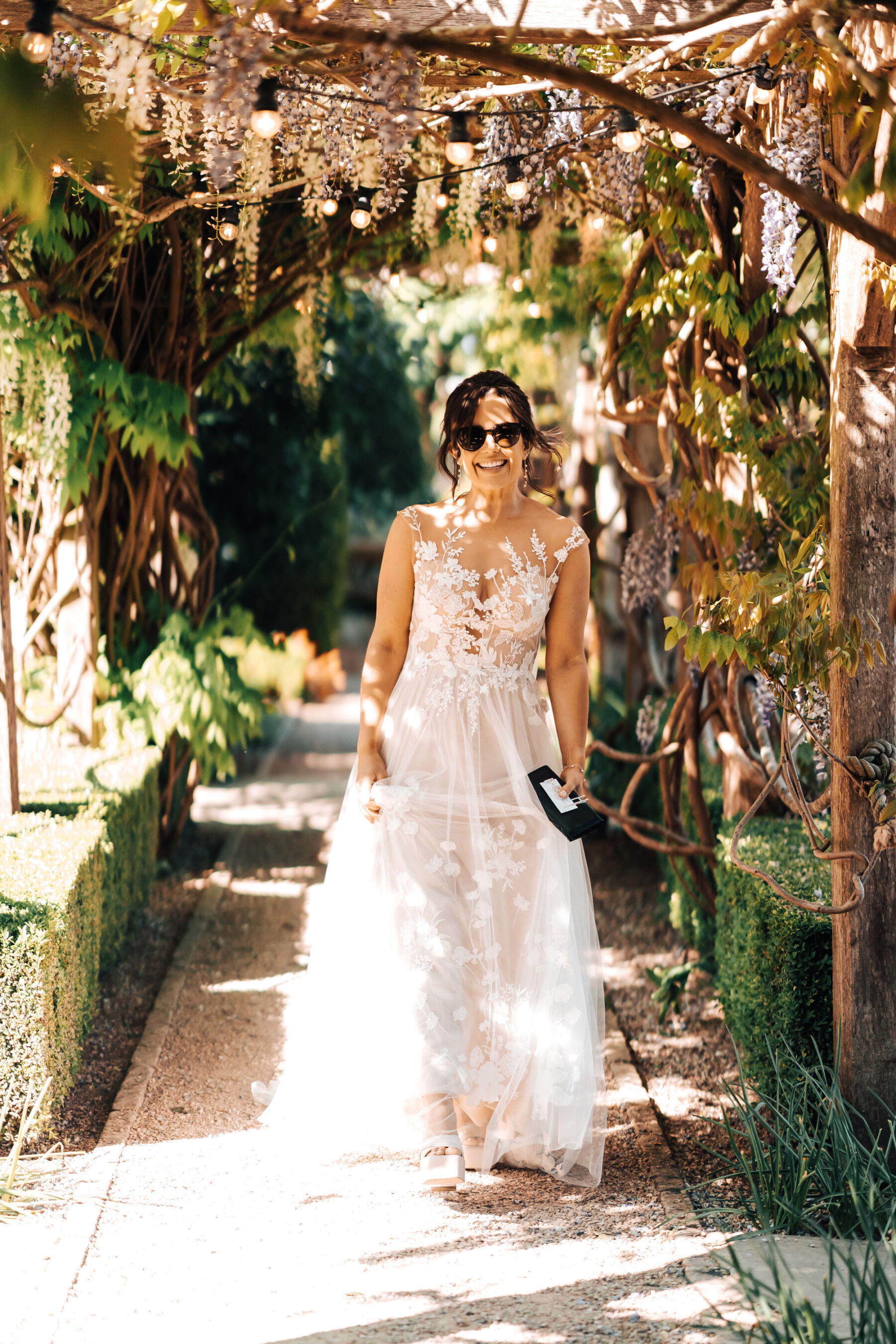 She works from her atelier in Krakow where everything is sewn to order, where the team make their own laces and embroideries and practice specialist handcrafting techniques. The entire process is based in house from initial design sketches to the finished dress.
Anna has UK stockists in Bucks, London, Oxfordshire, Surrey, Brighton, the Midlands and Ireland.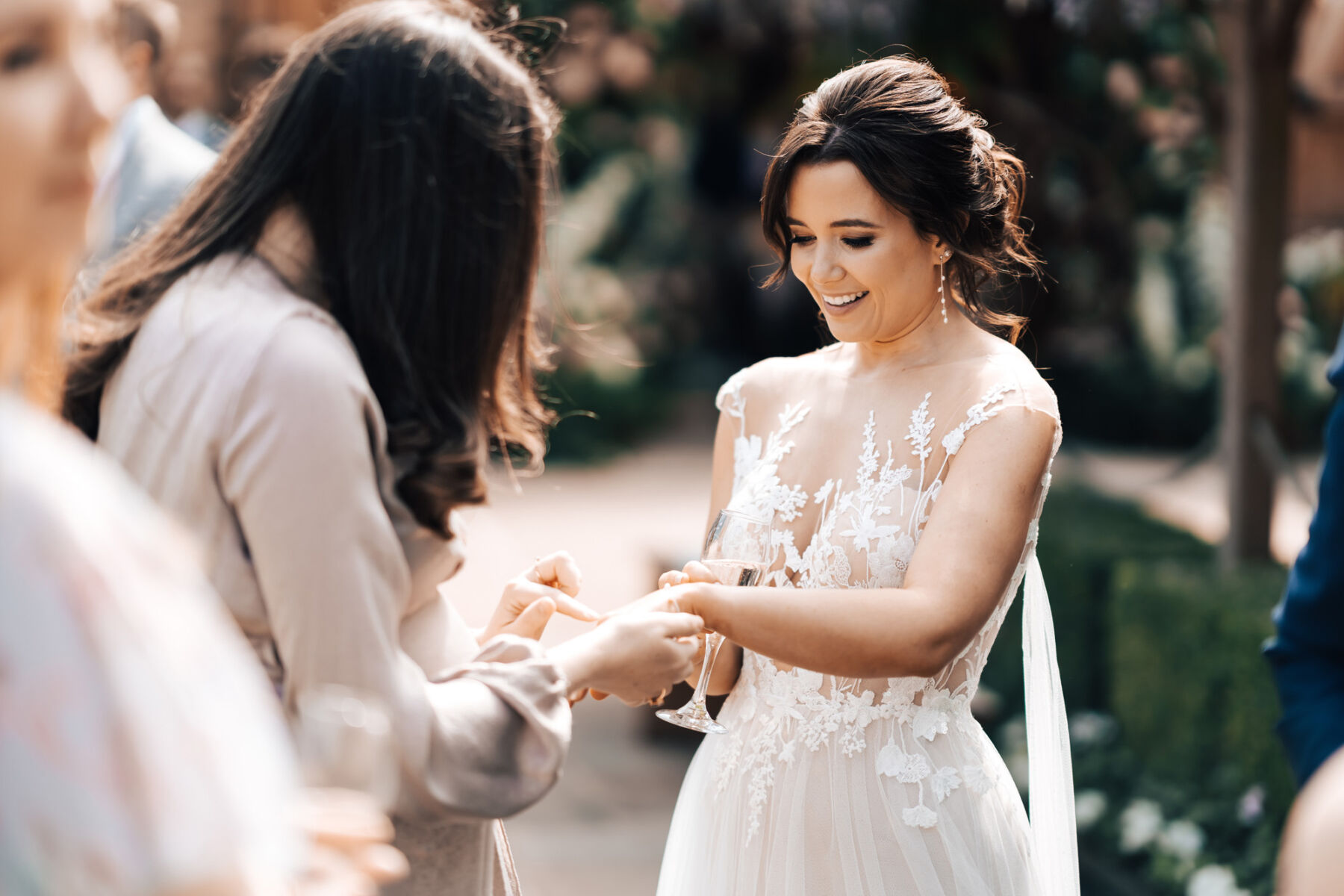 The challenge with this dress was my height
I'm five foot so I needed a lot of the dress taken up which involved repositioning a lot of the applique at the hem. Morgan Davies' recommended seamstress added some flexible boning to the bodice to give it more structure and she moved some of the appliques to give me a little more coverage where I needed it.
It's so subtle, you'd never know it had been changed. She also added a small blue heart to the inside of the dress.
My hair was always going to be up, simply because I never wear it up and I wanted it to feel different and special. I also wanted the dress to be the star, not overpowered with jewellery. My dad bought me some very delicate pearl drop earrings that are leaf shaped and I added a simple pearl bracelet, both from Lily & Roo, and that was it. The dress was the statement.
Today, it's cleaned and boxed up, but I'd like to do something with it, perhaps it's a future christening dress.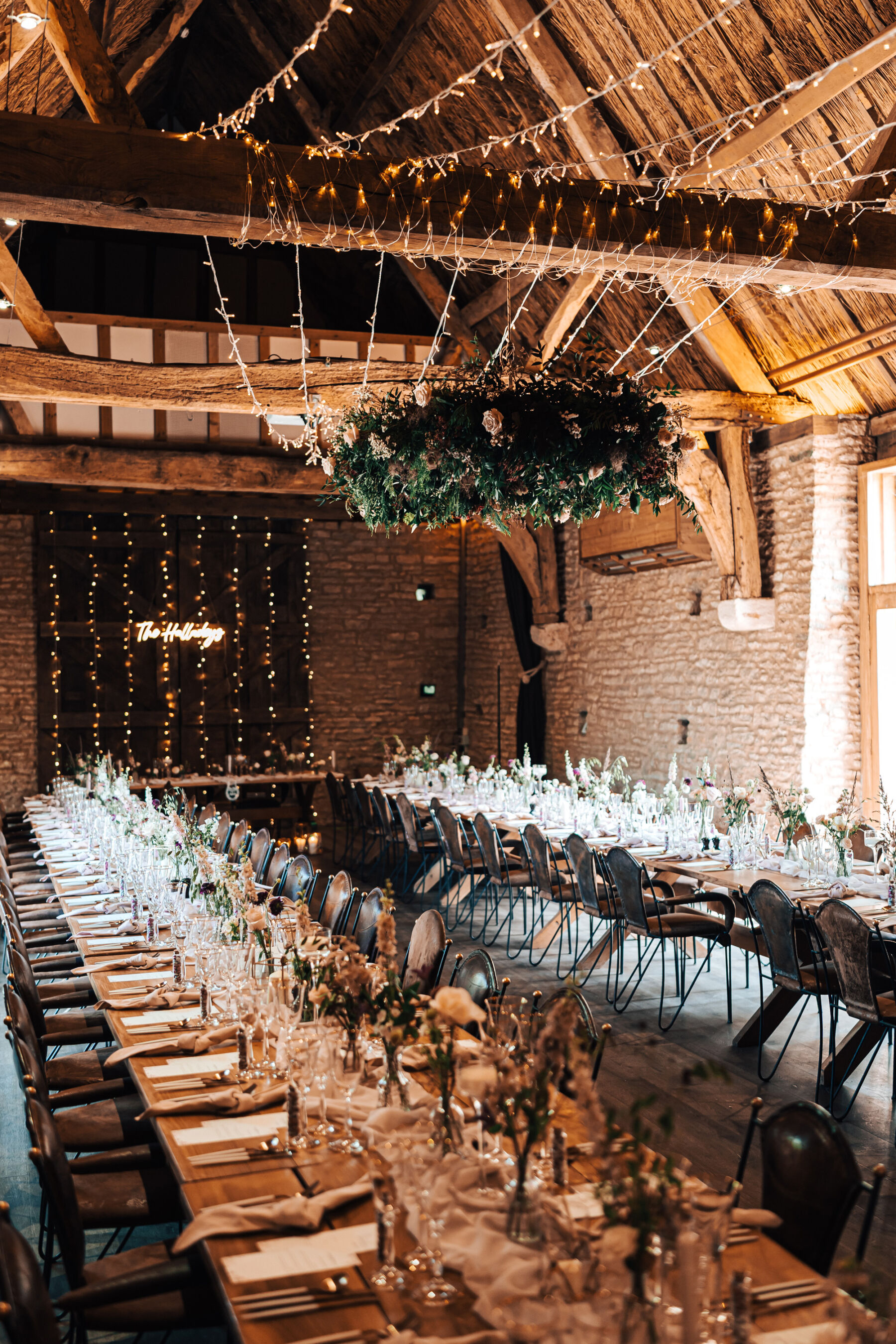 My favourite image of the dress is…
'. . . one that was very un-staged. We wanted the confetti throw, but we didn't want it directed where everyone lines up and the couple run through it.
We did it straight after we got married as we were walking back down the wisteria aisle. It's the seconds after we were confirmed as husband and wife and you can see the pure emotion on our faces. The photographer really captured the essence of the day in that photo. Nothing else will ever top that feeling.'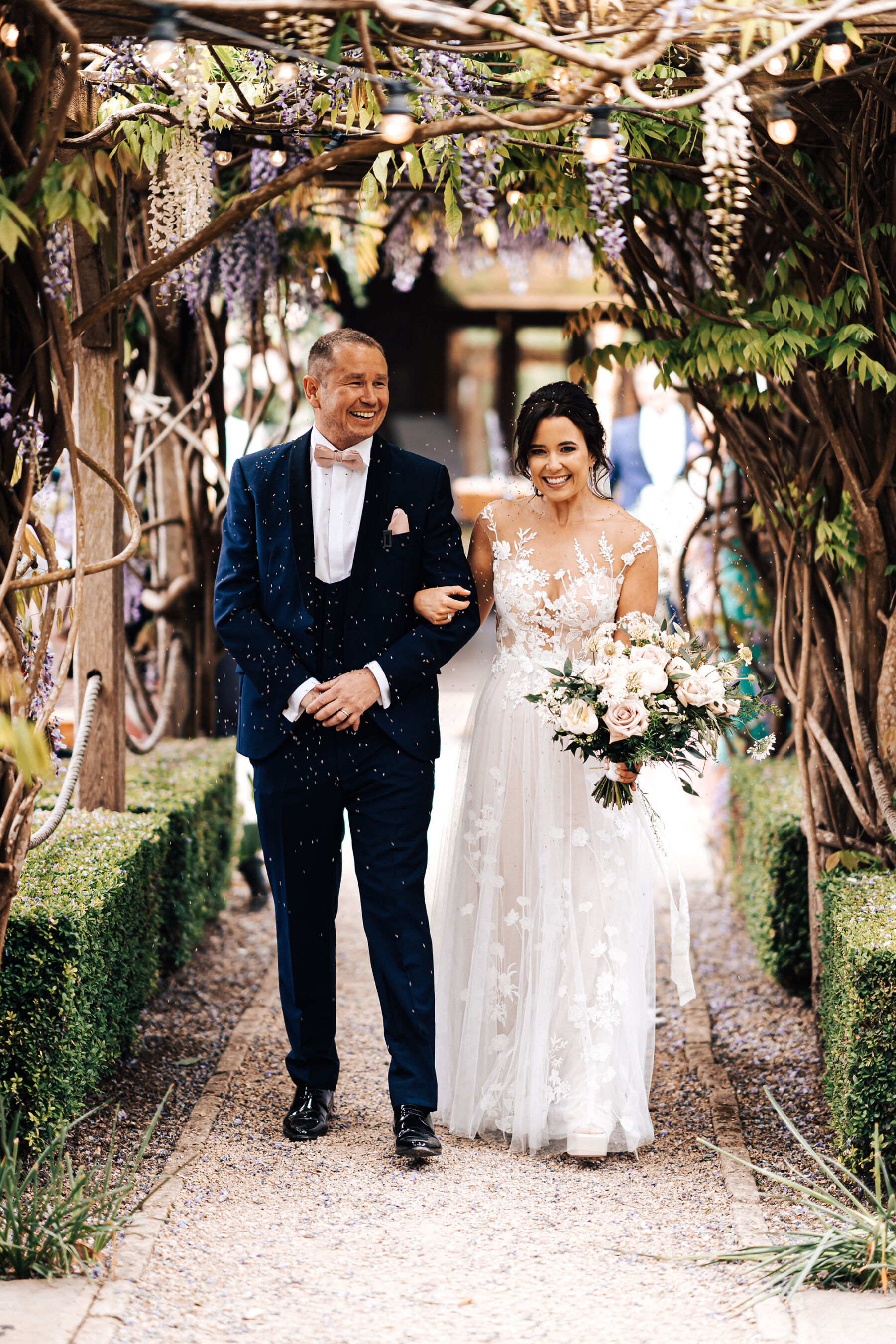 More About Tythe…
Tythe is a collection of beautifully restored Cotswold stone barns and a 17th Century farmhouse set at the heart of Tythe's Manor Farm – the working farm of the Deeley family for over 500 years, all peacefully tucked away from the bustle of the neighbouring market town.
As one of the most established barn venues in the country, Tythe sets a high standard and offers guests expert planning. Its selection of restored barns, farmhouse accommodation and pretty manicured gardens are hired exclusively, for the perfect adult playground. The newly renovated farmhouse is your luxury rural retreat with space for everyone.
Enjoy seven double ensuite bedrooms including a master wedding suite, plus a dedicated pampering space with your own Champagne station. On the ground floor you'll find charming rooms, including a dedicated space for the groom and outside a tennis court, the wood-fuelled hot tub and a Shepherd's Hut for two.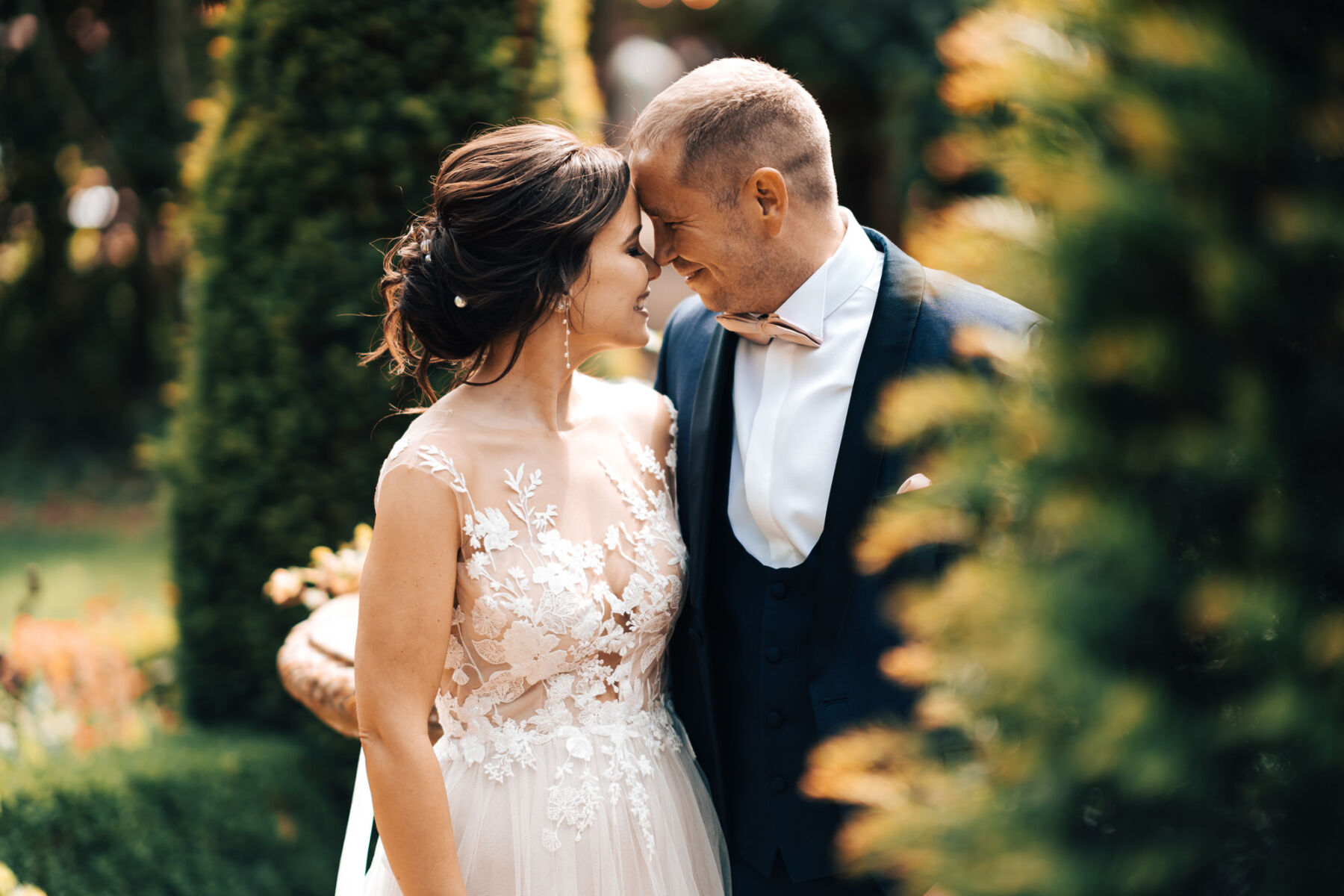 thetythebarn.co.uk
Welcome to the
Love My Dress Shop
Browse the latest handpicked items in the Love My Dress Shop.
Shop by Category
or
Shop by Brand
Love My Dress Wedding Directory Members
The below suppliers and venues featured in this article are part of the Love My Dress Wedding Directory.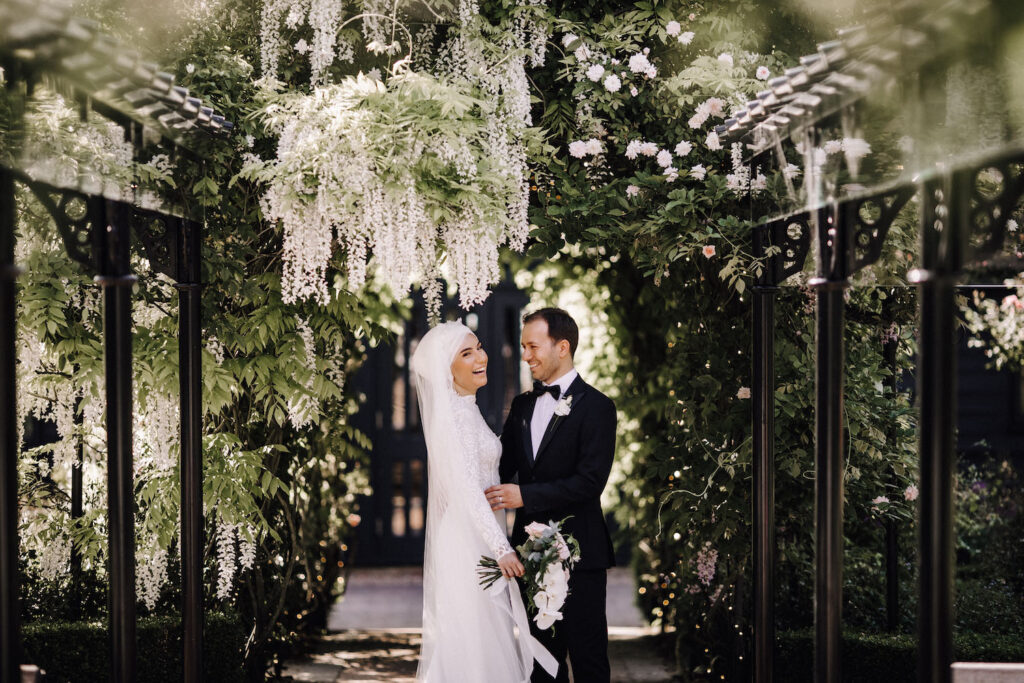 Additional Credits
The below suppliers and venues are featured in this article, but are not part of the Love My Dress Wedding Directory.