Child and Educational Psychologist Steph married her beau Lee, a Chiropractor, on 17th October at Millbridge Court in Hampshire.
The couple wanted to create an effortless, natural, dreamy atmosphere on her day and were hugely inspired by this bohemian Luxe editorial on Love My Dress in their styling and design choices.
The couple wanted to create an effortless, natural, dreamy atmosphere for their guests and Steph was hugely inspired by this bohemian luxe editorial on Love My Dress. Steph's gown was a find at the brilliant Miss Bush in Ripley, Surrey – a creation by Polish designer Anna Kara. Beautiful sentiment was woven throughout the day in memory of Steph's father, who passed away shortly after she met Lee – everything lovingly captured by photographer Sophie Duckworth. But first, this sweet film by Ash Videography.
Veil, Scent & Accessories
I wore 'The Favourite' by Penhaligon, which was a surprise gift from Lee on the morning of the wedding. Every time I wear this scent, it takes me right back to our wedding day. It is so special to have a scent which transports us back to such an incredible memory.
I wore a veil from Miss Bush called 'Chloe', designed by The Couture Veil.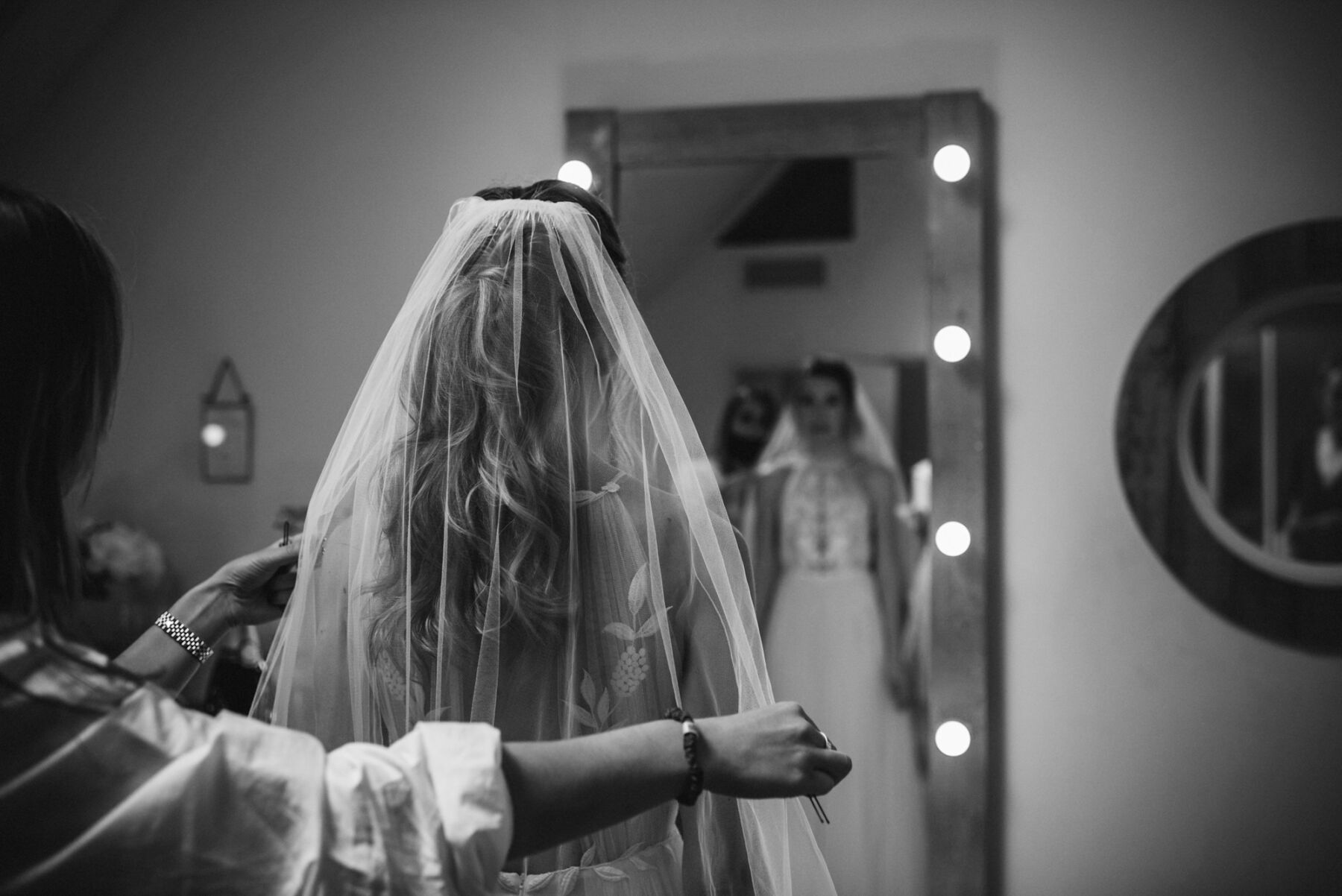 My engagement ring was my grandmothers and very sentimental. Our wedding bands were purchased from Solitaire in Hatton Garden. Lee knew exactly the ring he wanted but when we went to Solitaire, they encouraged him to try a rose gold band on, he was initially reluctant, but the colour of the gold complimented his skin tone so perfectly and immediately we knew this was the one. I had my wedding band bespoke designed to fit around my engagement ring. It is so beautiful and unique and compliments my engagement ring perfectly.
The only jewellery I wore, other than my rings, were my earrings. I wore feathers stud earrings from Alex Monroe, to symbolise protection and a sign that dad was watching over me.
My best friend brought me a locket with my dad's photo in, which I was able to hold onto all day. My earrings were feathers from Alex Monroe.
Olivia Mills is such a wonderful and talented hair and makeup artist. I genuinely felt like we had a friend helping us all look the best version of ourselves on the morning of the wedding. She was so lovely and a friend for life.
My shoes were the Martine design by Dune bridal shoes.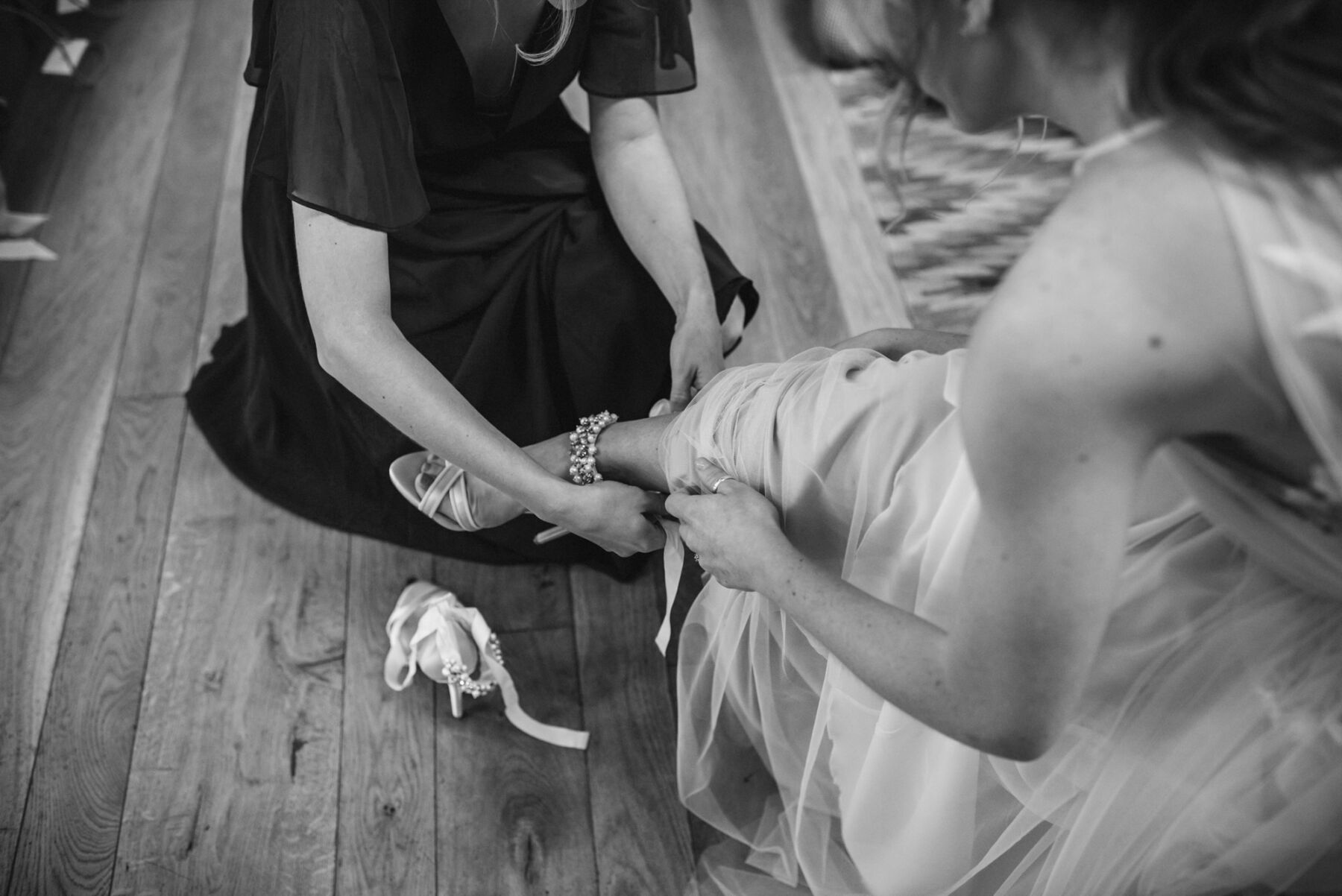 An Anna Kara Wedding Dress
I wore the 'Chey' dress by designer Anna Kara, from Miss Bush bridal boutique in Ripley, Surrey.
I had such a positive experience buying my dress from Miss Bush. At every visit I lapped up all the incredible advice and benefitted from all the support and reassurance from Emma, Corine, Jo and Rosie. They were incredibly supportive and incredibly patient (I was very indecisive!).
I was so thankful to everyone at Miss Bush who helped me explore different options and provided me with such supportive and knowledgeable advice. On my final appointment, when I finally said yes (and cried!), Rosie was so incredibly helpful and even styled my hair so I could start visualising the look. There is genuinely nothing Miss Bush won't do to help you find your dress.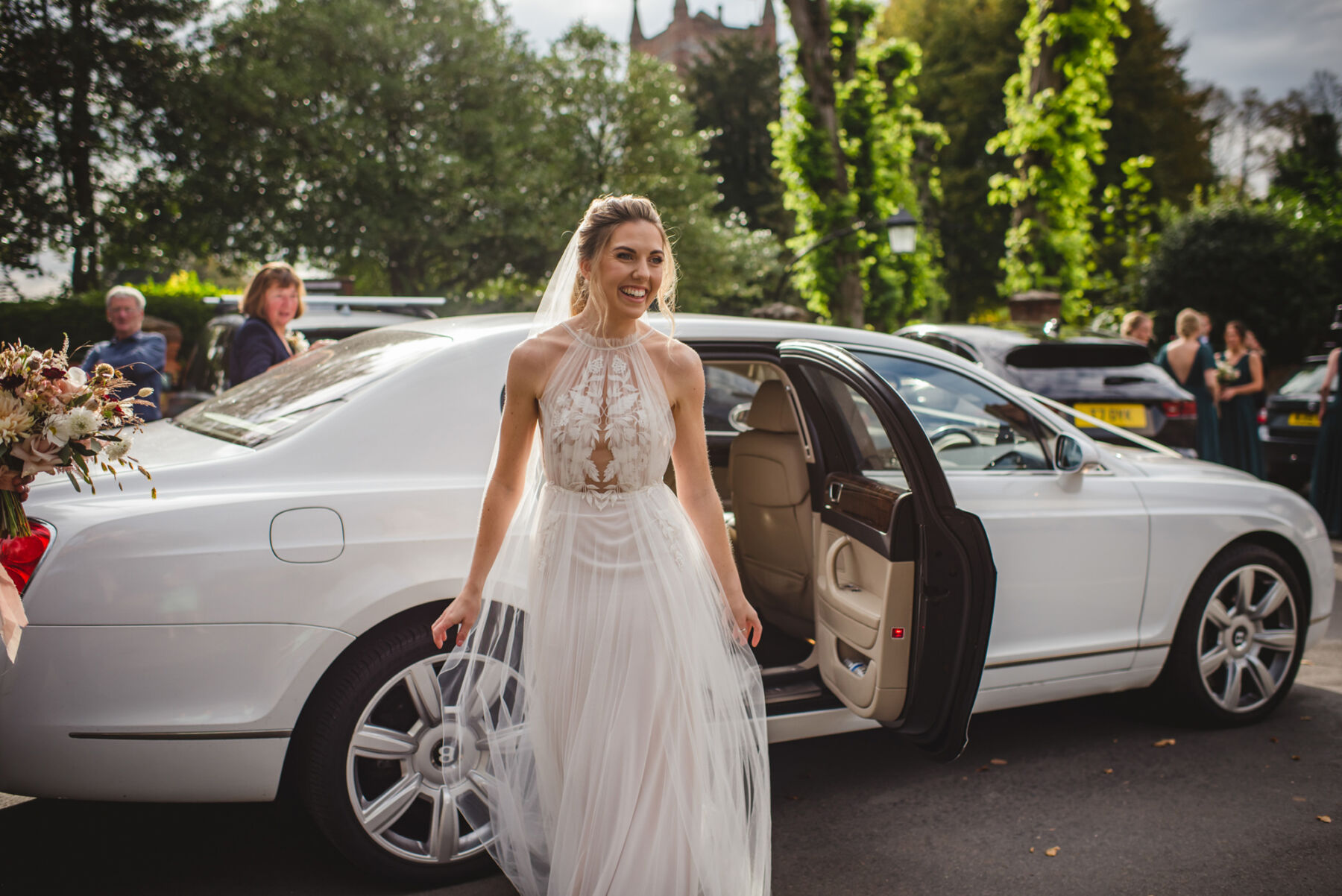 I fell in love with the intricacy of the Anna Kara dresses before I even stepped into one. Prior to my visit to the Miss Bush chapel, Chey really stood out, and it was one of the five dresses I had chosen to try on before coming to Miss Bush.
I absolutely loved the high neckline and the intricate detailing of the embroidery on the bodice of the dress. Although coming to the chapel was such a magical blur, I remember Chey was the very first dress I tried on. I remember stepping into it and walking out to the mirrors just as the gorgeous light in the chapel shone through, and it was such an incredible moment. I genuinely felt like the most angelic bride-to-be ever.
Chey was so delicate, so light, so soft and elegant – it just felt like 'me' in a dress. I can't put to words just how perfect Chey was, I had so many comments on my wedding day from our family and friends about how the dress was "made for me". I felt incredible wearing it.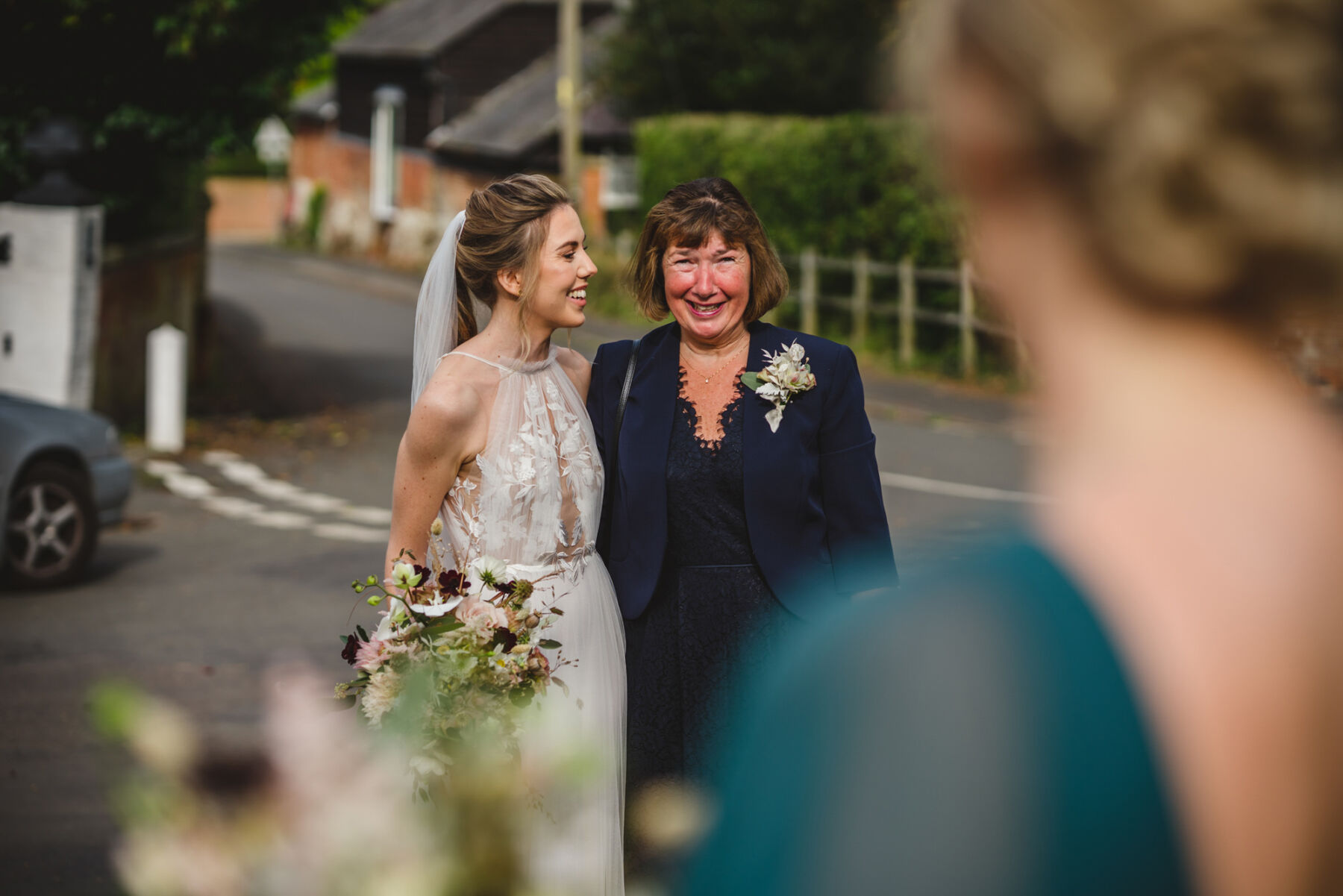 Bridesmaids
My bridesmaids wore dresses from TH&TH, the 'Athena' and 'Phoebe' designs, in Emerald Green. Their shoes were simple blush pink sandals from New Look.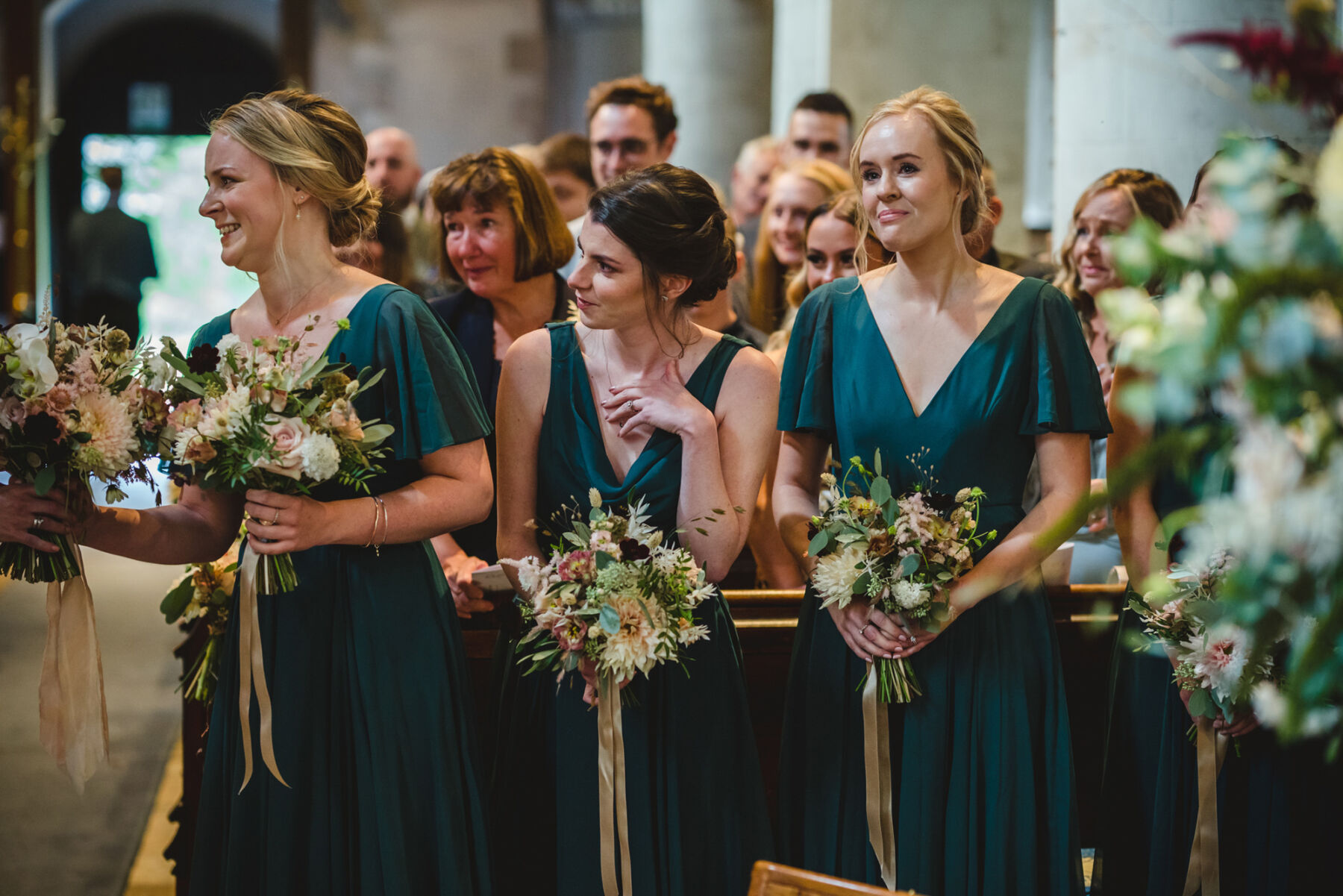 Ceremony
No one would replace my dad, so I walked down the aisle alone, with my dad in spirit, to the traditional, Canon in D played live by Laura's Paper Heart acoustic duo.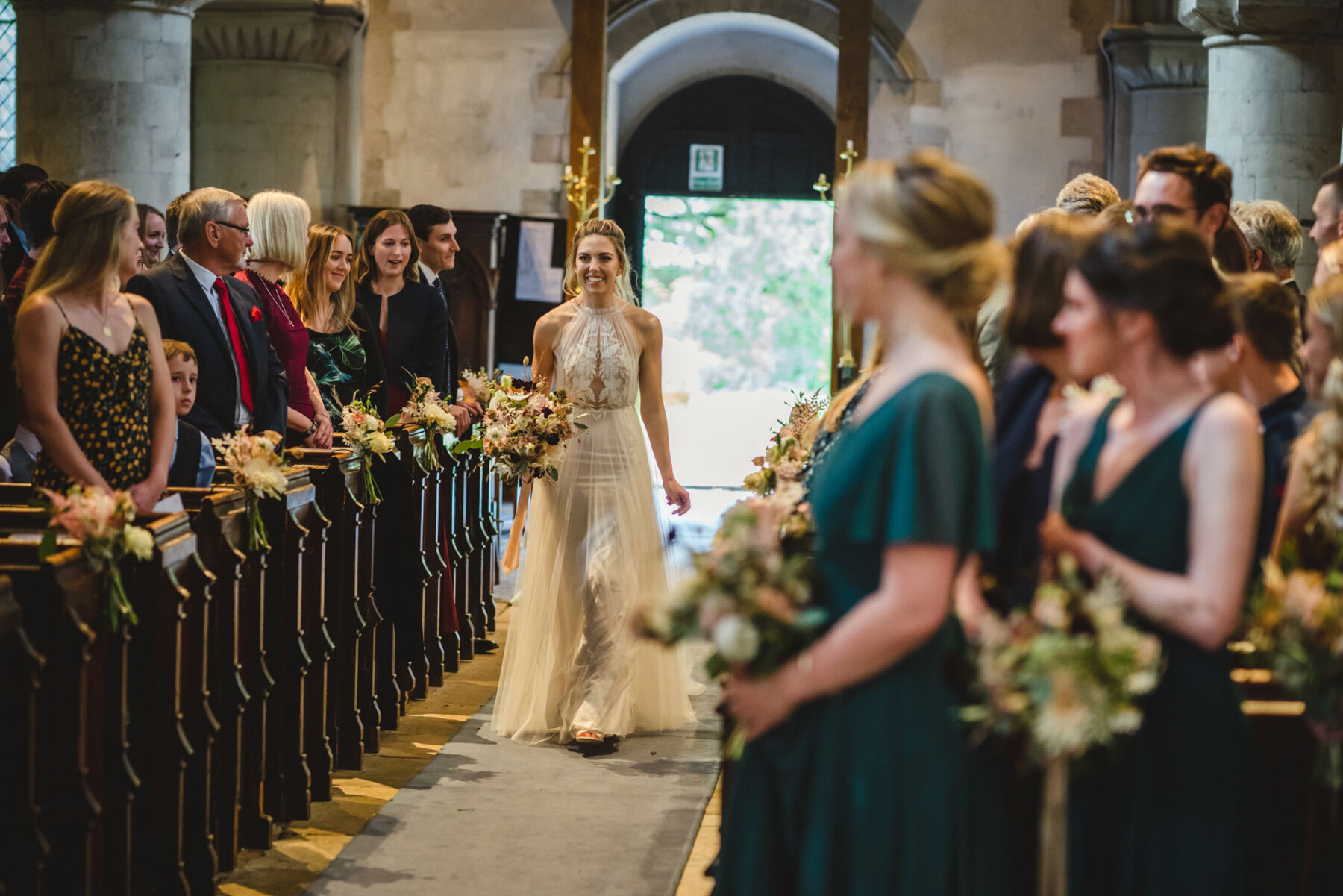 We read traditional Christian vows. Our readings included Corinthians 13.4-8 and The Art of Marriage, by Wilferd Arlan Peterson, carefully chosen and beautifully read by our wonderful friend and mother to our Godson, Amy.
Importantly, we also wanted the day to be fun and full of little surprises (e.g., all of us – including the vicar- toasted with a glass of bubbles in the church when we got married!) and for us to look around and see our guests having the best time. It was very important to me that I was able to marry in a Church, so I could feel as close to dad as possible.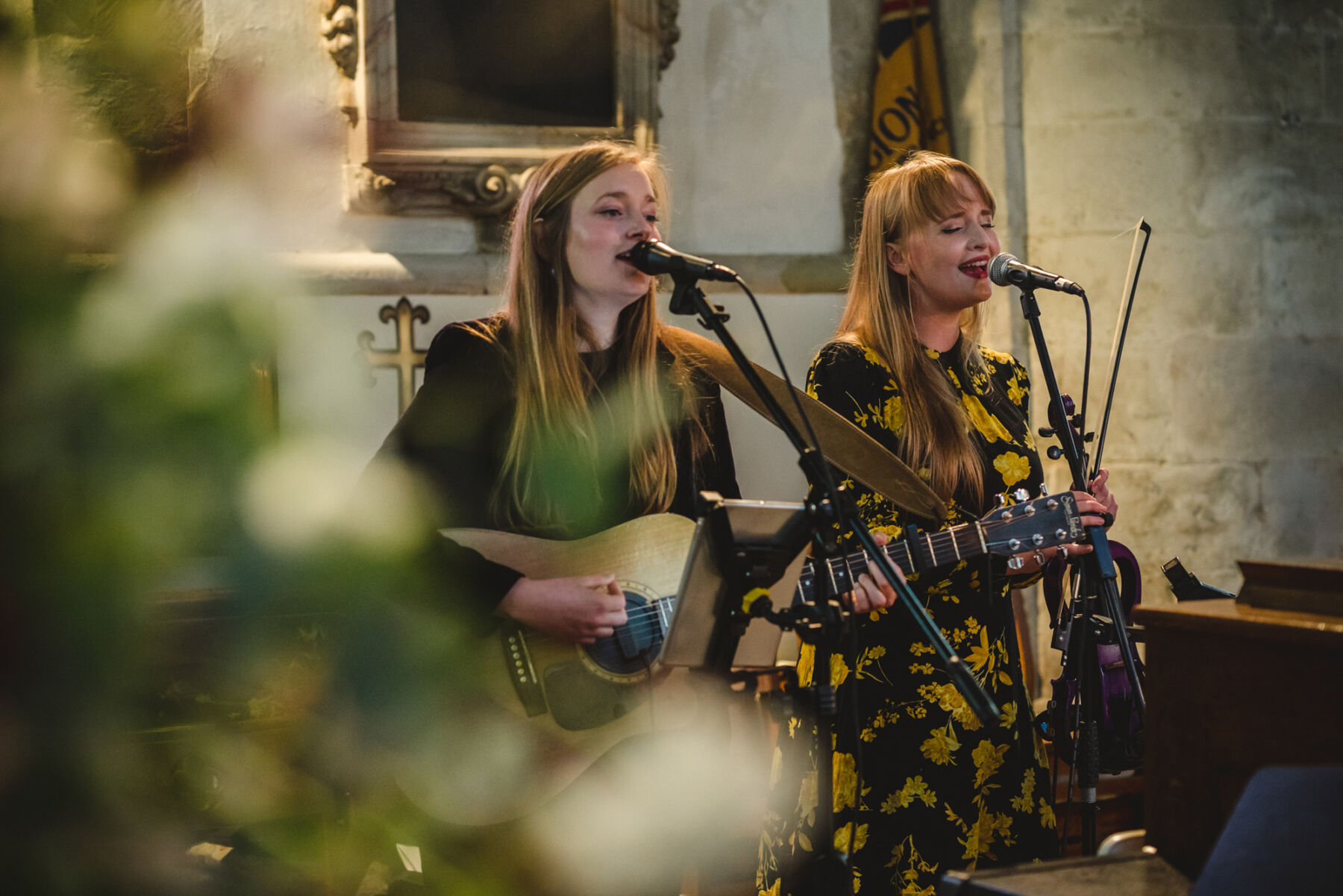 Photography by Sophie Duckworth
Our photographer was Sophie Duckworth – wow, where do I start? Sophie captured our day so beautifully. She is also the most lovely and supportive person, and on the day we genuinely felt like we had a best friend photographing our wedding. She was more than just a photographer, she coordinated all of us to ensure we kept to timings, but also provided so much support and reassurance every step of the way.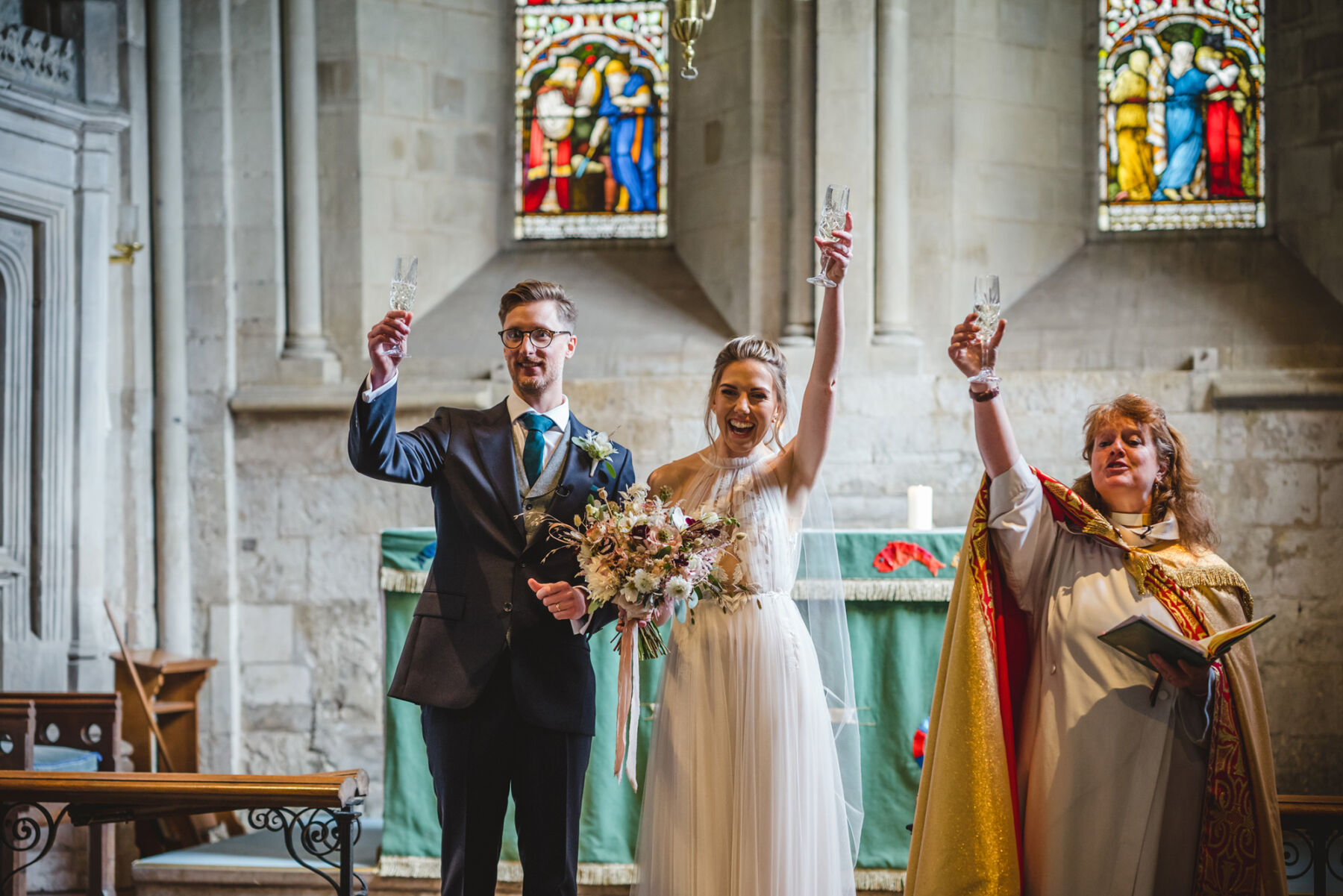 It was such an honour, and a privilege to have Sophie photograph our wedding and be such an important part of our day. I struggle to put into words how much Lee and I adore every single photo from our wedding, they are so beautiful, and I am so in love with how she told the story of our day. I feel so grateful to be able to look through the photos and relive the beauty of the whole day again.
Sophie captured such precious moments from our day so beautifully, and discretely too. She is a true artist with the most compassionate soul and has the most incredible eye for lighting too. I could not recommend Sophie more highly.
Our videographer was Ash Videography, who was incredible. Again, she was so discrete, but captured our day in the most stunning and emotional way.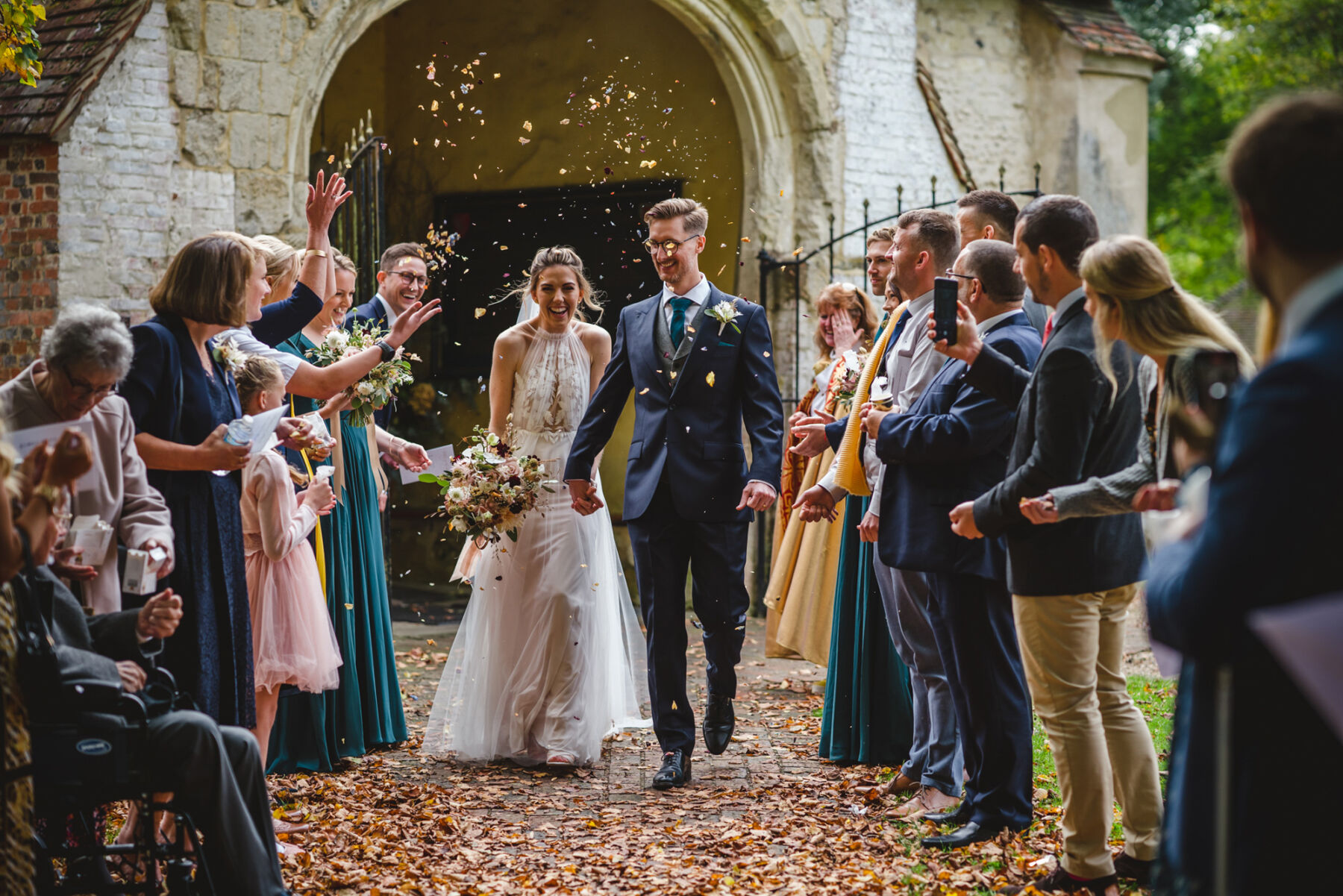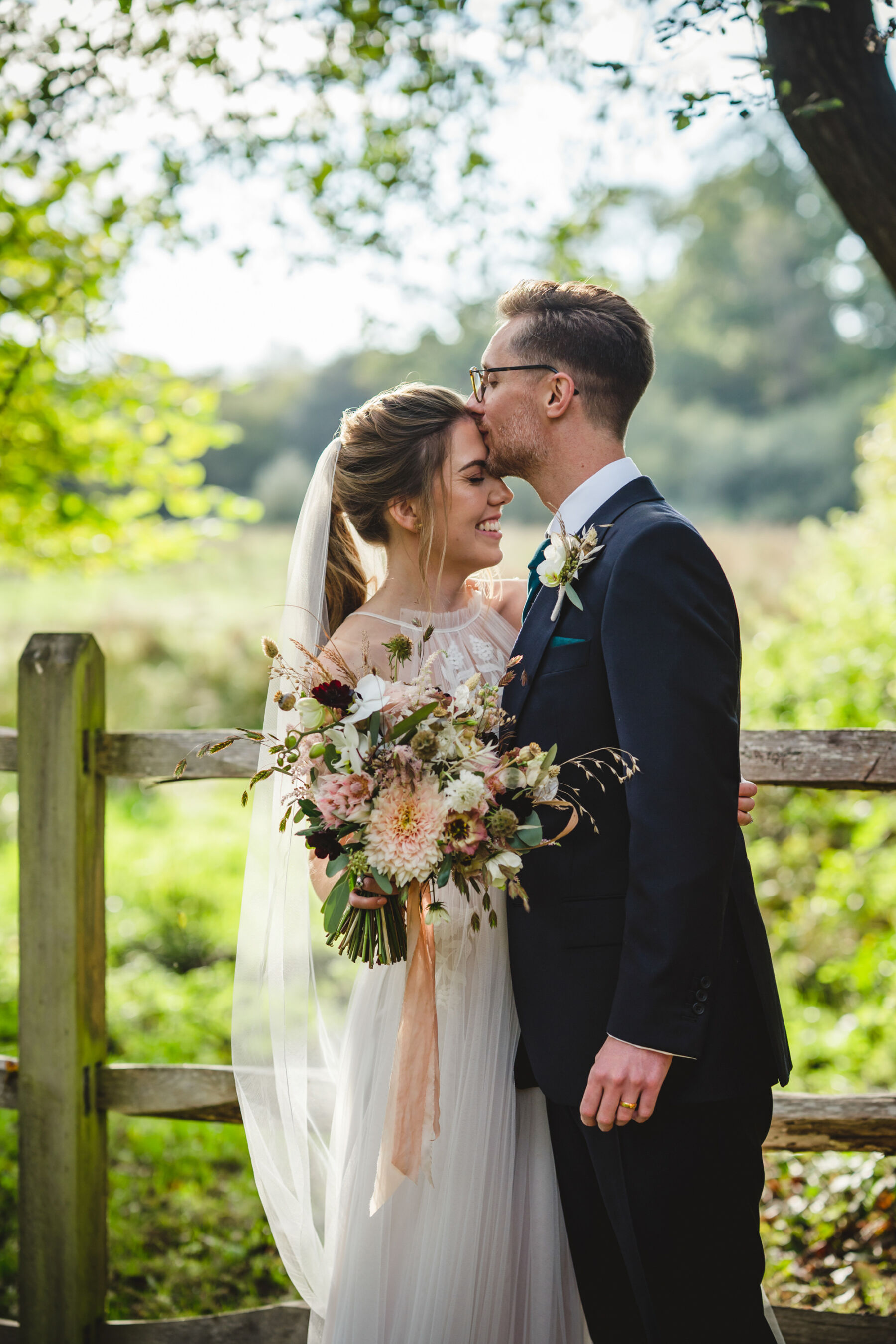 A Love Story
How They Met
---
Lee and I met at work twelve years ago, where we both worked in a Residential Special School for autistic children. The work was challenging, but very rewarding and I immediately fell in love with how kind and compassionate Lee was when working with the children and young people who we supported. We gravitated towards each other and became close very quickly; we were and continue to be(!) inseparable.
We often talk about how we can't believe our luck that we found each other. We understand each other and feel so comfortable together, I can't imagine life without him being by my side.
In 2017, Lee proposed to me in the most meaningful and sentimental way. Sadly, I lost my dad the year after Lee and I first met, in 2012. Lee proposed to me at a bench he had designed and created in memory of dad, which is at Oakley Hall in Hampshire.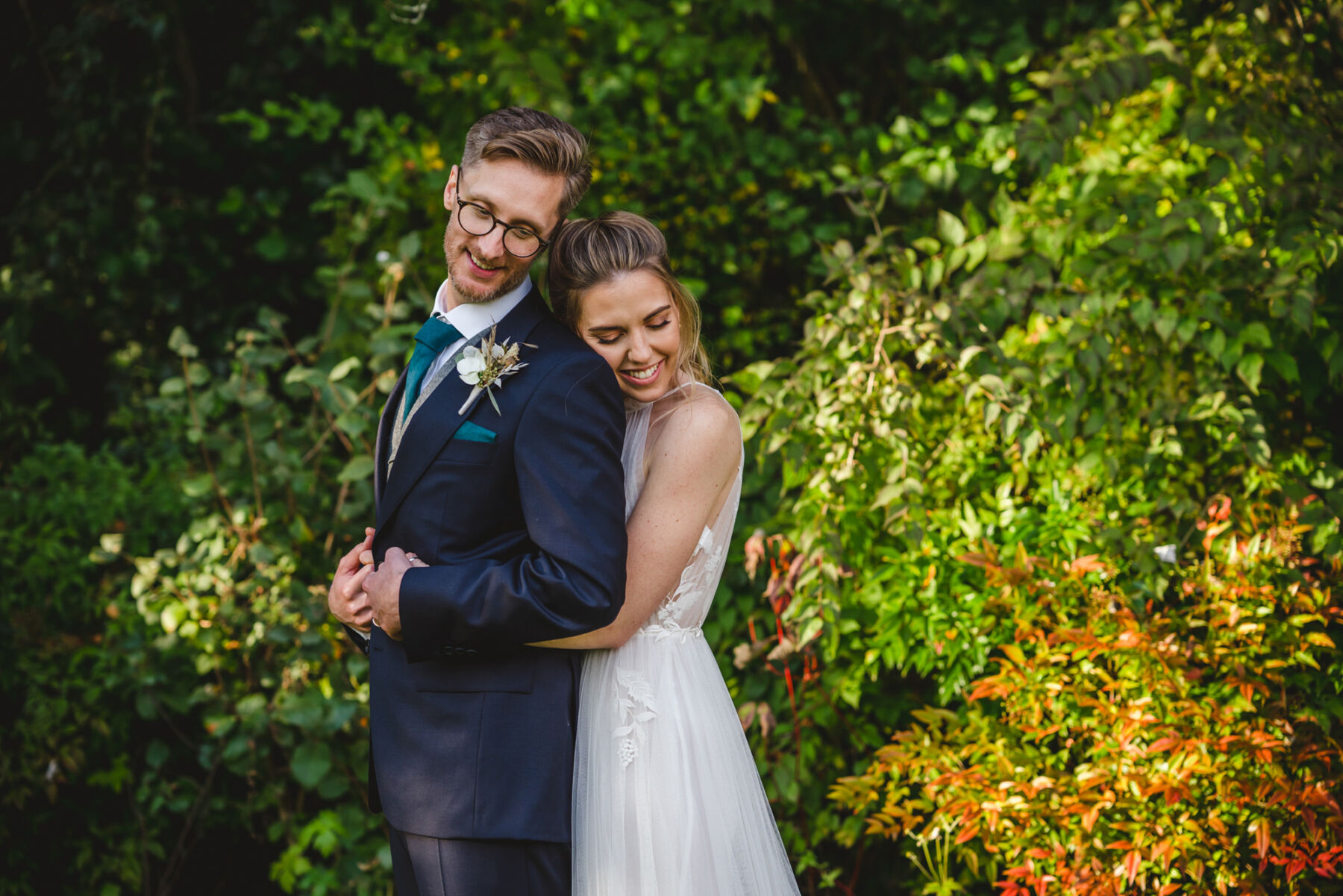 Lee proposed to me at the bench, wanting my dad to be included in this special moment and proposed with my paternal grandma's engagement ring, which Dad had passed on to me.
It was the most sentimental proposal and so thoughtfully planned by Lee. Studying and work elongated our proposal, because it was 4 years later in 2021 when we finally had our dream wedding day!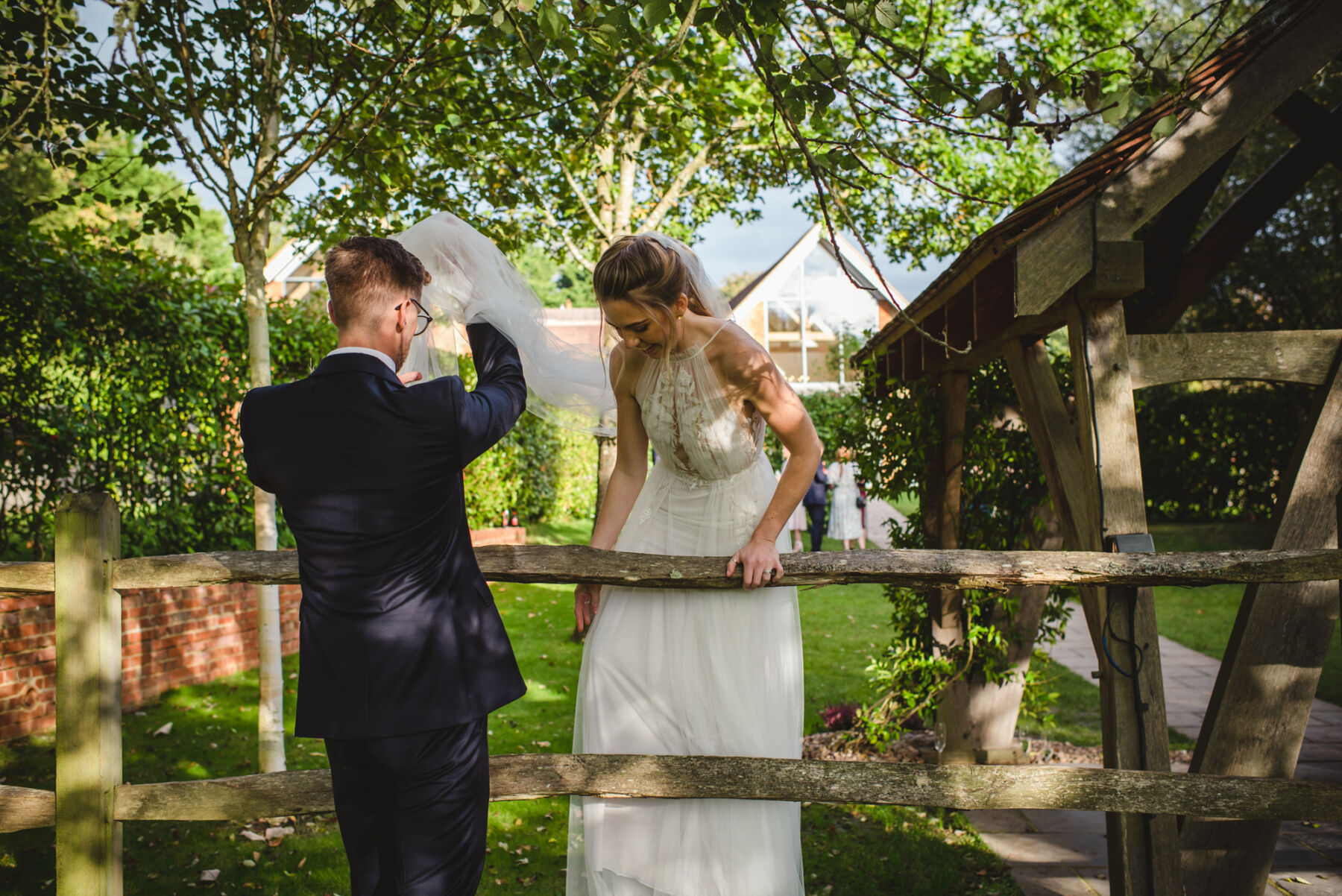 The Groom
Lee's suit was bespoke, made through Gieves and Hawkes. His shoes were from Russell and Bromley.
He wore Mont Blanc cufflinks that I brought for him to open on the morning of the wedding. He also wore the very first watch I brought him as a gift, when we first started dating. Ties in emerald green were from the Tie Gardener on Etsy.
Hannah Berry Flowers
When we booked our venue, florist Hannah Berry Flowers came so highly recommend – it did not take long to realise why. Not only is she such a talent at creating the most beautiful floral designs and brought the vision of our wedding day to life, she is such a lovely person too, who supported me through all my indecision, and on the day provided me with emotional support that I'll be forever grateful for.
Hannah and her team put so much love, care into everything they do and I am so grateful they were able to do our day.
The floral styling was so important to me and what Hannah created was everything I had dreamt of and more. I kept saying how it is like she has gone into my mind and created exactly my vision. She cared so much about making sure the flowers and design were exactly what I had imagined. Both times I visited the workshop Hannah created miniature displays based on our developing vision of the floral design and each time I was so blown away with how she understood exactly what I loved.
I'll never forget how I felt when I saw the design come to life on the day. It was truly stunning. I was so overwhelmed when Hannah presented my bouquet to me that morning – it was SO perfect. I loved it so much it joined me on our minimoon and have since got it preserved, so I will be able cherish it forever. I will never be able to thank Hannah Berry and her wonderful team enough for creating the most beautiful flowers for our wedding day.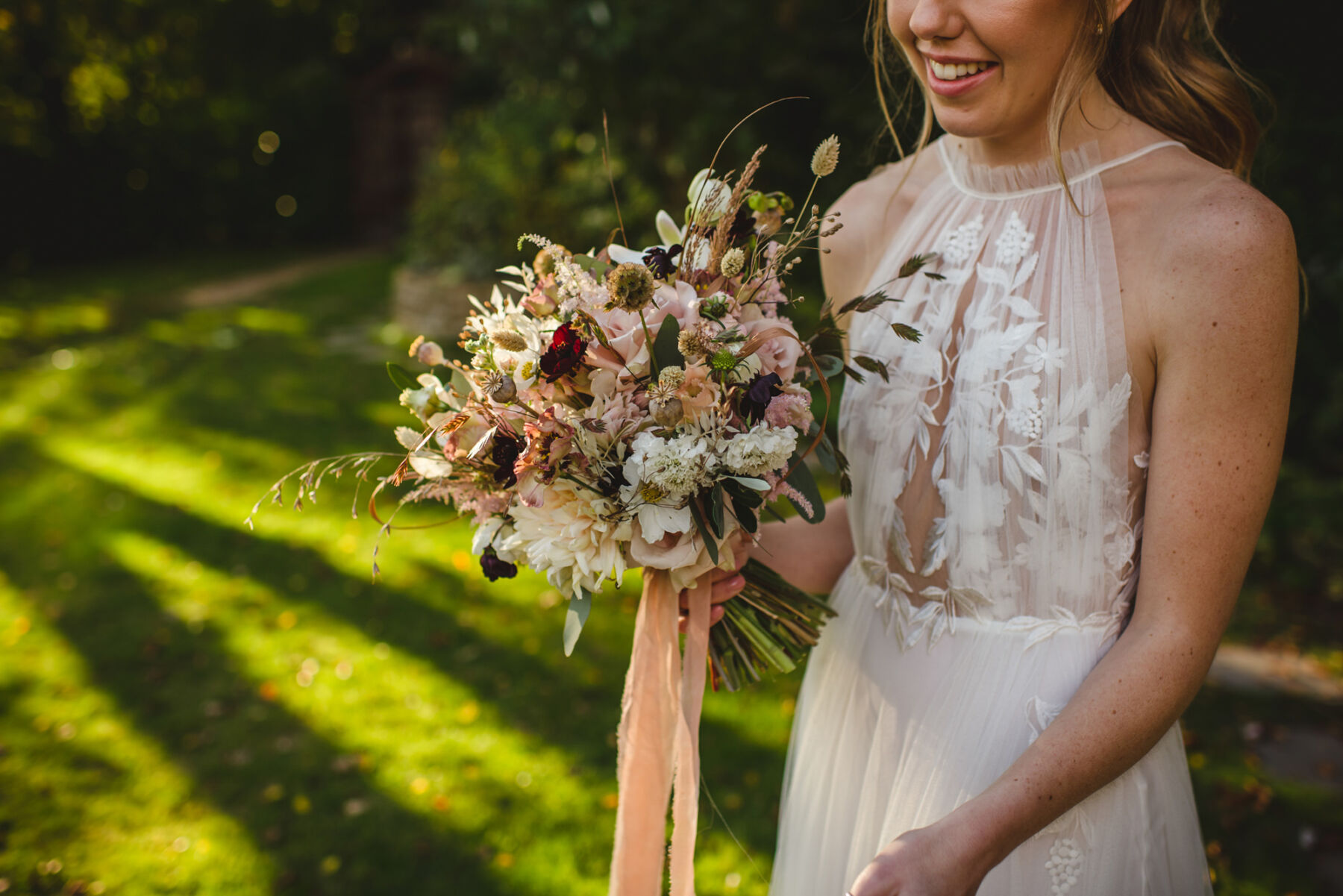 Millbridge Court
Our venue was Millbridge Court in Frensham, Hampshire, UK. Lee and I had visited a number of different potential venues and Millbridge Court was our 12th venue we had visited. By this point I think Lee was ready to completely give up, but our maid of honour, Chantal, found Millbridge Court online.
From just looking at the photos online alone I had a very strong connection to this venue – it was the lofty and traditional 'barn' style we were hoping for, but was modern and so bright, airy and elegant, which is hard to come by when looking for this type of venue.
I also loved how uniquely understated the venue looks from the outside – a gorgeous 19th century house from the outside but as soon as we entered, and the further we venture in, we uncovered so many beautiful spaces and surprises. The Neom candle 'Happiness', which is Millbridge Court's signature scent, was so comforting and relaxing and fills every space of the venue – I am sure it was love at first smell!
The two 'barns' were breath-taking and immediately I could picture Lee and I celebrating our wedding here. As I walked around, I started imagining how I would style the venue, which is so versatile, and pictured Lee and I there surrounded by all our friends and family.
The huge windows bring the beautiful outside space into the venue which was so important for me as I wanted the garden to flow into the venue and be continued throughout the floral design styling on the day. The staff working at Millbridge Court were also so warm and helpful – qualities which we found to be so important as we navigated planning the wedding through such uncertain times.
The Reception
Flowers & Tapered Candles
---
Kalm Kitchen adorned the table with beautiful luxurious glassware, crockery and blush pink napkins depicting tones from the delicate flowers, provided and styled by Hannah Berry and her team. Natural muslin runners draped along the length of the wooden trestle tables, which added softness and texture. Stacy Oakley (stationary) created individual place names and additional stationary to be used around the venue.
We provided each guest with British Heart Foundation (a charity close to my heart) paper heart, wildflower seed favours.
We hired Laura's Paper Heart acoustic duo (who also played at the drinks reception and during the wedding breakfast). So angelic! Two of our friends have since had them play at their weddings too.
Our cake was created by Cakes By Amber. Amber was a friend of one of our bridesmaids who was just starting up her business, she is such a talent and her cakes taste delicious and look incredibly professional too.
It was a three-tiered semi naked caked, which was adorned with gold leaf and the most beautiful autumnal flowers provided by our flowers. The bottom tier was chocolate sponge with salted caramel buttercream, middle tier a fragrant lemon and elderflower and the top tier, which was Lee's favourite, the 'cinnamon bun' cake.
My wonderful granny also made a cake for our day, which was very special. She made a classic iced fruit cake. We have saved this (in our freezer!) for hopefully a christening one day.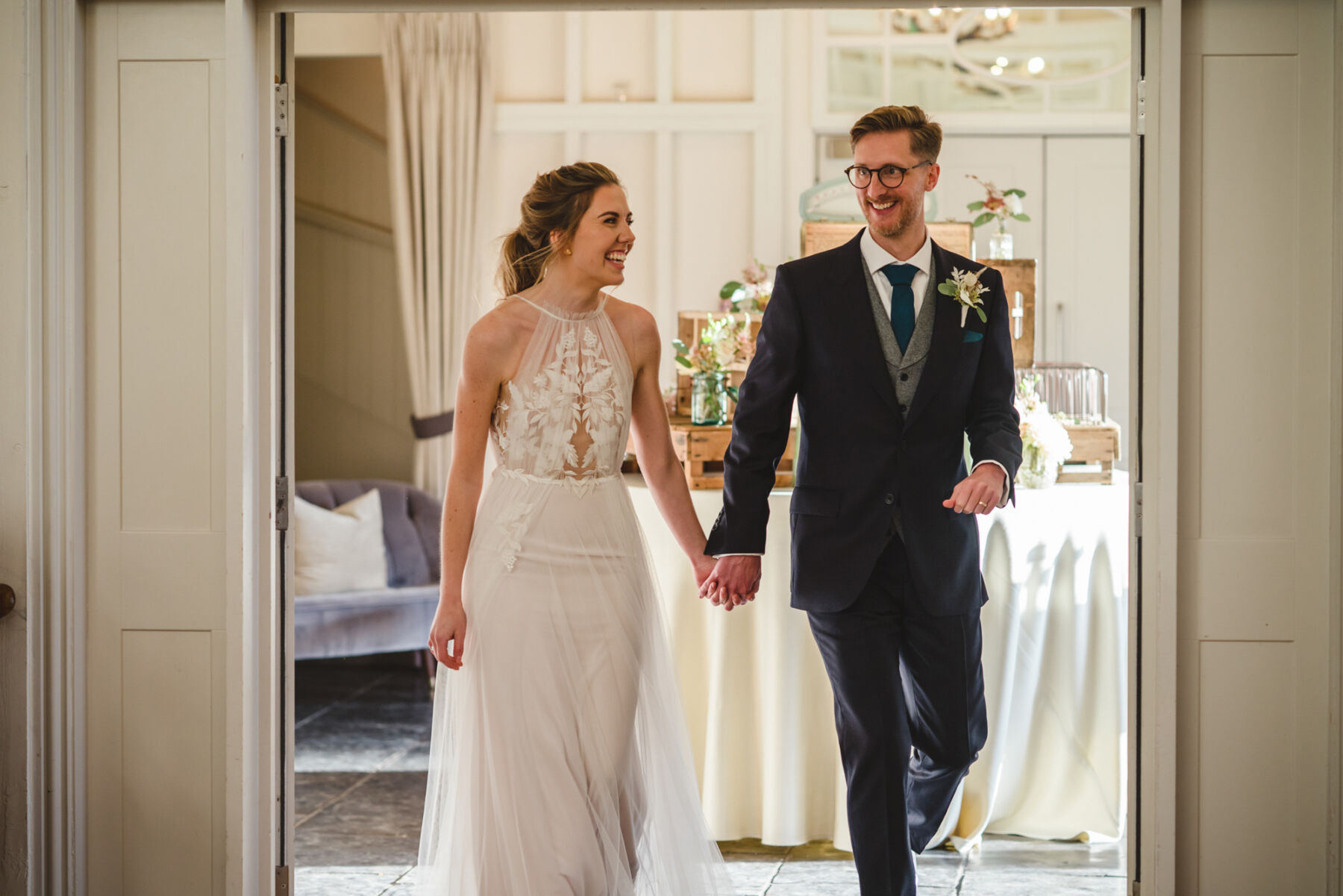 It was very important to us both that the day was relaxed, free flowing and sentimental. The floral design and colour palette was important to me too. With the help of our incredible florist, Hannah Berry, we incorporated, blush, nudes, creams, earthy tones and greens throughout the flower scheme.
We wanted our guests to feel the sense of calm that we experienced when we first entered Millbridge and for the whole day to be full of love.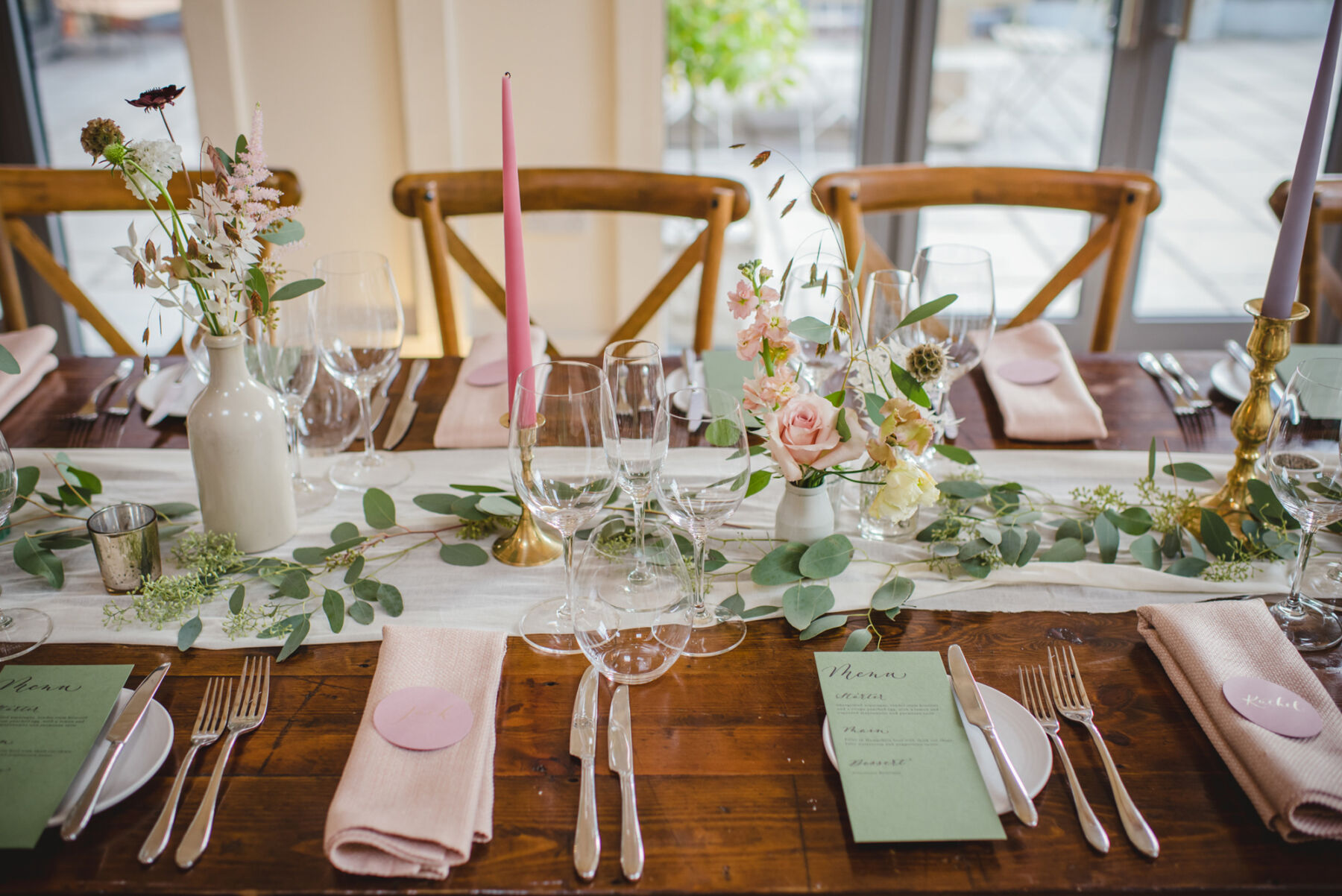 Favourite Moments
Oh my goodness, so many. Walking down the aisle, feeling dad's presence so strongly as the sun shone through the church as I walked down the aisle to Lee. Lee was so emotional, as was I, and hearing him say "you look beautiful' and holding my hand as soon as I saw him was a moment I won't ever forget.
I was so grateful that my beloved grandparents were able to make our wedding day too. This was so important to me, and I felt so privileged to have them both there. I also loved the speeches – Lee's speech was so special. I don't think there was a dry eye in the venue. Lee also read out a speech written by my grandfather, which was so sentimental and beautiful.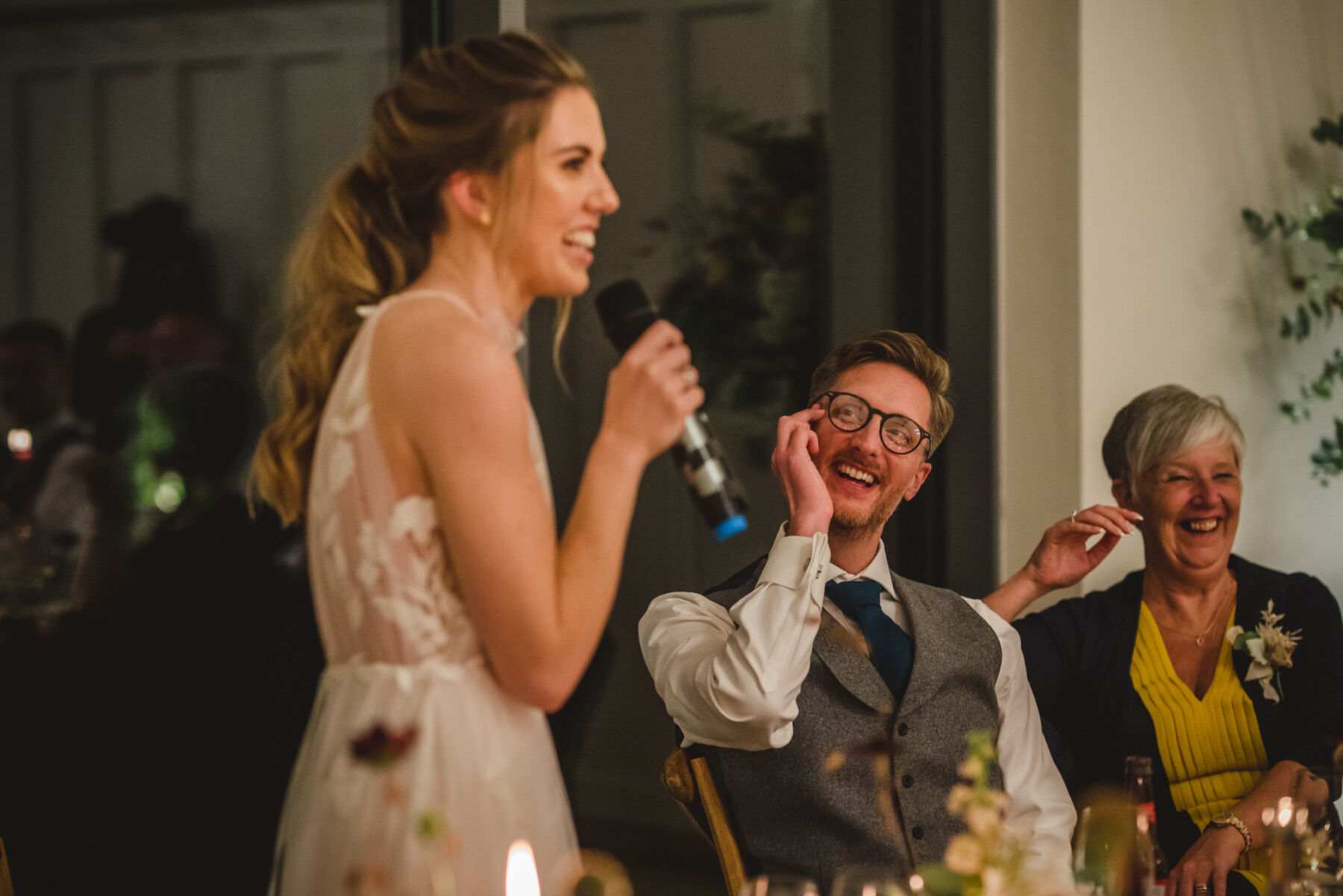 First Dance
Our DJ in the evening was via House of Lemon. We danced to the acoustic version of 'Latch', by Sam Smith Latch for our first dance, then the remix version with Disclosure. Our DJ blended both tracks, so we had a beautiful slower dance which led into the more upbeat dance track – it was so much fun!
Words of Wedded Wisdom
Plan the wedding YOU want based on what makes you happy and what is right for you and your husband/wife to-be. It can be very easy to get impacted by external factors that may influence your decision making, but this special day is about the two people who are getting married, not anyone else. It was important to Lee and I that we were able to look around all the guests at our wedding and knew exactly why they were important to us and why they were invited to our special day.
I am incredibly indecisive and spent a long time doubting my choices, only to return to my first choice. Trust your gut and choose what makes you smile and what you love, and you can't go wrong.
It's also totally okay to not have the "moment" when you try on your wedding dress. I am the queen of indecision and overthinking and did not burst into tears when I stepped into my dress. In fact, it took several visits before I finally decided on 'Chey' and that is okay!
Don't feel pressurised and take your time making decisions. It's also okay to make changes at any stage. We initially booked for our ceremony to be held at Millbridge Court but changed our mind after feeling such a strong connection to a nearby church.
Our Budget was £35,000, buy to be honest, we lost track of the 'budget' in the end as there were so many extras that were added on towards the end! Something I had not considered, for example additional cost for coloured (blush pink) napkins and emergency muslin cloth as I had forgot the day before the wedding that I needed to purchase this myself!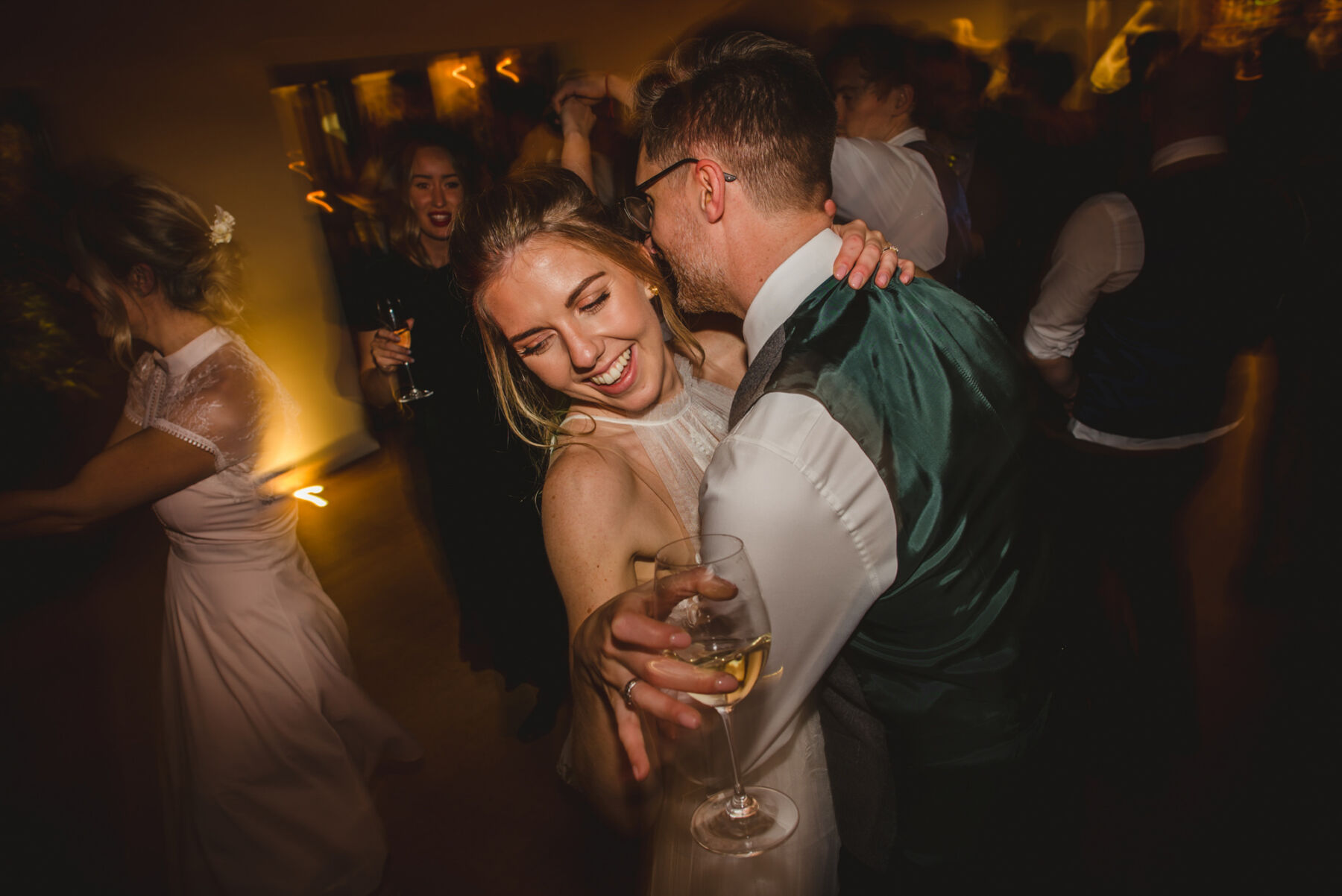 Visit missbush.co.uk
Love My Dress Wedding Directory Members
The below suppliers and venues featured in this article are part of the Love My Dress Wedding Directory.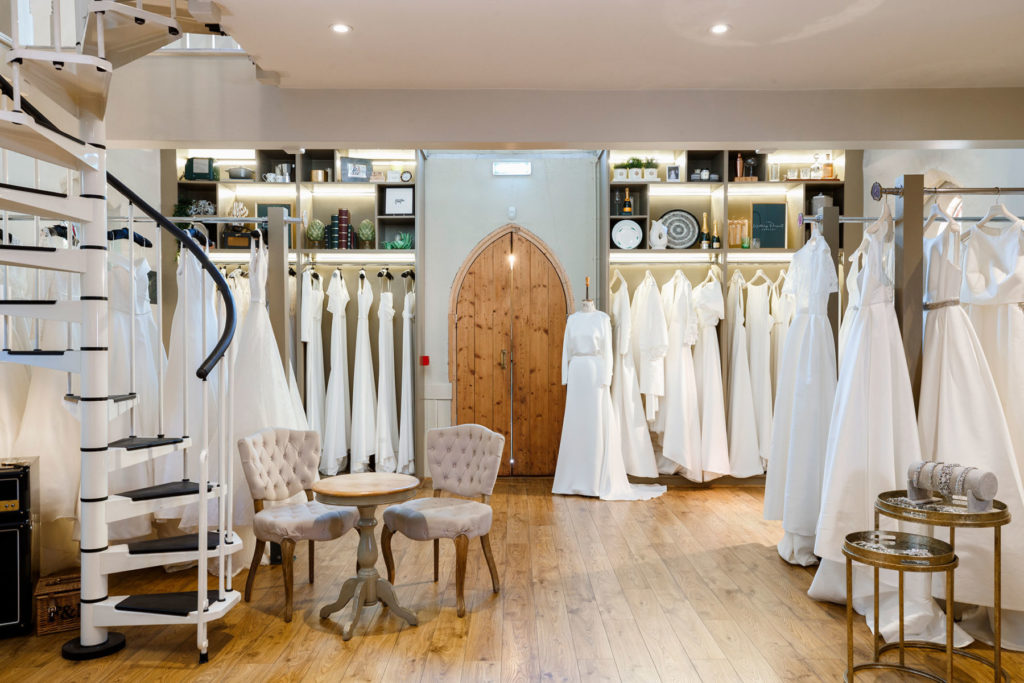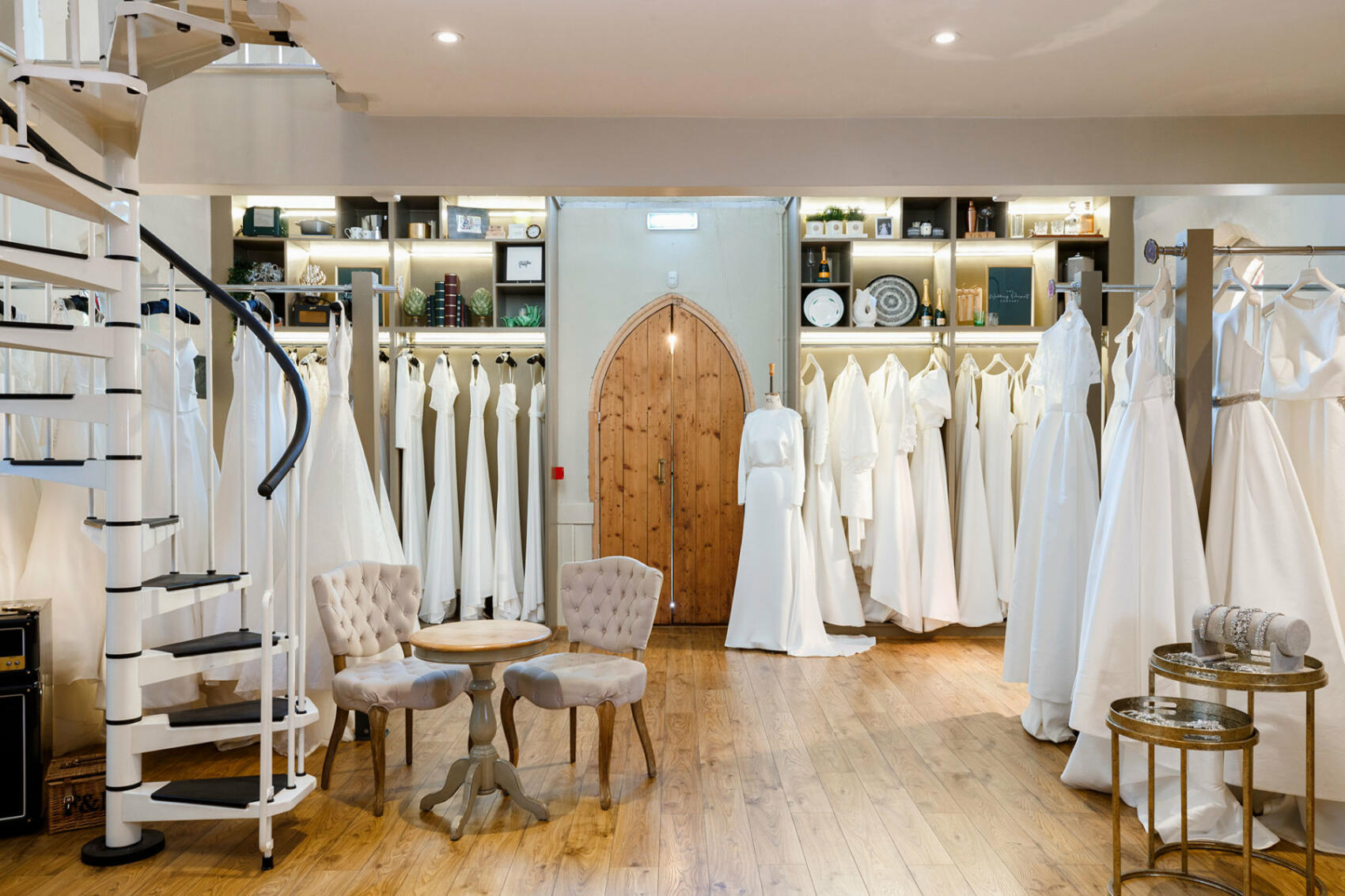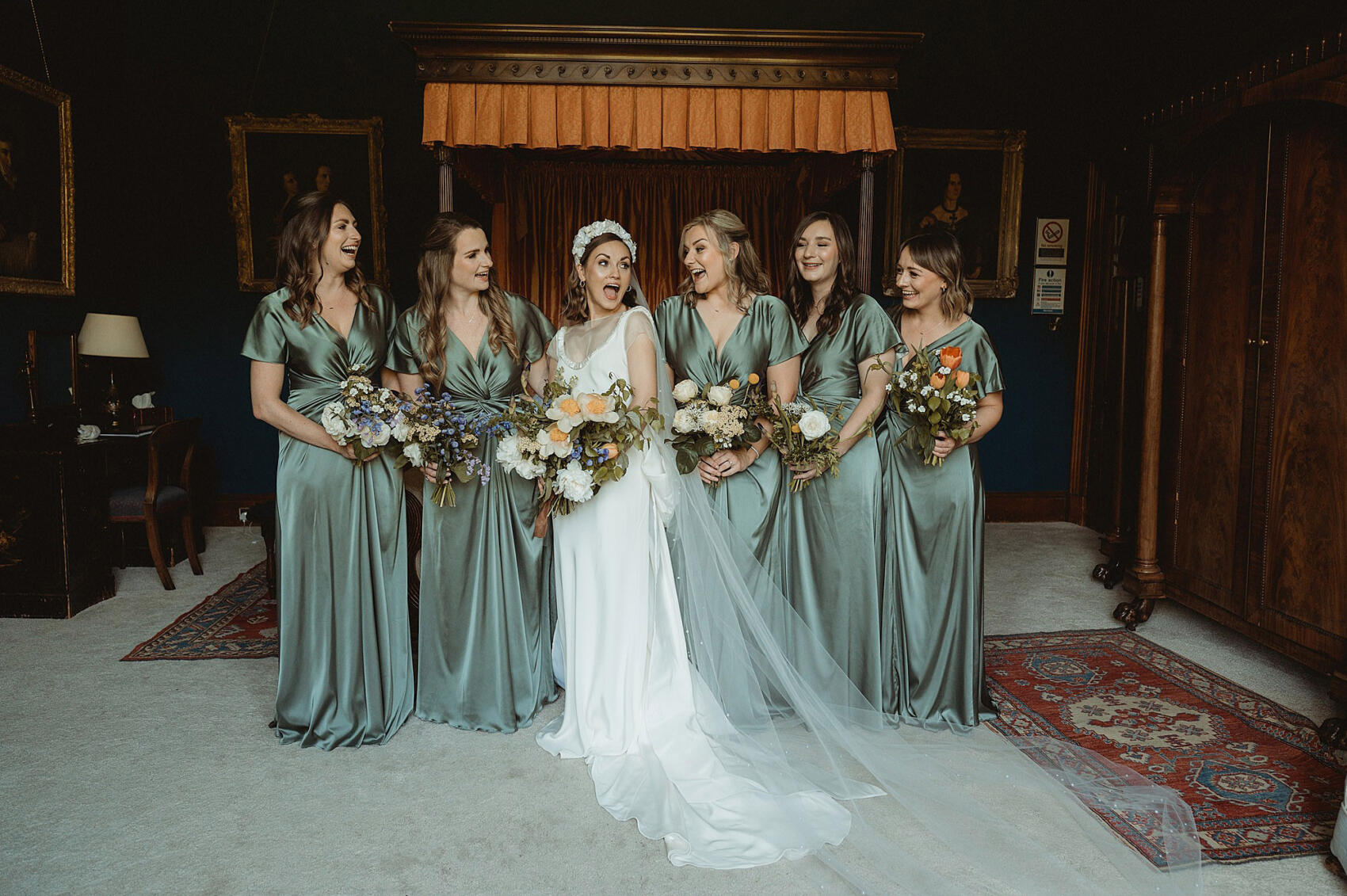 Additional Credits
The below suppliers and venues are featured in this article, but are not part of the Love My Dress Wedding Directory.