Natalie and Daniel's laid back, relaxed, fun and super glamorous September 2022 wedding was held at the beautiful Hampton Court House in Surrey.
The couple have a love for the glitz, glamour, music and opulence of the 1920's and this was reflected in their chosen attire; Daniel wore a black tie tuxedo, whilst Natalie wore a backless, sequin bridal gown by Eliza Jane Howell, who is renowned for her old Hollywood glamour and era-inspired looks.
These lovely images were captured by Love My Dress recommended wedding photographer, Robin Goodlad, whose other weddings you can enjoy here on Love My Dress.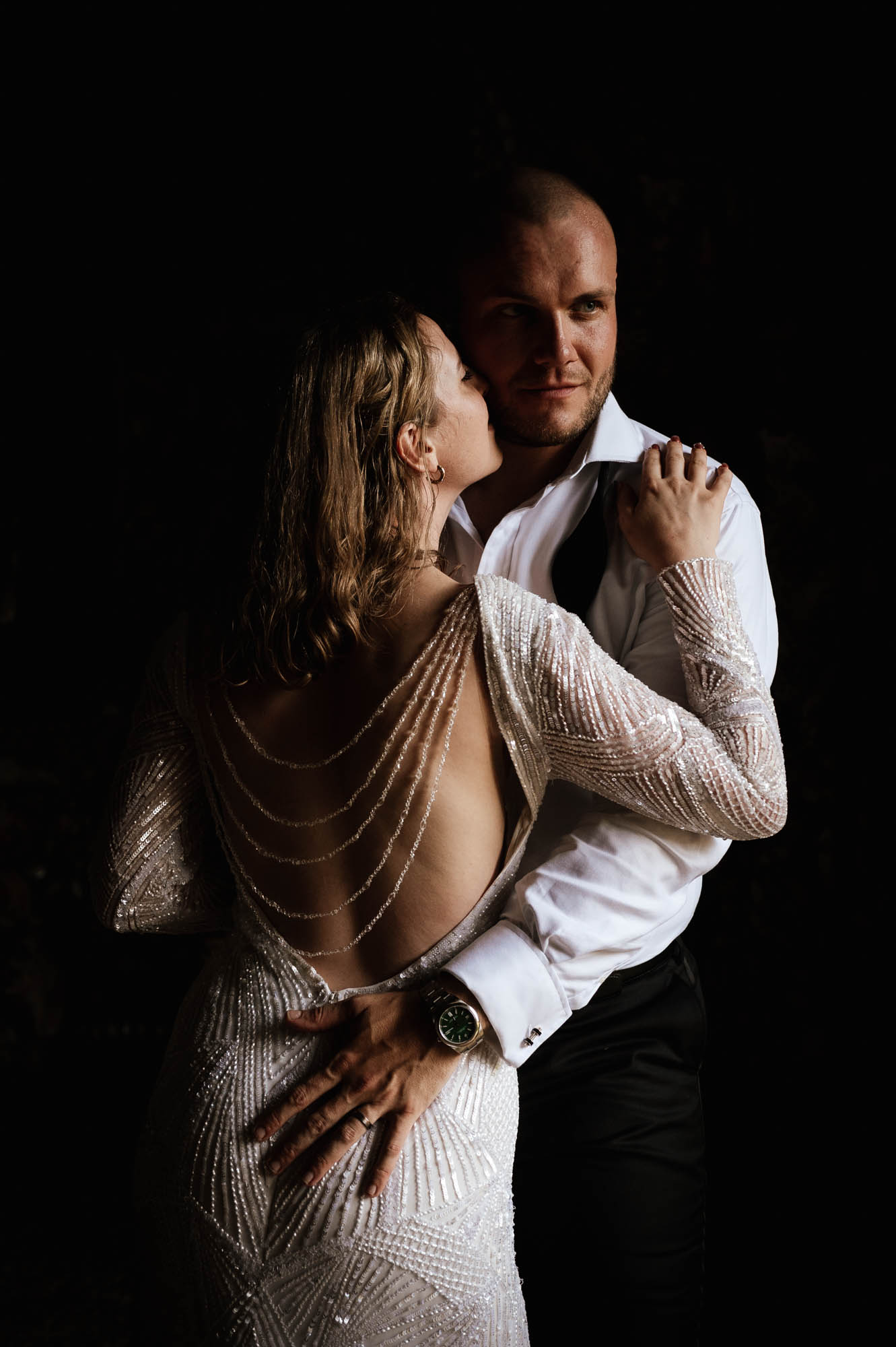 Hampton Court House
When we were viewing our venue in January 2020, we fell in love with Hampton Court House as it felt grand and beautiful whilst being cosy and homely, something we both value so highly.
We also looked up weddings at that venue and subsequently photographers that had shot weddings there to get a feel of how the space could be used (our top tip for anyone trying to imagine how their wedding might look in a venue). It's also how we found our photographer, Robin Goodlad.
Dan wore a deep green velvet tuxedo jacket from Jaeger, which was in keeping with the theme of glamour and opulence. He also wore a pair of Meermin shoes, which he had coveted for a long time!
The groomsmen wore tuxedos from Moss Bros.
An Eliza Jane Howell Wedding Dress
I wore a dress from The Leading Lady collection from Eliza Jane Howell. The dress was purchased from the incredible Ann Louise Bridal in Eastcote, who were just amazing at every single stage of the process – from tracking down and ordering in the dream dress for me to try, to answer every question I had.
When I first found the dress, it felt like fate that the nearest bridal store stockiest was a mere five minutes away by car.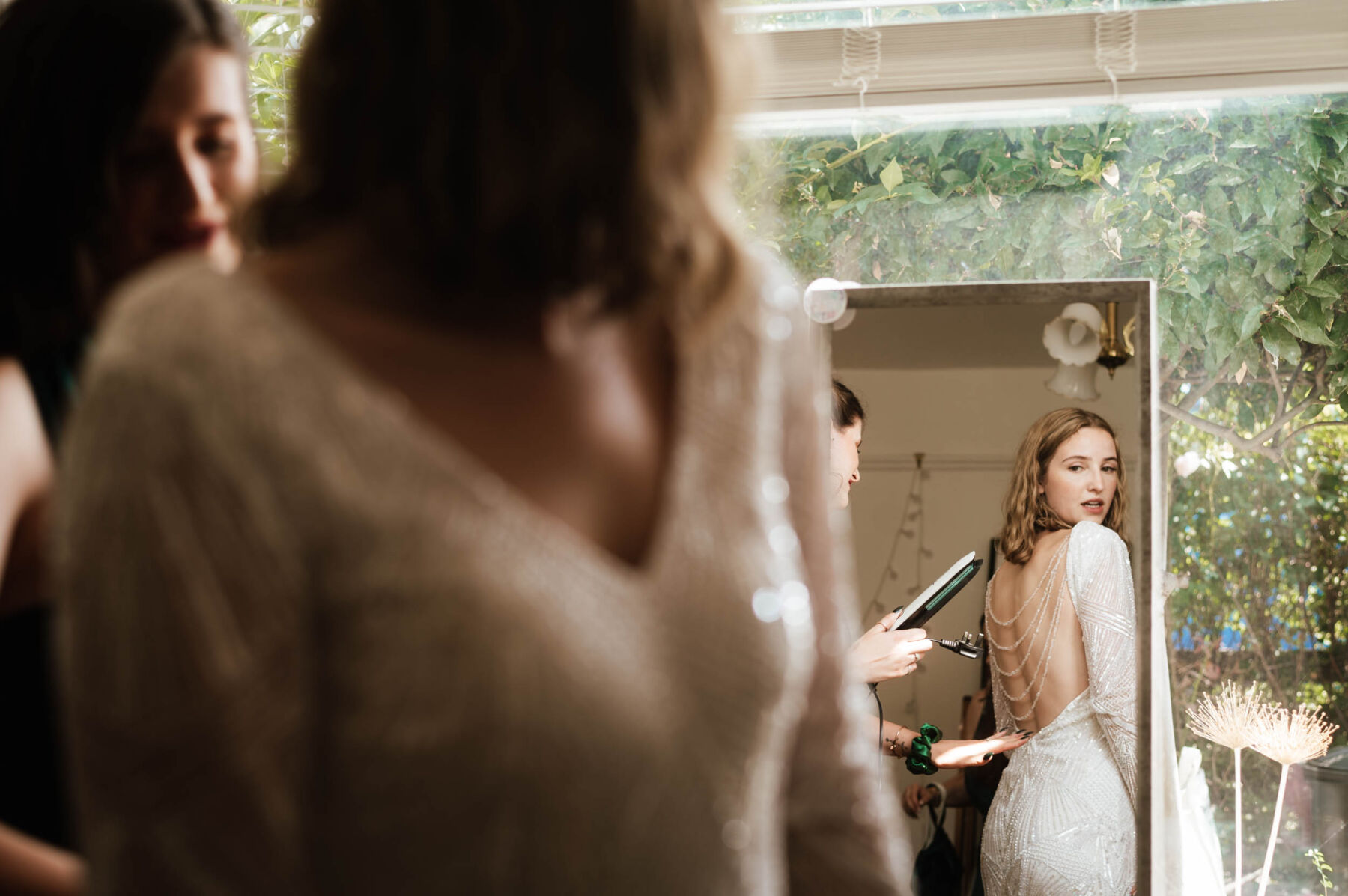 Bridal Beauty & Accessories
Daniel saw a sign outside a shop in New York that said 'This is your sign to buy the shoes' and so – that's how we got my wedding shoes! I wore shoes from Loeffler Randall and called Natalia – so how could we say no! The NY Loeffler Randall store was again, so incredible. They got the shoes ordered in record time so we could pick them up before our trip ended.
My 180 inches long veil was from Blossom and Bluebird, owned by the wonderful Siân who took her time in sending all the samples to help me find the perfect veil for her.
I also wore a rose gold and opal tiara from Dareth Colburn and a necklace from Angara, gifted from my father and step mother, which matched the engagement ring.
Hair and makeup was all done by one of the bridesmaids, Grace, who was a makeup artist previously and came out of retirement for our wedding.
The perfumes we both wore on our first date! Dan wore the Dr Harris Arlington Cologne and I worse Viktor & Rolf Flowerbomb.
Ceremony
My father walked me down the aisle to 'When I Fall in Love' by Nat King Cole, sang by my late grandfather. He passed shortly after Dan and I met so Dan never got to meet him, but I know he would've loved Dan.
When we were looking at music, I had said Nat King Cole was a must and low and behold, the first tape we pulled out of my Grandpop singing was When I Fall In Love – meant to be.
We had a registrar from Kingston council who was hilarious. He immediately understood our vibe, which was relaxed and fun. Our venue is used as a private school and he ended the ceremony with 'some parting words, I'd like you to all remember that we are in a school so please, no running in the corridors' to which everyone burst out laughing!
We wrote our own vows. It was a soul searching process for us both, finding the right words to express how much someone means to you is a lot, but we were so happy with them.
We had one of my bridesmaid's little sister deliver a reading called 'My Undeniable Miracle', by John Mark Green and then the groom's mother read 'Blessing for a Marriage', by James Dillet Freema.
My favourite moment was definitely the ceremony and walking down the aisle. My veil came out so our first look was me laughing and Dan laughing at me – this definitely set the precedent for our ceremony.
Photography by Robin Goodlad
We fell in love with a picture we'd seen taken at our venue when we were researching, it's one of the main reasons that we chose that venue. Robin Goodlad is an expert at adding drama to pictures whilst capturing the pure emotion in every single moment.
I would recommend him to anyone and everyone.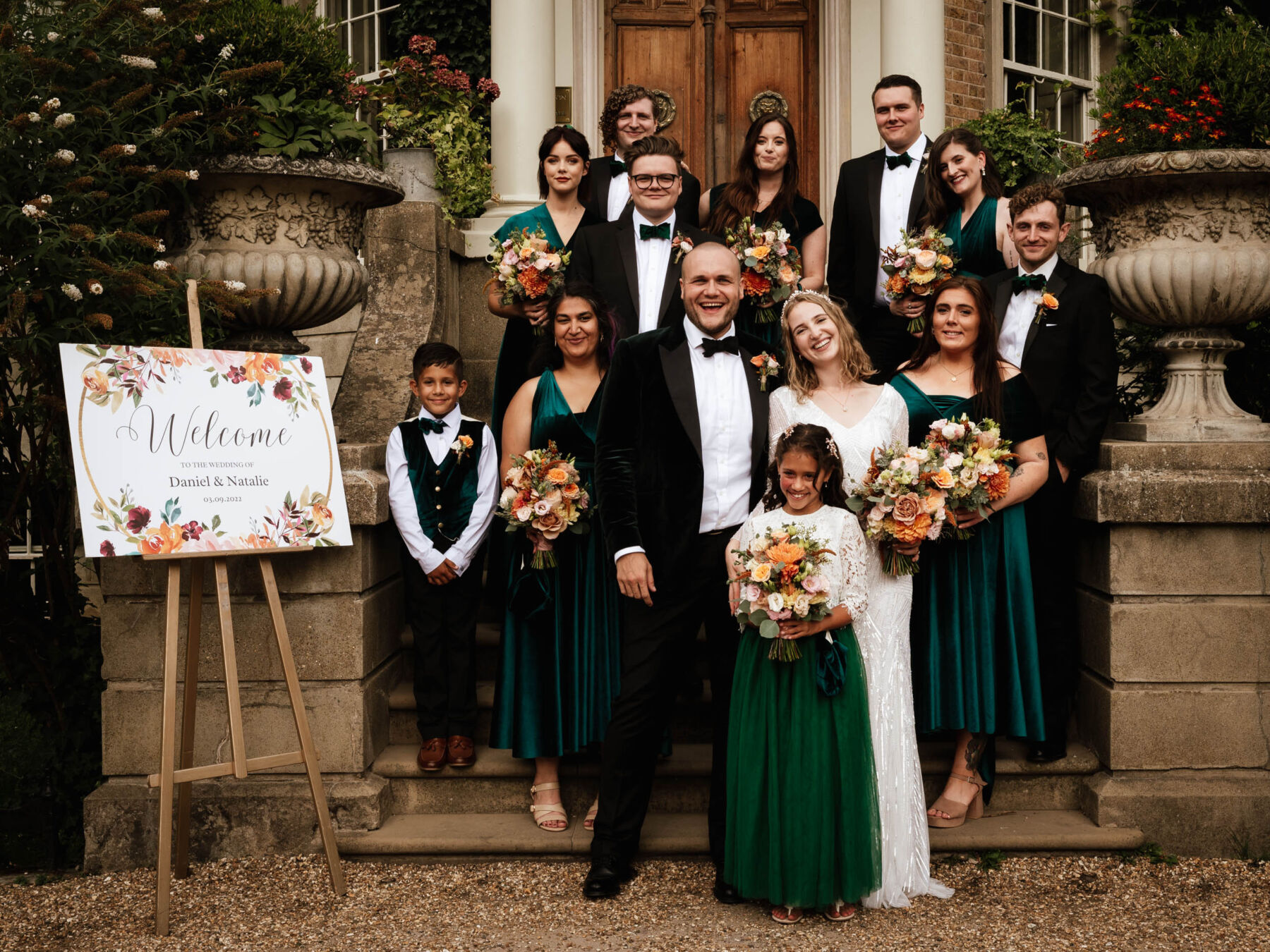 How They Met
So, ours was a very modern classic love story – we met on Tinder! Dan was living in London and I in Windsor. Dan came to Windsor for our first date, we met at a local pub and sparks flew.
My friends were also out in town that night and long story short, he ended up meeting all of my closest friends on our first date. We proceeded to go out clubbing and the rest is history.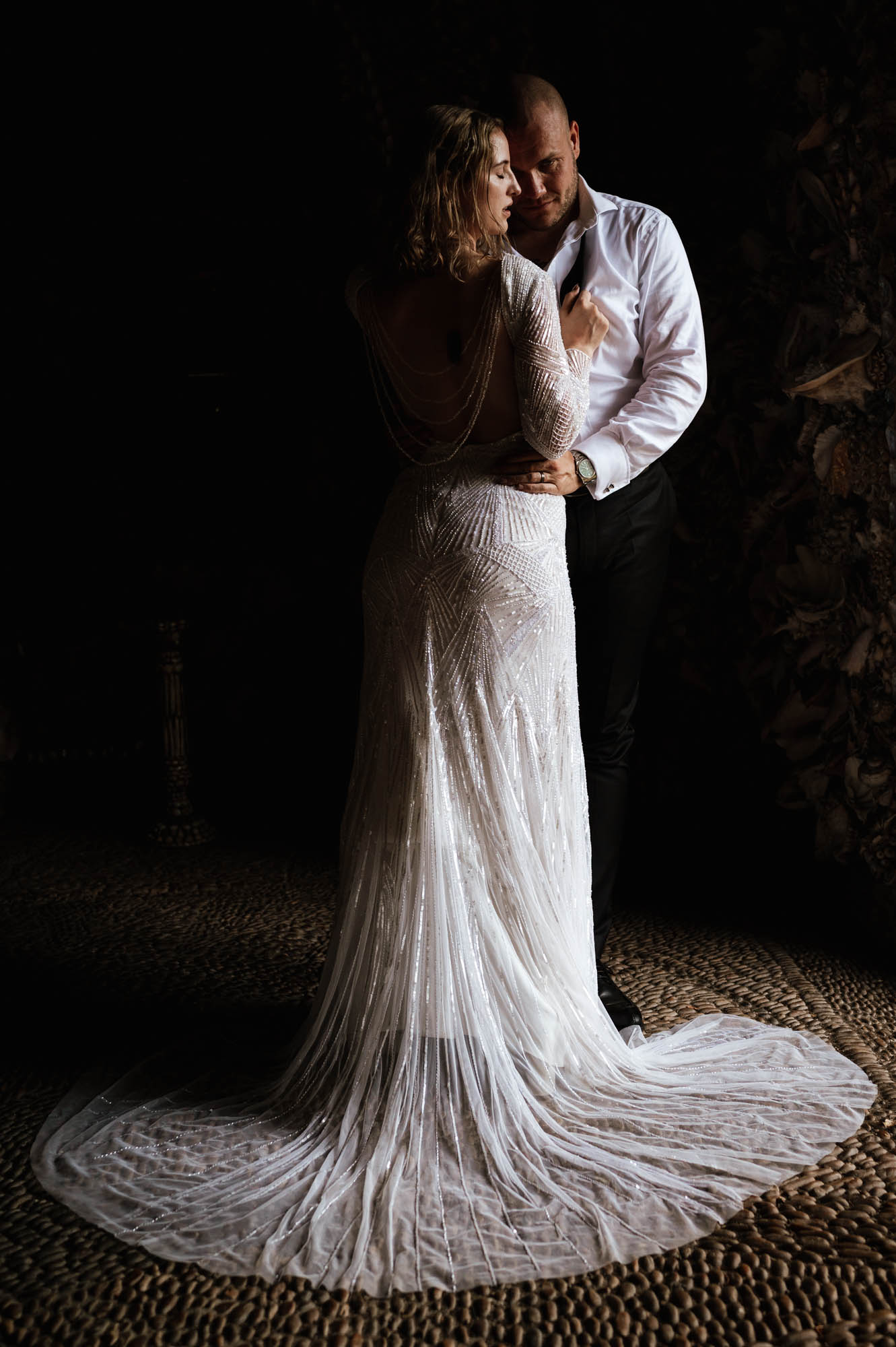 On our first date we shared our first kiss outside a bar in Windsor that looks on to the castle, I was holding Dan's hands and stepped to cross the road, he pulled me back and kissed me.
On that same spot, three years later, we recreated our first date (as we've done every year since) except when I turned back to kiss Dan, he was knelt down on one knee. That was December 2020, and we were married almost two years later in September 2022.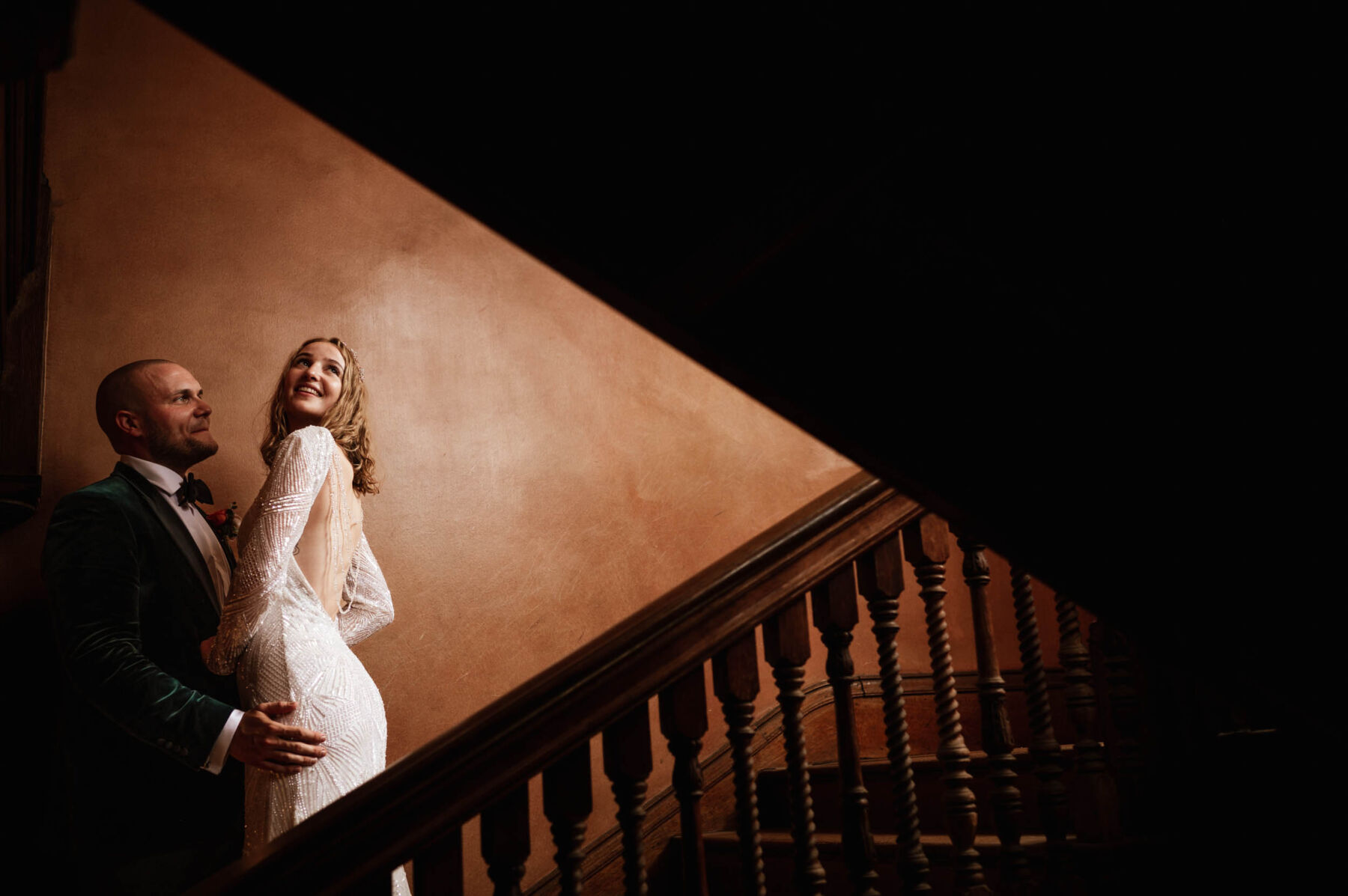 Reception
We decided to exercise a Polish wedding tradition of being presented with salt bread to symbolise longevity and prosperity, alongside two shots; one of water, one of vodka.
We had to choose which shot we wanted to take (not knowing which was which!) and whoever got the vodka would be the 'boss' in the relationship. This is something that I had witnessed my father and stepmother do at their wedding ten years prior. And I got the vodka!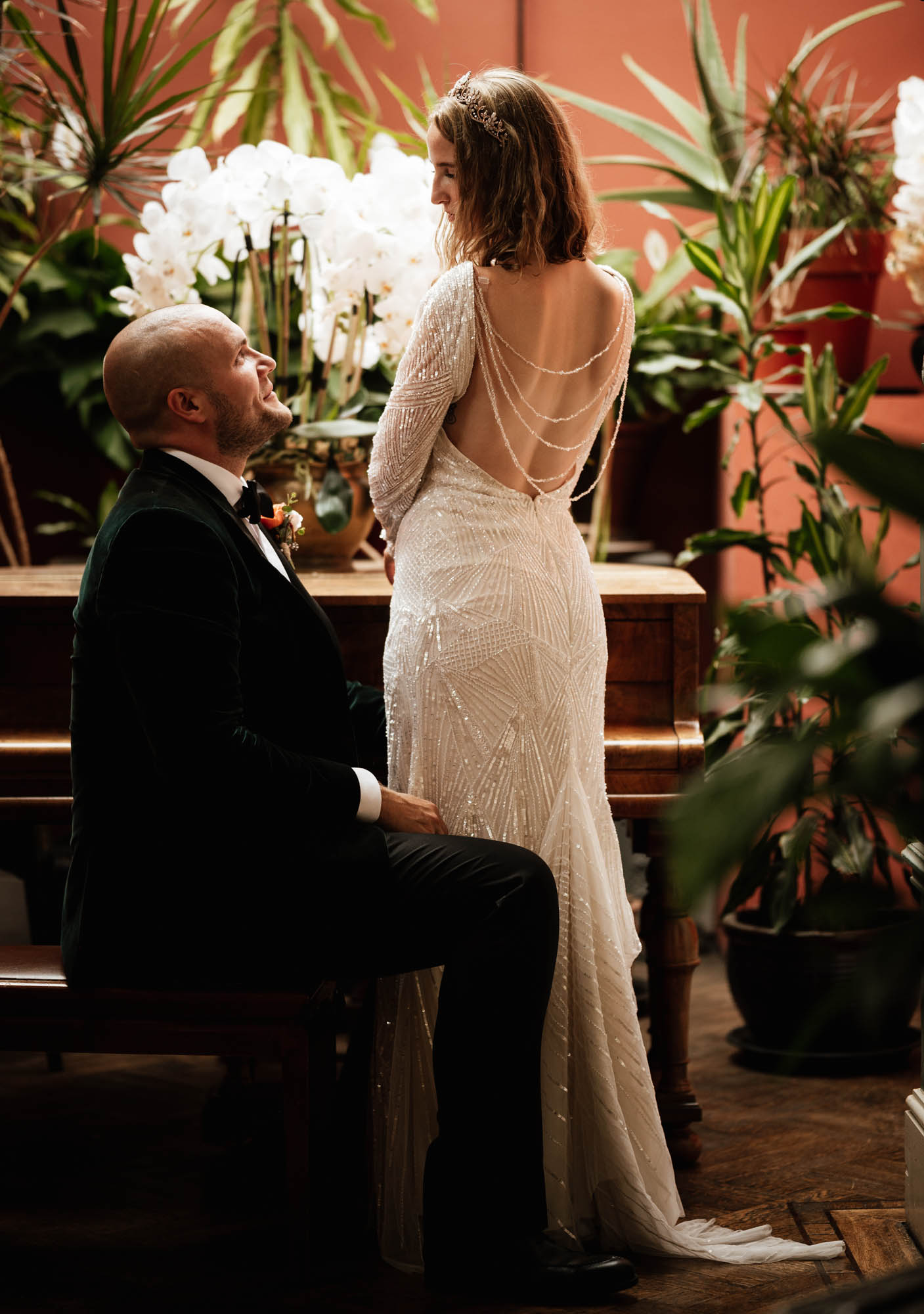 The place names were designed by both of us and hand written by our witness.
Our cake was homemade. My grandmother made a traditional fruit cake, hand-iced with a design to match my dress. I also made some carrot cake cupcakes.
Evening & Dancing
Our first dance originally was meant to be 'A Case of You' covered by James Blake but, our dance teachers (yes, we took lessons haha) suggested something with more of a beat. So, we went with 'Movie' by Tom Misch which is as meaningful to us as it was one of the first songs Dan played to me.
Words of Wedded Wisdom
Our catering costs increased by 20% from our initial quote due to the cost of staffing increasing throughout 2020/2021, we were very lucky we'd saved enough for contingencies but other than that we managed to come in around 5% under budget due to some money-saving choices we made (my Nan made the cake and we shopped for the alcohol hunting deals for 18 months prior to the wedding).
Donations are welcome, opinions are not! It sounds pretty harsh but for us, we said if anyone wishes to help towards the fund it would be so greatly appreciated but it did not buy them a stake in the wedding. We stuck firmly to everything we wanted because at the end of it all, the wedding is for you and your partner – no one else.
Explore our directory