We are grateful to photographer Agnes Black for sending in these images today. Agnes Black, whose beautiful work we've featured before on Love My Dress, recently teamed up with a creative team whose brief was 'bohemian luxe'.
I hope that you adore these images as much as I do, please don't hesitate for a moment to enquire further on any of the suppliers listed at the end of this feature – we highly recommend them all. Over to you Agnes…
"This has to be one of the most beautiful shoots I was lucky enough to be a part of. It was all completely inspired by Grace Loves Lace . In honour of of them opening their new London boutique I was inspired to create a styled shoot based on bringing the Grace Loves Lace look to a chic styled English wedding. I shot this alongside The McGill Sisters filming. I love Siobhan and Sinead, their work is romantic, creative and so dreamy! There film is incredible and put together seamlessly!"
Film by McGill Sister Films
Garthmyl Hall is this gorgeous little hidden gem in the welsh country side of the UK. Each room boasts a unique sense of style and the most epic wallpaper murals you have seen. There is the most picturesque secret garden, and a stunning white stone washed green house, that has the perfect light and vibe for intimate gatherings.
Photography by Agnes Black
"Emmy from Chiascuro Styling set up a beautiful and simple ceremony backdrop, not to distract from the bride. A copper stand adorned with greenery, gold tipped feathers and crystals. Followed by a reception table to die for, with tall candles in copper stands, beautiful table ware from Whitehouse Crockery, beautiful lanterns, a mix of gorgeous green silks and linens, flowing perfectly, hand died ribbons from Silk & Purl all finished of with beautiful crystals. Emmy's totally laid back and kind personality didn't interfere with her creative eye for detail and perfection.""The dresses were simply to die for! Beautiful lace soft and flowing like water, gorgeously fit the stunning Ella like a glove. Paired with most amazing Greek goddess style shoes from Charlotte Mills."
"Chloe Robinson Designs created floristry perfection with her immaculate green fingers. An overflowing bouquet of greenery was the perfect simplicity needed here."
"The cake, from Marie Antoinette Cake Design was stunning. The bottom layer of the cake was a deep green water colour effect with a gold leaf trim, the middle a soft white with textured ribbon and the top layered with hand crafted sugar flowers and edged in green and gold. Every time I work with Rachel her cake's smell divine, taste delicious and are crafted to utter perfection."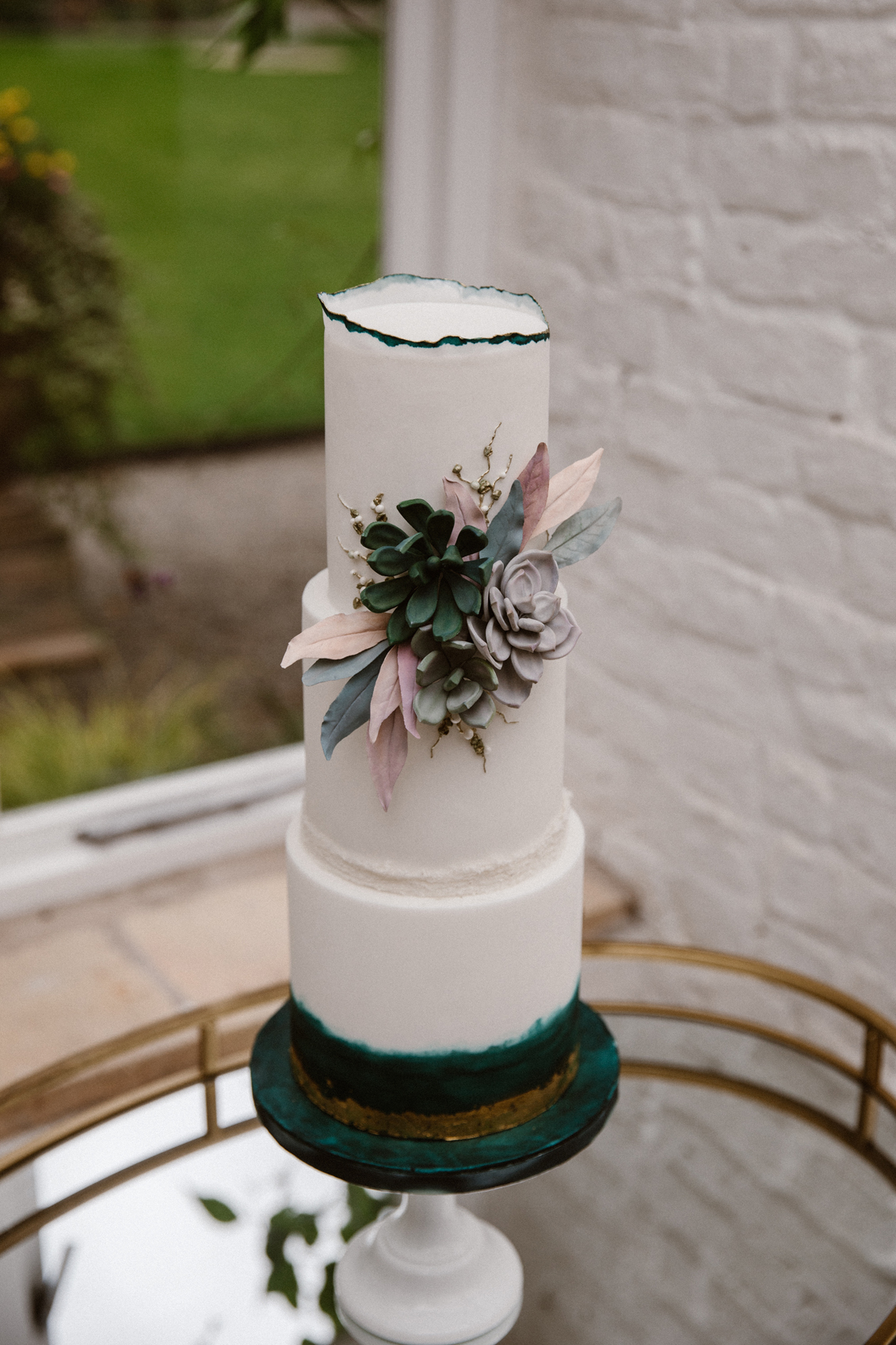 "By Moon and Tide Calligraphy created the invitation suite using a beautifully textured black paper and a gorgeous hand drawn calligraphy in gold, which tied in exquisitely."
"The incredible Hannah Carson did an unbelievable job creating a soft a dewy delicate look on Ella with subtle hues of pink bringing out her eyes and hair. It was gorgeous! The hair was done by none other than Annie Elizabeth Bespoke Bridal Hair, creating the most beautiful textured waves followed by a loose messy bun, both boho and chic."
"The continuous flow the ivory, greens and pinks within the layers of exquisite silks and lace, topped with tall candles, lush greenery, brass, crystals and beautifully crafted black and gold stationary, each element perfectly styled. The most amazingly crafted cake providing a visual work of art. The hints of the colour palette within the beautifully fashioned locks of the red headed Ella, with her green eyes, framed perfectly by the delicate make up, really brought the bridal look into the scene."
"Set in a romantic stone walled green house and chic rooms with lavish papers and unbelievable lighting. All finished of with the most beautiful bohemian dresses, the bohemian luxe shoot could not have been dreamier."