Happy Thursday! It's almost the weekend and we've got a stunner of a wedding up our sleeve today. A summer wedding serving as the perfect pick-me-up needed in these darkest depths of winter.
Project Manager Claire and Civil Engineer Alan chose 12th August 2017 as the date of their Puffin-inspired elegant Scottish wedding. Having first met at school through mutual friends, the couple later reunited during a night out in Glasgow, and after finally plucking up the courage to ask Claire out on a date two years later, Alan then proposed during a trip to the Isle of Lunga in Scotland. Alan's nickname for Claire is 'Puffin', and planning the trip during the season when thousands of puffins descend to the island, it was the perfect opportunity to ask for Claire's hand in marriage at a beautiful spot overlooking the bay, and with a Blair and Sheridan engagement ring designed by Alan himself.
Photographers Craig and Eva Sanders took care of the wedding photography on the day. Claire had been a big fan of the photography duo for several years before getting engaged herself, and they were one of the first things they booked when planning the wedding.
"I never had a specific theme when planning our wedding, all I knew was that I wanted the day to feel elegant, romantic, classic and for everyone to have fun. I always knew I wanted blush pink bridesmaid dresses, so the decision to have a slightly darker pink flower with lots of foliage accents came from there."
Photography by Craig & Eva Sanders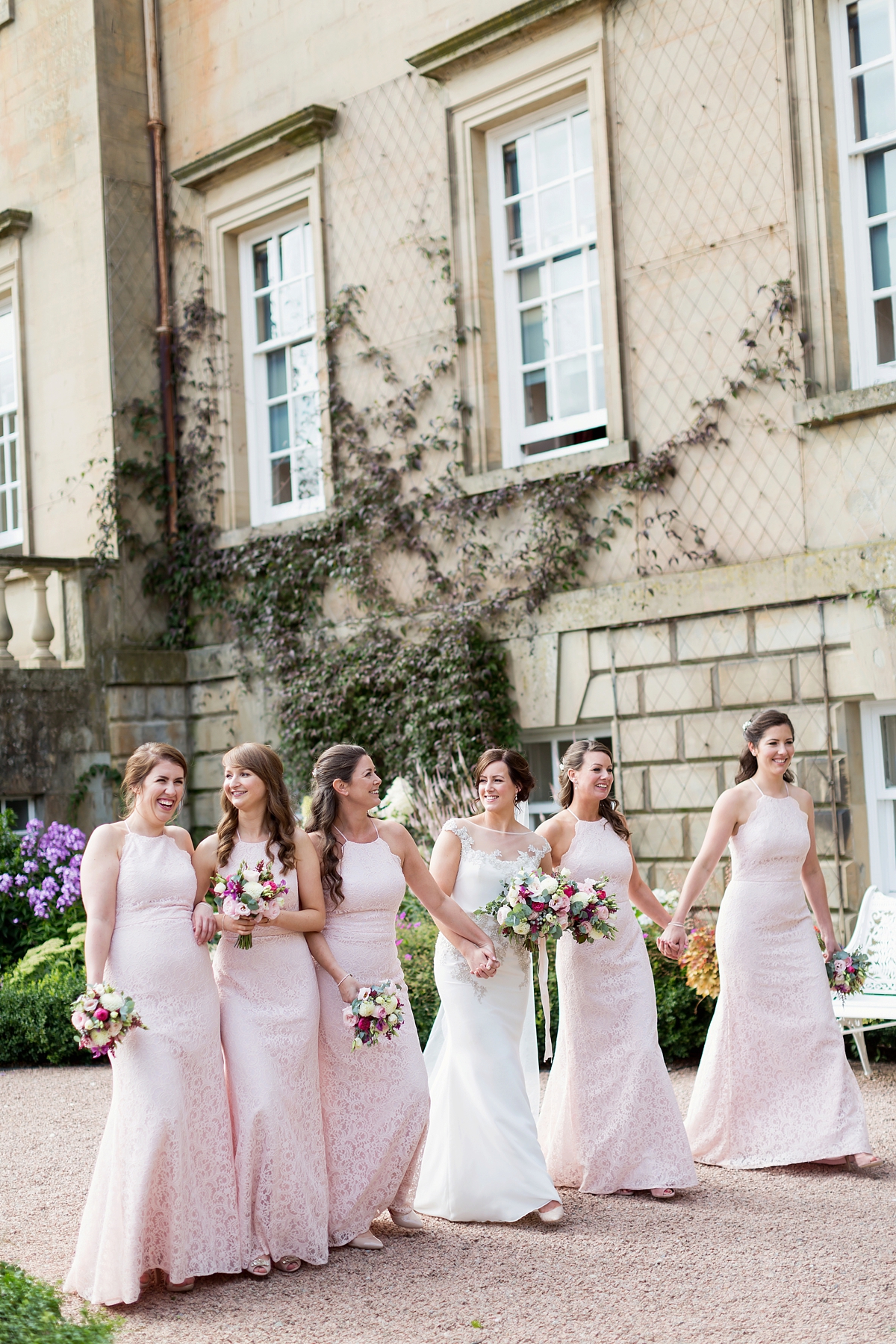 "I had been a big fan of our photographers, Craig & Eva Sanders, for several years before Alan and I got engaged and I always knew I wanted them to photograph our wedding. We actually booked them before we even booked our venue! Craig and Eva were a joy to be around all day and really are a Dream Team. Their style of photography is relaxed and romantic and I have always loved how they use the light to get the most beautiful shots. They both made us feel so relaxed throughout the whole day and managed to capture special moments and details perfectly.
I cannot recommend Craig and Eva enough to other brides and I am so pleased they were able to capture the happiness of our day."
The beautifully elegant Dumfries House in Cumnock, East Ayrshire (owned by Prince Charles no less) was the venue chosen by the couple for their nuptials.
The couple hired the venue for the whole weekend with the ceremony carried out in the intimate space of the Tapestry Room with it's roaring fires and large regal wall hangings, and the reception within The Pavilion, a marquee style space.
"As soon as we drove up the drive way to Dumfries House we were blown away by how beautiful and grand the whole estate was. The House is owned by Prince Charles as he stepped in to save the house from falling into disrepair and has helped raise funds to renovate the house and its grounds over the past few years. The estate also runs some of the Princes Trust training academies like hospitality, stonemason, joinery etc, so it also gives back to the local community. We also made sure that we invited Prince Charles to the wedding. He politely declined, however we now have a letter from Clarence House wishing us well on our forthcoming wedding to put in our memory box."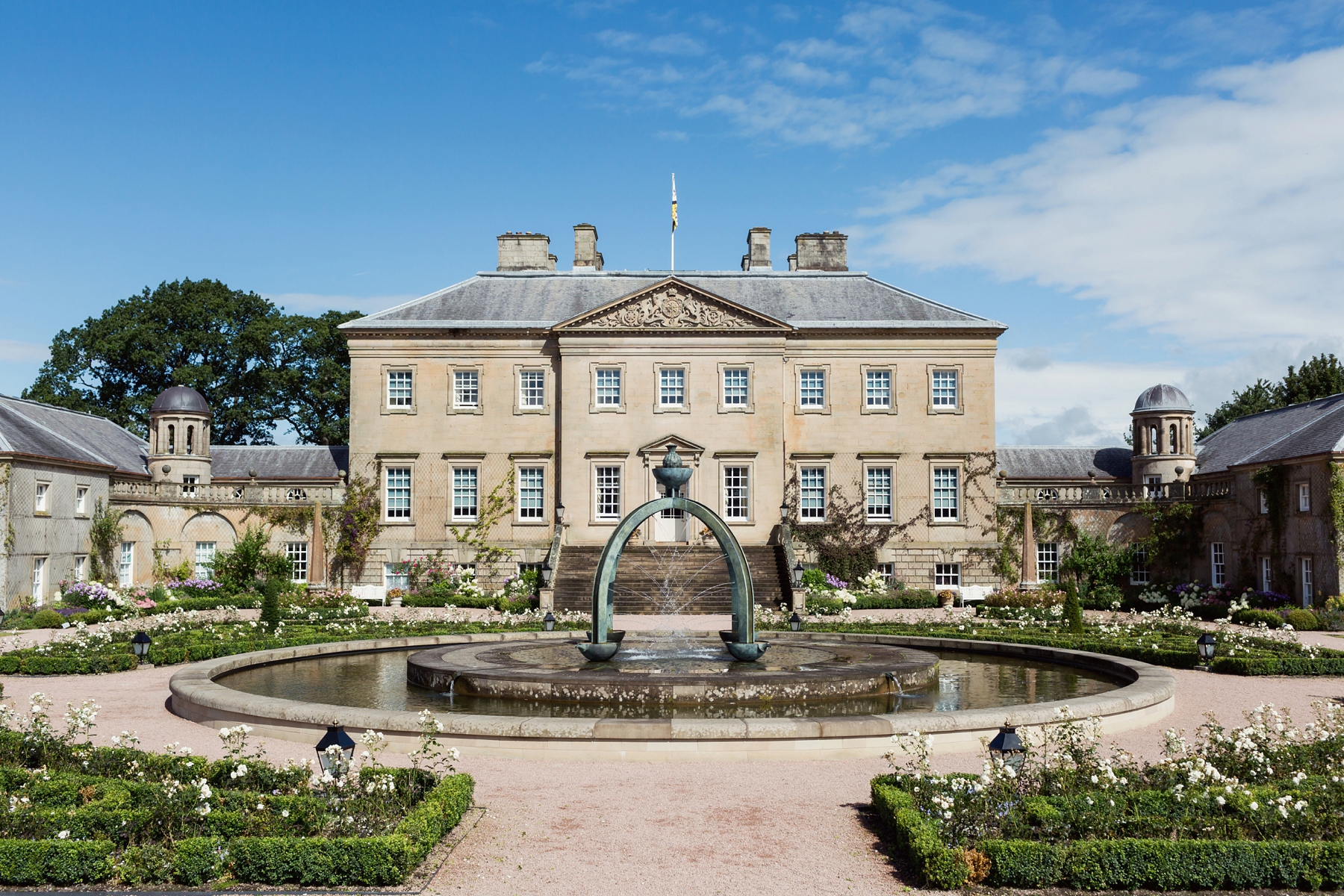 "The Dumfries staff were amazing from start to finish and nothing we asked for was too much. They were able to provide accommodation on the estate for most of our friends and family and the grounds are so beautiful I knew they would make an excellent backdrop for the wedding photo's."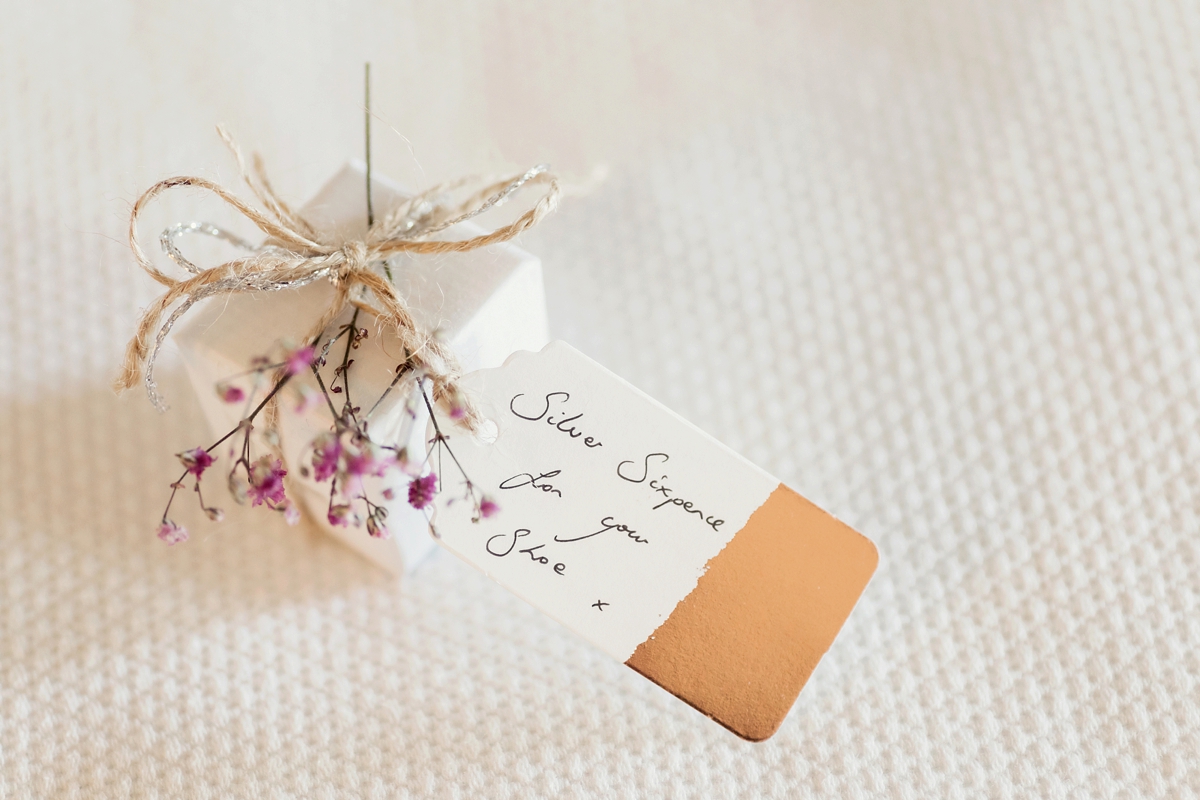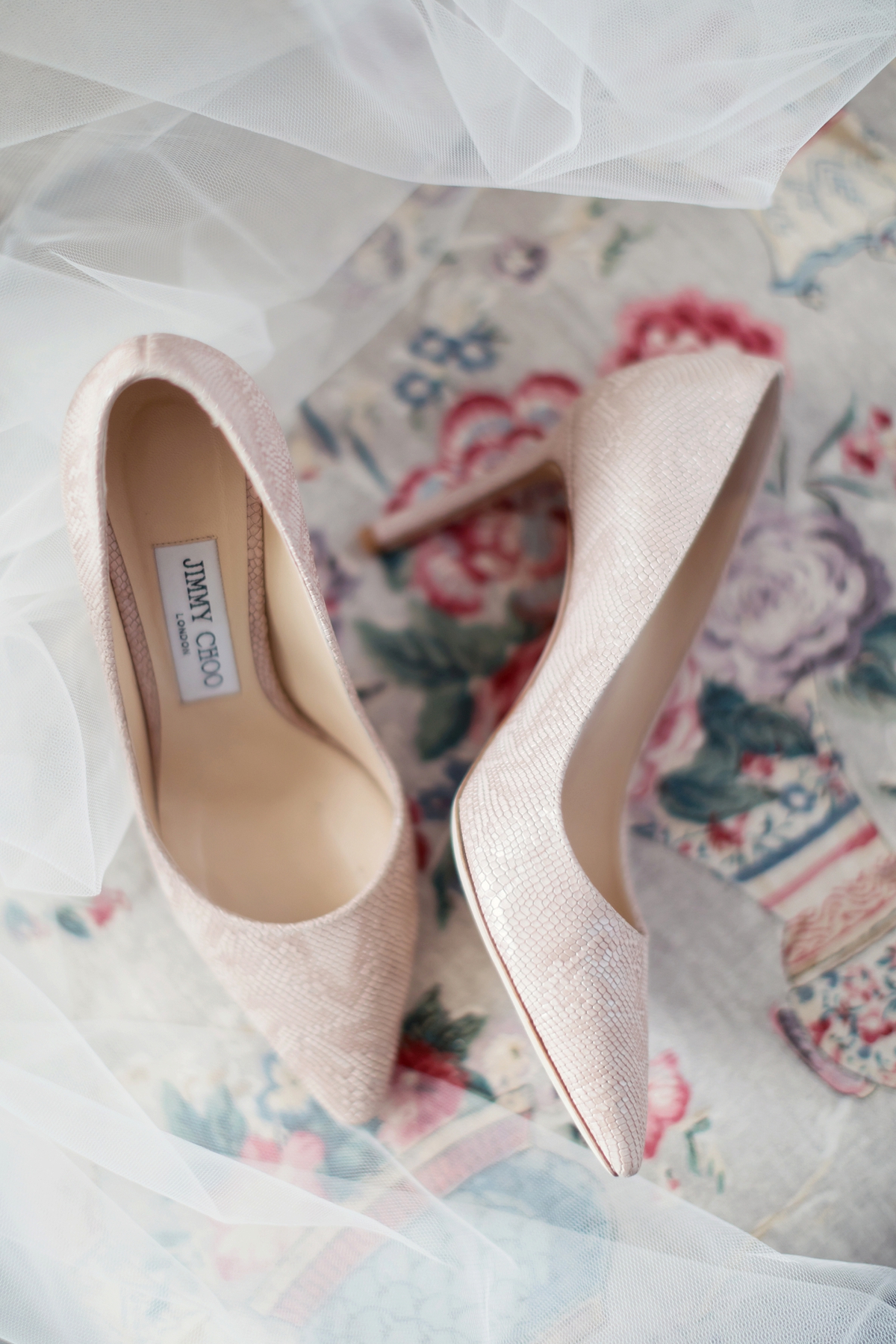 The couple's beautiful stationery was made by Paper Parade Stationers.
"Initially I presumed that bespoke stationery would have been out of my budget and was planning on making it myself, however following a friend's recommendation I sat down with Cara from Paper Parade to gather some ideas. I decided that I wanted to make our invitations into a concertina format and Cara could design in foliage and some Puffins for good measure. I was surprised how reasonable they were and knew she would do a far better job than me."
"Cara also designed our Order of Services, made our "on the day" wedding signs and made up our wedding booklets. In the booklets were a thank you note to all our guests, a short description of the top table, the menu and a crossword to keep everyone entertained."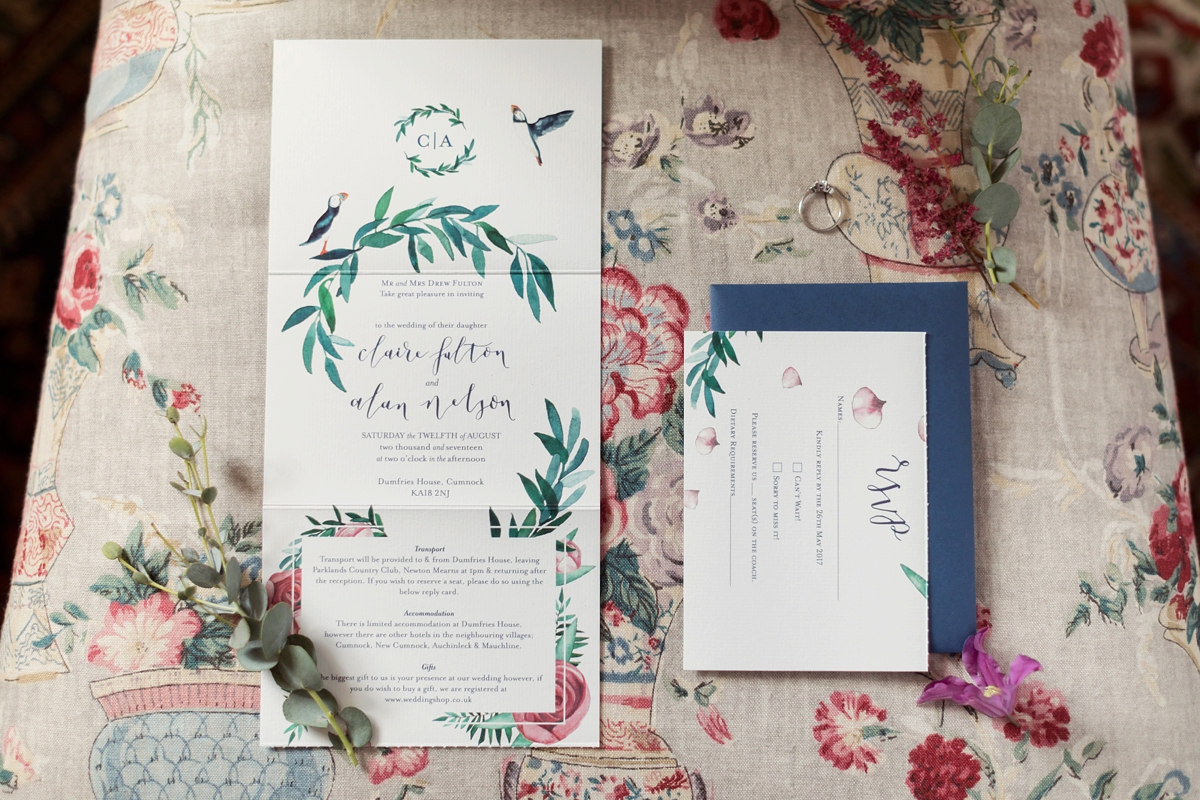 Dark pink and blush was the recurring colour theme throughout the day, with a relaxed free-formed bridal bouquet, made by florist Abbie from Paperwhite Floral Design, summing up Claire's visions perfectly.
"Abbie was a joy to work with and understood exactly what I was looking for, despite me constantly worrying about the right shade of dark pink. I was keen to have relaxed free formed bouquets and to use flowers from complimenting colour palates to provide some contrast and detail. Overall, we went for a mixture of blush, dark pink, ivory and silvery foliage to create all the wedding flowers. I loved my flowers, especially the candelabras as I didn't know what they would look like until I sat down for the wedding breakfast. As soon as I saw them I was so excited as they were exactly want I was looking for and Abbie had got it spot on!"
"To make my bouquet extra special, I hung 3 photo charms around the stems and tied them with silk ribbon from Pom Pom Blossom. The 3 photos where of my 2 grannies and aunt who are no longer with us, but were huge influences in my life. It was my way of having them there with me and I love the thought that they also walked me down the aisle."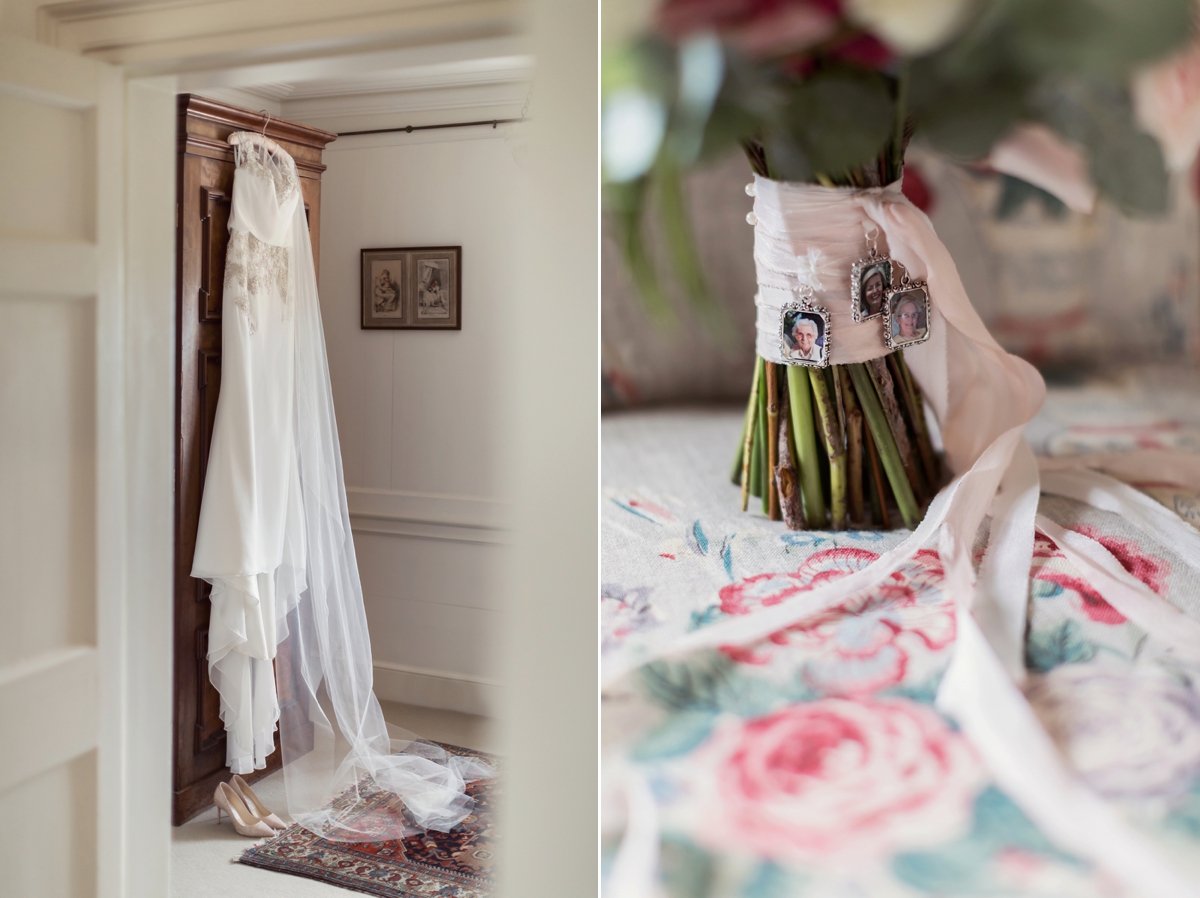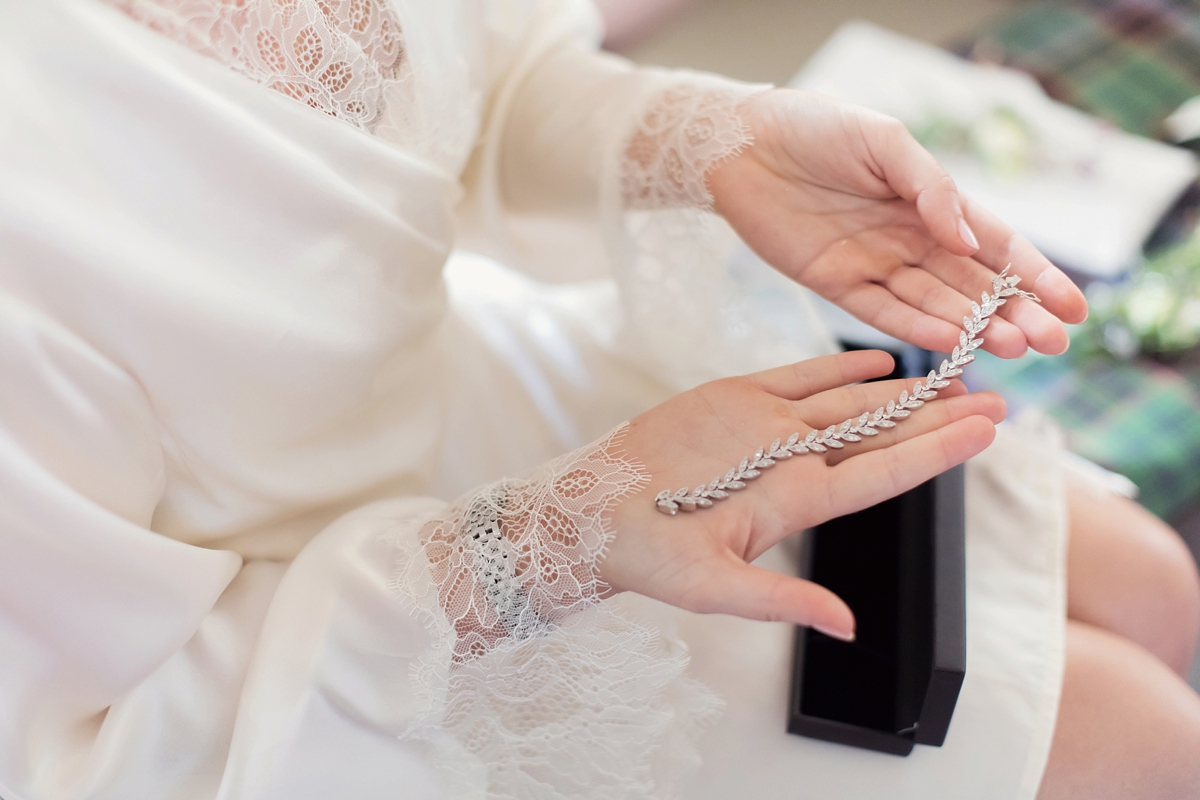 And with such a stunning backdrop and romantic setting in which to shoot, it's little wonder the photographs are as classically beautiful as they are, including those of 'the dress'.
After trying on so many gowns and becoming lost in a sea of white dresses, Claire received the help of the Emma Roy of Edinburgh ladies to help her find 'the one'. Pulling out the Harlem by Enzoani, Claire immediately knew it was the one for her from the simple cut to the intricate beading detail, it was elegant, glamorous and everything she had hoped for in a dress. Accessorising with the cathedral length Skylar veil from Love My Dress favourite Britten, a pair of soft pink Jimmy Choo's, and the Sydney headpiece from Little Book for Brides member, Debbie Carlisle, she was all set for the best day ever.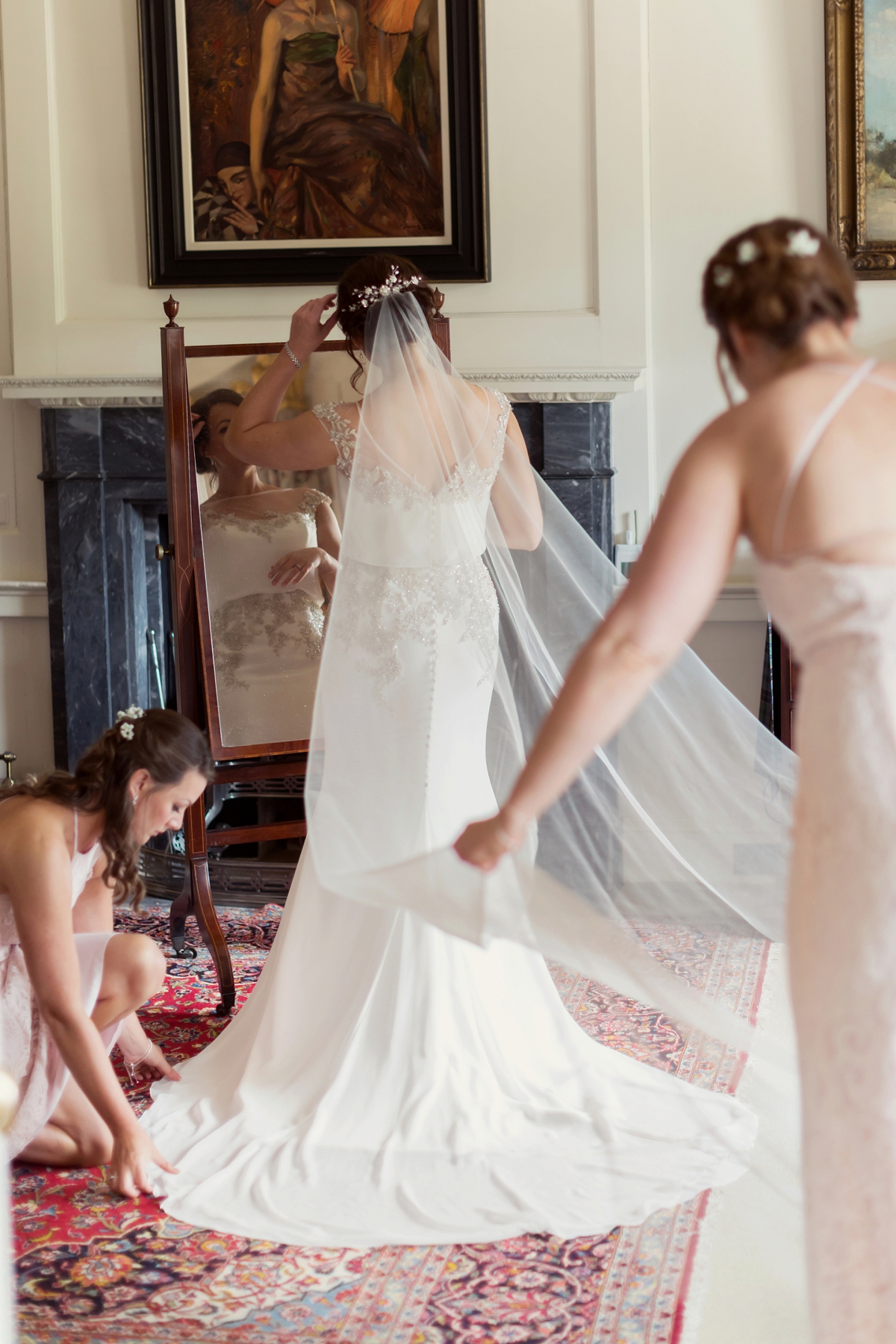 "I tried on 62 dresses before I found the one! I always knew I wanted to feel comfortable in my wedding dress and hated the idea of being like a 'statue' during the day. I really wanted to float about talking and dancing with all my guests".
"When I started dress shopping everyone told me to go with an open mind and not to go with what I thought I wanted as it would probably change. I did that and unfortunately became lost in a sea of white dresses as the type of dress that I said I definitely didn't want is what seemed to suit me. I was then pushed down a different avenue by my friends of family which resulted in trying on 62 versions of the wrong dresses. Luckily the assistant in Emma Roy knew me better than I knew myself and pulled out Harlem for me to try on. As soon as I put it on I knew it was the dress for me and it was the type of dress I should have been trying on from the start. I loved that the cut was simple but the intricate beadwork made the dress feel unique. I felt glamorous and elegant in it but most importantly I felt like me."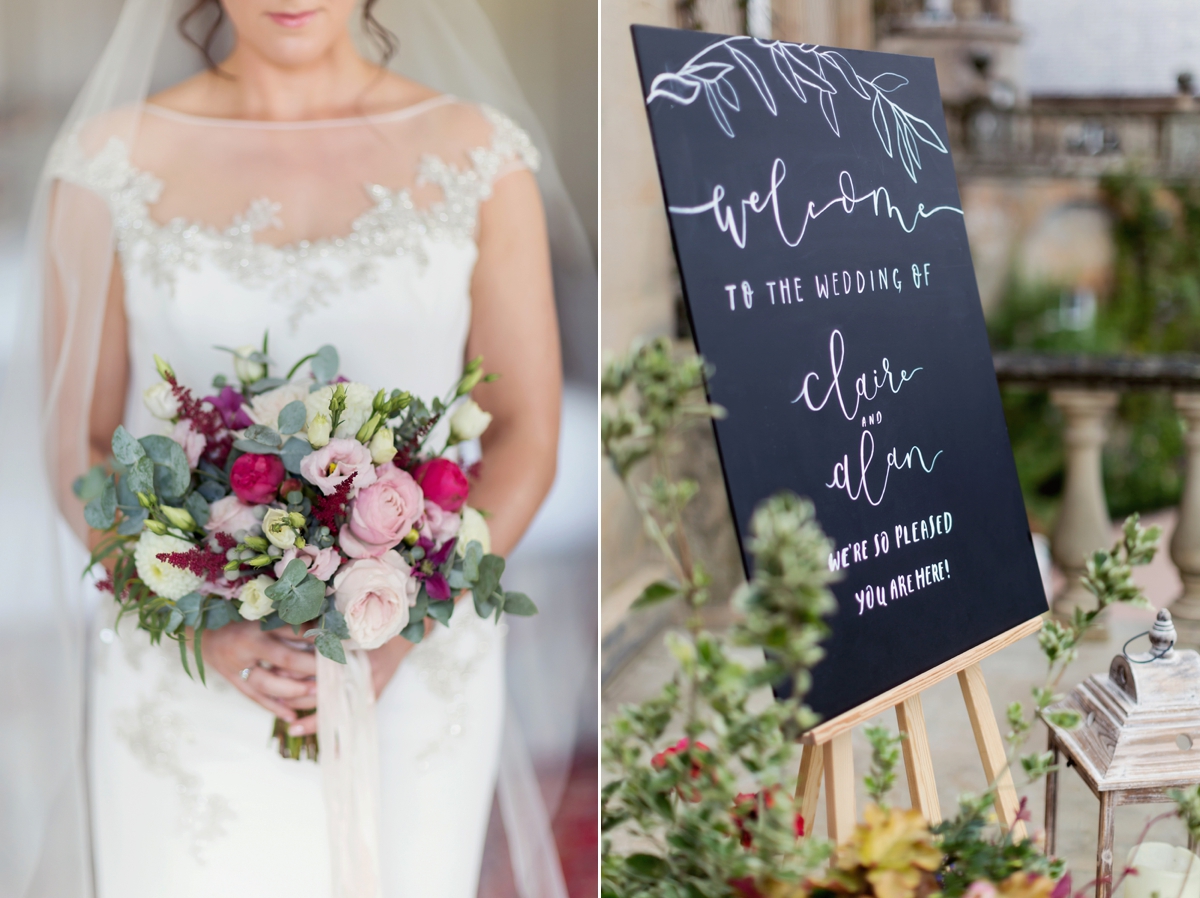 We're thrilled to see that Claire found her delicate veil through our recommended supplier, Britten Weddings.
"I bought my veil from Britten. After buying my dress I knew I wanted a veil, however all the ones I tried on seemed to be heavy or hid the detail of the back of my dress. I was so excited when I found Britten on Love my Dress and their 'barely there' veil called 'Skyler'. Its simple clean lines made the veil unfussy and most importantly it didn't hide any of the details on my dress. I loved my veil as it gave me that "bridal moment" and the cathedral length worked well with the grandness of the venue."
"Alan and I technically met at school as he was two years above me and we had mutual friends, however to this day he still says he doesn't remember me from school! We met a few years later during a night out in Glasgow and instantly we both liked each other, however at this point we were living in different cities. Alan got my number that night but it took him 2 years to pluck up the courage to finally send me a text!"
"We were together for six years before we got engaged and 8 years in total before we got married.
"I love our engagement story but what bride doesn't…! Alan's nickname for me is Puffin, so we had planned a trip to the Isle of Lunga in Scotland, as during the mating months in the Summer there is 1000 of Puffins on the one island. Alan had been acting odd all day taking his big rucksack everywhere with him, however I just shrugged it off and though nothing more of it."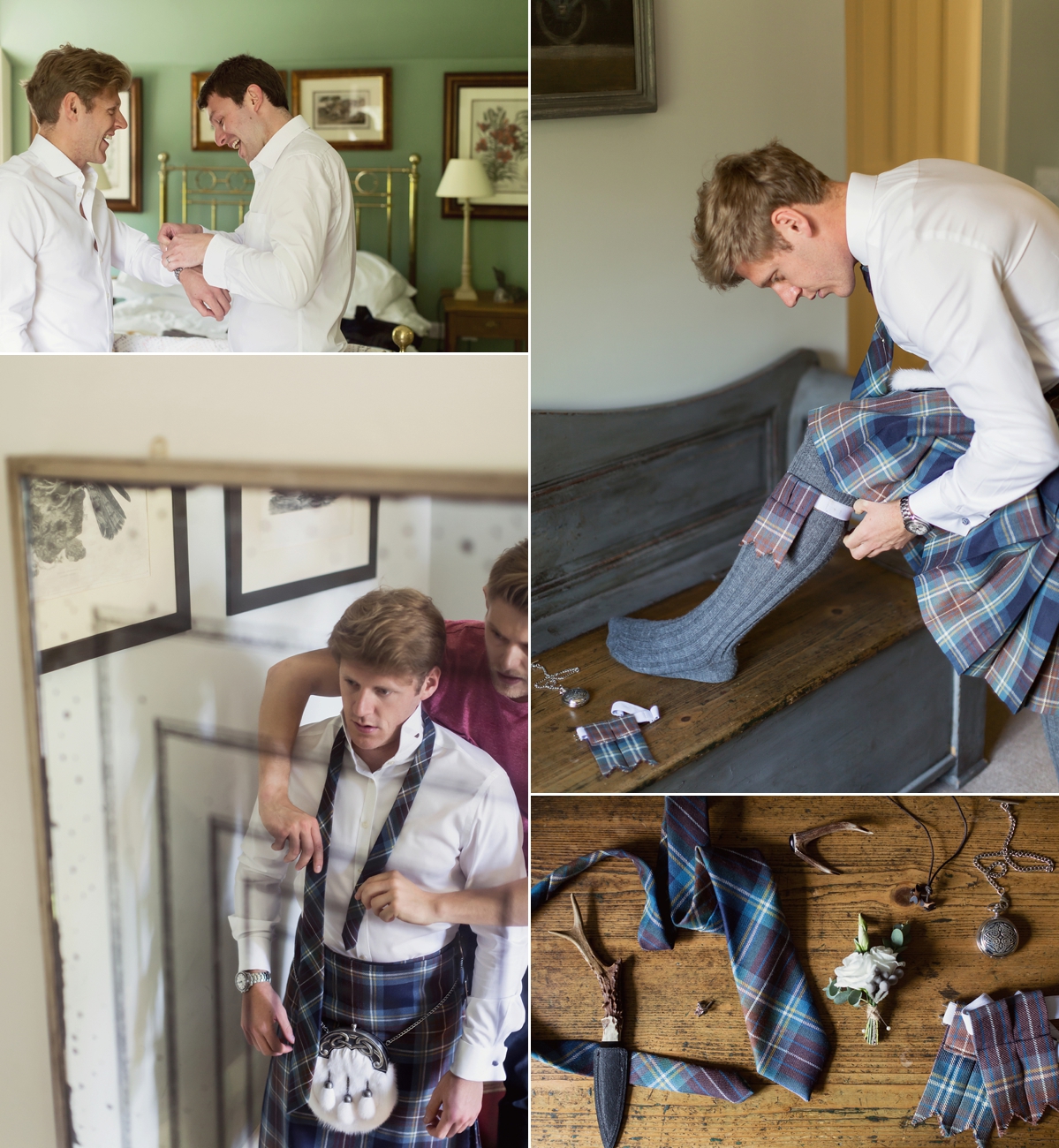 "Low and behold the ring was in his bag and he was petrified of losing it. Once on the island there were 100s of puffins all around us and he had chosen a beautiful spot overlooking the bay and Treshinnish Isle. While sitting there and surrounded by Puffins and the sun splitting the sky (which is rare for Scotland!) Alan proposed with a beautiful ring that he designed himself. I instantly said yes and knew that puffins needed to feature in our wedding. That is why we had puffins on our invitations and on top of our cake."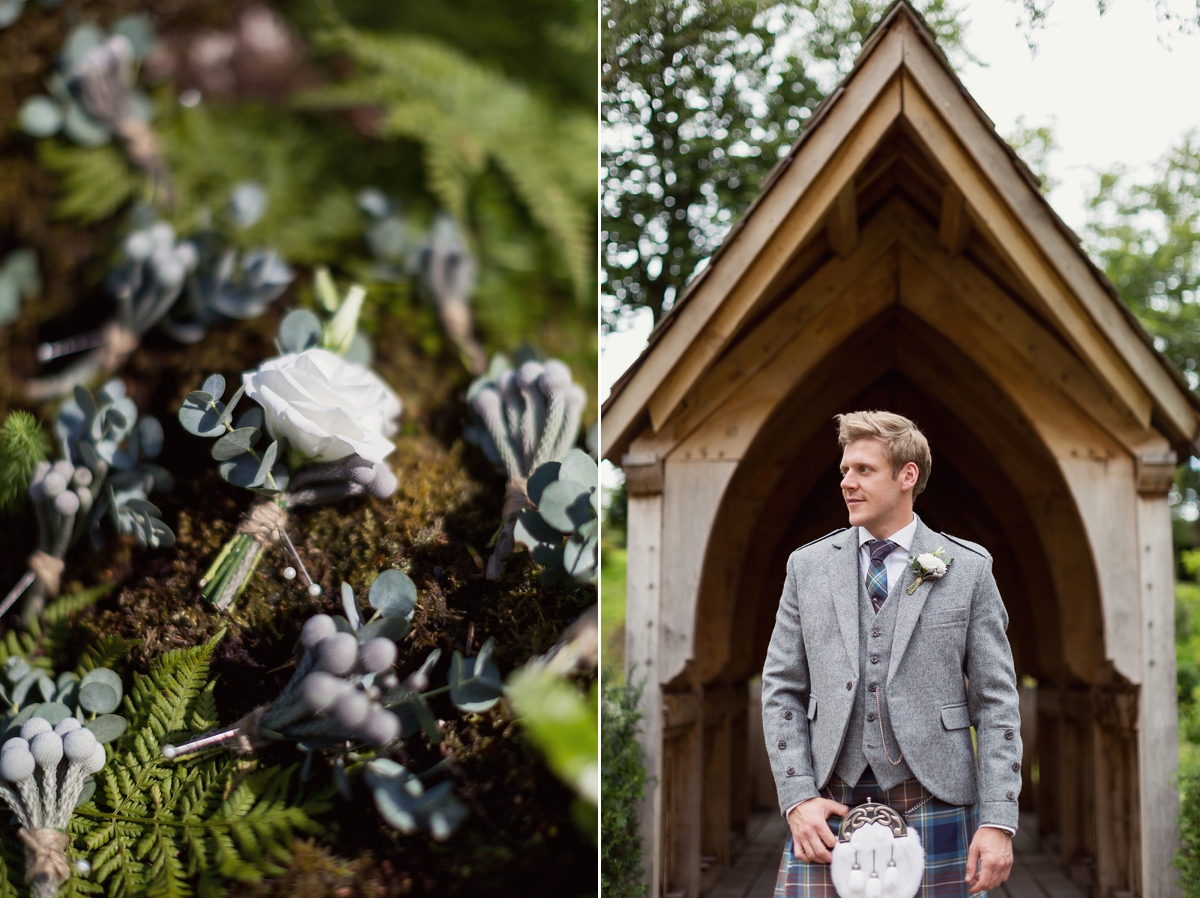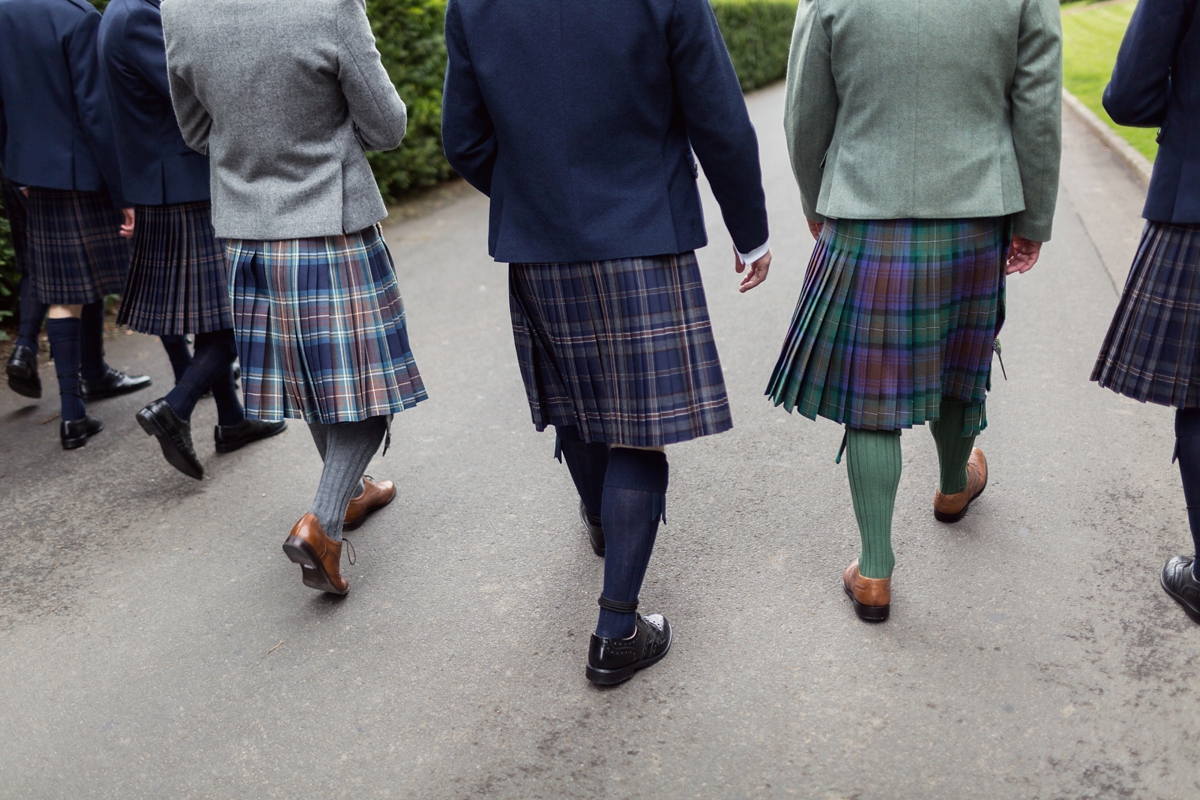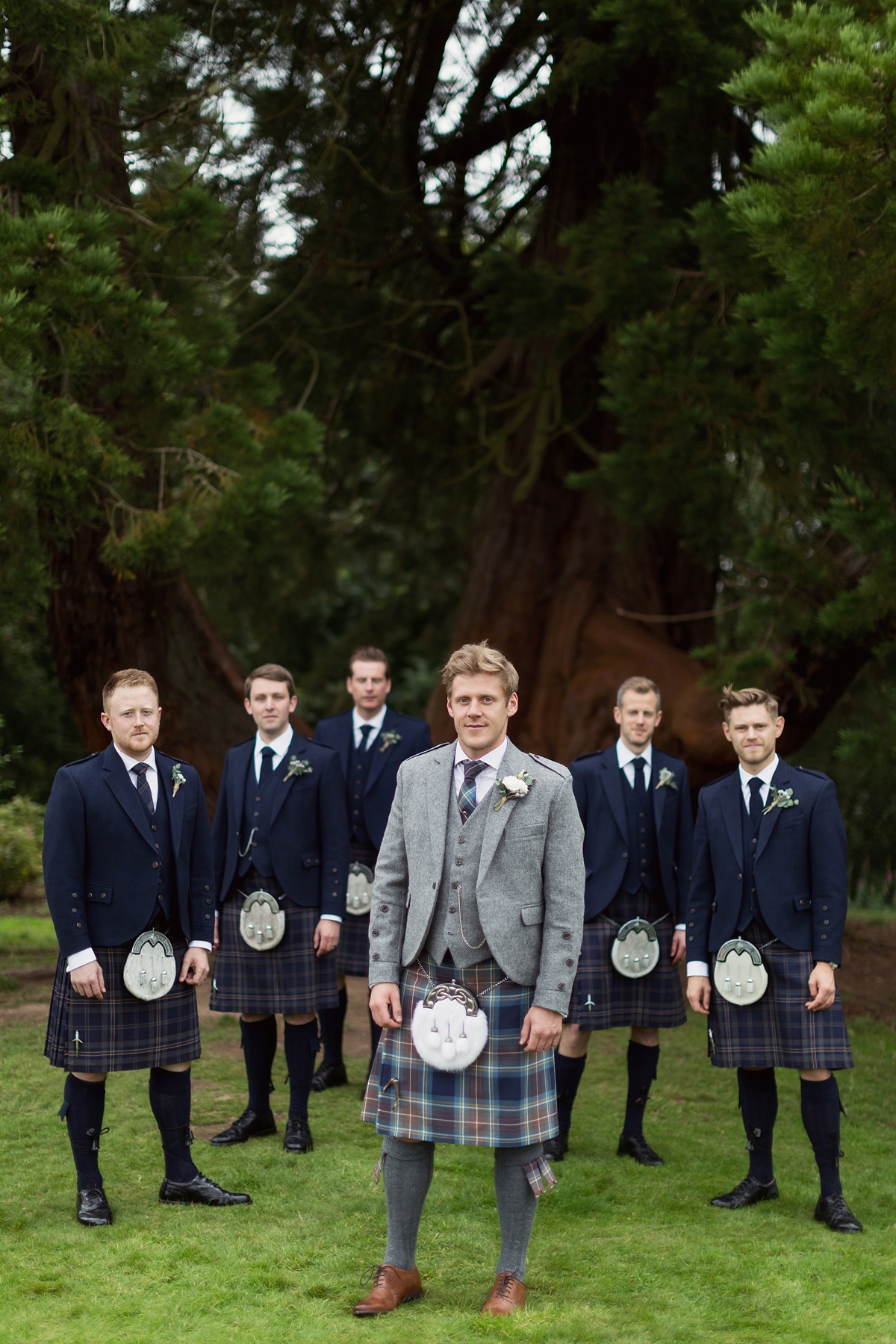 "We had our ceremony in the Tapestry Room which felt personal and intimate because of the large wall hangings and roaring fire. The Pavilion where we held our reception essentially was a marquee, however due to the way they have decorated the room it felt like an extension of the house."
"We loved that we had the whole place to ourselves for the full weekend, they were able to provide accommodation on the estate for most of our friends and family and the grounds are so beautiful I knew they would make an excellent base for photos."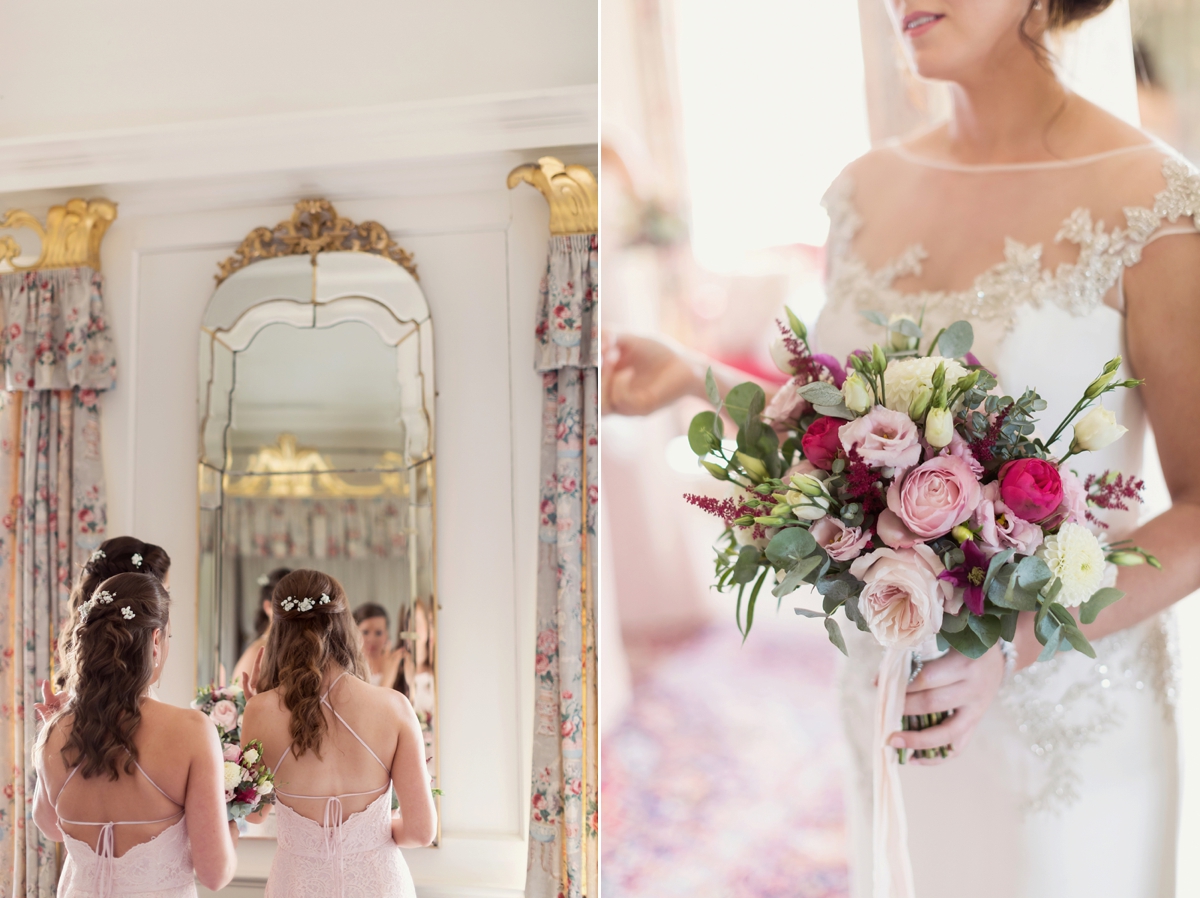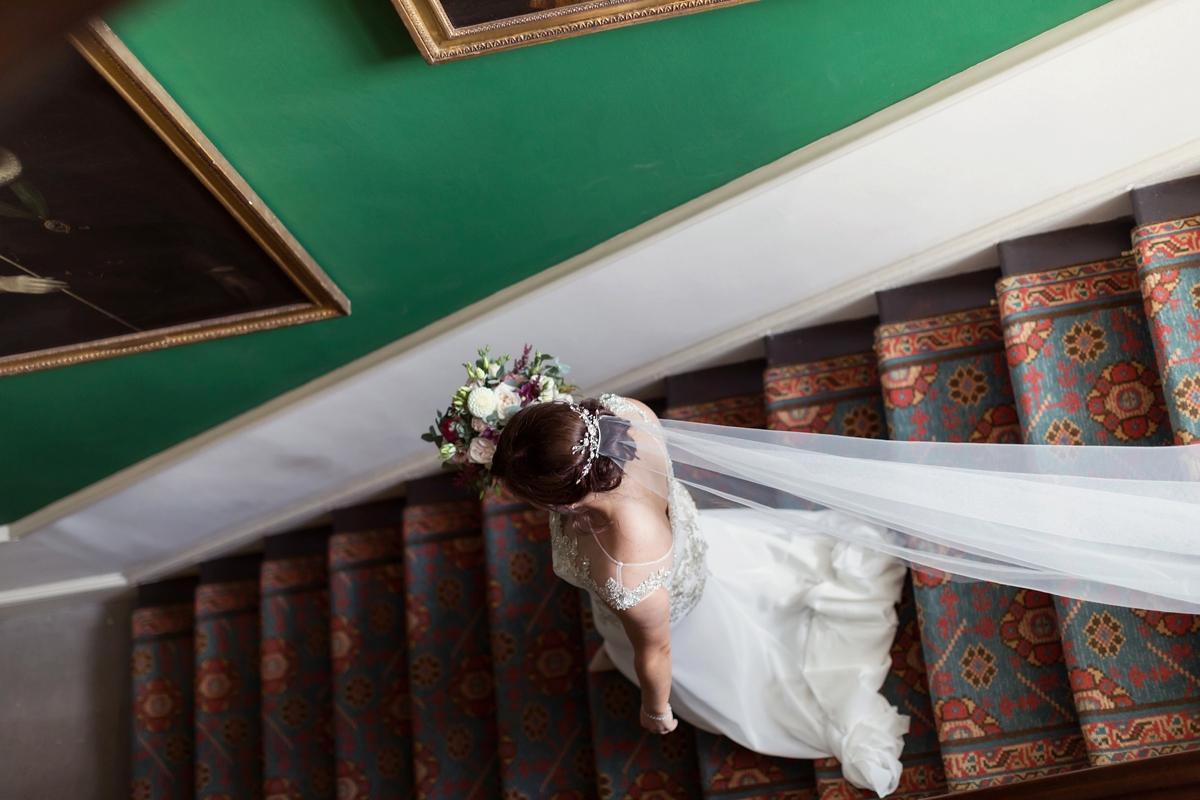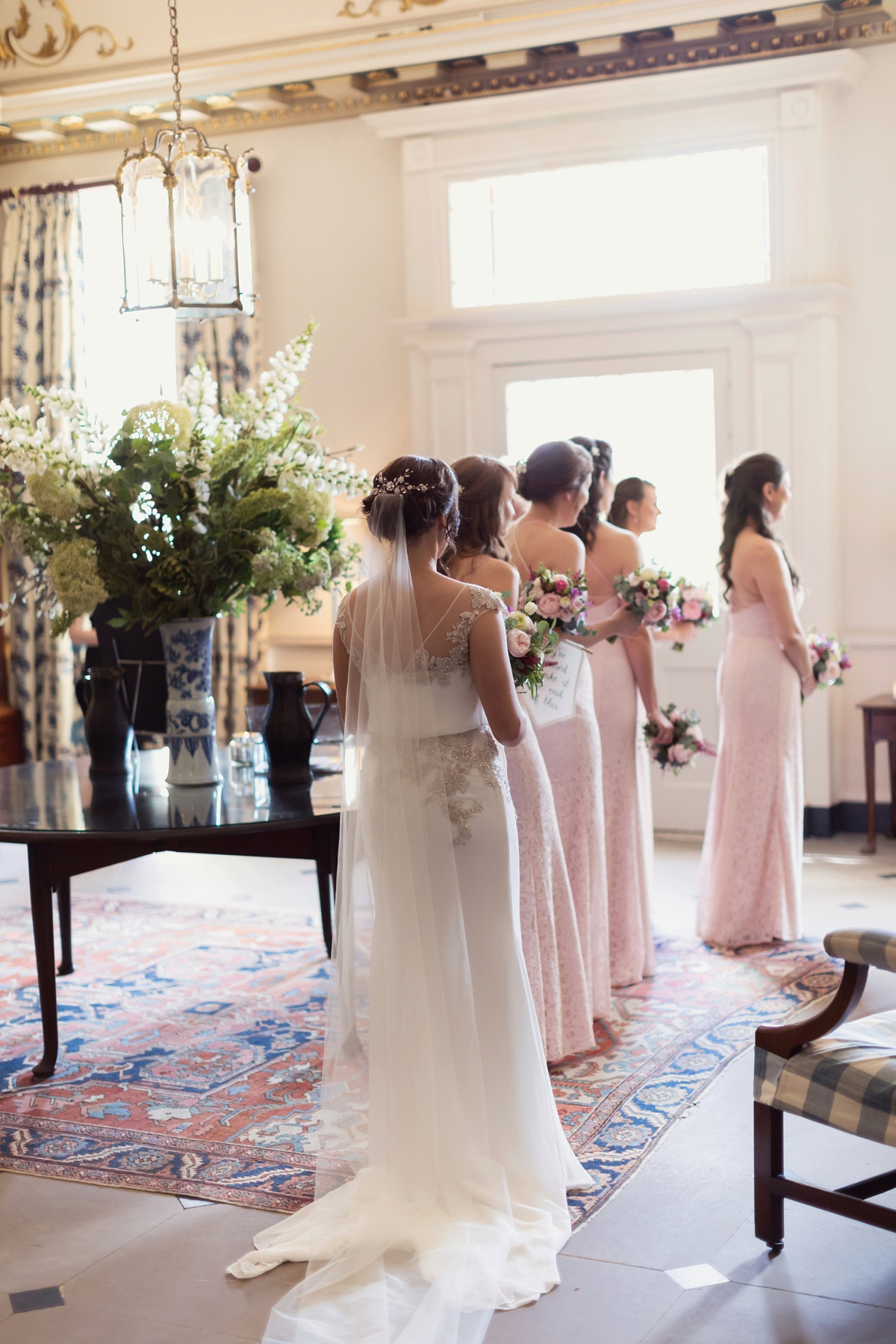 As a self confessed daddy's girl, Claire's dad walked her down the aisle to Ellie Goulding's 'How Long Will I Love You' played by Chris Connelly on the piano. The wonderful Jane Patmore officiated the wedding, working with the couple to personalise the ceremony, with a key part of the ceremony being the Quaich ceremony; an old Scottish wedding tradition representing friendship.
"My favourite moment was when my dad walked me down the aisle. This was a special moment as I am a big daddy's girl and I felt really proud standing next to him as a bride. I vividly remember standing in the corridor outside the Tapestry Room with all my bridesmaids lined up in front of me and the music starting. The emotions hit me like a brick wall and I tried so hard to hold back the tears and make sure I was smiling and looking at Alan. Walking down, the aisle is still a blur and I can just remember holding onto my dad and seeing Alan's smiling face in front of me."
"We used the wonderful Jane Patmore to officiate our ceremony. My mum was keen to have some religious elements to our ceremony, however both Alan and I preferred the personal touches of a humanist ceremony. It was important to me for my mum to be happy, so to avoid a family feud I was over the moon when I heard about Interfaith. They can seamlessly blend religious and non-religious elements together and Alan and I were able to personalise the ceremony in any way we liked. "
"Jane was a joy to be around and I could easily listen to her talk all day. Alan and I loved writing our ceremony together with Jane and my mum was thrilled that we could accommodate her requests."
"Alan and I both wrote our own vows as it was important to us for them to mean something to us and for them to incorporate a set of promises not just a declaration of our love for each other.  We both started them with 'On this day I give you my heart' and finished them with 'You are my best friend and love of my life today and always.' We hand wrote them in personalised vow books and we now have them framed and hanging in our flat."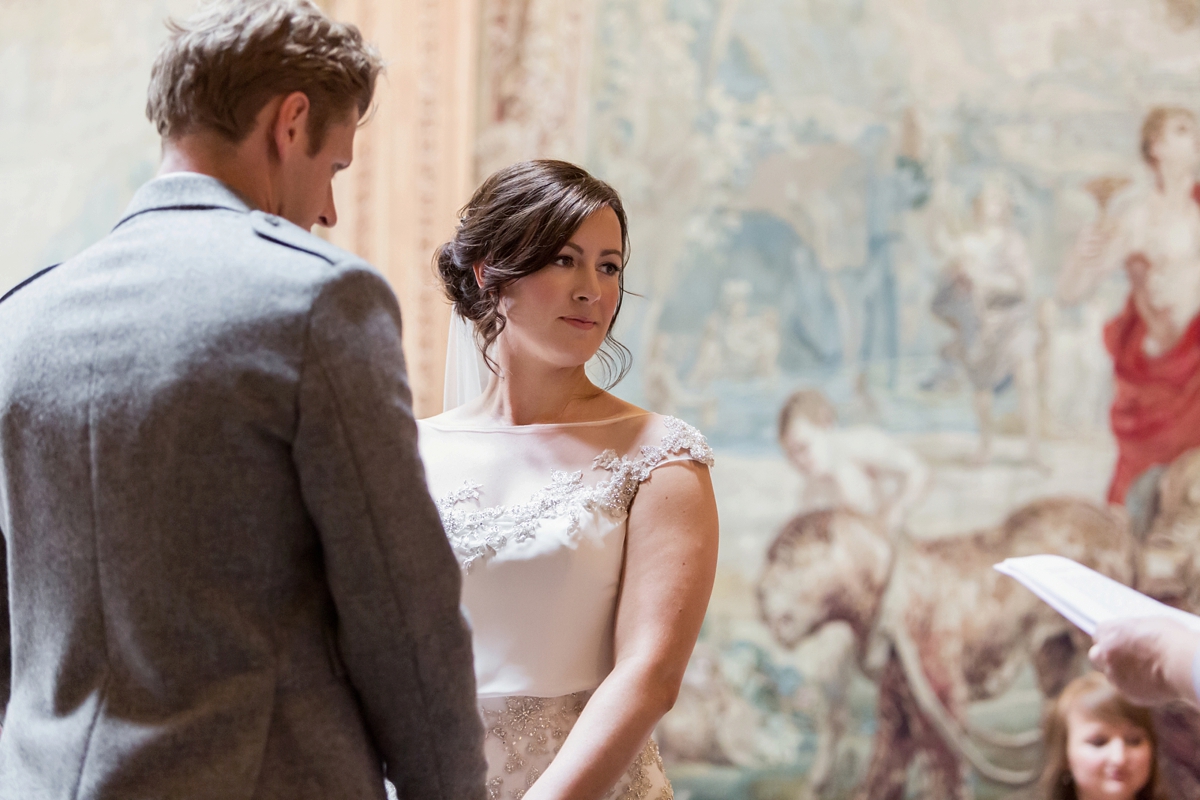 "Alan and I got a wooden Quaich specially made for us and we each picked our own favourite whisky. We then got two of our friends during the ceremony to blend them in the Quaich which we both drank from. Lots of people have commented on how personal and special our ceremony was and it's a highlight of the day for Alan and I".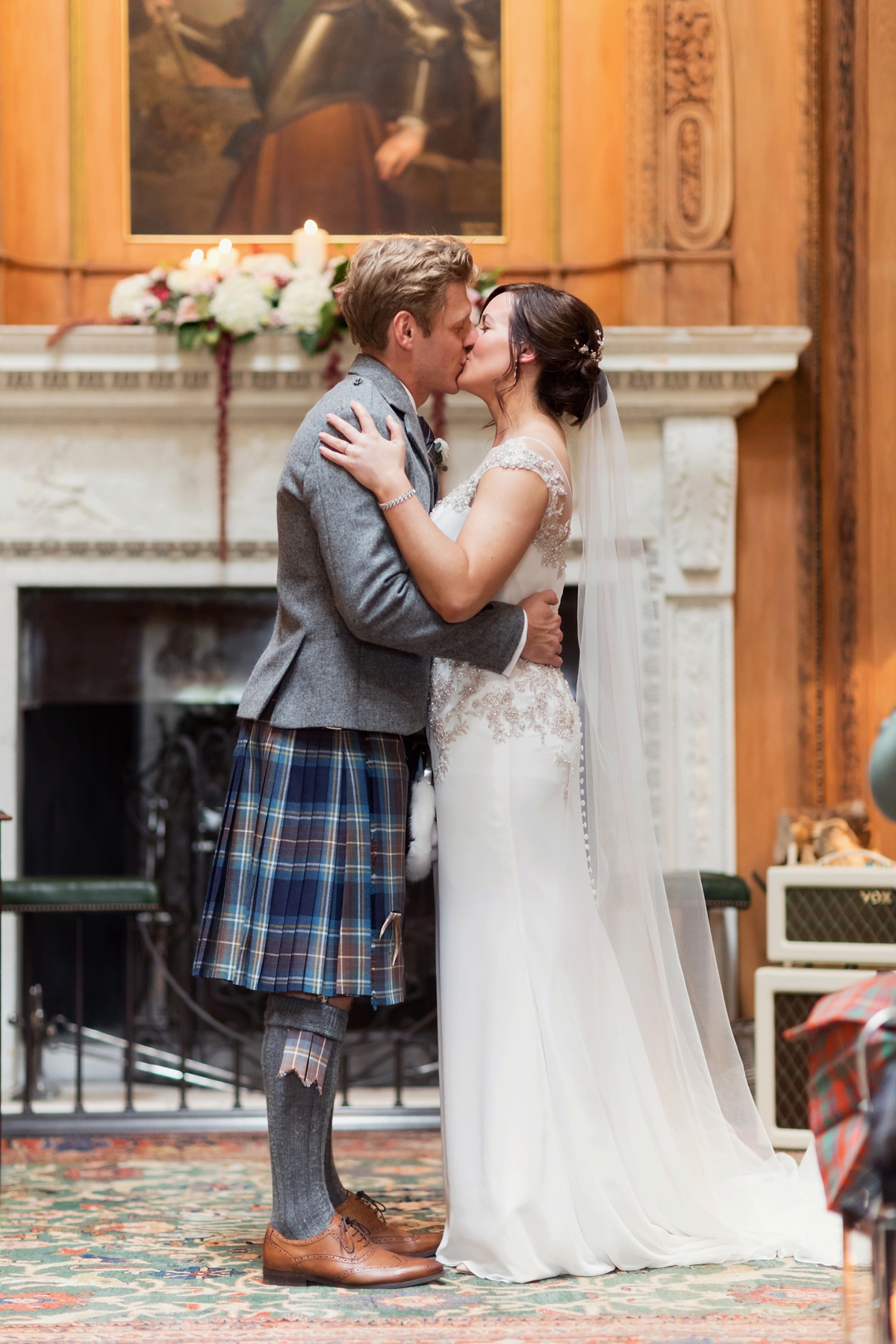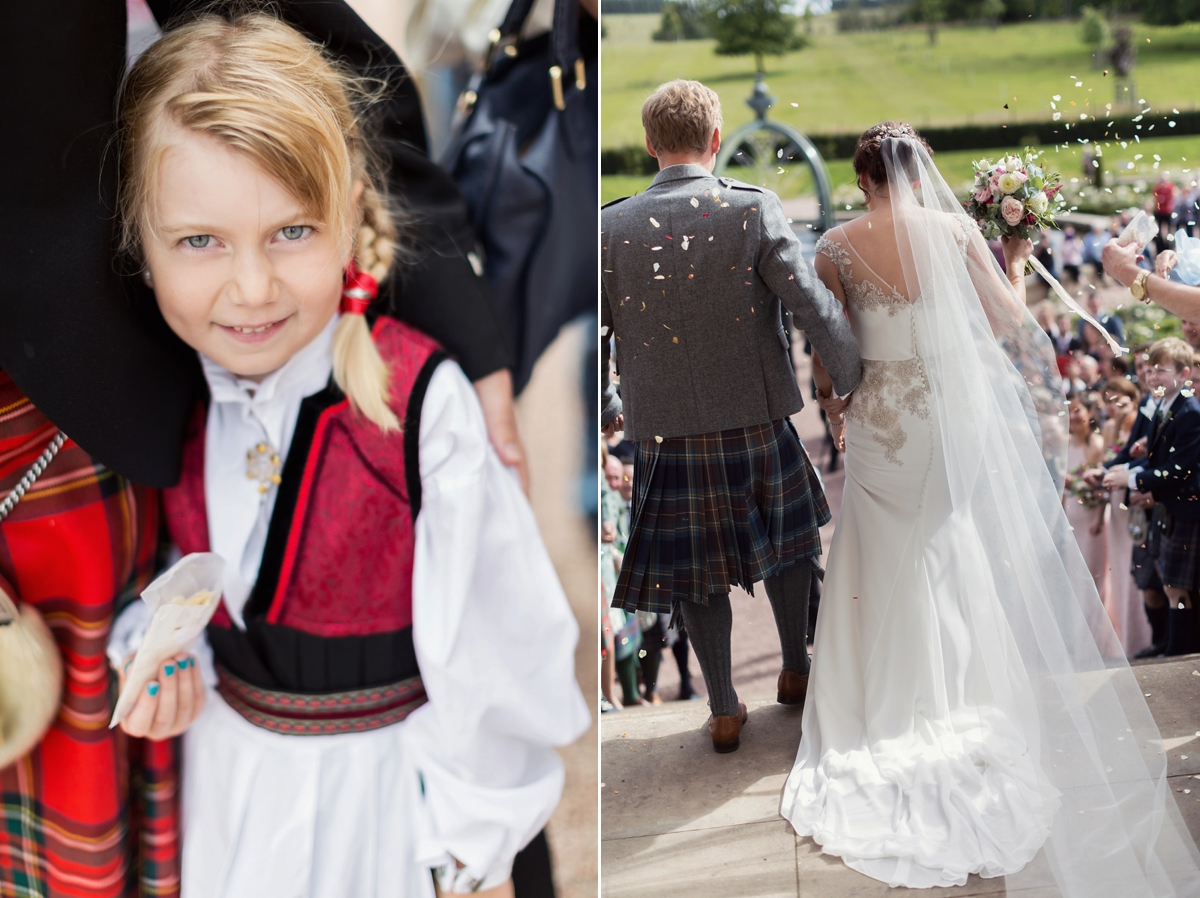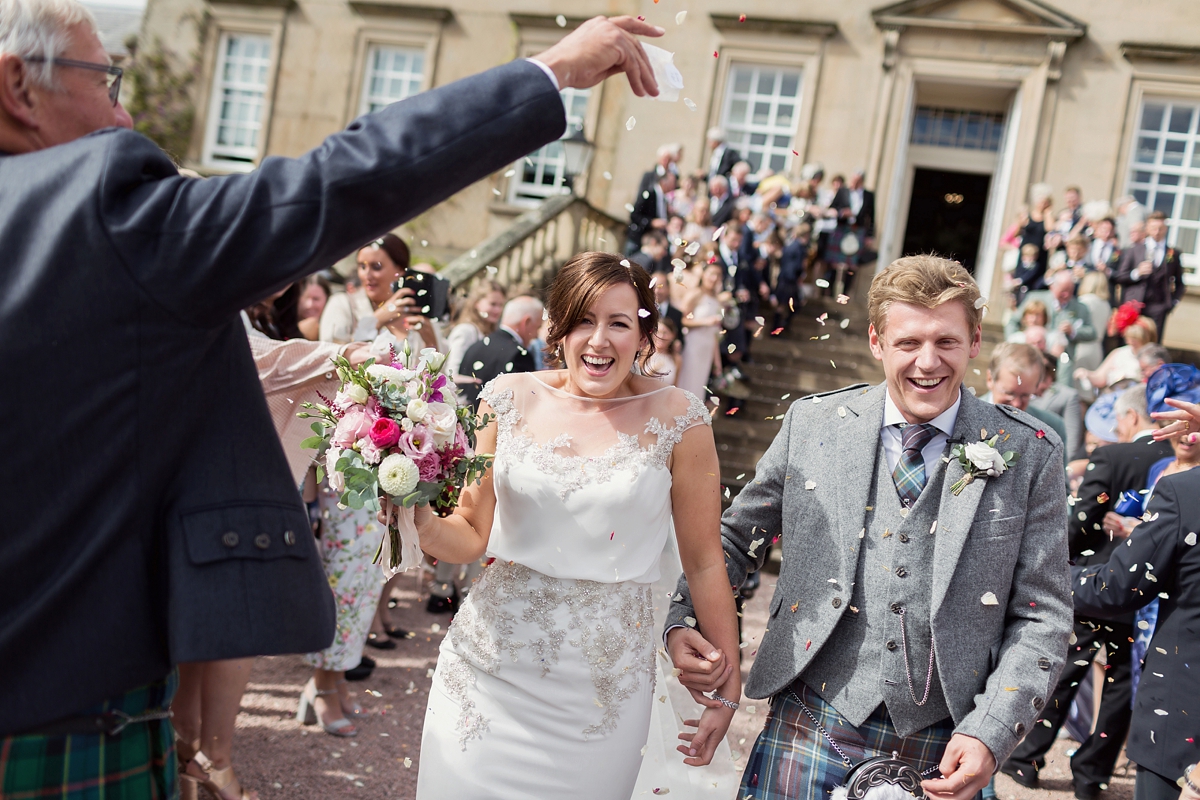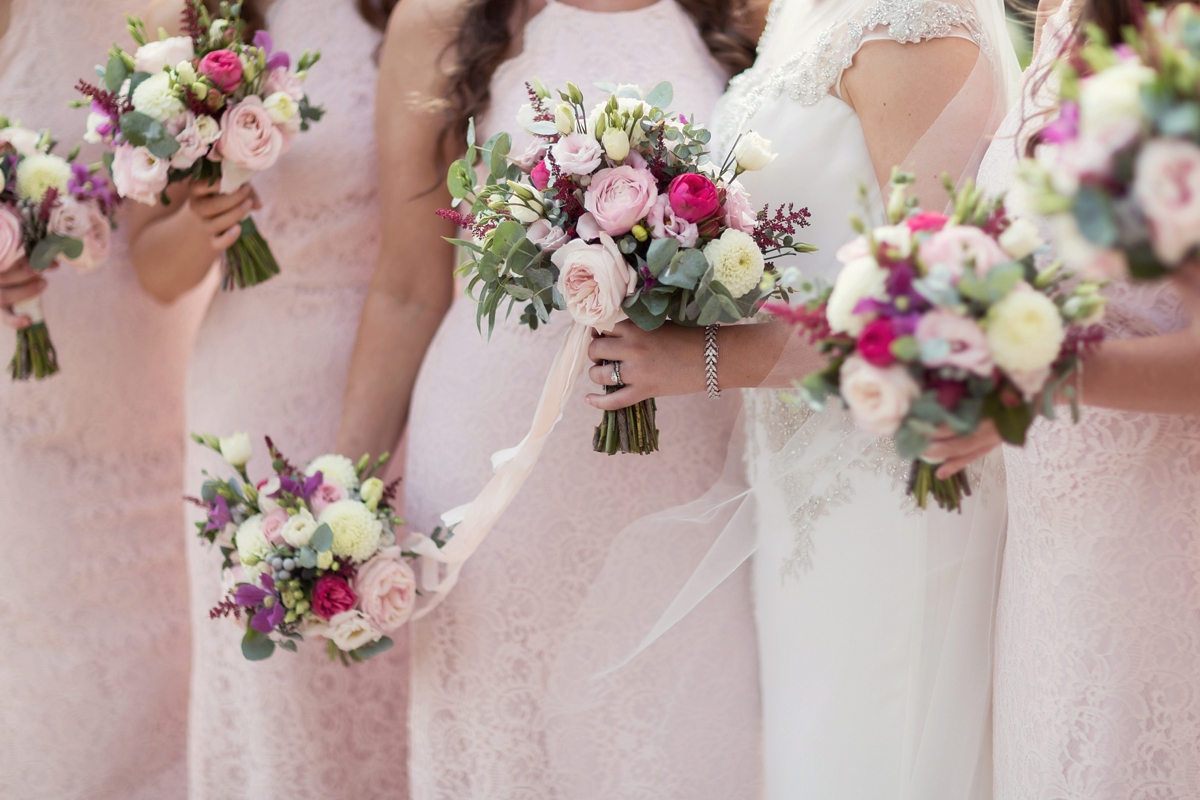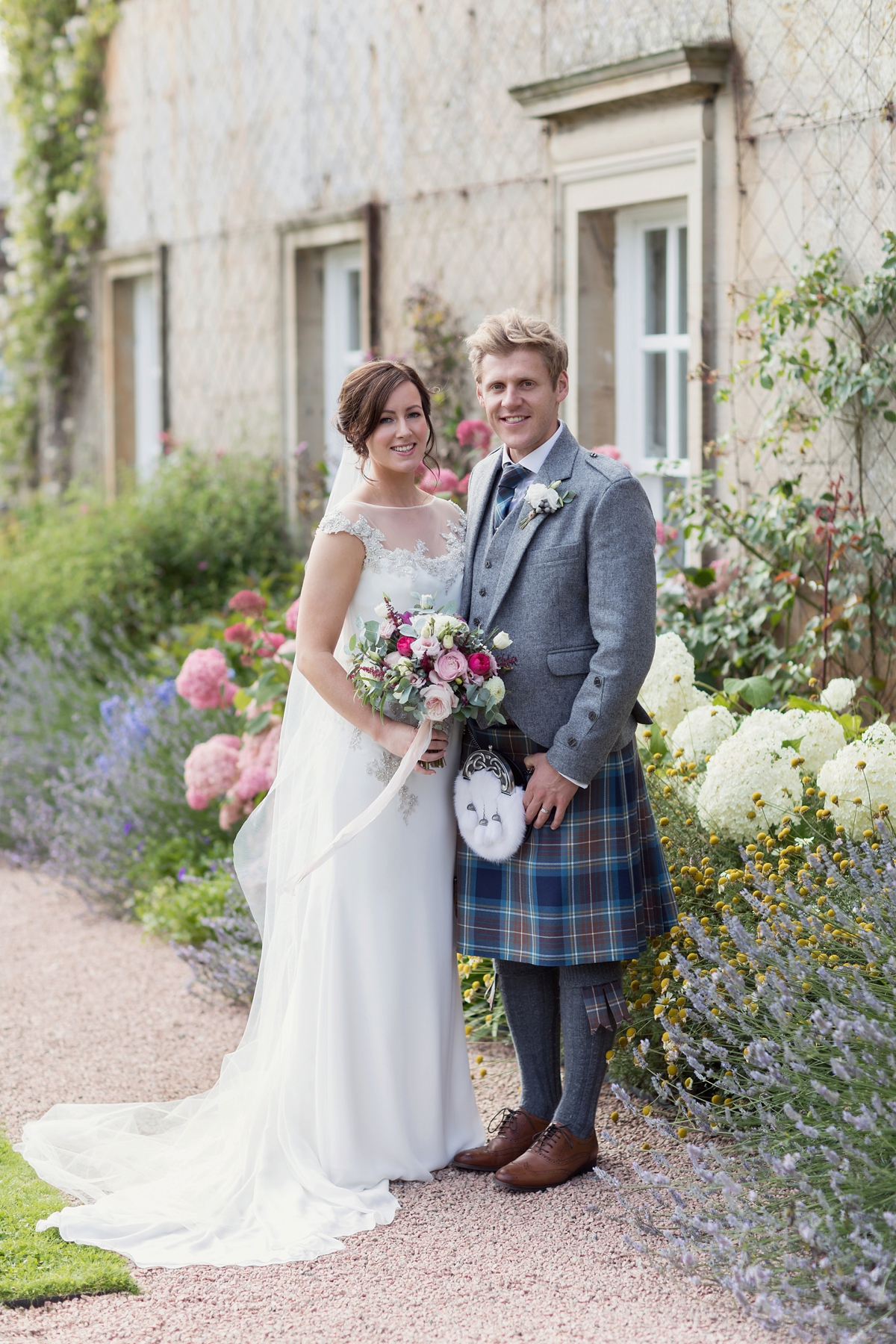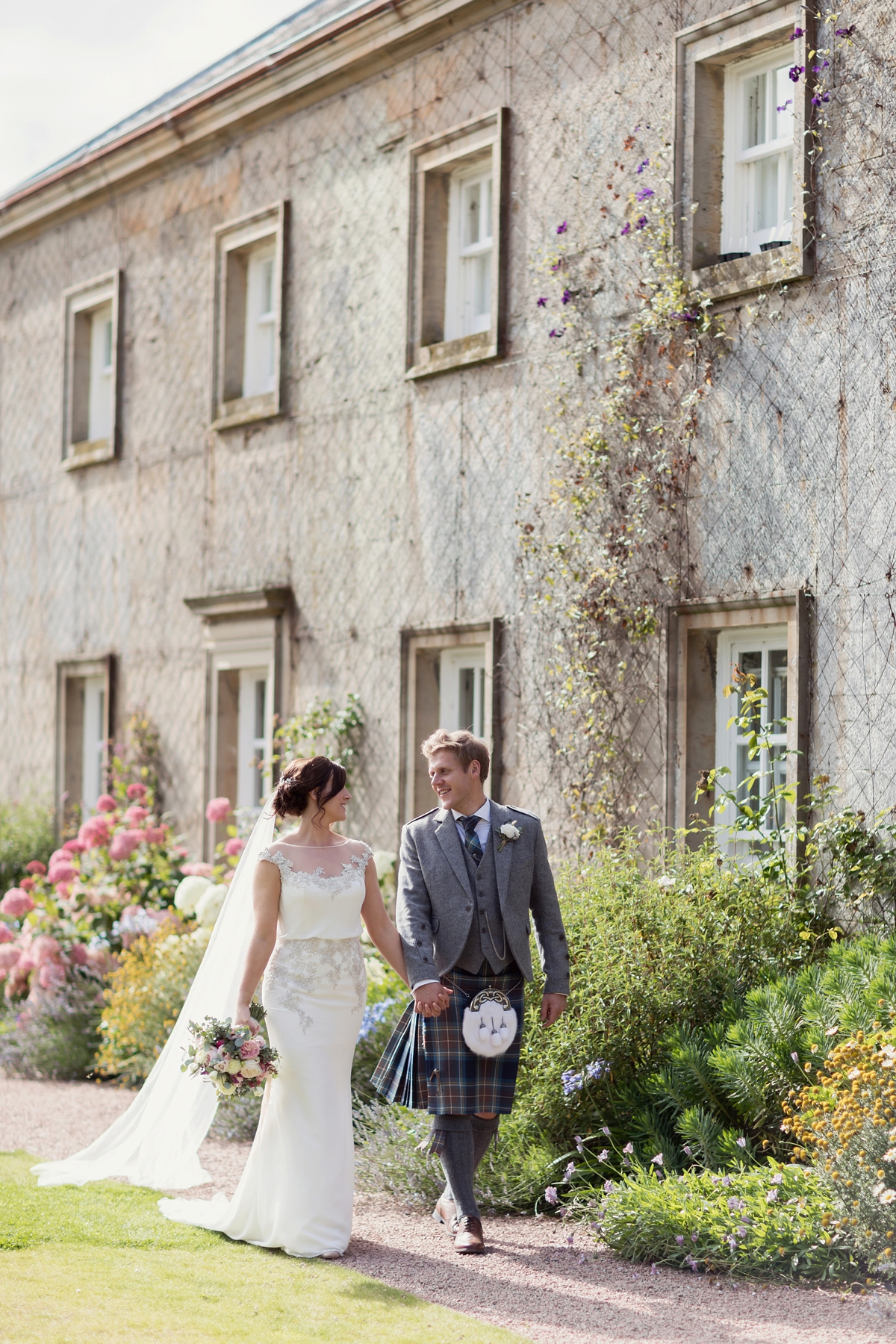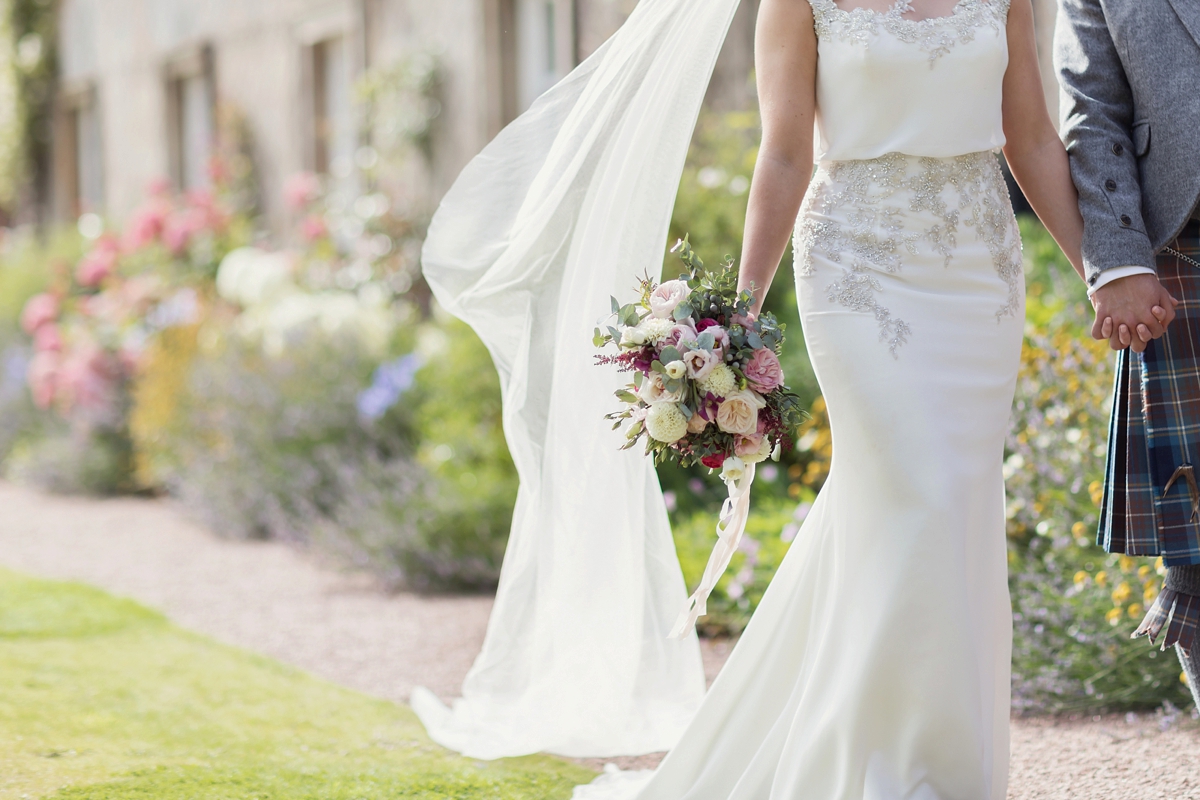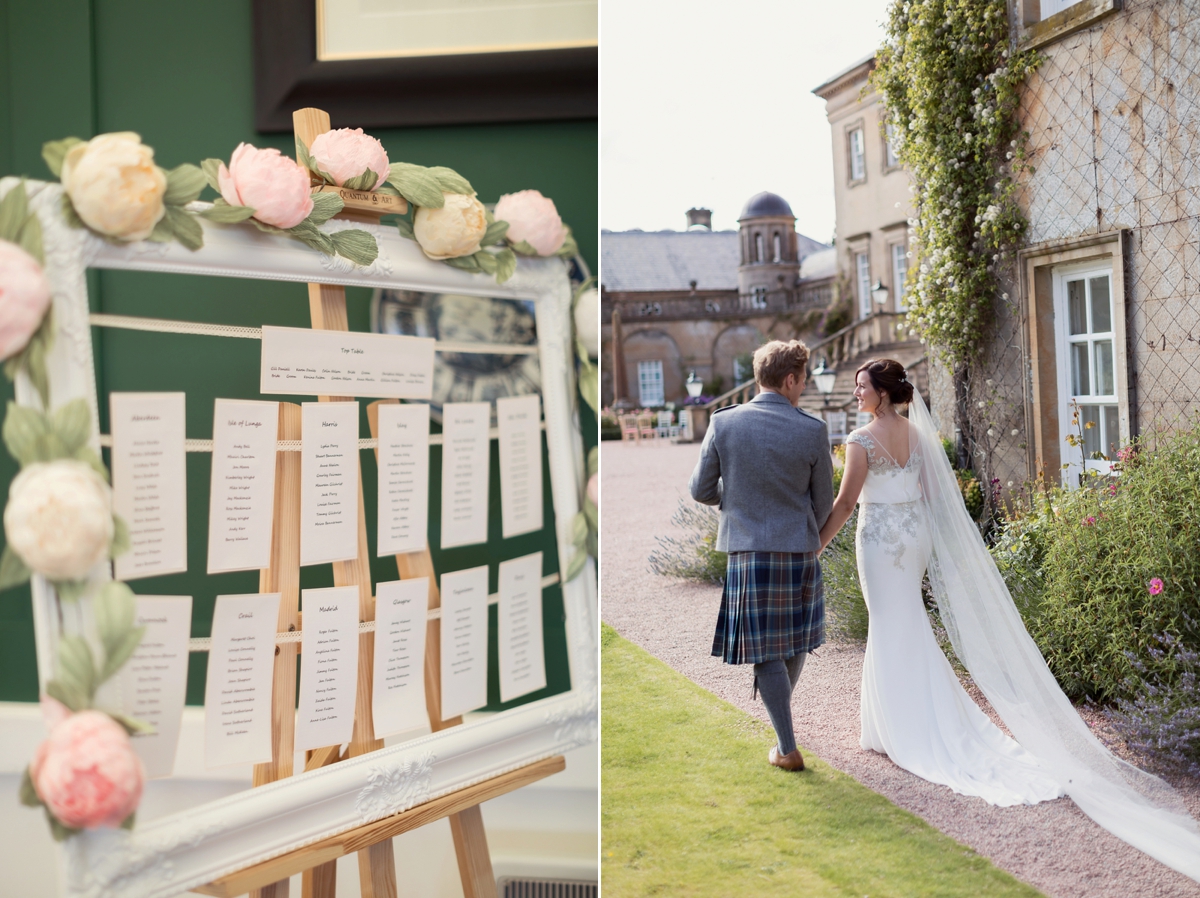 "As the venue was already very decorated there was very little that we needed to do to the space. However, I bought some wooden crates to sit under our seating plan which I filled with lanterns, whisky bottles and artificial foliage. As our table names were also of places, I had a globe that said, "where on earth am I sitting" on it."
"I also bought a wooden box and personalised notelets for our guests to write us a message which we will open on our 1st "paper" anniversary. They are currently in the same box and we have booked to go back to Dumfries House next year where we will sit with a bottle of wine and open them all. We also had various wedding signs and filled the venue wherever possible with candles and mercury silver."
"Our cake was made by Happyhills Cake. Because of our engagement story we knew we wanted puffins on our cake and Emily is a master of intricate sugar work. The flowers and foliage that she made went perfectly with the overall wedding scheme and you could easily be convinced that they were real flowers. Our cake was three tiers with a mixture of red velvet, white chocolate and raspberry and lemon and poppy seed."
"We surprised our wedding guests with singing waiters between the main course and dessert. Only Alan and my parent's knew about the surprise and it was great fun watching everyone's faces as the events unfolded. One of the singing waiters made a huge scene to begin with, by falling and dropping a large tub of cutlery."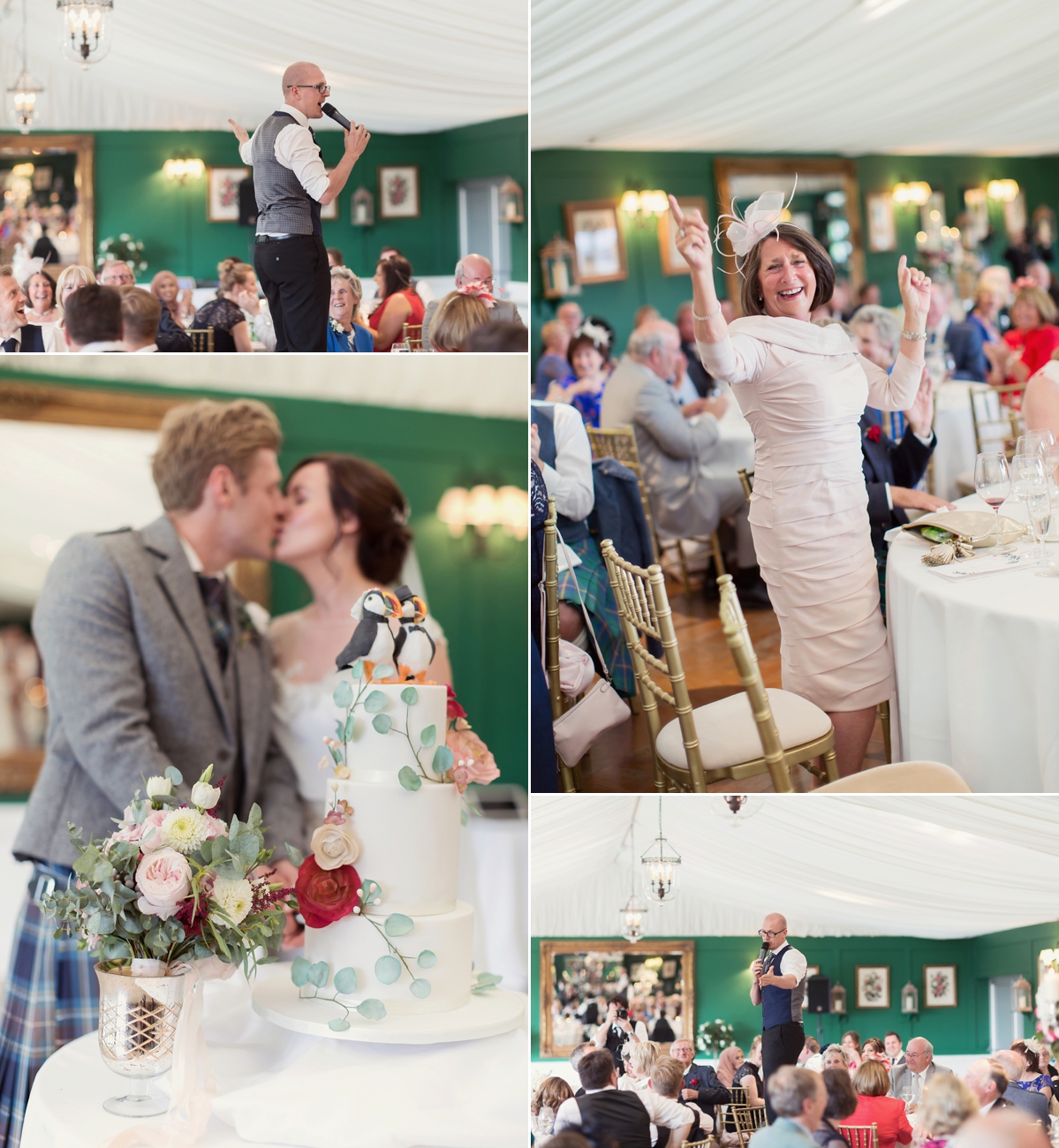 "This got everyone attention and he then got up and started singing "Don't Stop Me Now".  Instantly everyone got up on their feet and started dancing and joining in. They then preformed 4 other songs which got all our guests up on the dance floor. We also at one point had two huge conga lines weaving though the tables and at the end everyone was standing swinging their napkins over their heads! I love looking back at this part of the day and thinking it's mad all this happened during our wedding meal! To this day everyone keeps mentioning to us how excellent the surprise was and it was a great way to start the party early!"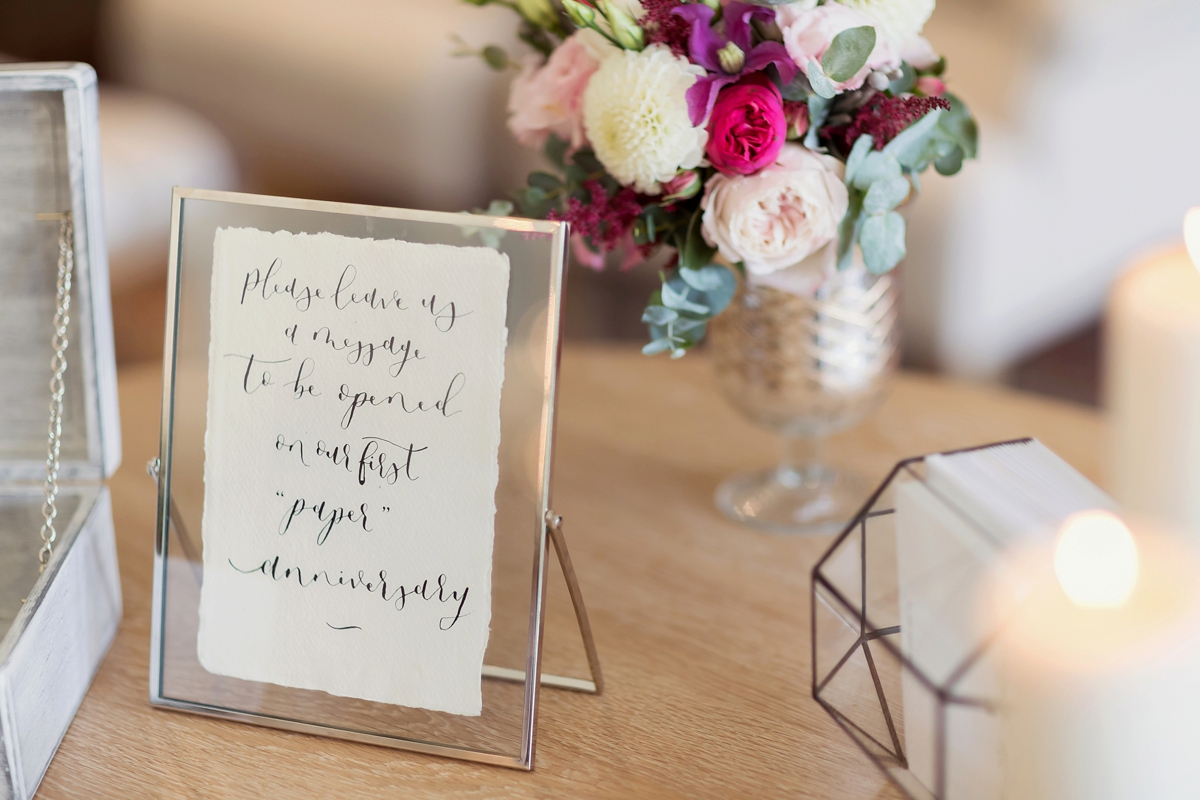 "Our first dance song was Billy Joel "We didn't start the fire" as it is our song and is a song that many of our friends associate with us as a couple."
"As the song is very "un-wedding" like, we knew we needed professional help if we were going to use the song as our first dance! So, Alan and I went for professional dance lessons on the lead up to the wedding. I must admit this was the funniest part of wedding planning and something that we really enjoyed doing together. We are far from being professional dancers, but we were able to confidently stumble our way around the floor and incorporate some lifts and spins for entertainment value!"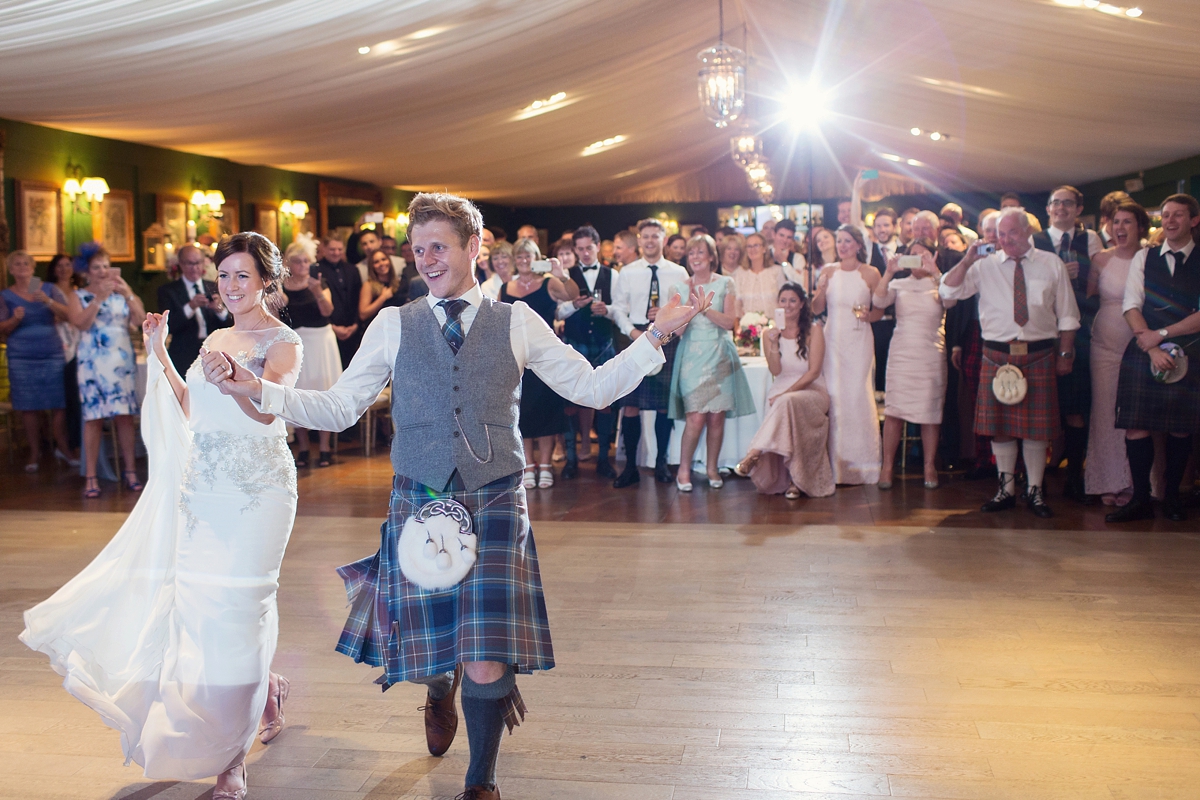 "It's hard to pick one part of the day as my favourite as each moment was special for different reasons. I loved getting ready in the morning with all my girls around me. Walking down the aisle with my dad was a proud moment and the ceremony was so personal and full of love. I also need to mention the singing waiters as they really got the party started and everyone loved the surprise factor.
On reflection, I honestly wouldn't change a thing as the day was our day and was exactly how we wanted it to be."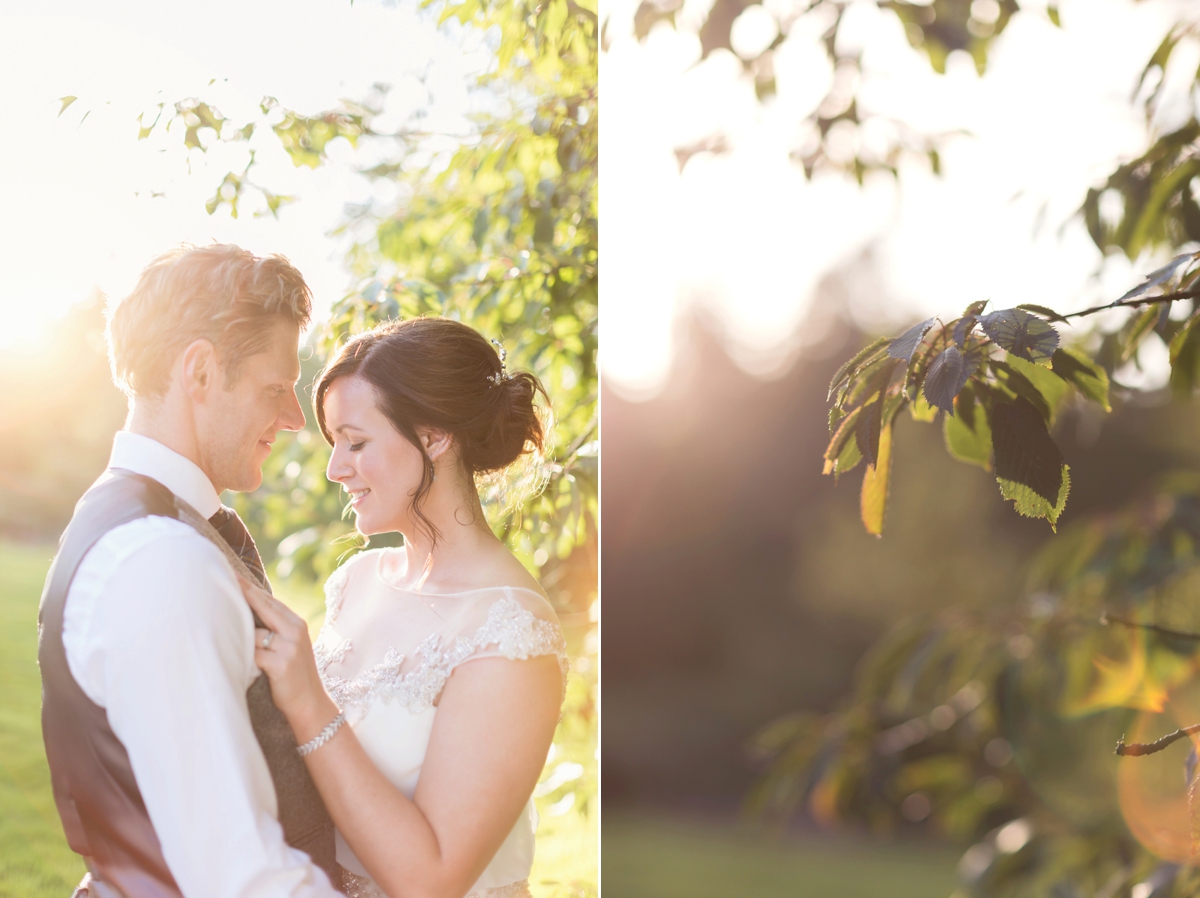 Words of Wedded Wisdom
"I would say to other brides, make sure you have the wedding that you both want to have and don't lose sight of why you are getting married. It is so easy to get caught up with all the planning and other peoples ideas, but at the end of the day, when you strip it all back it's about marrying the love of your life.
Don't worry too much about all the details, however guests do notice the hard work and the little touches that you put into your wedding."
"I would also say, try and make sure you spend time with the people you want to during your wedding. I found it difficult to get around all our guests, however we had a wedding party dinner the night before and it was a great way to make sure we spent time with the people that we love most in the world.                 
The day really does go by in a flash so take time to take it all in and enjoy your day."
Welcome to the world of wedded bliss Claire and Alan and a big congratulations! With thanks also to Craig and Eva Sanders for the stunning shots of the day. You can see more work from this talented duo of photographers here on Love My Dress.
Holly x