Social media manager Rebekah married her love Adam, who Head of Development in TV, on 16th April 2022 at Hampton Court House in London.
This beautiful, inspirational spring wedding was bursting with colour and seasonal blooms, courtesy of floral designer, Bloom East. The bride wore a beautiful, contemporary gown created by Clover London and a tulle bow headpiece by Rebecca Anne Designs.
Images captured by the very lovely duo that are Celle and Will, aka, The Chamberlins. Enjoy!
The Dress
Clover London
---
I only booked three wedding dress appointments, deep down knowing I'd choose THE dress from Clover London. I loved that it was a new bridal shop on the block and that the dresses were 100% silk and made to order.
I also loved the lower price point — I'm a firm believer that you don't have to spend a lot to look good, and yes, while a bridal dress is the most money I've ever dropped on a single item of clothing, we actually spent more on the flowers, and I don't regret it!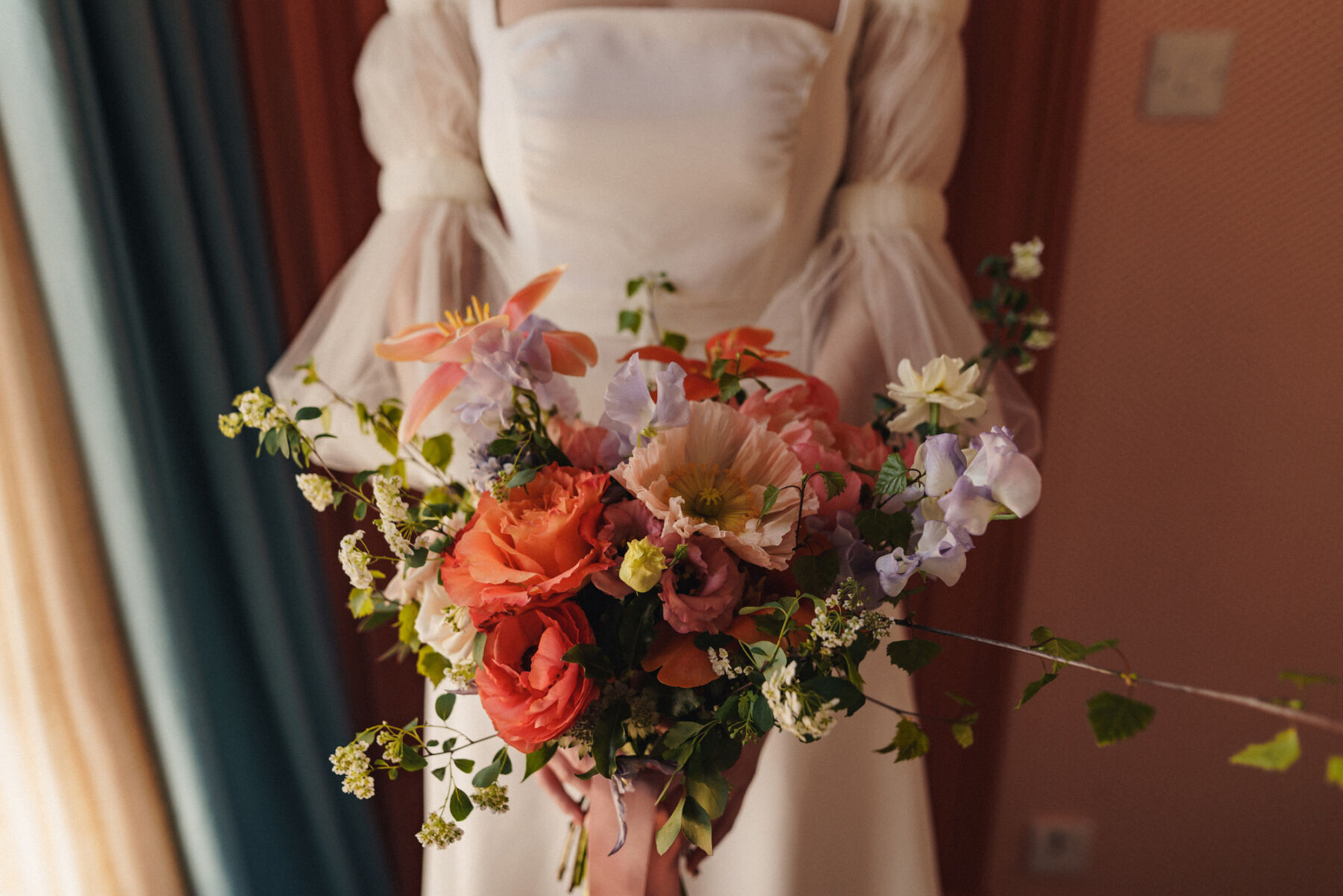 The whole experience with Clover was extremely positive. I didn't want a huge fuss trying on dresses. To be honest, I was slightly dreading it. But Ally — the founder of Clover — really puts you at ease. From opting for a custom dress to deciding on the fabric of the sleeves and appointments made for alterations, it was all so easy.
Nothing was too much for Ally and her team, and they were so helpful in offering advice — even giving my mum suggestions for where to source her Mother of the Bride outfit.
I loved that the Clover dresses are simple and very much in keeping with my own style — give me a puffy sleeve and square neckline any day of the week! I had my eye on the Willow Dress but wanted to give it a little something extra, so opted for a custom dress. I'm SO glad I did, as the sleeves were a stunning addition, and I felt very Bridgerton-like for a day!
Bridal Beauty and Accessories
I ADORED the bow in my hair. I knew I didn't want a traditional veil and toyed with the idea of a headband or a big scrunchie, but it just so happens that I was scrolling on Instagram, and Rebecca Anne Designs, AKA the queen of bespoke bridal veils, popped up.
I had our wedding date embroidered along the bottom of the bow, while Adam had the date embroidered on the cuff of his shirt — just in case we ever forget! If I could, I would wear the bow to every occasion from now on!  
My bag looks like the Shrimps Antonia bag, but it's actually a handmade one from Etsy for a fraction of the price.
My bridesmaids dresses were from ASOS and my flowergirl and pageboy were dressed in Next.
Carla of CESCA did the hair and make-up for my wedding to perfection. I wanted a natural, fresh look, and I can safely say I'd never looked or felt better. Super friendly, Carla was a calming addition to the morning of the day, and I felt very confident she knew what worked best for me and my bridesmaids.
My shoes were by Rixo, and I wore Lady Million — a classic scent I've always had on my shelf. Plus, I had a handy atomiser full of it so I could spritz throughout the day.
" With it being a spring wedding, I knew I wanted to go with bold pastels and lots of flowers — but I still wanted it all to feel fresh and clean. Our photographers, The Chamberlins, coined the term 'colourful minimalism', and I've used this phrase to describe the style ever since. "
The bride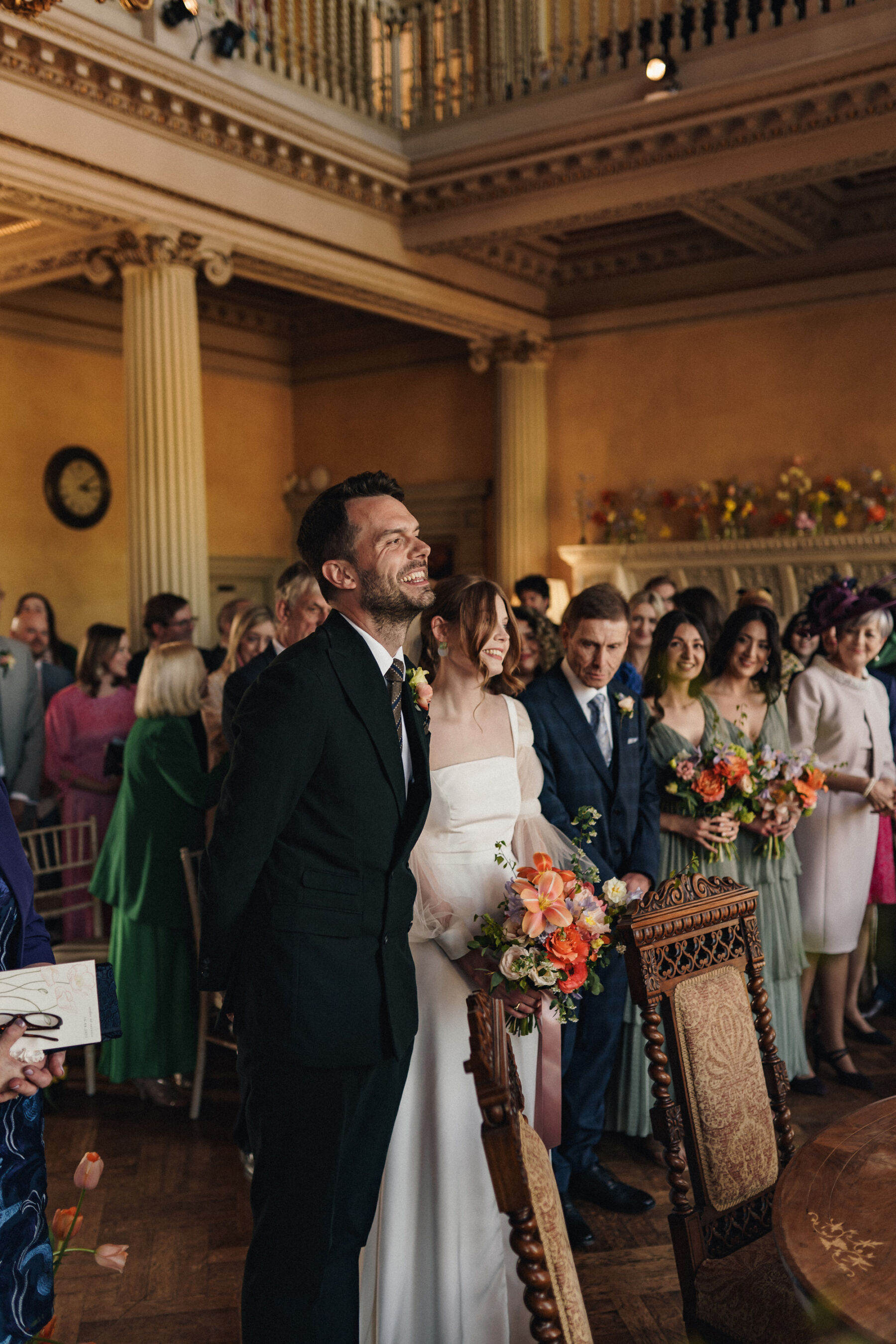 The Ceremony
---
My dad walked me down the aisle. We had a pianist (Simon Grand) play the song: I Gorni, Ludovico Einaudi.
Our first reading was an extract from Little Women. I love Little Women, and this extract was taken from a scene just before Meg got married. One of the quotes that resonated from the reading was the following; "I'm not a show, Aunty, and no one is coming to stare at me, to criticise my dress, or count the cost of my luncheon. I'm too happy to care what anyone says or thinks, and I'm going to have my little wedding just as I like it." I hope to adopt this thinking in everyday life, to be honest.
One second reading was 'The Whitsun Weddings', by Philip Larkin. Philip Larkin is Adam's favourite poet and this, one of his most famous poems, poignantly details the weddings days of several newly-wed couples boarding a train travelling from Hull to London, all of whom are embarking on their new life together; "None thought of the others they would never meet, or how their lives would all contain this hour."
Our joint favourite moment of the day was when we all sang 'All You Need is Love' as part of the ceremony. It gave the day an added Richard Curtis touch and we loved that everyone joined in.
Our rings were from Burt and Gurt Jewellery.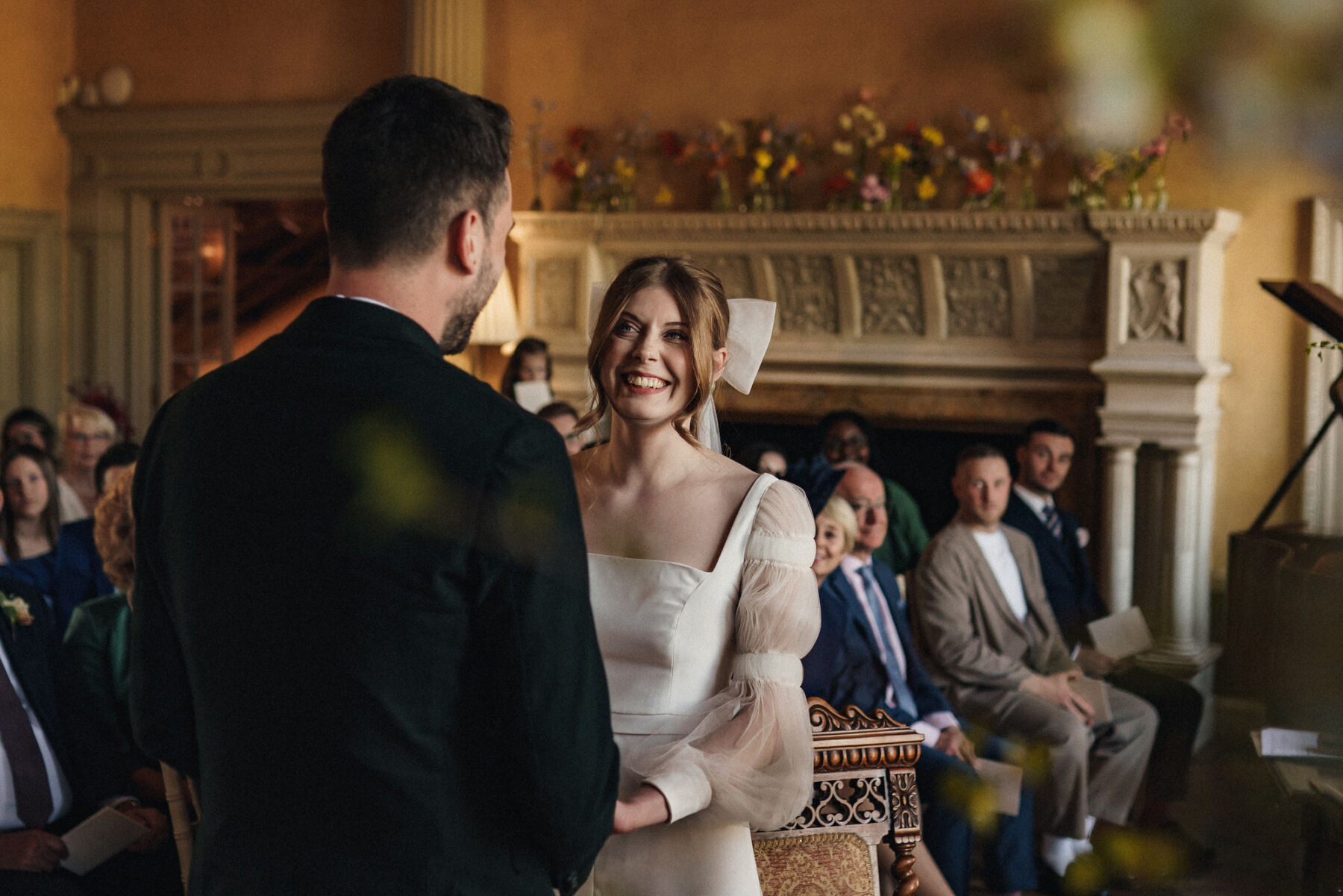 Photography
Our photographers were The Chamberlins. Both Celle and Will put you entirely at ease and are just all-round lovely people.
They'd already captured some weddings at Hampton Court House, so we completely trusted them and knew they knew their stuff. Their style is relaxed, which suited us down to a T.
How They Met
Adam and I met on a dating app called Happn back in December 2015 — very 21st century — but we didn't actually meet IRL until January 2016. Somehow we managed to continue messaging over the Christmas holidays and decided to meet in the New Year.
As all good love stories start, we bonded over having just discovered mice in our flat shares. And the rest, they say, is history…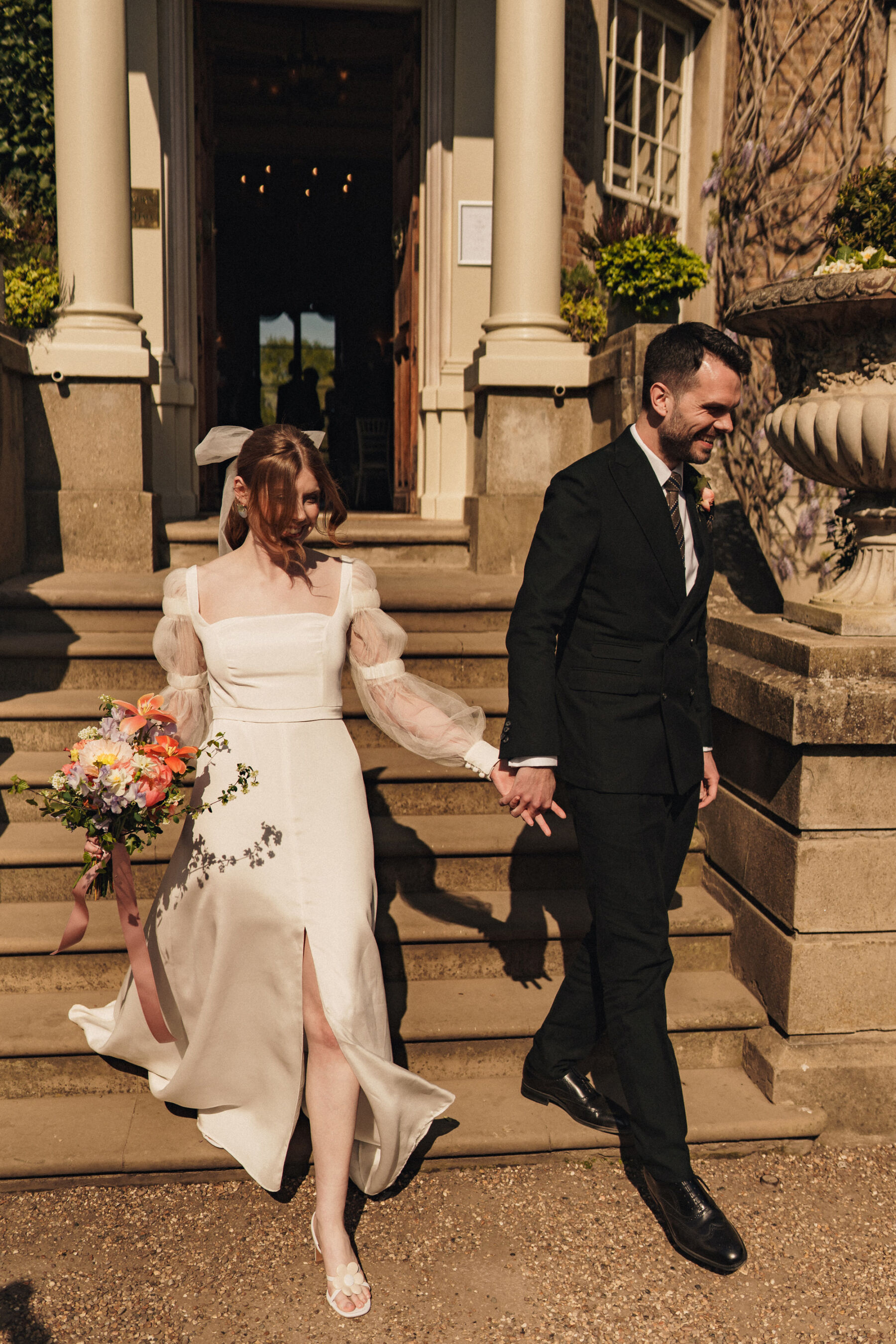 Fast forward to September 2020. I was turning 30, and Adam had booked a surprise trip away to Babington House in Somerset. We were in the middle of buying a house, so I wasn't even thinking about marriage, and it genuinely didn't cross my mind that he might propose.
The night before my birthday, we went back to the room after our evening meal, and it took me completely by surprise. As I wasn't wearing my glasses, I didn't even know what he was showing me at first, but I quickly worked it out, and I think I went into shock.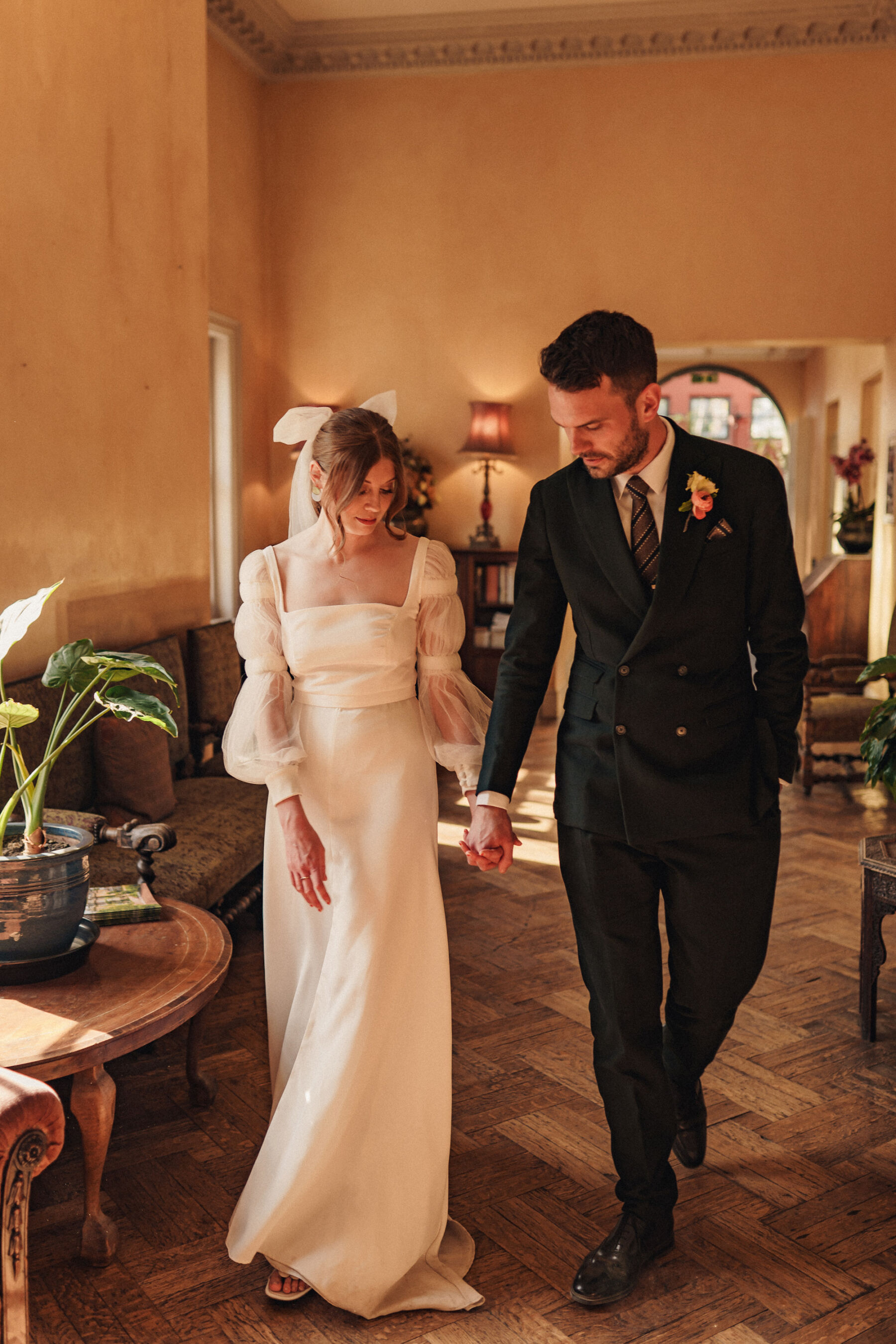 We decided to wait till 2022 to get married in the hope that the pandemic and any restrictions would have eased, and I'm so glad we did.
Adam's shirt had the wedding date embroidered on one of the cuffs. His suit, shirt and tie were from 40 Colori. His shoes were from Loake.
The Reception
Detail & Decor
---
We had flowers everywhere. Yes, they may be expensive, but it's oh-SO-worth it. People to this day still say that they were the best wedding flowers they've ever seen.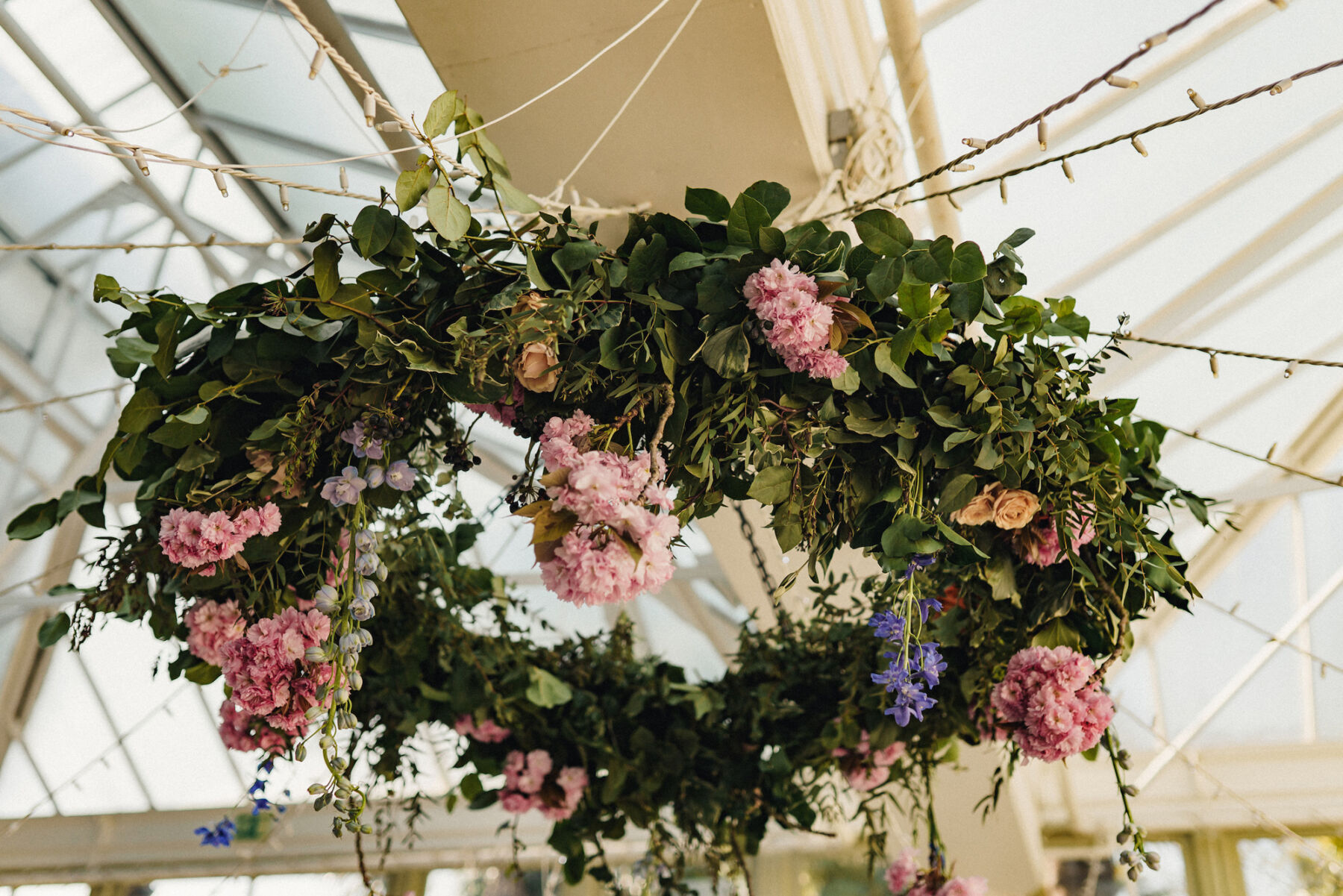 Also, we recommend candles on the tables during the wedding breakfast. It's a nice extra touch, and even better if you can source coloured ones with stylish candlestick holders.
It all smelt incredible! Anya and her team at Bloom East really worked their magic that day and it was actual perfection!
Our caterers were Tapenade. They did an OUTSTANDING job! We used Papier for our stationery. They were honestly so good.
As we were married over Easter weekend, we gave everyone tiny, little chocolate Lindt bunnies. And when we say tiny, we mean tiny — it was one of those instances where we ordered them online and when they arrived, they were actually a lot smaller than we thought they'd be. But I think we got away with it…
Words of Wedded Wisdom
I hate being the centre of attention and wasn't sure how I would feel on the day — walking down the aisle and saying my vows in front of everyone was my main concern. But something happened: as soon as I got to the venue, I suddenly loved the limelight and felt like an A-list Hollywood star.
When I reached Adam at the end of the aisle, I immediately felt so at ease and happy! You're so in the moment that you forget there are lots of people behind you.
So my advice would be: to take a deep breath and enjoy every second. It was the best day of our lives, and I wish we could do it all again!
Also, when people told us the day goes by really fast, it ACTUALLY does go by really fast! Make sure to grab some time for you and your new husband/wife to take it all in.
Also, if you can, supply a free bar. It'll make sure the guests enjoy the day 40% more.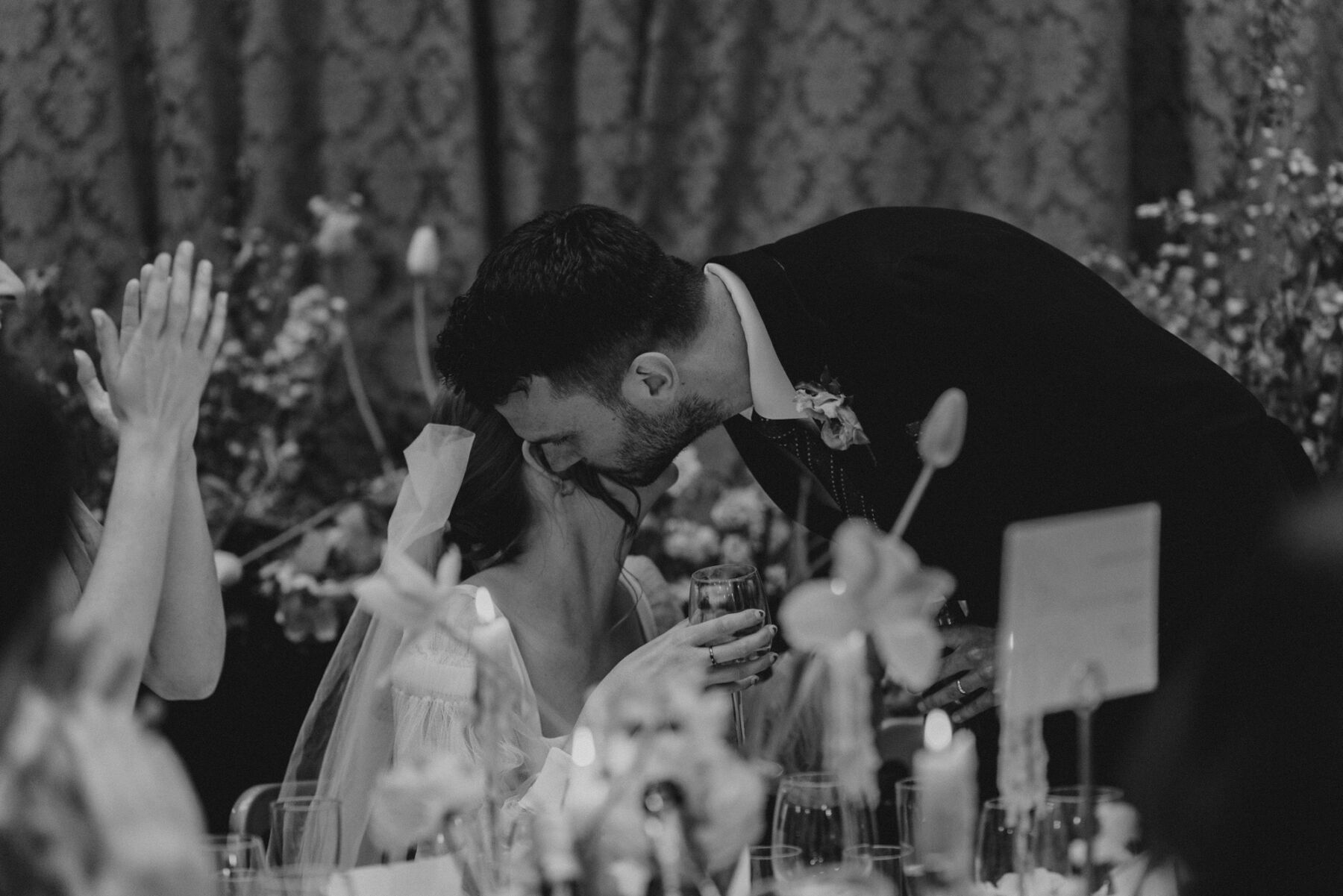 Explore our Directory