Jade and Gareth tied the knot on 15th October 2022 at the beautiful Huntsham Court in Tiverton, Devon.
This beautiful, historical country house wedding venue is set within the most glorious, rolling Devonshire countryside and alongside its breathtaking grounds, has 40 rooms for you and your guests to enjoy.
This lovely bride chose to go barefoot on her wedding day, and opted to wear a beautiful vintage gown, from specialist vintage gown supplier, Jane Bourvis. She paired this with a gorgeous cathedral length veil and 20's inspired waves in her hair.
These delightful images were captured by photographer James Frost. Enjoy.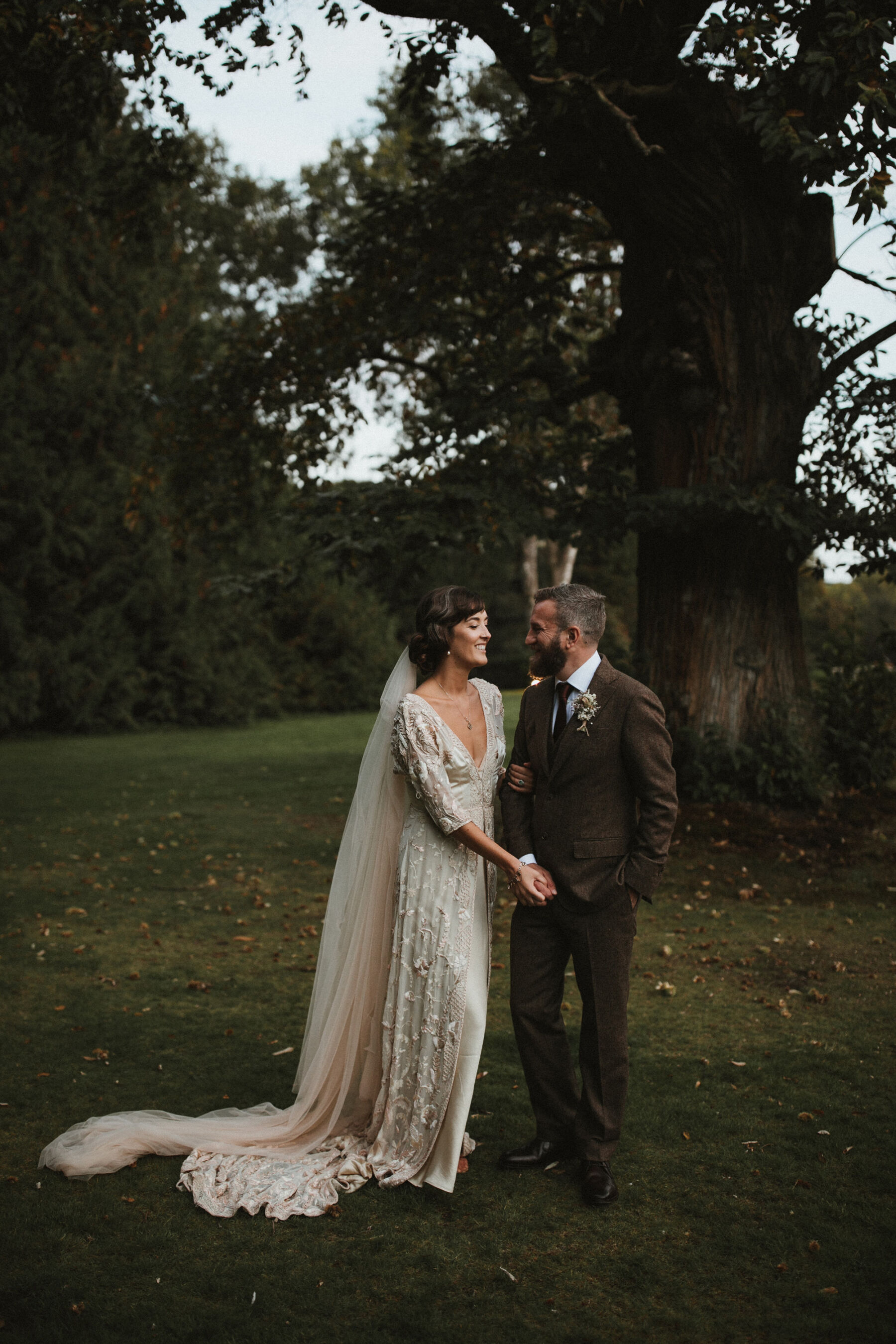 Huntsham Court & Inspiration
We chose Huntsham Court due to its classic gothic style and the fact we could have all our guests stay there for two nights.
We met at work almost seven years ago and became great friends immediately. We got engaged whilst hiking in Snowdonia, Gareth proposed with a beautiful antique Emerald ring which I adore! We were engaged for 15 months before getting married.
We've always loved vintage (everything in our house is second hand!); and I've always loved gothic architecture. We decided to combine this and follow a 1920's/Gothic vibe for our day.
We took references from Great Gatsby, 'haunted house' films and general 1920's fashion.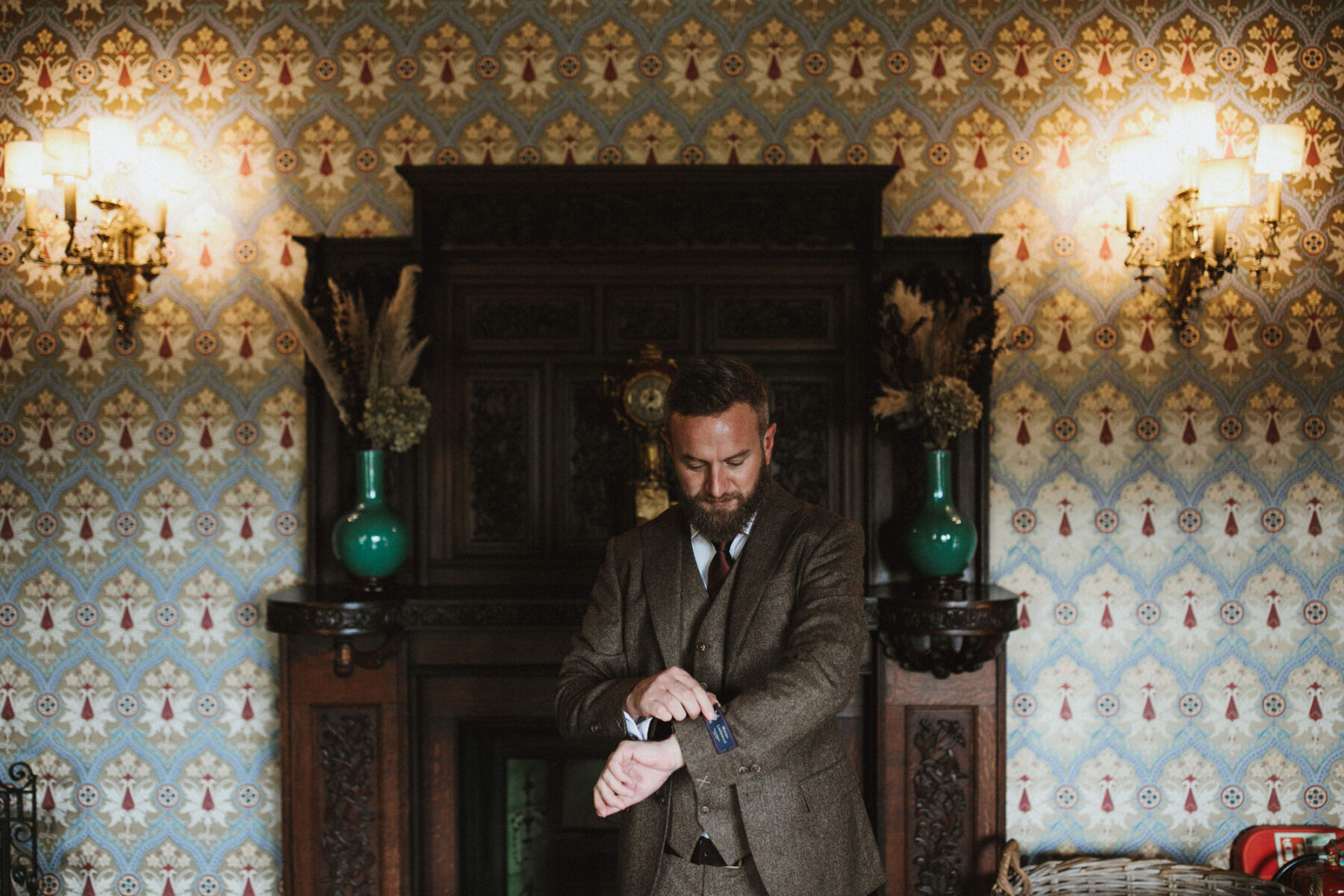 A Vintage Dress from Jane Bourvis
I wore a vintage wedding dress from Jane Bourvis on Portobello road. The shop specialises in vintage and one-of-a-kind dresses. The team were lovely to work with and really cared about each piece; it was very difficult to choose!
I knew I wanted vintage, and I also found a lot of current bridal styles just weren't very 'me', I also knew I didn't want all white/ivory: but this was very hard to find!
The embroidery all over the dress was a gamechanger, and its cathedral length train really added to the gothic theme of the day.
Discover Suppliers
Meet some of our Wedding Directory Members
Shoes, Veil & Accessories
I didn't wear any shoes! In daily life I don't wear heels and just live in my hiking boots, so I couldn't find anything I liked that id be willing to buy; so I just went shoe-less!
I wore a soft peach coloured cathedral length veil. I wasn't going to have a veil at first but when I tried one on I thought it really set off the dress and added more drama to the whole outfit.
I wore my Great Grandmother's gold charm bracelet; a vintage locket from my husband, pearl earrings I found in an antique shop and a sapphire and pearl pin from best friends for 'something blue'
I knew I wanted dried flowers for the wedding; firstly so I could keep them afterwards and secondly as I thought dried flowers would match our vintage theme. We used Artisan Dried Flowers.
Ceremony
My mum walked me down the aisle, she looked beautiful doing so in a floor length navy gown. I knew I wanted her next to me for this big moment. We were accompanied by the sound of Lana Del Ray's 'Once Upon a Dream'.
Seeing Gareth waiting at the end of the aisle was amazing, especially surrounded by 60 of our favourite people in the world; you can't describe the feeling. We also loved how as everyone stayed for two nights the whole weekend felt like a fun holiday and everyone was on such good form.
My best friend Marina 'married' us. It was important to us that we had someone we loved to perform our wedding ceremony. She done an amazing job and brought all of us to tears with her speech.
We both wrote our own vows. We wanted the day to be as personal as possible and wanted to say what we really meant to each other. I tried not to worry about sounding too poetic and instead just spoke from the heart how I felt about him and our relationship, he wrote his in the same way. It made them so much more powerful and we now have them framed in our house!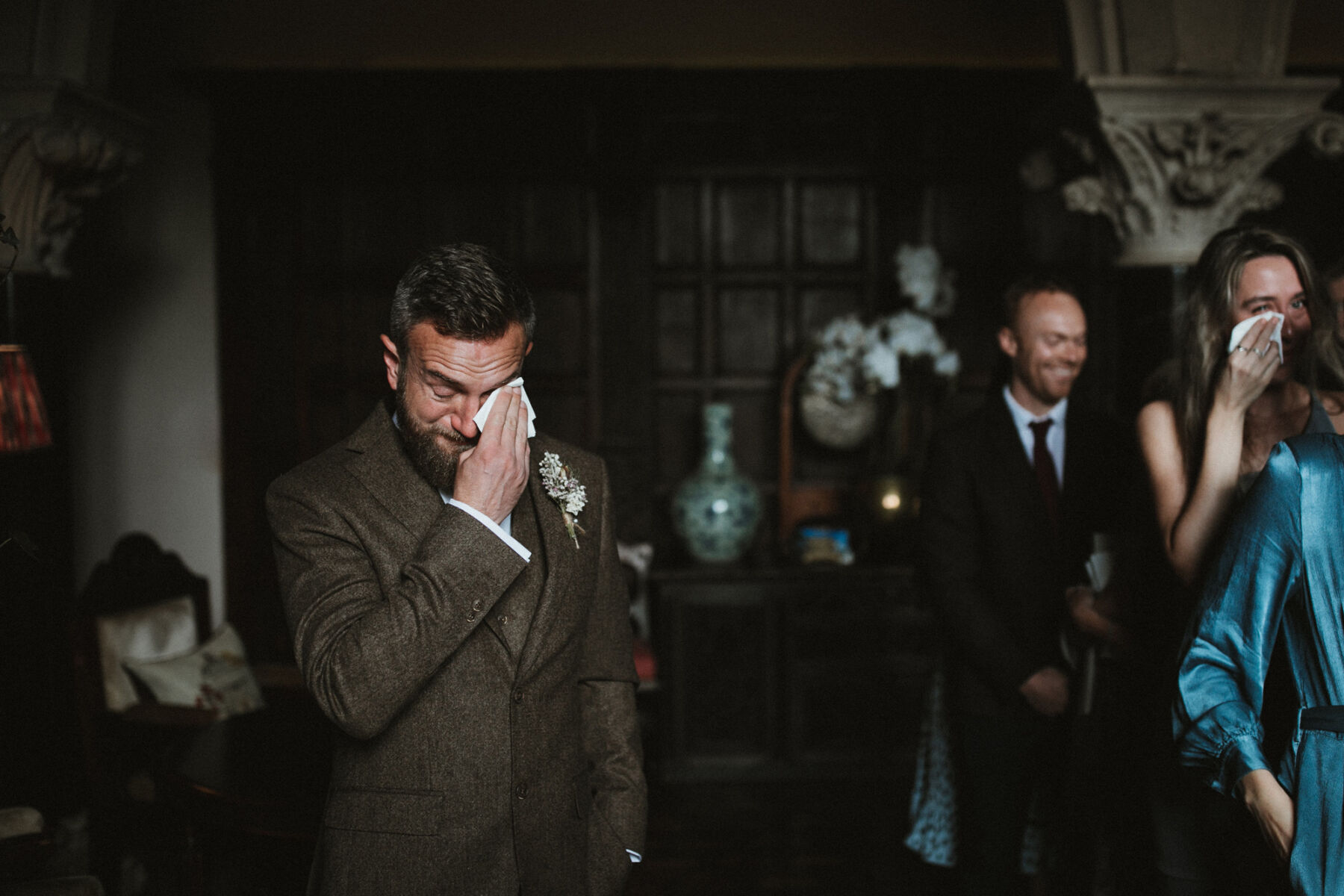 We had two readings, my friend Jasmine read a poem and Gareth's Dad read a quote from Albert Einstein (he was a physics teacher who taught most of Gareth's friends) that spoke on relativity and its comparison to relationships.
We had our legal wedding in London the year before. We got married at Islington Town Hall, I wore a white suit and we all went to the pub afterwards, it was fun!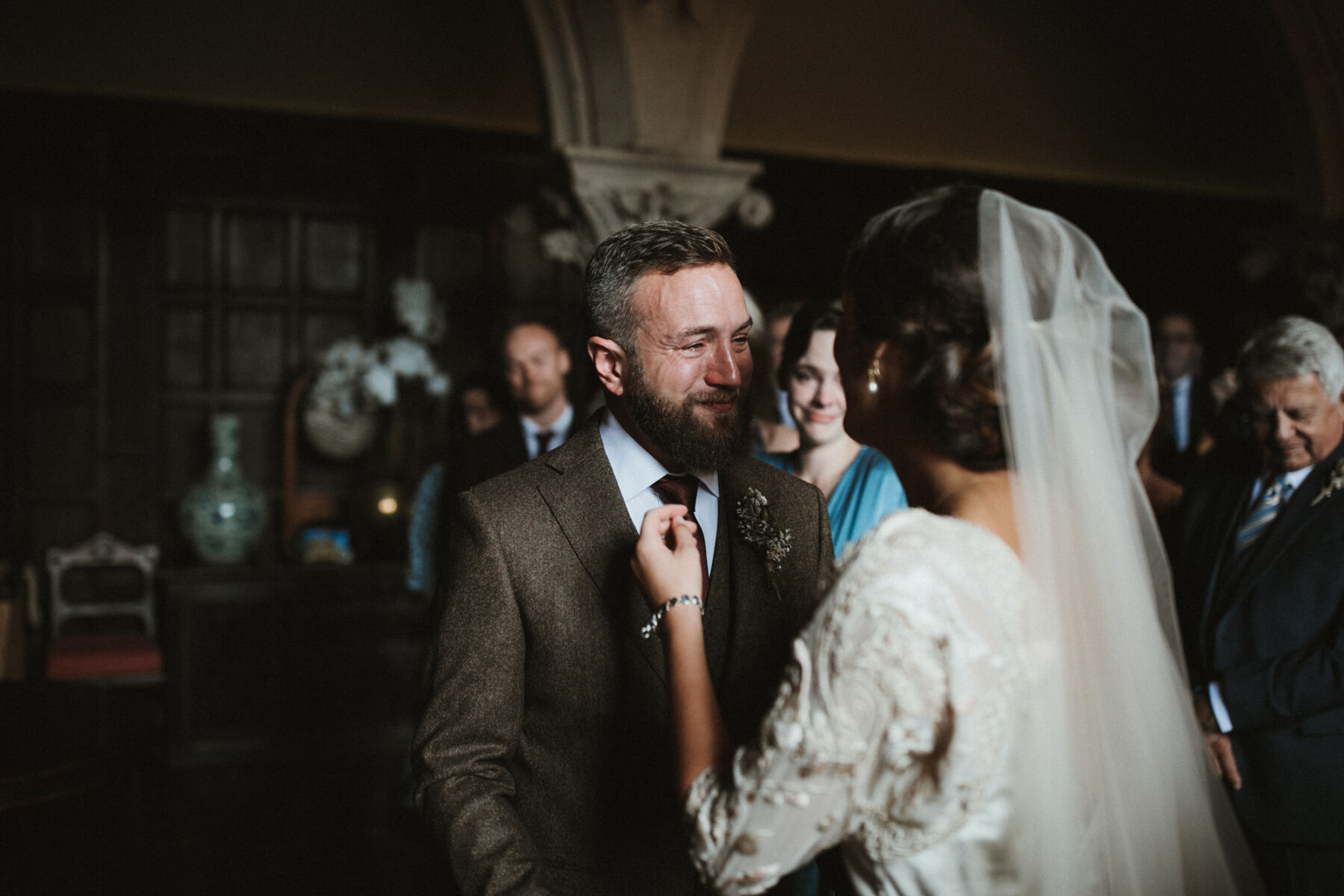 We were moving to the USA so we had to get married to make our visa applications simpler, so we thought we'd make a day of it.
Both my rings are vintage; my ring is a small yellow gold band with a sprinkling of tiny diamonds, Gareth went for matte white gold.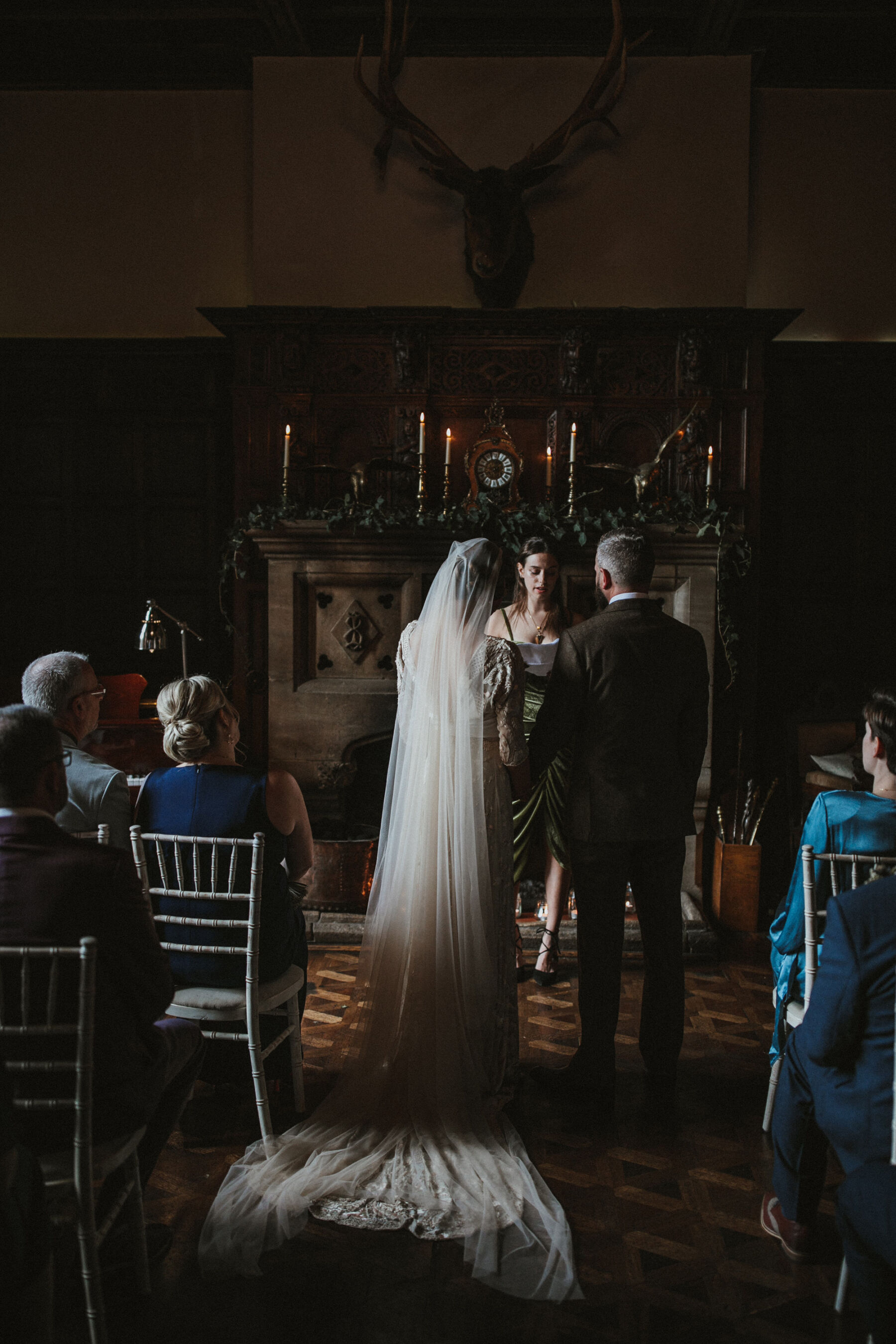 Photography
Our photographer was James Frost. I found picking a photographer to be the hardest part as after a while they all start to look quite similar in style. However, I came across James from voracious Googling and fell in love with his work immediately.
He specialises in more of an artistic style, coupled with quite a 'moody' editing which I adored. He was lovely to have around on the day and was very good at scouting out better lighting or backgrounds; I would recommend him to anyone!
Reception, Detail & Decor
We hired Milk Shed Catering. They were a fantastic team and really listened to what we wanted. We went for a vegetarian and vegan mix of table sharing platters covering three courses, all our guests commented on how good the food was!
Two of my best friends made our wedding cake, it was a red velvet vegan cake and they even bought a Greyhound cake topper to honor our dog Sephy.
We asked our friends to pick reams of ivy from where they lived and bring it to the venue, we then used that to drape over the fireplace and our tables, accompanied by lots and lots of candles.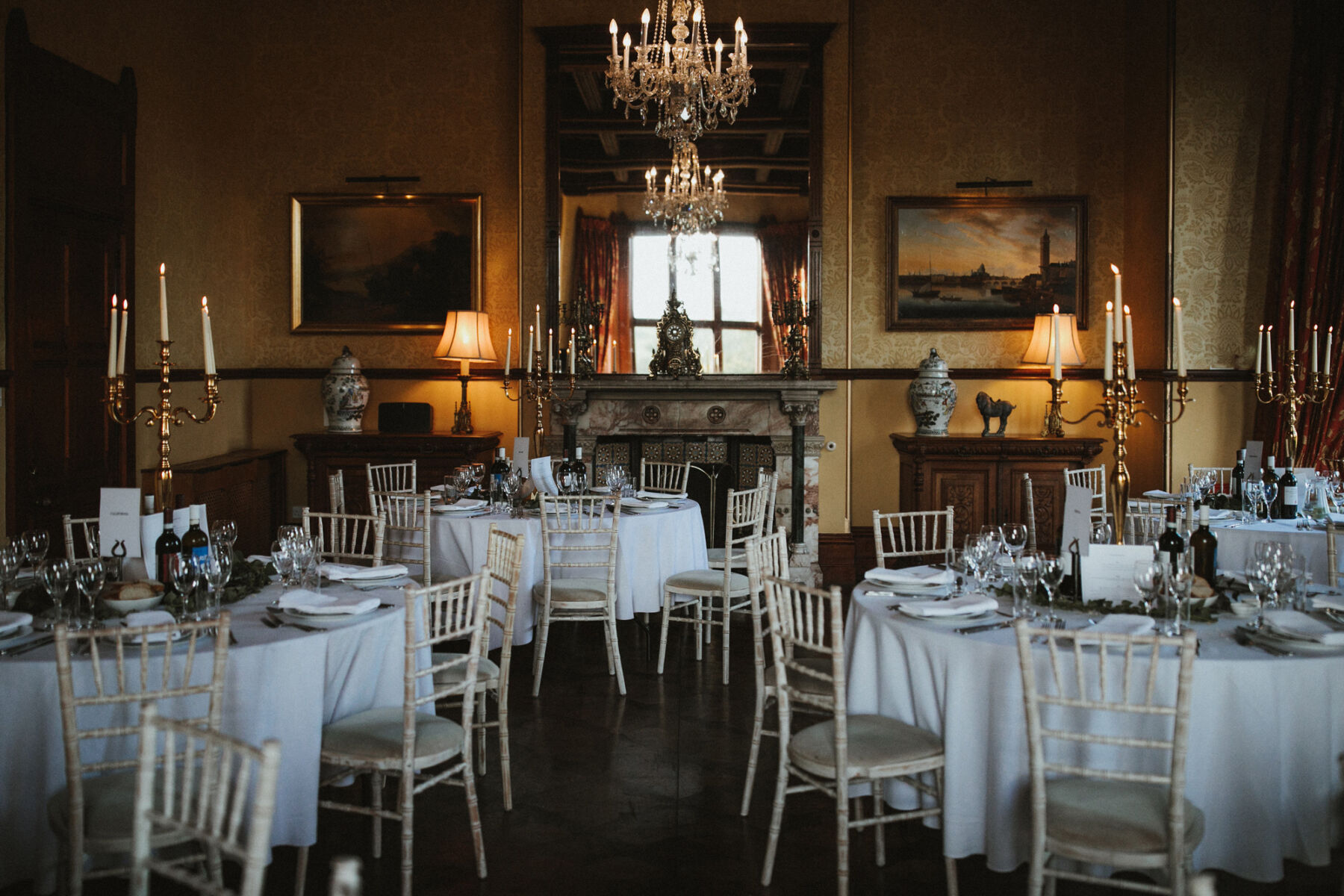 Notes From The Couple's Planner, Laura, at Kept Weddings
The lighting in October against the original dark wood paneling of Huntsham Courts Great Hall created a romantic winter forest style ceremony.
Vines of ivy were intertwined between brass candlesticks on the grand stone fireplace and also featured through to the Yellow room where the wedding breakfast was held emanating a Beauty and the Beast fairytale. Huntsham Court is so beautifully decorated that Gareth and Jade did not have to do too much to create the style they wanted. Clever use of the venues' impressive features completely accentuated their day.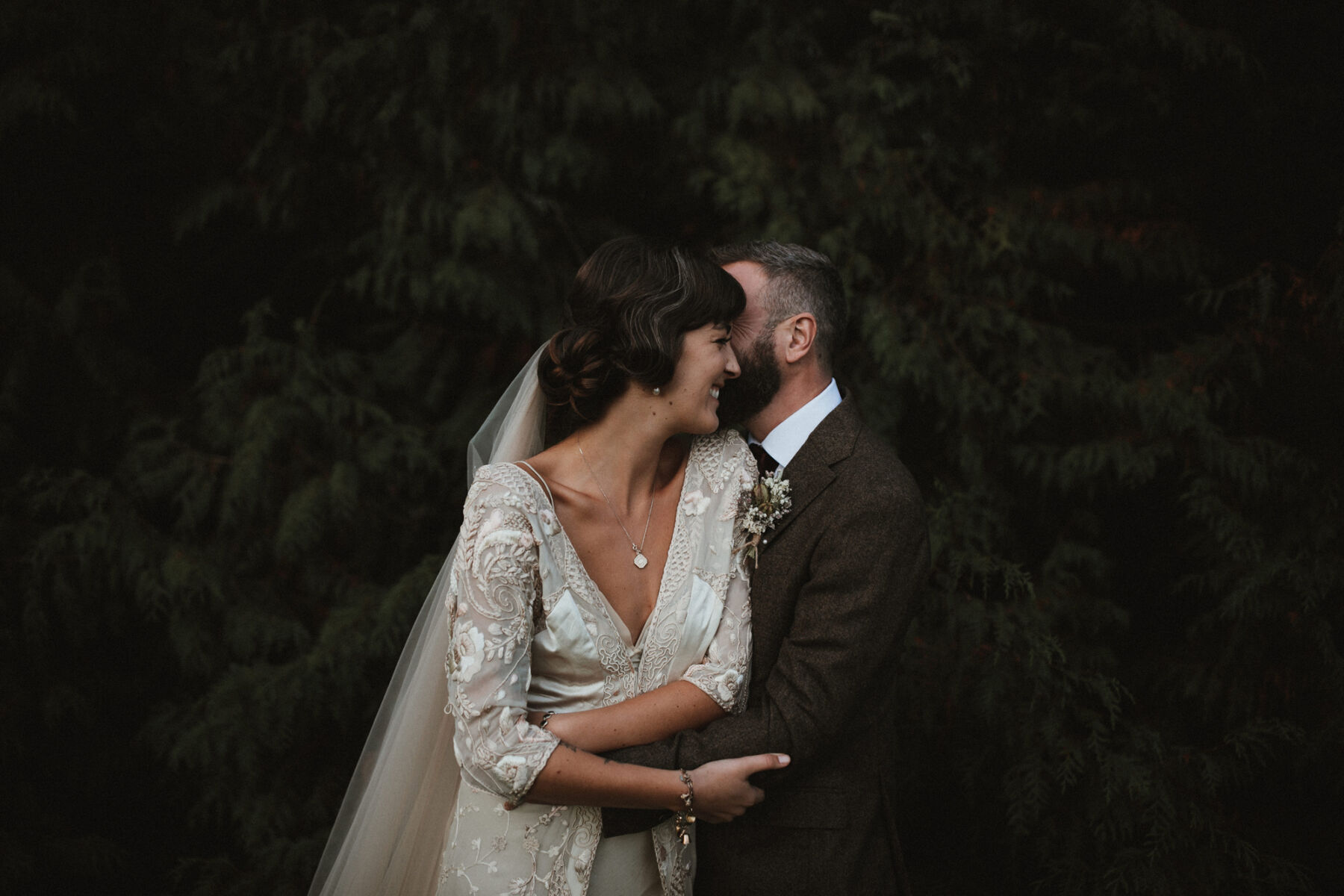 Evening & Entertainmnent
Our band was Stomping Boondocks. They are wonderful folk/rock band who played an amazing set!
We made sure the weekend was as relaxed as possible. The Friday night we had a pizza van and just wanted to everyone hang out as if at their favourite pub. On the Saturday we didn't get married until 3:30 to allow everyone to sleep in or enjoy the grounds. It meant everyone really had a holiday and for us the weekend didn't feel at all rushed!
Words of Wedded Wisdom
Spend your money and energy on what you really want. If you're not fussed on wedding favours don't buy them, if you're stressed about affording bridesmaid dresses don't do it, etc
We knew we wanted a two-day event, and we knew we wanted a vintage vibe and that was it! The rest comes naturally.
Equally if we were getting stretched on our budget or time we'd stop and think 'if we were a guest at this wedding what would make the day more fun/memorable…' and that made it very easy to make difficult decisions.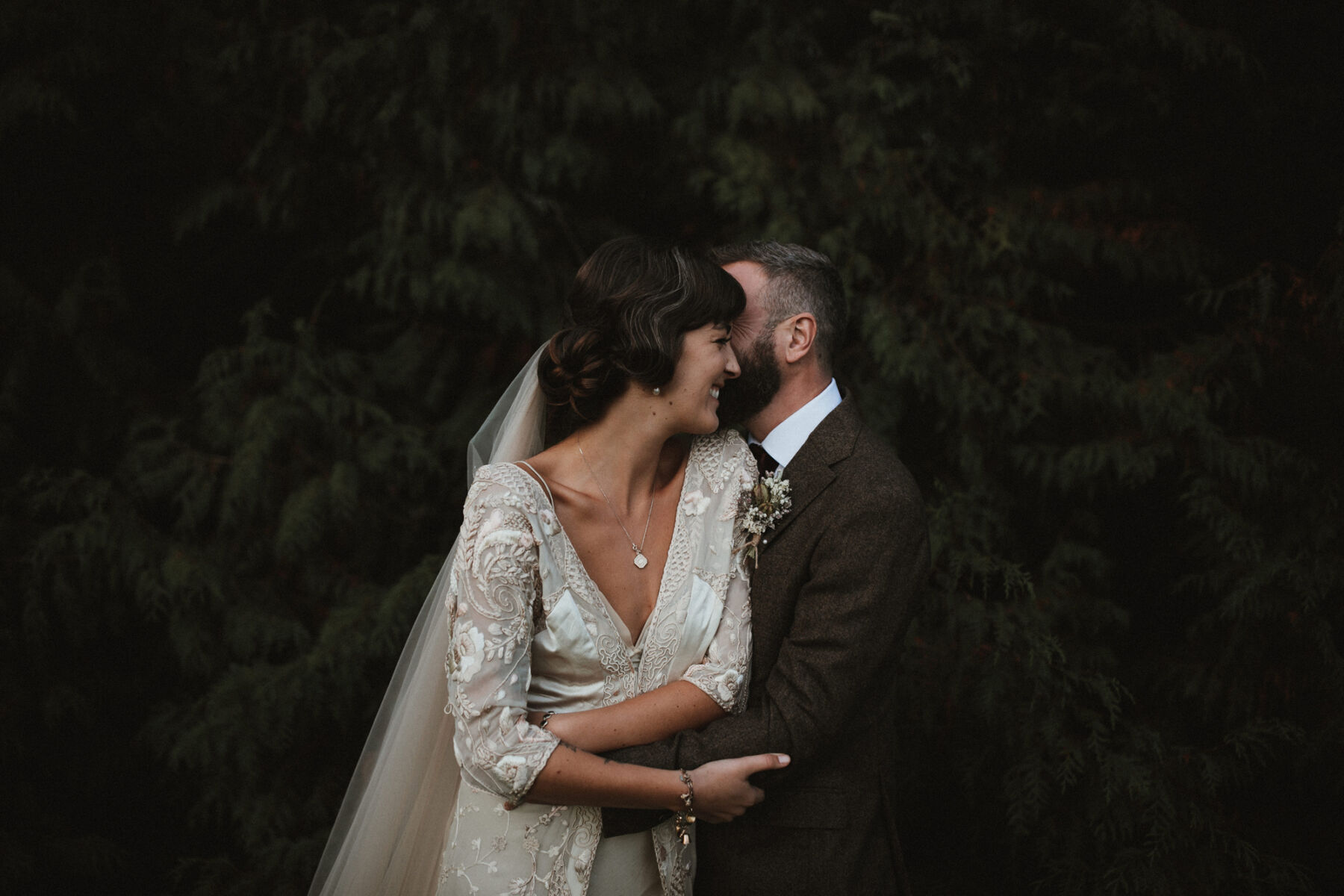 Explore our Directory