It brings me so much pleasure today to share with you the beautiful new collection of eco-friendly and earth kind wedding dresses from Rolling In Roses, a York based bridal fashion design brand who created ethical bridal fashion for the off-the-beaten-track bride
Rolling In Roses founder, Hayley Neil, is passionate about seeking out the most sublime, sensuous and sustainable fabrics to create her gowns with. Every single design is crafted using an earth-friendly fabric, including British peace silk and vegan silk alternatives – each of which provide the wearer with a wonderfully luxurious experience.
I spoke with Hayley last week about her new collection, Kirei, which was inspired by Japanese culture.
Congratulations on the launch of your new bridalwear collection, Kirei! Can you tell us a bit about the inspiration behind the collection and what brides can expect from it?
Thank you! With Kirei, I was inspired by the elegant simplicity of ancient Japanese ink wash paintings, and the use of negative space and tranquillity of Japanese art and design in general.
For me, inspiration is usually multi-faceted and drawn from lots of different areas, so there's a much more detailed explanation of my influences on our website here.
'Sumi-e' inkwash painting is created with simple black ink and carefully curated white space, and it takes such skill to make these deceptively simple artworks look effortless when actually they're the result of years of practice. I feel like it's similar to pattern cutting in that one sweep of the brush can change the whole picture, just as one perfectly positioned drape or fold of fabric can transform a dress. Like using fabric like a paintbrush.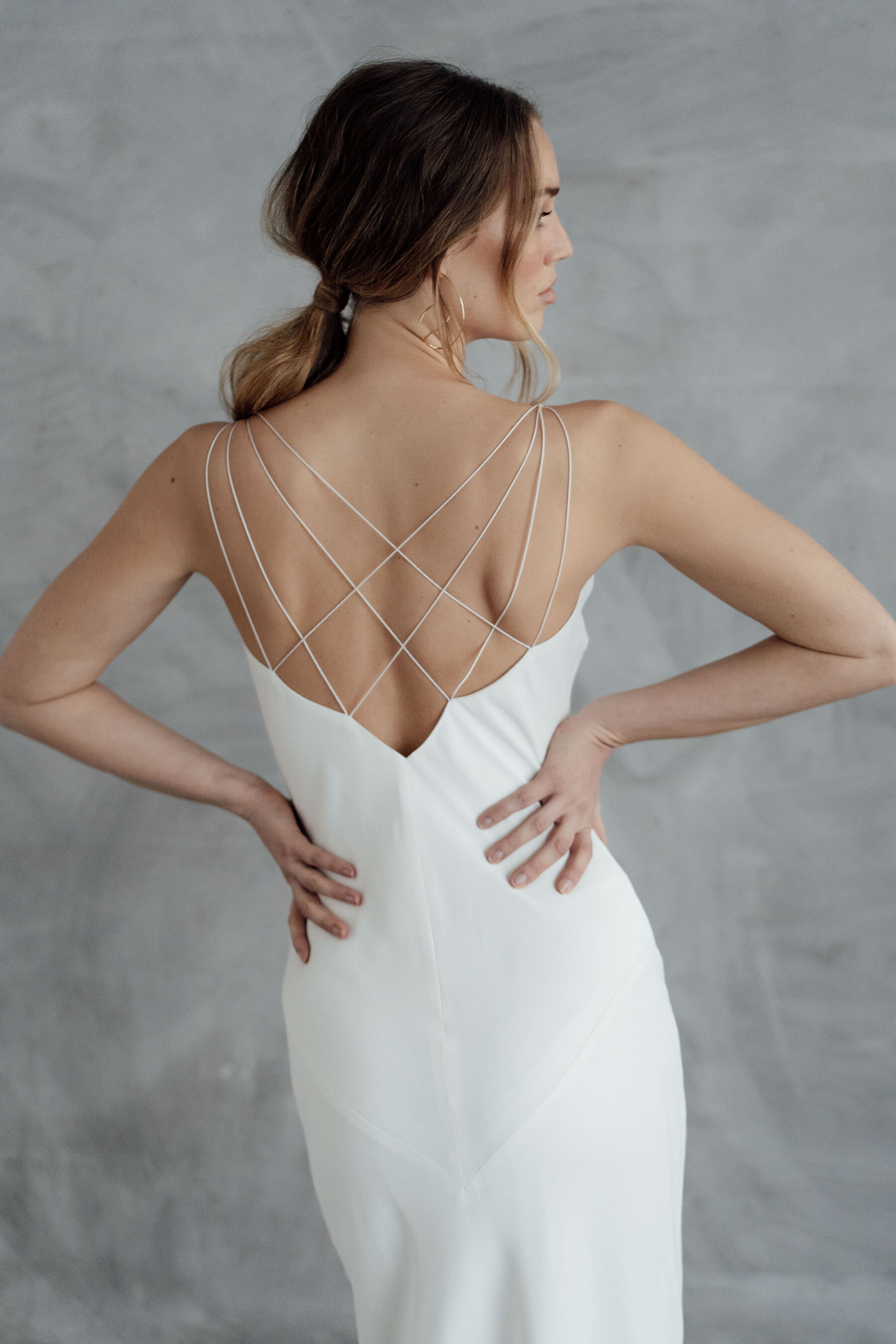 As for what to expect from the collection; clean lines, subtle details, interesting cuts, and luxurious fabrics as always! I like to put as much variety as possible in my collections, so I hope there's something there for everyone, from brides who want to show a lot of skin to brides who prefer sleeves and higher necks.
Simple silhouettes are given interest by details such as contrast grain seamlines, striking drapes and gathers, and tiny delicate components like 24k gold plated fastenings.
The attention to detail we've given this collection borders on the obsessive; I had a specific corded strap in mind for the Daisuki Dress, which I knew was possible as I'd seen similar things on vintage dresses, but Ellis and I had to spend a silly amount of time making different samples from different thickness of silk and gauges of cord, which had to be the correct texture and thickness.
In the end we finally managed to source the perfect braided 2mm cord, because the 3mm was just too chunky for what I had in mind, hah!
But it was worth it, I'm so pleased with how that dress turned out.
Your brand is known for its commitment to sustainability and ethical practices. Can you tell us more about the fabrics you use in the Kirei collection and how they are earth-friendly?
Ooh, you know I could talk about this all day! Fabrics really are my passion, I get so excited about new discoveries!
My two favourites of this collection are a luxury heavyweight Italian crêpe which is made from a blend of organic viscose and recycled acetate (which are both in turn made from natural cellulose sources, so it's a lovely breathable biodegradable fabric), and an amazing satin called Naia, which looks and feels just like silk but is in fact made entirely from pine and eucalyptus trees!
I'm obsessed. It's produced using a closed-loop process where all solvents and water are cleaned and reused again, which means it has an incredibly low-impact manufacturing process, with a low tree-to-fibre carbon and water footprint and is classed as biodegradable and compostable. It's incredible!
The Kirei collection blends classic and avant-garde design elements. Can you talk about how you approach combining these two styles in your designs?
To be honest this happens without me even thinking about it, as I'm always inspired by classic styles from the past, but I'm also really into contemporary design.
Because my background was originally in costume design I have a great interest in all eras of fashion history, which I constantly have in my mind when designing.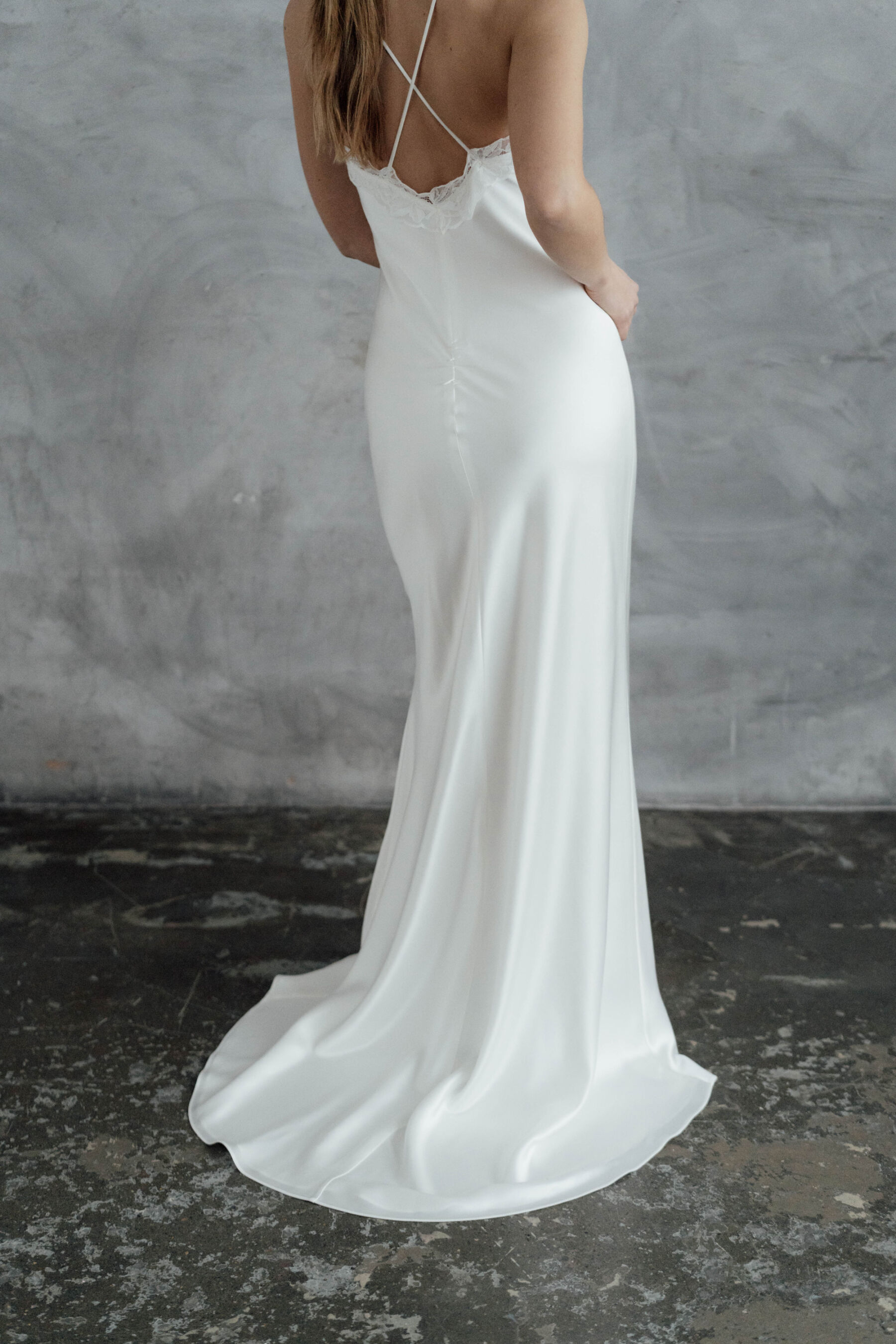 As a brand, Rolling In Roses is the antithesis of fast fashion. Can you explain why this is important to you and how you make sure your pieces are made ethically and sustainably?
Absolutely, this is so important to us! It's at the absolute heart of everything we do. I think more and more of us are becoming aware of the horrendous damage fast fashion does to the planet, and we don't want to be any part of that. Made-to-order fashion is great as there's no over-production and waste, so, many wedding dresses are already much more sustainable than mainstream fashion.
But the environmental damage is hugely caused by the fabric production to begin with, so we choose to use the lowest-impact fabrics possible. Simply using biodegradable fibres like silk and cotton sounds great, but actually unless these fibres are certified as organic, the production of them is terrible for the environment as it uses so many pesticides and chemicals and an unbelievable amount of water.
But I'm so proud to say that 94.8% of the fabrics used in this collection have sustainable certification; whether that's organic, closed-loop, vegan, biodegradable, compostable, or recycled, meaning our materials are produced in ways that protect the environment, are low-carbon, protect natural resources like forests and water, and are cruelty-free and ethically made.
And even the 5.2% of fabrics we use without certification are natural biodegradable fabrics, so we're ridiculously pleased with the fabrics we've found!
Your designs are often described as being for the off-the-beaten-track bride. What do you mean by this, and how do you create pieces that appeal to brides looking for something unique and non-traditional?
I suppose I've just always been drawn towards things that are slightly outside of the mainstream, and I feel a kinship with anyone who questions tradition and decides to do things their own way. So my designs have always been a good offering to people who don't want a wedding dress which is the same as everybody else's!
As I said, I try to design a good range of styles so we have something for everyone, and all our pieces are available in any size requested. I quite often get asked to describe who 'the Rolling In Roses bride' is, but I'm not keen on the idea that my dresses are just for one 'type' of person.
I'd like anyone to come to us and be able to find an outfit that flatters their figure and personality, regardless of their age/size/style.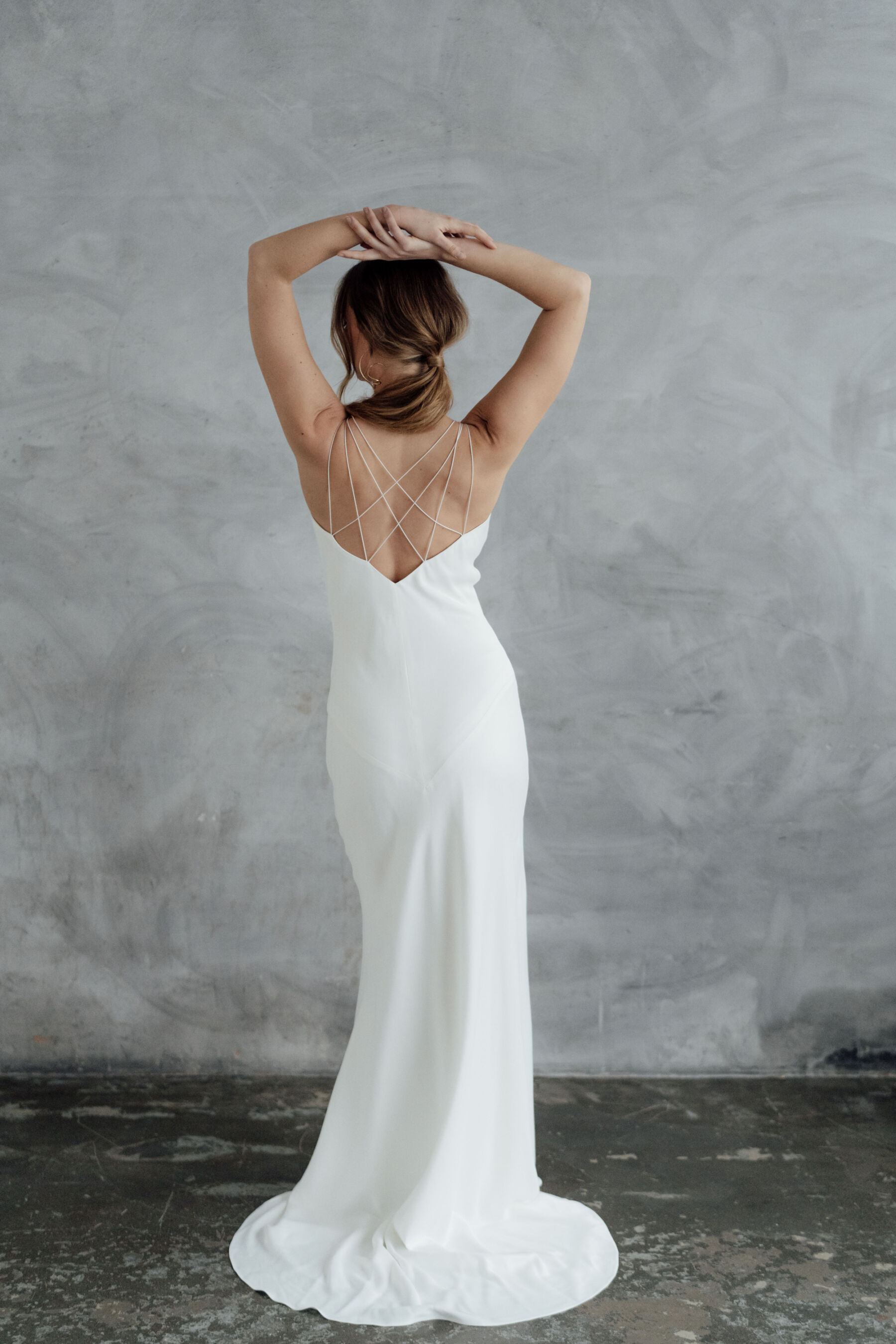 Can you tell us about any specific pieces in the Kirei collection that you are particularly excited about, and why?
I'm pretty chuffed with the Nejire Dress, because the cut is different from anything I've done before and I love experimental pattern cutting.
The bodice and sleeves of the dress are made entirely from one piece of fabric, which is cut with a twist and then manipulated and tucked to create the folds and drapes.
It was inspired by the innovative work of fashion cutter Tomoko Nakamichi, and 'Nejire' means 'twist' in Japanese.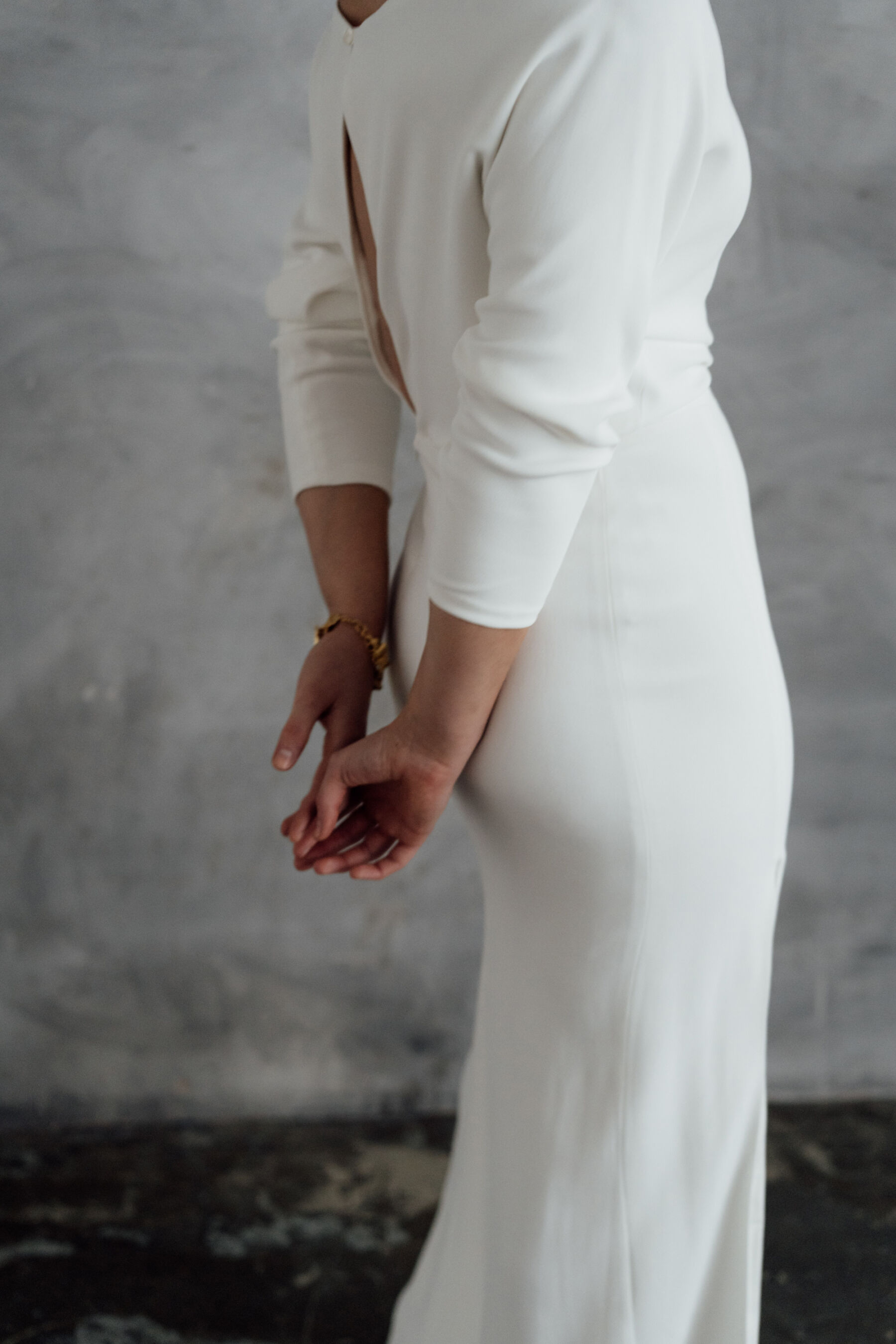 What advice would you give to brides who are looking for an ethical and sustainable wedding dress?
I'd say don't be afraid to ask questions about the provenance of the dress; where it was made and by whom, and especially what the fabrics are.
Even if the bridal boutique you're in doesn't know the answers, they can then go back to their designers/manufacturers and ask them, so they'll be gleaning new information for themselves that they can then pass on to you and other brides, and the designer will be glad to know their brides are so interested in their pieces.
I think it's a win-win situation when everyone cares more about their clothes!
Book An Appointment or Make an Enquiry
Hayley and her team offer a very warm welcome to all Love My Dress brides. Hayley's beautiful studio is located on the 3rd Floor of Cromwell House at 31 Micklegate, York, YO1 6JH (see map). Book an appointment here, or find a stockist near you here.
Email [email protected] and telephone +44 (0)1904 652892.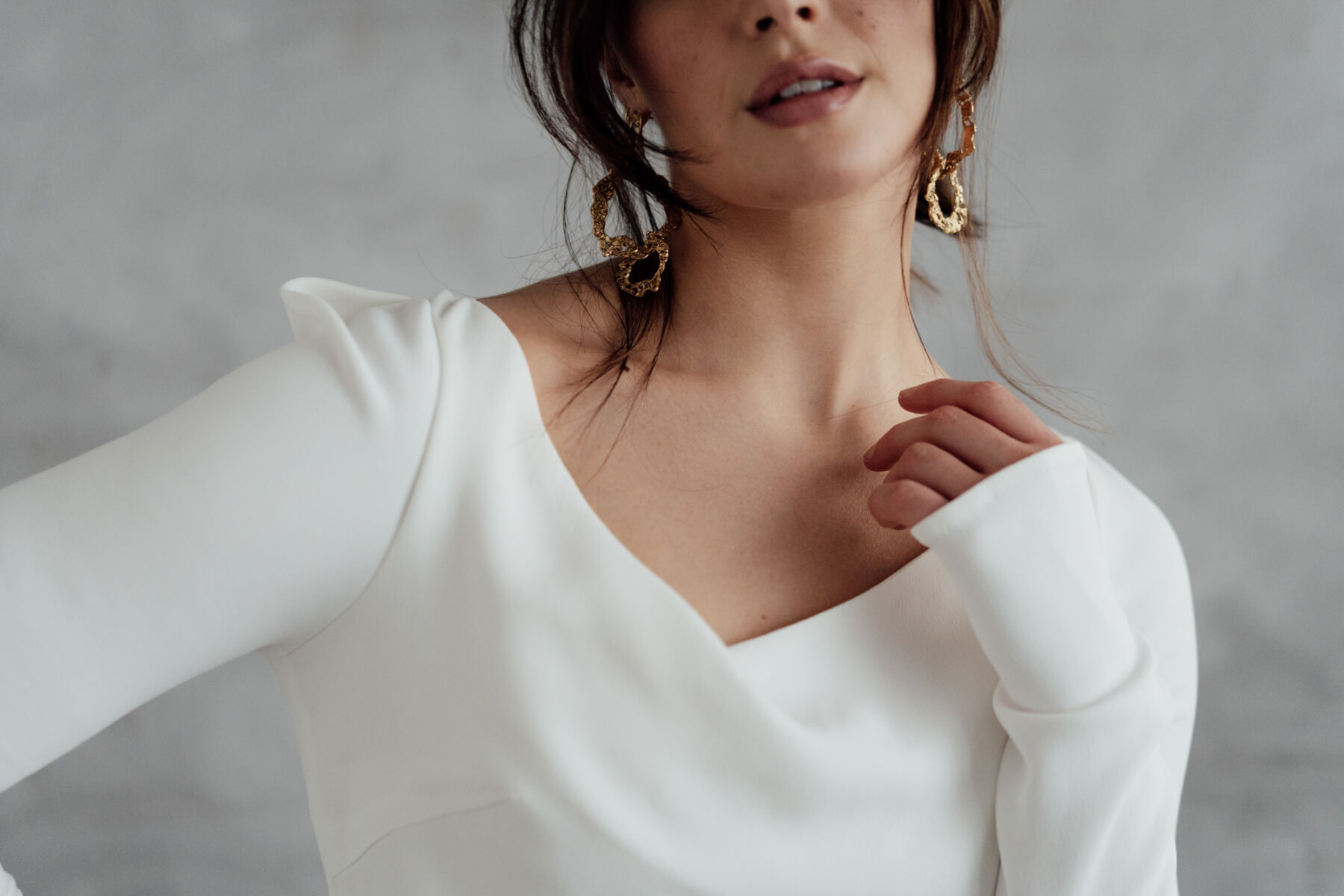 rollinginroses.co.uk