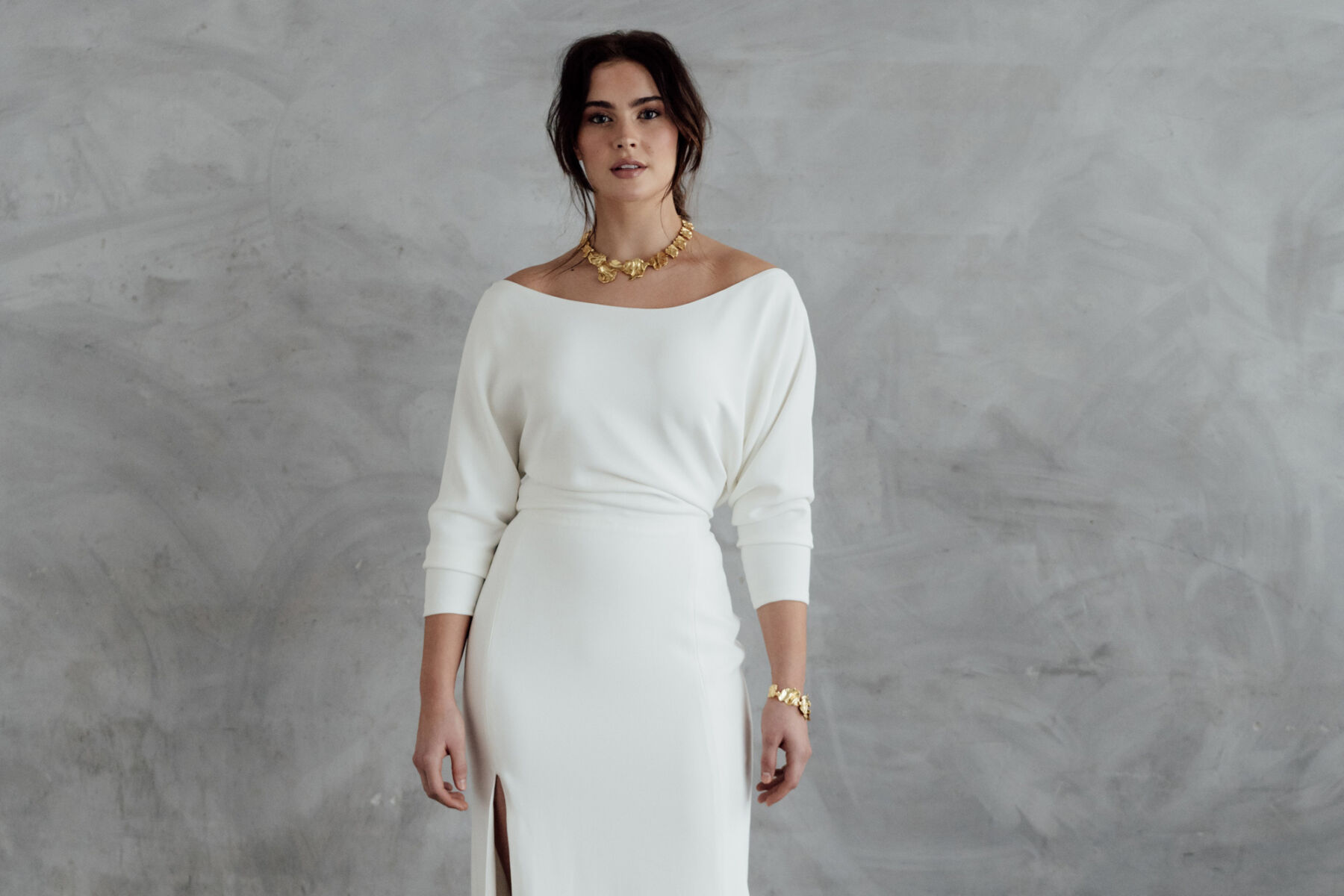 About Rolling in Roses
Rolling In Roses is an independent bridal fashion brand located in York, UK, whose founder Hayley Neil is passionate about creating eco friendly wedding dresses and sustainable bridal fashion, using vegan and recycled fabrics and ethically sourced Peace Silk. Rolling In Roses is also stocked at a number of bridal boutiques throughout the country who are contemporary fashion focussed.
Eco Friendly Wedding Dresses
Rolling In Roses conscious bridalwear is created using high-end craftsmanship and traditional dressmaking and couture techniques. Our designs are a blend of the classic and the avant-garde. We are the antithesis of fast fashion. Our gowns are individually made to order by an in-house team. This hands-on small-scale production means we can always guarantee the exceptional finish of our dresses and achieve artisan quality workmanship with all its divine hand-finished details.  No production lines or faceless factories here; each dress is made with love and care by one expert seamstress. We're also proud to have a completely inclusive size range so each design is available in any size required, and custom changes are available.
Sustainable Wedding Dresses
Brides constantly comment on how comfortable our gowns are; each unstructured piece is cut to effortlessly flatter the natural figure rather than to fight against it. You won't find any restrictive boning or scratchy stiff fabrics, just comfort, elegance, and freedom! We keep practicality in mind alongside aesthetics, and our dresses are perfect for dancing the night away under the stars. Dancing is very important. The name 'Rolling In Roses' is taken from an early Patti Smith poem. Colloquially known as 'the godmother of punk', she embodies our ethos of designing for the offbeat, sophisticated, fiercely independent bride. The dreamers, the poets, the music-makers, the lovers. We use sustainable, ethically produced, organic and eco-friendly fabrics, and offer vegan alternatives to silk. We also recycle all our fabric offcuts, and package our dresses in biodegradable bags, recycled acid-free tissue paper, and unbleached cardboard boxes. We strive to run our business as ethically as possible in every way.
Boutique
Cromwell House, 31 Micklegate, York YO1 6JH
By appointment only, please contact us for details
Videos
Reviews
I found the gorgeous 'Vega' dress made by 'Rolling in Roses' (who specialise in dresses made with ethical and sustainable fabrics, and hand-make their dresses in their studio in York) at the beautiful 'Story of my Dress' shop in West Malling. I had seen them on Instagram and knew they had such a selection of beautiful and different dresses; not like I'd seen anywhere else.
Gemma
The team at Story of My Dress bridal boutique were so lovely. Rolling in Roses design and create ethical and eco-friendly wedding dresses, and make them by hand in Yorkshire. So, that was that! I think it was truly meant to be, and I walked out with that dress, and carried it on the train home with me that day. It was such a relief!
Molly
I knew I wanted lace and long sleeves for my dress. When I met Cara at Story of My Dress and she showed me some of the Rolling in Roses designs I just fell in love with their whole vibe.
Leila
I purchased it at A Most Curious Wedding Fair in Shoreditch, London. Hayley, the designer, is so talented and lovely. It was the first dress I looked at and tried on. It stood out from the rest! I love sparkles and angel sleeves and the back detail is just stunning.
Angelique
Articles featuring Rolling in Roses