Florist Rachael married head flower grower at a plant nursery, Robert on 28th May 2022 at Old Thornville in North Yorkshire.
A couple who work with nature daily were bound to be inspired by the outdoors, and wanted to create a sense of bringing the outdoors in, for their wedding ceremony. They hosted a marquee reception in the grounds of this beautiful Grade II listed building, with the support of Florida Marquees.
Rachael wore a gown by our favourite North Yorkshire bridal fashion designer, the wonderful Rolling in Roses, whose founder Hayley is passionate about designing ethical wedding dresses for stylish, modern brides.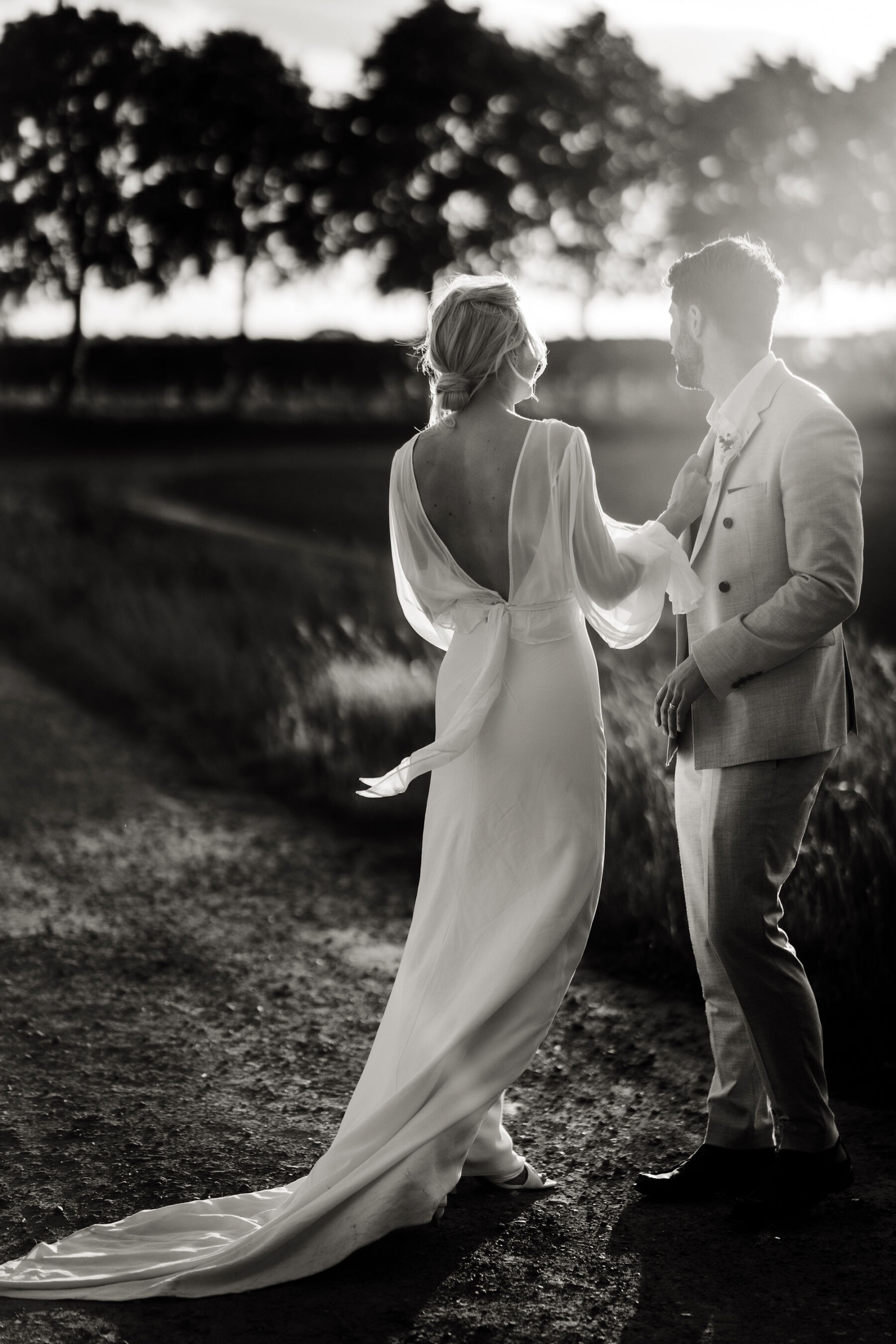 The Dress
I wore a Rolling in Roses dress.  I love their unique, eco friendly, locally made pieces, created with comfortable material.
I also loved that there was two parts to my dress and that I could take the top part off when the party really got going. Also, I love knowing that I will wear both these pieces again.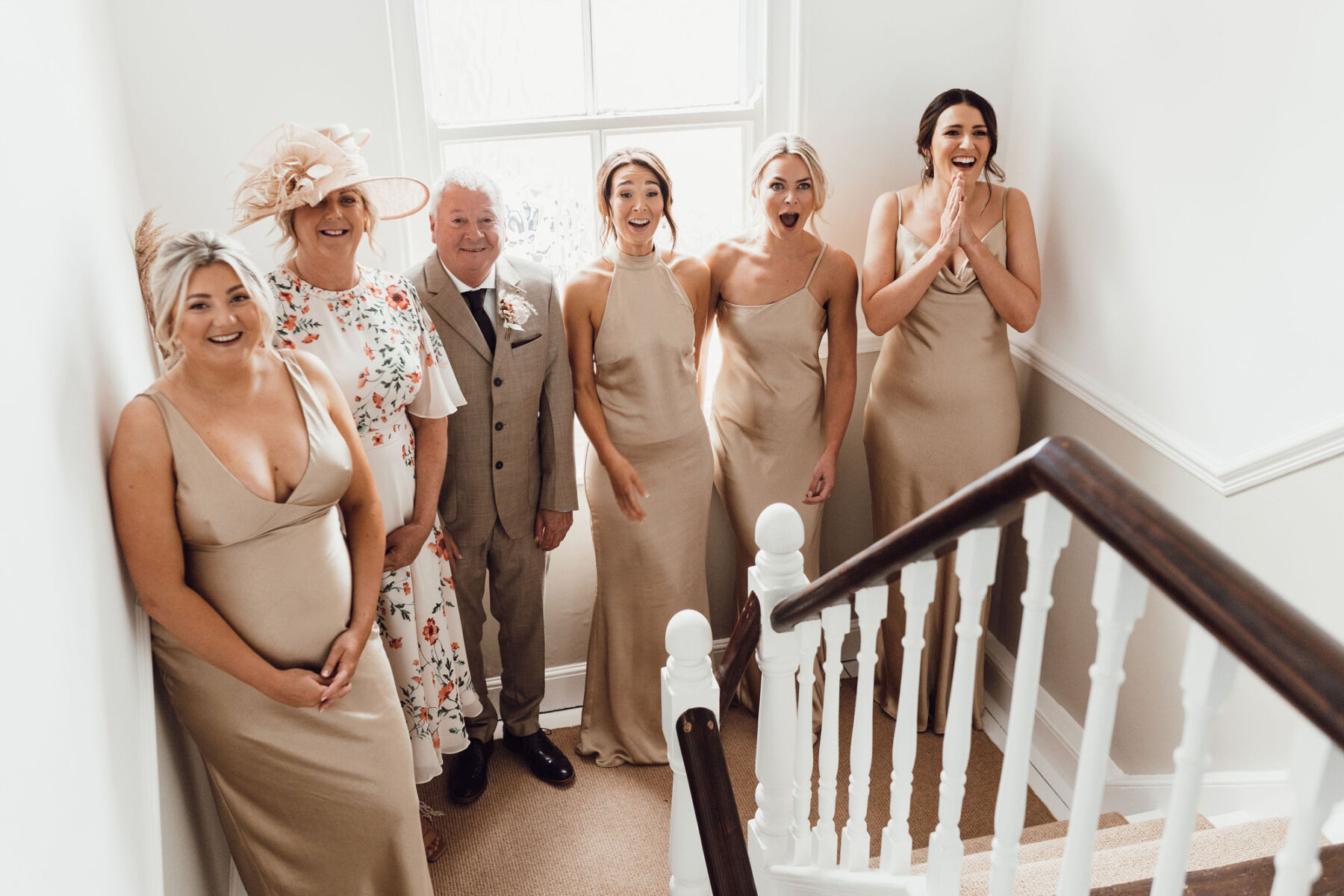 My bridesmaids wore dresses from Pretty Lavish. They also wore dried flower hair combs which I made myself and shoes from New Look.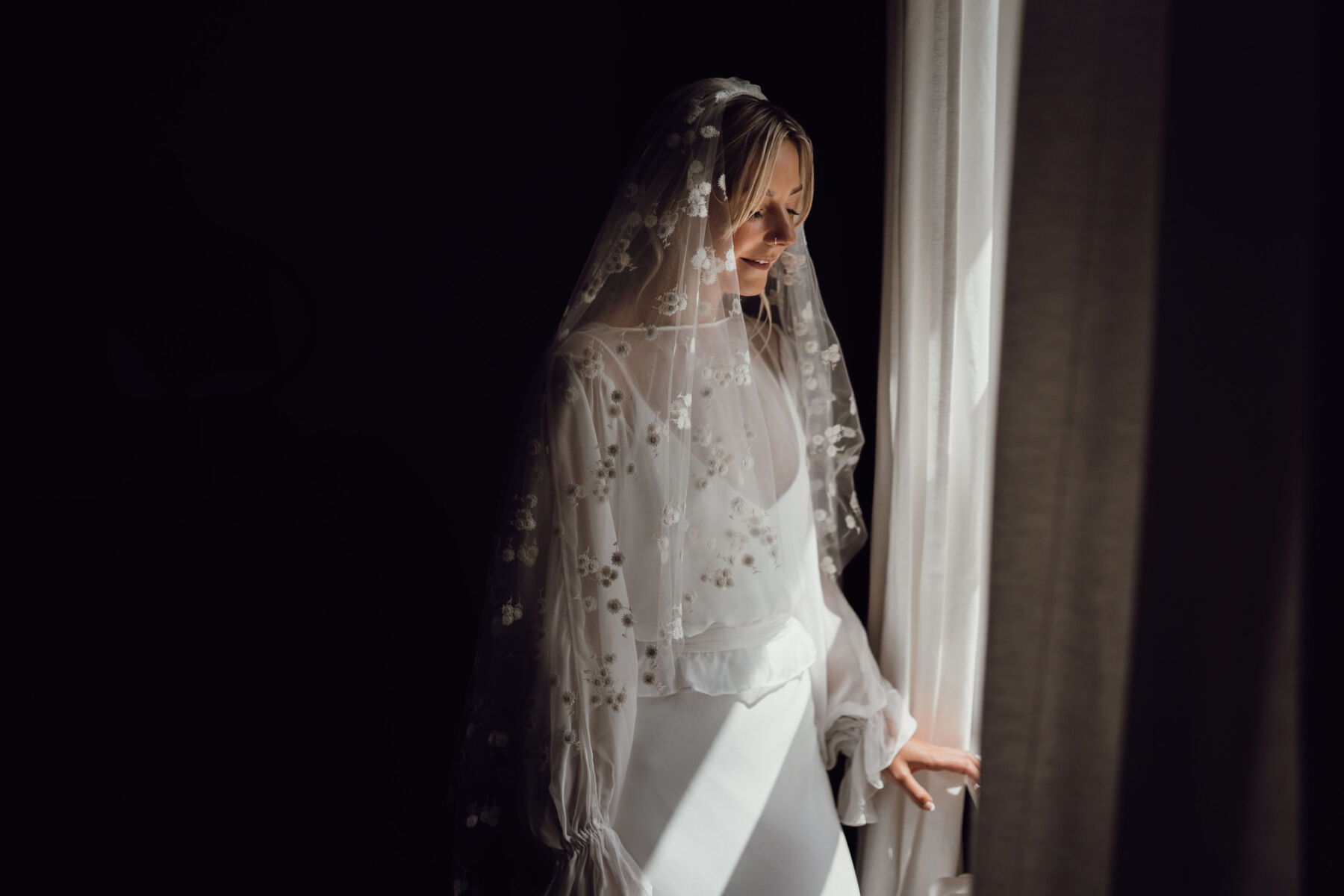 Bridal Beauty and Accessories
I wore a veil by Ann-Marie Faulkner and my shoes were from Zara.
My perfume was Narciso Rodroguez – it was a last minute buy the day before the wedding after realising I didn't have a perfume for the day. It was the colours/style of the bottle that drew me to it and I absolutely love it! So nice to have a scent that will always remind me of the day.
My hair stylist was Emily Hawkes Hair and my makeup artist was Amy George.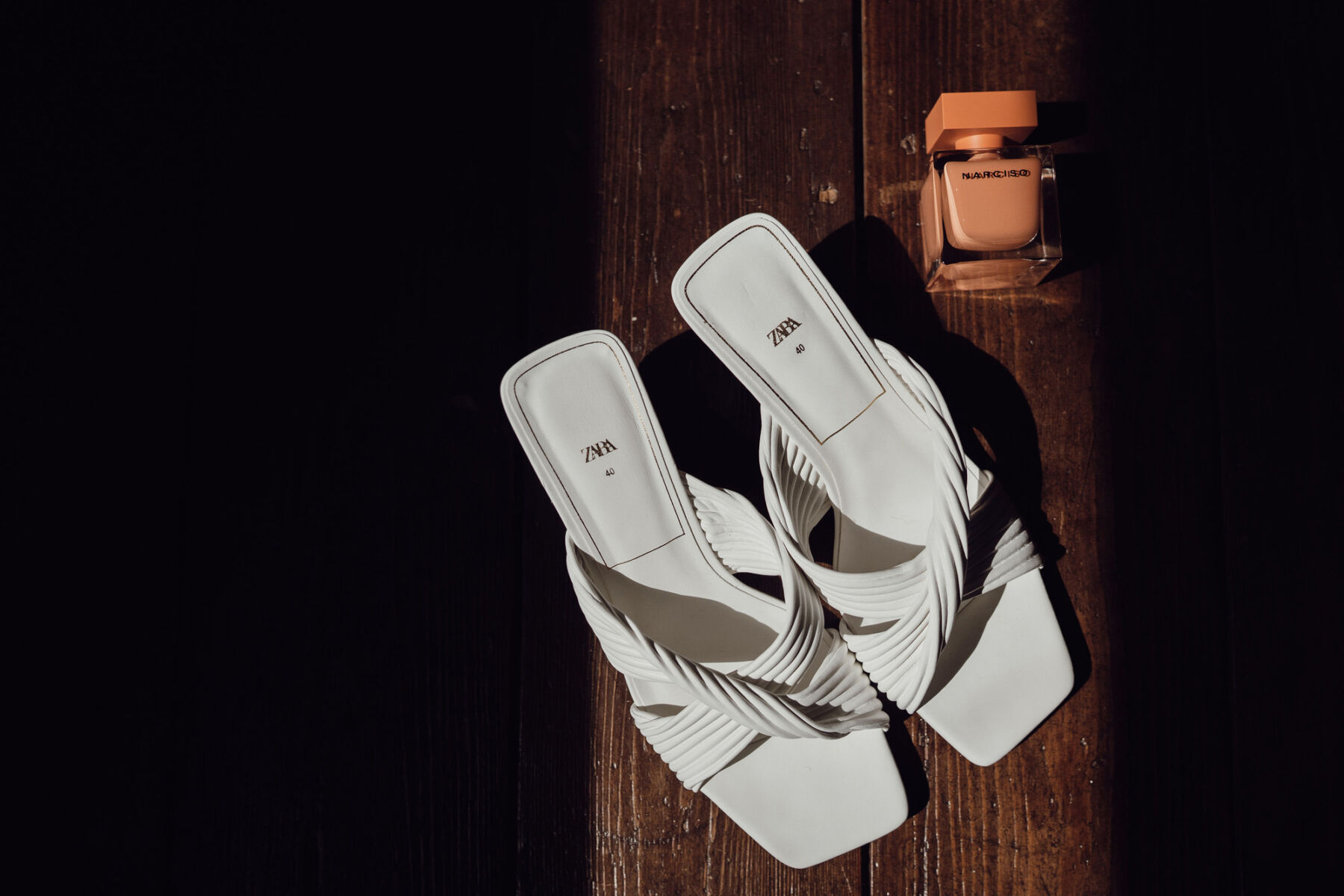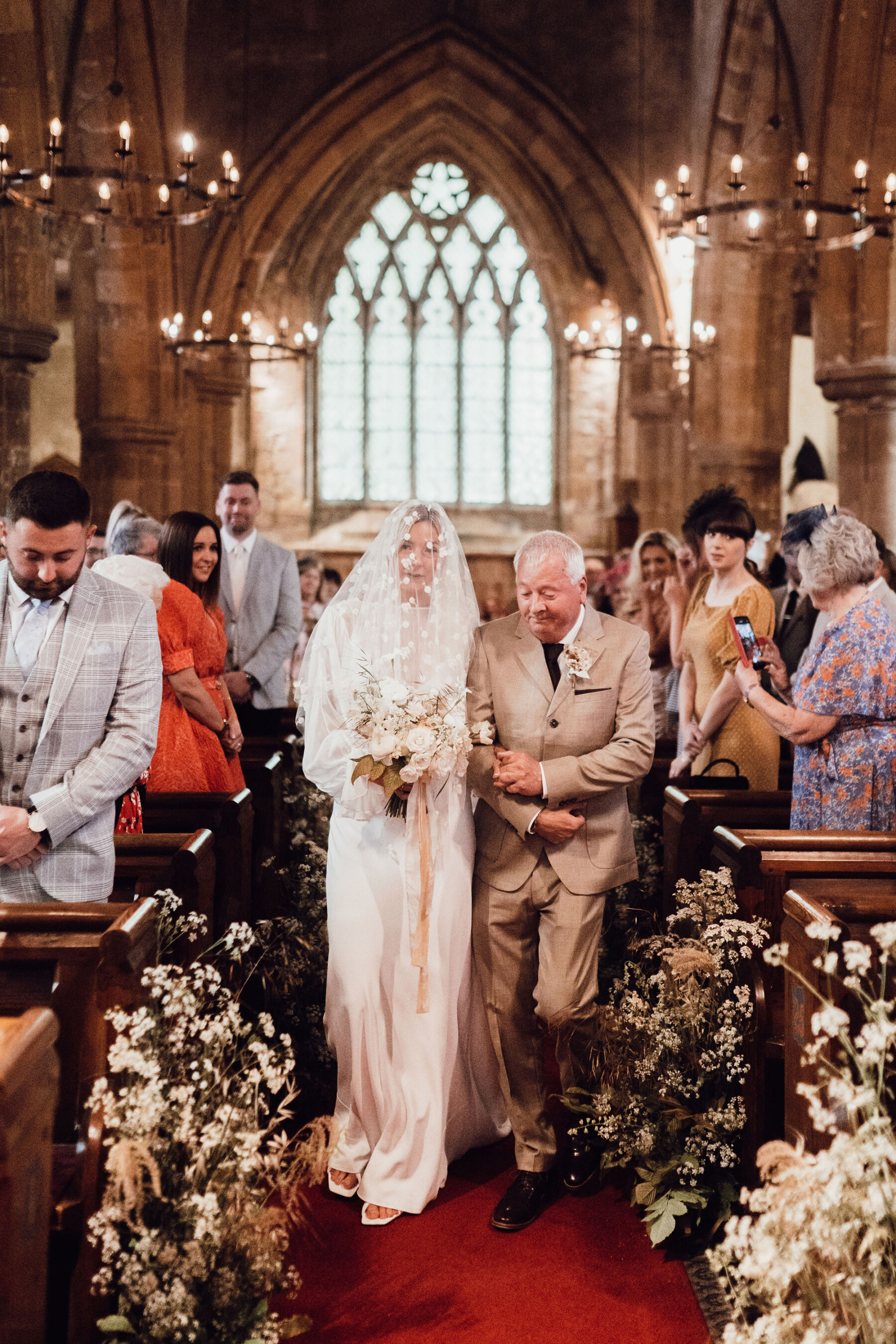 The Ceremony
---
My dad accompanied me down the aisle, to the sound of 'Near Light', by Olafur Arnold's.
We got married at Whixley Church – a beautiful church in the village Rob grew up n and where we have lived together for eight years.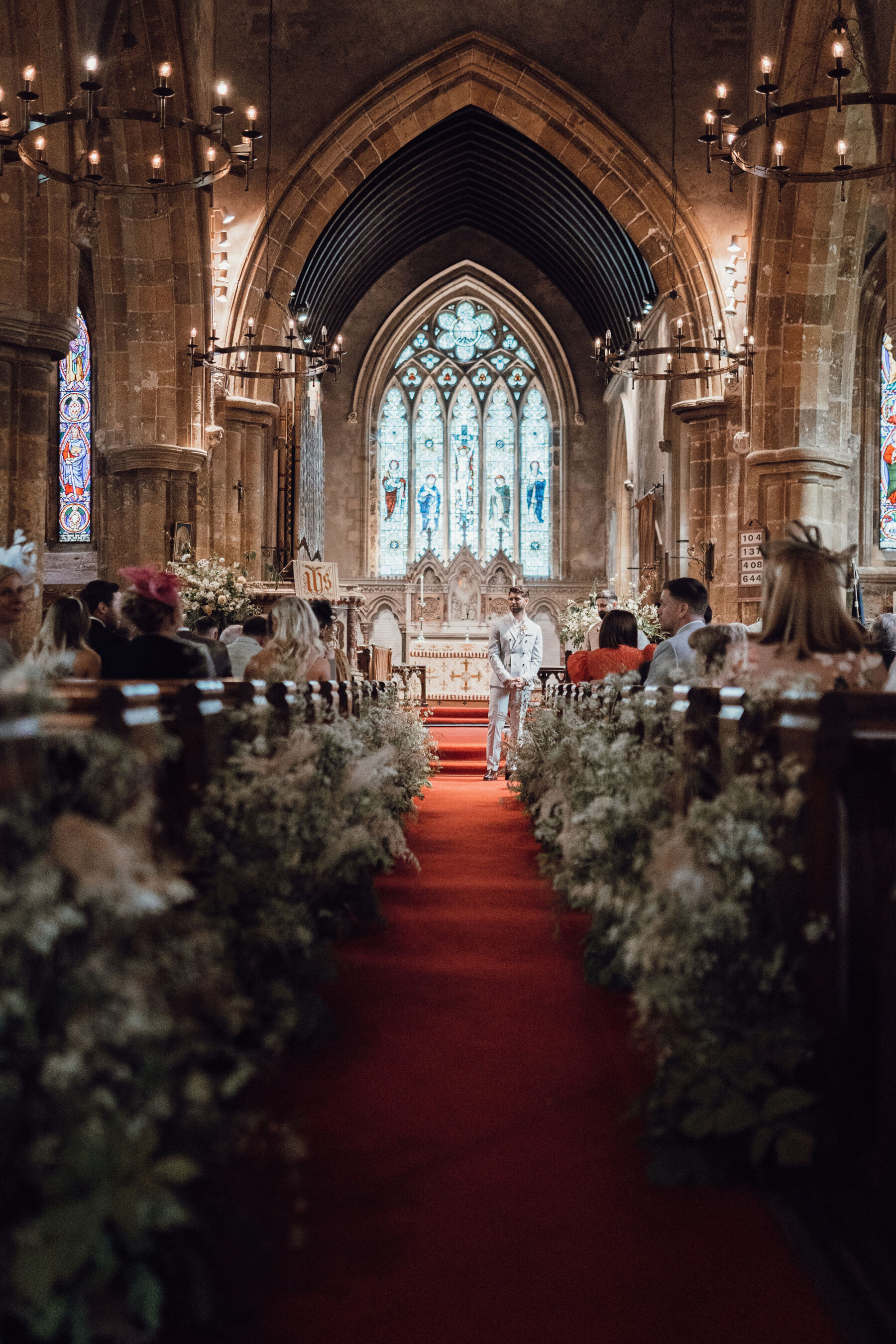 We had two readings, the first was 'A Wedding Verse' by Linda Harrison. The second was a poem written for us by our friend. Both readings were surprises.
A poem for Robert and Rachel By Melissa Handley
It all started with a Harrogate Hello,
And led to that date on the pedalo.
The moment Rob realised he was in love,
Bringing an engagement to the bluebell woods.
Bluebells signify many a thing,
The perfect setting to propose with a ring.
Loyalty, constancy and everlasting love to name three,
There's no doubt in this marriage – these will be.
This is what happens when you find your one and only,
Someone to share your life with; you'll never be lonely.
An author Unkown can describe this better than me,
I'll read that now, so you can all see.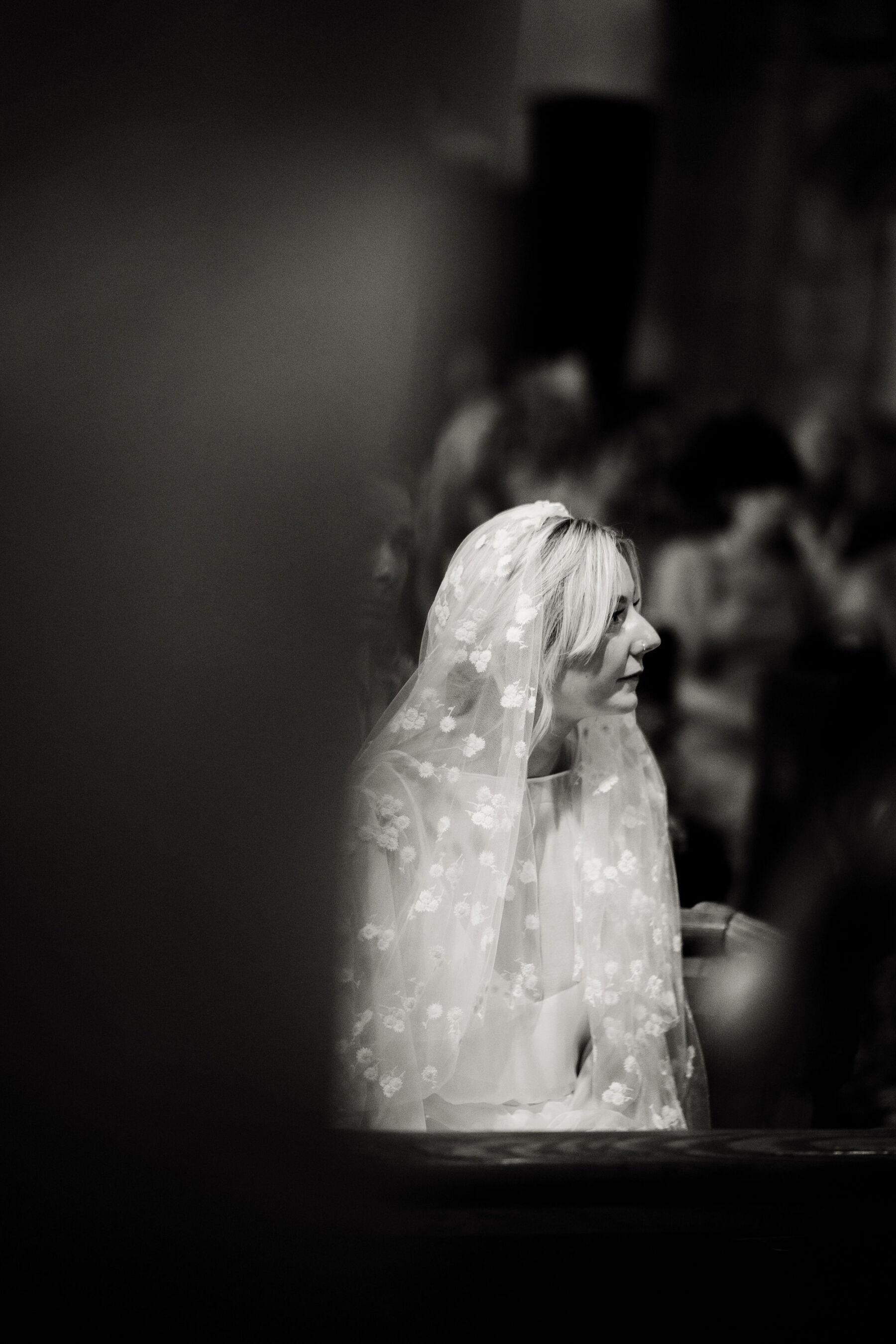 Our third reading was The One Wedding Poem, by Cheryl Barclay.
Our rings were from Ashcroft Jewellery in Durham. They feature bespoke, botanical patterns.
How They Met
We met by chance one evening in Harrogate, we got engaged in a blue bell wood (one we visit every year) two years before the big day.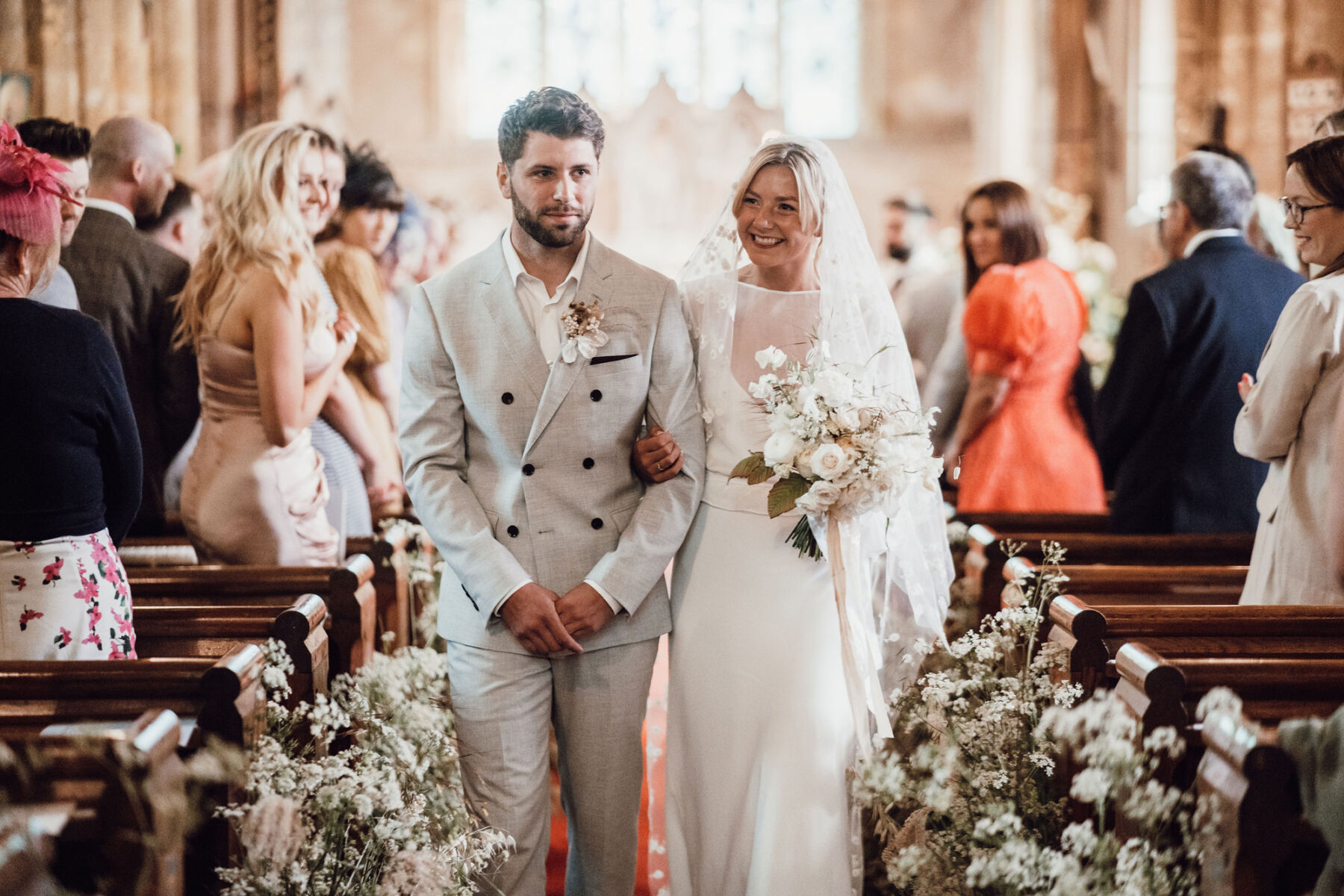 "We both love the outdoors so we really wanted that feeling of bringing the outside in. The colours and tones we used within the flowers, decorations and wardrobe choices were inspired by the colours of the wheat field that was the backdrop for the marquee really golden, sandy, neutral, earthy colours. We wanted the marquee to feel part of the scenery not fighting against it."
The bride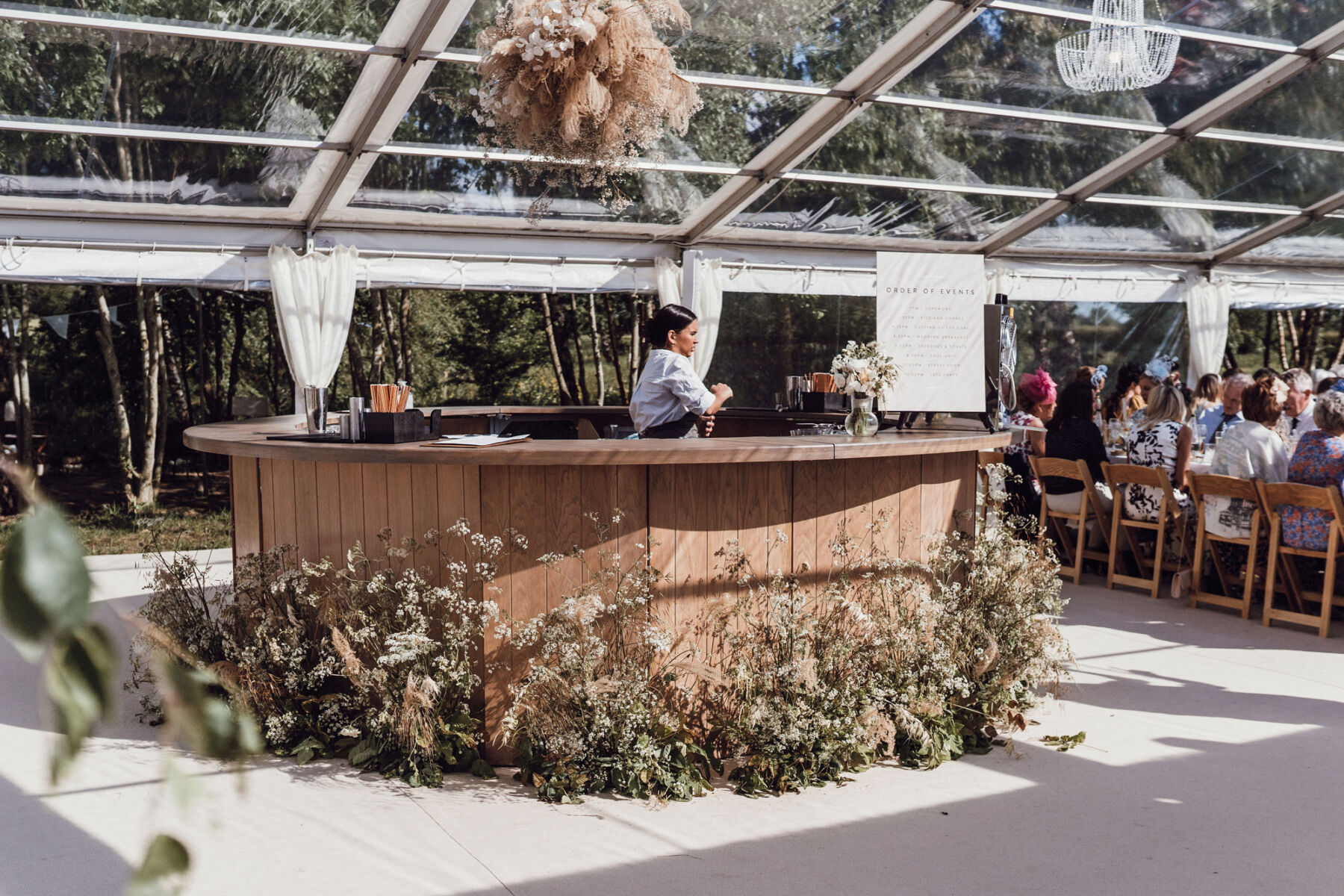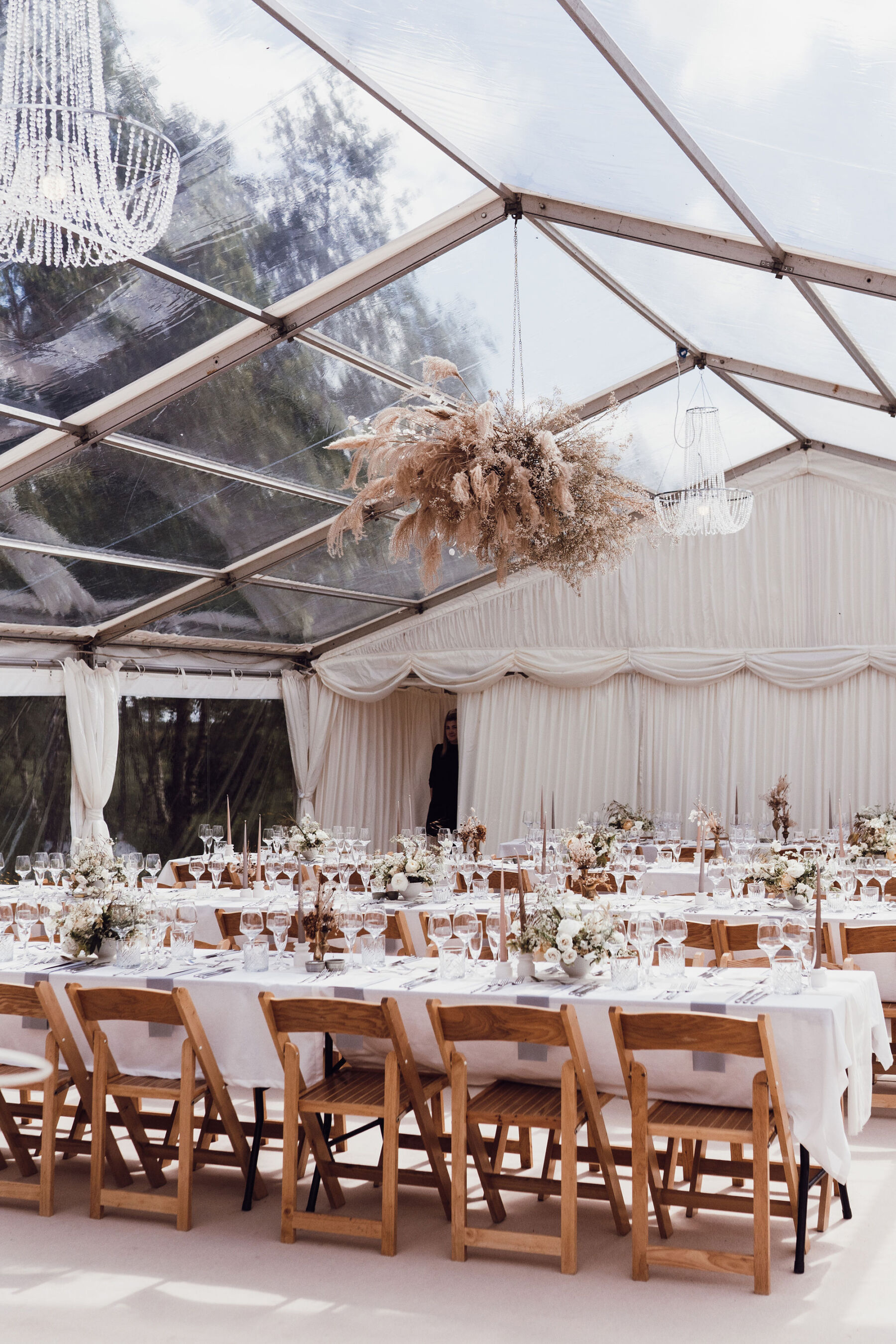 The Reception
Our venue, Old Thornville, is a place that we love and regularly go to for picnics and a paddle on the pond.
The sunsets are stunning – it is the perfect location for a wedding.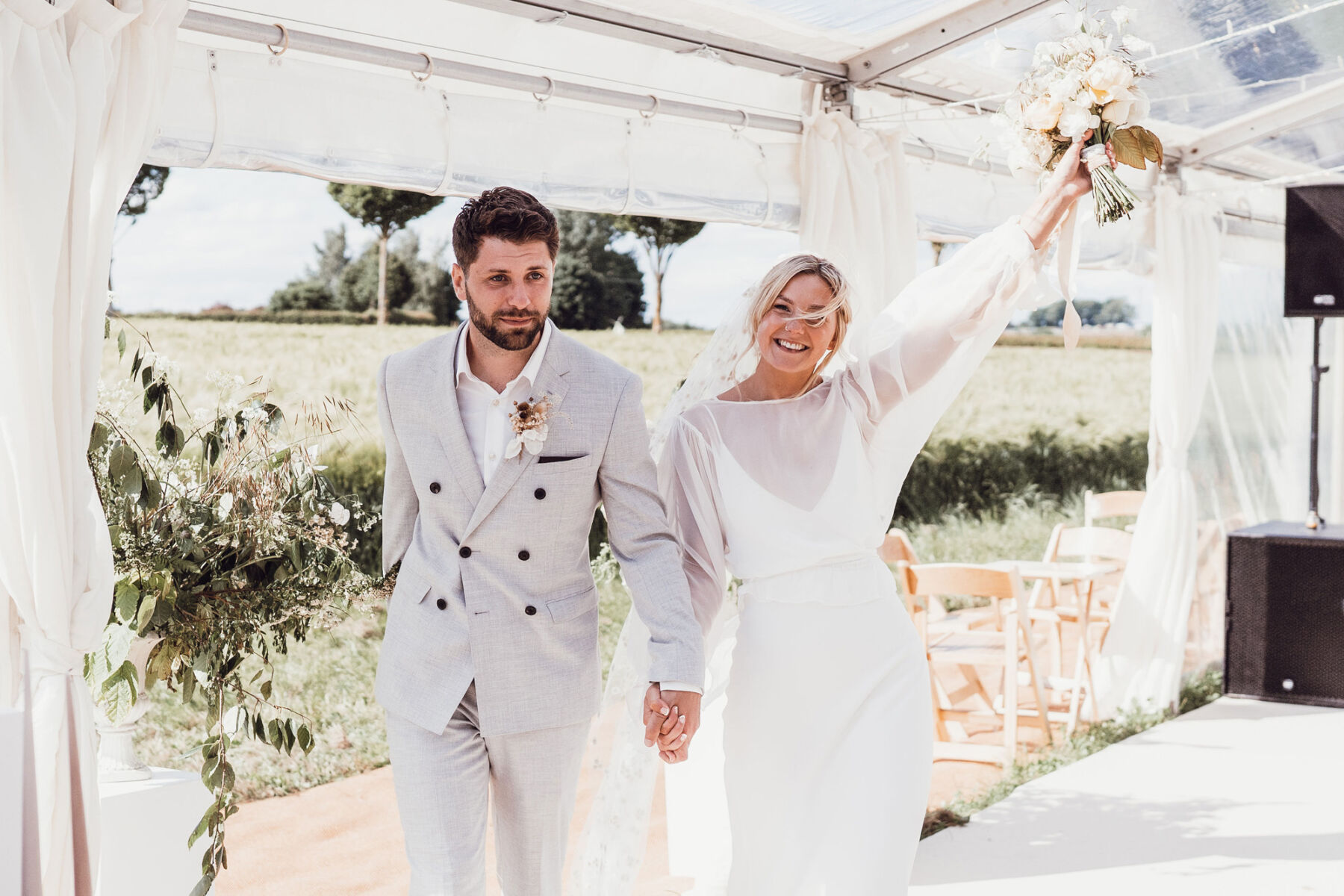 Our florist was Folium, though the flowers were designed and created by myself. I had a mix of freshl and dried flowers- arrangements included dried floral clouds, meadows, urns, bowl table arrangements. The Colour scheme was neutrals which included grasses, cow parsley, roses, sweet peas, ranunculus etc.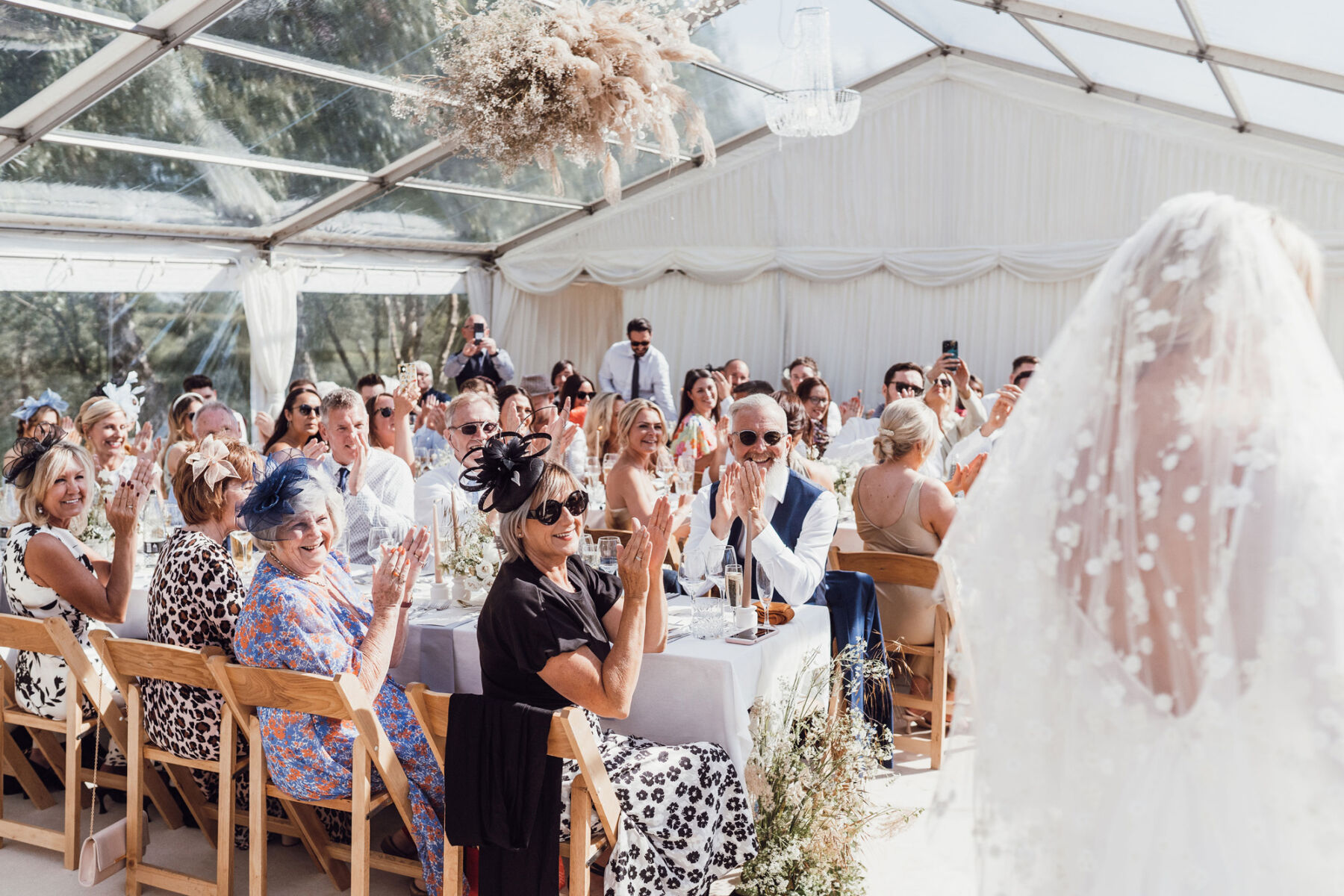 Shutishuti Patisserie created our minimalistic, two tier square cake, finished with dried grasses and home-grown Woodruff which was used to infuse he crème mousseline filling aswell as the white chocolate outer whipped ganache. Honestly people are still talking about the cake!
Our caterers were Baba Ganoush – we designed our whole wedding breakfast menu and paired wine with each course. Our stationery was by Lilac & White.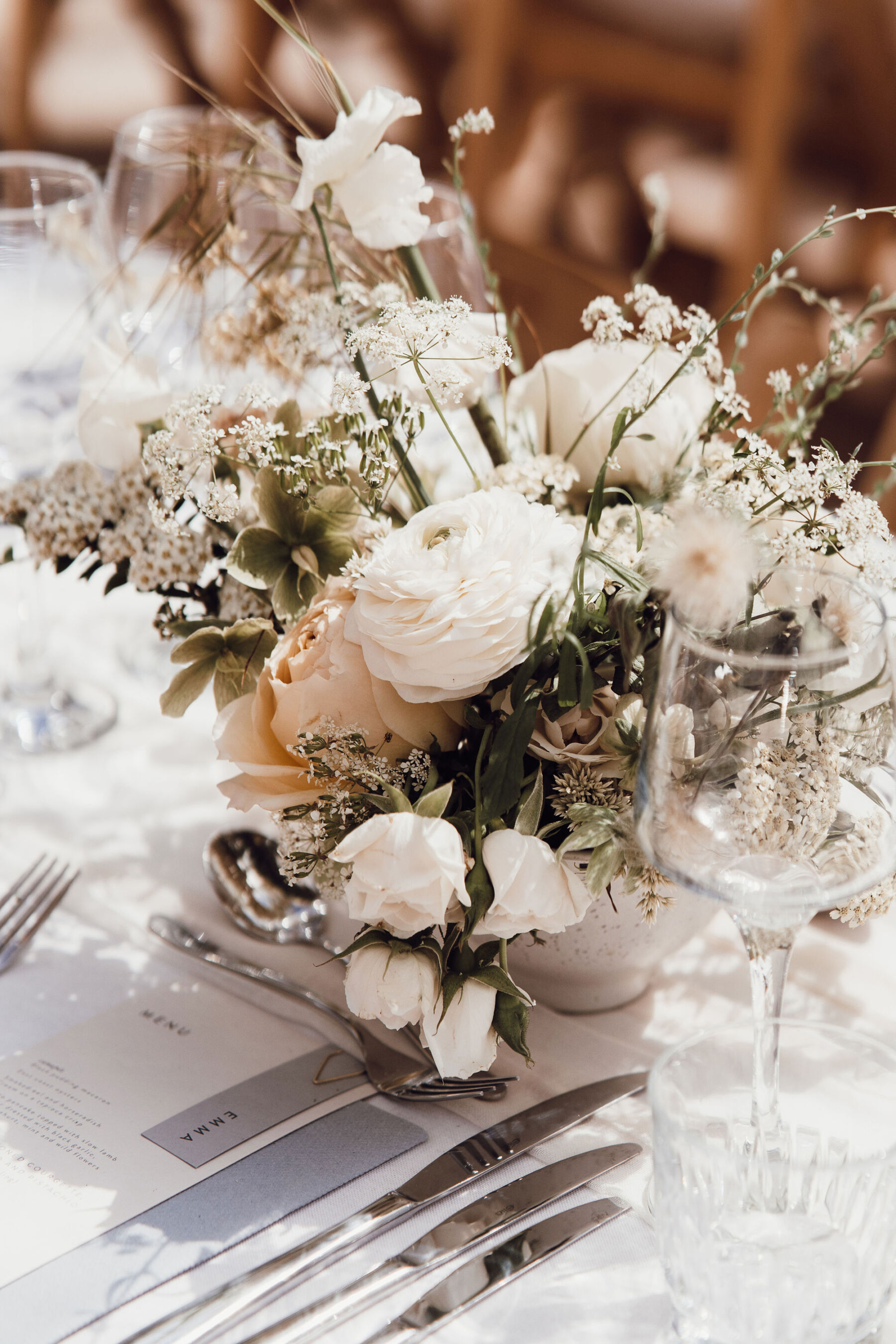 Photography
We hired Laura Adams Photography. We loved Laura's natural, romantic style and then we finally got to meet her we couldn't wait for her to be part of our day. We would 100% recommend Laura she was basically part of the bridal party she made everyone feel comfortable and really did just blend in.
Everyone was raving about her the next day. She captured some beautiful moments throughout the day which we can cherish forever.
Evening & Favourite Moments
Our first dance was to 'You And Me', by Penny & The Quarters. We hired the Soul Unit band for the evening.
My favourite moment was having all our loved ones in one room at the same time as that may never happen again, it was the best feeling looking round at all their smiling faces and watching everyone having such a good time.
I don't think there is anything I would do differently it honestly was the most perfect day.
We hired the string quartet 'Vitula String Quartet', for our church and reception drinks.
Words of Wedded Wisdom
Just Remember it's your day, don't let anyone tell you how you should be doing it, do it your way and your way only.
Let the day reflect you as a couple.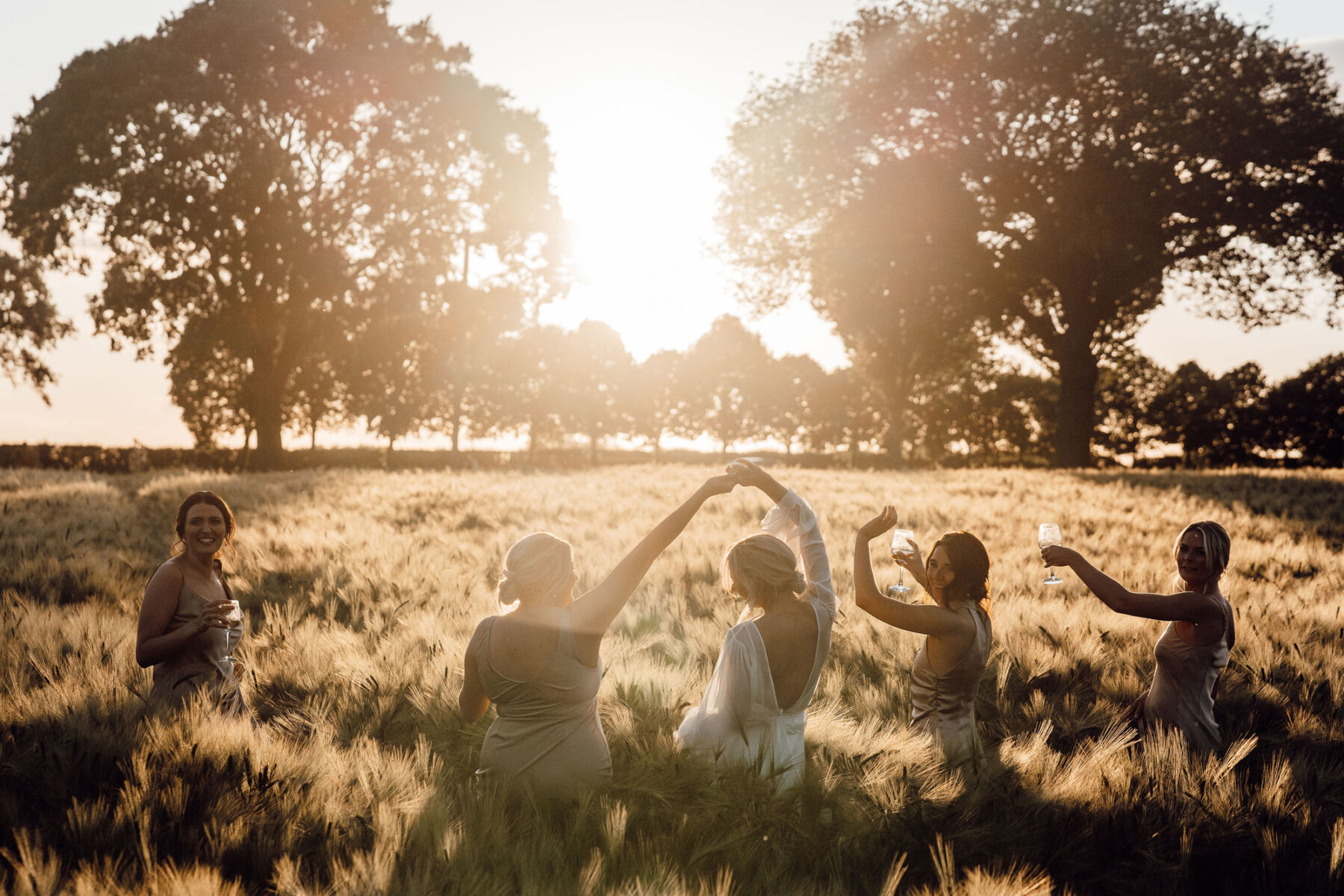 Explore our Directory