This is an ode to one of my absolute favourite British bridal fashion designers and one of the best ethical and sustainable wedding dress designers out there, who working with provides me absolute genuine joy. Her name is Andrea Hawkes and it should be on the radar of every bride looking for an ethical and sustainable bridal gown. Even more so because every one of Andrea's gowns is made with love, in England.
You can enjoy lots content relating to Andrea Hawkes on Love My Dress, from her latest collection, to to her luxury pyjama and robes collection, her veils and capes collection, a spotlight on sustainable bridal fashion and many real weddings – including the designer's own! This article shares the experience that 10 real brides had on not only wearing an Andrea Hawkes gown, but visiting the Andrea Hawkes design studio too.
I'm passionate about supporting British bridal fashion design businesses and Andrea Hawkes is one of the very best of them. I hope you enjoy this article and that it will inspire you to make an enquiry or book an appointment, whether you're looking for something bespoke, made to measure or a sample gown. You'll find full contact details a the end of this article.
Words below are by Andrea Hawkes stylist and boutique manager, Siobhan.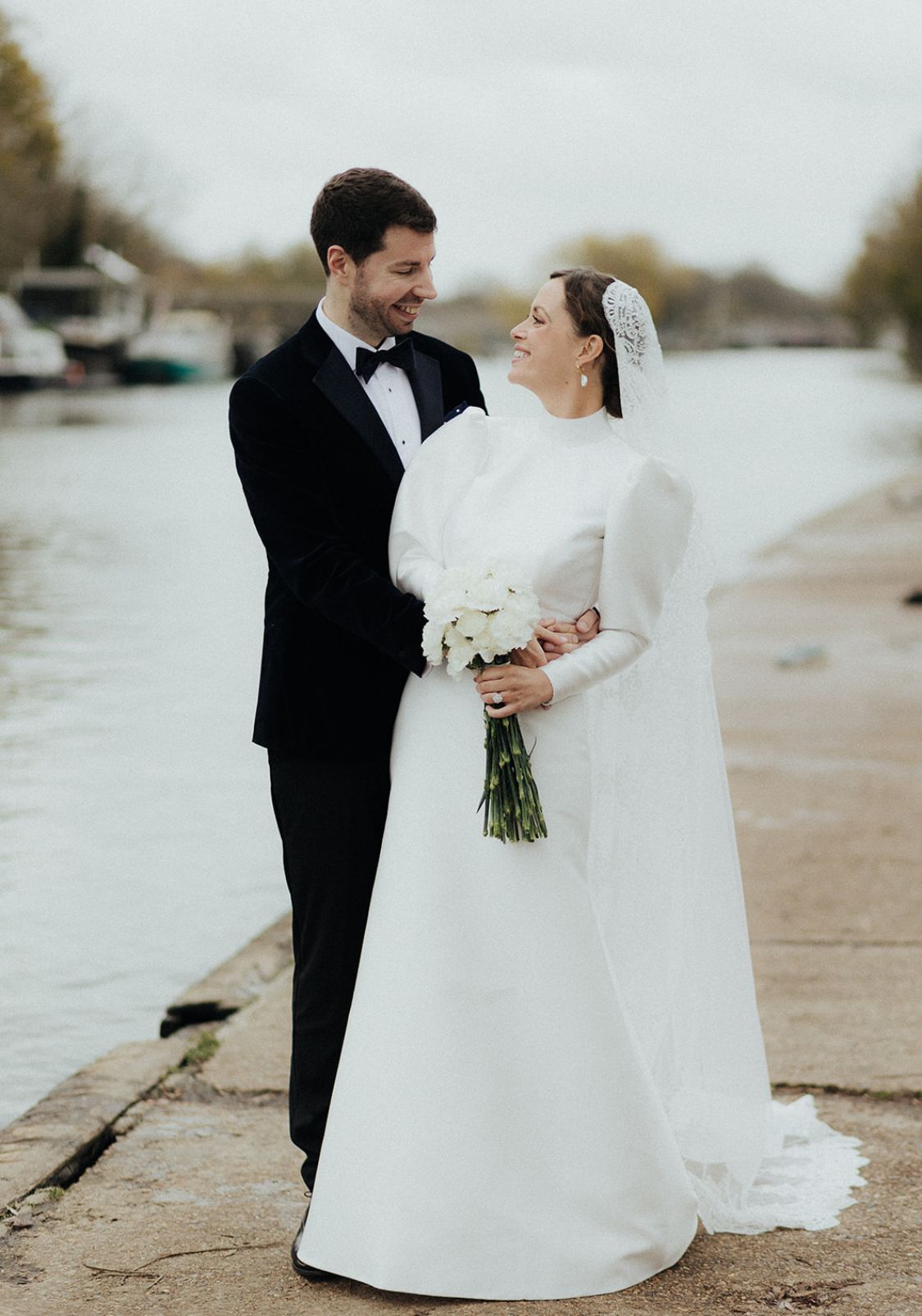 Indie
A Bespoke Design
Indie came to us with a clear vision for her dress which we worked on together over a few appointments, perfecting the bespoke design and starting the bespoke process. Our bespoke service really allows our brides to have the dress of their dreams, our talented, experienced team can bring our brides vision to life.
It starts with a few design sessions to discuss details, fabrics, form and fit. Once we have good base for the idea we take a full set of body measurements and a made to measure pattern is made for the bride.
From this we create a toile, a cotton prototype of the brides dress for them to try on. This allows the bride to see their vision before making in silk. It enables to make changes, check the details and make any fit adjustments. Once the bride is happy we then make their dress in their chosen fabrics.
A silk fitting then takes place which is always very exciting as this is the first time our bride has seen their bespoke design. We work on the fit further during this appointment, especially the bodice and hem.
Once works have been completed and the final touches have been made (such as hand made button fastenings) we then see the bride once more to check everything over together!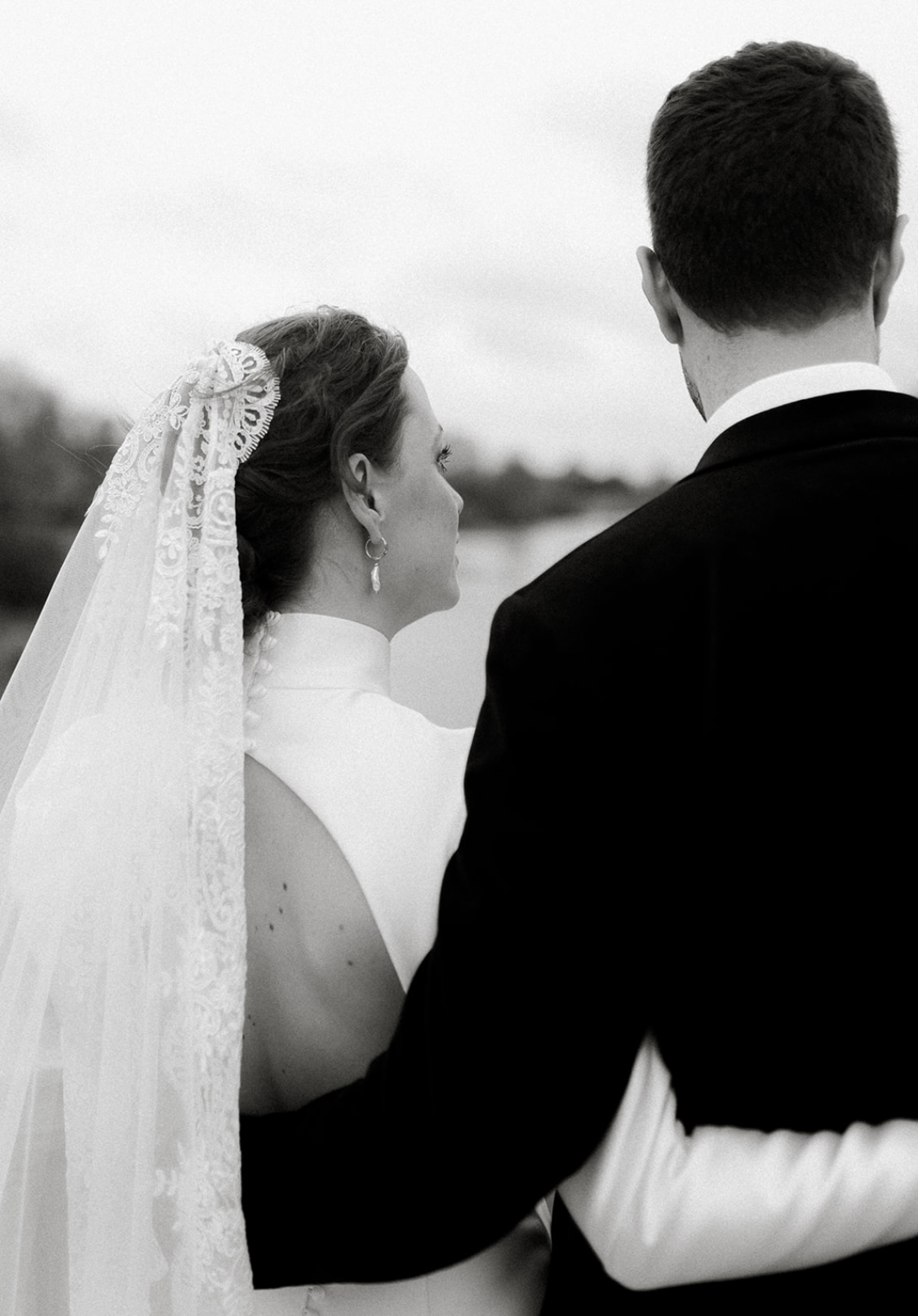 "Andrea and her wonderful team are extremely special. I had a magical experience designing my wedding dress. Walking into Andrea Hawkes was always such a lovely experience. I immediately felt at home and always felt so welcome."
"Siobhan and Rebecca were extremely kind throughout the process and would always go the extra mile to ensure that I was comfortable and happy. We added so many special details and I will forever be grateful. I also love that all Andrea Hawkes Bridal dresses are made in house by the ever so talented team. Looking at my dress, you can see the care and love that has been taken. It is just flawless. The quality of every little detail is incredible."
"I also had my beautiful single tier India veil made by the team. Siobhan kindly helped arrange this with a week do go. Im so grateful. I had so many compliments from my friends and family. The details are magical."
"I would highly recommend choosing AHB to be part of your bridal journey. I wish I could get married again so that I could have another dress made! (Don't tell Matt). I'm looking forward to receiving our full album of photos and will be sure to share our favourite ones. Thank you to everyone who made my dress of dreams come true. I feel extremely lucky."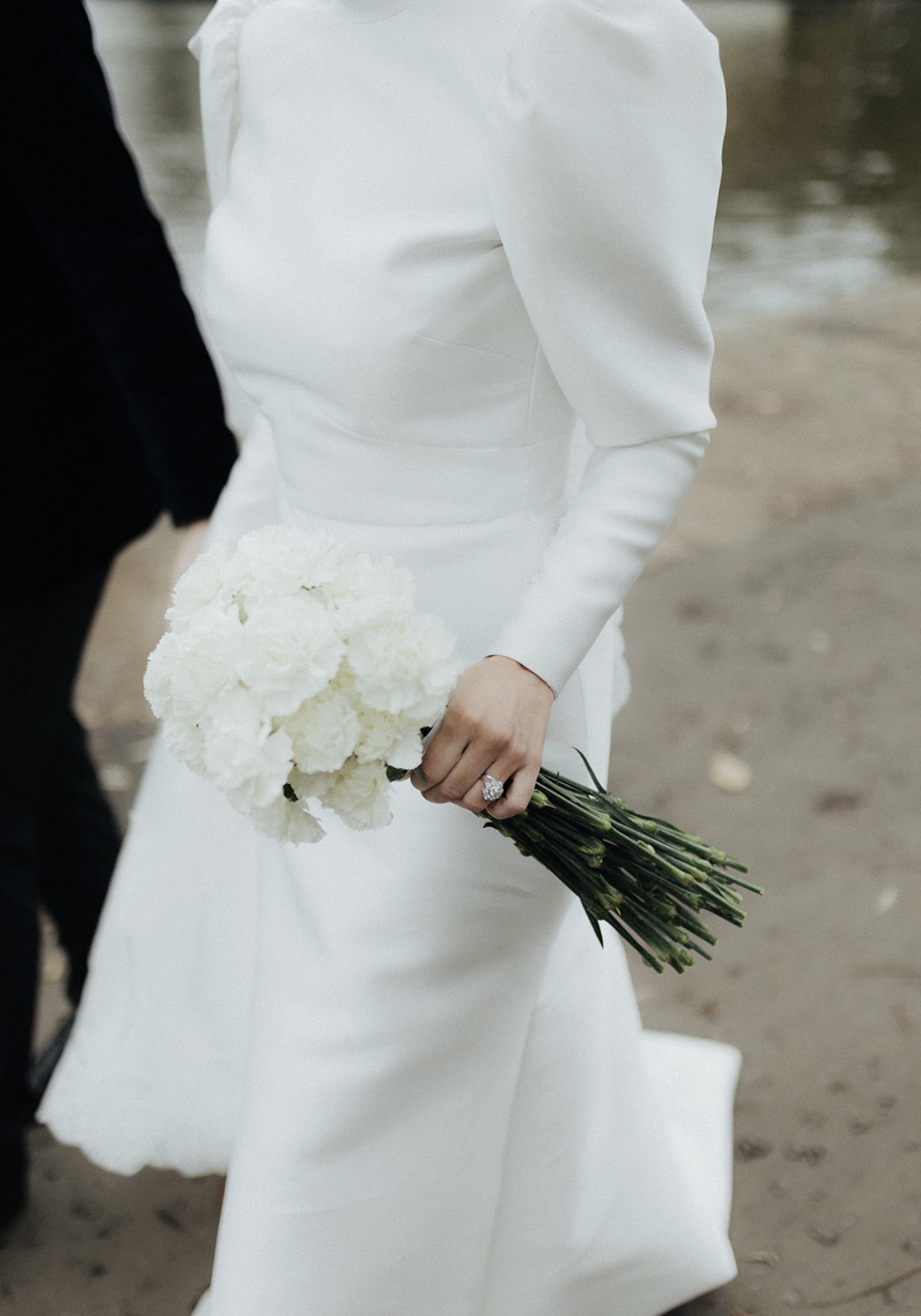 Bethany
Standard Size
Bethany opted for our standard size service. Bethany was measured to work out her nearest UK standard size based on our pattern sizing. We then made Beth's dress in silk and lace, leaving the centre back and hem unfinished. Bethany then visited our studio for a silk fitting with our in house team so that we could perfect the fit of her dress.
We worked on the waistline, shoulders and hem to make sure it fitted like a glove! We then had a final fitting with Beth a few weeks before her wedding to check everything over and to ensure Beth felt 100% comfortable in her dress.
All of our designs are available in any UK dress size, they are made to order in our London studio and fitted by our in house team.
"My experience as an Andrea Hawkes bride was seamless from start to finish. Siobhan was great in helping me choose a number of dresses to try on and understood the sort of look I was after for my winter wedding. Everything I tried on was absolutely stunning – but the minute I tried on Lotus I knew it was very special. It was exactly the sort of dress I'd envisioned wearing – delicate and elegant, but also structured and comfortable. I really felt like myself when I put it on."
"Siobhan also told me that it was made in London, with lace from France, and that the dress was called Lotus – I thought this was fate since my fiancé Joakim and I live in London, got engaged in France and met in South Korea, where the national flower is the Lotus!"
"The fittings process was also fantastic – my first fitting was getting all my measurements sorted, the second was the first time trying on my actual dress where the fittings team gave me advice on what they'd recommend getting amended. The final try on was lovely – my mum was there and was so emotional to see me in my beautiful dress. There were a few final tiny tweaks I had made, and then I picked up my dress to take to my wedding in Sweden. The fabulous AH team even carefully packed it in my suitcase for me as I had to fly to Stockholm with it in my carry-on the following week!"
"My dress was absolutely perfect for our wedding day – I got married on a snowy day in Sweden and felt like a princess in a winter wonderland. The dress looked incredible against the snow and everyone at our wedding commented that it was absolutely stunning and said they'd never seen a dress like it before. It was also easy to move in and my mum and Maid of Honour easily managed to do the bustle so I could dance in it. The dress even survived us all deciding to dive headfirst into the snow at 2am – a true mark of quality!"
"My heartfelt thanks to the entire team at Andrea Hawkes for helping me find the perfect dress for my fairy-tale winter wedding – they really helped make my dreams come true."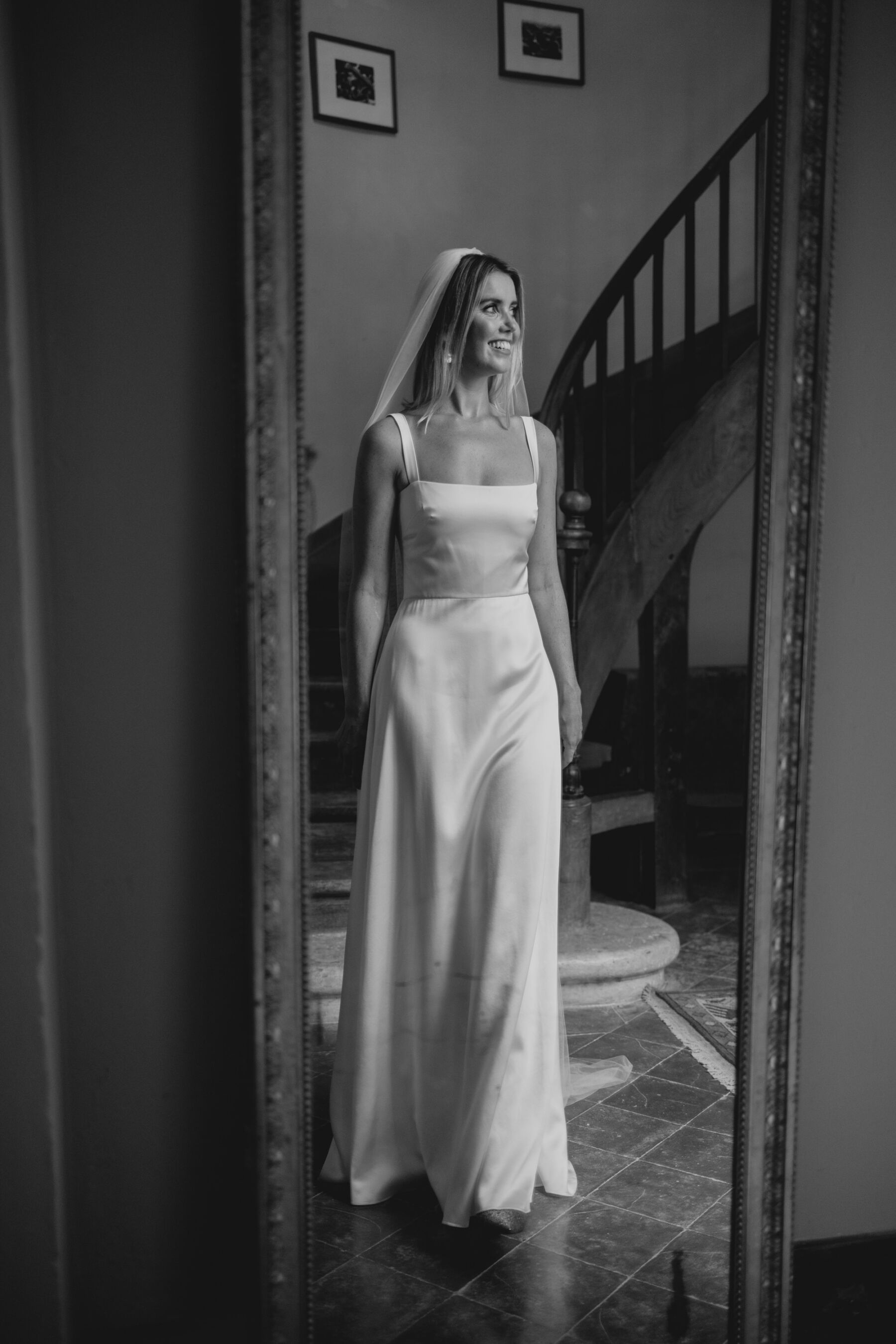 Catrin
Standard Size & Quick Turn-around Dress
---
"I initially contacted the team at Andrea Hawkes in a bit of a panic; it was 14 weeks before my wedding and I was having second thoughts on an off the rack dress I had bought and was looking for a new dress."
"I spotted 'The Brie' dress online and knew it was the shape and style that I wanted. It was classic, simple and modern…and perfect for dancing."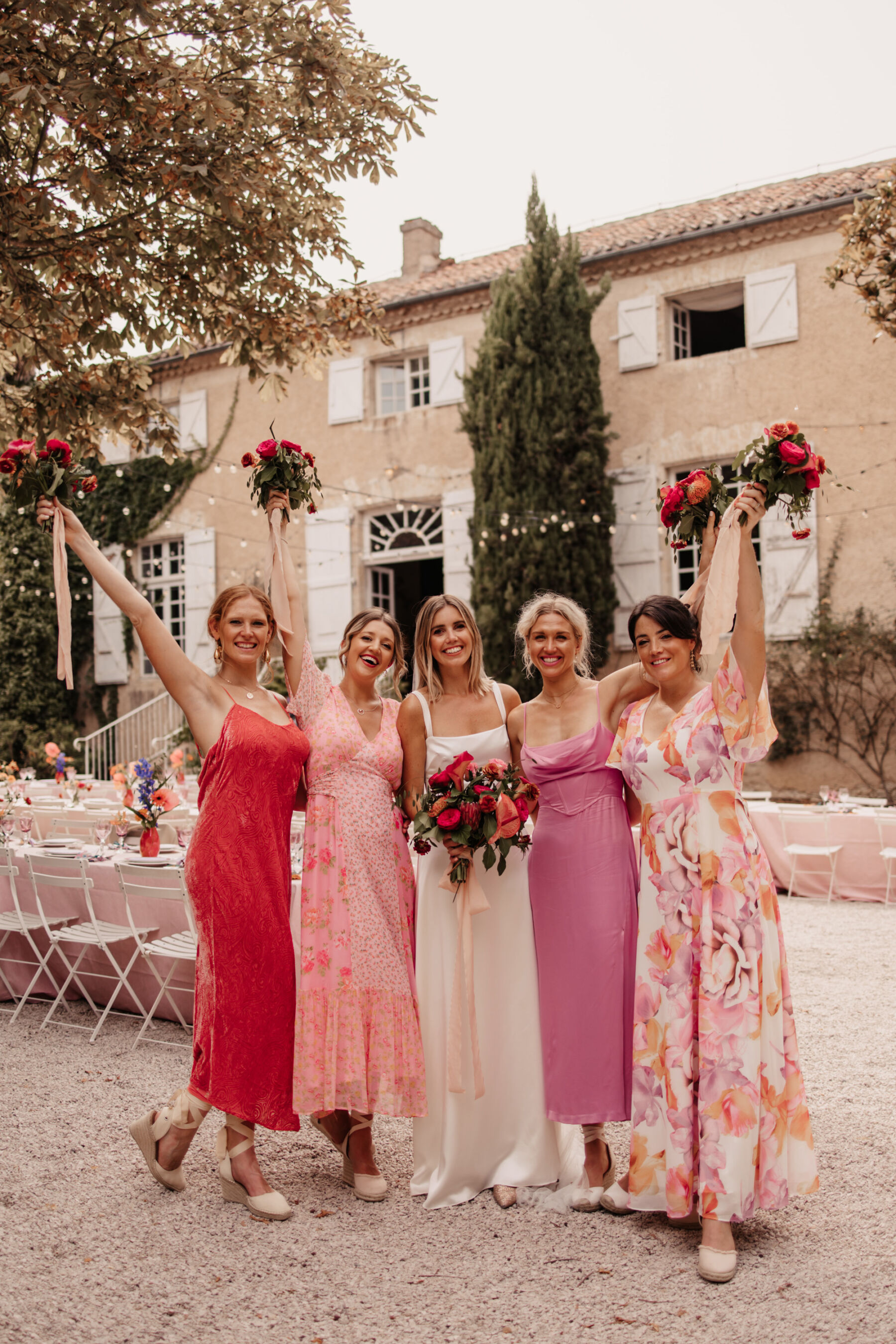 Angela
A Made-To-Measure Dress
Angela opted for our made to measure service with customisation, this meant that Angelas dress was fully made to measure to her precise body measurements.
This allows our brides to be flexible with design changes. Perhaps adapting the neckline slightly or in Angelas case mixing and matching bodice and skirt. Angela had our Madison Bodice paired with our bias cut Coral Skirt.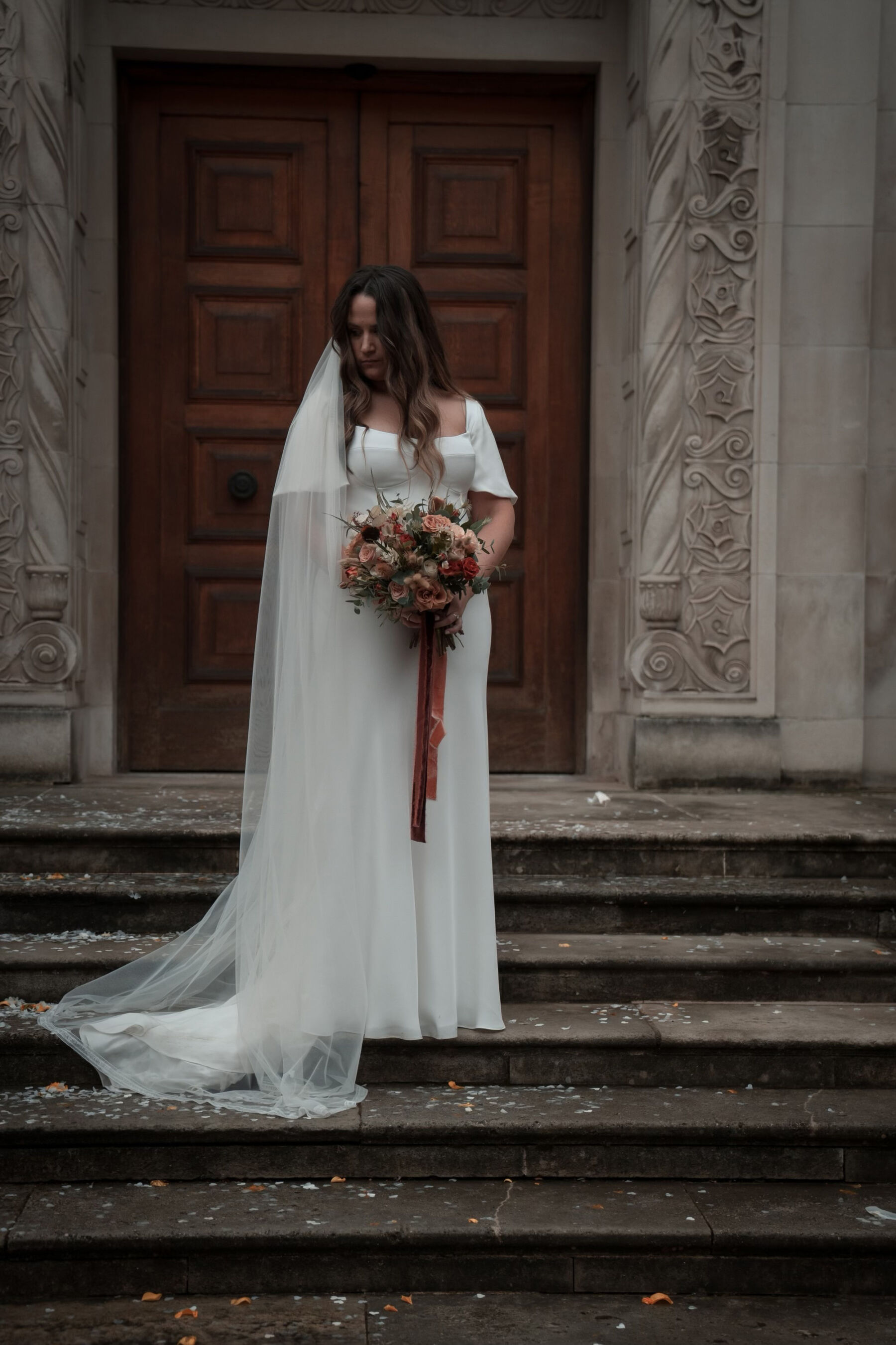 "Where to begin? Finding a dress is no easy experience and actually quite stressful. Where you have to put a lot into visualising your potential dress which is sometimes hard to see when you've tried loads and it all becomes a white blur of wedding dresses. Not with AH. In fact the opposite."
"Picking a dress: Siobhan was amazing about making the experience enjoyable, relaxing and fun. Helping find dresses that suited my taste and body type and then working on different combinations to make it bespoke to my taste/needs and helping visualise the final product."
"Dress making/fitting: I had a 'made to measure' dress produced with the help of the incredible Rebecca. Her and the teams effortless help and craftsmanship in making sure the dress was perfect every step of the way and truly bringing my version of the Maddison to life."
"Aftercare/Alterations: Lastly, I had a cheeky ask with some tight turnarounds for an alteration to my dress after the Wedding Day for another event. Again Siobhan and Rebecca were SO accommodating in turning this around for me and I am eternally grateful."
"Thank you Siobhan, Rebecca and the AH Team that I didn't get a chance to meet, working effortlessly in the background. I love my dress and loved my dress experience! THANK YOU!"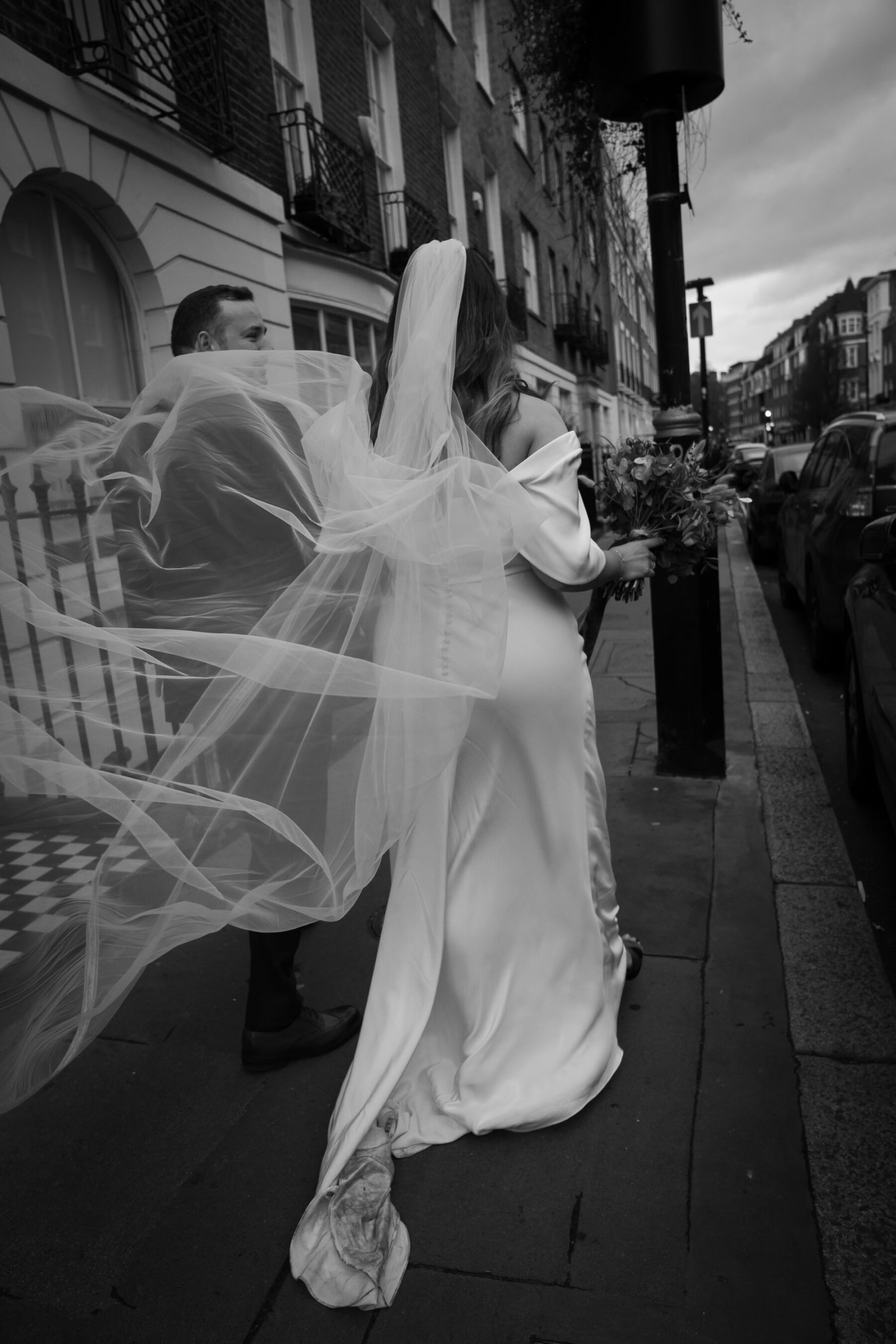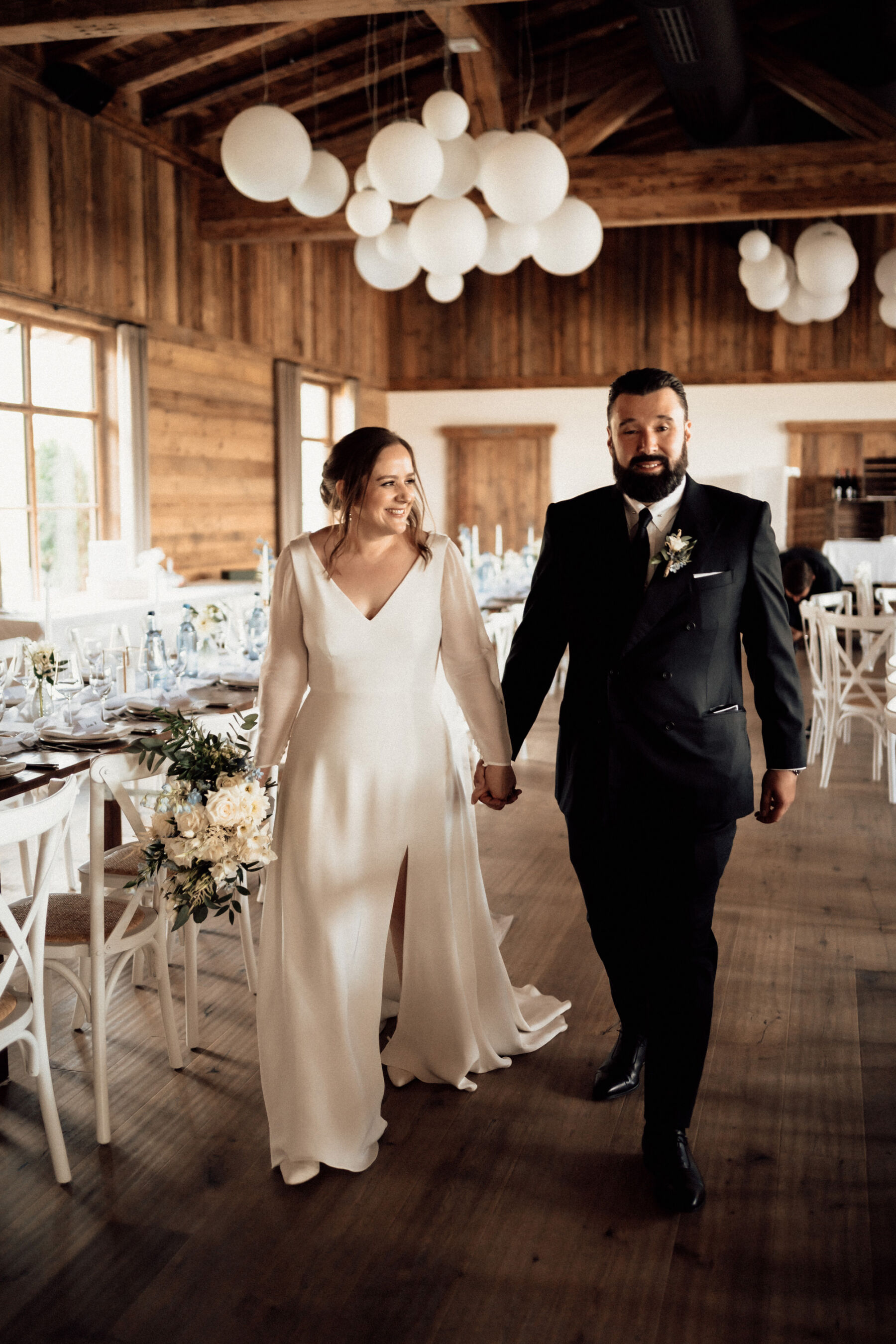 Amanda
A Made to Measure Dress
---
"I could not recommend the made-to-measure service more. I am quite body conscious but the team at AH made me feel completely at ease. Not only did I end up with a dress that fit me, but I had a dress that I felt amazing in. I have never had a toile made and this was a really fun experience. "
"I loved my visits to the Andrea Hawkes studio. The showroom and studio are all in one building and I felt really connected to the process of my dress being made."
"As the weeks progressed and my dress came together I was able to fine-tune and tweak the fit in certain areas. This was one of the things I loved about made-to-measure. As I was also actively attending the Andrea Hawkes studio regularly we were also able to have fun with accessories as the dress came together. I ended up adding a cape to my dress quite late in the process, which was another benefit of made-to-measure."
"I had the pleasure of meeting many members of the team and fondly remember my trips to the Andrea Hawkes studio. It was one of the most enjoyable and relaxing parts of the build-up to our wedding day."
Claire
A Sample Gown
Our beautiful bride Claire came to us at the perfect time when we had a brand new Clement sample available to purchase! It was a match made in heaven.
The sample fitted Claire beautifully but needed some small tweaks to perfect the fit. Claire visited our Islington showroom to carry out fittings with our in house team, during these appointments we looked and various accessories to compliment Claires look but it was clear that our India veil was a winner.
This was made to order for Claire and was such a lovely addition to her stunning look.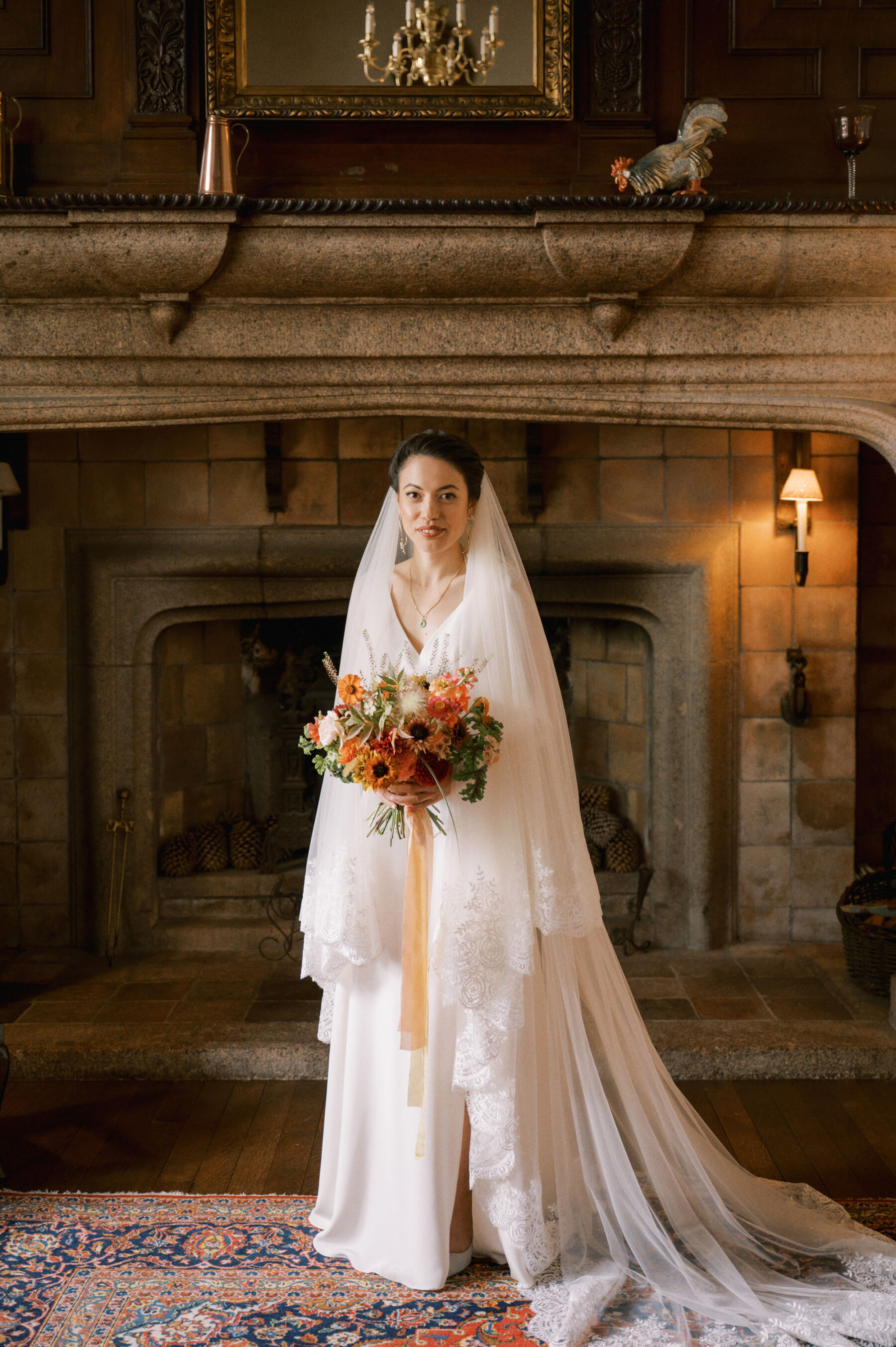 "I knew I wanted a dress that expressed my style but also a designer that had the same approach to the ethos of all our wedding elements. My experience with Andrea Hawkes was one of the highlights of the whole process. Stepping into the studio, my Mum and I instantly felt comfortable and at ease. Siobhan explained the whole process, how all the dresses are made in-house and the different services that were on offer and budgets – every option felt so personal!"
"I had the opportunity to try on lots of different silhouettes and styles, but very quickly fell in love with Clement. The detailing of the buttons, the back and quality of the fabric is simply stunning. Initially I thought I would have ended up with a more structured dress, however Clement fitted like a glove and flowed so beautifully when I walked, that I felt so comfortable, elegant and truely myself."
"The slit was a fun addition and gave my Emmy shoes the show time they also deserved! Following my initial appointment, I returned three times where I got to meet most of the team including Andrea to discuss fit, take measurements and test the adjustments. The team were so patient with me and listened to any questions that I had and were so helpful with advice – even when it came to finalising hair, underwear and accessories."
"To finish off my look, I went for the India veil which really brought everything to life for me. The cascading detailed lace against the Clement silhouette brought the two aspects of bridal style that I love – a hint of classic Grace Kelly with a modern minimalism that are both timeless…and chique!"
"During my last appointment I had the opportunity to try everything on together, and I'll never forget how I felt and the woman who walked past the studio and gave a thumbs up through the window! Andrea Hawkes is a very special studio which I will always treasure."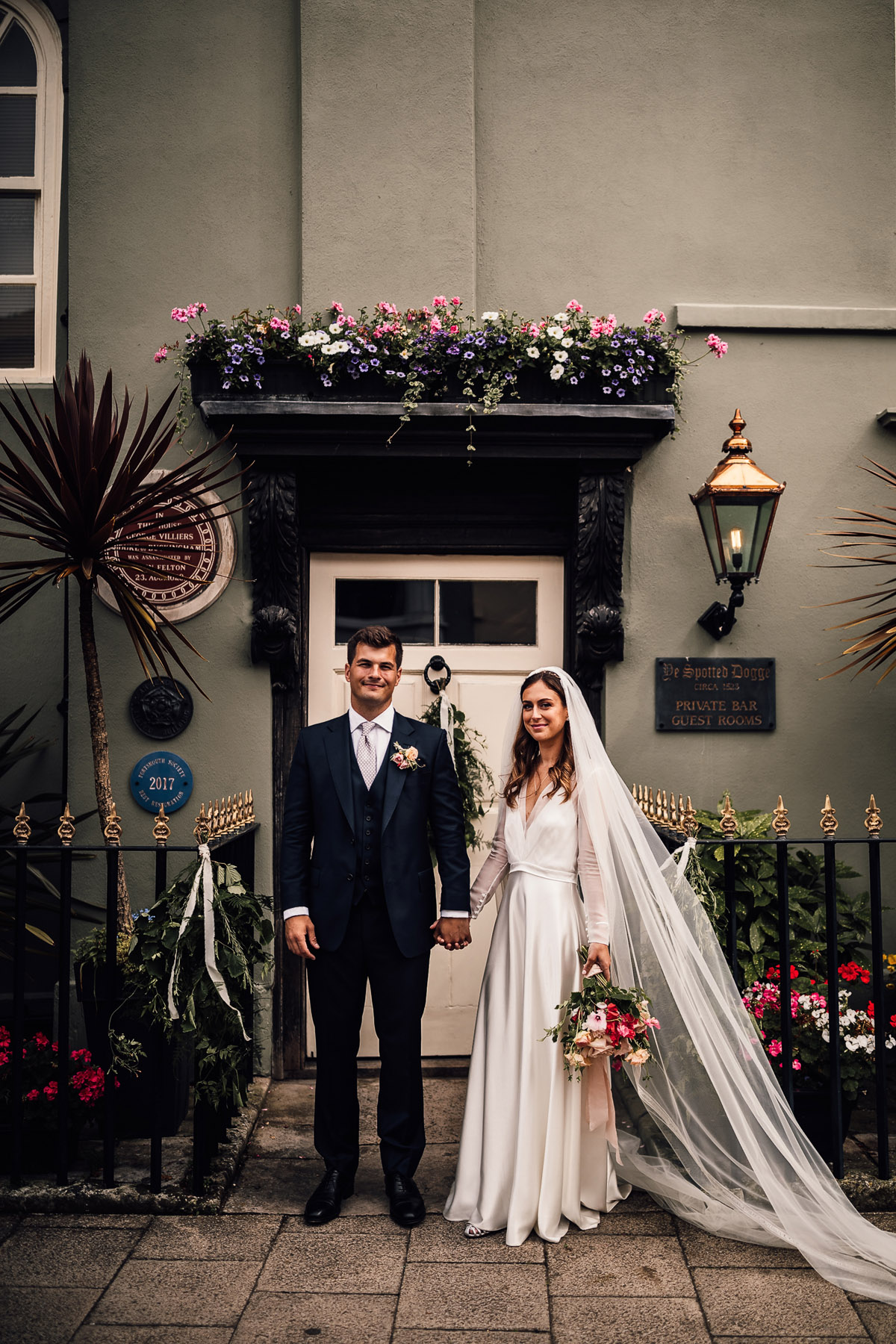 Courteney
Love My Dress Real Bride
---
Courteney and Rob's, lovely and intimate south coast wedding was held at Ye Spotted Dogge boutique hotel in Portsmouth.
"Andrea Hawkes provided an extremely professional yet friendly service. It was the first bridal shop I visited, and I was so impressed with how clean everything was – especially the dresses – so pristine."
"I found that every shop after Andrea Hawkes was a disappointment – nothing seemed to compare to the luxurious silks and fabrics at Andrea Hawkes, and I knew after day 2 of shopping that I would be back."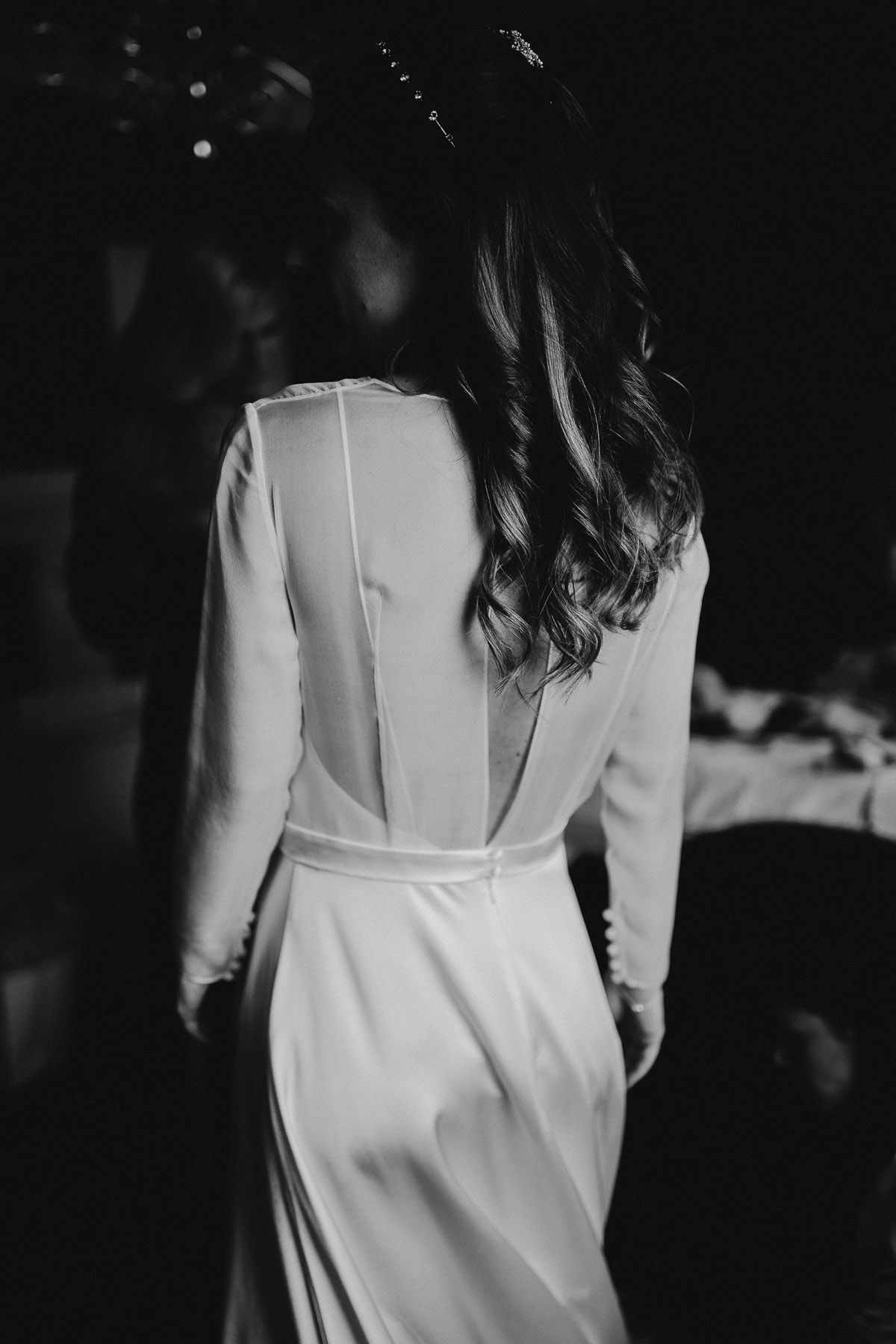 Megan
Bespoke Dress
Megan worked closely with us to bring her dress vision to life. This kind of 1:1 bespoke design service is available to all brides at the Andrea Hawkes Bridal studio in London and always has been. It is a great option for brides who may be seeking a specific designer feature or style, or who feel they cannot find what they are looking for elsewehere.
"It was a dream come true working with Andrea Hawkes and the team. It's quite a challenge designing your own dress from scratch with no prior experience – and I felt very supported throughout the process. Nothing was too much and whilst they were clear and concise with their way of working, it felt more like I was designing my dress with my friends. I feel very grateful to have had such a special experience and would recommend Andrea a million times over."
"I have never really been the girl who dreams of her wedding day – but I do have a very confident relationship with my wardrobe. So when it came to choosing a wedding dress, although I hadn't spent my childhood dreaming what my dress would look like, I had a very clear vision in my mind for what I'd love and feel comfortable in."
"I had some lovely experiences trying on dresses with multiple designers, but I never got that 'feeling' and I think that was ultimately because what I wanted didn't exist. When Andrea approached me about designing a dress together, the 'a ha' moment came – it felt like it was always meant to go this way. I loved absolutely everything about my dress. But mostly it was that it was the most me thing I'd ever worn. I felt 100% comfortable, and didn't need to give the dress a second thought the whole day, it worked with my body and that was our goal!"
"I also wore tbe Andrea Hawkes Meaghan Veil – a long, 90" length single tier, with floral lace applique. It felt like a Grecian dream on the day.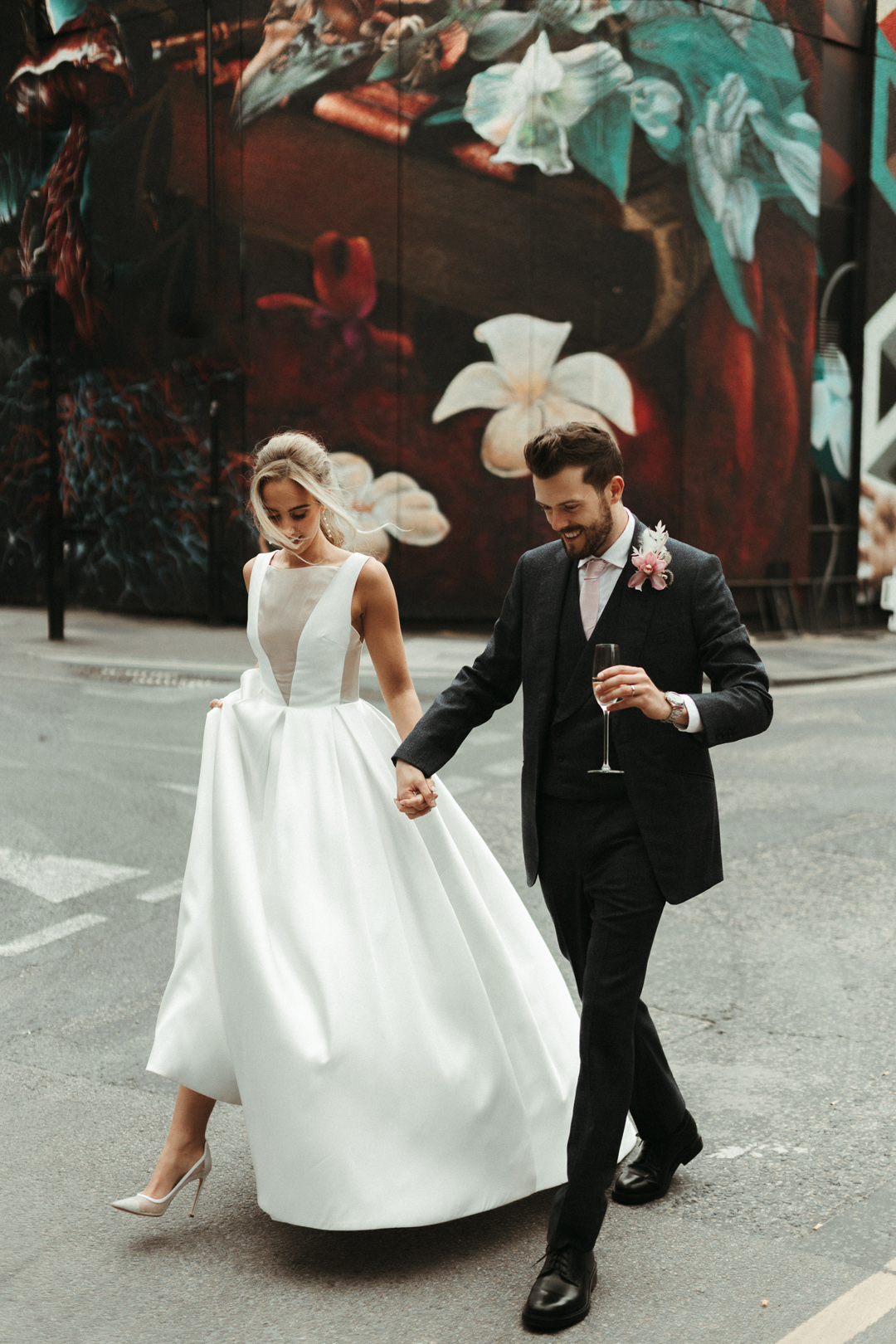 Nic
Love My Dress Real Bride
---
"I had never dreamed of or pictured my wedding dress so when I started looking for designers, I didn't have a clue where to start."
"I found Andrea Hawkes through the influencer Chessie King and as cliché as this may sound, I knew I'd found the designer for my dress as soon as I began looking through her collection. They're simple, elegant, and modern whilst being striking and unique. Andrea and her entire team were so wonderful throughout the process of designing my dress."
"I'd originally chosen the Milo design (the second dress that I tried on) but after a few weeks I started to feel like it wasn't quite right. I was so nervous about calling to ask about making changes but Siobhan was incredible. We arranged another appointment where we discussed my ideas, tried on a few other designs with the Milo top and then landed on the final design."
"I fell in love with the square shape of the back, the straps and the buttons going into the beautiful box pleats. The dress was so simple in ways but the combination of the shapes and materials made it so striking yet still elegant."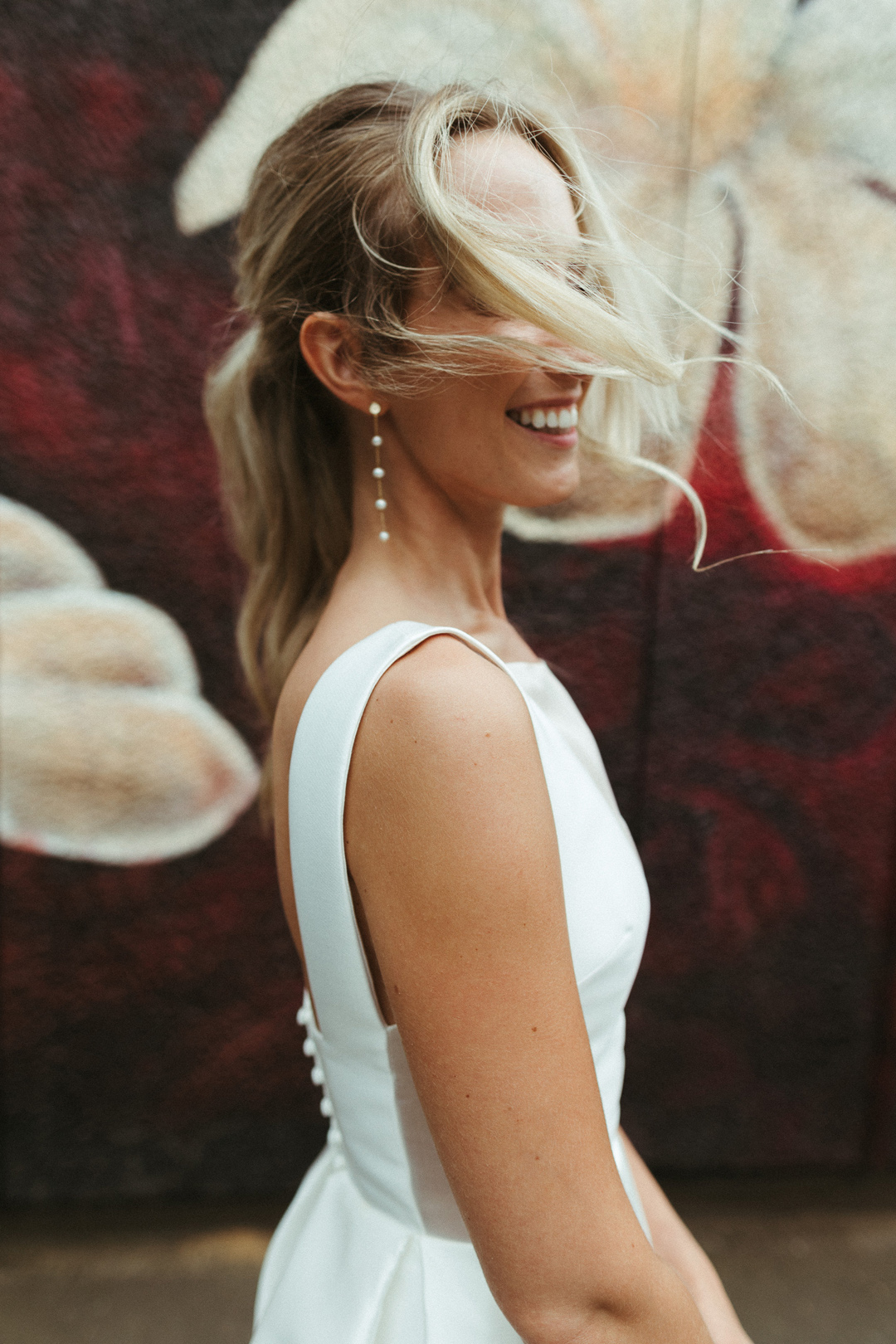 India
Founder of Maids to Measure
India, co-founder of popular bridesmaids brand, Maids to Measure, wore a bespoke dress created by Andrea. The gown was such a hit it became a key design in Andrea's IDENTITY collection, aptly named 'India', as was the veil India wore, which has already been mentioned multiple times.
This gorgeous dress was a bit of a cult hit on social media.
"I was very particular about what I wanted when it came to 'the dress' and couldn't find it when dress shopping so I decided to put pencil to paper and design it myself and asked the fabulous Andrea of Andrea Hawkes, to bring my design to life."
"The whole Andrea Hawkes team were so helpful and patient and gave so much advice when it came to what best fabrics to use to create my dream dress."
"I created the dress to be simple, sexy and regal. Simplicity from the silk crepe fabric, a regal high neckline, and the subtle sexiness from the open back. Long sleeves was always a must as it was a winter wedding."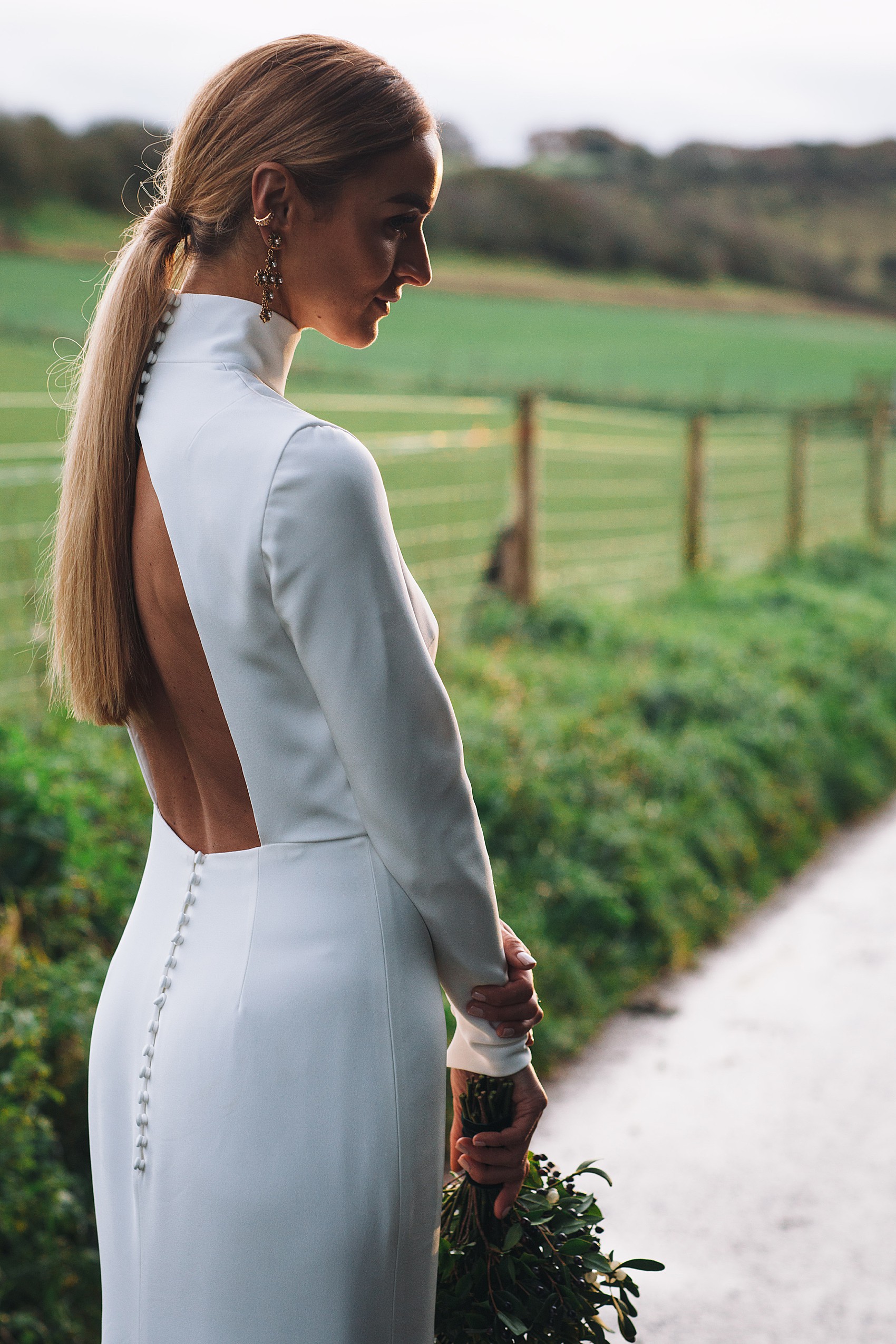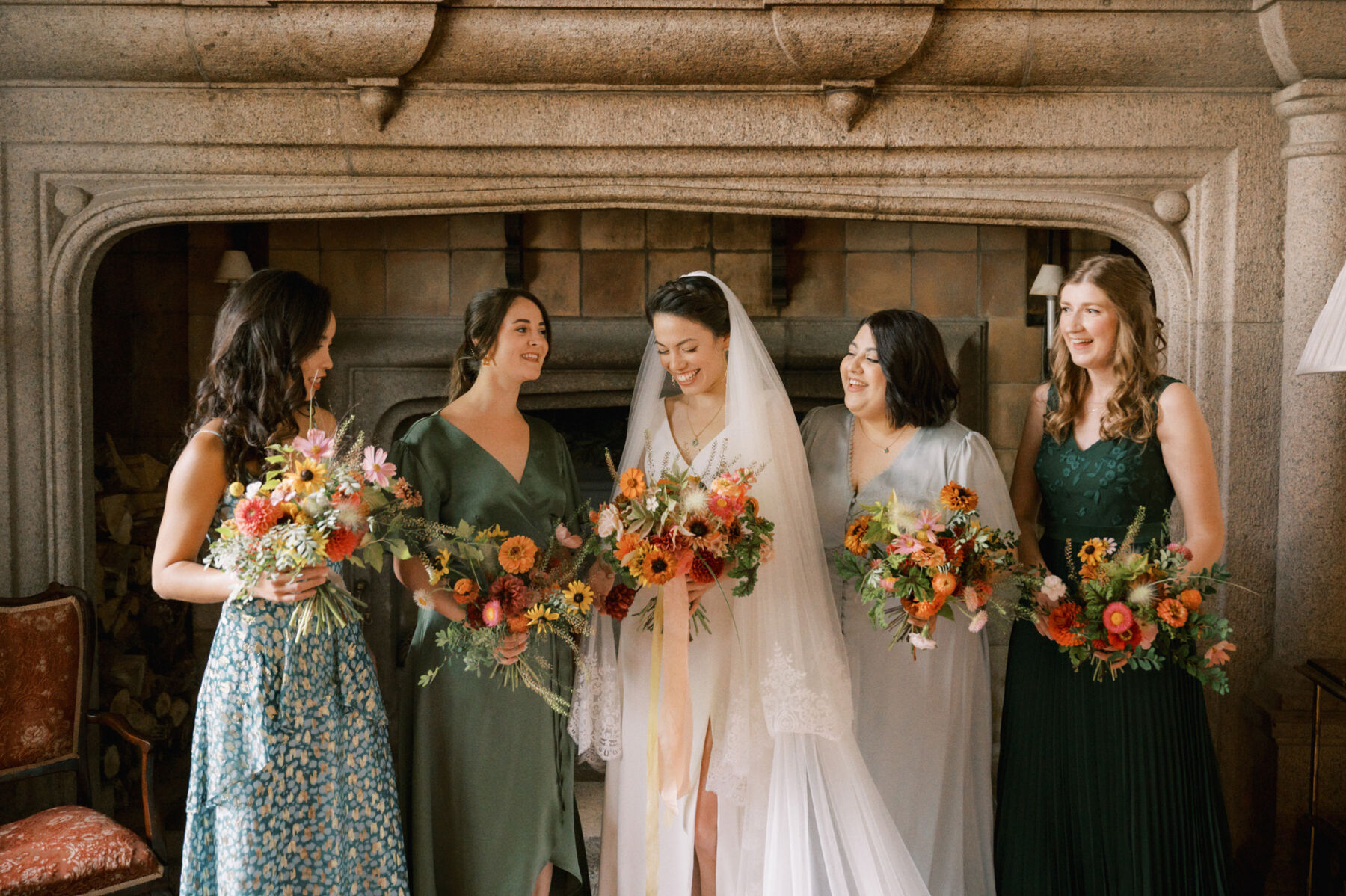 andreahawkes.co.uk