In the middle of December, my husband and business/creative partner Philip and I ventured from our cosy rural North Yorkshire home to take the train to central London to work for our client, Andrea Hawkes.
I wasn't aware at the time, but it was to be my last venture out the house for over three weeks, as I was to fall ill to the dreaded 'C' only three days later, enforcing an isolation period that would last until past Christmas day.
I felt terrrrrible for the first couple of days – but that was all overshadowed by the immense sense of job satisfaction I had earned being in London, working with good, creative people. We were in the Big Smoke to oversee production of the editorial you see on this page today, for the brand new collection of Andrea Hawkes Bridal wedding veils and capes.
For those who may not know it yet, Andrea Hawkes is a British bridal and eveningwear designer who has been dressing brides beautifully for eight years now.
Her studio and showroom are based in Islington, London, where she works with her Studio Manager husband Dan and team. Every single one of Andrea's designs are created in-house, with her own production team, using natural, ethically sourced and sustainably produced silks and French lace.
I'm immensely proud that Andrea is a Love My Dress recommended supplier. She and her brilliant team are also our friends, and I consider her part of the Love My Dress soul family.
Our businesses have grown alongside one another the past eight years (Love My Dress turned twelve in November) and together, we share a deep desire for responsible fashion production, running a business soulfully and raising the standards of bridal fashion editorial through really exquisite, creative content.
Andrea has already produced multiple successful bridal collections that have been hugely popular with our audience – you can see just a few of her bride's on Love My Dress here.
Her contemporary, simplistic aesthetic, and unquestionable commitment to sustainable and ethical production, blended with her team of in-house talent, which comprise some of the country's most highly skilled seamstresses and pattern cutters, really does give her brand an excellent advantage in the competitive world of bridal fashion.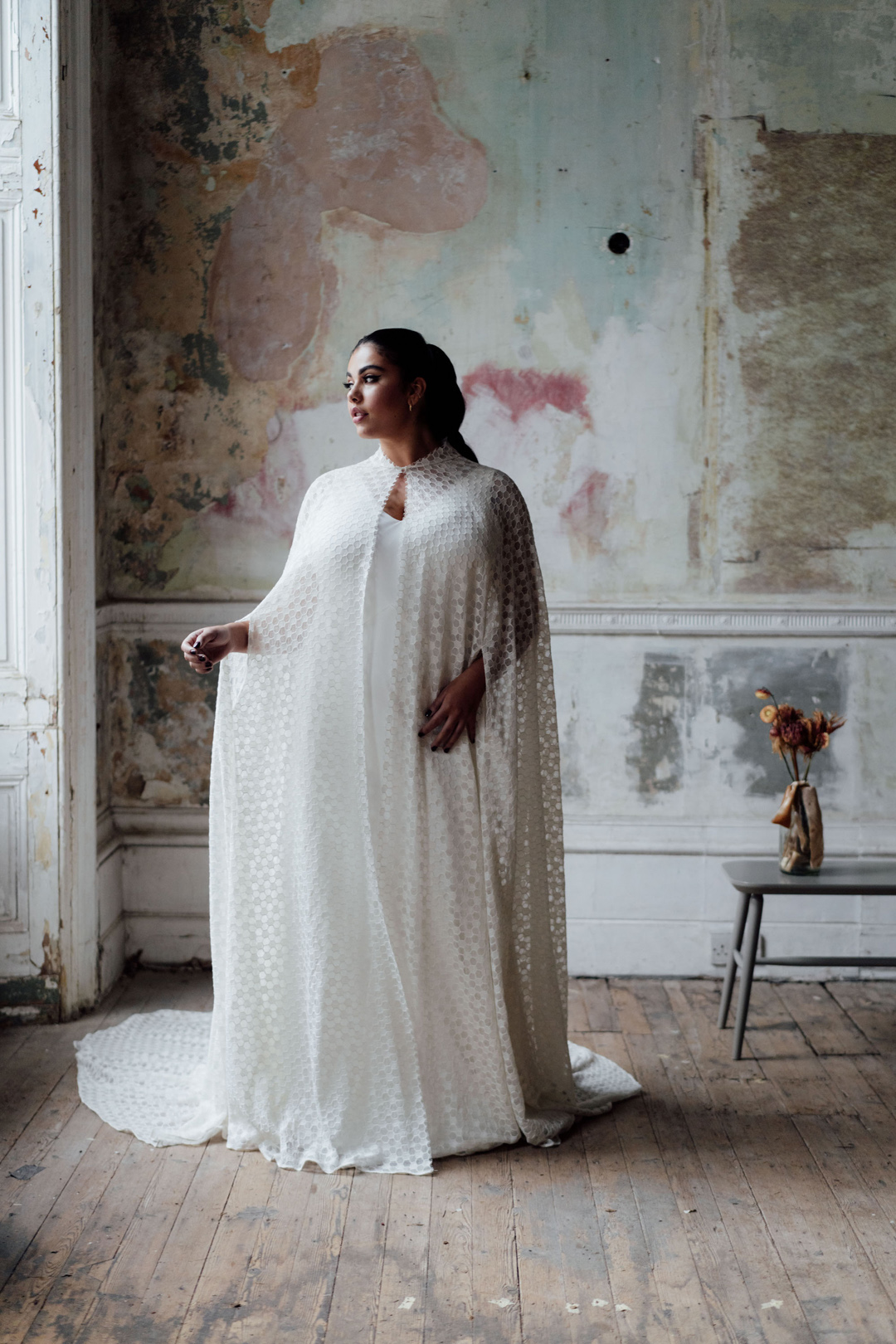 Wedding Veils & Capes
Creating a different kind of collection this season yet again sets her apart. Emotion comprises eight beautiful new wedding veils and two statement capes. The collection is showcased here with three brand new Andrea Hawkes dress designs.
The gowns worn by our beautiful model Shay, were created on a bespoke basis to fit Shay perfectly and precisely. This is how every single Andrea Hawkes gown is produced. It ensures impeccable cut and fit and the most flattering of all silhouettes for all brides no matter their size or shape.
Andrea has taken the same meticulous approach she uses to create her gowns, to create this debut collection of veils and capes. Her desire to give her bride's a feeling of completeness and encourage them to embody the magic opportunity a wedding provides to dress exquisitely for a day, is more than evident in these gorgeous images. There has always been a sense of exquisite, effortless modern elegance with Andrea's designs. These are gowns for women who appreciate good design and excellent craftsmanship.
Andrea says "The 'veil' is for me is the crowning moment – the first time friends and family really see a brides finished look on their wedding day.This is when you truly see the 'emotion' from everyone, with the bride looking their truly best and appreciate the care and time that goes into their vision and planning."
Speaking from personal experience, I agree entirely. I was beyond adamant I would never wear a veil on my own wedding day. But the owner of the boutique I visited wasn't having any of that and insisted I try one one, so reluctantly and somewhat bashfully, I did. I was genuinely, instantly smitten. I remember trying to recreate the veil magic later that evening at home, by holding a light cotton sheet to the back of my head and waltzing around my bathroom catching glances of my profile in the mirror. It was all a bit of fun, but actually. the moment I felt a million dollars on my wedding day was the moment my bridesmaid applied my veil. It was only then that I felt absolutely, 100% confident, whole and ready to go.
Veils and accessories such as capes are not new for Andrea and her team – she has always designed bespoke wedding veils for her brides to wear with their Andrea Hawkes gowns. The Emotion Collection is the result of Andrea bringing to life her very favourite veil and cape concepts. Every one of her veil or cape designs can be worn with any one of Andrea's dress designs. They have been created to add drama and detail and that all important sense of completeness to your wedding look.
"I wanted to create in a way that would capture that moment when your wedding dress comes to life. Preparing with family and friends on your wedding day is always an emotional moment to cherish and capture – it's the time your finished look comes together and the veil often the crowning moment."
The Emotion collection comprises three new dress designs, eight beautiful new veils and two capes. These range in length from the two-tier 42″ Mila veil, to the two-tier 100 inch long Cassidy veil.
Every veil and both capes are made from silk and recycled polyester tulle. French lace trims and applique detail are made wi natural and/or organic yarns.
"Working on a collection of veils meant we wanted to make their styling more diverse and fitting with a range of our existing dress designs."
"The veils are highly adaptable and we can work on specified lengths and details to ensure they work with every bride's dress."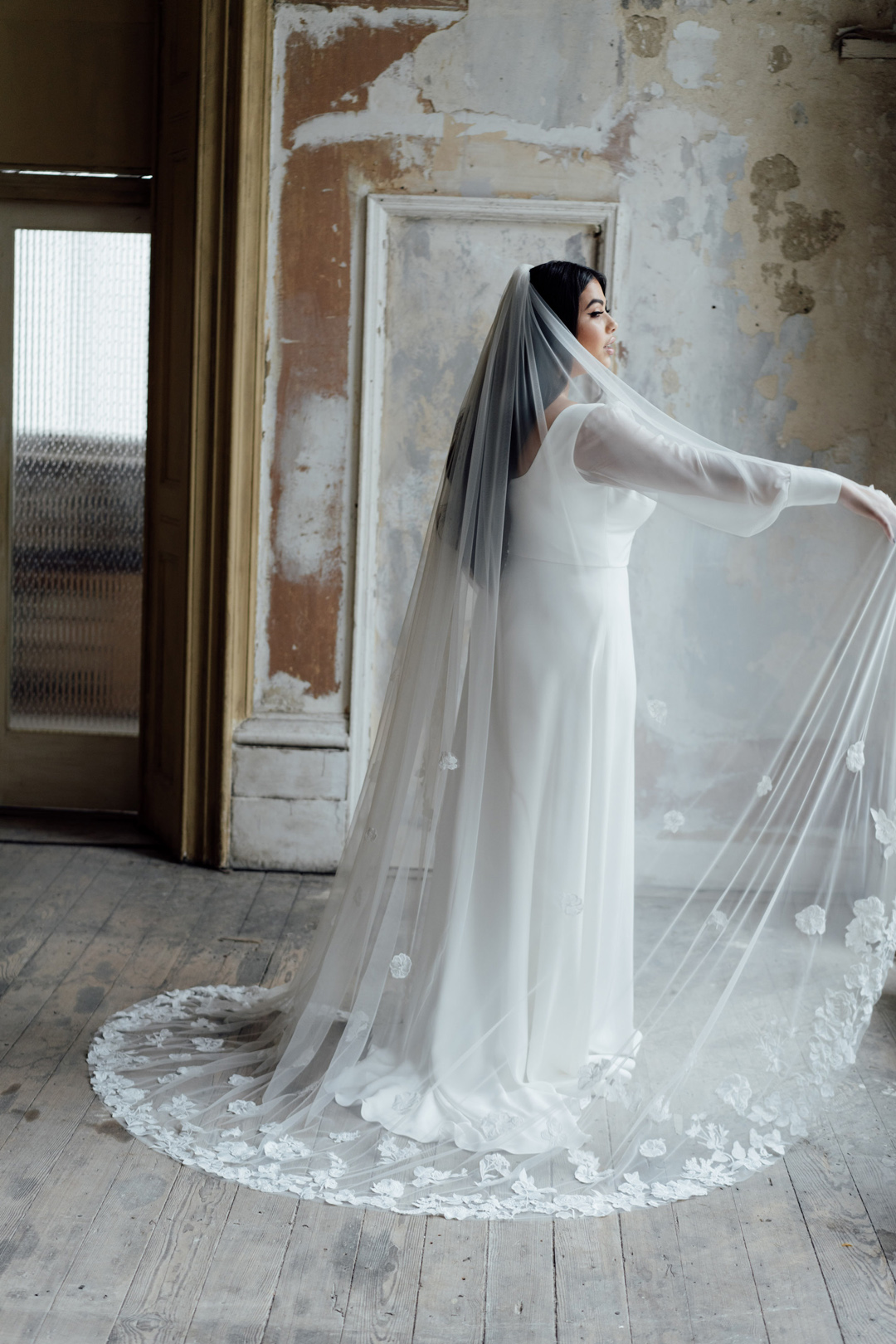 An Ethical & Sustainable Foundation
Producing sustainably is and always has been a core element of the Andrea Hawkes brand.
Right from the off, this was her passion and her desire – she didn't need to adjust her business policies and ethics after Greta made that an unavoidable requirement of all modern businesses. She was already doing it.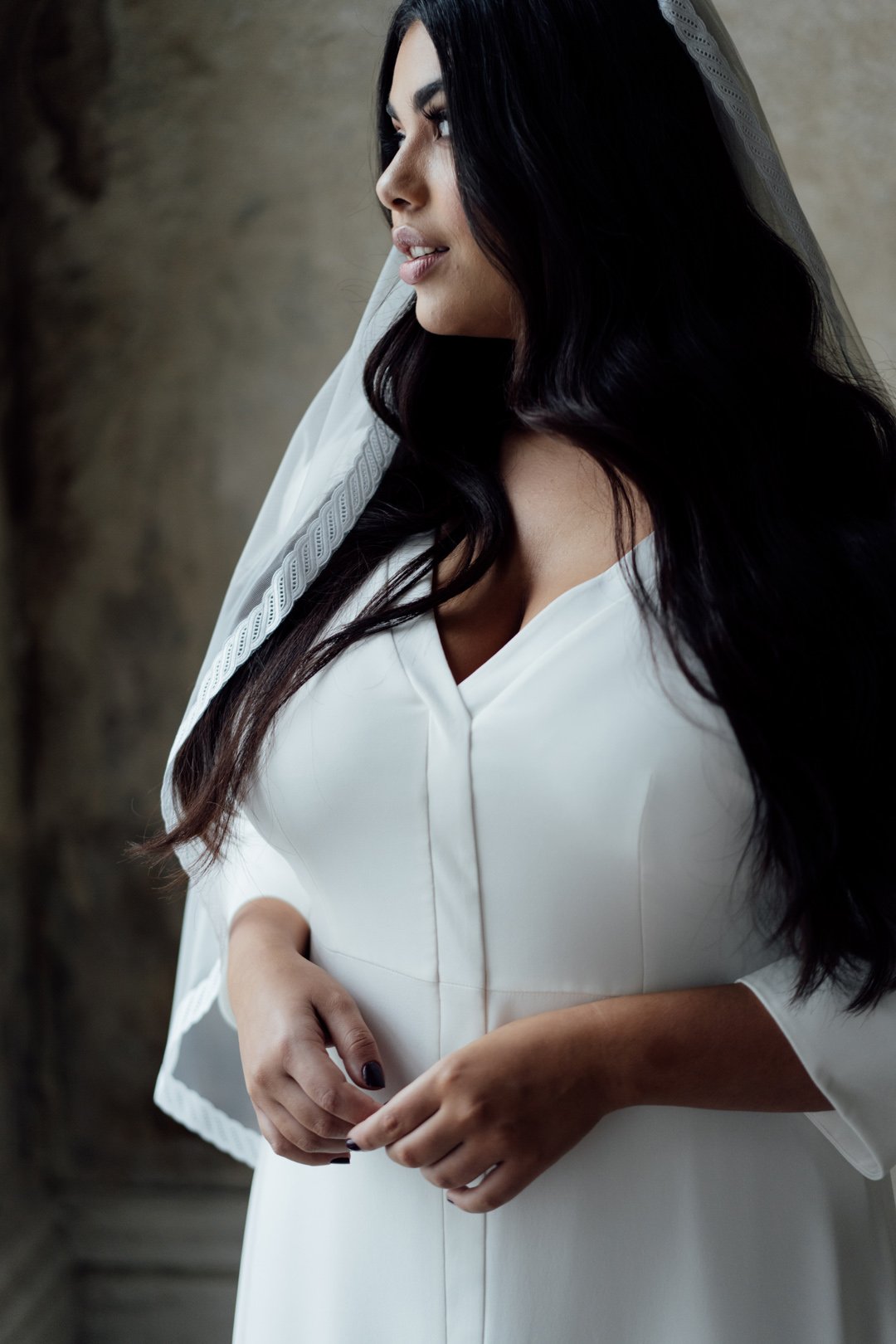 "Our main fabrics are natural silks and fibres, both outer layers and lining. Our silks are all produced by suppliers we have visited in person, have met the owners and workers and have long term ongoing relationships with."
"They are working in good conditions and paid responsibly and fairly for their work. We work with mills both in Asia and Europe."
Learn more about Andrea's ethical production here.
The entire experience in producing this shoot was a total dream. We had the implicit trust of Andrea and her husband Dan from the off. I too work with my husband, Philip – a former fashion designer himself, who now runs our family flower farm, Moonwind Flowers alongside fulfilling the role of Creative Director for Love My Dress.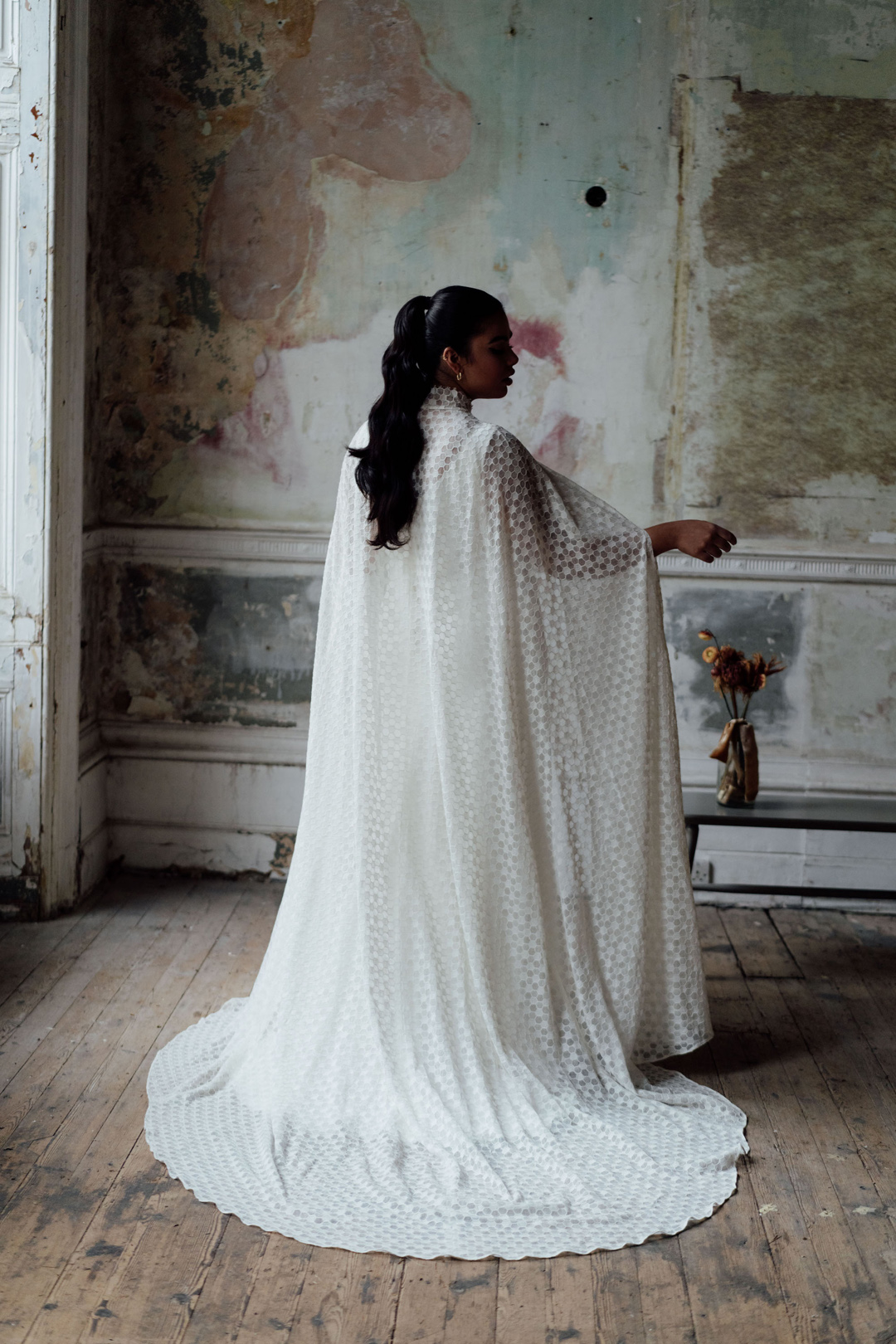 The florals and grasses you see in this shoot were picked from our wildflower meadow, and very carefully and indeed lovingly transported from our home near Whitby all the way down to London, to be a part of this experience.
It was the biggest pleasure to also work with the wonderful real life creative couple, Zach & Grace, who we've been recommending for their wedding photography and filmmaking services now for two years, and the incredibly talented Portraits Bridal, one of the best bridal hair and makeup teams I know – and of course, a Love My Dress recommended supplier.
Andrea's Favourite Design
"I love all of the designs in the Emotion Collection – and for different reasons. But my current favourite is 'Brie' (pictured below)."
I love this veil for it's love-heart vine applique and its softness. This veil provides a really beautiful, feminine edge to our modern simplistic dresses."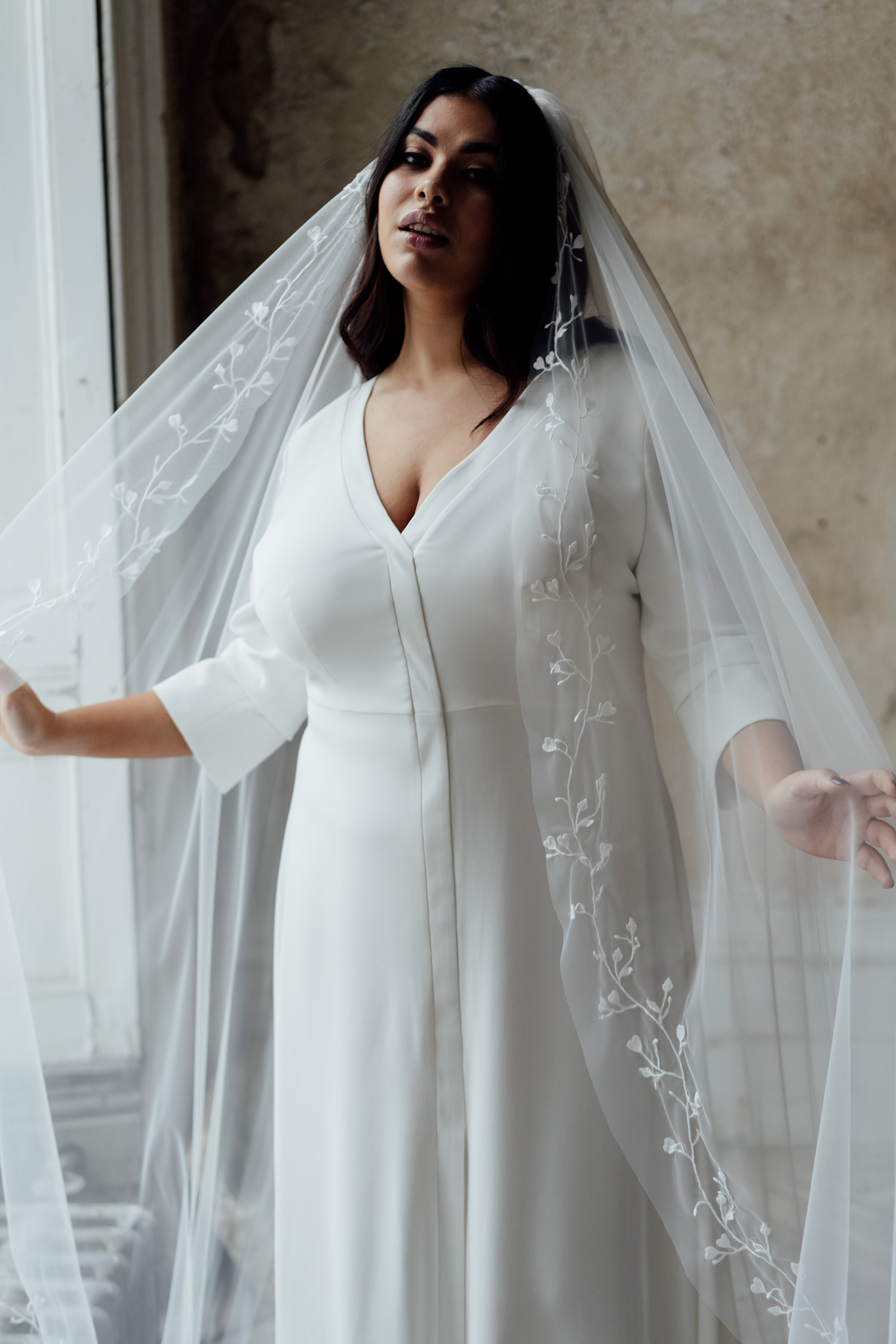 Advice from Andrea
"Don't feel rushed into purchasing your dress, find the right designer and chose the dress that's truly you."
"Yes time is important and having a schedule for fittings is important, but we make in London and don't rely on long lead times due to logistical aspects. We see lots of marketing and social content that focuses on pressure to purchase, due to lead times and this isn't the only option for brides."
"We are proud to make absolutely everything that we design right here in our London studio and to be able to offer full flexibility and support to our brides."
All designs in the Andrea Hawkes Emotion collection range from £450 – £850.
They are available to try on at Andrea Hawkes Islington showroom or via selected stockists. You can also purchase online.
If you have any queries at all concerning delivery times or sizing, please don't hesitate to drop the friendly and helpful Andrea Hawkes team a note. You can email them on [email protected], or telephone 020- 77040236.
I'm incredibly proud of these images and have so much love for the team of talent who made them possible.
Now go and enjoy some Sunday wedding planning ladies. A veil and possibly a cape, should be top of your list.
Love My Dress Wedding Directory Members
The below suppliers and venues featured in this article are part of the Love My Dress Wedding Directory.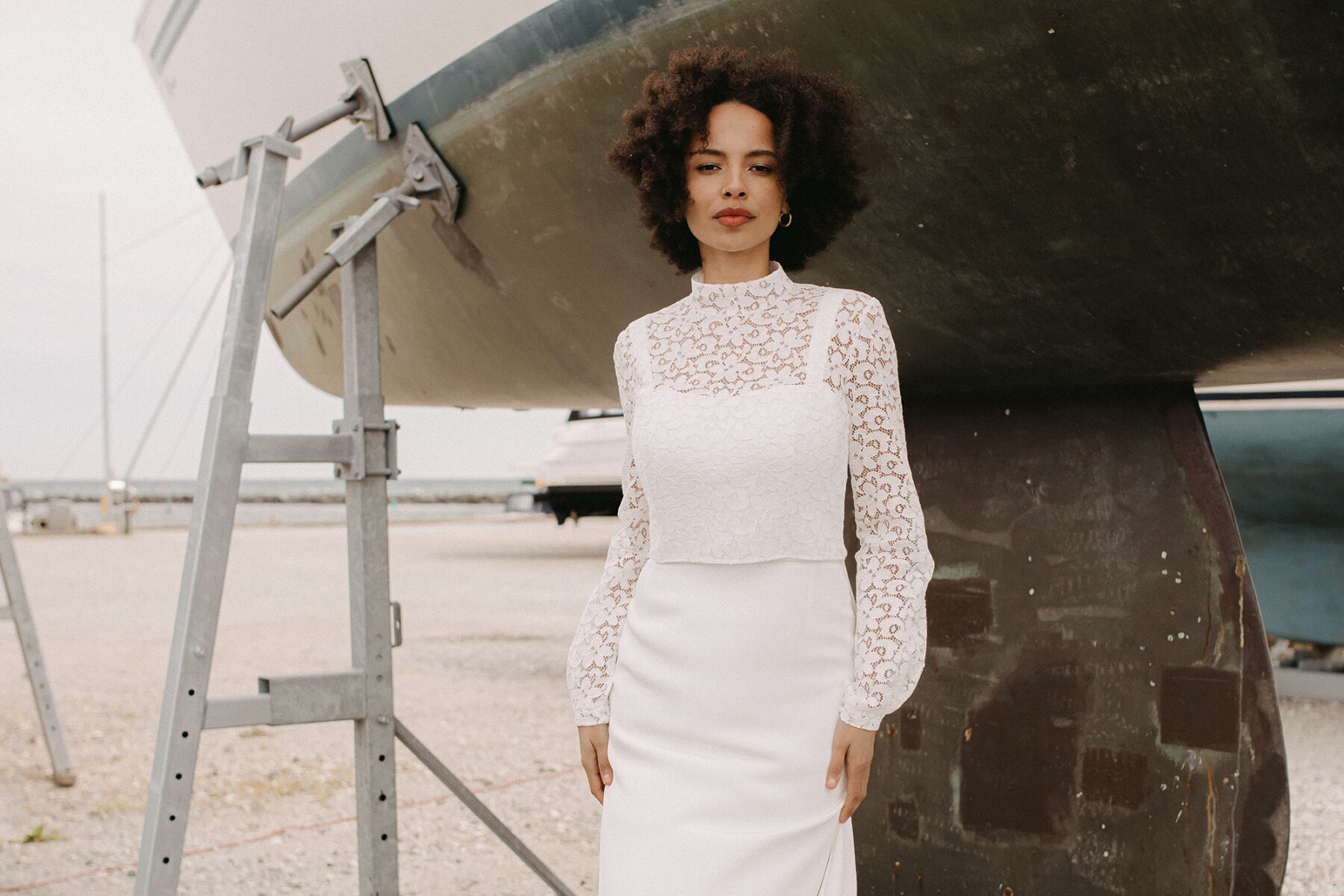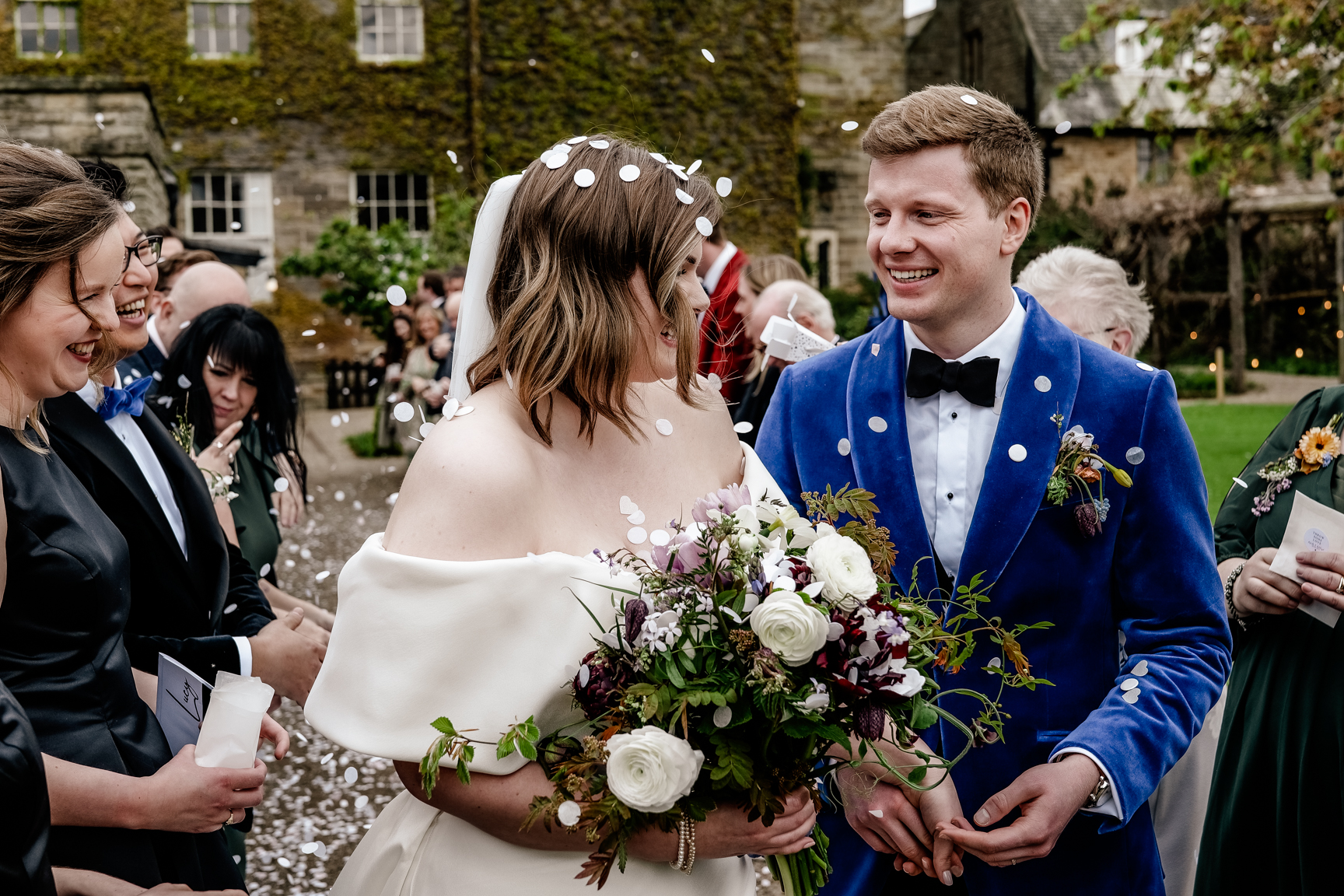 Additional Credits
The below suppliers and venues are featured in this article, but are not part of the Love My Dress Wedding Directory.