Andrea Hawkes is a British bridal designer based in London, who is renowned for creating contemporary, sustainable, minimalist wedding dresses for modern brides. We adore working with this brand, a family run business with strong ethical values.
Andrea Hawkes Bridal is stocked at multiple British and European bridal boutiques. As well as her gowns, Andrea has also created a collection of wedding veils and luxury sustainable pyjamas and nightwear. Find out more about Andrea Hawkes Bridal collections, stockists and see real brides wearing Andrea's beautiful designs below.

Address
36 Danbury Street
London N1 8JU
PURA
Released in summer 2023, Pura really is a celebration of Andrea Hawkes' journey further into luxurious natural fabrics with a highlight on plant based materials. The collection is an exploration of how a woman wants to feel on her wedding day.
There is freedom in the beauty of fabric – a nod to our brand identity of creating figure forming shapes and hints of structure to highlight the silhouette.
It's all about feeling happy and the best version of yourself. Enjoyment in the knowing sustainability is at the heart of your choice to wear a Pura collection dress.
"We've been really focusing more on introducing plant based materials that are biodegradable such as TENCEL luxe and Viscose that is made sustainably from eucalyptus wood pulp and feels truly incredible to wear."
The Amaryllis Collection
Released in the summer of 2022, this beautiful new collection celebrates all that is at the heart of the Andrea Hawkes brand; modern, minimalist, classy, beautifully produced bridal fashion.
Amaryllis is a celebration of natural fabrics and unique dress making methods. Key design features within the collection include contoured corsetry, structured silks, statement sleeves and pockets – all the gorgeous design details that make your chosen wedding day look extra, extra special.
Wedding Veils & Capes
The Emotion Collection
Released in the summer of 2022, this beautiful new collection celebrates all that is at the heart of the Andrea Hawkes brand; modern, minimalist, classy, beautifully produced bridal fashion.
The Emotion collection comprises three new dress designs, eight beautiful new veils and two capes.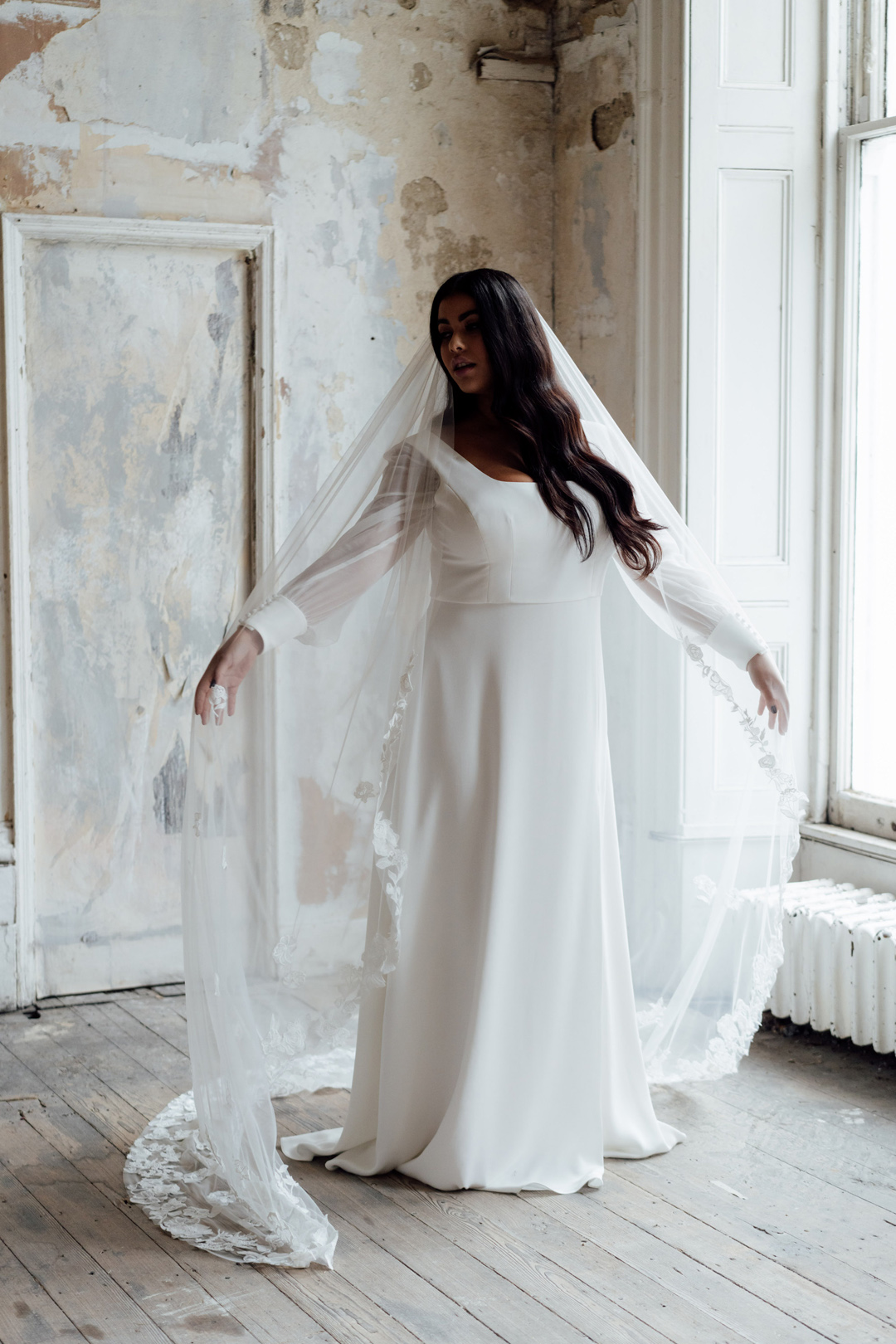 Shop Online
Sustainable Veils & Capes
Pyjamas & Nightwear
Our PJ range and Robes are a great option for anyone looking to add a luxury, wearable item to their night-time wardrobe or day-time lounge wear with a focus on sustainability. Made in London from both plant based and silk fabrics. Andrea Hawkes
Shop Online
Sustainable Silk Pyjamas & Robes
The Together Collection
Our dresses are entirely designed and made in London by my own team. This has been of central importance since our beginning and an ever more key factor as we have grown and developed. We have built a strong, trusted team, with the skills to produce the quality and service I had always set out to deliver to my brides. Andrea Hawkes
A Decade of Sustainable Bridal Fashion
We are thrilled and immensely proud to be associated with Andrea Hawkes Bridal as they celebrate a momentous milestone in 2023, of a decade in business. Since 2013, this distinguished British bridal fashion designer has been at the forefront of promoting sustainability within the wedding industry, pioneering ethical production and responsible sourcing from the very start.
From the outset, the brand's DNA has been passionately intertwined with eco-conscious practices, setting an exemplary standard for the wider bridal fashion community. With a decade of unwavering commitment to a greener approach, Andrea Hawkes Bridal has left an indelible mark on the world of British bridal fashion. We are proud to align with the Andrea Hawkes Bridal brand as they celebrate this huge milestone and are thrilled to support them in their continued dedication to creating timeless gowns that embody both elegance and sustainability.
Real Andrea Hawkes Brides
We have featured many beautiful real Andrea Hawkes Bridal brides on Love My Dress over the past decade. Here are some of our favourites. Andrea Hawkes and it should be on the radar of every bride looking for an ethical and sustainable bridal gown. Even more so because every one of Andrea's gowns is made with love, in England.
andreahawkes.co.uk
Articles featuring Andrea Hawkes