If you're a bride-to-be, one of the most important and exciting entries on your wedding to-do list will of course be finding your wedding dress. And when you do start researching, you're likely to soon find out that many boutiques and wedding dress suppliers state lead times of minimum 6 to 9 months, preferably 12 months.
A wedding dress lead time is the length of time it takes between ordering your wedding dress and receiving it in a good-to-go-state, that is, with any size/fit adjustments having been made and the dress neatly steamed, hung and fully prepared for you to wear on your wedding day.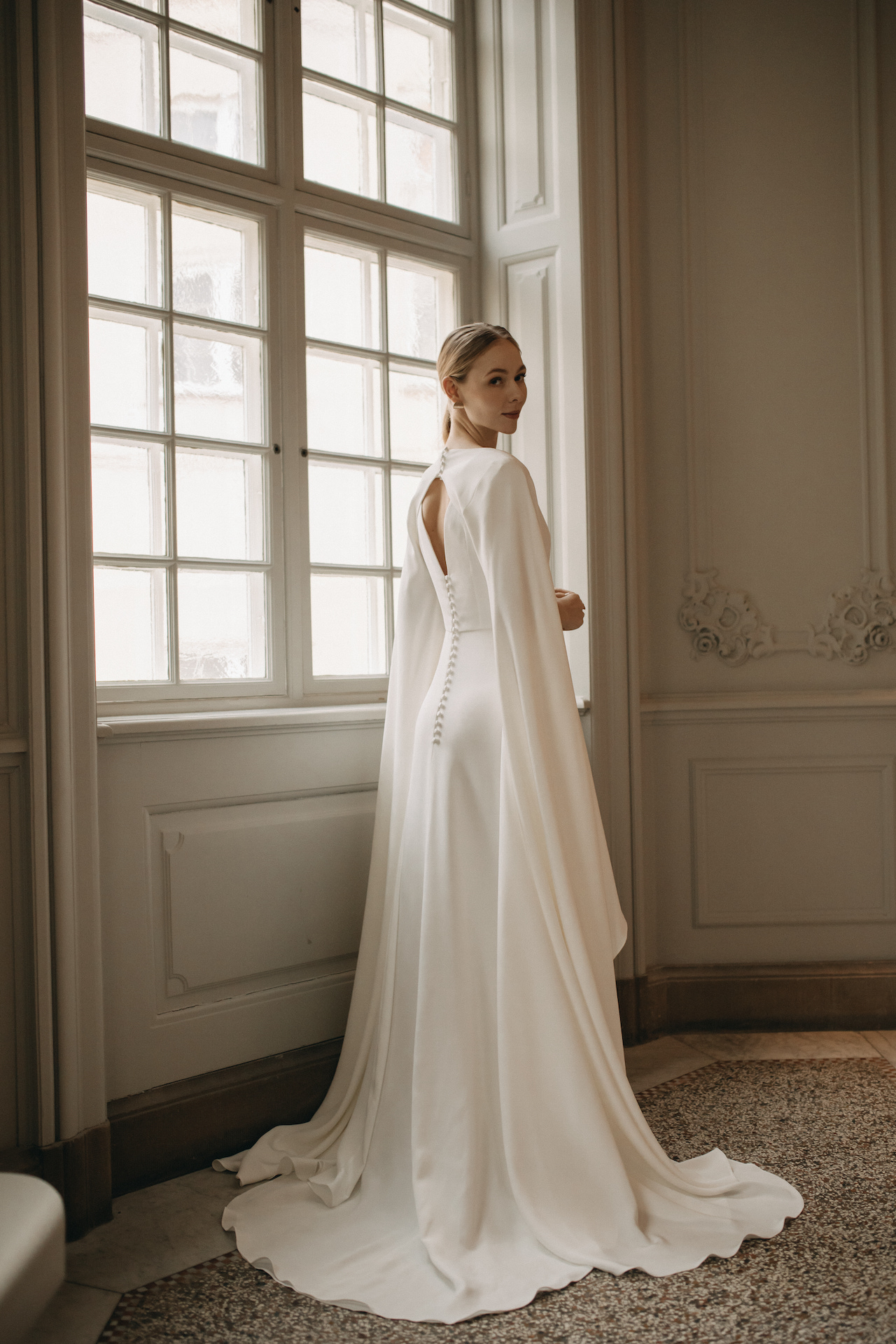 It's important to note why these longer lead times are necessary for many suppliers; most wedding dresses from boutiques recommended by Love My Dress, are made to order to suit your exact fit and measurements. Brands require the time to manage your order alongside others and rely on supply chain to ensure they have the right amount of fabric to create your dress. Add to this the boutiques responsibility to oversee trying on and fitting appointments and to ensure their seamstresses have time to make any necessary adjustments to fit.
However, some brands can be much more flexible when it comes to lead times. We've spoken with Siobhan Winn, Studio Manager and Stylist at Andrea Hawkes Bridal, who offer a great solution for brides with different timelines, whether your wedding is in less than 3 months or over 12 months away.
We have seen a lot of designers/boutiques saying they can't help brides whose wedding is less than six months away, which must be really disheartening and possibly quite stressful for some. We really want to let brides know that we can be flexible, as all our pieces are made in London – and that they can still find a dress they love within this timescale. Neither do we charge rush-order fees. We never want any bride to feel extra pressure when finding their dress. Siobhan Winn
I'm getting married in under 3 months! Is it too late to get my wedding dress?
If your wedding is within 3 months time, please do not worry!
You may have felt cause for concern after starting to look for your dress and believe that you absolutely must order your dress with at least 6 months to go until your wedding. Please rest assured that we have plenty of beautiful options and solutions here for you at Andrea Hawkes if your wedding is imminent and due to happen within the next 3 months.
All of our dresses are made right here in our London studio, which means we have full control over our production and we aren't relying on suppliers elsewhere. It also means we have no concerns with long delivery times from abroad. This allows us to work to shorter lead times and accommodate any bride no matter their wedding date.
The best options for any bride getting married within the next 3 months, would be:
A standard size, made to order dress – this means you won't be limited to style and will have your pick of collection pieces. All of our dresses can be made to any UK dress size. These wedding dresses can be altered in house with our team.
A Made to Measure Dress – this is possible under 3 months – please enquir
A Sample Sale Wedding Dress – we have an amazing selection of sample sale dresses, in excellent condition that are looking for new homes. Sample sizing ranges from a size 8-24. We offer an in house alterations service for both of these options and would love to help perfect the fit of your dress. These wedding dresses can also be altered in house with our team.
I'm getting married in 3 – 6 months time. Can I still order my wedding dress?
If your wedding is in 3 – 6 months time, we would advise to come in and see us as soon as possible to make sure you have a lovely, relaxed process in the lead up to your wedding day.
Depending on your timescale we can offer standard size, our made to measure or bespoke service. This would very much depend on the complexity of design, for any brides interested in these options on a 3-6 around please get in touch with our stylists and we can help work out the best option for you based on your circumstances.
We don't believe in rush fees or charging extra for brides who have less than 6 months until their wedding.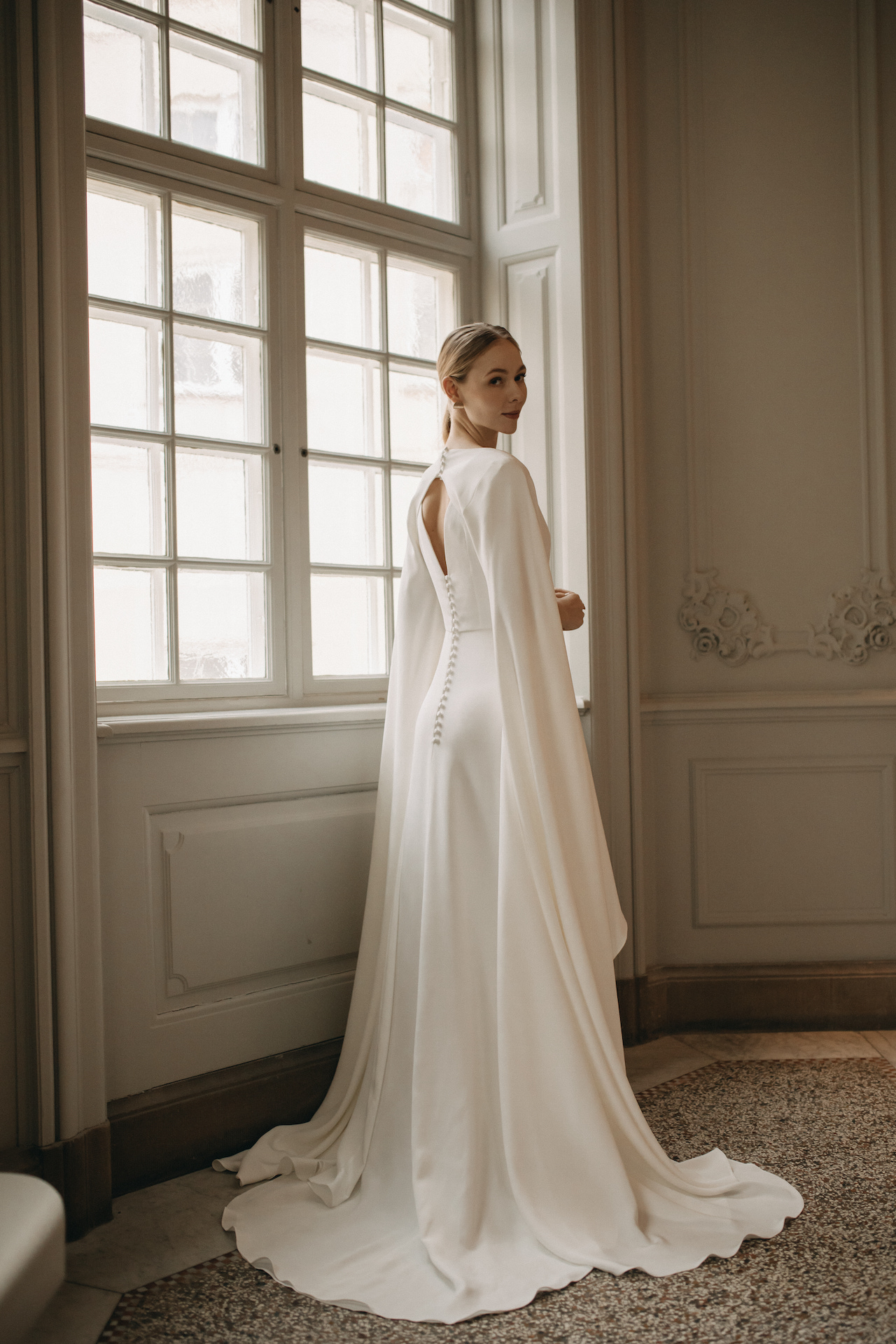 I'm getting married in 6 – 12 months time, how soon should I order my wedding dress?
We love to have 6-9 months with you to make sure you receive a calm, fun and enjoyable dress process, from finding your dress through to making and fitting your design.
It can sometimes take a couple of visits to our showroom to find the perfect dress so it's good to factor in time for this too. With 6-9months to go until your special day you will have your pick of services and dresses. There will be no limitations to what we can do and you will feel at ease throughout the entire process.
I'm getting married in over 12 months time. Is it too soon to start looking for my wedding dress?
For any brides getting married in over 12 months time, we would love to see you over the coming months to start your dress search. It's certainly not too early to start looking, start gathering your thoughts, exploring different styles and really taking the time to find what you love.
This period of exploration can take time so it's great to start as soon as you are ready. There is no pressure to commit to a dress at this stage, but we love to get to know you and start building some ideas together and you can always revisit us again for a complimentary second visit!
If you are interested in our bespoke service please get in touch as soon as you can, the design process is very exciting, but it does require more visits, more time and commitment. We may need to source fabrics which can also take some time.
Book an Appointment with Andrea Hawkes Bridal
We love to hear from Love My Dress brides. Please don't hesitate to get in touch with any queries or to book an appointment online. We can't wait to welcome you.
36 Danbury Street, London, N1 8JU
andreahawkes.co.uk