We truly love Miss Bush – and for those of you not in the know, this bridal boutique located in the peaceful village of Ripley in Surrey, should be on the radar of every bride planning a wedding.
This isn't just because the venue has a slick edit of absolutely gorgeous bridal fashion, but because the lady at the fore of Miss Bush, Emma Marshall, is a simply incredible stylist, whose passion is in assisting women on all levels of the confidence scale, look and feel out of this world amazing on their wedding day. Empowering women with confidence and style is what Emma was born to do.
This article shares 8 reasons why you should book your appointment at Miss Bush without hesitation.
1. The April 2023 Miss Bush Bridal Sample Sale
Throughout the month of April, Miss Bush bridal boutique, will be hosting a month long, incredible sample sale. Now it's important that we mention right now, that the sale is going to be located off-site, at Miss Bush partner boutique, Nortier Shallow in Basingstoke. This is because in April, Miss Bush will be closing their doors for a super swanky new eco-roof install (more on that below).
The Miss Bush sample sales are utterly legendary. You will find multiple unique, creative, high fashion wedding dresses, alongside the classic, minimalist style Miss Bush are loved and adored for – and all for a fraction of the usual price tag.
This event is by appointment only – you'll find full details here. Book now to avoid disappointment.
2. Miss Bush is located in a Real Former Chapel
….and is getting a swanky new eco-roof
Miss Bush is based in a beautiful Victorian chapel just 20 minutes from London in Ripley, Surrey. This gorgeous space has been lovingly transformed to create a haven of calm and beauty inside. It's like stepping into a secret salon of utterly exquisite fashion and accessories. And the vibes are raised the moment you approach this beautiful building and step through the chapel doors.
There couldn't be a more authentic experience to be had when on the hunt for your wedding dress.
There is never a good time to lose your main showroom space, but the Government's LoCase (Low Carbon across the South East) initiative was too good an opportunity to pass up. Ethical and environmental issues are a huge talking point in the fashion industry and this is another move on our part to be as conscious as possible in this respect. The roof has to come off to add insulation and it is an incredible step towards our goal of becoming a B-Corp. Fingers crossed for a smooth project! Emma Marshall
3. Thirty Five Years of Bridal Fashion Expertise
Boutiques like Miss Bush offer a truly luxurious experience. This doesn't just come in the form of the beautiful surroundings and opportunity to try on as many looks as you like in an un-rushed 1:1 appointment. It also comes in the form of unrivalled expertise and high end knowledge when it comes to bridal styling and advice.
Emma has created a bridal styling team who innately understand how important it is to be at the forefront of bridal fashion whilst simultaneously honouring classic bridal style and traditional dressmaking techniques.
Thirty Five years in business provides an unrivalled level of expertise. It also means that Miss Bush are extremely well connected with the designers they work with. So much so, that one of those designers, Jesus Peiro (more on them below) created a beautiful gown in celebration of Miss Bush reaching their 35th year in business milestone. And it's a total beauty. You can try on the Chloe Anniversary Dress by Jesus Peiro at Miss Bush now.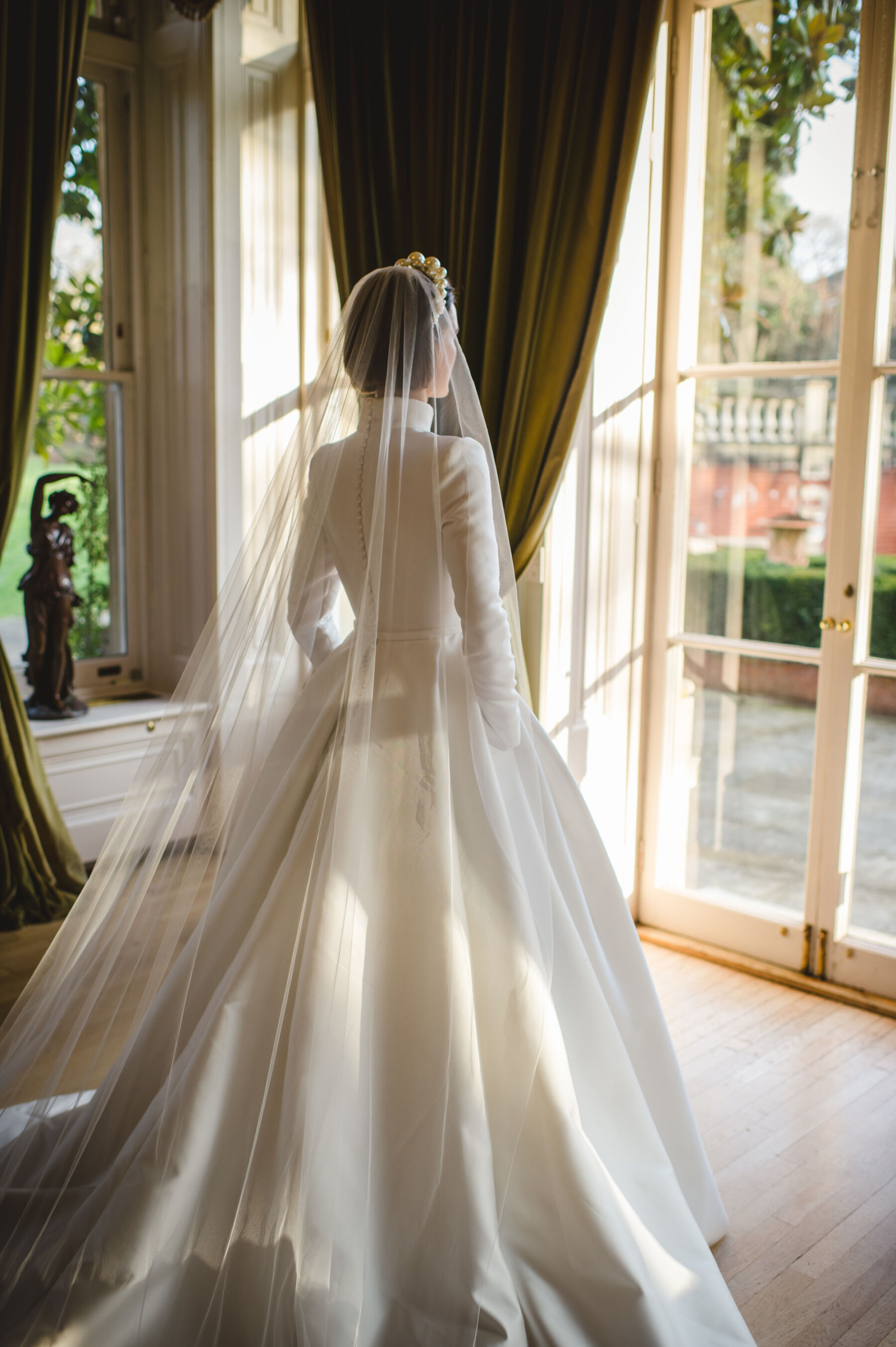 4. Jesus Peiro Wedding Dresses
Miss Bush is one of the UK's longest and largest stockists for this highly sought after Spanish brand of bridal couture. Miss Bush was in fact the first stockist in the UK to carry Jesus Peiro, and has a really superb relationship with the brand itself.
One of my favourite things about Jesus Peiro is that they constantly provide the 'something different' that brides love without losing that classic wedding dress appeal. There are always new fabrics, cool details and of course a brilliant made to measure service! As it says on our website, those who appreciate the aesthetic of Jesus Peiro gowns will love the split in the collection between gossamer-soft tulle relaxed dresses channelling a hippy luxe vibe and the strong architectural lines and uncompromising minimalism of Jesus Peiro's signature look. And there is something to suit all tastes – First Lady feminism or barefoot and boho; which bride are you? Emma Marshall
Be one of the first brides in the UK to try these 8 incredible new wedding dresses from Jesus Peiro's 2024 preview collection, available now at Miss Bush. Book your appointment from May onwards (remember the chapel itself is closed for the month of April as it's having a swanky new eco-roof installed).
5. Maticevski Bridal Wedding Dresses
The latest brand to join the hallowed dress rails at Miss Bush, is Australian brand, Maticevski. Widely recognised as fashion a disruptor, designer Toni Maticesvski's designs challenge traditional expectations with sublime and flattering sculpted designs that flirt with androgyny and showcase his absolute mastery of form and movement.
6. The Miss Bush Partnership with Daisy Sheldon Embroidery
Elegant Embroidered Wedding Veils
We are absolutely thrilled that one of our very favourite bridal boutiques has teamed up with the exceptionally talented Daisy Sheldon. Daisy Sheldon creates feminine and romantic embroidered wedding veils using a traditional 1920's Cornely machine. Partnering with Miss Bush means you can see Daisy's exquisite designs for yourself at the same time you try on some gowns.
There is something truly magical about Daisy Sheldon's veils. These incredibly special pieces are created with so much love, talent and creativity, every one totally unique and personal to each bride. Daisy uses her skill and passion for the rare art of Cornely embroidery to design and finish each piece in her workshop in The Cotswolds. Emma Marshall
7. Thousands of Happy & Delighted Brides
We've lost count of the number of beautiful real weddings featuring a Miss Bush bride that we have published on Love My Dress, but here are 11 of them who share their experience of finding their dress at this incredible bridal boutique. Full of high praise and adoration for the the service they received, this article alone should be enough to convince you of the need to book an appointment, but you can also find countless gorgeous weddings to enjoy over on the Miss Bush blog.
By the way, it is WELL worth arranging a visit to Surrey to visit Miss Bush if you are located outside the region. The boutique is only a 20 minute train drive from London, so you could make a weekend of it.
8. A Fabulous Variety of Wedding Dresses For All Brides
If you're unsure of the look you want to go for on your wedding day, Miss Bush is the ideal boutique to visit. Emma has curated an edit of incredible brands and gowns for you to browse through and try on. Not too many so that you'll feel overwhelmed but plenty enough for you to have a superb range of styles and aesthetics to consider.
Brands include leading British couture designer Suzanne Neville, Spanish couture brand Jesus Peiro, Australian disruptor Maticevski, dreamy and romantic Polish brand Anna Kara and playful Spanish brand bringing all the fun and drama, Sophie et Voila.
Find your dress here on Miss Bush. And then book your appointment to try it on.
How To Book an Appointment at Miss Bush Bridal Boutique
Miss Bush can't wait to hear from you. To book an appointment, use the form on this page.
01483 225 355
High St, The Green, Ripley, Woking GU23 6AQ
missbush.co.uk