We are thrilled to introduce you to Kate Fearnley, a talented bridal fashion designer based in the North East of England. With over 20 years of experience in the industry, Kate has built a reputation for beautiful, handcrafted designs that are made with love in her North Yorkshire based design studio and atelier.
As a small business owner, Kate is passionate about supporting and empowering other women, and her designs are a true reflection of this. She believes that every bride should feel confident, beautiful, and comfortable on their wedding day, and she works tirelessly to ensure that each and every one of her clients feels special and cared for.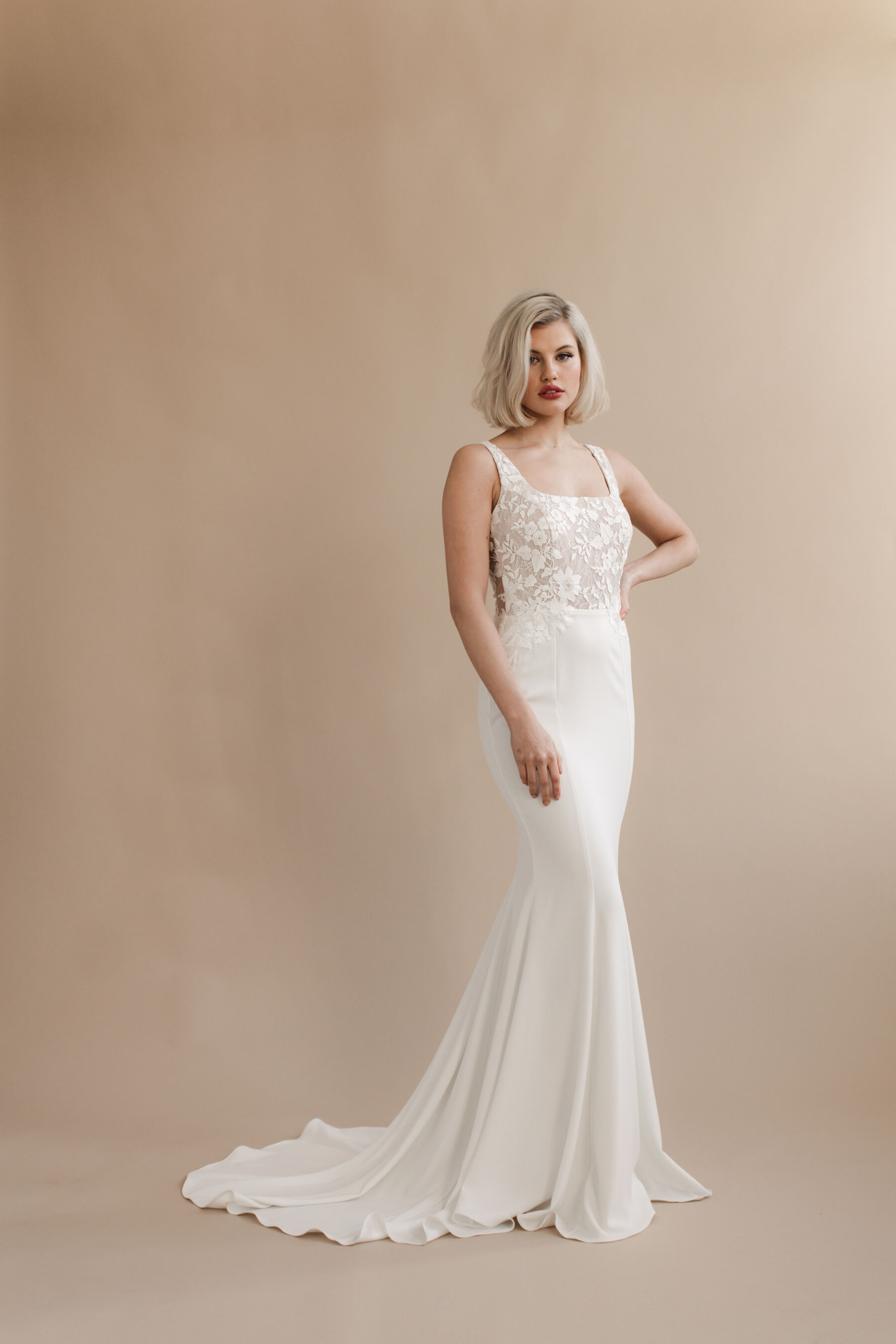 Kate's designs are known for their romantic, feminine aesthetic, with intricate and ethically sourced lacework, playful detail and flowing fabrics. She is particularly well-known for her bespoke service, which allows brides to work with her one-on-one basis to create a dress that is completely unique to them and perfectly suited to their style, shape, and personality. Today however, we want to share with you Kate's gorgeous new 2023 collection, 'Reflection'.
Over the years, Kate has earned a loyal following of brides who appreciate her impeccable craftsmanship, attention to detail, and warm, supportive approach. We're big fans of Kate's beautiful designs and hope these beautiful images will encourage some of you to book an appointment or make an enquiry.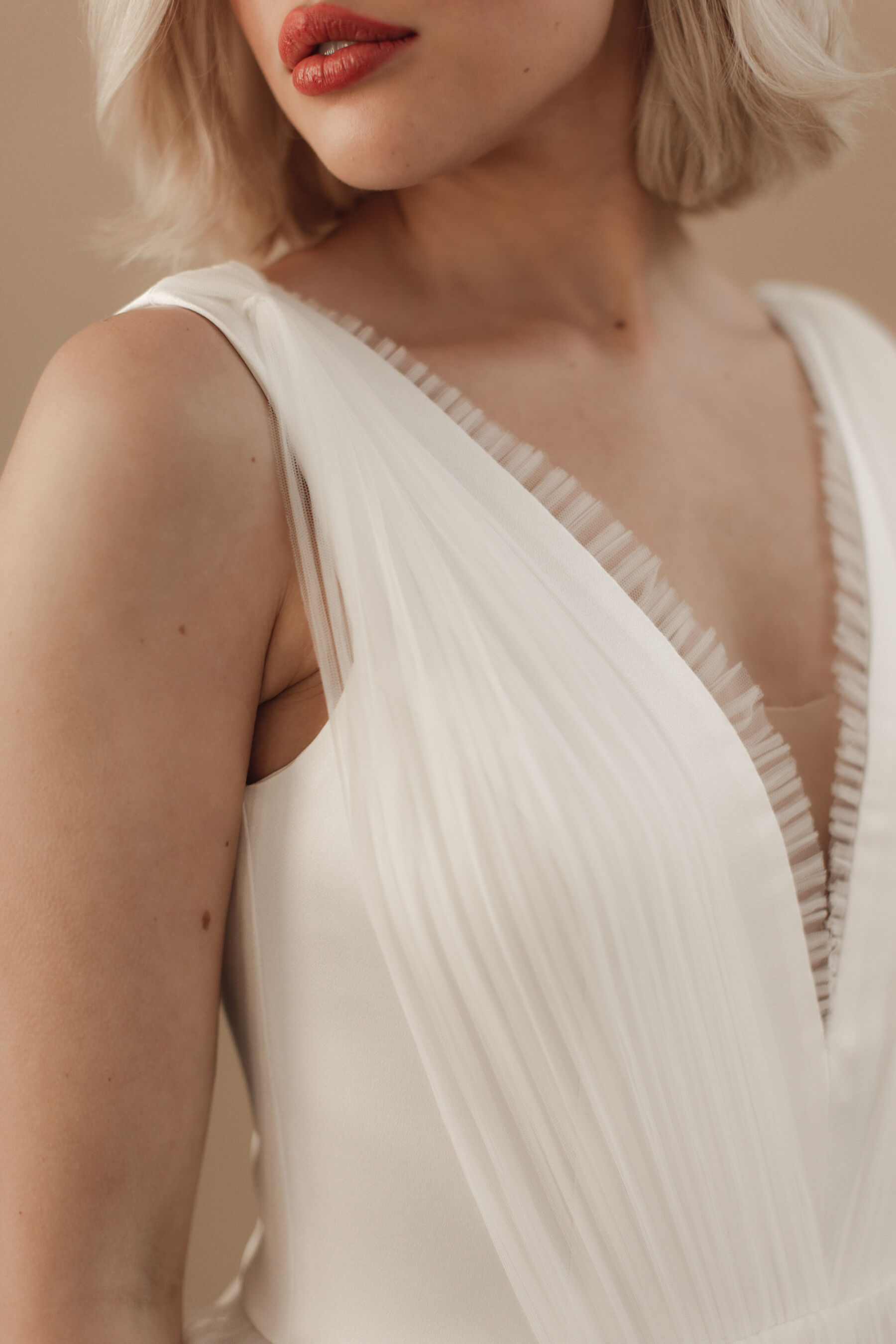 What was the inspiration behind the Reflection Collection?
'Reflection' is inspired by the organic structure of symmetry, layering and the complex beauty of nature.
I designed my latest collection with a relaxed yet luxurious feel to the styles. Movement, freedom, and comfort are at the forefront of every design and I have really concentrated on creating pieces that are highly wearable and feminine.
Can you talk about any specific design elements or details that you're particularly proud of in this collection?
As a textile based fashion designer, I love working with layering, texture and detailing – my efforts to bring these elements together make me particularly proud of this collection.
The beautiful, pleated tulle I have introduced has been used to link the collection together and gives a very subtle, modern aspect to every dress it features in.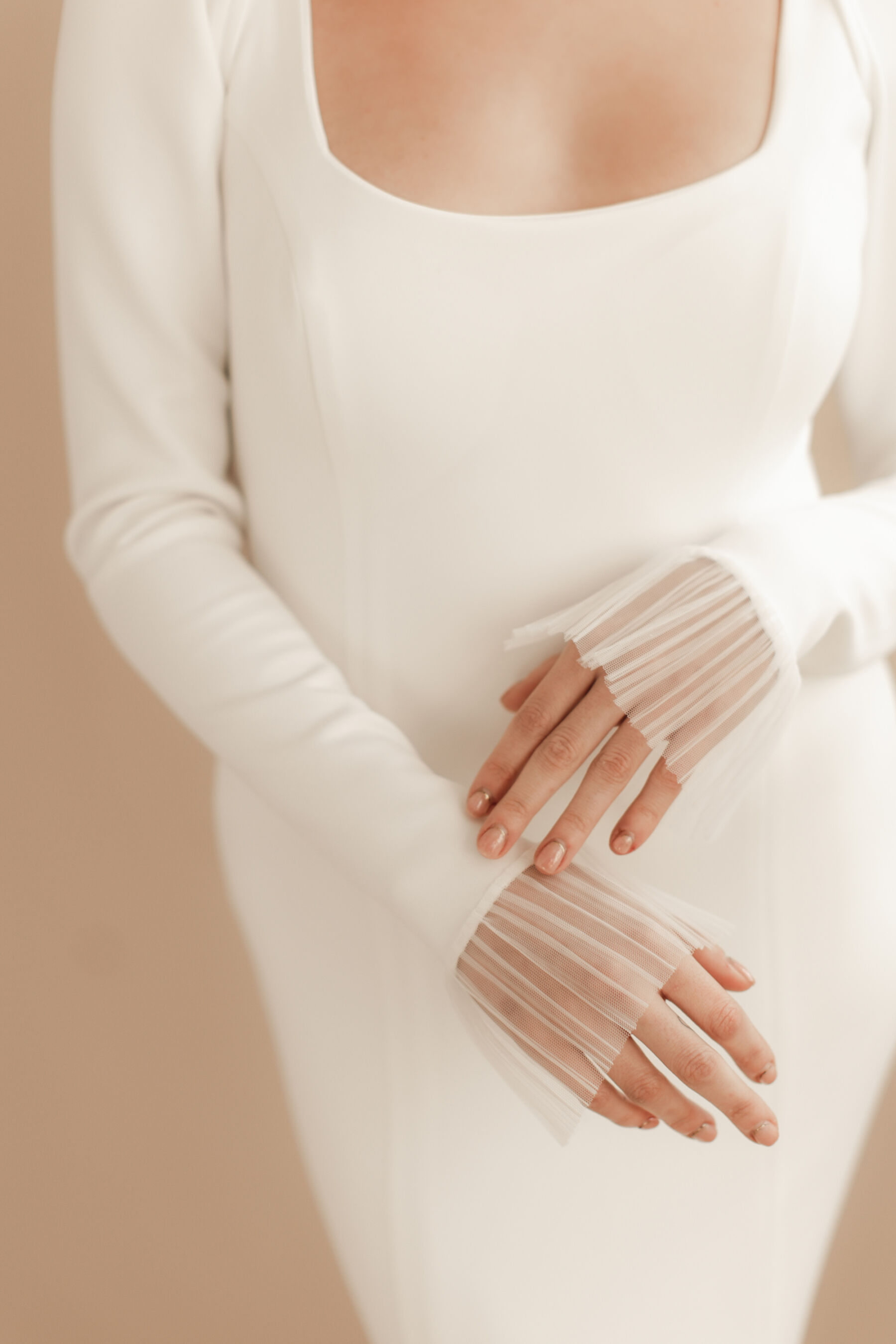 Separates & Styling Pieces
The 'Valentine' tulle over skirt is one of my favourites from this collection, because it is so fun, dreamy and can be worn in so many different ways.
We photographed and styled the beautiful Valentine skirt in an editorial way – but the same skirt can be worn over most of the dresses in the collection, which instantly adds texture and movement and femininity and is a really beautiful option for the bride who might want to switch between two or more looks on her wedding day.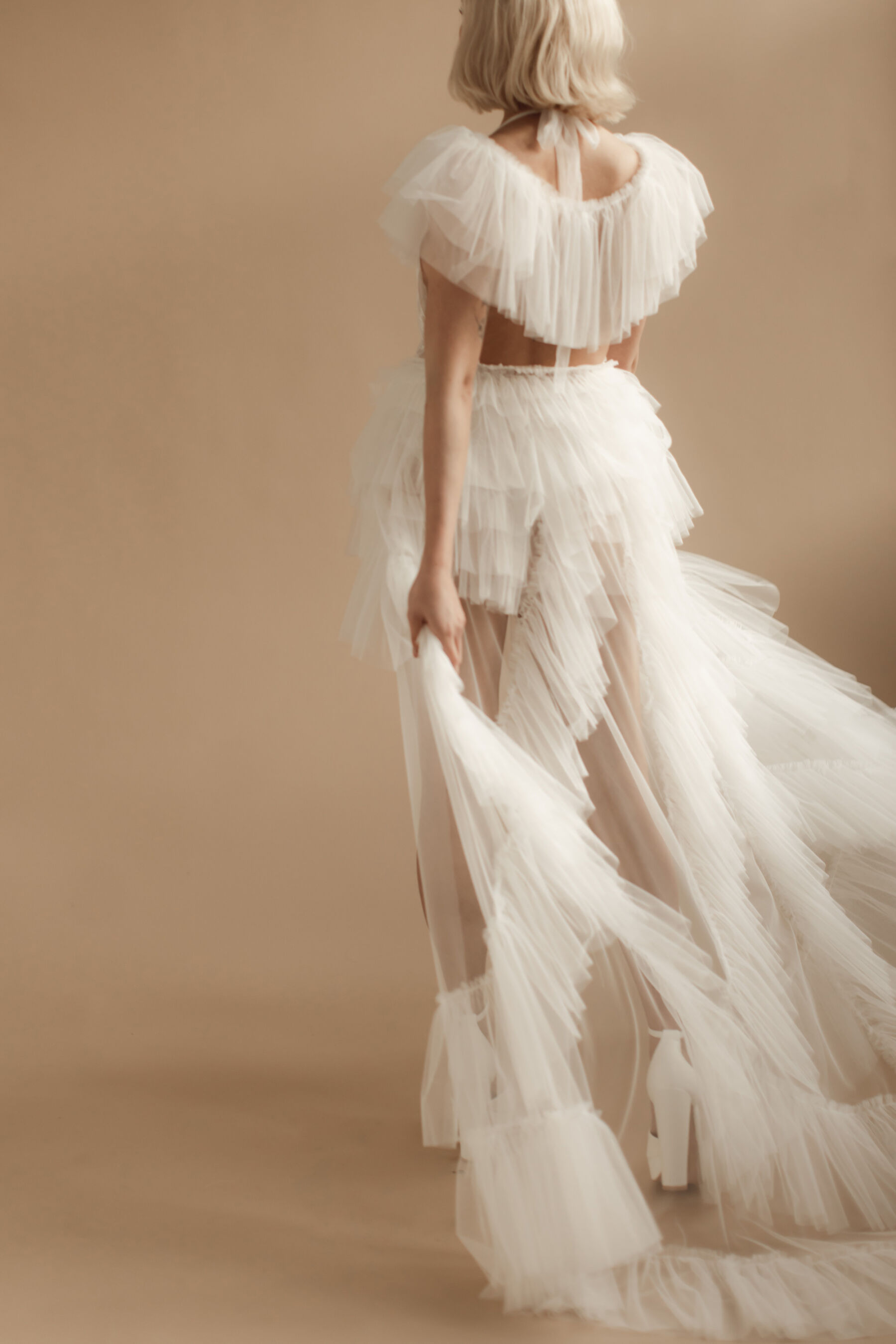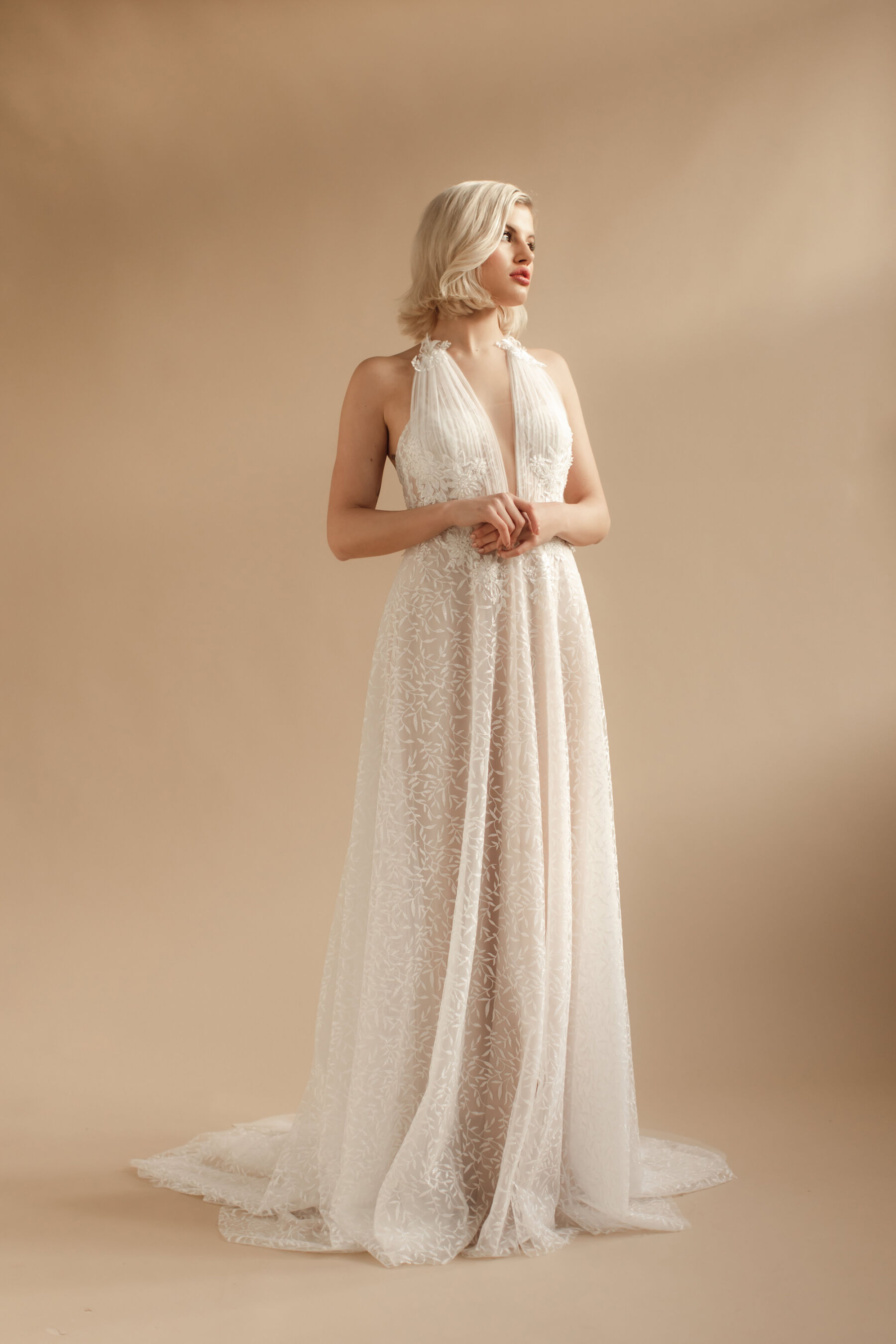 What kind of bride do you design for?
I designed this collection with the modern, stylish, fashion-conscious bride in mind. A bride that wants a modern twist on a bridal silhouette and wants to feel the best version of themselves.
I set out to design the collection from the start with a very clear balance of wearable, yet modern styles, that incorporate subtle detailing. Ultimately, I have deigned a collection of gowns for the modern bride that wants something with just a little bit extra.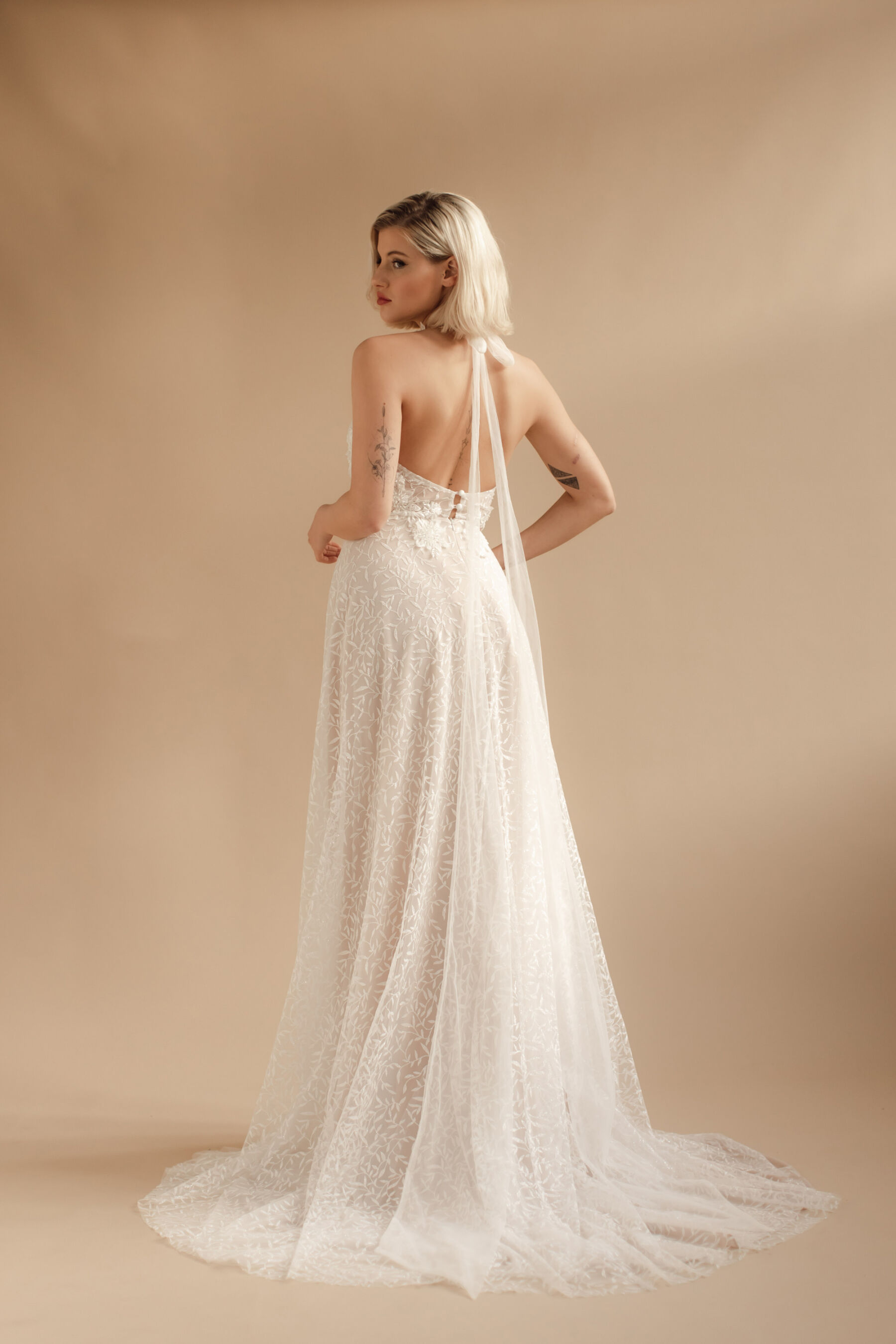 Can you speak to any bridal fashion trends you have included in your collection?
Sleeves in general are a big trend and I have incorporated them into a few designs in the collection. I have also added detachable sleeves and skirts for the bride who wants two versatile looks as many brides do these days.
Tulle detailing and ruffling features strongly in the collection as well as beautiful laces and applique detailing.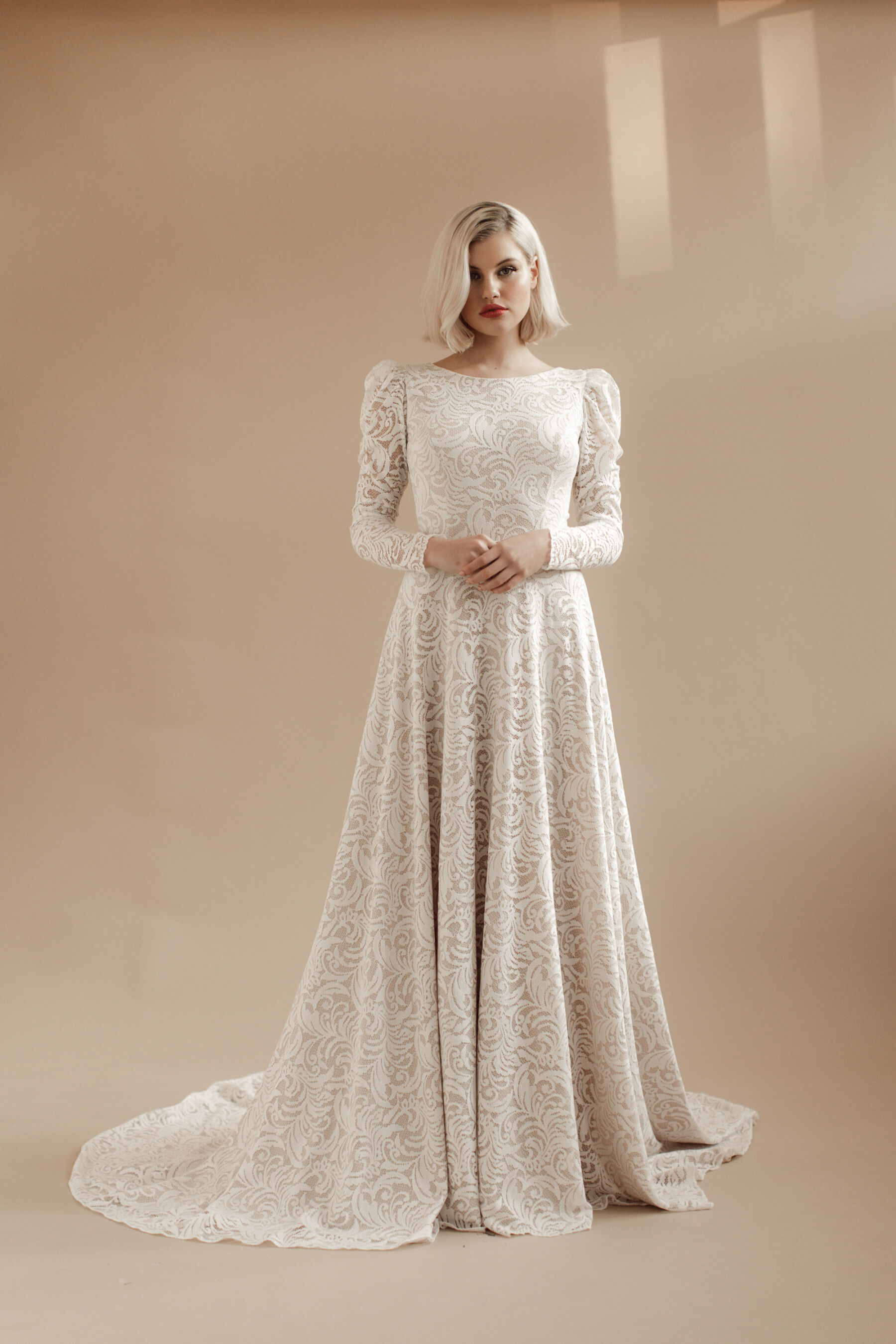 How does this collection reflect your overall design philosophy and aesthetic?
This collection stays true to where I want to be as a designer with a mix of versatile, wearable styles whilst still incorporating considered depth and detailing. The gowns are comfortable and incredibly flattering.
We create every garment from our UK studio with originality, quality, and sustainability at the core of everything we make. This, on top of the really personal service and positive, memorable experience that we make sure every single bride who choose here gown from Kate Fearnley has, is something I'm incredibly proud of.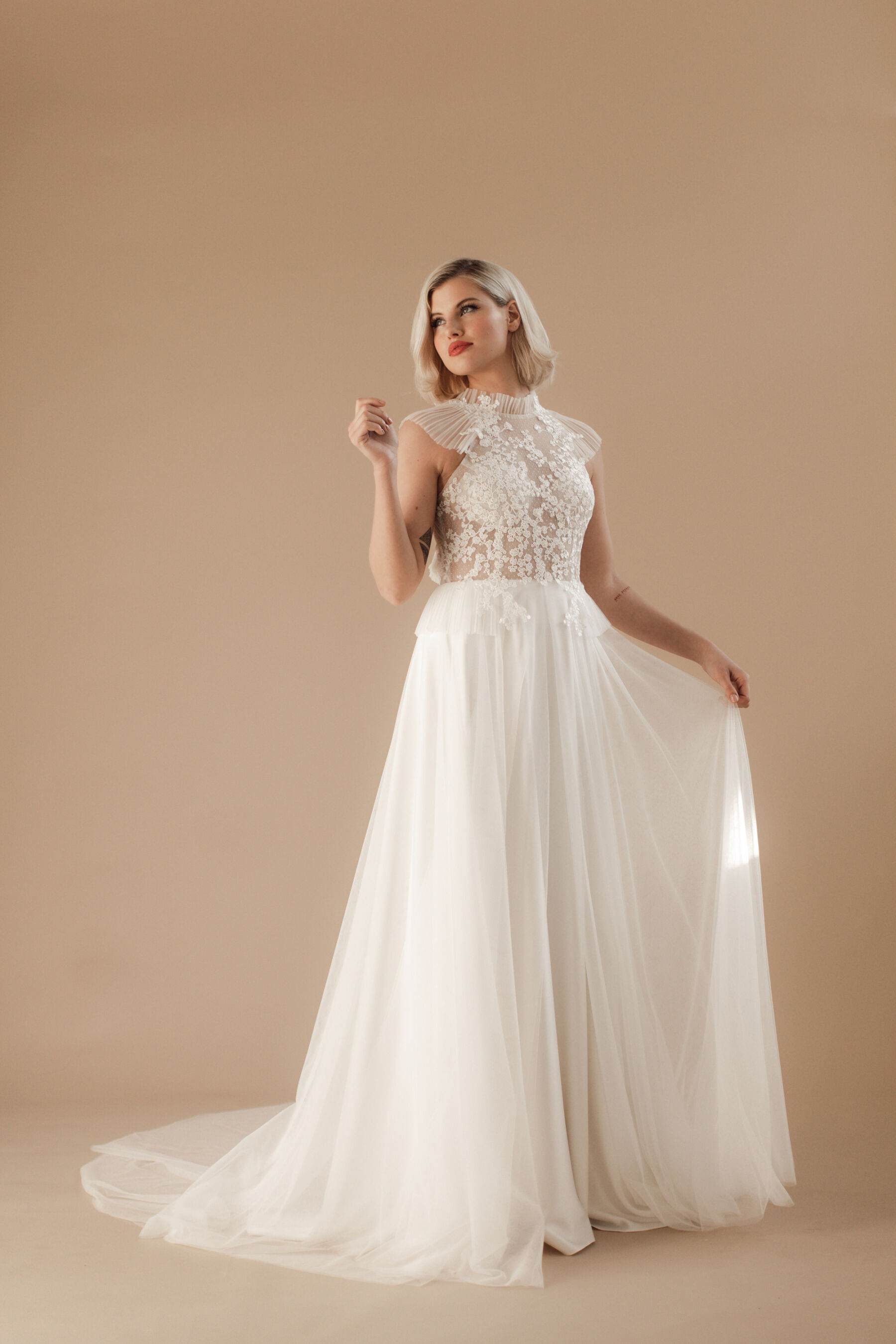 What wedding address advice would you share with brides?
My advice would be to make time to enjoy trying on a variety of styles, to help you find the dress style that suits you and makes you really feel amazing. And to enjoy the process.
Brides often come to me with a pre-conceived vision in mind, but it is often the case that their vision might not be the right silhouette for their shape or the right shade for their colouring. There is so much choice out there and my clients often end up wearing a gown that wasn't anything like they thought they would.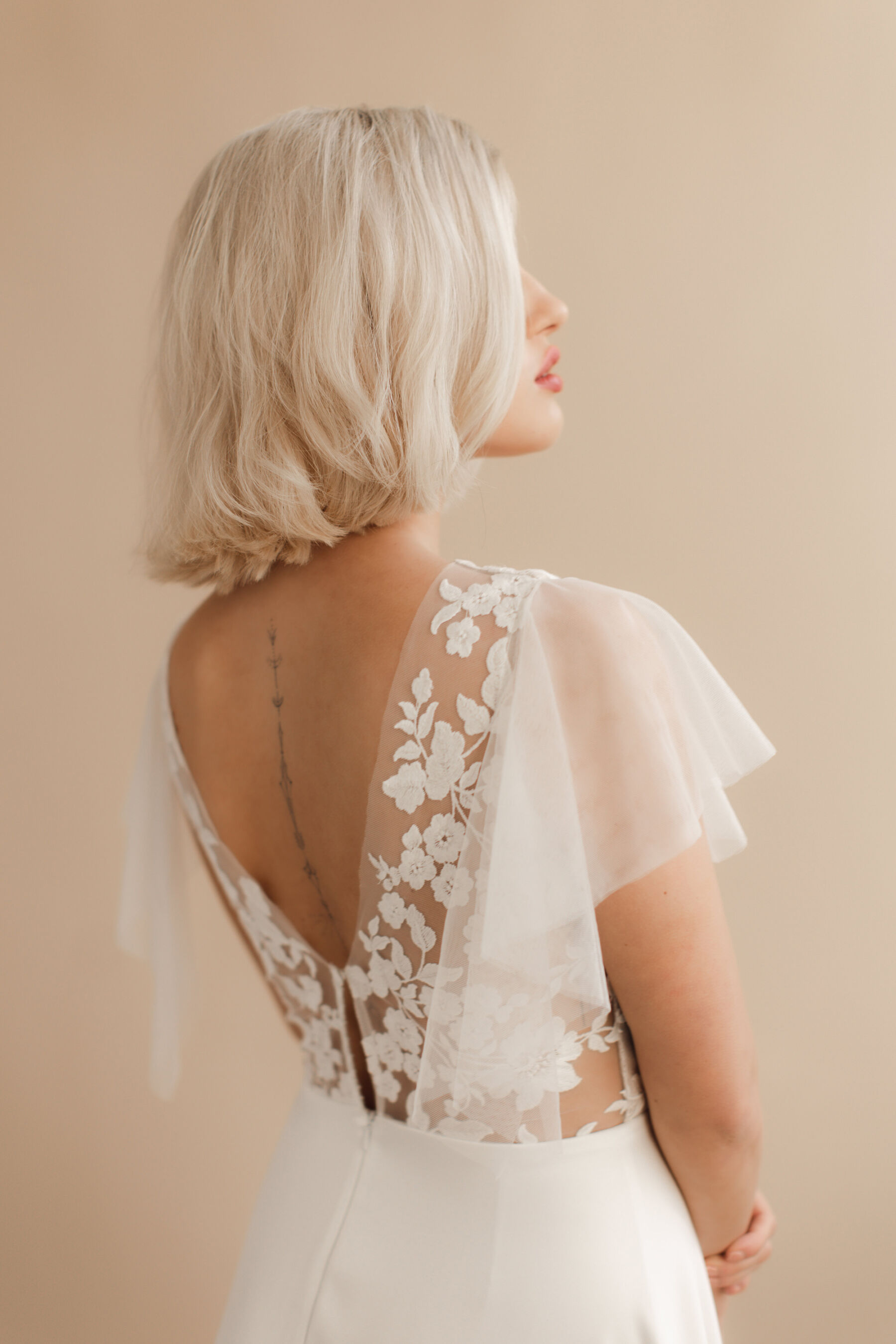 I am a strong believer in trusting your own gut instinct, and with our 1:1 styling advice, we are confident that every bride who steps through our doors will ultimately wear a Kate Fearnley gown on their wedding day that makes them feel and look the absolute best and most beautiful version of themselves.
My new collection contains many beautiful and flattering silhouettes and styles that I have created to suit brides of all size and shape. The gowns will be available to try on at stockists soon. They will also be available to try on and order from my North Yorkshire based studio and atelier, where designs from all my previous collections, as well as a full bespoke design service is available.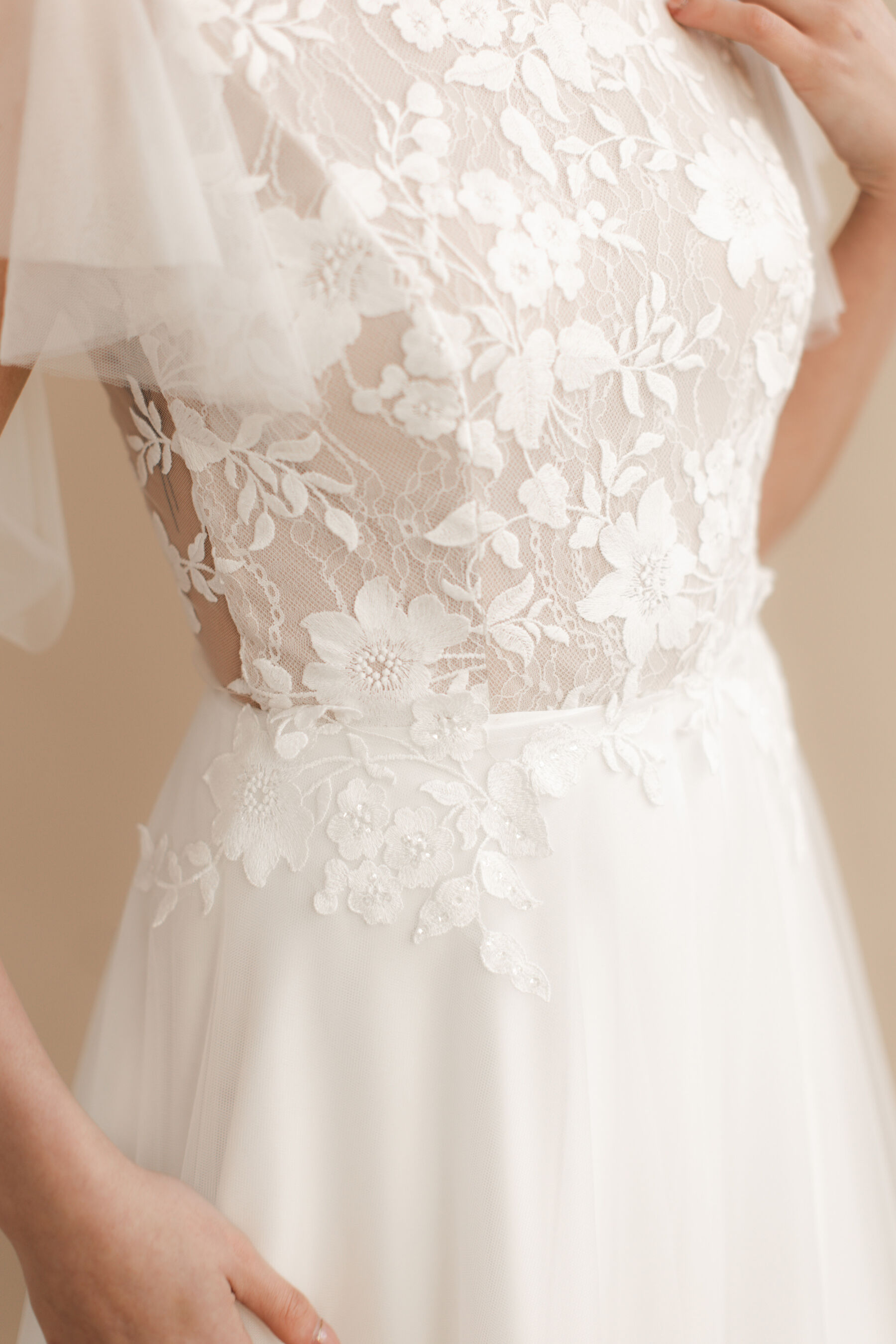 Make an Enquiry or Book an Appointment
If you love what you see, Kate would love to hear from you too.
The Station, Station Road, Stokesley, North Yorkshire, TS9 7AB
Email sales@katefearnley
katefearnley.com