To my darling brides to be in Birmingham and The Midlands (where I was born!) First up, HUGE congratulations to you on your engagement. I'm here to help guide you in finding the right places to look for your wedding dress, and on that note, today, I am delighted to introduce you to The Dressing Rooms Bridal, aka 'TDR Bridal' – a fabulous bridal boutique located in the heart of Birmingham.
TDR Bridal have recently introduced the beautiful wedding dress designs of Canadian bridal fashion designer, Sarah Alouache into their boutique. These highly feminine and lavish gowns are full of romance and sensuous design detail. I spoke with Molly at TDR Bridal last week and am delighted to share the conversation with you today. Molly and her team offer a very warm welcome to all Love My Dress brides to be – you can find details of how to get in touch and book an appointment at the end of this article.
Can you tell us a little about The Dressing Rooms Bridal Boutique?
'TDR Bridal' was opened over sixteen years ago by our founder Rebecca, who's whole heart is in bridal. Rebecca has an unbelievable care for each bride and always goes above and beyond. It began with only two members of staff and we are now a dedicated team of twenty.
The ethos at TDR has always and will always remain the same; be kind, be caring, be thoughtful, be compassionate. No matter how much the business has grown, Rebecca has ensured that these values remain the same and that every single bride who visits really feels valued, supported and loved.
Our passion is creating a true 'life moment' for each bride who enters TDR Bridal and they will leave feeling empowered and beautiful.
We always want our boutique to have relaxed and friendly feeling, we welcome everyone. We're totally bride focused and have worked hard to win many national awards.
How would you describe the experience that brides can expect when visiting The Dressing Rooms
When you enter TDR, you will tell that we all just love what we do! We are a normal, down to earth, friendly bunch of ladies who just love styling brides and making them feel the very best they ever can about themselves. It is not just a dress; it is so much more. The experience needs to reflect you and your personality too, whether you're shy and discreet or loud and wacky, each bridal suite is private and caters for you and you alone.
So, we have the added benefit of 6 separate suites, so every bride gets the TDR magic but in a bespoke way, not a generic way. We're all different, your Wedding Dress shopping should be curated for you, not the masses. We think you deserve the best, so that means the best choice with the best service at the best possible price.
What sets your boutique apart from others in the area?
We are always demonstrating a forward-thinking, fresh, diverse, and individual approach to bridal retailing. One of the most important things to us is being able to follow our brides throughout their bridal journey, including styling of the gown, alterations and having a highly trained team for prepping and packing ready for you to collect your perfect gown the day before your wedding.
We have six incredible seamstresses on site (always available to give the best advice) who are qualified and experienced in pattern cutting, designing, restyling and altering any dress to ensure the perfect fit.
We stock over 600 dresses from a size UK8 to a UK32.
We are open 7 days a week and 3 late nights.
We do not believe in charging for appointments, so all our appointments are free – and you get a choice of a cocktail, glass of fizz or even one of our very special hot chocolates with marshmallows and cream! You will always be treated like a VIP!
Here at TDR Bridal Birmingham, we are delighted to be able to offer you 0% finance on any of our gorgeous wedding dresses, we understand that spreading your payments over the months coming up to your wedding can really be a big help.
What is your selection process for choosing the brands and designers that you carry in your store?
We stock over 20 different designers, making sure we truly do cater for everyone! We find it important that the moral of each designer aligns with those of TDR Bridal. Having structure in the gowns which complements curves and creates shape to make sure you feel comfortable all day is so important to us.
We always listen to our bride's feedback as there is a different just looking incredible. It's equally important to feel good. Comfort is key! We stock from the high end glam of Enzoani to the boho chic of Lillian West and Allure Bridals; we really do have something for everyone!
Turning to the new brand, Sarah Alouache, what can you tell us about the inspiration behind her designs?
'Our designs are centred around the magnificent beauty of true feminine power and inspired by the very essence of romance and love. These lavish gowns are designed to celebrate the women of style—a bride who knows what she wants and wants to express her fashion-forward style fiercely.' Sarah Alouache
Can you describe the style of Sarah Alouache dresses?
Fun, flirty and fabulous! Each dress is so unique, yet they have a fashion forward and high end feel that flows within each design.
If you walk down the aisle in a Sarah Alouache gown, you truly are a style icon and it will be one to remember! Don't follow the norms; always be true to you!
What makes Sarah Alouache dresses stand out from other bridal brands available at your boutique?
Sarah Alouache creates her own path within the design industry. Defying all rules and traditions. Her designs are fashion forward, daring and expressive, however they're created with soft tulles, and complementing cuts.
Romantic sleeves, luxurious fabrics and timeless details are all cleverly crafted into fashion forward details, creating a modern look that makes you stand out!
Do you have a favourite Sarah Alouache design and if so, why?
I am just in love with the dress Charlotte! I just love the playfulness of the polka dots and the romantic bow at the front. Bows are such a versatile detail and can be made a detachable feature, which is perfect to give you two looks.
They can be on the back of the gown, front or shoulder. There are no limits. Bows can elevate your bridal look and add a feature which has high impact.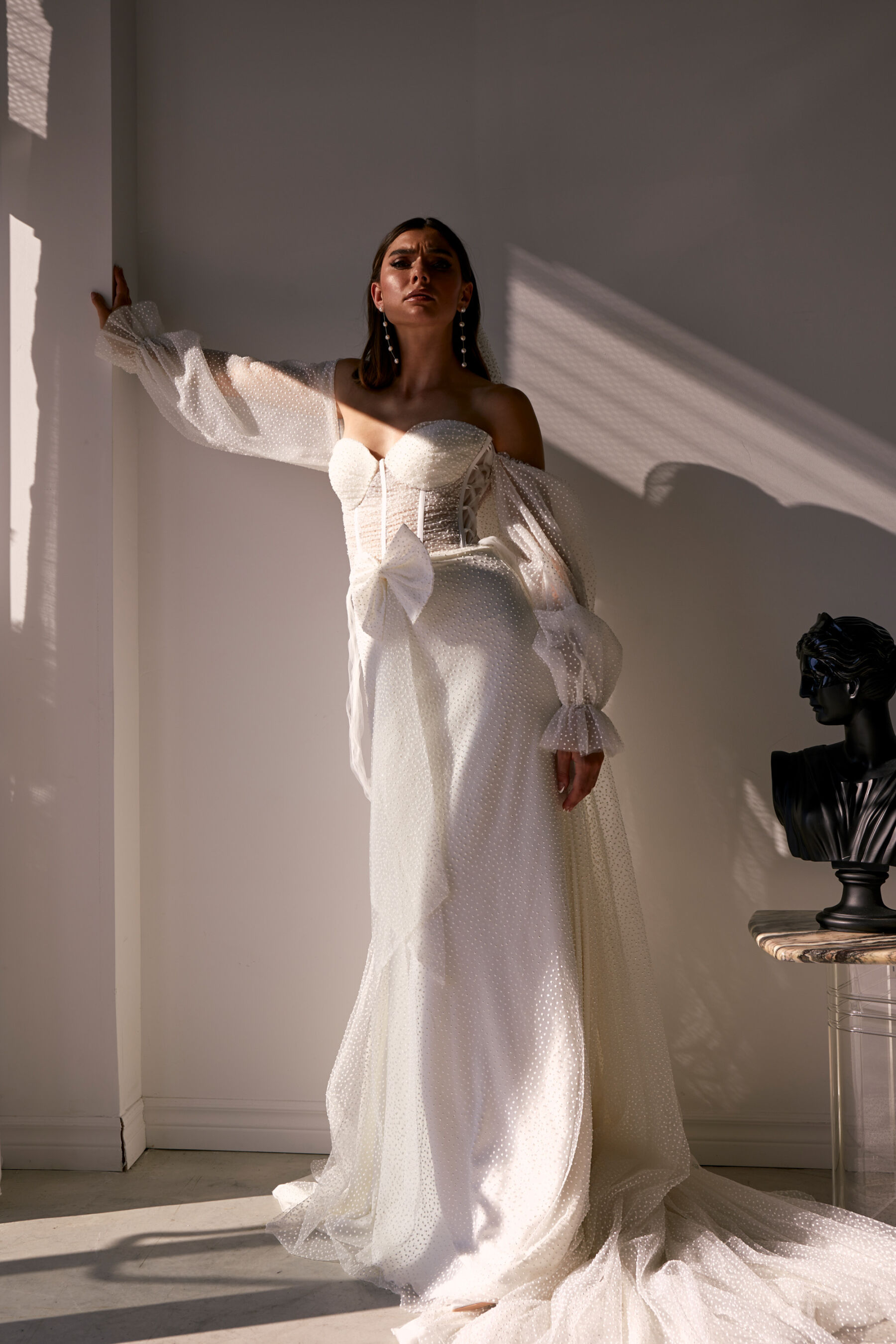 Can you tell us about the materials and fabrics used in Sarah Alouache dresses, and how they contribute to the overall design?
Pearls and beads are consistent favourite in the Sarah Alouache designs as it creates texture and depth to many fabrics.
Beadwork is a luxurious and sophisticated detail yet can be made playful and chic by just altering the placement over the gown. It can add a sparkle and eye-catching detail to any dress.
Finally, what advice would you give to brides who are looking for their dream wedding dress, and how can The Dressing Rooms help them find it?
Keep an open mind. We have found that often our brides go for something that they would never have expected so you should always put trust into your TDR stylist to help you explore different styles! As we stock over 600 different dresses, you can try things you never thought that would suit you or would love. You won't regret it!
Give yourself at least 12 months. Don't worry if you find 'The One' when you weren't expecting it. I've always found when a bride comes in with no expectation to find their dress, they always do! Trust yourself enough to know that when you have 'the moment', that dress is the one for you.
We don't compromise on anything at TDR and neither should you! This is YOUR life moment, come and enjoy it at TDR!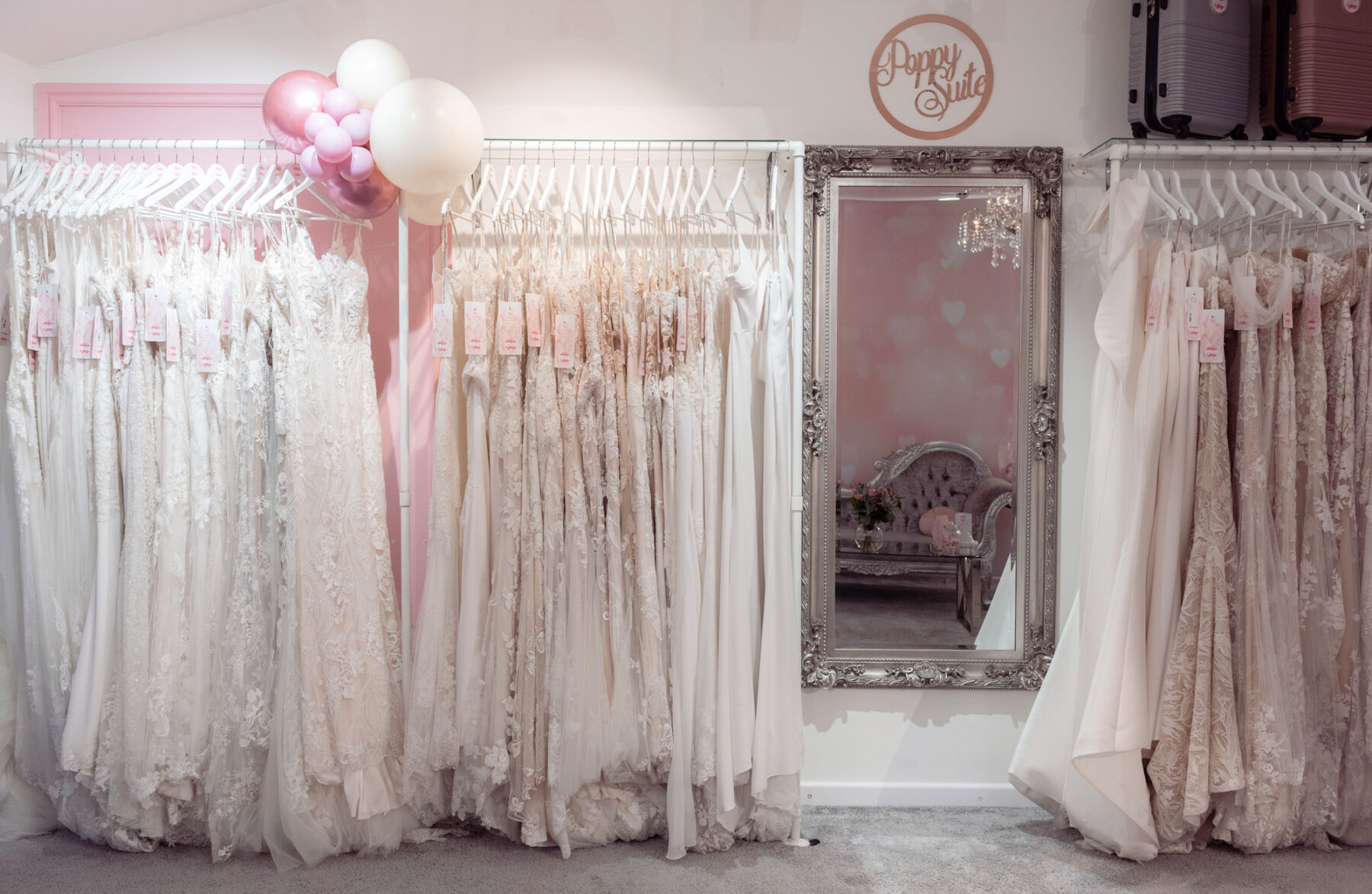 thedressingroomsbridal.co.uk