Charlotte and Ed tied the knot 16th September 2022 at Liverpool Town Hall, followed by a reception at One Fine Day.
Charlotte is an incredibly talented bridal seamstress and designed and made her own dress, inspired by her design idol, Vivienne Westwood. She also made her entire bridal parties dresses (and suit, for her male assistant). Her exceptional talent and skill can be enjoyed by all as of April 2023, as she is set to launch her debut bridal collection, Charlotte Sands Bridal, at White Closet Bridal in Manchester. Watch this space.
This is a joyful and fun-filled modern, colourful wedding that we hope you enjoy as much as we have preparing to share it with you. Photography by the very lovely Bailey & Mitchell.
A Charlotte Sands Wedding Dress
My wedding gown was designed by me and hand made by my Mum – This had been a dream of hers since I was born. My Mum introduced me to dress making when I was a little girl and she is the main inspiration behind my career.
Since working on my gown together, I have launched Charlotte Sands Bridal, with my first capsule collection to be available via White Closet Bridal in April 2023.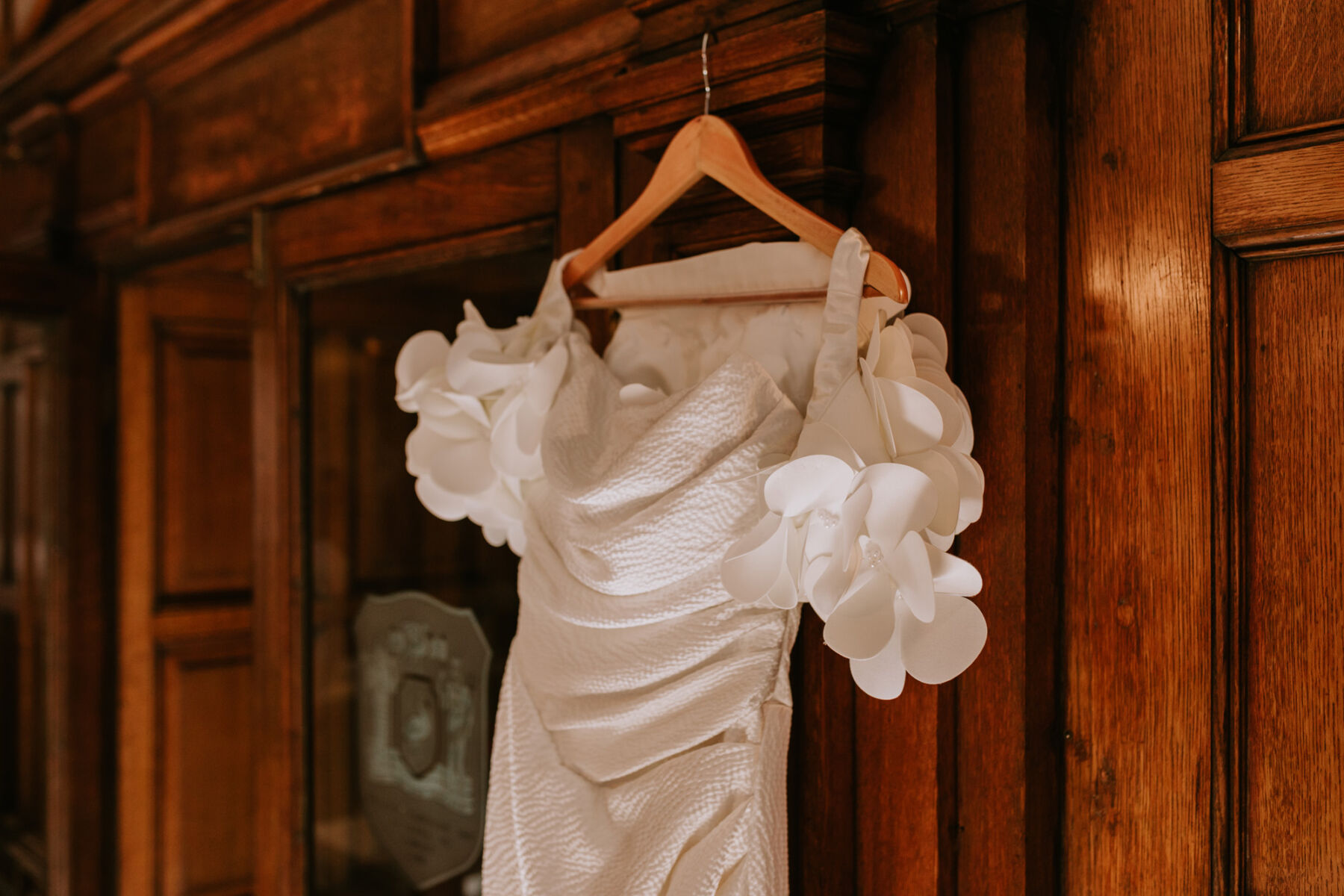 As I have been a bridal seamstress for eight years, I found it to be impossible to find a dress I hadn't already seen before. I tried on with two boutiques I work with and each dress I put on, I could list several brides I'd met who'd worn the same dress. Nothing felt like 'mine'. I contemplated travelling further afield and a friend even suggested looking in to renting a Viv (Westwood), but we kept coming back to the idea of my Mum making it.
My final outfit came down to two styles – I love bridal separates and I very nearly went for a full Mikado skirt, cropped bodice and oversized puffed sleeves. I thought this would be super cool and chic for a city wedding but ended up feeling I wanted something more demure. I made this outfit anyway and wore it for my hen do haha! It was a bit extra, but hey, I'm a designer.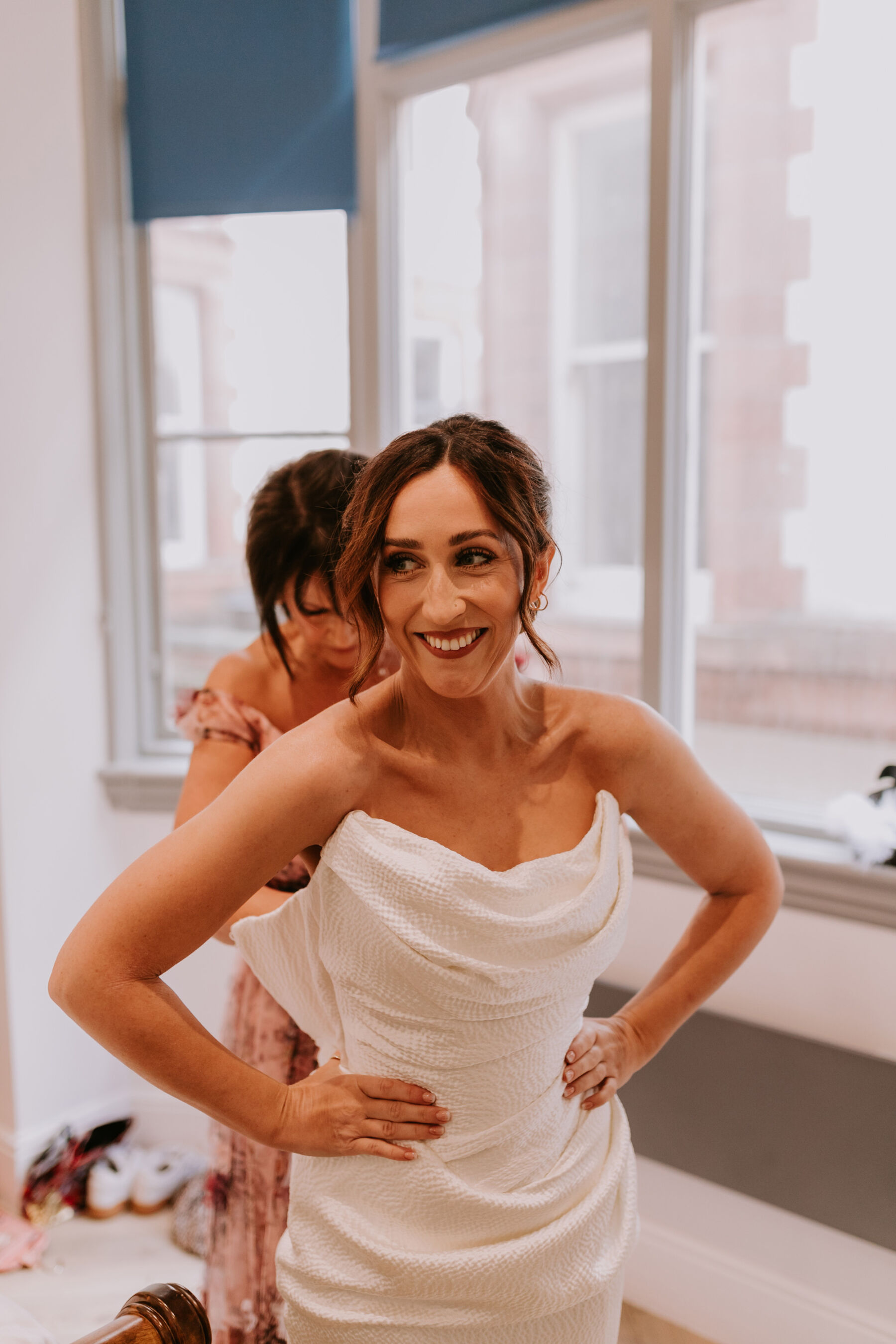 My final outfit did still end up being separate; my gown, a bardot topper and a detachable train. With my experience working with brides, I was well aware of the "hindrances" associated with bridal gowns. The main one being trains… They are stunning and an iconic trait of a wedding dress, but totally impractical and end up trashed and trampled (Even with a hook up!).
I made mine detachable so I had the drama for the aisle and photos, but could whip it off later in prep for the dancing in to the early hours! The other common one is feeling 'too revealing' for the ceremony. My gown had a sharp, low bust line that perhaps felt a bit 'sexy' for the ceremony. The petal topper gave me that little bit of coverage during the formals but could then remove later in the evening.
My main inspirations for my gown of course came from Viv; In particular her Cocotte gown, from her 2021 bridal collection. The corset was heavily boned in a deep V which was shaped in a way to create a dramatic, Victorian style waistline. It was made from an ivory hammered silk, and I can't tell you the DAYS in took to perfect that drape!
The bardot topper was made from a mixture of stiffened Mikado and dutchess satin petals we sent off to be laser cut. My Mum hand sewed individual pearls all throughout – It was honestly a work of art! My inspiration for this came from the Jesus Peiro 911 gown sleeves.
Shoes, Veil & Accessories
I wore a plain tulle cathedral length veil from White Closet Bridal. My shoes were ASOS, via Depop! I had seen them on ASOS five+ years ago, but didn't buy as I wasn't engaged and I'm incredibly superstitious. When I was looking for shoes, again I just couldn't find anything I'd not already seen (and my sewing skills don't extend to cobbling).
I had a screenshot of the ASOS beauties and kept flicking back to them and then unbelievably came across a barely worn pair on depop for £20! They were my 'something old'. I also wore some pearl bobby pins – they were £3 from Ebay haha!
My perfume was Let it Rock by Vivienne Westwood. My Dad bought me a bottle for my 18th birthday and it got discontinued shortly after. I stock piled it ever since always knowing I'd keep a bottle for my wedding day. I had around 15 bottles at one point but I'm down to just had two unopened now.
My earrings and necklace were Lily & Roo – Ed bought me the necklace as a wedding gift and my parents bought me the earrings. I panic bought a fluffy handbag from ASOS the night before and that was a godsend – Recommend for lippy, purse and phone as you won't use them all day but good have in one place to keep safe!
My friend Katie did my hair and make up for me. It's her passion rather than profession and she's exceptional!
Bridesmaids & Man Outfits
My bridesmaids' and man-outfit where all designed by the wearer and made by me! I can't tell you the amount of women I've had in my shop fitting rooms in tears because of the dress they've had chosen for them to wear. Finding a style to suit everybody is an impossible task, so I gave my friends full artistic license to design whatever they felt most amazing in and I would make it for them. My friends are all so different from each other and I wanted their outfits to express the wild personalities that I love each of them so much for.
A few people were pretty concerned it was going to look a mess but I knew as long as they were all in the same fabric, it would look amazing. I designed the fabric print myself, which was inspired by a wallpaper in the hallway of The Royal Pavilion, that we'd visited during out trip to Brighton (engagement) I then had 25 metres printed and off I went.
Everyone's outfit designs ended up being so different and I LOVED it. Two maxis, one midi, a mini and I jumpsuit for the girls and then my best man in a head to toe, pink, floral suit. We'd originally just planned on a shirt, but when the fabric arrived he was just like, "Shall we just go for it!?" And my GOD, it did not disappoint.
My flowergirl dresses were also made by me! I added an organza overlay to the skirts as the girls love a 'Princess Dress'. The youngest actually ripped hers off on the morning of the wedding which was funny because it actually worked out pretty cool as then none of the outfits matched at all! We teamed their dresses with oxblood Docs which looked awesome!
We're both very creative people so we just wanted the day to be full of expression and for everything to be unique to us. There were heavy Vivienne Westwood influences in the outfits and lots of Beatles references throughout the stationery bits. Pretty much everything was DIY'd so I guess personal was our theme. We wanted the day to be loads of fun so we put a lot of focus in to entertainment as well. The Bride
Flowers
My flowers were quite the drama in the end! My green fingered bridesmaid Rach and I decided we wanted to grow the flowers ourselves for the wedding… Long story short, our neighbour had their boundary willow tree trimmed 2 months before the wedding and the tree surgeon let the branches drop in to our garden and decimated 80% of my flowers.
By some absolute miracle, one of my brides Mum's had an allotment near by and and on hearing what happened, unbelievably kindly dropped me off a key to her plot and gave my free reign on EVERYTHING across her and her neighbours patches. I've honestly never known kindness like it and will be eternally grateful – Moira, you are an absolute hero.
We still had some from Rach's garden too which we prioritised for the bouquets which a friends Mum very kindly put together for us.
The Ceremony
We got married at Liverpool Town Hall. Liverpool is both our home towns and our first home together was a flat in the city. Our family are all local and it was important to us for it to be accessible for everyone. I absolutely adore traditional architecture and décor and the town halls grandeur just blew us away. We're also massive Beatles fans and of course needed that famous shot off the balcony!
My Dad walked with me down the aisle to Nina Simone's 'My Baby'.
Our reading was a poem by Christopher Poindexter, read by Ed's Auntie.
Our rings were all designed by us and handmade by Simon at Fraser-Bell in West Kirby. My engagement ring is a chocolate diamond set in a hexagon halo with rose gold band. My wedding band is a wishbone shape, inspired by a ring my late Nan used to have. Eds wedding band is platinum with rose gold on the inside to match mine.
Photography
Our photographers were Bailey & Mitchell. With my job, I've seen 45453935392 wedding photographers. About 3 years ago (pre engagement) one of my brides tagged me in their photos and I was stunned.
Emily has such a unique eye and a way of framing shots without the obvious being the main focus. Her documentary shooting is exactly the style we were after as we wanted 'artsy' photos rather than the traditional wedding photography.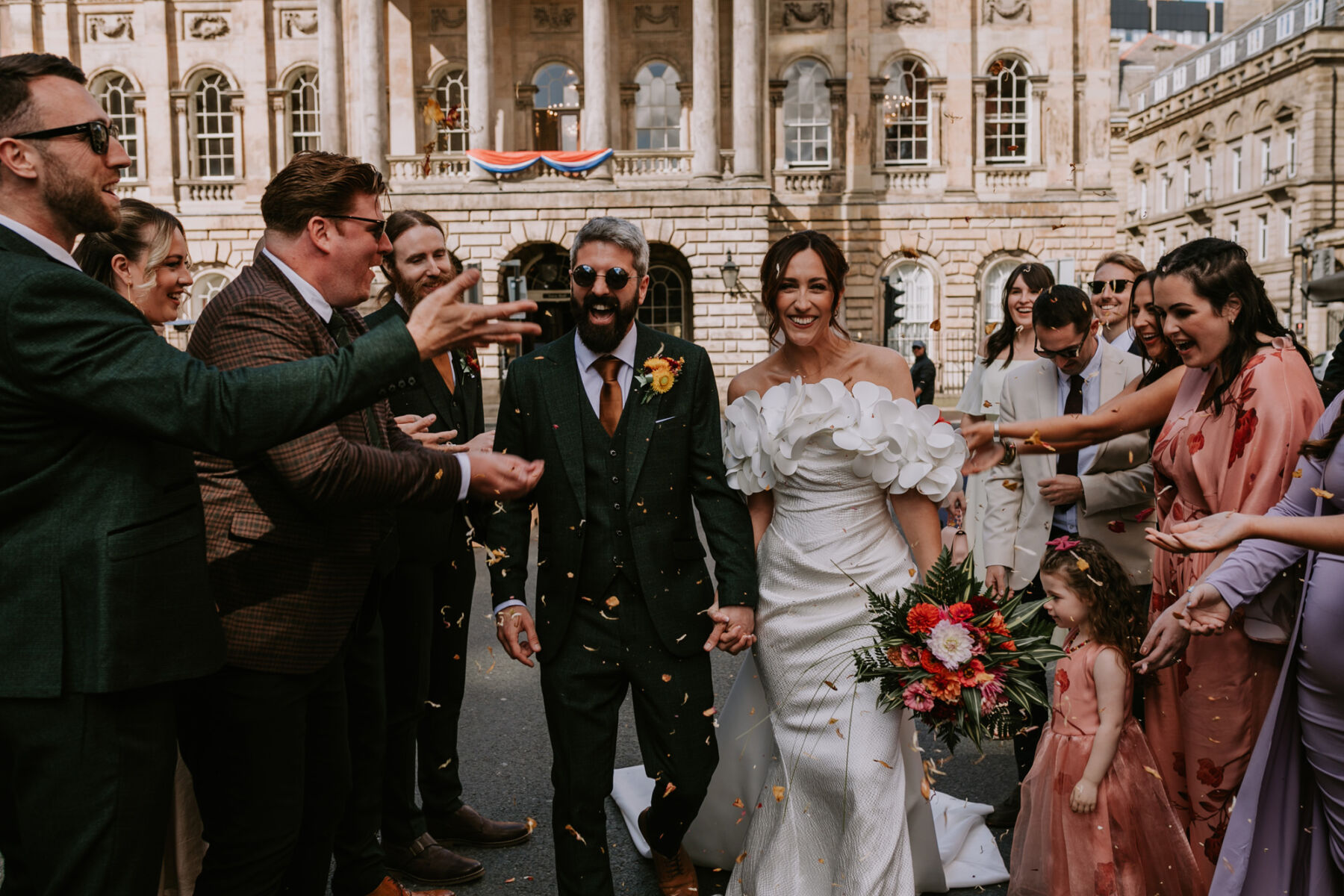 There is a real 'If you know, you know' aspect to her work, with a lot of her shots not even including heads or faces – Something which we absolutely adore and actually ended up choosing the majority of all our official prints without our faces in them haha! I must add, there are plenty of faces too, we just prefer the more abstract shots.
I would recommend Emily and Micah over and over. They have every quality you'd expect for in a photographer – Professional, friendly, put you at ease etc etc but on top of all that, you are genuinely purchasing ART with these guys – they are phenomenal.
After narrowing down the pinterest boards, I ordered a tonne of high street dresses in similar shapes to what I thought I wanted to see which styles suited me and then we got ordering fabric swatches and developing the design.
How They Met
We met in Mr Chips takeaway after a night out in Liverpool in 2013. We got engaged during a brief lockdown lift in Sept 2020 when we escaped for a weekend down to Brighton. The weather was absolutely glorious so the night before we were set to travel back home, Ed suggested getting up handy before checkout for a dip in the sea.
As we were floating around in denial that we had to go back home, Ed whipped out a ring in the middle of the sea!! I completely went to bits, couldn't catch my breath, nearly drowned, then nearly drowned Ed trying to keep myself afloat!! I eventually managed some kind of doggy paddle scramble to the shallow where I could plant my feet to say YES hahaha! We got married 2 years to the weekend later.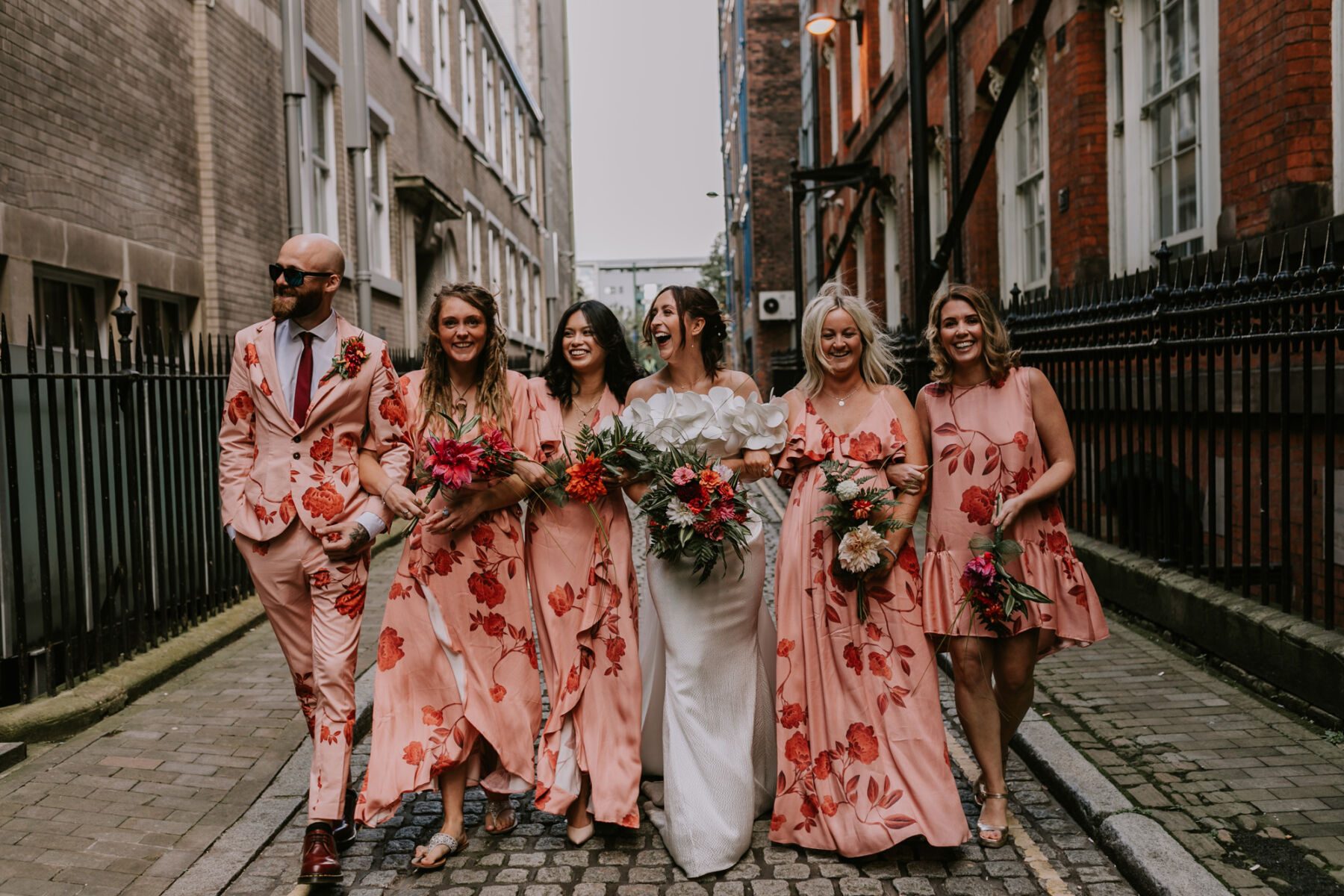 The Reception
One Fine Day
---
Our reception was at One Fine Day – again, the décor was the main draw on this venue. It's still very traditional with it's high ceilings and huge marble pillars, but the overall decor has been respectfully modernized. Their Sister cafe Leaf is also a firm breakfast favorite of ours, so we knew the food and drinks would be exceptional! Lastly, it was walking distance from The Town Hall so no faffing with cars in a busy city centre!
Catering was supplied by One Fine Day – the chefs were incredible. We'd picked our 3 course menu from the selections and sent the invites out with the choices and then at our final meeting (two weeks before) we threw in the idea of swapping the entire menu out for a greek sharing platter… The chefs came back with an excited yes and a menu they'd pulled together. We approved and Ed just chucked in the complete menu change at the end of his speech on the day hahahah! Who remembers what they picked anyway!?
Another gorgeous friend Pip made our cake. I designed all the stationery and had them printed at a local printers. Everything was inspired by Tony Booths famous Beatles poster art. Table names where all poems by the insanely talented Christopher Poindexter.
We had a 'honey & tobacco' scent for our wedding from handmade candles and decorated any bare areas with more disco balls and spare allotment flowers.
Evening & Entertainment
We're both music enthusiasts and Ed plays in several bands, so music was SO important to us. We had three sets of live music – The walk between the two venues was a short five minutes but to liven it up a bit, we had Hardcore Hornography surprise all our guests in the square behind The Town Hall. We all danced around the square and had people hanging out office windows waving and dancing with us.
They then marched us through to the next venue and were honestly the highlight of the day. They got the atmosphere bouncing right off the bat which set the mood for the rest of the day. Everyone was buzzing!
During the meal with had the incredible Fiona Lennon singing for us. She asked us prior for any requests so we asked for a personal song for each of our parents and one for us. It was subtle, but so special for our families.
Finally we had Twotone DJ for the evening until closing. He does two live drum sets alongside his DJing and each time he started up, the party went OFF!! We have a pretty good crowd for dancing all night anyway, but Martin just didn't let up with the floor fillers!! We ended the night with both me and Ed launched in the air up on shoulders and everyone gathered with arms around each other wailing bohemian rhapsody. It was incredible!
Our first dance was to A Better Man by Thunder. It's a song Ed has always played to me.Ed and his friends performed this for our first dance. Ed plays lead guitar so he started the band off whilst I had my first dance with my Dad and then during the lyrics "And now I believe in love", we set off confetti cannons and switched on a neon sign stating those words and Ed swiped me for our dance to the rest of the song . It was stunning!!
We also had a custom neon sign made by Daze Neon with the lyrics to our first dance song "And now I believe in love", which we now have hung in our house.
Words of Wedded Wisdom
Love my Dress is one of the most broad and diverse bridal publications I've come across. I love the fact you can filter blog posts based on categories you're most interested in, like style, era, colour etc. It's so useful for researching.
So, we set out with blinkered expectations that we could halve the 'UK average £20K wedding', as we would do so much ourselves. We didn't quite halve it, but we did come in less.
I would definitely say, if budget allows, don't do everything yourself. Although I am obsessed with all the personal details throughout our day and felt so proud seeing my vision all come off, it really did create so so much stress. I'd say definitely pick a few things and nail them, but had I known the stress I'd have been under prior, I'd definitely have outsourced some of the things I took on myself. That or took six months off work haha!
Another absolute must, which was advice I was given prior and was so so grateful for, is every now and then, grab your partner and take a few minutes to just stop and look around the room – Take it all in.
I'd also say to have a proper think about what you want / need for your wedding day. There's lots of things we buy it to because they're wedding things we think we have to do. You don't! We all have budgets so rather than spread yourself thin and having "okay" everything, choose your priorities, invest in the best in these areas and scrap what's not important to you!
Oh and lastly – Get a detachable train and dance your feet off ALL NIGHT!
Explore our directory