Poppy and Jack's divine Spring wedding was held on 2nd March 2023 at Butley Priory in Suffolk.
Beautiful Poppy chose a contemporary look by Newhite, which she discovered at The Fall Bride boutique in London. She paired her gown with a pair of Malone Souliers heels and pearl veil by Harriet Gordon.
The couple were inspired by the stone, clean white walls and light that filled the interiors at Butley Priory and wanted to compliment this aesthetic with white tonal textured and pearlescent accents.
Enjoy these gorgeous, classy images, by Georgia Rachel.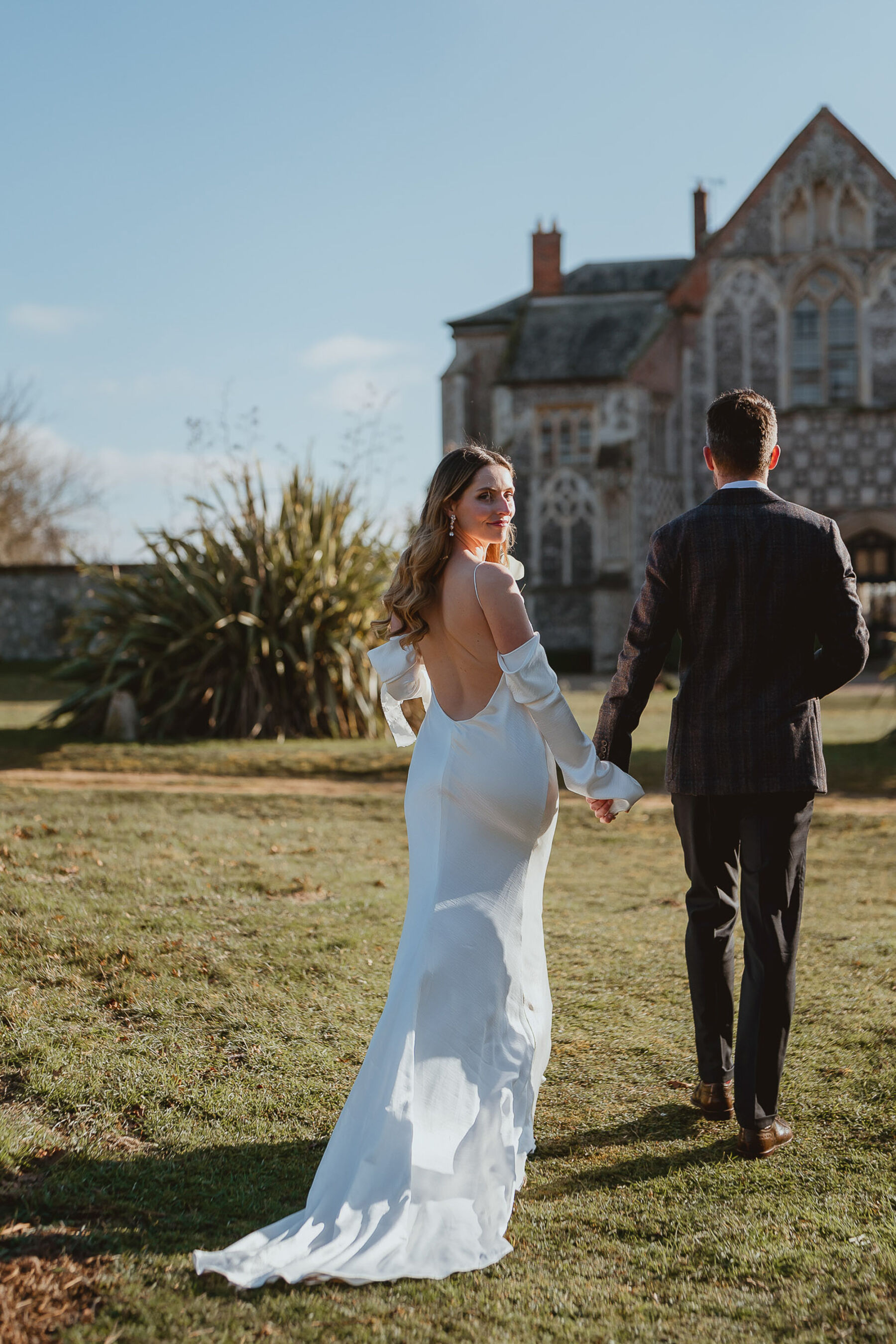 Butley Priory
We got married at Butley Priory in Woodbridge, Suffolk, England. We fell in love with this venue after my bridesmaid Ella (who is also a wedding photographer) told us about it. It was the first venue we visited and we immediately knew it was the one. It felt light and magical, grand but intimate enough to host our sixty guests.    
We decided to host the whole event inside ( firstly as we took a risk with a March wedding!) but secondly, because the rooms were too beautiful not to make the most of.
Butley priory was exactly the type of venue we were after – historic architecture but somehow with a warm and relaxed atmosphere inside – no looming dusty rooms that guests would get lost in. The aesthetic of the day really fell in to place once we found the venue.
We had a small open tipi set up with rugs, sofa and a fire pit outside just in case guests wanted a breath of air. Our supplier was Events Under Canvass. This also came in very handy for toasting marshmallows in the evening!
I decided we could plan the whole things in six months! We hired an on the day stylist nearer to the time – Penny from Synched Events. I also hired some props from penny and fabric for draping / dressing the great hall and some signage, Penny listened to every detail of my wishes for set up in our planning meeting and came through on the day – no detail was missed. It was one of our best decisions to hire a stylist for the day, she made sure our day looked even more magical that we'd hoped.
As for the feel of the day , we didn't want anything to feel forced and most importantly we wanted our guests to feel relaxed. I choose my three closest friends and my cousin to be my bridesmaids and jack chose four of his closest pals to be his best men. We had beautiful readings from my brother and Jack's sister.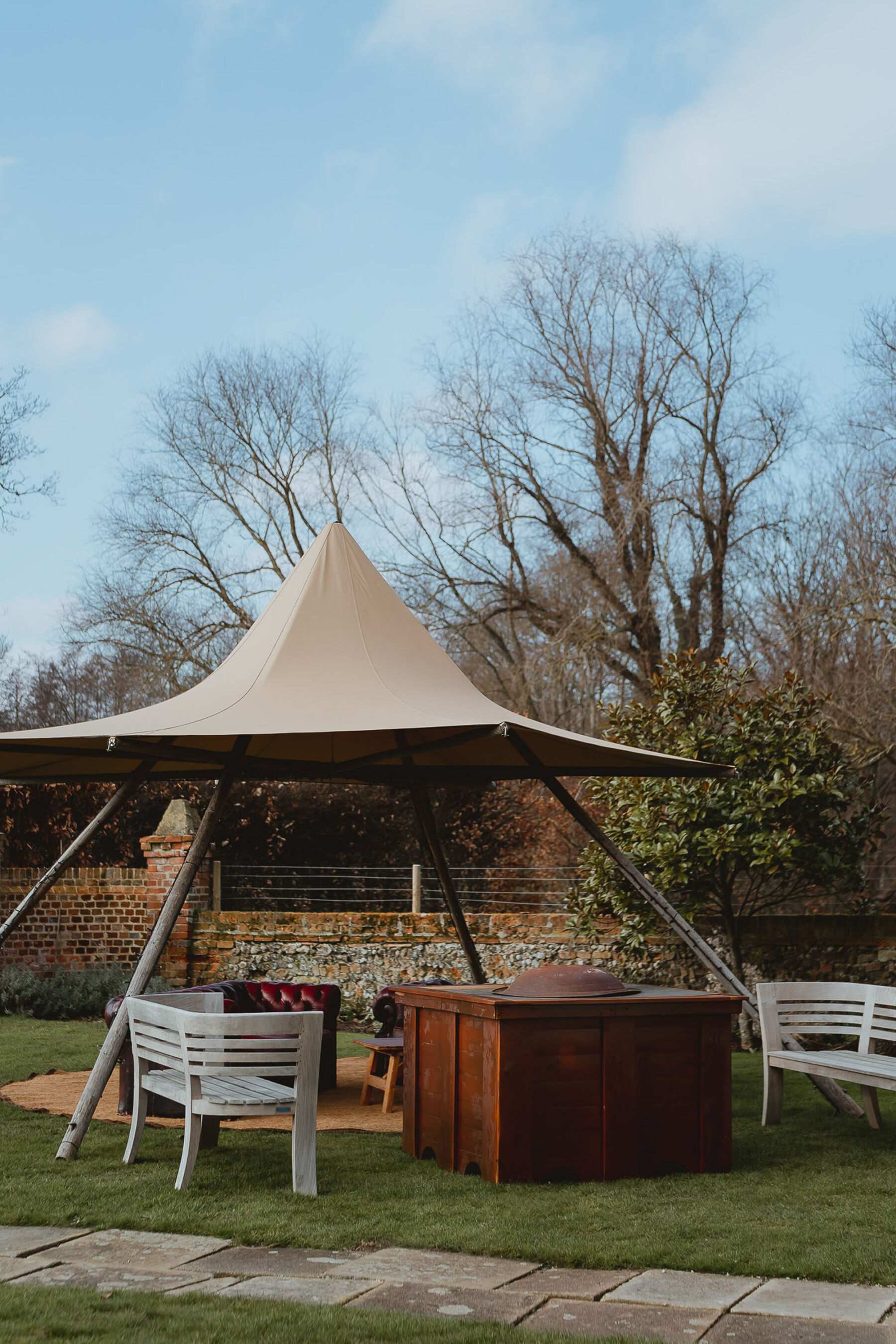 Bridal Look
---
The Fall Bride in London is pretty much where I found my whole look. They were the last shop I went to – I was on a pretty tight deadline and I knew I wanted to try the Newhite brand but wasn't sure if it would suit me.
The team were extremely helpful in the lead up to the appointment and were able to recommend and order some underwear specifically to work with the Newhite dress I was interested in.
On arrival I knew immediately from the aesthetic created in the boutique that this was what I was looking for – clean minimal and elegant.
I absolutely fell in love with my dress which was a low back slip with a long floaty sleeve jacket that created a drape across the bust. The fabric had a luminous pearlescent sheen which I loved.
I did not feel pressured in any way to make a decision on the day but I knew I had found the one when my mum started crying. We were given plenty of time to celebrate and served some bubbles in lovely champagne saucers. The whole experience was very personal and felt exactly right.
Bridal Beauty & Accessories
I did my own makeup, as I originally trained as a makeup artist. I felt most comfortable creating my own look and spending time doing it in the morning.
My hair stylist was Hollie, of Glow Occasion Hair Specialist. She created my dream relaxed polished waves. I wanted a modern Veronica lake look and she delivered. I would recommend a trial to get this look down – Hollie listened to my feedback and literally sculpted the waves in the most flattering way around my face.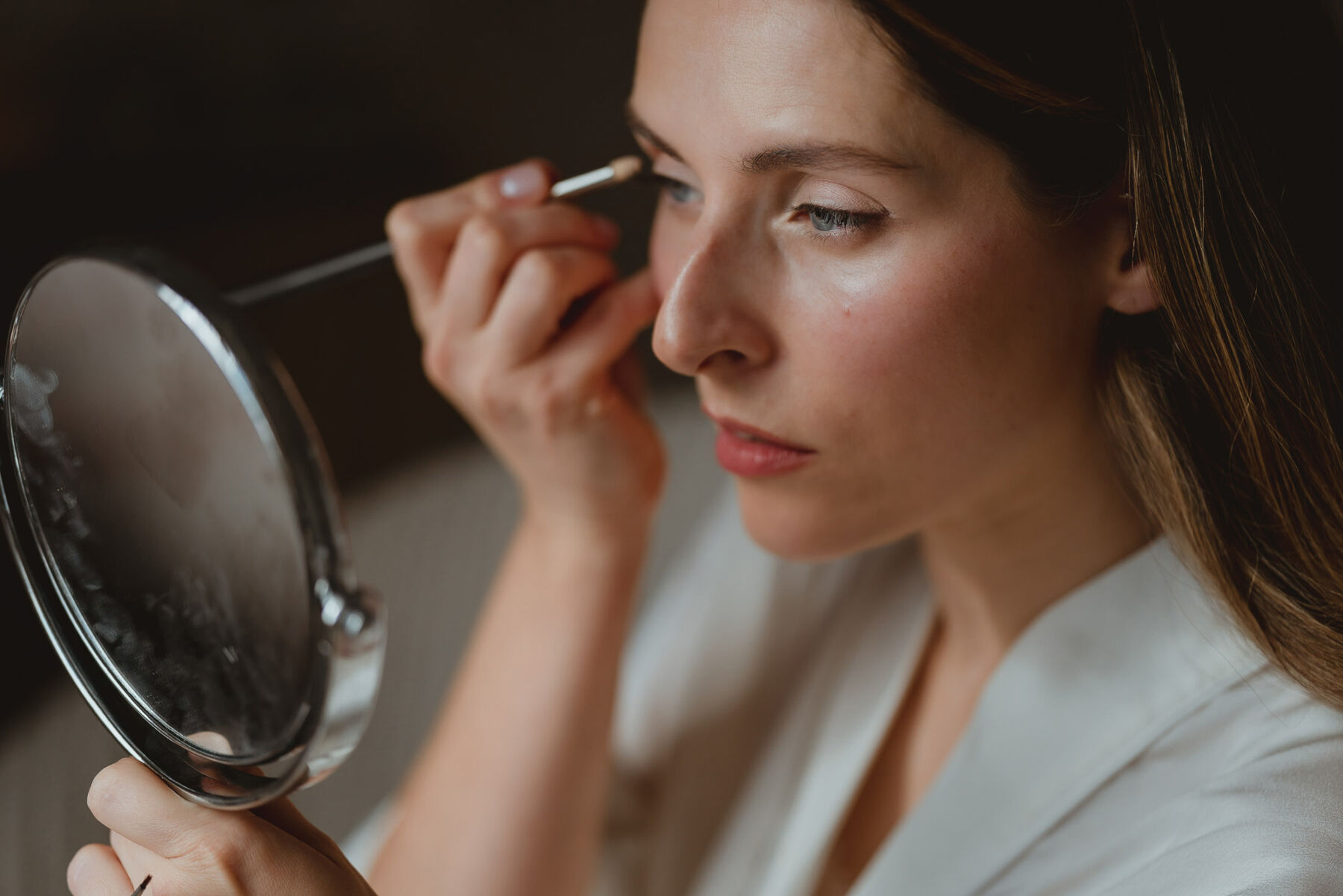 My perfume was Chanel's Chance – always my favourite and an early 30th present from my brother. And I found a very cute hand made bag on Etsy!
I think my two-tier Harriet Gordon pearl veil made my minimal dress feel more bridal for the ceremony. I absolutely loved my veil and I am saving in in the hopes one day my daughter will wear it.
As I wanted to keep my look more minimal and clean I opted for just a pair of earrings. I found these modern pearl earrings from Completed Works, with a crystal drop that complimented my dress perfectly.
I wore Malone Souliers – they were simple and strappy with a little sparkle to compliment the dress. I didn't wear any hair accessories – I tired them but I felt it was competing with my dress and veil and I don't wear anything in my hair day to day so didn't feel like me. I focused on getting my hair in the best condition possible and an excellent hair stylist.
I loved how comfortable I was in my dress all day. I was able to change up my look for the evening by removing my sleeves and adding a small choker made from the hem offcut of my dress by my genius seamstress, Emma .
Bridesmaids in White
I wanted the bridesmaids to echo the style of my dress – so minimal and clean lines. I think the dresses were perfect as the style was so classic and the matte white contrasted nicely against the sheen of my dress.
All their dresses were from Coast and their shoes were from ASOS. They wore necklaces from Zara – they were modern and simple with a pearl, to echo my accessories.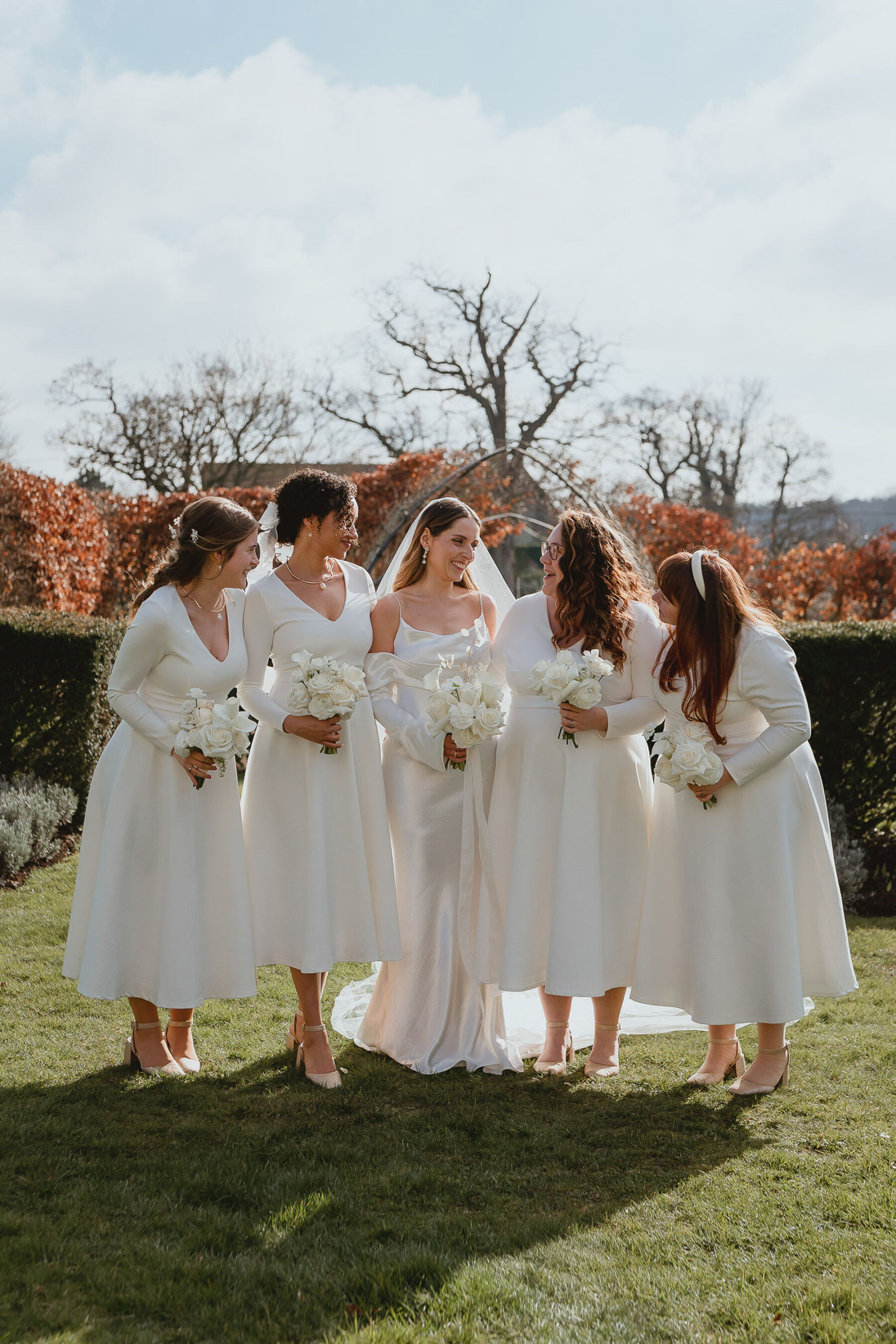 I also wanted each bridesmaid to have a different hairstyle that suited them and how they might wear their hair normally and so I bought a hair accessory that reminded me of them whilst keeping it all tonal whites. I wanted everyone to feel comfortable and beautiful – I think they all looked stunning.
Out niece, Seven, was our flower girl – I found a very cute dress last minute in the sale from Childrensalon.
Ceremony
---
My dad walked me down the aisle – my father in law played a beautiful rendition of 'Love me Tender' on guitar as I walked.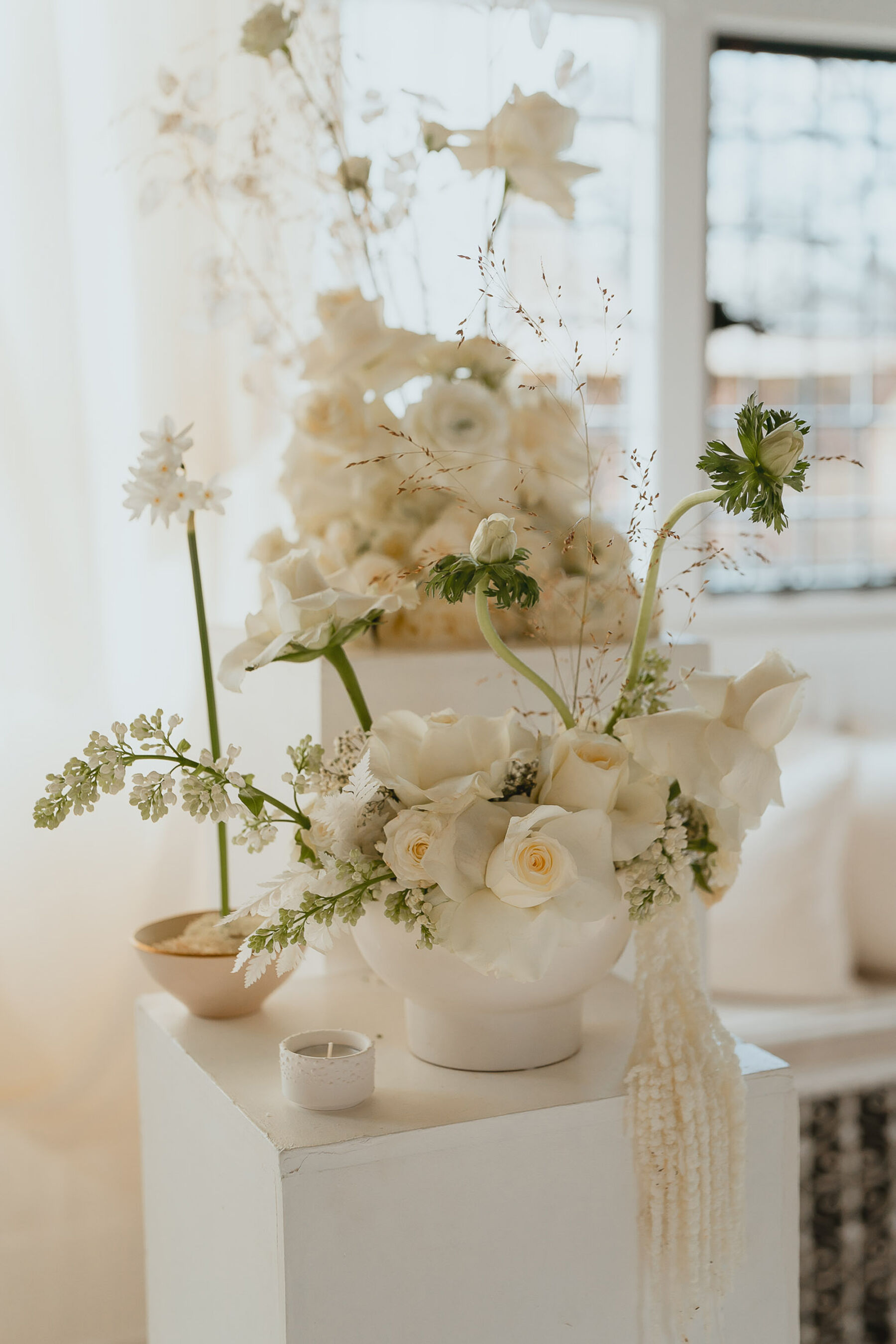 A friend who is a jewellery designer and works in Hatton garden helped me to jointly design a wedding band and source a band for Jack.
Jack and I wrote our own vows one morning in bed with a coffee a few weeks before the wedding. We tried not to overthink them and didn't show each other. Im really glad we did this as it was so special to speak to each other in front of all our loved ones. This really cemented the whole ceremony for me and made me focus on just jack in that moment.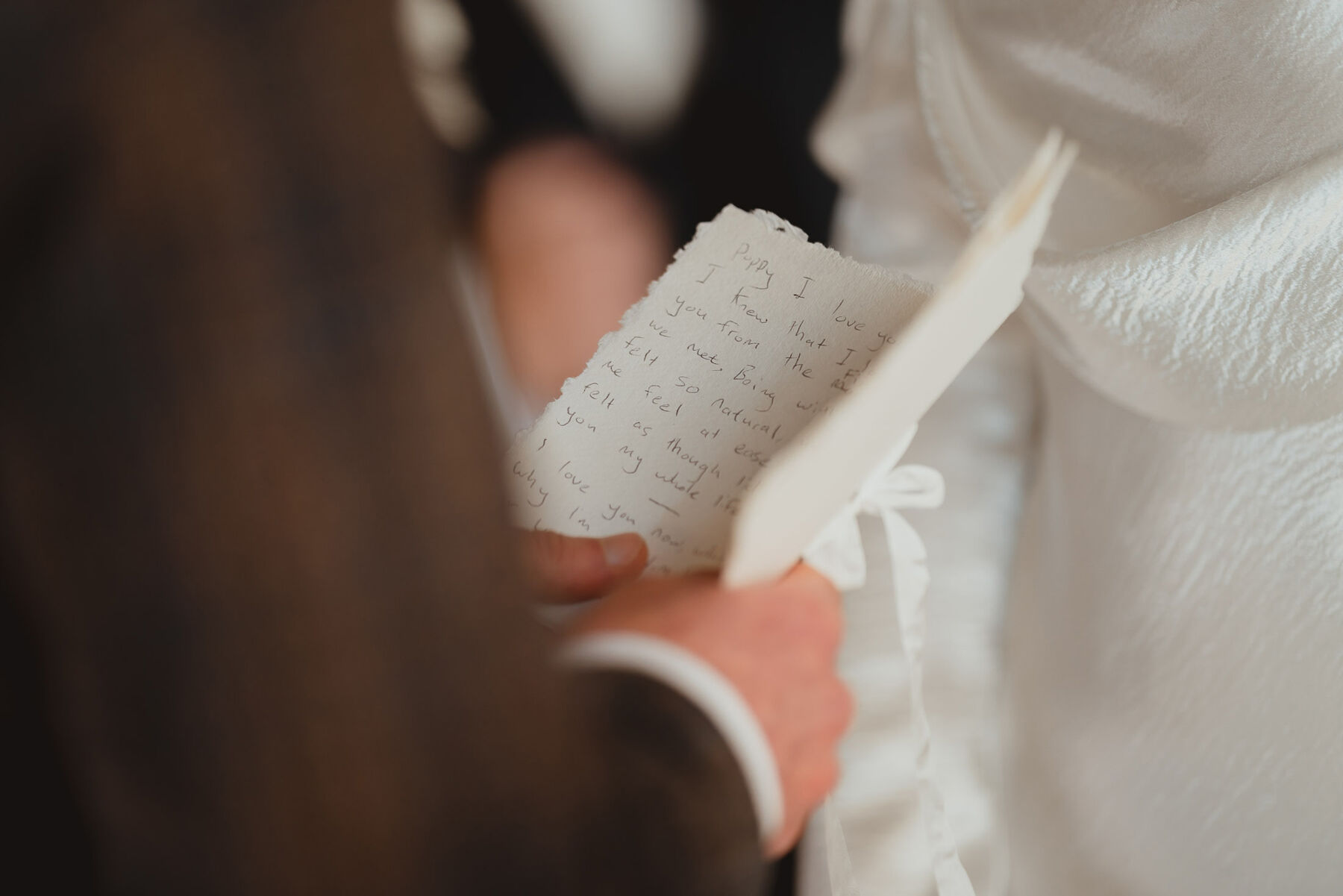 My brother read 'An Excerpt from Wild Awake', by Hilary T. Smith, and Jack's sister read 'In My Life', by The Beatles.
Jack wore a blazer, trousers, bow tie and shoes, all by Paul Smith. Jack used to work for Paul smith so it was only fitting! He also wanted his outfit to be a surprise so I had no Clue until the day.
I showed him the Pinterest inspiration for the aesthetic of the day and we discussed a colour palette to make sure everything was cohesive. I trusted him as he dresses himself excellently and I wanted him to feel extra special in his outfit too.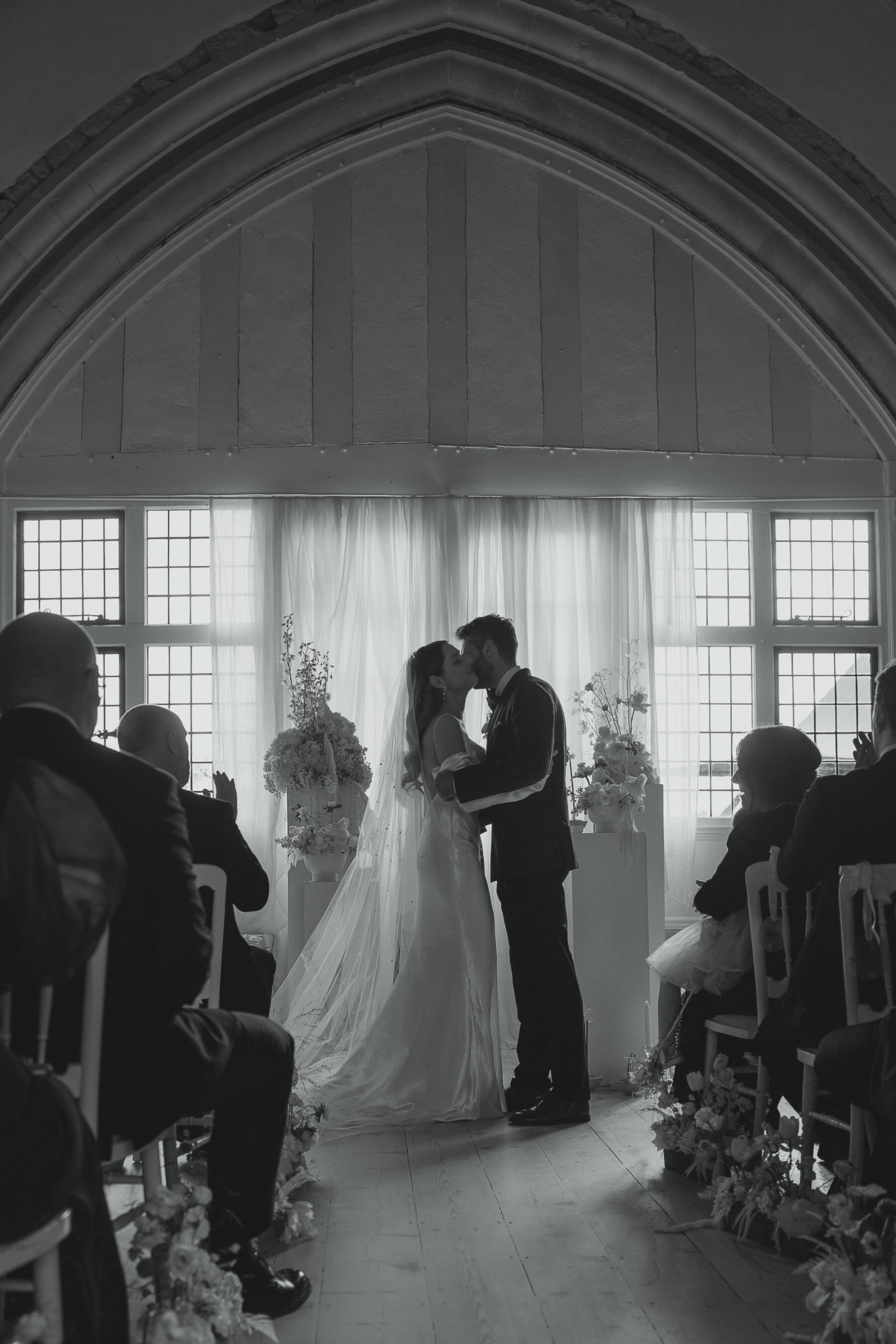 Photography
Our photographer was Georgia Rachel. I chose Georgia with some help from my bridesmaid Ella as she is in the biz! I knew I loved Georgia's photographs and Ella helped me determine why. Jack and I both loved her friendly bio.
I knew I had made the right decision as soon as we had booked and she sent me a fantastic guide which helped me to think of all the photography aspects of the day.
Georgia was absolutely fantastic on the day – In what seemed to us like absolute effortless management she managed to capture every detail of the day. She was extremely kind to everyone in the morning getting ready and was my cheerleader when I was getting a little nervous finishing off my makeup. G stayed late into the night we know she worked her socks off for us – all of our guests were so impressed with her.
We would 100% recommend Georgia,she captured the magic of our day that we will be able to look back on forever.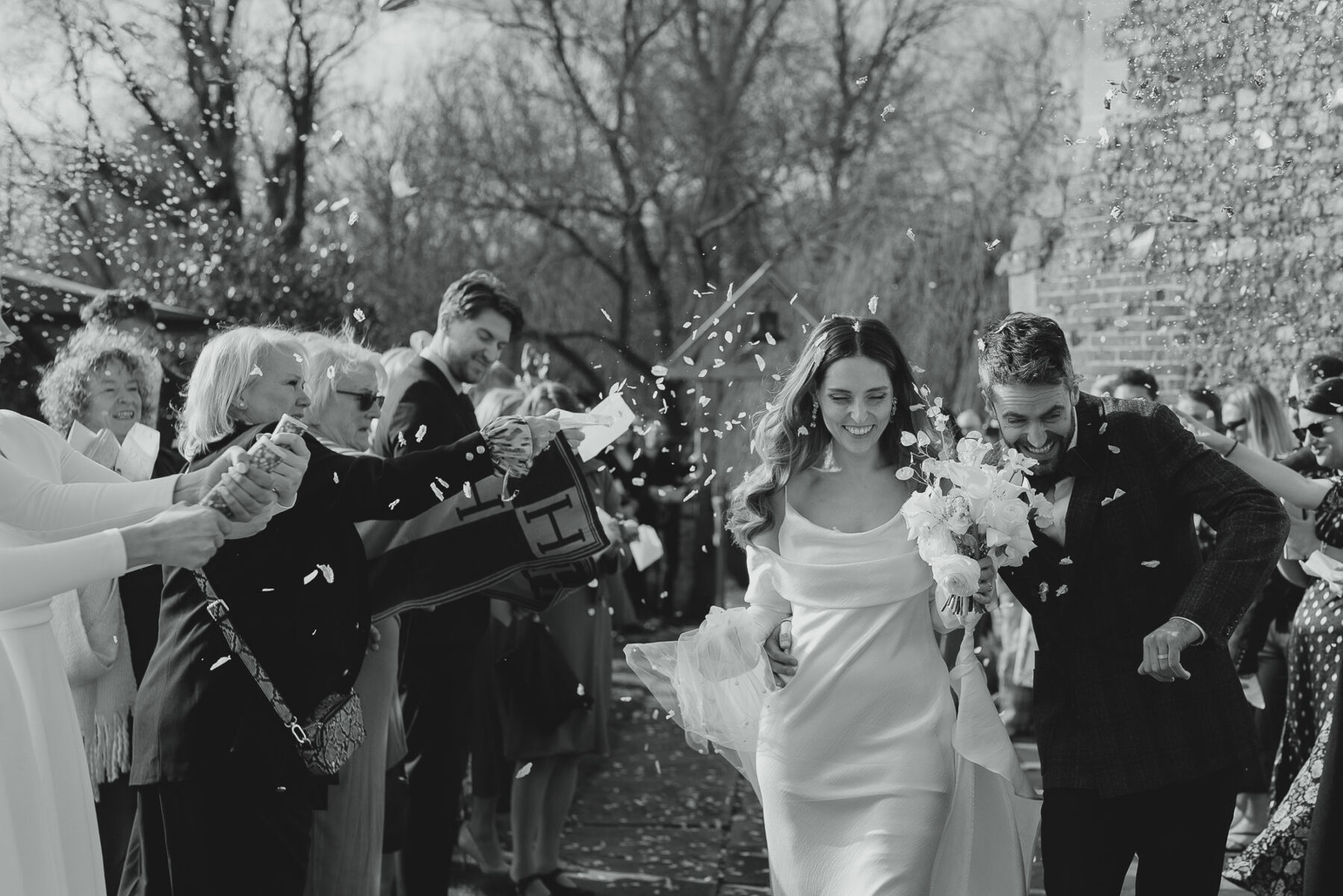 How They Met
Jack and I met ten years ago this year in the infancy days of dating apps. We both happened to be living in London at the time. We met for a date and never stopped hanging out. Jack asked me to marry him while we were on Holiday in Greece and once we got home we quite quickly decided that we didn't want to wait long to make it official. I had the mad idea of doing the wedding the day before my 30th – my logic was that all our friends and family would already be in the same place. Luckily jack was also mad enough to go along with it!
I think Jack and I knew we didn't want a huge wedding, we just wanted the family and friends we loved to celebrate with us. That number came to roughly sixty. We then wanted a venue which felt it suited this number of people but also felt unbelievably special.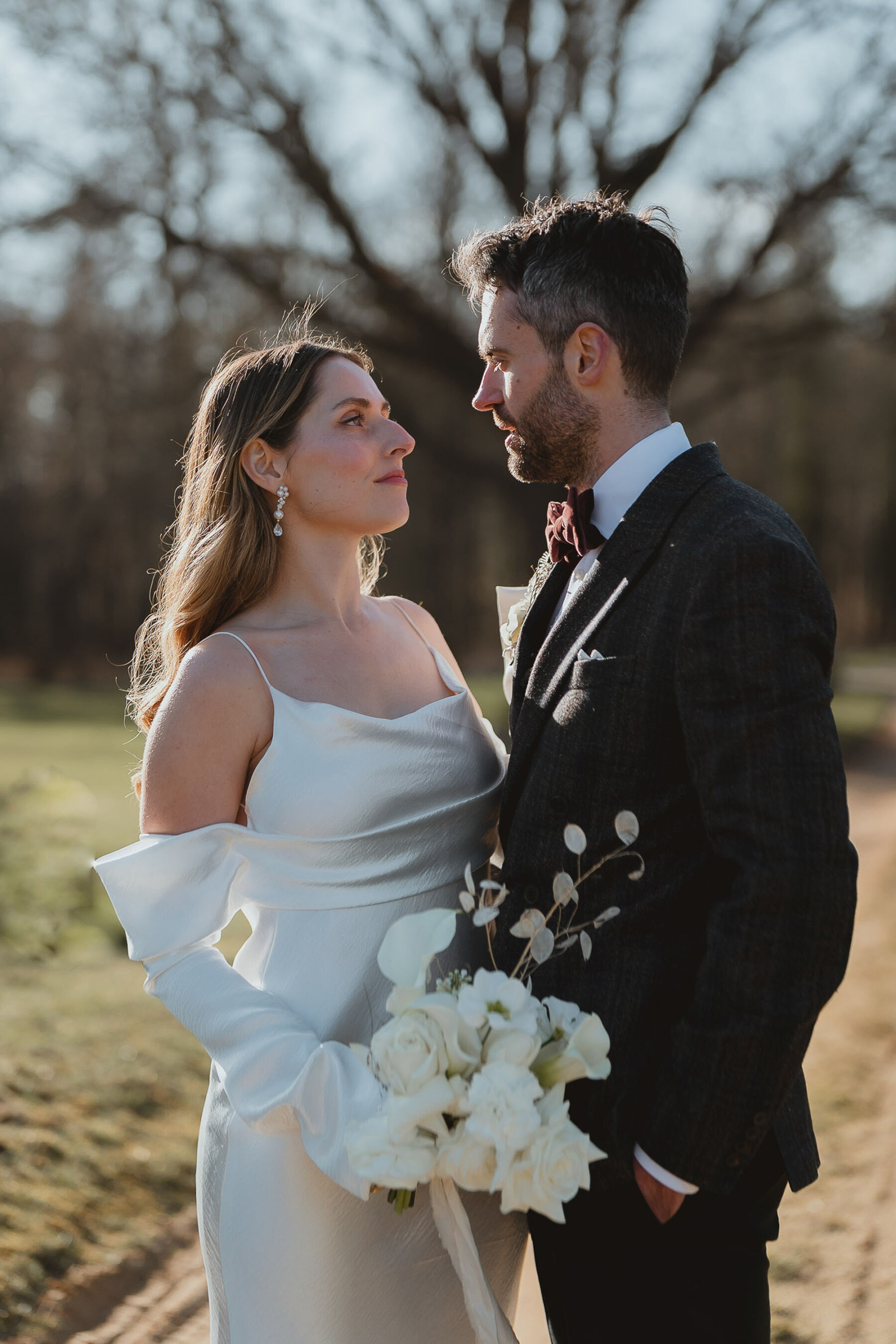 Reception
Decor & Details
---
Our chef Peter Harrison works with Butley Priory as a caterer for all weddings. Peter and Torr were fantastic. We had a lot of fun at our tasing creating the menu and the food on the day was unbelievable.
We gave minimal information to Peter but gave him an idea of the flavours and dishes we liked. He managed to whisk up some of our favourite meals we'd ever eaten. I would highly recommended trusting your chef to be creative and use seasonal ingredients.
Our cake was a very last min find! I stubbed across a lovely local cake maker Lillie on instagram and she was able to save our bacon a week before the wedding! Fortunately she loved my Inso photos for the cake and was excited to create ours!
We went for a elegant three tier deigns which had faux pearls and a plaster like texture. It was beautiful and tied in with the whole day. I also sourced a marble stand for it to sit on to elevate the display.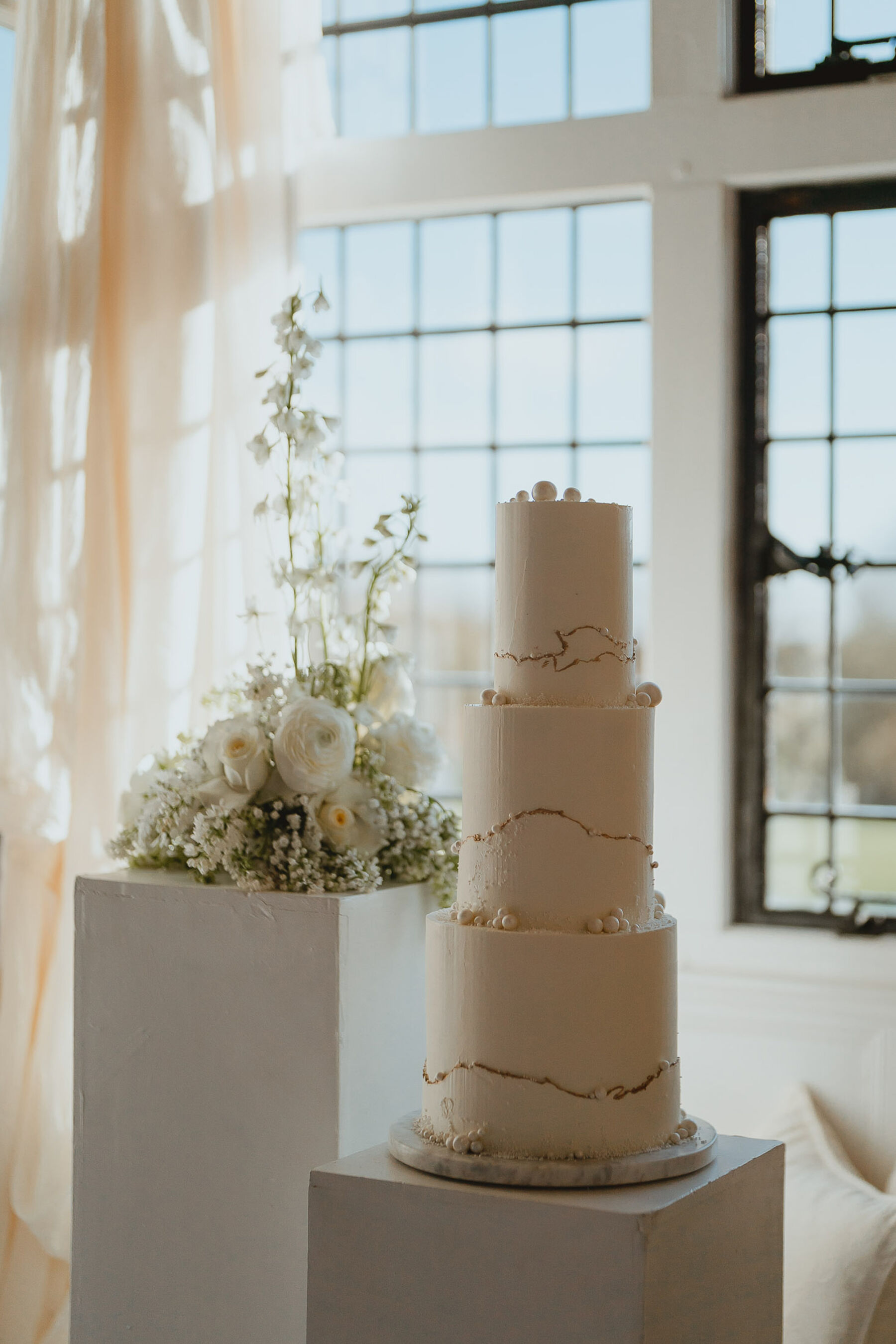 We used Papier for order of day booklets and I customised them by adding a tiny love spoon (jack is welsh so it was a nod to an old welsh tradition.) we found a great etsy seller to make clear Perspex signs for one large menu and a seating plan that guests could view before they found their seat.
Place cards we DIY – we had names printed on vellum by an Etsy seller and then used a custom wax seal to attach them to Capiz shells. I then hand made plaster holders for the place cards so the shells should be placed upright with a sprig of dried floral. I hand made some plaster floral relief table numbers and a welcome sign.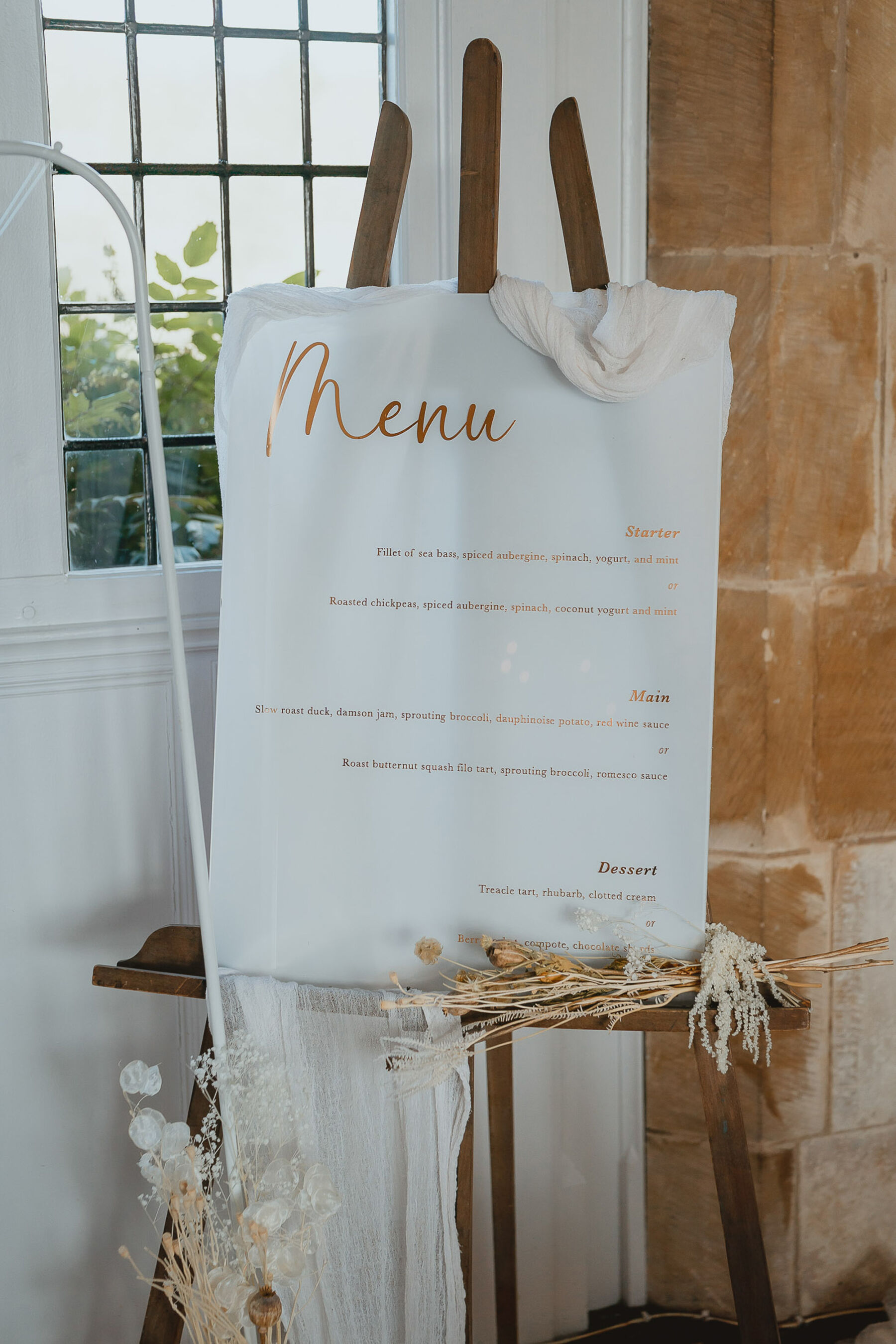 We had white plinths for floral arrangements and cake displays. We used draped tonal white fabrics for the ceremony backdrop, signing table, table runners and had draping on signage stands/easels too. We had hand made textured plaster tea light holders and hand made paster flower frogs with dried florals arranged. We also used cut glass vases (vintage carafe bottles) and taper candle holders.
Flowers
Our florist was Charlotte of Charlotte Wild Floral Design. I chose Charlotte as her style wasn't traditional, she completely got my vision! My brief was a mix of dry and fresh florals with a tonal white colour palette.
I loved modern delicate and sculptural floral displays. I felt it was important to create a beautiful backdrop for the ceremony so we used plinths and draping hired from Synched Events to display the sculptural floral displays.
Troughs lined the aisle. Another important factor with florals for me was to repurpose throughout the day – the troughs were transferred as centre pieces to our tables and the sculptural floral designs were arranged on plinths with the cake later on in the day.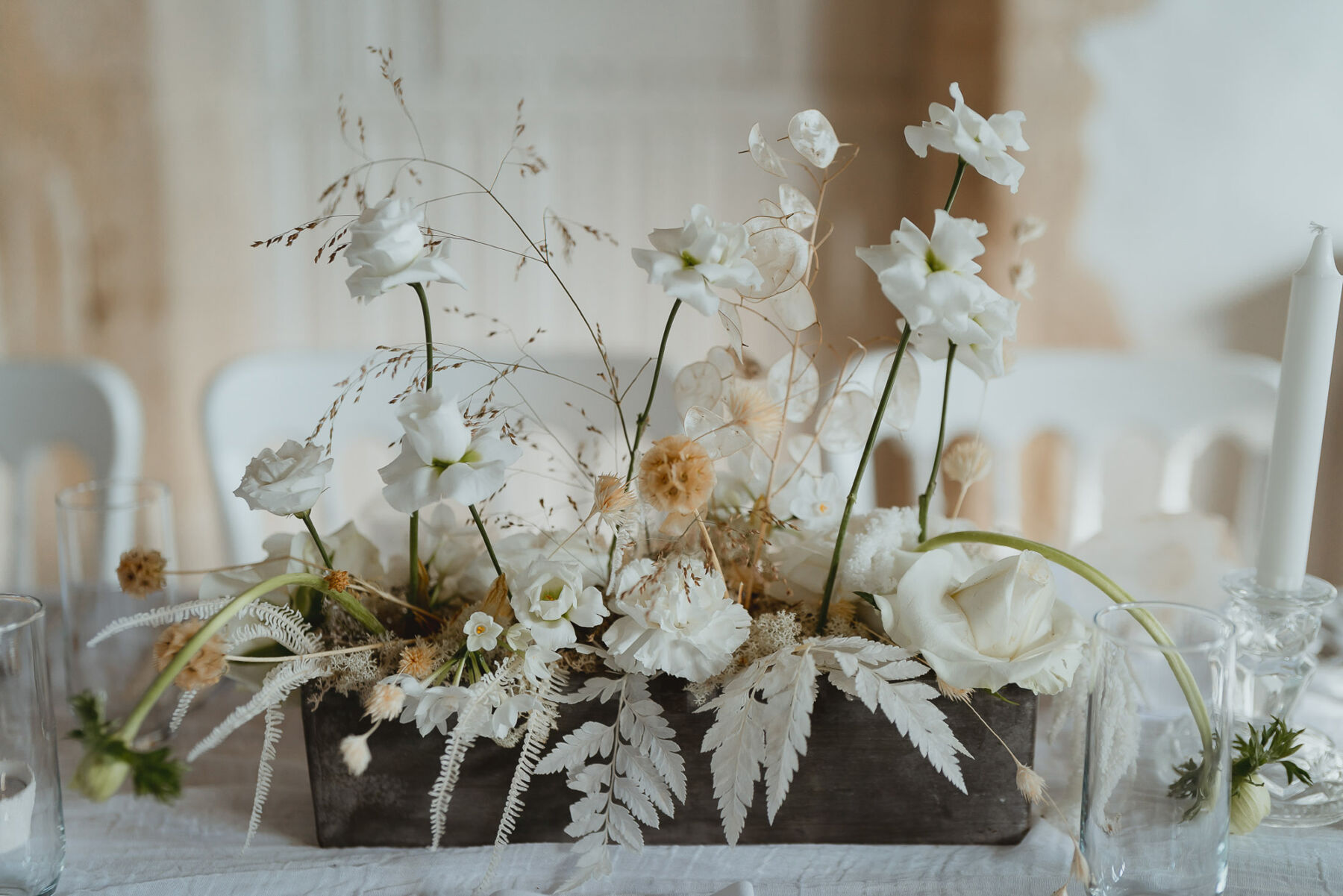 I didn't request specific florals and left this to Charlotte as I knew she would be the expert to choose the best stems for the season. I'm so glad I did this as she picked a beautiful combination. My only request was to add some Lunaria as the pearlescent details tied in so nicely with my dress fabric, pearls and the Capiz shells that we used as place names.
I also purchased additional dry florals that my stylist penny arranged in to plaster flower frogs that I hand made. These little details were placed on the mantle piece, next to signing books and just made the whole space so cohesive.
Evening & Dancing
We hired My Big Fat Wedding Disco. They provided a fab service for our evening music – we provided a playlist. We also did our first dance routine which they coordinated music for us perfectly.
Our first dance was to Elvis's 'Cant Help Falling in Love With You'. We both love the song. We did a small dance routine after a couple of lessons. My great aunt was a ballroom dancer so it was important to me to learn a few waltz steps to do her justice.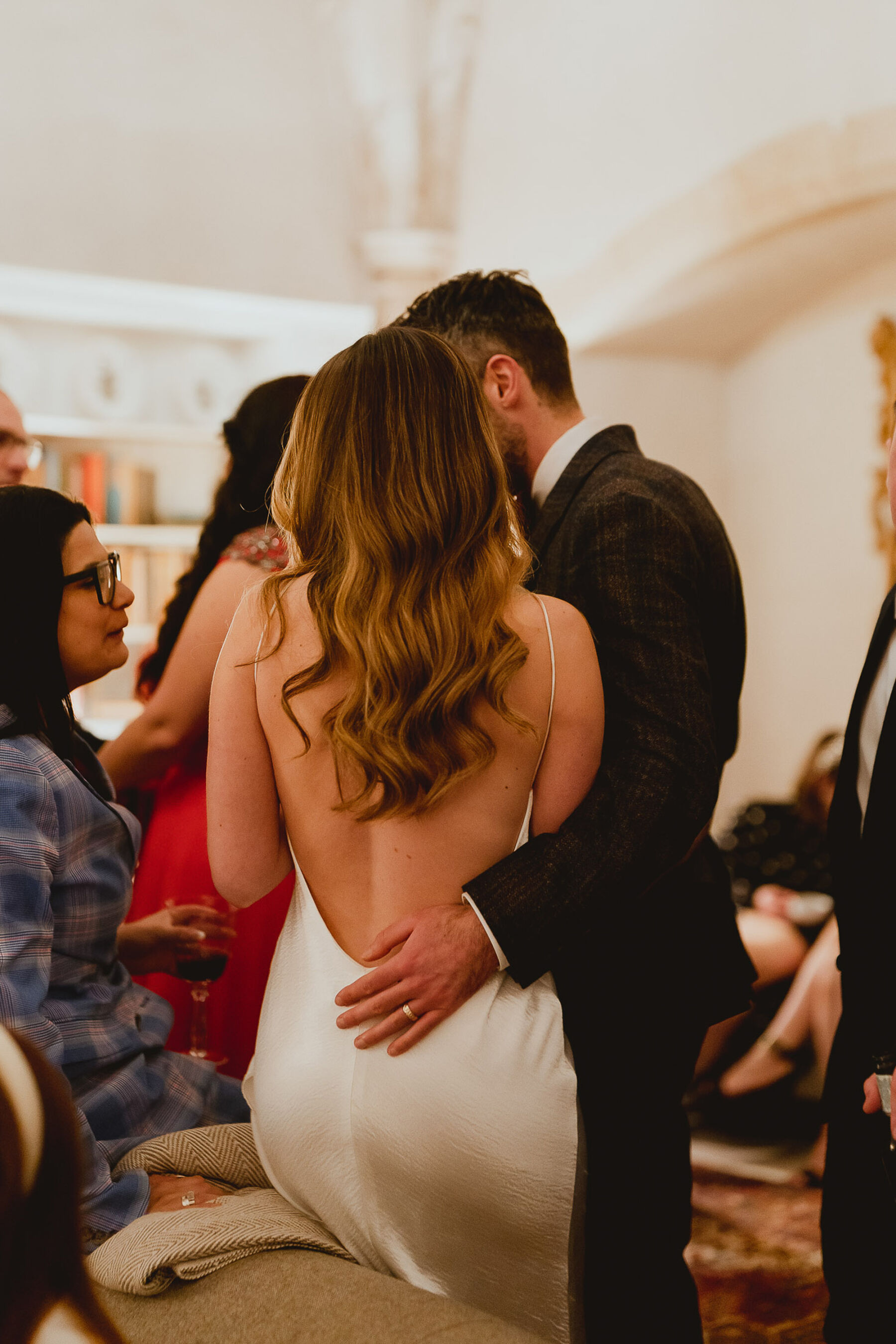 Words of Wedded Wisdom
Do exactly what you want to do, don't be swayed by others thoughts and listen to you gut.
I found the best way to discover the right suppliers was through a visual platform like Instagram.
Styled shoot images by teams of suppliers were excellent to discover local people.
Pinterest is your best friend when communicating with suppliers – a good board explains what you want so much more clearly than words.
If you are creative, get on the DIY! It's extremely satisfying to see it all come together and personal touches make a big impact.
Finally enjoy your day as much as possible with your new partner.
Welcome to the
Love My Dress Shop
Browse the latest handpicked items in the Love My Dress Shop.
Shop by Category
or
Shop by Brand