The super gorgeous Emily married her love Ben on 25th March 2023, at Testbed in Leeds.
This super fun day blended the couple's love of all things mid-century vintage, against a modern, city warehouse backdrop. That beautiful dress worn by Emily is by York based ethical bridal brand, Rolling in Roses, who specialise in the creation of sustainable gowns for modern brides.
I love everything about this wedding – the images spill with joy and good energy. Photography by our lovely friend, Luis Calow. Enjoy!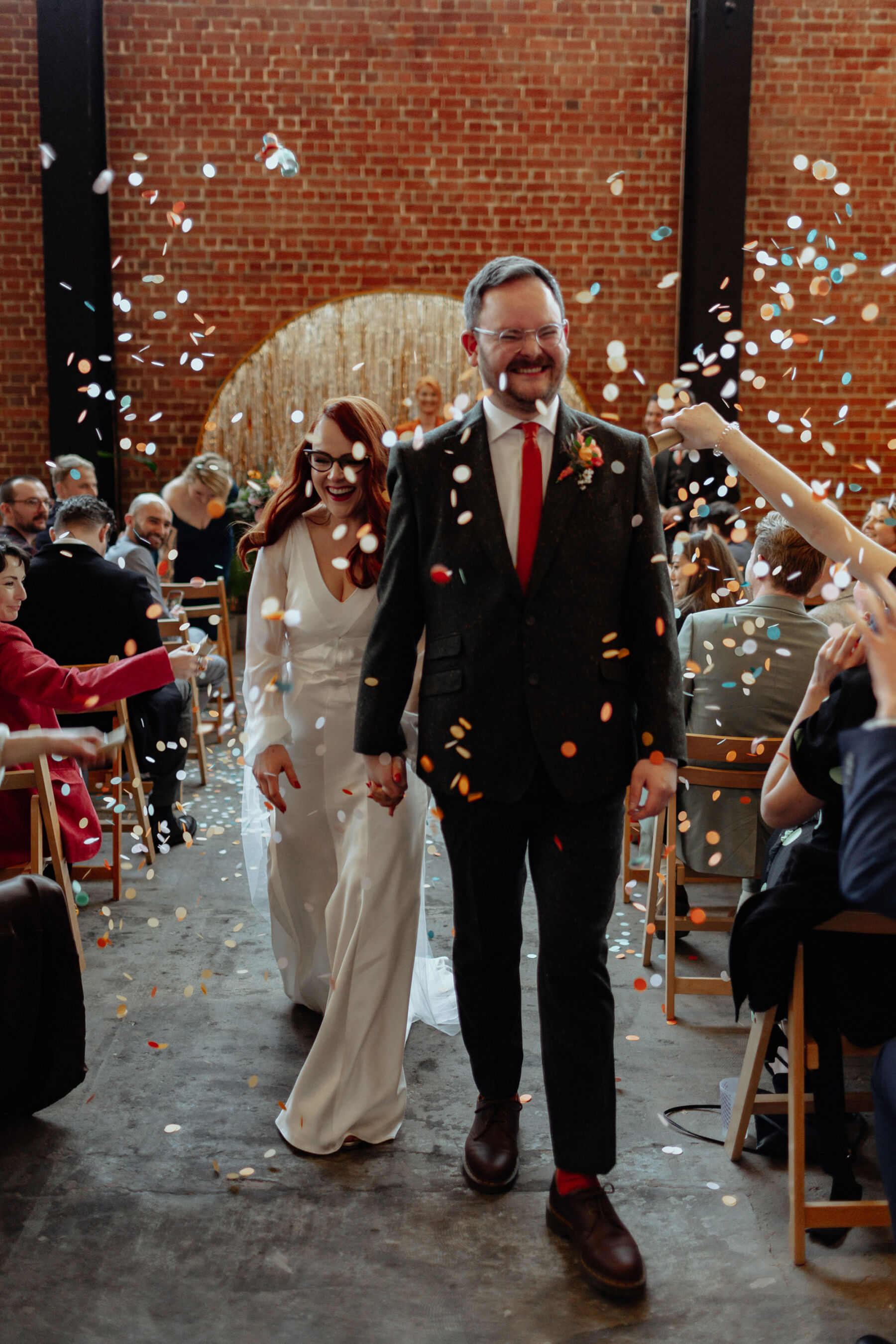 As two people who work in events we didn't want anything done for us (except the bar!). We were the first wedding the venue hosted. When we viewed the space it was a completely empty, pre any renovation warehouse! We wanted a large space that had nothing in it so we could really make it our own.
The Inspiration
Our home and our holidays inspired the wedding. We love mid-century style, which was a strong theme at the wedding (particularly with the furniture borrowed from Discover Vintage Interiors and colour choices). I love disco, so this inspired some of the other elements of the decor too, ie, the disco ball and tinsel curtains.
The photoautomat we had at the wedding was inspired by our first holiday together in Berlin. We wanted the whole vibe to be joyful and silly so there wasn't anything aesthetically in the wedding that didn't reflect that or who we are as a couple.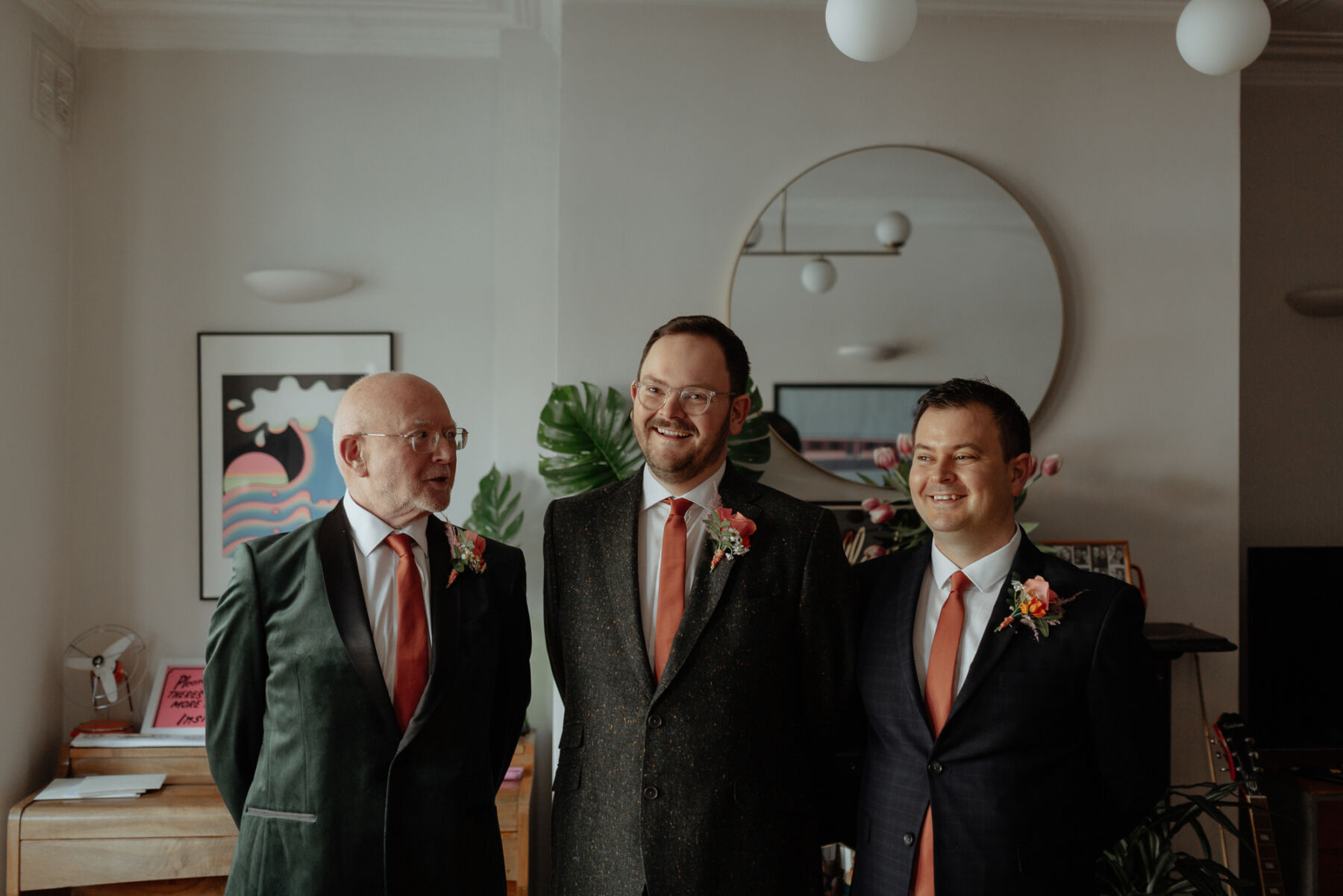 Shop Online
Have you discovered our Shop yet? New additions every single week.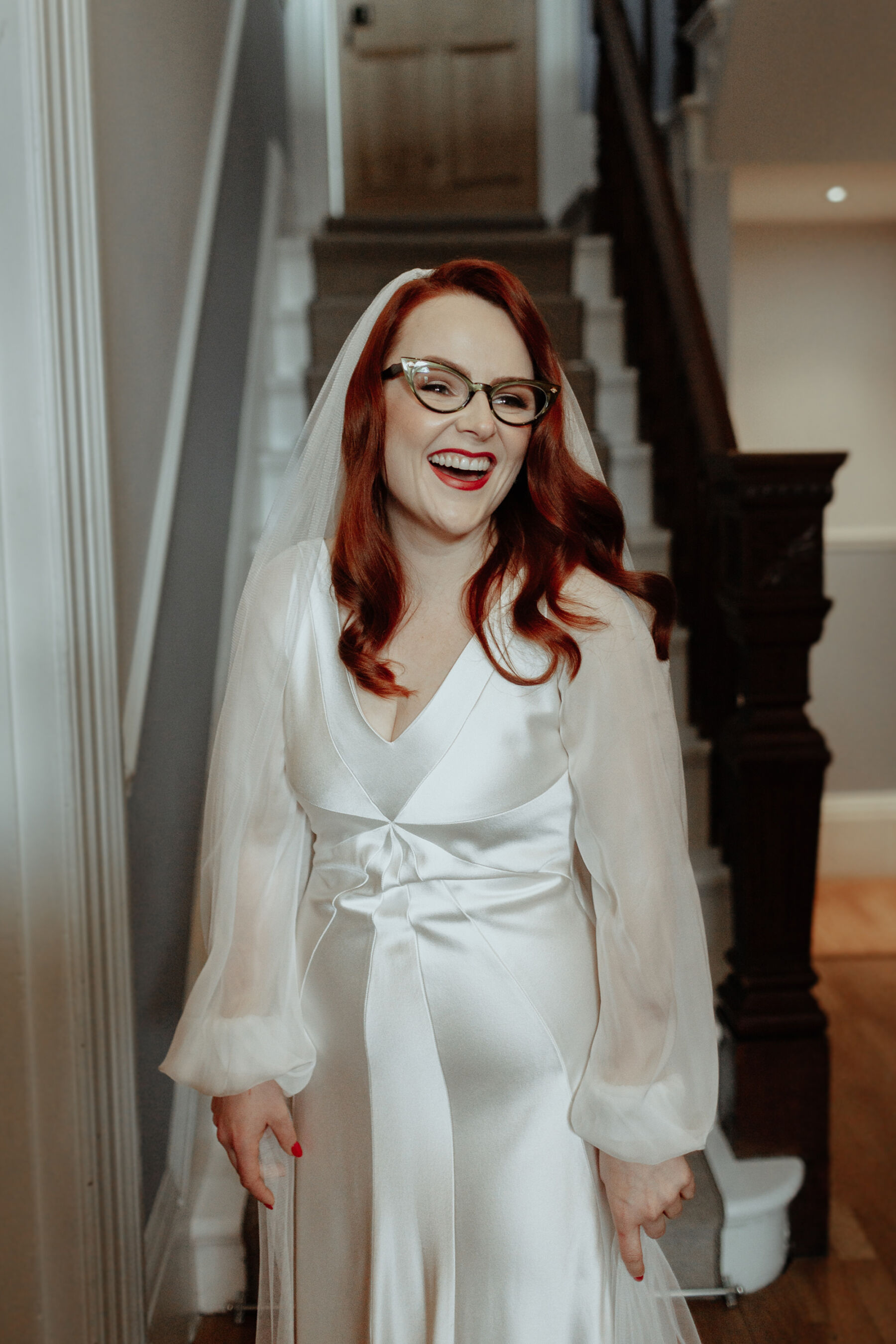 The Dress
I got my dress from Rolling in Roses – the whole experience was completely perfect. The team are so relaxed and helpful if you need any advise or guidance.
I'd already seen the 'Diadem' dress online and I was so glad it was as perfect as I'd imagined. I've worked in vintage for years so the dress for me was the perfect storm of 1940s and 1970s designs without having an actual vintage dress, I wanted a dress that was just for me, with a 'soft Hollywood glam' feel.
I loved that the fabrics are sustainably sourced and the dresses are all handmade by the team in York too.
I also wore a floor length veil by Rolling in Roses. I'd recommend them to anyone.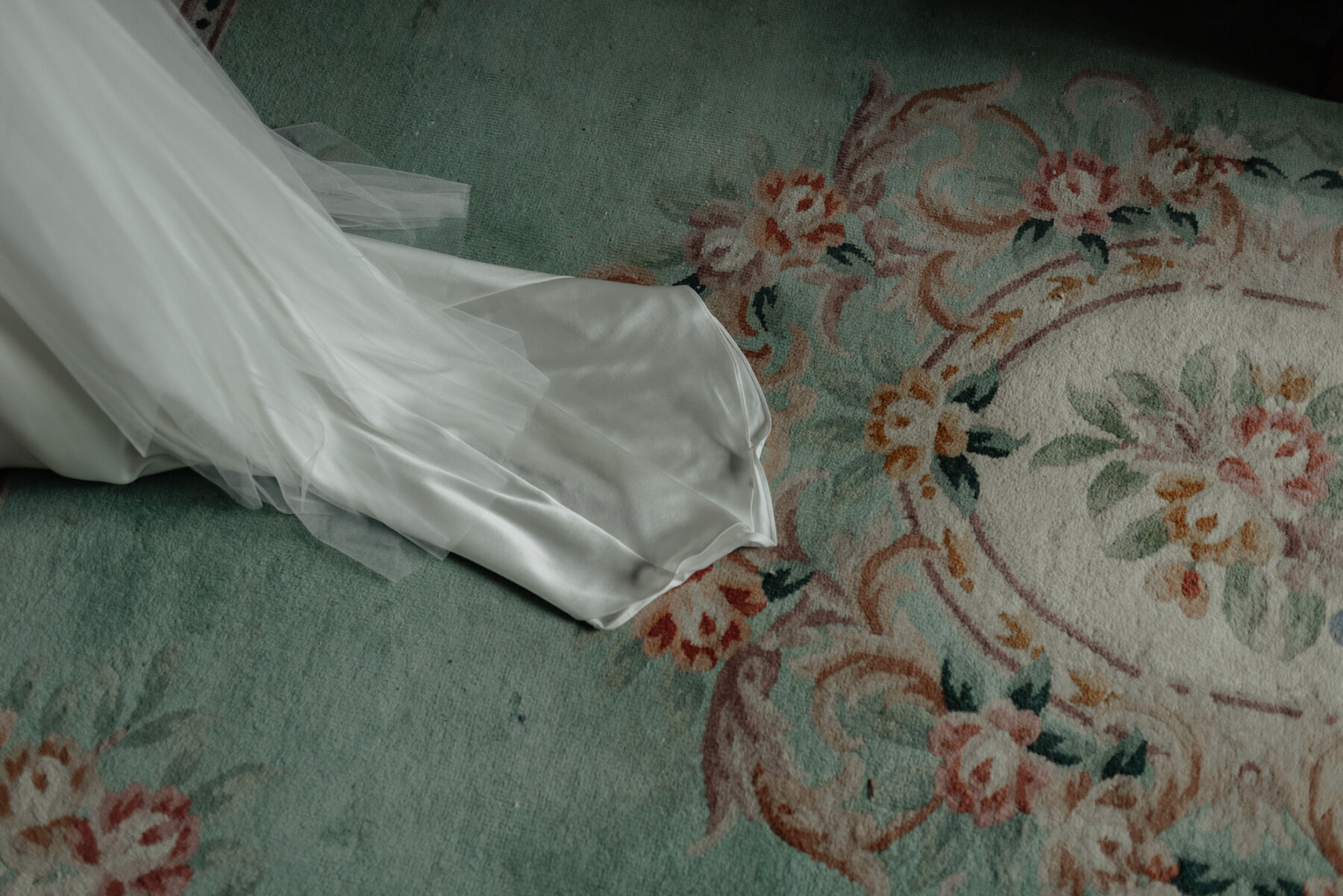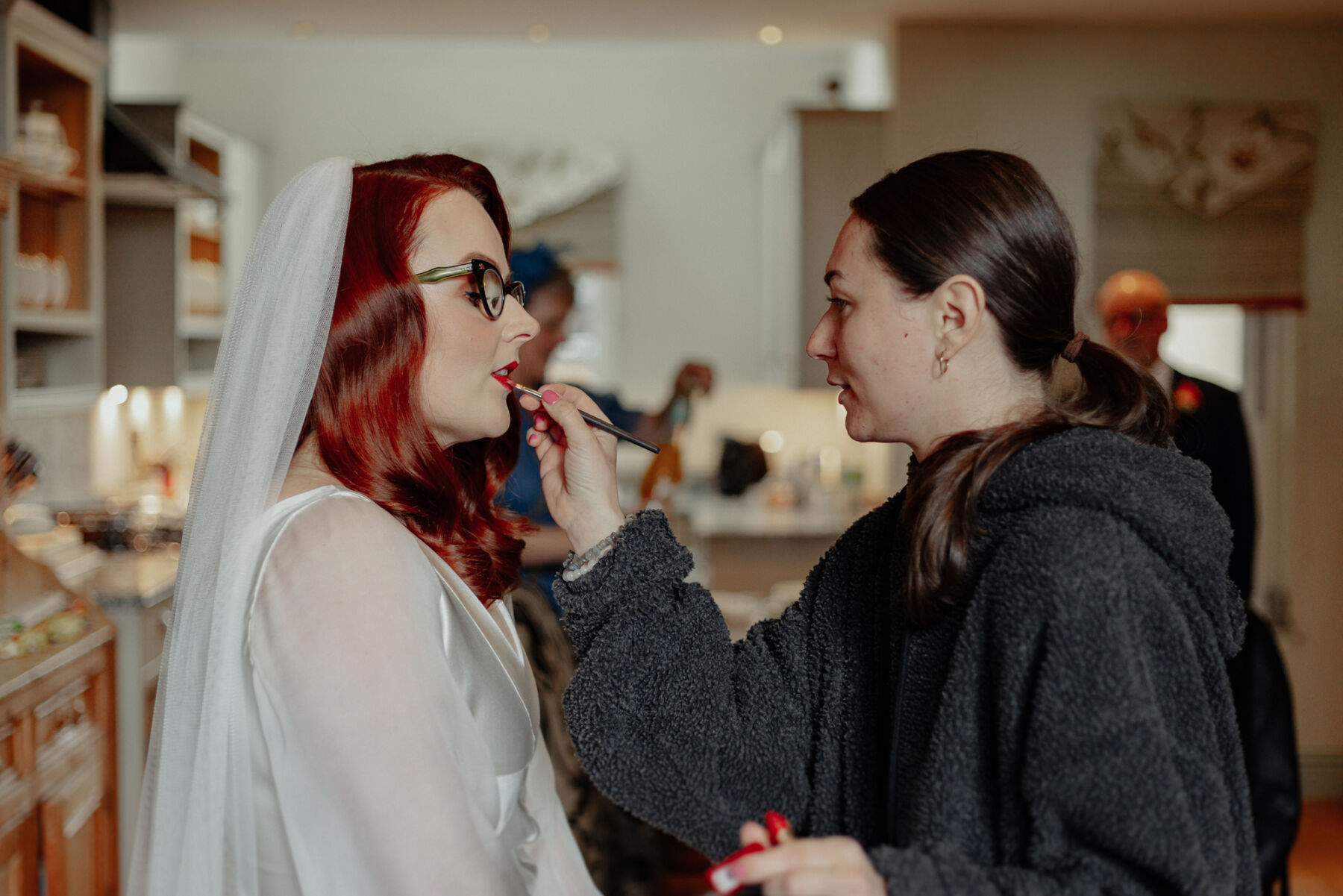 Shoes & Accessories
I wore my Nannie's ring. When she bought the ring in New York in the late 1980s, she said she wanted the ring to go to her 'first Granddaughter' (me) so it's a really special ring to me.
The bracelet I wore was given to my mum on her wedding day by my Grandad (her dad). He passed away in 2021 so it was really special to wear something he'd given to her.
My shoes were from New Look and in the evening I wore cowboy boots from ASOS. My normal perfume – Hugo Boss – Deep Red – I wanted to smell like me so kept it classic.
My bridesmaid was my sister and she wore a dress from Very and shoes from Simply Be. Her earrings were from Regal Rose.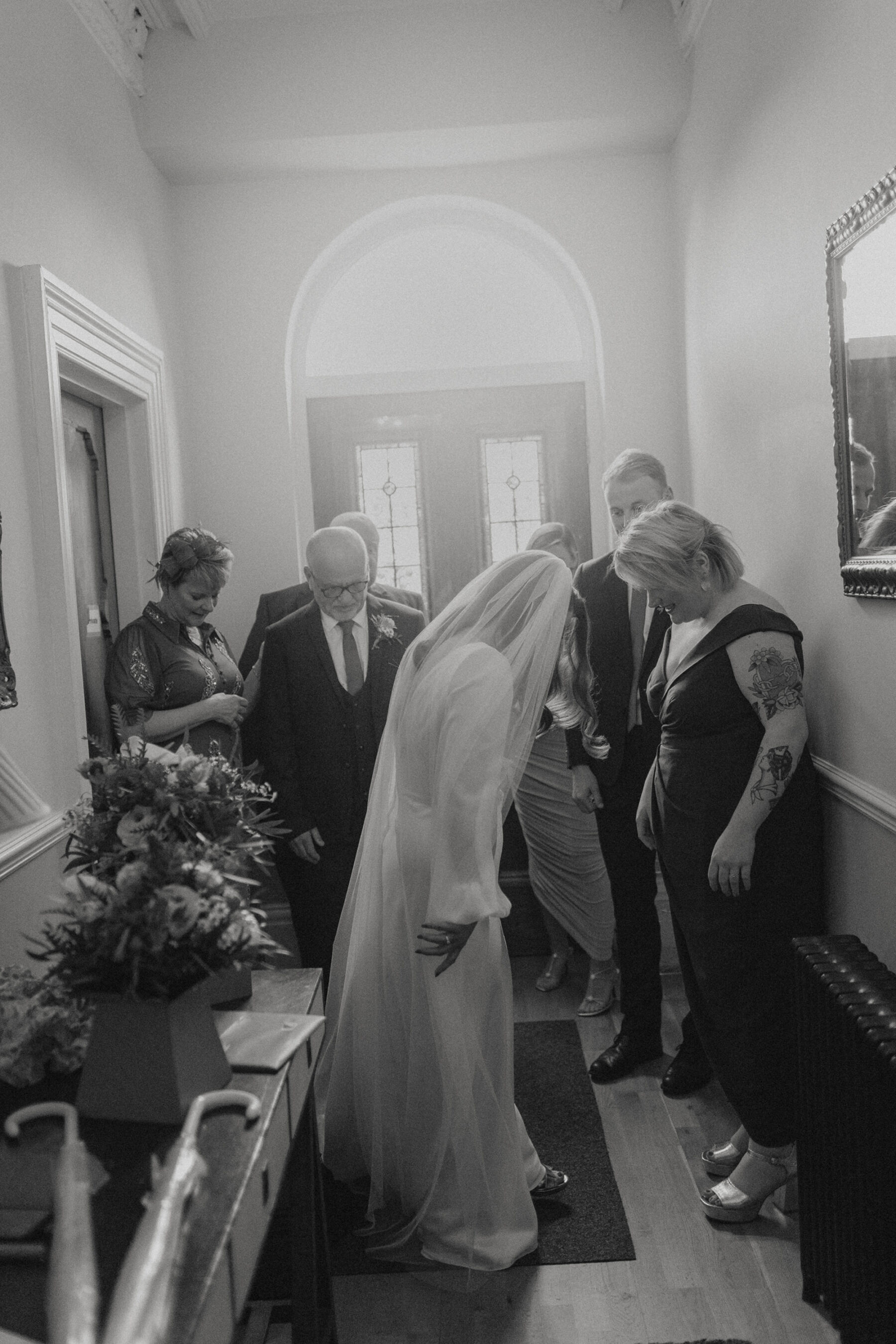 The Ceremony
---
I came down the aisle to 'I Feel Love', by Donna Summer (with the disco ball on too!).
Our best friend Rachel Cracknell did our ceremony. We asked her to marry us shortly after we got engaged. This wasn't the 'paperwork' part as we did that a few days before. Rachel is an ex-teacher and current stand up comedian so we knew she'd do an amazing job at writing a ceremony for us! Who better to marry you than someone who loves you both as a couple anyway!
We tailored everything about the ceremony which made it so personal for us. We both wrote our own personal 'promises' for each other, rather than vows. They ended up almost exactly the same (a good thing to be that in sync on your wedding day!). Some of our promises were more serious 'I promise to always make time for our life together' and some a bit silly 'I promise to always share a family sized Tiramisu with you'.
My brother Rhys read an extract from 'Everything I Know About Love' by Dolly Alderton. I've read the book and absolutely loved this extract, it's so relatable and resonates with so many people.
Our friend Naomi read 'Having a Coke With You' by Frank O'Hara. Naomi is a librarian and very well read so she chose this poem herself!
My ring was from Ebay and Bens was from Flinn & Steel (he chose this as it's made from Sheffield Steel and he's grew up in Sheffield).
We left our ceremony to the sound of 'Never Too Much' by Luther Van Dross.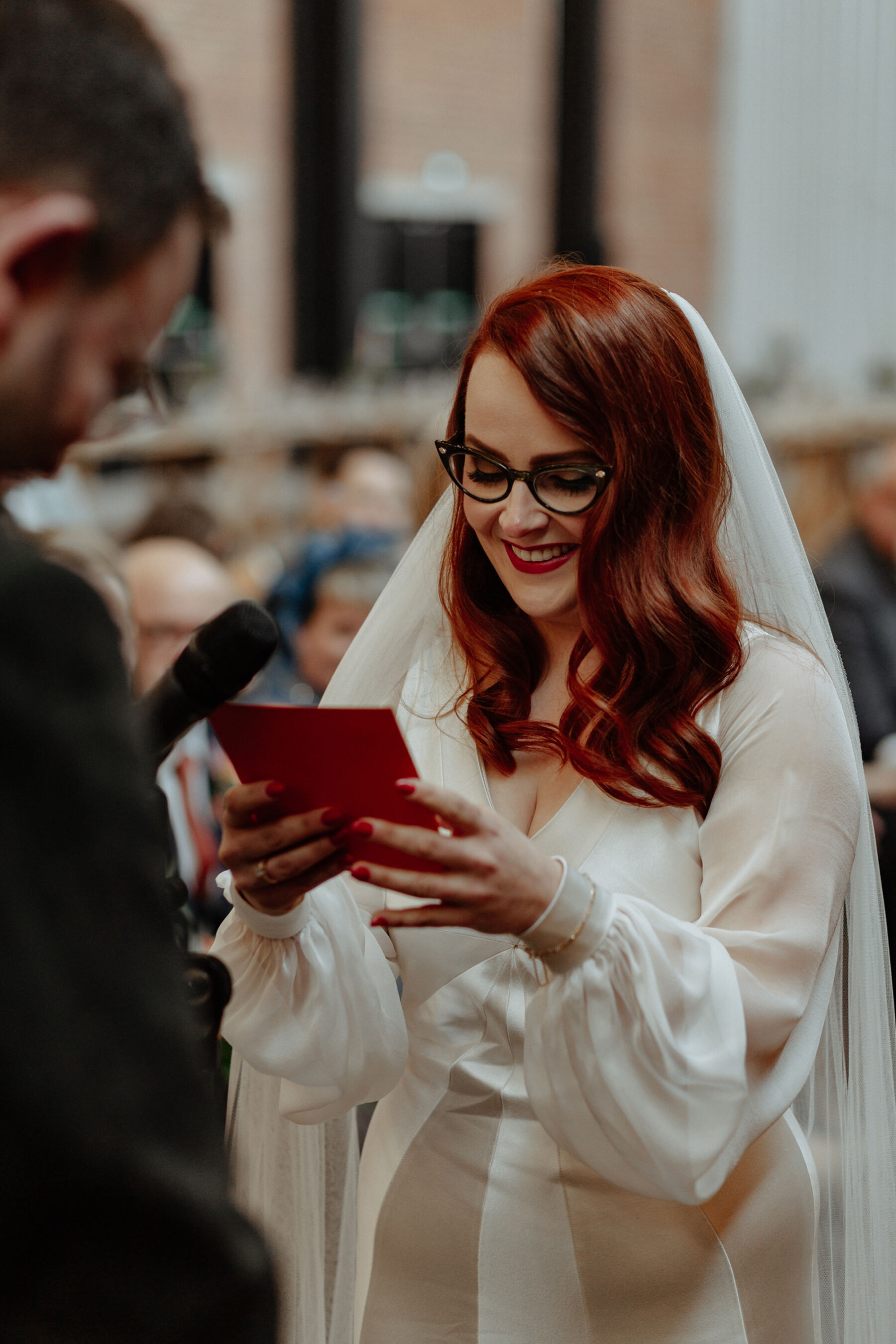 Photography
Ben knew our photographer, Luis Calow, already. Luis took our good friends Simon and Sara's wedding pictures. We both wanted someone who we knew so we'd feel more at easy and comfortable.
Luis did an insane job, he was almost invisible on the day and got some amazing heartfelt and emotional images which really showed how much laughter and joy there was in the room. We'd recommend him to anyone.
How They Met
We met in January 2016 but didn't go on a date until April 2016 after Ben Facebook messaged my friend; 'Emily's well fit – can you put a good word in?' Ha! After six years together, Ben proposed in Ireland, at Torr Head on our first trip there together (Ben has family from Belfast).
It was just us, looking at the Irish Sea. It was perfect and intimate – no over blown gestures or rose petals in sight. We turned the wedding around in just over a year (we are both really impatient).
Ben wore a suit from Bridgens in Bakewell, chosen because the flecks in the fabric matched the colour palette of the wedding.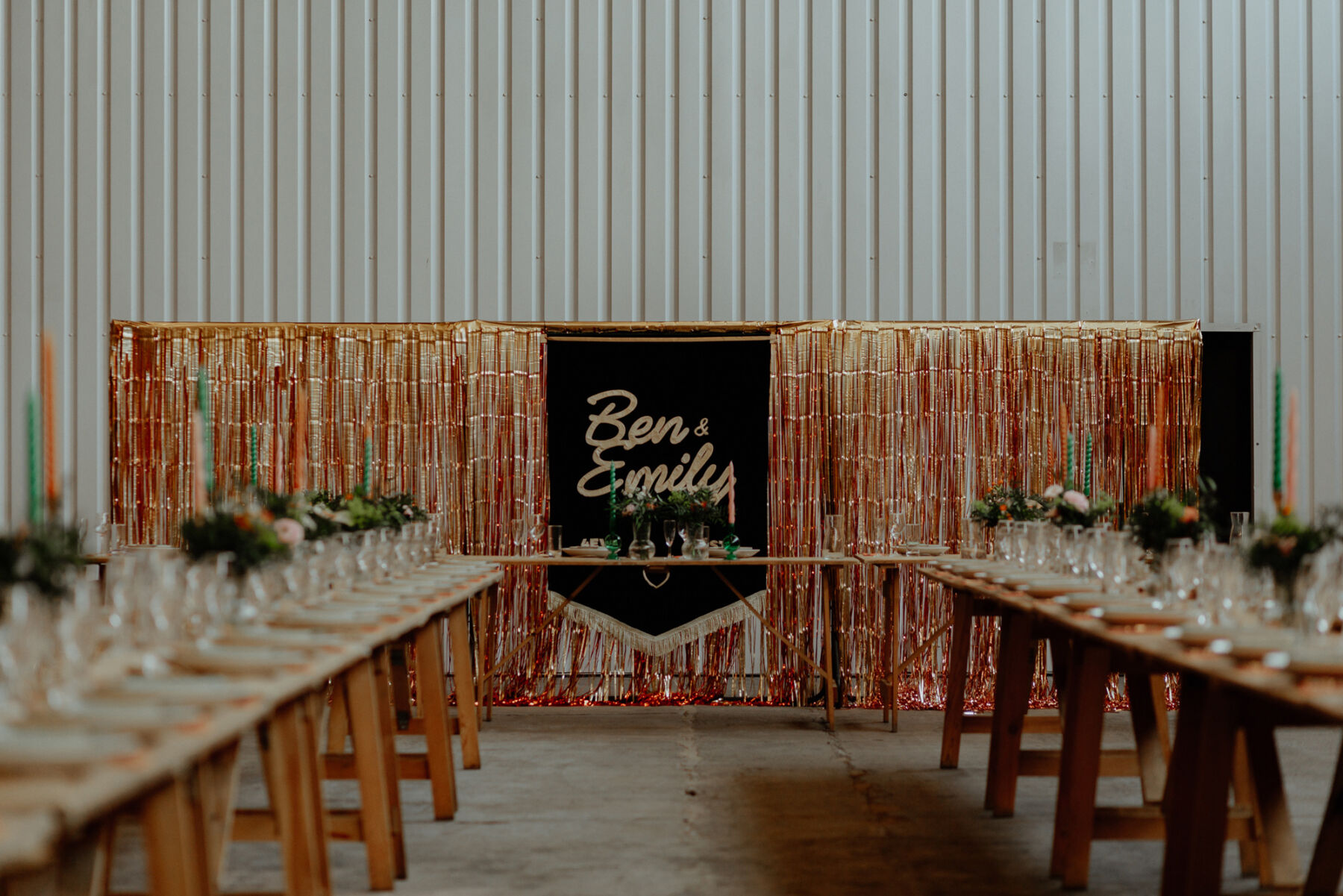 Reception
---
We didn't have a stylist, everything we did for the decor was done ourselves. I was in charge of decor and food and Ben was in charge of music, entertainment (and karaoke) and technical.
We got candle holders from Facebook Marketplace. I made the tinsel curtain backdrop for the aisle with my friend Amber. Midcentury furniture was borrowed by my friend Keeley who runs iscover Vintage Interiors and who created the perfect 'cocktail lounge'. Our 'Ben & Emily' banner was made by our amazing friend as a gift and we bought £1 Scratchcards for everyone.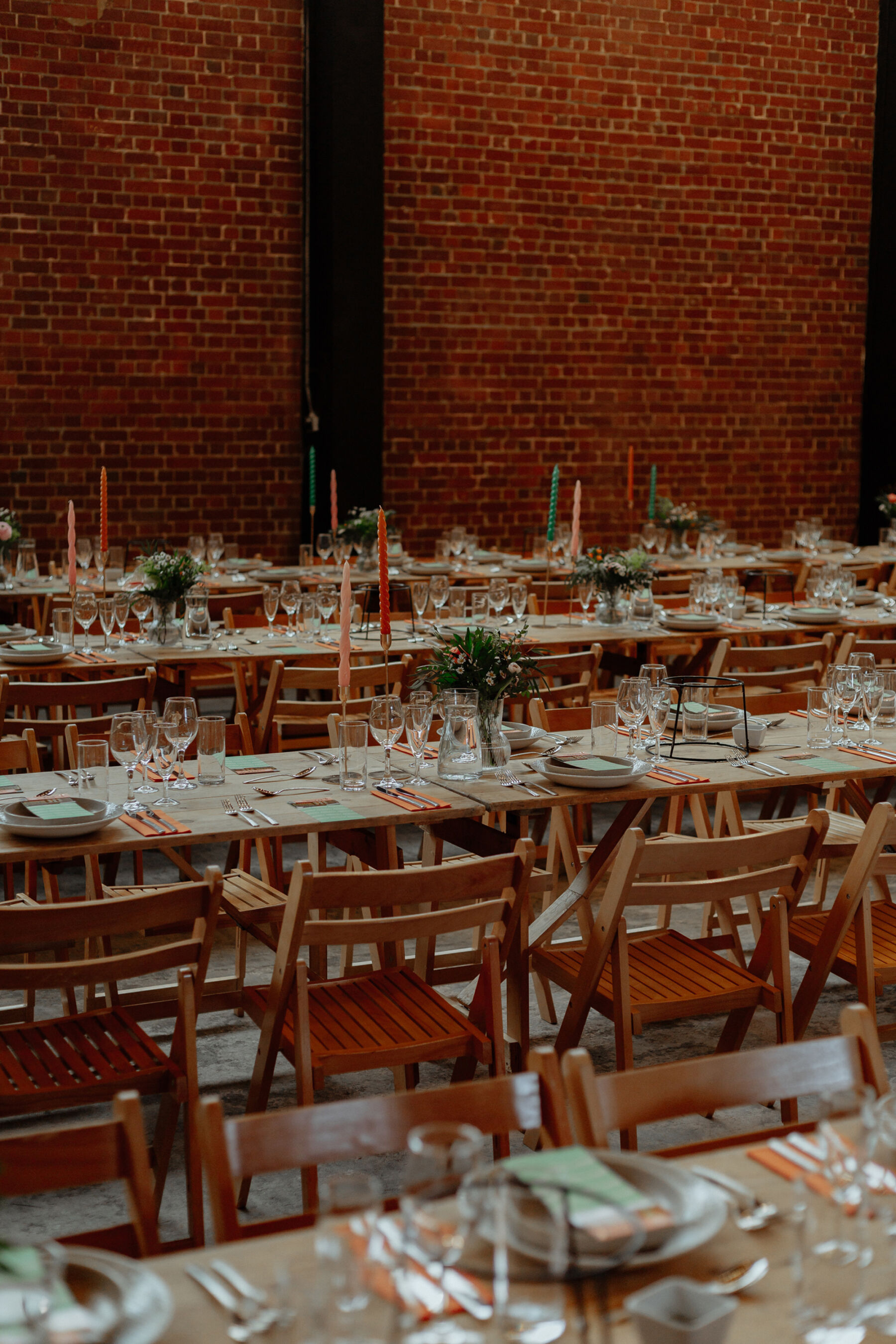 Stationery wise, we designed everything ourselves (thank you Graphic Design degree I hardly ever use!) and ordered most of it from Instantprint.
We hired Nomad Catering and couldn't have asked for more from them! We had a sharing style meal and everyone was raving about it.
Danielle of Noonchi Cake does the best retro inspired cakes in the North. We gave her complete creative control with the aesthetic (we just gave her the colours and asked for cherries!). It was such a show piece of the wedding we didn't want to cut it!
Lou at 4 Seasons Flowers is my friends sister! I loved her creative, bright and playful floral arrangements. The brief was 'bright and bushy', as peonies weren't in season Lou gave me some amazing alternatives which were perfect on the day. Lou did an amazing initial proposal (with inspo pics) and an in real life consultation. She's a literal flower artist.
Evening & Dancing
We hired DJ Poppy and a small Jazz trio band who performed R&B and Hiphop covers.
We didn't do a first dance, we sang 'Still The One' by Shania Twain on Karaoke instead.
We did Karaoke (people could sign up on the night) between speeches and the disco which really hyped everyone.
Everything was perfect! Seeing all the people we love in one room just can't be beaten. Every second was so 'us' and so dreamy!
Words of Wedded Wisdom
Make sure the wedding day is for YOU. Not for anyone else. There's no 'rules', there's not 'way it should be done' – just do exactly what you want, invite who you want and wear what you want!! If you do that, it will be your dream day.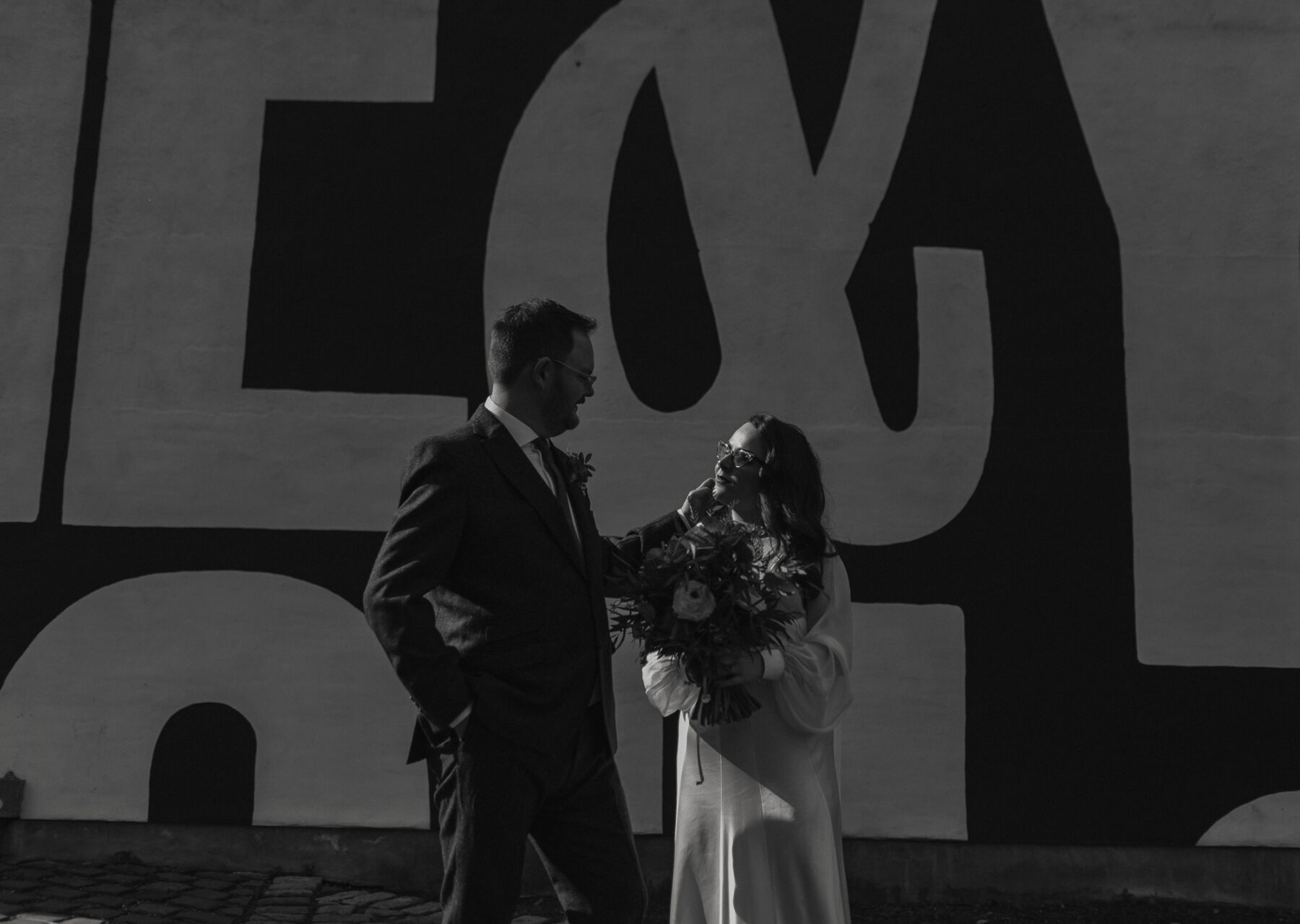 Explore Our Shop