In the world of wedding prep, few endeavours carry as much weight and significance as finding the perfect wedding dress (or separates, or suit, whatever your choice may be!), and for many brides, booking a visit to a bridal boutique is a first port of call, as they embark on this most important pursuit.
Stepping into a well-established bridal boutique presents an opportunity to add an incredibly positive experience to your wedding planning. A skilled bridal stylist will not only possess an exceptional knowledge of fashion, fit and the female form, but have a profound understanding of the psychology of style too. A skilled bridal stylist will have an innate ability to help a bride discover clarity and embrace her own unique and individual confidence.
In the current era of heightened environmental consciousness, aligning your own personal bridal aspirations with sustainable practices is a really important consideration. All good and commendable bridal boutiques won't just have an excellent stylist to help guide you, they will also actively support responsible and sustainable brands like Andrea Hawkes Bridal.
Today, I want to share details of several excellent boutiques in the UK and across Europe, who carry the the Andrea Hawkes Bridal brand.
Those of you who regularly visit Love My Dress will probably be aware that I'm a huge fan of this London based, British bridal fashion label who has embraced sustainability in all they do since their inception a decade ago. And this leads me to a really important point that I want to stress. They are a joy to work with and I can vouch most highly for the incredibly quality of their gowns, as well as the love that is poured in to all that they do.
If you are drawn to modern, minimalist and elegant bridal style, I think you'll love Andrea Hawkes Bridal and I encourage you to book an appointment at any one of the following boutiques.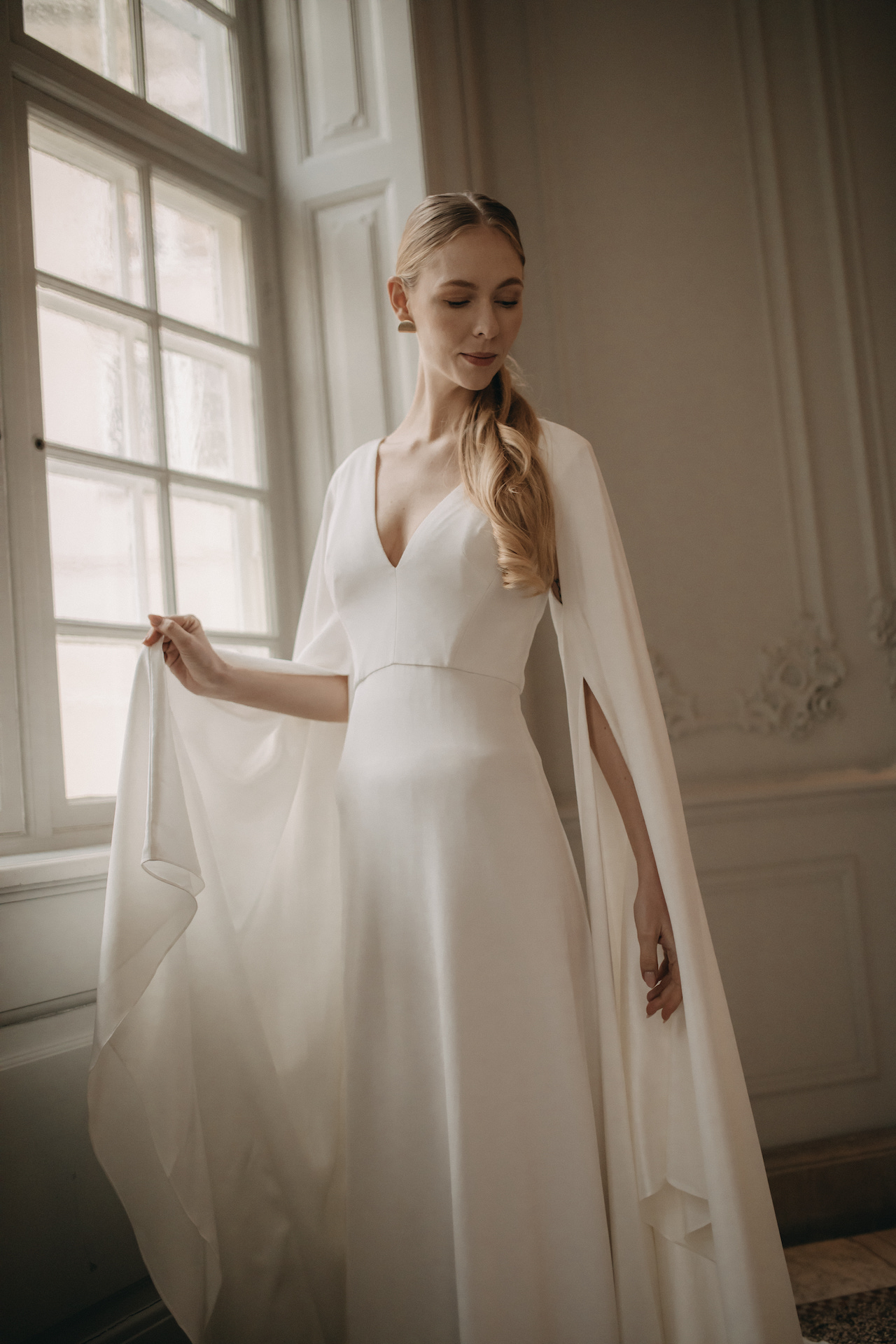 The Bridal Gallery, Windsor
The Bridal Gallery is a very small, but perfectly formed shop in the Sir Christopher Wren area of Windsor, nestled between the north-west corner of Windsor Castle and the river Thames. It's incredibly intimate, designed specifically to welcome one bride at a time on a by-appointment only basis. As founder, my vision has always been to focus solely on British bridal designers.
The shop itself has focused on putting the dresses front and centre-stage with a dark wood floor to allow the dresses to glide easily and stand-out, with wall-to-wall mirrors to create a sense of space and light and a unique wallpaper design in a muted and dreamy colour palette.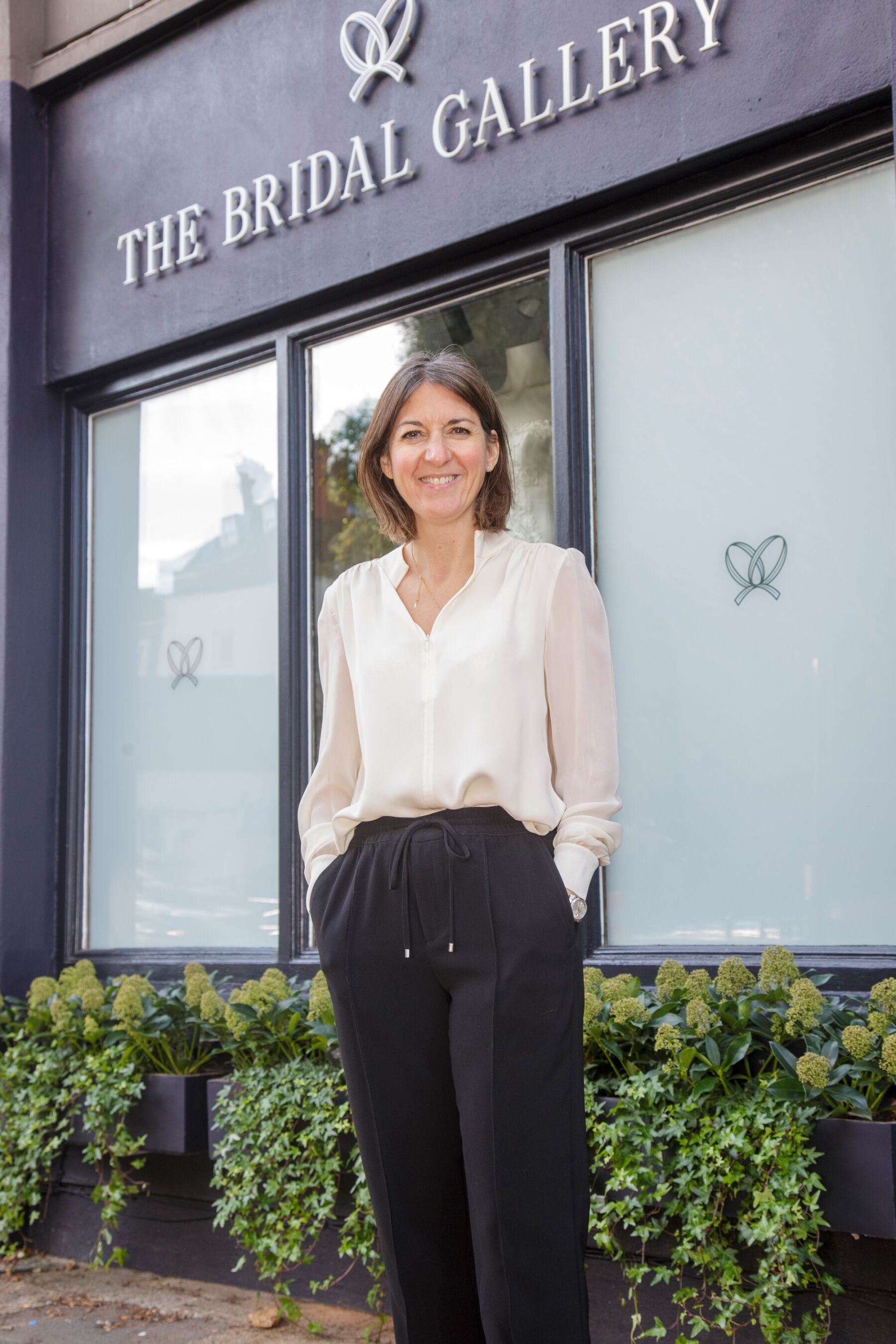 From the first moment I met the Andrea Hawkes team, I knew immediately that this would be the start of a long-term relationship. Their values, their ethics, their focus on quality was very clear and there was an authenticity to them which made me feel like I could really trust them.
Everything they do, they do with purpose and all of these things in combination gave me a real sense of confidence. The team are honestly a dream to work with, and their dresses are beautiful.
"Andrea knows who her brides are and she consistently designs with them in mind."
Where do I start in terms of why my brides love Andrea's gowns? I always say that you can see quality in a garment before you touch it, and that is never more true than with an Andrea Hawkes dress. Andrea's attention to detail in how she combines her pattern-cutting with her exceptional fabrics is breath-taking, my brides are obsessed with the feel and the drape of her fabrics, especially her sand washed silk which literally feels like a peach!
Andrea Hawkes dresses are always lined with silk, which means that not only do the brides love how her dresses look, they also love how her dresses feel and when you're spending that much time in a dress, comfort plays a really important part.
I also think when you buy an Andrea Hawkes Bridal dress, you're buying into a very unique aesthetic.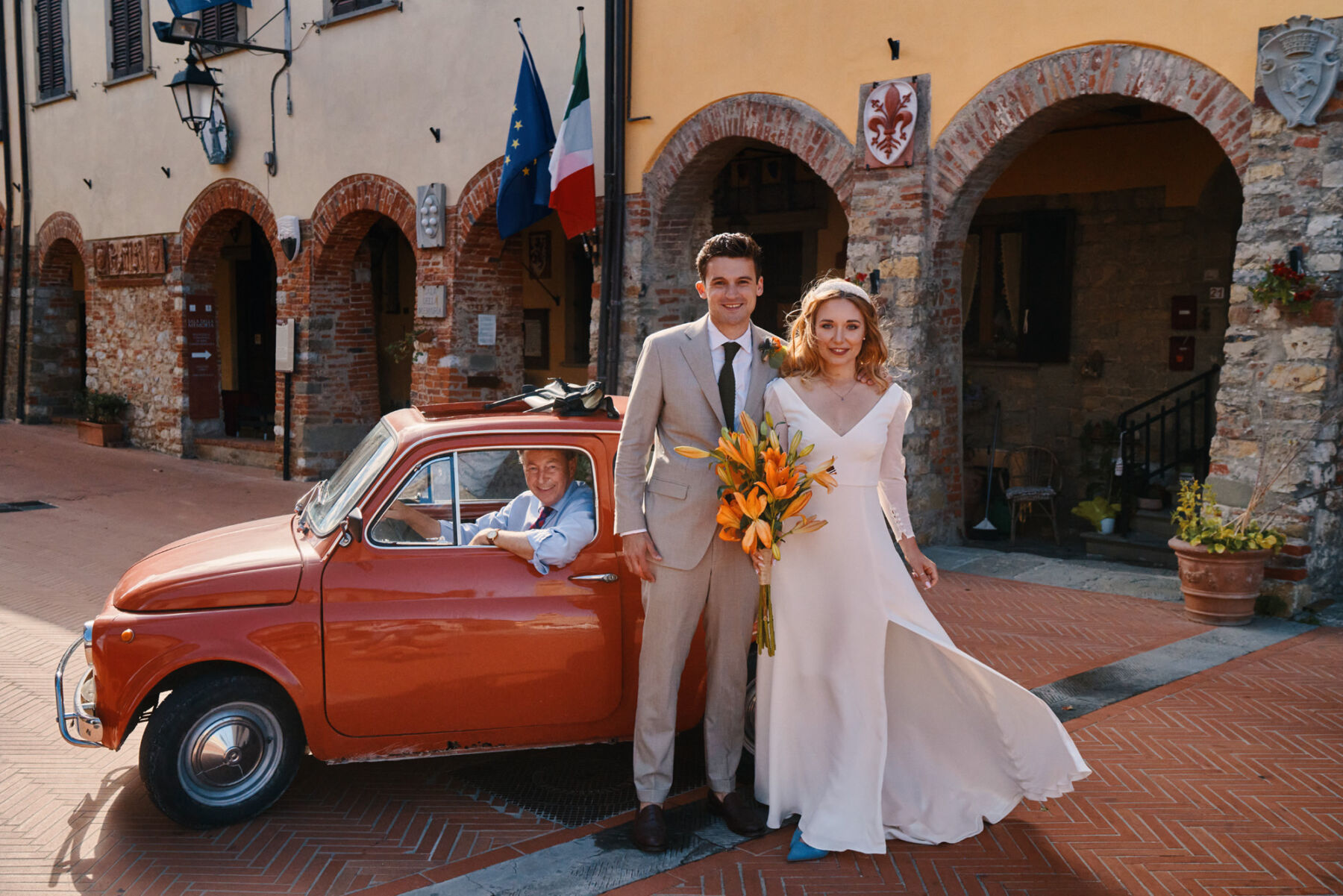 The Bride, St Albans
The Bride, St Albans have been dressing stylish and classic but trend-conscious brides for over fifteen years. Our brides love coming to us, as we have the experience and passion to guide them through the potentially overwhelming task of find 'the' dream dress.
During an appointment, our brides enjoy exclusive use of the boutique to discover their style, with the help and guidance of our stylists. We pride ourselves on providing an intimate, luxurious and relaxed experience. Open every day except Wednesdays and Sundays, as well as late night appointments, we look forward to welcoming brides-to-be into our boutique.
"Our brides love the Andrea Hawkes designs for their simplicity and elegance. The fabrics are truly the highest quality and that can be seen straight away."
We only work with the best of the best British designers, but what is just as important to us is the incredible customer service they provide.
We invest our time and expertise with each bride-to-be that comes into our boutique, so having the relationship to then work closely with the Andrea Hawkes team to support our brides in their dress design choices is imperative. We want to ensure a level of service that is second to none which is one of the reasons we think they're an excellent designer.
Clementine Bridal – Kent
Clementine Bridal is a small luxury bridal boutique located in the beautiful market town of Westerham. Our mission has always been to provide brides with a memorable experience, thus creating a life-long memory. We work closely with our designers and choose our collections carefully.

We were drawn to Andrea Hawkes' simplistic designs and use of beautiful silks. We also greatly admire their approach to sustainability, in particular the AH tree planting project alongside the Woodland Trust. All Andrea Hawkes dresses are made here in the UK which is extremely important to many of our brides.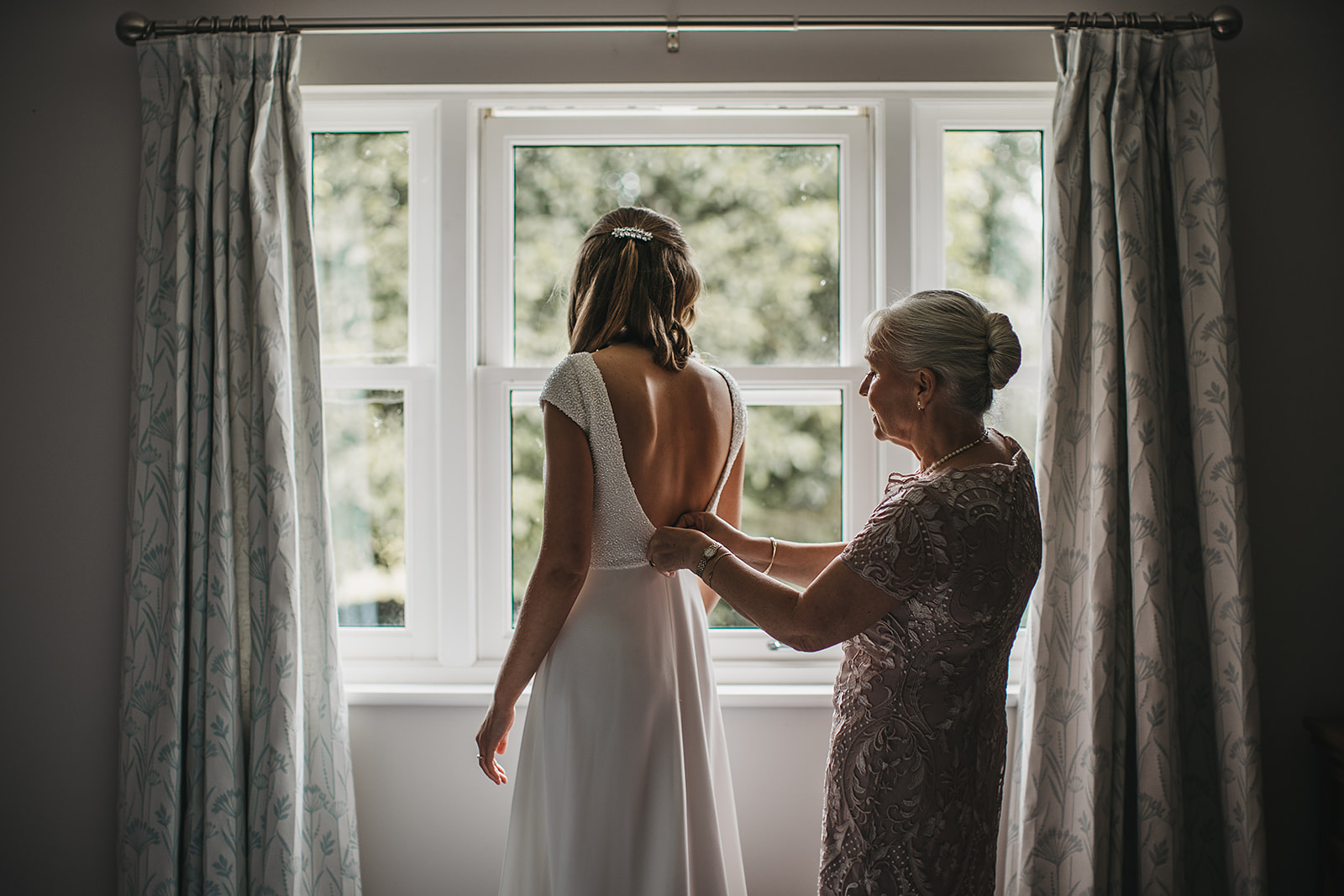 Alison May, Dublin
I have been working in Bridal for over ten years and in that time I have established 'Alice May Bridal' as one of the most trusted and fashionable wedding boutiques in Ireland. Andrea Hawkes Bridal were one of the first designers I took on when opening my boutique all those years ago. It's Always a daunting moment when taking on a new designer as it's not a small investment, but it has proved to be one of the best decisions I have ever made. Over the years, we have built up not only a fabulous working relationship with Andrea Hawkes, but a solid friendship too.
"Andrea Hawkes Bridal oozes style, sophistication and quiet luxury."
What's fabulous about working with a designer like Andrea Hawkes is not only do they use the most sumptuous materials and their designs are timeless and elegant but they work WITH our bride. This is not a small task in today's climate of bridal fashion. Our brides adore the personal experience they get with Andrea Hawkes and we know every time a custom gown arrives , that it's going to be perfect for our bride.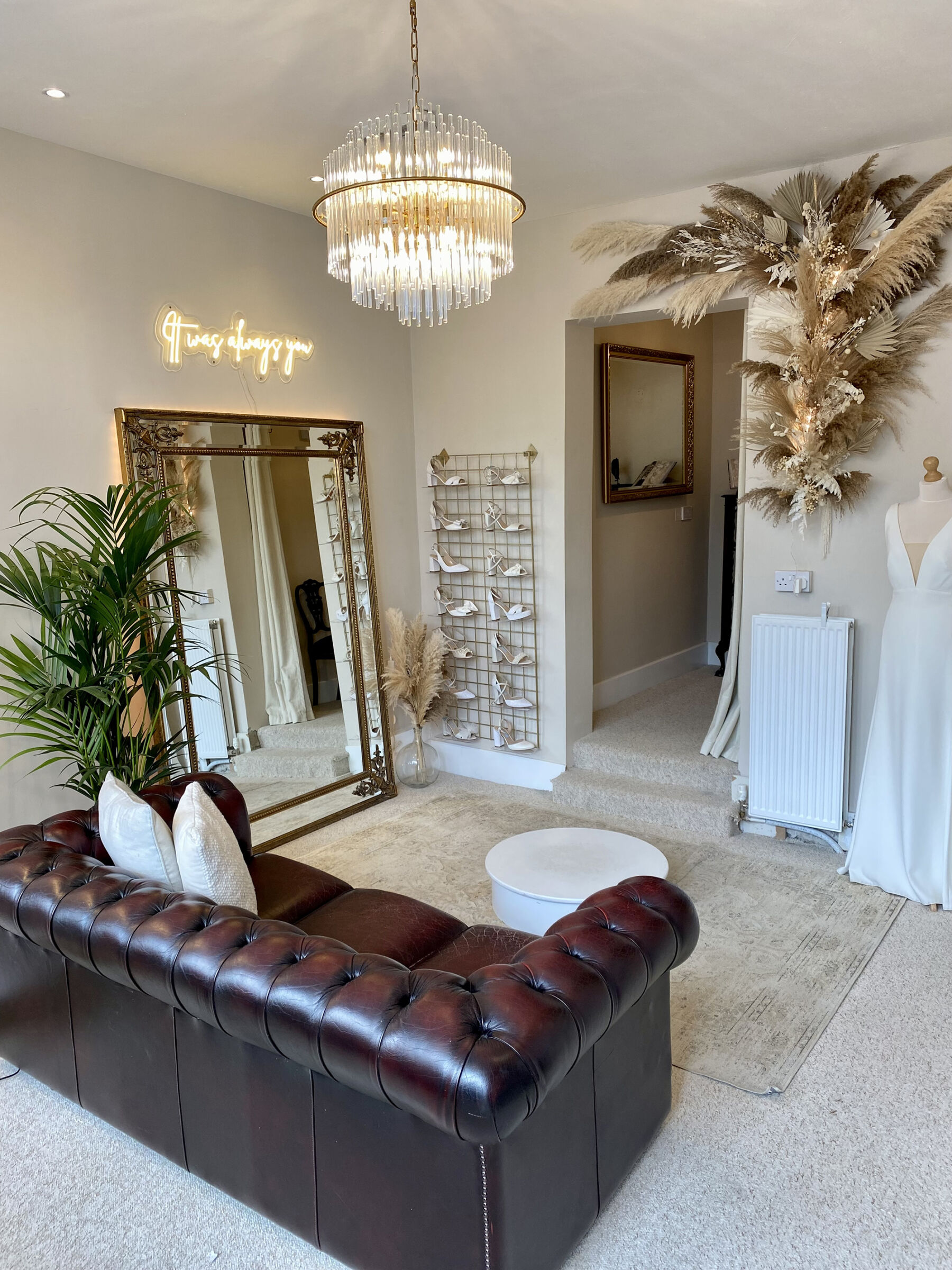 Rachel Scott, Edinburgh
I have always had a very clear idea what I want to offer my clients – unique gowns of only the highest quality design and construction provided with exceptional and genuinely personal customer service. designs. Simplistic, uncluttered lines allow the quality and flow of the fabric to shine and be utterly enjoyed by the bride. Rachel Scott
It's really important to me that when a client comes here, they can take advantage of the unique high level of textile, garment and bridal styling knowledge we have, in a luxurious but totally relaxed environment. My clients trust us with the most important dress they are ever going to wear and at Rachel Scott Couture, we put our responsibility for the memories we're creating and the support we're providing during that process, at the centre of all we do.
Crafted with precision, Andrea Hawkes puts fit, feel and the most incredible fabric at the forefront of every one of her designs. Simplistic, uncluttered lines allow the quality and flow of the fabric to shine and be utterly enjoyed by the bride.
Each of Andrea's designs is a showcase of the true definition of tactile. Exclusively working in silks and with her exquisite choice of fabric construction, texture and finish, Andrea's collection is definitely one for the fabric obsessed (and as self-confessed fabric geeks, we can't wait to show you just how good her fabrics look and feel).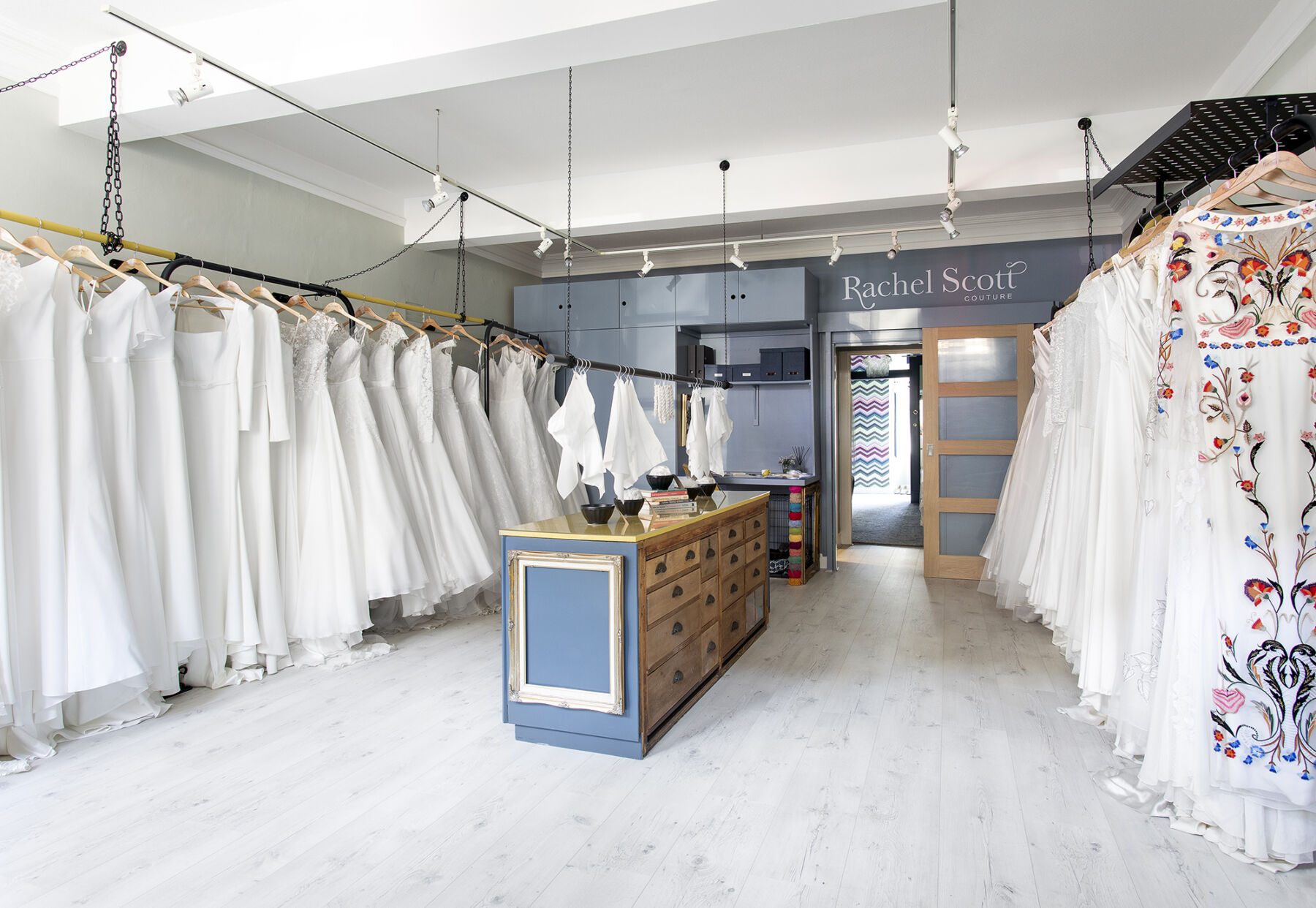 Say Oui, Denmark
Say Oui is a modern bridal boutique situated in the country side in Denmark. Say Oui is for the bride who wants something effortless but still elegant, for the bride who wants something else than the very traditional bridal look which is very common in Denmark. We have selected some fashion-forward brands who all have a cool vibe and who all prioritize the comfort of a bridal dress.
As boutique founder, I am very fond of my partnership with Andrea Hawkes, where from day one I have been treated with interest and a wish for my boutique to be successful. Andrea Hawkes stands for the highest level of quality both in their choice of material but also in there craftsmanship. Andrea Hawkes is a very professional company to work with as everything is always managed efficiently and with care!
My customers love the timelessness of the Andrea Hawkes dresses. They love that the dresses are modern, and they have a simplicity that Scandinavian women like. A lot of my customers says, when they put on a Andrea Hawkes bridal dress, that it feels so comfy, and maybe that is one of the most important things to feel when you are going to be the centre of attention and wear the dress all day long.
Goldelse, Berlin
Luckily we met Andrea and Daniel at London Bridal Fashion week in 2017 and immediately fell in love with the wonderful dresses and the idea behind the brand.
Andrea Hawkes is the perfect label to work with – our Berlin brides are sharing our love for the brand and we are attracting a lot who are especially looking for simple, clean, modern and elegant dresses.
Most of the brides love to give the dresses a personal touch or a little change to the design. That is something we can easily handle with Andrea. They try to fulfil almost all wishes and always go the extra mile. We could not have wished for a better partner.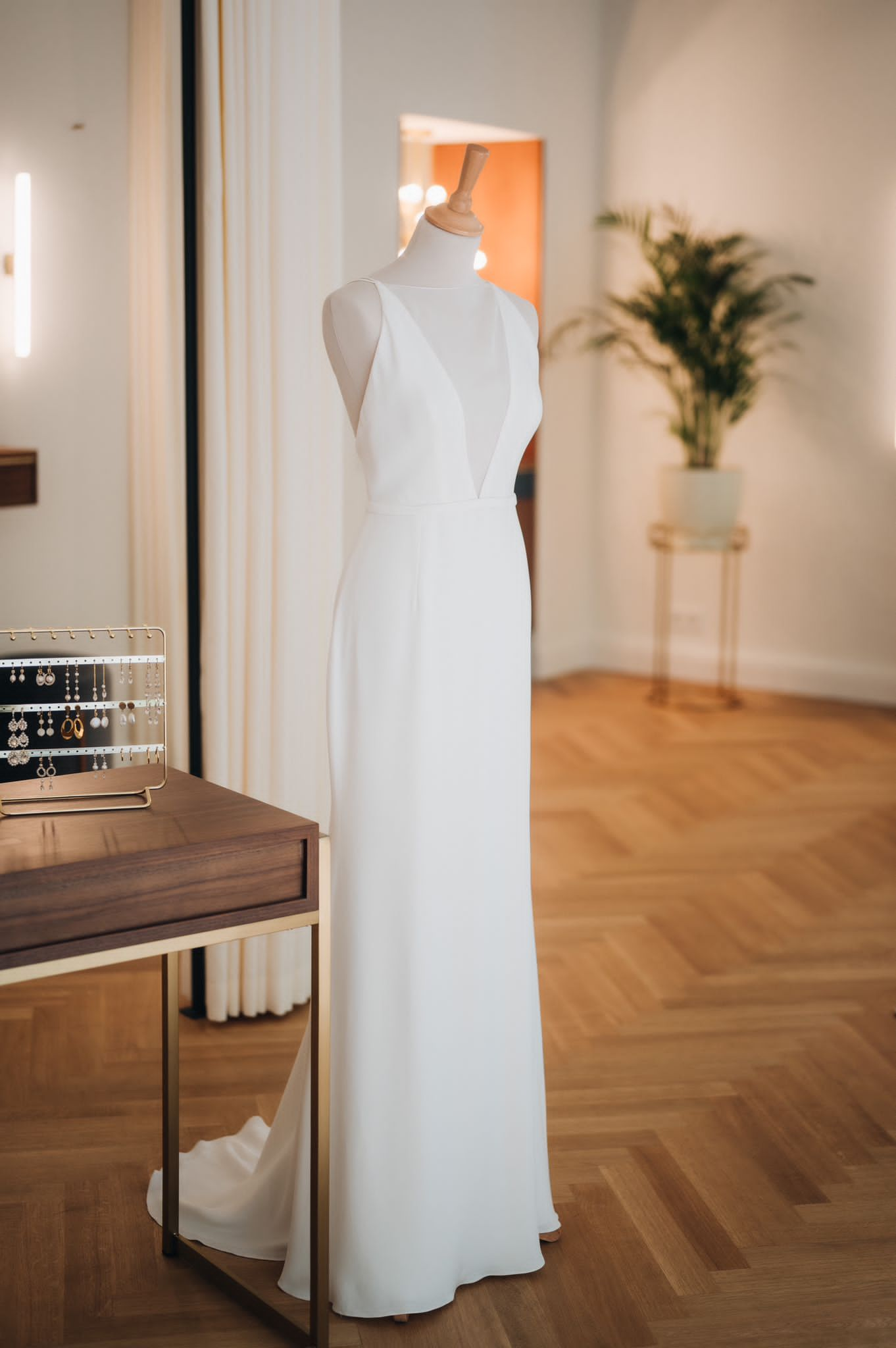 About Andrea Hawkes
Andrea Hawkes is a contemporary, British wedding dress designer based in London, specialising in modern, simplistic, ethical and sustainable bridal fashion.
All the collections are crafted with fit and precision, made using natural silk fabrics, beautiful French lace and delicate beading and sequins.
Andrea's aesthetic is clean and fuss-free and provides a beautiful alternative to traditional bridalwear.
Sought after by fashion forward brides and those keen to step out feeling a sense of understated glamour on their wedding day.
Find A Stockist
Andrea Hawkes Bridal
Love My Dress Wedding Directory Members
The below suppliers and venues featured in this article are part of the Love My Dress Wedding Directory.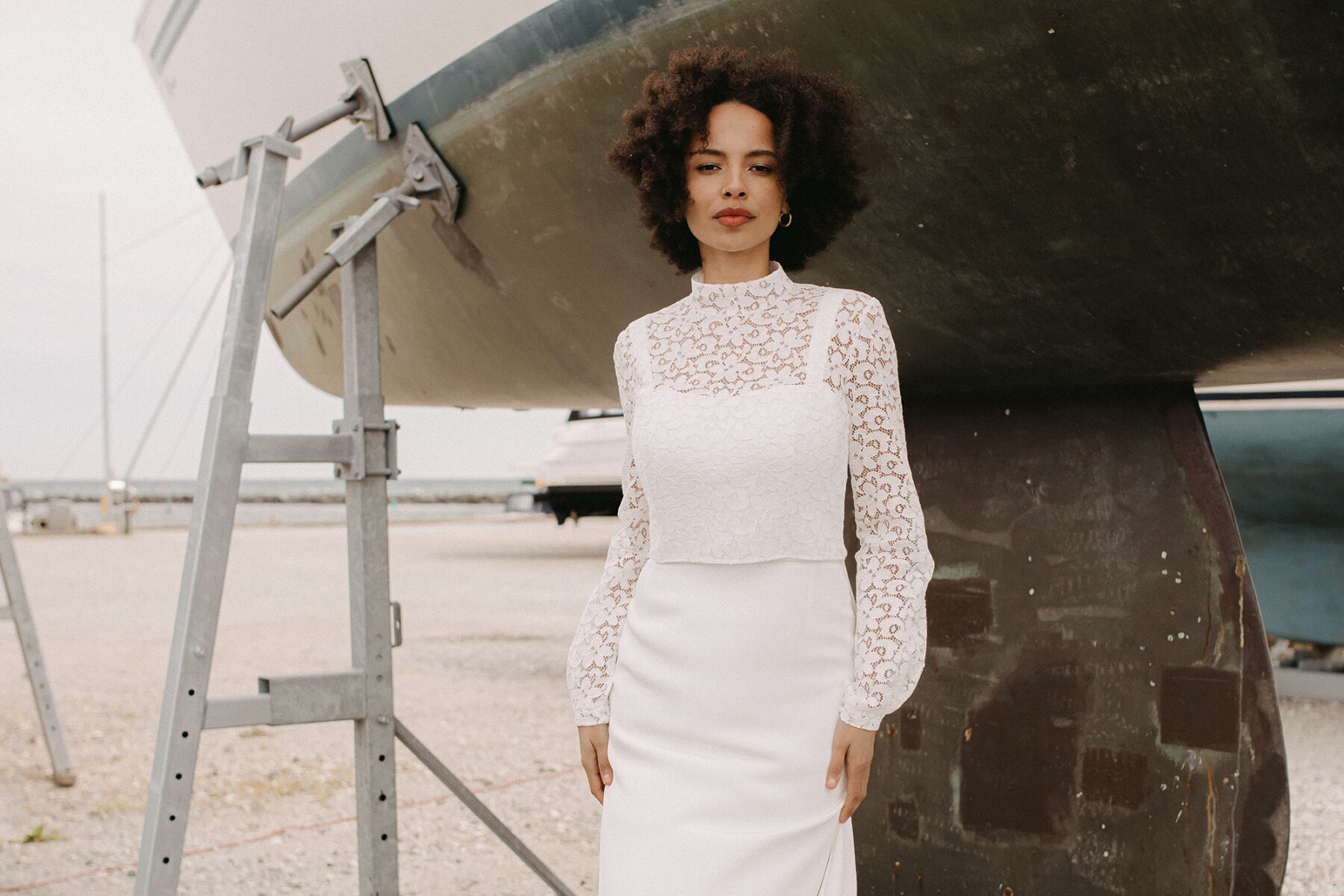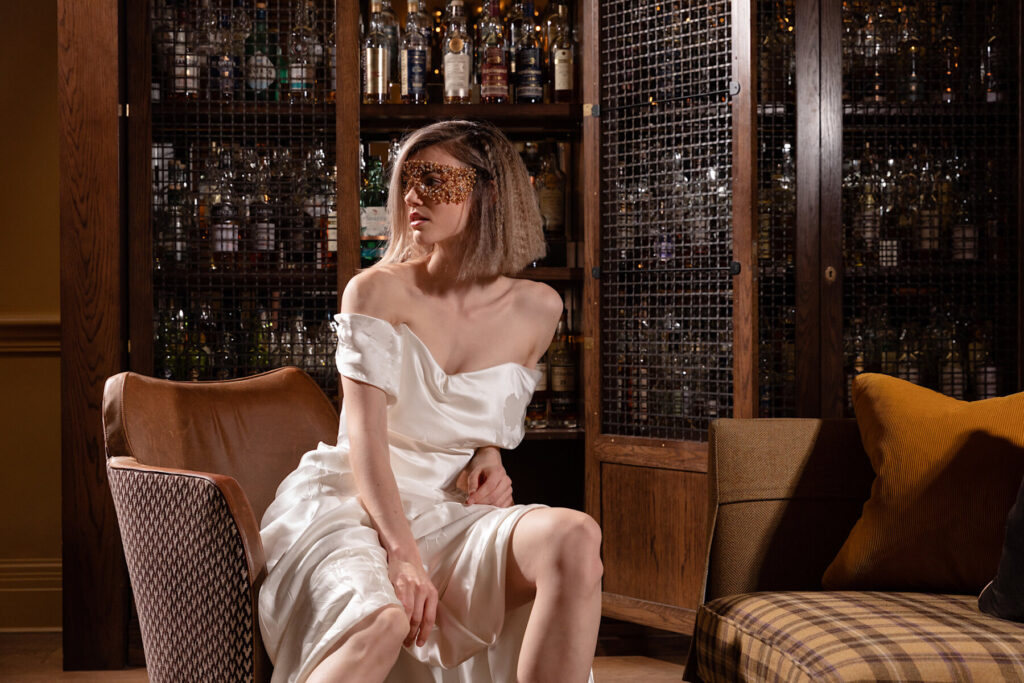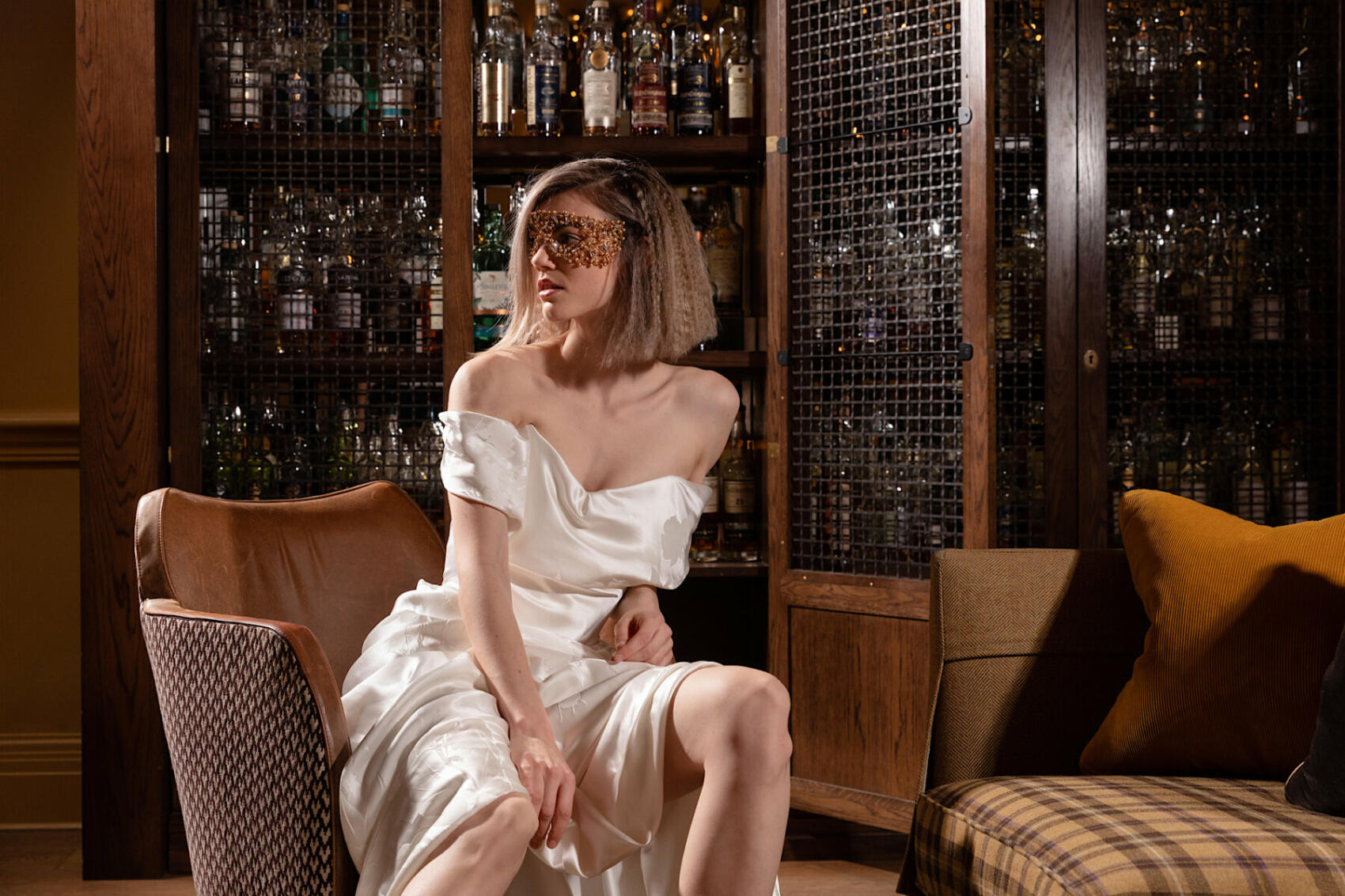 Additional Credits
The below suppliers and venues are featured in this article, but are not part of the Love My Dress Wedding Directory.