Emergency Veterinarian Carrie married Sales Account Executive Edward on 9th July 2022 at Cowley Manor in Cheltenham.
The couple wanted to plan a non-traditional wedding and to make their day of celebration feel like more of a fancy event. Cowley Mano provided amazing and unique style which helped them set just the right tone.
The beautiful Canadian bride wore a glamorous Lee Petra Grebenau gown to marry her British husband and Weddings by Nicola and Glen were appointed as photographers.
But let's start with this beautiful film, captured by Vogue Wedding Films. Enjoy!
Bridal Beauty & Accessories
I wore a veil, but only for the ceremony and some photographs after. It was a very simple veil since my dress was heavily embellished and I didn't want to take away from that. I purchased it off Etsy.
My shoes were Valentino Rock Stud heels – another pre-pandemic, pre-baby purchase! I loved how they looked on the day.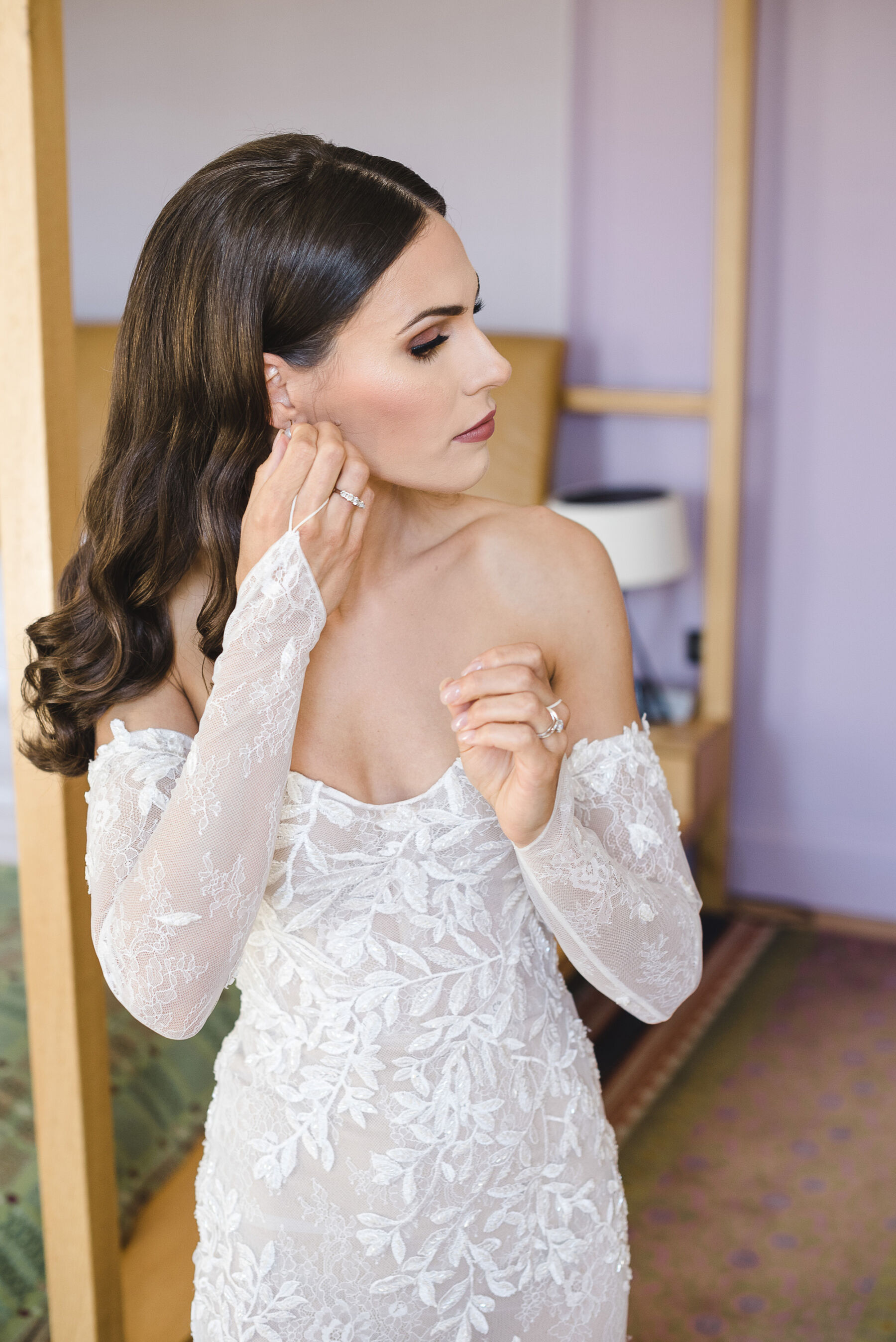 I wanted a simple hairstyle to again keep the focus on the dress. My perfume was Tom Ford's Fucking Fabulous. Because I felt f*cking fabulous that day! I also purchased mini sizes for all my bridesmaids.
My hair stylist was Joanna Ricarda and I did my makeup myself. I never feel comfortable or like myself when I get my makeup done, and that was extremely important on my wedding day. So I watched a lot of YouTube videos, made a ton of trips to Sephora and researched the best products. Best part is I now have an extensive makeup collection.
I wore limited and simple jewellery (just earrings) on the day. The dress was so embellished and I didn't want to take away from that. I purchased my bold pearl drop earrings from Mejuri.
The Dress
The wedding dress was Lee Petra Grebenau. I originally purchased my dress back in 2019! I immediately felt amazing when I put on this dress (after trying on so many!) Several years (and a child!) later, I still ended up loving my dress just as much.
I had the designer create custom detachable sleeves just a few months prior to the wedding to make it feel new and exciting again and add that extra element. They did an amazing job.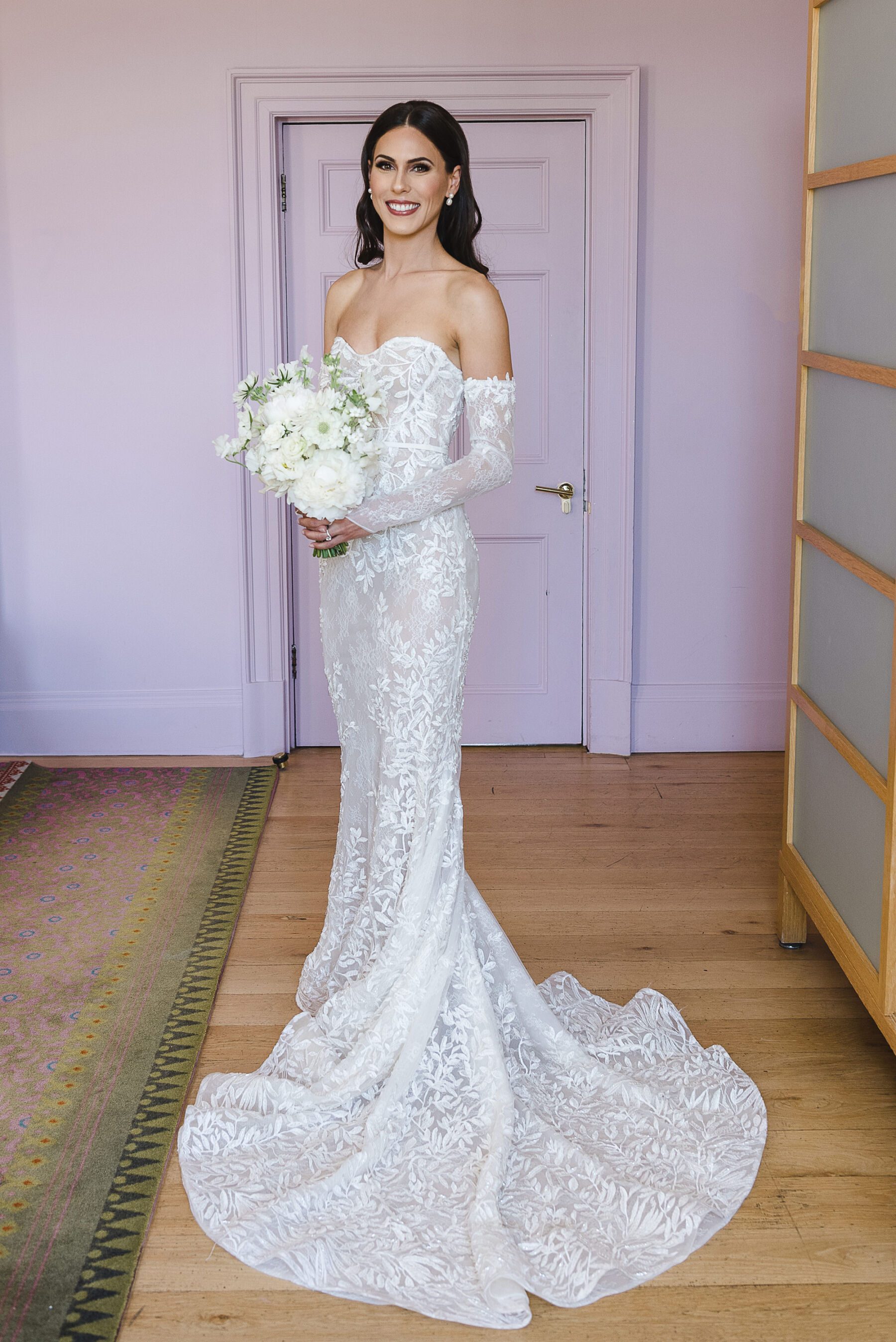 The Groom
My husband wore a custom tuxedo from Michel's Bespoke in Toronto. His design was inspired by a tuxedo worn by Ryan Gosling. His shoes were Louboutin.
My mother in law made all the bow ties from her own Guinea Fowl feathers. They looked incredible!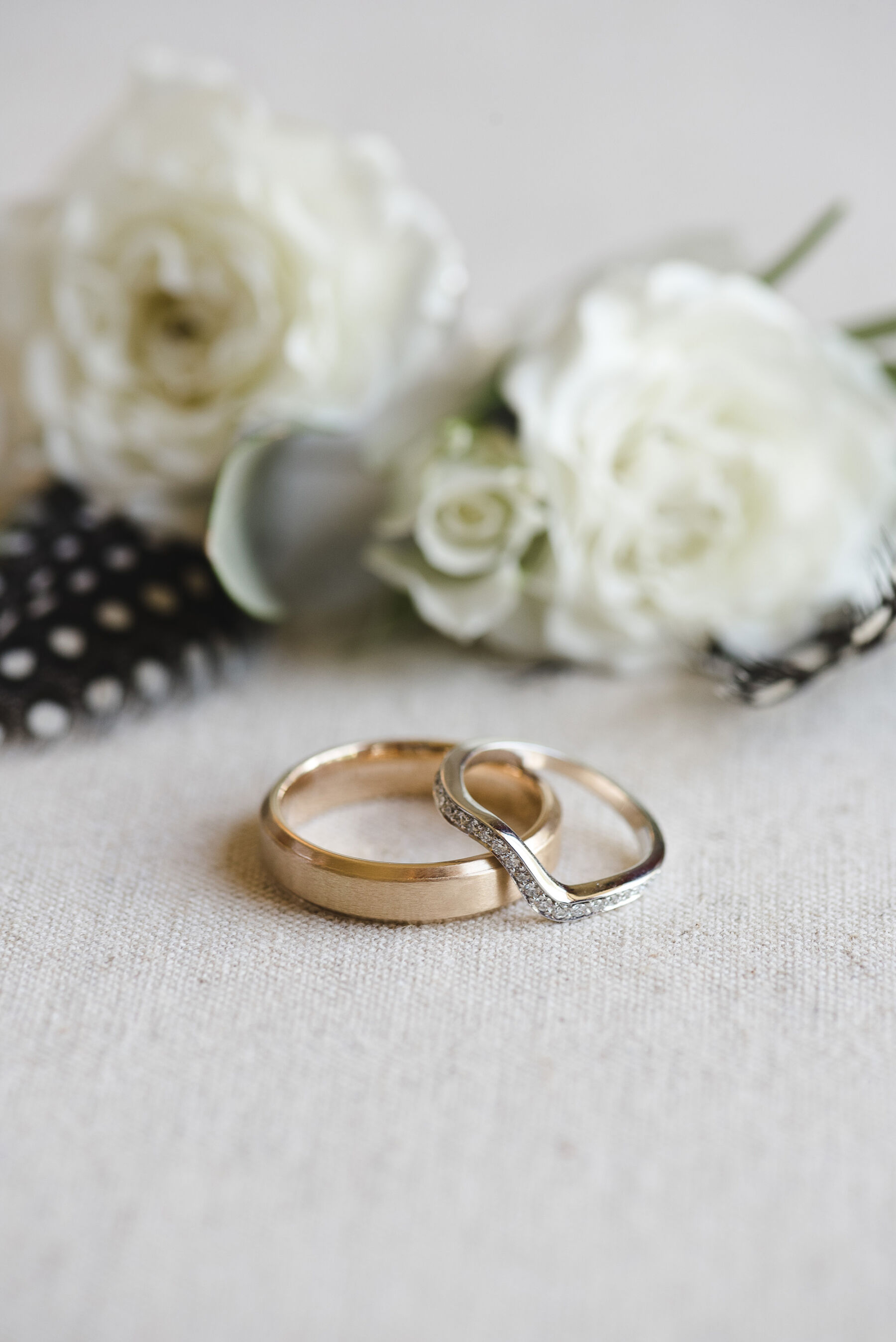 The Bridal Party
I allowed all my bridesmaids to pick their own dresses. Only requirement was that it was in the pink family and long. This allowed them to go to stores and buy a dress that they truly felt good in. I also am not a fan of the traditional bridesmaid style dresses.
My flowergirl dresses were purchased these from Mango. It was difficult to find dresses since half the flower girls were in the uk and the others in Canada!
My pageboy outfits were from Beatrice and George.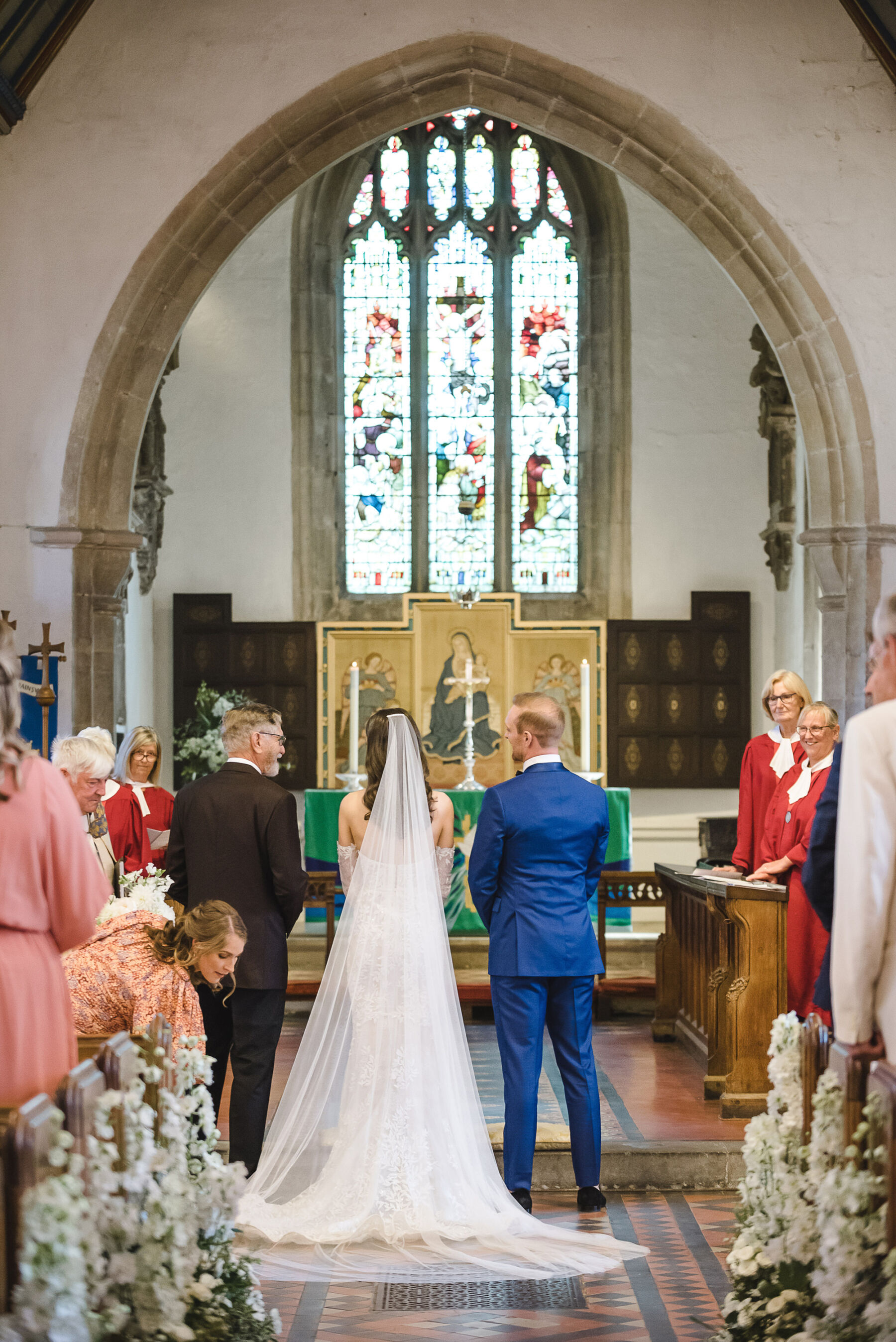 The Ceremony
---
My father walked me down the aisle, to the sound of River Flows in You, by Yiruma. Our organist kindly agreed to learn this piece for me and played it on the piano.
The only 'traditional' part of our wedding, was the ceremony itself. Both my husband and I knew we wanted to marry in a church with traditional vows. Reverend David Reynish officiated our wedding ceremony at St Mary's Church in Painswick
We exchanged traditional vows with one another. Being Canadian and with both my husband and I not living in the Parish, in order for us to legally get married at St Mary's Church, we had to stay in the Parish for eight nights several months prior to the wedding.
We organised a special trip to England in spring 2020 for this. We then had to repeat the same trip in spring 2022 as our wedding was delayed due to COVID. We were both very set on being able to legally get married there and being able to say our vows in front of family and friends.
My husband custom designed my engagement ring and band, which were from Twain Designs in Toronto.
We had two readings; 'So This is Love', (an excerpt from Cinderella) – this was read by our young neice's, so a Disney excerpt about love was the most appropriate. Our second reading was an extract from Corinthians.
Photography
We chose Weddings by Nicola and Glen as our photographers. I first came across them in 2019 and they were one of the first vendors we selected! I loved their style and that they had previously shot weddings at Cowley Manor, so I knew they would know the right spots.
They were an absolute dream to work with! Nicola and Glen were extremely organised, accommodating, and so relaxed on the day – it definitely put my worries to rest. And the photos came out fabulous. I would absolutely recommend them.
A moment that really stood out to Ed and I was when our photographers took us around the other side of the pond after dinner. We stood quietly, no one else around, and looked back at the beautiful Cowley manor with all our friends and family dancing to the music. A moment where we saw our entire vision all come together.
We chose to work with Vogue Wedding Films (recommended by Nicola and Glen). I wanted to know that our photographers/videographers had worked together before in a cohesive unit – and that they did!
How They Met
I am from Toronto, and my husband is from London, UK (although we are living in Toronto now). We met on a Yacht Week trip in Croatia in 2016. Certainly not the type of holiday you'd expect to meet your future wife/husband! Sailing around the Adriatic and partying each night was a fun way to get to know someone.
While I presumed it was a holiday fling, Ed tells anyone who will listen that he knew it was love at first sight! After a year of long distance, Ed made the move to Toronto and proposed two years later while on a skiing trip in Mont Tremblant, Quebec.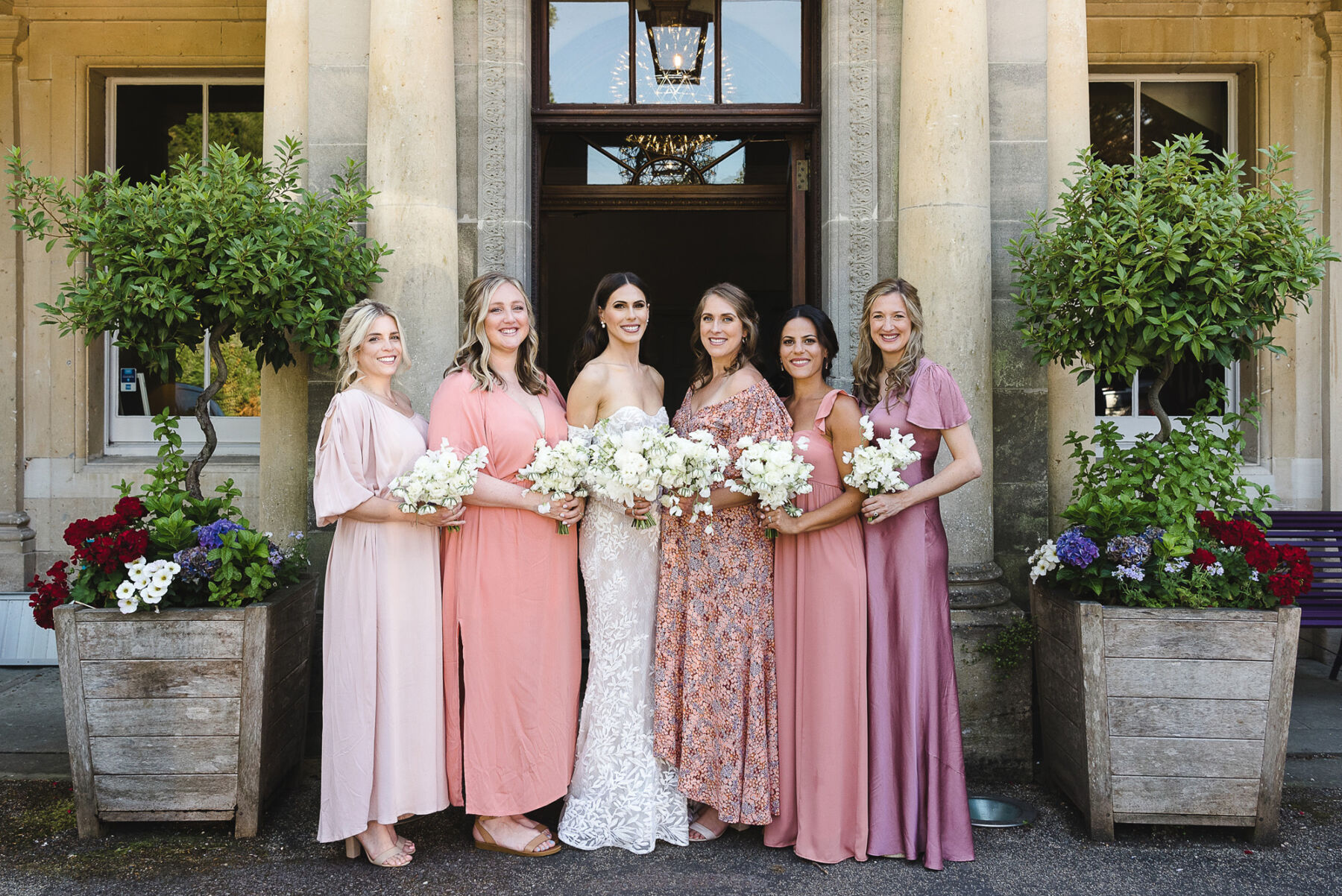 Thanks to Covid, our engagement was somewhat longer than anticipated. The planned 14 month engagement turned into three and a half years, but we wouldn't change a thing.
Our original wedding date was July 11, 2020. It then got changed to July 17, 2021 and then again to our final date, July 9, 2022.
Although our guest list was much smaller due to travel restrictions, friends being pregnant or with newborns, we were so happy to be able to celebrate our day.
The best thing that came out of our delays was that we welcomed our beautiful daughter, Madelyn, on February 19, 2021 as we just couldn't wait to start our family! It was incredibly special having her walk down the aisle as a flower girl.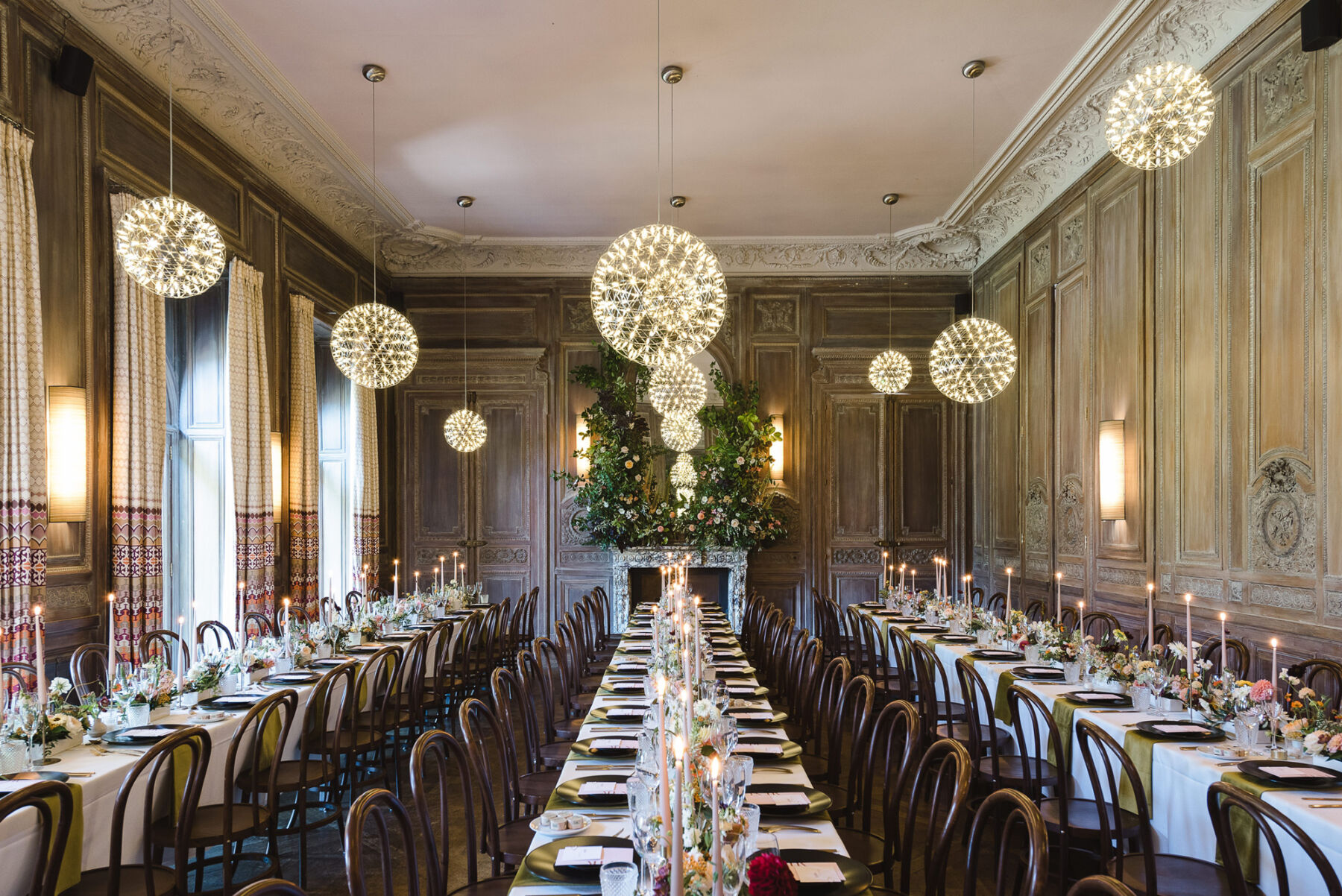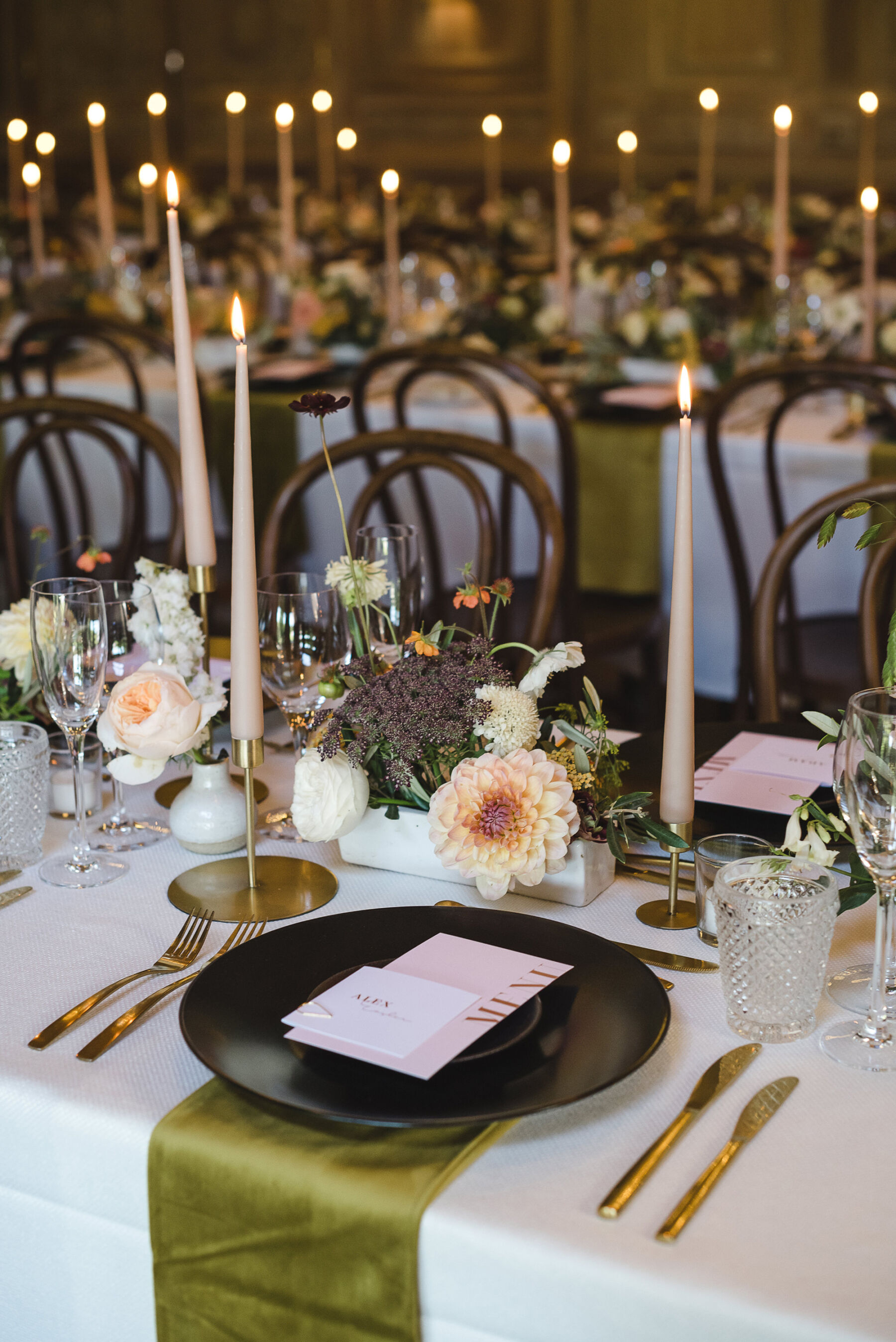 The Reception
Decor & Detail
---
Cowley Manor is an incredible space which boasts loud colours and interesting art deco decor. It didn't require much to decorate. So we just styled with florals and lighting.
We did set up an outdoor stage for the band to play after dinner. It was incredible dancing outside on a warm July evening in the countryside! Thankfully, the weather was perfect.
We used Flowers by Passion. I chose to stick with in-season flowers in peachy-pinks with a garden meadow and billowy vibe.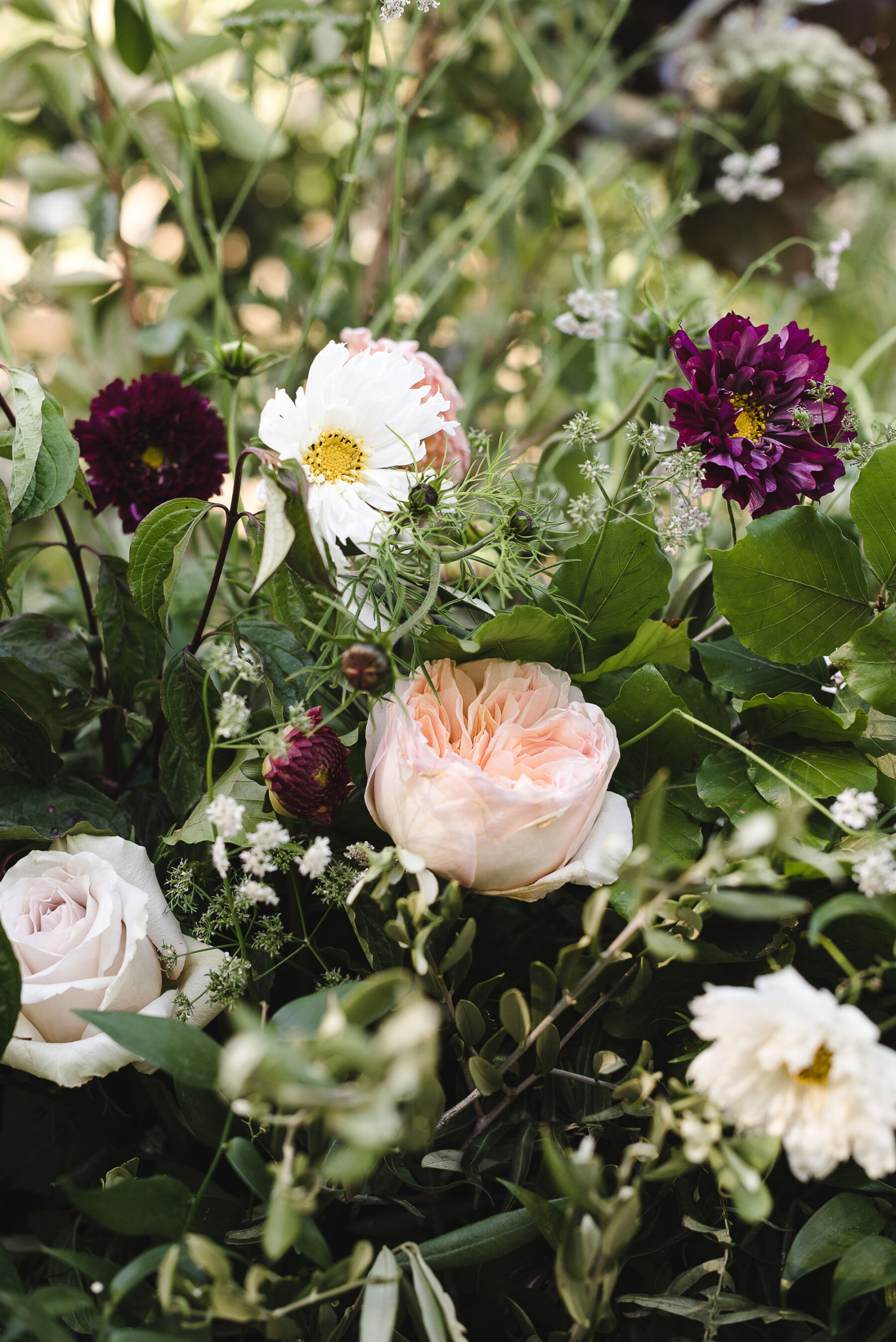 We didn't have a cake. That is one of the 'traditional' wedding things that just wasn't us. Instead, we had a desert parade where the servers came out on the dance floor in the evening with trays of petit fours.
I custom designed all the wedding stationery, menus, seating chart, ceremony booklet etc! It was really fun to use my creative side and make something I loved.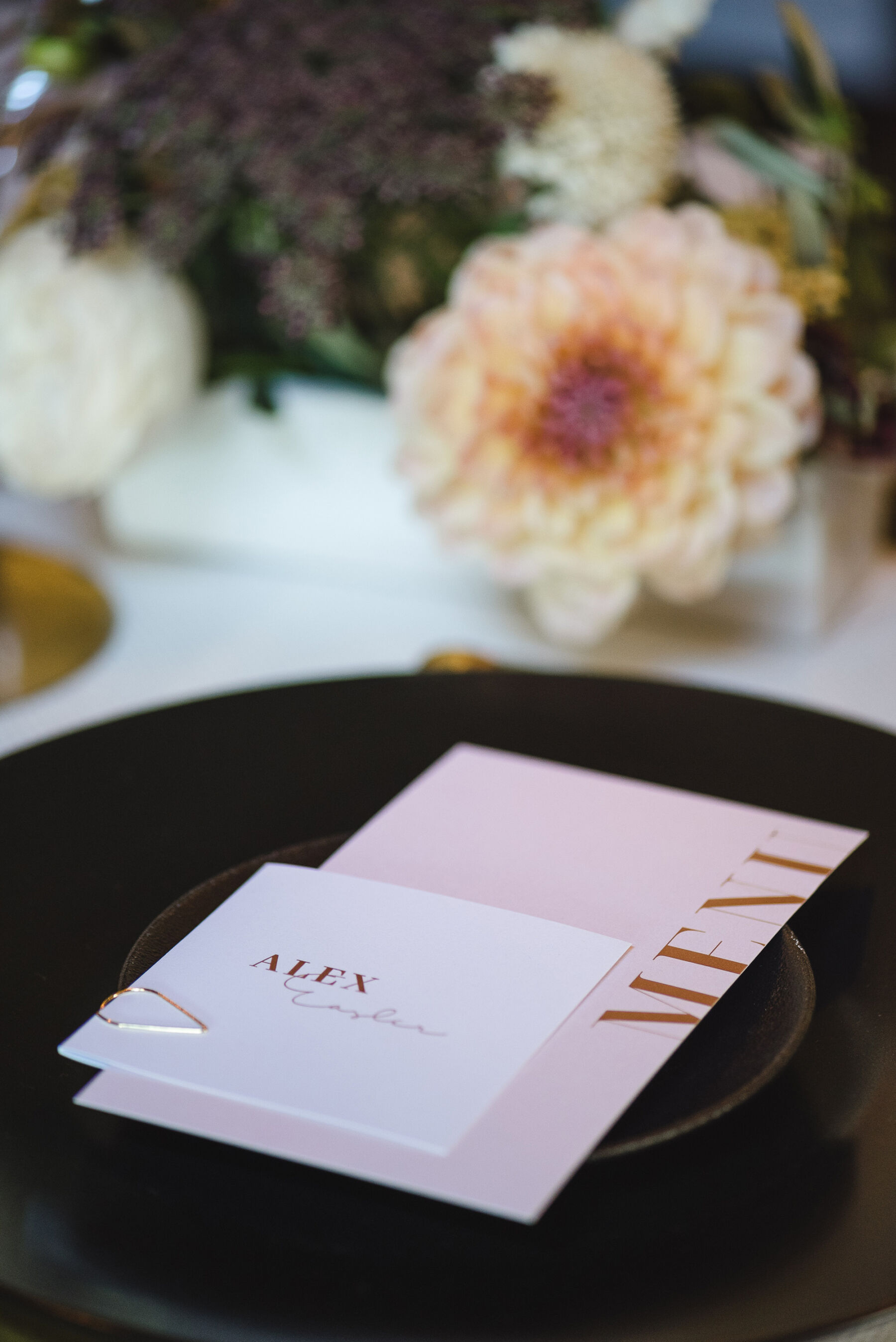 Evening & Dancing
For the cocktail hour, we hire The Pantasy Steel Band. Our after dinner band were The All Stars, booked via Warble Entertainment. And for the late evening, we booked a sax and percussion duo, also via Warble Entertainment.
Our first dance song choice was an easy pick – we went for 'Sun is Shining' by Axwell and Ingrosso, which is actually an EDM song! It was the theme song from Yacht Week (where we met) back in 2016.
We asked our band to learn the song. We had the first minute as acoustic so we slow danced together, then the band kicked off into full EDM mode, confetti cannons were fired, and we brought everyone onto the dance floor for the rest of the song! It was an incredible moment.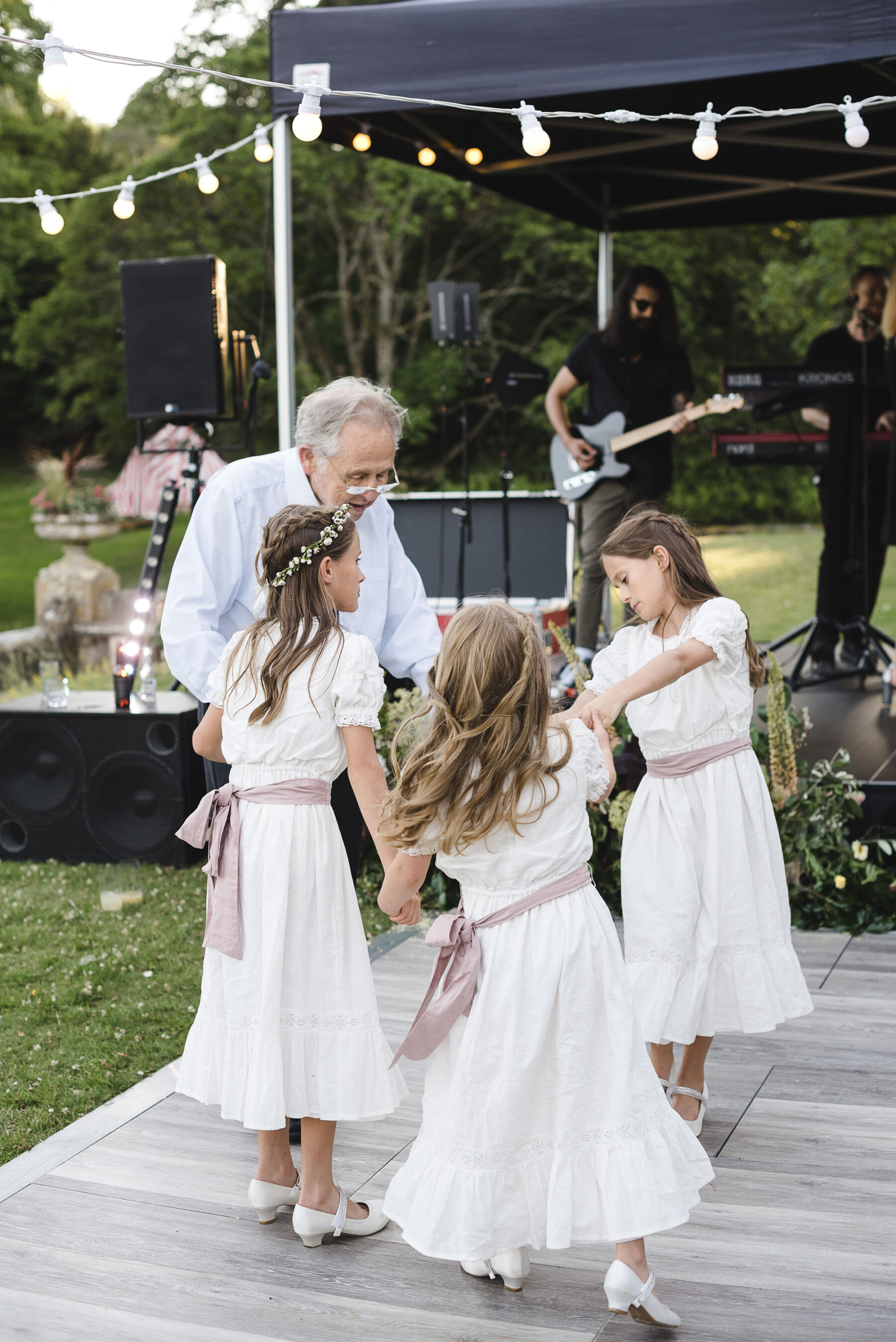 Words of Wedded Wisdom
Start planning early.
Be VERY organised.
Be decisive and stick to your gut.
We were hoping to keep the wedding around $100,000 (£60,000) total, although we exceeded this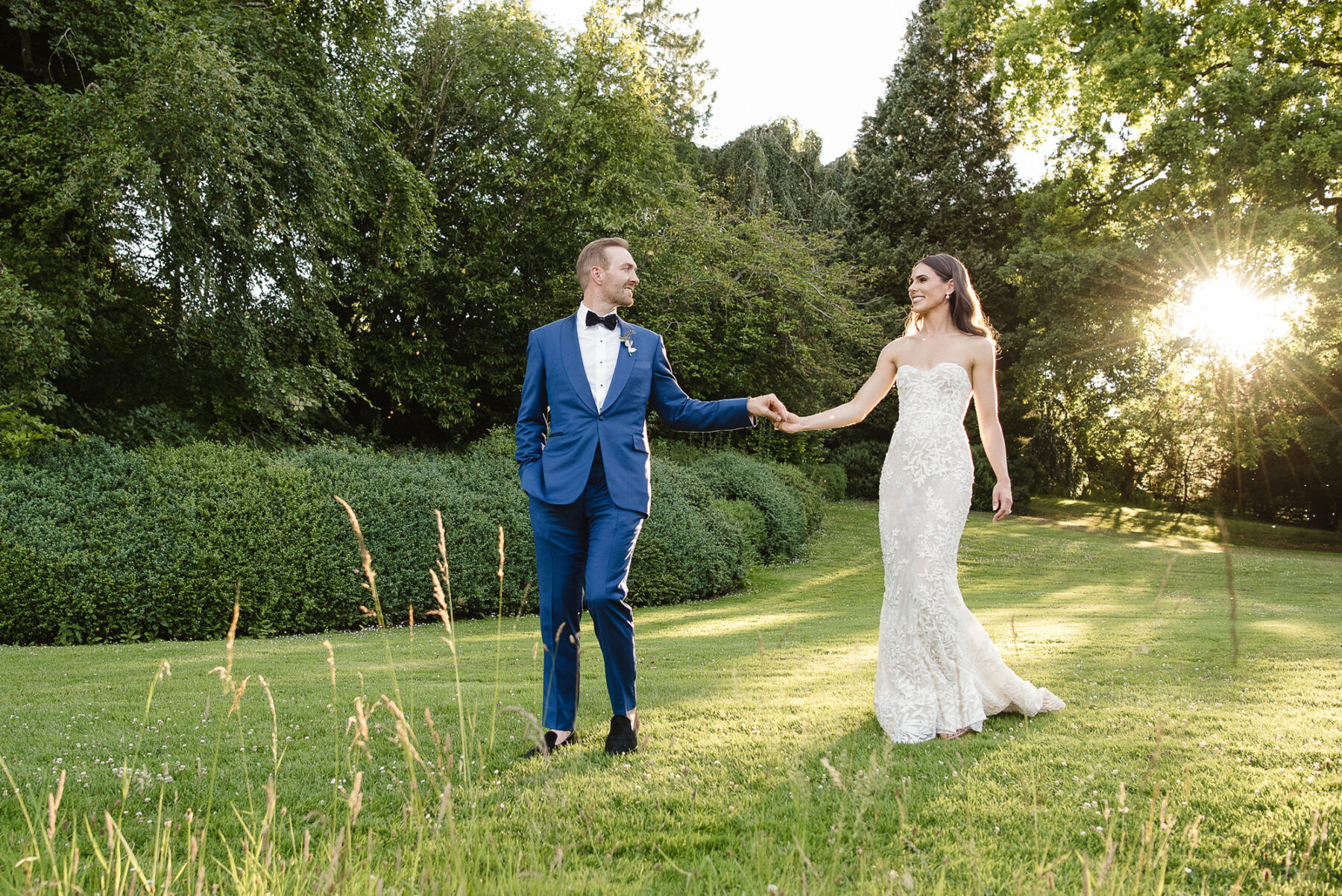 Planning a Wedding?
Bookmark our Directory