One of my greatest joys in this job is getting to work with Andrea Hawkes Bridal. Those of you who are familiar with Love My Dress and listen to our Podcast will probably be aware of this already – they are just the most wonderful family business; authentic in every way and their values and passions align beautifully with my own.
Always seeking to innovate in an earth-friendly way has led Andrea Hawkes to very recently launch a beautiful new alterations service for their brides, one that will enable you to transform your Andrea Hawkes wedding dress so that it can be worn again after your wedding – for special occasions or perhaps, just because.
Through a process of natural dyeing, botanical prints and alternations to shape (changing/removing sleeves and necklines, altering hem-lines and height) something really very special and completely unique to you can be created.
I absolutely love this concept and am eager to share details of it with you all. Read on to learn more about the process, see some beautiful before and after shots and see through a series of videos, how newlywed Megan Gilbride had her own dress beautifully transformed by the incredibly talented and creative team at Andrea Hawkes Bridal.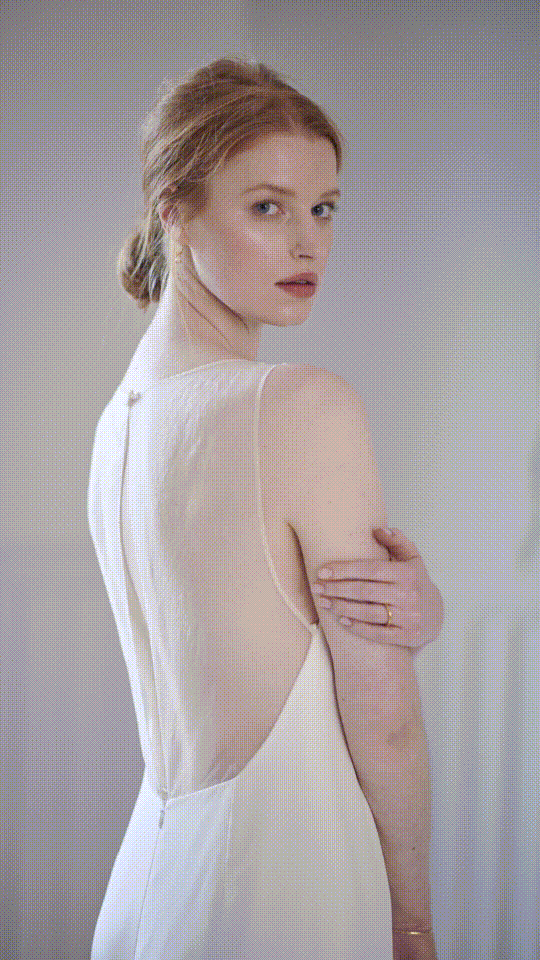 What inspired Andrea to introduce a natural dyeing service for her brides?
---
We have always believed a garment as beloved and precious as a wedding dress should be worn more than once. Our commitment to sustainability, coupled with the joy that wearing our dresses brings to our brides, inspired us to offer post wedding alterations.
But let's be honest, there isn't always an opportunity to wear an ivory dress in everyday life! That is where our quest for the perfect dyeing partner began. We have been searching for a natural dyeing method that aligns with our values and compliments our natural fibres, and now with time, care and research, we are delighted to bring this service to our brides.
Before & After Shots…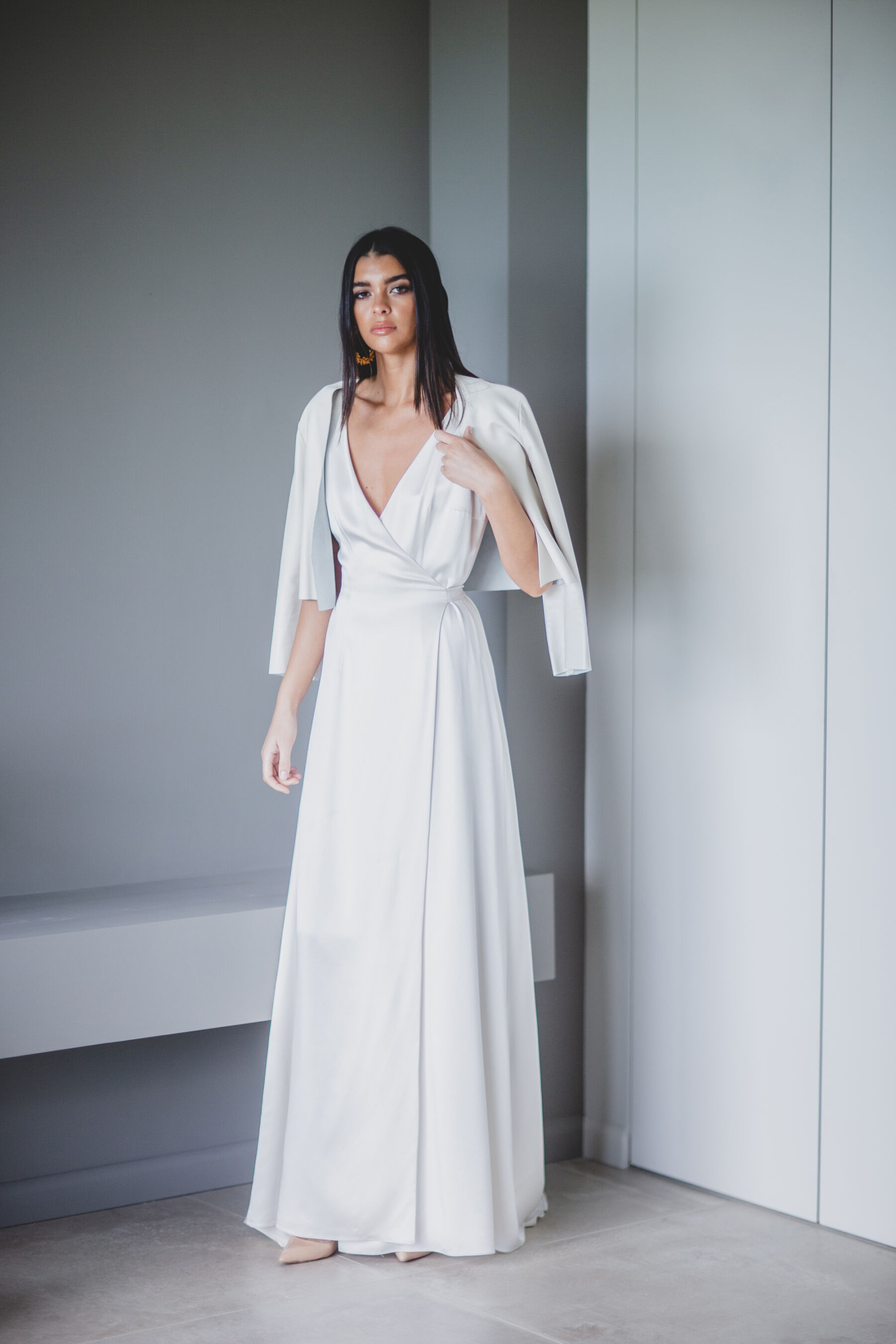 Can you share a little more about the process itself?
First, get in touch and let us know you'd like to dye and potentially alter your dress! You can use our digital colour chart for inspiration before your consultation.
Then we'll book you in to meet with one of our team. If you are altering your dress you'll try it on, decide on your post wedding alterations and finalise your colour choice and we'll process your order. Then we will clean the dress, if required, before the transformation begins.
Once your dress is dyed it comes back to our studio for the alterations process. When completed, come in and collect your dress or we can arrange to send it to you. For brides who live outside of London, we can offer a remote dyeing and hem shortening service, contact our team for more information.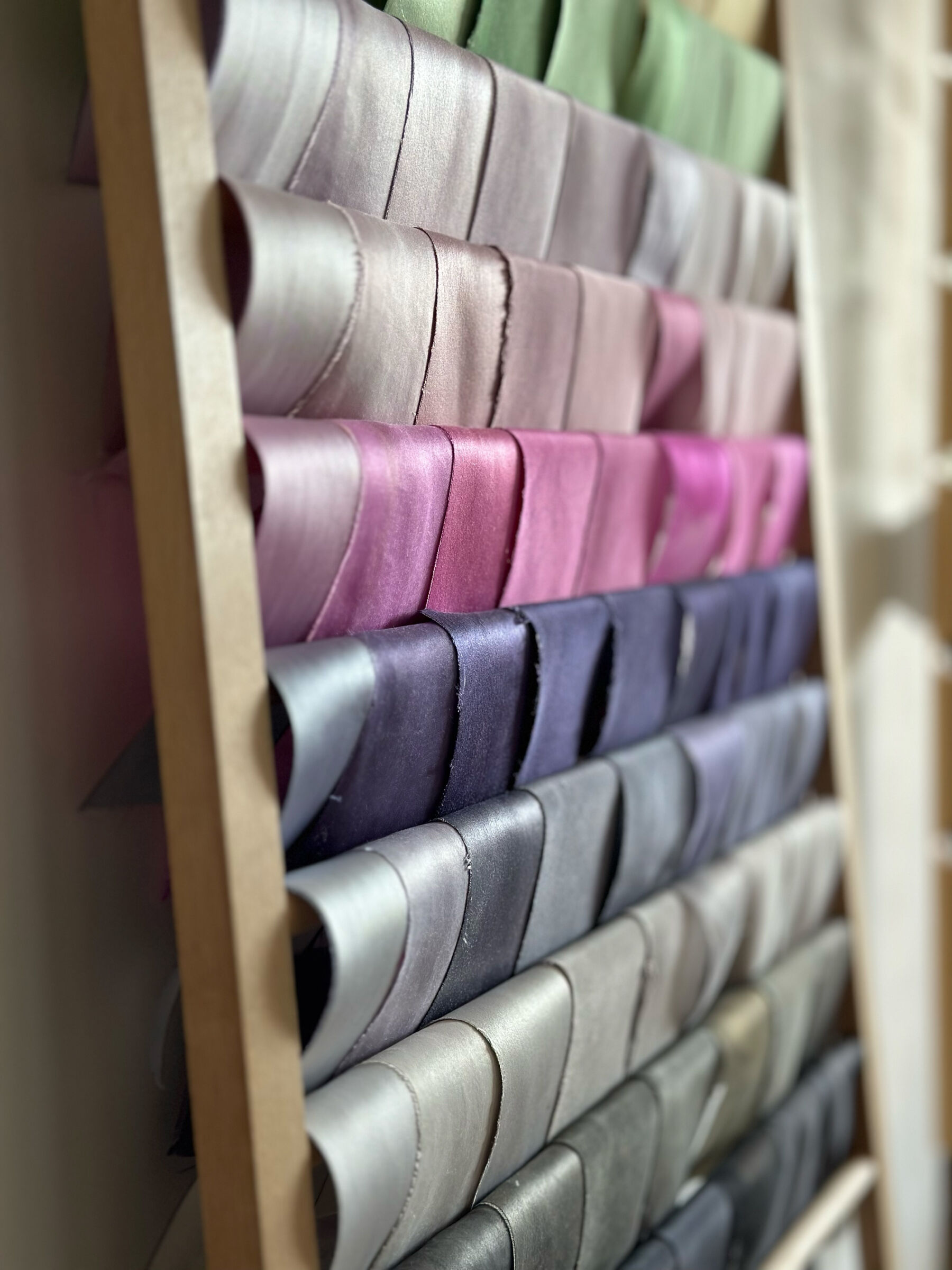 Megan Gilbride
The Transformation of a Wedding Dress
When Andrea shared that they were offering a repurposing service for their brides I was so excited. It's such a beautiful idea to be able to reinvent your dress to more a more wearable piece in your wardrobe but to also play around with designing something new, too. Giving your dress a new lease of life and knowing it comes with a sentimentality that could never be replicated means it will feel endlessly special every time you wear it. Such a gorgeous concept.
I loved being able to handpick the colours and patterns, and play around with different ways we could look to repurpose my dress. We kept it true to the original design in many ways, but have transformed it into a multi-wear, truly versatile dress that can now be styled up or down. The botanical hand-dyed element is my favourite; we've created a look that feels vintage and luxurious, and I honestly can't believe this has been born from my wedding dress!
I couldn't recommend this service enough – it speaks to the many values Andrea holds, about offering a truly sustainable and personal experience from start to finish. Just beyond special and something I'll cherish forever.
Could you describe some of the different ways in which brides can repurpose their wedding dress using your natural dyeing service?
There are so many ways you can re-purpose your dress! You can choose from a block colour, ombre or botanical print. The botanical print options can be florals from your bouquet, or an existing composition from our colour chart. Botanical prints work beautifully with or without a coloured background.
Removing the train and shortening the hem can be the most impactful way, after the dyeing, to repurpose your dress. Changing straps, adding, or removing sleeves are also great options.
If your dress has a waist seam it may even be possible to turn it into two garments and depending on the amount of fabric in your skirt, you could even have a new garment cut from it.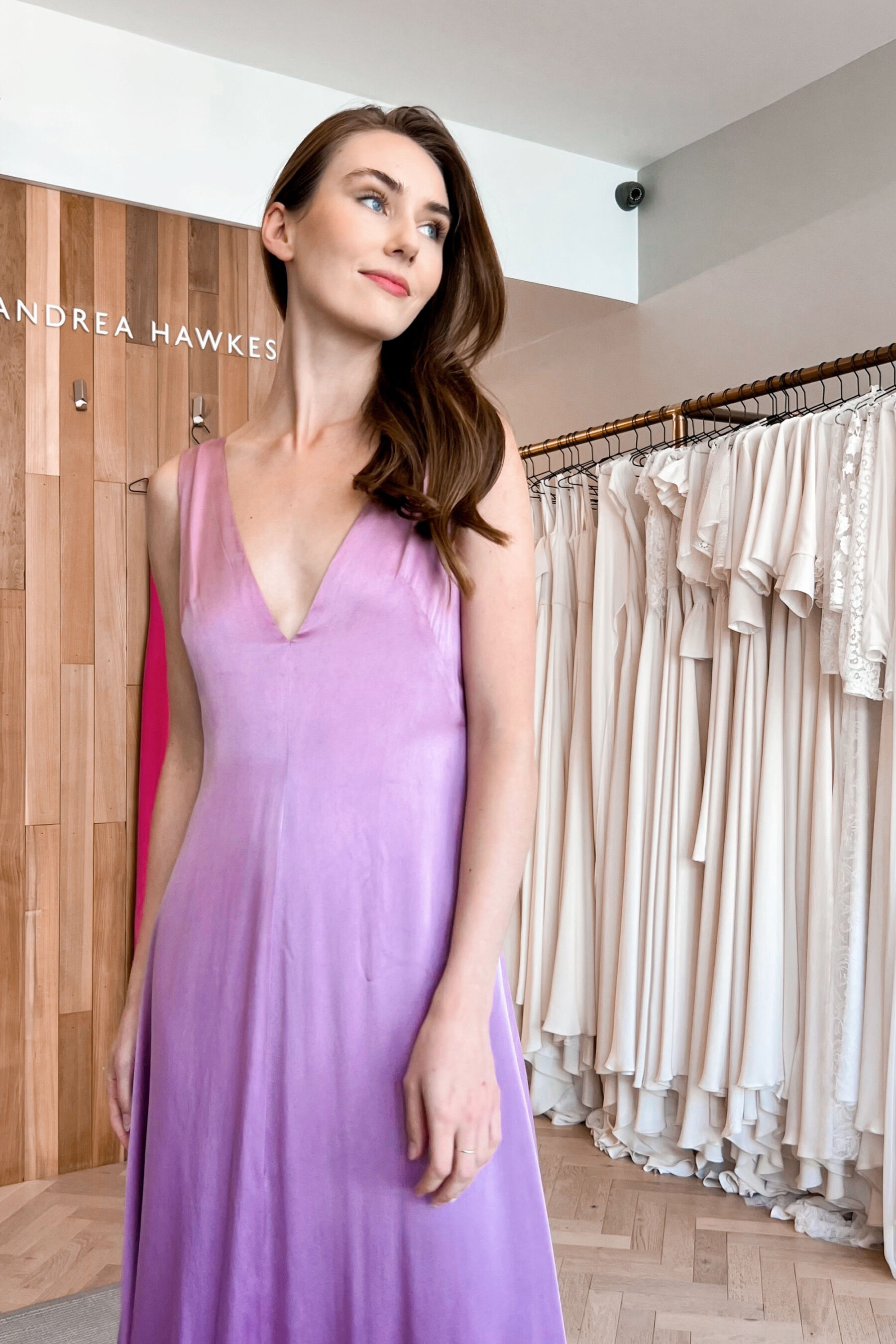 How does the colour selection process work? Do you send samples or must brides book an appointment to visit your boutique?
We have a digital colour chart, so we can share that with you initially and we also have a physical book with all our fabrics (sheer and solid) in each colour. We do recommend booking an appointment and coming in and choosing in person.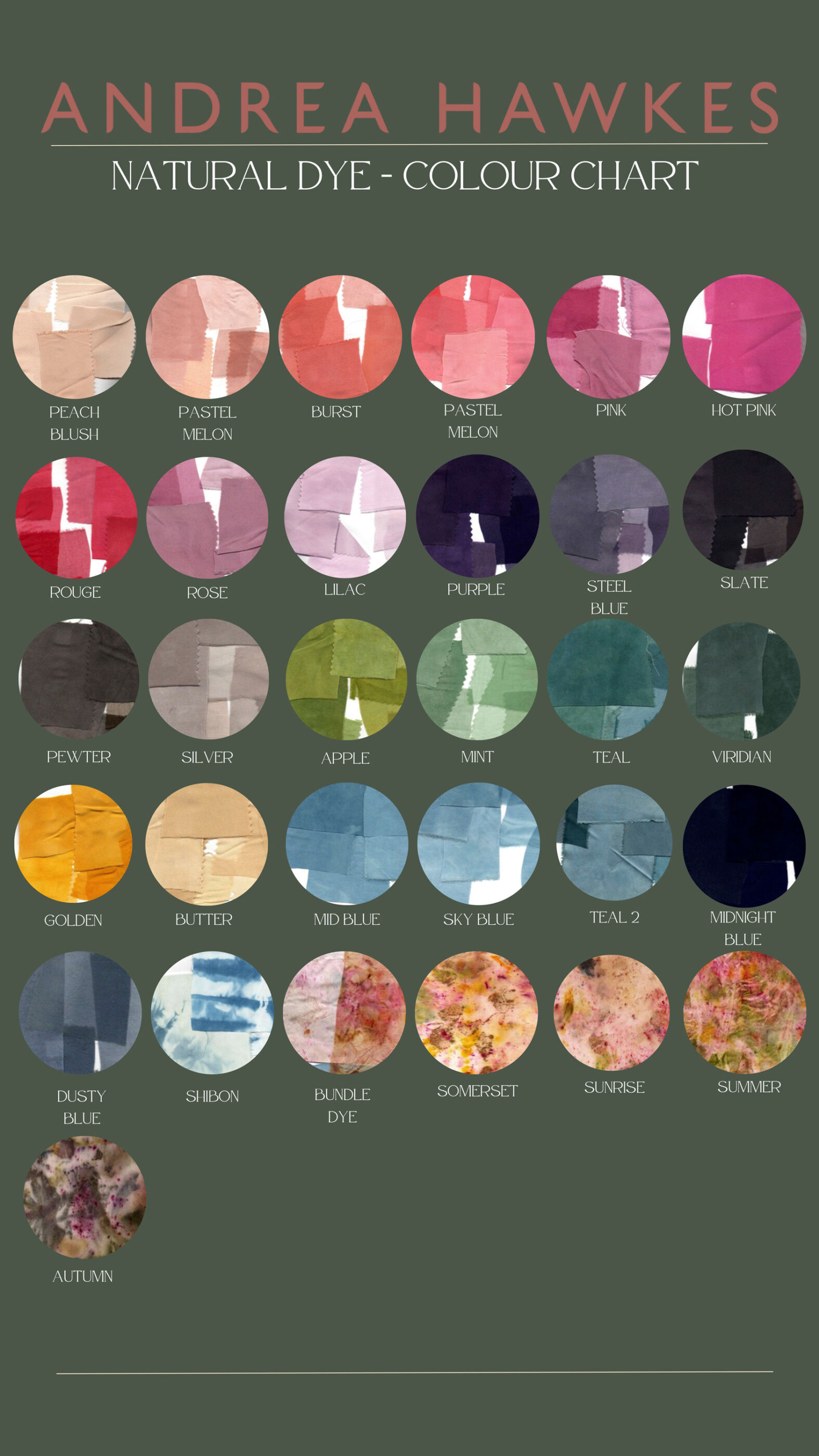 How much does it cost to have an Andrea Hawkes design transformed through your Natural Dyeing Service?
If you would like your dress naturally dyed prices range from £625-£825 (including cleaning) depending on your choice of block colour, ombre or botanical print.
If you would also like your dress shortened prices start at £775-£975. If you would like to remodel and dye your wedding dress this really does depend on the dress and the complexities of the alterations. We will book you in for a 45-minute consultation fitting which costs £35 and you will be given a quote at your fitting.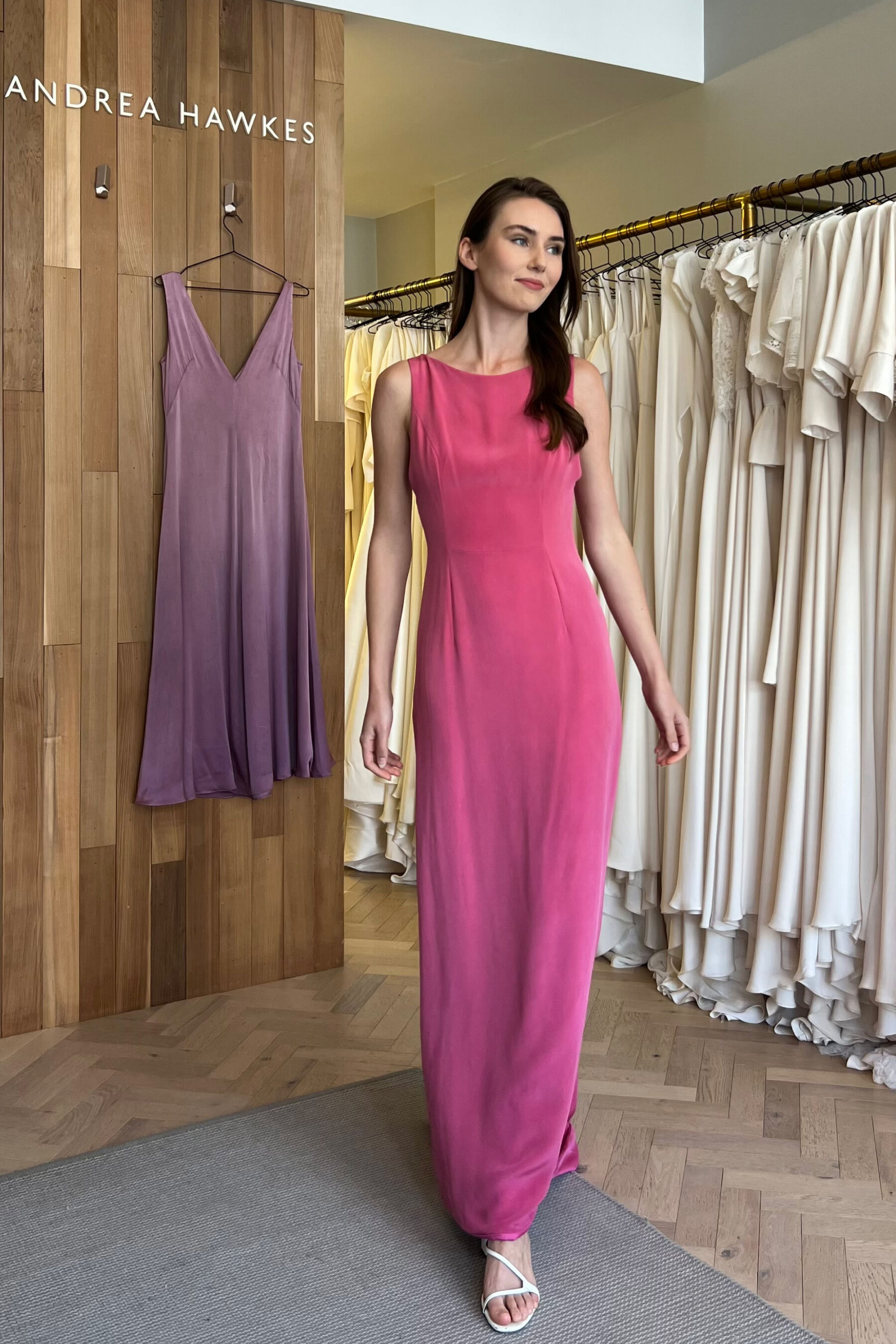 How can brides get in touch with your team to inquire about these services or book a consultation?
You can book an appointment or even just enquire by dropping us an email; [email protected]. We can't wait to hear from you!
Please note, that our dyeing and post wedding alteration service is only open to Andrea Hawkes brides.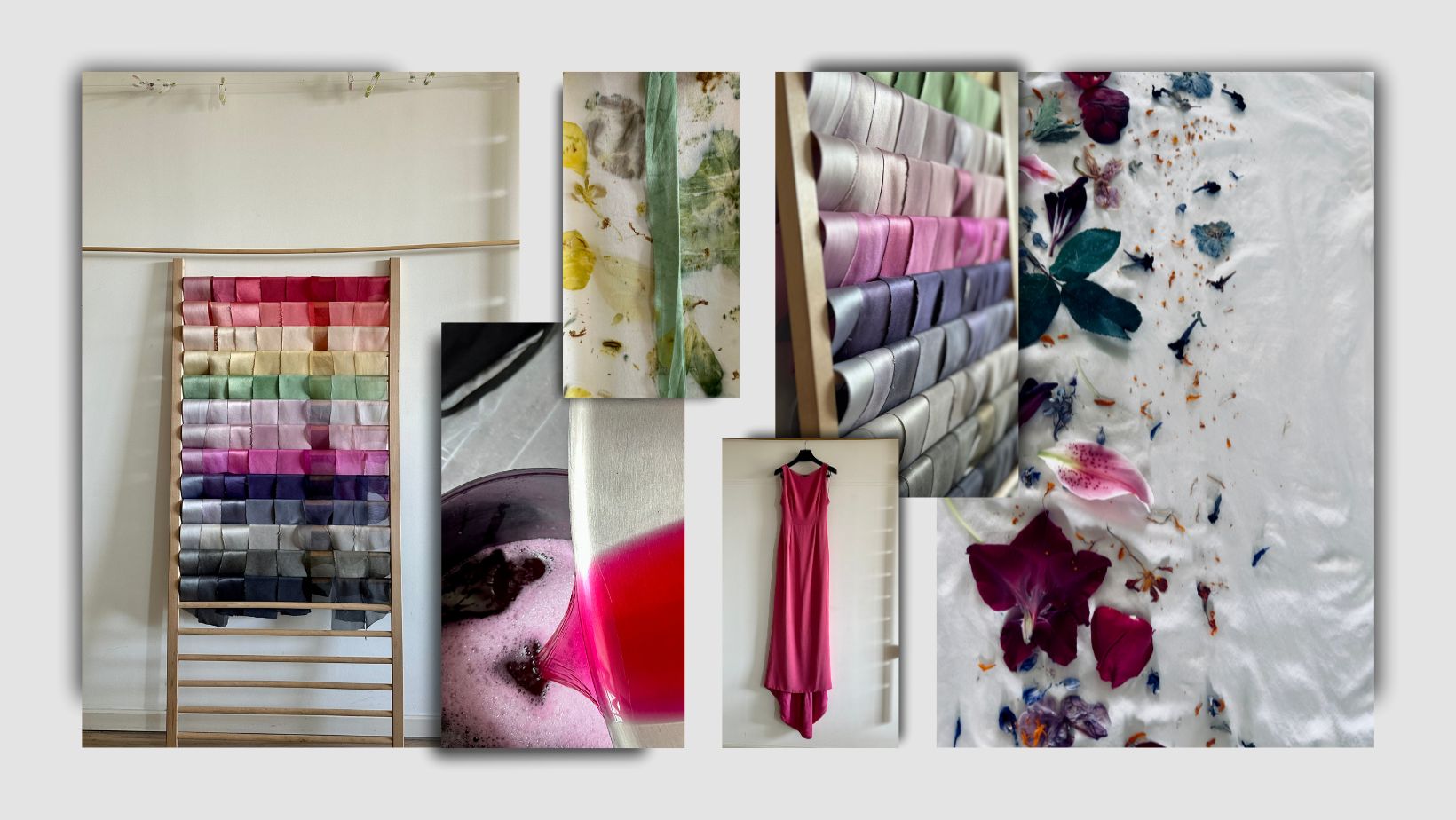 andreahawkes.co.uk