It's undeniable that East London is a hotbed of cool, contemporary architecture and artwork; so much so that newlywed couples and their photographers are spoilt for choice when it comes to backdrops for portrait shots.
Today's wedding, both in its hot pink and pampas decor and through its photography, makes the absolute best of all that Shoreditch has to offer. Please meet Nic and Jon, who both work in advertising for Spotify, who chose Shoreditch Studios in Shoreditch, East London for their modern and minimal wedding on 20 August 2021. The bride wore a gorgeous, contemporary gown by Andrea Hawkes Bridal, and these images created by the wonderfully talented Beatrici Photography.
Andrea Hawkes Bridal

+ Follow
The bride's shoes were the Dior 'D-Moi Plumetis Pump' in white.
"You won't often catch me in high heels and I seriously contemplated wearing flats or trainers. But how could I walk away from a beautiful pair of Dior shoes?"
Nic wore a pair of dangly freshwater pearl earrings from French Toasts Collection and Le Labo Thé Noir 29.
"I have always loved this perfume and I wanted to have a new scent for the day."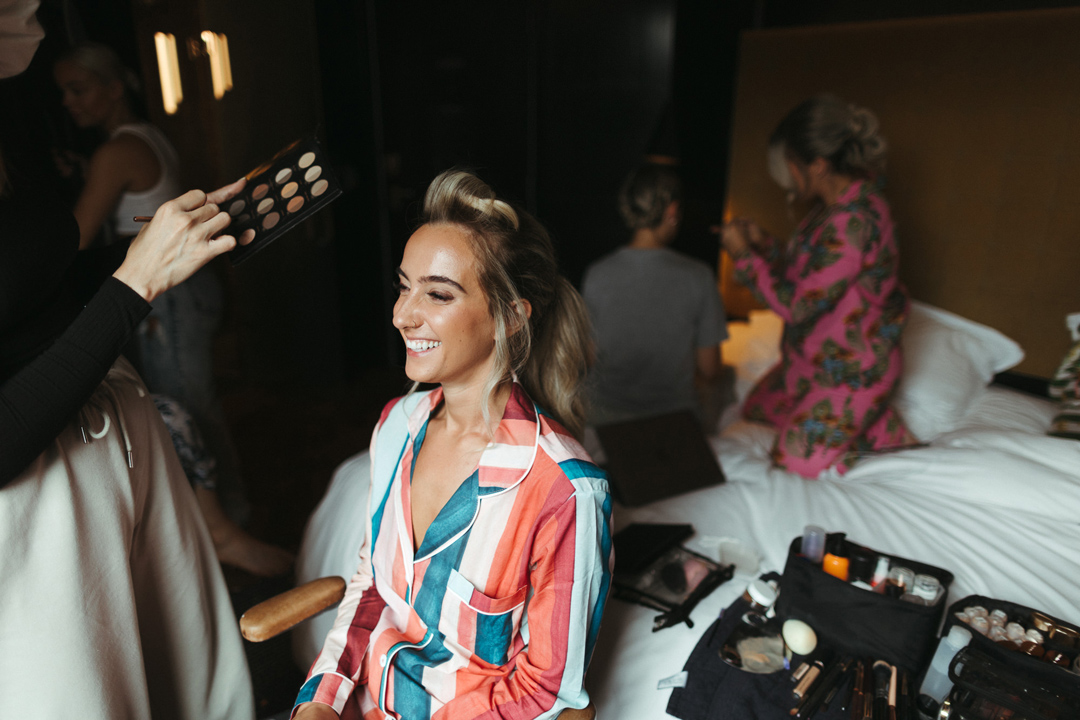 "My earrings were from my grandmother who couldn't be there on the day, making them the most special part of my outfit, along with my nan's engagement ring that I wore on my right hand."
Claudia Coyne pulled Nic's hair back into a chic, modern ponytail which had plenty of movement.
Her make-up, with strong eye brows and a nude lip, was applied by Andrea from Pamela & Andrea Makeup.
London-based designer Andrea Hawkes, who specialises in modern, minimalist, ethical and sustainable bridal fashion, designed Nic's incredible gown. I love the clean and simple lines with the interest of the panelled bodice and box pleats.
We are so happy to list Andrea Hawkes on the Love My Dress Wedding Directory and you can see more of her designs right here.
"I had never dreamed of or pictured my wedding dress so when I started looking for designers, I didn't have a clue where to start."
"I found Andrea Hawkes through the influencer Chessie King and as cliché as this may sound, I knew I'd found the designer for my dress as soon as I began looking through her collection."
"They're simple, elegant, and modern whilst being striking and unique. Andrea and her entire team were so wonderful throughout the process of designing my dress."
"I'd originally chosen the Milo design (the second dress that I tried on) but after a few weeks I started to feel like it wasn't quite right. I was so nervous about calling to ask about making changes but Siobhan was incredible."
"We arranged another appointment where we discussed my ideas, tried on a few other designs with the Milo top and then landed on the final design."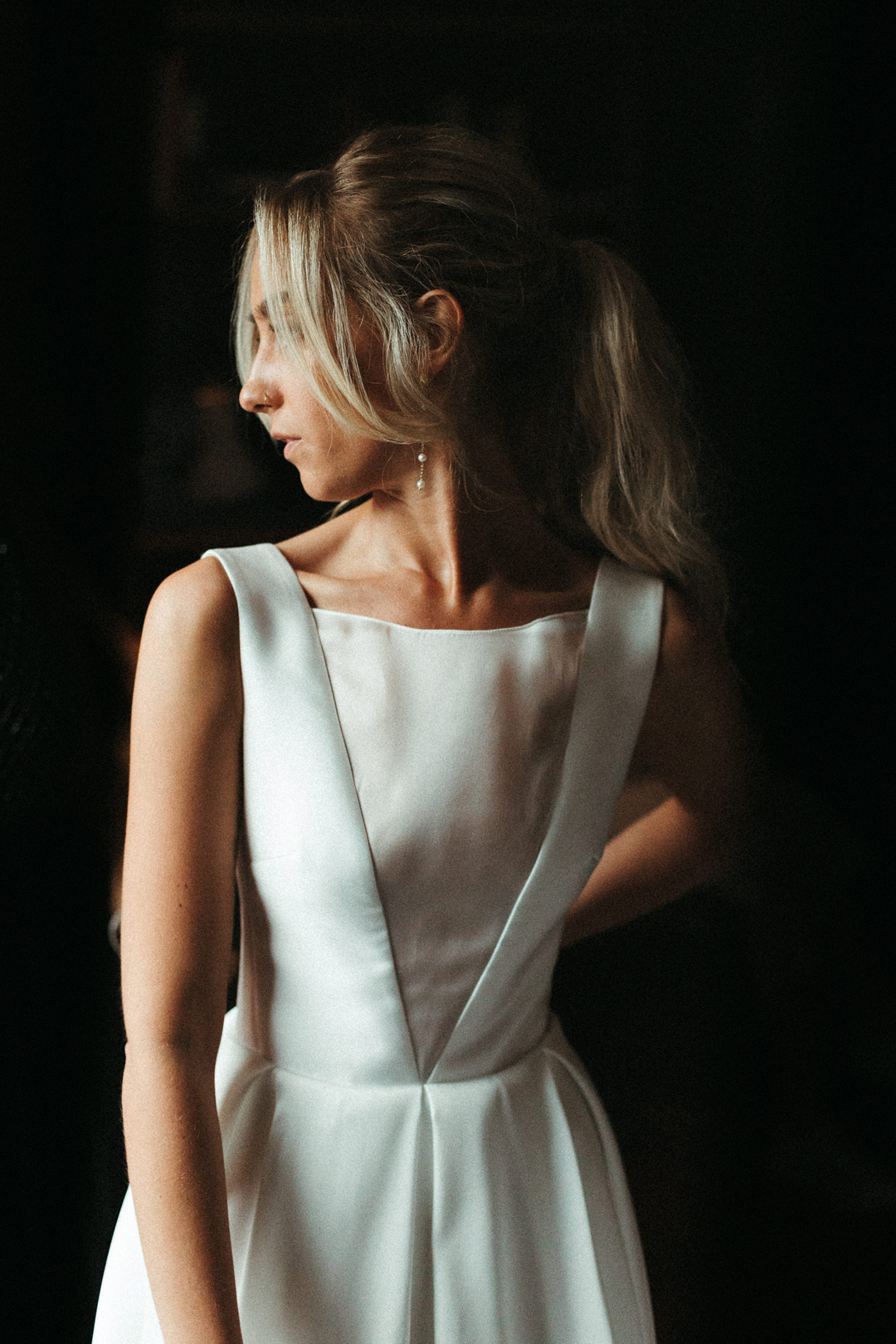 "I fell in love with the square shape of the back, the straps and the buttons going into the beautiful box pleats."
"The dress was so simple in ways but the combination of the shapes and materials made it so striking yet still elegant."
The Studios' exposed brickwork and clean white decor created a trendy but welcoming setting for their wedding which had elements inspired by their love for Asia, Italy, music, good food and drink, along with pink flowers and pampas grass.
"We only looked at two venues in real life but saw a variety of different style of venues online and quickly came to realise that a beautifully grand or typical venue wasn't us."
"We loved Shoreditch Studios from the photos alone. The minute we stepped inside we felt comfortable, almost like walking into our home."
"The exposed brick and the white feature walls, which are there for the photoshoots, bring character, warmth but also something strikingly different and quintessentially Shoreditch."
"It was important to us to create a day unique to us and Shoreditch Studios enabled us to do just that."
"We wanted the day to reflect us and individuals and as a couple. We love music, Asia, Italy, vegan food and good booze and we hope that our guests felt that throughout the day."
The five bridesmaids wore a selection of gowns in shades of blue.
"We wanted them to feel comfortable, beautiful and like themselves. They all have such different styles and body shapes so there was no way that we would find one dress that they all felt amazing in."
"We gave them a budget and asked them to find a dress they loved in any shade of blue."
"The first time we saw them all on together was the morning of the wedding, I think that was the first (of many) times that I cried on the day."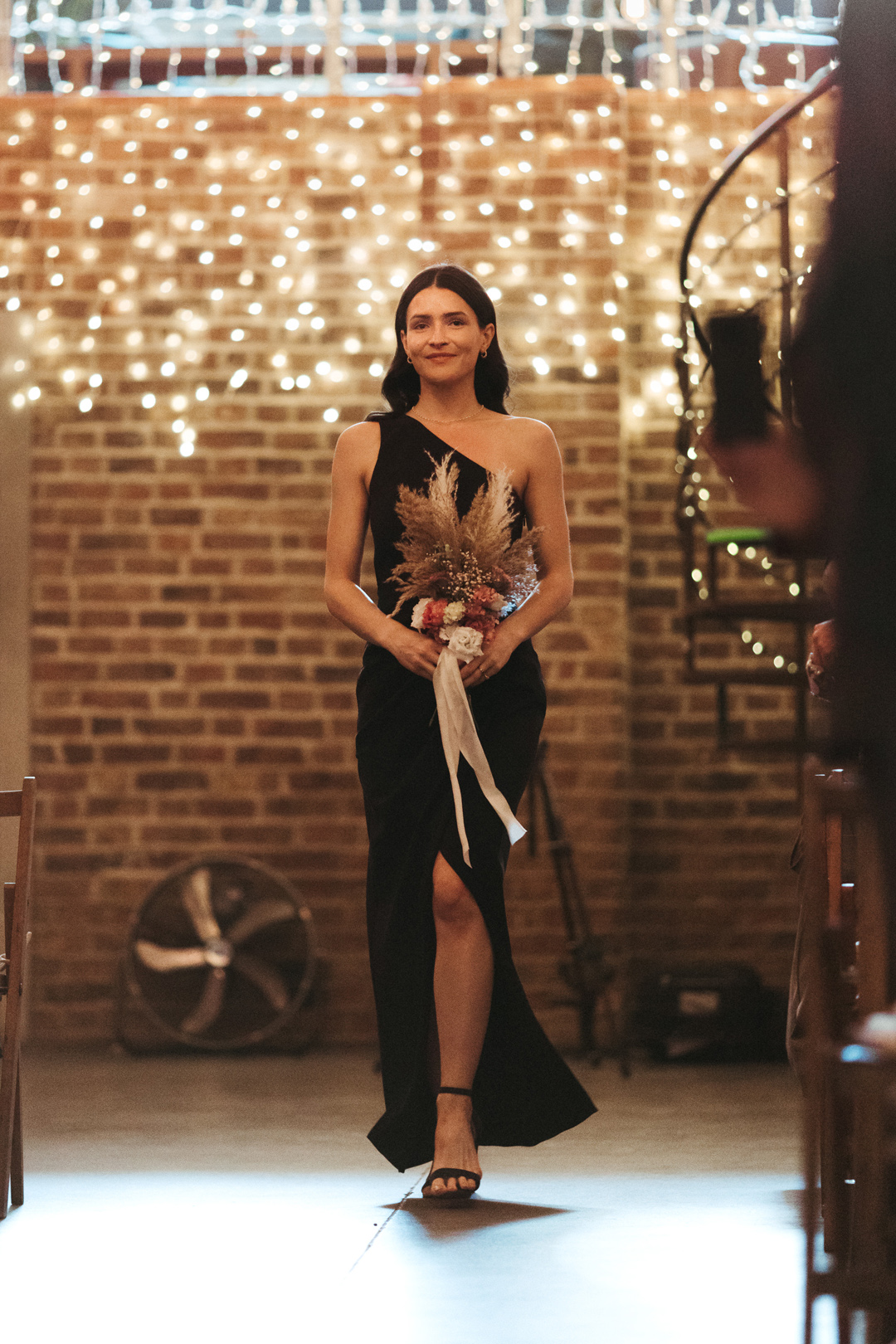 The ceremony was held beneath the flower cloud and led by Hackney Council. The bride walked in with her dad to 'Doria' by Ólafur Arnalds.
"My dad walked me down the aisle which was such a special moment for us both."
"When Jon and I first started dating we'd often share music that we loved with each other. Ólafur was an artist that we'd frequently share."
"We've seen him a few times and randomly saw him on holiday in Ubud, Bali. It just felt right to use one of his songs in a pivotal moment of our lives."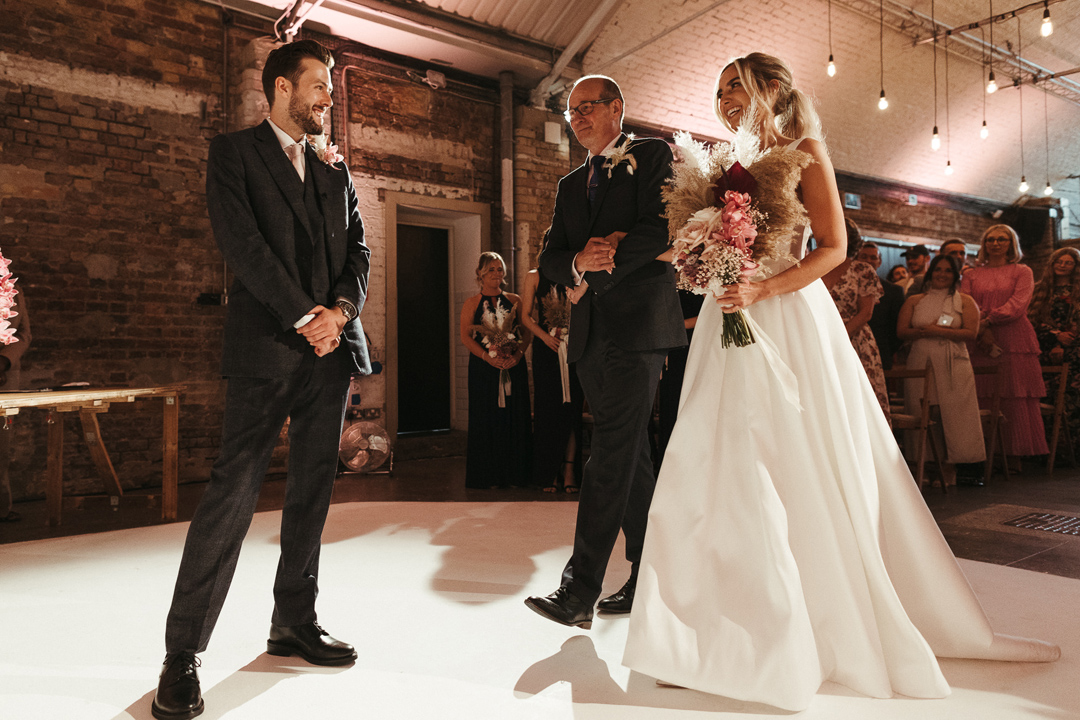 "We didn't have any readings and we didn't write our own vows. We decided to give a joint speech before dinner so we used that to say something personal about and to each other, before thanking our guests."
Both the engagement ring and wedding rings were from Rachel Boston.
"Rachel's designs are so beautiful and unique. Jon and I went to Hatton Gardens to try on some engagement rings but nothing felt like me."
"We took the advice of a jeweller and went to Burlington Arcade to try on some antique 1920s rings. I was drawn to emeralds and Asscher-cut diamonds which gave Jon the inspiration he needed to work with Rachel on designing my engagement ring."
"We loved it so much that we returned to buy our wedding bands, which are equally as beautiful."
"After we were pronounced as married, the roar of claps and cheers from our guests was so overwhelming in the best possible way. We could just feel so much love in the room – that feeling will never leave us."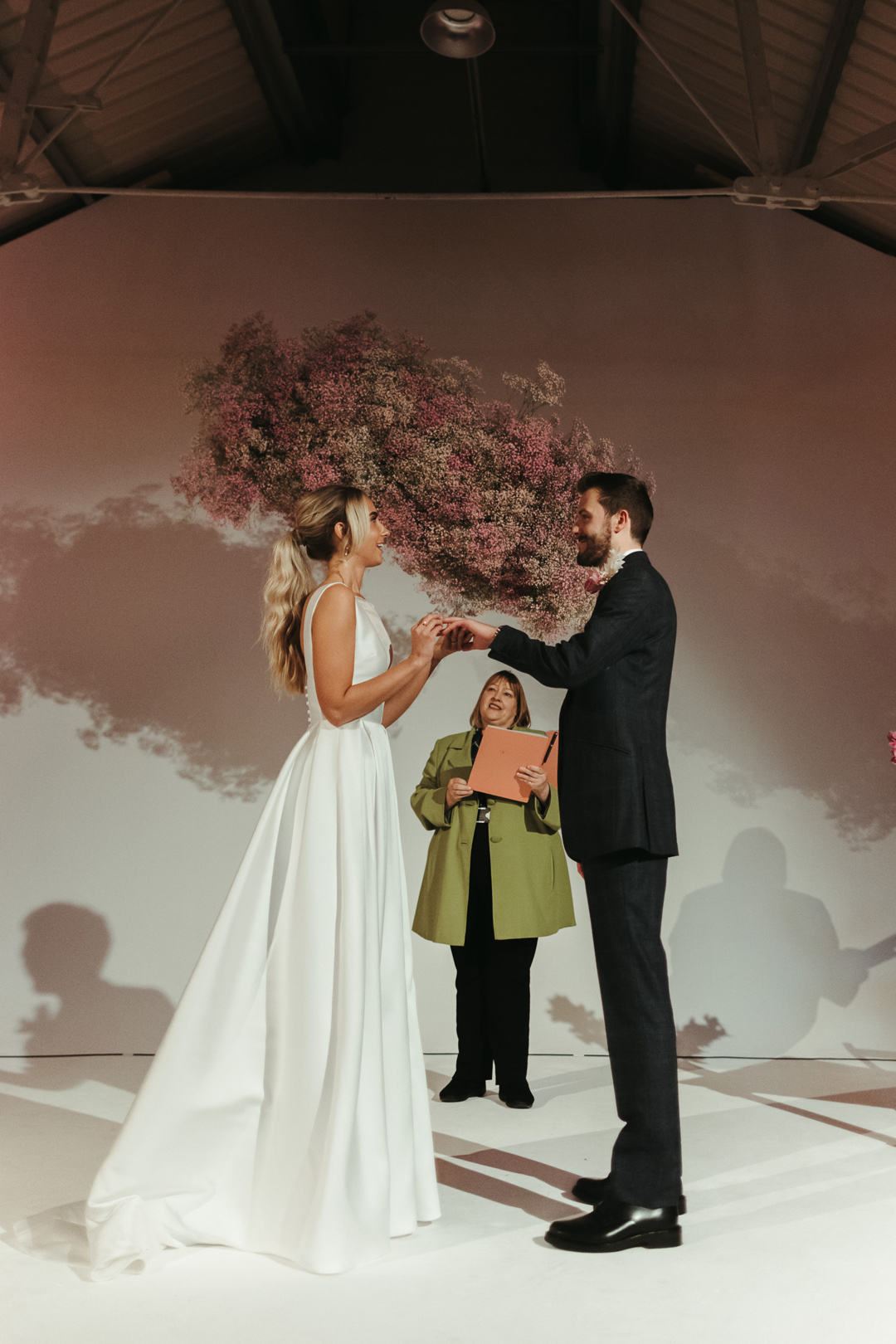 Floral artistry was central to the day's look; just look at the cloud-like floral sculpture of pink gypsophila which hung above the ceremony space.
It was created by Jayne from Halcyon Halcyon, who also created the rest of the floral arrangements and Nic's striking bouquet of full-blown roses, orchids, anthurium and pampas grass.
"Jayne from Halcyon Halcyon was so amazing. We were blown away by the flowers on the day. We knew they'd look great but we didn't realise how incredible they'd look."
"We went through a couple of different ideas, starting with a more tropical flower theme, before landing on a mix of dried and fresh materials in pink, white and a natural colour palette with pampas grass, dried grasses and seed heads, gypsophila, orchids, roses and anthuriums."
"Jayne helped us to understand how everything was going to look together and what would work from the button holes and table flowers to the lighting suggestions for the flower cloud"
"Our favourite piece was the pink gypsophila flower installation – it was stunning."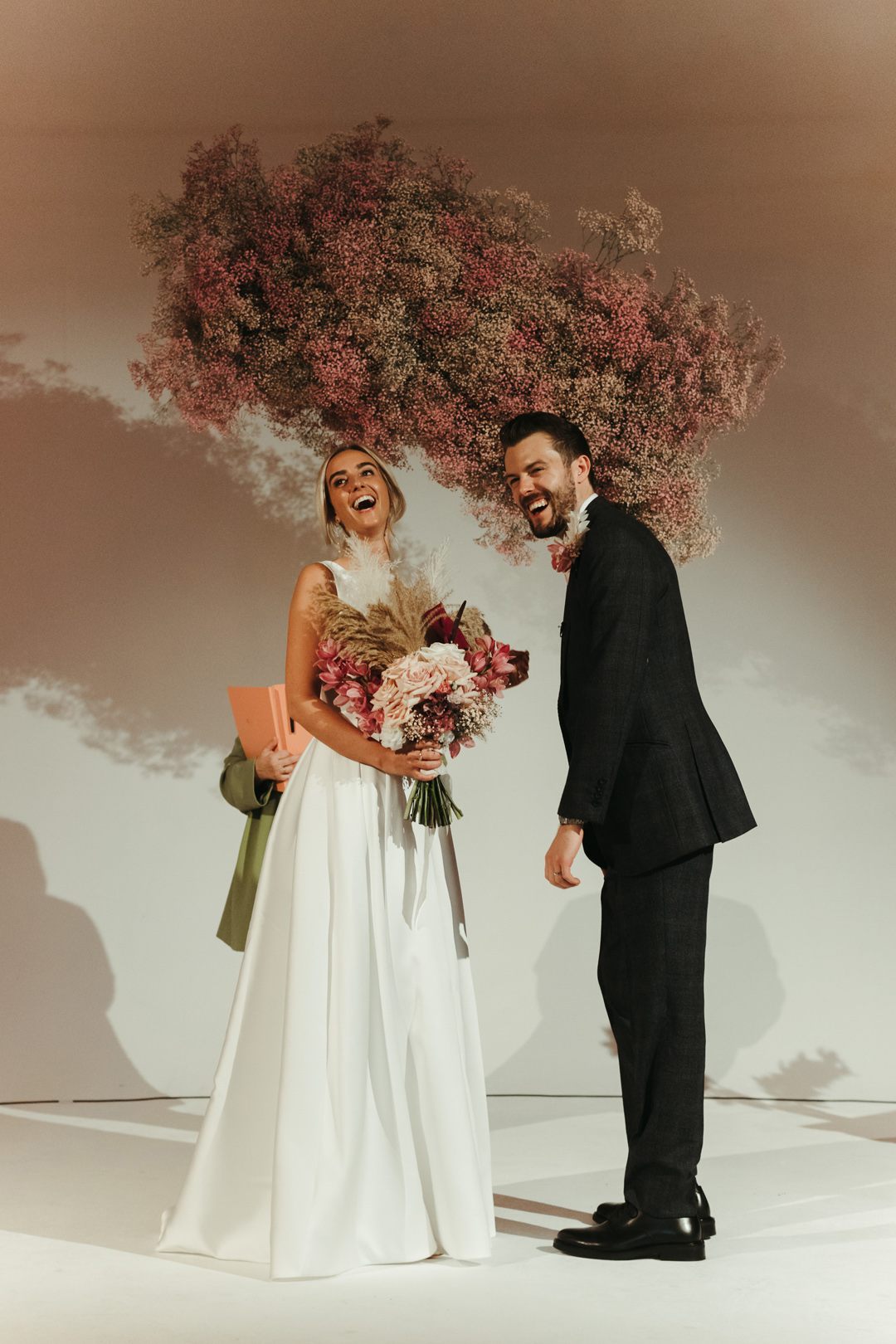 "Our guests used it as a backdrop for a lot of their own photos. Andi and Jayne were so thoughtful and kept some of the flowers from the installation for us to keep."
Jon wore a bespoke suit in dark grey from Cad & The Dandy with a blush pink tie and a statement buttonhole.
His shoes were Arket and he secreted a gold Colchester United badge into his outfit.
Chris Adnitt of The Wedding Arrangers worked with the couple to put together their celebration.
"We loved working with Chris, who took all of our ideas and turned them into our perfect day."
Jon and Nic chose to have a vegan dinner which was provided by Ross at Seven Cherries.
"Ross's food was just incredible. We wanted an Asian theme for the canapés and an Italian feast for dinner followed by gelato and espresso martinis outside."
"Our guests have been talking about the food ever since."
DJ Tim Hinson provided the music for the evening party but the couple opted against a first dance.
"Although we love to dance on a night out, we thought it would be best not to draw too much attention to our dance moves!"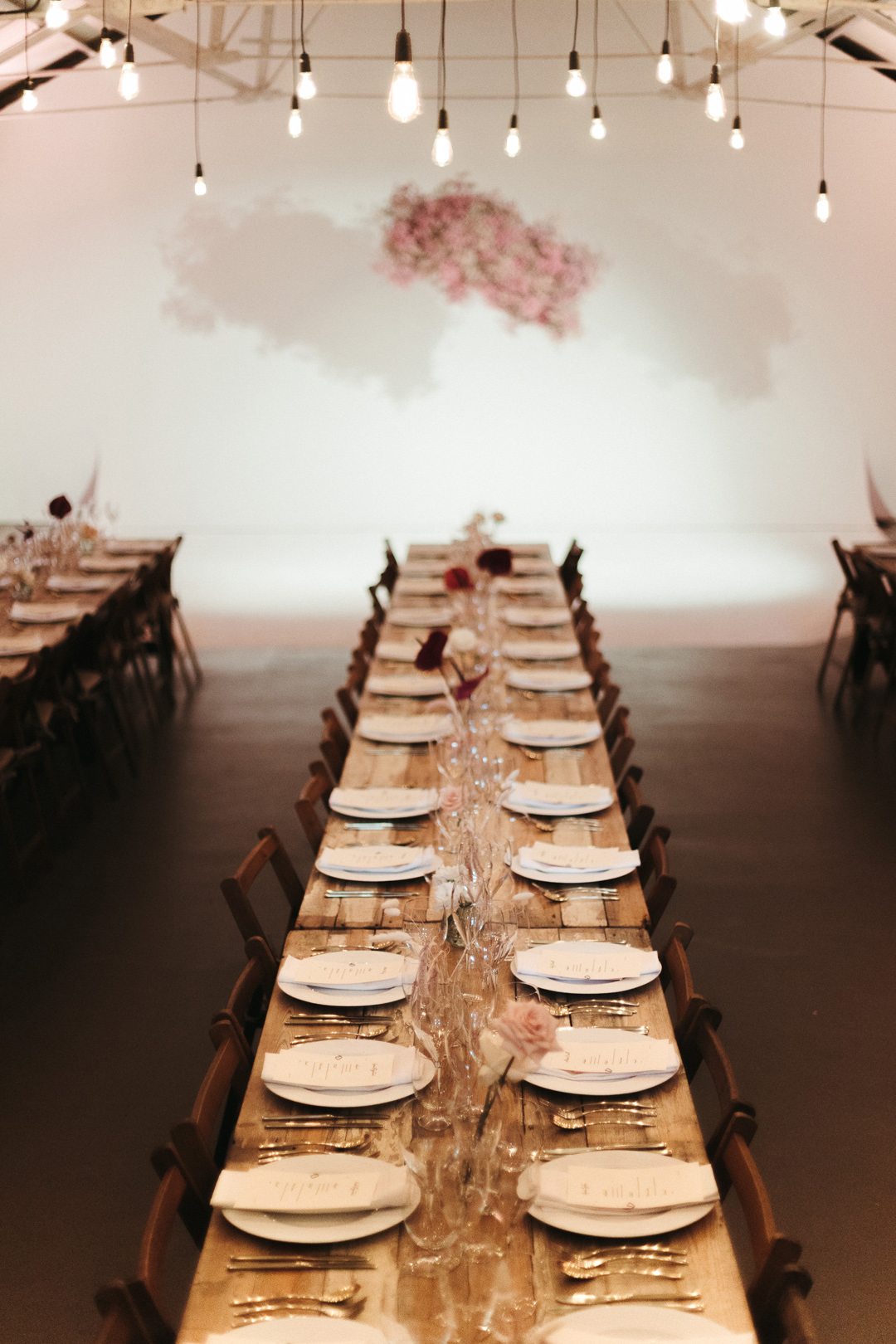 "I'd ordered a vegan carrot cake from Ruby's of London for Jon's birthday that year."
"It was so delicious and the team were lovely so we knew we'd have to use them for our cakes on the wedding day."
"We went with a carrot cutting cake then a variety of different flavoured cupcakes."
For entertainment, the guests enjoyed saxophone music from Lizzie Sambrook and tried their luck with their wedding favours.
"Lottery tickets were pinned onto the back of every menu. We've had some small wins but nobody's quit their jobs just yet, as far as we know!"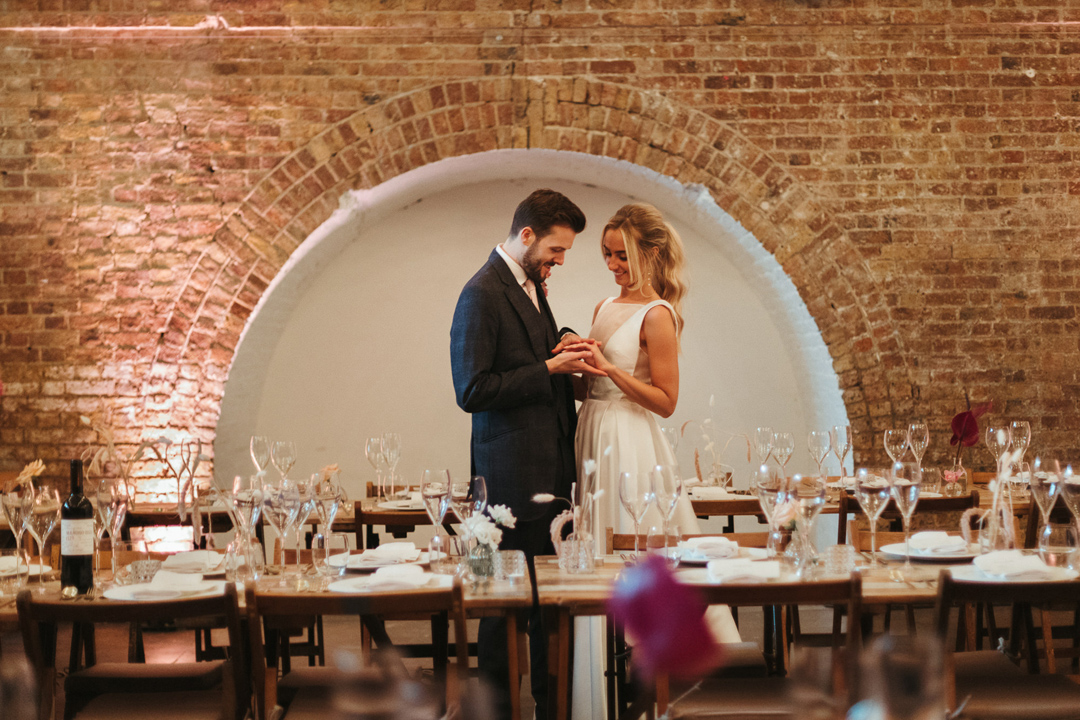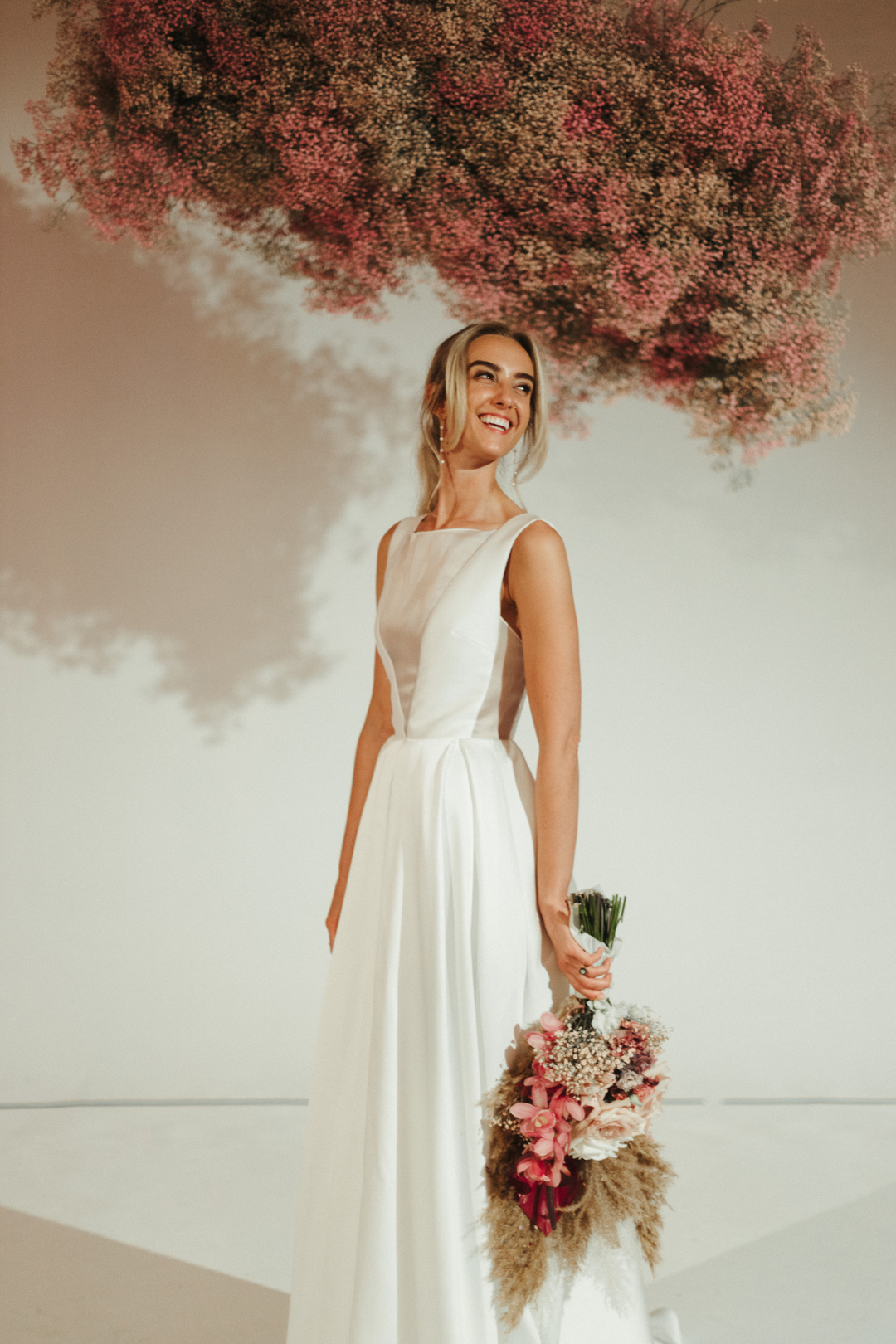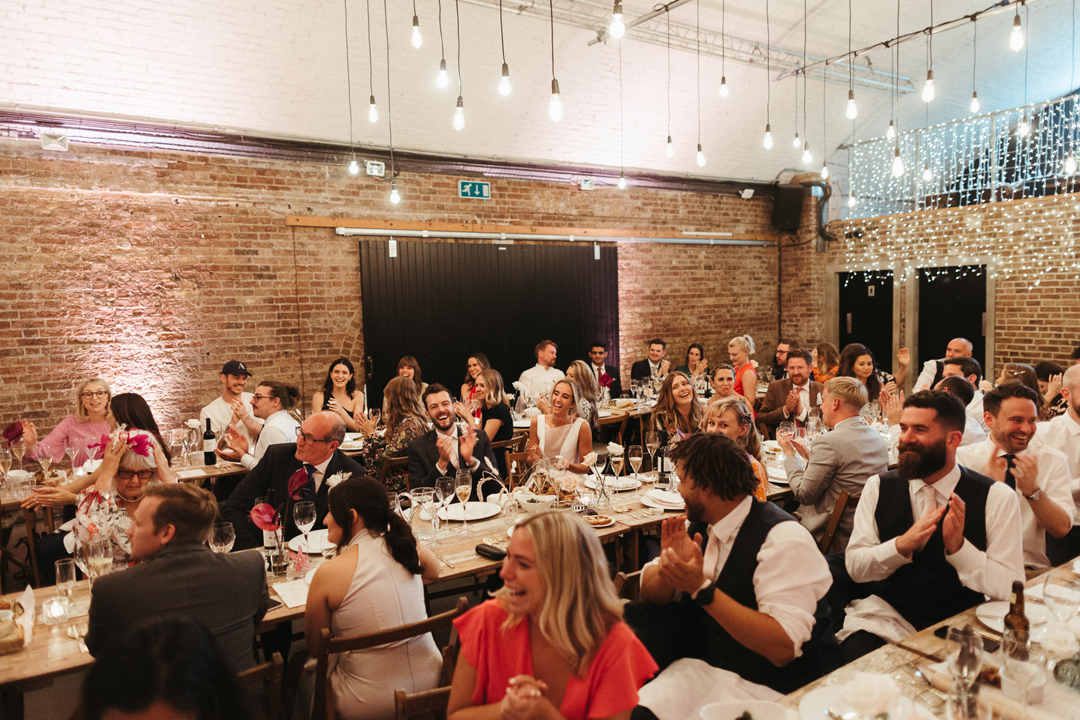 Before the speeches and dinner, the newly-weds headed out into the streets of East London for some wonderful portrait shots with their photographer.
"We should have scheduled 10/15 minutes just for us to be together after the ceremony. There are so many emotions running through you at that point, having some time alone together to get grounded again would have been really helpful."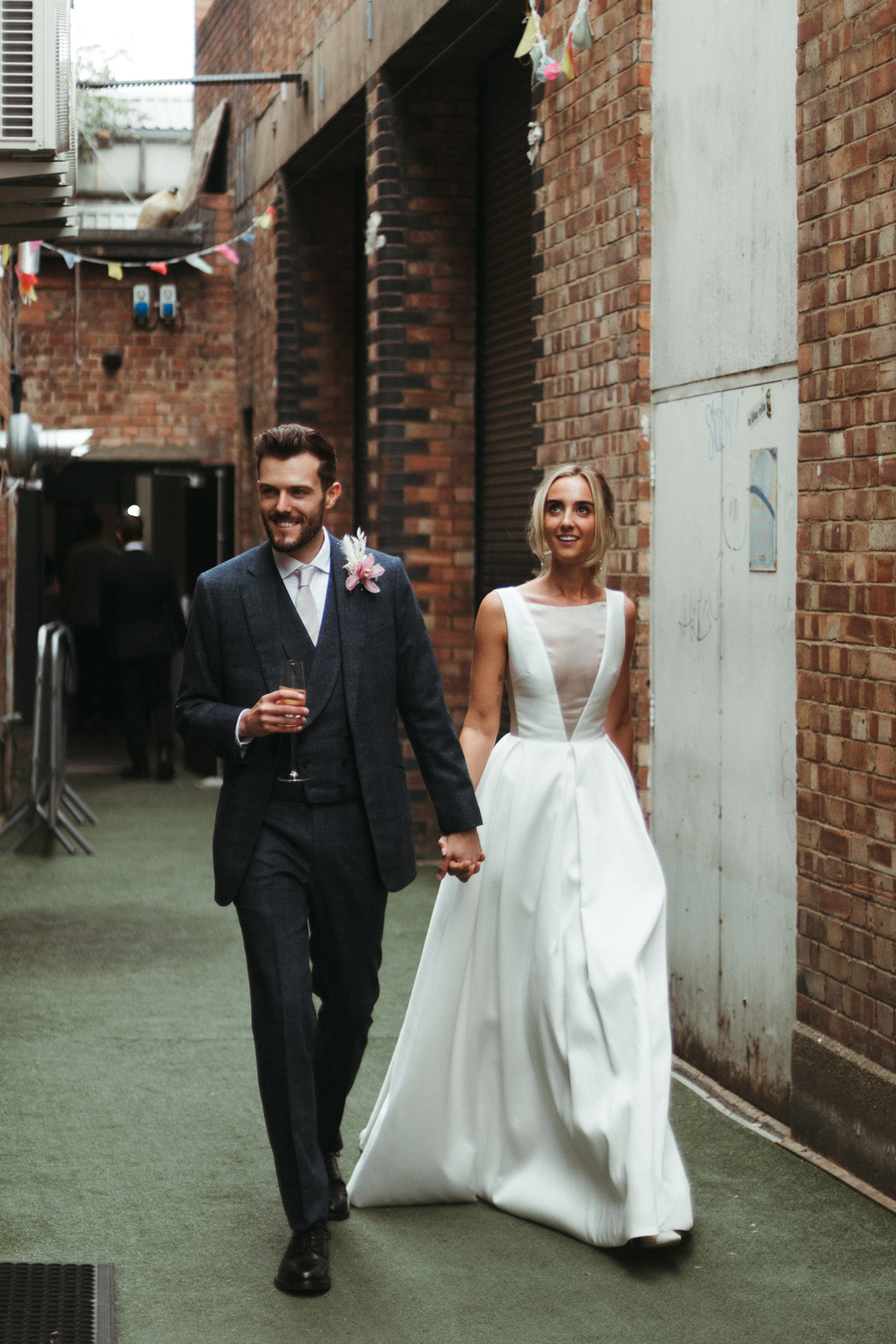 Alline of Beatrici Photography is behind these divine images, which capture the true feel of Shoreditch as well as the joy of the newly-weds.
"Where do we even start with Alline? We were obsessed with her photographs from the minute we saw them."
"She has this ability to capture the realness of a moment, you can feel that emotion and energy coming through in each photo."
"She felt like another guest on the day – we would've been happy for her to have put down her camera, grab a drink and party with us until the end of the night."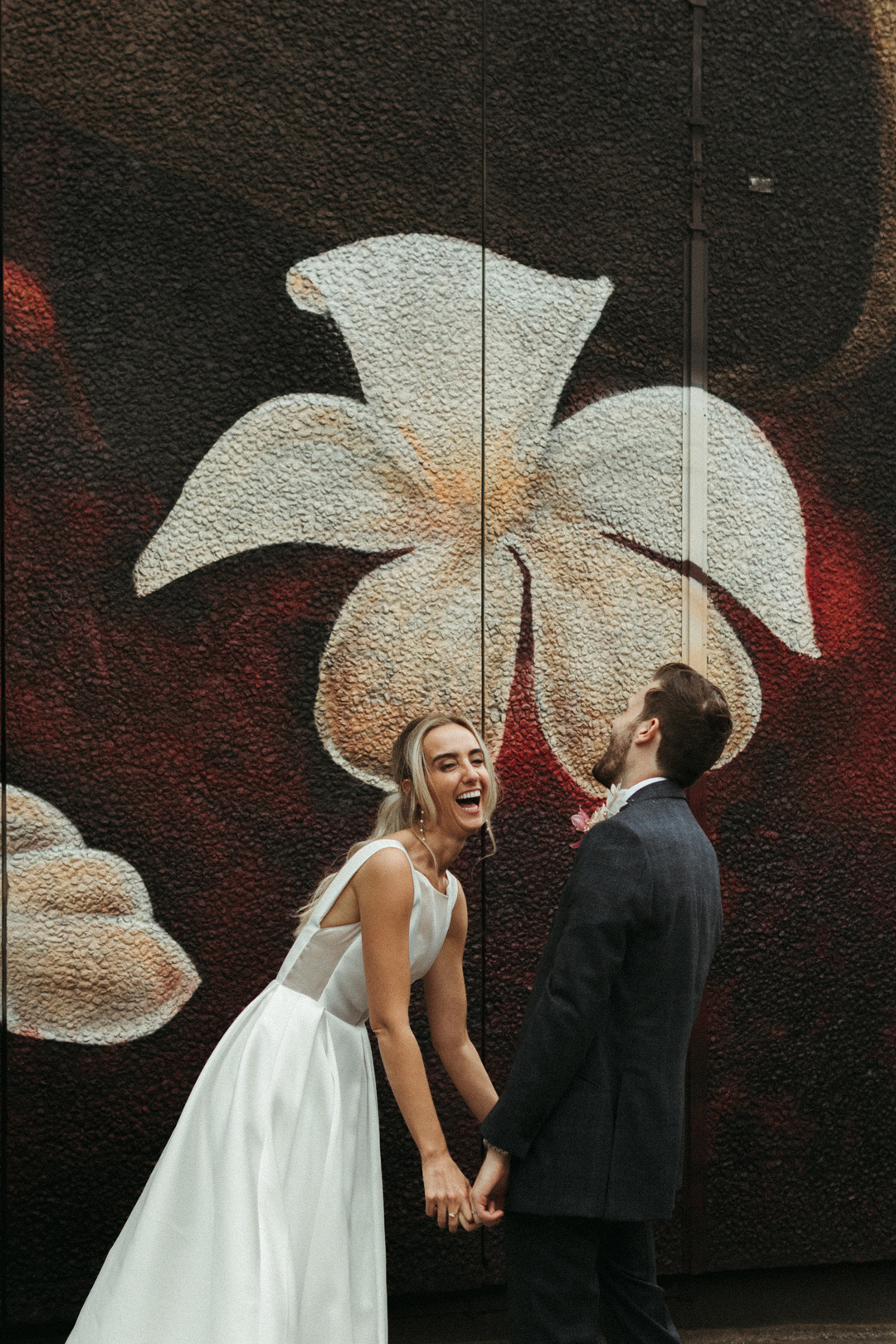 The videographer, Bek at Tie The Knot Films, was recommended by Alline.
"Bek was amazing. We weren't going to hire a videographer but we're so glad that we did. I think that would have been a big regret of ours if we hadn't."
Nic and Jon first met through work and were engaged over lockdowns.
"Our marriage evolved from what started as a work flirtation. We had seen and known of each other briefly around the office for a year before we properly met."
"Then, on a sunny August evening at a bar near work, we got talking."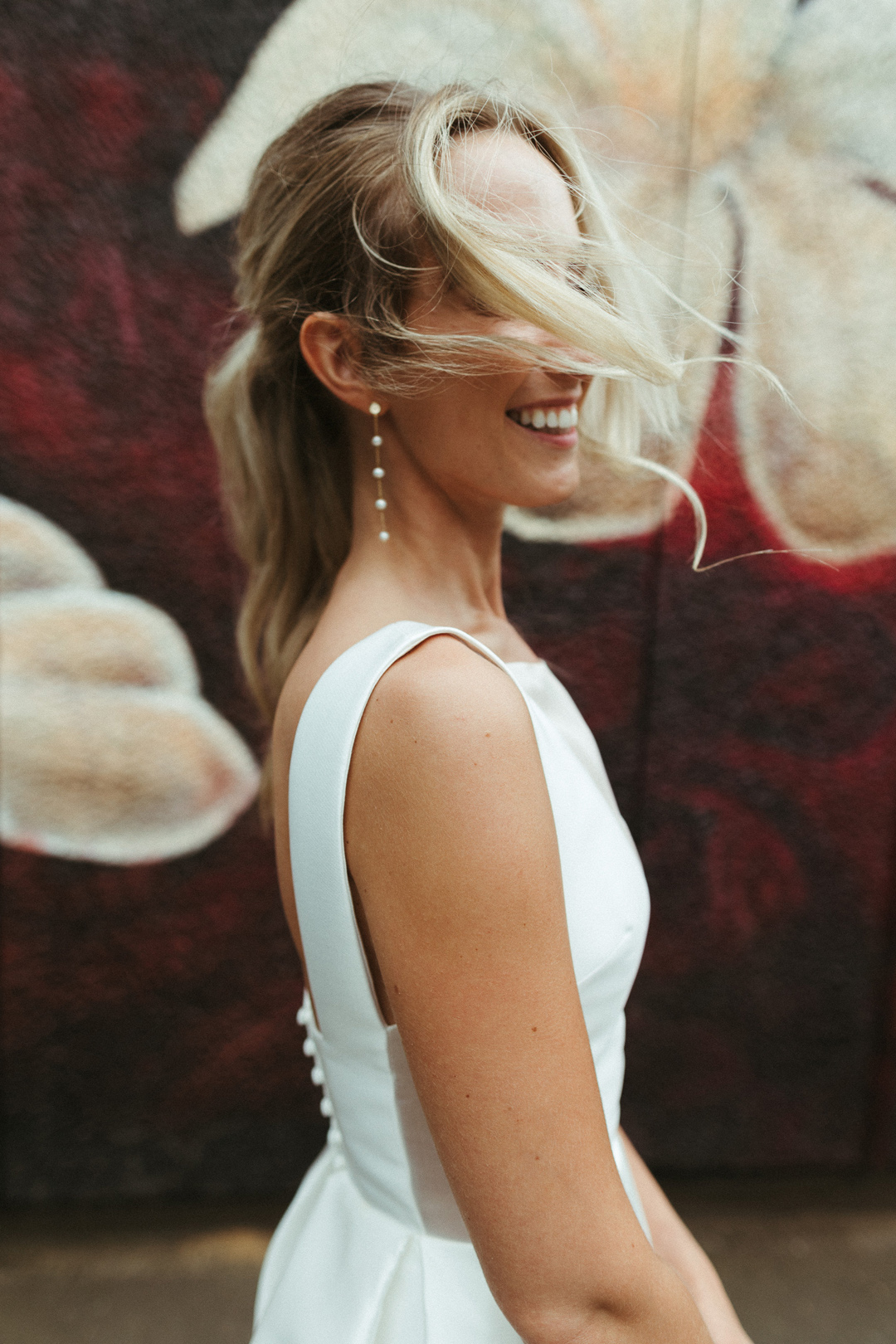 "I'd like to say the rest is history but we spent months getting to know each other before we went on our first date. A few years later and we began to start talking about marriage."
"Little did I know that Jon was planning to pop the question on holiday in Mexico where we expecting to have a weekend to ourselves, before meeting friends in Tulum."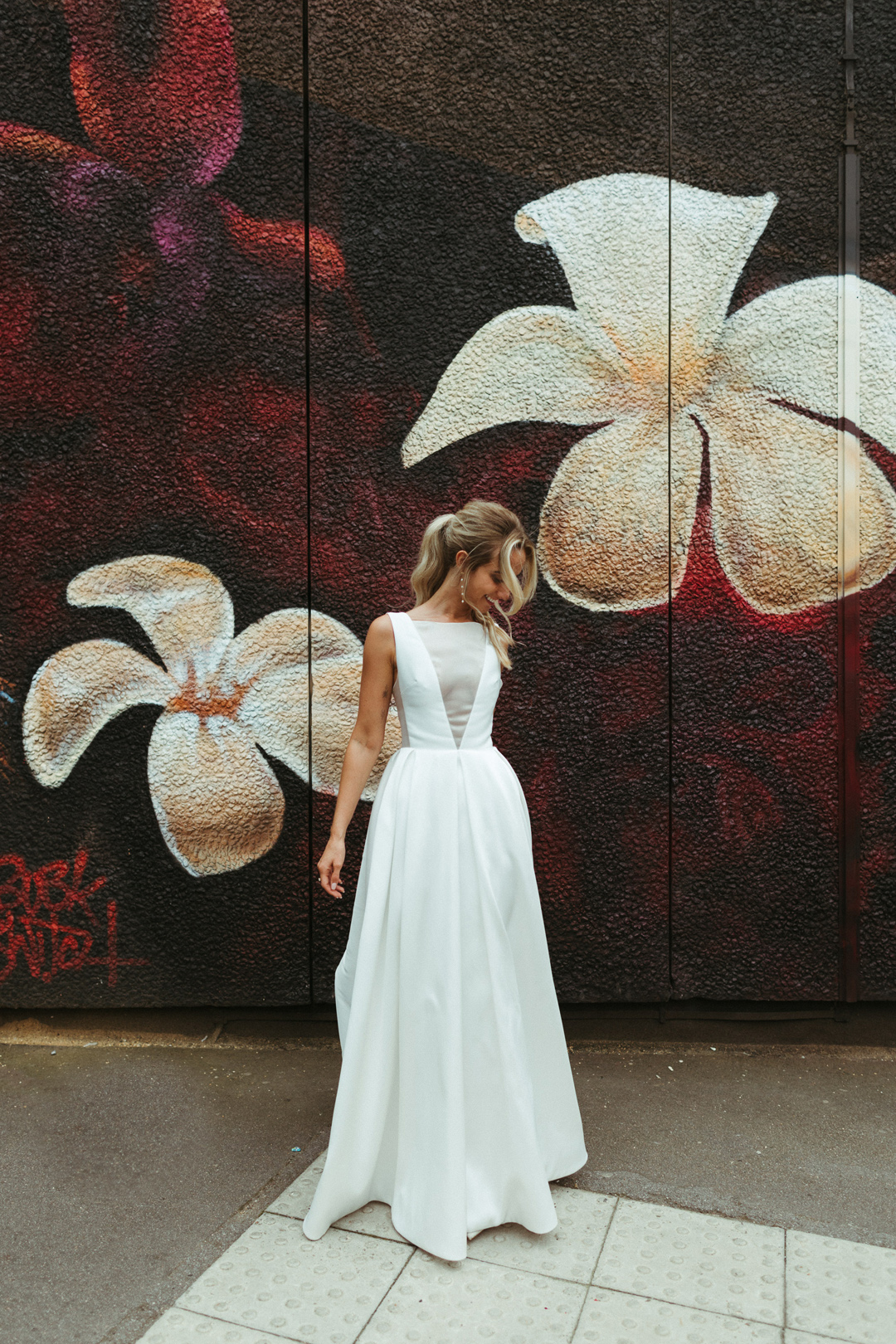 "Unfortunately, Covid got in the way of that wonderful idea so instead, Jon brought Mexico to our little London flat and surprised me by proposing on a Wednesday evening, whilst I thought we had no plans other than eating fajitas on the sofa in my PJs."
"After that we had a 17-month engagement where we boldly (and maybe not so wisely) started planning the wedding as the world began to lock down."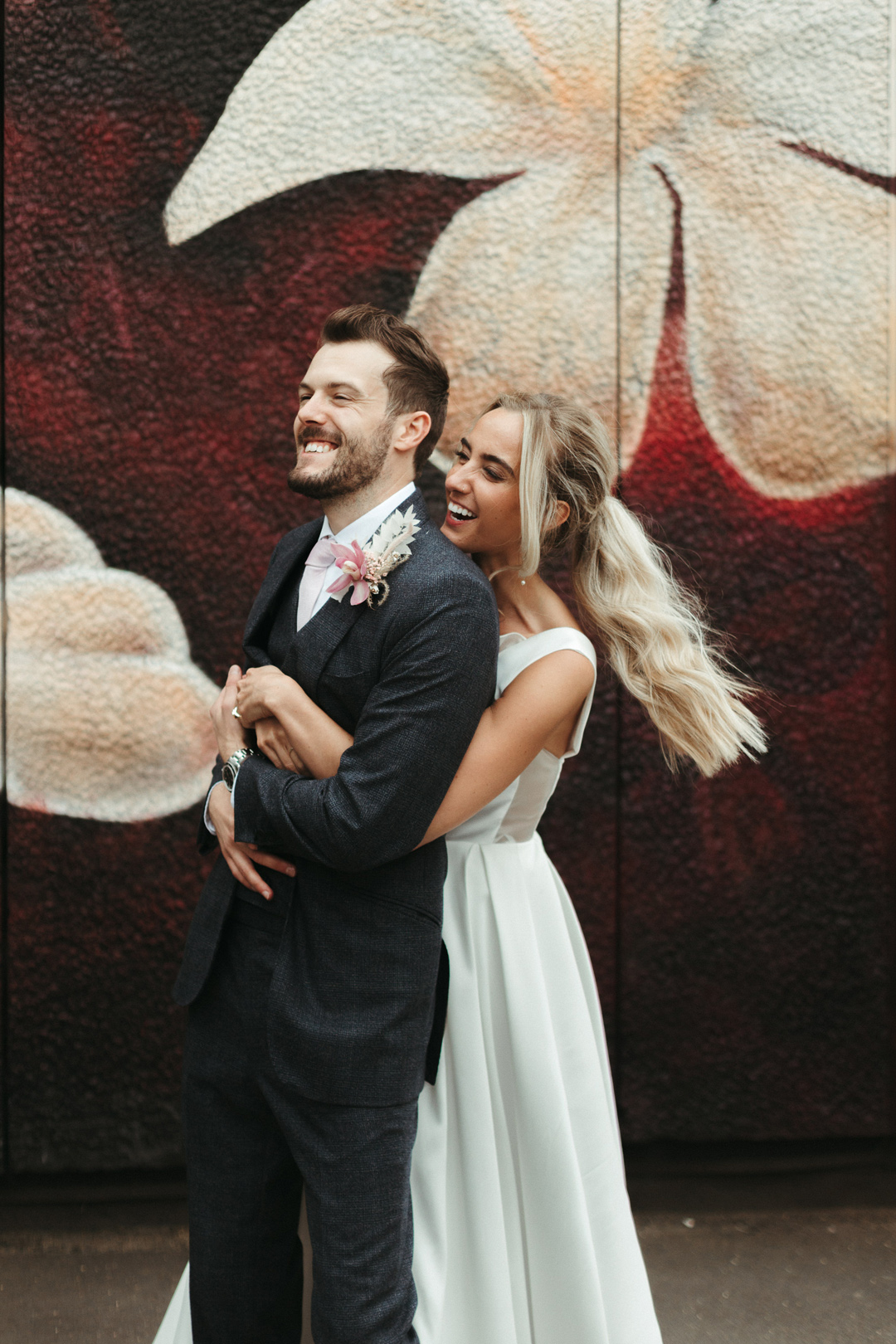 Words of Wedded Wisdom
"Something that we wish somebody had said to us before the day is it's ok if you don't feel your best self at every moment of the day. Our emotions were so overwhelming in a good way but we also felt anxious and tired at points."
"I remember turning to my Maid of Honour during the reception drinks saying that I needed a nap! I was so worried that I wasn't feeling how I thought I should be, but I've since learnt that nearly all my married friends had the same experience."
"If you do have a moment or moments where you're not feeling how you expected, know that it's totally normal and be kind to yourself.
"Take some time for yourself, do what you need to reset and I promise those feeling will pass and you'll go back to enjoying your special day."
"Your wedding is for you and your partner. Make decisions based on what you want, not on what others want or expect from you. Stay true to yourselves and what the wedding means to you."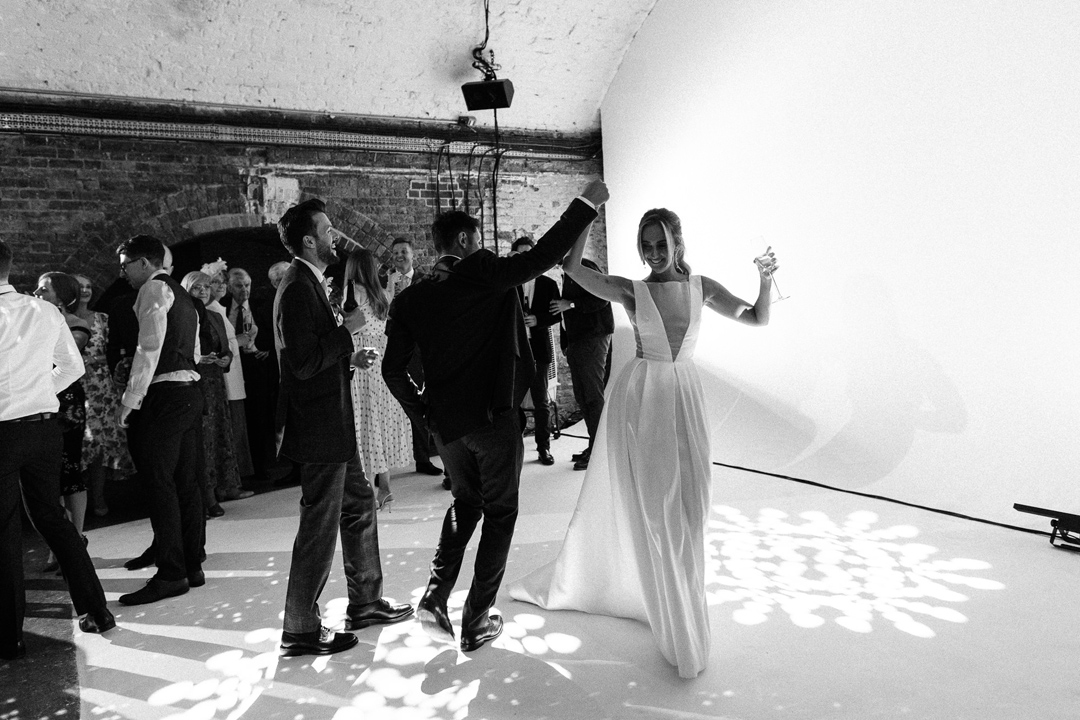 Sending so many thanks and congratulations to you, Jon and Nic. What an incredible day in an incredible venue. Thank you also Beatrici Photography; I really hope we can enjoy more of your work on Love My Dress soon.
If you'd like to see more modern and contemporary wedding inspiration, enjoy browsing through these other weddings. And there are more brides wearing Andrea Hawkes' beautiful designs here.
Ele xx