Amaryllis, by Andrea Hawkes Bridal – Sustainable & Ethical Wedding Dresses & Separates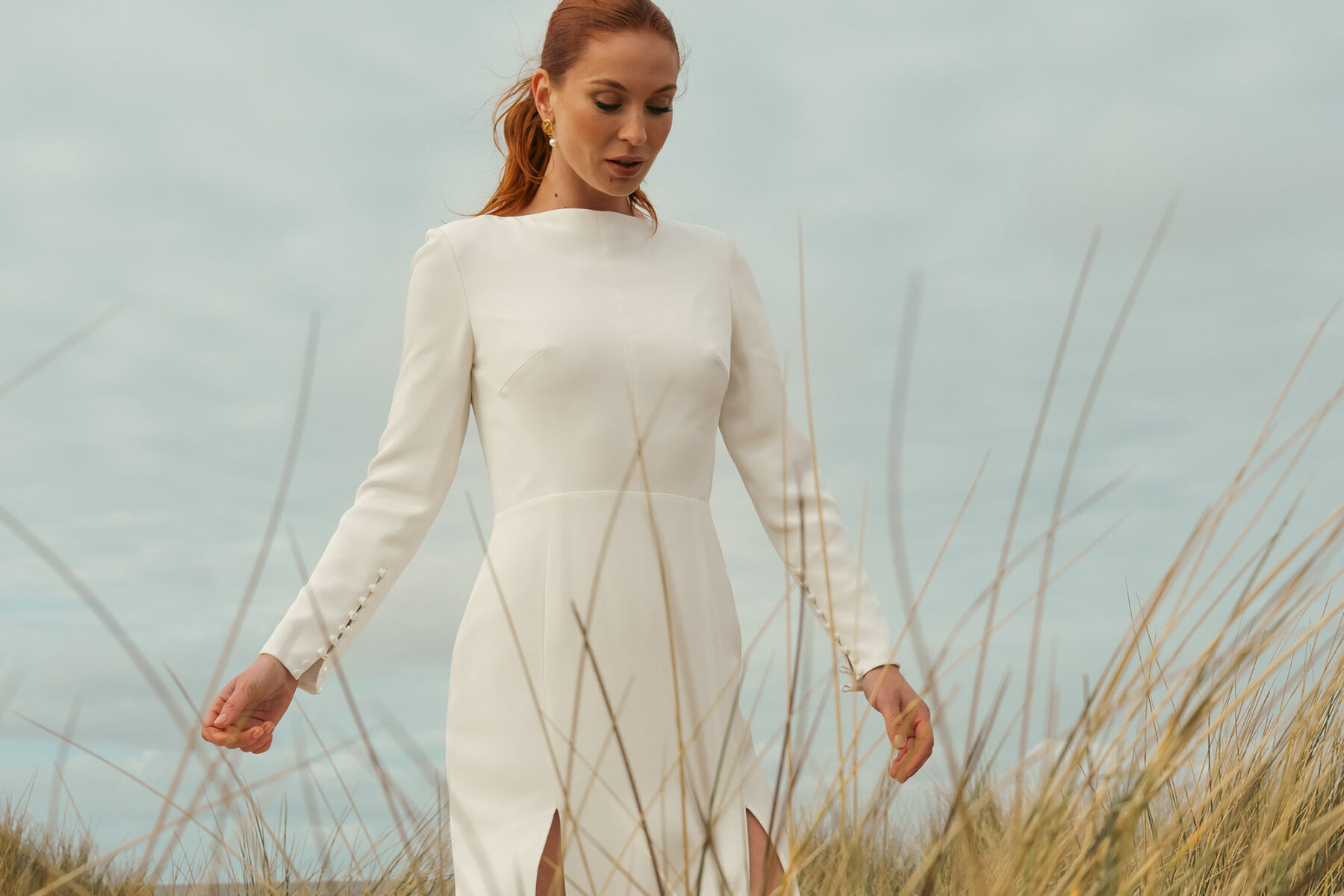 We are delighted to introduce the brand new Amaryllis 2023 Collection, from British brand, Andrea Hawkes Bridal.
Andrea Hawkes is one of our favourite designers – we absolutely love the modern, minimalist, clean and fuss free designs she brings to the world of bridal fashion. We also just really love working with her and her team, because they are good humans working working their socks off to make sustainable and ethical bridal fashion that is kind to our planet.
Andrea's commitment to her craft is unquestionable – she was producing ethical bridal garments well before it became a necessity to do so. This London based brand really are a cut above and it's a huge honour to support them in the launch of these new wedding dresses. Let's take a look a some of these beautiful new gowns and separates…
Andrea Hawkes is a British bridal designer based in London, who is renowned for creating beautiful, contemporary wedding dresses for modern brides. Andrea is passionate about ethical and sustainable bridal fashion design.
Andrea Hawkes specialises in modern, simplistic wedding dresses and bridal designs. All the collections are crafted with fit and precision, made using natural silk fabrics, beautiful French lace and delicate beading and sequins.
Amaryllis is a celebration of natural fabrics and unique dress making methods. Key design features within the collection include contoured corsetry, structured silks, statement sleeves and pockets – all the gorgeous design details that make your chosen wedding day look extra, extra special.
By exploring new structured silk materials we have been able to embrace different dress making techniques such as gathered skirts and box pleats, a fresh take on fuller skirt for the modern bride.
Stripped Back Simplicity
My signature style came from working with brides in different roles and my love of simplicity. I spent many fittings with brides who wanted to strip their design back and focus on the fit, the shape and the design. This led to my approach for my first collection and this has developed and grown through every collection since.
Designed & Made in London
Every single Andrea Hawkes design is made in Andrea's London studio, by her team of in-house, experienced pattern cutters and seamstresses. Staff are paid fair wages for their skills and roles. No element of production is ever out-sourced.
Statement sleeves, cut-out features and square necklines are all a key focus within Amaryllis. By reinventing classic shapes with contemporary design elements Amaryllis is both timeless and current.
Sustainable & Ethical
All Andrea Hawkes designs are handmade using the most luxurious silk and plant based fabrics – that's both out layers and lining too, meaning gowns feel luxuriously and sensuously soft against your skin when you are wearing them.
All silk used are produced by suppliers Andrea and her team have visited in person, to ensure workers are provided with good working conditions and paid responsibly and fairly for their work.
Andrea recently also launched a gorgeous collection of silk PJs and robes, which make a beautiful addition to your wedding and/or honeymoon wardrobe.
Last year, Andrea also launched 'Emotion' her first collection of beautiful silk modern wedding veils and capes.
We've published lots of beautiful real weddings featuring Andrea Hawkes brides here on Love My Dress – a number of which have been a huge hit on Instagram, including this Shoreditch Studios vegan wedding and this minimalist and classy boutique hotel wedding.
The Amaryllis Collection will be available to try in store from 11th August 2022.
To find out more, visit the andreahawkes.co.uk, email studio@andreahawkes.co.uk or telephone 020 – 77040236.
Andrea's customer service team are the most wonderful, friendly and supportive bunch who will absolutely go out of their way to help make your experience visiting or trying on one of Andrea's gowns as enjoyable, effortless and memorable as possible.
You can also find Andrea Hawkes in the Love My Dress Directory and on Instagram.