Amaryllis by Andrea Hawkes Bridal: The Making of The Collection
Looking for a wedding dress for your 2023 wedding? May I take the great pleasure of introducing you to Andrea Hawkes Bridal, a London based, sustainable bridal fashion brand, who have this week launched their new collection, Amaryllis.
We previewed the Amaryllis collection back in June, but as of Thursday this week, the collection is now available to try on in full, at the Andrea Hawkes boutique based at 36 Danbury Street, London, N1 8J – where a very warm welcome awaits.
Today, we're peeling back the curtains and taking you on a little trip behind the scenes, to introduce you to the Andrea Hawkes team, and reveal details about how a collection like this comes together. Have you ever wondered how your wedding dress comes into existence? How and where it is made? And what inspired it in the first place? We spoke with Siobhan Winn, Client and Boutique Manager – and Stylist for Andrea Hawkes.
Creating A Collection
The collection always starts with a moodboard that Andrea brings together over the course of a few months. We take inspiration from our bespoke brides and also really listen to what our brides are asking for. This is the key to a successful collection. Each design is then sketched out with fabric possibilities and toiled by our pattern cutter, Laurie.
We hold fit sessions with our model to discuss the details and if we want to adjust/adapt any of the features. Once we have finalised our designs and fabrics we then move onto making. Our in house seamstresses bring the designs to life and we then carry out our shoot.
Natural fabrics such as silk, cotton and tencel will make a huge difference to how your dress falls and how it feels. Natural fabrics have a luxurious composition that allows us to create beautiful silhouettes, flowing skirts and structured bodices. The versatility in natural fabrics means you will never have to compromise either; it's just about finding the perfect one for you. Amaryllis is a reflection of this, we incorporated new fabrics and different dress making methods to make each design stand out and appeal to different brides.
Behind The Scenes
We shot our collection campaign in Norfolk over two days earlier this year. We wanted to tie in the natural beauty and simplicity of the location with our natural fabrics, letting the dresses really stand out.
Norfolk is close to our hearts and is a 2nd home for our founder and designer Andrea, and her husband and Studio Manager Dan; it was a really special place to shoot.
Outside in the natural elements highlighting the elegance and drama of the dresses. The team were incredible as always. Chris, our photographer, was so great at working with the light to get the perfect shot. Our Model Emily-Rose was an absolute trooper and gave it her all. Pamela and Andrea were on hair and make-up throughout the day and kept it fresh with copper and blush tones.
The fit of a dress is so important, and we always encourage our brides to go for made to measure or have their fittings in-house with our expert team. Having a made-to-measure wedding dress is such a wonderful experience and will ensure your dress fits you perfectly. It also allows you to customise your design, making it entirely personal to you. Having your fittings in-house ensures you are working with the same team who made your dress, know the fabrics and how to alter them in the correct way.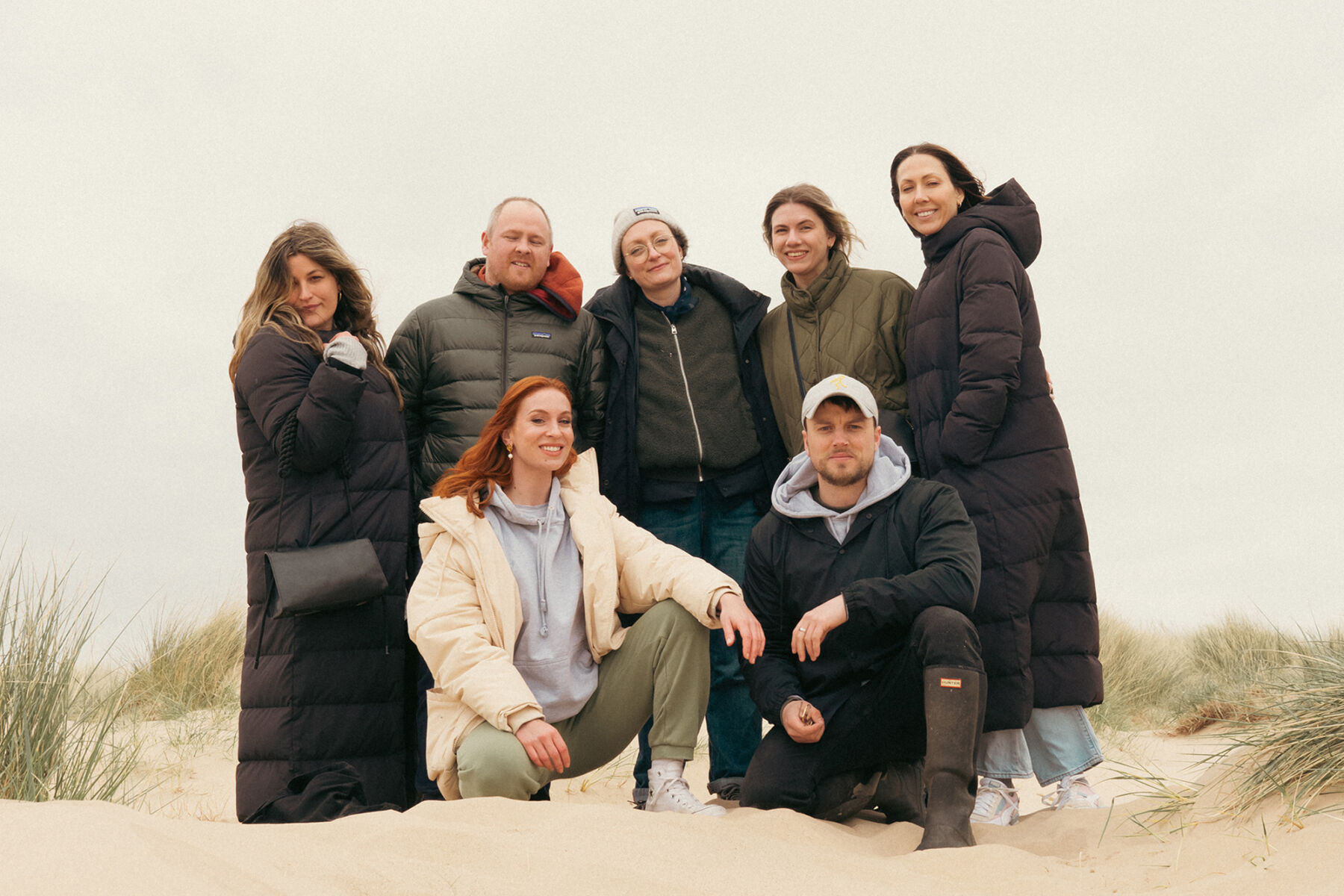 (Pictured above, Andrea Hawkes, centre, and her husband Dan, to her right. Siobhan Winn, Client and Boutique Manager to Andrea's right). 
Window Display
We wanted to bring our brides to the Norfolk Coast and experience a tranquil and relaxing environment whilst trying Amaryllis. We used sand, stones and dried florals to recreate the setting of our shoot in the Islington showroom. Myself & Andrea arranged the dried florals ourselves and Dan organised the sand/stones.
We have Aura and Ottilie in the window to highlight the key features within the collection, one being the use of new fabrics (hammered silk and floral applique).
When Should You Order Your Wedding Dress?
If your wedding is 2023 now is the time to start your wedding dress search; this ties in perfectly with the launch of our Amaryllis Collection.
We love to meet with our brides 8-12 months in advance of their wedding date for an initial appointment to try designs, discuss fabrics and work out the best service for you. The reason we like to see you a year ahead is to make sure you have a relaxing, stress free timescale that also allows our team to give you a wonderful dress making experience.
We never want our brides to feel rushed or under pressure.