In alignment with our efforts to highlight conscious and sustainable bridal fashion, it is with great pleasure that I introduce you today to PURA, the new collection of sustainable wedding dresses, created with love, by London based designer, Andrea Hawkes Bridal.
With a deep-rooted passion for sustainability and an unwavering commitment to creating ethically, PURA presents a collection of refined, minimalist and elegant modern bridal gowns that truly stand out from the crowd. PURA has been created from a curation of luxurious, natural fabrics and thoughtfully sourced, incredibly high quality plant-based materials. These earth friendly fabrics are sublime, soft and sensuous against the skin. These gowns have been crafted with the utmost love, passion and intention to empower their wearer with confidence and grace.
If you love fuss-free, contemporary style and align with our values to support designers who are working hard to contribute ethically to the world of bridal fashion, then I think you might just love these designs.
I asked our friend and designer Andrea to share more about her beautiful new collection. Here's what she had to say…
Andrea, we're thrilled about your brand new collection of sustainable bridal fashion. Can you share with us the inspiration behind this collection and what it means to you personally?
Pura really is a celebration of Andrea Hawkes' journey further into luxurious natural fabrics with a highlight on plant based materials. The collection is an exploration of how a woman wants to feel on her wedding day.
There is freedom in the beauty of fabric – a nod to our brand identity of creating figure forming shapes and hints of structure to highlight the silhouette.
It's all about feeling happy and the best version of yourself. Enjoyment in the knowing sustainability is at the heart of your choice to wear a Pura collection dress.
Sustainability is a key focus for Love My Dress readers, and we admire your commitment to using eco-friendly practices and materials. Could you tell us about one specific sustainable aspect of your dresses that you're particularly proud of?
We've been really focusing more on introducing plant based materials that are biodegradable such as TENCEL luxe and Viscose that is made sustainably from eucalyptus wood pulp and feels truly incredible to wear.
We have also only chosen French lace from mills that is made from GOTS Certified organic cotton. We want to produce fully biodegradable dresses, giving long term sustainability and circularity.
A dress may be passed down or worn hundreds of times, but once it has reached the end of its life that's when we want to ensure we are offering the best.
We are passionate about helping brides to feel empowered and beautiful on their wedding day. How do your sustainable bridal gowns capture both elegance and a sense of personal empowerment for the brides who wear them?
Our gowns offer an opportunity to highlight and flatter the silhouette whilst still retaining a soft elegance. Our clean, strong lines, which is a key element running through our collections and aesthetic encourages a powerful feeling when you put our dresses on.
It's so important to me that our brides feel the best they can feel and that our job to make them feel amazing. Not only through the gowns but also from how we look after our brides with our string belief in personal empowerment!
The journey of creating a new collection is always filled with stories and special moments. Could you share a memorable anecdote or a behind-the-scenes detail that encapsulates the spirit of your sustainable collection?
I think when I start to see the designs come to life. We try the prototypes on as a team so we really get to see how they feel and look on the individual. That is very special!
Our readers at Love My Dress are diverse and unique. How do you envision your sustainable wedding dresses resonating with brides who value both style and sustainability, and what message do you hope to convey through your designs?
I understand there's a balance between style and sustainability – it's the juggle we all have to consider everyday let alone on our wedding day!
My aim, as it has been for 10 years which has never changed only evolved, is to offer a personalised service so our brides can come to see us and truly create their own look.
All our dresses are made by us in our own studio in Islington, London. They're made once the bride orders them so that is a key responsible practice.
I believe you can have both style by curating something that you would love to wear on your special wedding day. We all want that! Sustainably produced by us which can then be re-purposed after the wedding to be worn again and again.
Love Andrea Hawkes?
Find Out More &/Or Book an Appointment
The team at Andrea Hawkes would love to hear from you. They are friendly, welcoming, kind and supportive – and waiting to share in the excitement of your wedding and help you discover a beautiful, sustainable gown.
Address: 36 Danbury Street, London, N1 8JU
Email: [email protected]
Website: andreahawkes.co.uk
Phone: +44(0)20 – 77040236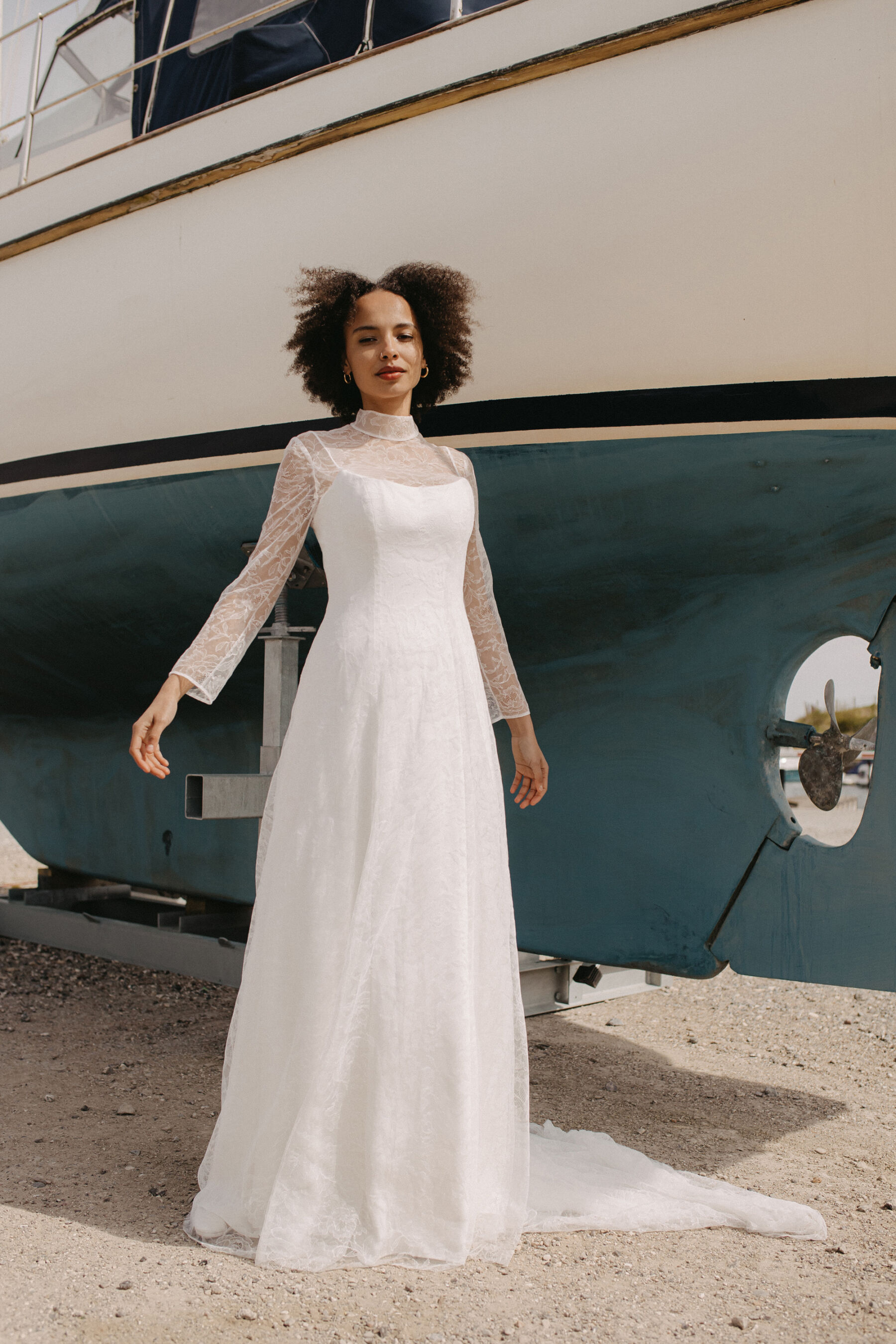 andreahawkes.co.uk
Shop Online
Andrea Hawkes is listed in the Love My Dress Shop. Bookmark and explore the shop here.